Chorografoi Architects: The residential complex "The green luxury villas" attempts to offer an experience of summer living that combines the characteristics of the cultural and natural landscape of Mykonos Island with a set of luxurious facilities and amenities.
The complex consists of 8 independent buildings - 7 residential buildings (villas) of 2 to 5 rooms, and a reception building. The buildings are developed following the natural slope of the plot so that each space enjoys the unobstructed view to the sea.
The complex is accessed from the north side of the plot via a rural road. The reception building is located at the entrance and hosts restaurant, a communal pool spa and gym. Two cobblestone streets lead to the entrances of the private villas.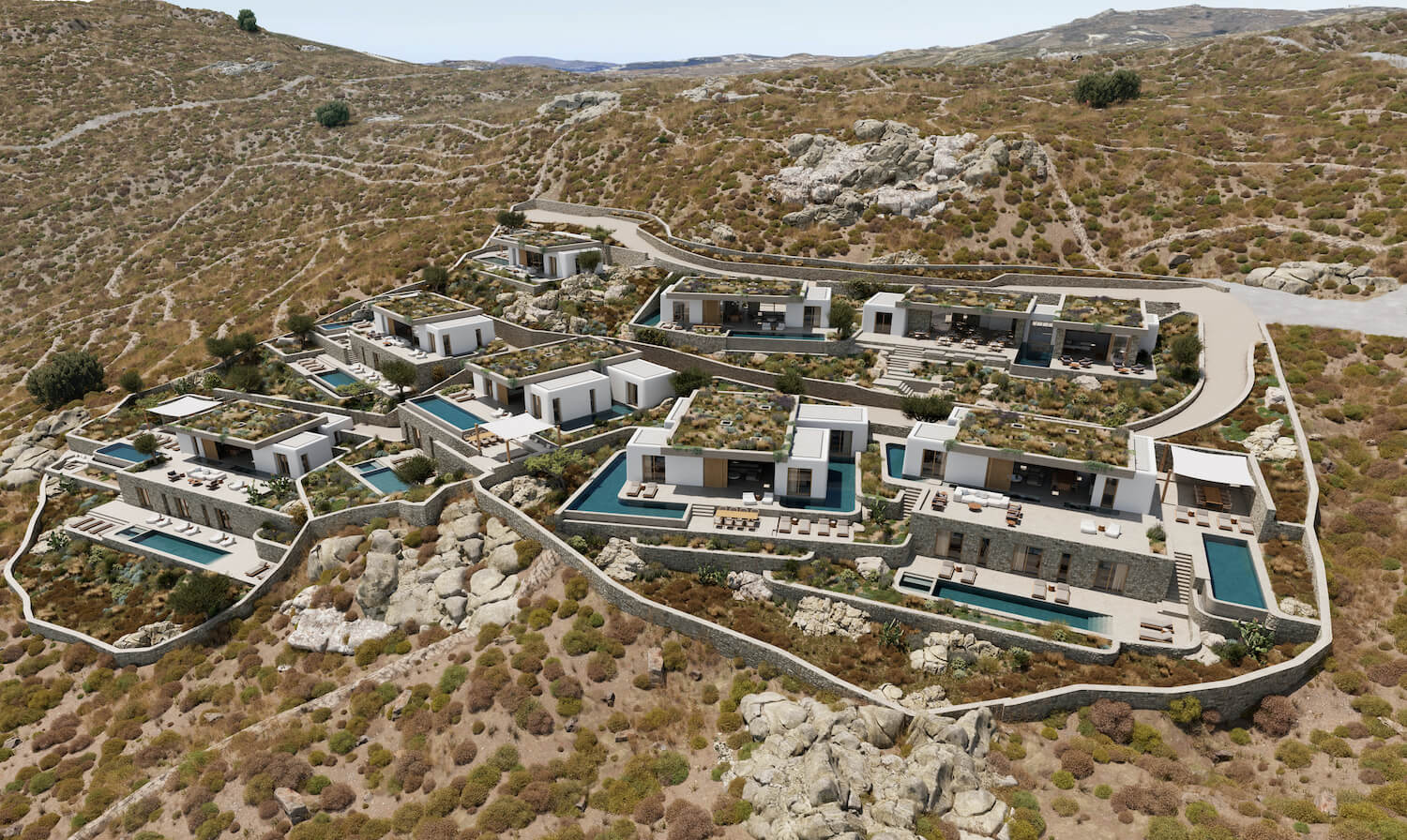 Each villa building consists of two or four white volumes, that jointly support a rectangular concrete slab with planted roof. In some cases, there is an extra lower level by stone. Between the white volumes and under the planted roof, an open space is created and hosts the common functions- kitchen, dining room and living area. The whitewashed volumes, that are inspired by the traditional architecture of the island, are hosting the private spaces such as bedrooms or staircases leading to the lower level. The lower level from local stone hosts the extra bedrooms at the front side enjoying the spectacular views and the private swimming pools. At the same level the basements contain variety of facilities like gyms, sauna and steam bath, home cinemas and lounge areas.
Under the planted roof, the transparent glass windows and doors that open widely provide an interior space that blends with the pleasant outdoor scenery. At the same time, wooden blinds offer shade and protection from the sun during the day. Everyday living can be extended to the outdoor terraces, where guests can enjoy the panoramic views, the swimming pools and plenty lounge and dining areas.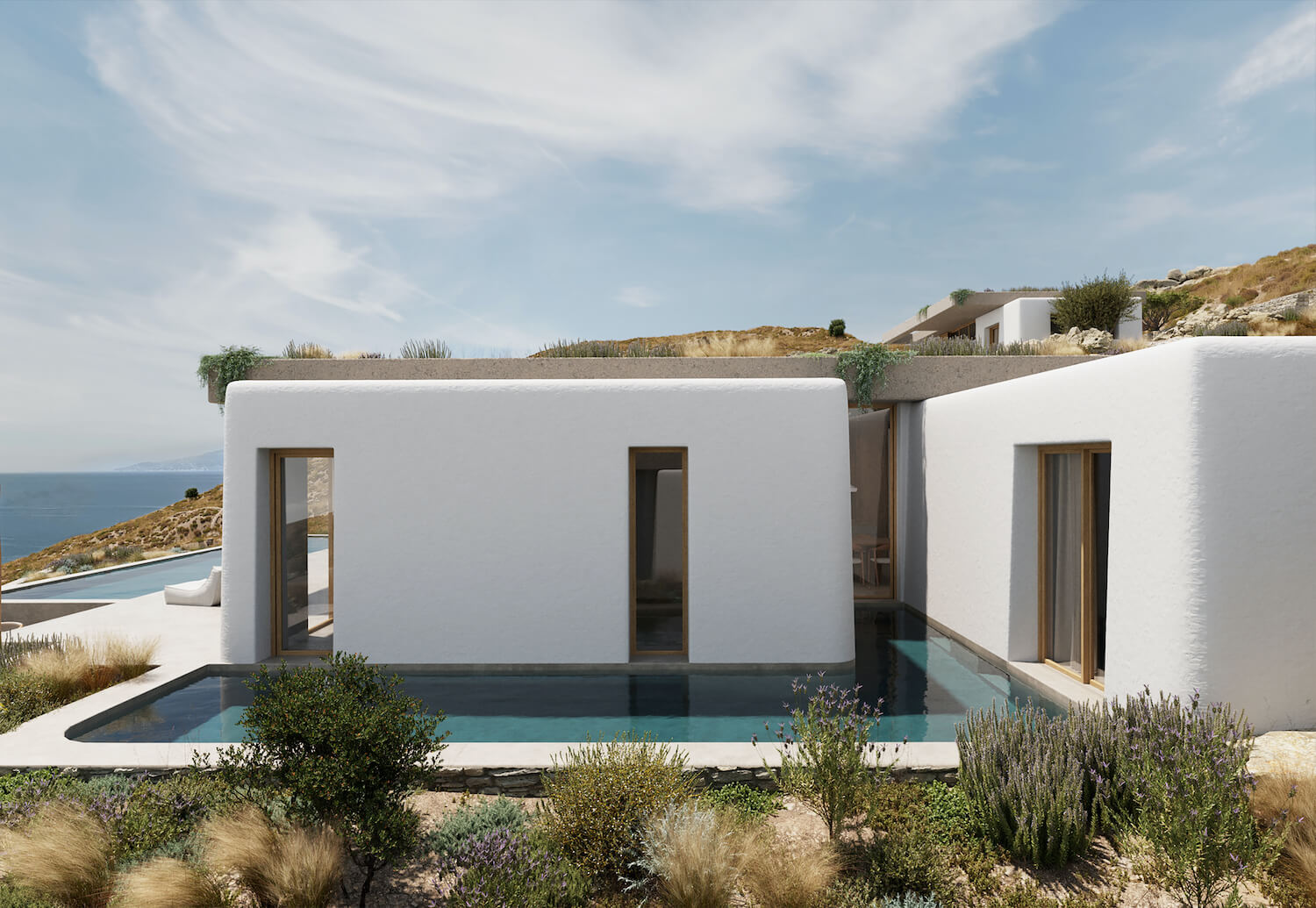 The whole composition is taking inspiration from the natural and cultural landscape of Mykonos. Planting and vegetation, water and rocks are key elements of the composition that embrace the buildings and contributes to a more intense experience of island living for the visitors. The use of the planted roofs minimizes the imprint of the building in the landscape, while at the same time contributes to the natural insulation of the communal areas.
The rock outcrops are becoming part of the design and the excavated stones are used for the buildings and the configurations of the uncoated stonework with a recessed joint. The roofs are designed to collect rainwater and be reused for the needs of buildings. The exterior white and rounded masonry are in dialogue with the traditional architecture of the Cyclades. The floors are lined both internally and externally with cement mortar in an earthy shade, enhancing the continuity of the interior with the exterior, aiming at the smooth integration of the floor into the natural environment.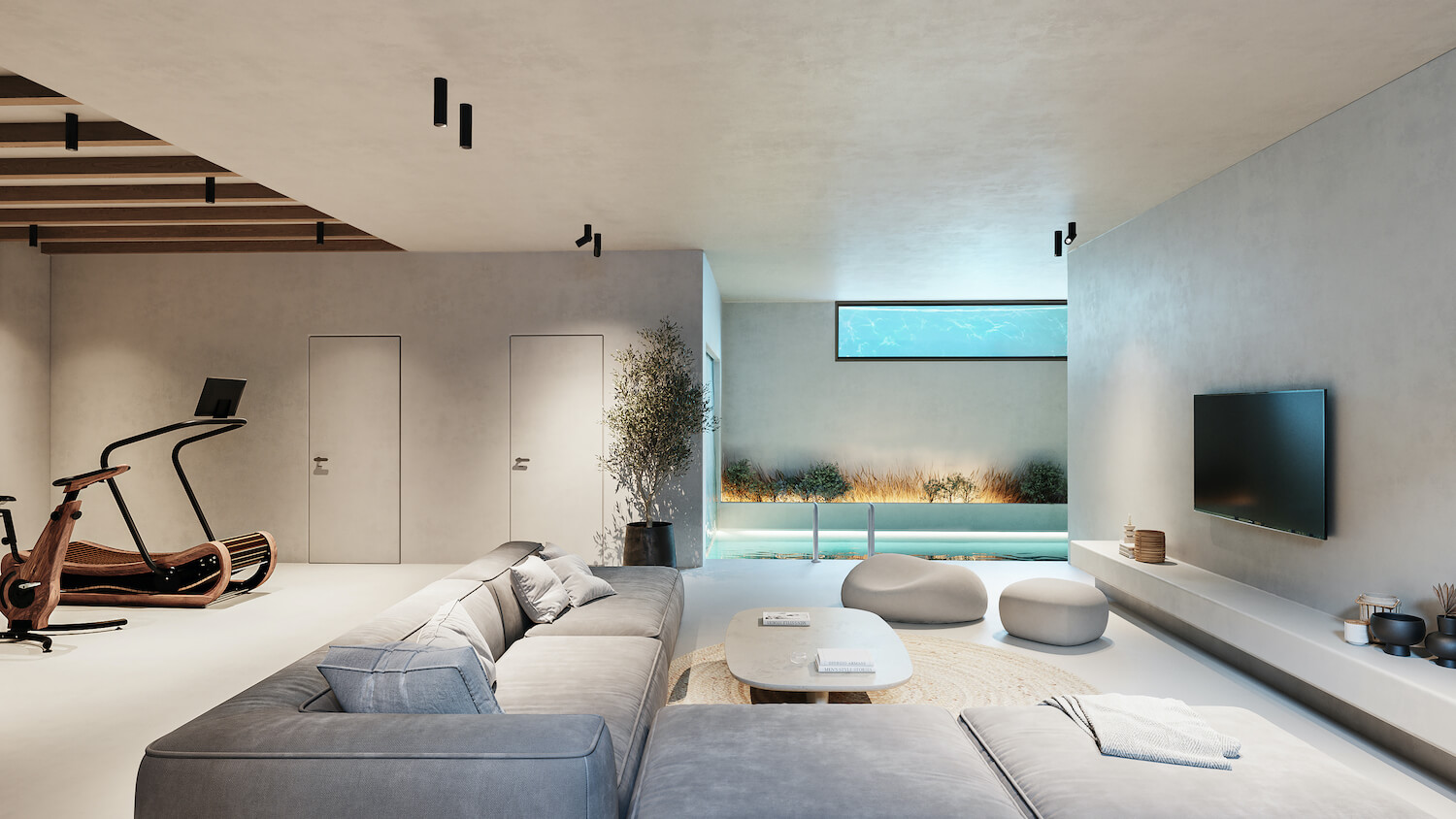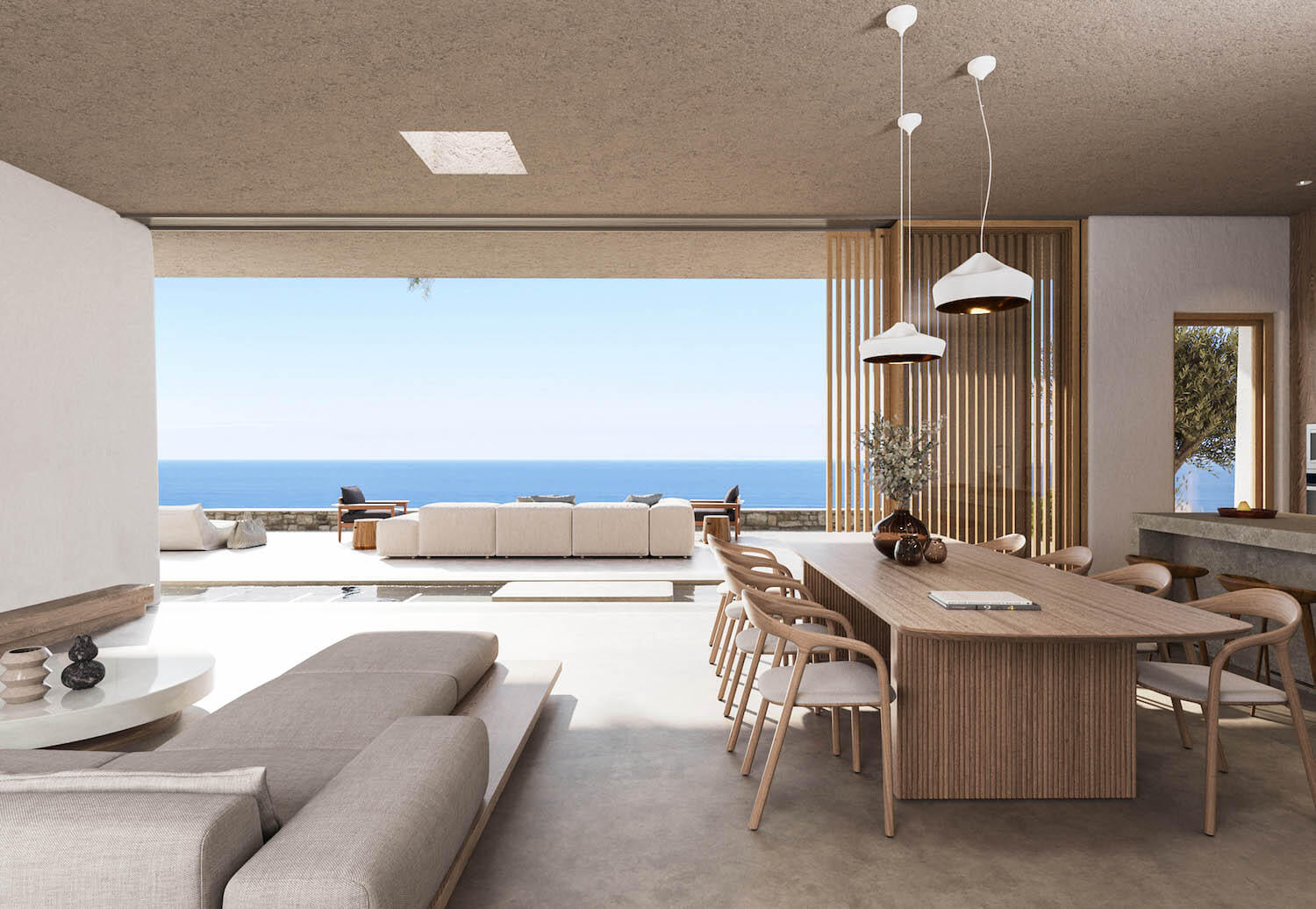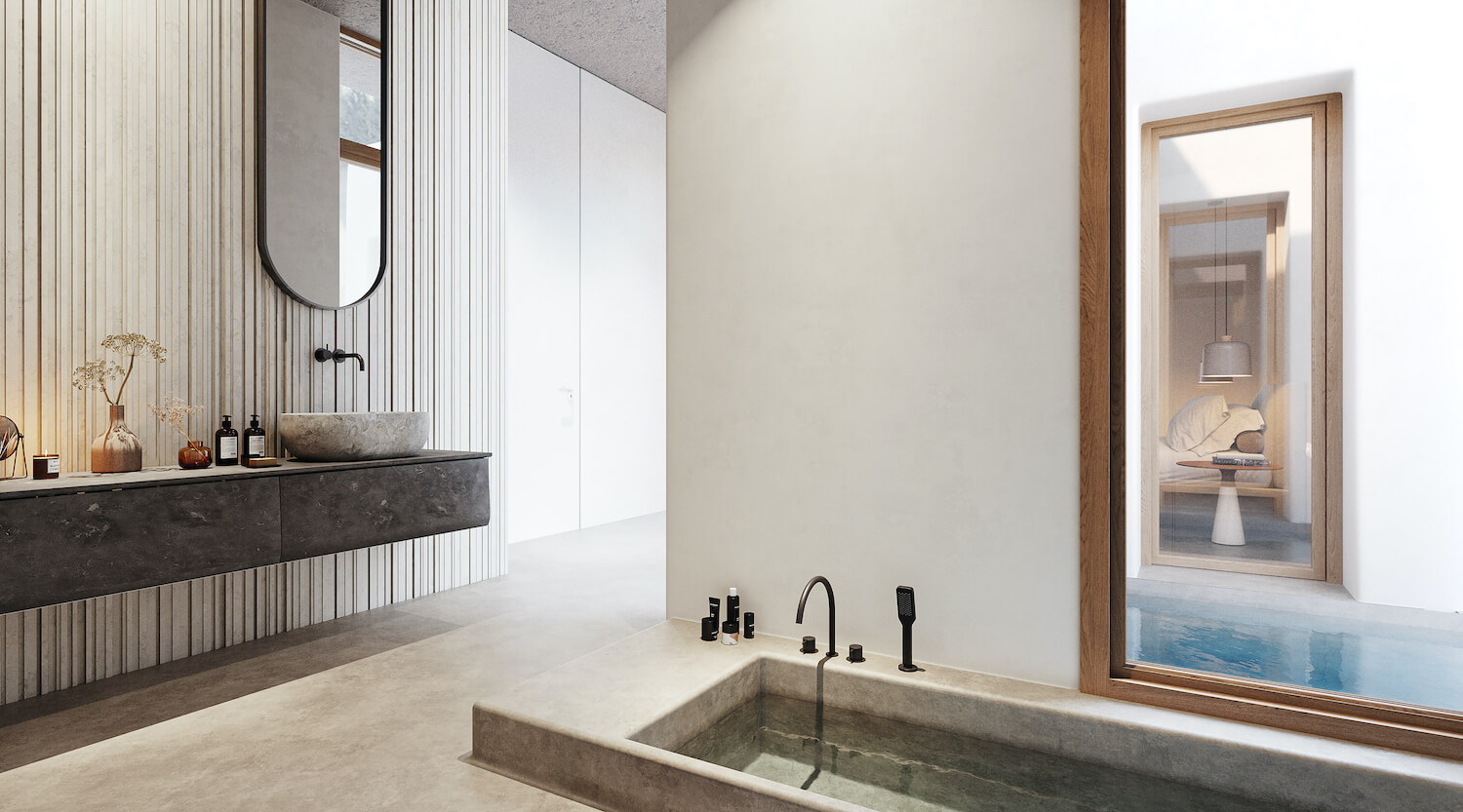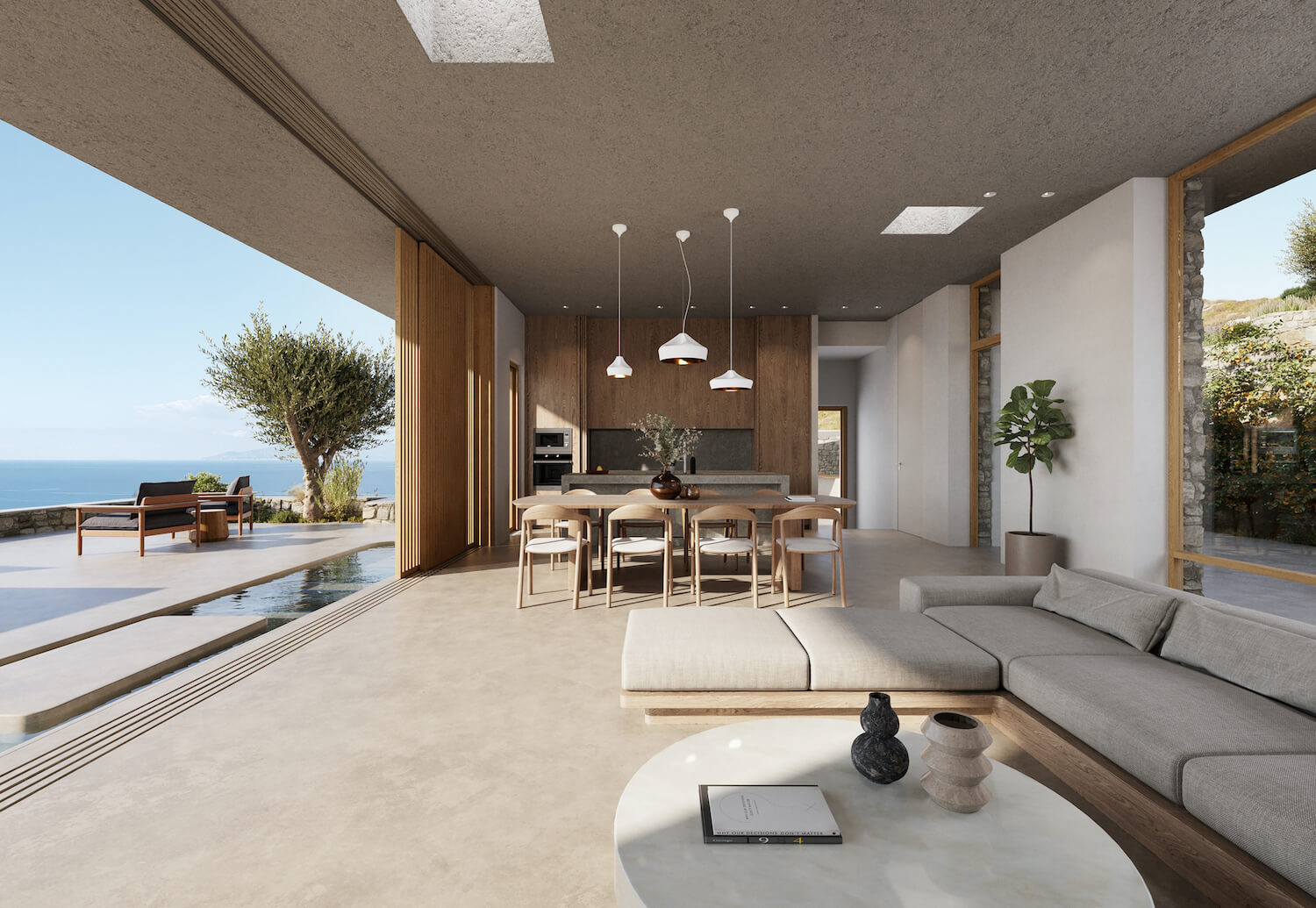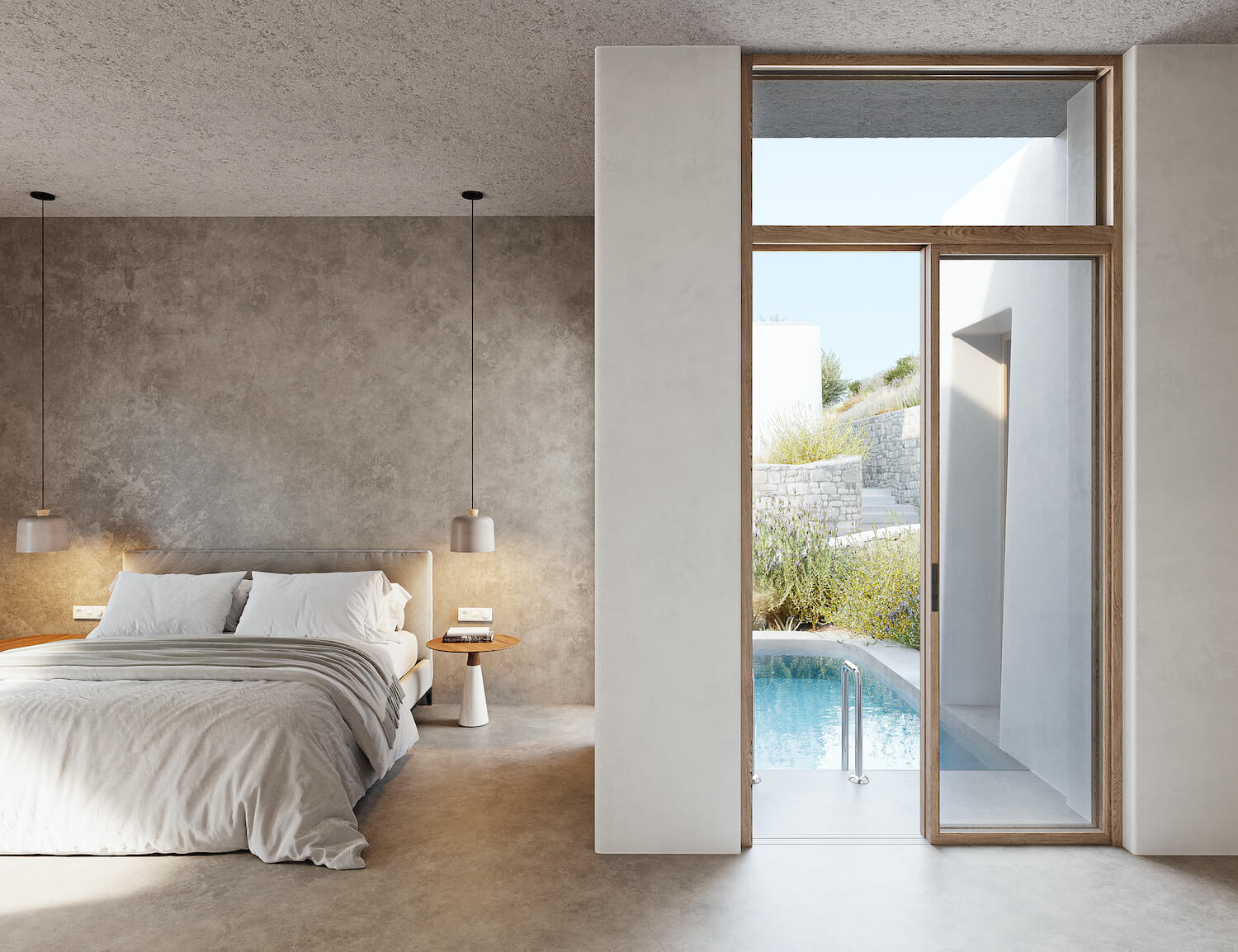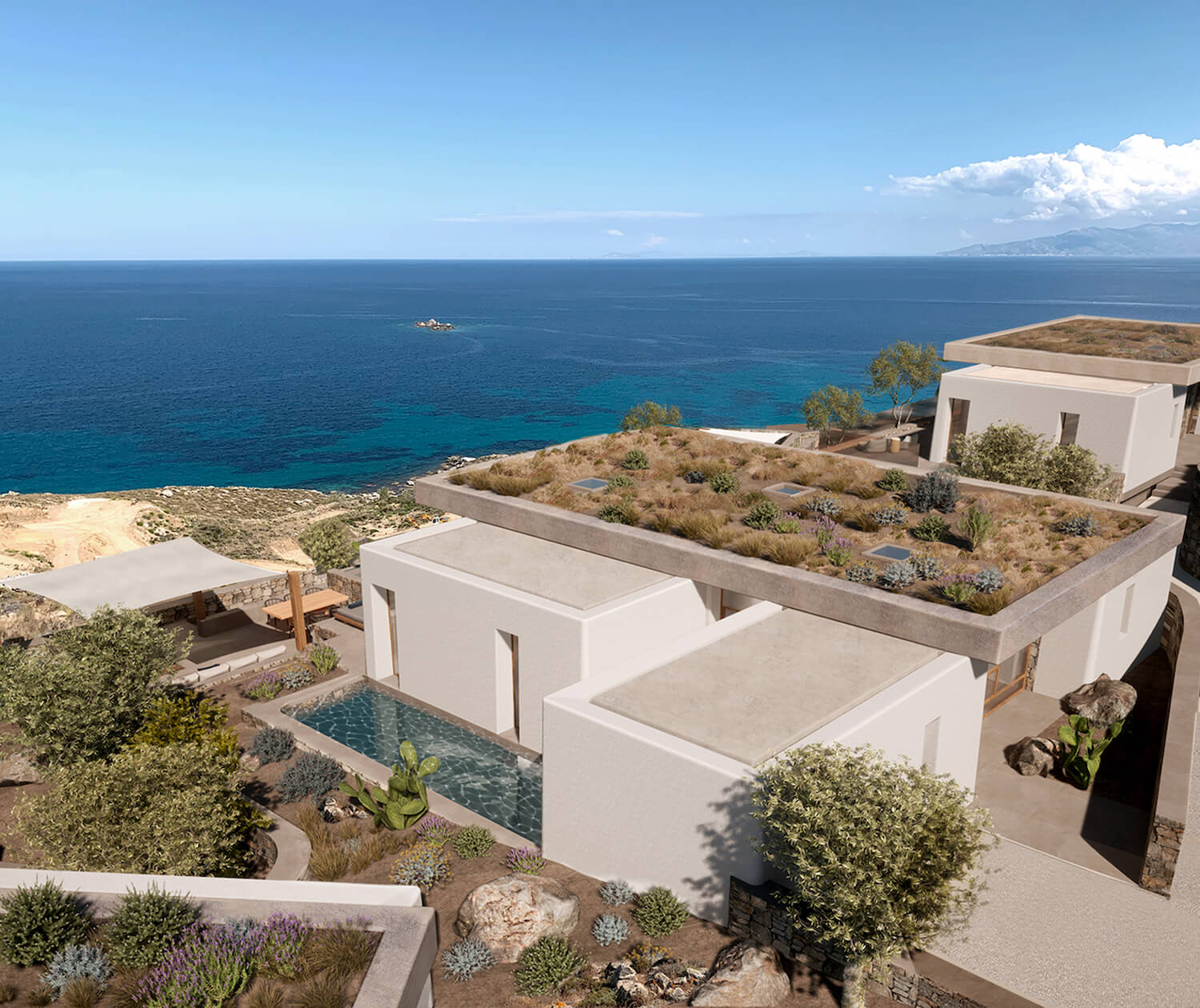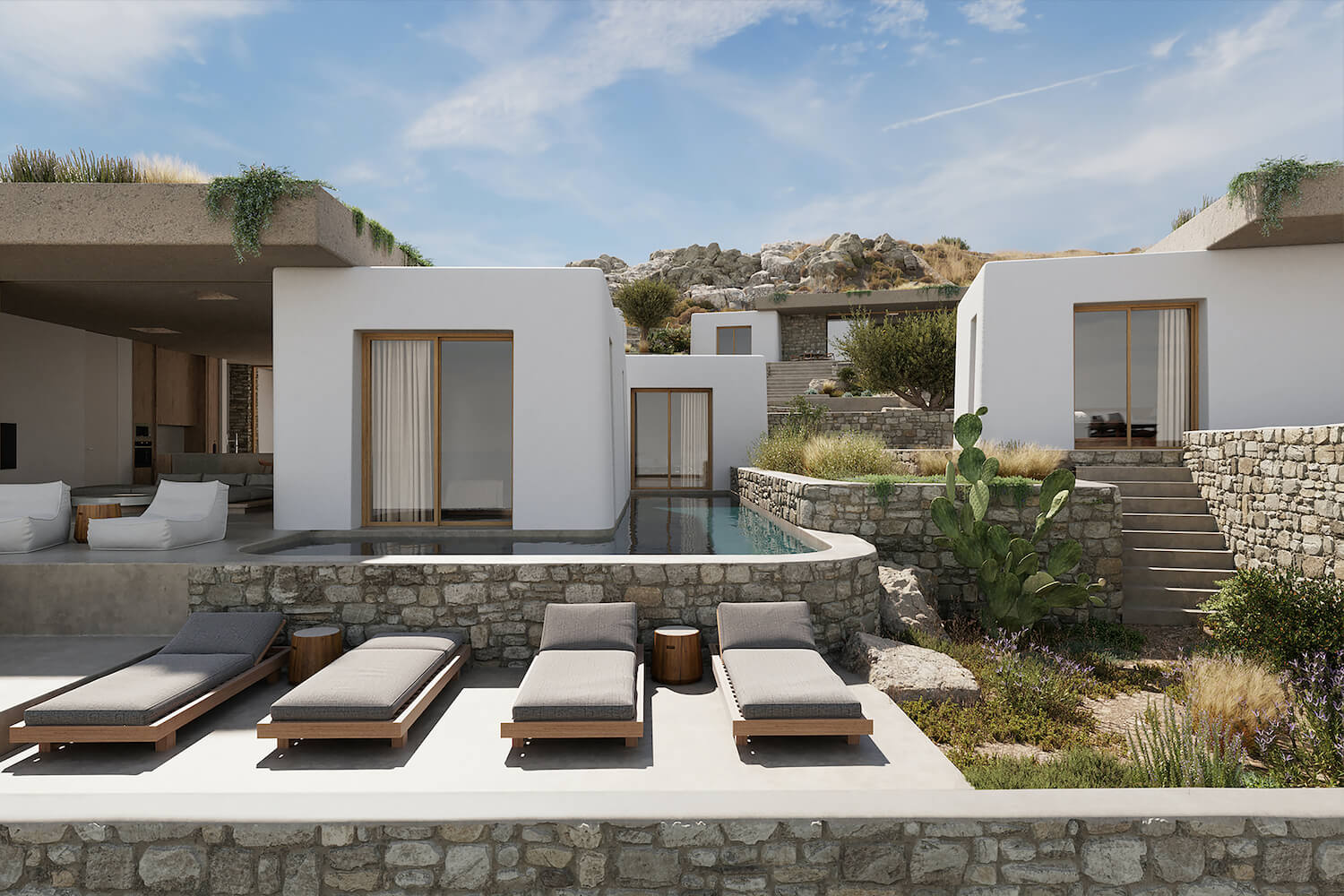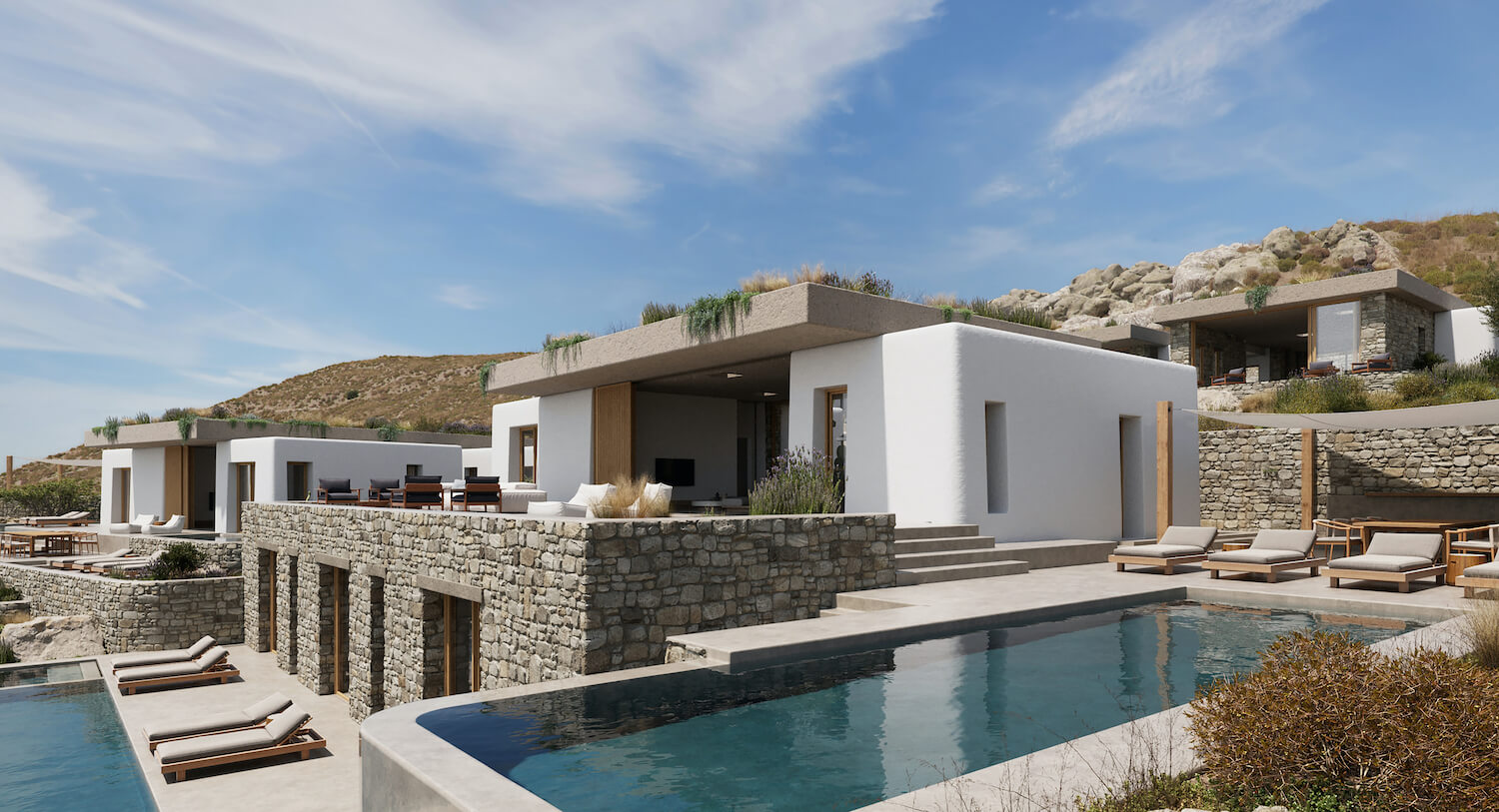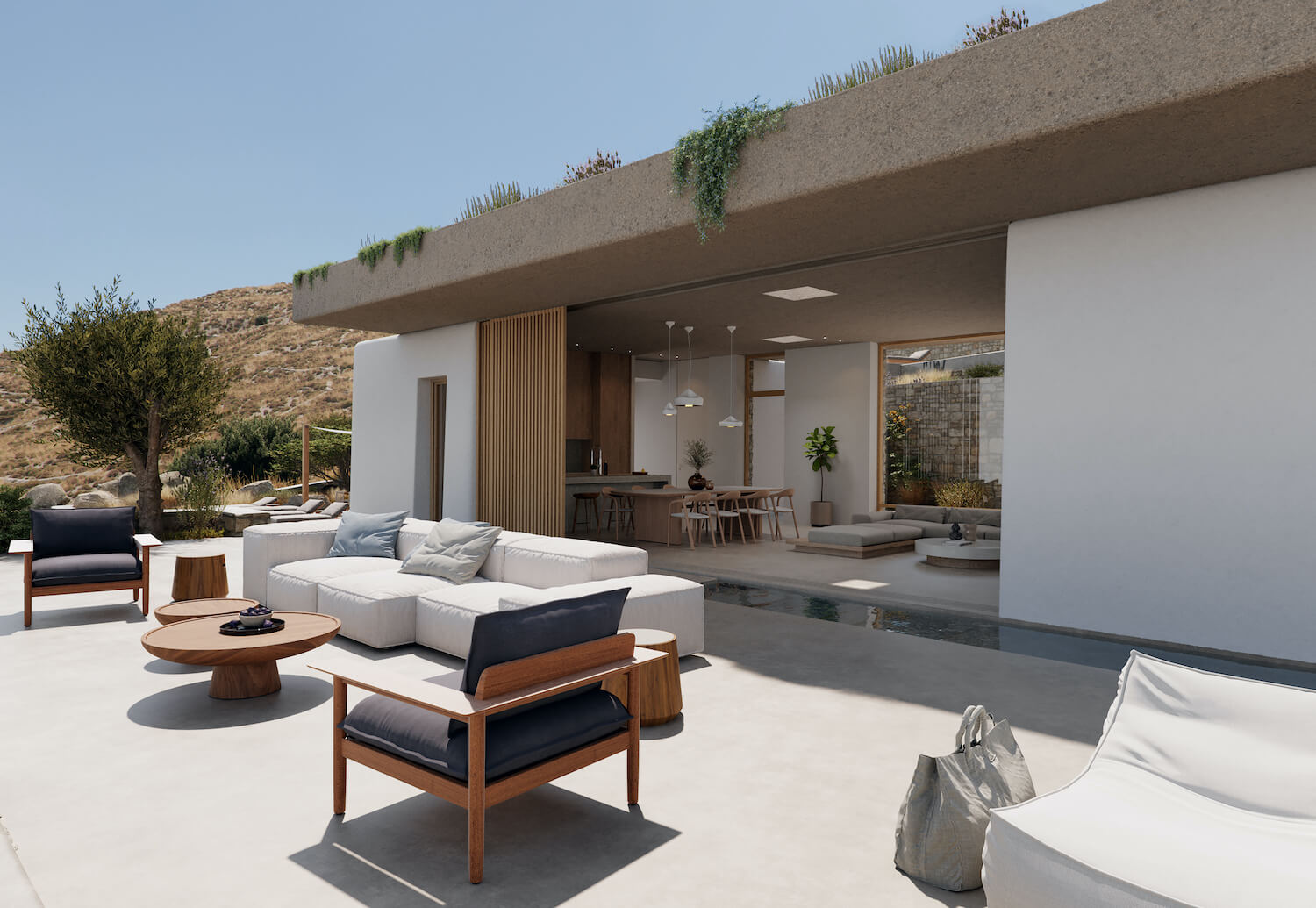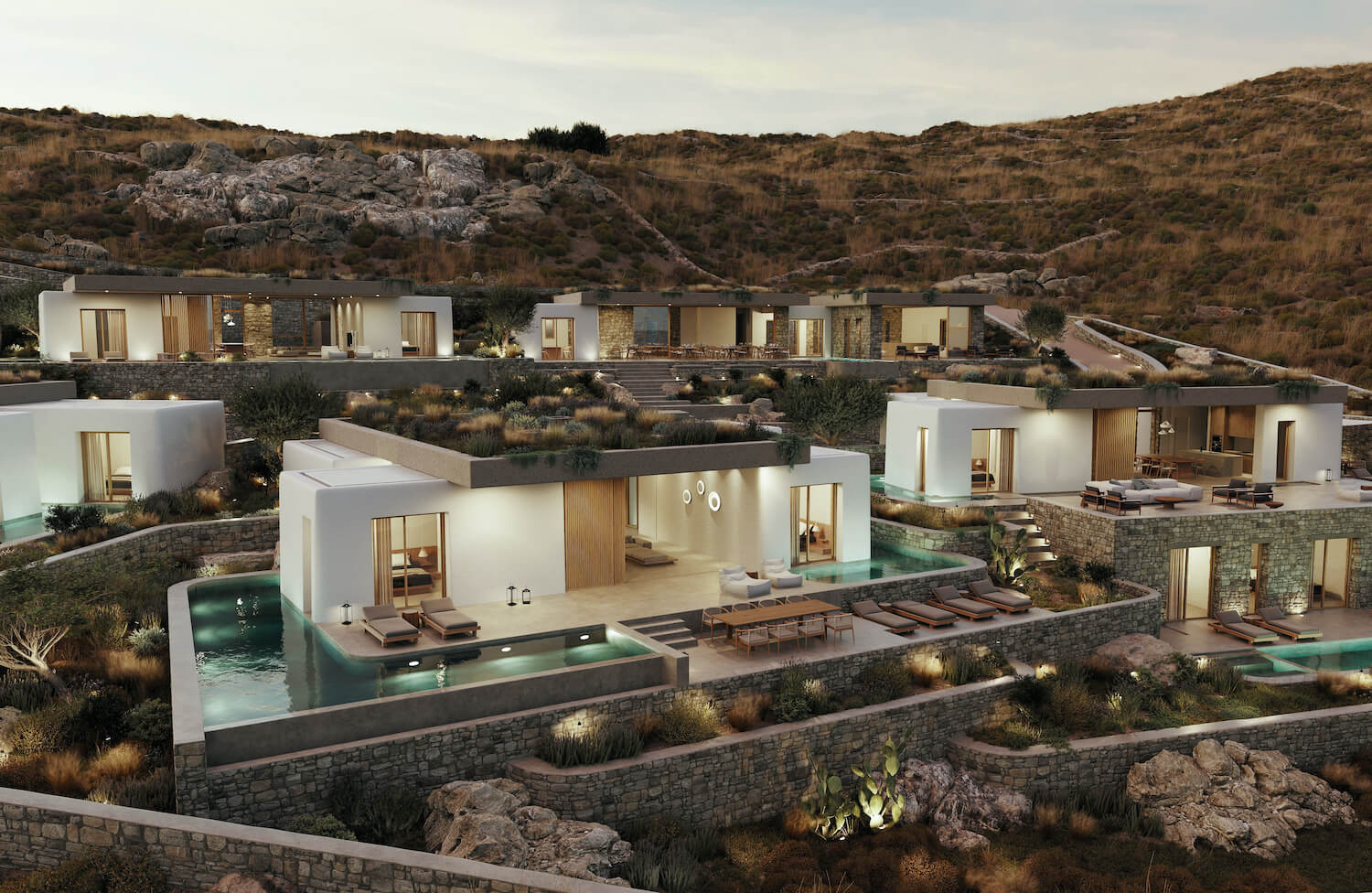 ---