Designed by T.K. Chu Design Group, the four-story villa named Greencore is located among hills, woods, and lakes. With angled cornices and floor-to-ceiling windows, it shows an integration of traditional Chinese garden and modern building, which combines people, nature, and architecture perfectly, and gives off a vague animist aura. As a top-tier real estate project in Taizhou, Zhejiang province, the Villa Greencore pays tribute to the city spirit, namely '和合'. The word can be translated in English in various ways: inclusive, harmonious, confluent, etc. According to the architectural characters and urban context, T.K. Chu's vision of the villa is a place where art encounters space and humanity meets nature.
The result is a habitable artwork themed Spring up, which is embodied in decorations and two specially created sculptures by T.K. Chu. The sculptures, which are called "Spring up: Waltz" and "Spring up: Dance to the wind" respectively, are fitting metaphors for a vibrant and passionate life. The former flanked by a courtyard and the gym is suspended from the ceiling, like water falling straight out of the sky. Whereas the latter rises in the middle of a courtyard, shaped like the wind of God sweeping over the deep. The villa is more than just a building accommodating a living room, dining rooms, bedrooms, bathrooms, study rooms, etc. Thanks to the integration of artworks, it creates and renders an atmosphere where people's minds and spirits can be released and soar.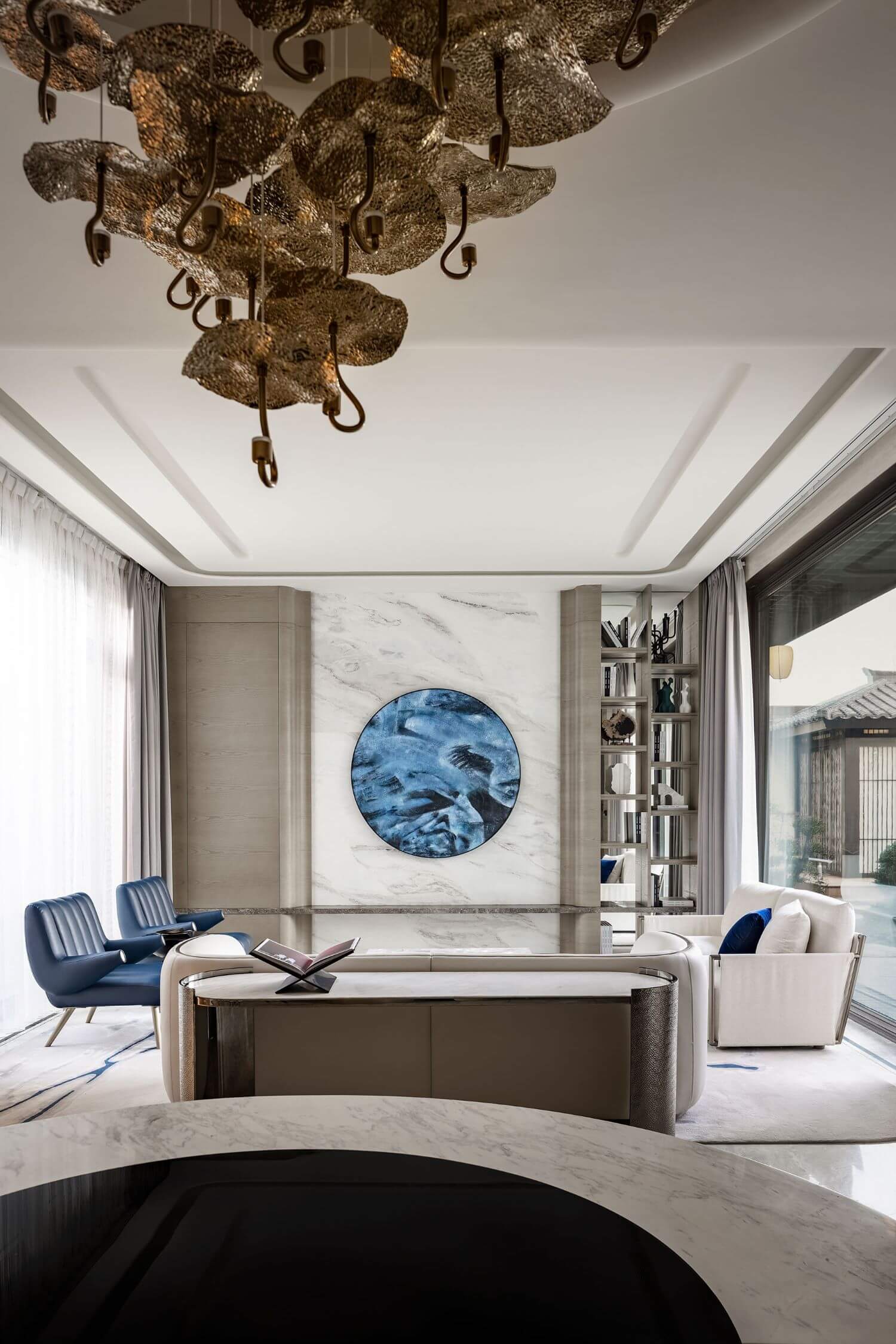 There are two entrances to the villa, the above-ground entrance connecting to the garden and the underground one connecting to the garage. The lobby is located between a pair of walk-in-closet, residents could store their clothes before proceeding to an underground private gallery. A double-height space is divided by a fireplace and a glass screen, offering a high degree of spatial flexibility to meet the needs of celebrating, family meeting, exhibition, recreation and a variety of other functions. A wine cellar, bar, dining room and cigar area allow the residents to entertain more than 20 guests, which is a complement to the living room and dining room on the first floor. Ornamented with smooth curves and circle, the ceilings remind people of clouds. More significantly, the basement is illuminated by a series of skylights and glass-walls-surrounded courtyards, which connects the residents to the exterior and the passing of time. Above a circular skylight is the koi pond and below is "Spring up: Dance to the wind", creating a dreamscape where fishes fly in the sky. The space therefore echoes and interacts with dense greens and clear waters.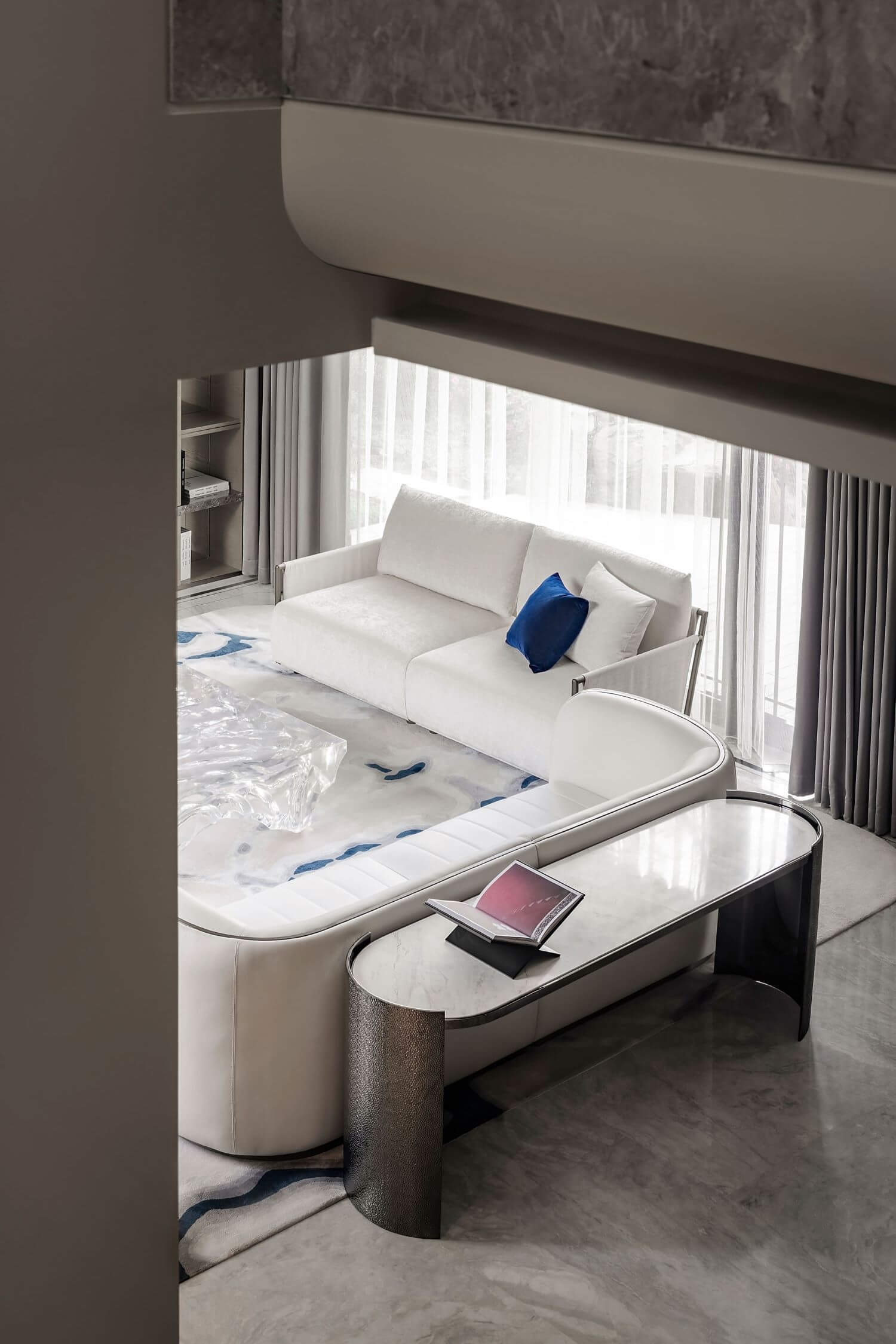 A mezzanine overlooking the double-height multi-functional space accommodates a nanny room, laundry room, children's entertainment room and study room. The study room is connected by a glass box to the children's entertainment room, through which family members can see each other. A smile-shaped window opens in the wall of the children's entertainment room, borrowing a view of the "Spring up: Dance to the wind". Furniture from the lineup of "Smile :P" of T.K Home perfects the space, firing the imagination of young and old alike.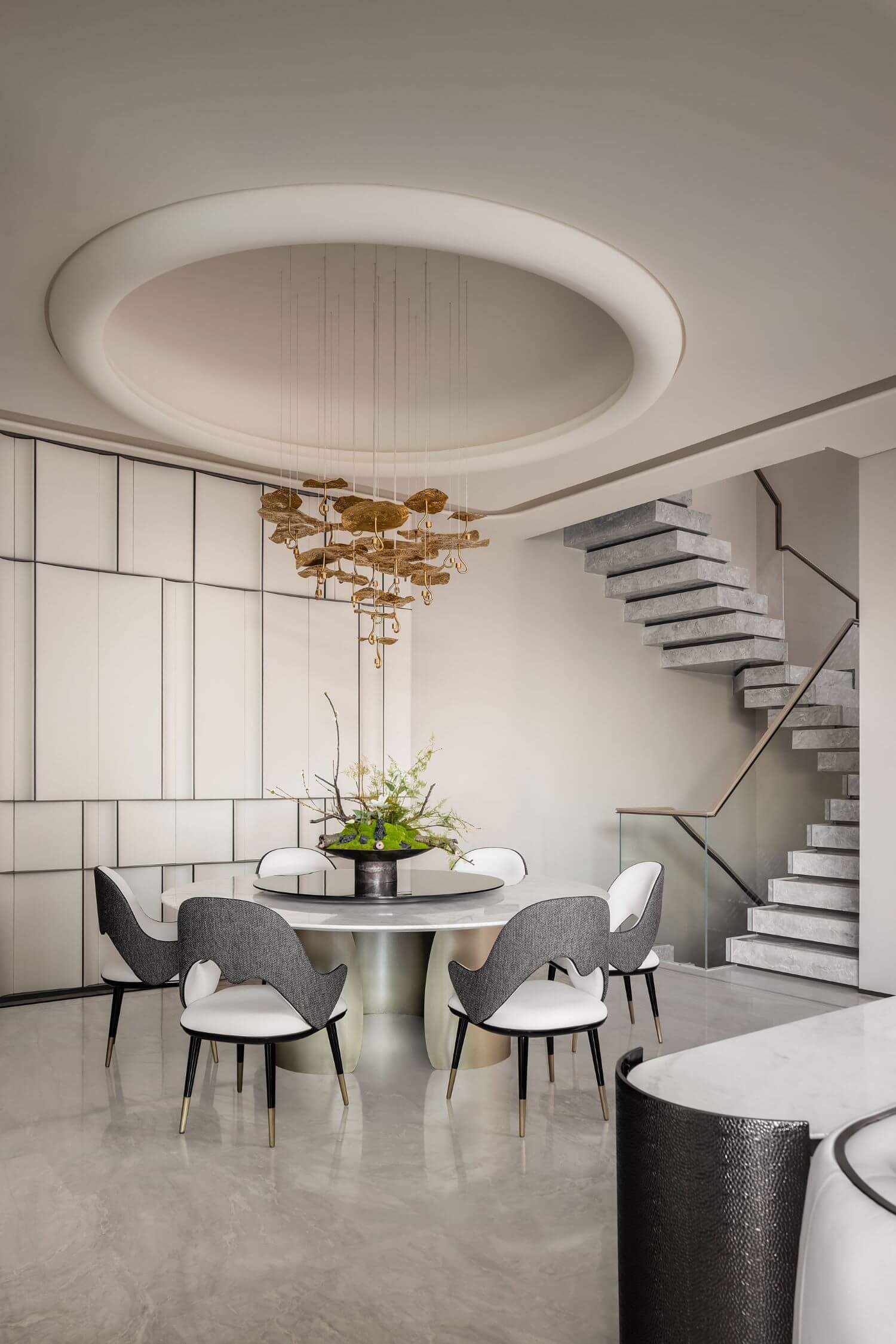 On the first floor, there are spaces for diverse family activities. A series of scenery-faced sofas and chairs are designed to allow the residents to enjoy beautiful views of swirling clouds, swimming fishes and blossoming flowers. A tea room is located next to a tatami room whose table flushes with the one in the former. Thus, a visual continuity is achieved. Cloud-shaped lamps hang above the tables, merging with the exterior landscape in an artistic way. Opposite the tea room is a living room adjoined by a dining room and the elders' suite. The wall decorations of the dining room take the shape of the Chinese-style tiles, which build a bridge linking tradition to modernity.
A sitting room on the second floor creates an emotional connection to the family members. It is adjacent to the master suite and children's suite. The headboard for the bed in the master room is decorated with cloud patterns. The intersection of artifacts, artworks, atmosphere, and nature will encourage the residents to lead a poetic life, loosening up in mind and body.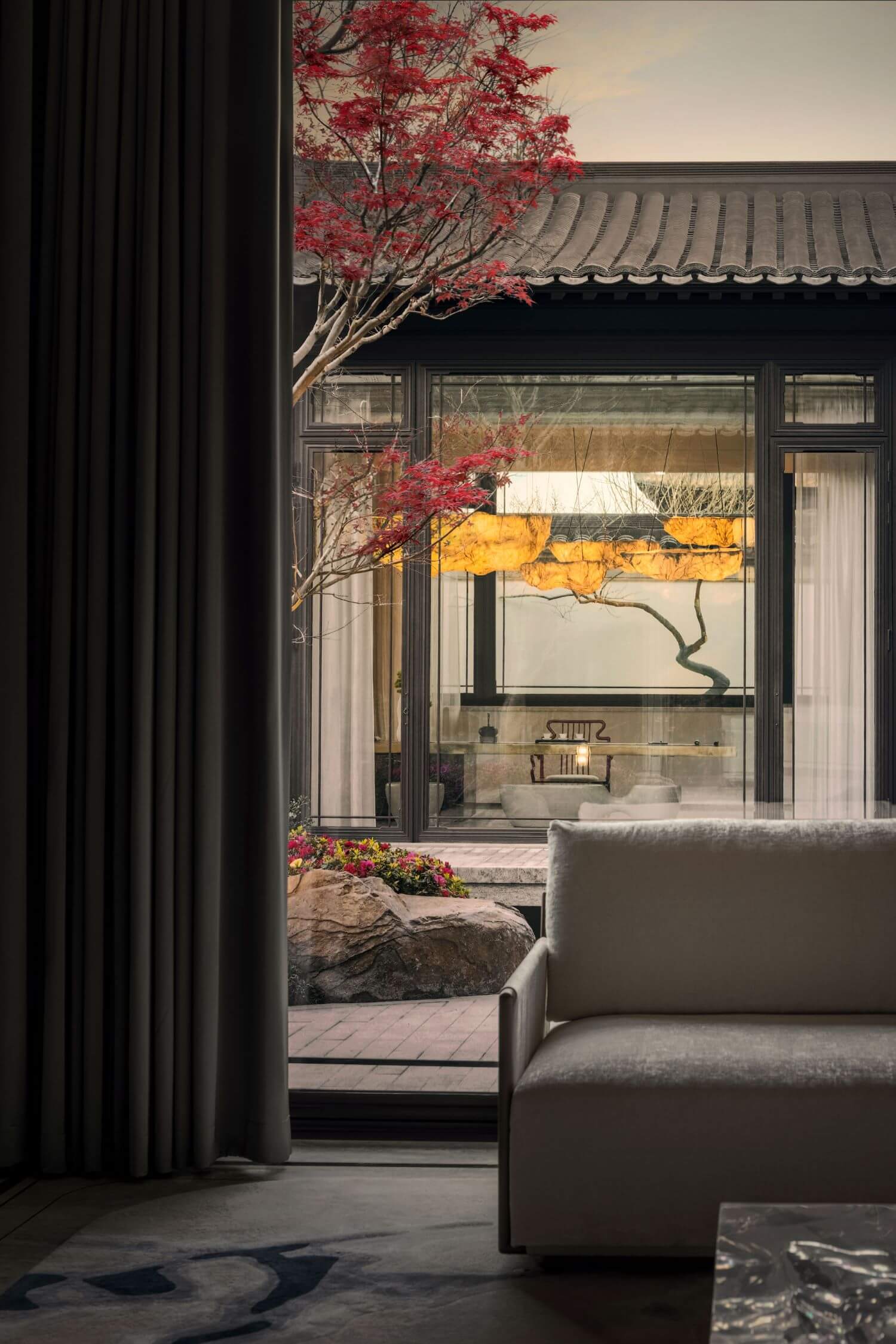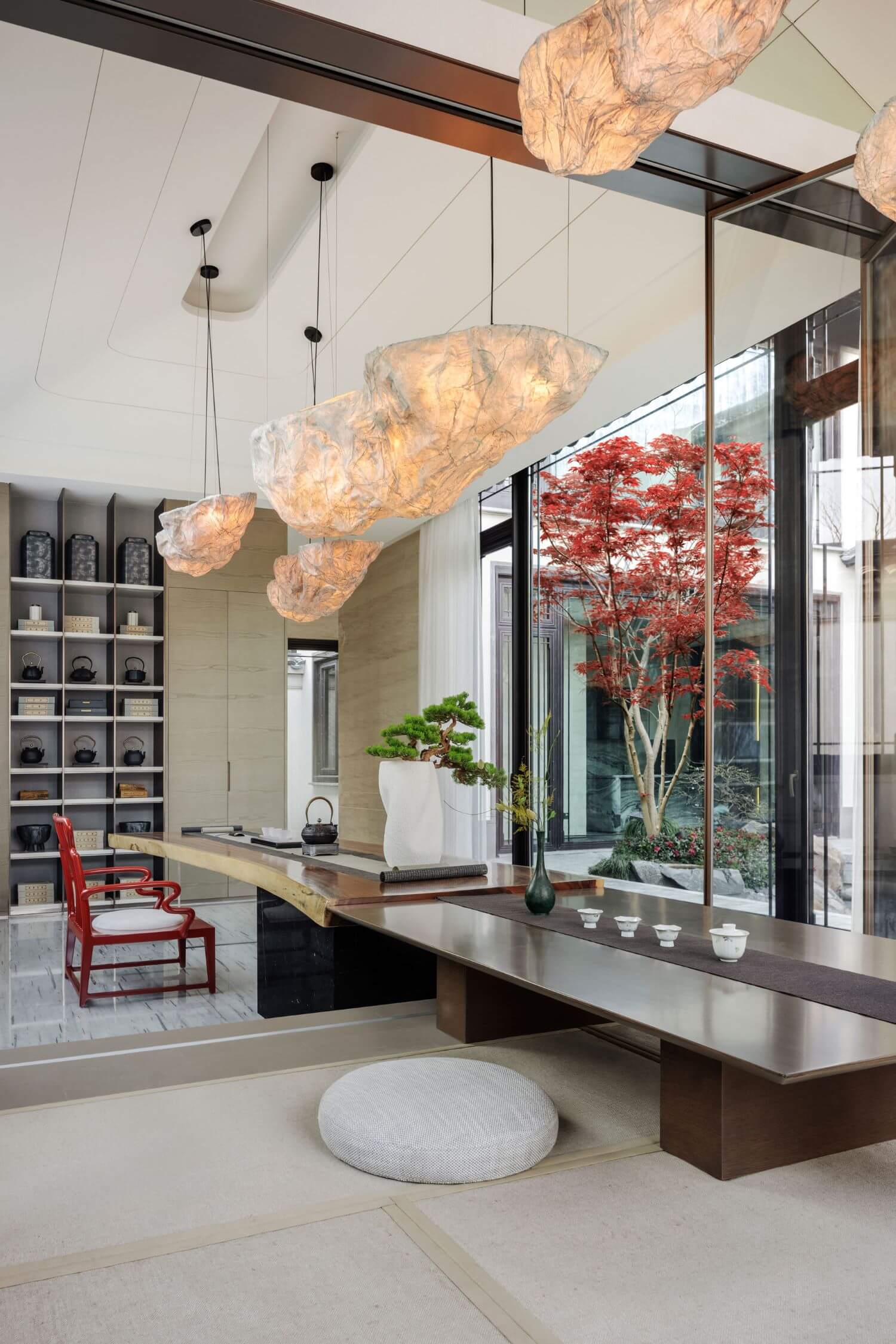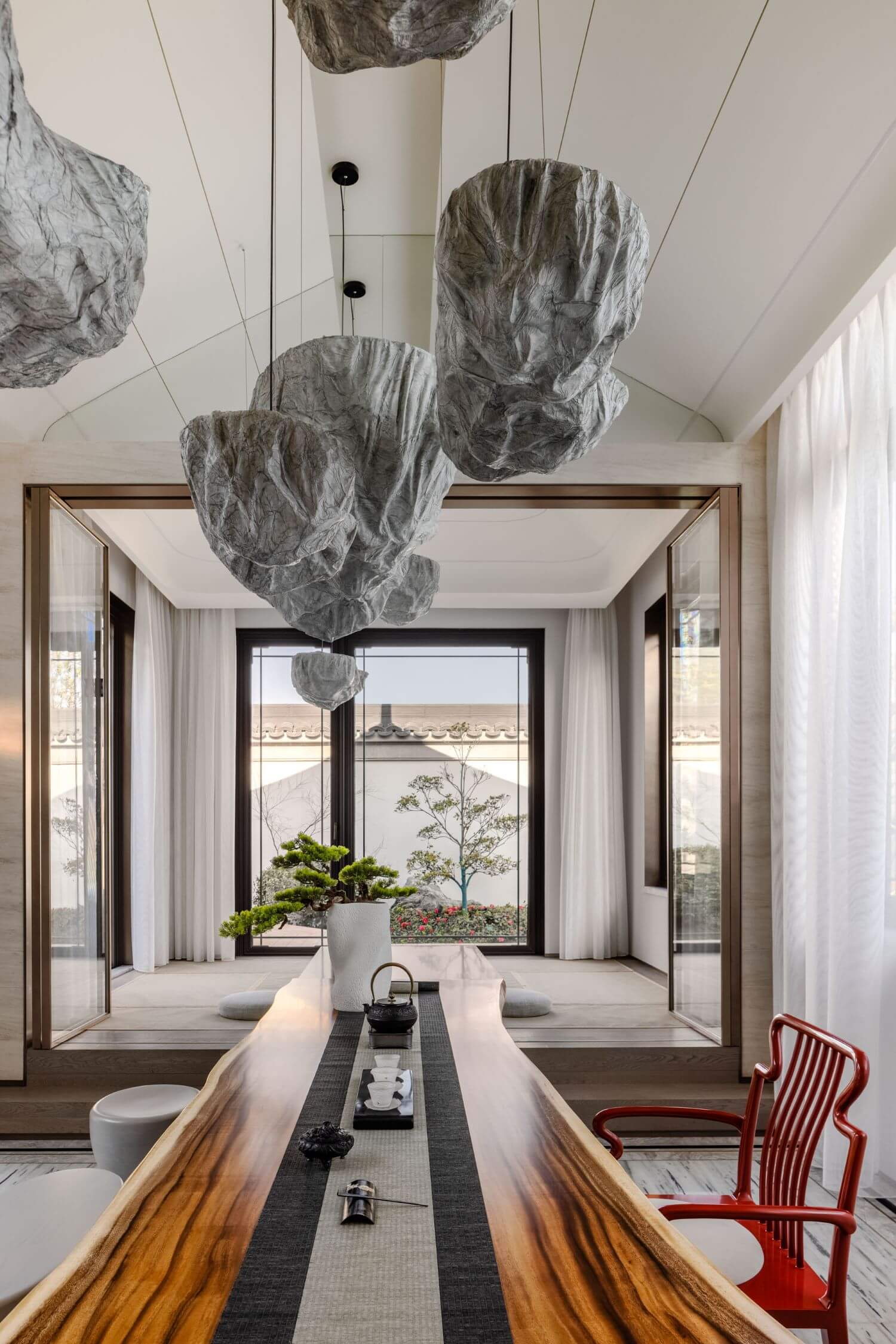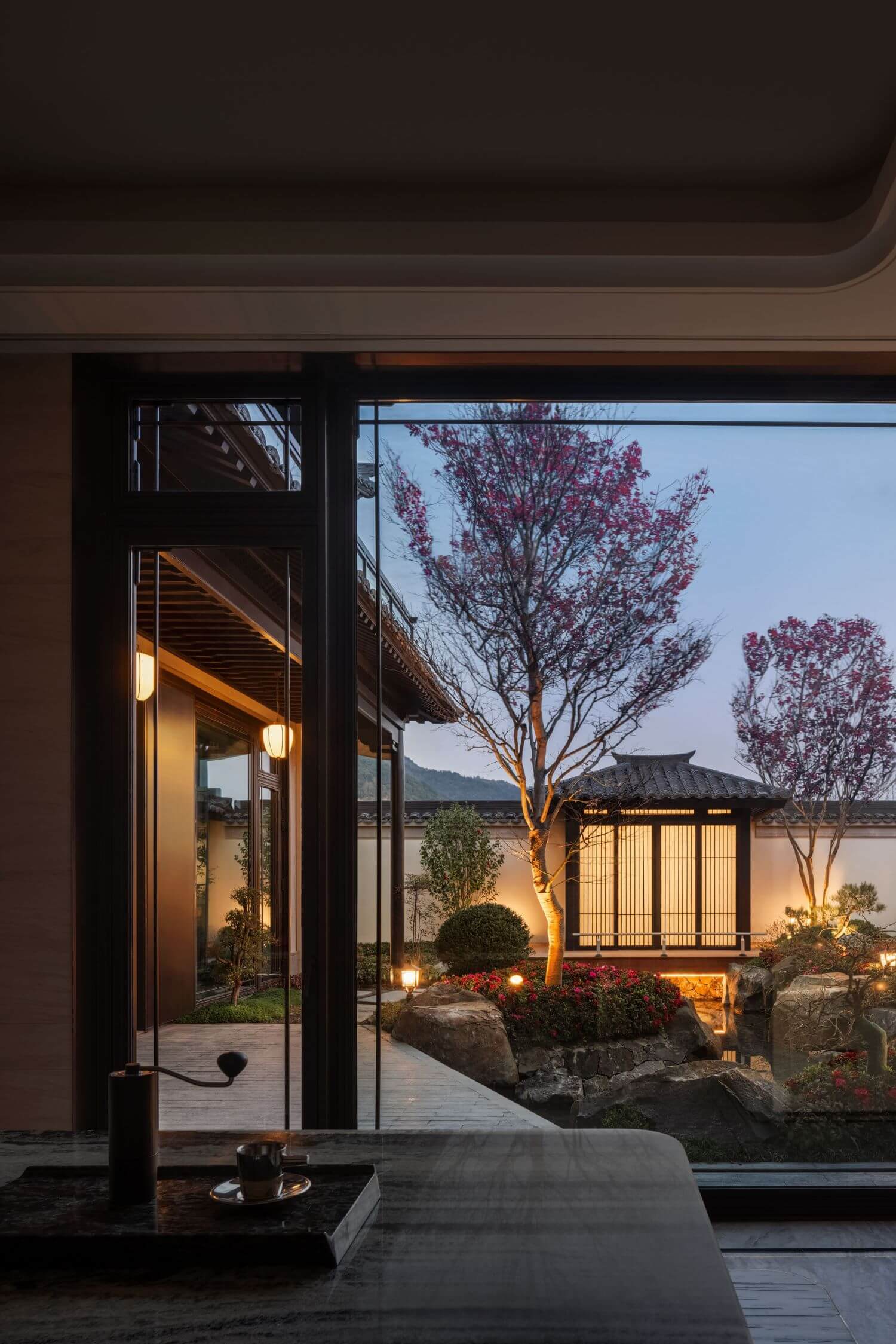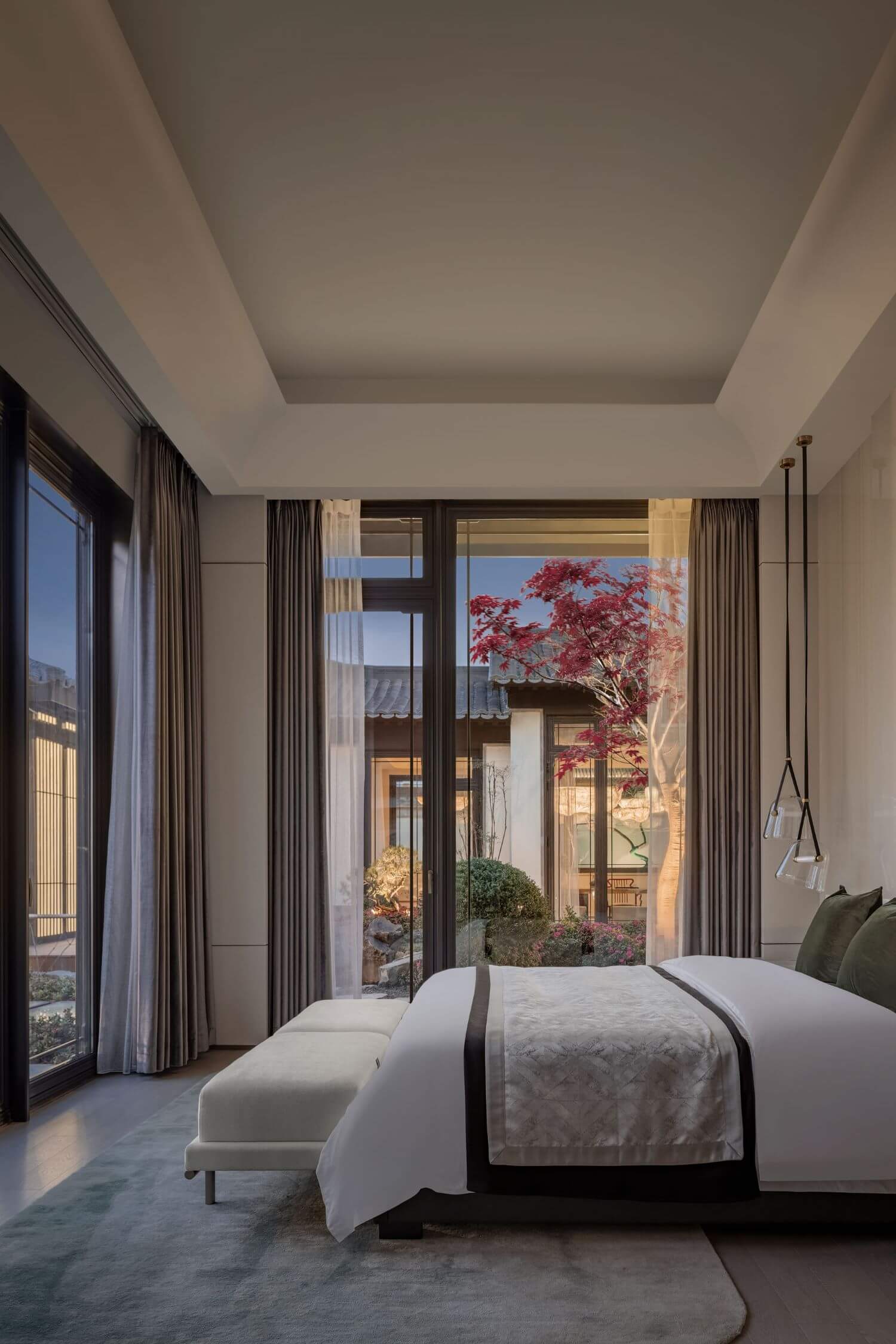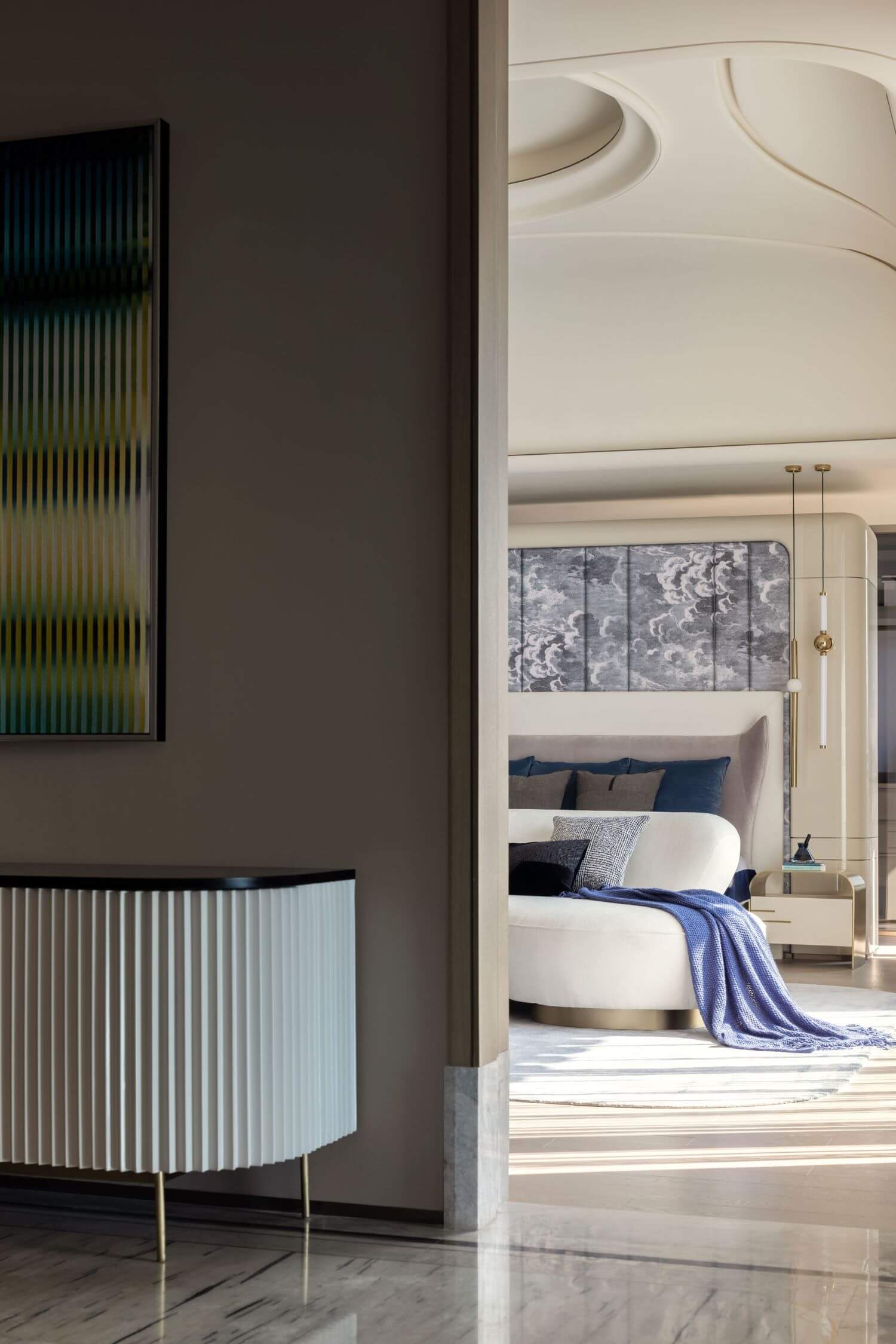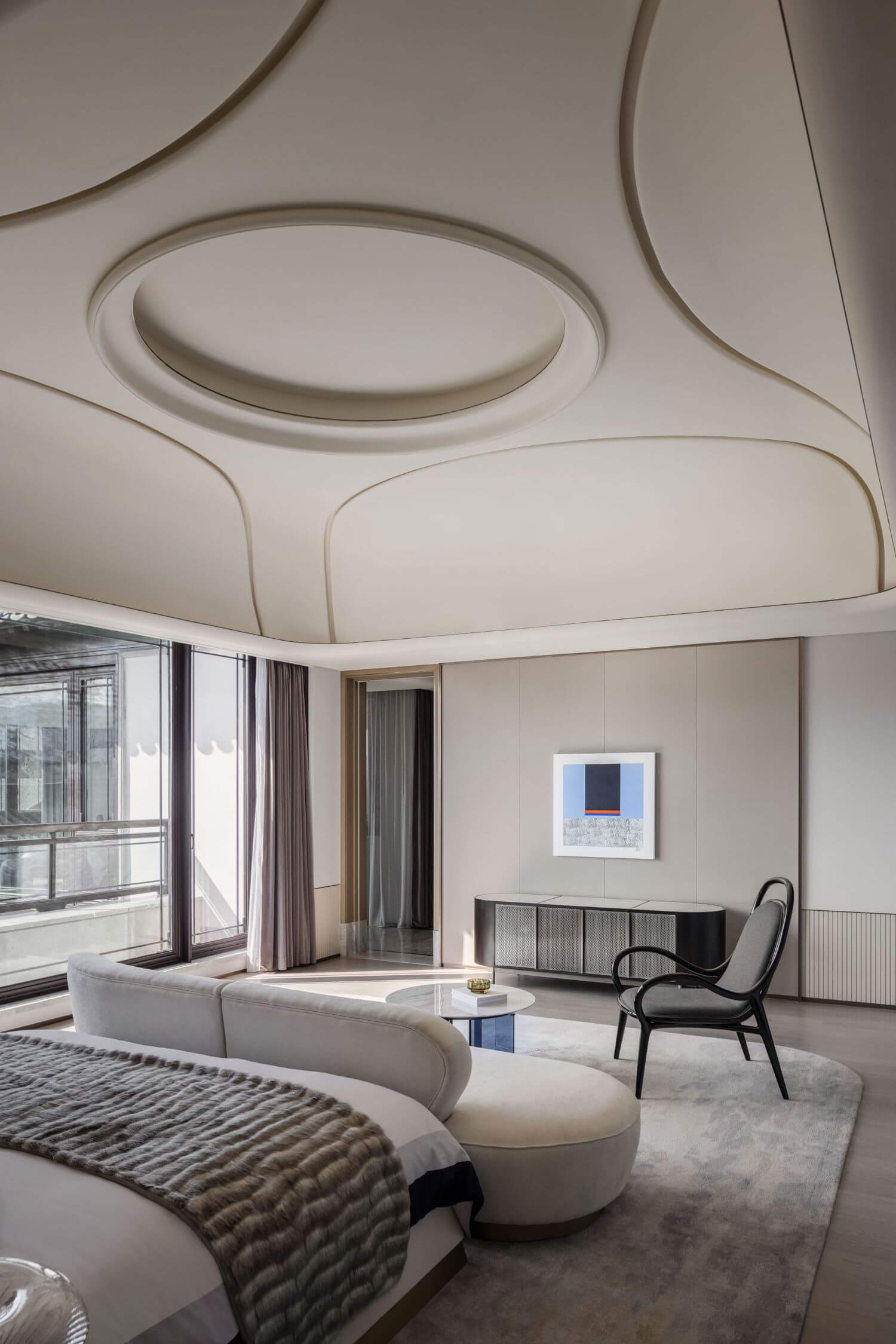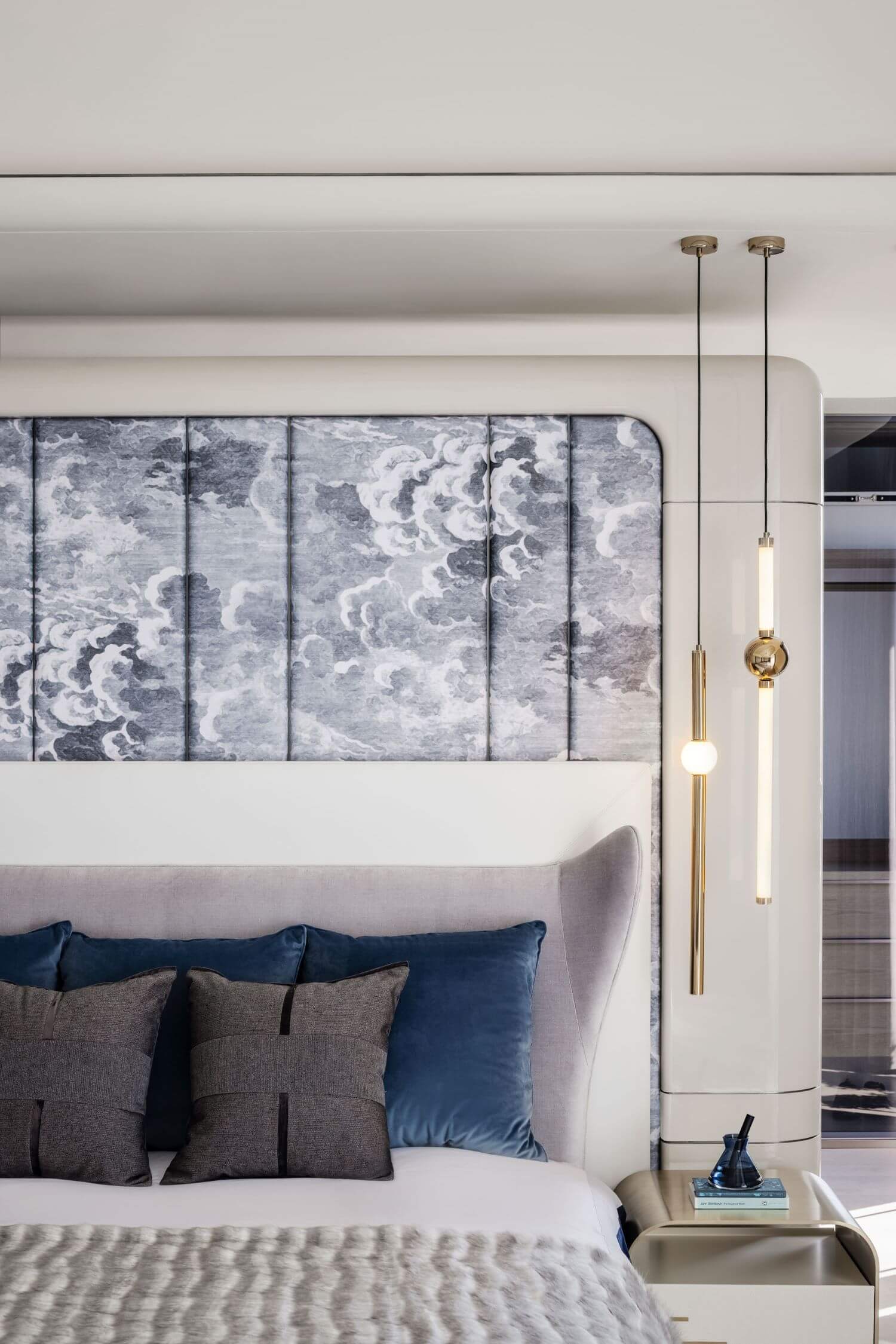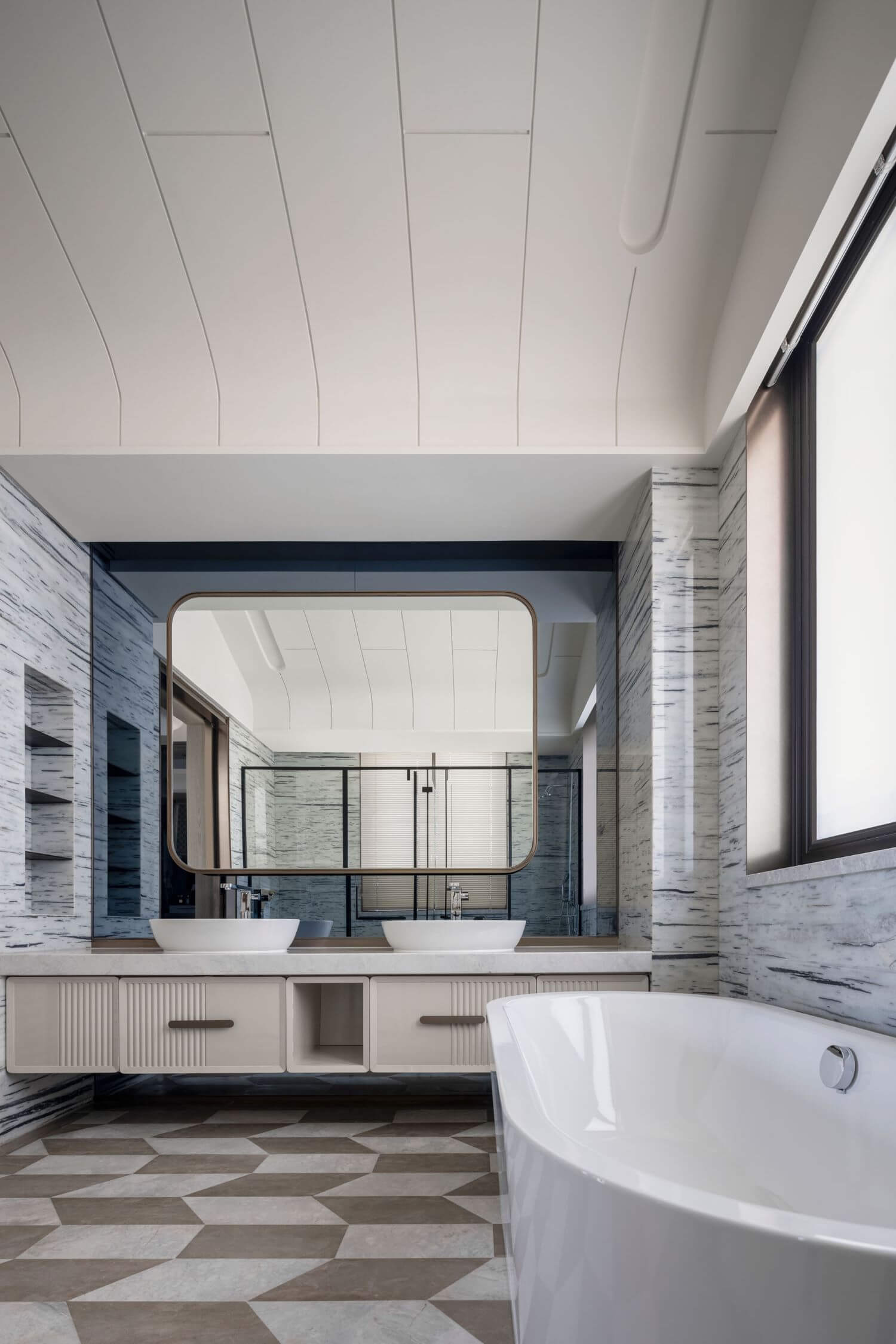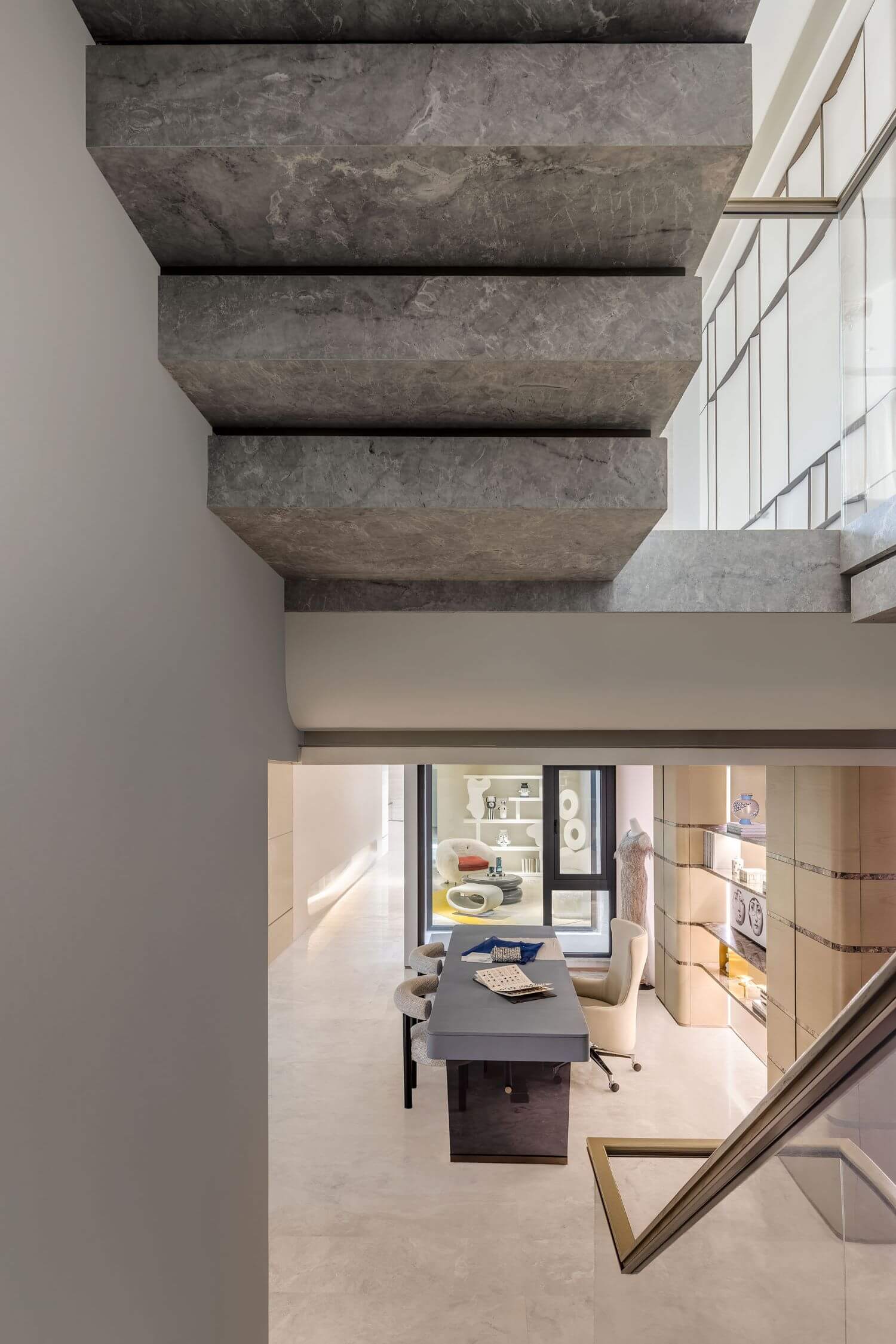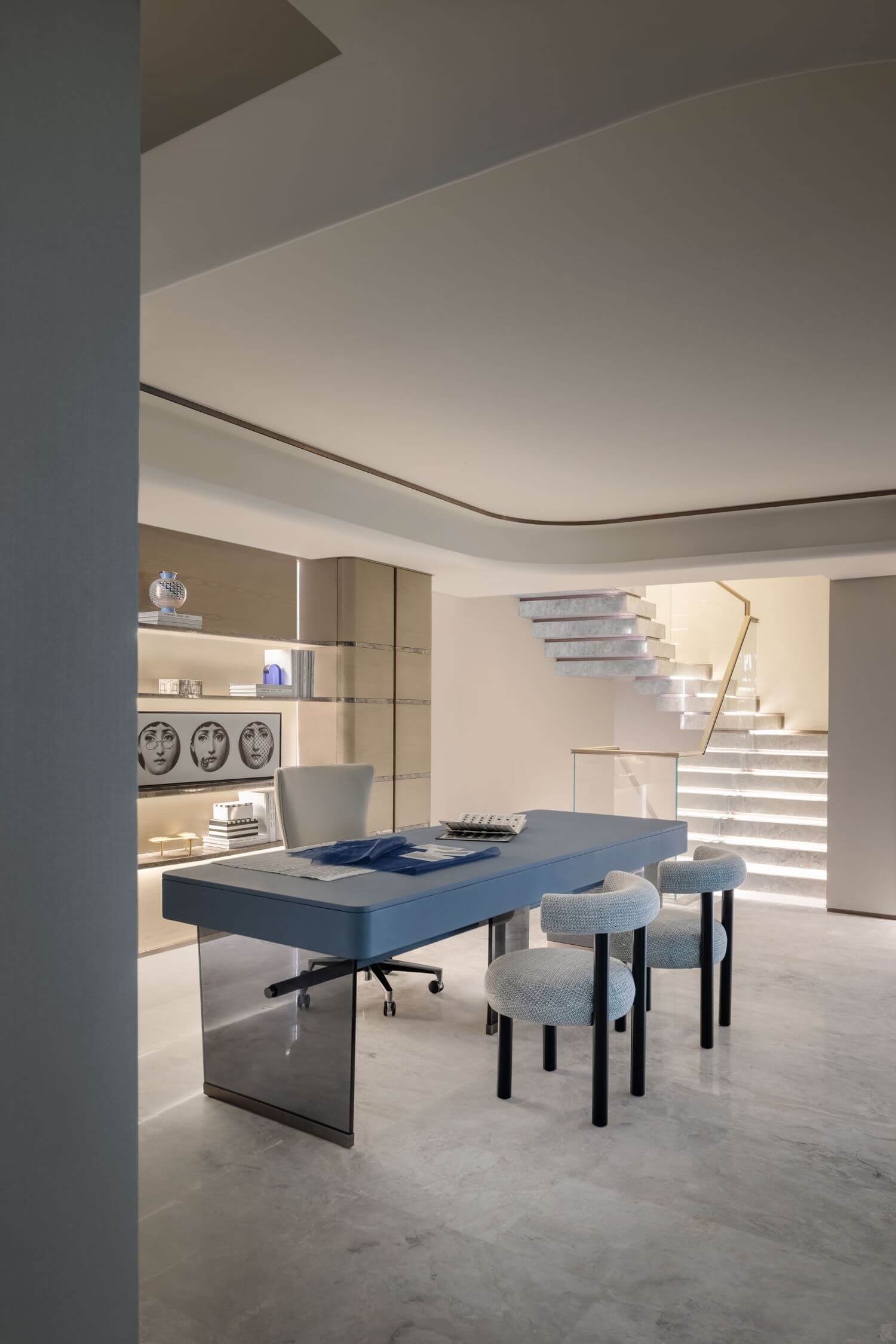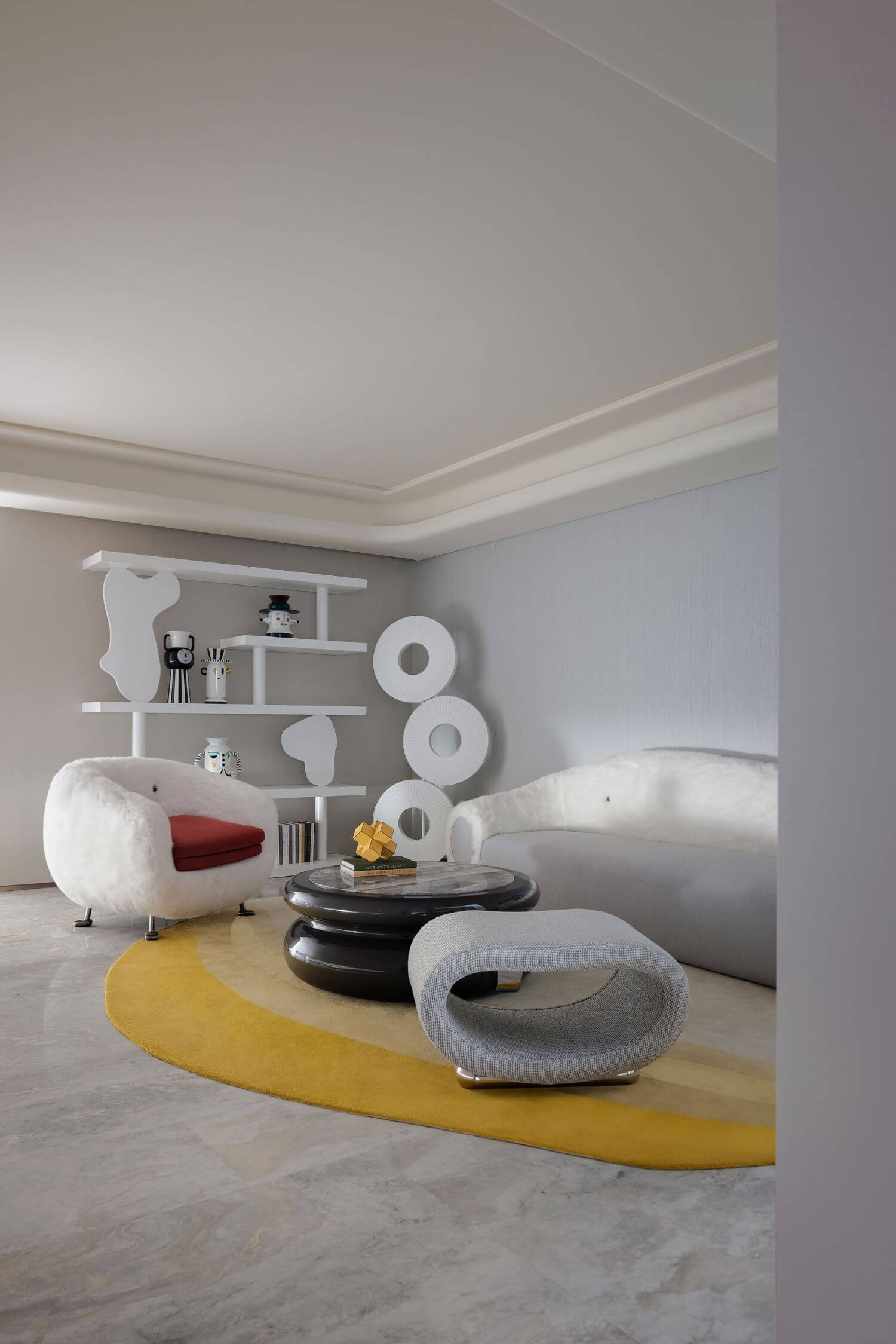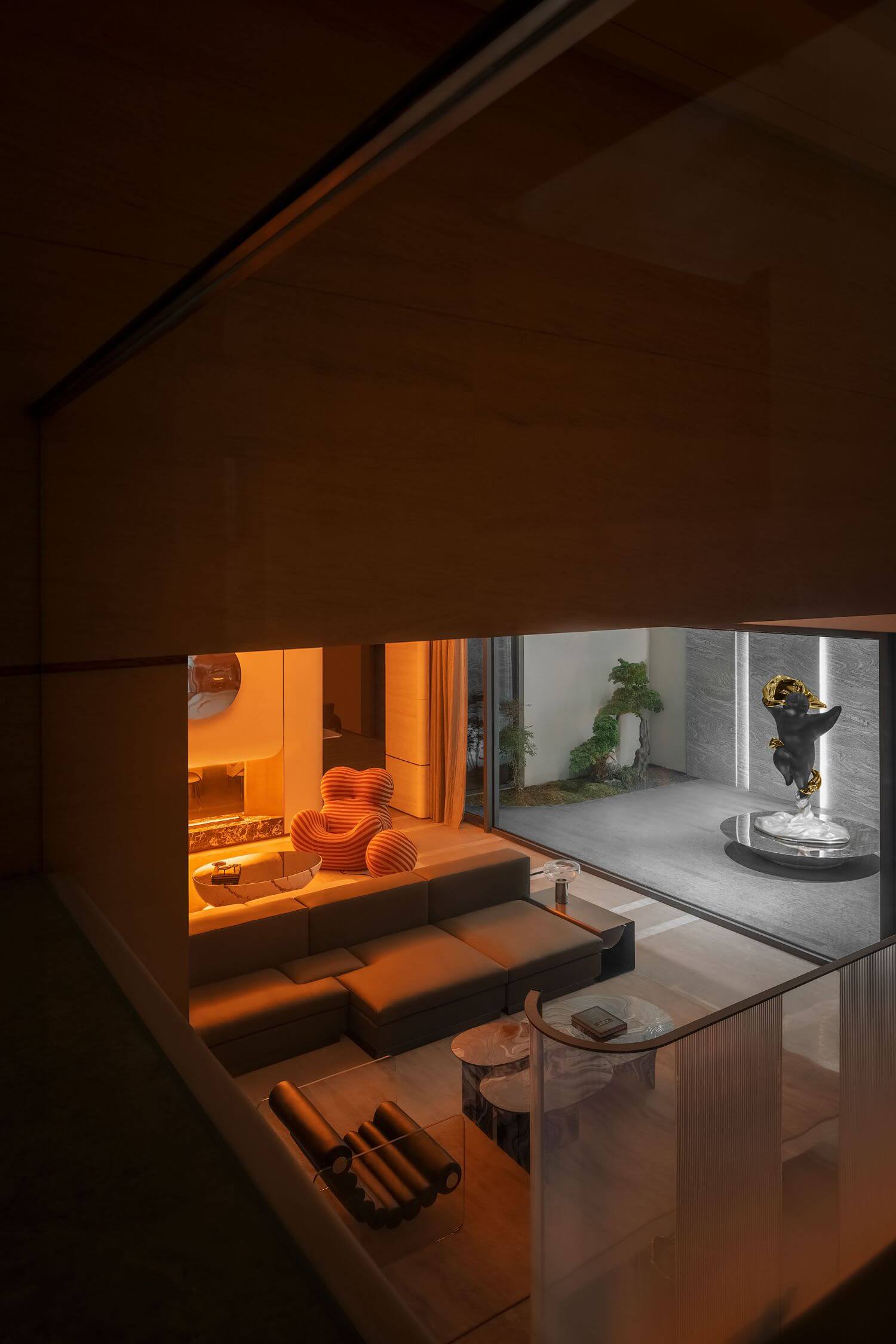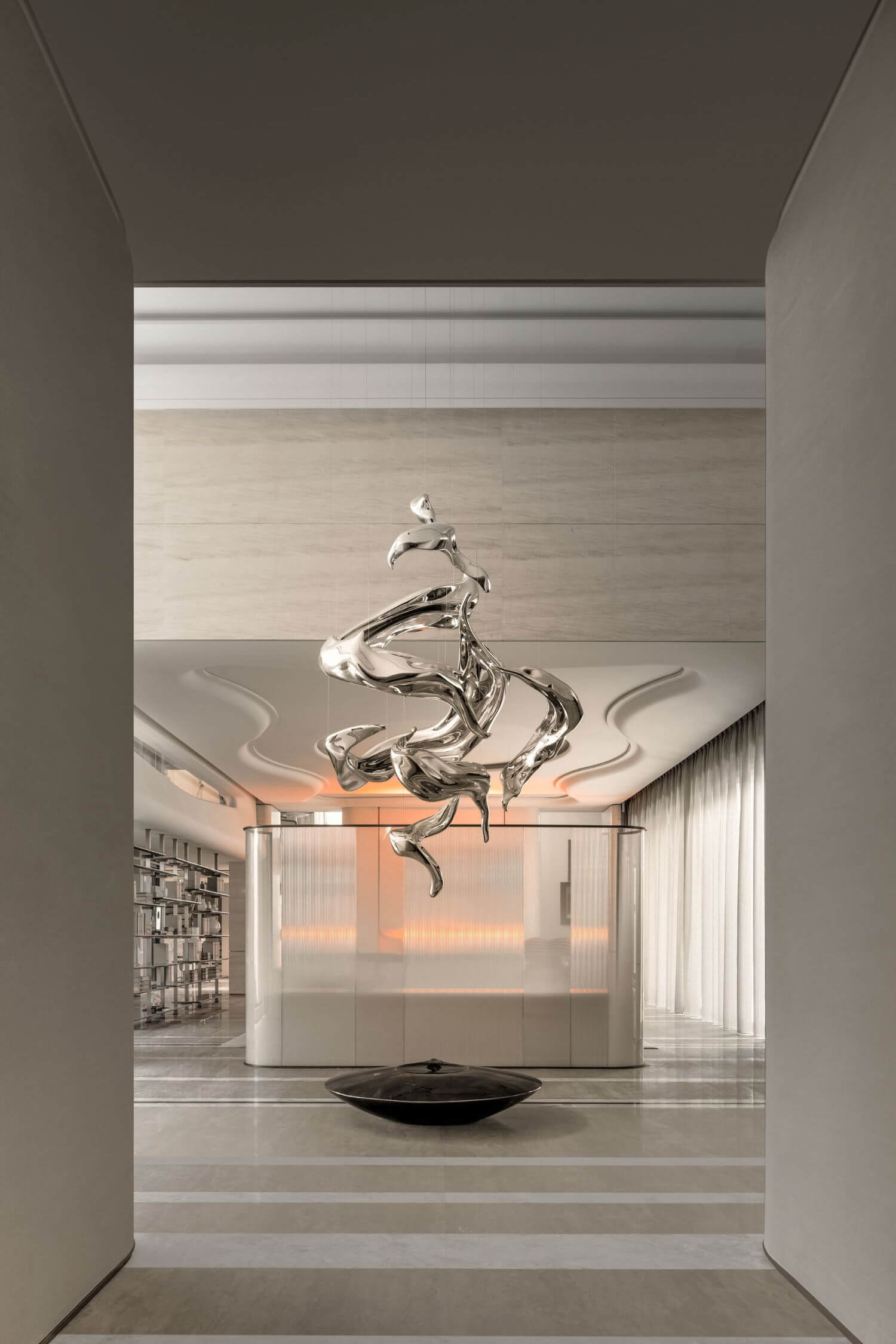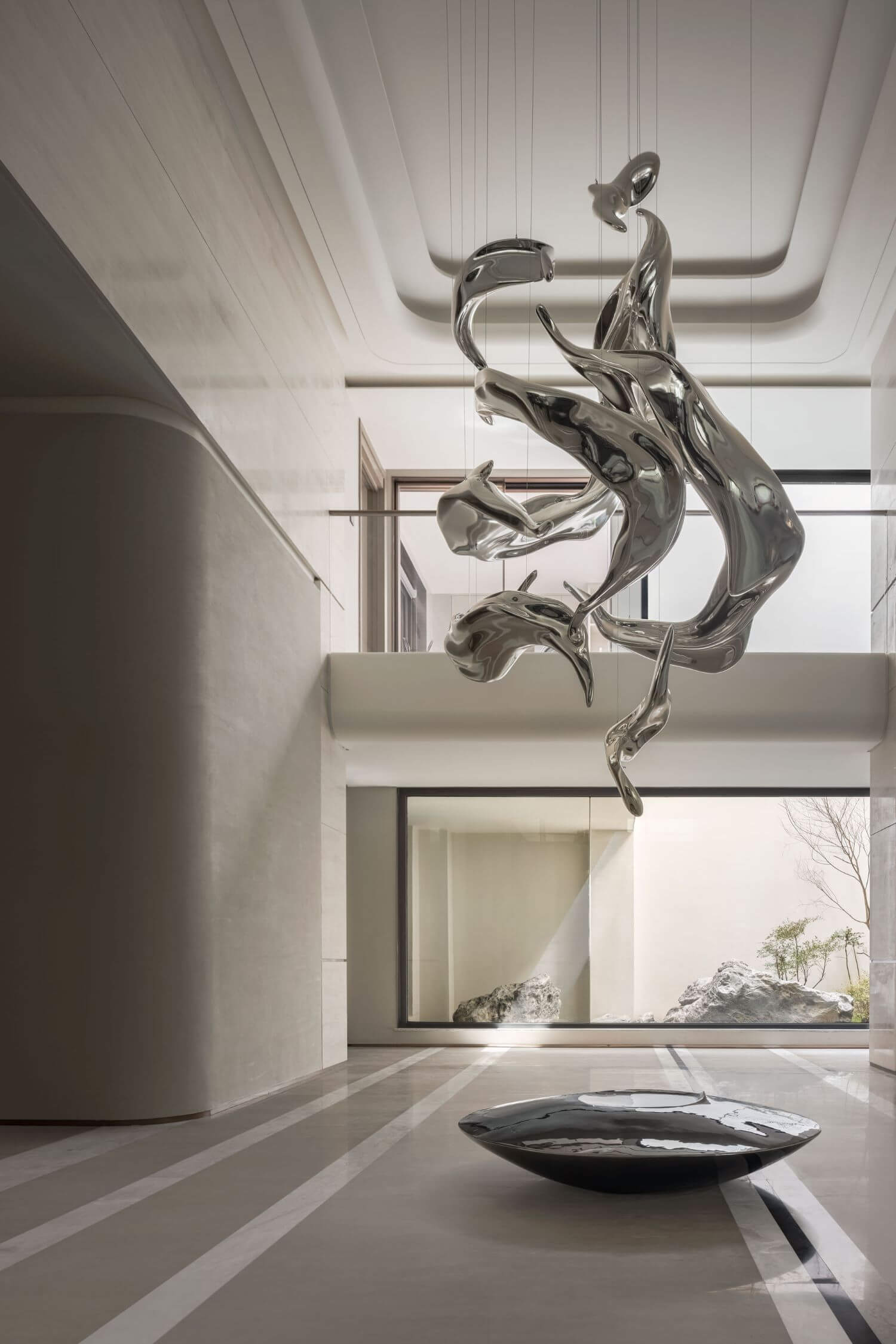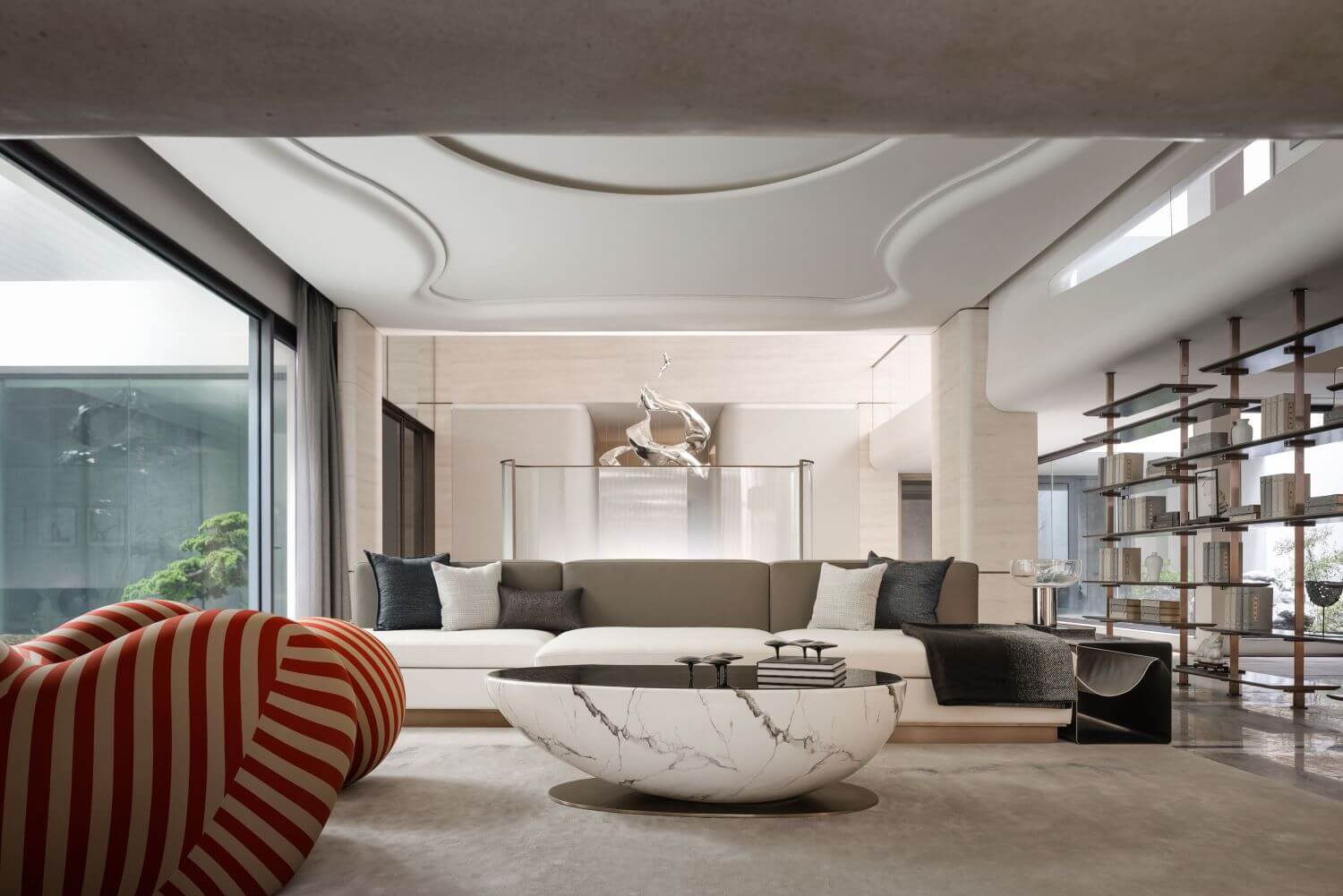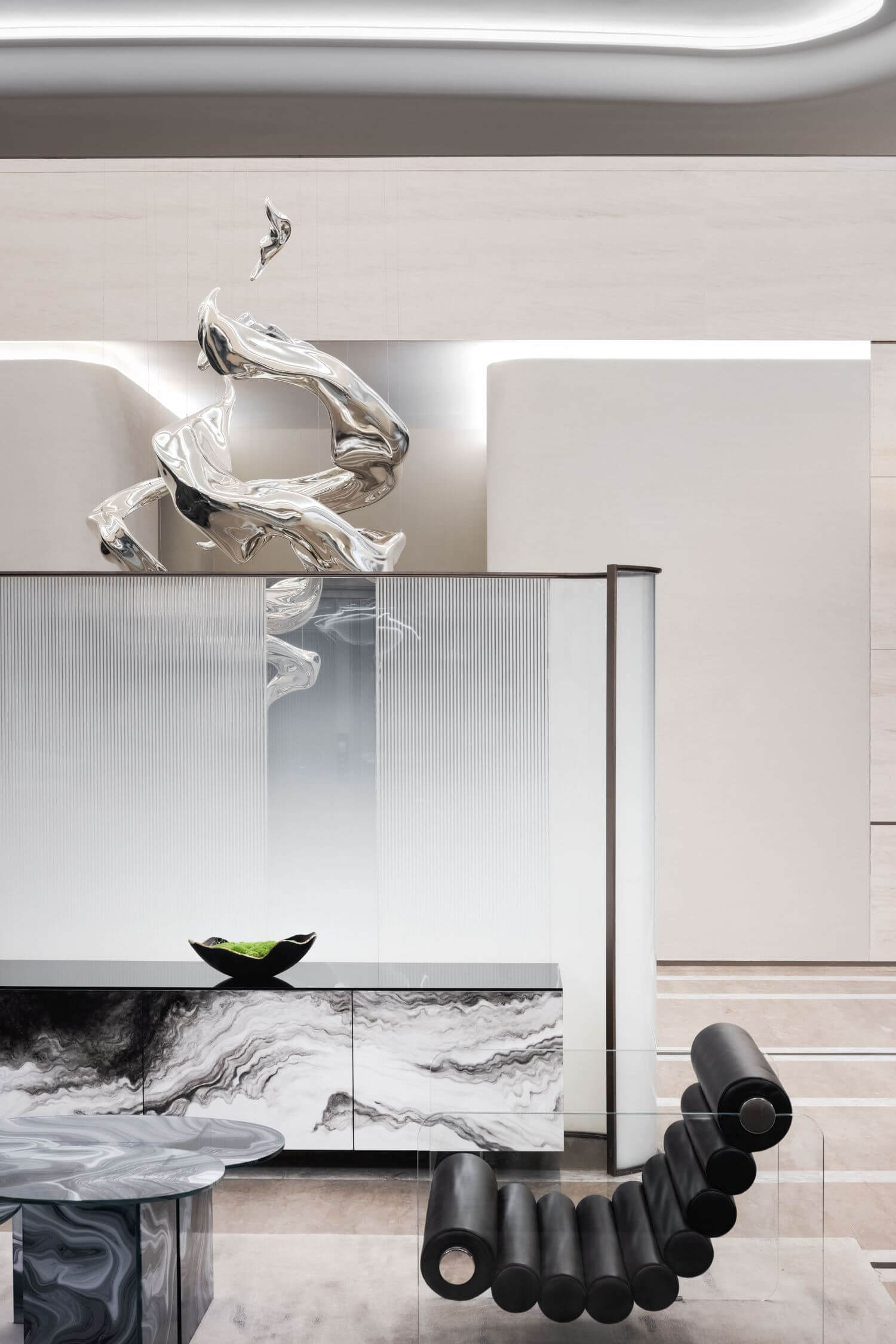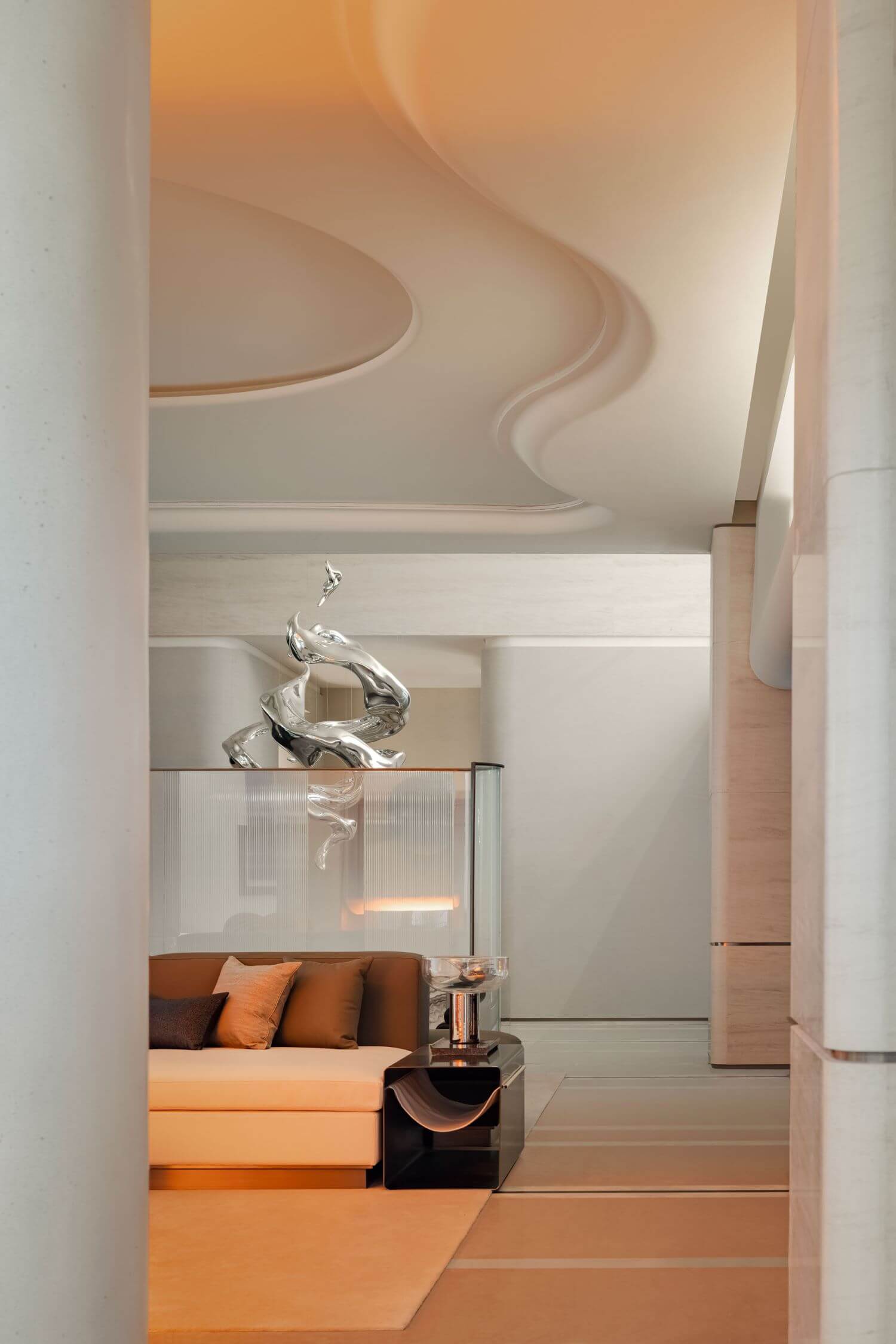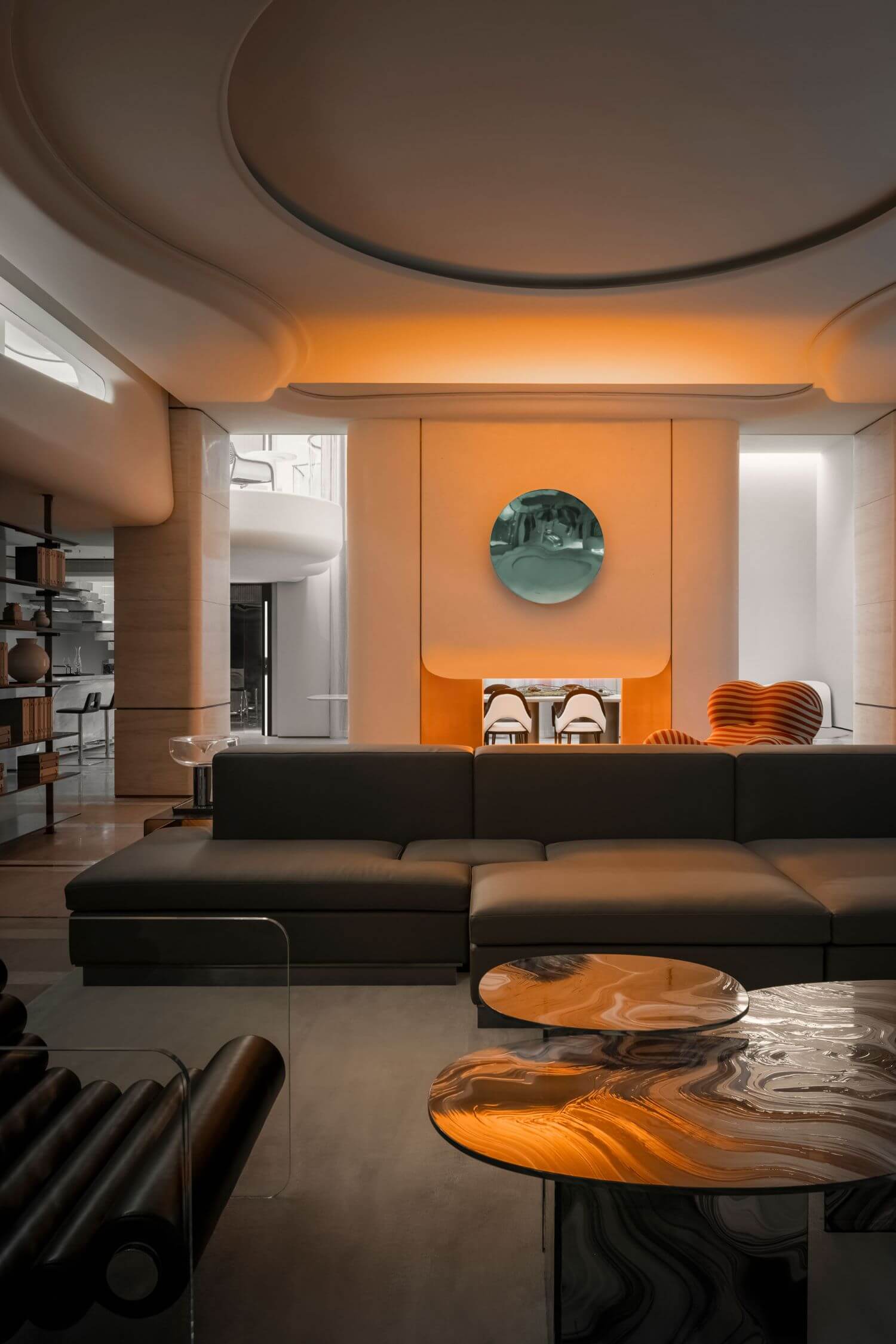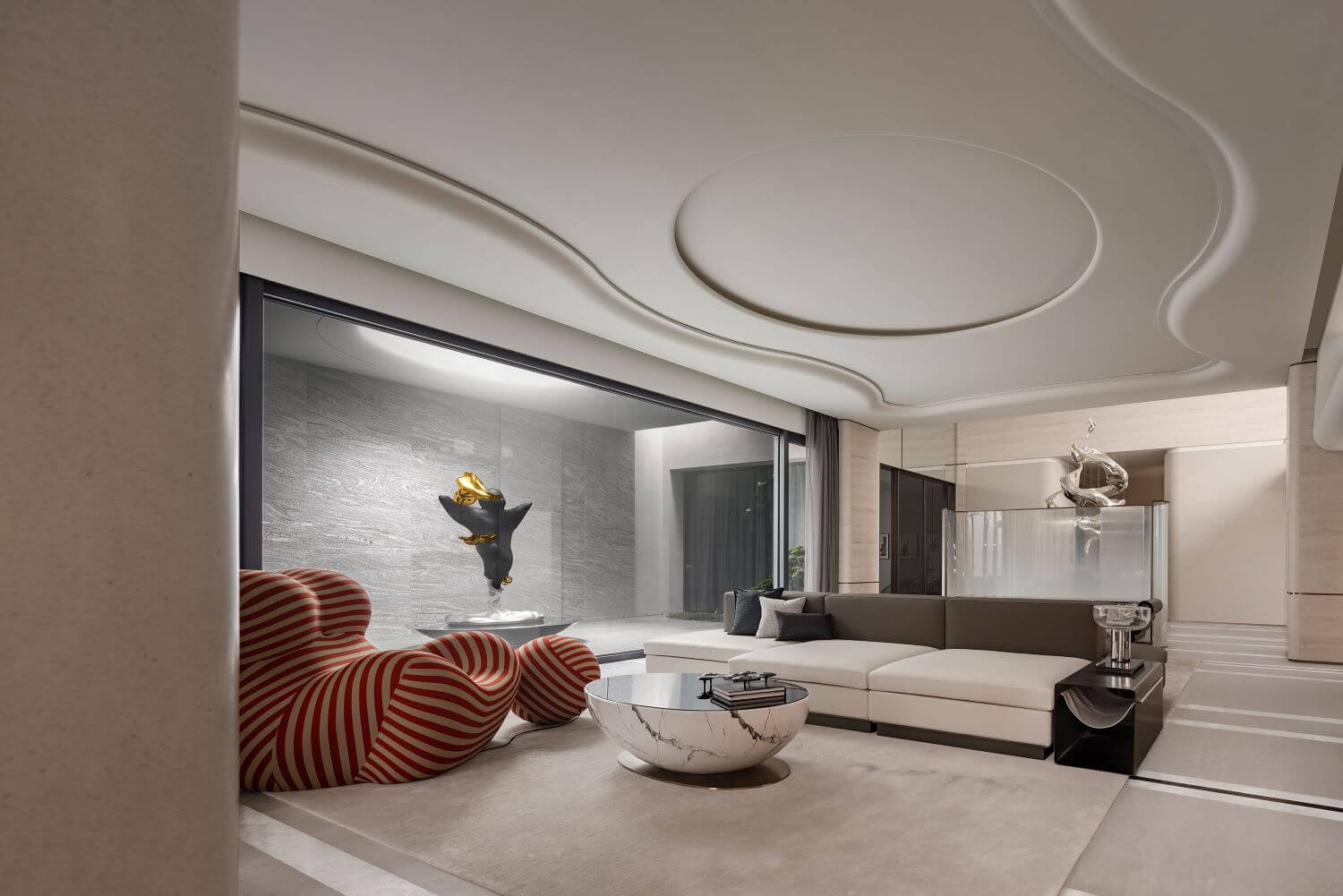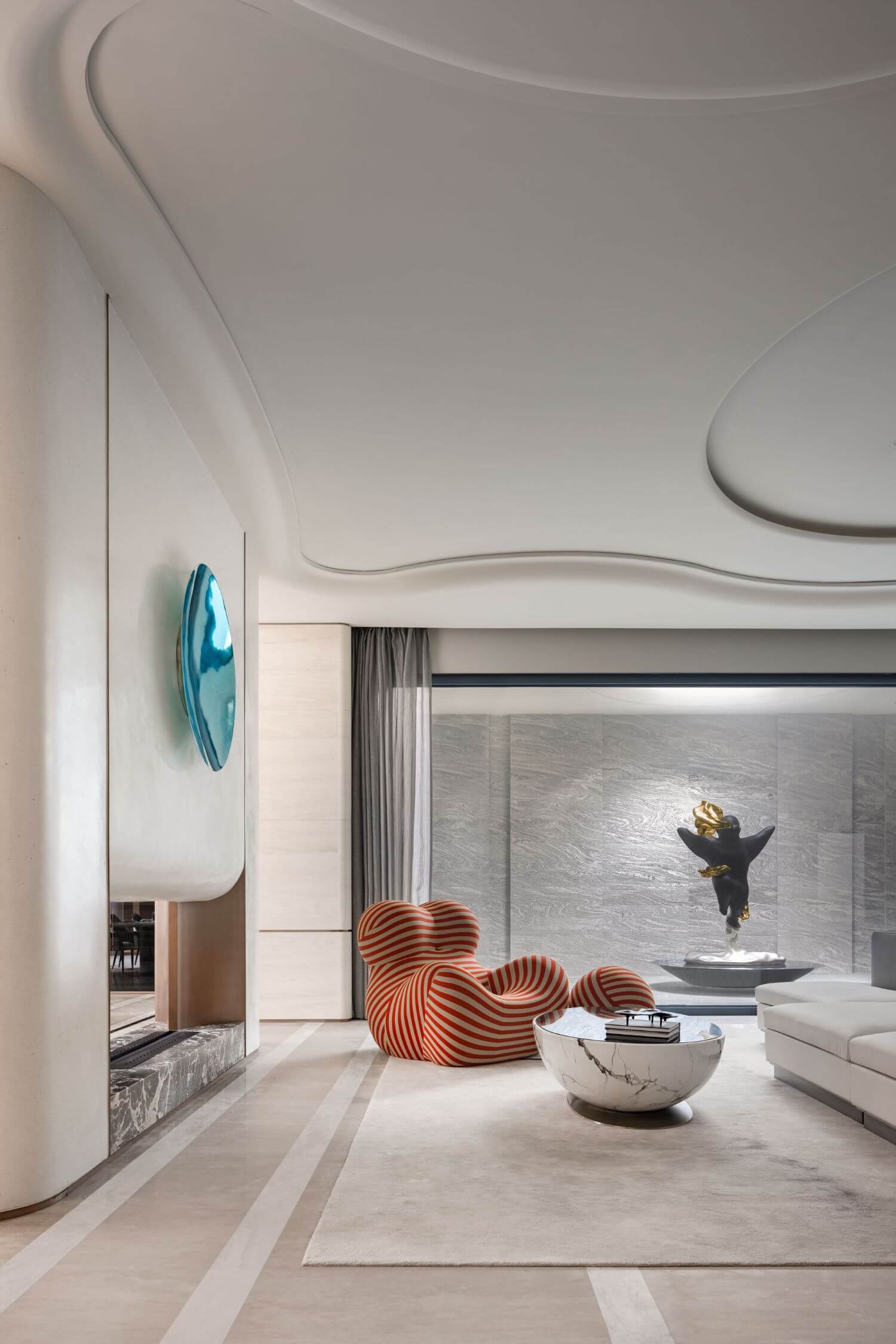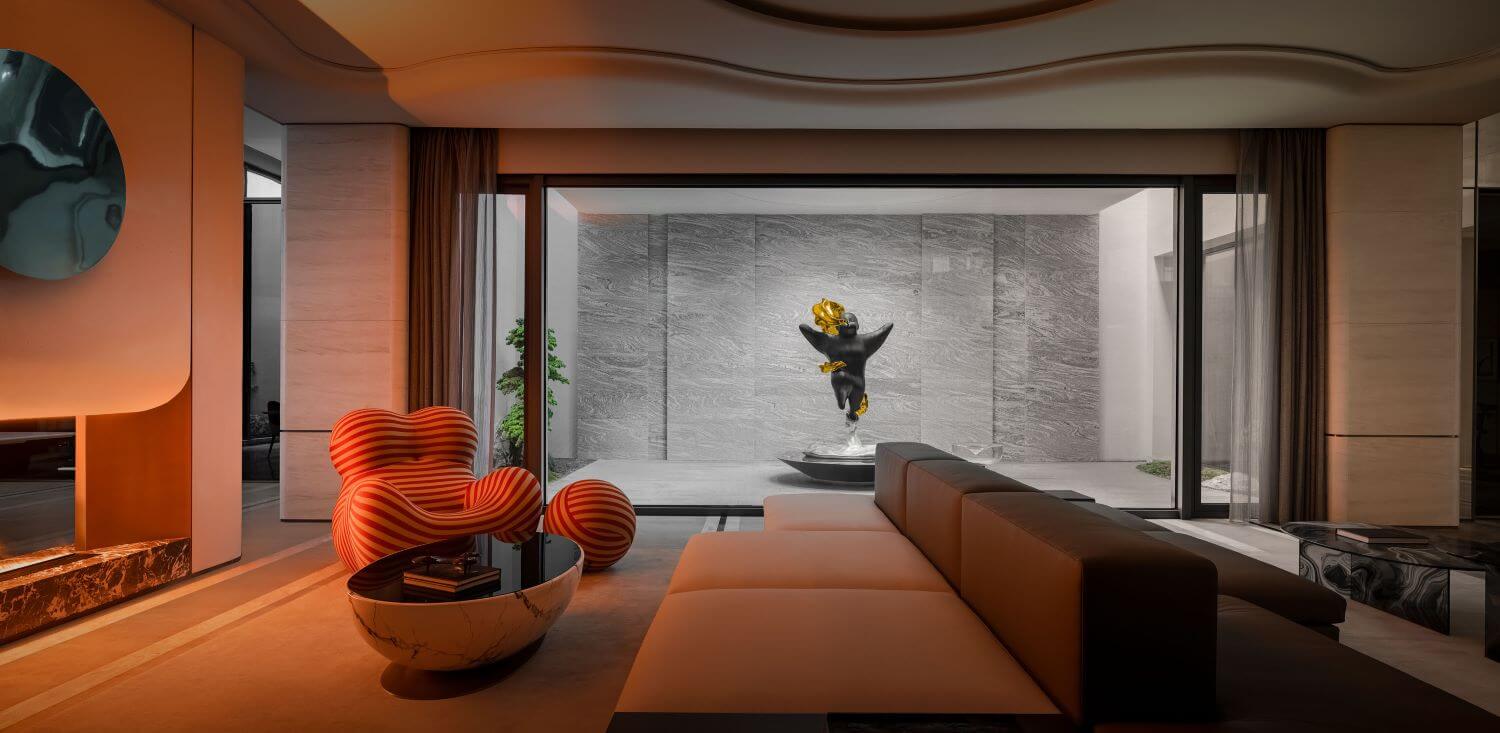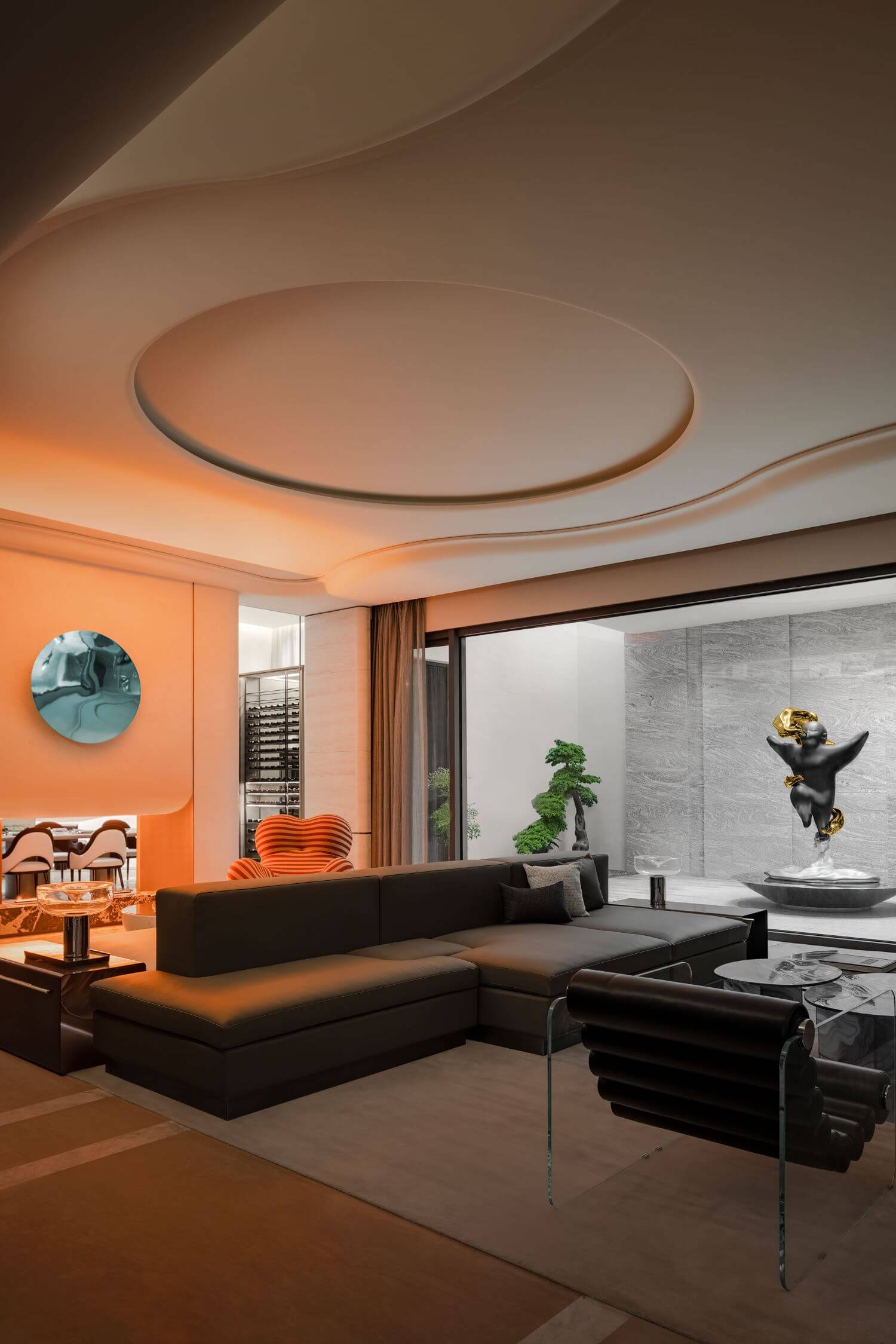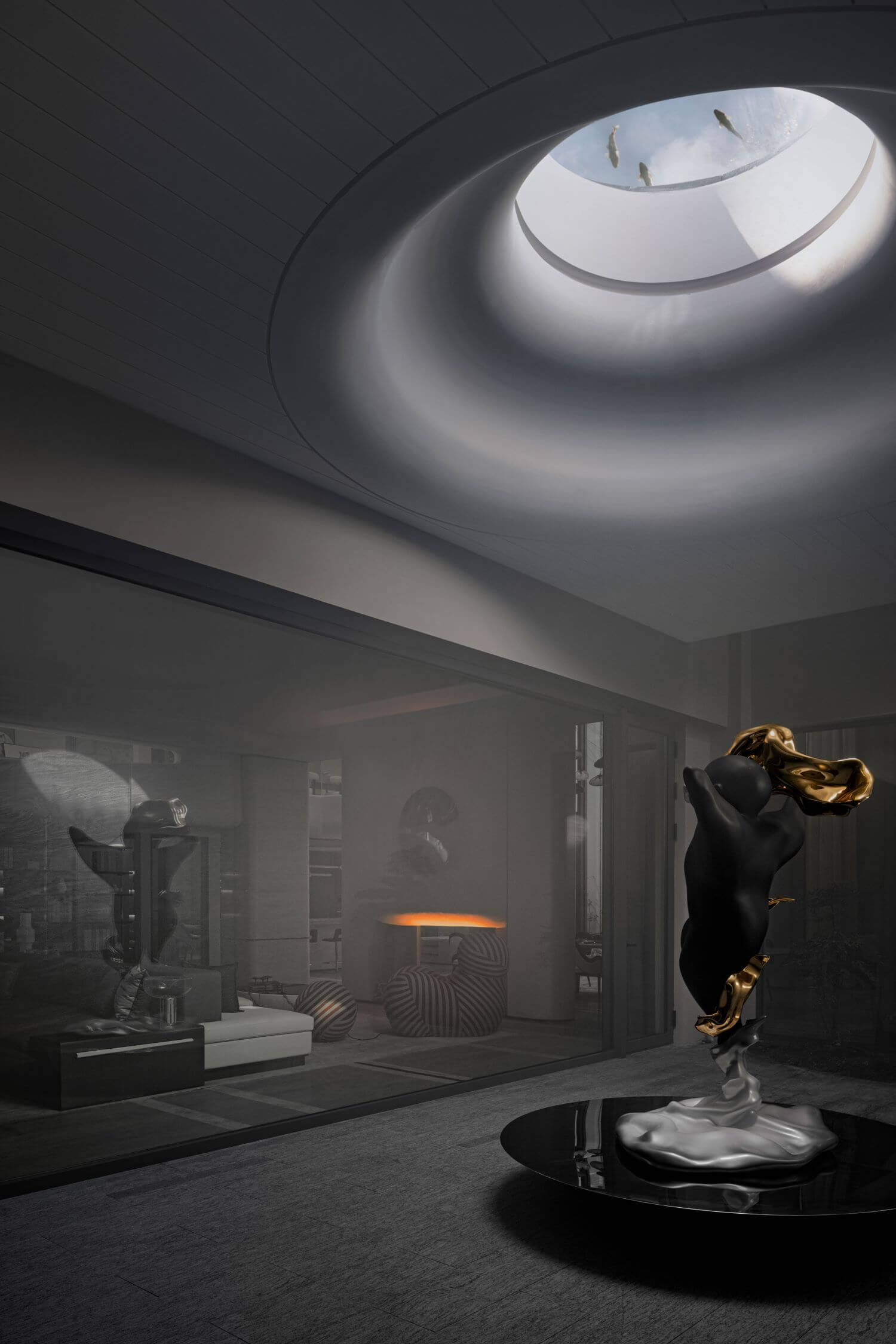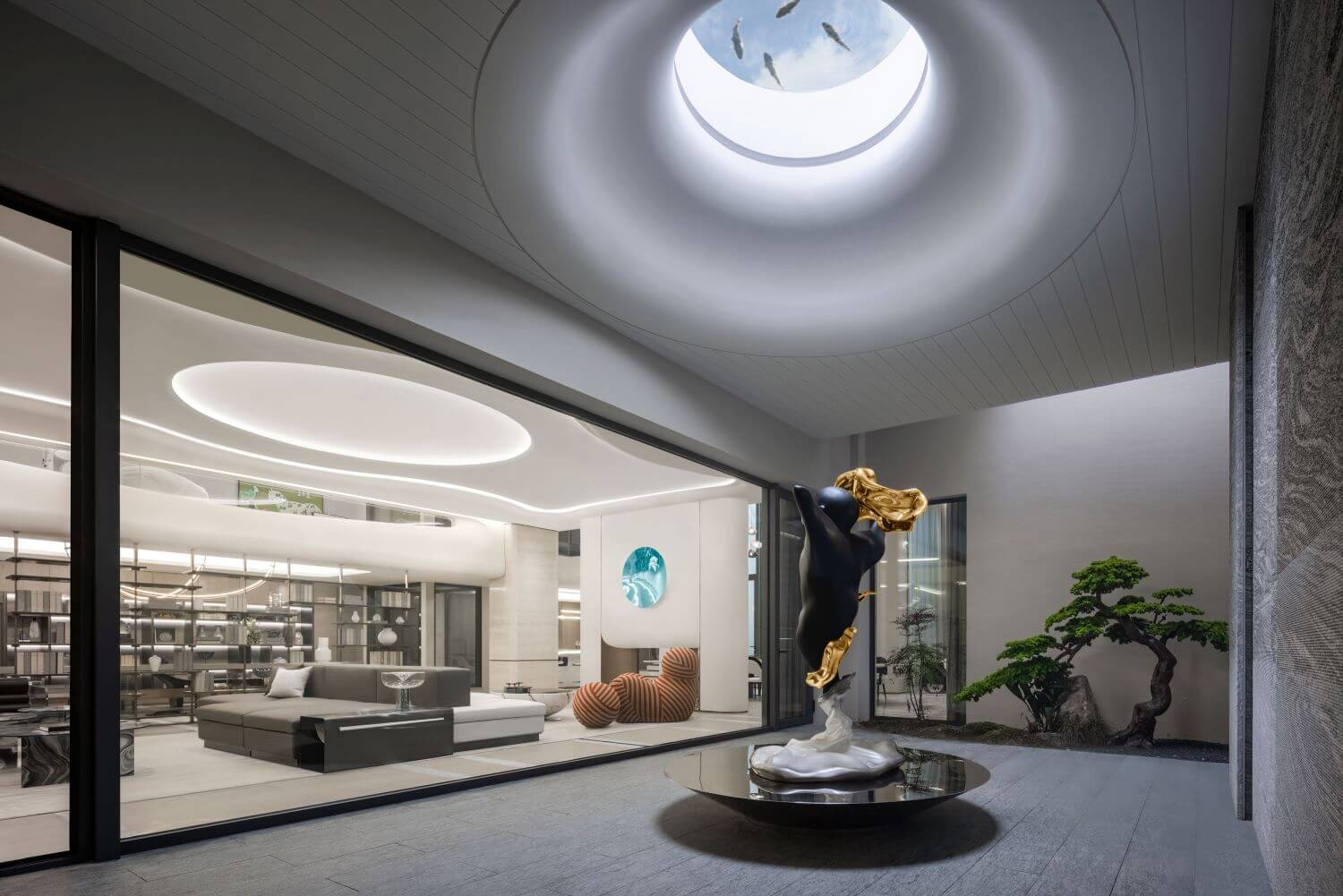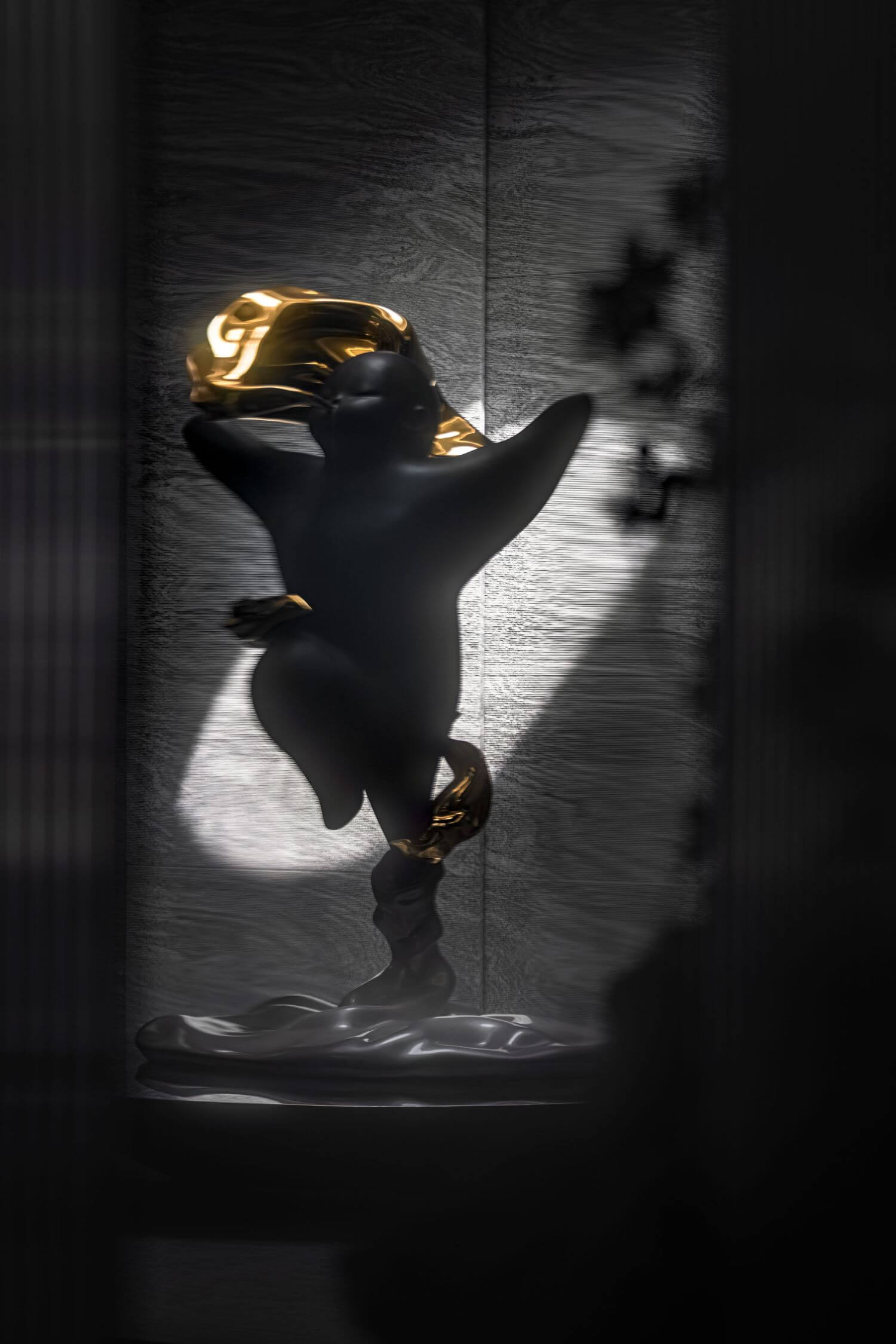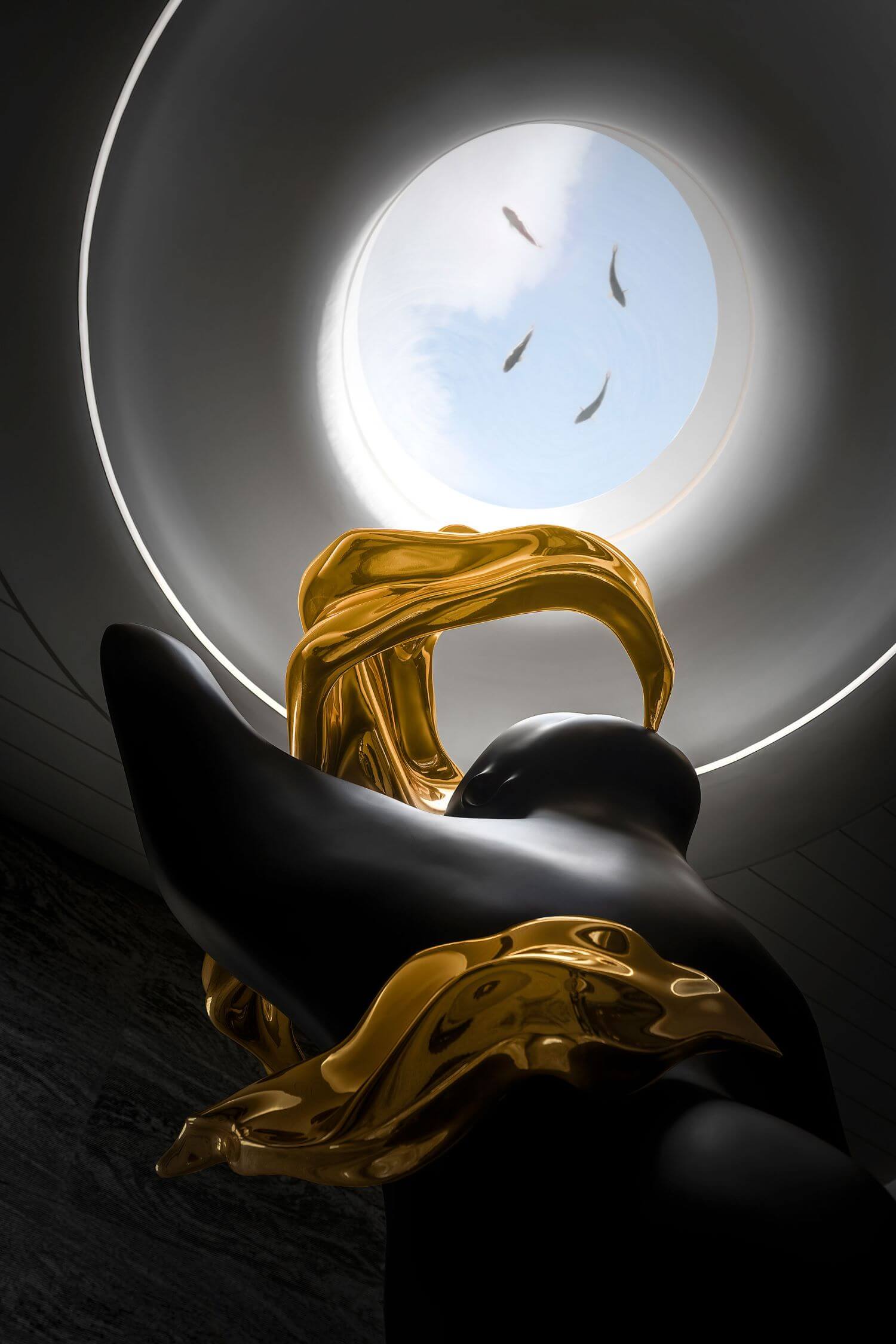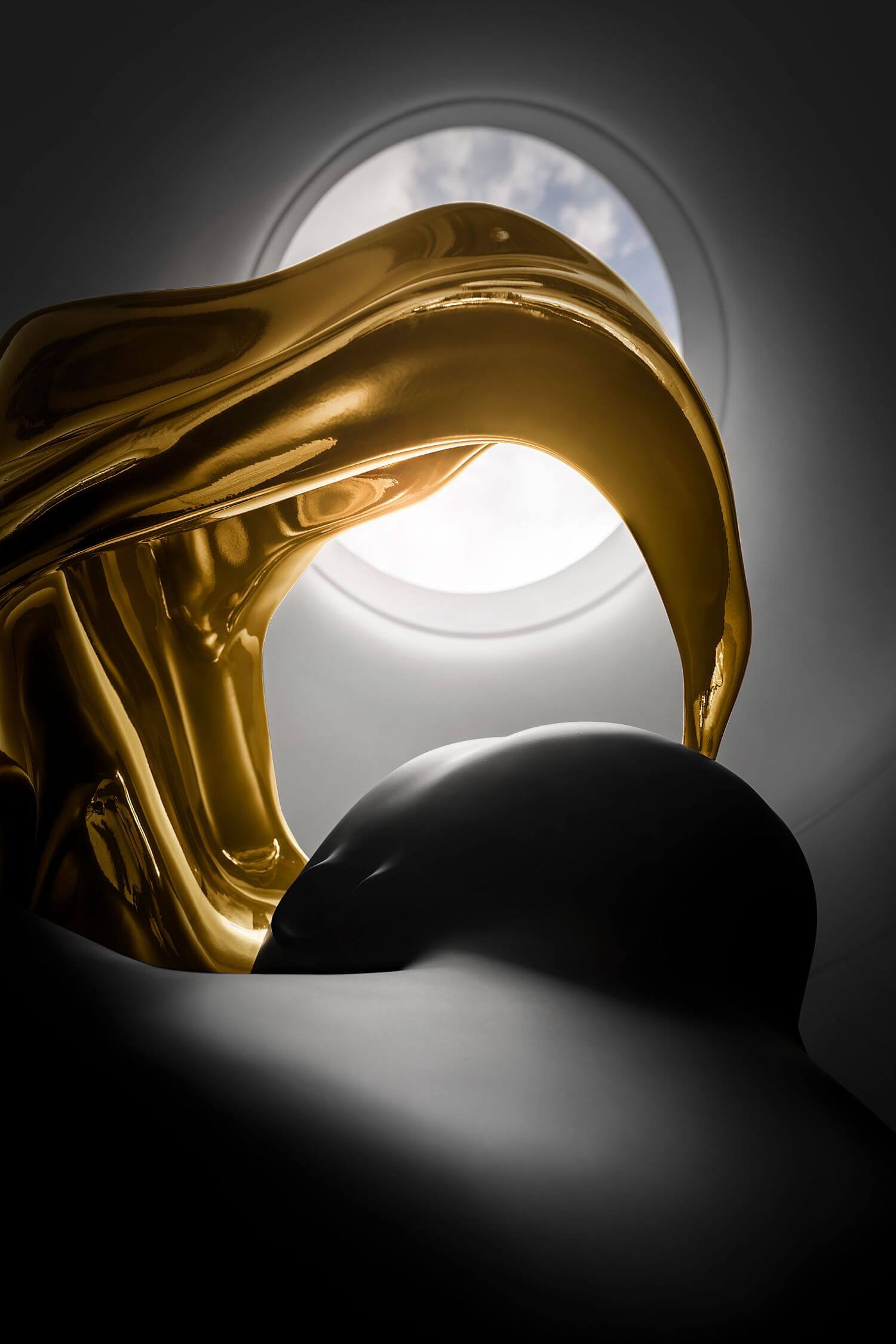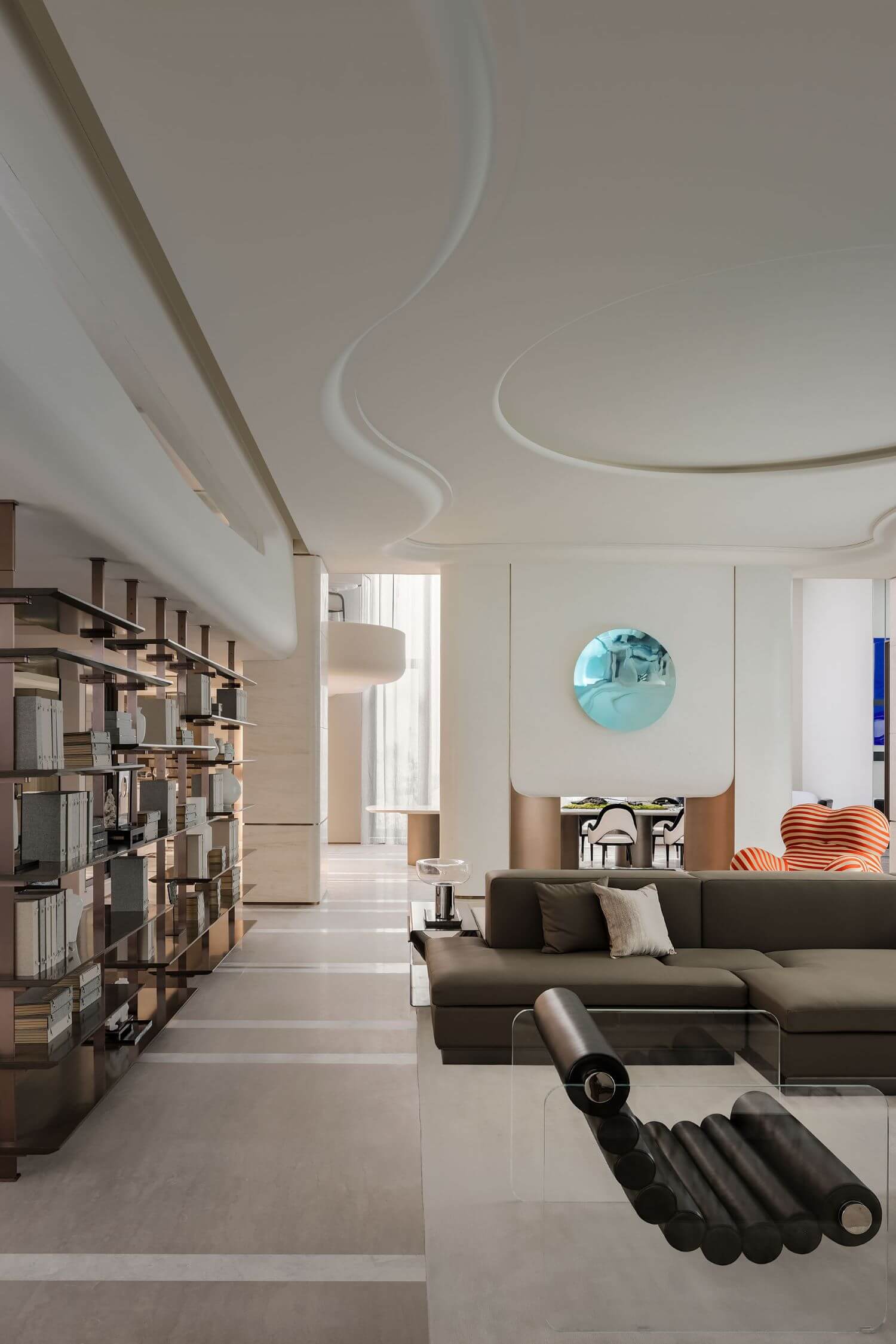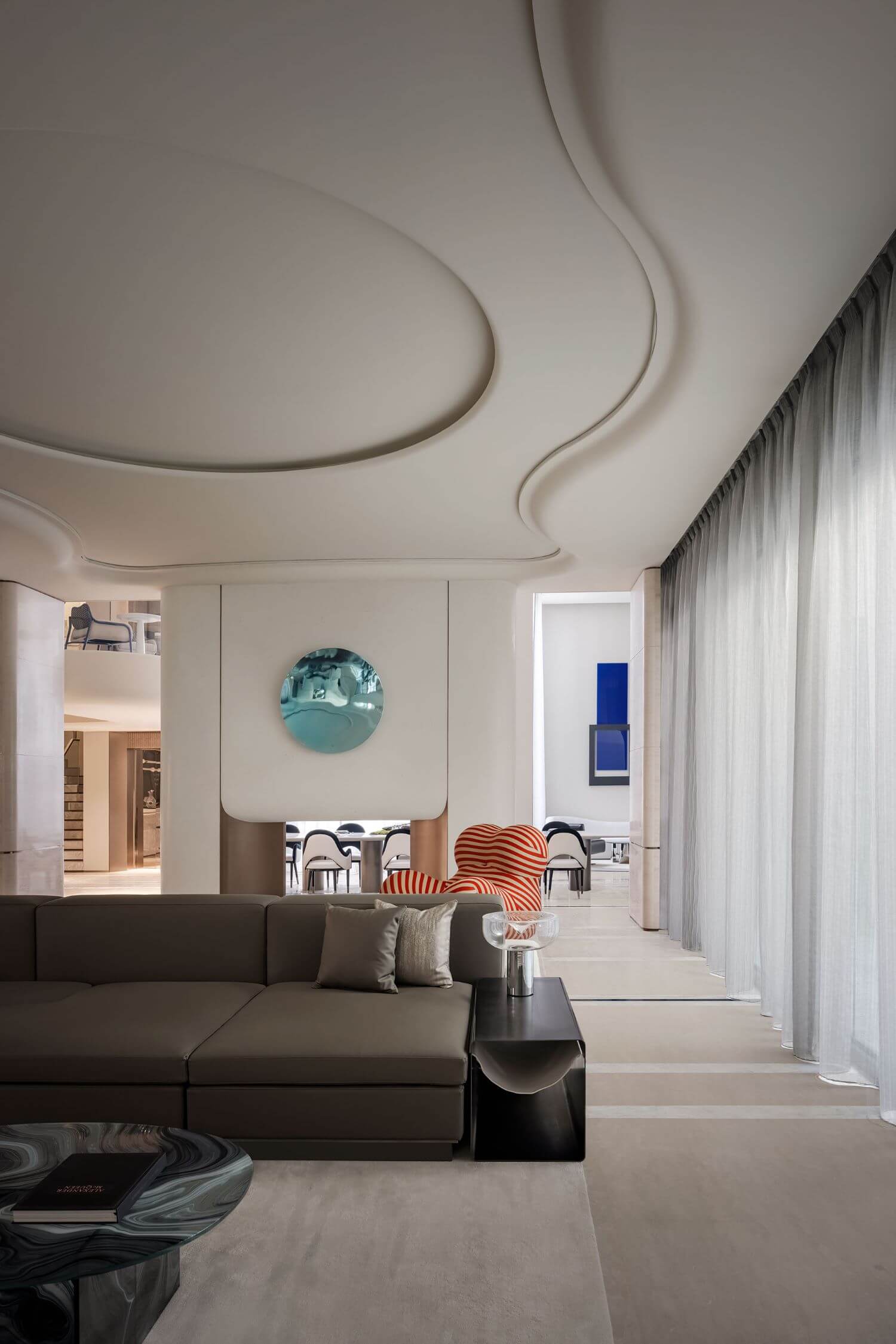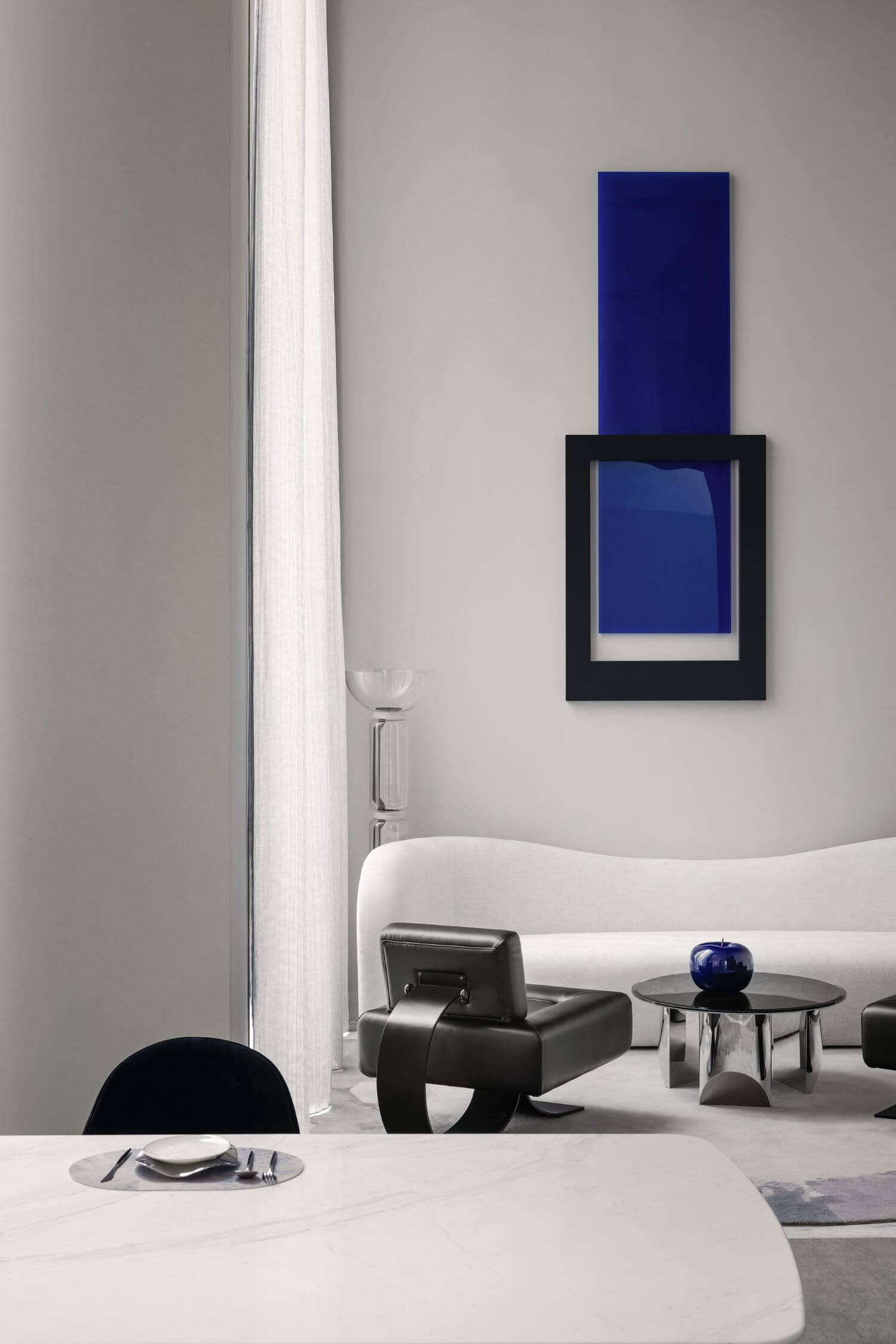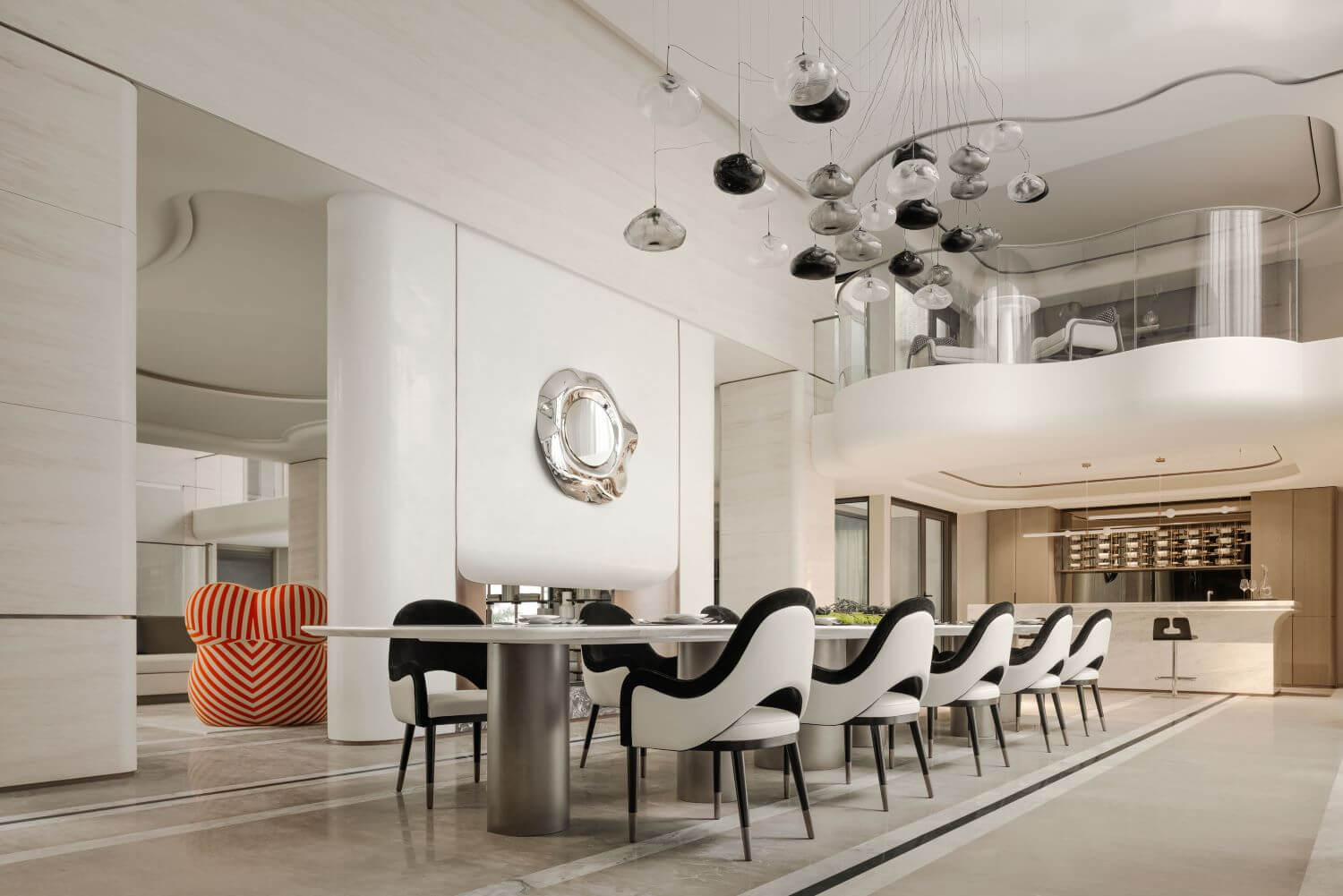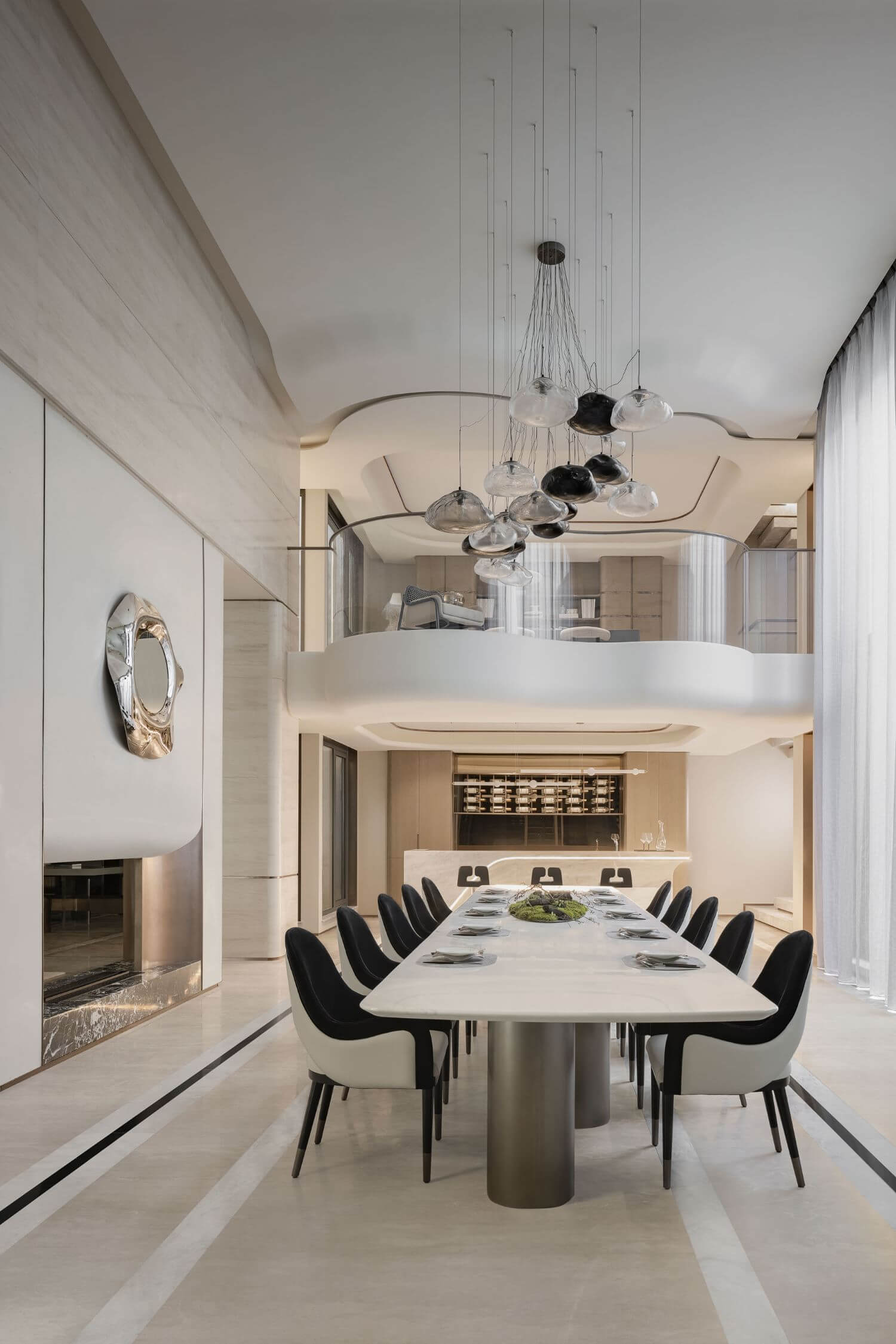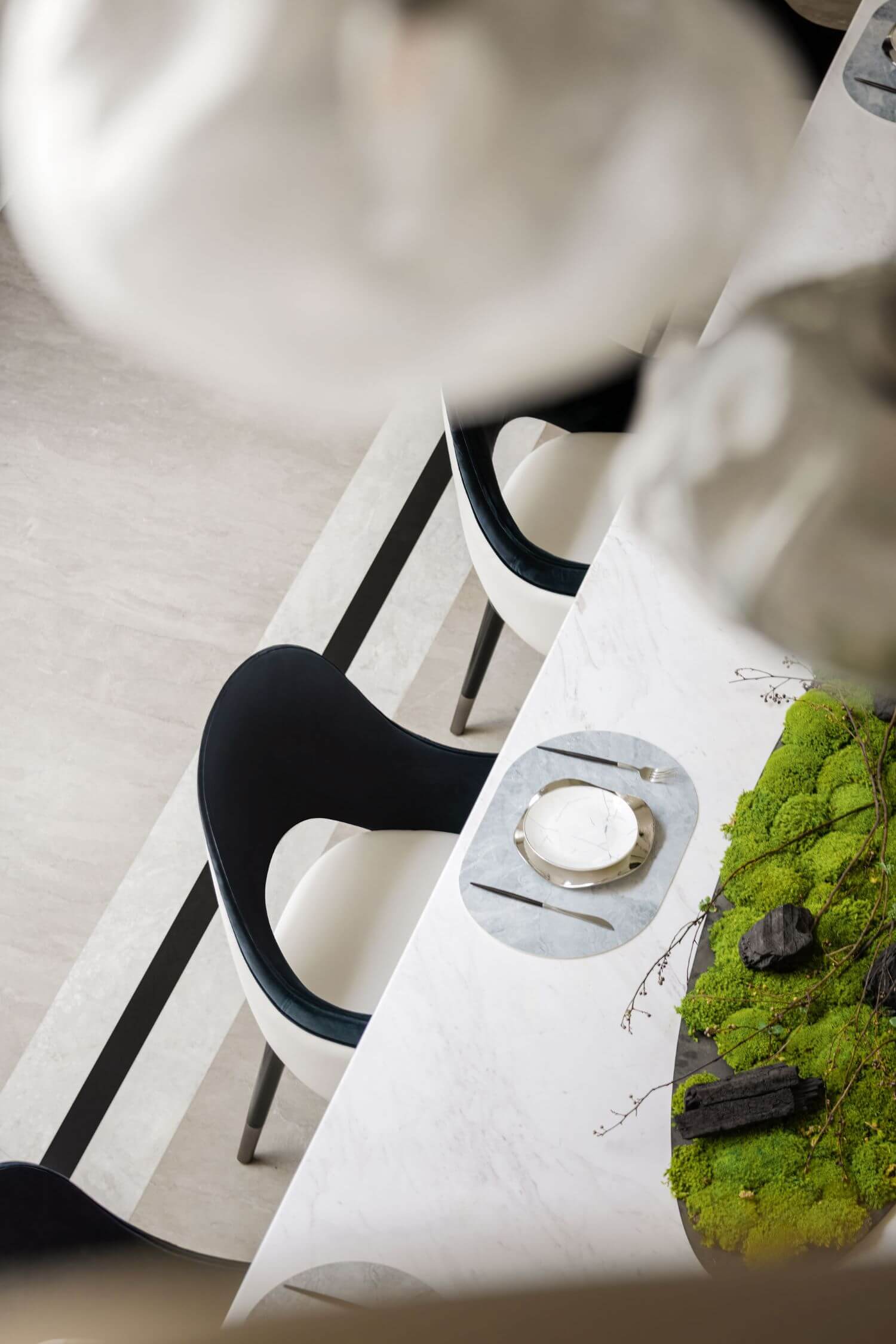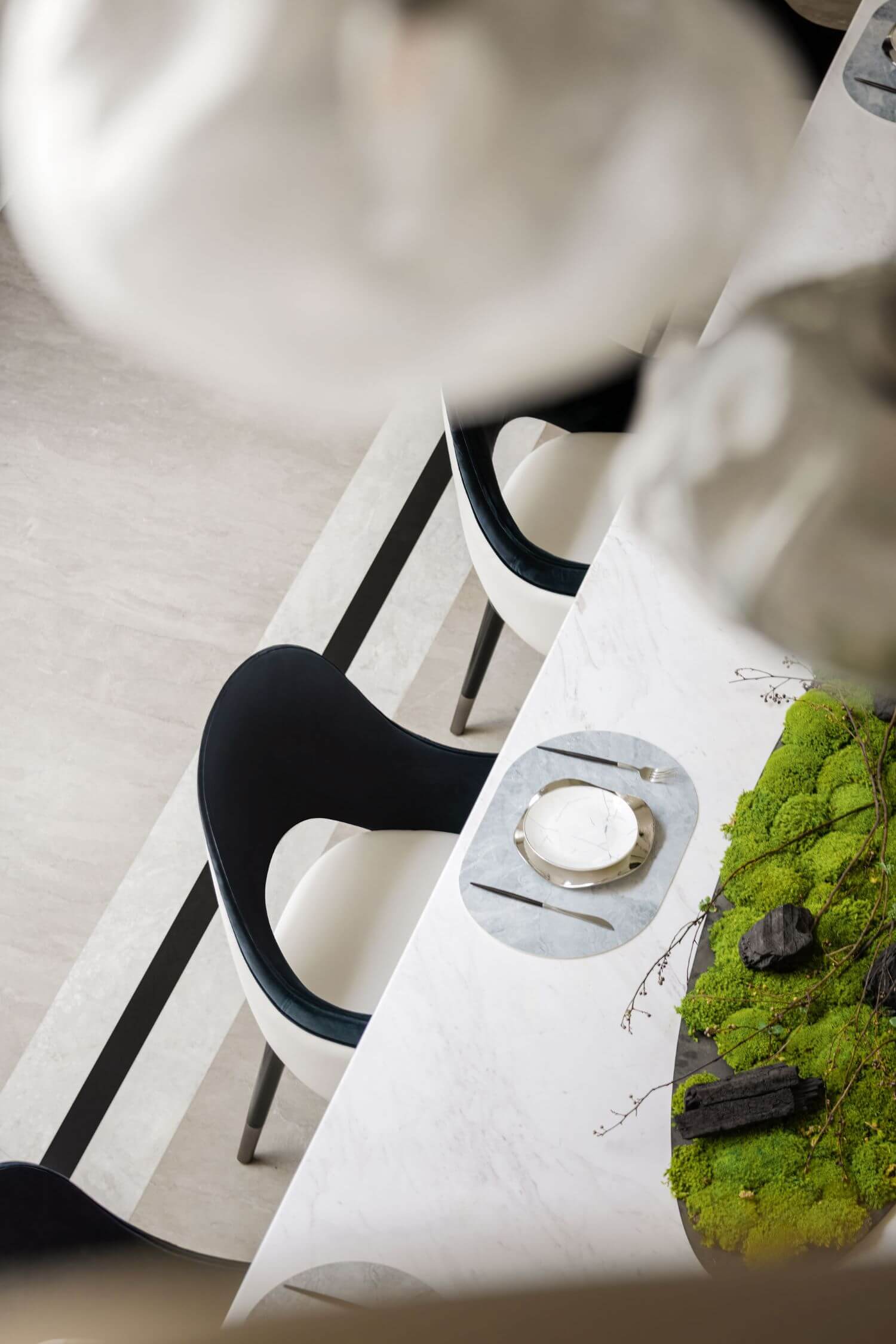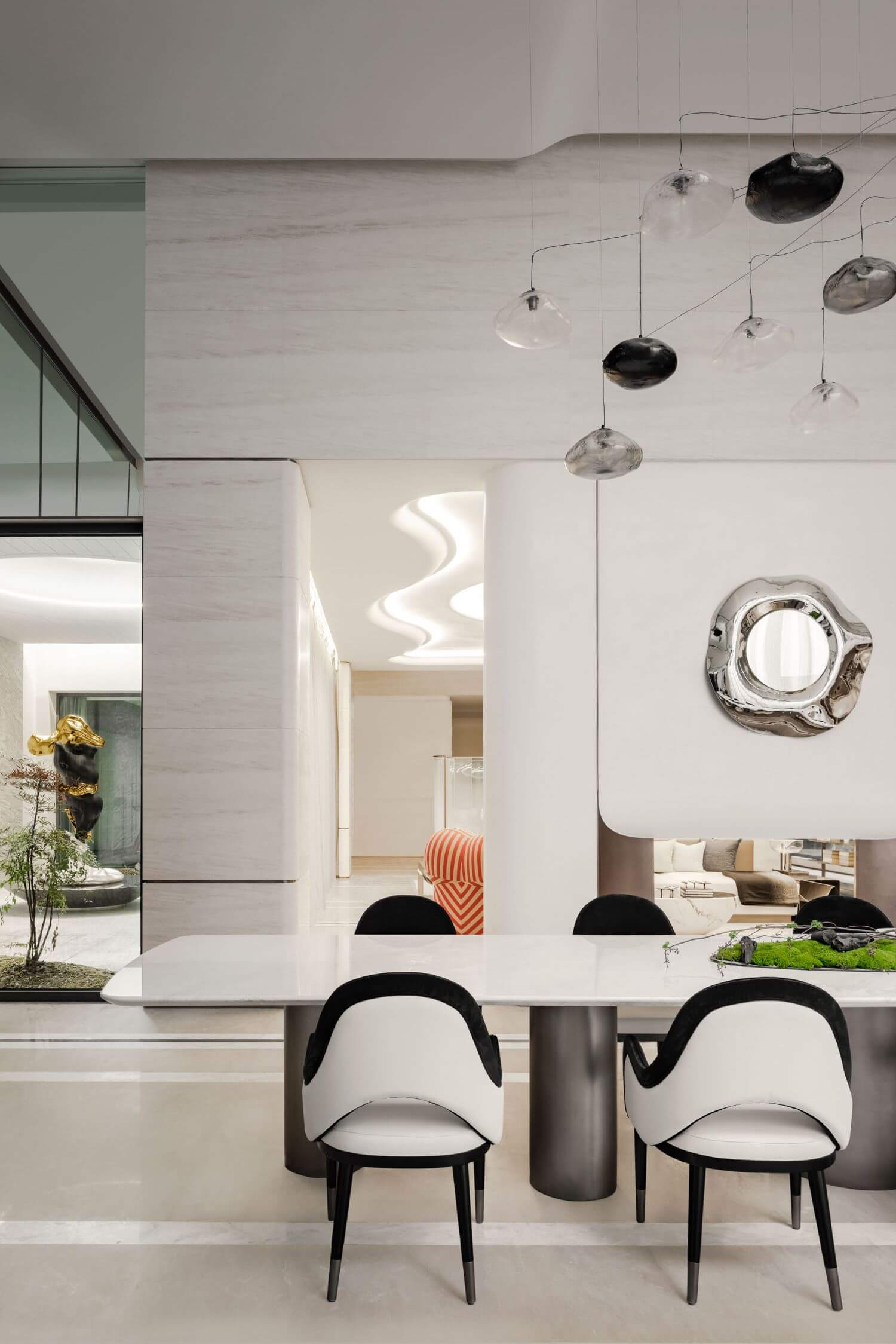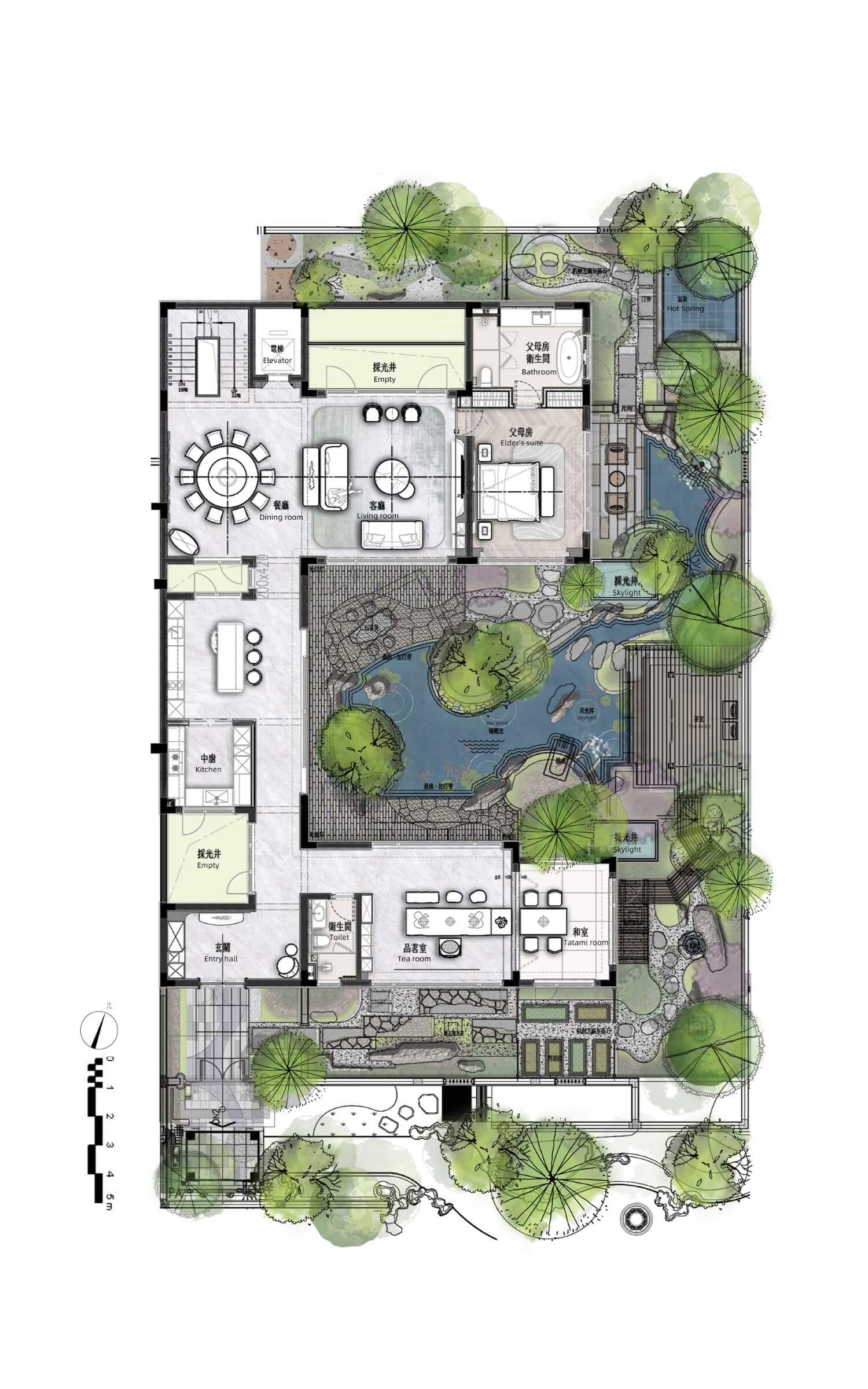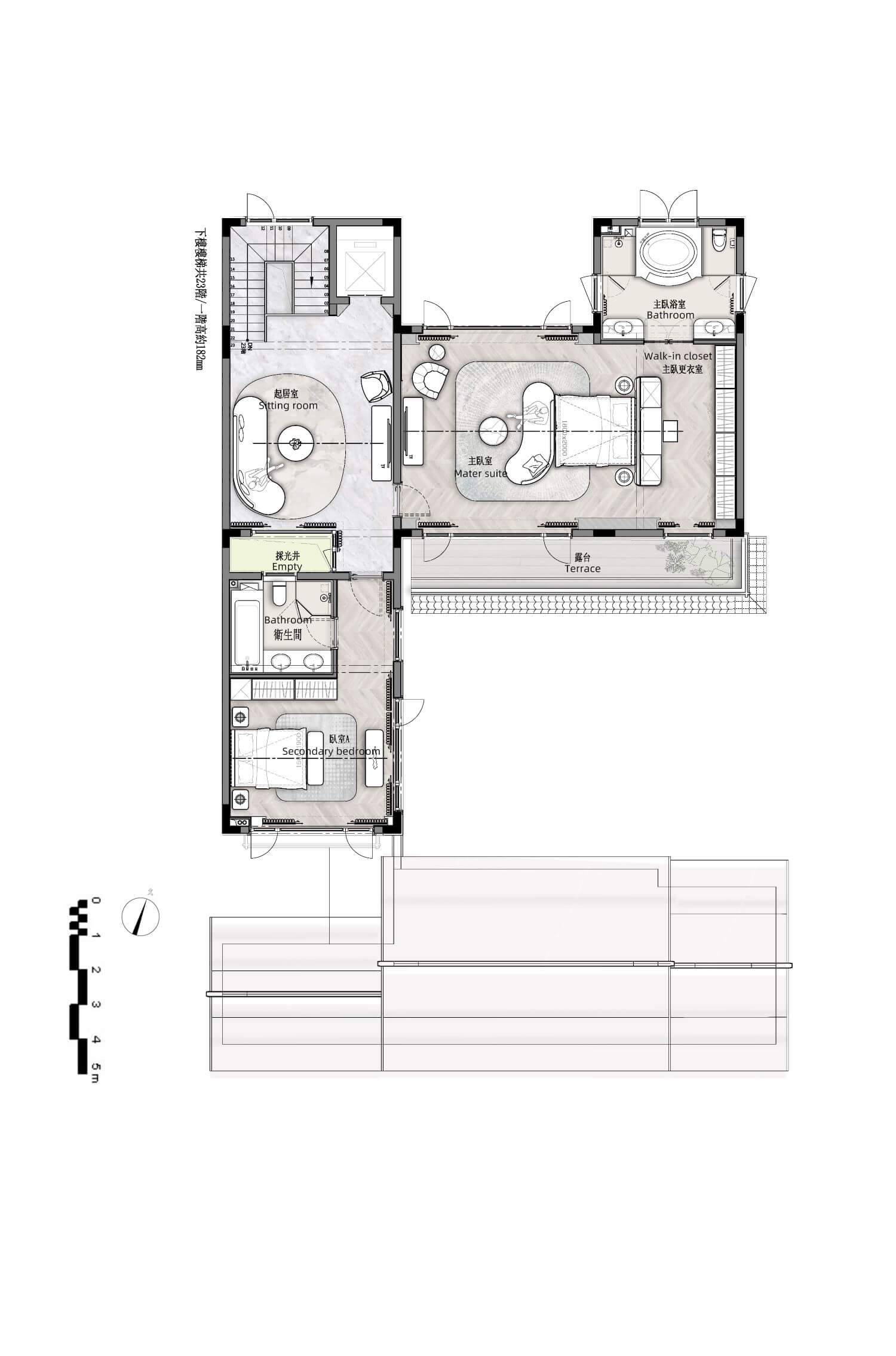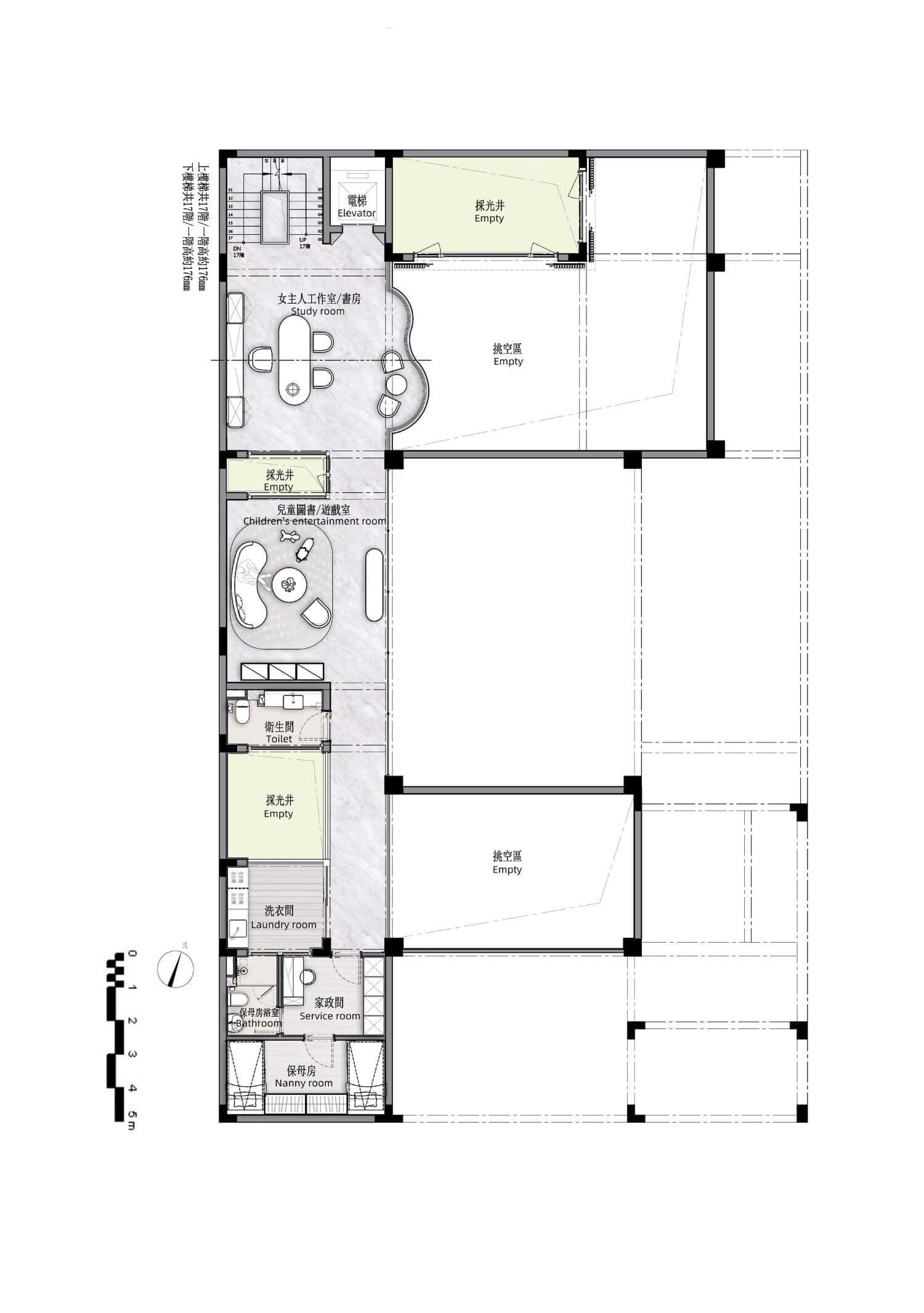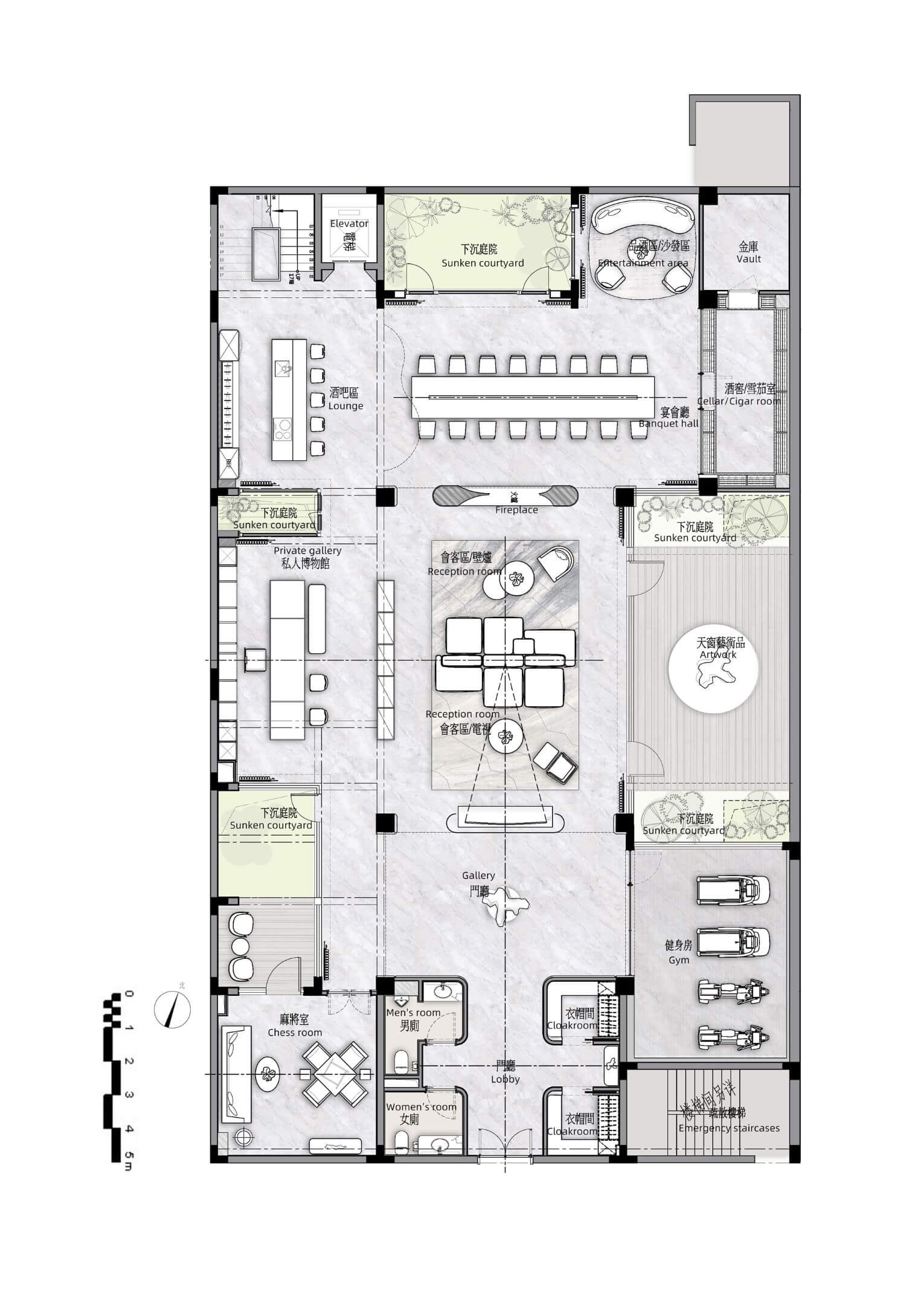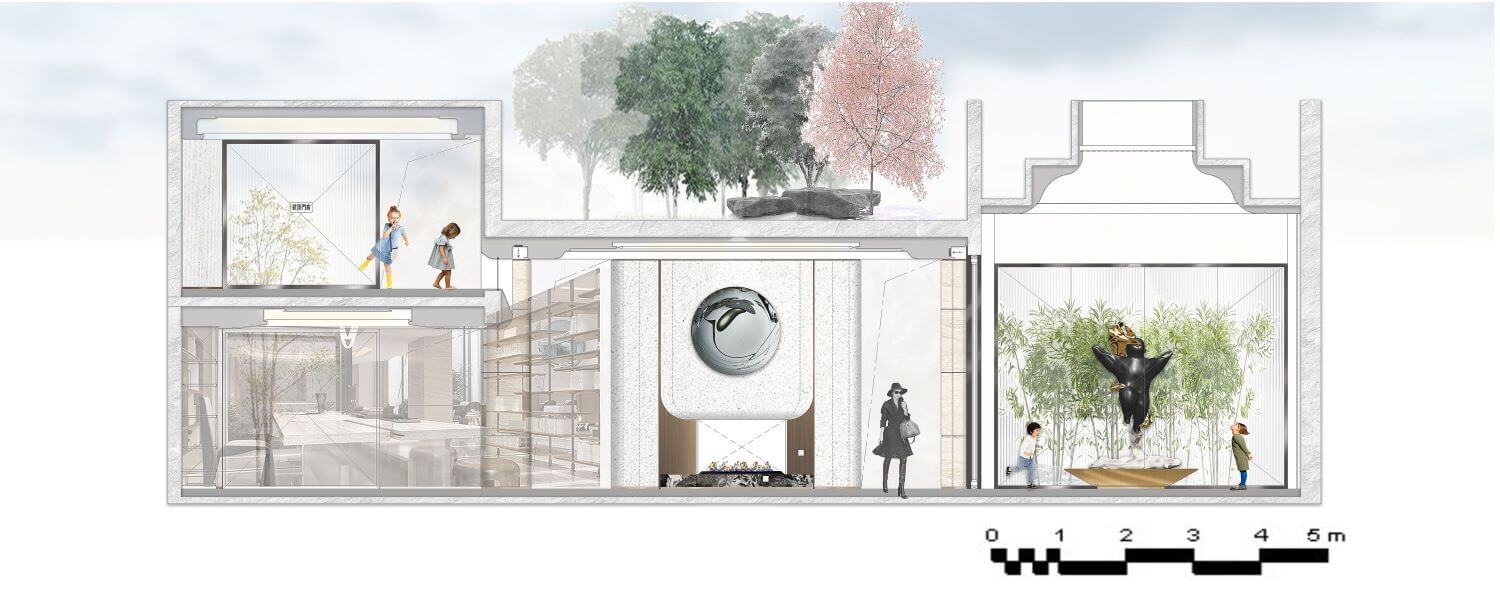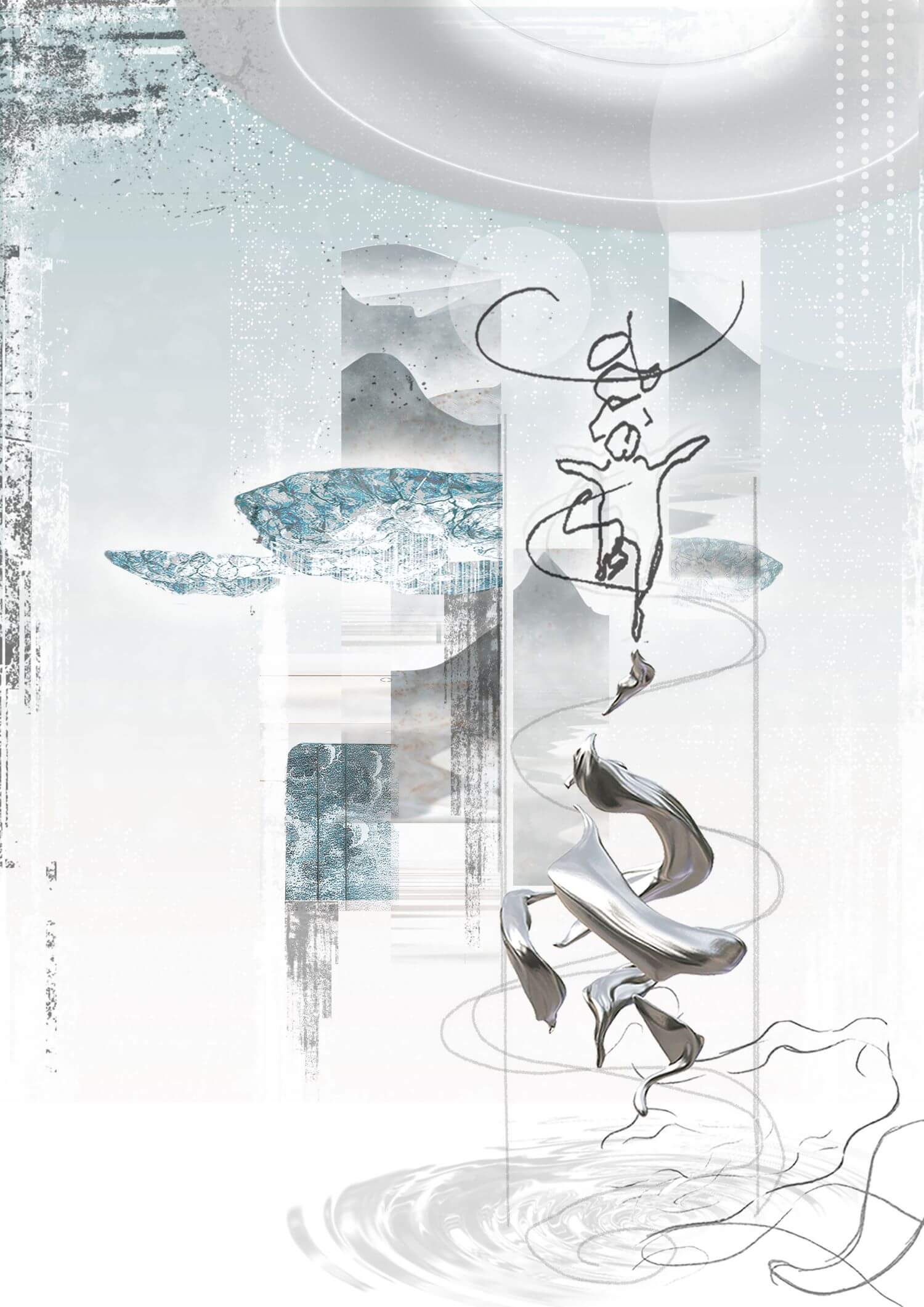 Chu | A biography
The Founder and Principle Designer of T.K. CHU DESIGN GROUP and T.K HOME; The Master of Neo Art Deco; A leading figure in the field of design industry in Asia
T.K. Chu is an architect, interior designer and product designer, who graduated from the Department of Architecture in Tamkang University in Taiwan (China).
Prior to the founding of T.K. Chu Design, he worked for Ms. Xiu Ze-Lan as an architect, during which he was involved in the design of Yangmingshan's Chung-Shan Building project and many other famous architectural projects. In 1985, he established T.K. Chu Design and shifted from architecture to interior design.
As the founder of T.K. Chu Design and T.K HOME, an original furniture brand, Mr. Chu has always stayed in the cutting edge of new design ideas and created many well-known projects, which have influenced generations of designers and gained extensive attention from the international media. That includes Forbes France, Domus China, Bloomberg Asia, Design Anthology, Taiwan Architecture, Interni China, etc.
Besides, He has served as a lecturer in Art Furnishings and Art Engineering Management at the Academy of Arts & Design, Tsinghua University, Beijing and a lecturer in Interior Design at Chinese Cultural University, Taiwan as well. Mr. Chu is also a man of public spirit who works for C foundation, a charitable foundation in the field of design, as a permanent director and chairman of the board for 2020.
Design
T.K. Chu has been engaged in the design industry for more than 40 years and founded his personal studio for 35 years. With the profound aesthetics and spatial thinking, he came up with the "Neo Art Deco", a style innovation, which combines decorative elements with contemporary design, and keeps updating it to adapt to the rapidly changing aesthetic trends. As an interior architect, he is good at restructuring the circulation of the space, optimizing space function, and perfecting architecture with interior design methods. He brings art pieces to space and shapes arty forms in space.
During a 40-year career in the design industry, Mr. Chu has witnessed something dramatic happening with styles coming and going. Design trends are closely related to social identity and economic activities, acting as visualizations of economic and value exchange. Thus, the identity of designers becomes an exploring question.
The market-oriented and consumer-centered strategy intends to enrich the content and meaning of design. For user-friendly spaces, esoteric academic theory is not a must. What T.K. Chu is creating is not only "a brand new lifestyle suited to the next generation", but also "a sort of added value to the real estate clients". Accordingly, "Balancing creativity and business" is an integral part of Neo Art Deco hybrid methodology, whereas identity and personality of the dwellers manifest themselves in every detail of every space. No future is possible without a past. There is an "in-between" state in design, that is to say, integrating the modern and traditional features of the West and the East. Neo Art Deco, feathered with inclusiveness, is not one style, nor does it belong to a specific era. It branches out a series of "styles", including Poetic, Metropolis, Dreamscape, Neo-modernism, Neo-easternism and etc.
T.K. Chu has created hundreds of design projects from a broad range of sectors - from housing to commercial complex and beyond, which has accumulated a reputation in the rich regions. It participated in projects from a broad range of sectors - from housing to commercial complex and beyond, as seen in Villa Smriti Curtilag, Villa Homespun Philosophy, Palace of Light, NAGA Shangyuan, Tang Island and Chateau Star River.
---