UNEVEN: One of the plushest residential projects in Vadodara, 33 contributes in changing the skyline of the city. It consists of 3 simple and elegant towers with wide spaces, and top-level amenities for a grand lifestyle. The towers are separate yet connected by the infinity pool that resides on the top level. Each tower is placed in a way that it creates pockets for allowing in smooth air flow, and keeps it lit from all four sides. Designed to house residents who desire to live a luxe lifestyle, 33 LE contains rejuvenation zones on ground and terrace level. The planning is what we are happy about; along with the exterior and interior finishes that elevates the design language. The internal planning for each house is done as per vastu, which is a-4 BHK unit with provision of a splash pool in each unit.
Individual unit:
Each unit serves as an independent home though being an apartment. It offers absolute privacy and a campus that incorporates all the ultra-modern lifestyle features. Each tower being tactfully placed offers air pockets that keeps the overall temperature of the campus low, which is catered by lush green landscape and water bodies. The terrace infinity pool is one of the most noteworthy features of 33 LE. Wooden decks and gardens on terrace level serve as more private spots for each tower.
Planning w.r.t to the users' well-being:
The thoughtful plan of this project is ideal for a luxurious lifestyle. To lend the residents a wholesome lifestyle, the campus consists of a terrace pool, a home theatre, a gymnasium, indoor games room, a spa, indoor sports court, outdoor sports court, gardens and other activities for complete rejuvenation on a daily basis. The central semi-covered passage also houses decks and water bodies for outdoor seating. To add to this, the design itself caters to a very fresh approach to life in accordance with nature – where there is constant flow of fresh air and day-light.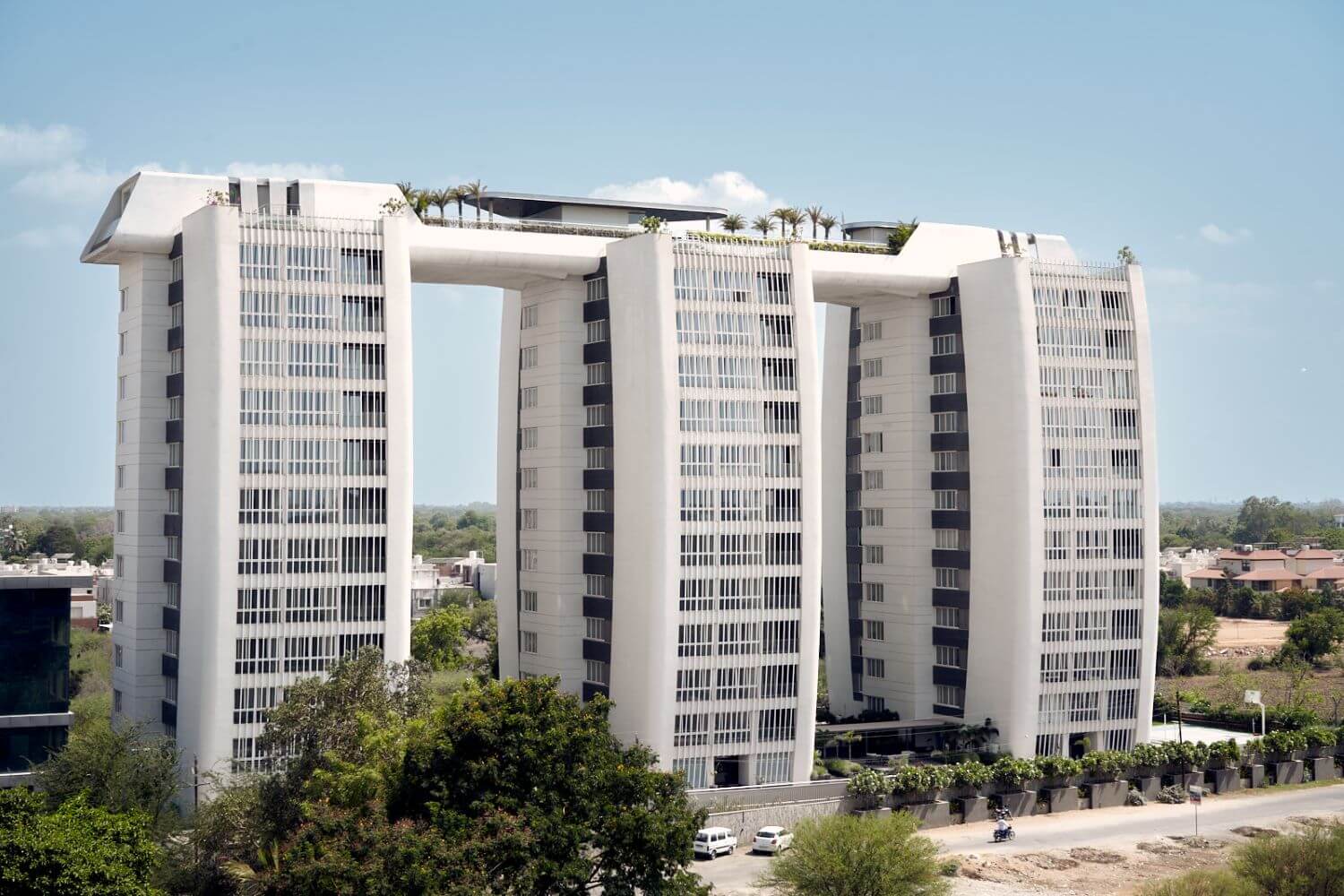 Sustainable measures through new-age technology:
The project is certified as "Gold" in IGBC which further adds sustainable values. The modern-day façade displays the utmost precision required in the design of the fins used. The fins allow the natural light to seep in at different hours in a day while the well-calculated thickness ensures that there is ample indirect sunlight but no direct and harsh sun rays. The structures are slightly curved at the corners and are open on all 4 sides so that natural air filters in through the fins. Each tower consists of eleven 4-BHK apartments with a single apartment on each floor.
With thoughtful planning of indoors and outdoors, the entire campus makes sure of delivering ample spaces to combat rejuvenation needs. The common amenities housing a home theatre, a gymnasium, indoor play area, basketball court and decks at various levels makes the daily living of the residents more joyful.
The project is certified "Gold" in IGBC and meets the ends of creating a positive sustainable living. This caters to specially campus for specially abled users, earthquake resistant structure, rain water harvesting, and natural cooling delivered by special planning. The exterior fins act as sun-breakers and allow in soft day-light.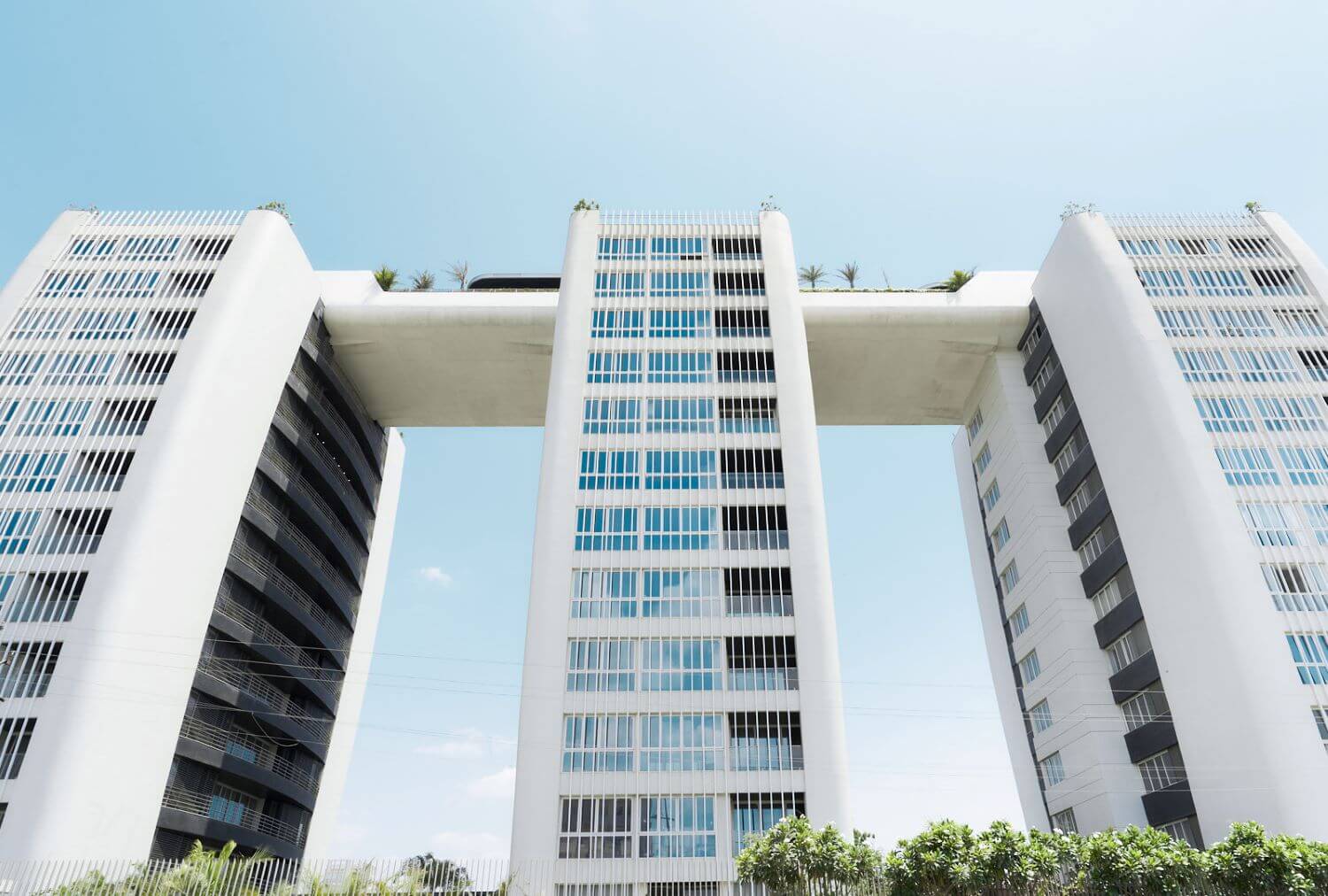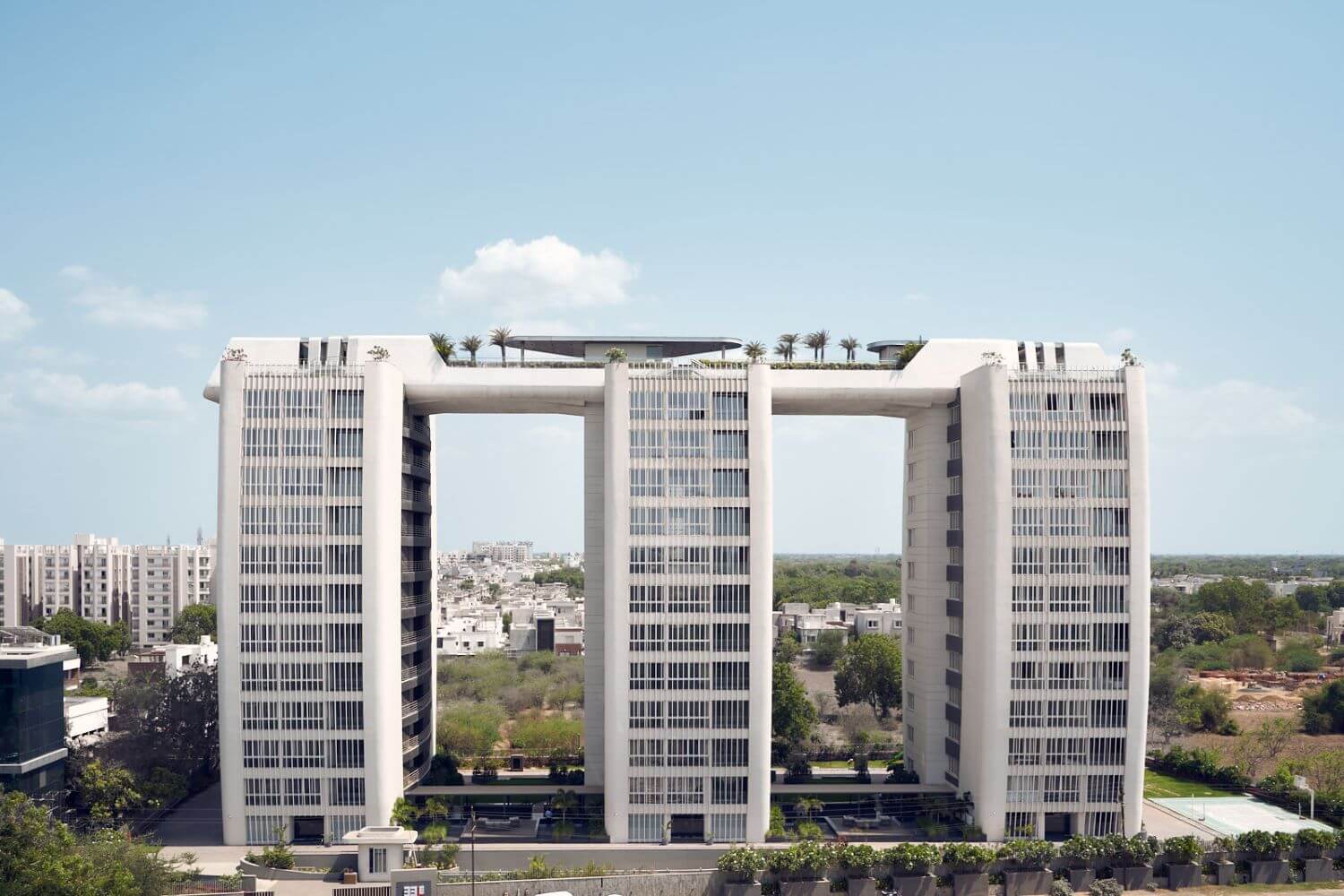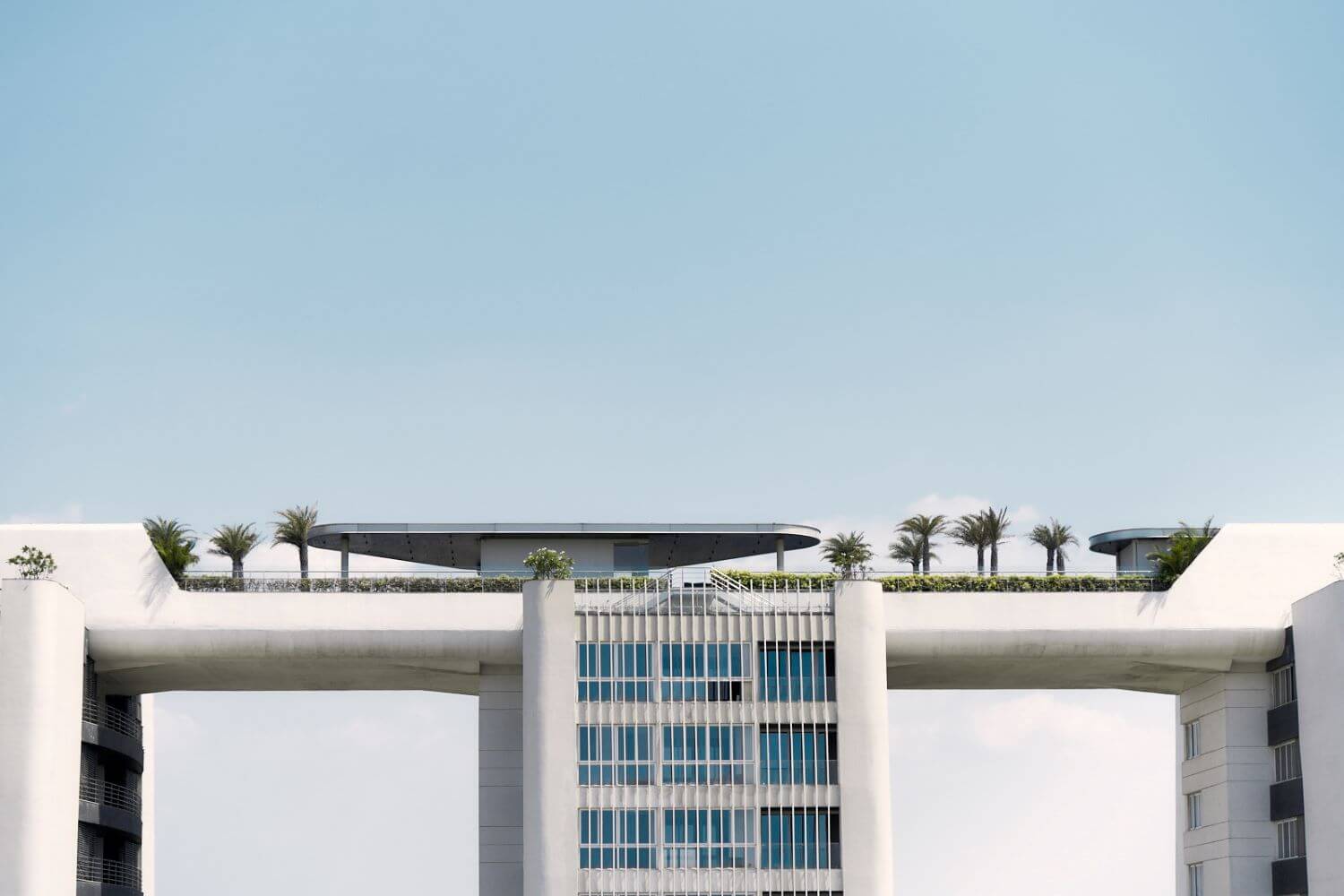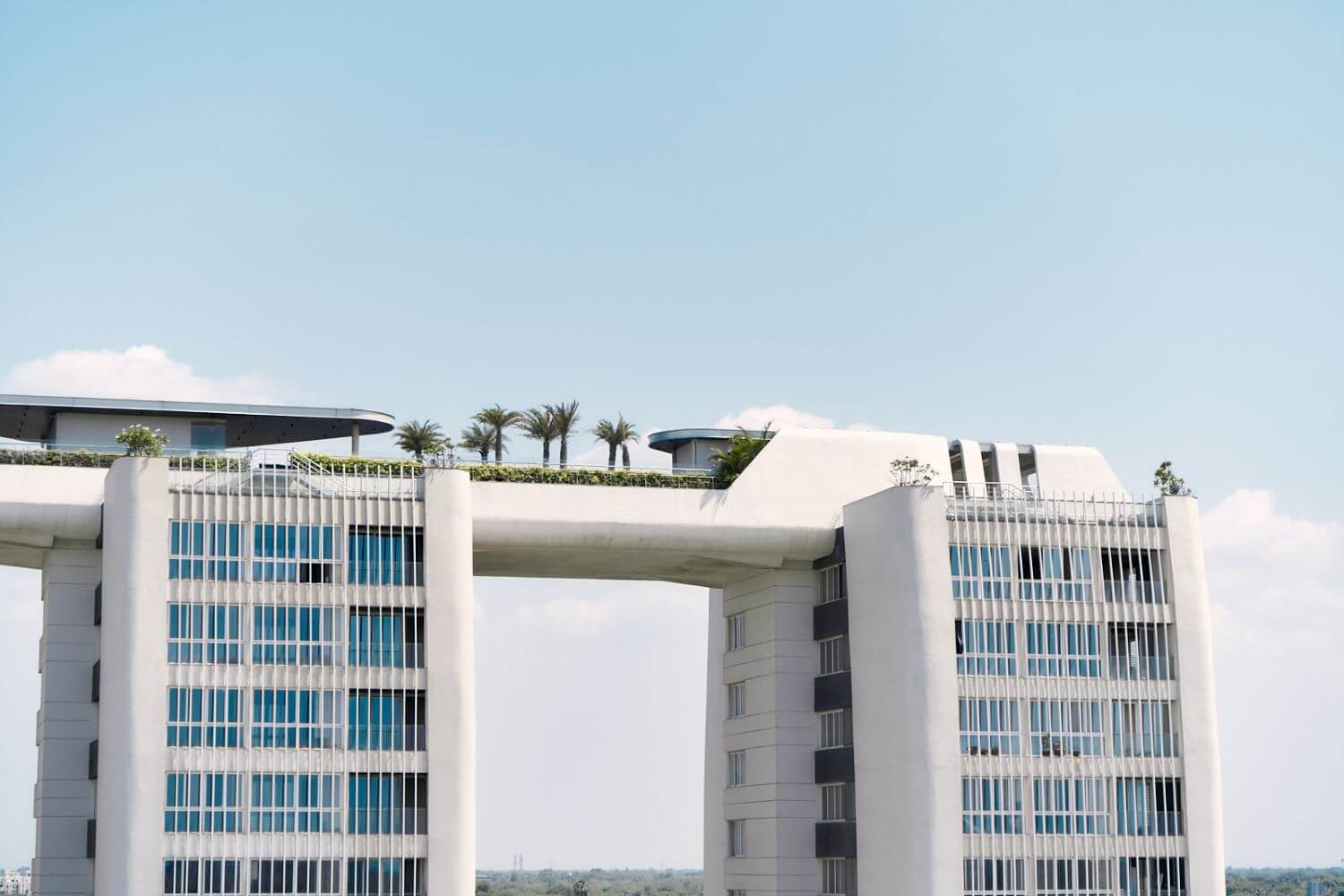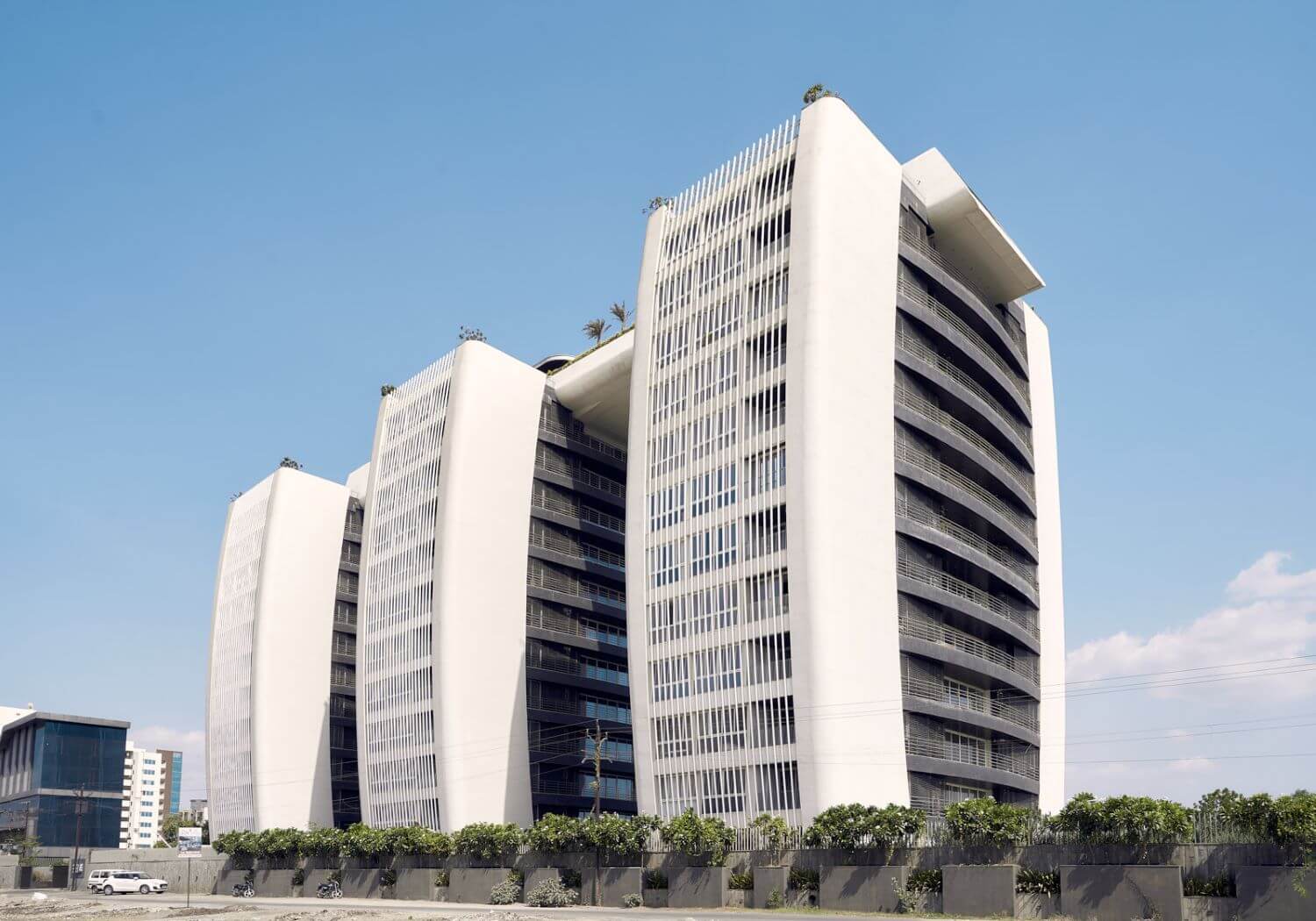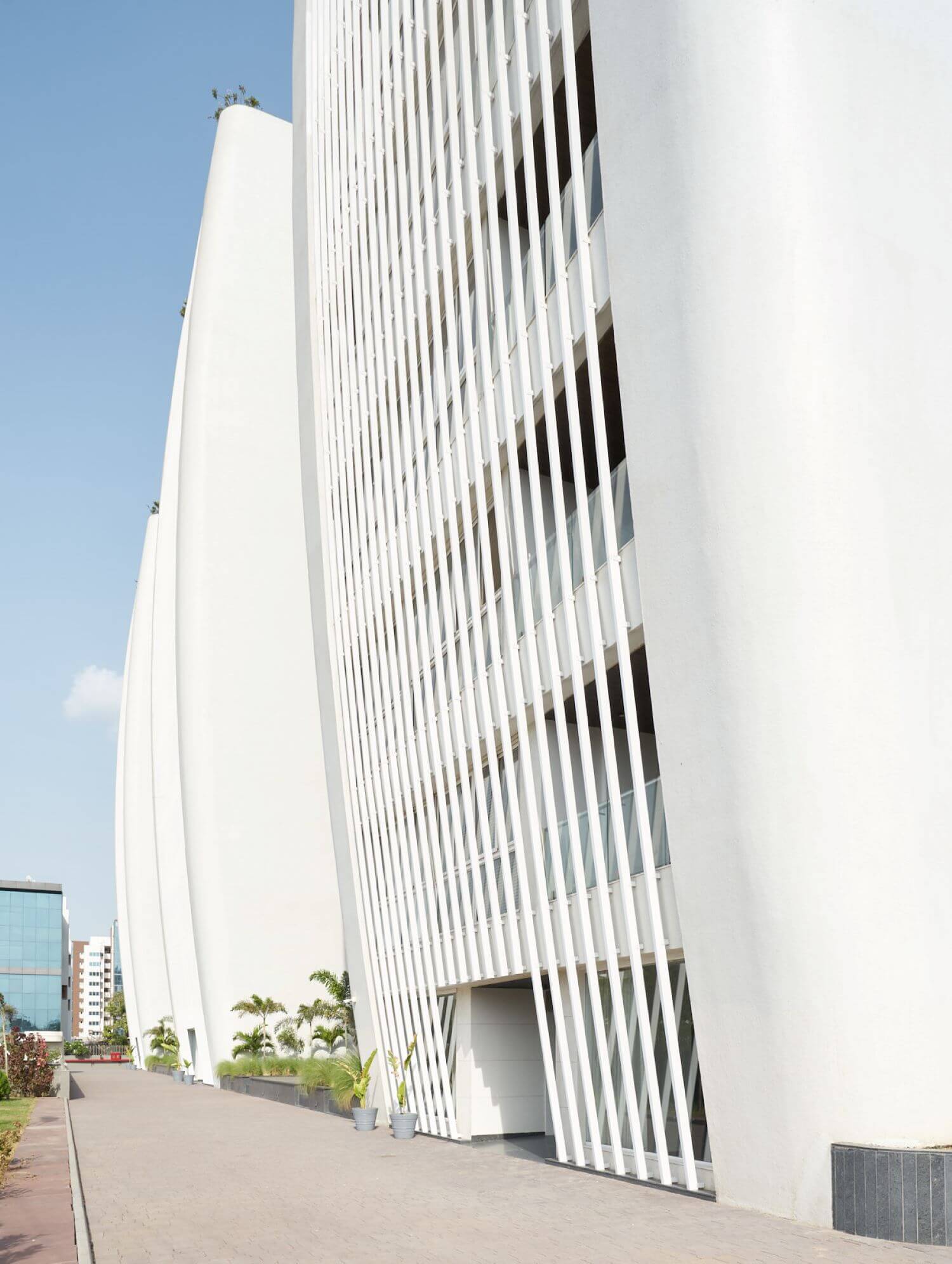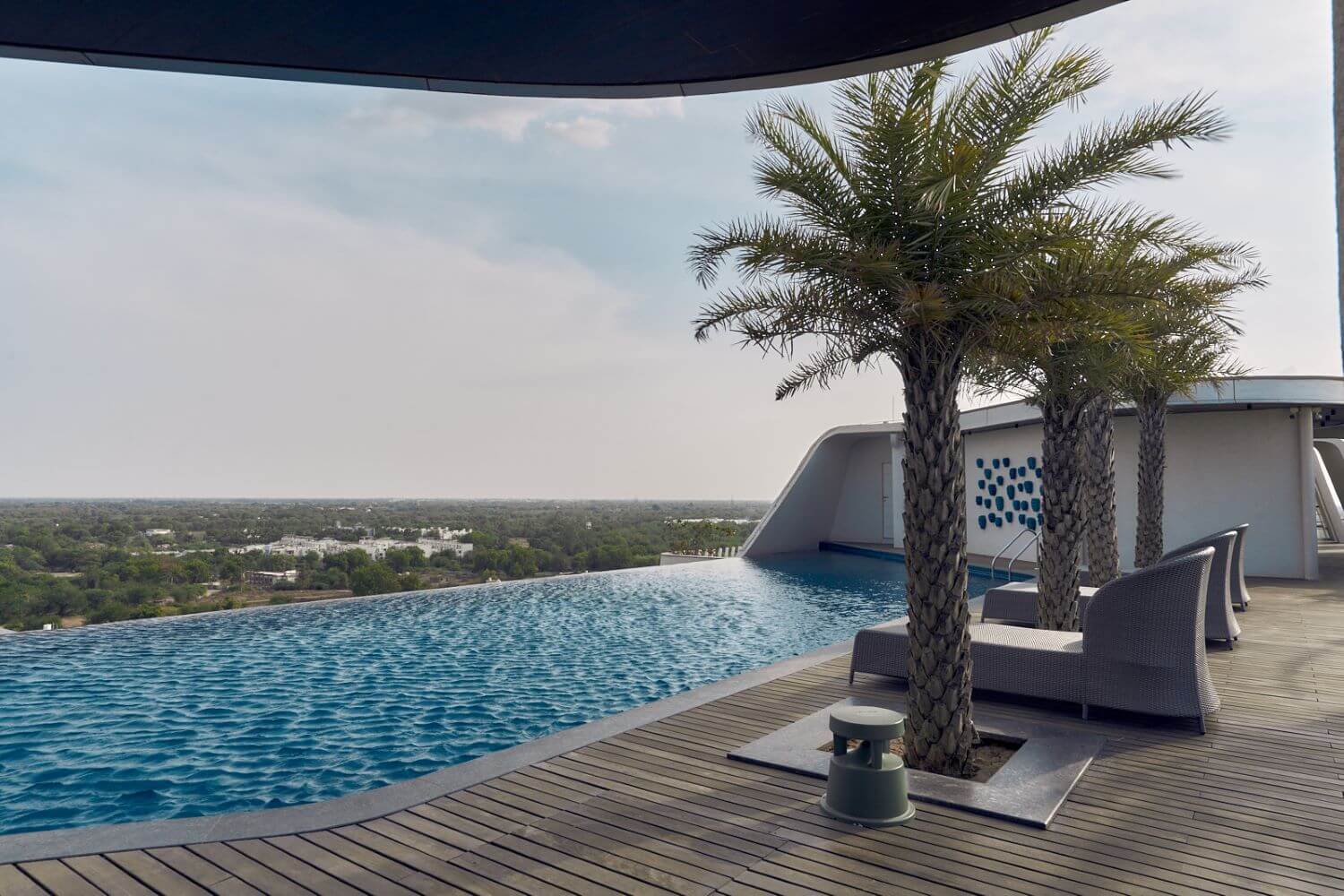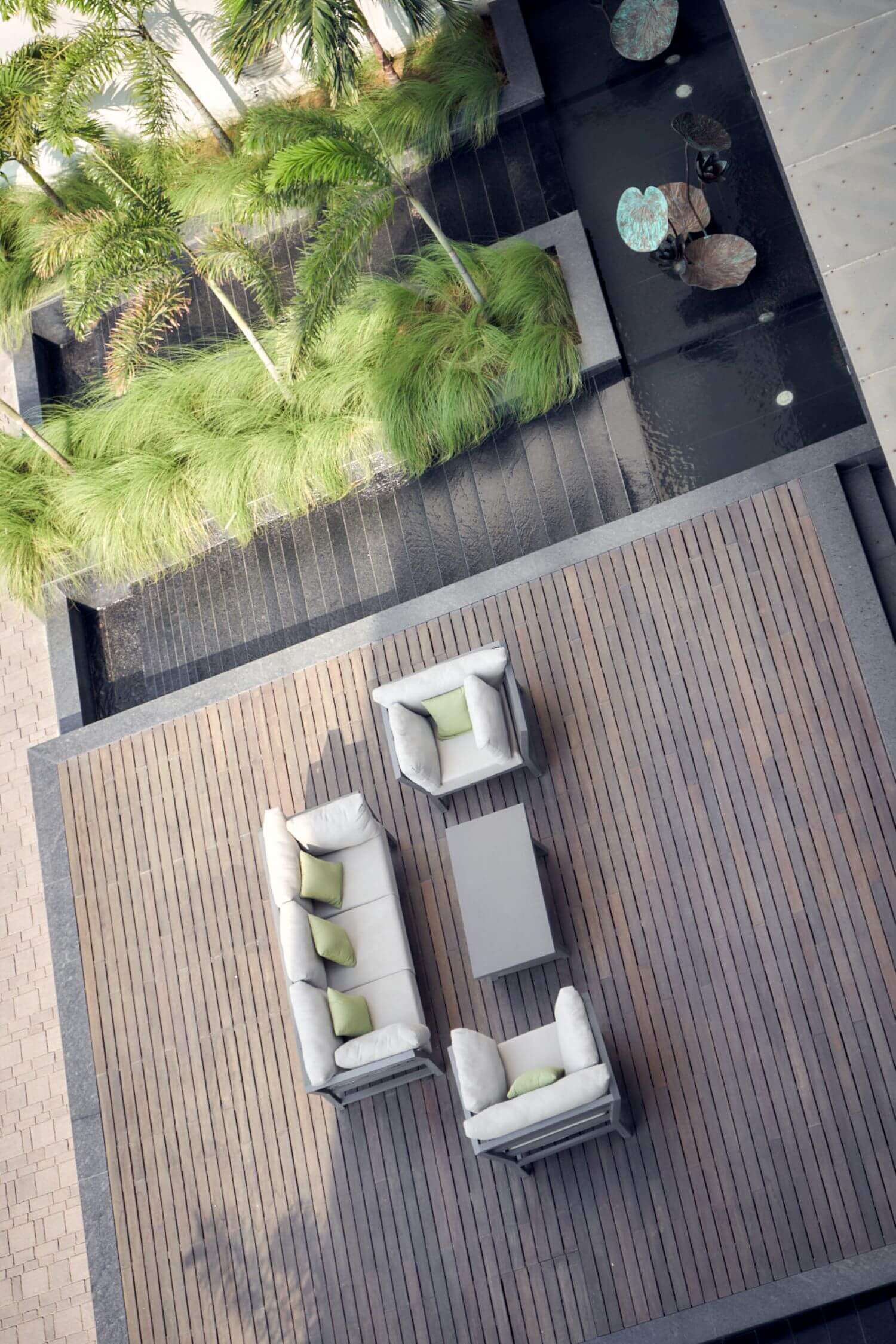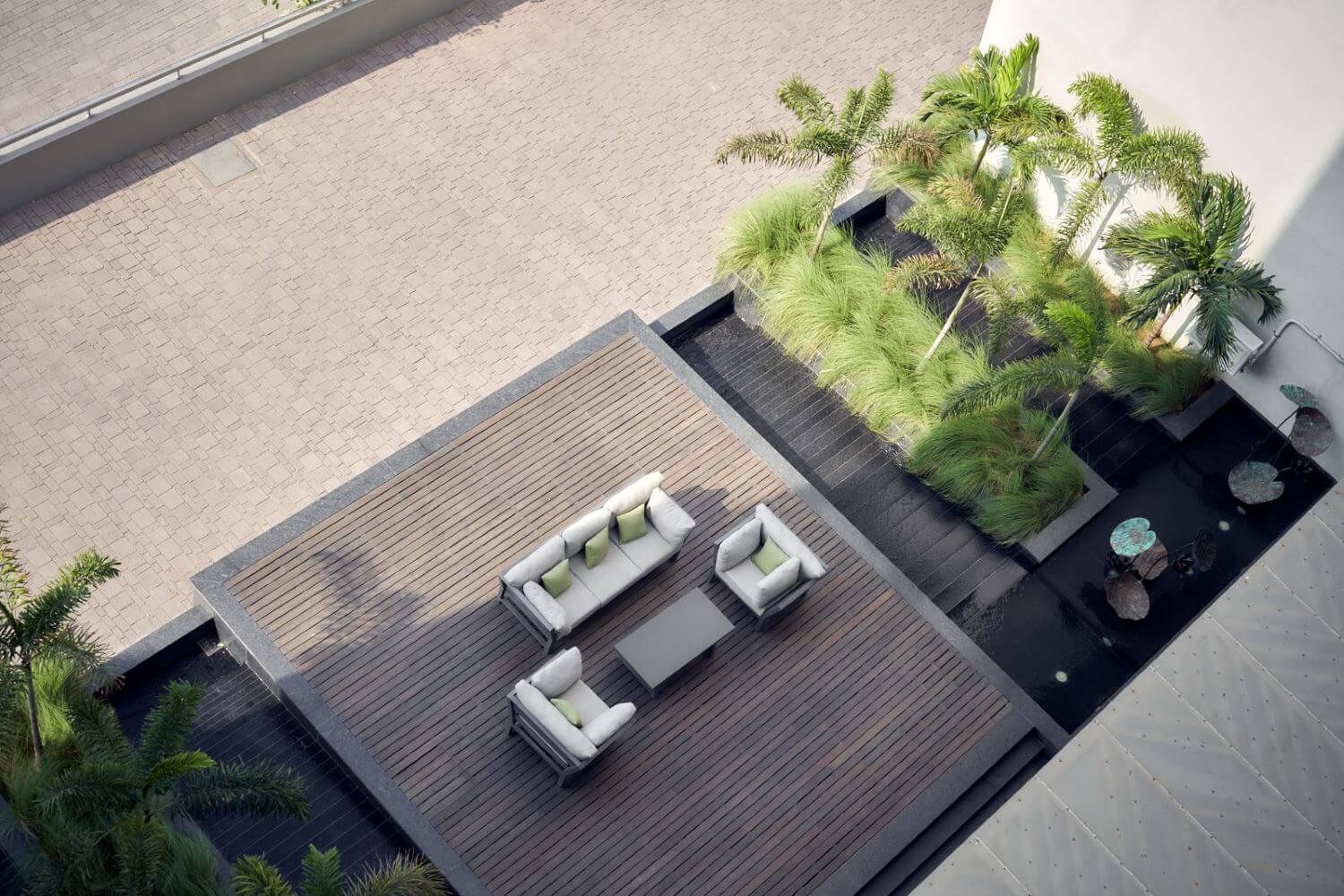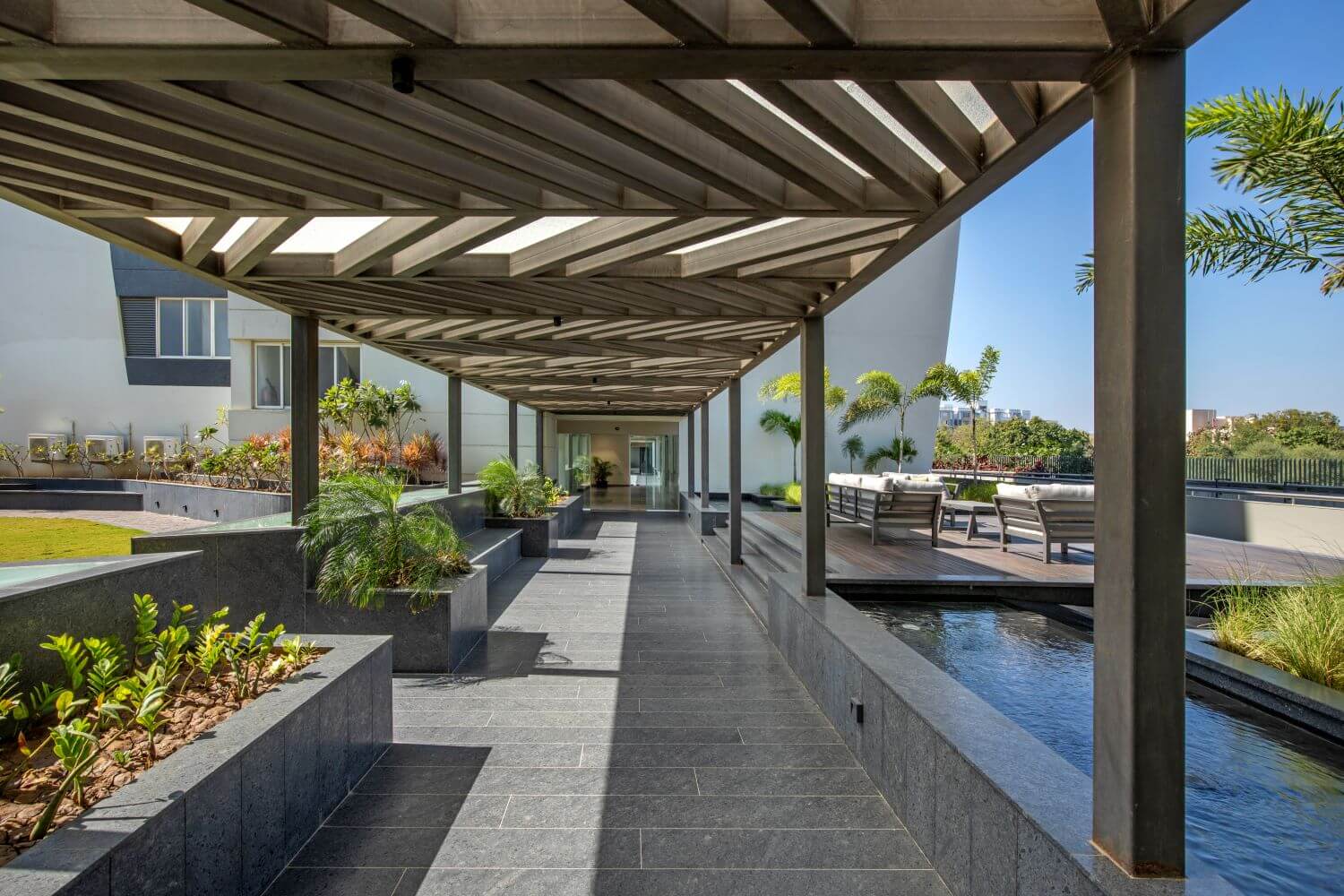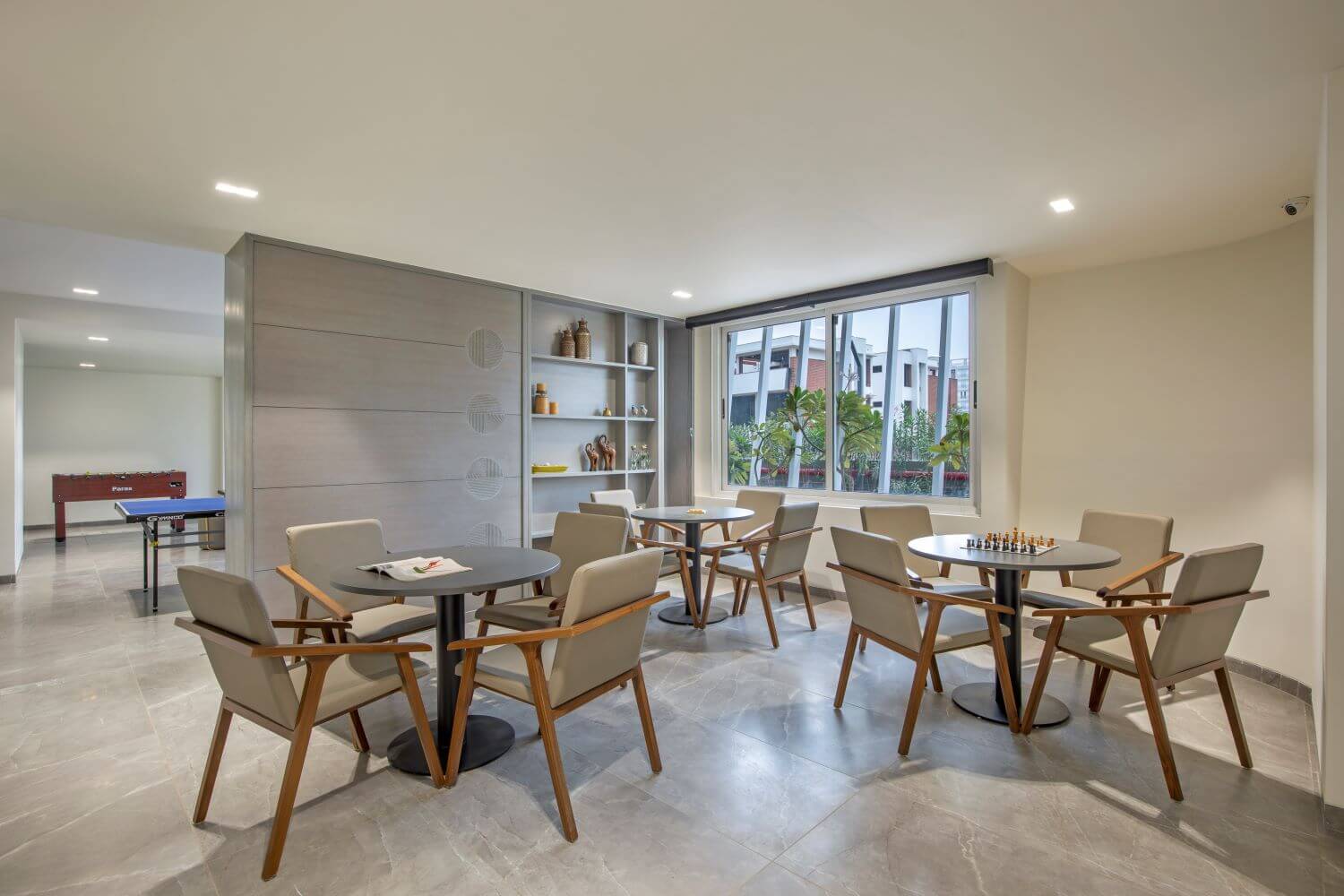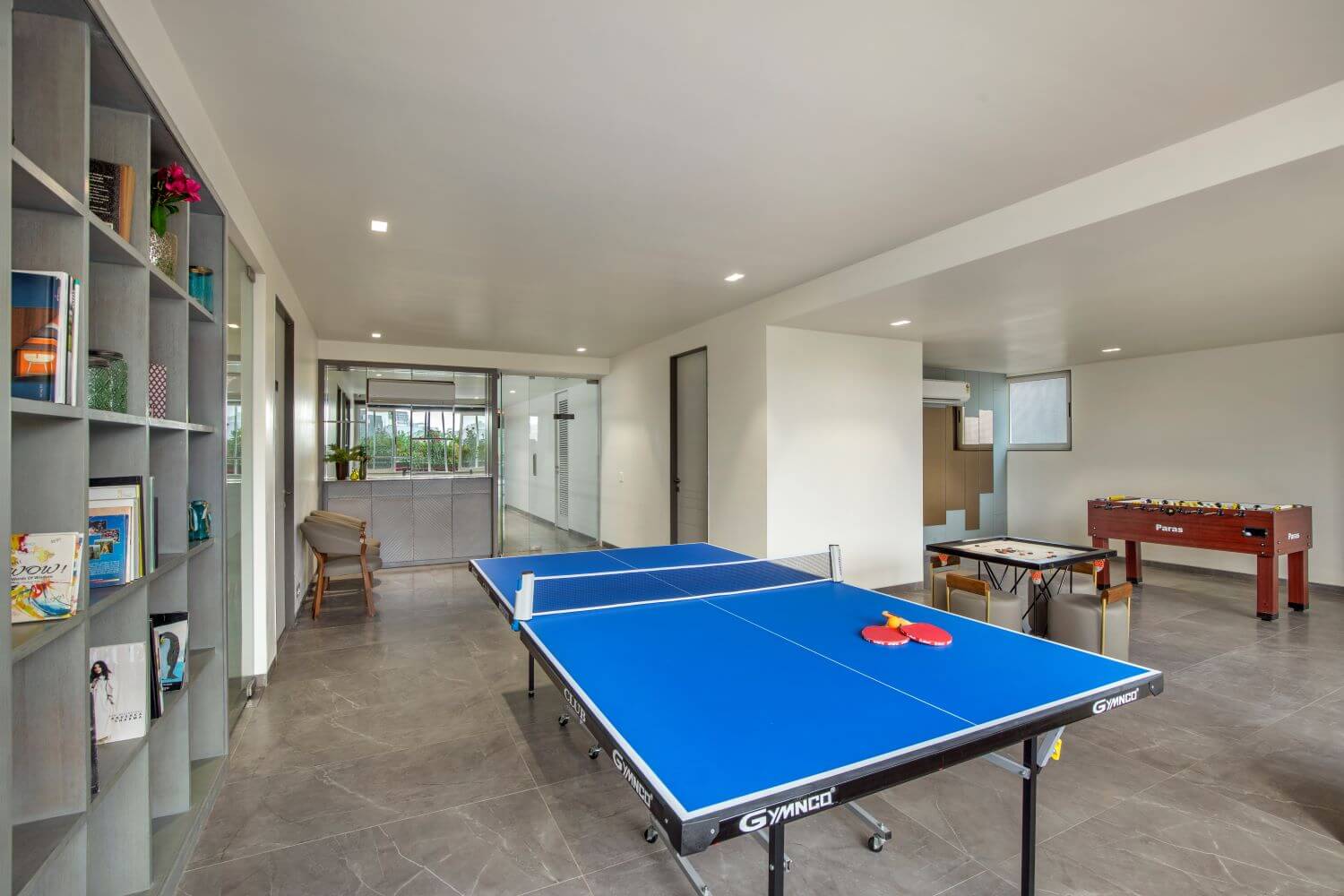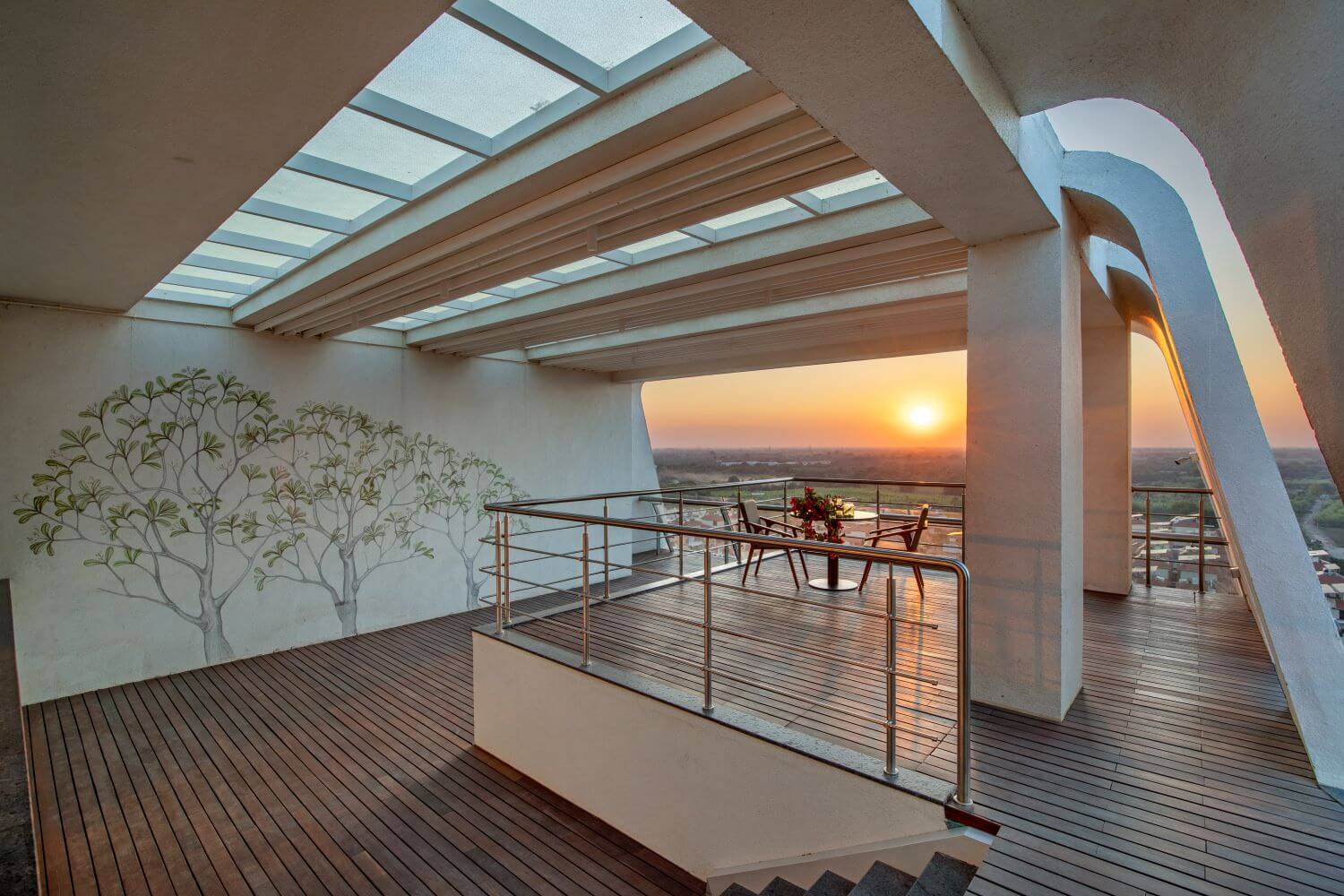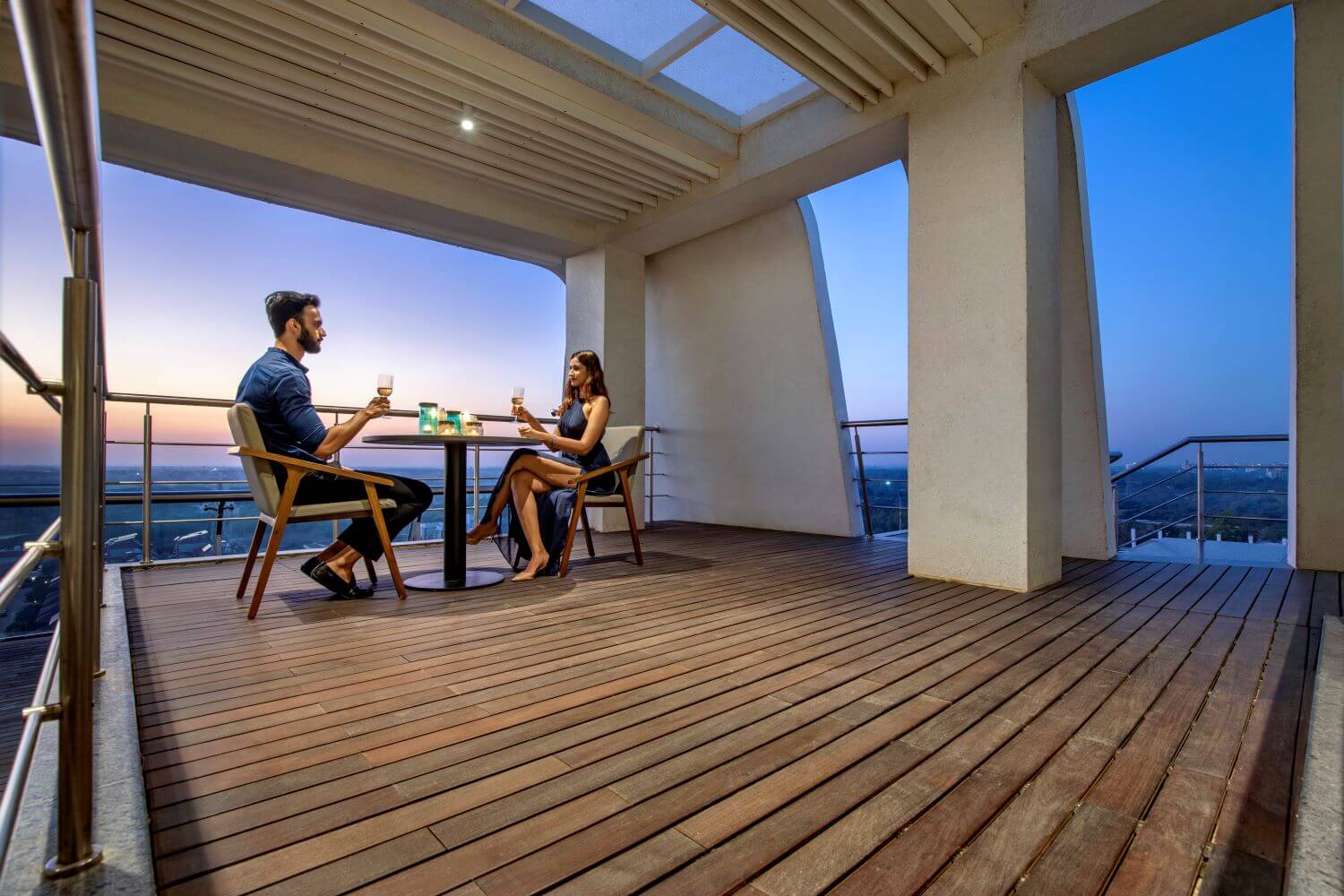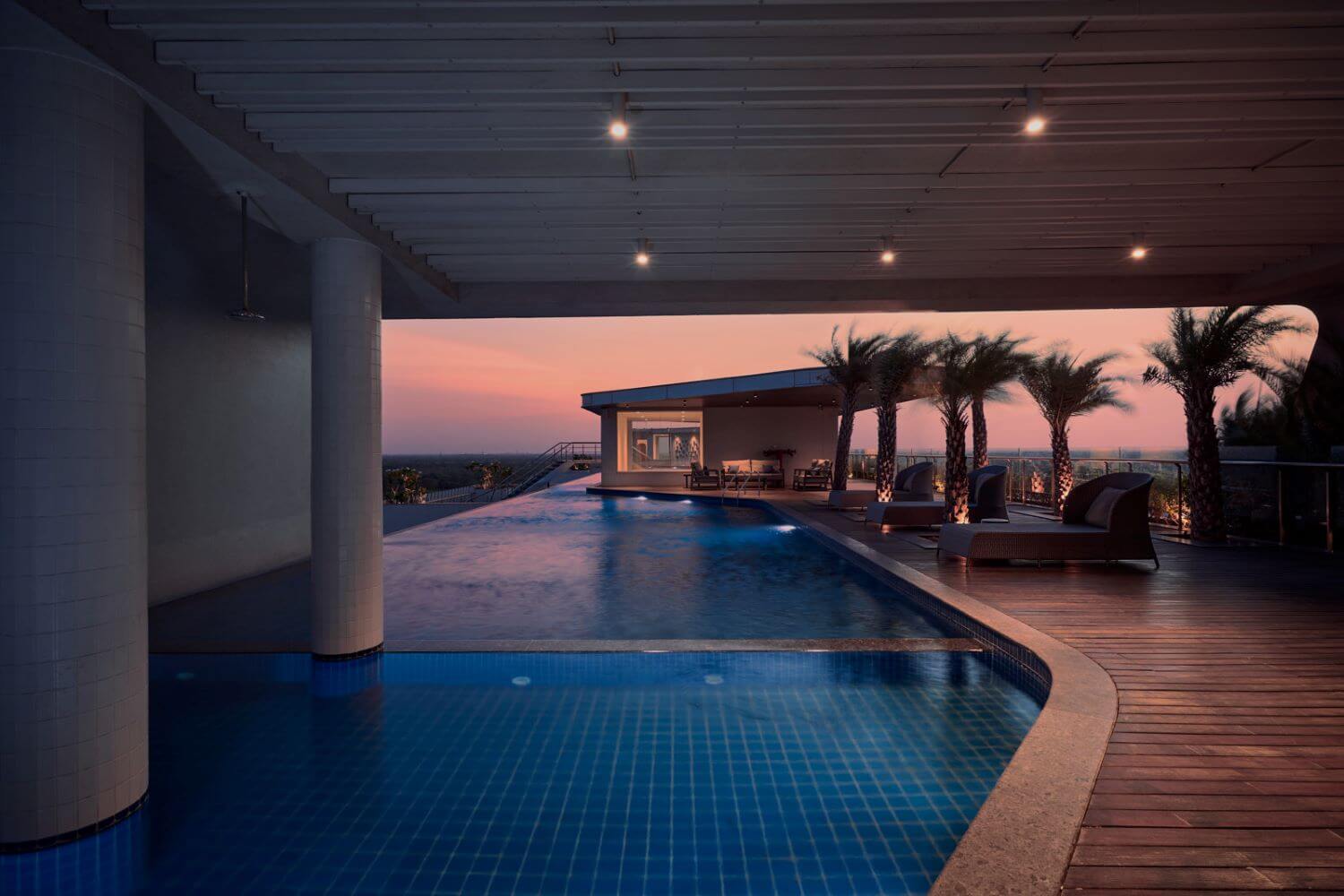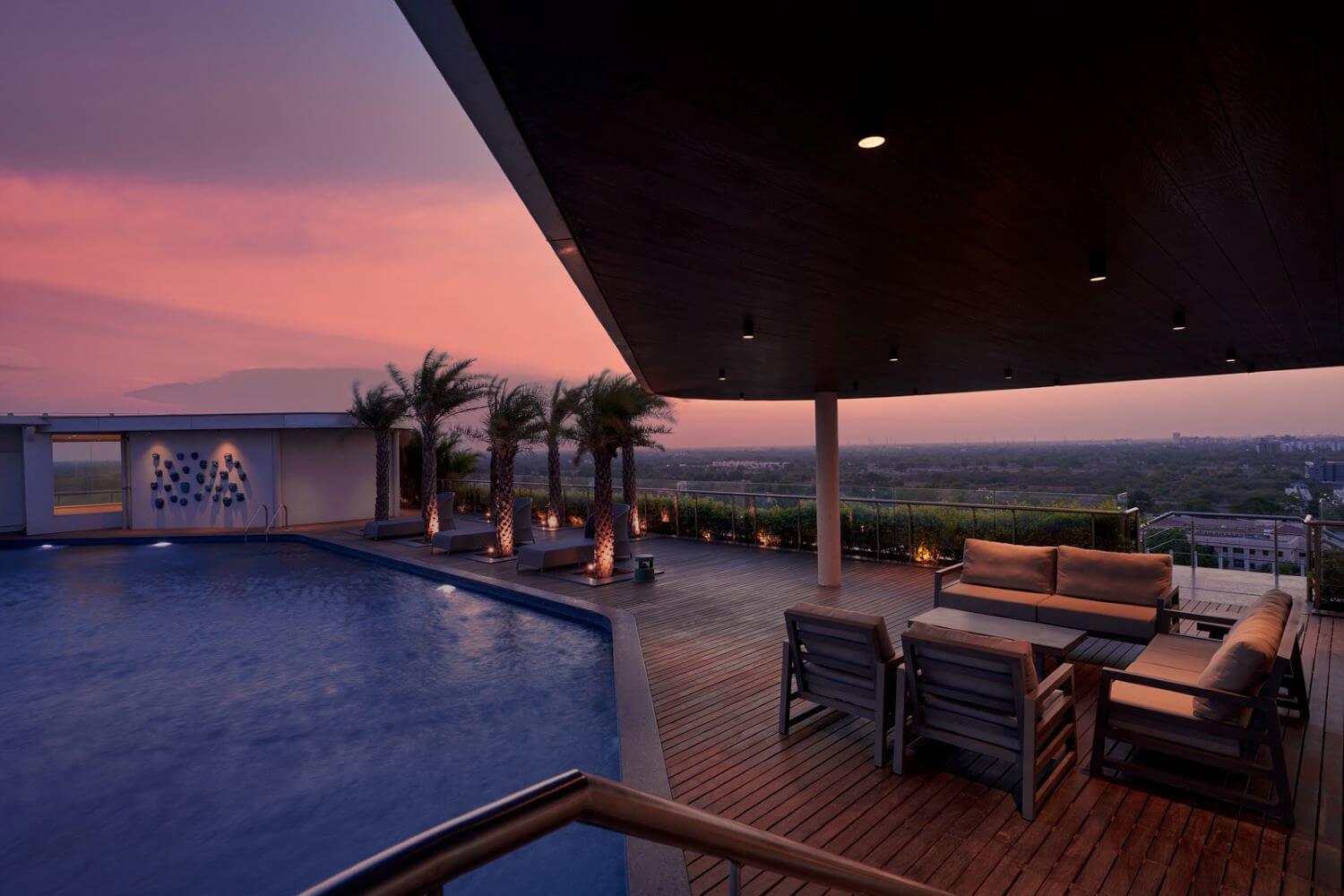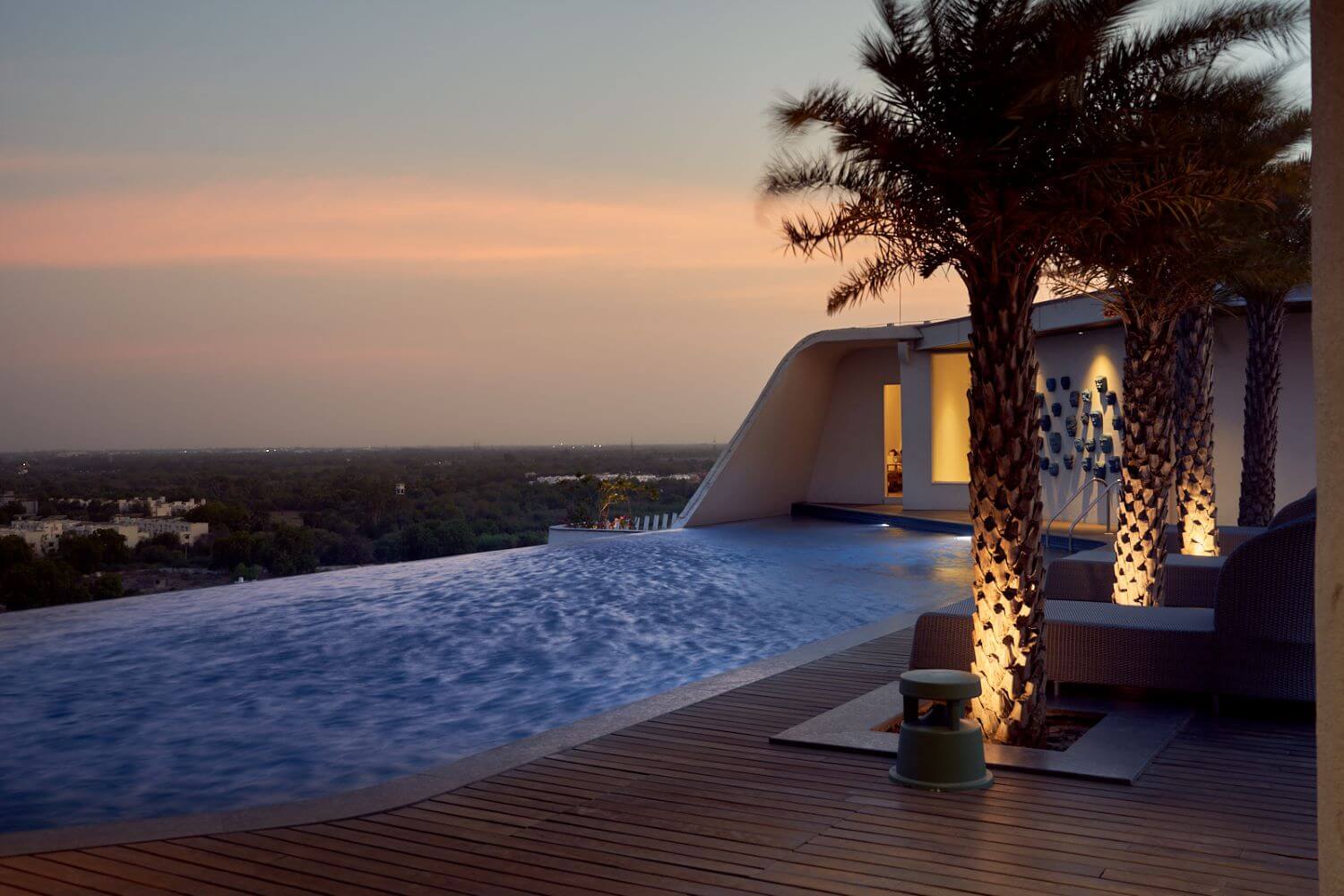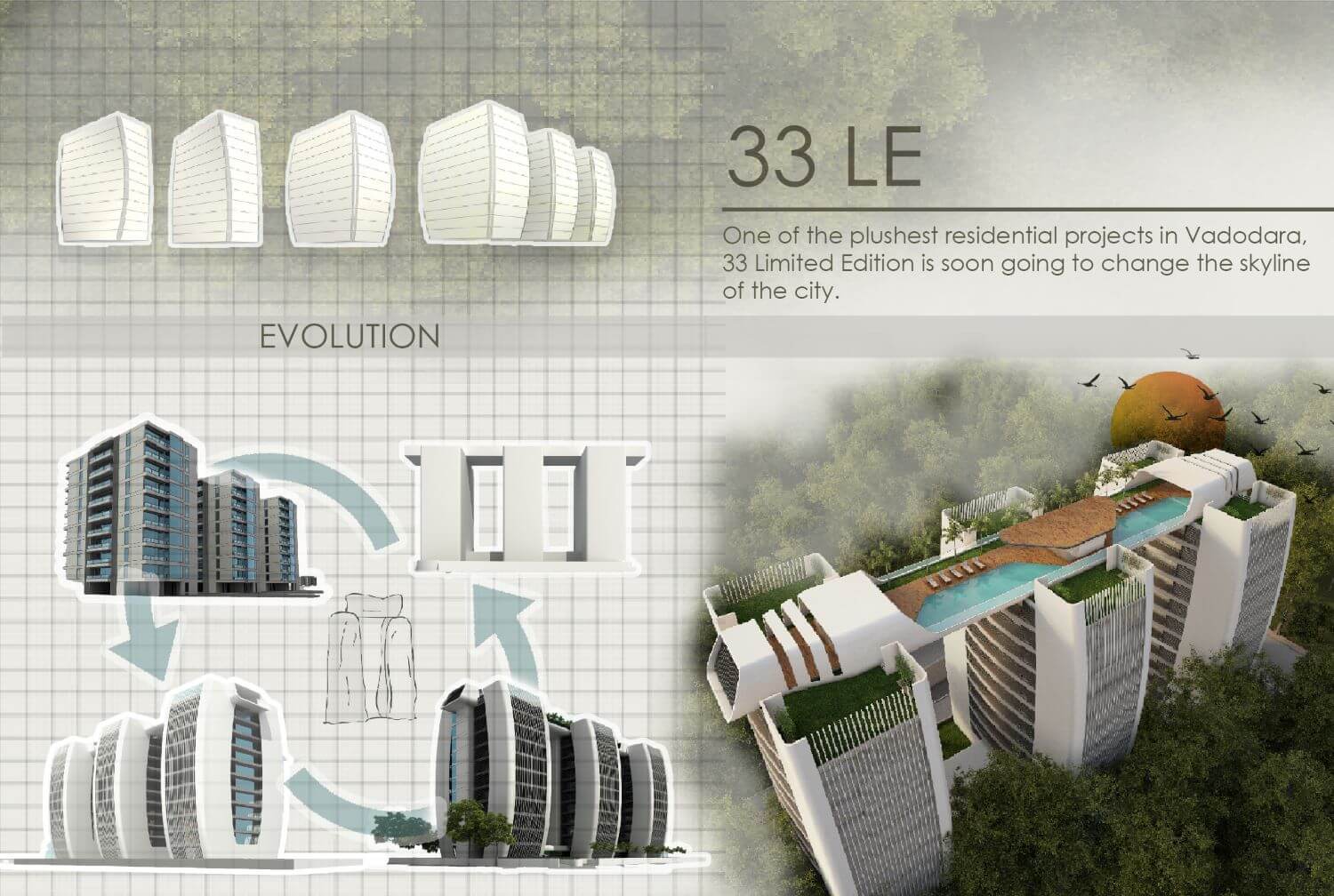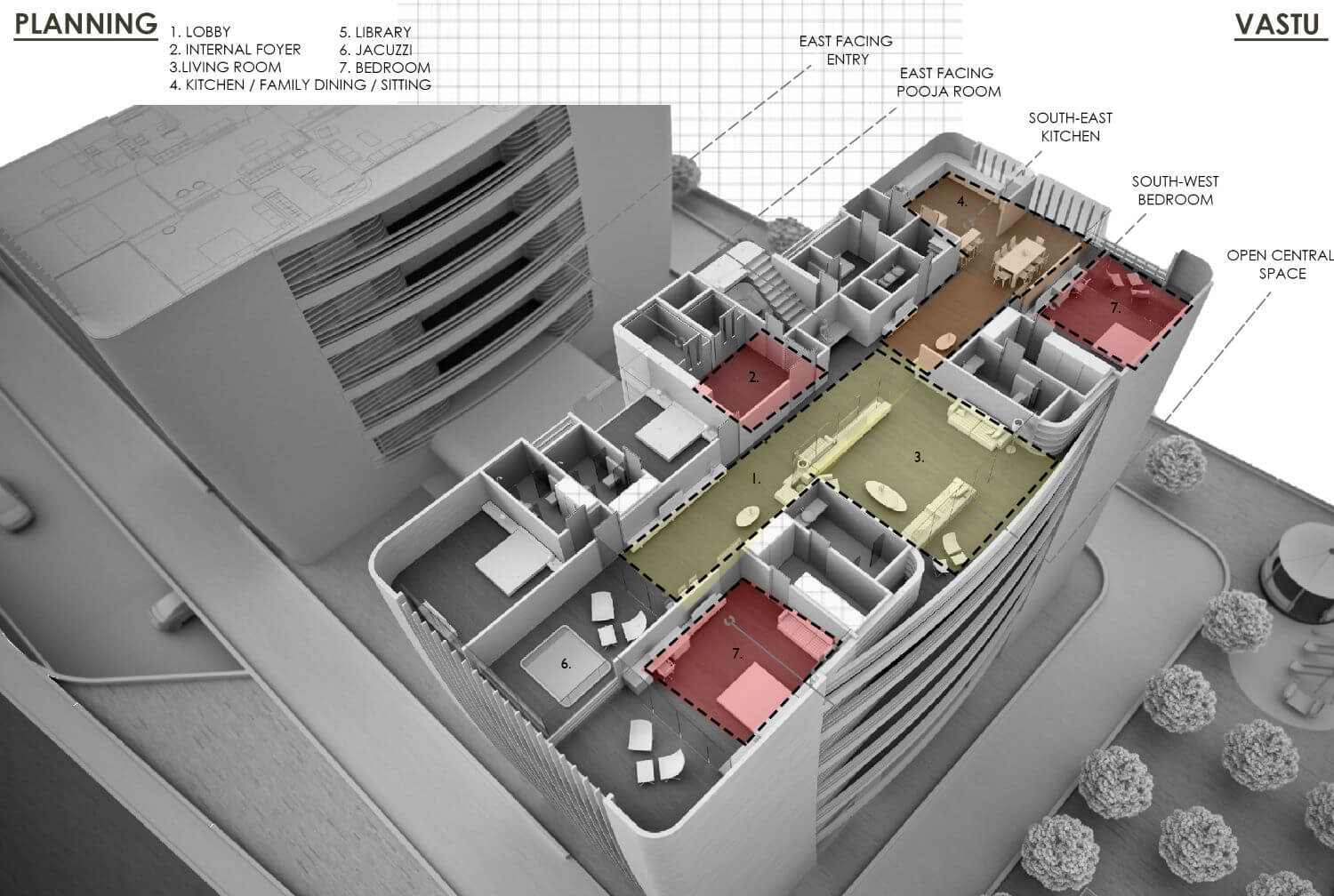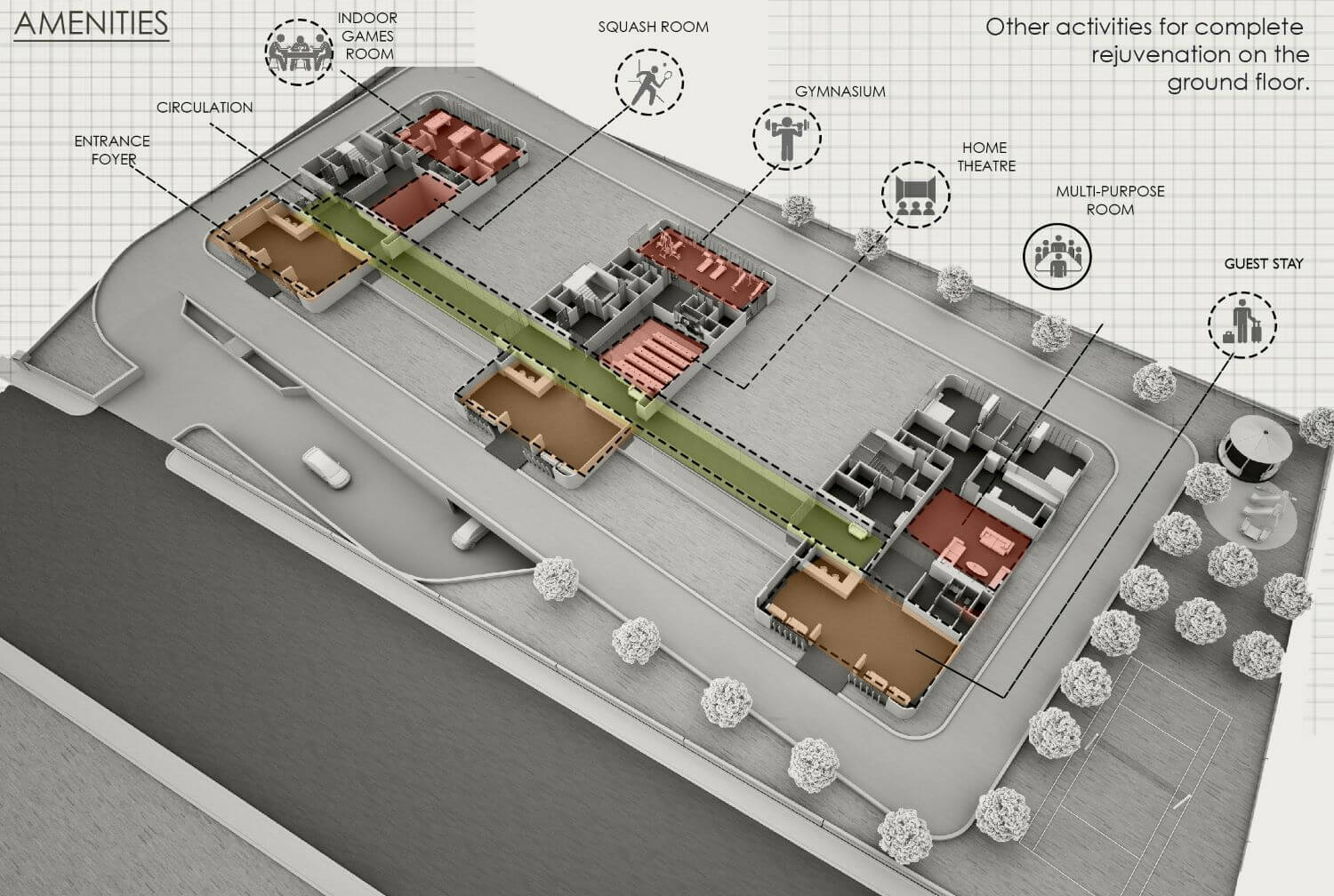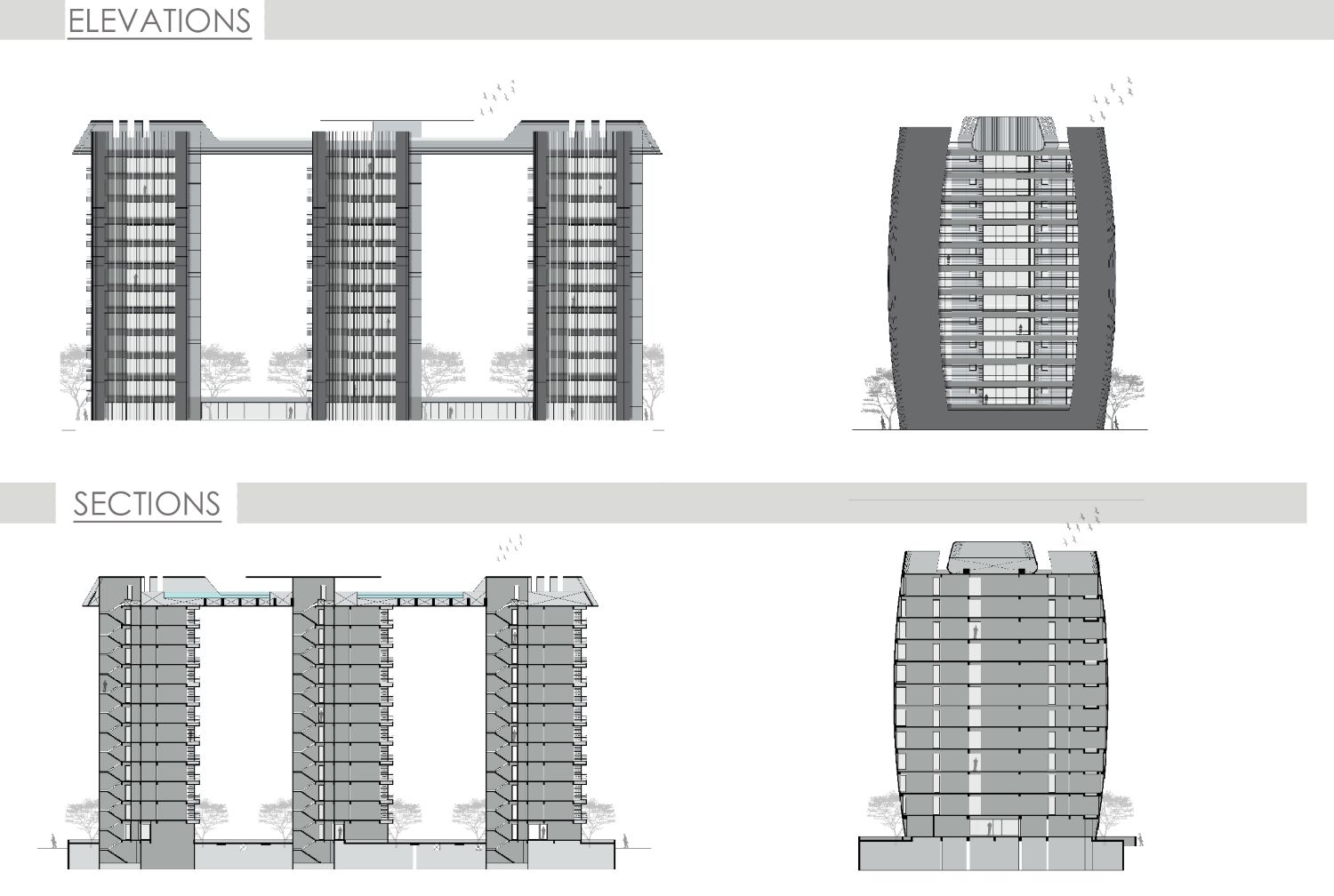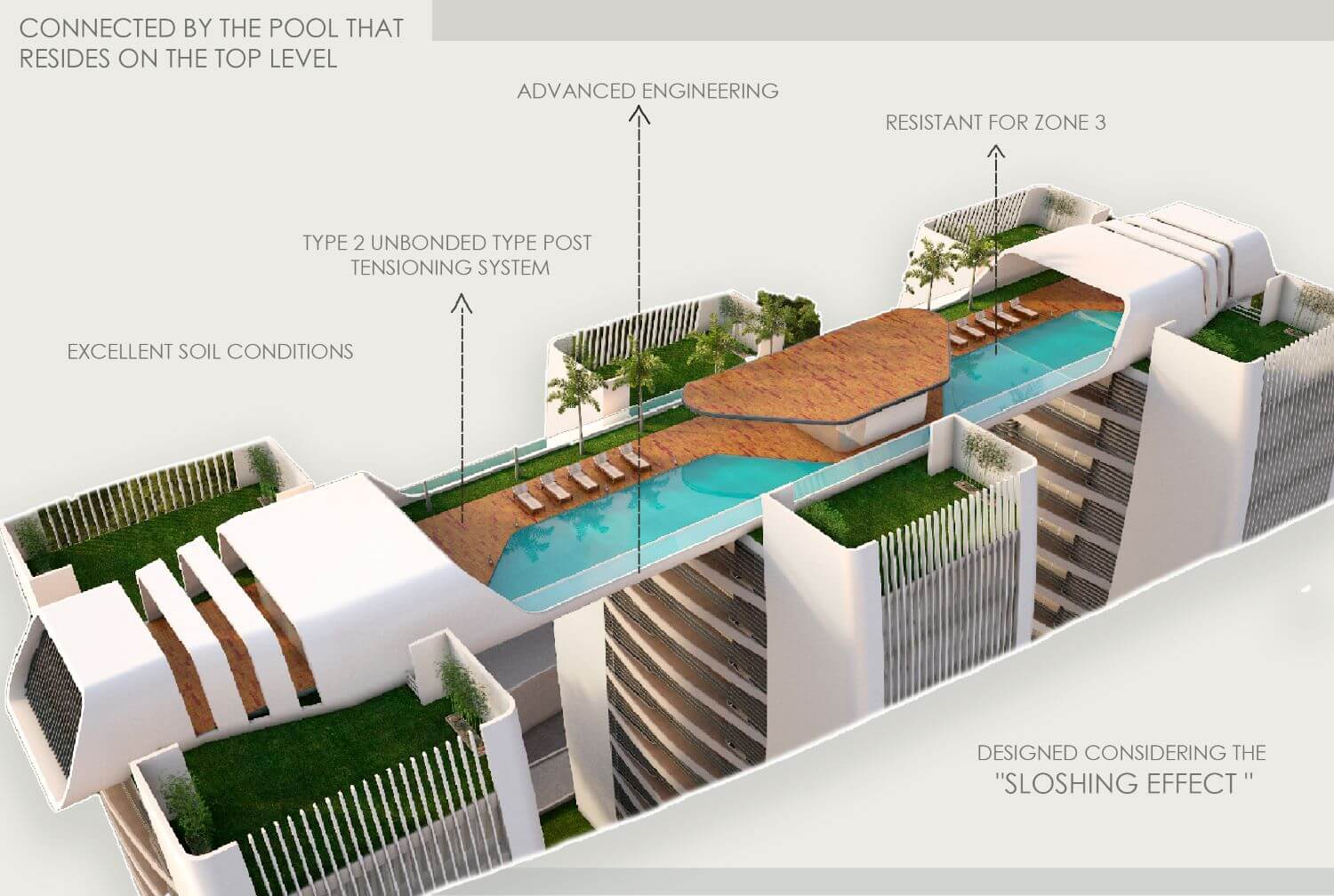 ---