Levy Art + Architecture: If you've ever surfed, you know that you need to watch the water. The swells tell a surfer when it's time to surf, not the other way around. For the committed, this means that living at the beach isn't a luxury; it's a necessity.
That's why this project happened: our surf-focused client knew he had to make the big move — all the way across San Francisco, from Bernal Heights to Ocean Beach (a solid twenty-minute drive), so that he could keep an eye on the ever-changing swell. Stretching above the sand dune, the expanded third floor living space and roof deck afford him and his family the ultimate lookout.
Lifeguard Tower 25. The location was perfect, but the house was old. It was water-damaged and strangely organized. A third floor had been "dropped" on top of the original San Francisco "Marina Style" two-story, leaving a large cavity between. It was space to work with, just like a wave that appears on the horizon
Working from top to bottom, we revealed vertical spaces that make the house feel and live much larger than its actual 2350 sq ft footprint. We set the entry on the split level, up from the street, to resist sand and wind and to heighten that experience even more. Ascending that half a flight on a wide stair, you're drawn through the middle level on a cable suspended stair to the top, the lookout.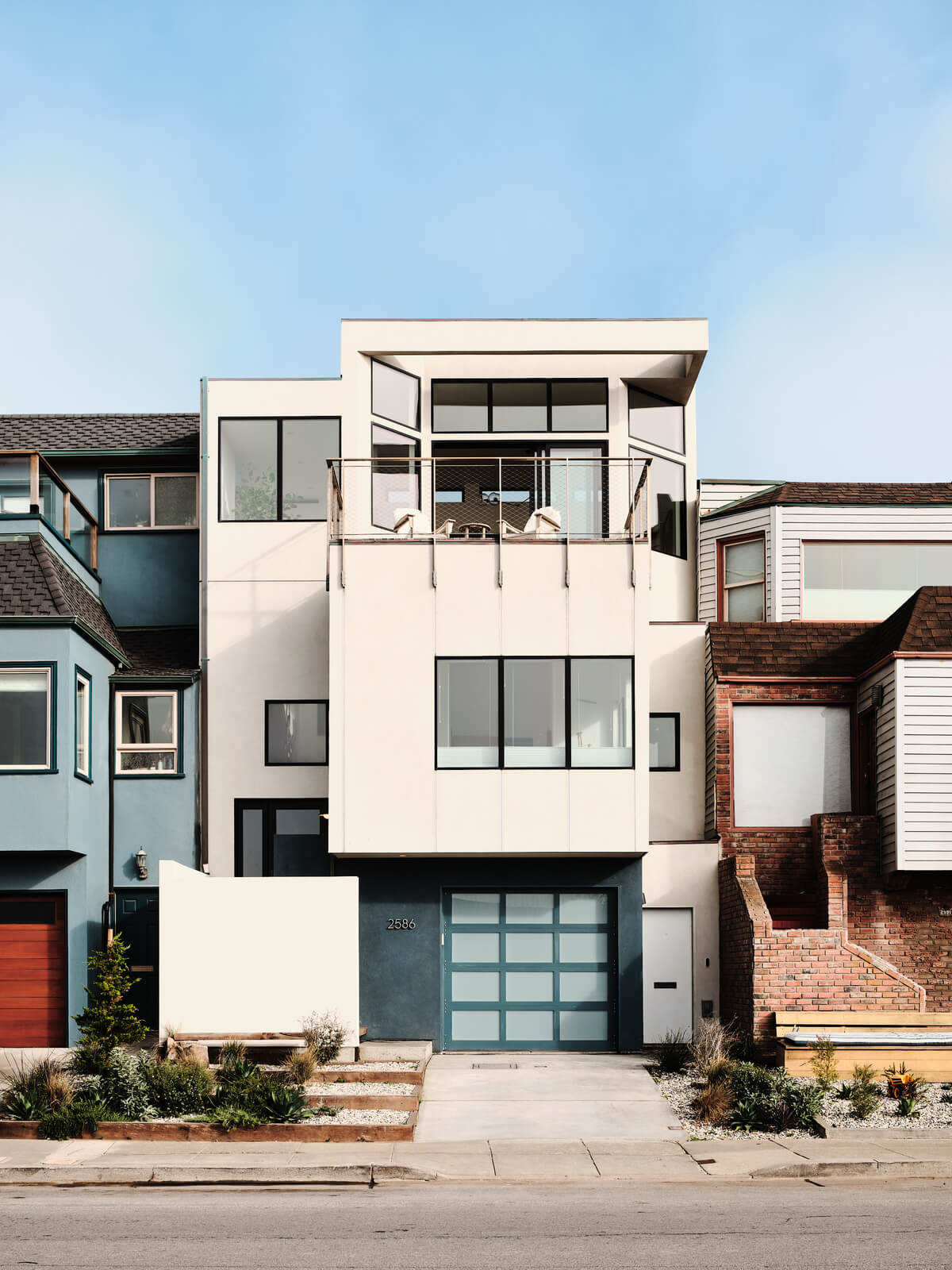 Here we added minimally, 150 square feet, almost all glass, and a new deck directly in front for the best vantage up and down the beach. New living space is under a 10-foot ceiling with natural light from 4 sides via clerestories. They define the rooms, and even the light-reducing ocean glare. A small sitting area and the kitchen at the back are cozy, under the original ceilings. Finally, we suspended a deck off the back wall to support a ladder to the roof to service the solar panels and to get a bigger view, make a better call on the waves.
The interiors (by Melissa Todd and Frances Weiss) are beach-y but contemporary. We added an organic and textural layer of materials including warm-toned wood and a mix of Cle, Fireclay, and Heath tiles in earth and water colors to ground the space in its natural environment. The effect is restrained yet welcoming, simultaneously curated and laid back.
Our client couldn't be happier, and he's converted his family into devoted beach goers. During the time of the Covid quarantine that has been a most welcome addition for all.
And the surf's been good this year, too.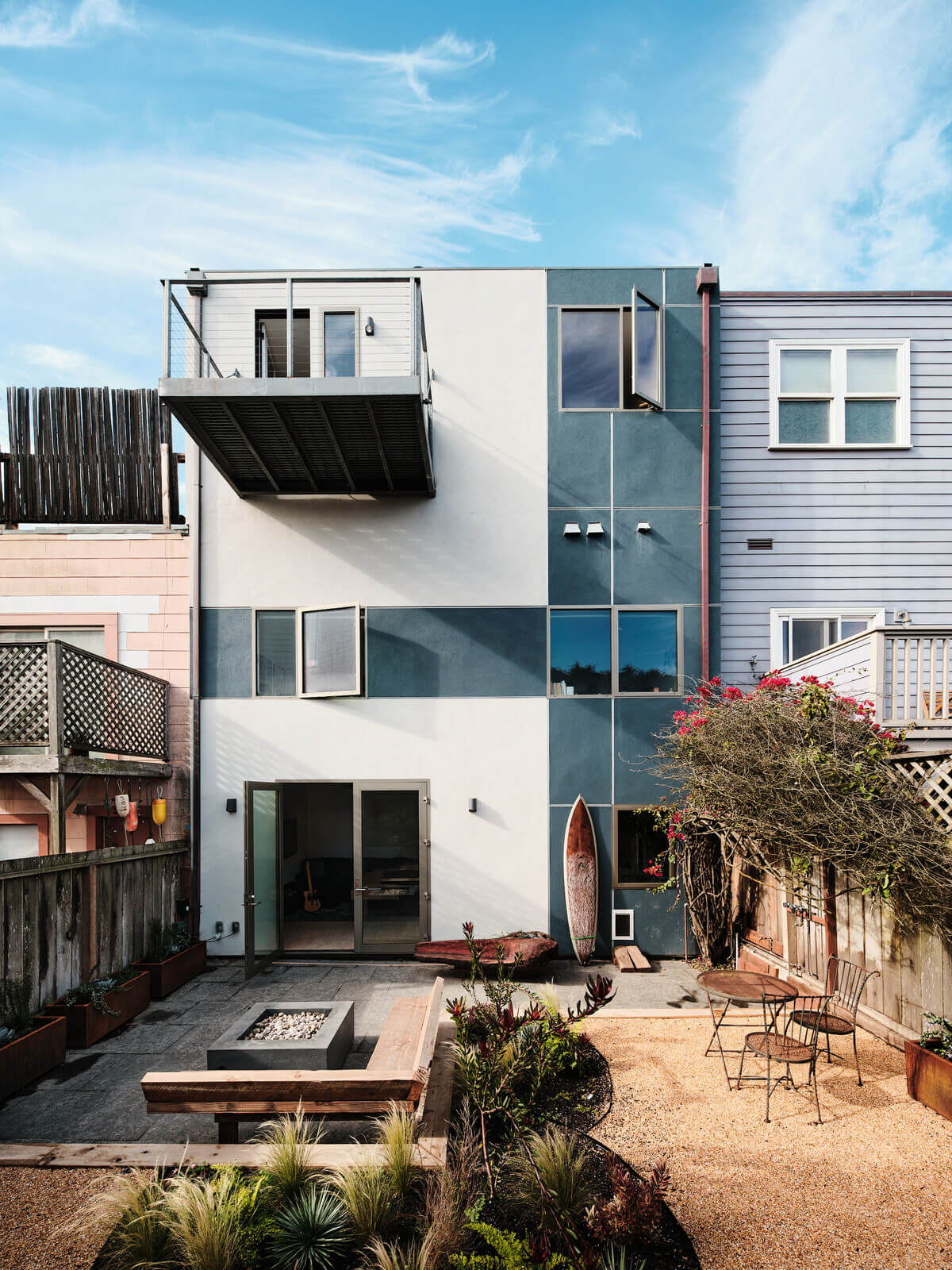 What were the key challenges?
1) This is a beachfront property, so it required special treatment: the high saline environment required corrosion-resistant materials, and unique waterproofing was a necessity.
2) We received permissions from the planning department in phases. We had to plan our construction around that, which was phased as well.
3) We built "above the dune" but also in the dune -- in sand! We had foundation and earthquake systems that were designed to work even in the soft sand.
Who are the clients and what's interesting about them?
The family was relocated to this new home at the western edge of the city because of their head of household's love of the beach and surfing.
It was their good fortune that they completed their move-in just as the pandemic set in, and everyone was able to enjoy the beachfront setting with endless opportunity for outdoor activities and long walks -- just at a time when this type of activity became paramount to everyone around the world.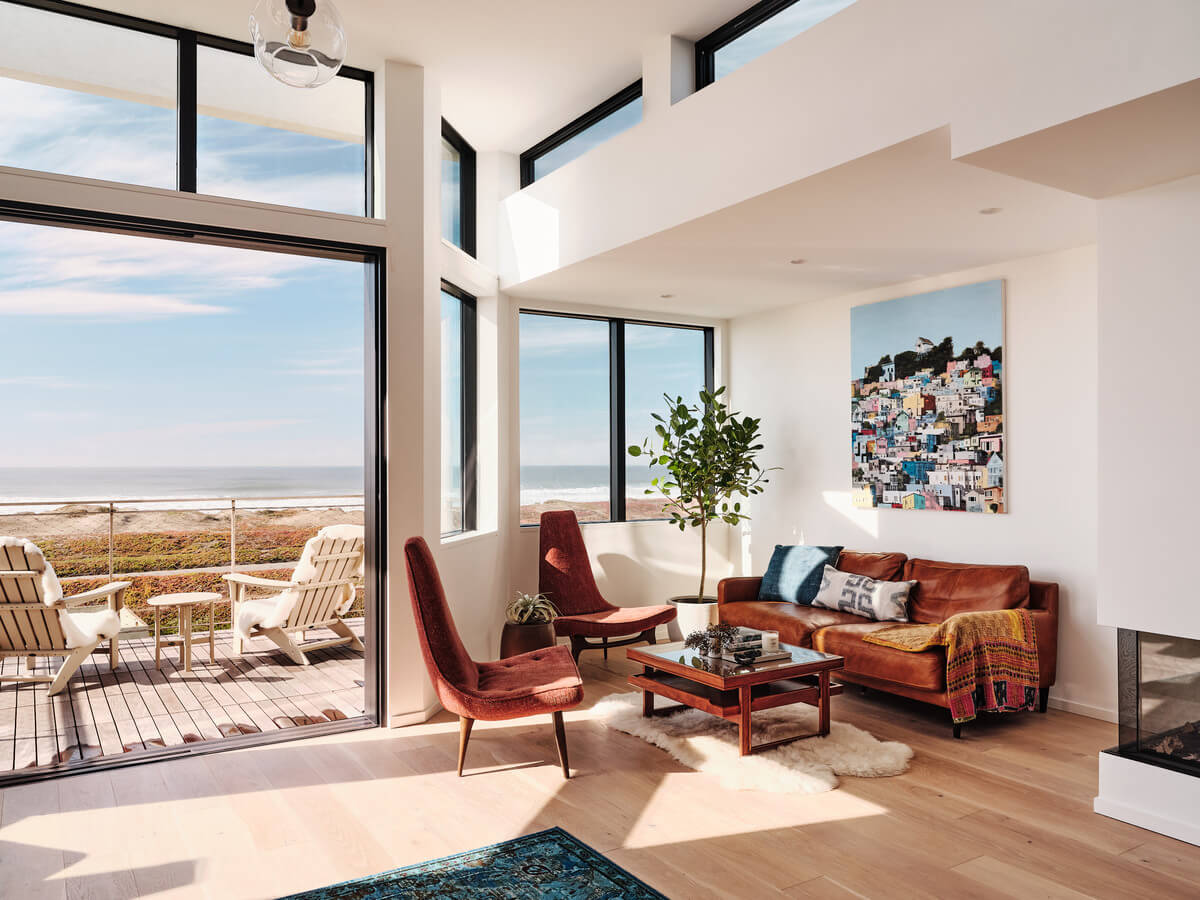 What are the sustainability features?
1) Being a beachfront home, this project required materials with a high resistance to salt air in order to resist decay and not degrade unnecessarily over time. We chose durable surfaces that won't need regular maintenance, therefore reducing environmental impact.
2) We built this home solar-ready including all wiring and conduit for panels to be installed. Since project completion, the client has purchased panels and is now ready to install.
3) We chose low-flow plumbing fixtures.
4) This home is super insulated, reducing heating and cooling requirements.
5) We chose sustainable cork flooring as well as tile with recycled content.
6) Fly ash concrete replaces some cement. Cement requires firing lime in giant kilns. Using fly ash in the mix provides a carbon reduction in an otherwise high-carbon product.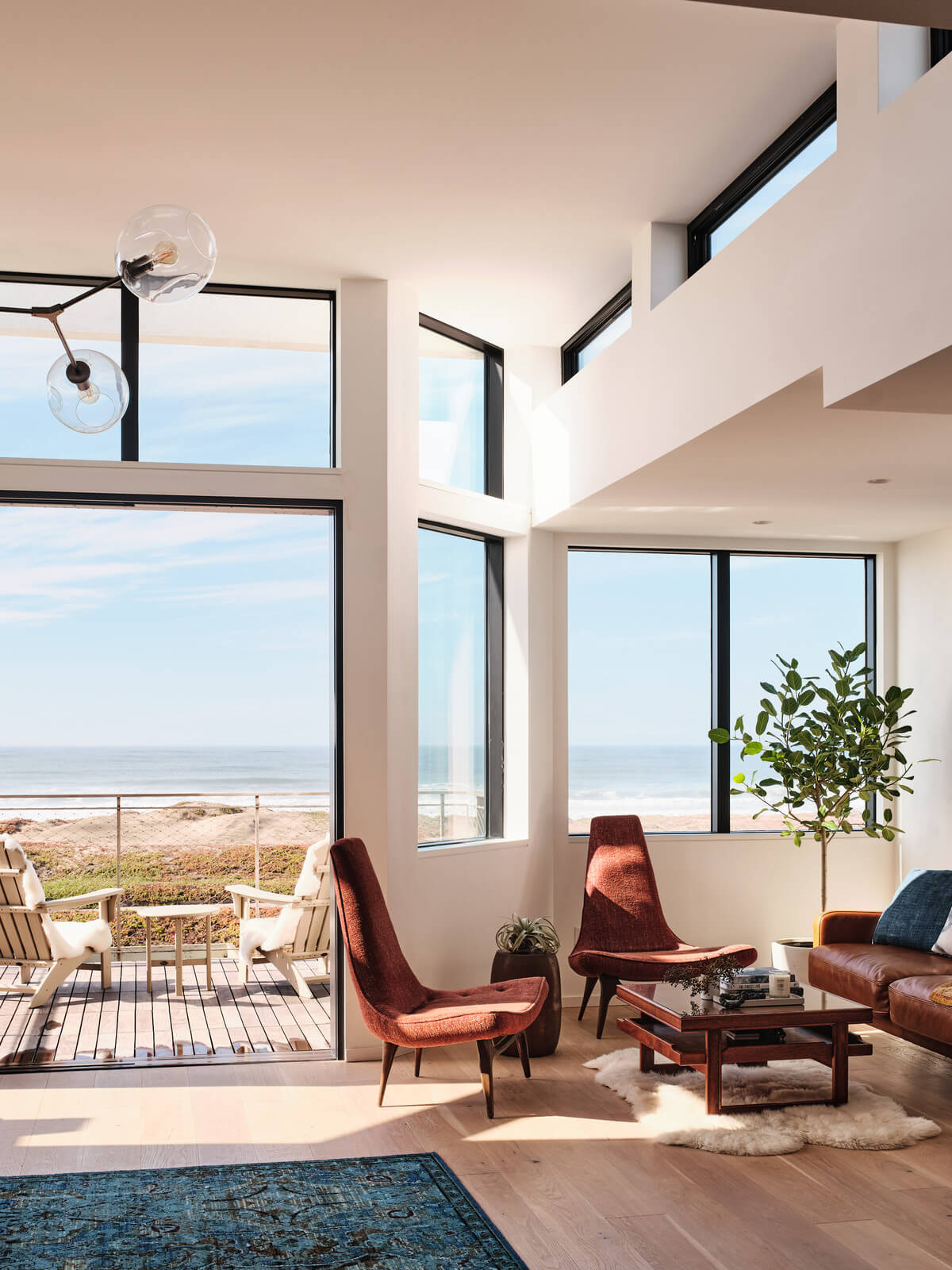 How is the project unique?
1) This house exists in a pattern of neighboring houses that date from the 1940s. We were able to maintain this pattern of stairs, front doors, and general arrangement while creating a new and contemporary architecture.
2) We discovered a lot of vertical space within the house as we were doing demolition that allowed us to create spacious volumes, particularly at the entry and stair sequence, that give the house a feeling that is much larger than its actual footprint and did not require us to build any higher.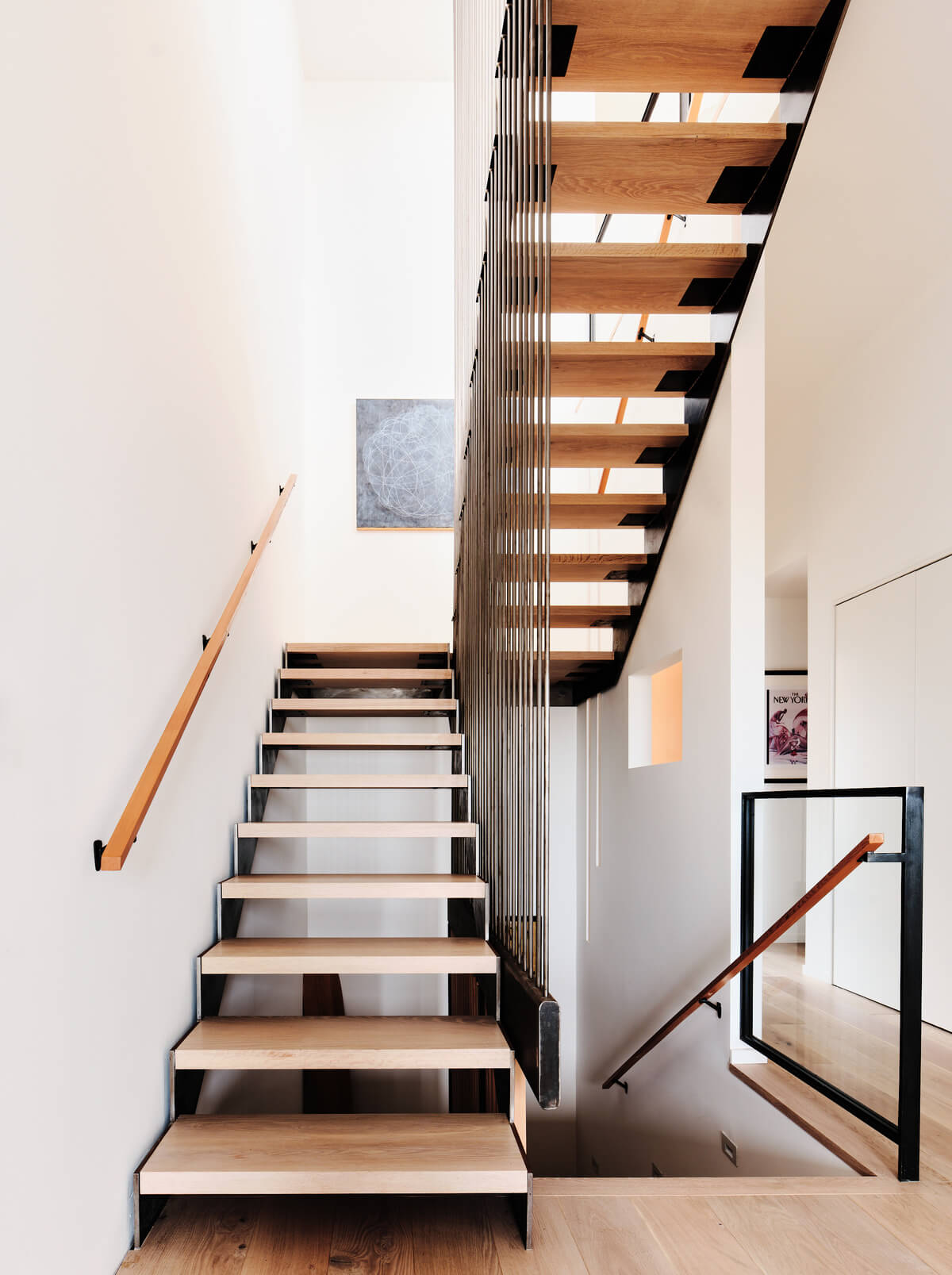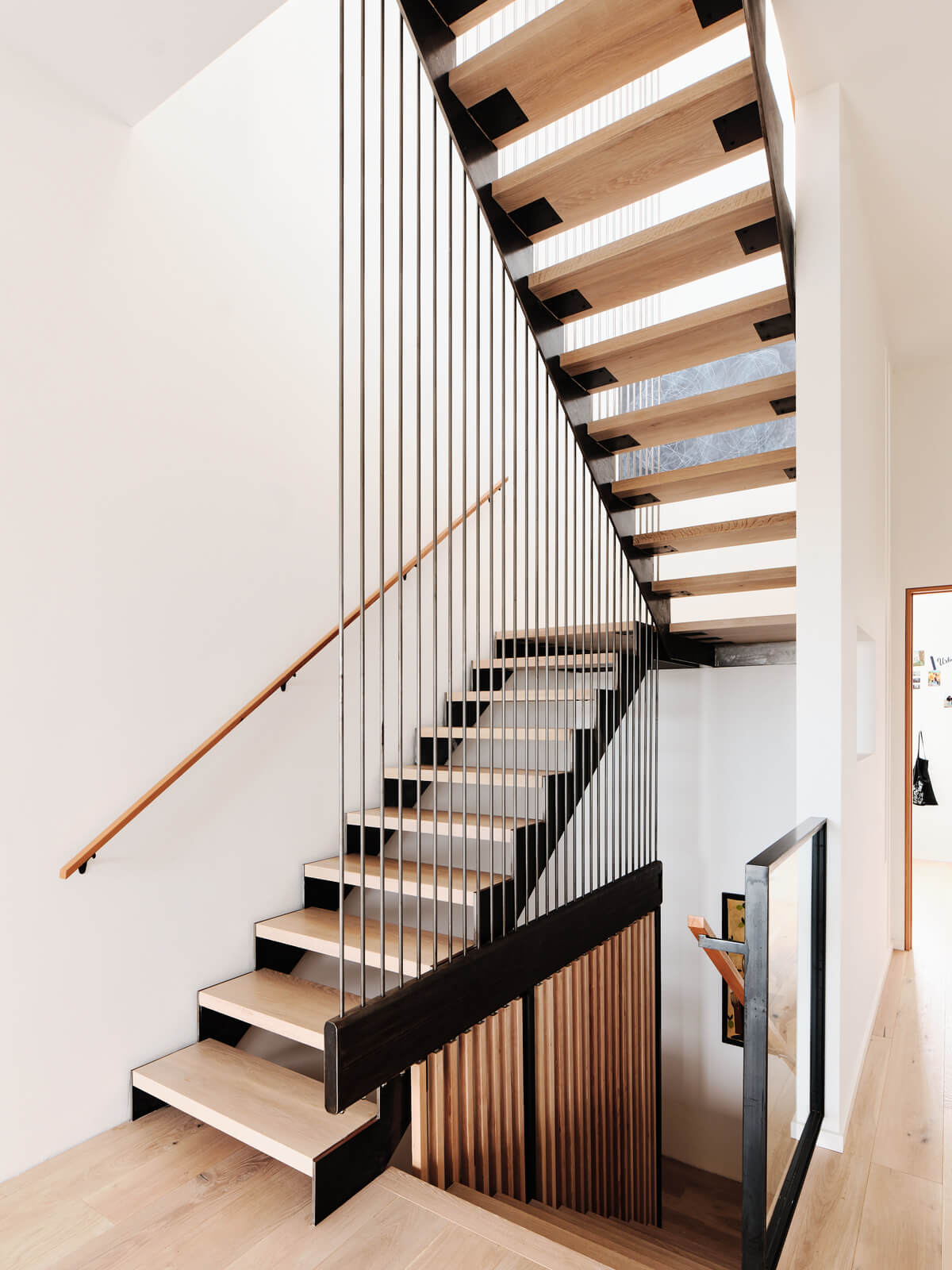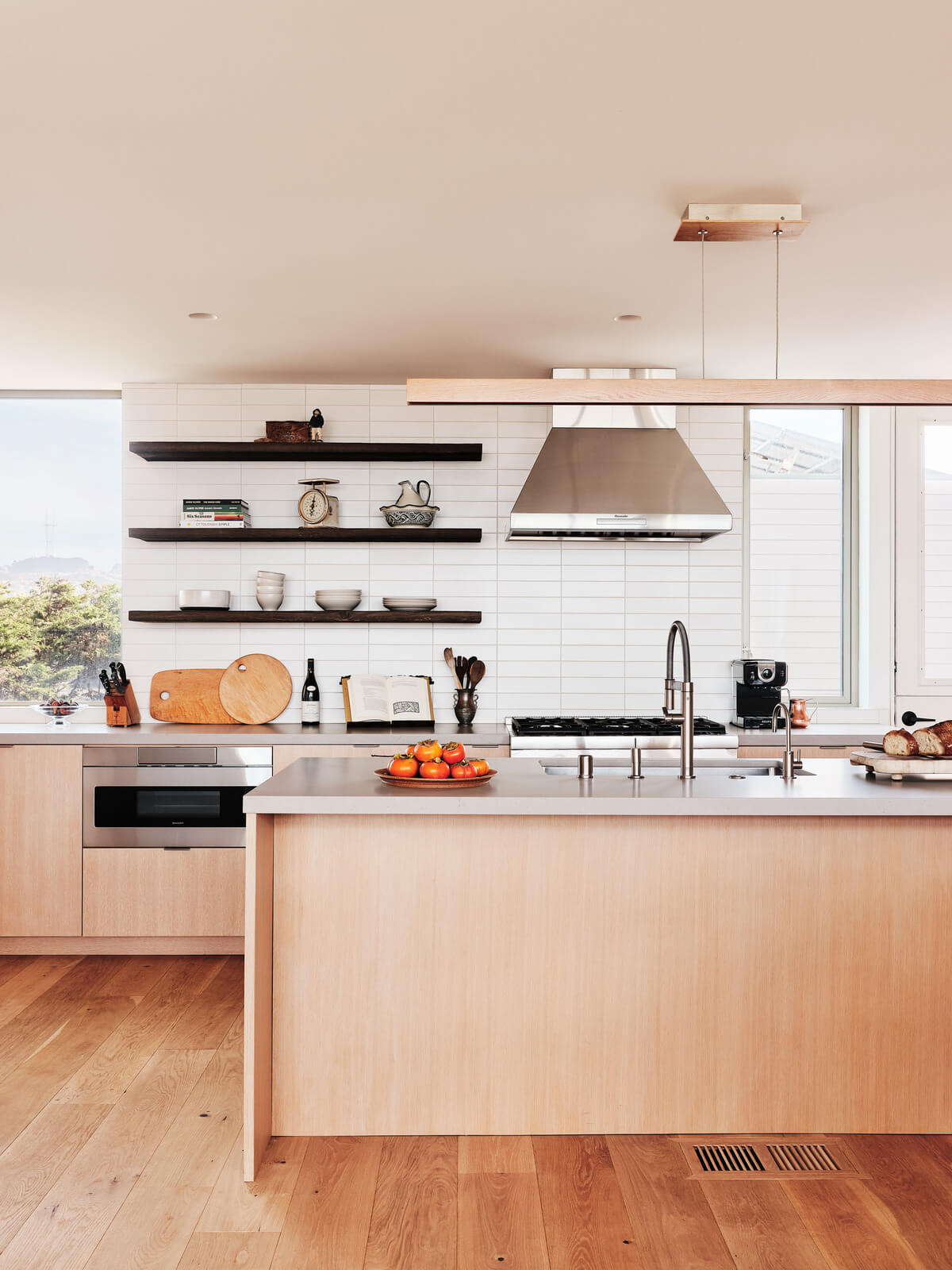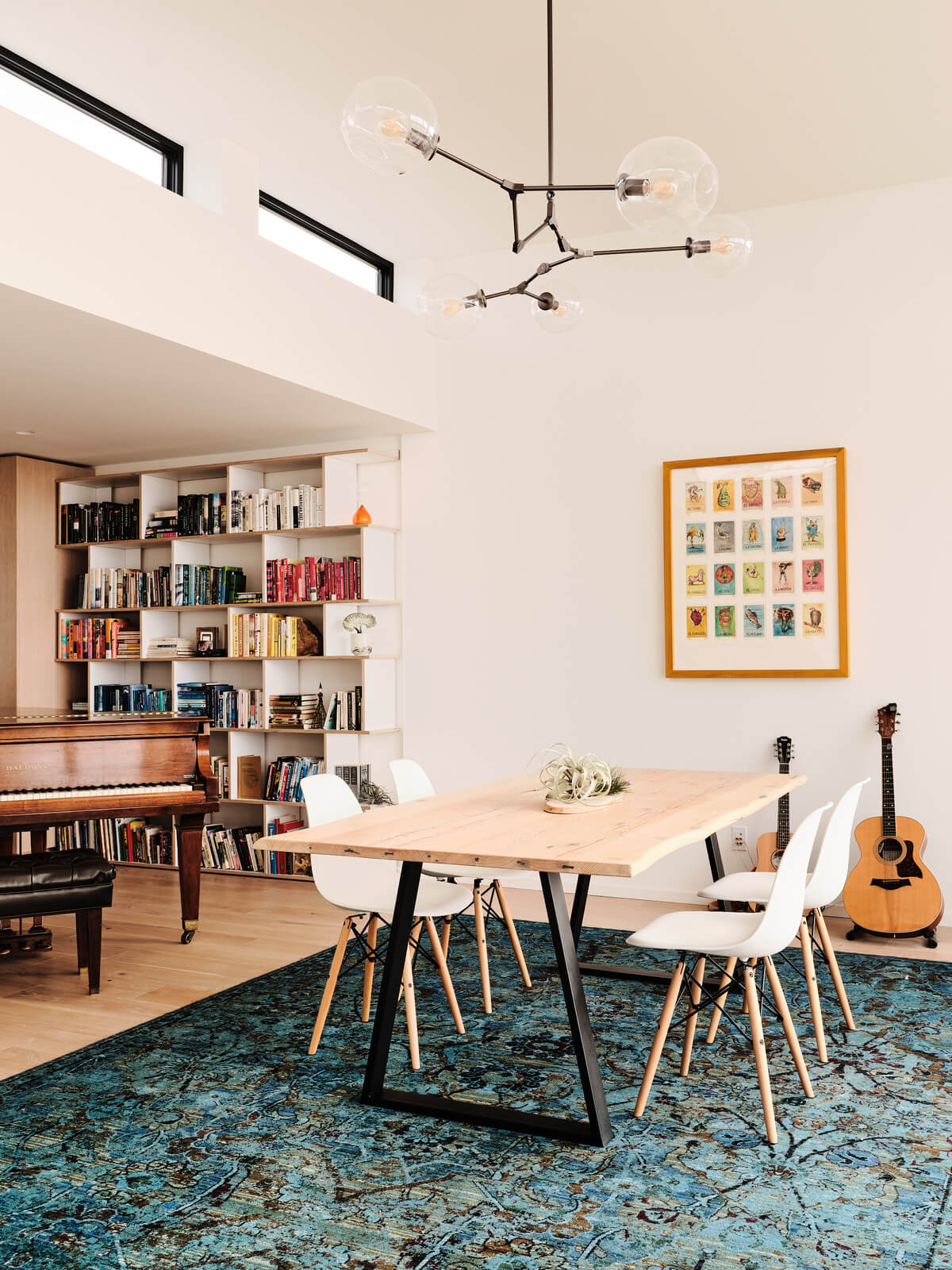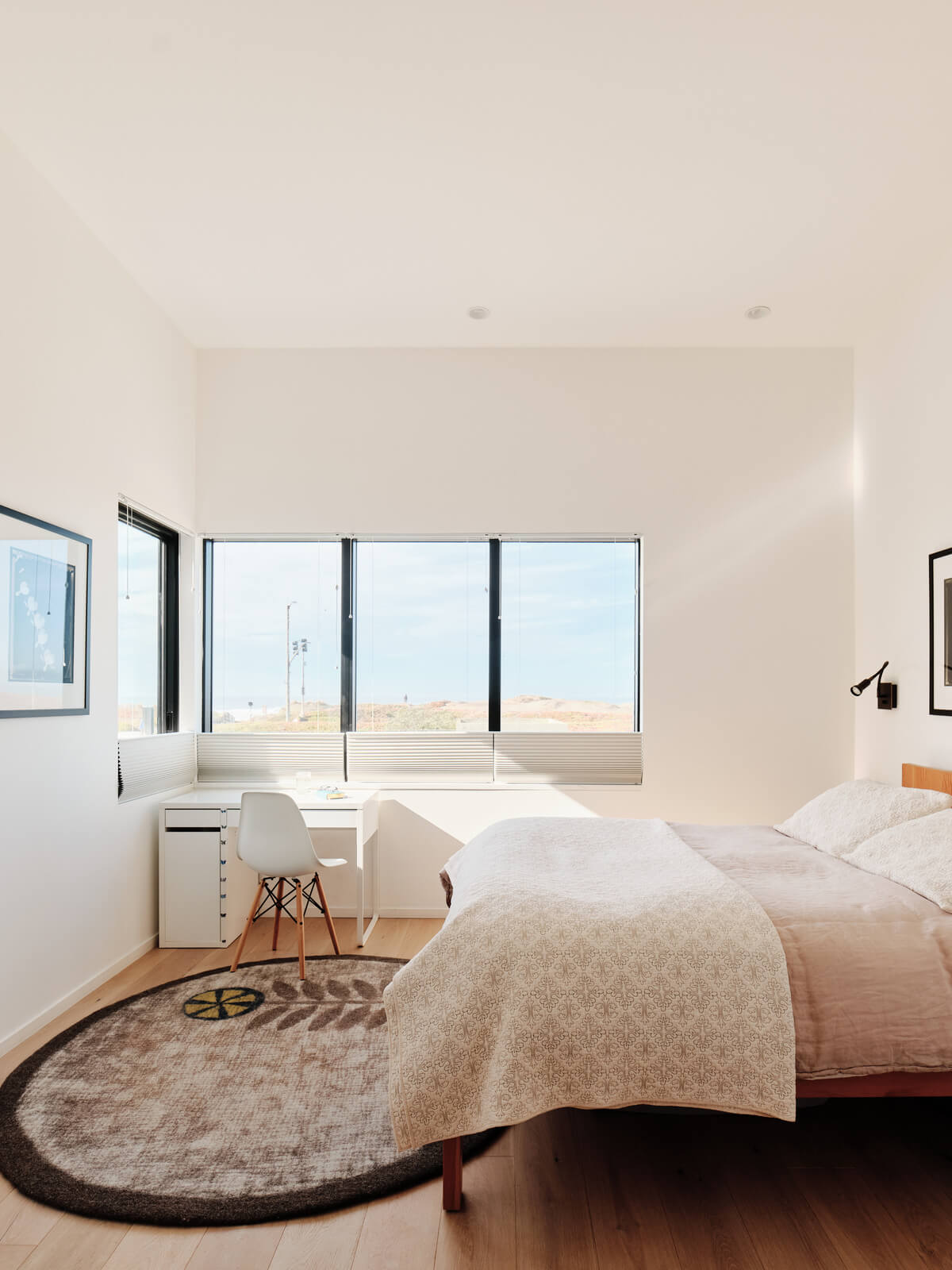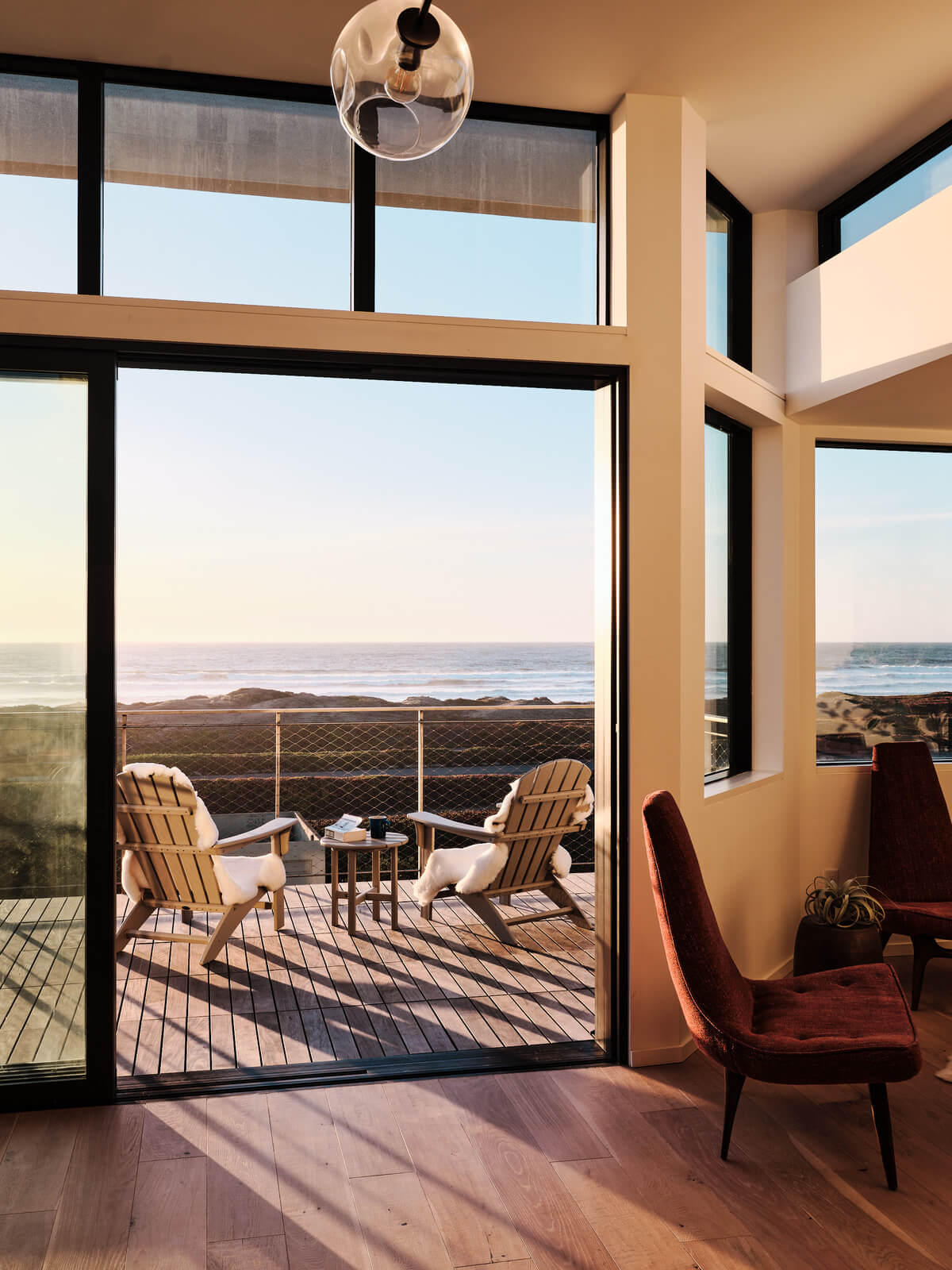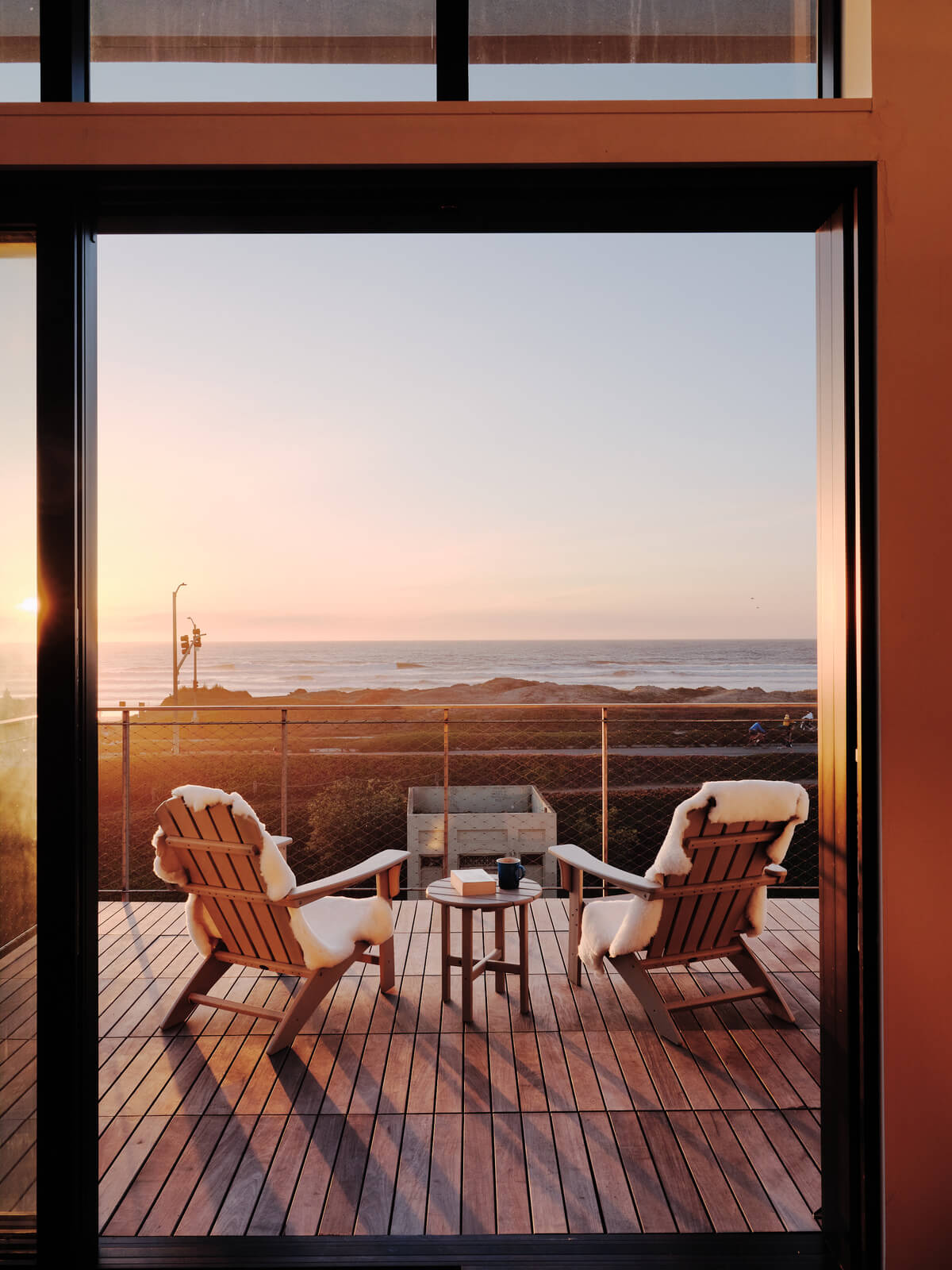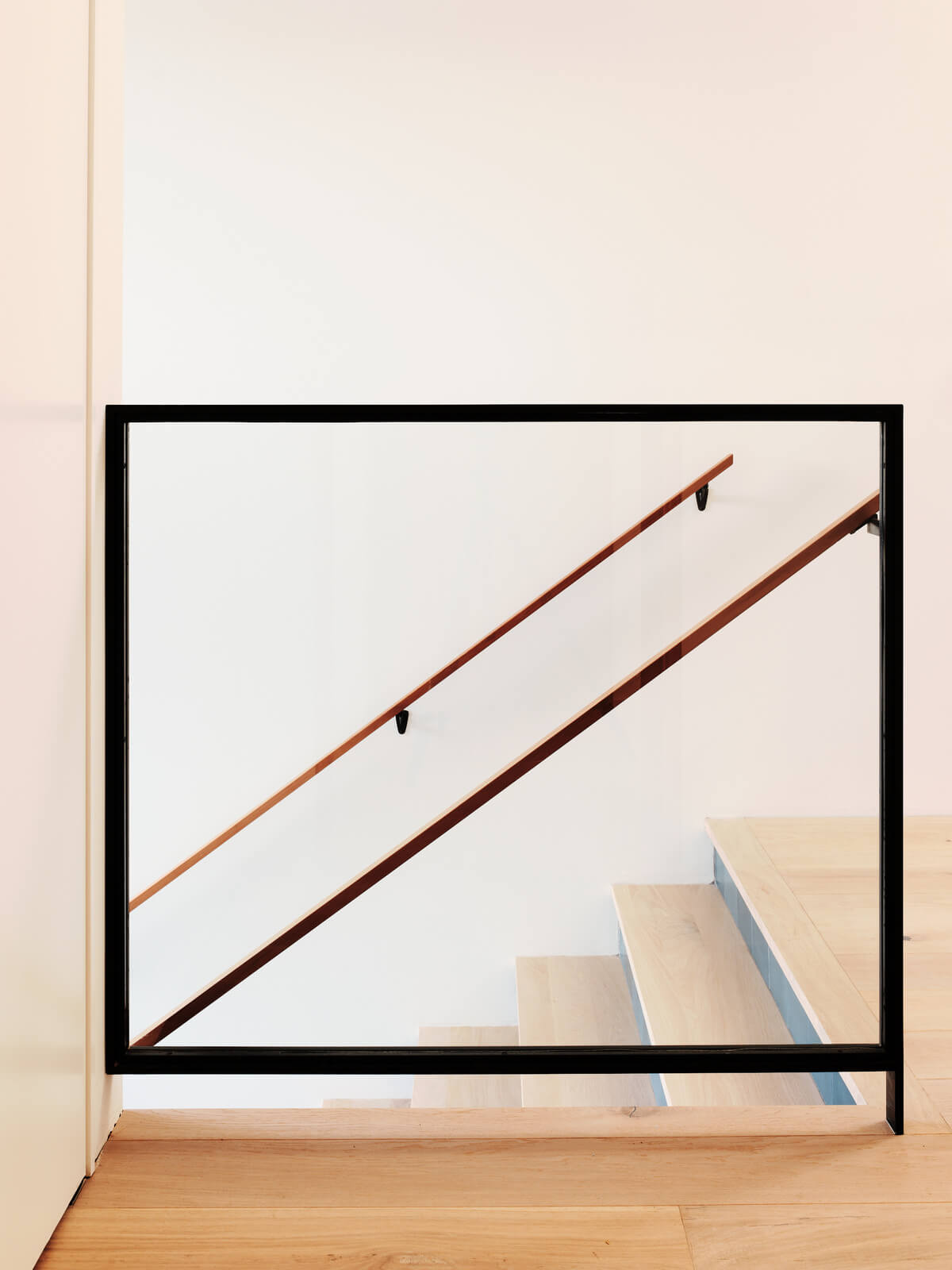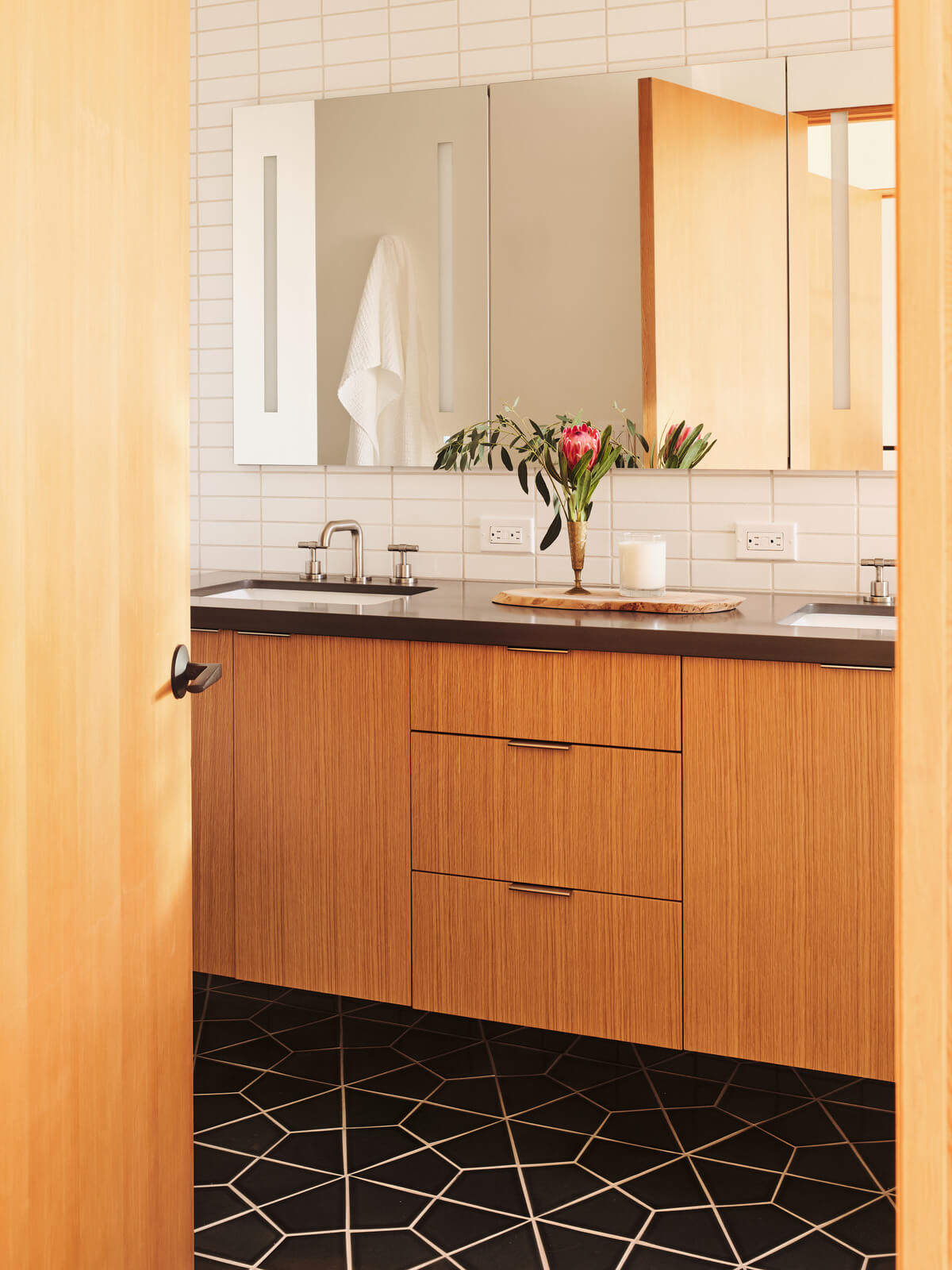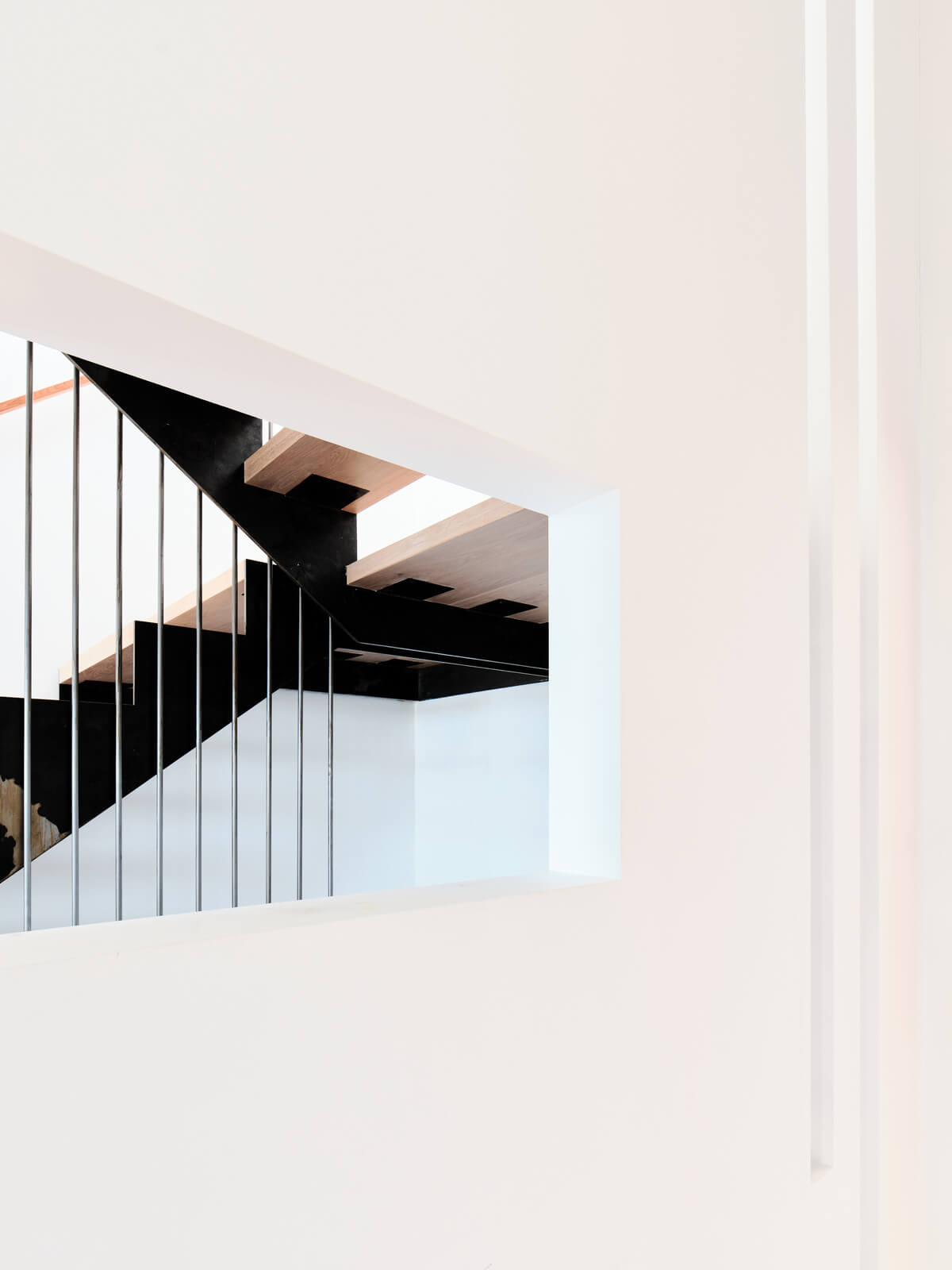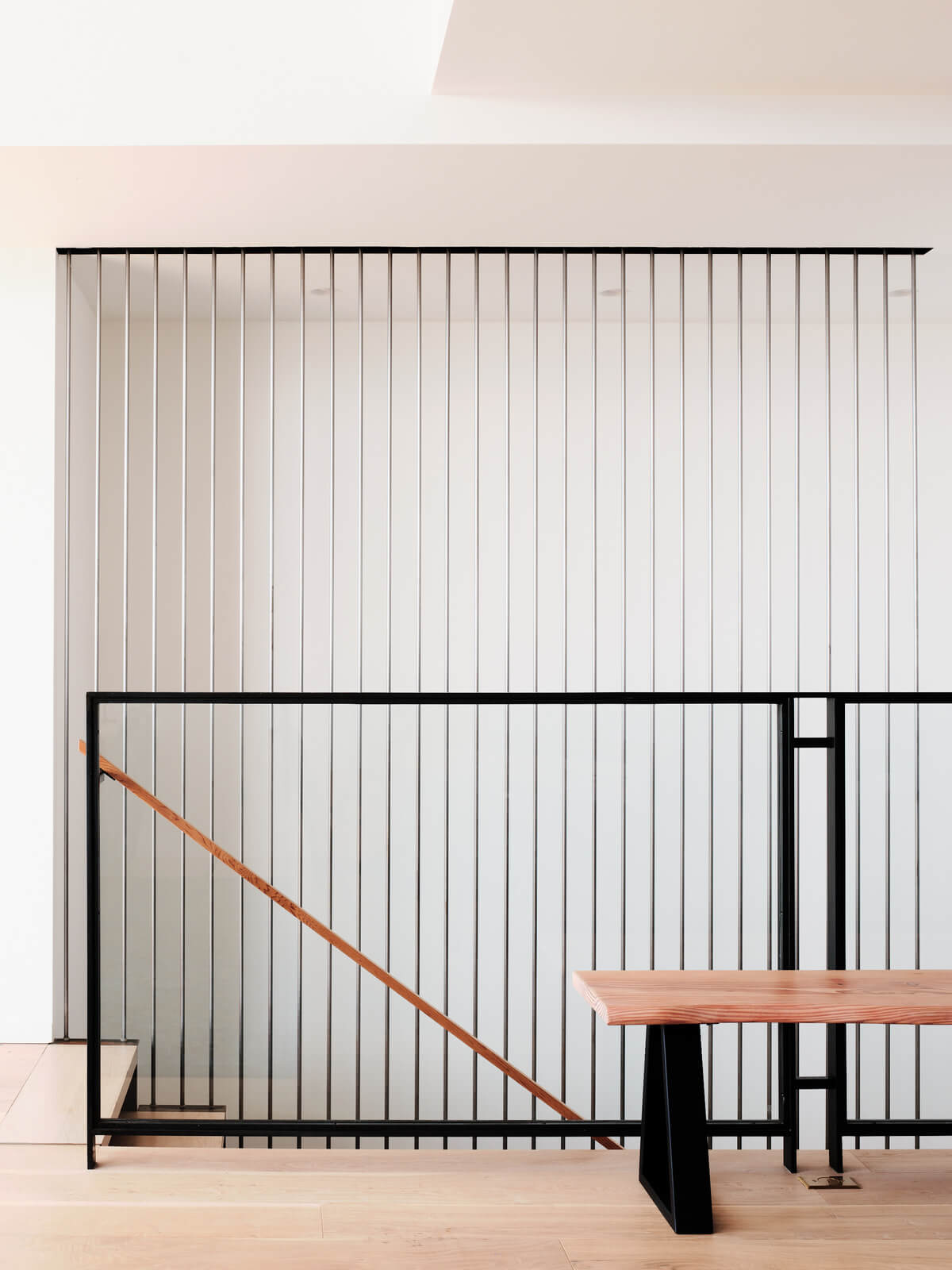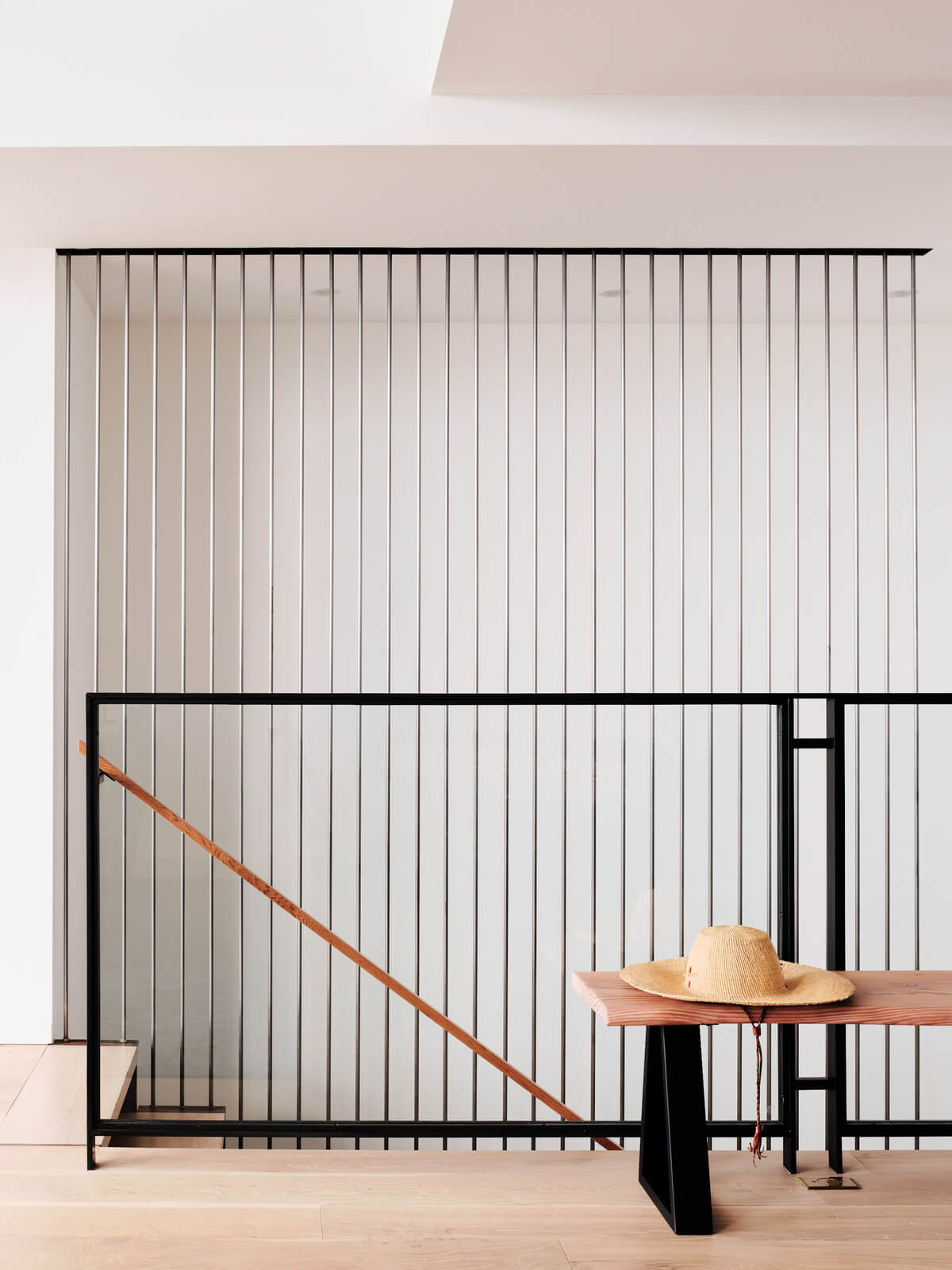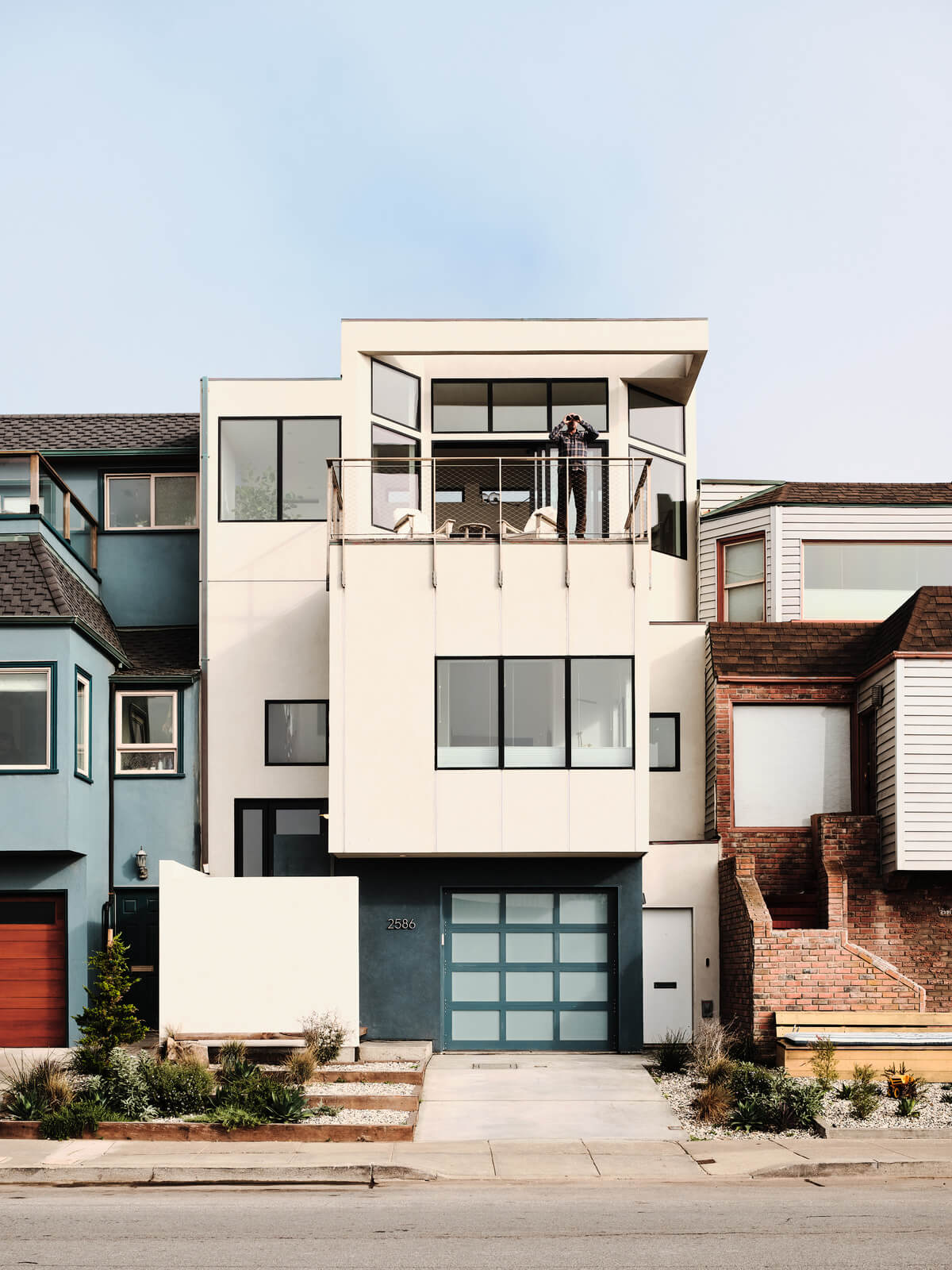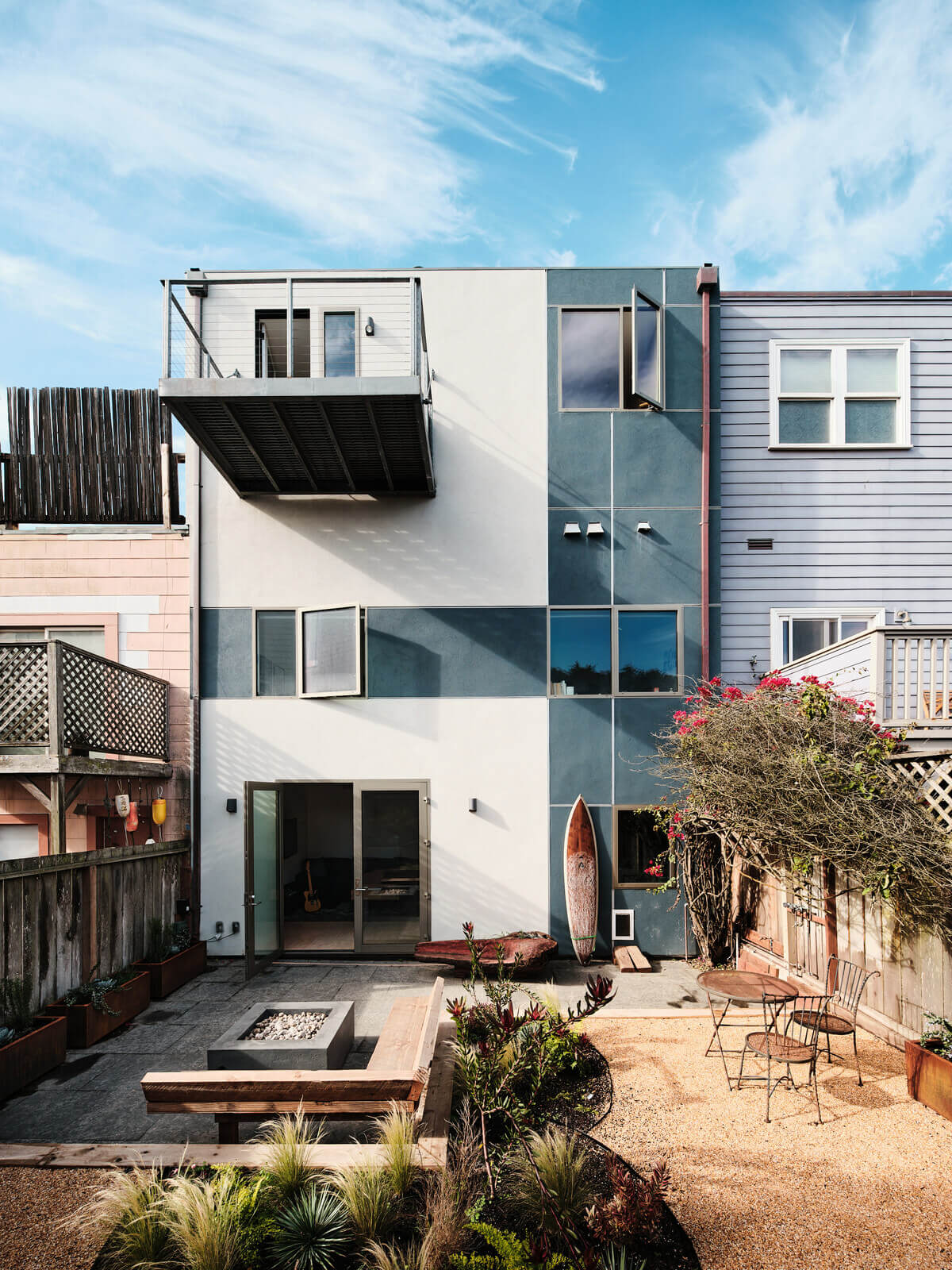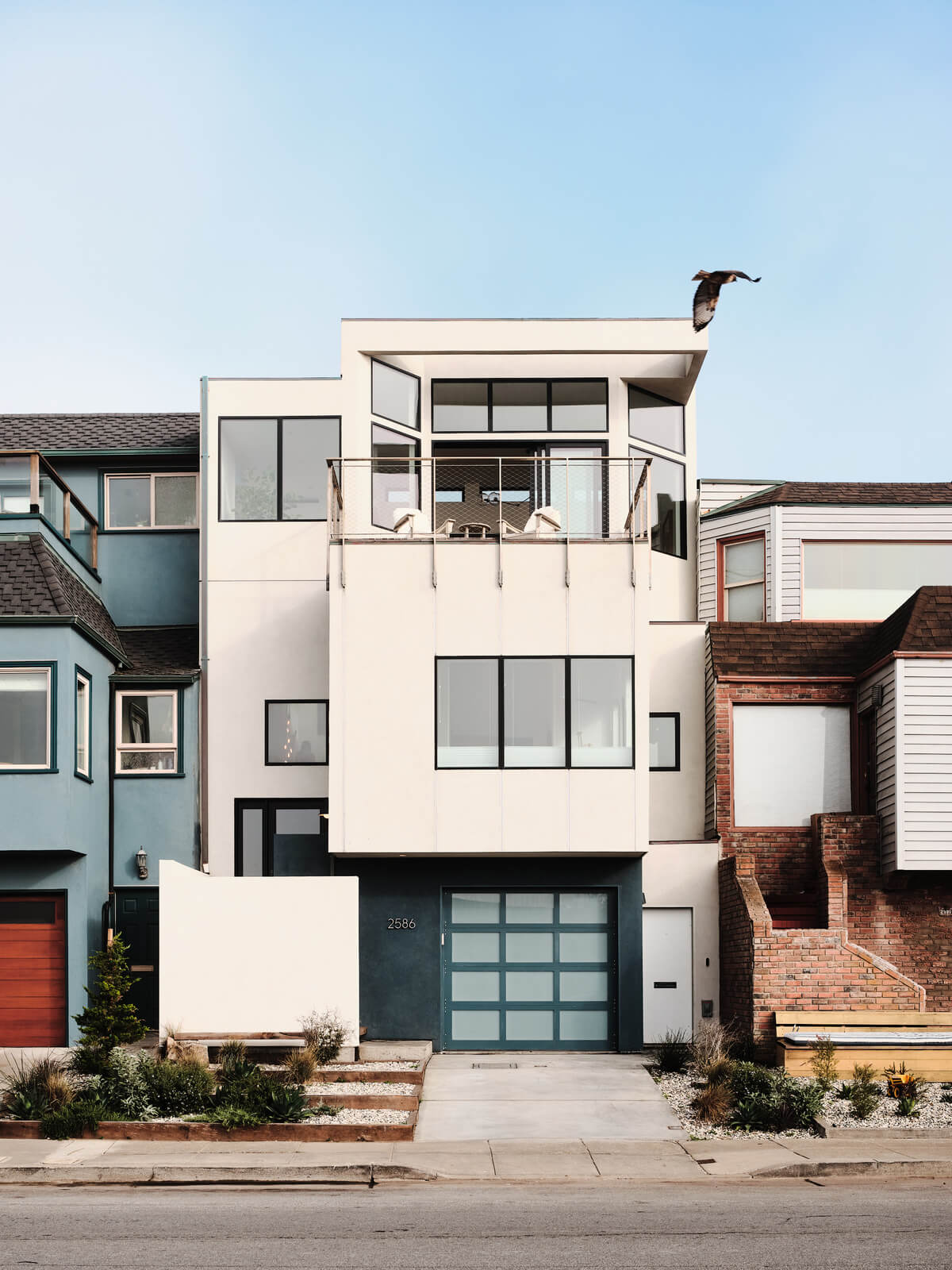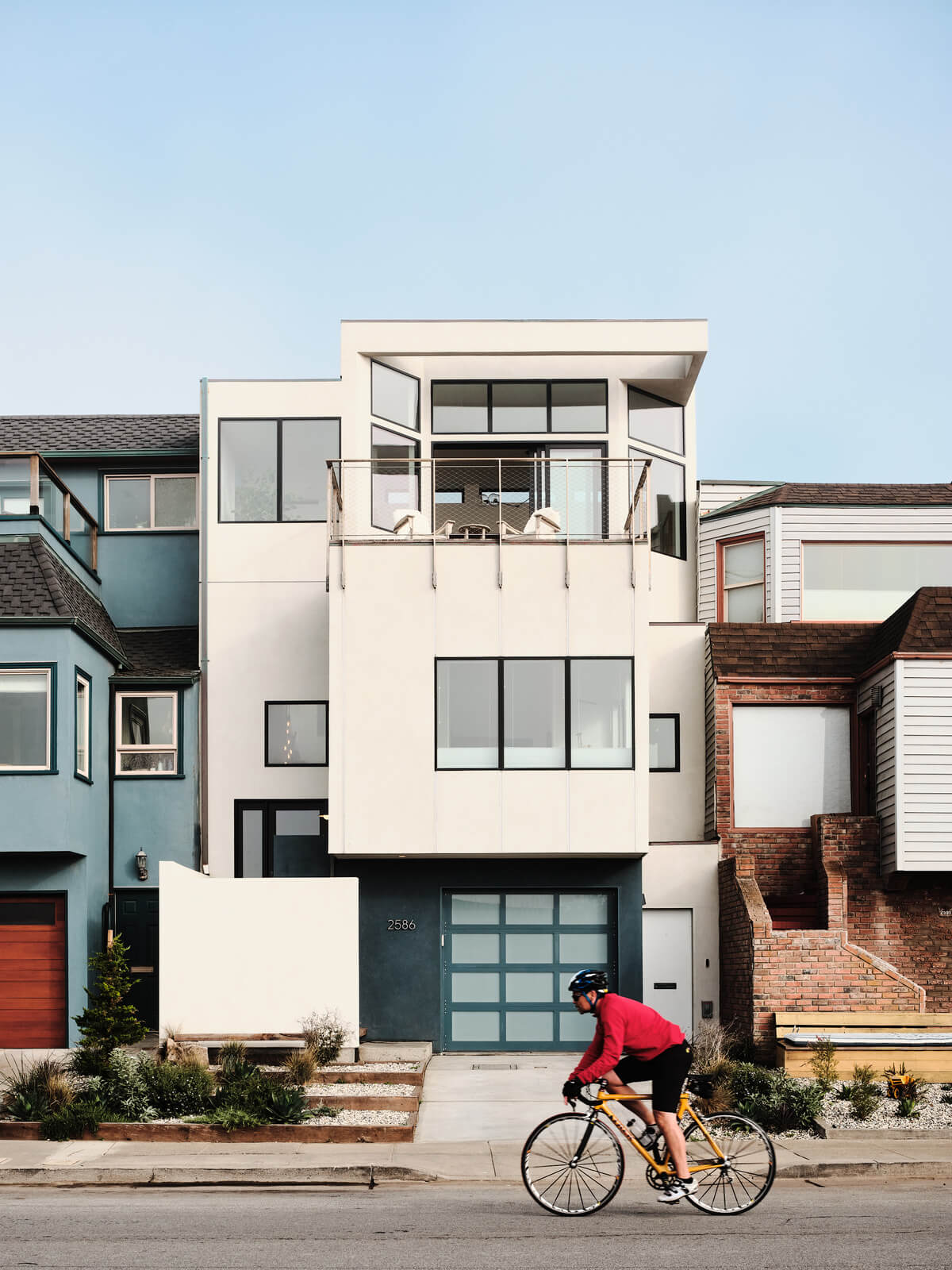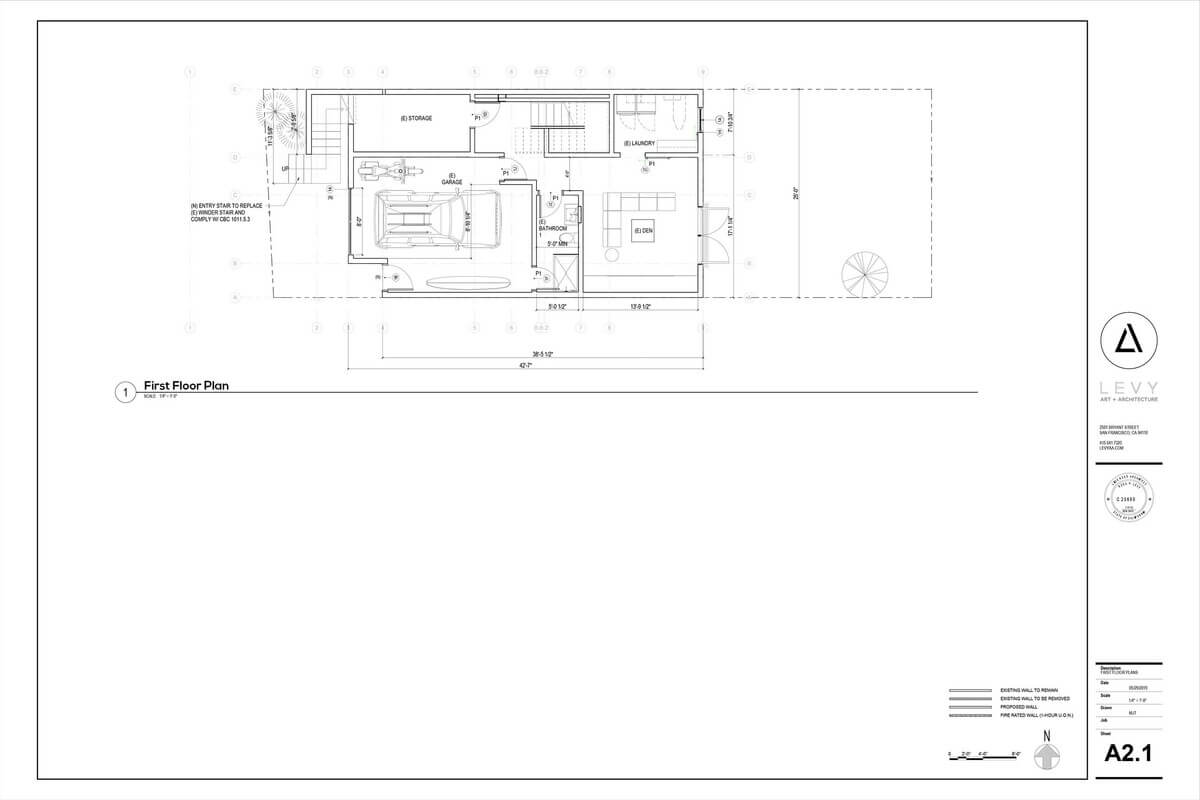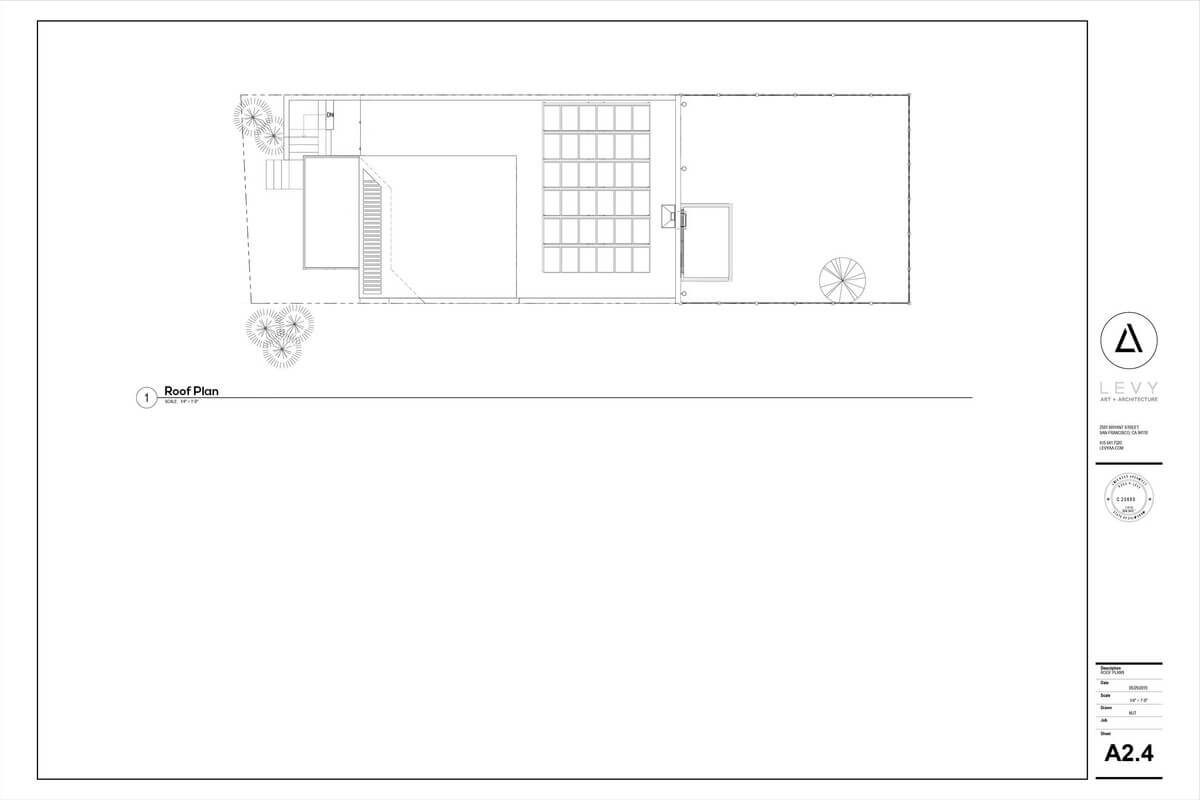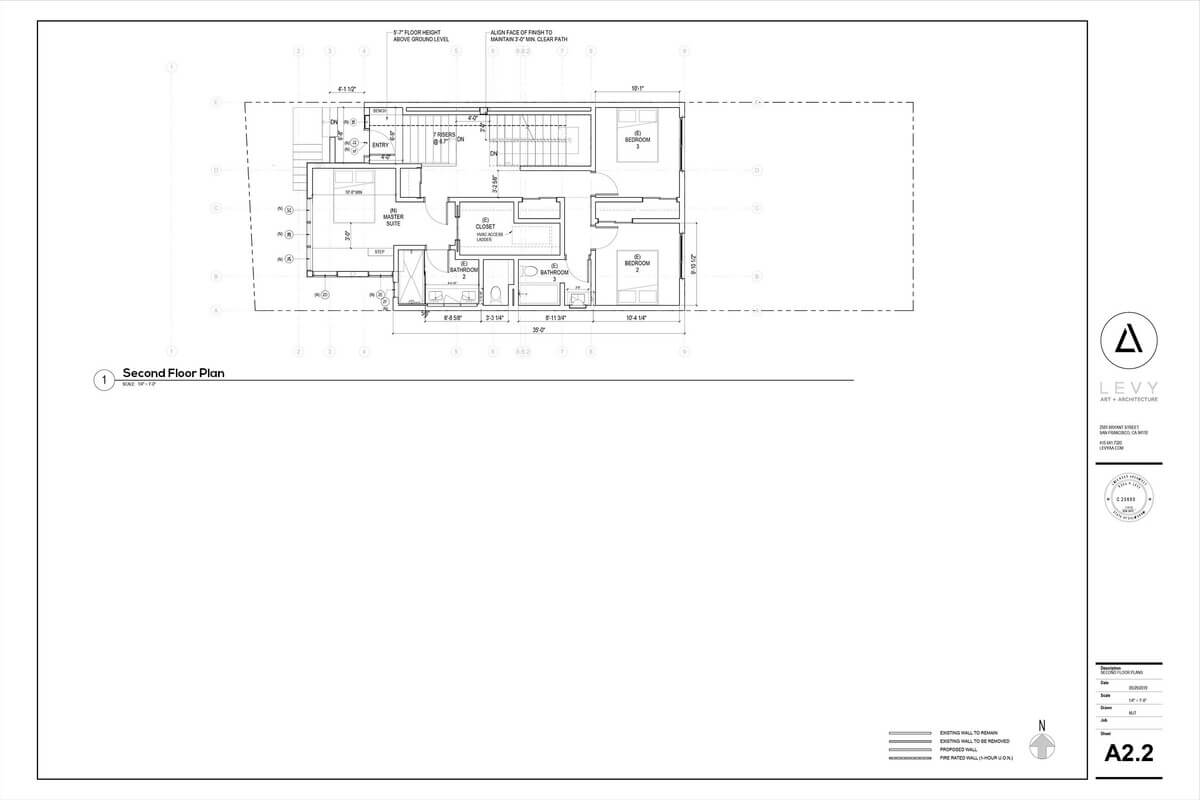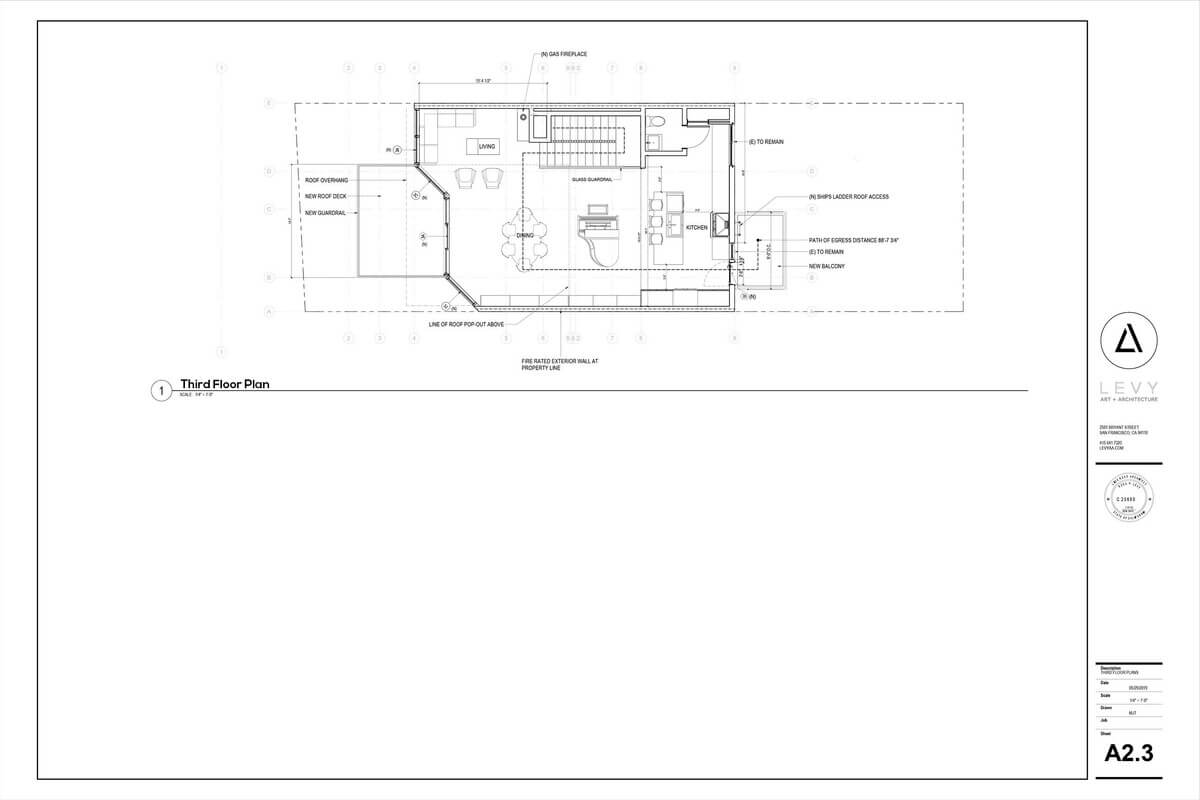 ---