MAD Architects, led by Ma Yansong has unveiled the design of Anji Culture and Art Center. Located in the Zhejiang Province in southeast China, near Shanghai, Anji is the only county to win the "United Nations Habitat Award" and has been praised as "bamboo" and "white tea" town of China. The project is designed as a transitional connecting space between the natural and built environments of the region; on the east side lies the city, while the river and the mountains in the distance on its west side.
Anji Culture and Art Center covers an area of about 149,000 square meters, with a total construction area of about 120,000 square meters. Six venues—including Grand Theater, Conference Center, Leisure Center, Sports Center, Youth Activity Center, and Art Education Center—are spread out beneath the "bamboo leaves" roof surrounding the green tea fields unique to Anji.
"We pursue the unique aura of this region and integrate it into everyday life," – Ma Yansong
The project is a porous meeting space that will be accessible to the public from all directions and at all times of day. It is arranged along the axis of the visual corridor on both sides to allow the central corridor to become an open outdoor platform where visitors can take in framed views of the mountains and the sky above.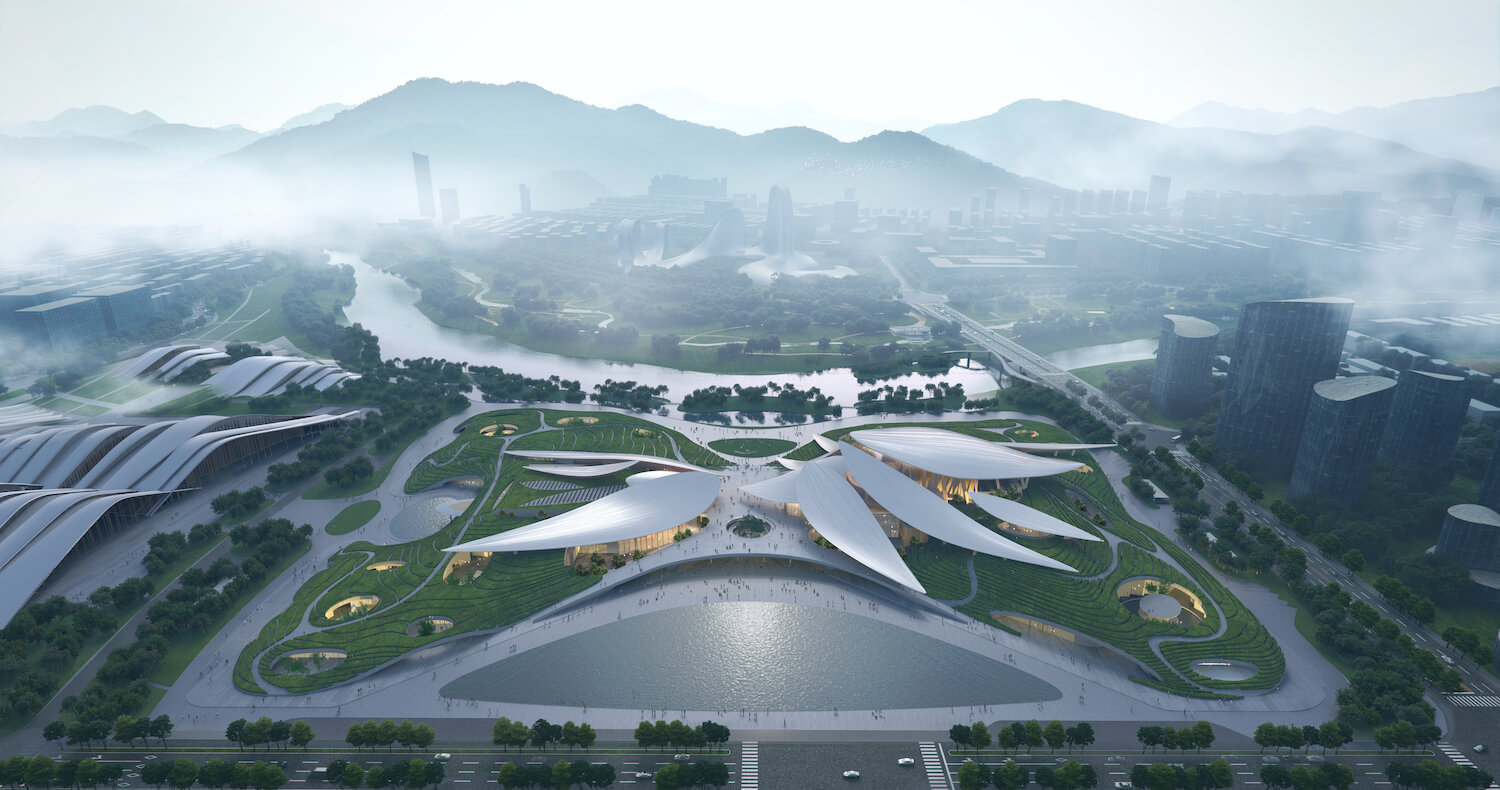 The volume of the building is evenly distributed beneath the white tiled roof, whose undulating silhouette echoes the shape of the surrounding hill planted with Anji white tea. Multiple courtyards across the site function as programmatic gaps that dissolve the boundaries between indoor and outdoor space. On the west side of the project, a large stage can be used as an outdoor venue for performances, concerts and exhibitions.
The high point of Anji Culture and Art Center is a series of overlapping metal roofs resembling scattered bamboo leaves with ridges that add visual complexity to the breathtaking landscape. The gaps between them allow natural light to enter the interior, while the main facade is highly transparent to additionally invite natural light through its side elevations. The main façade is up to 17 meters, which will be the highest self-supporting glass wall in China when it is completed.
The main interior space of the Grand Theater and the Conference Center is a two-to-three-story layout, while the other four venues are a first-floor plus a partial second-floor layout. The auditorium of the Grand Theater can hold 1,300 seats; The main hall of the Conference Center can accommodate 2,000 people for events and meetings. To optimize energy use, the project adopts roof greening, permeable pavement, recessed green space and rainwater resource utilization.
The Anji Culture and Art Center has begun construction and is expected to be completed and used in 2025.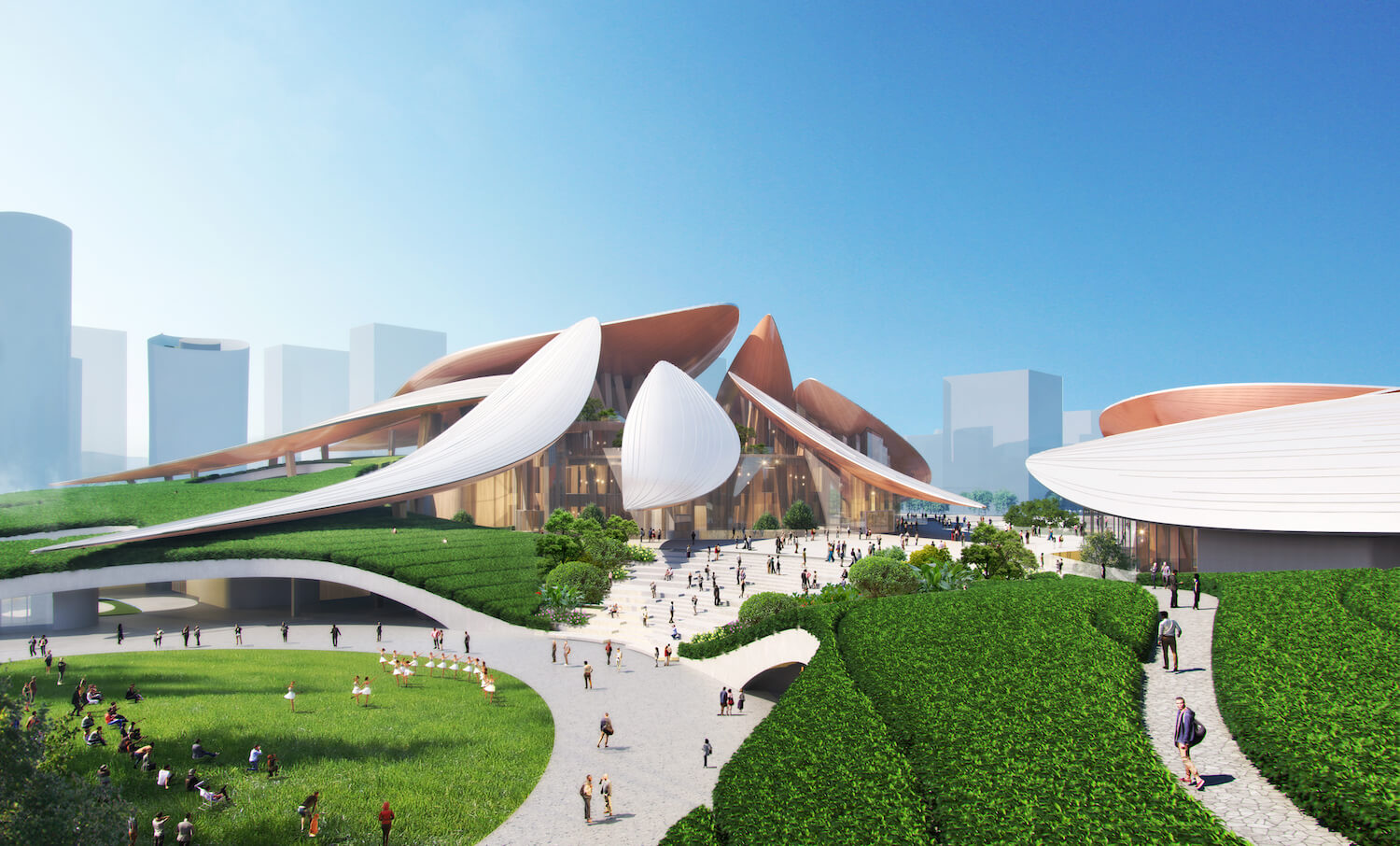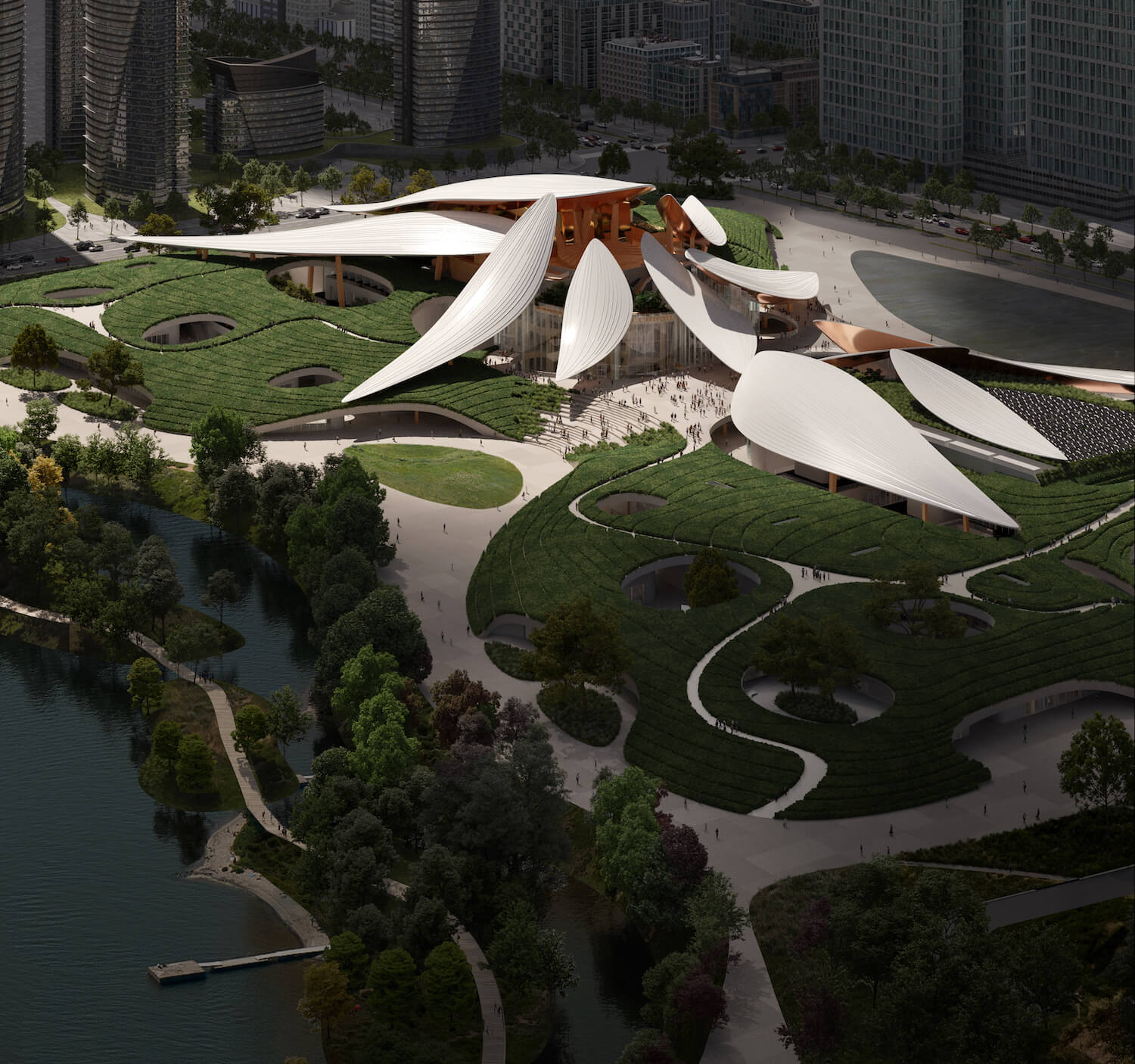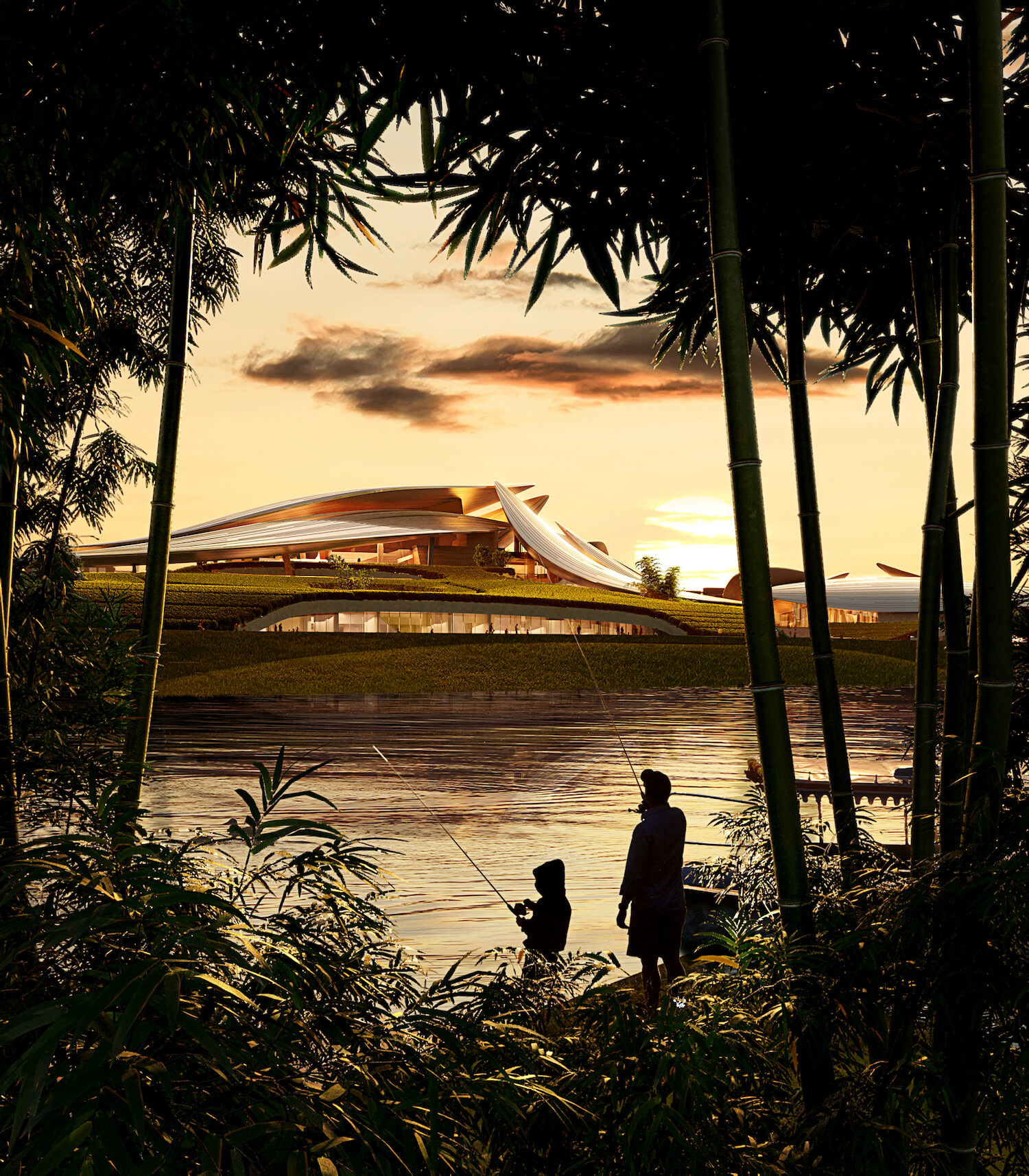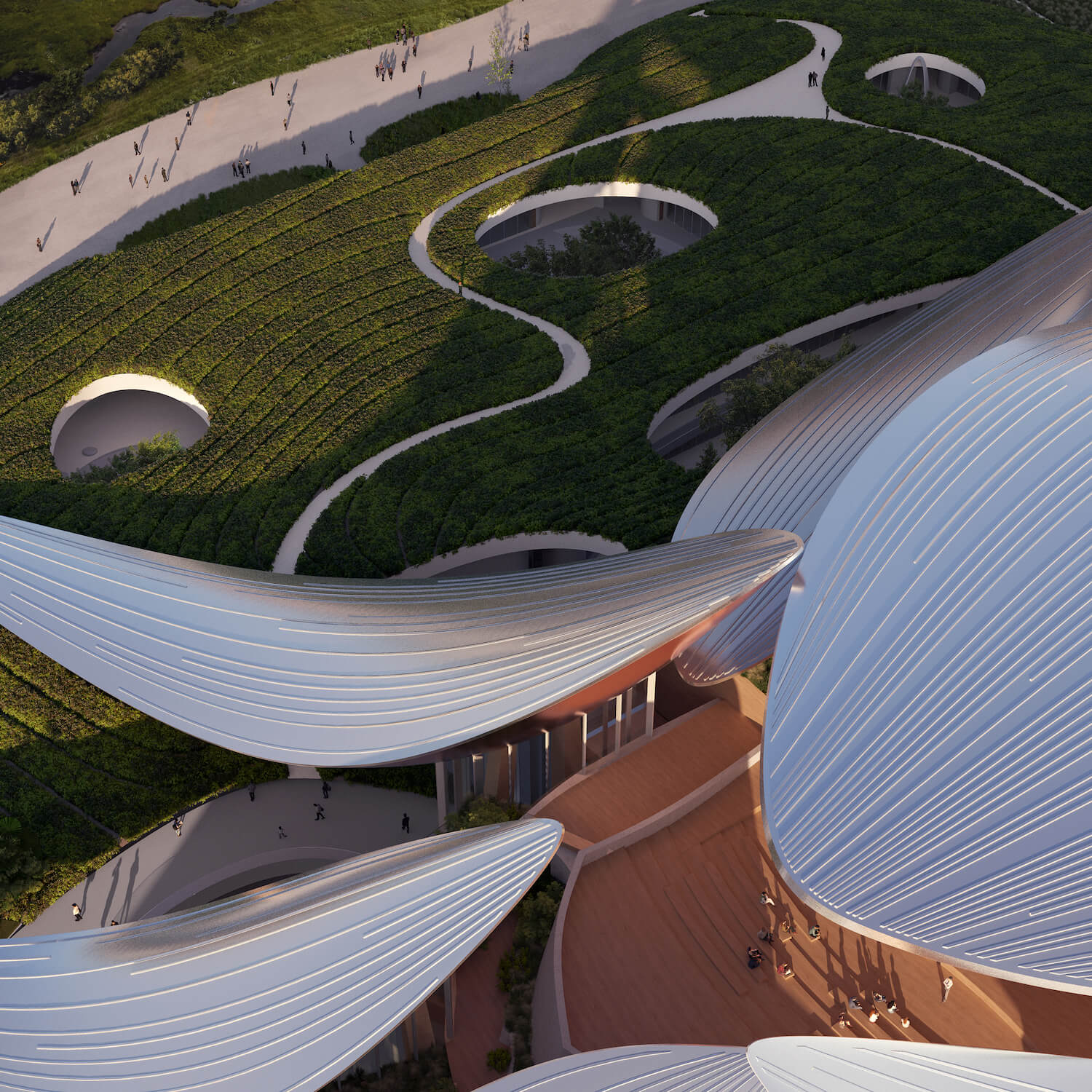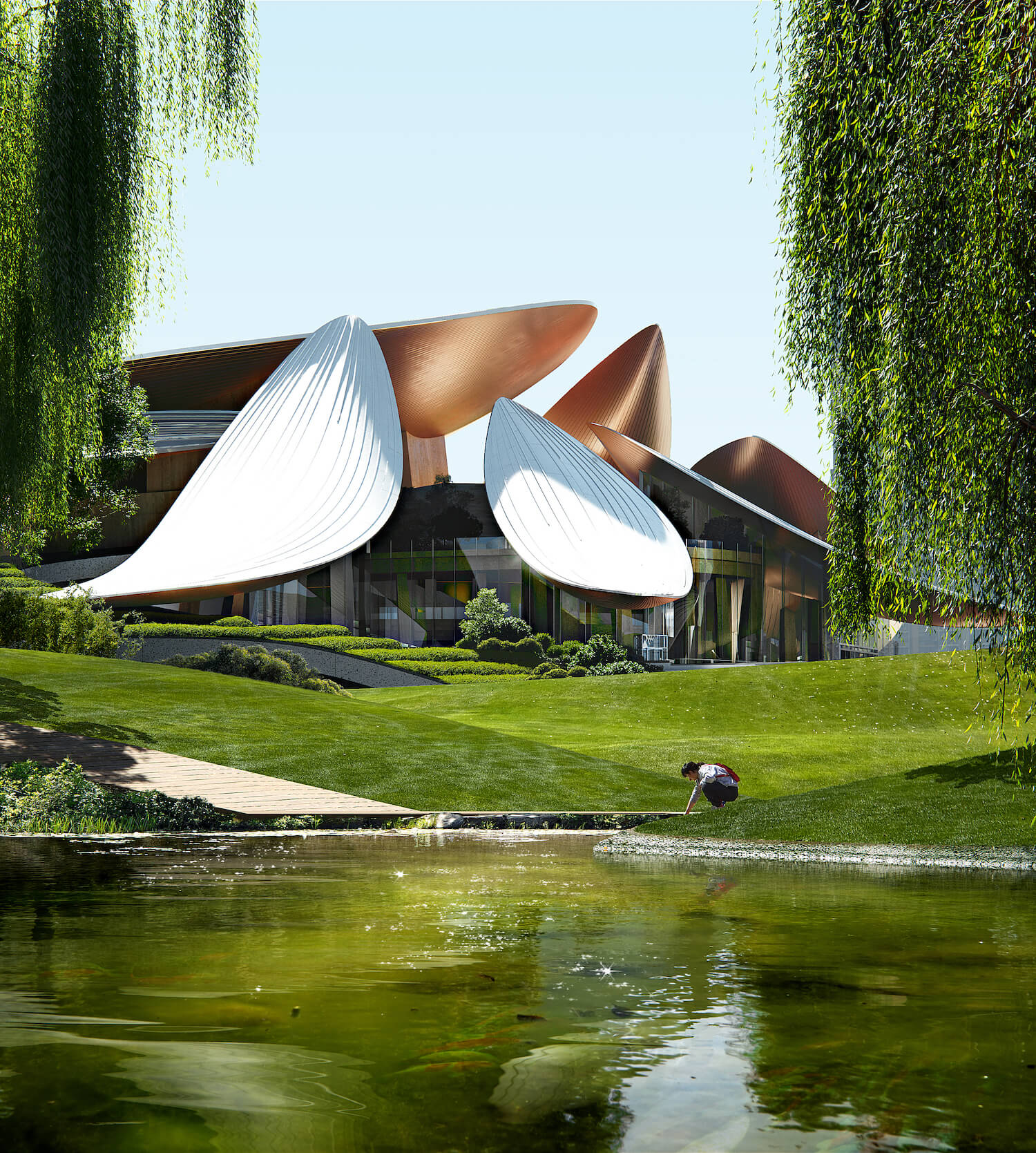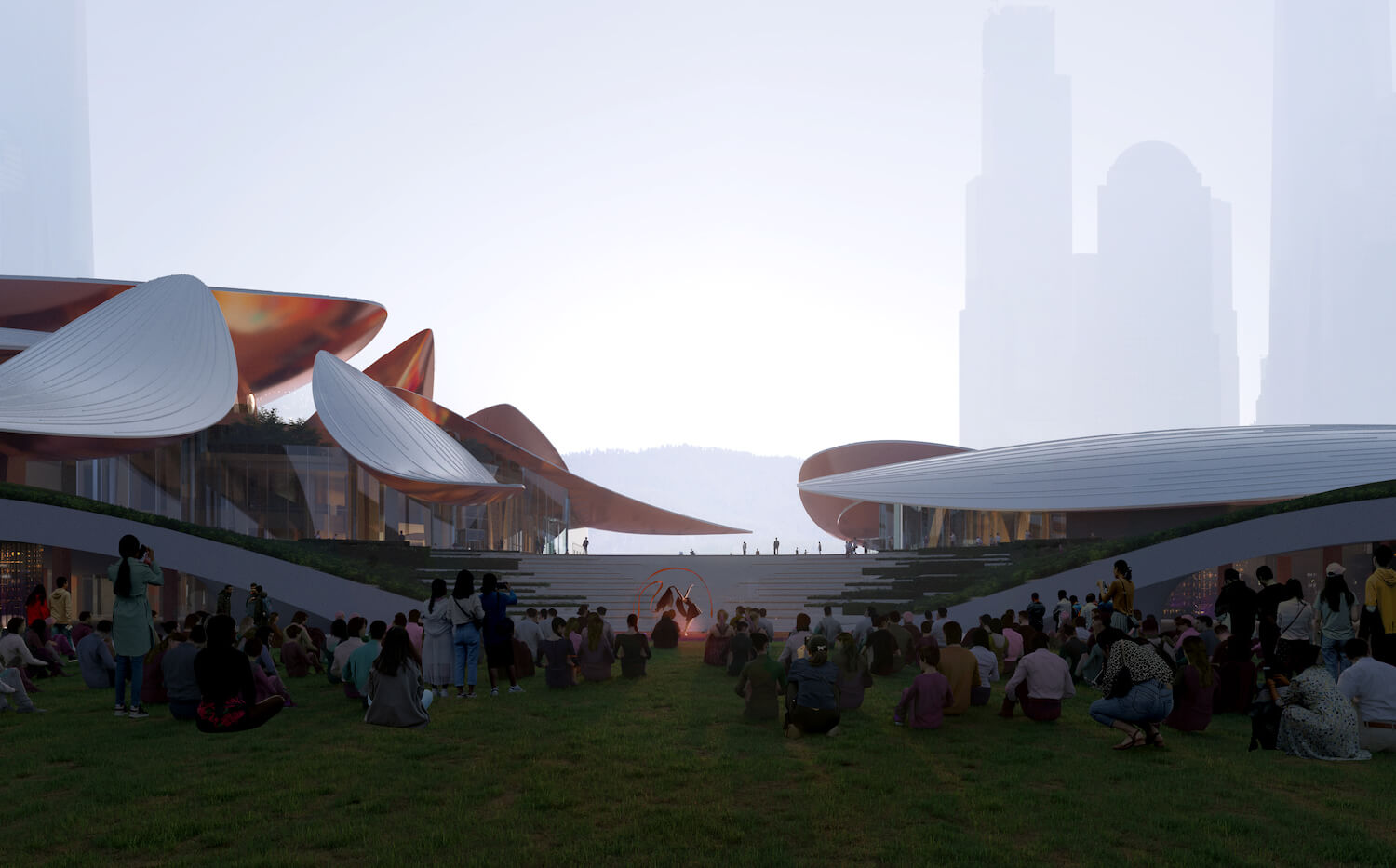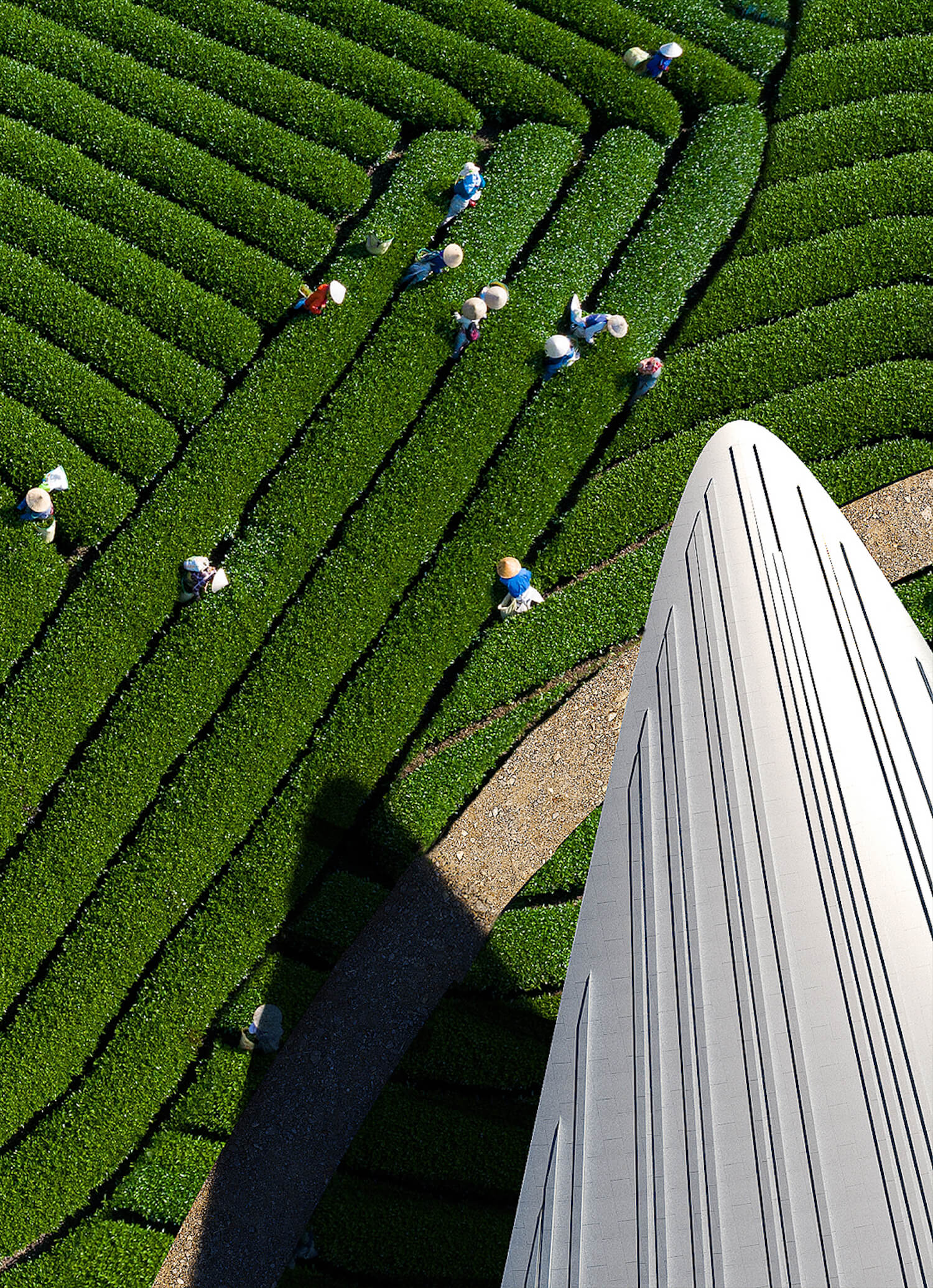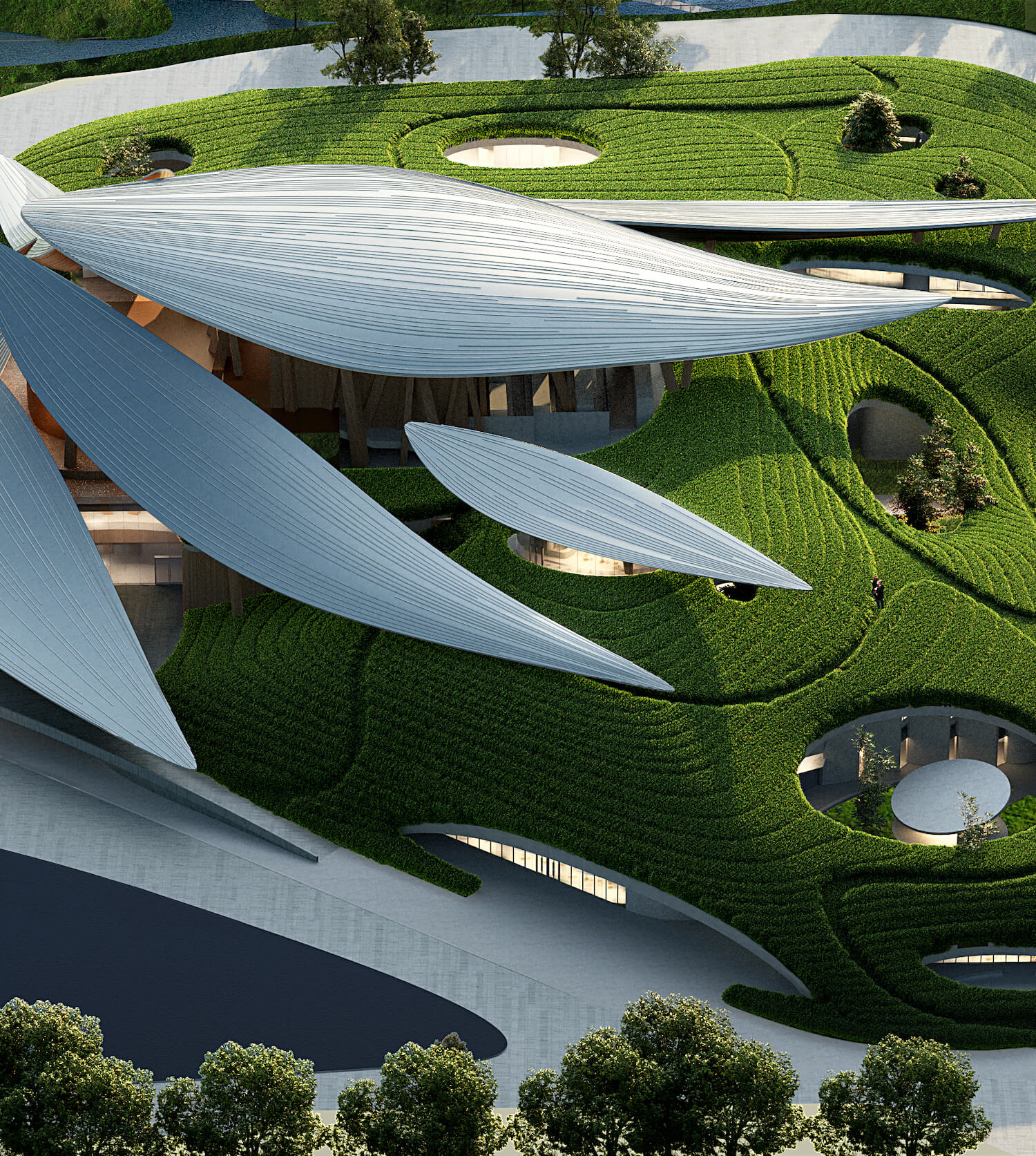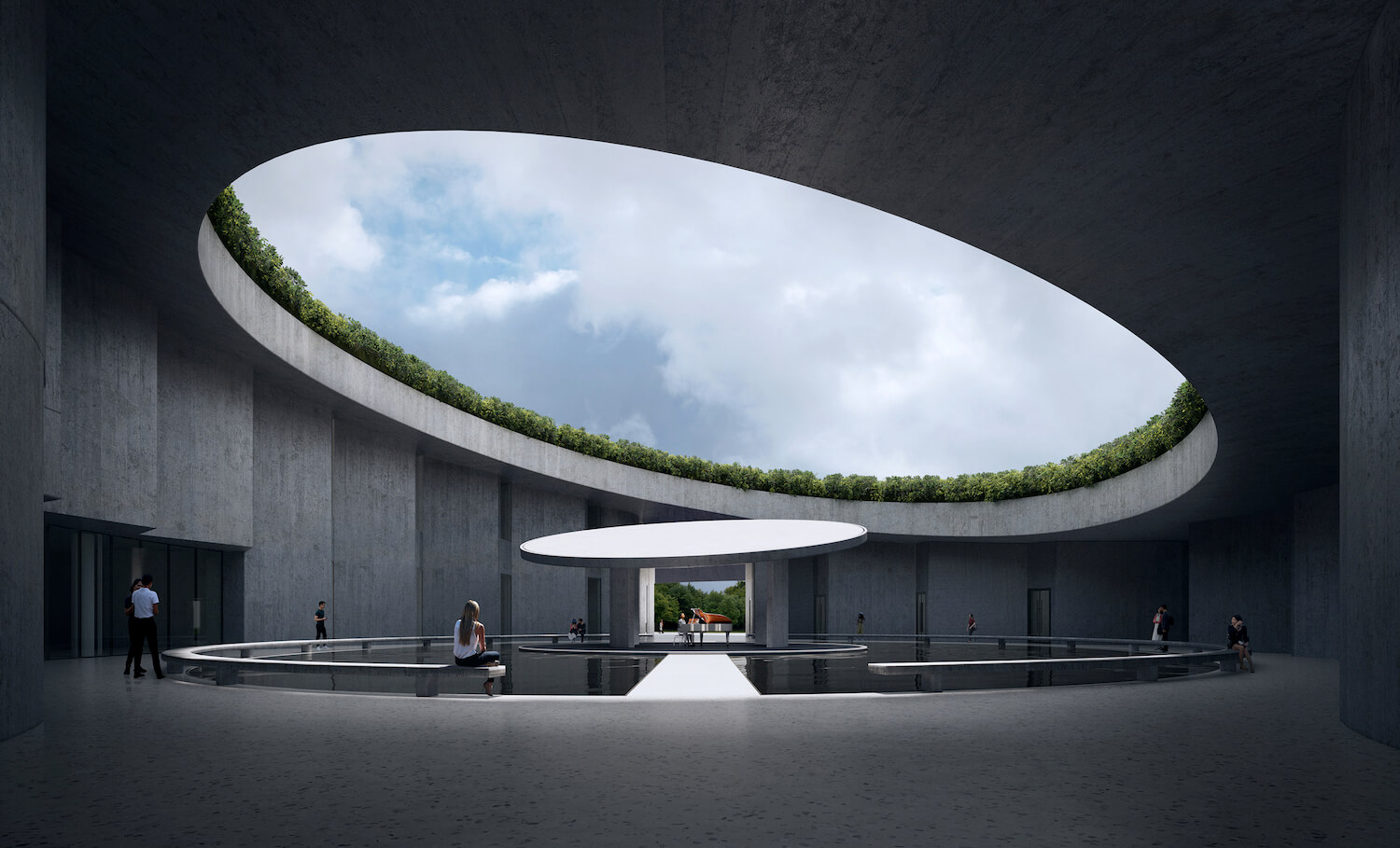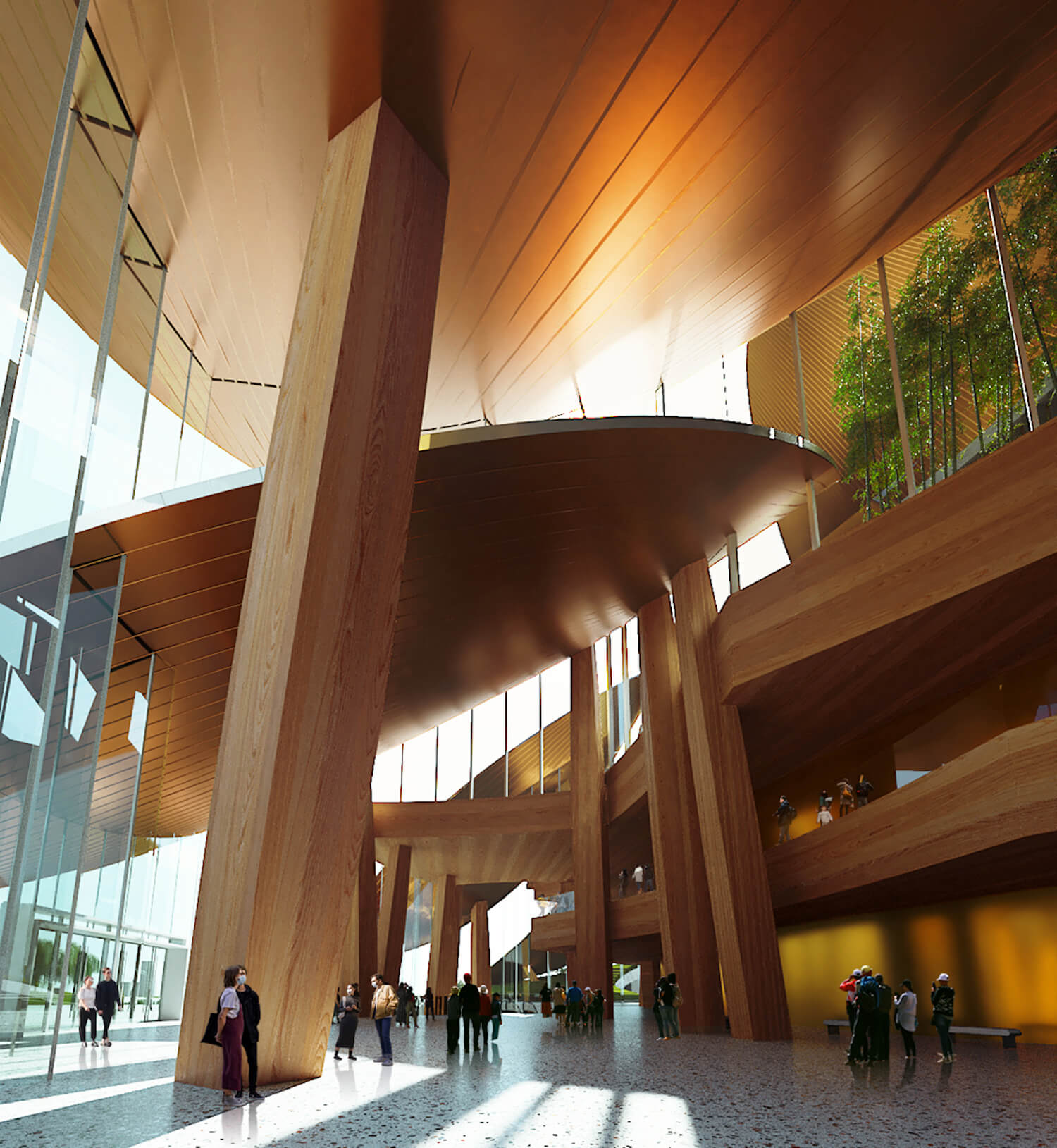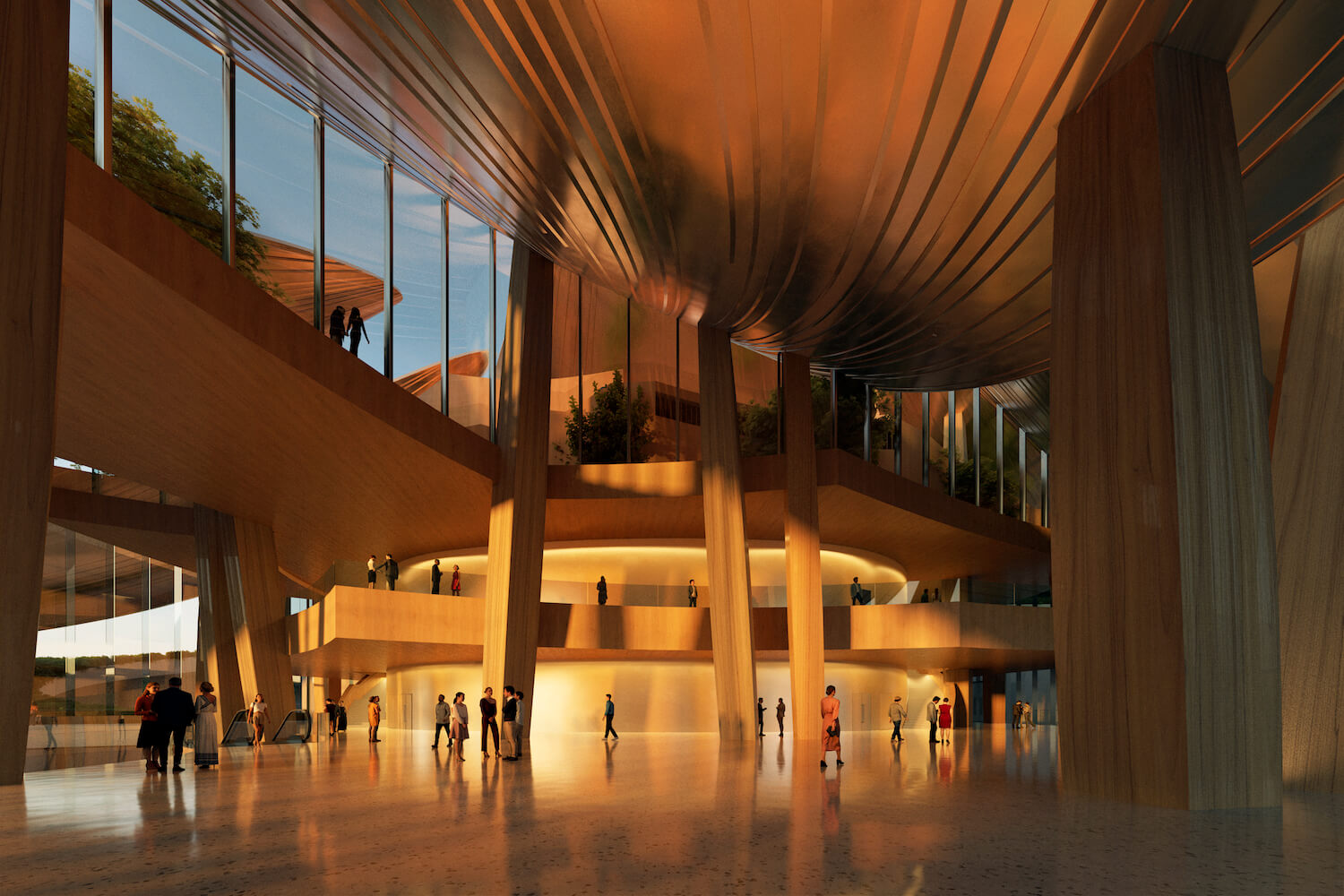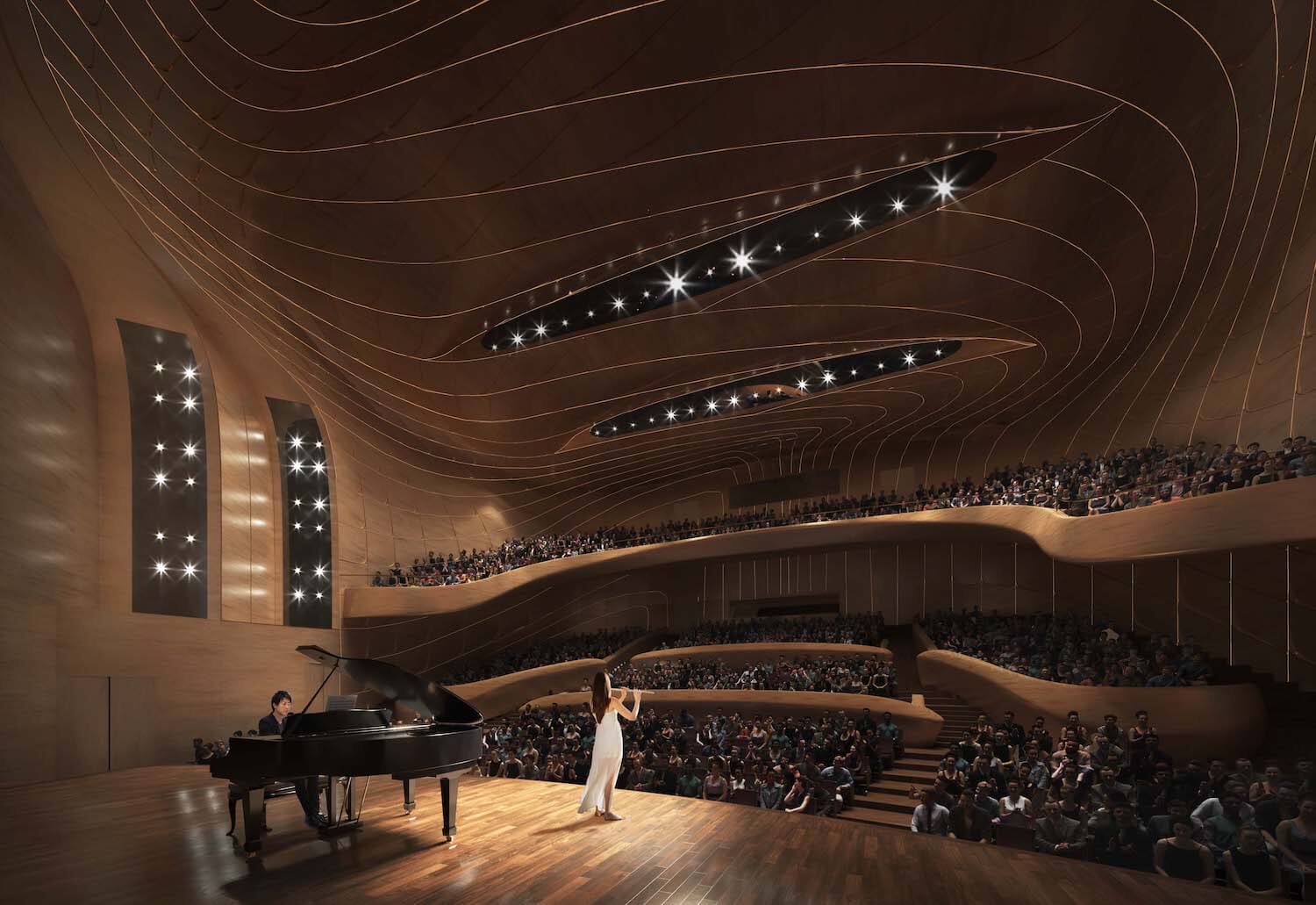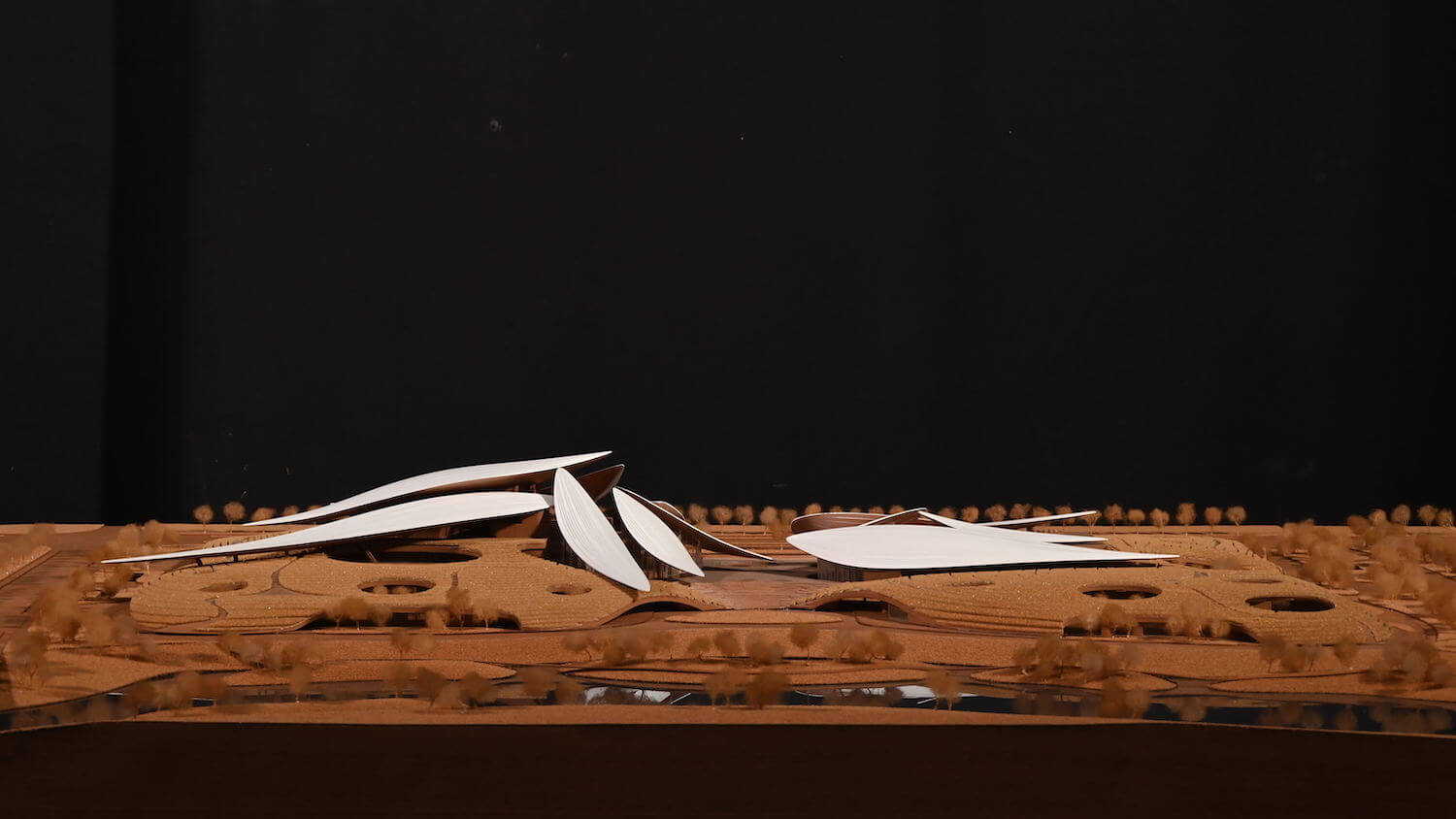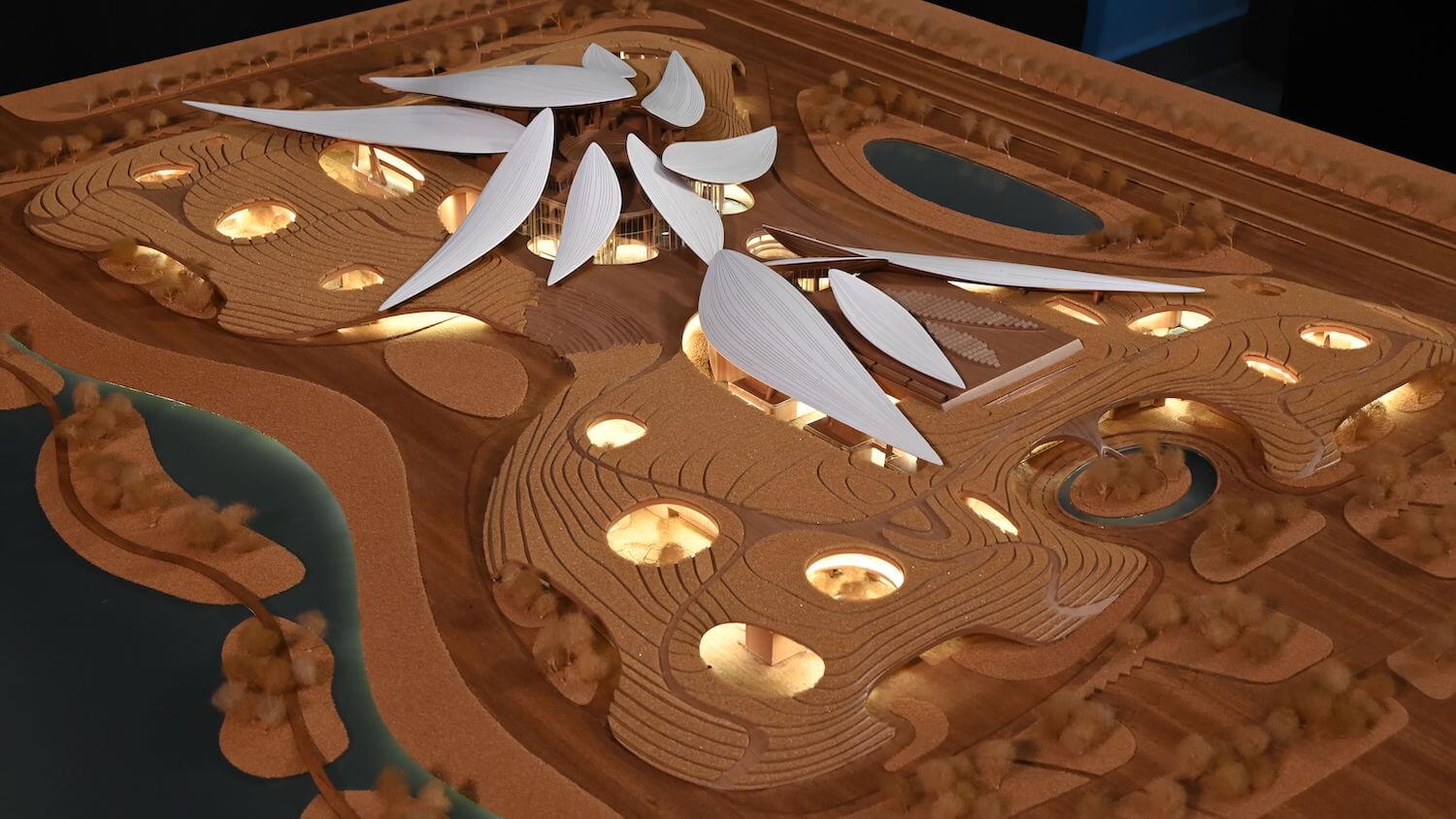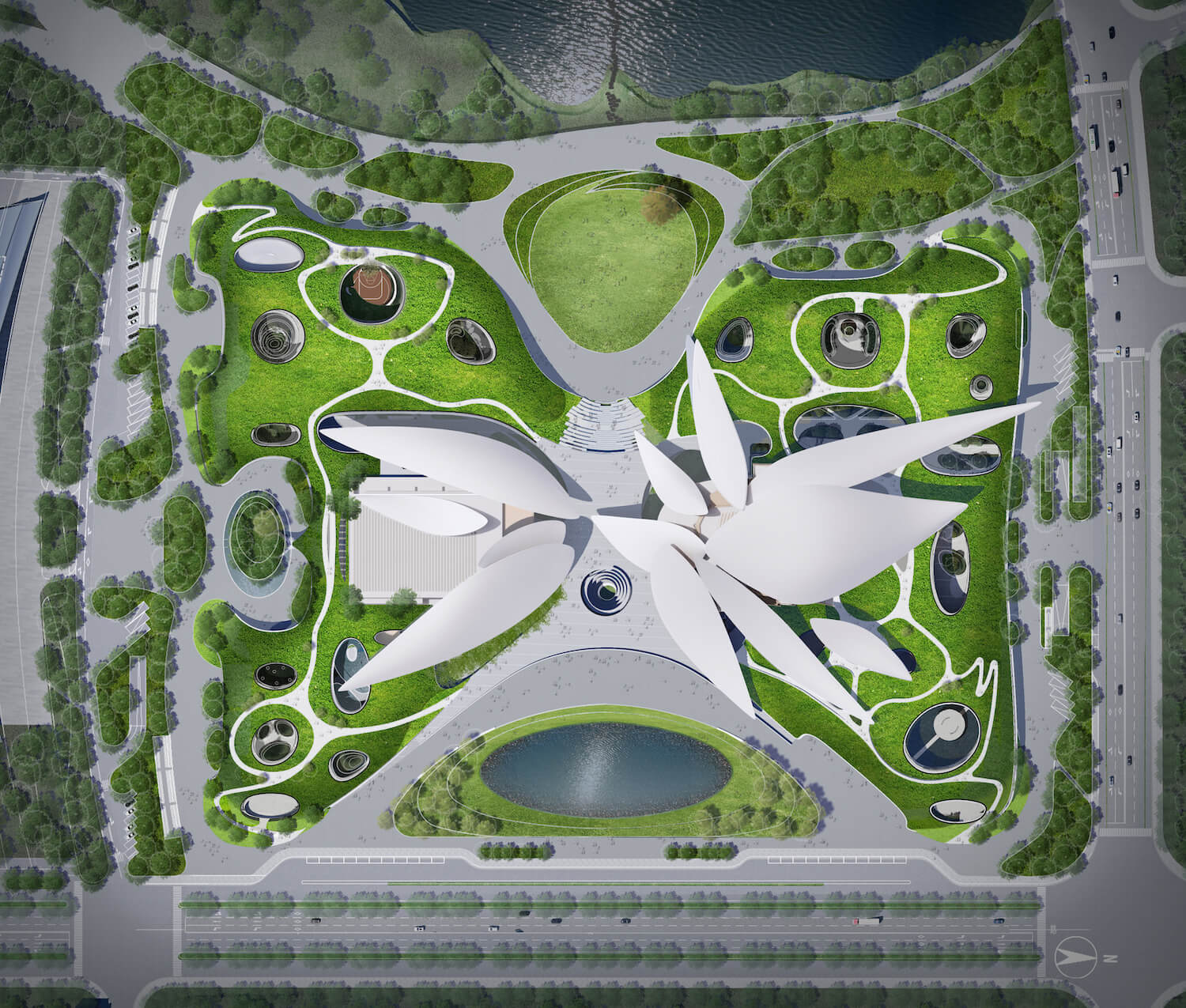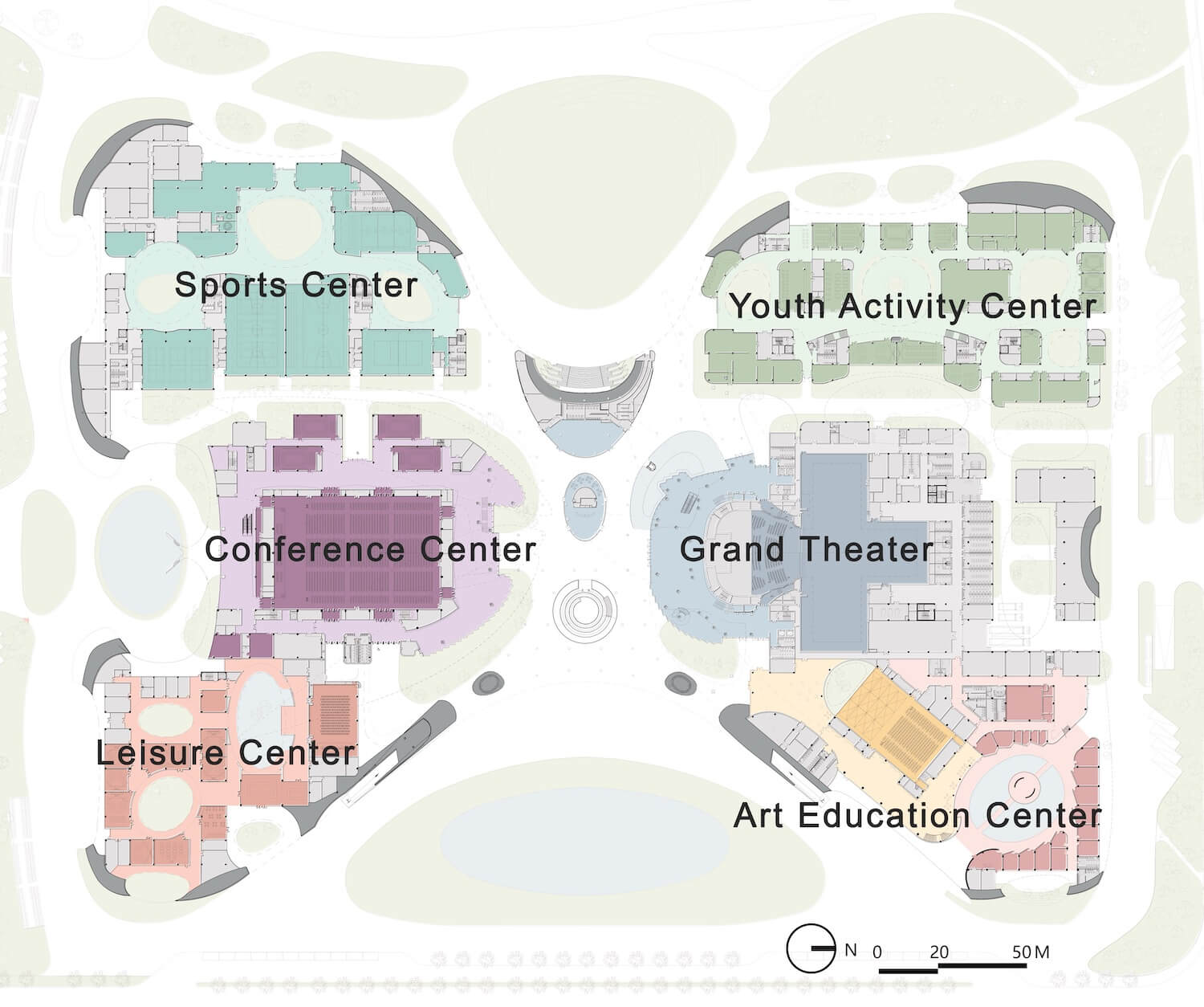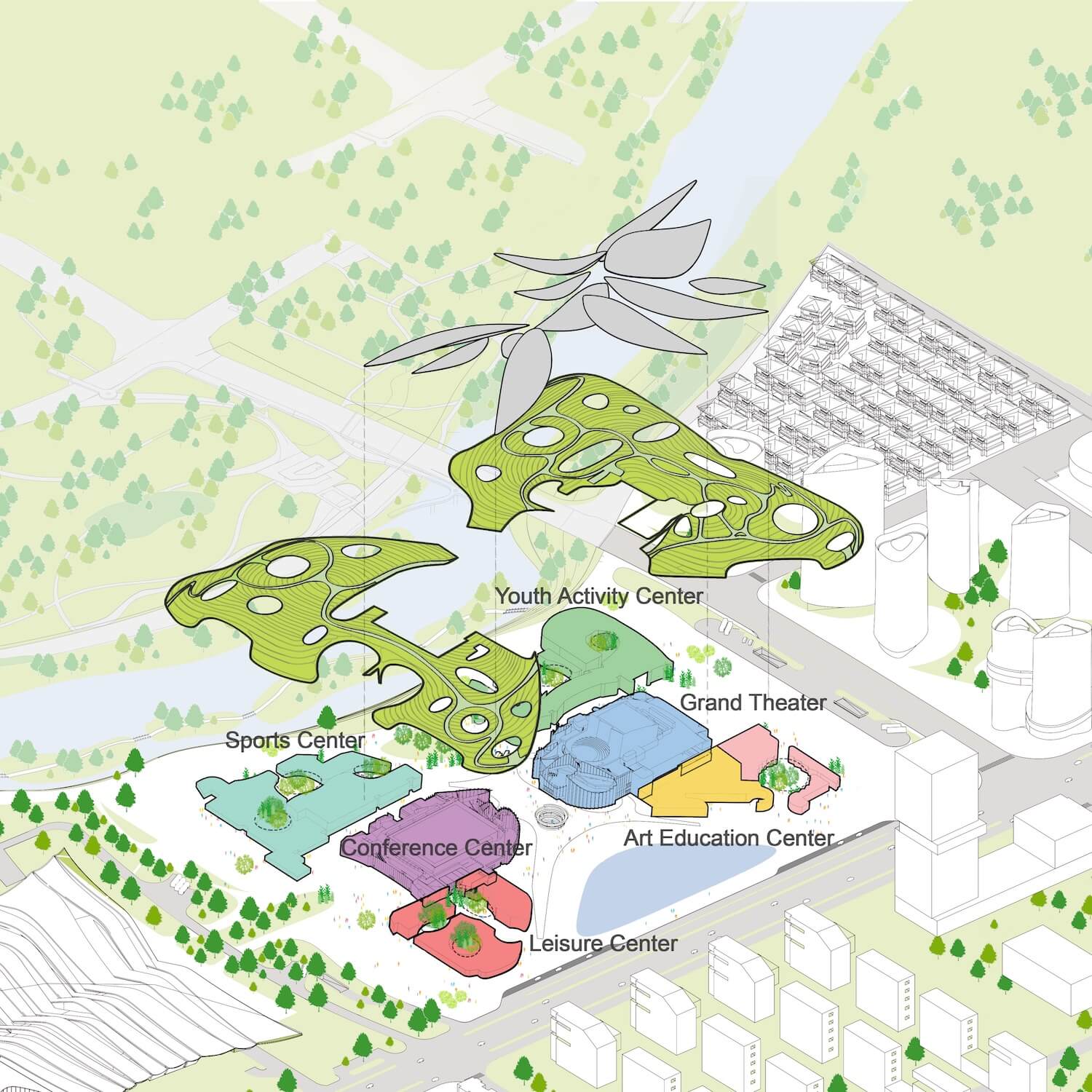 Anji Culture and Art Center
Anji, China
2023-2025
Type: Culture Architecture
Site Area: 149,000 sqm
Building Area: 120,000 sqm
Principal Partners in Charge: Ma Yansong, Dang Qun, Yosuke Hayano
Associate Partners in Charge: Kin Li, Liu Huiying
Design Team: Sun Shouquan, Dong Xue, Li Guangchong, Zhang Xiaomei, Wang Xianbo, Xi Kaiyu, Chen Bohan, Zhao Lilu, Deng Wei, Lin Yijun, Liu Yiqing, Qiao Xuantong, Hao Yue, Zou Dengyu, Jose Maria Urbiola, Wang Zhuyun, Shang Li, Wu Aoqian, Song Chi, Zeng Tianxing
Client: Anji Construction Holding Group
EPC: Tongji Architectural Design (Group) Co., Ltd., China Construction Eighth Engineering Division Corp., Ltd.
Façade Consultant: Tongji Architectural Design (Group) Co., Ltd.
Landscape Design (Tea Field + Courtyard): Earthasia (Shanghai) Co., Ltd., Young-High Landscape Design Consulting Co., Ltd.
Landscape Design (Site): Wildscape Design Inc.
Acoustic Consultant: ECADI_Acoustic & Theater Specail Design & Research Studio
Interior Design: MAD Architects, Jianfeng Construction Group Co., Ltd.
Theater Technical Consultant, Stage Technology and Conference System Design: Poly (Beijing) Theater Construction Engineering Consulting Co., Ltd.
Lighting Consultant (Overall + Theater): Ning field lighting design Corp., Ltd.
Lighting Consultant (Conference + Podium): Shanghai Ruiyi Environmental Design Co., Ltd.
Signage Design: NDC CHINA, Inc., City Code (Shanghai) Architecture Design co., LTD
---