kaviar:collaborative: Delicately crafted by combining two adjoining apartment units in an archaic building in the plush neighbourhood of Malabar Hill, Mumbai, Midori finely walks the line between subtlety and opulence. Sinuous curves flow into each other to give way to a contemporary gatsby-esque space that functions as a home for a family of three on weekdays, and party central 101 on weekends.
The building that harbours Midori, almost 80 years old, carries with it some heritage of a minimal Art Deco style with curved open air pathways on each level and curved overhangs. Midori tries to extrapolate the curves from these external features inside the apartment in an attempt to pay an ode to the Art Deco style but in a contemporary and modern manner.
The entrance foyer of the apartment is designed to operate as a dark vestibule, heavy on material and character with curved walls in teak and green that lead to inner private sanctums of the living and dining spaces. As one moves through this foyer, vertical slits in the teak wood allows for an interesting spectacle of light dancing throughout the day which adds a sense of drama and peaks curiosity. While protecting the privacy of the inner spaces, it also acts as a device to create a funnelling effect which aids by visually exaggerating the volumes of the living and dining spaces to seem much larger and lighter than they actually are.
A terrazzo clad wet bar with brass legs neatly packed by green marble flooring, dark green fluted walls and teak veneer acts as the 'piece de resistance' and is the cornerstone of the project. It dictates the paramount quality and vibe of the project and sets up perfectly as an introduction to the space. Art Deco green, brushed brass, teak veneer and marble come together to form a material palette that exudes splendour and grandeur while still remaining humble.
The overarching sense of fluidity is achieved by the thoughtful application of materiality across the space, beginning in the entrance foyer. The dark green flutes that act as the guiding 'spirit' of the apartment adopt a shade of 'teak' as they move into the den and master bedroom where as, they convert into glitzy terrazzo flutes as one of the bar counter legs. Terrazzo embedded with green glass chips makes its debut at the bar counter top which is later seen in the dining area as a wall cladding material. Green Indian marble flooring at the entrance and bar area changes to a white statuario in the living, dining, kitchen and den spaces. Brushed brass is skilfully sprinkled all over the space, at some places as furniture pieces and artefacts while at others as wall and floor inlays.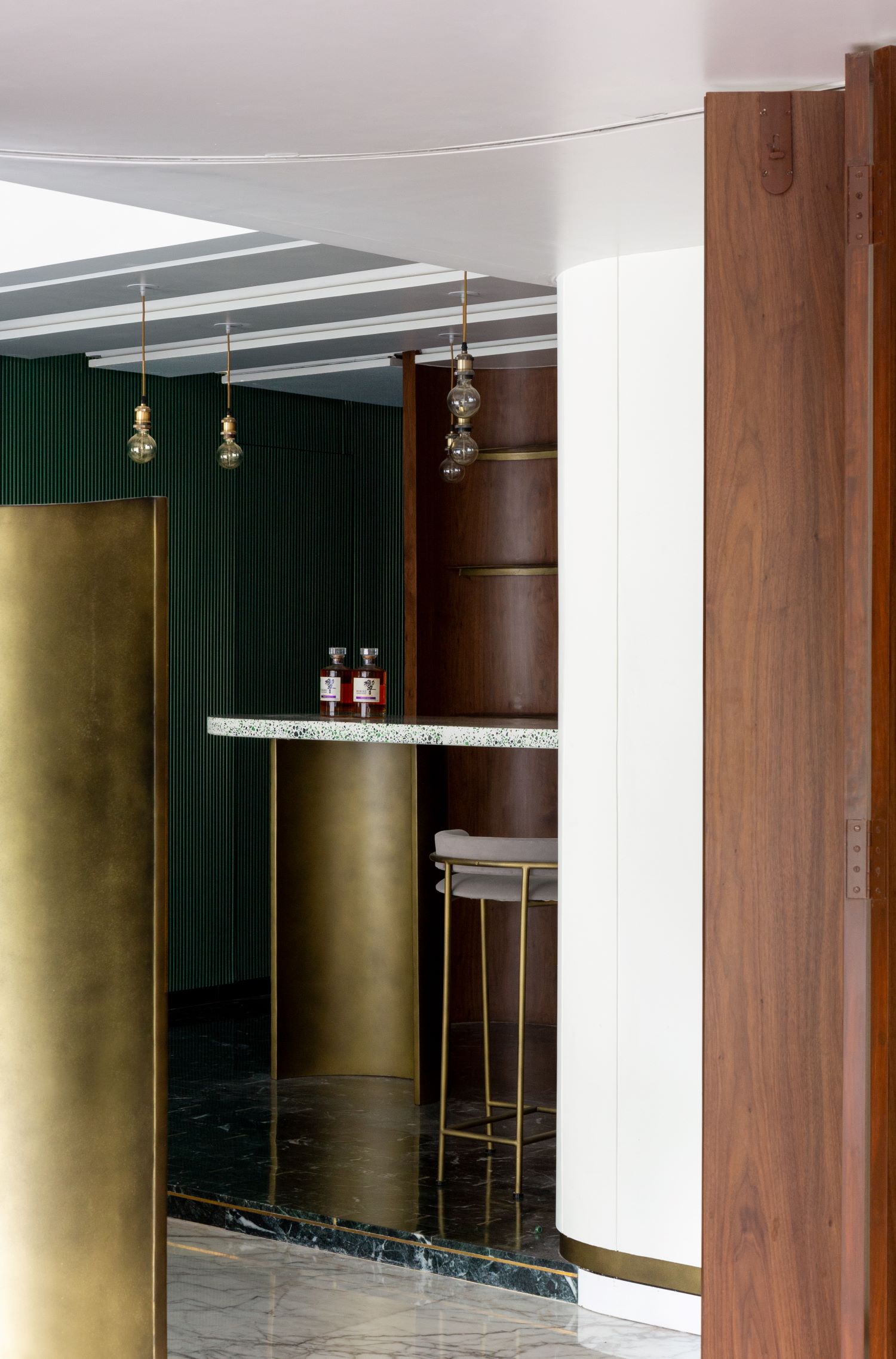 Colour and curves are important components of Midori. At some instances they act as guiding elements and allow for spaces to seamlessly flow into each other while at others they aid in mystifying the concept of boundaries by visually erasing them. Apart from aesthetics, the curved walls, specifically the green guiding 'spirit', act as features that hide functions behind them - some doors open into rooms and washrooms while others open to storage units. A curved sliding-folding door modelled in teak can completely seclude the den from the rest of the house and allow it to function as a third bedroom. The colour green has been selectively used.
with care so as to not be too overwhelming to the user on a daily basis but to rather act as a background doing everyday activities. Lighter shades of greys and whites dictate the living, dining and den spaces adjoining the windows, while darker, moodier greens frequent the bar and entrance spaces aiding in creating subtle distinctions between a 'family home' and a 'party headquarter'.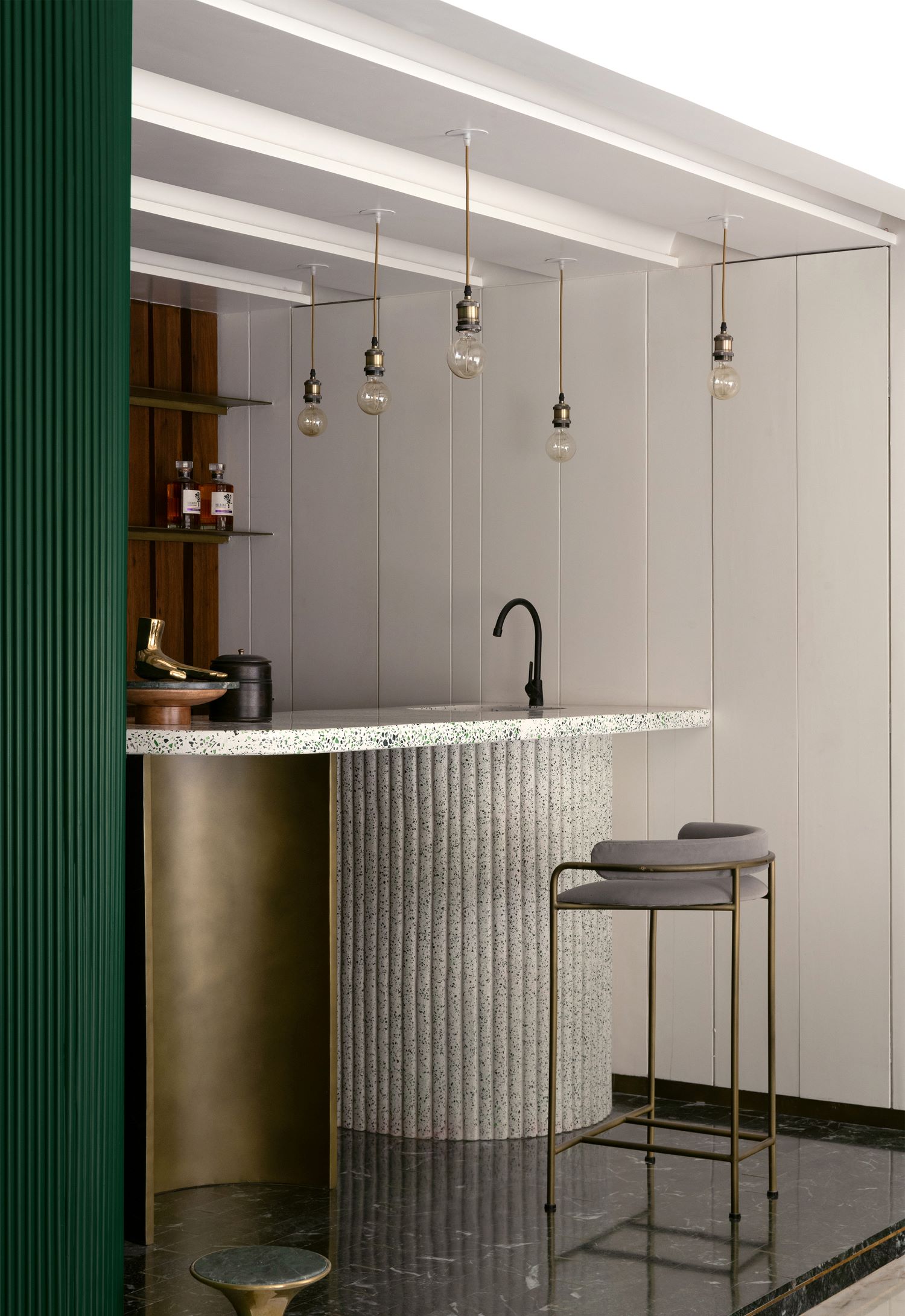 Being an old building, varying dimensioned columns, beams and low ceiling heights proved to be a challenging factor. Each of these are treated with utmost care to conceal and camouflage behind walls and furniture pieces. The disadvantage of the low ceiling height is mitigated by expanding the window openings to the largest size possible to allow more light in, while also using vertical elements like flutes and slats. Loose furniture pieces like sofas, chairs, dining tables are specifically customised to have lower backs and heights in order for the user to experience the space as a larger volume. Each item of daily use finds a specific spot for storage and is hidden away behind visually eluding wardrobes and storage units in order to declutter and make the apartment seem larger than it is.
With its greens, curves, chic materials, and custom furniture pieces, everything in Midori coalesces to create an aura of allure and opulence while still working functionally and comfortably as a home for its occupants.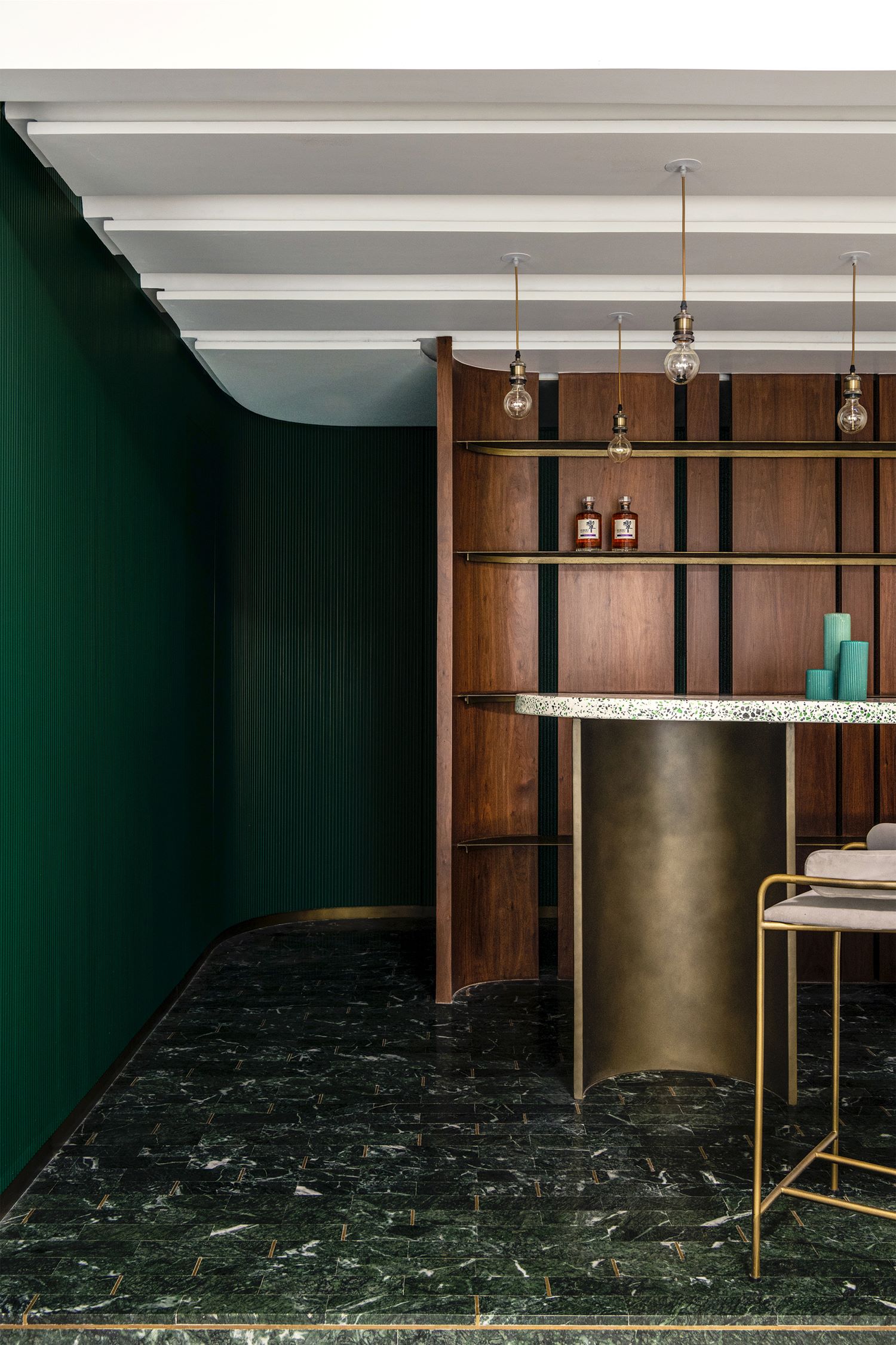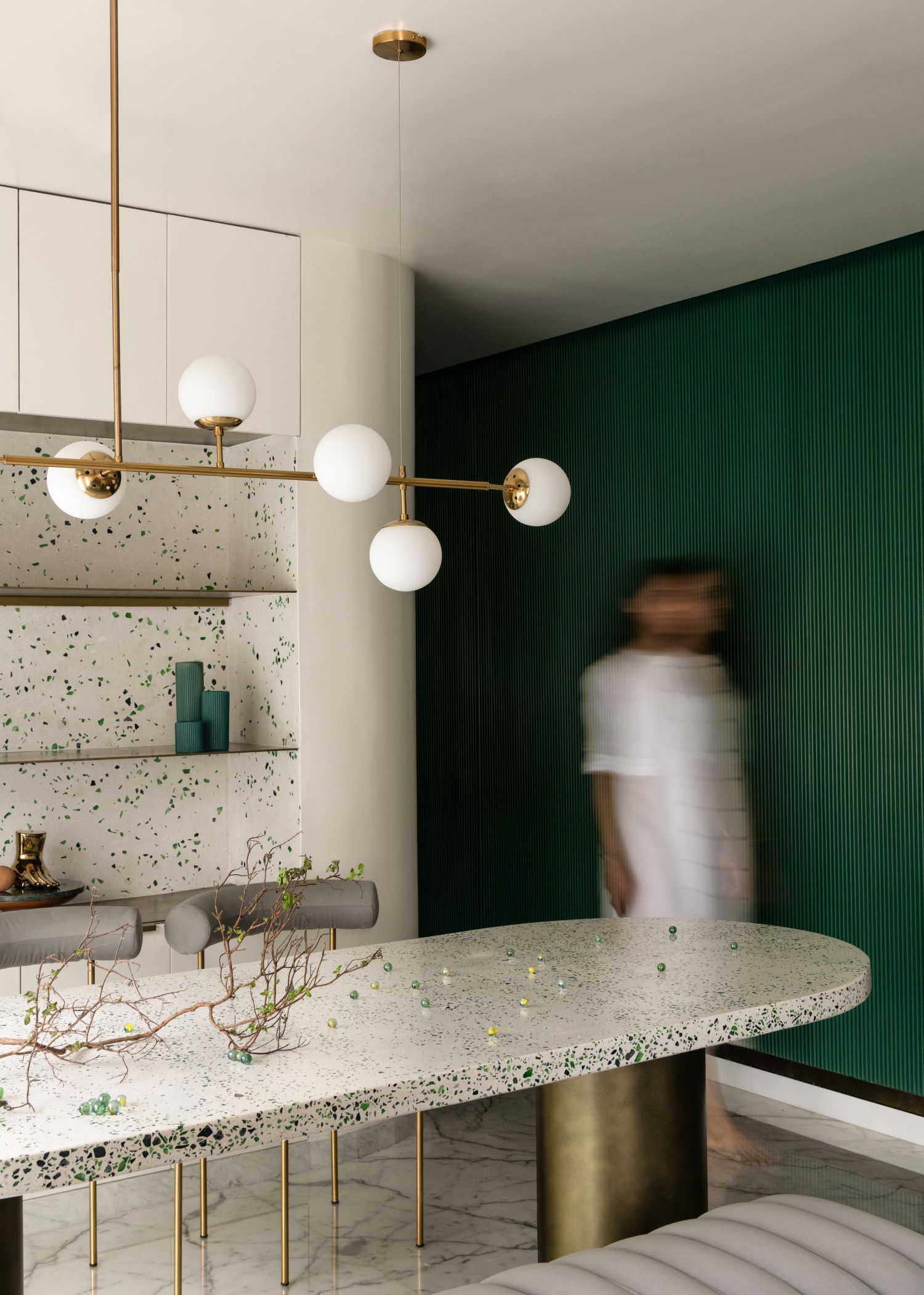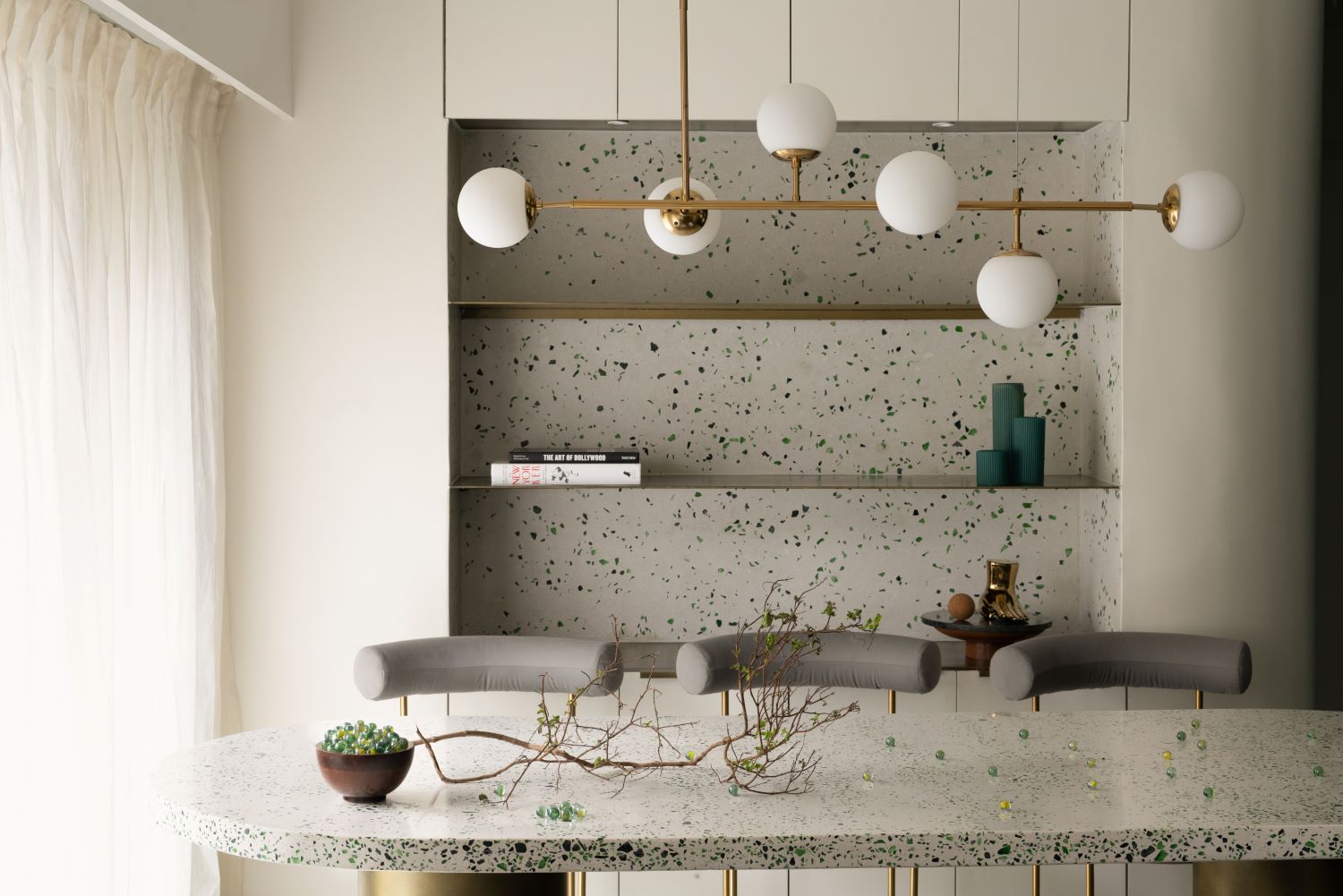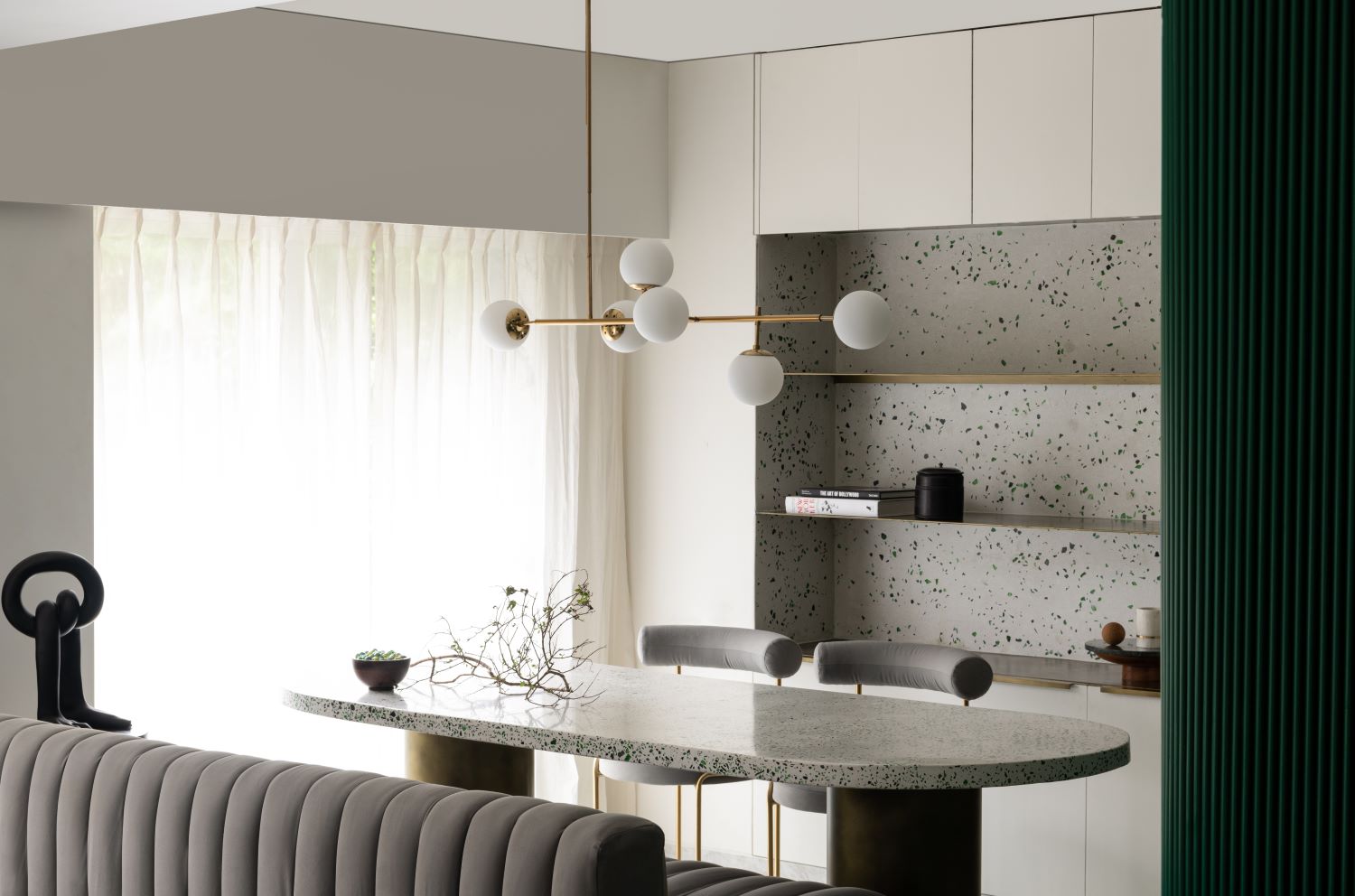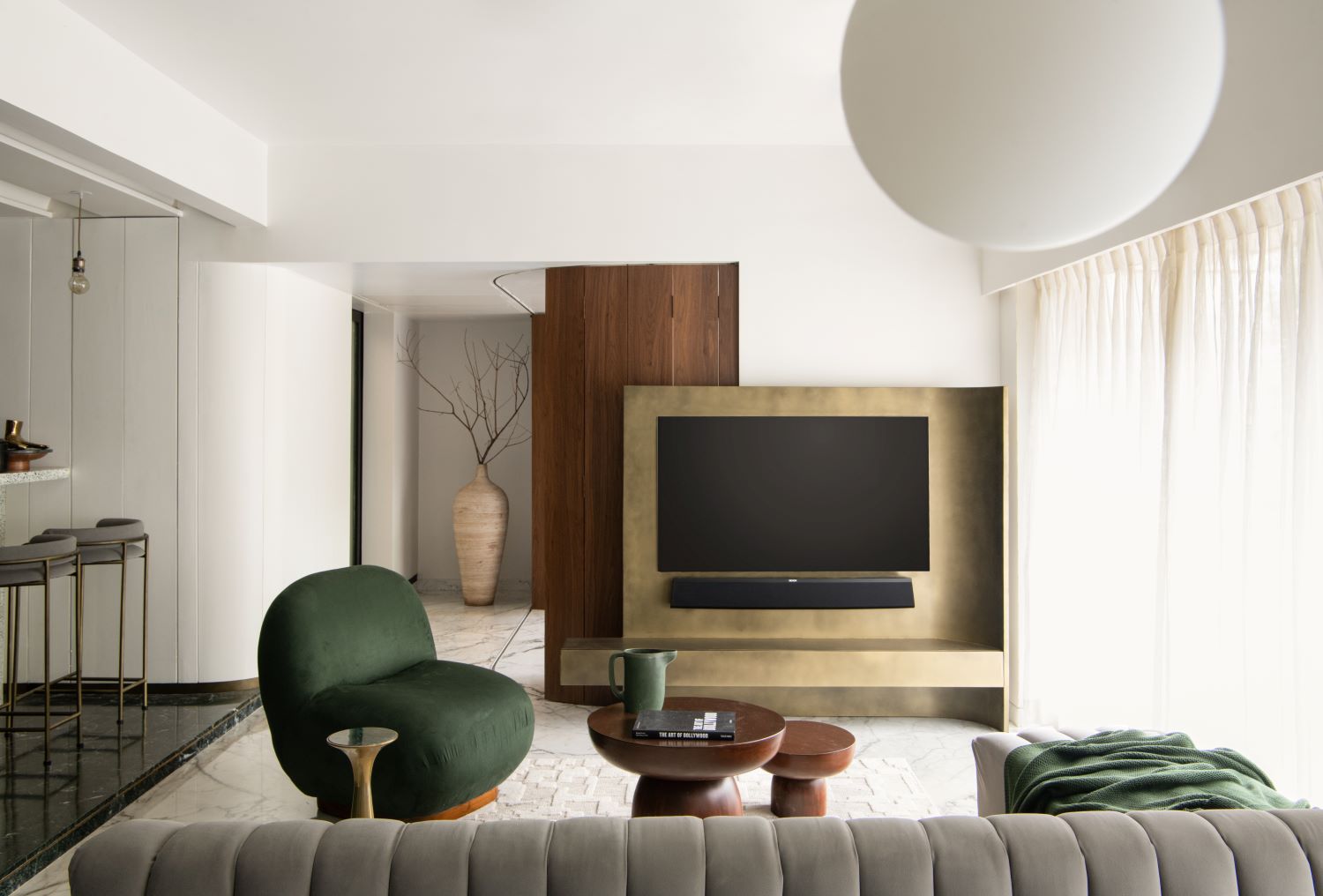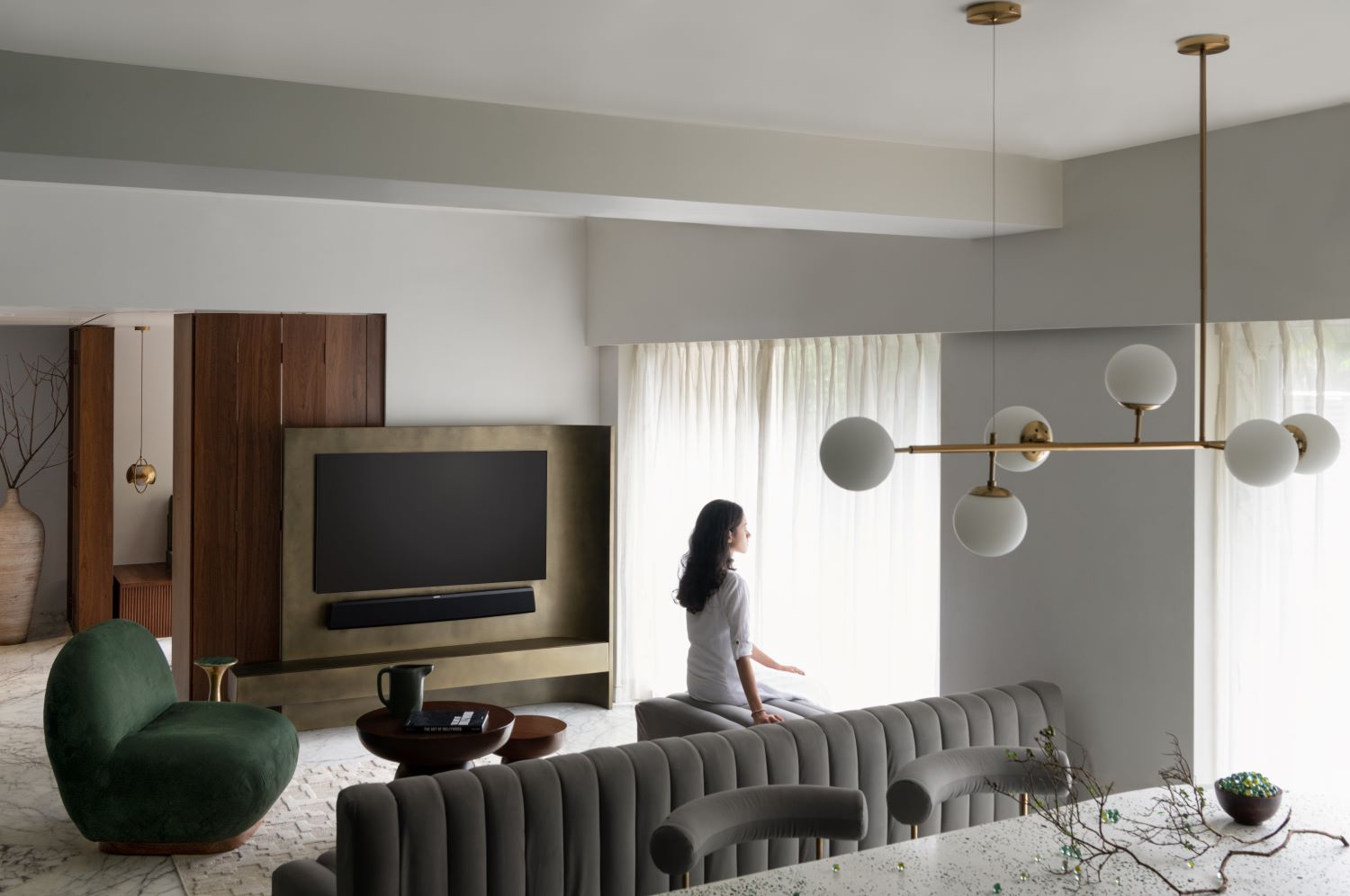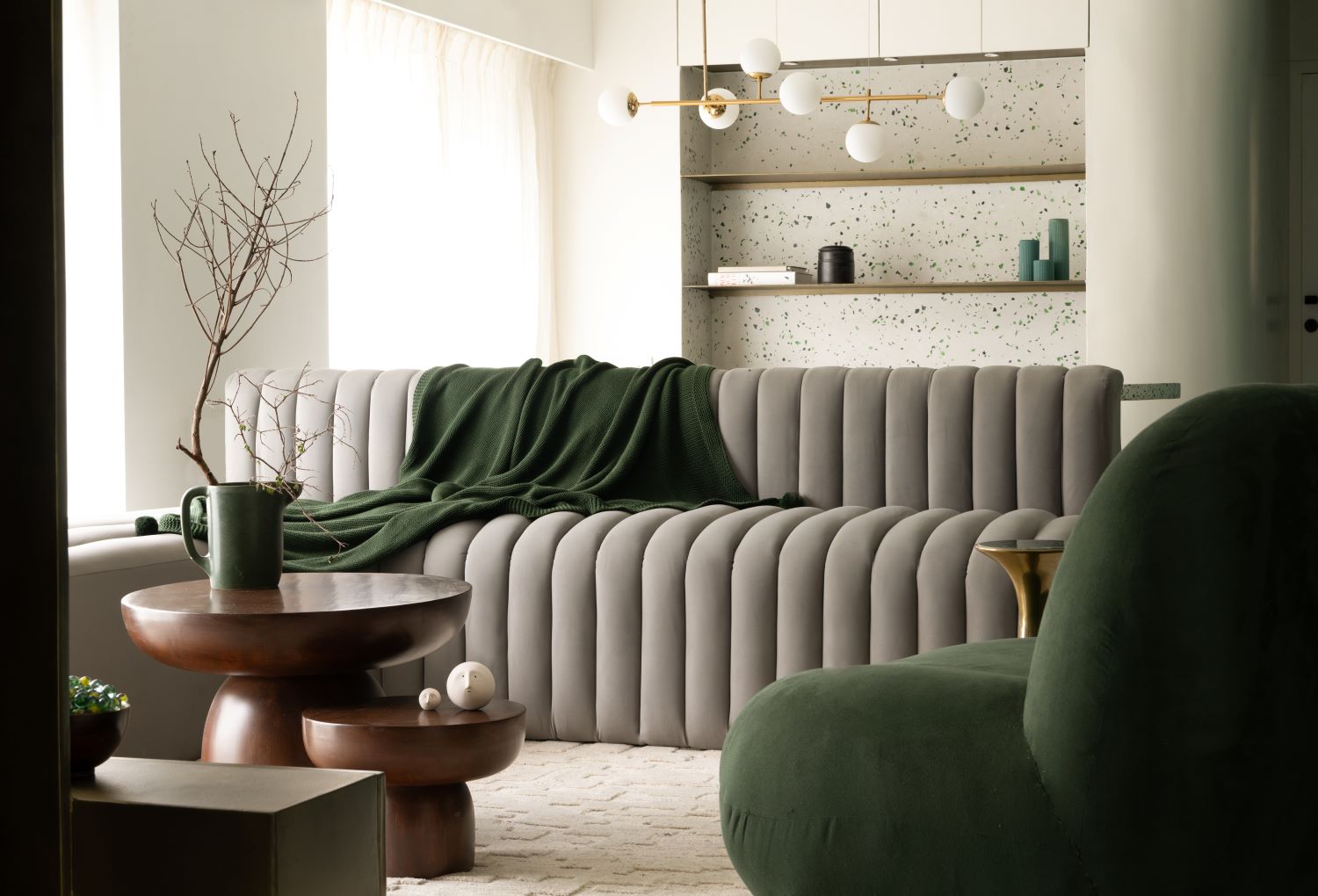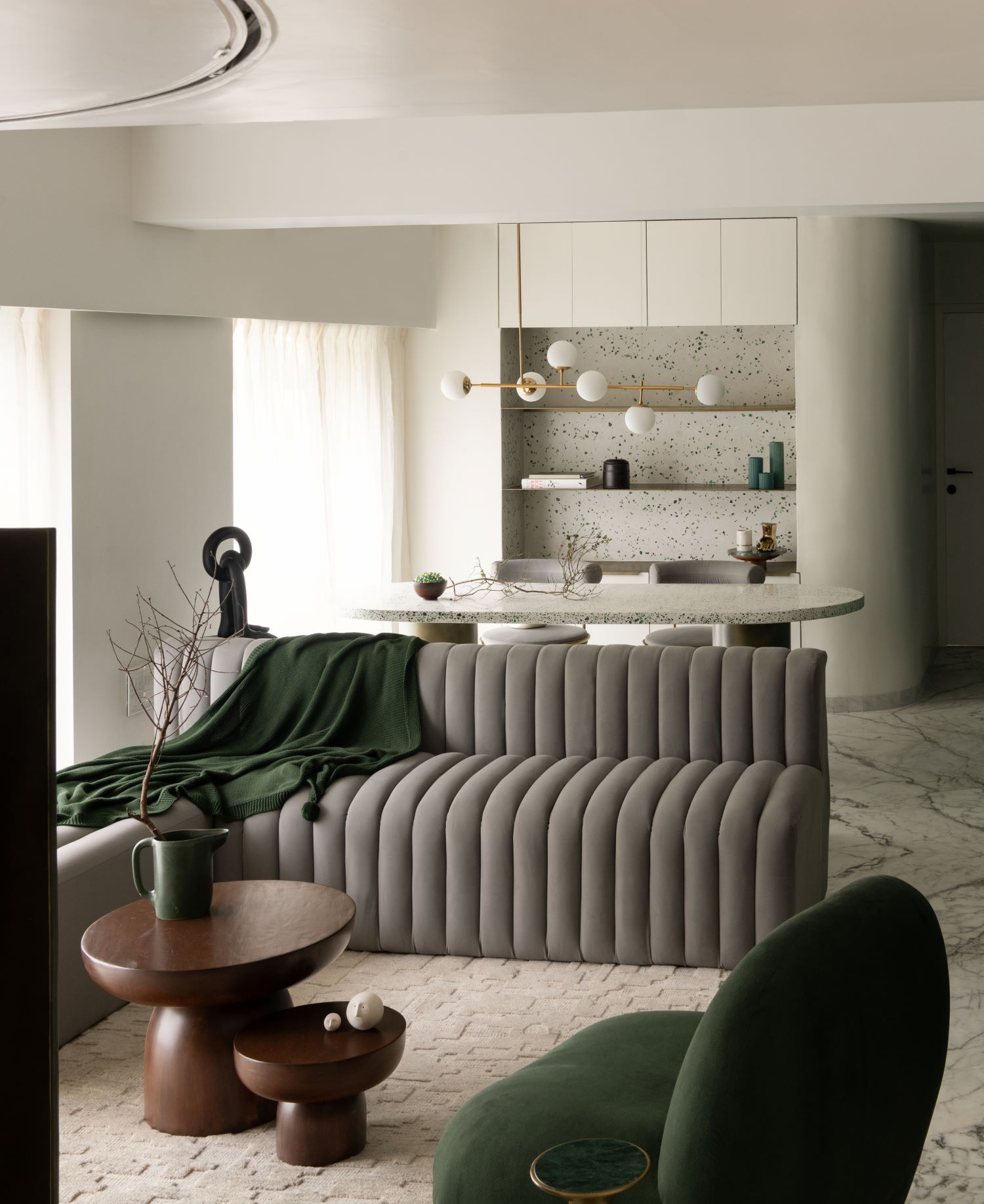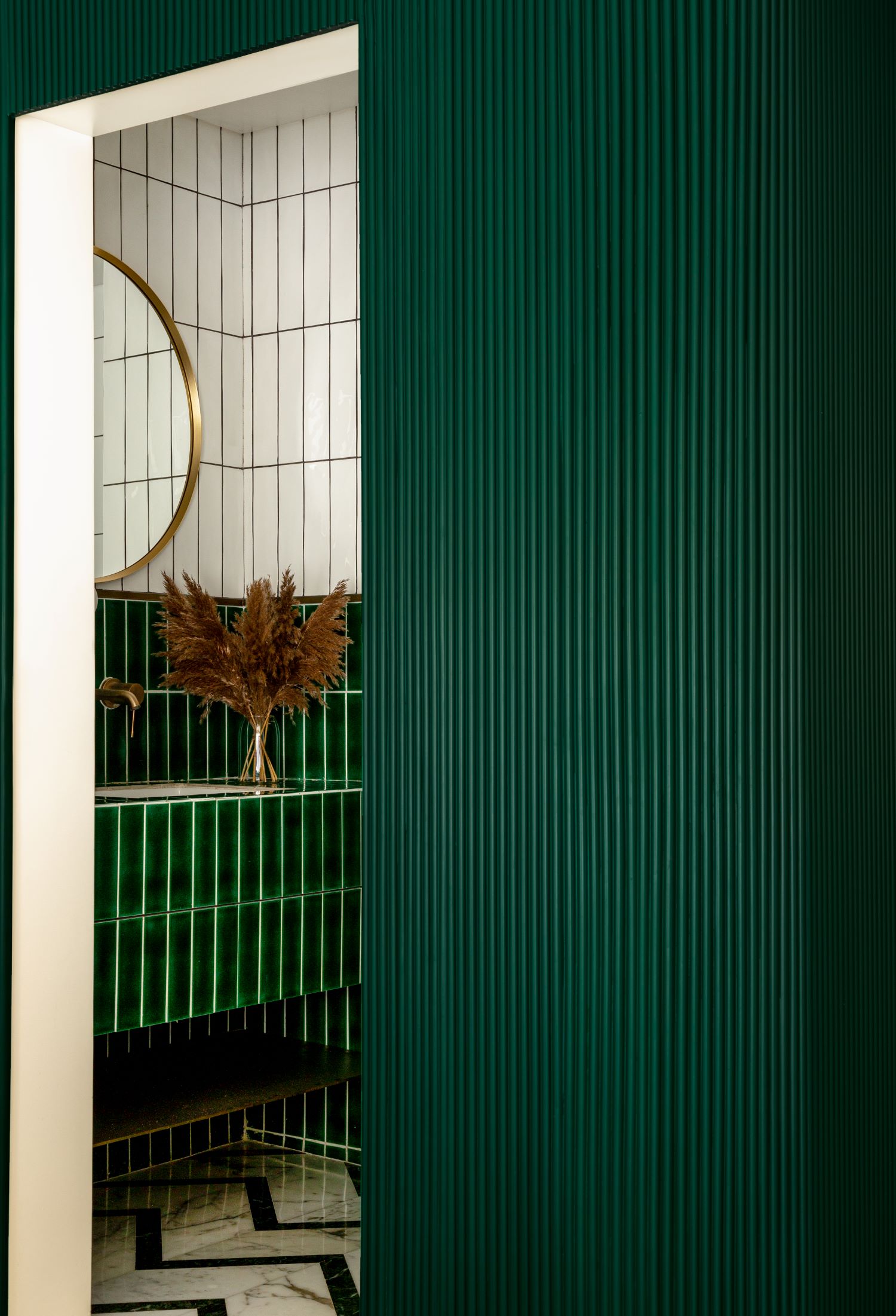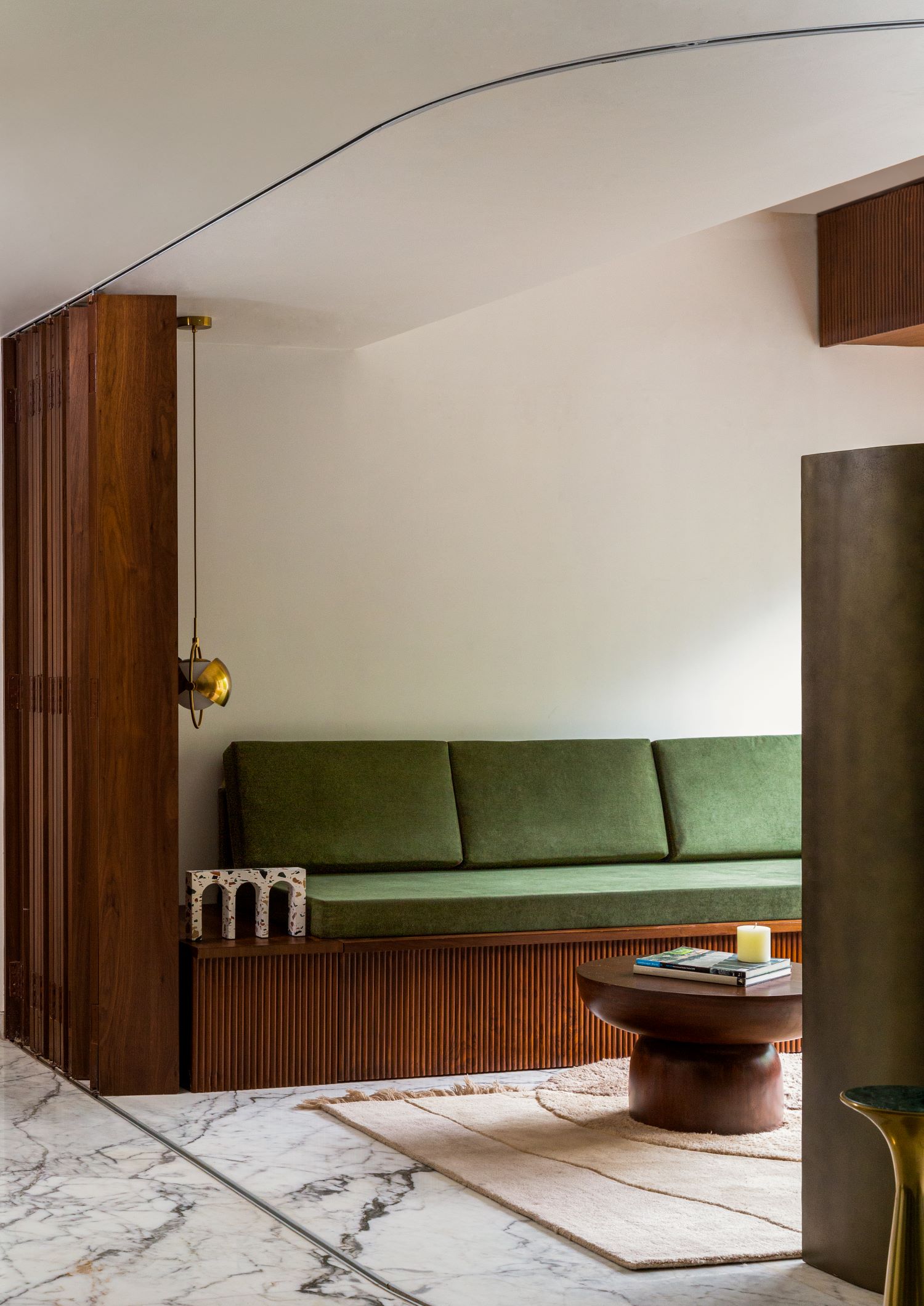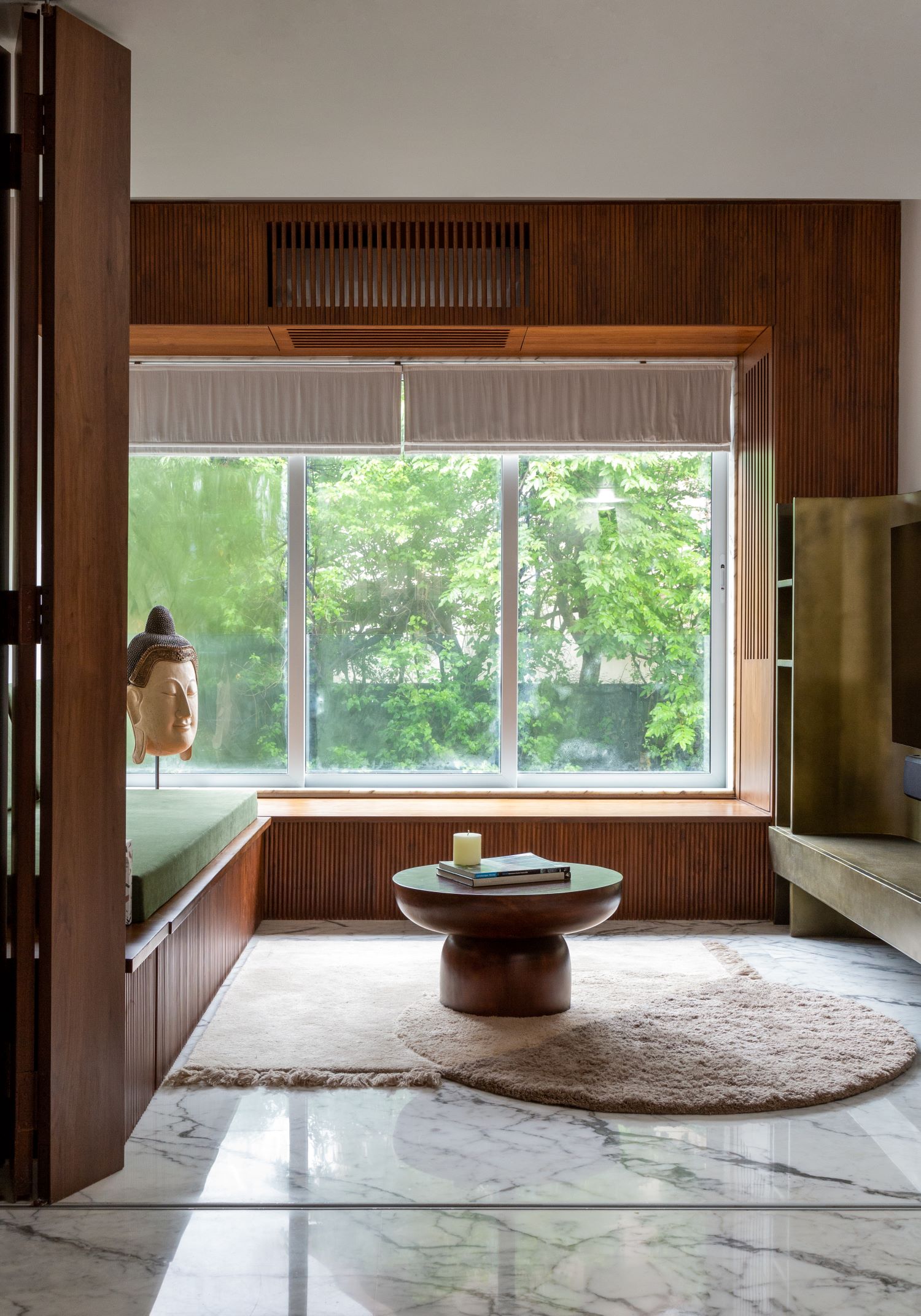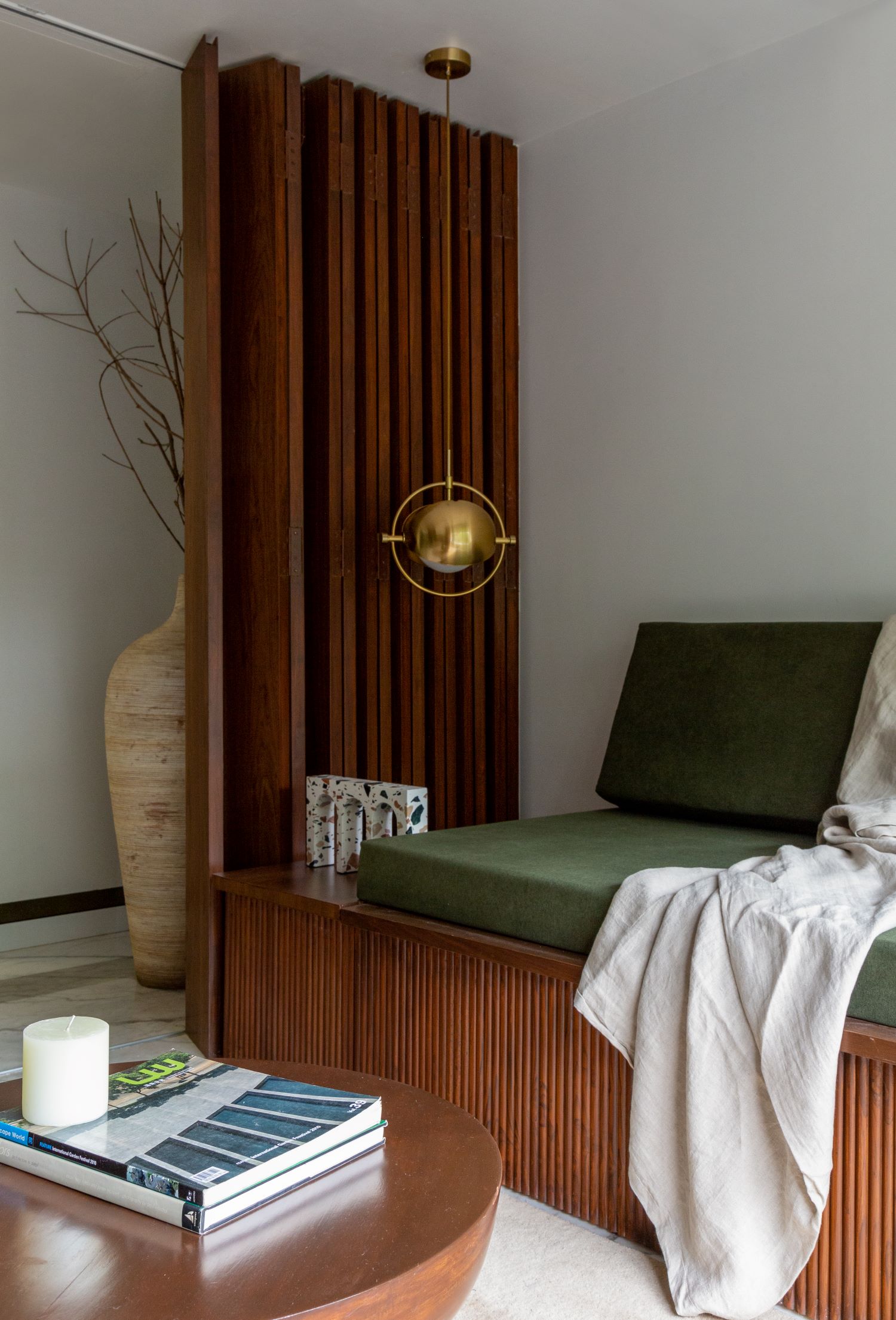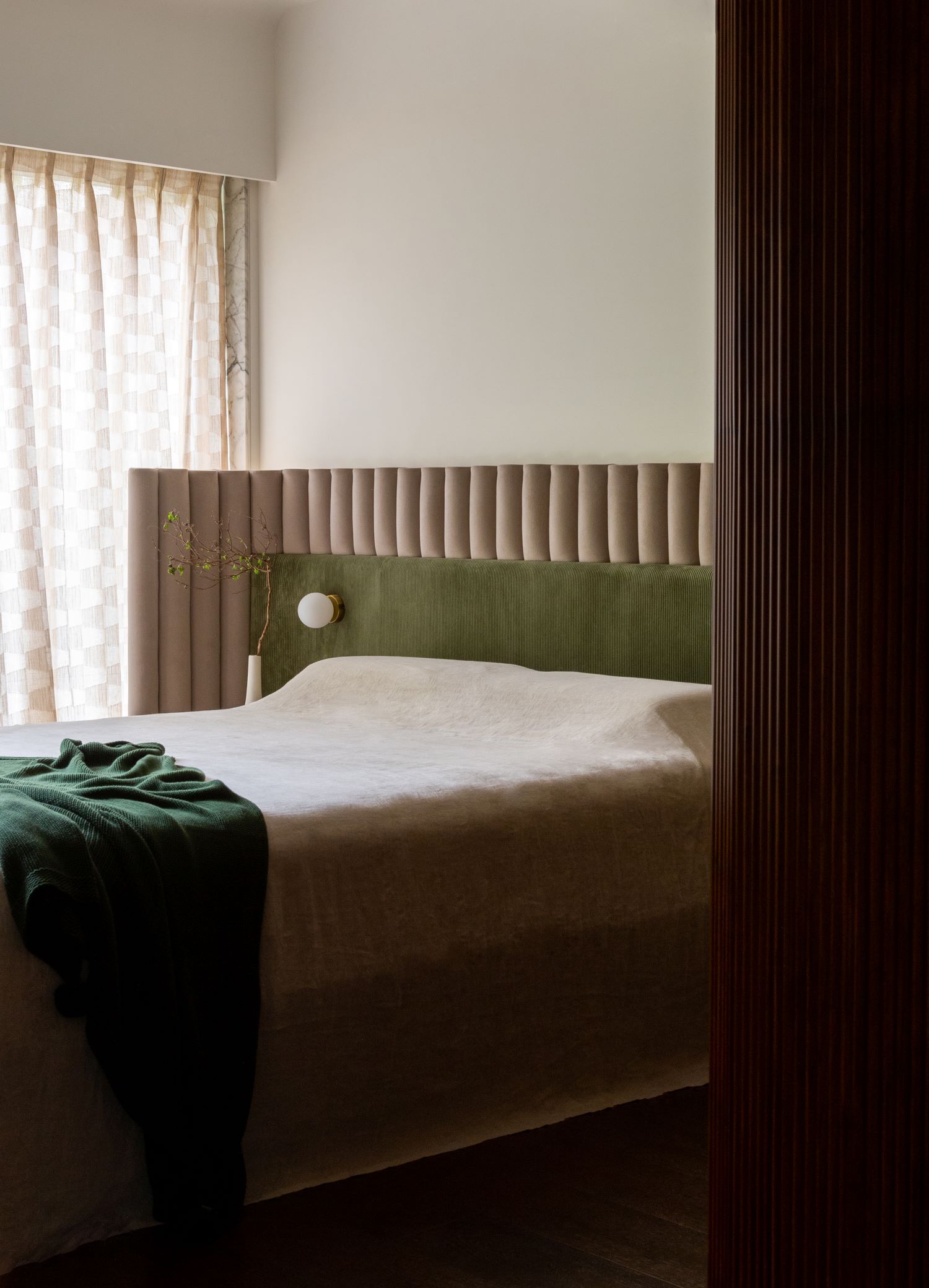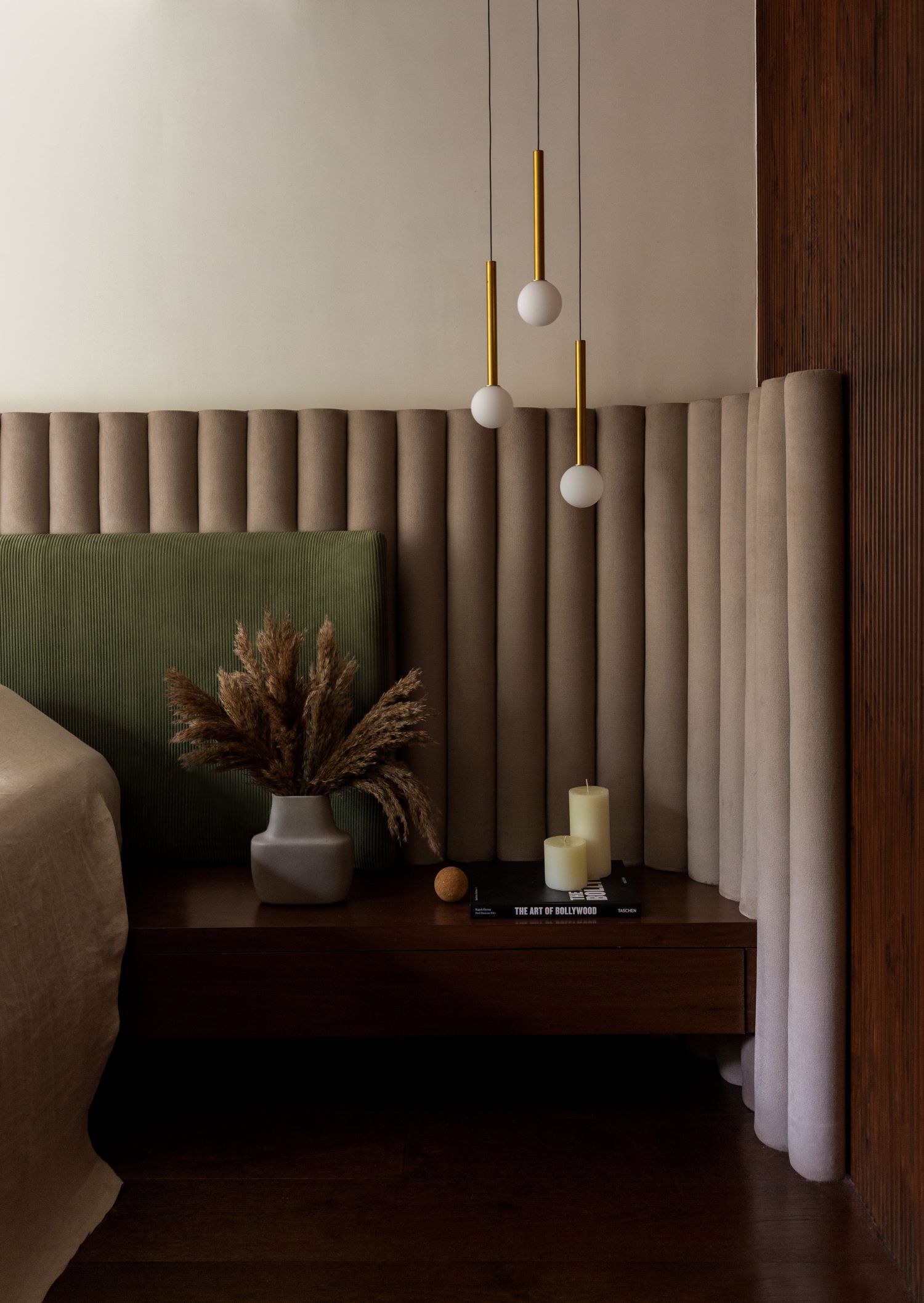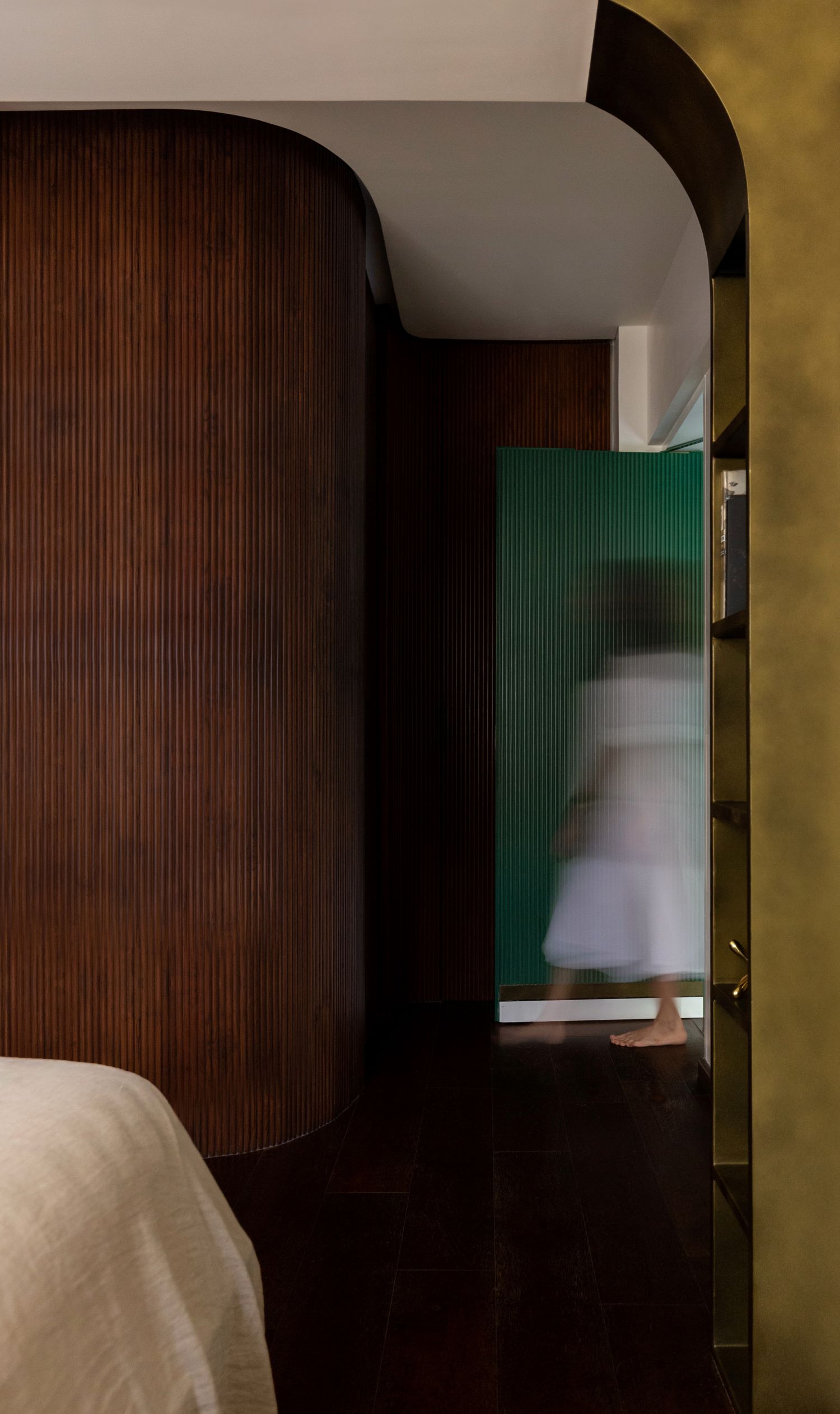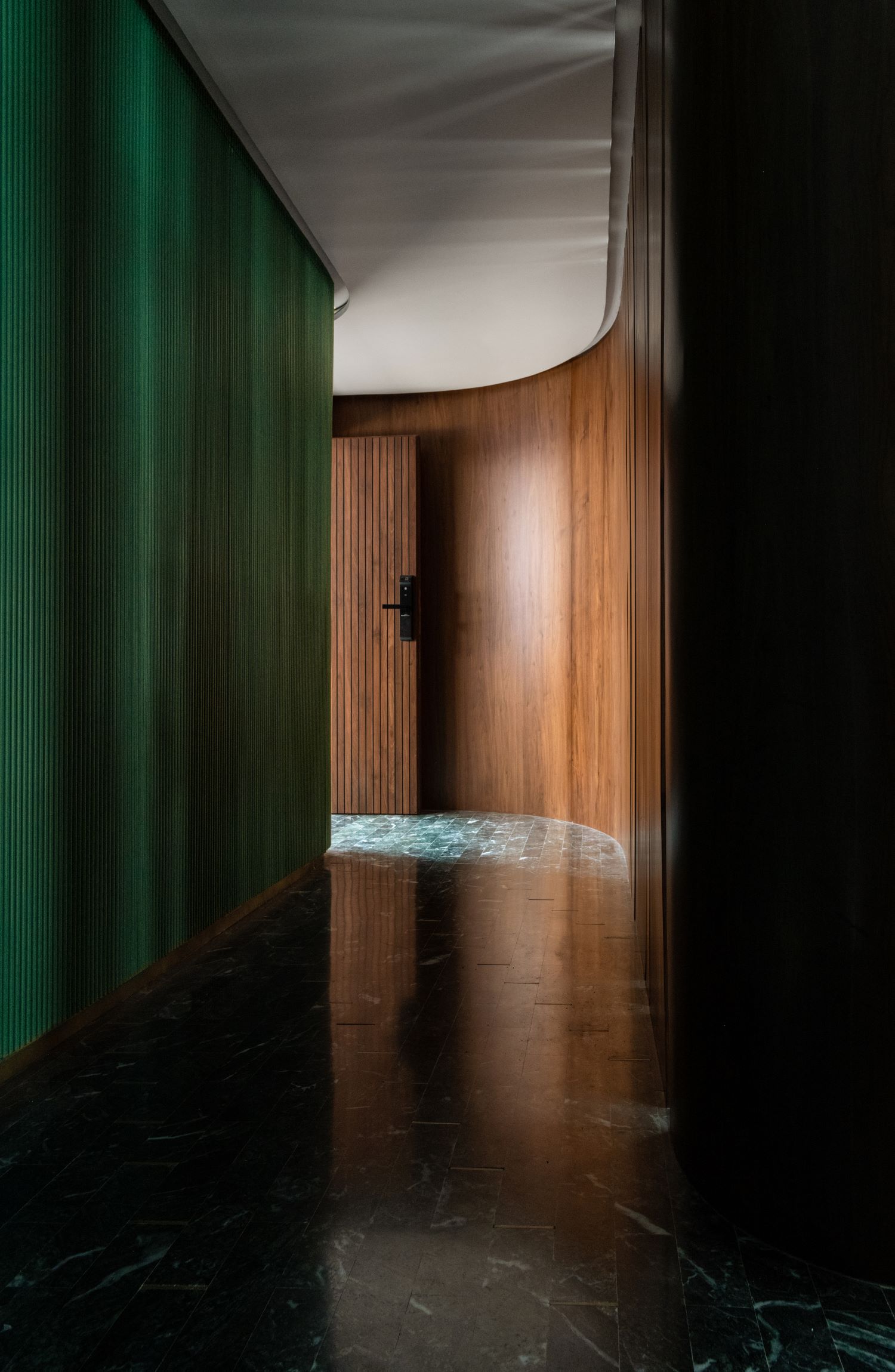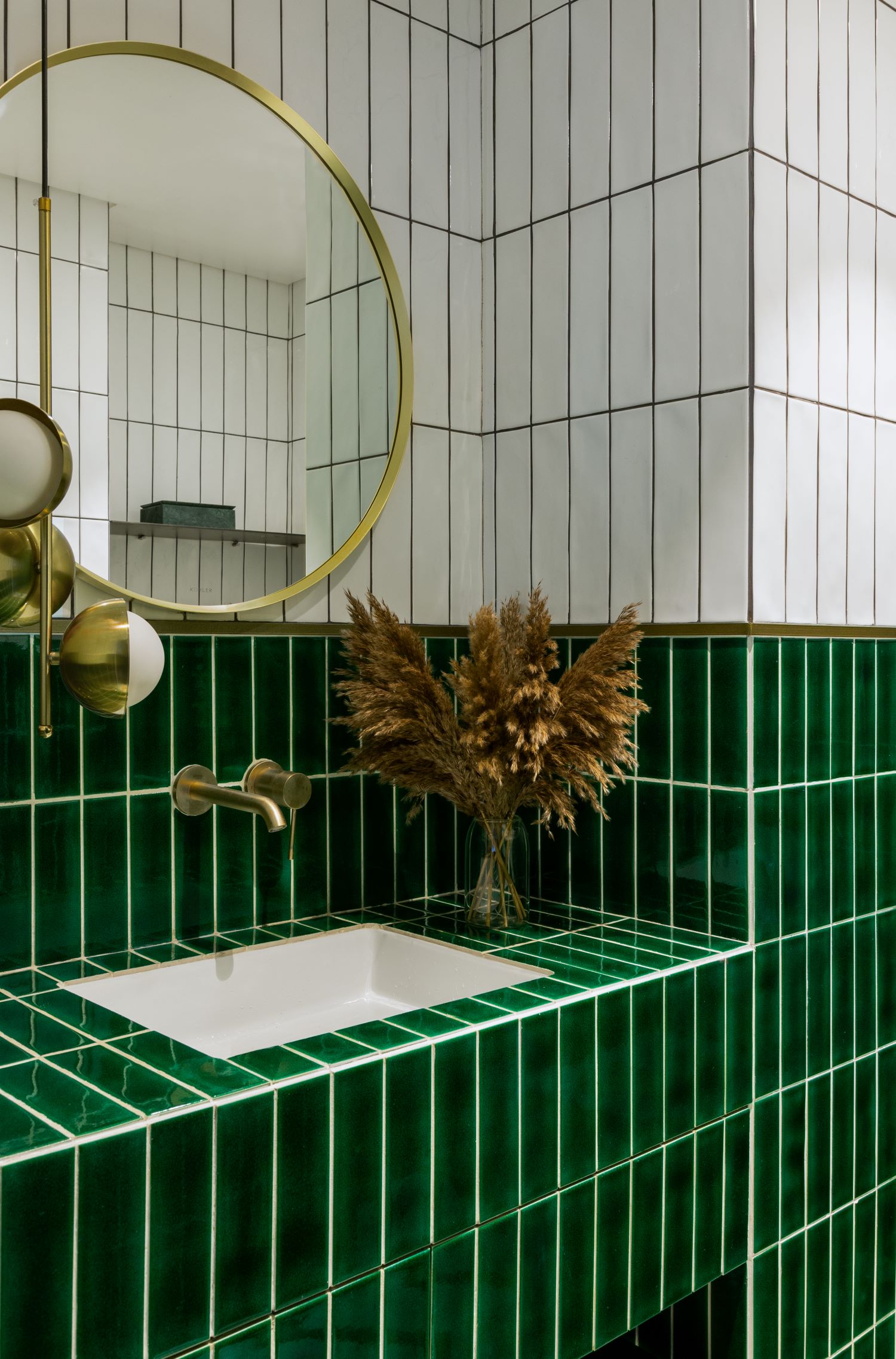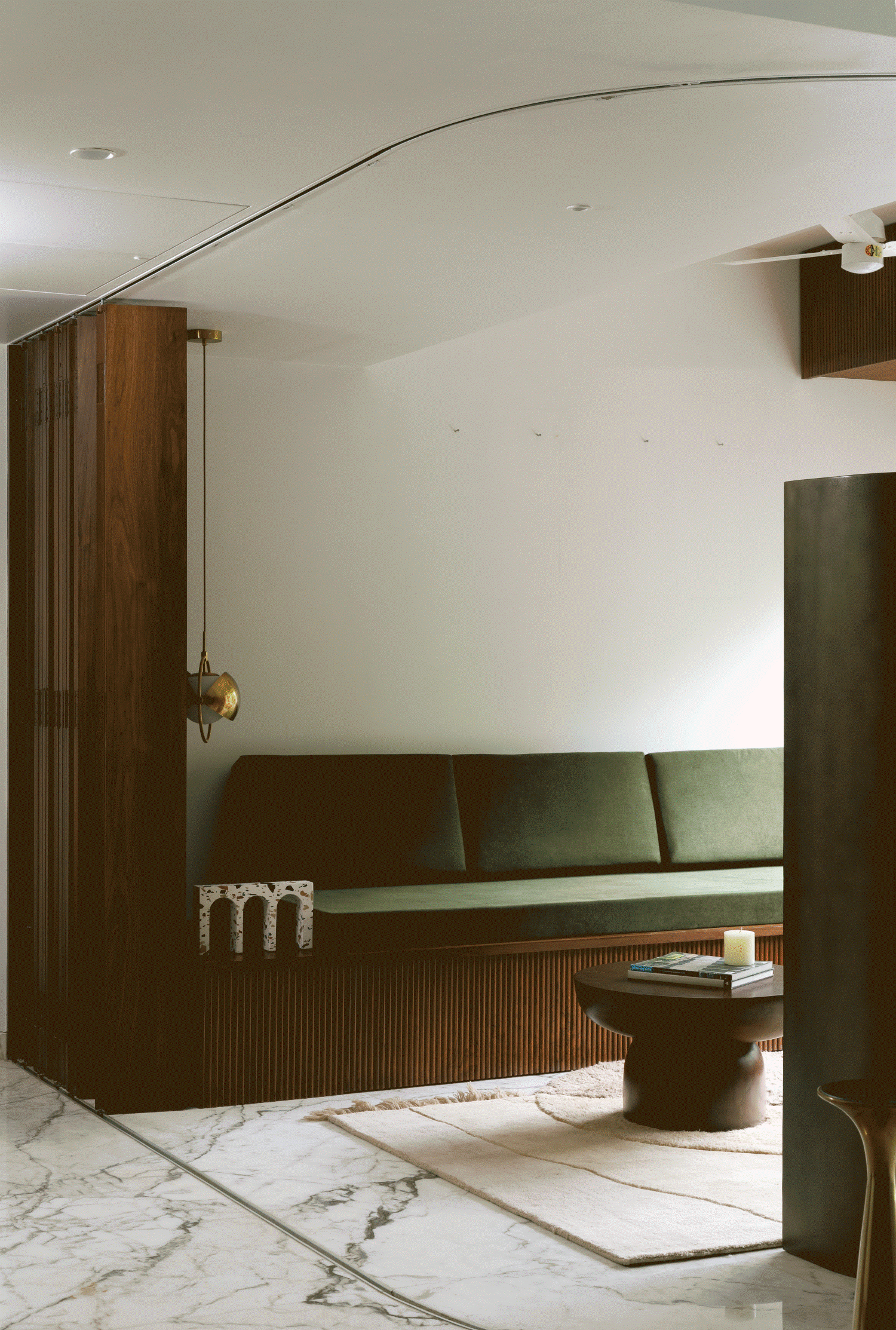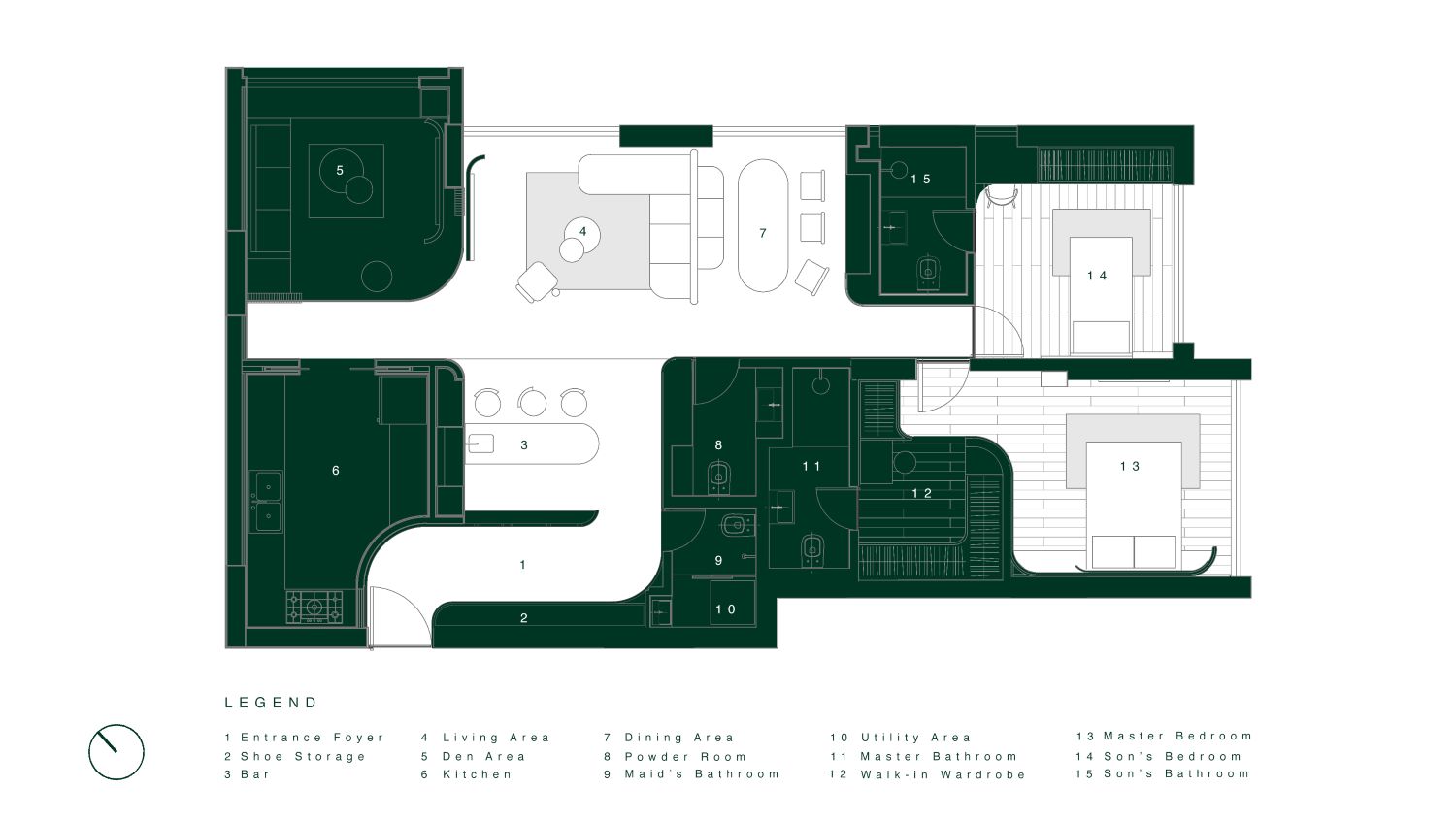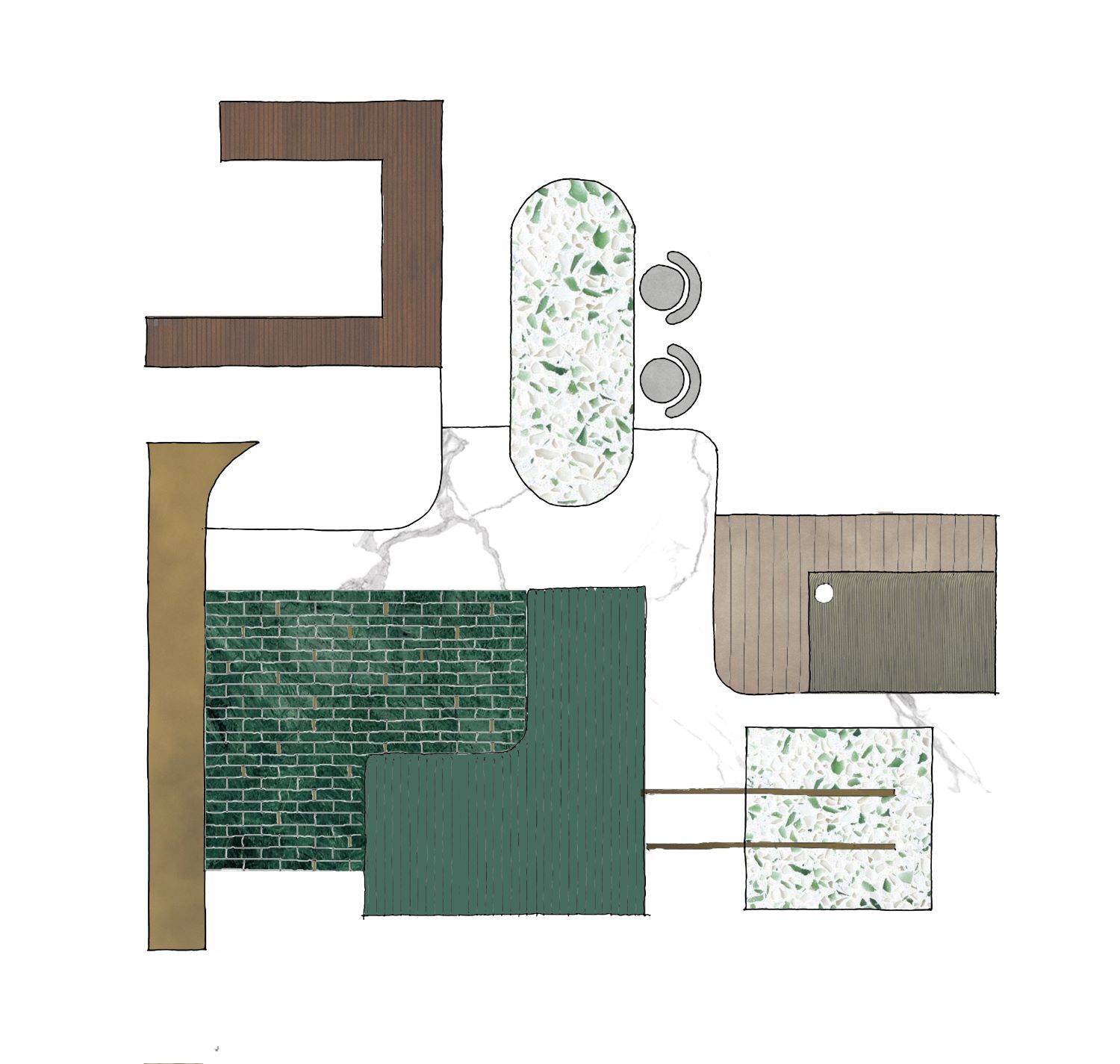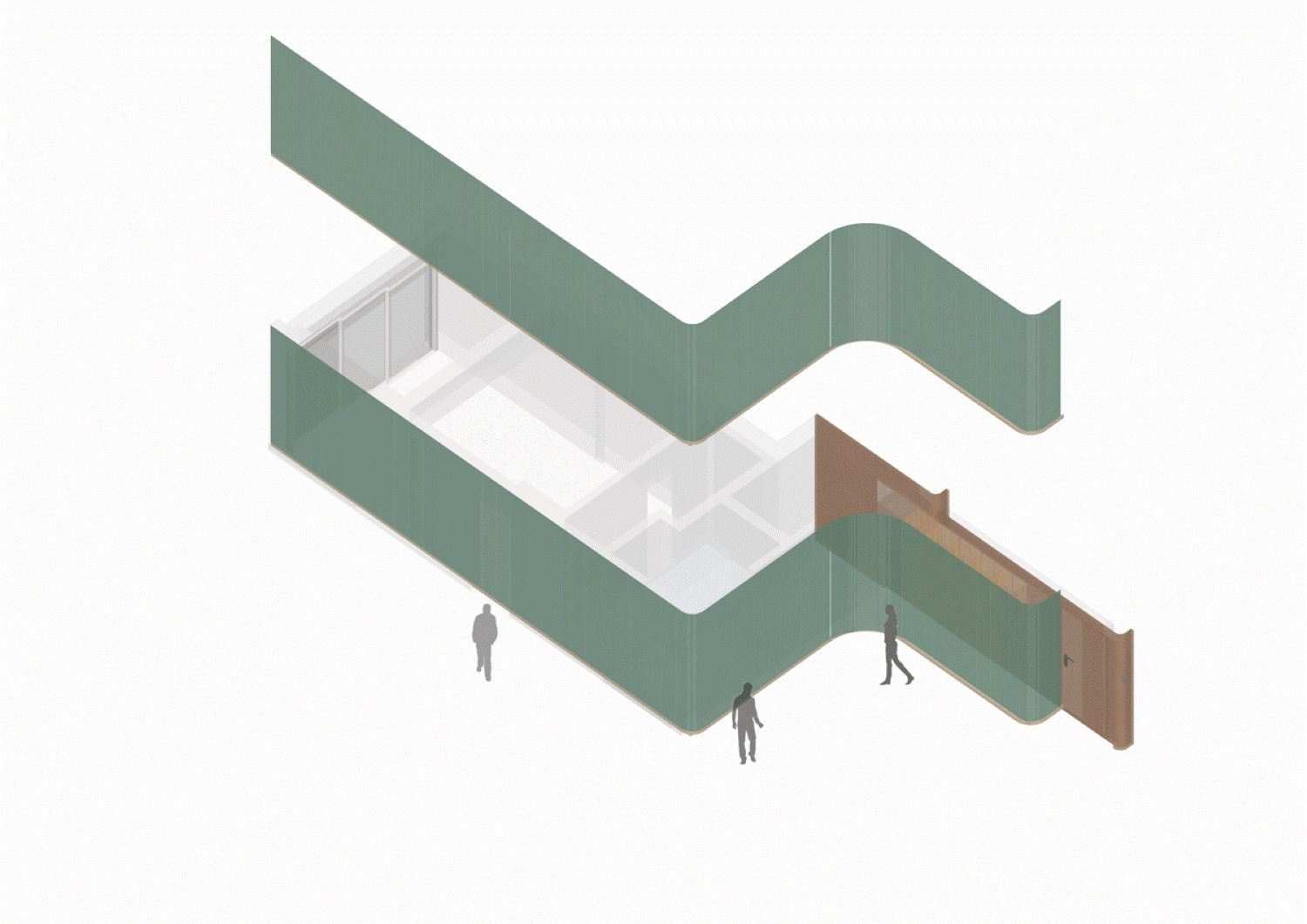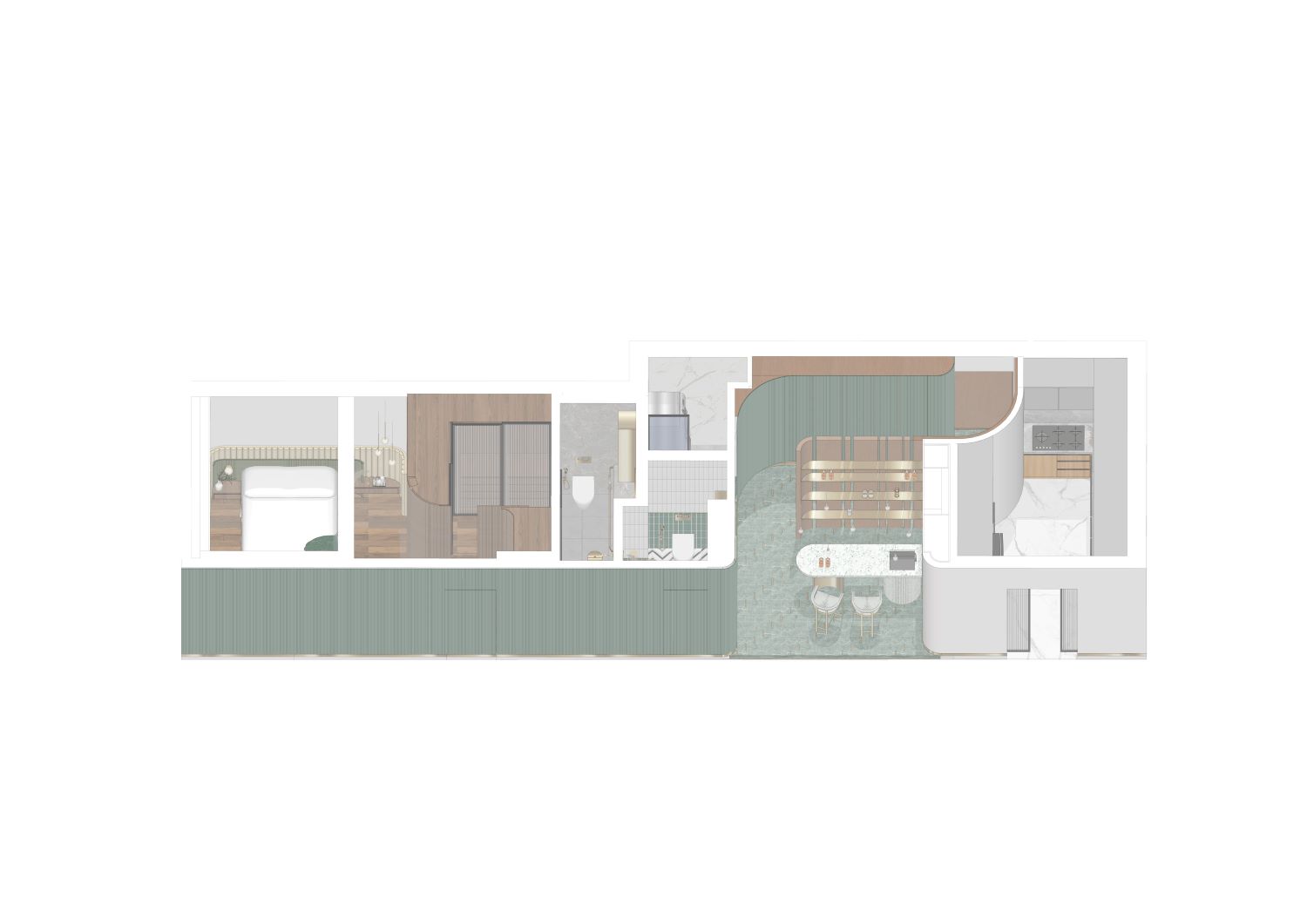 ---