Reparametrize Studio Re-Generate Smart Outdoor Urban Spaces for Extreme Climates.
Reparametrize Studio emulated a new sustainable smart system to cool urban public spaces, facing the challenge of prohibited activities due to extreme climates and direct solar radiation. Oriental past decades curated fascinating Traditional Cooling Systems that succeeded in achieving sustainable and comfortable environments for indoor and outdoor spaces. Therefore, it was the starting point of this intervention on an Urban Area in the City of Abu Dhabi. Creating a system inspired by the Traditional Arab House and Desert Oasis, based on scientific researches, advanced site analysis, anthropology, social studies and teamwork.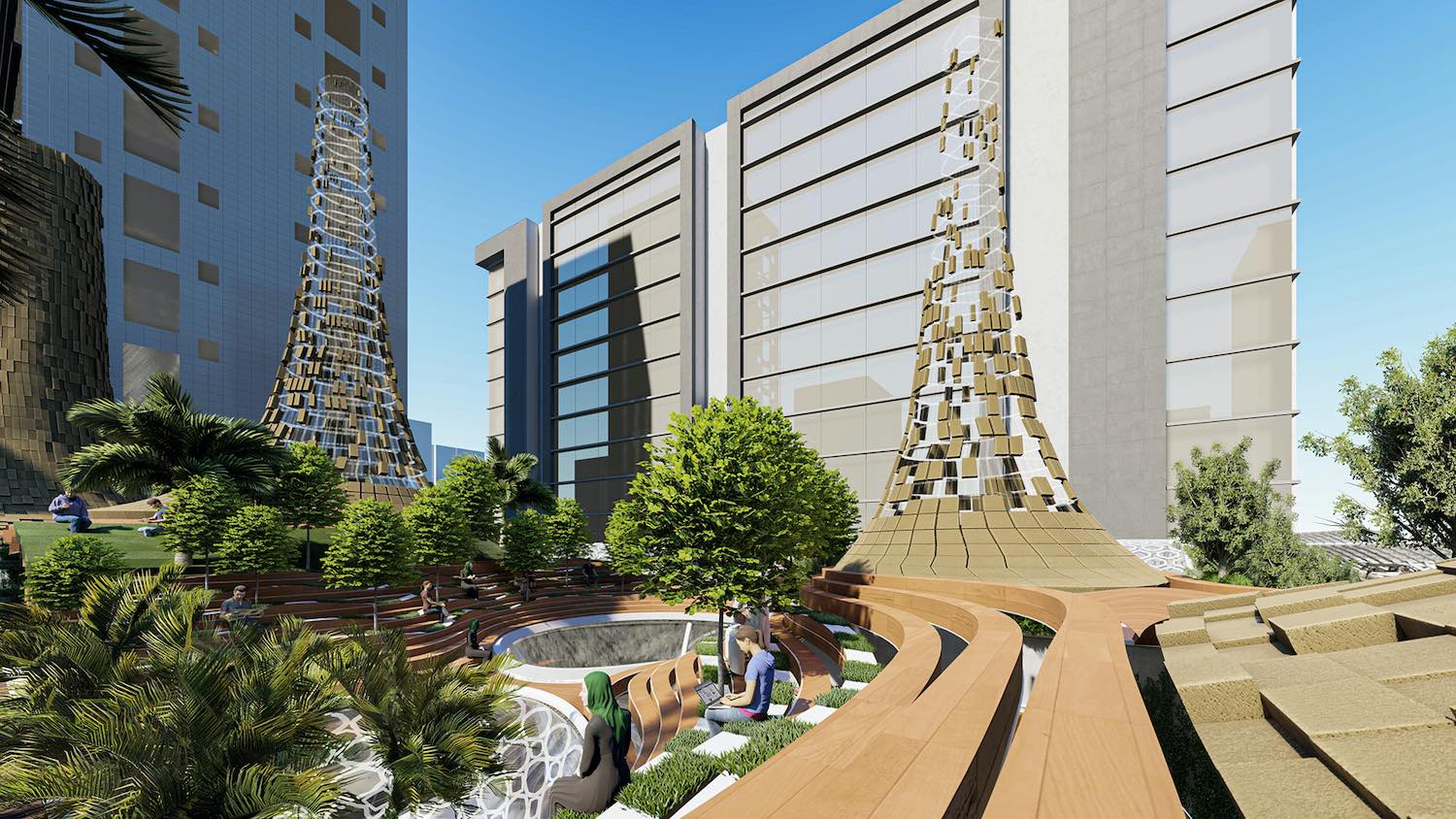 image © Reparametrize Studio
Due to the Urban Heat Island Effect, the city center of Abu Dhabi is estimated to be several degrees warmer than the surrounding natural environment; in addition to high humidity levels, high raise surrounded buildings and direct solar effect. This made activities spend outdoors extremely limited. In this case proposed systems, consumes unaccounted energy amount to cool and cover these plazas which mostly affect urban environment and people.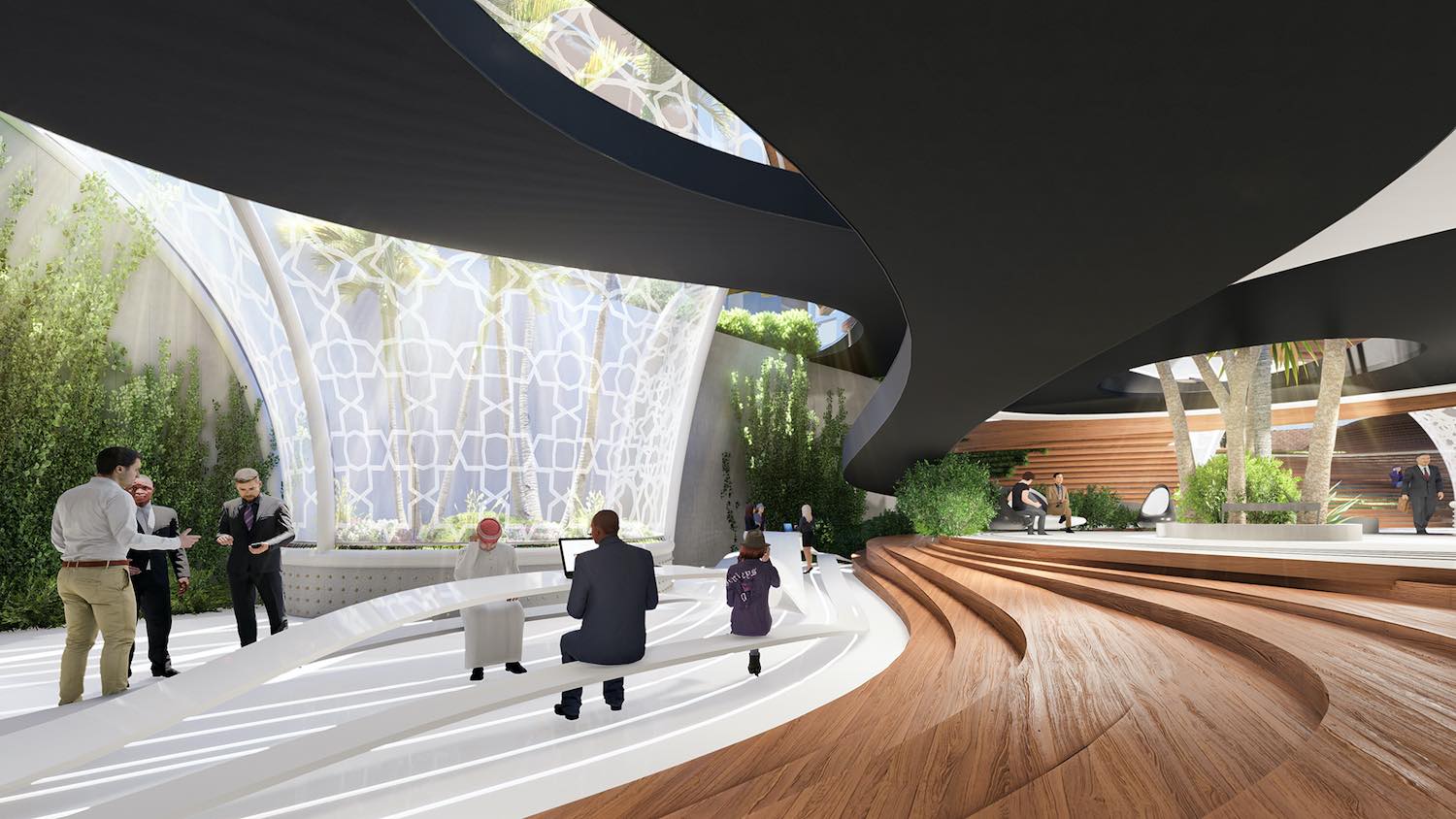 image © Reparametrize Studio
The system created by Reparametrize Studio is a formalizing zero energy outdoor cooling aiming to achieve thermal comfort, it is applied as an underground and rooftop intervention to the plaza, intimidating biomimicry and sustainable design factors to fulfill community needs through diverse of social, cultural and entertainment activities. The curves flow forming an eye-catching atmosphere and an exciting space to discover in urban city neighborhood, creating sustainability through techniques that provide sufficient energy to the site and the adjoining areas.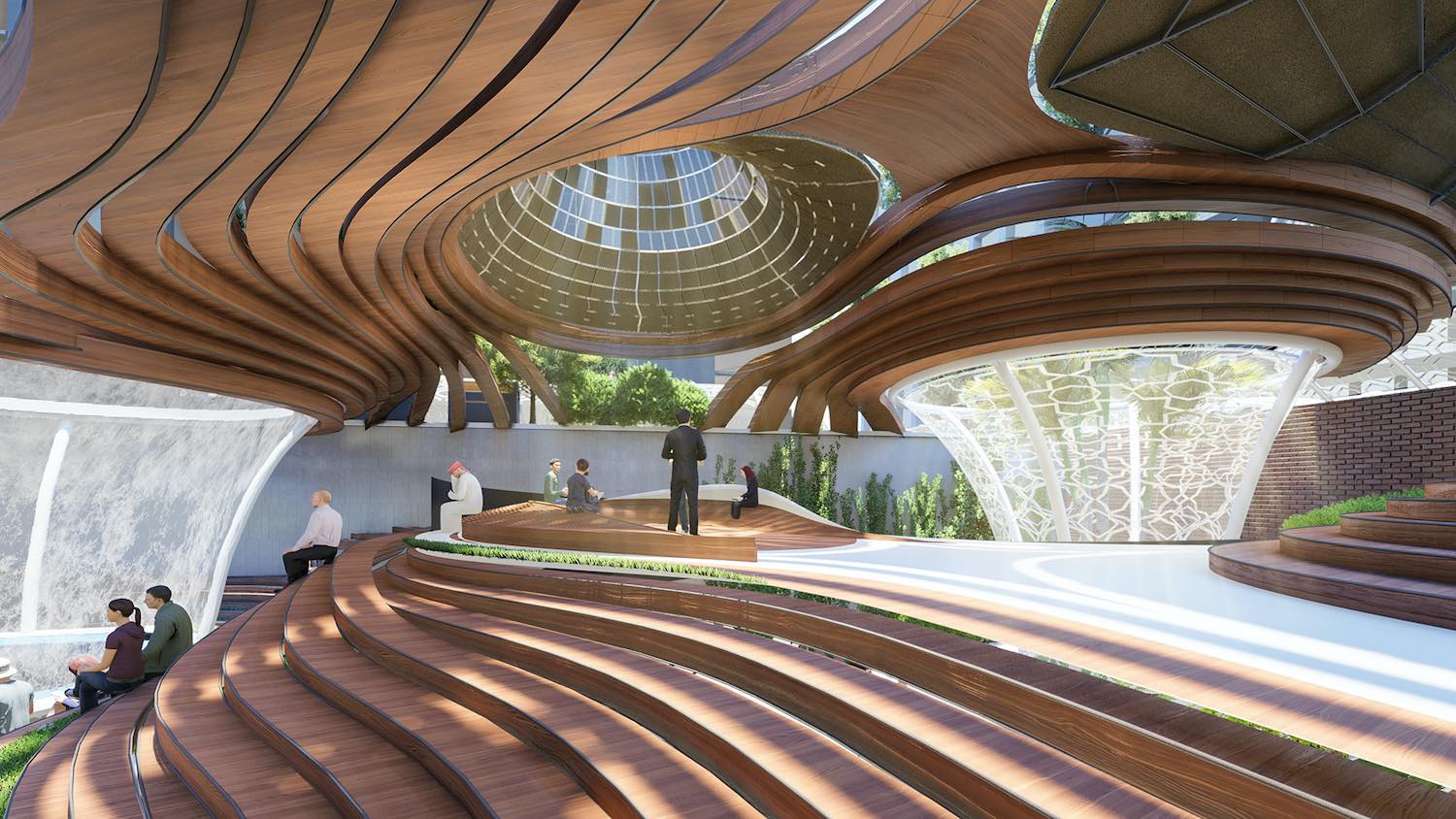 image © Reparametrize Studio
Site Parameters were detected through advanced site analyzations, several environmental problems such as hot and humid atmosphere, the extreme heat stress and high air temperature made the challenge bigger, on the other hand the lack of walking spaces, and the need of an open outdoor green space for employees to have break and socialize is a big investment point, if achieved by a careful considered design intervention to the plaza.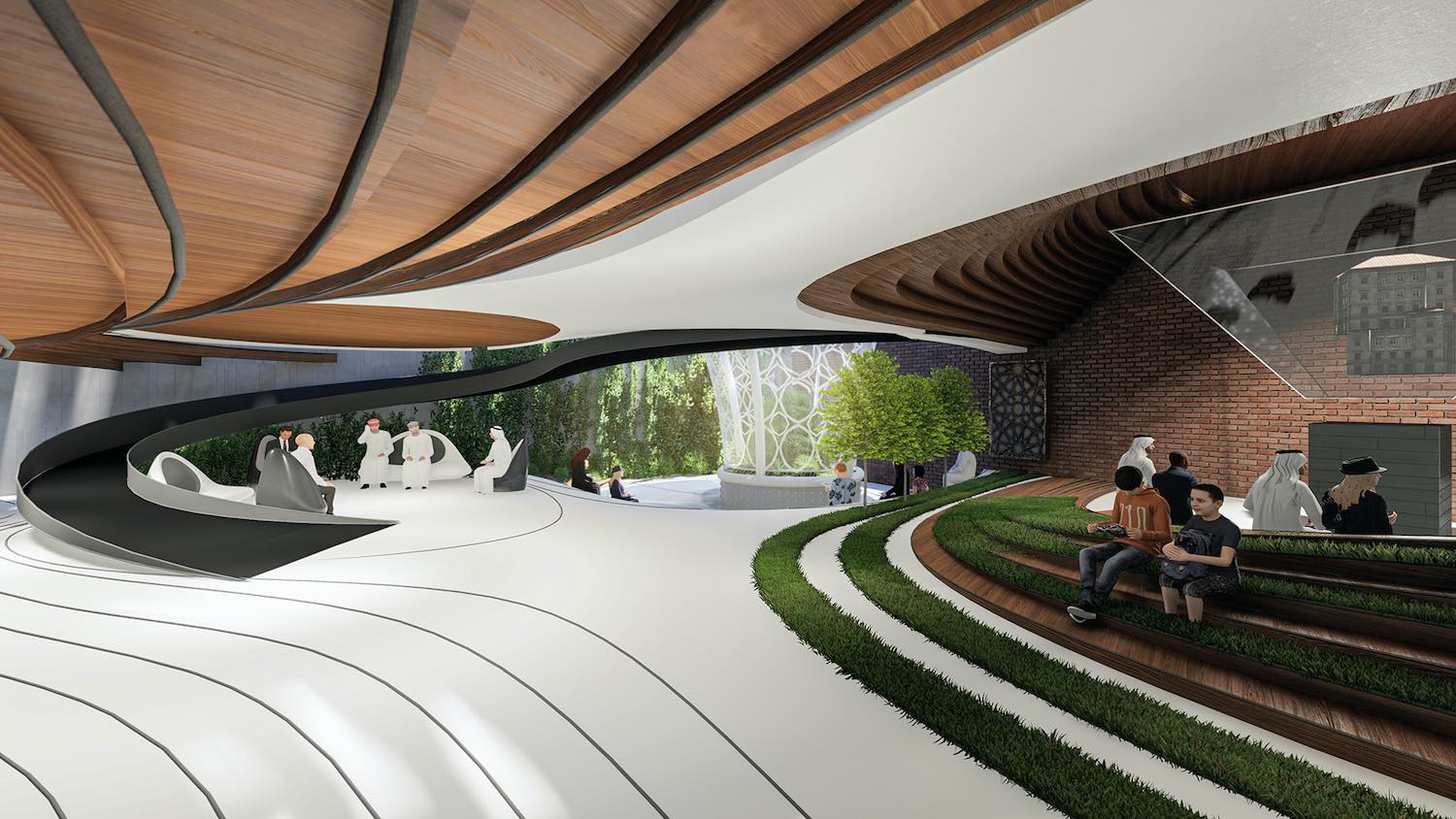 image © Reparametrize Studio
Re-Coding Smart Oasis is an urban outdoor self-sufficient working system, using multiple responsive working elements developed from traditional methods and using today's Smart Technology. Relying on 5 main components: The Cooling system, Sustainable materials, Alternative Energy Systems, Culture and activities, and natural green components. These Systems are revealed using an optimized typology for each unit such as Underground Cooling System, Eco Coolers, and Renewed Wind catchers "The Malqaf".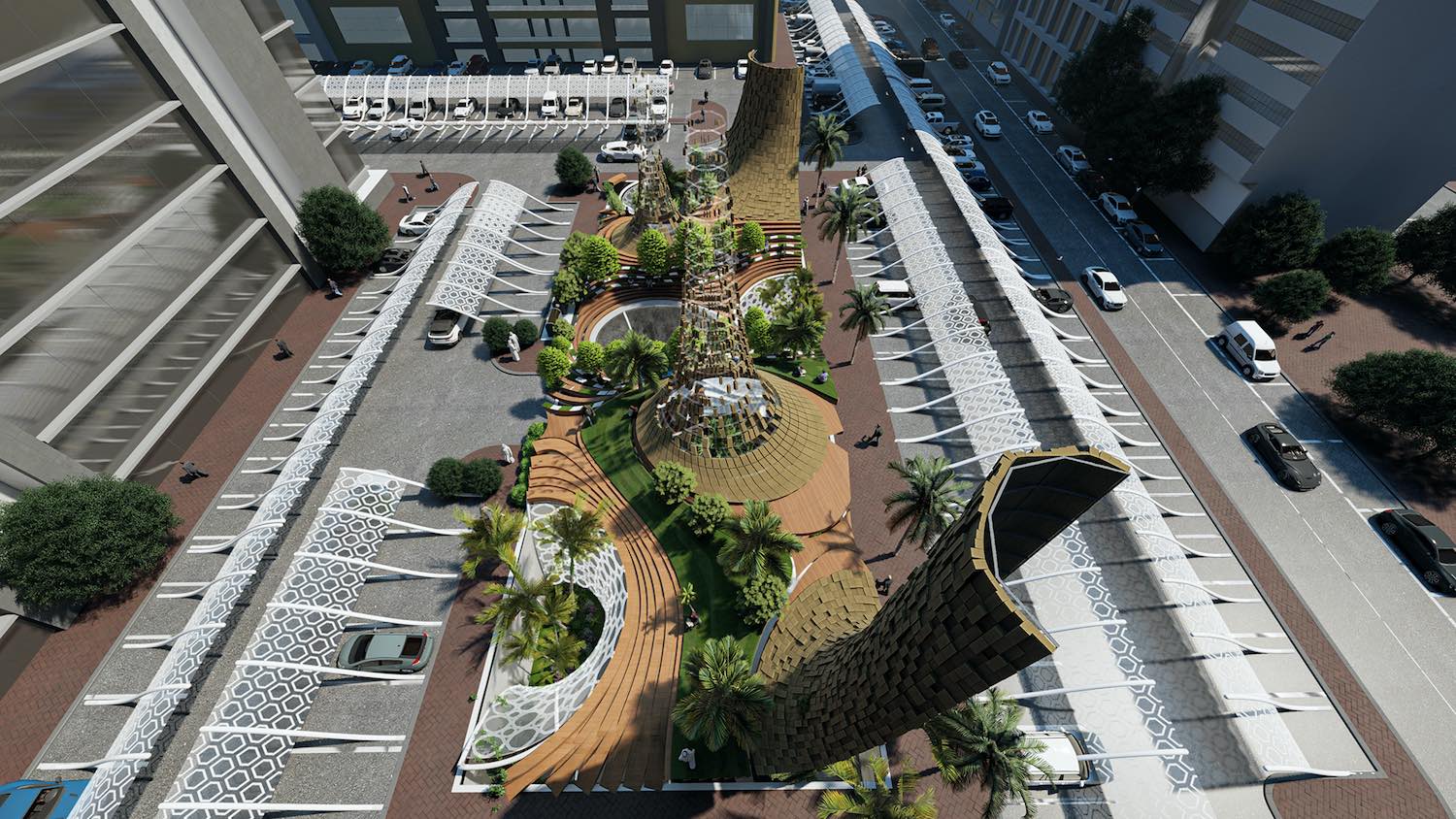 image © Reparametrize Studio
"The project is benefiting from Underground temperature difference and exploitation for cooling "Geothermal Cooling System" To utilize the subterranean cooling creating a space that achieves thermal comfort and preserve cool climate which will be circulated through the wind catcher.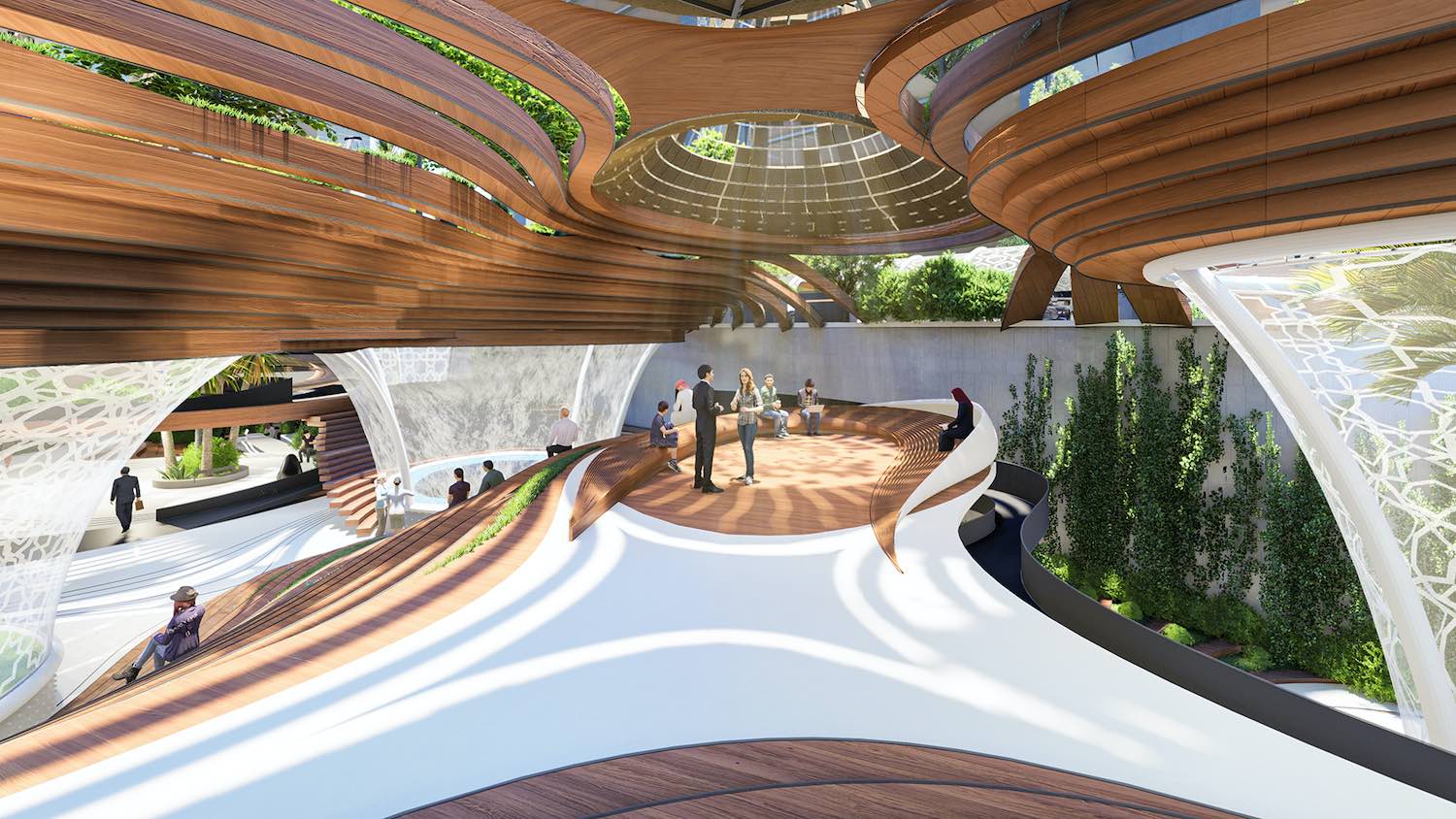 image © Reparametrize Studio
High statement wind catchers create wind flows between the roof top and the underground, by capturing the hot external air and directing it to the internal site and the roof top through a combination of materials consisting of Primary steel structure, wire cooper mesh, and ceramic cool porous bricks.
Cooper wire meshes extract humidity from the external environment; while the brick cools the flowing air through the material, therefore, cooling the surrounding environment on the roof top. The wind catcher has a downward opening to direct the flowing wind to the underground through cool bricks which react with evaporation, consisting of 3D printed porous ceramic bricks set in mortar, each brick absorbs water like a sponge and is constructed as a three-dimensional lattice allowing air to move through.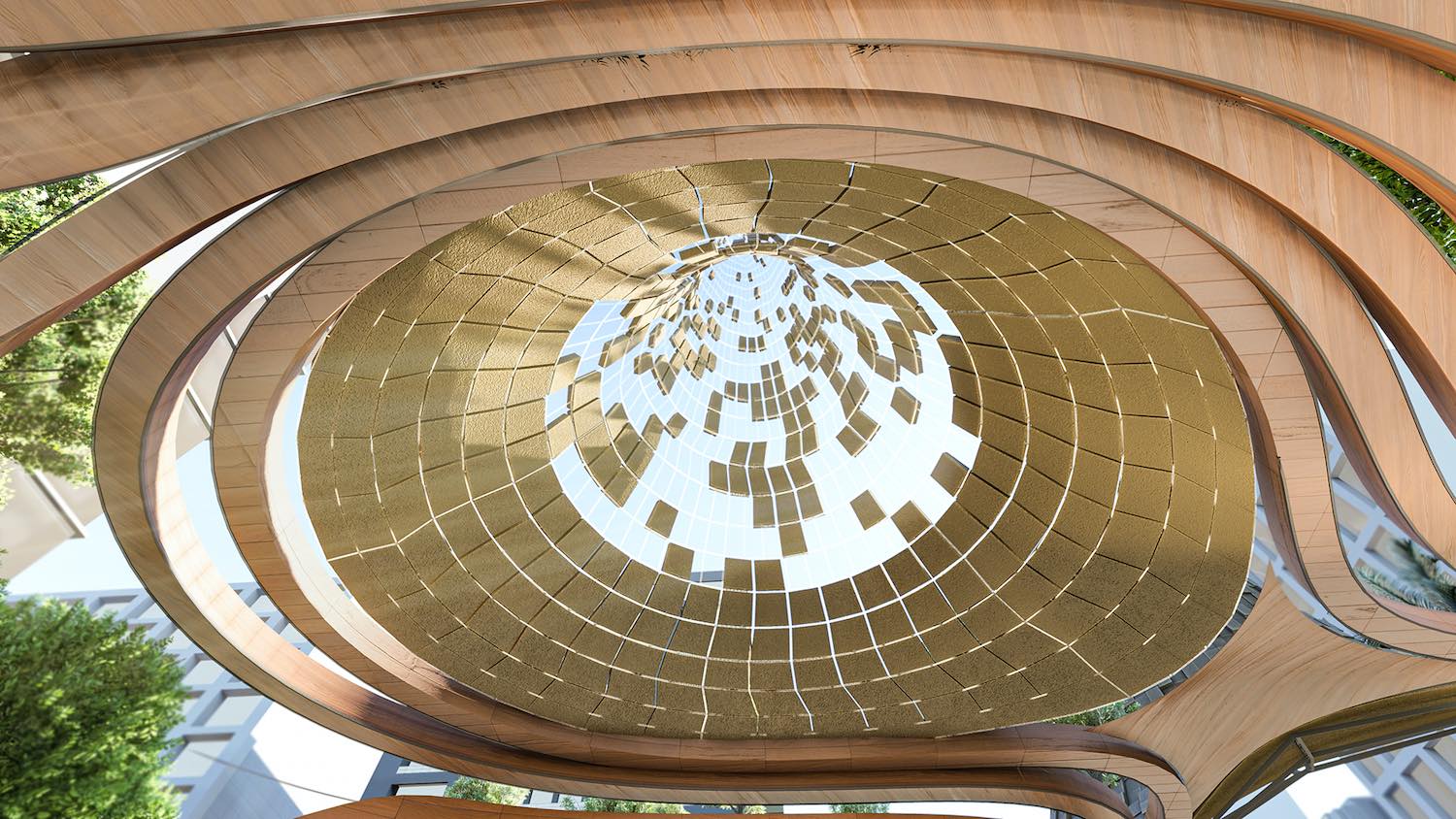 image © Reparametrize Studio
High raised Wind towers as well are built parallel to the wind catchers from the same responsive materials, built on the roof top to provide shading, and using the same cooling system, allowing natural sun light radiation to the underground level through its transparency.
"Cooling Unit works as an Artificial Oasis; it was envisioned to be built in the centre of the site on the underground level." –Reparametrize Studio. The diameter of the oasis is 4 meters while the depth is 40 cm. The Oasis will work as evaporative cooling system. Water falls smoothly from the roof top centre pond into the artificial oasis on the underground level. It will work as a water body for the roof top and as an evaporative system for the plaza.
image © Reparametrize Studio
Relying on a low-tech method used in the base of the cooling unit, consist of a basic a bottle shape like called zero energy eco-coolers , applied on the bottom of the pillars on a height of 1.5 meters to allow the underground cooling canal to flow through it. Adding the Photonic Tensile Fabric coated by polyester will allow air flow to move through the bottom part of the pillar which is separated from the upper part by the photonic tensile. In every Pillar there is a tree planted to provide the built environment concept and evaporative cooling system to the site. There are four eco-cooler pillars, distributing air flow and cool air to the underground site. The upper part of the pillar is made up of photonic tensile material, while the bottom part is made up using primary structural material and ThermaSmart Pro Tube.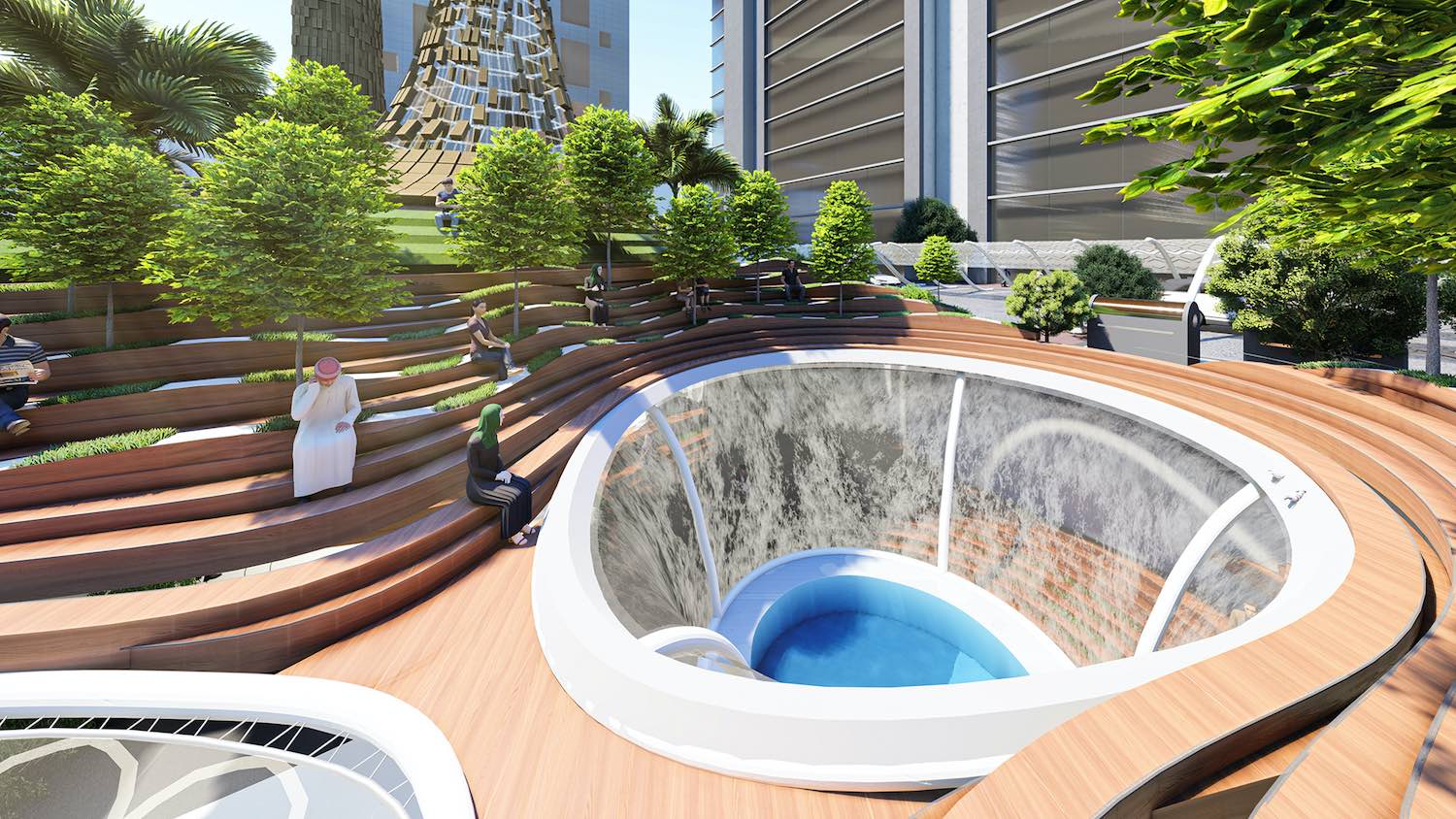 image © Reparametrize Studio
The wide cylinder openings on the outside, catches the warm air to bring it into and through the small neck tube and release it as cool air. As the area of the tube decreases the pressure increases to cool down the air temperature and suppress it to the directed area. Eco cooler pillars are connected to underground cooling canals openings to provide extra cooling to the system. It inhibits loss of energy in pipes, minimizes noise from the flow and prevents from mechanical damage.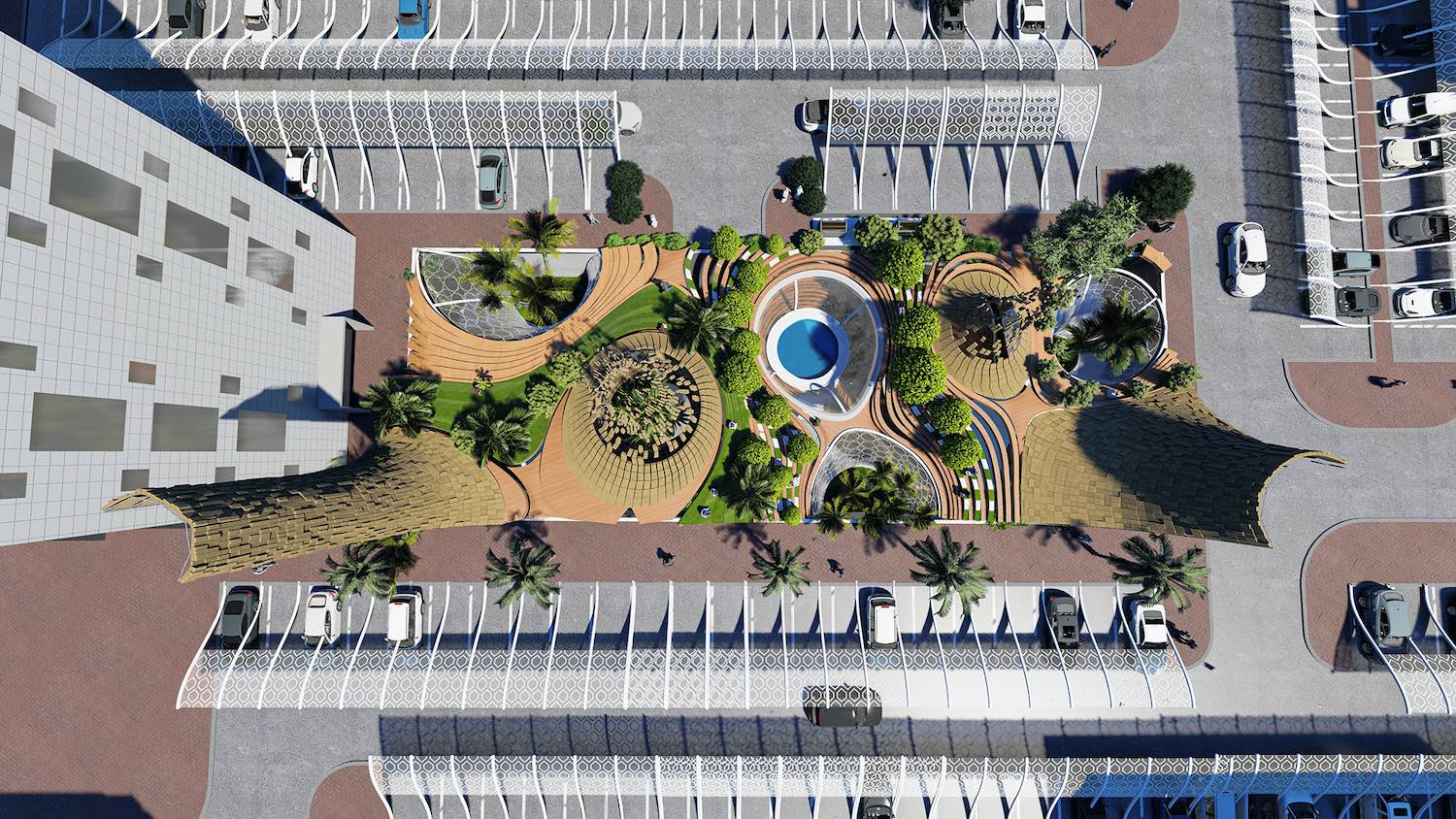 image © Reparametrize Studio
The pump ensures air flow and distribution of the cooled air, providing the underground water (10 -23 degrees) to cool the external hot air and distribute it to the eco cooler's pillars equally. Cooling canals catches the external warm wind to direct it to the underground geothermal system; therefore, the cooled wind is guided to the eco cooler pillars through the provided openings.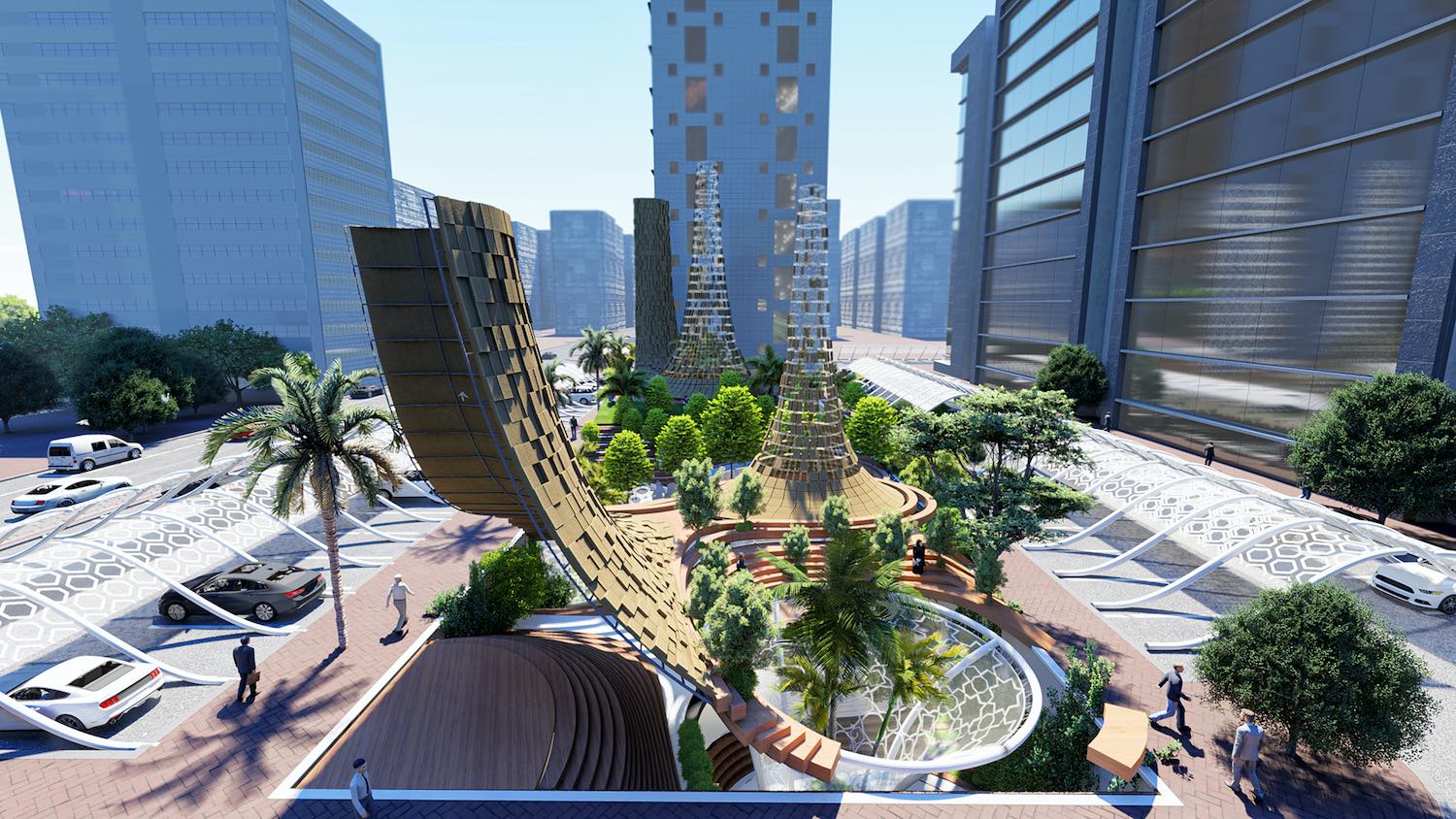 image © Reparametrize Studio
People will have access to both levels easily, providing shaded areas as the lattice ceiling will be the roof top of the system to provide natural light and shading to the underground level. Fluid Kerto-Q Laminated veneer lumber (LVL), this material made of bonded softwood veneers for use in buildings and bridges as structural or non-structural elements. Flowing along and giving a semi-transparent experience, by using Double Low-E Glass.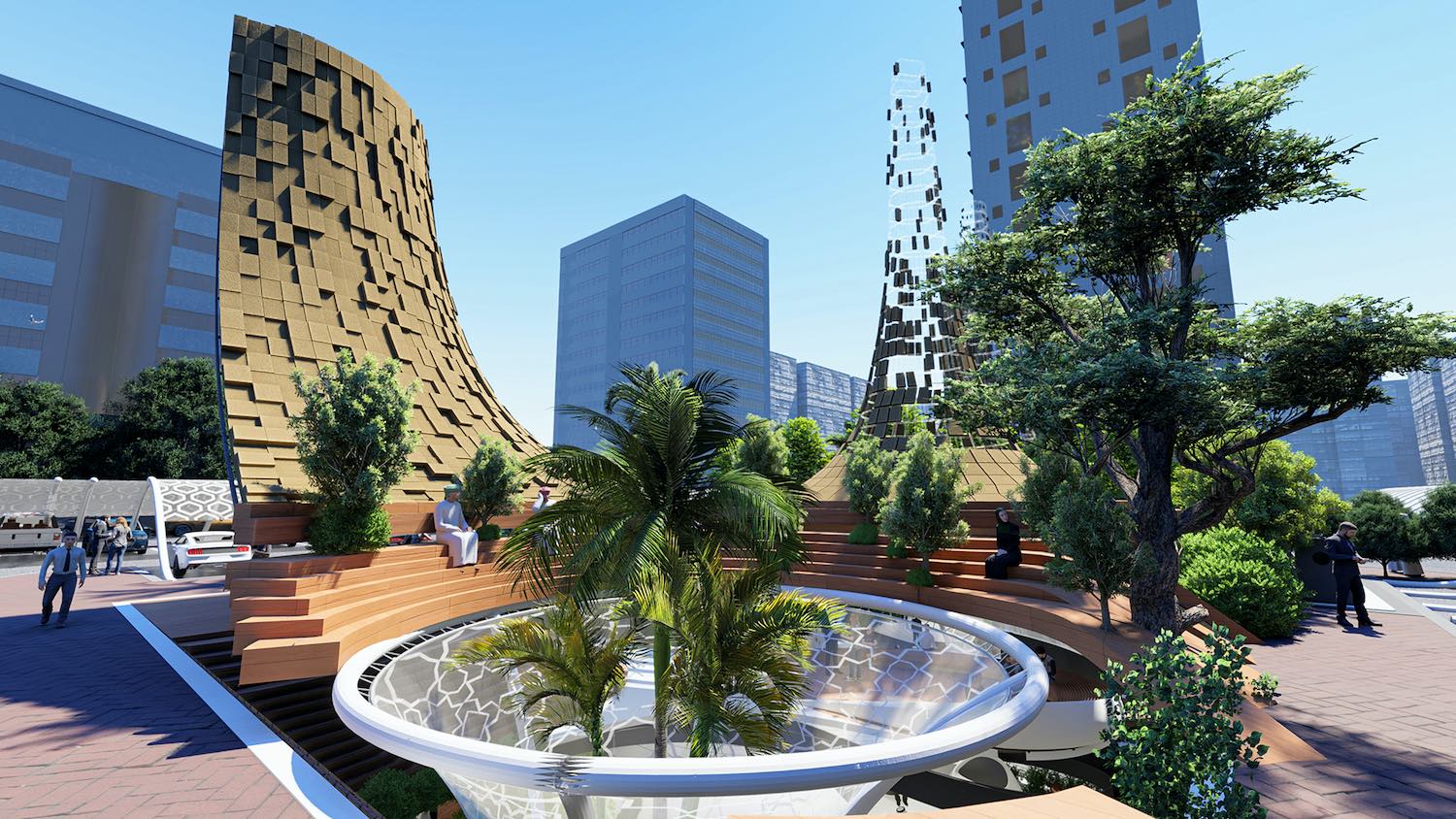 image © Reparametrize Studio
"Re-Coding Smart Oasis Rely on Smart Technology to keep the system responding and working under control, benefiting from the movement of people to generate power from pressure." – Bilal Baghdadi Co-Founder of Reparametrize Studio.
The Piezoelectric transducers used as an alternative energy system to the site's service. Moreover, smart sensor solutions provide detailed and reliable data on key environmental parameters such as humidity, temperature, volatile organic compounds (VOCs), particulate matter (PM2.5), and CO2. "Environmental Sensing opens up new possibilities to create smarter devices that improve human thermal comfort and well-being as well as increase energy efficiency in a wide variety of applications." – Ziwar Al Nouri , Founder of Reparametrize Studio.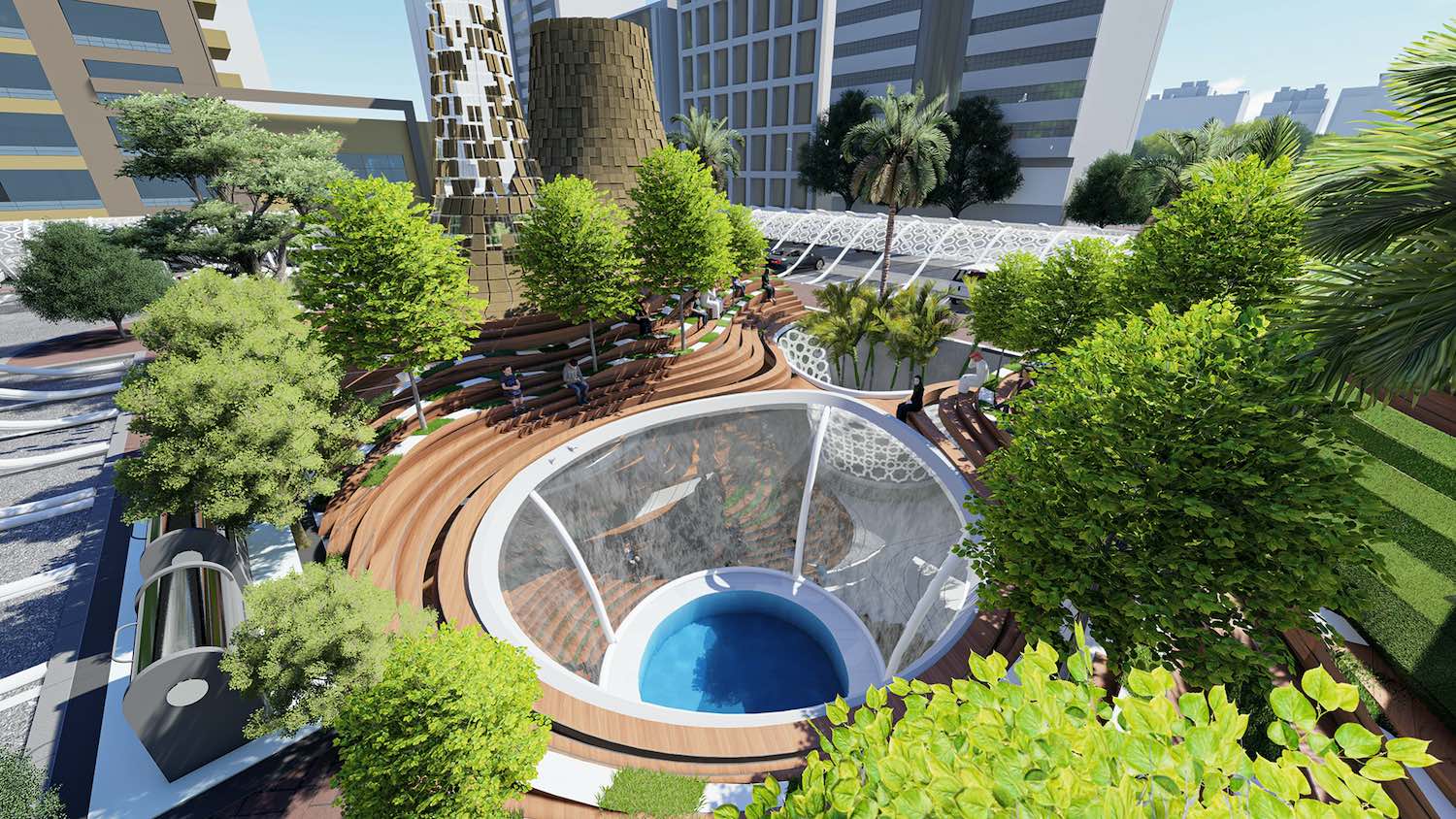 image © Reparametrize Studio
"Reparametrize studio aim to exploit the possibilities of using this smart technique for sustainable approaches", moreover, they have studied new ways to lower bad emissions of trash containers by storing them automatically under the ground using a smart controlling system, which facilitates the recycling process.
The artificial oasis rises from green trees, such as Ghaf and Palm trees. Vegetation have an important role encouraging people to start interacting with nature, in the new plaza they can plant flowers and small plants such as rosemary, Kale, Okra, Broccoli, Romanesco Cauliflower, corn, and eggplants, which are suitable for the hot weather. The social activities on the roof top will include urban farm, café, meeting areas, and planted benches.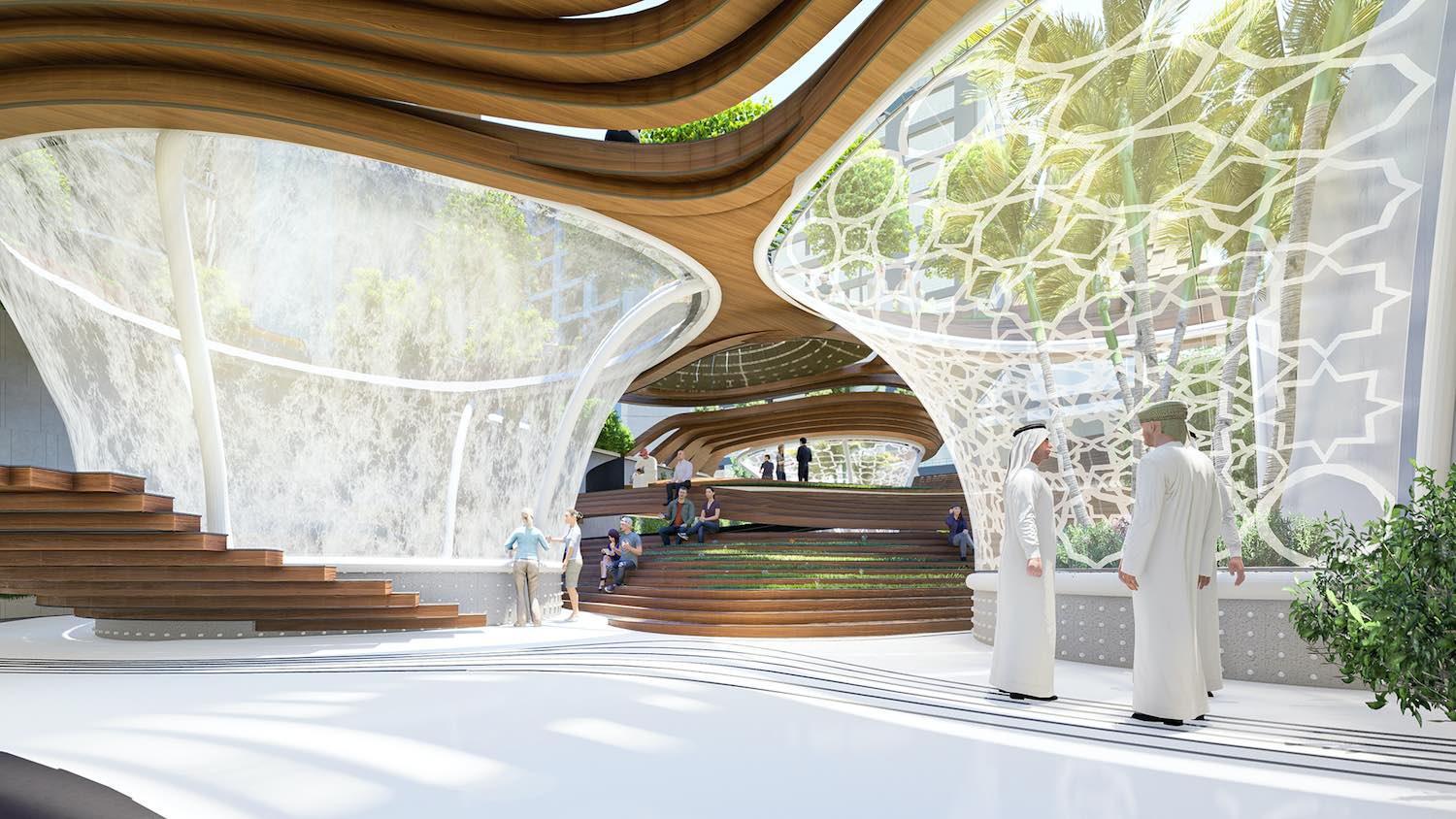 image © Reparametrize Studio
Underground level has Vertical ramps, playground, library, theatre, farm, semi-private meeting areas, café, falling plants, falling water and benches. The design ensures a full accessibility to all people including (elderlies, people of determination, children etc..).
Car Parking areas contribute in the heat island issue of Abu Dhabi, these areas take wide urban spaces and emit more heat to the surrounding. In order to work with this issue, the parking lot was covered with an integrated smart unit to benefit from direct solar radiation made from cooper wire mesh and solar cells covered by Tensile Fabric. The solar cells will be used as an alternative energy provider to the site services and the surrounding areas. In addition, the panels to absorb solar radiation to generate power for heating, and car charging service.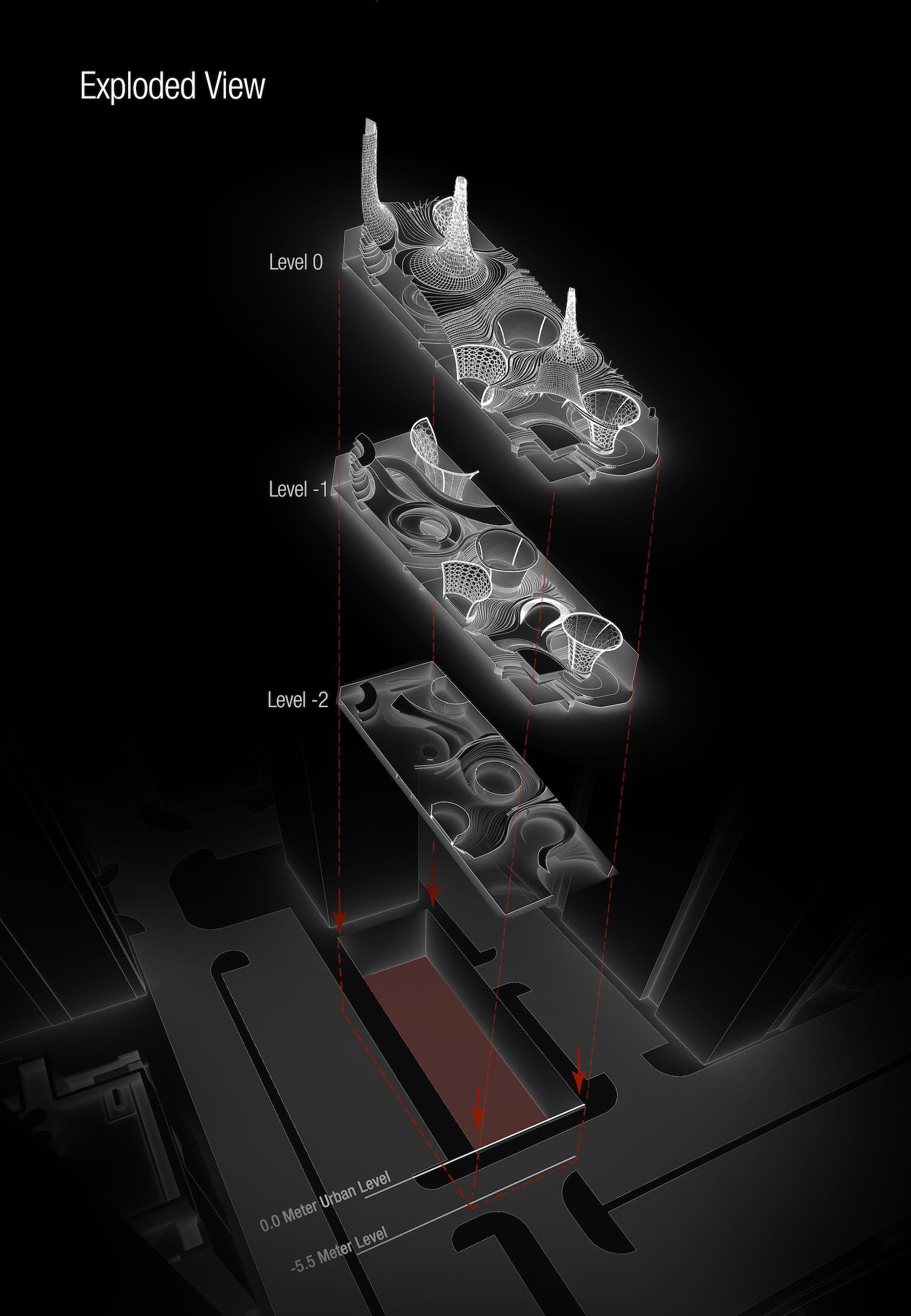 Exploded view
"Reparametrize Studio is working to developed Systems that can form a Green Vital Core to support urban areas, resulting in a much more sustainable smart redevelopment which can be applied repetitively in the city and integrate with time and people."
They are enriching their digital routes within a new format of Re-Coding, showing a readiness to adopt new design and communication tools, sustainable strategies, and business models. This attitude allows them to remain flexible and absorb various cultural and technological shifts.
Re-Coding Smart Oasis is aiming to give a new recognizable identity for the plaza, aiming to achieve thermal comfort and increasing the quality of everyday life for residents, children and employees.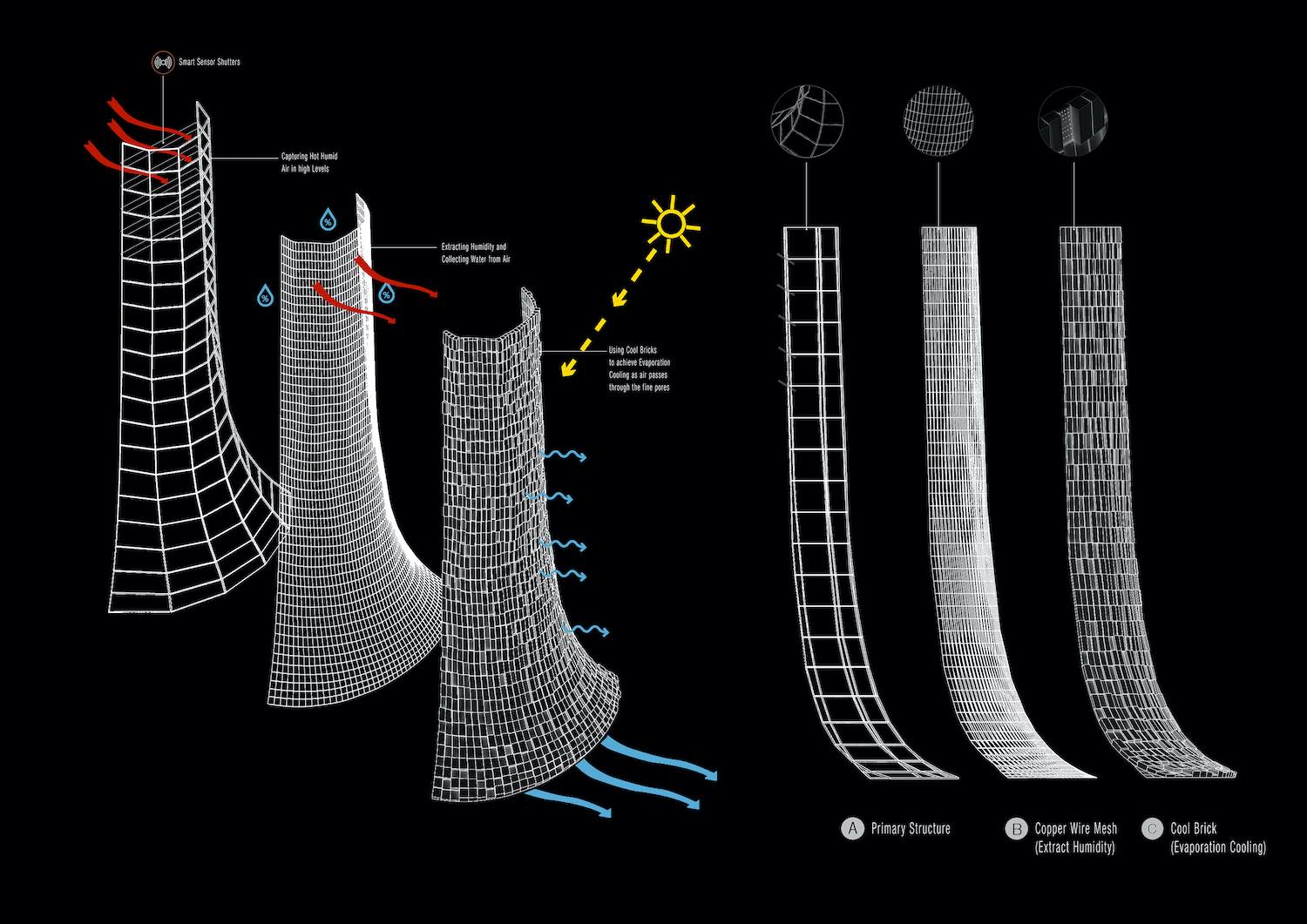 Malqaf Unit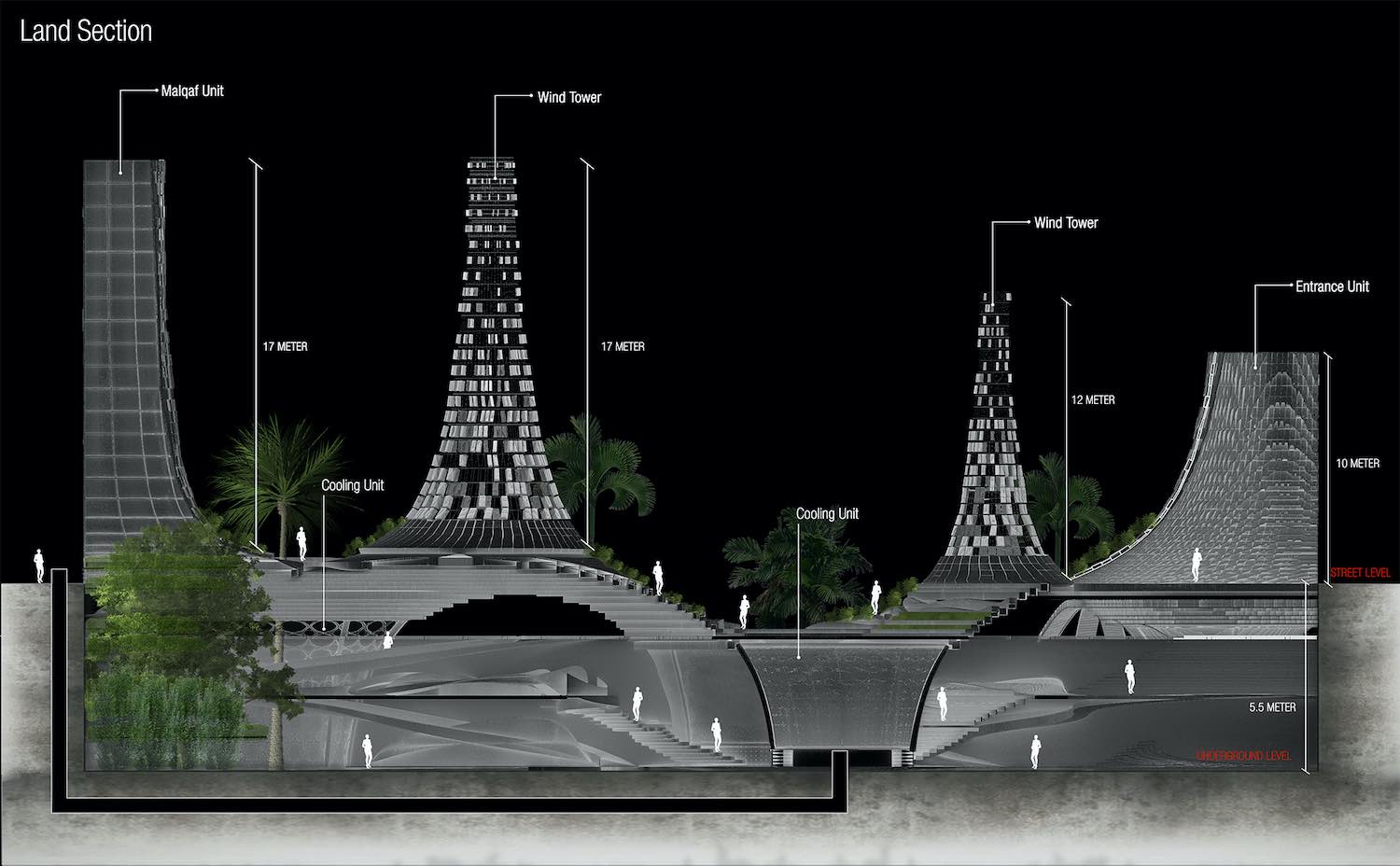 Land Section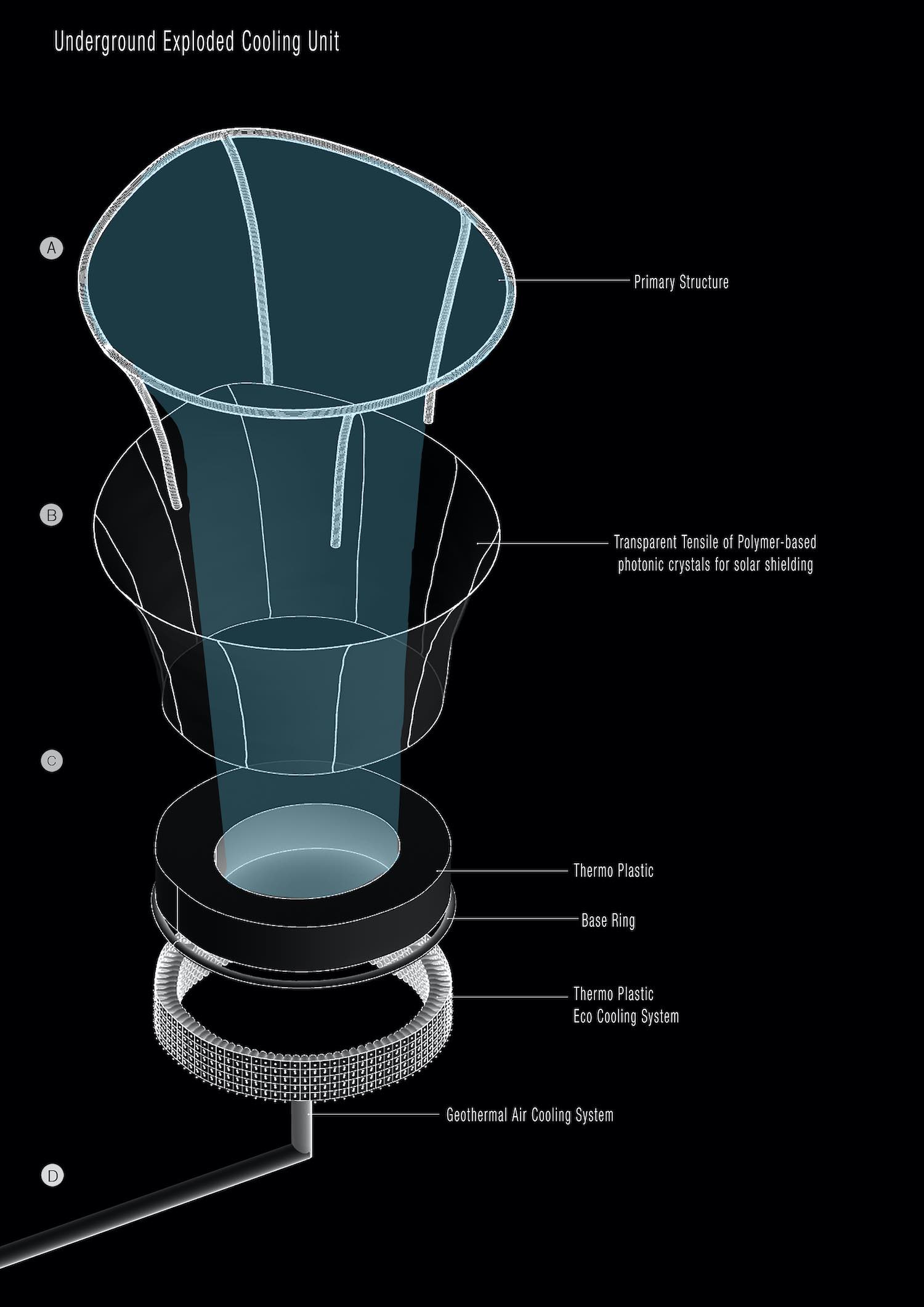 Underground Exploded Cooling Unit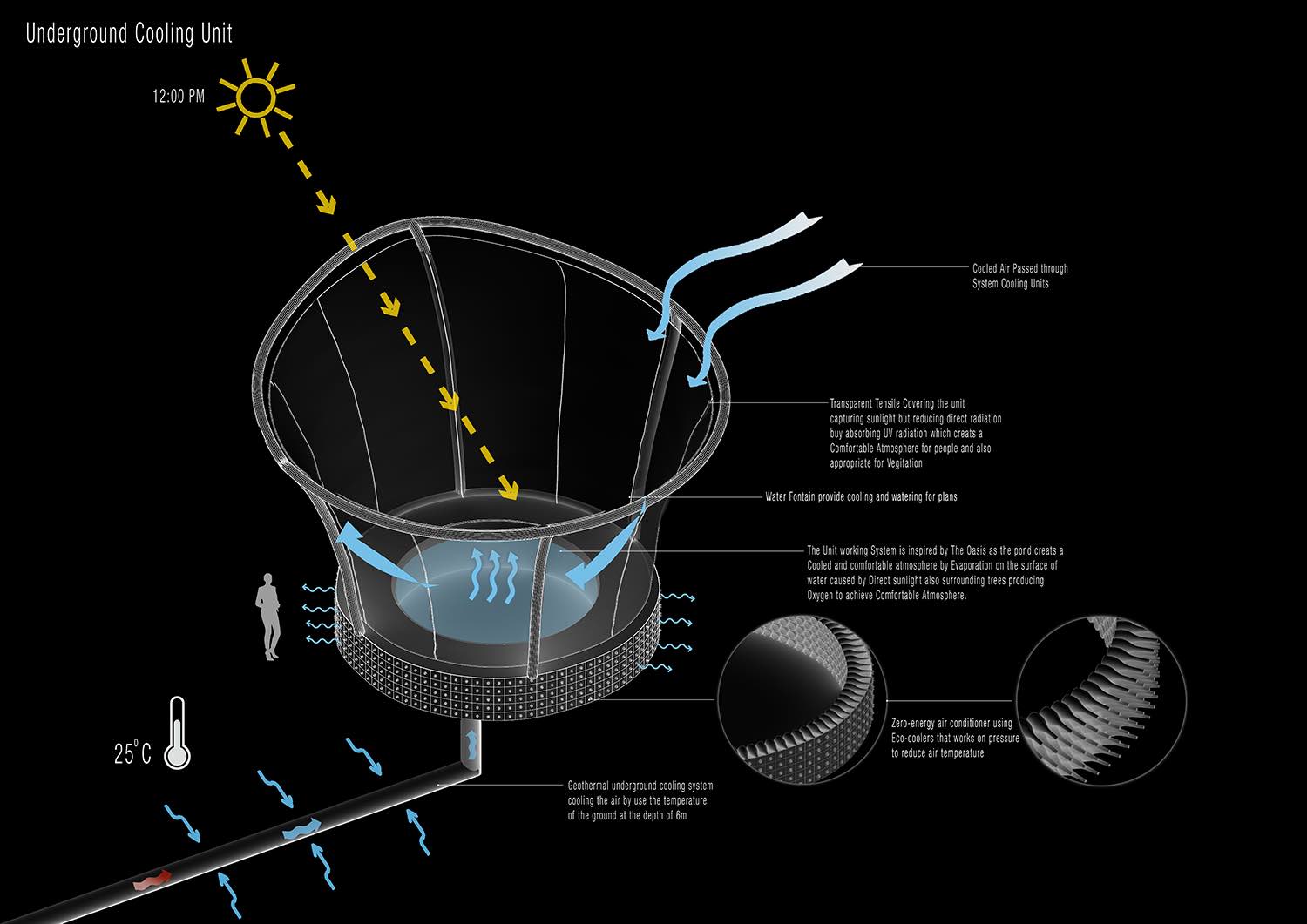 Underground Cooling Unit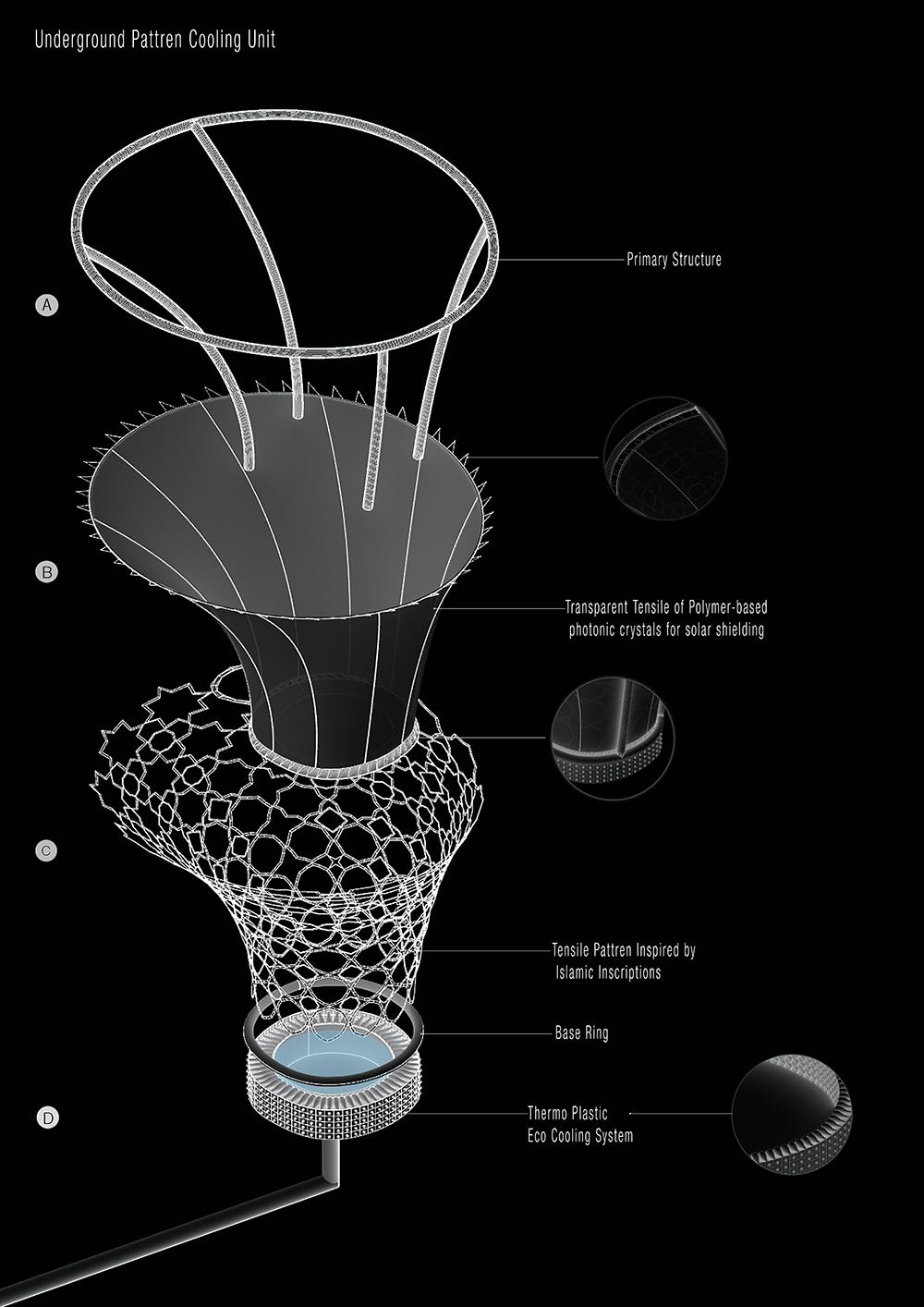 Underground Pattern Cooling Unit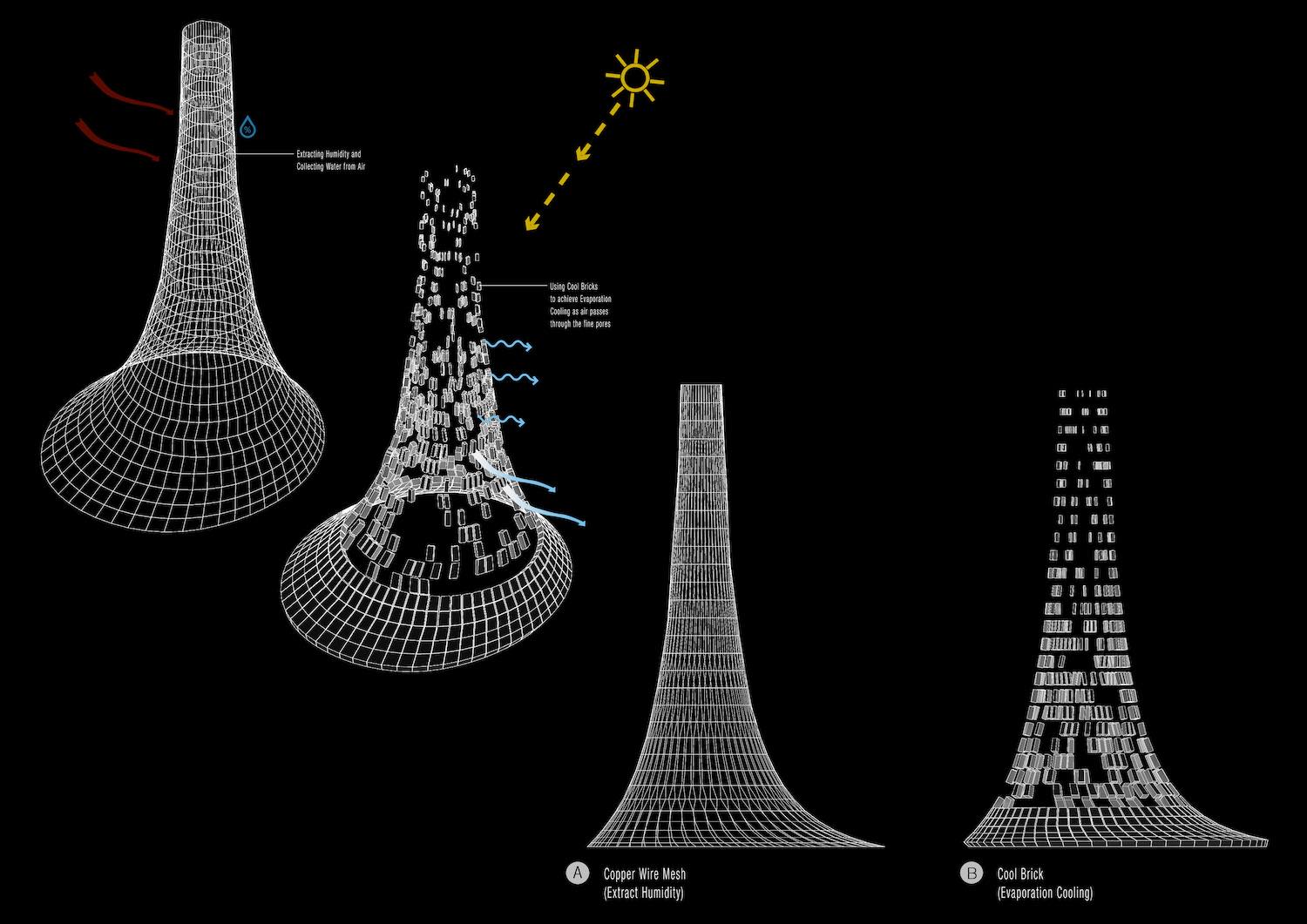 Cooling Unit Tower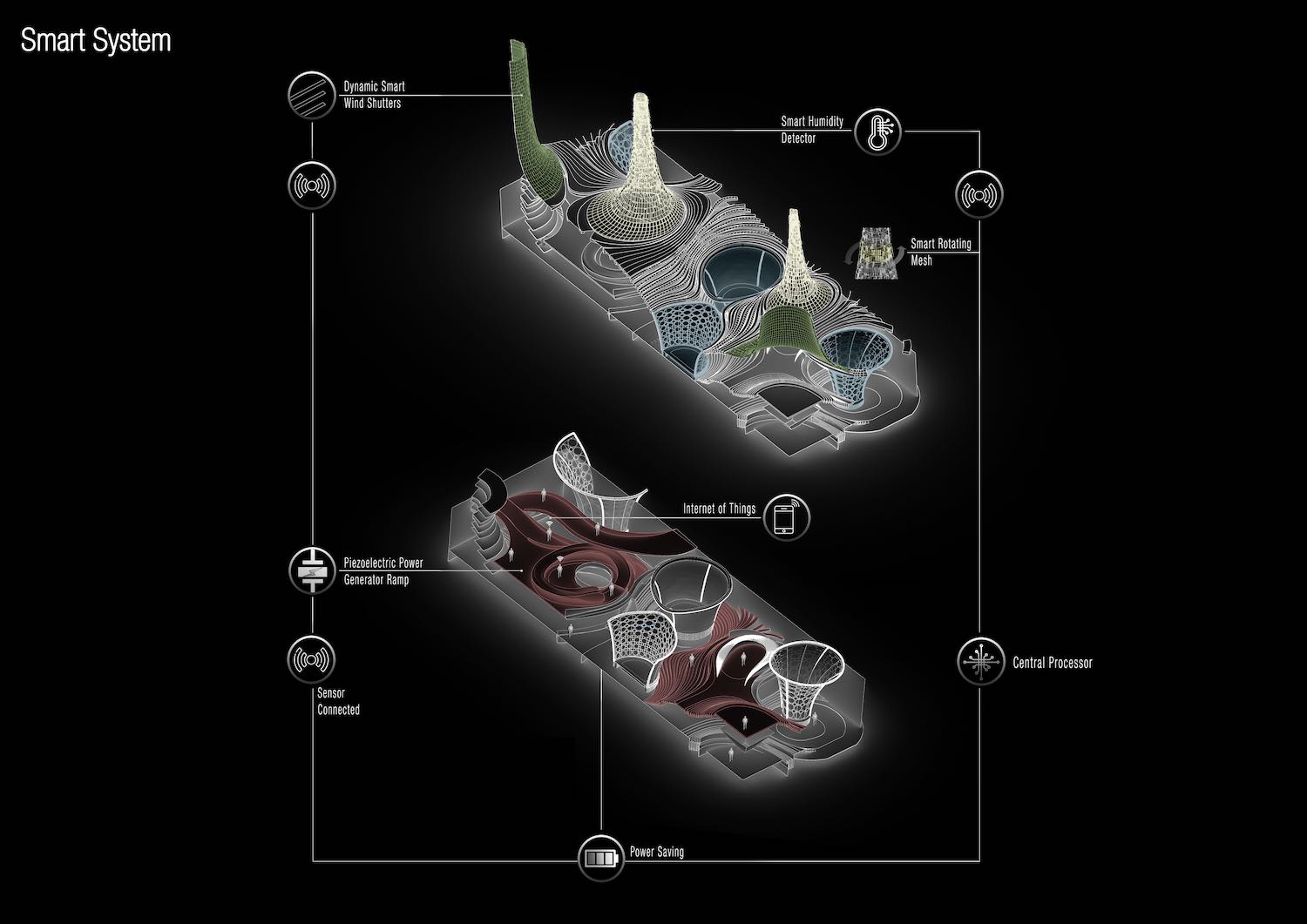 Smart System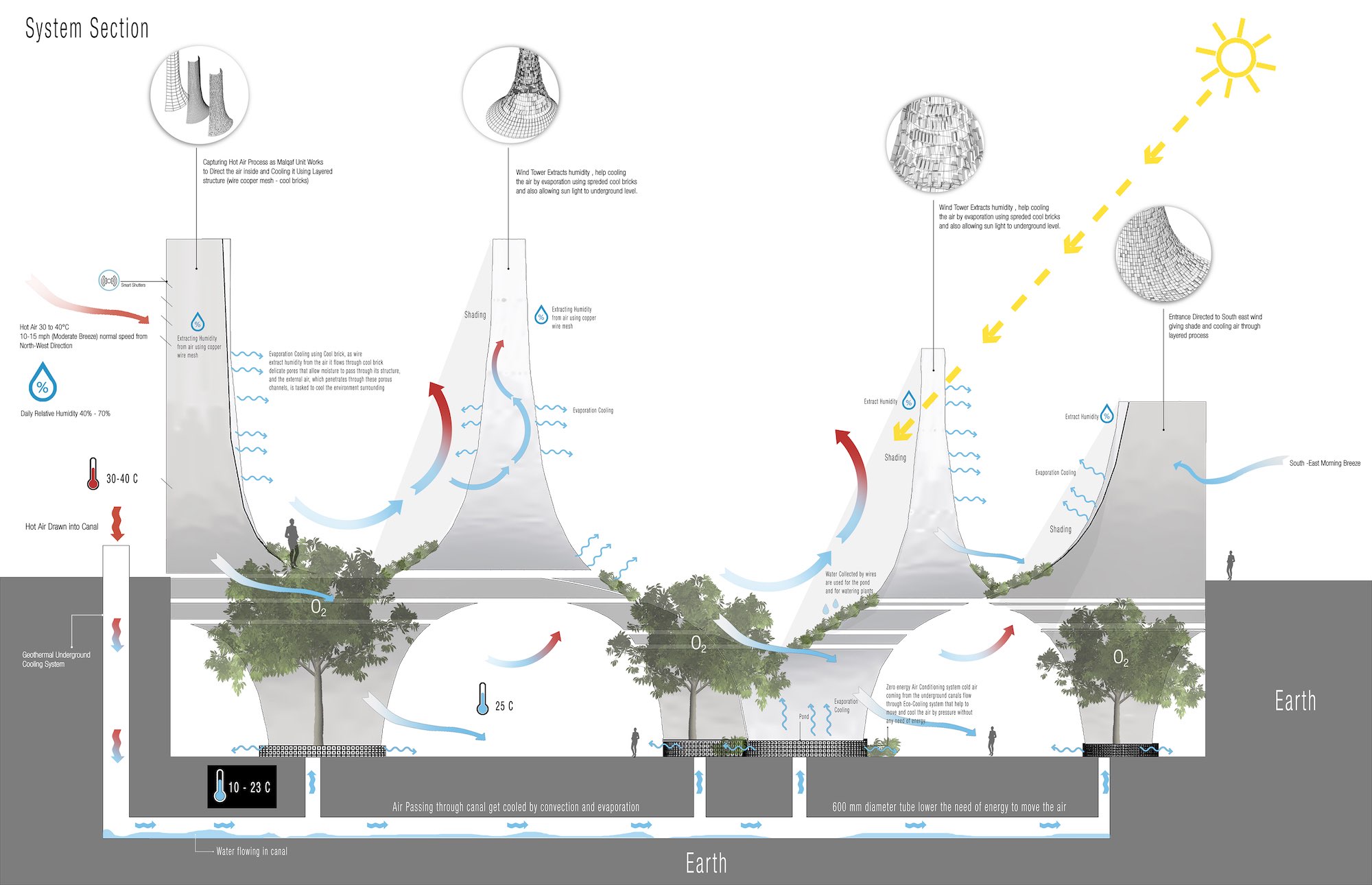 Smart System Section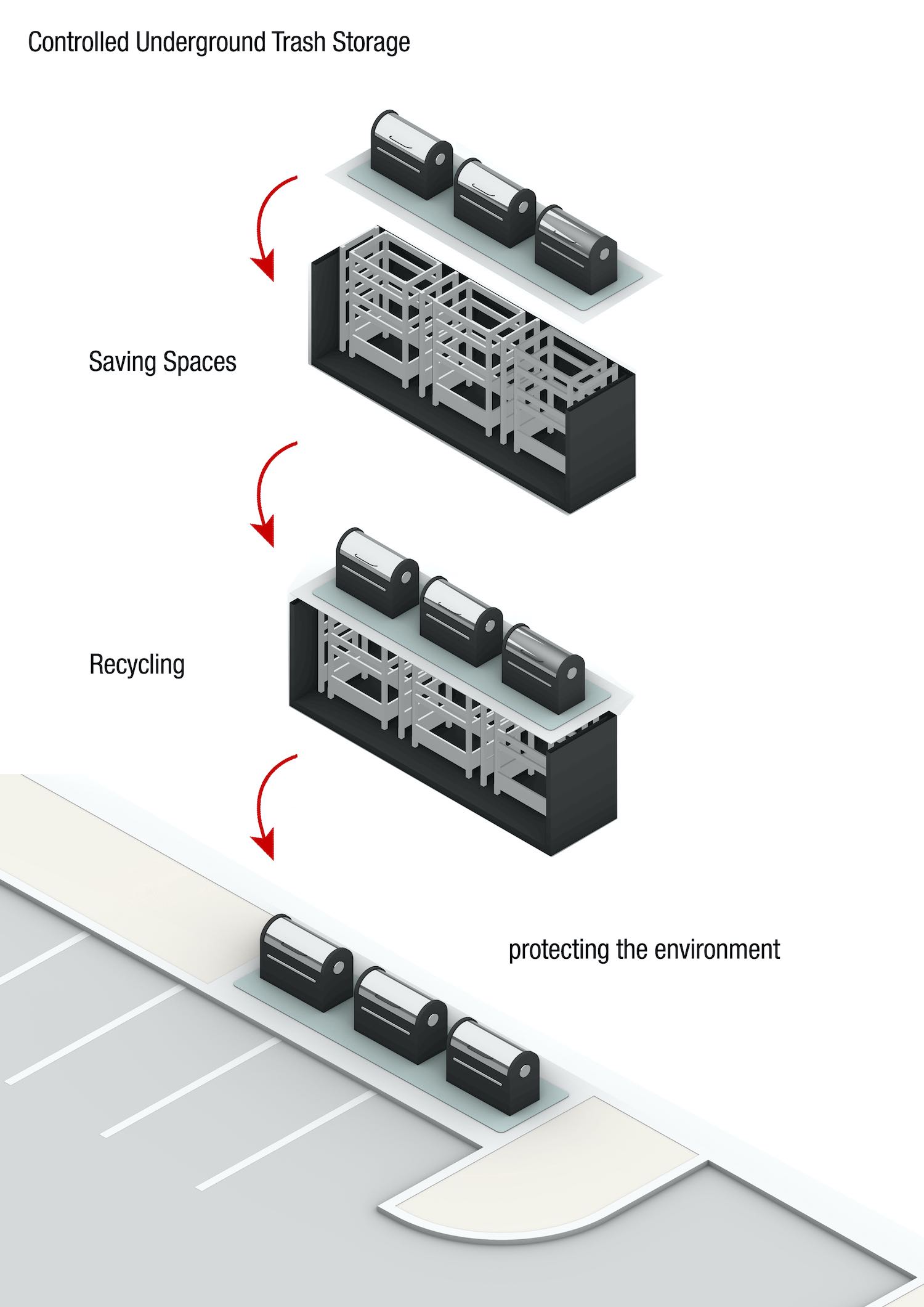 Trash Container Solution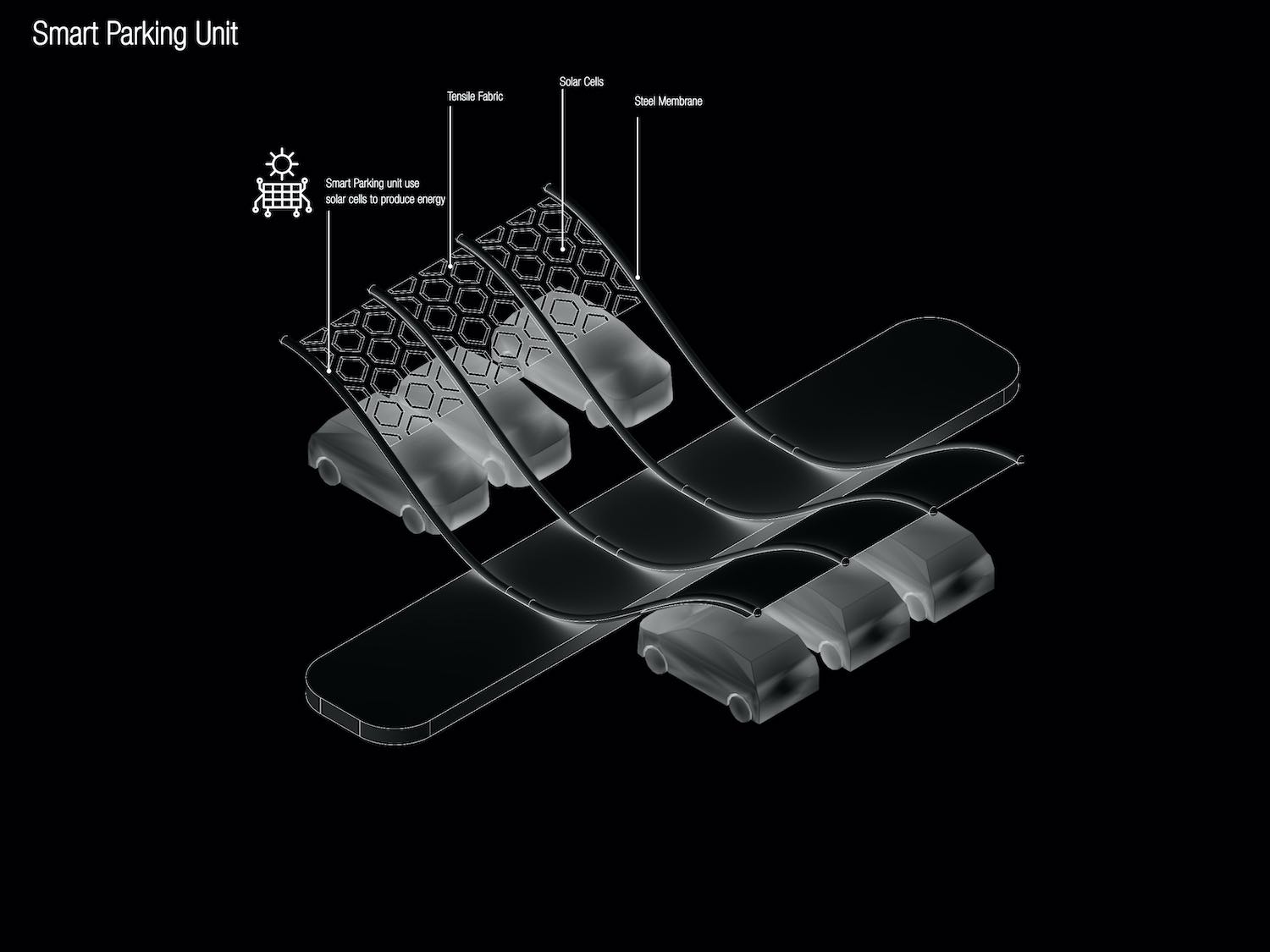 Smart Parking Unit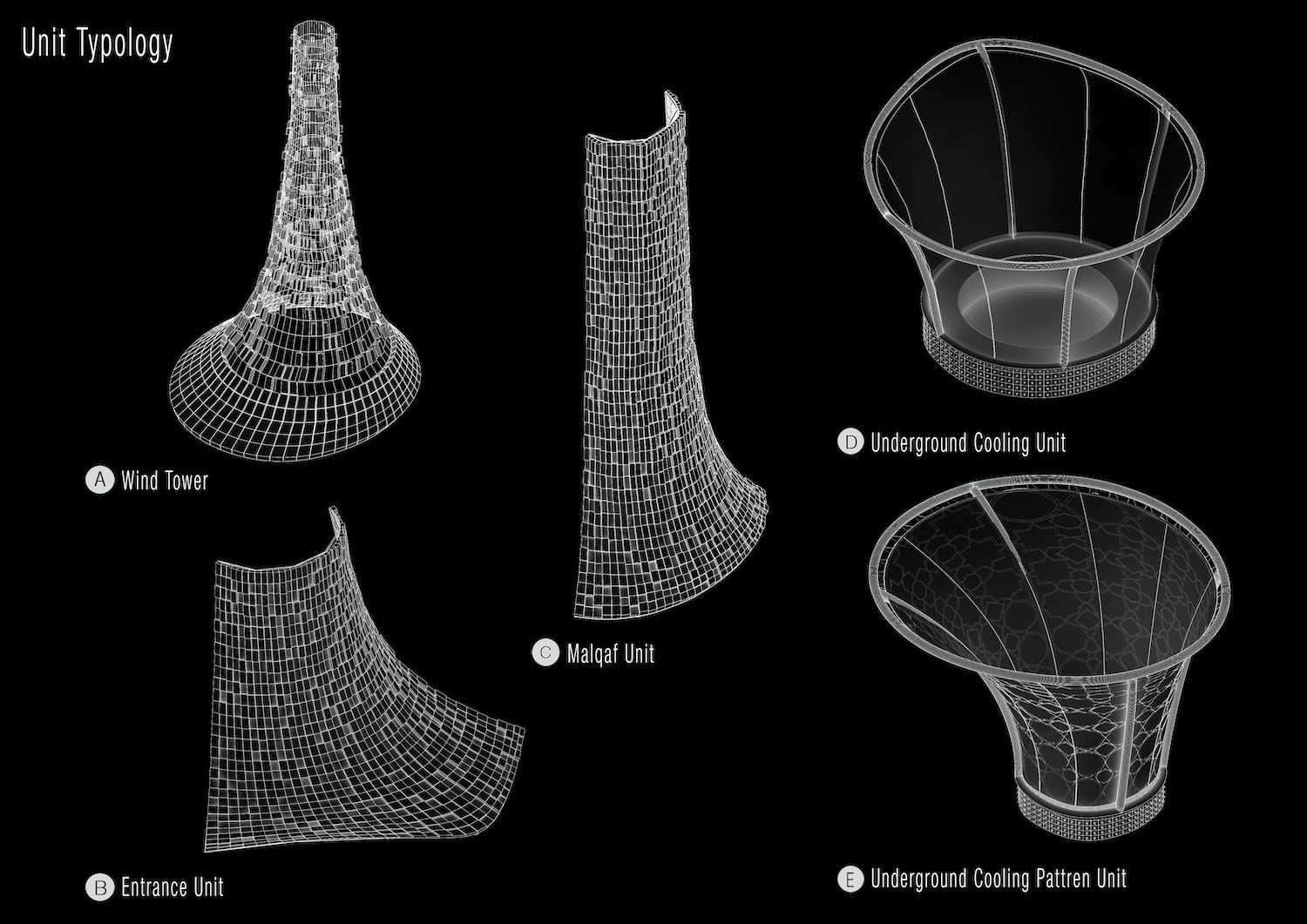 Unit Typology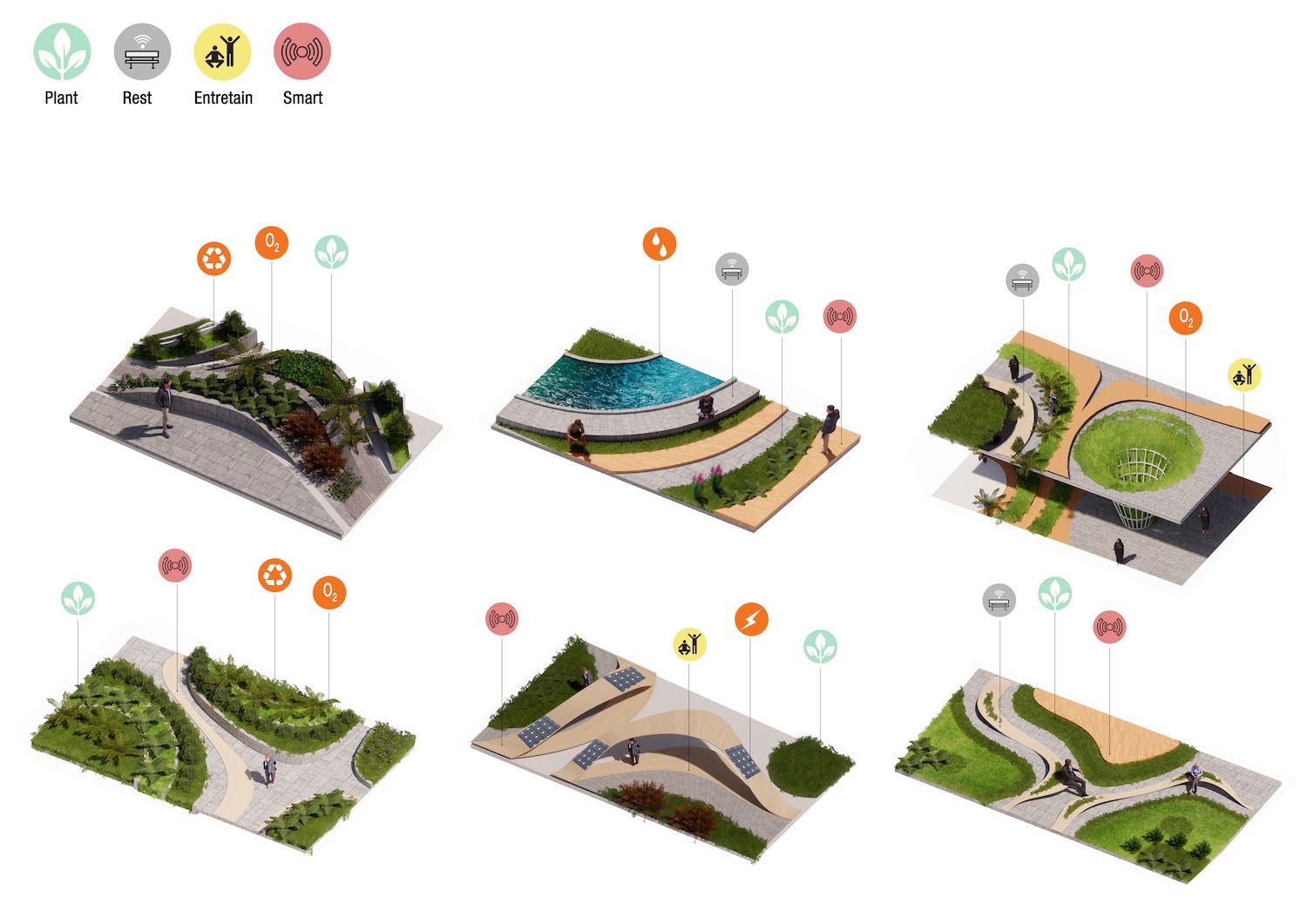 Functions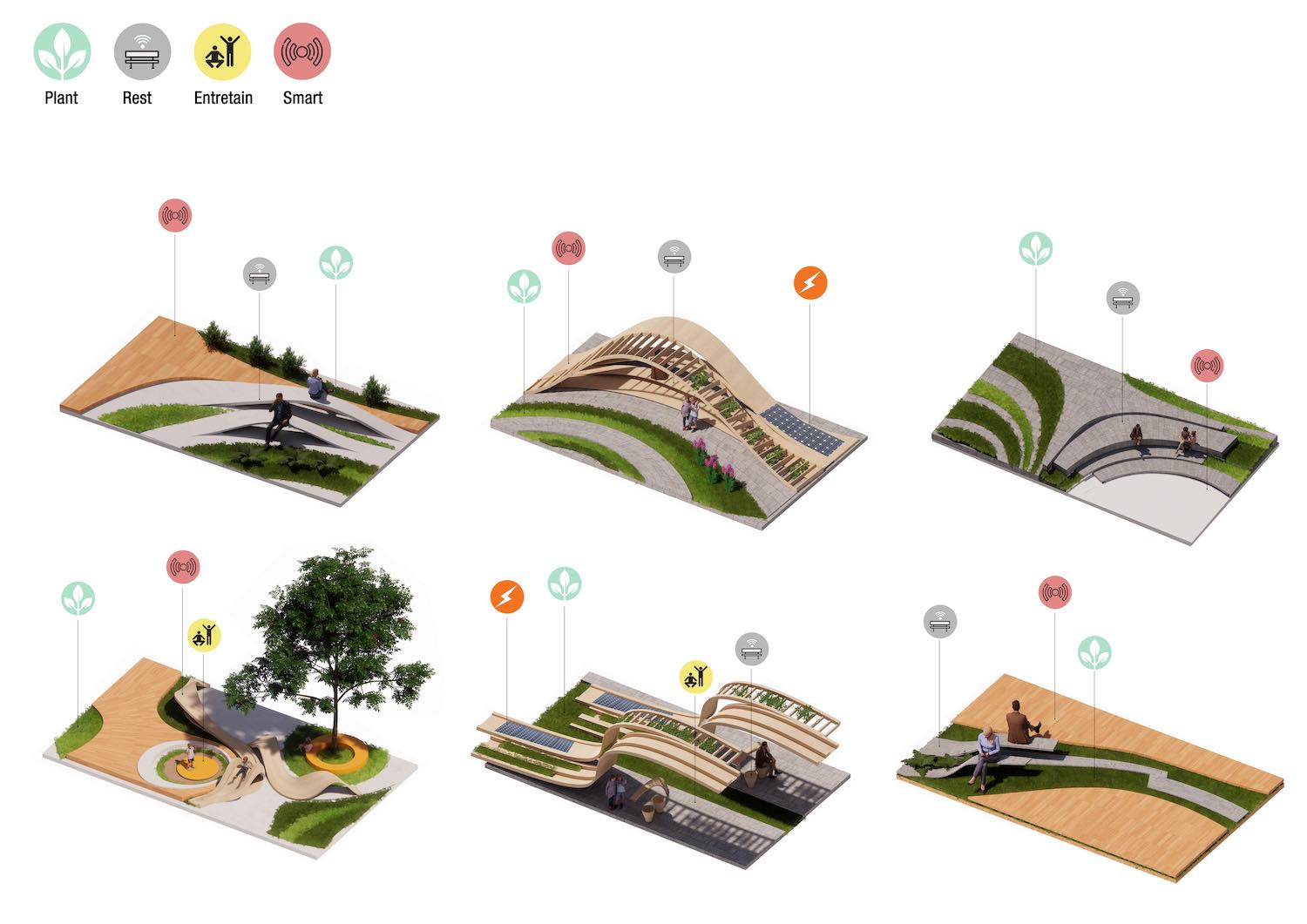 Functions
Connect with the Reparametrize Studio
---