Designed by T.K. Chu Design, the Mansion Oriental is located on the Qinhuai River, which is well-known for its rich historical and cultural heritage. With an area of 498 sqm, the villa is a high-end real estate project in the CBD of Nanjing, whose features of living should be emphasized. Besides, it's also a cultural demonstration zone including hotels, businesses, offices and ecological parks, seeking to bring in international luxury brands in the future. As a response to the context, the designer chooses to focus on the art as a starting point, creating an interior space integrating natural landscapes with fashion.
The villa, is distributed on five levels, two underground and three above ground. The upper unit is more private, with an elder suite, two children's suites and a generous master suite on the top floor. Whereas, the lower unit is configured as a completely open space with a living room on the ground floor; the basement, lit by light wells and sunken courtyards, accommodates a kitchen, dining area, chess room, reception room, etc.
Limited by architectural structure, the area of a single storey is just 100-square-meter. Excessive load-bearing walls made the space narrow and dark. In response to the existing condition, the original staircase leading to the basement is replaced by a sunken courtyard, embellished by water curtain wall, creating a sense of space inside and out. Internal walls and partitions are removed as much as possible, letting furniture and the ornament of floor and ceilings become the focal points separating spaces, as do several translucent screens. On the first floor, an asymmetrical screen stands out on entry, angled in such a way as to avoid direct views into the space, with residents greeted by a Pop Medusa Occasional Chair from Versace, that blurs the line between functional objects and artwork.
The living room has been re-imagined by designer as a cross between a living space and an art gallery: the traditional form of ceiling and chandeliers are deconstructed and softened with curves and arcs. Instead, the lighting is entrusted to overhead spotlights, illuminating sofas, artwork and coffee table of T.K Home x VERSACE CERAMICS. The circular Baroque-inspired ceiling protrudes downward, making a living experience about 'elegant detailing and beautiful finishes, accentuated by art'. The wall decoration of Versace Panda White Polished Porcelain combines with a bespoke painting by artist Lin Xueming and tie-dye carpet to evoke a natural scene in an interior space. At one end of the living room, an artwork called The Cycle by T.K. Chu, faces red Medusa to form an inviting atmosphere.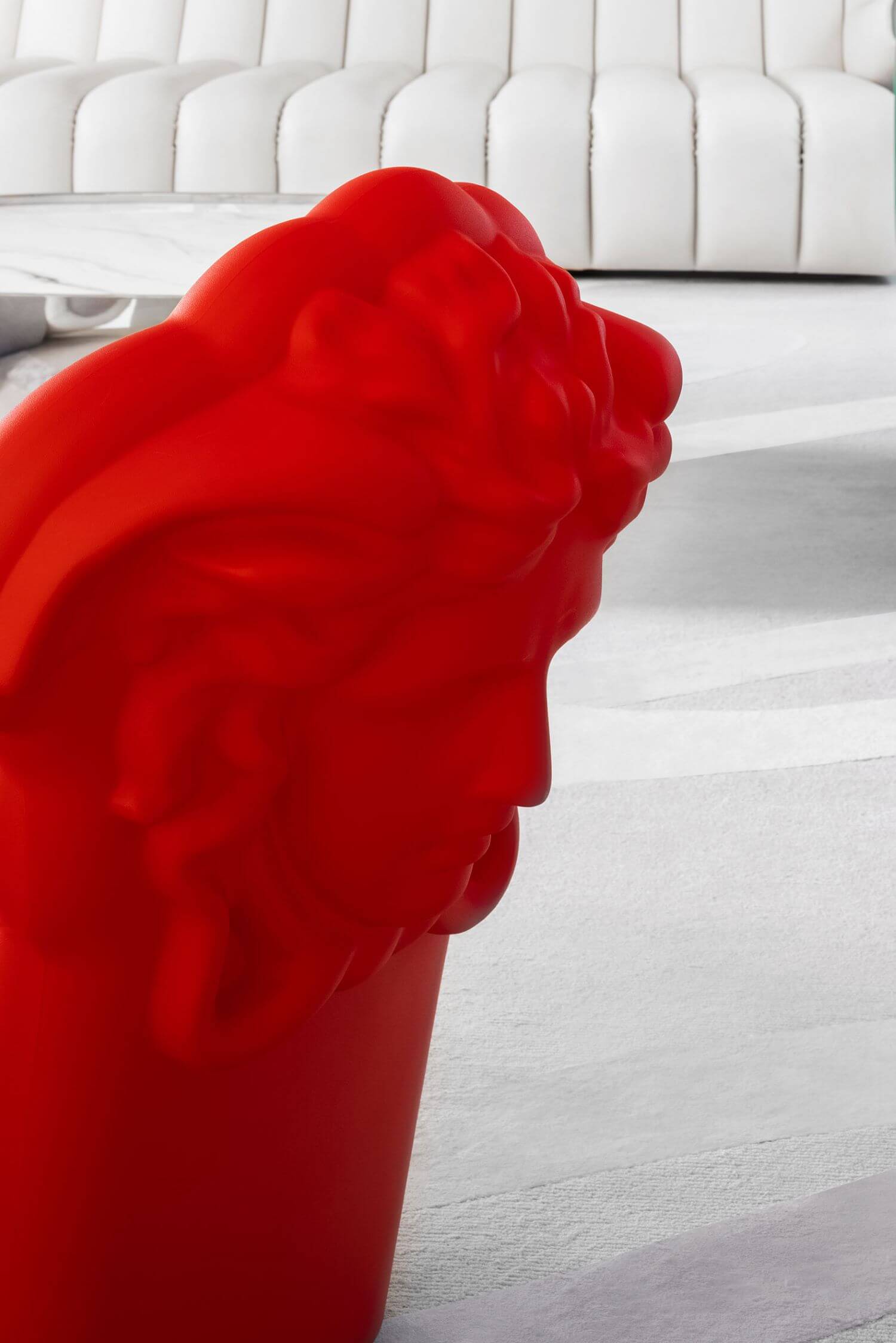 To echo the Qinhuai River, water is abstracted into textures and decorations, such as the water-shaped ceiling lamp and artistical sculpture on the 1st basement level. Sitting in the dining room, residents can overlook green walls through a full-height window to the north. On the other side of the house, there is a glass coffee table in the sunken courtyard, where the hostess can enjoy afternoon tea. The table, with a circular skylight beneath, offers a chance for hostess to greet to her husband in the garage downstairs.
The 2nd basement floor is designed to be a place for relaxation and enjoyment, accommodating a tea room, cellar, garage, and reception room, all suited to unwinding, collecting ones' thoughts, and gathering with friends. The textured floor incorporates a water-like pattern, and is present throughout from the reception room to the tea room, creating an effective visual connection.
Through the effort of design team, the villa is a cosmopolitan multi-functional sophisticated living space that embraces family living and serves as an exquisite space for various social functions.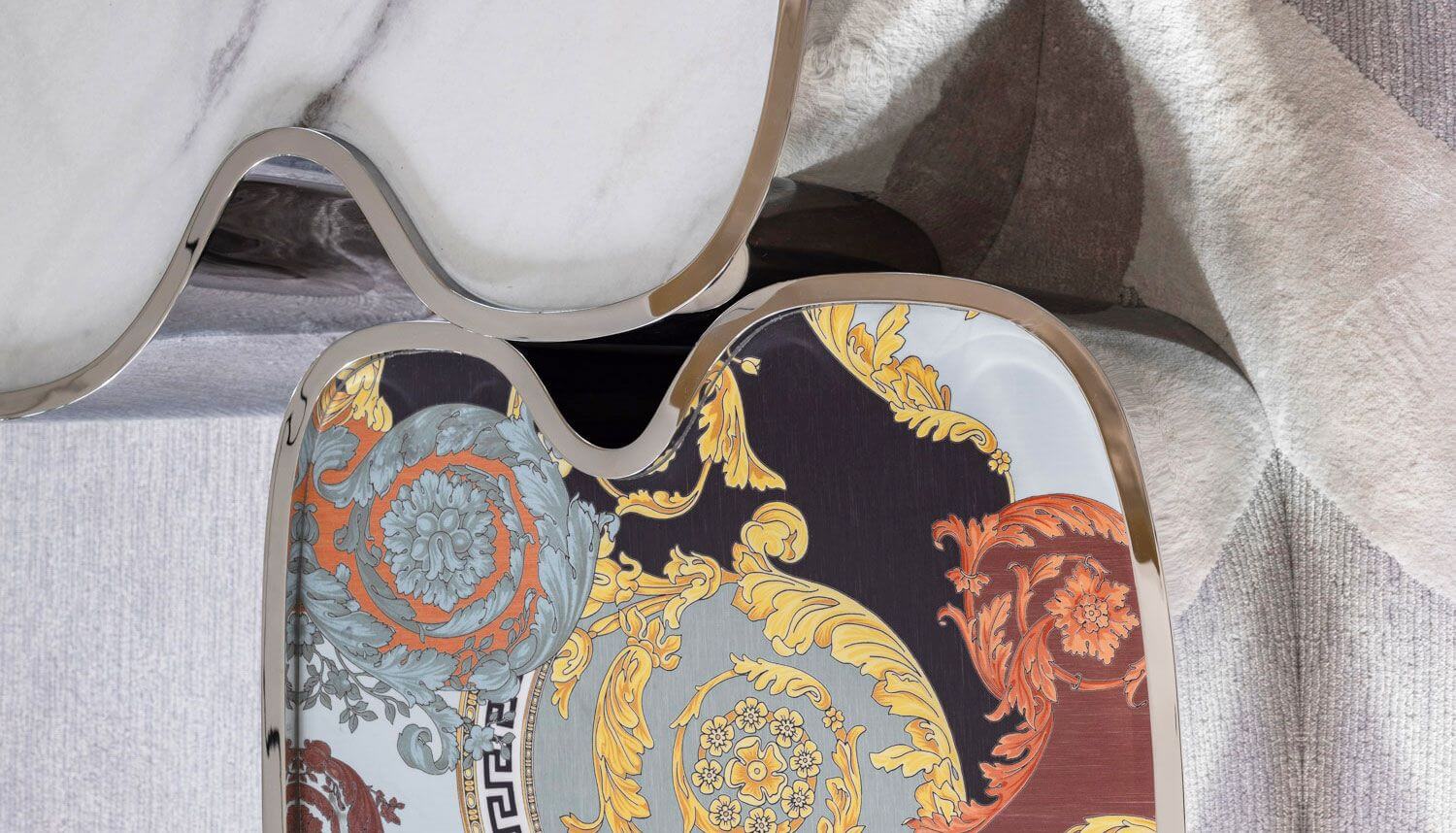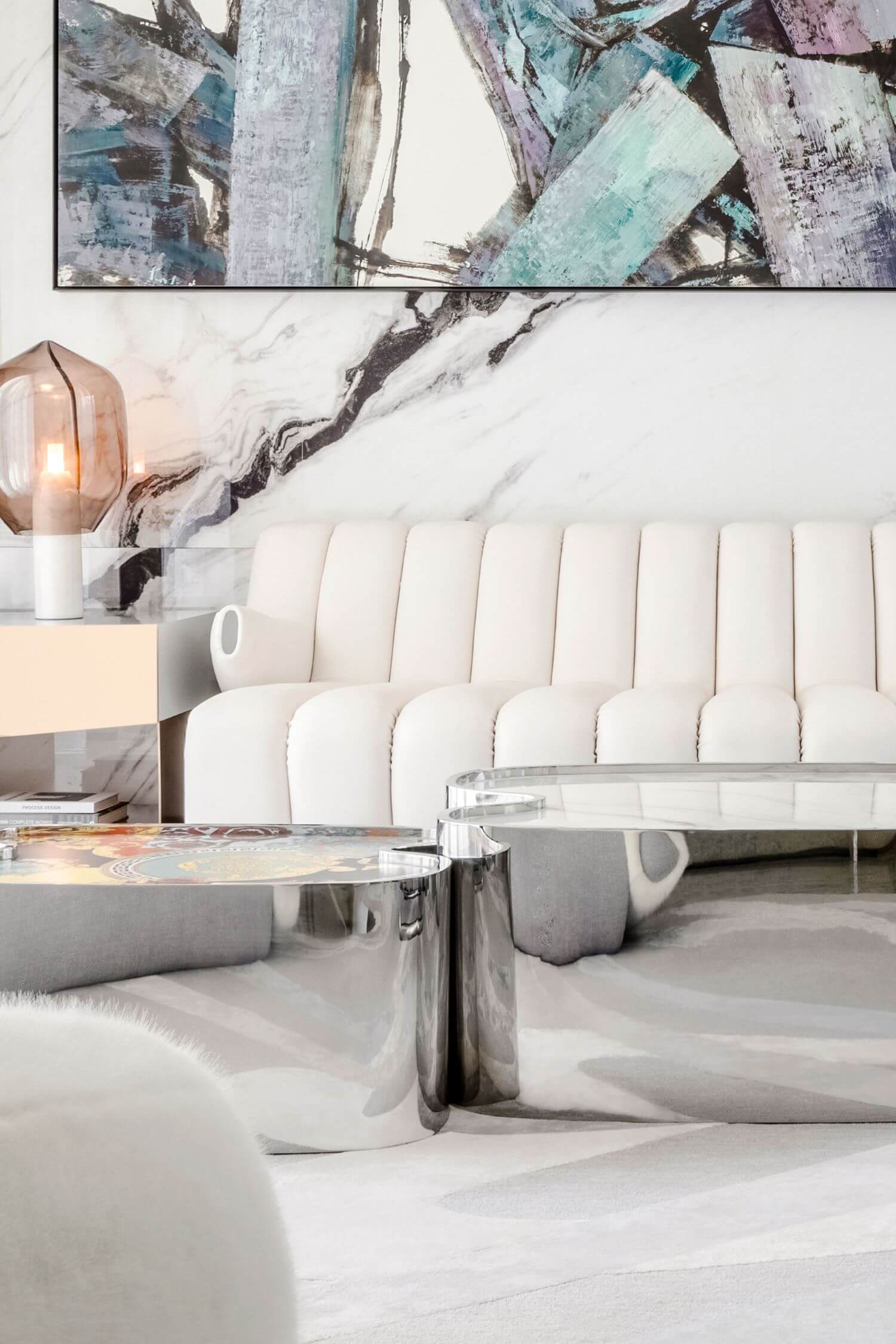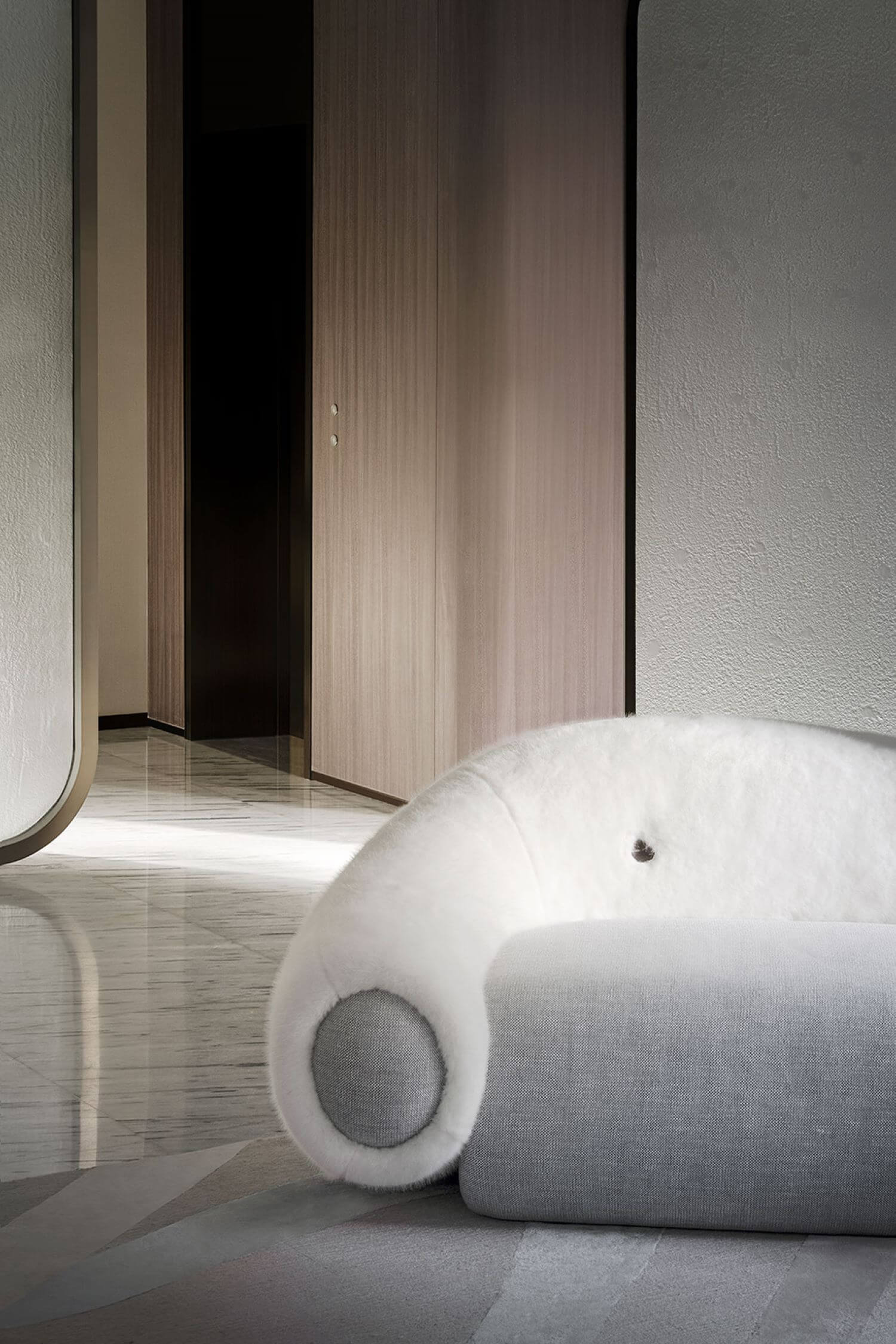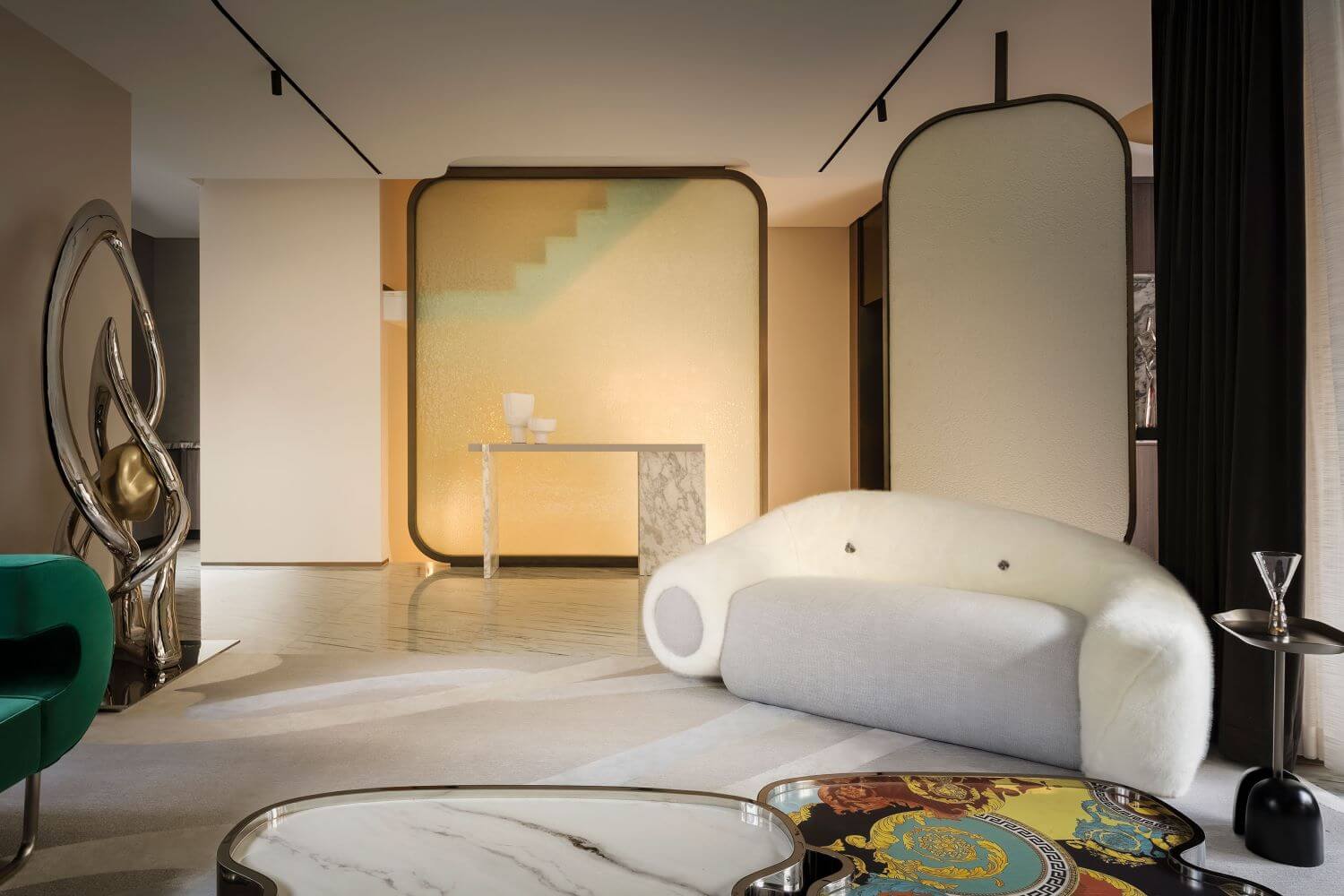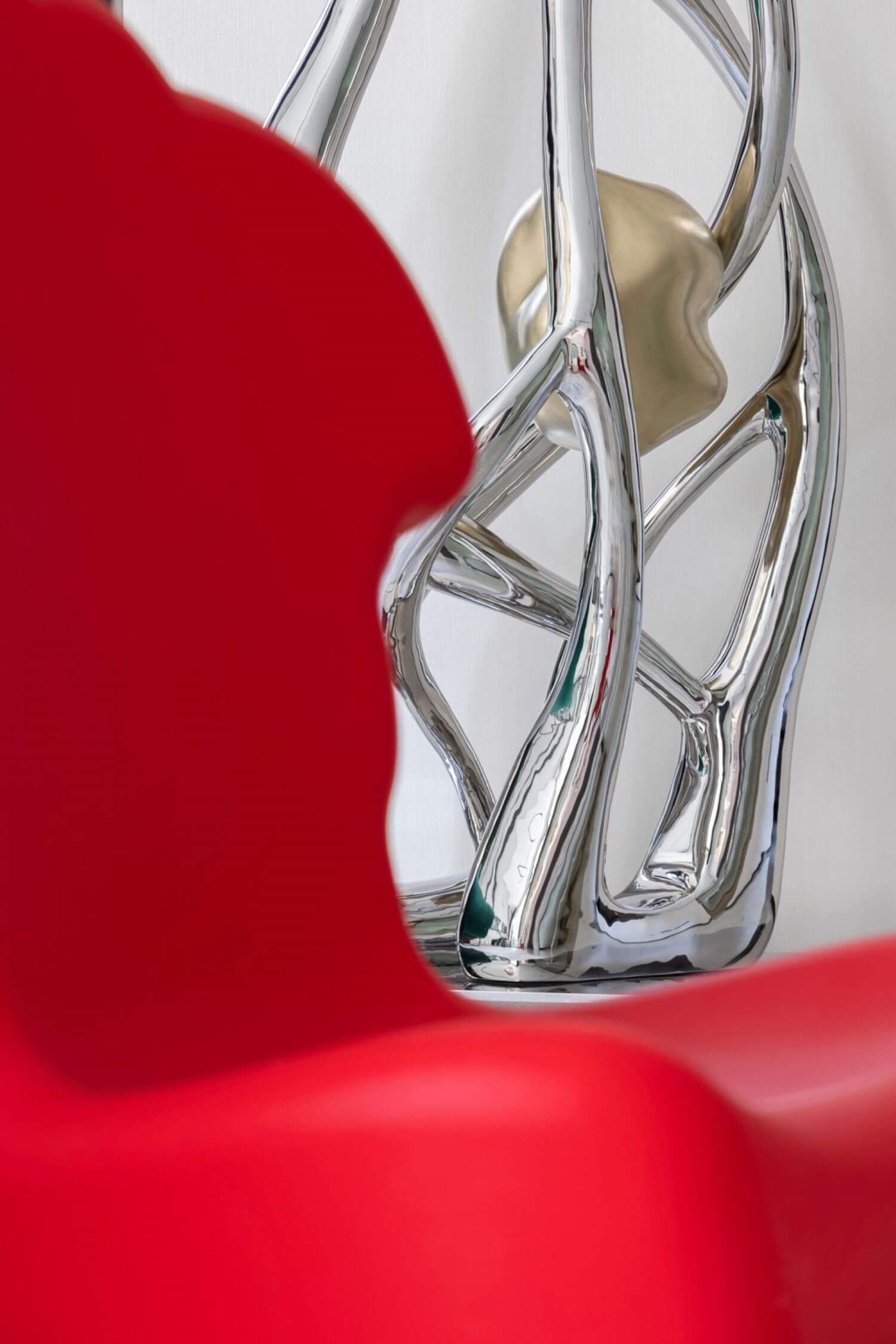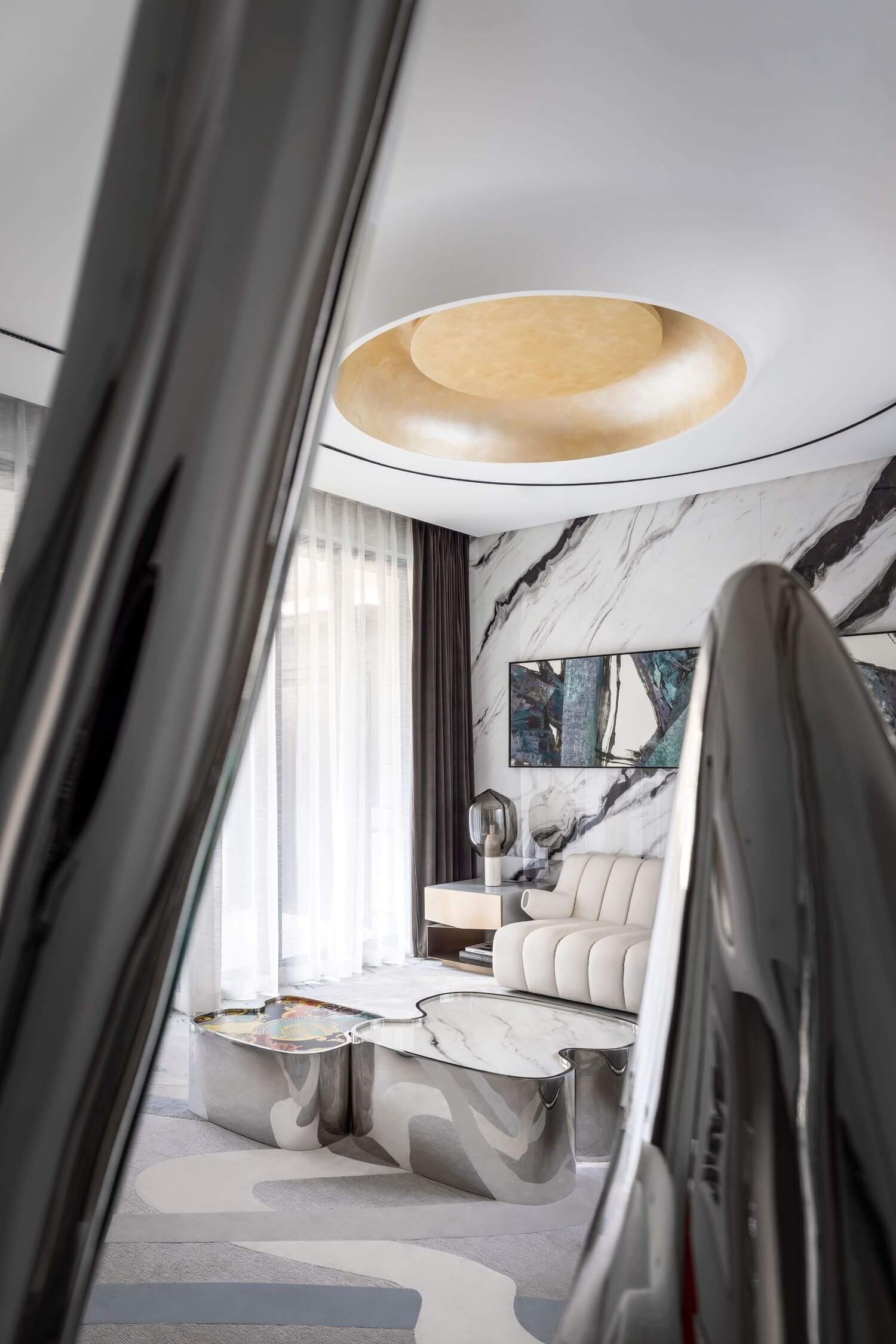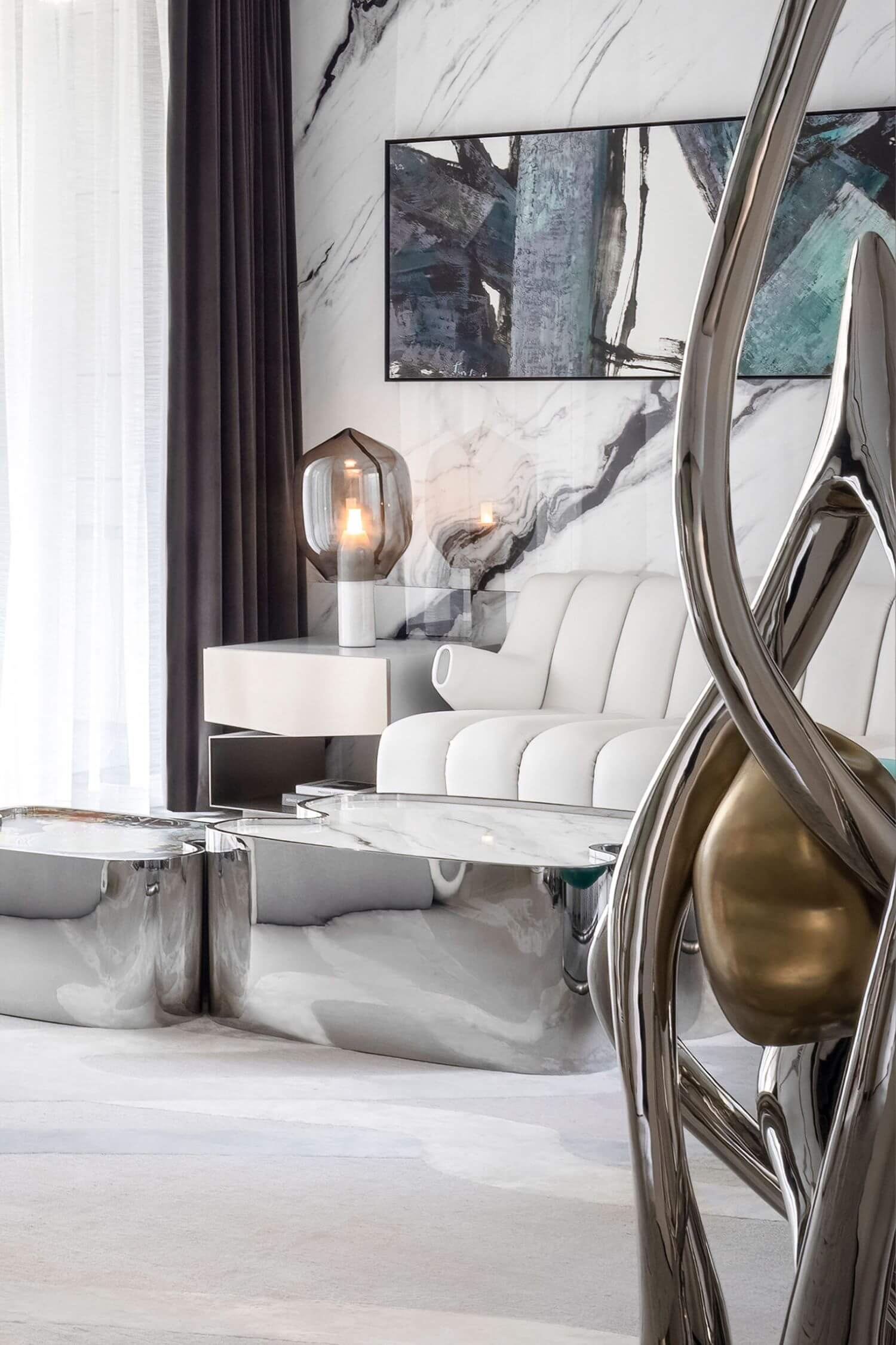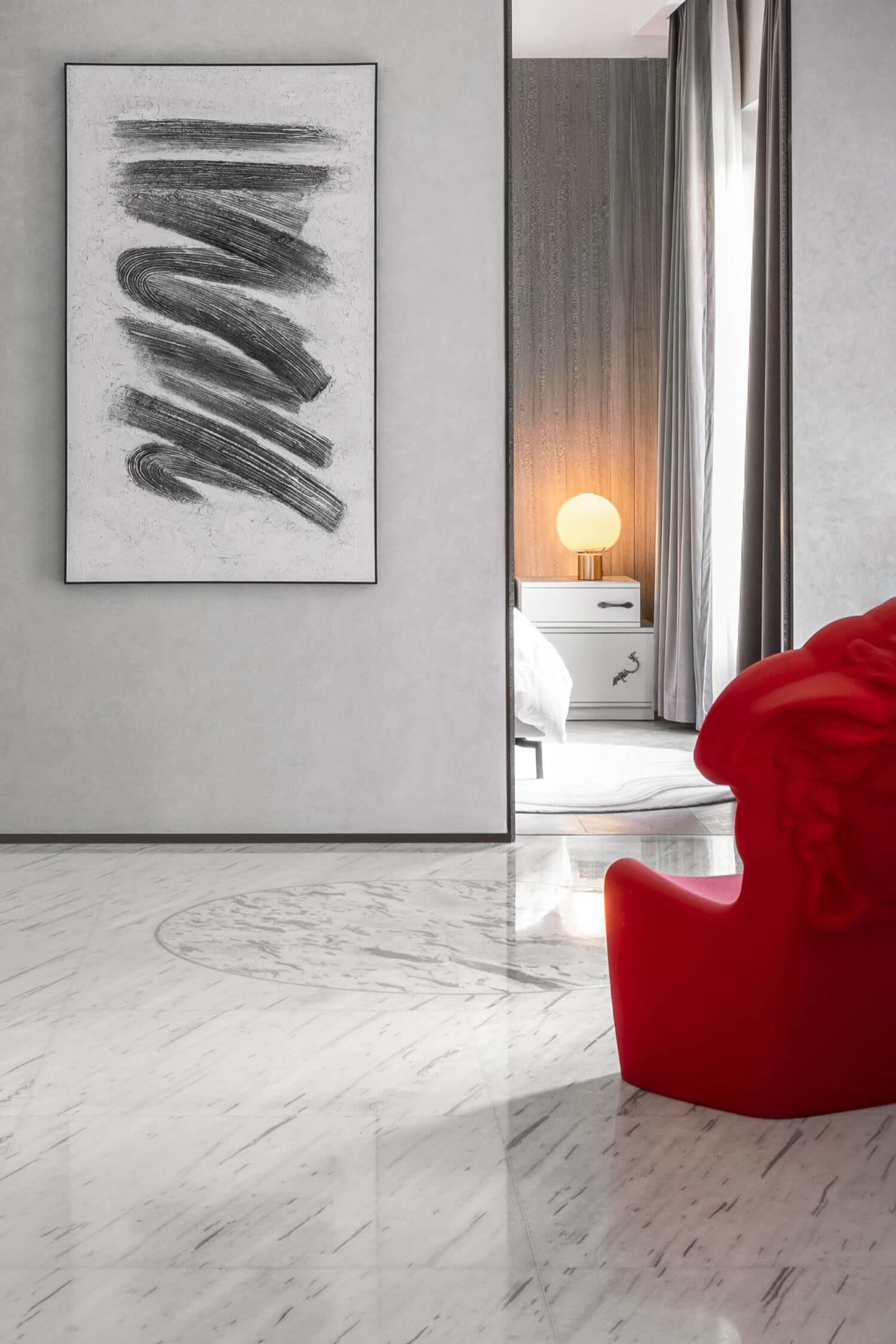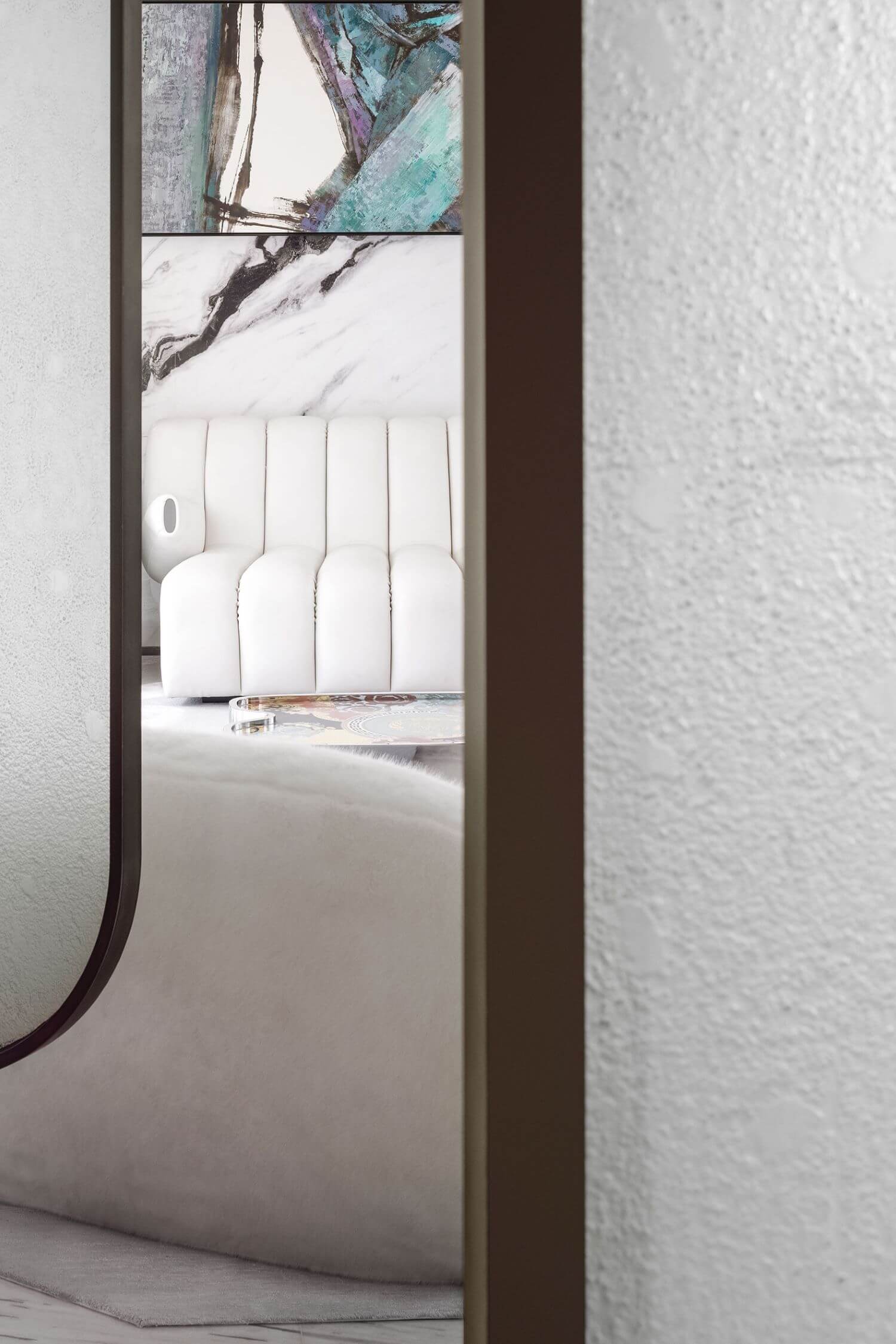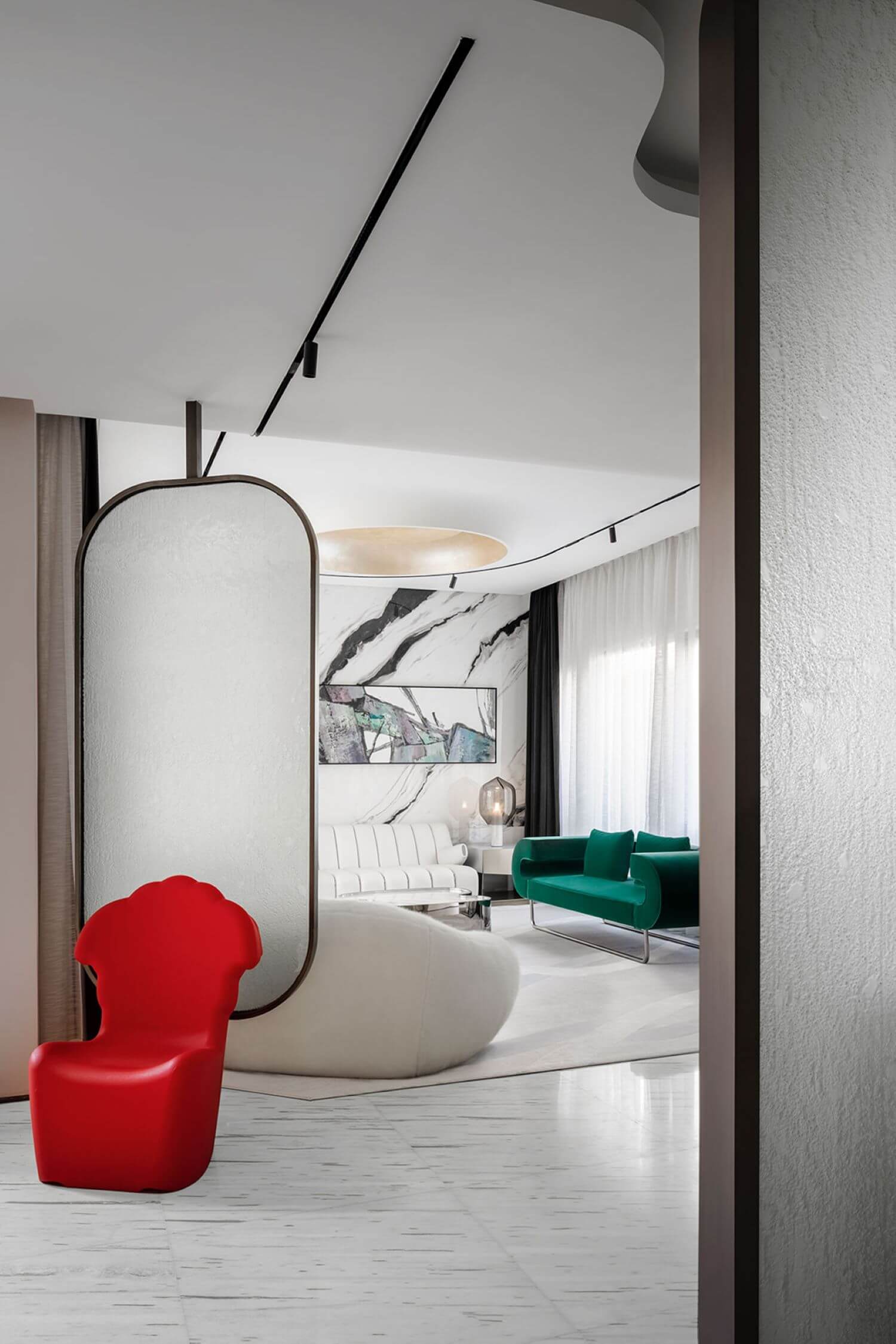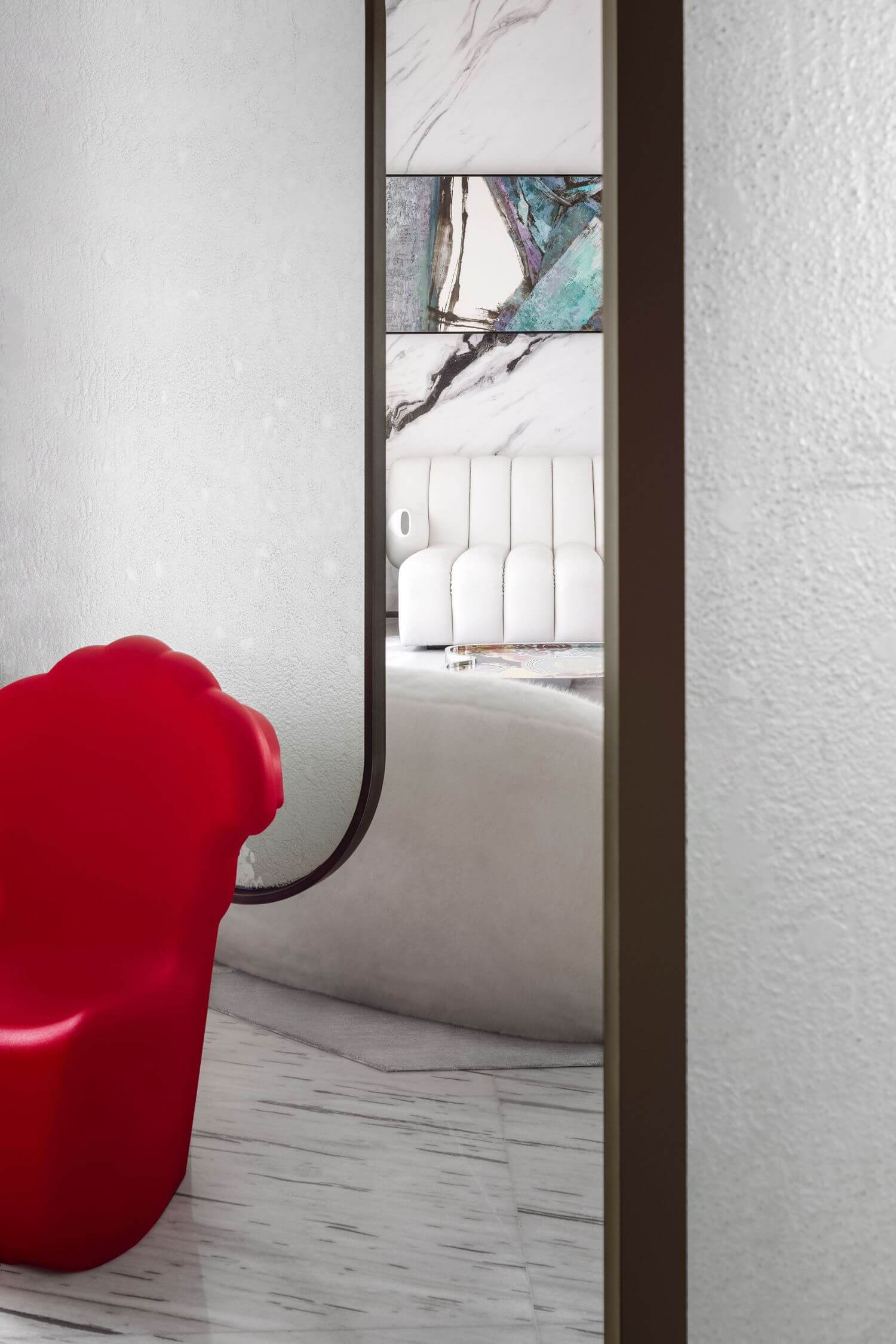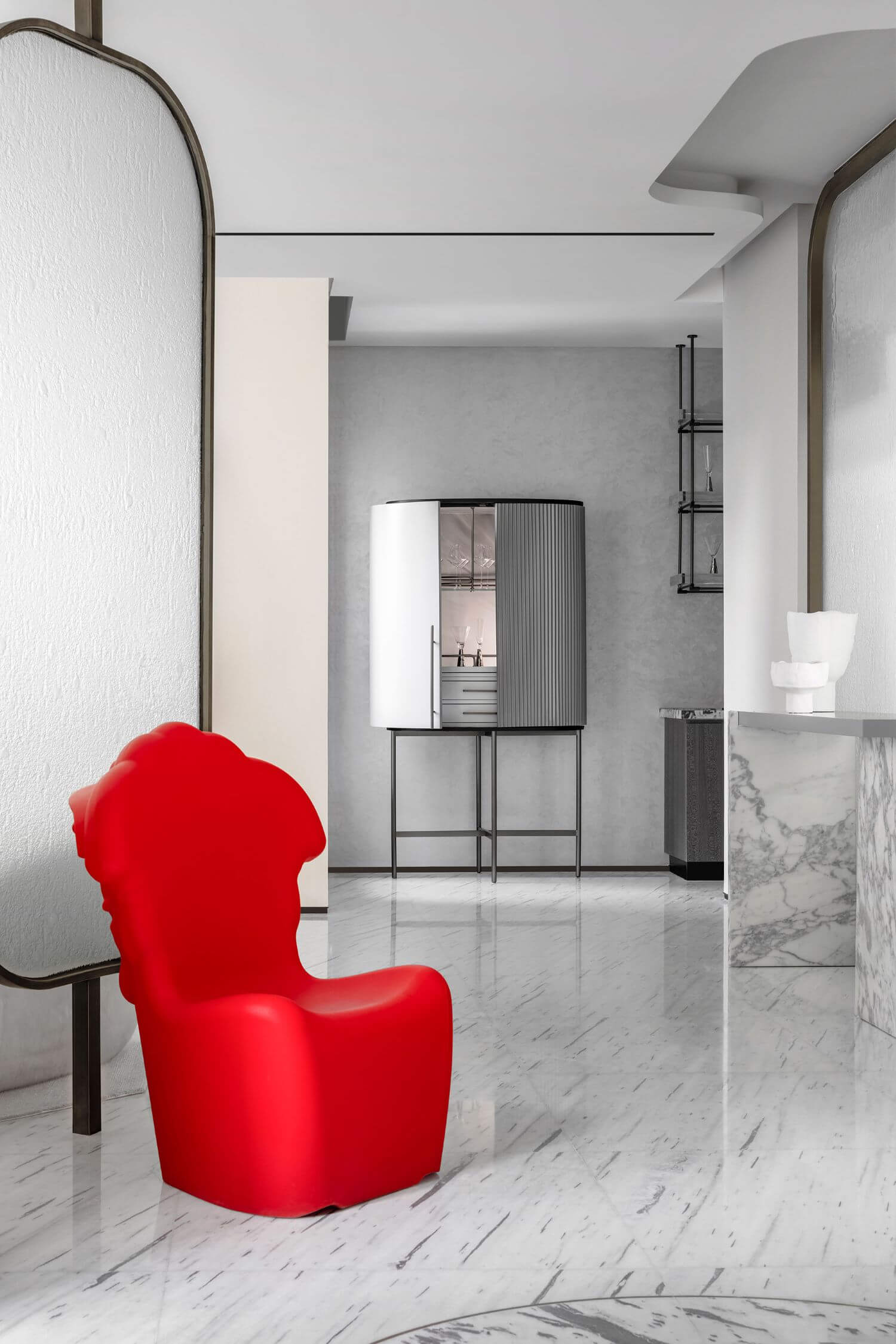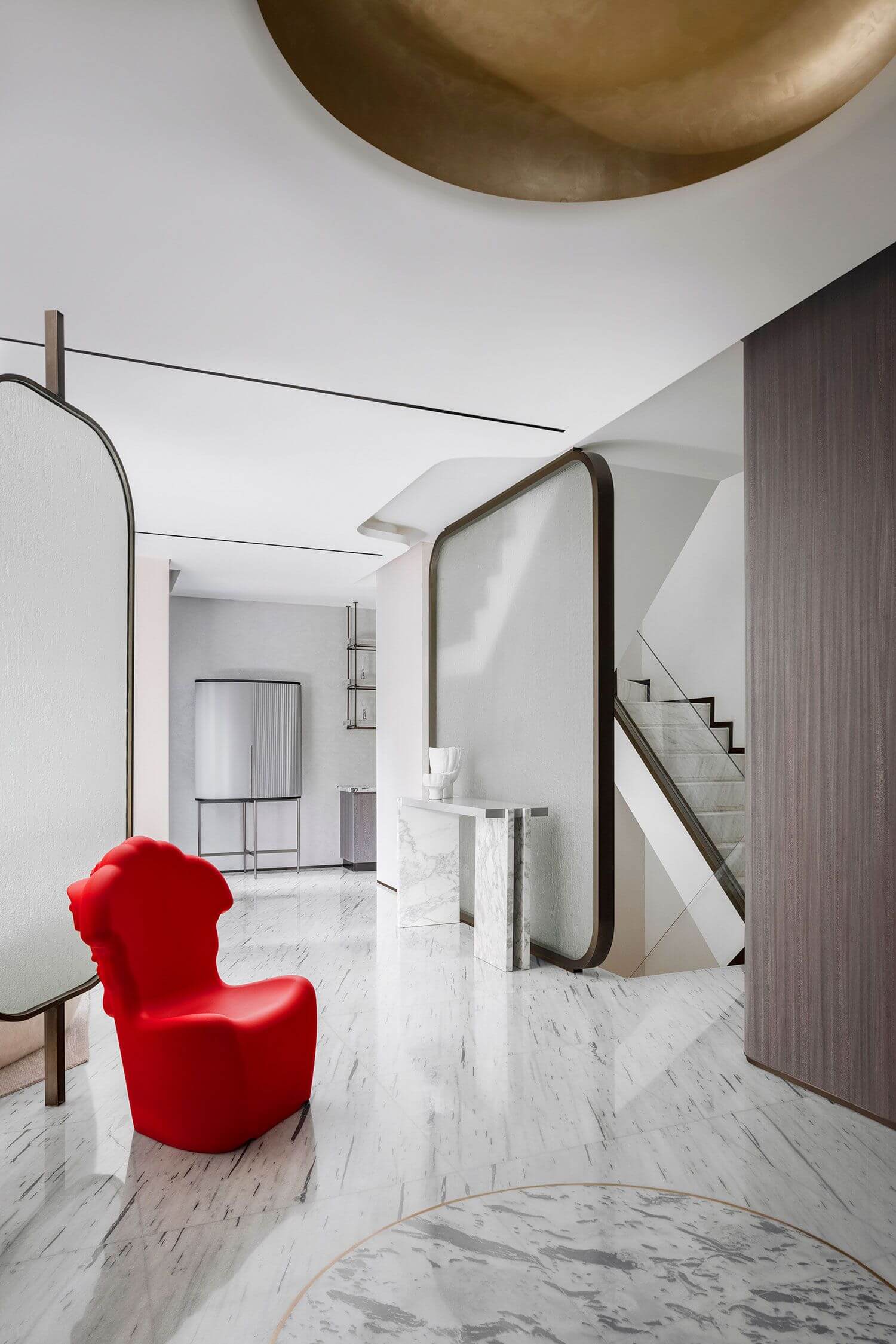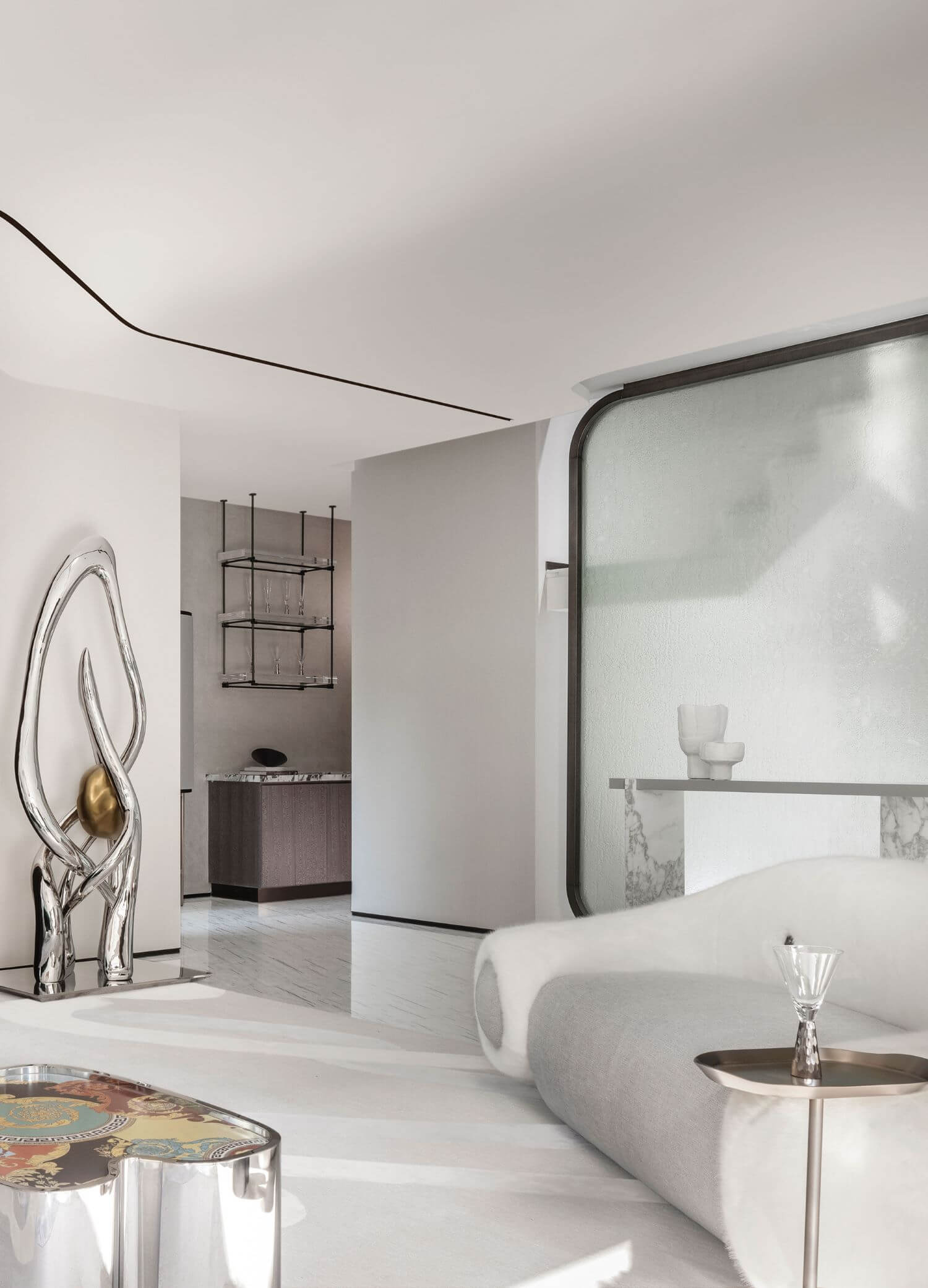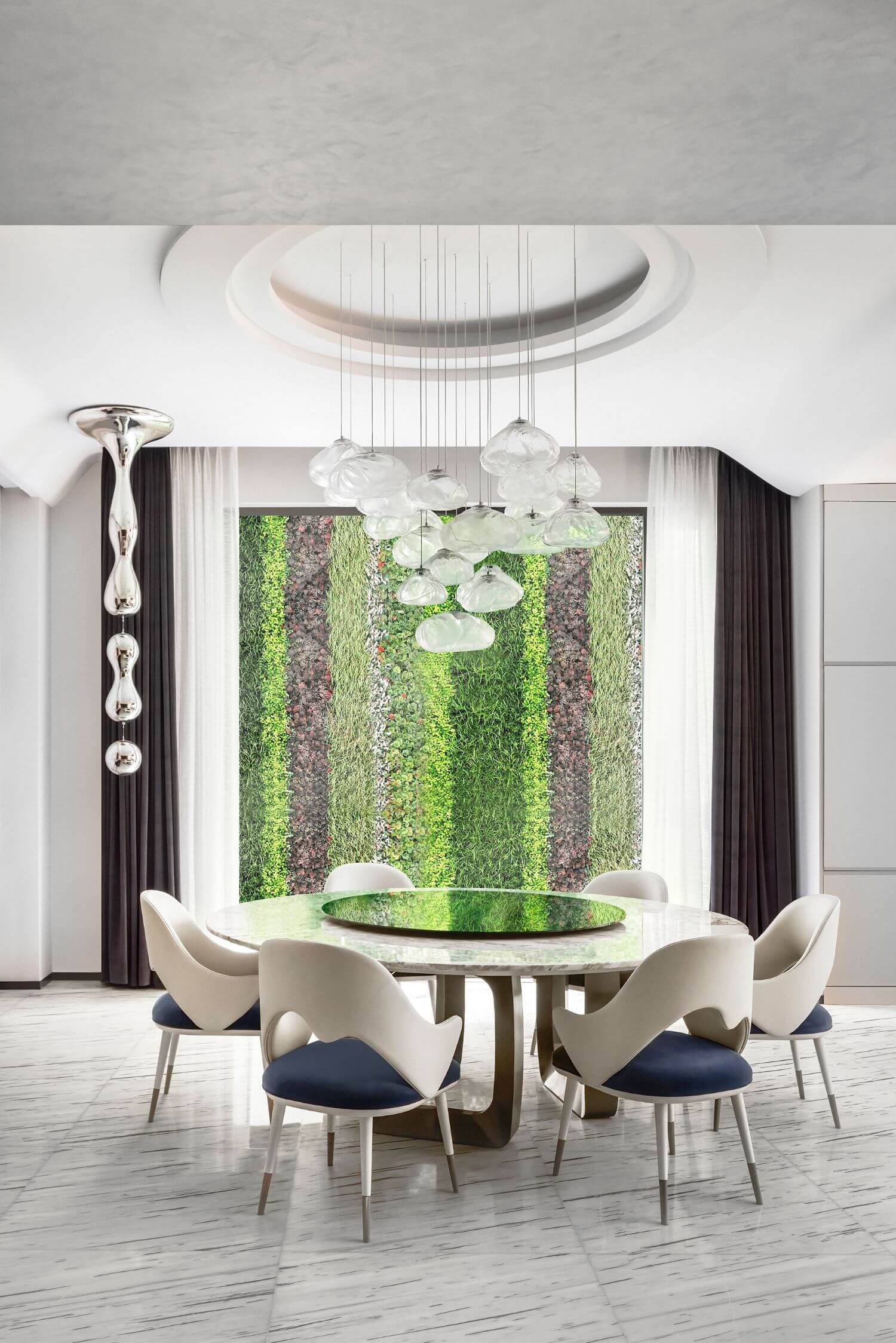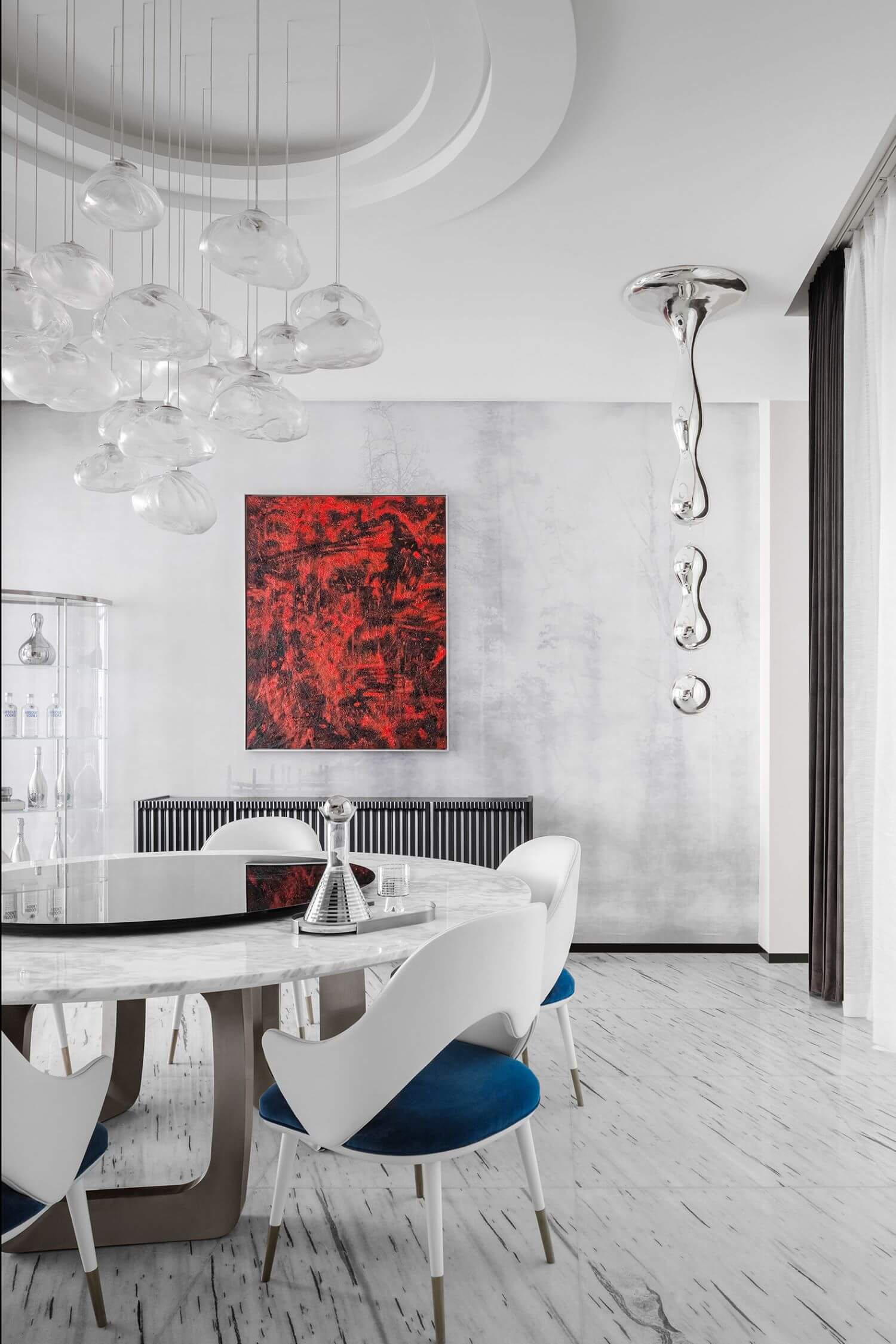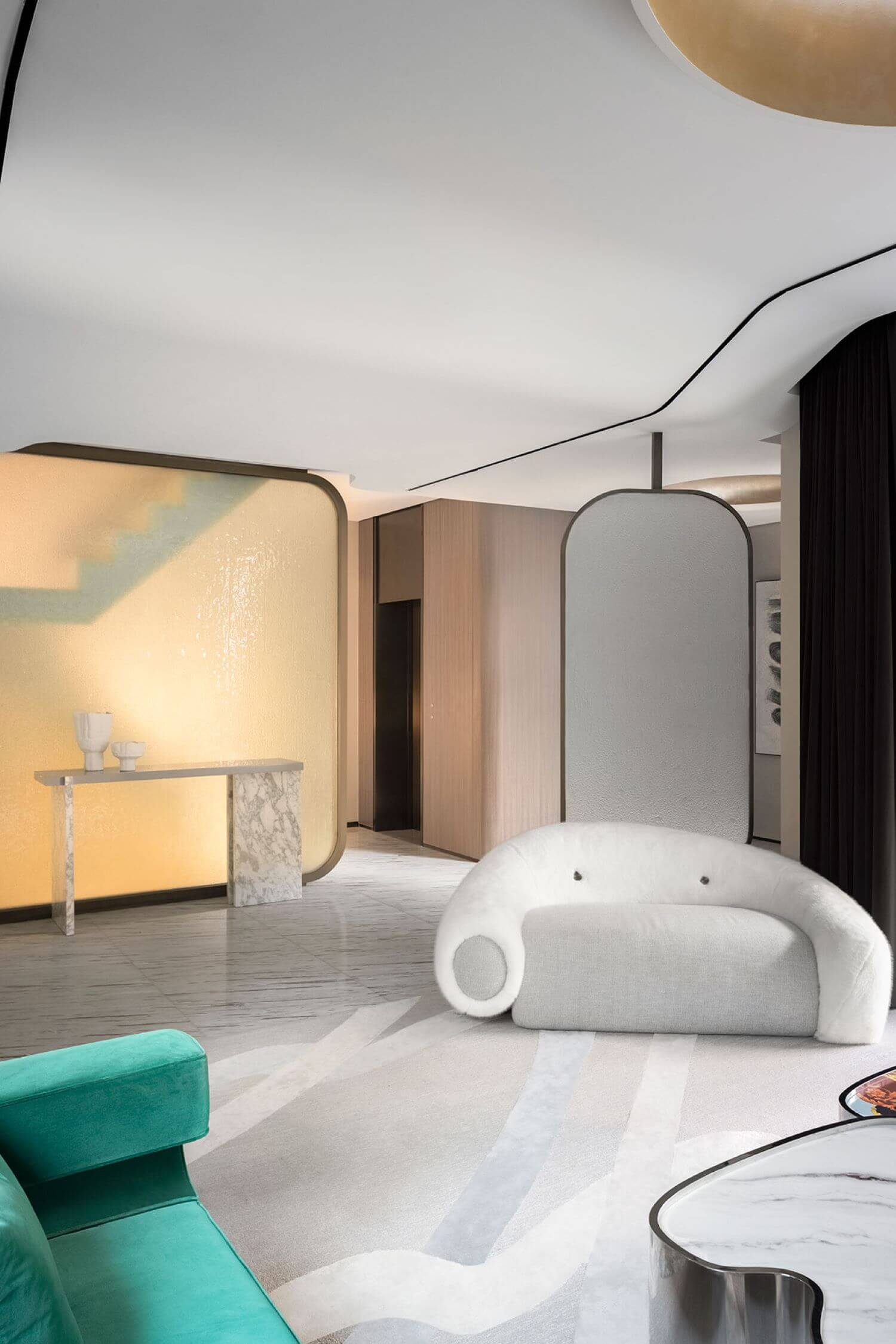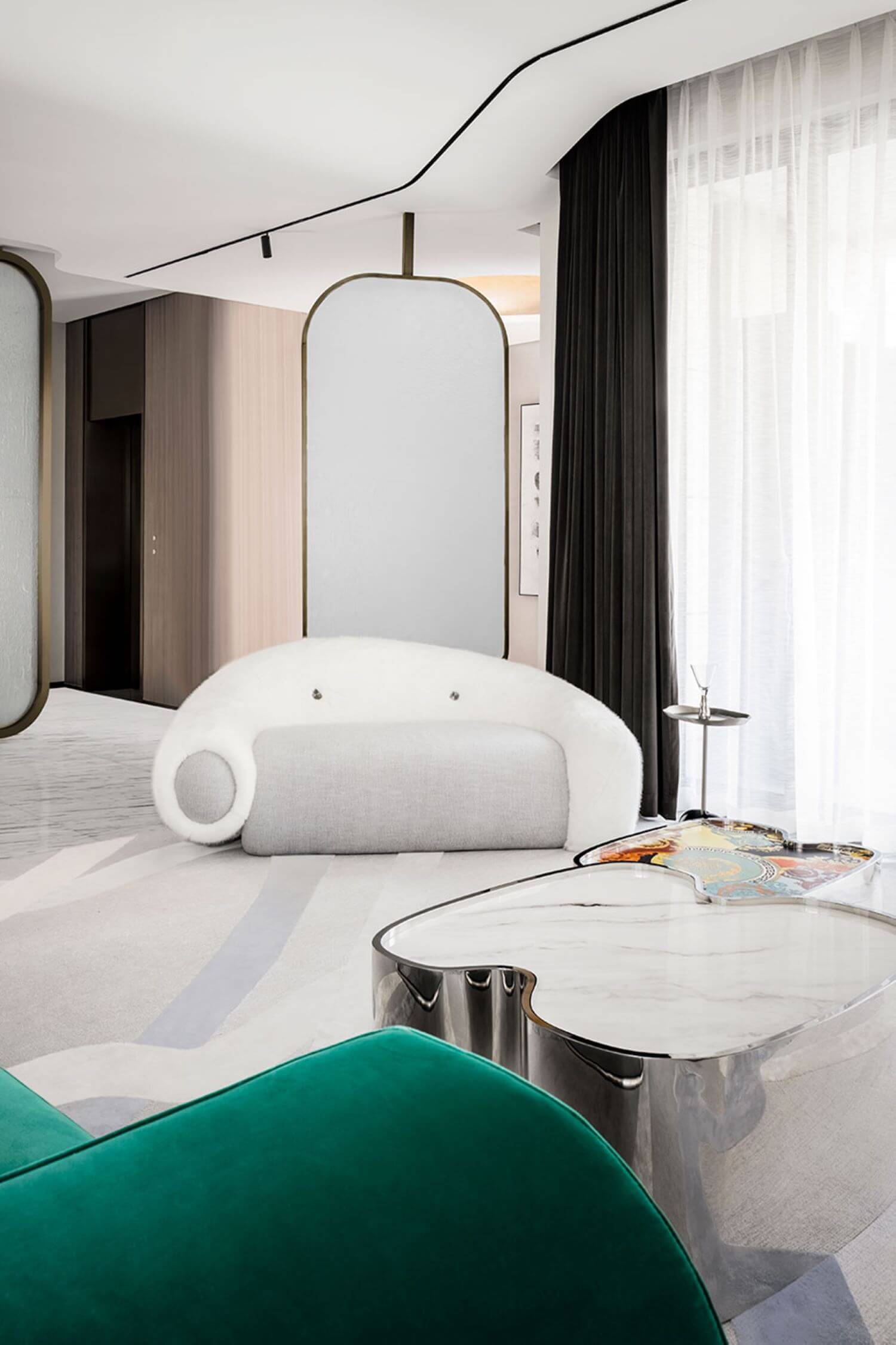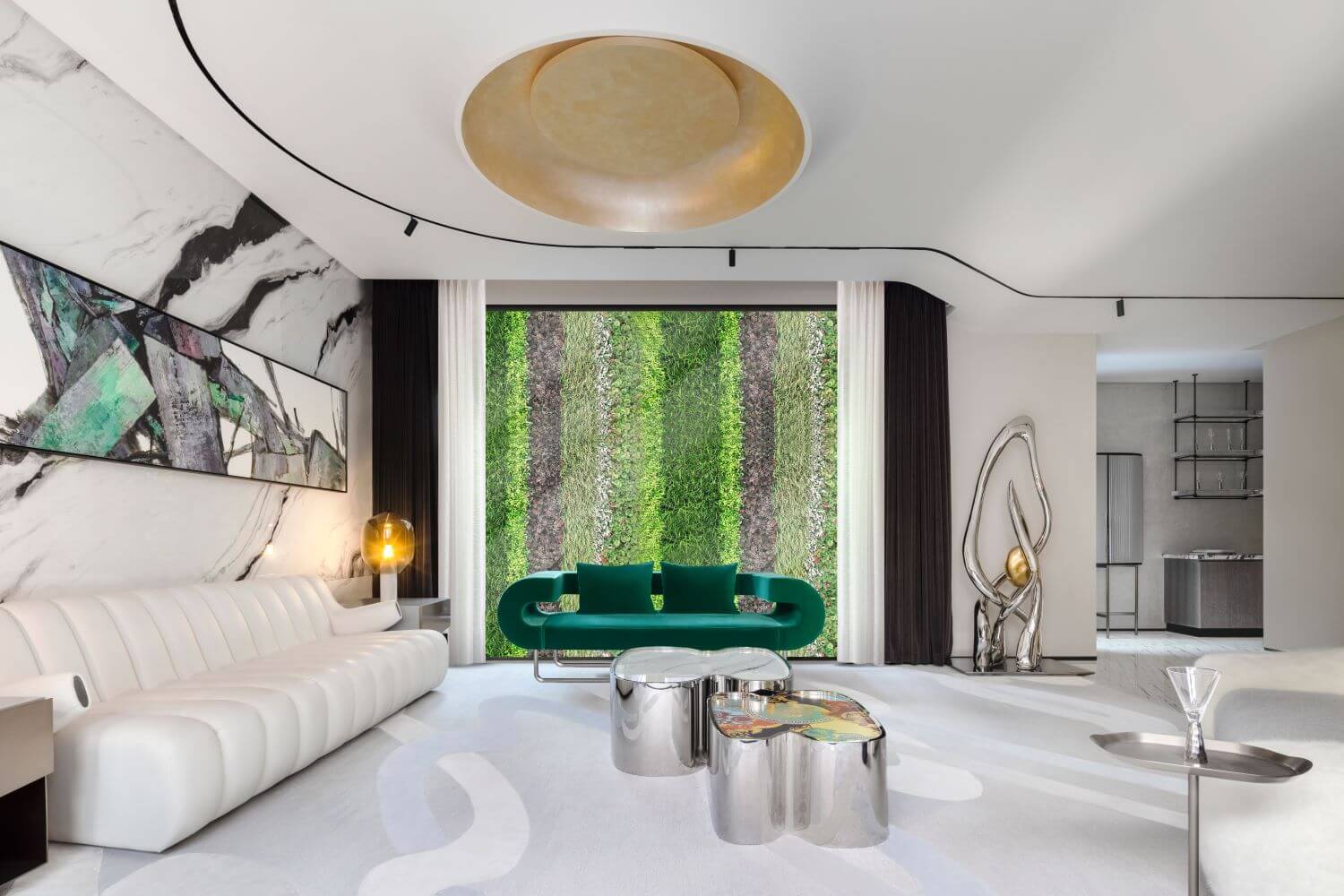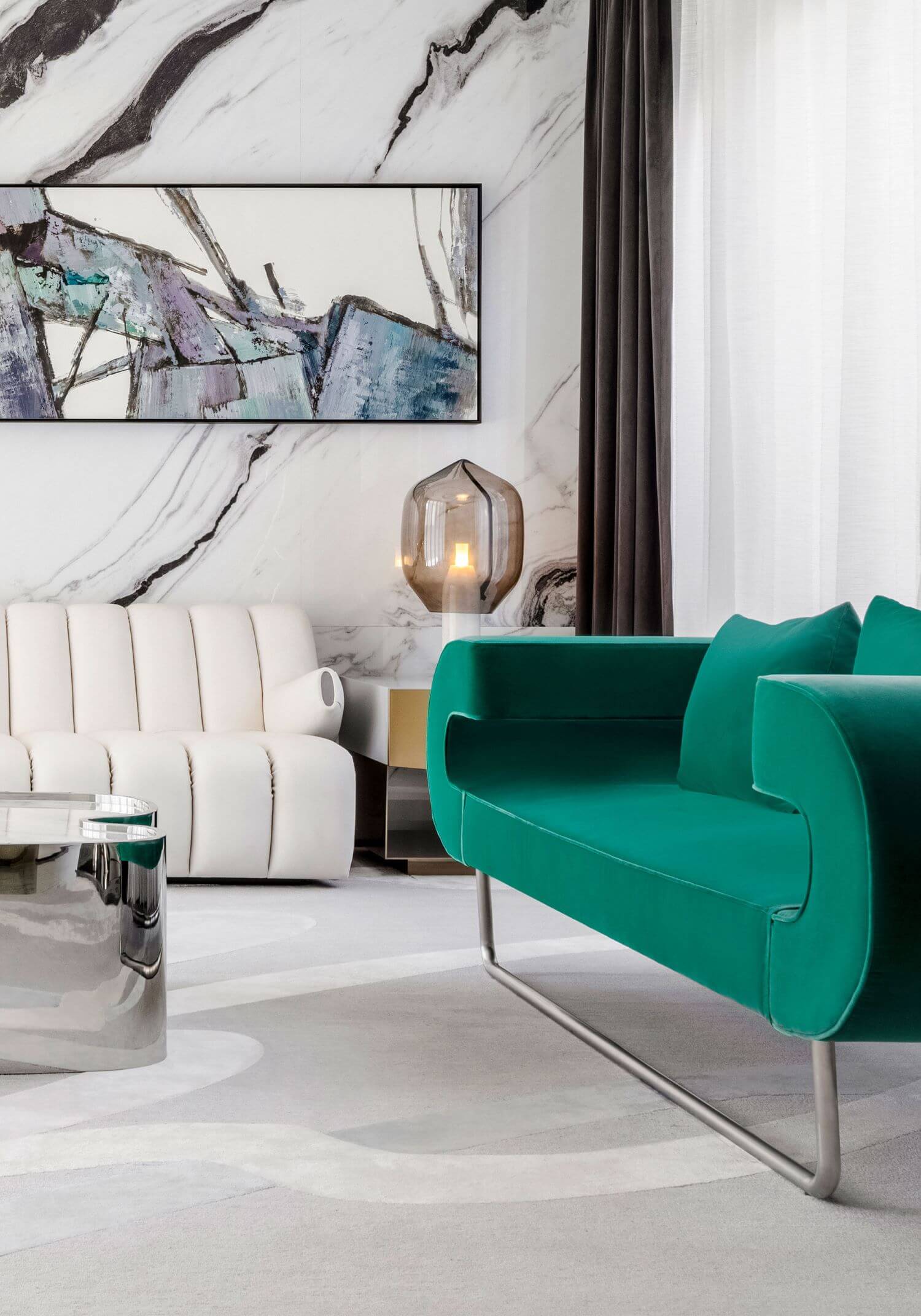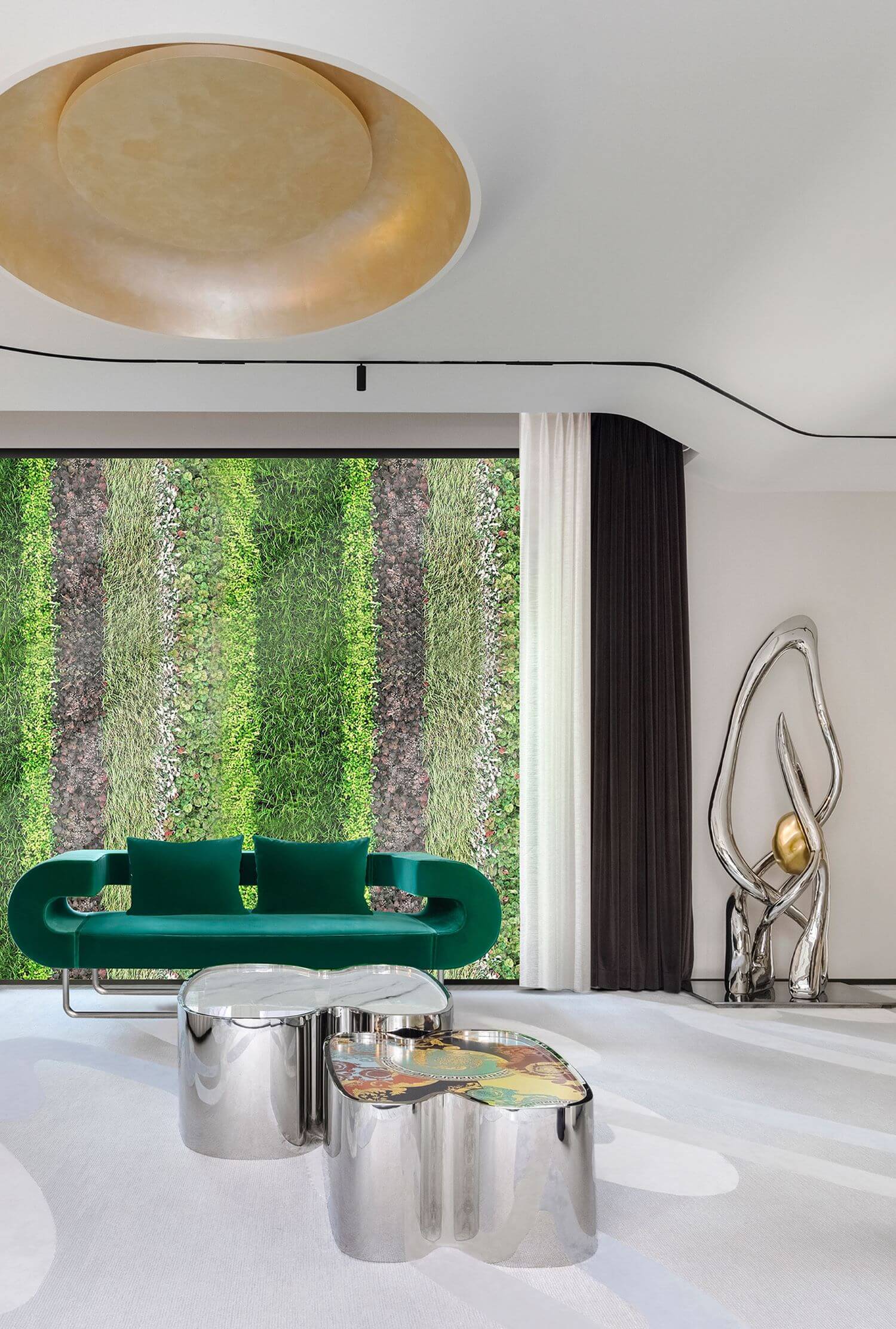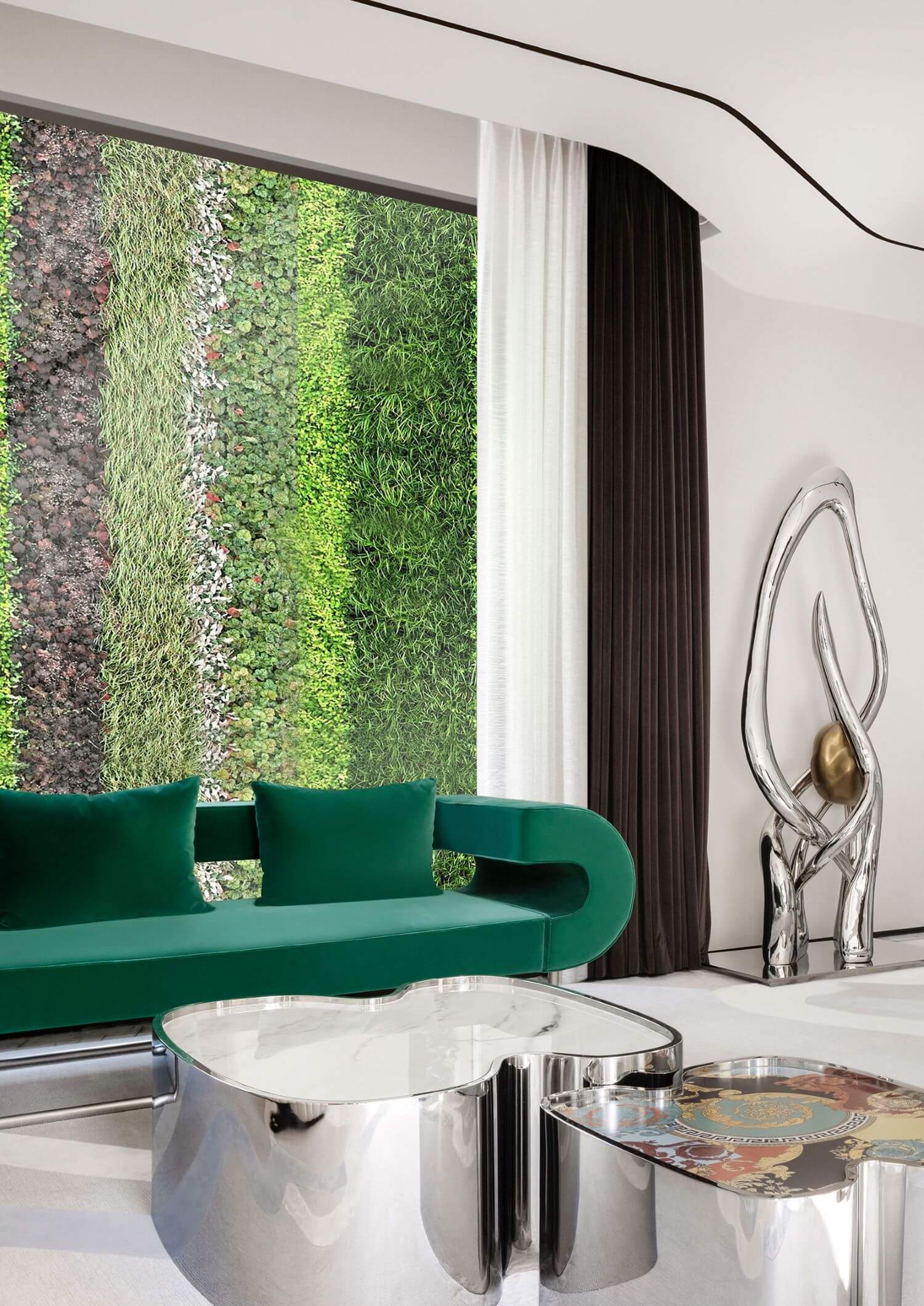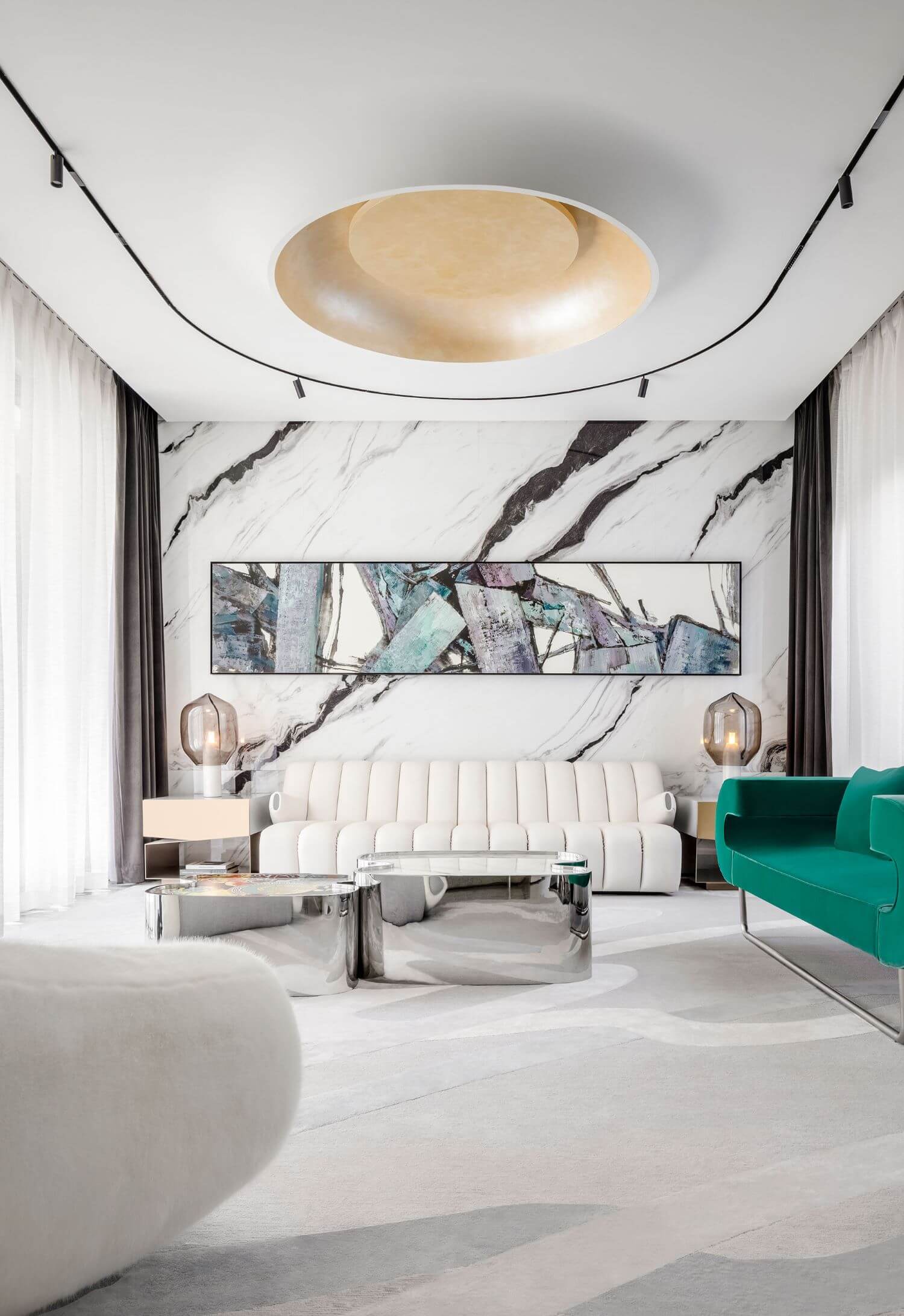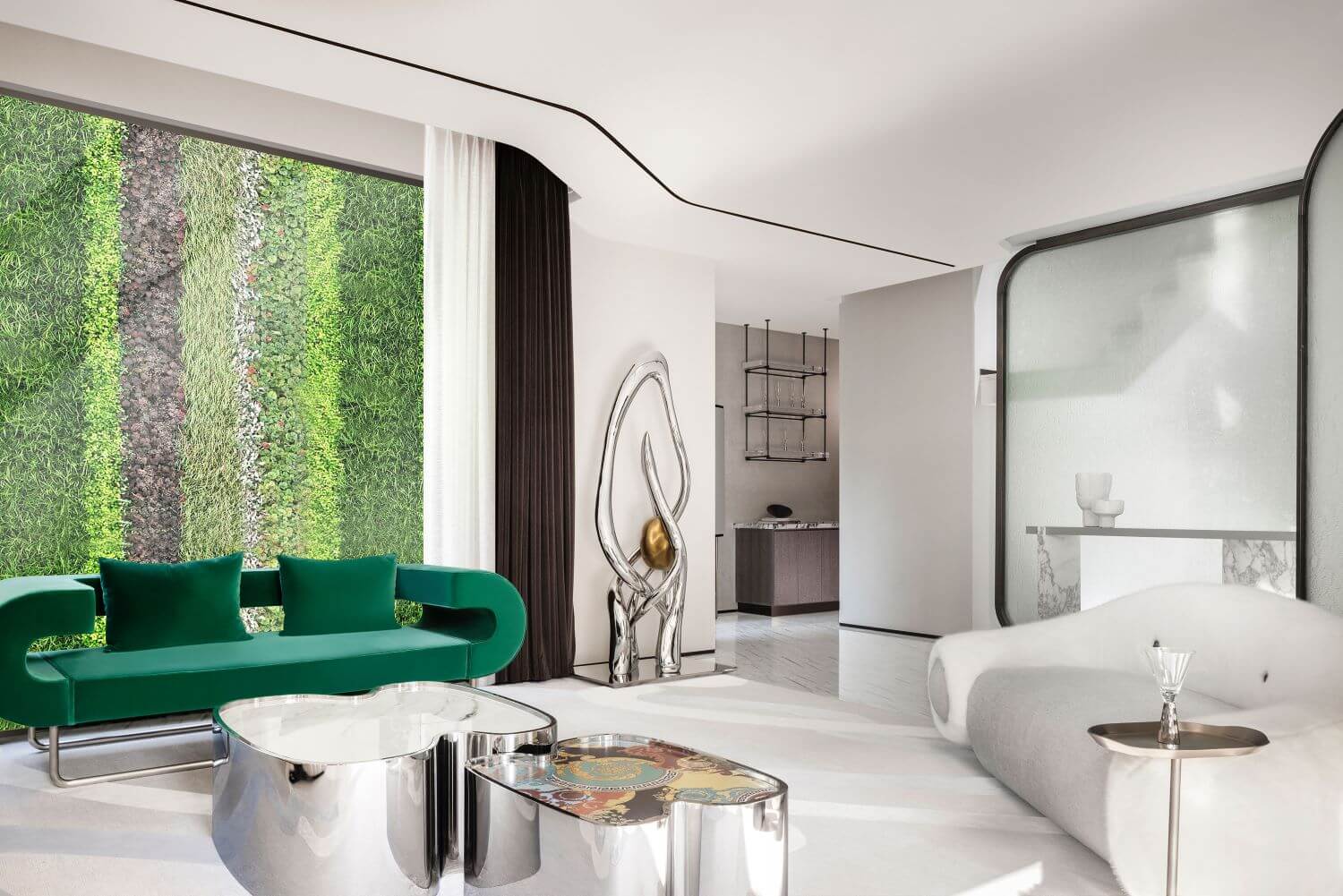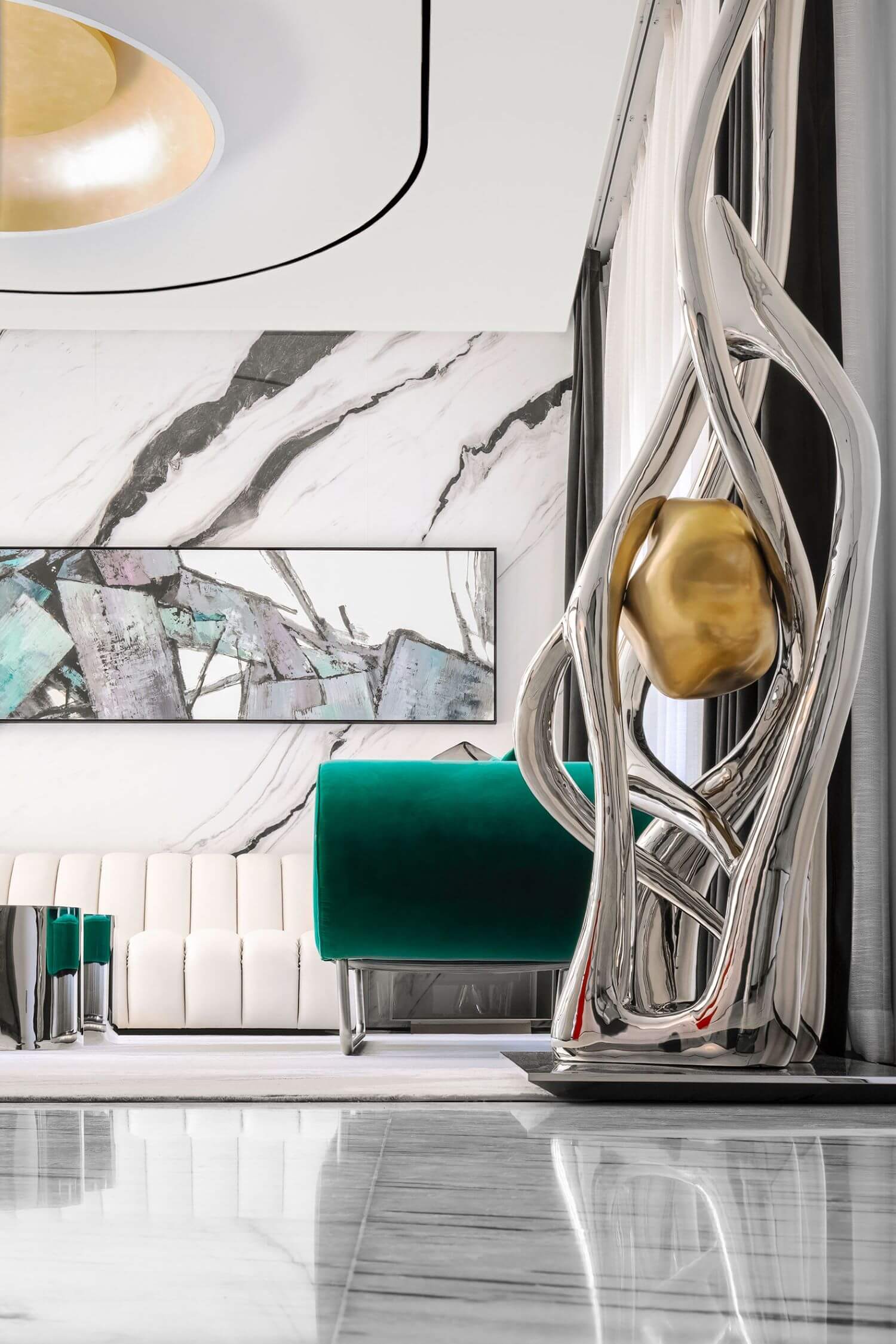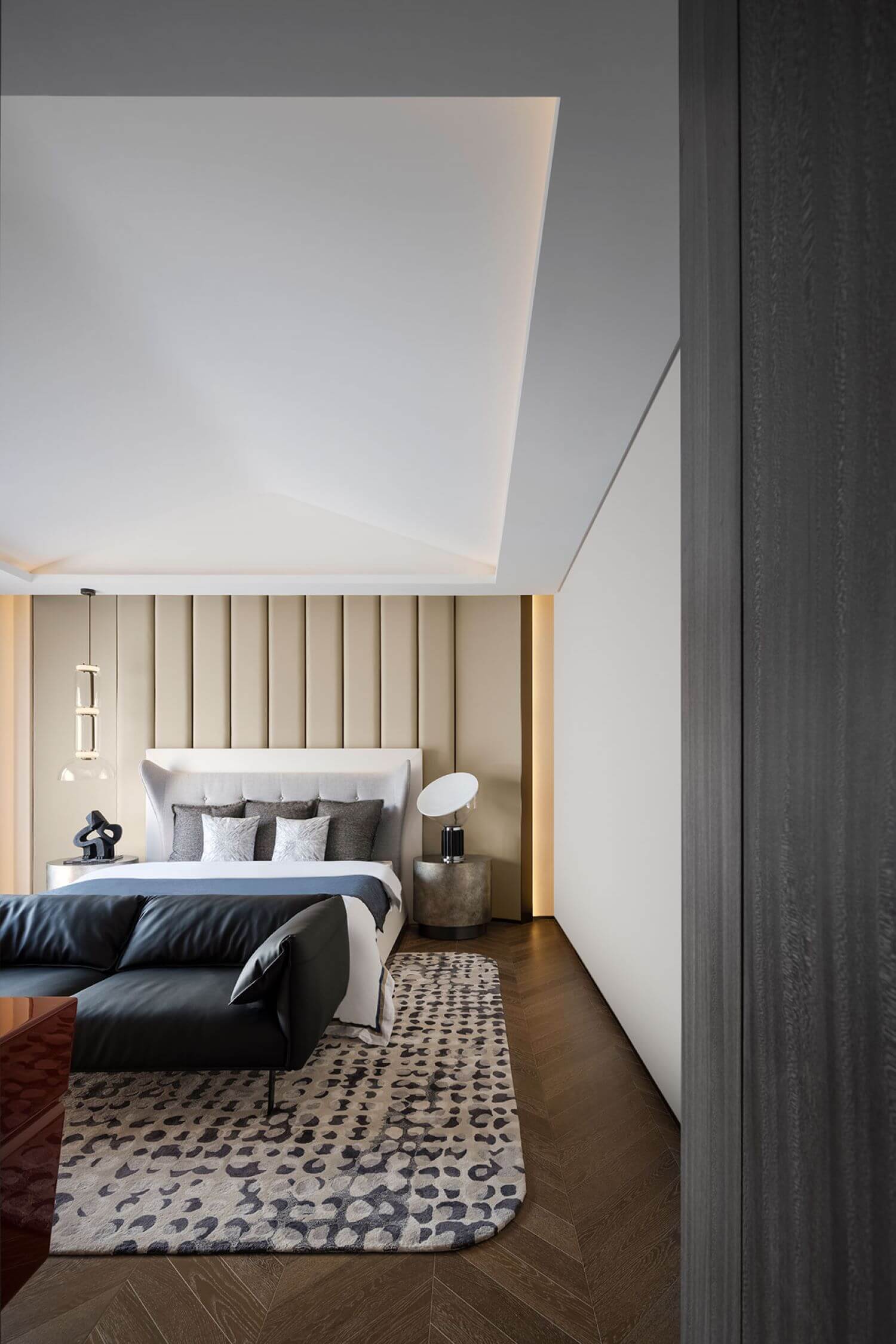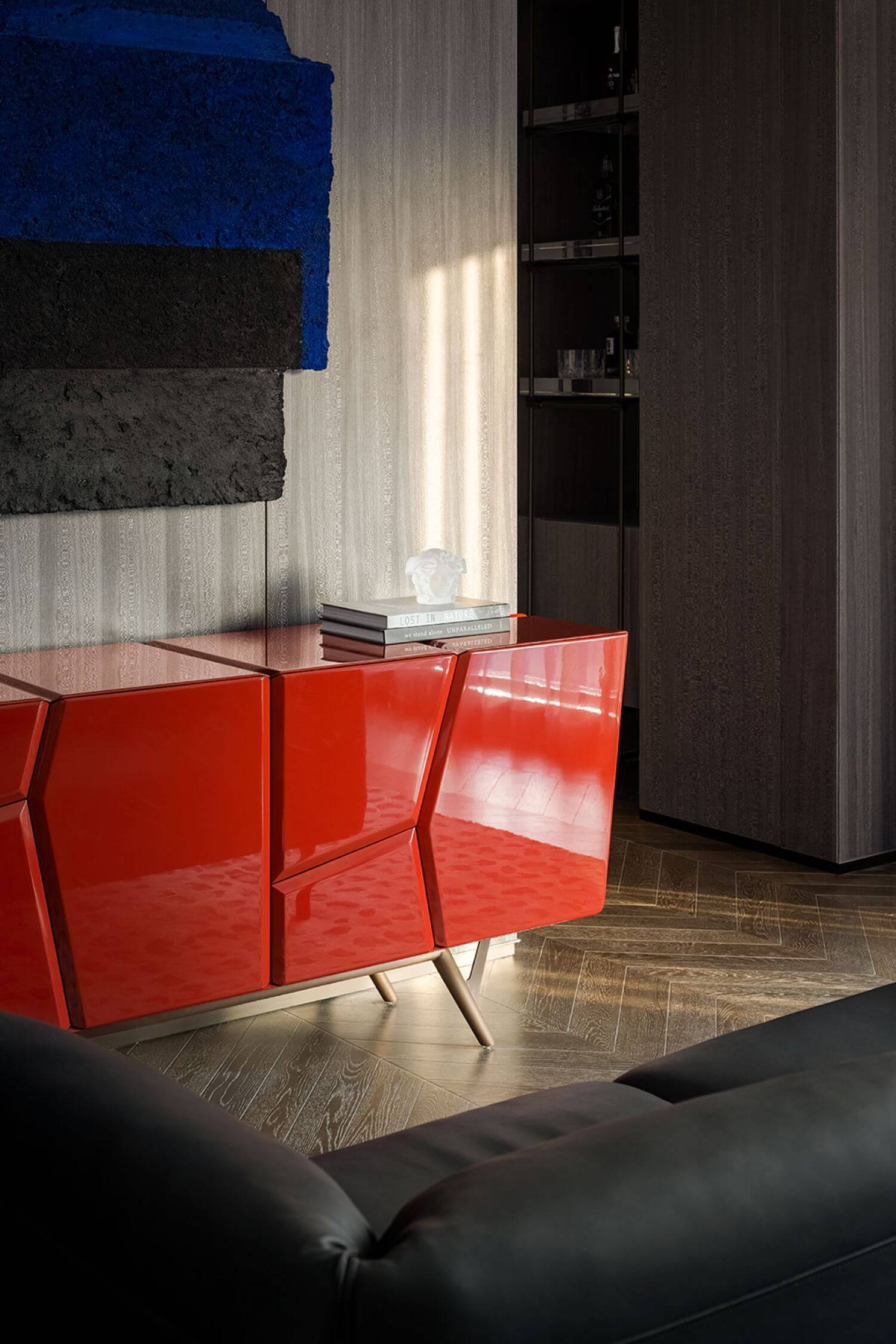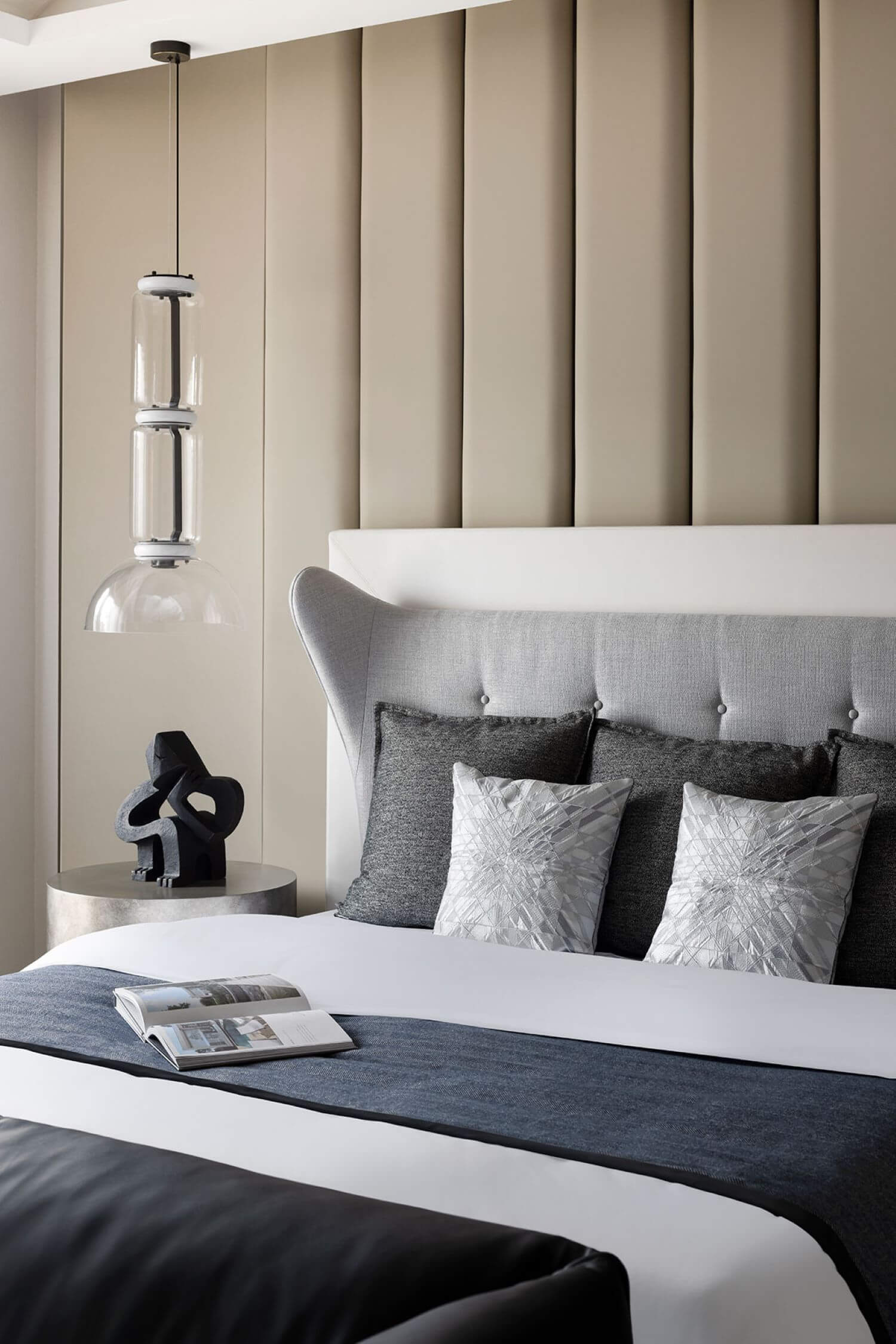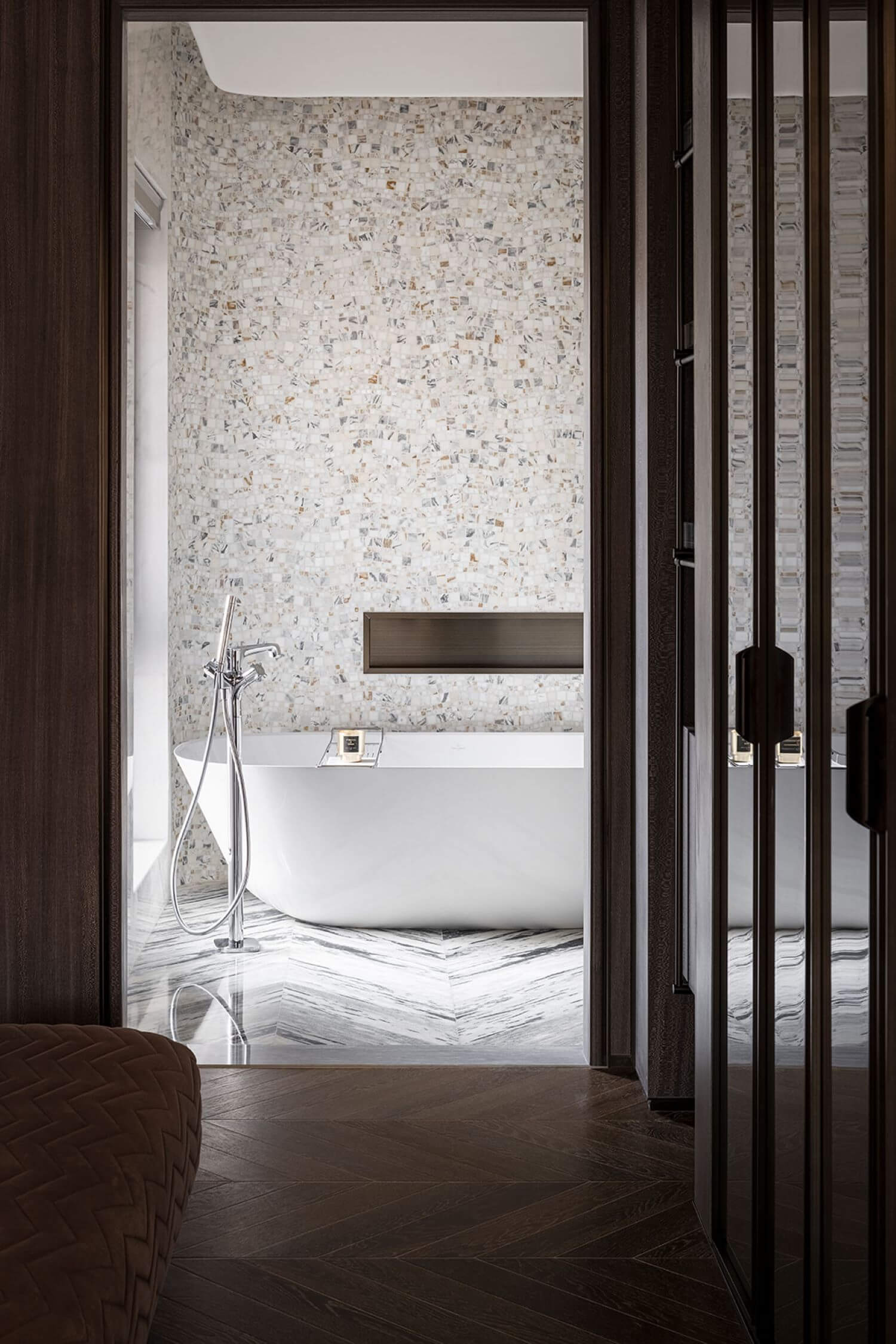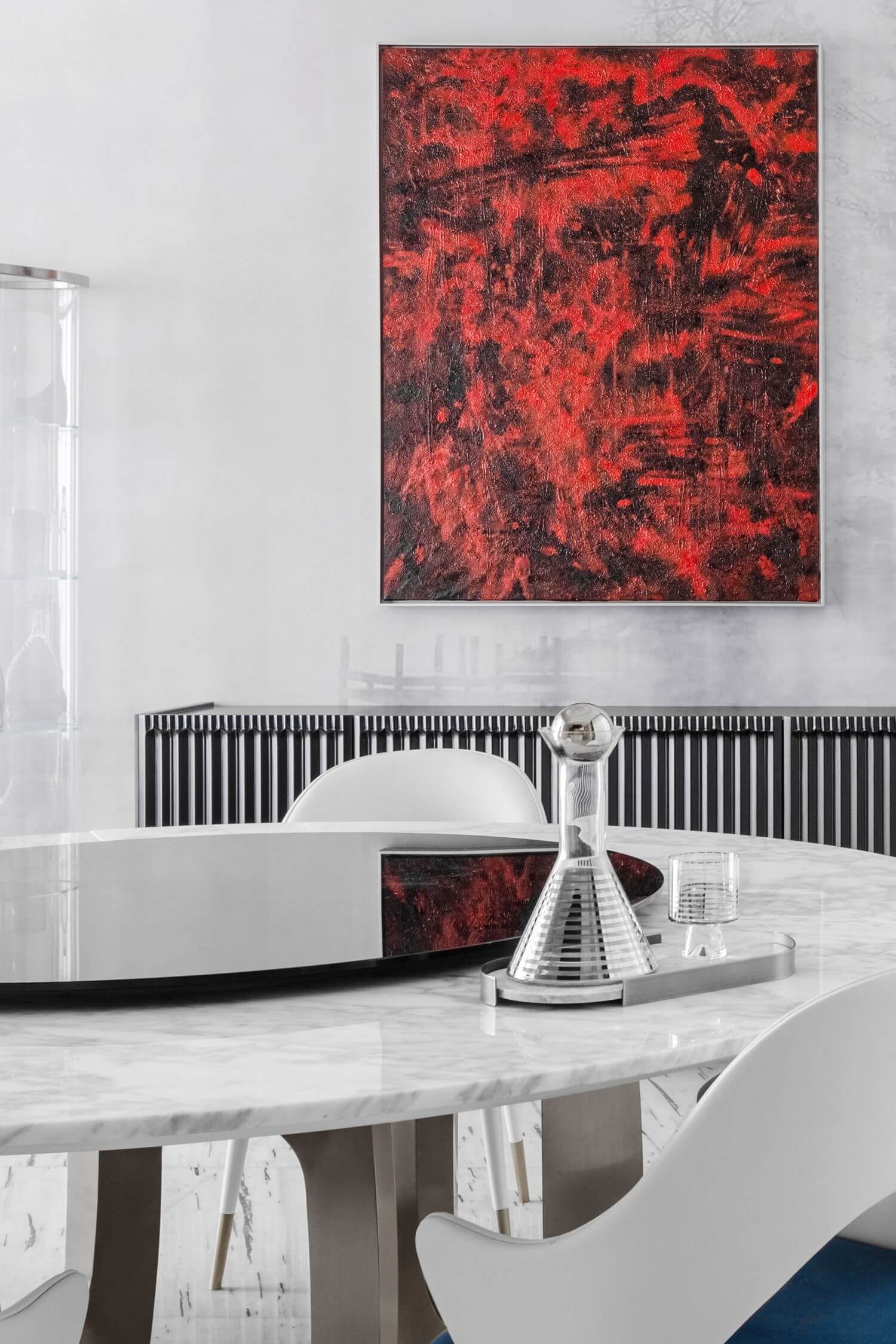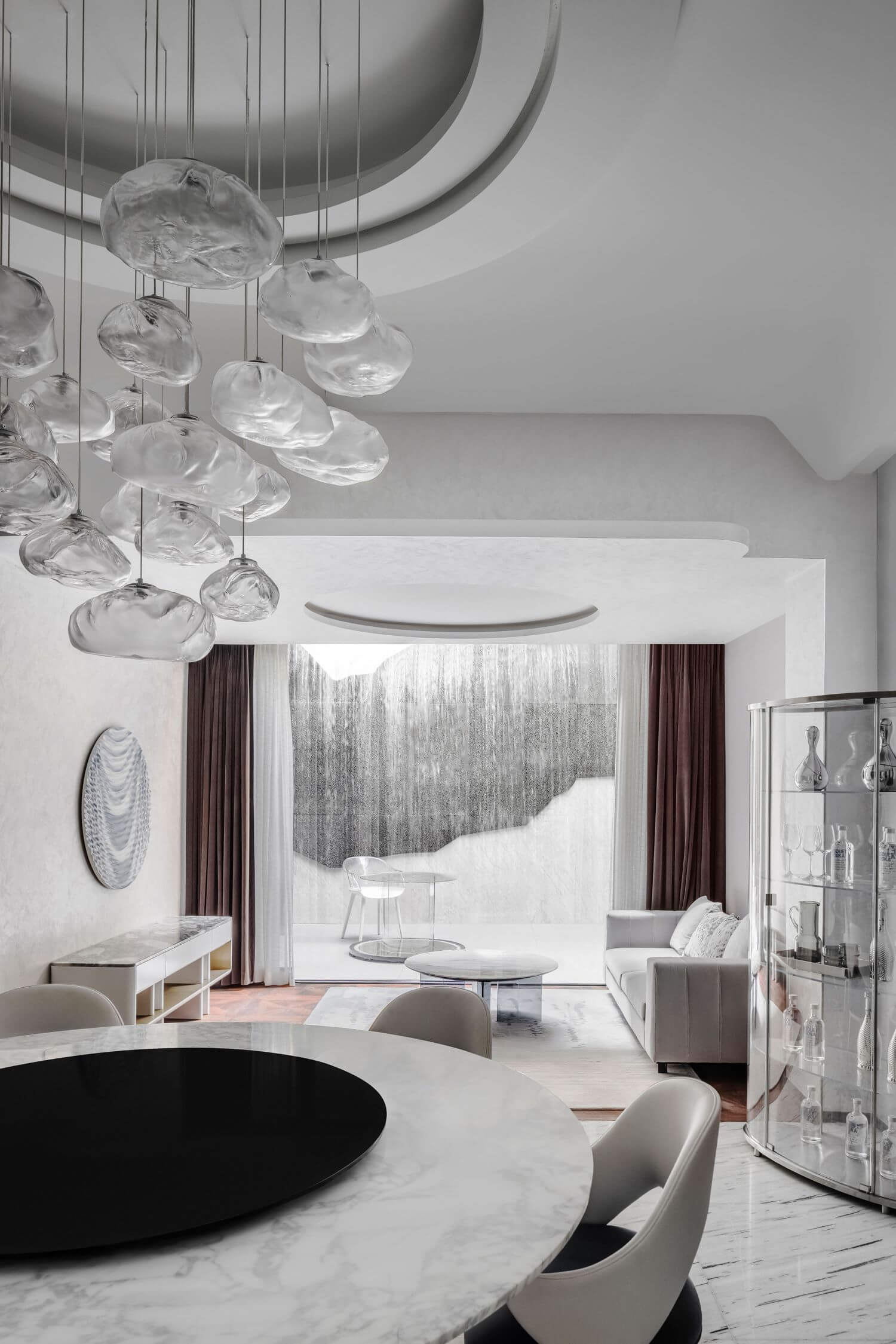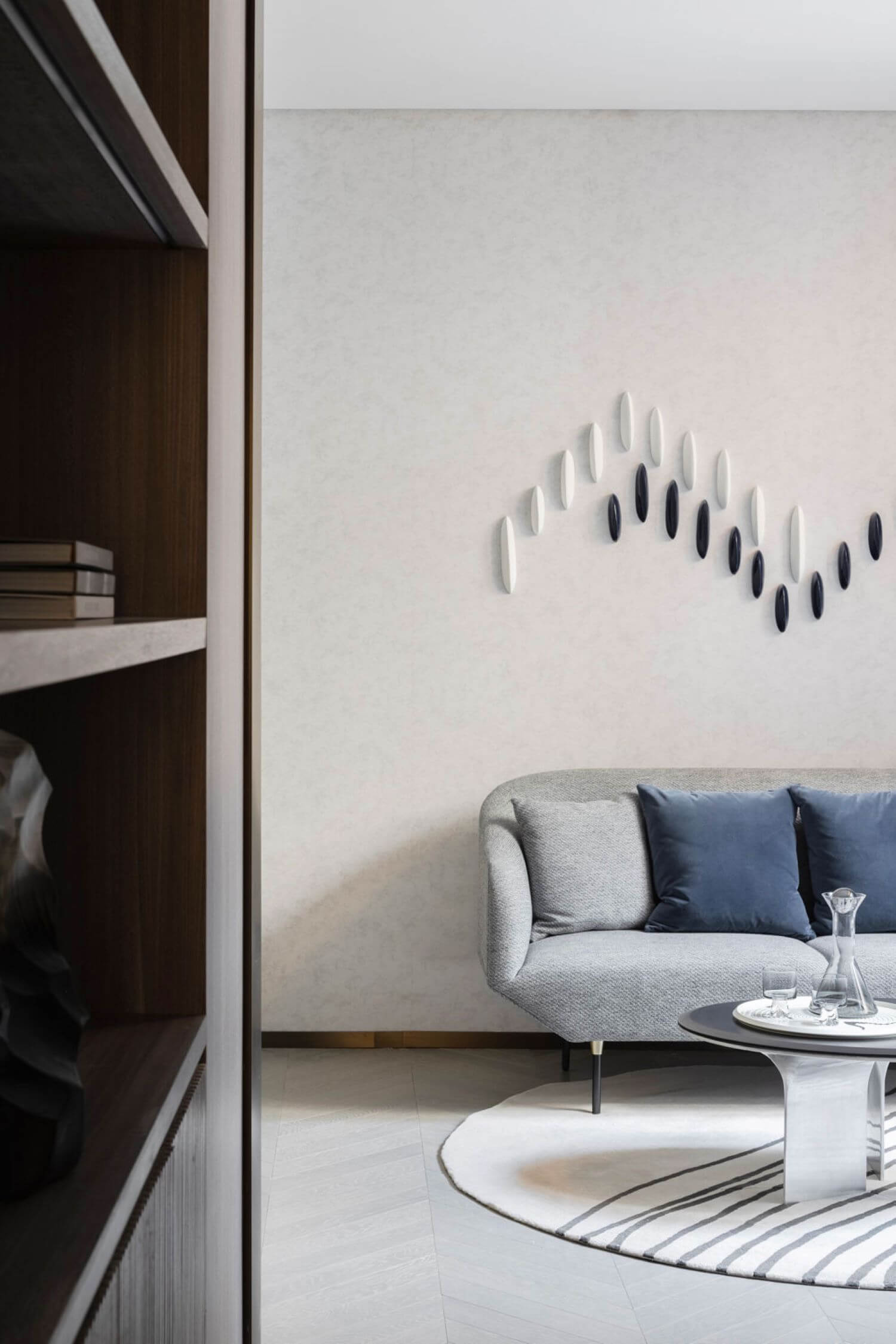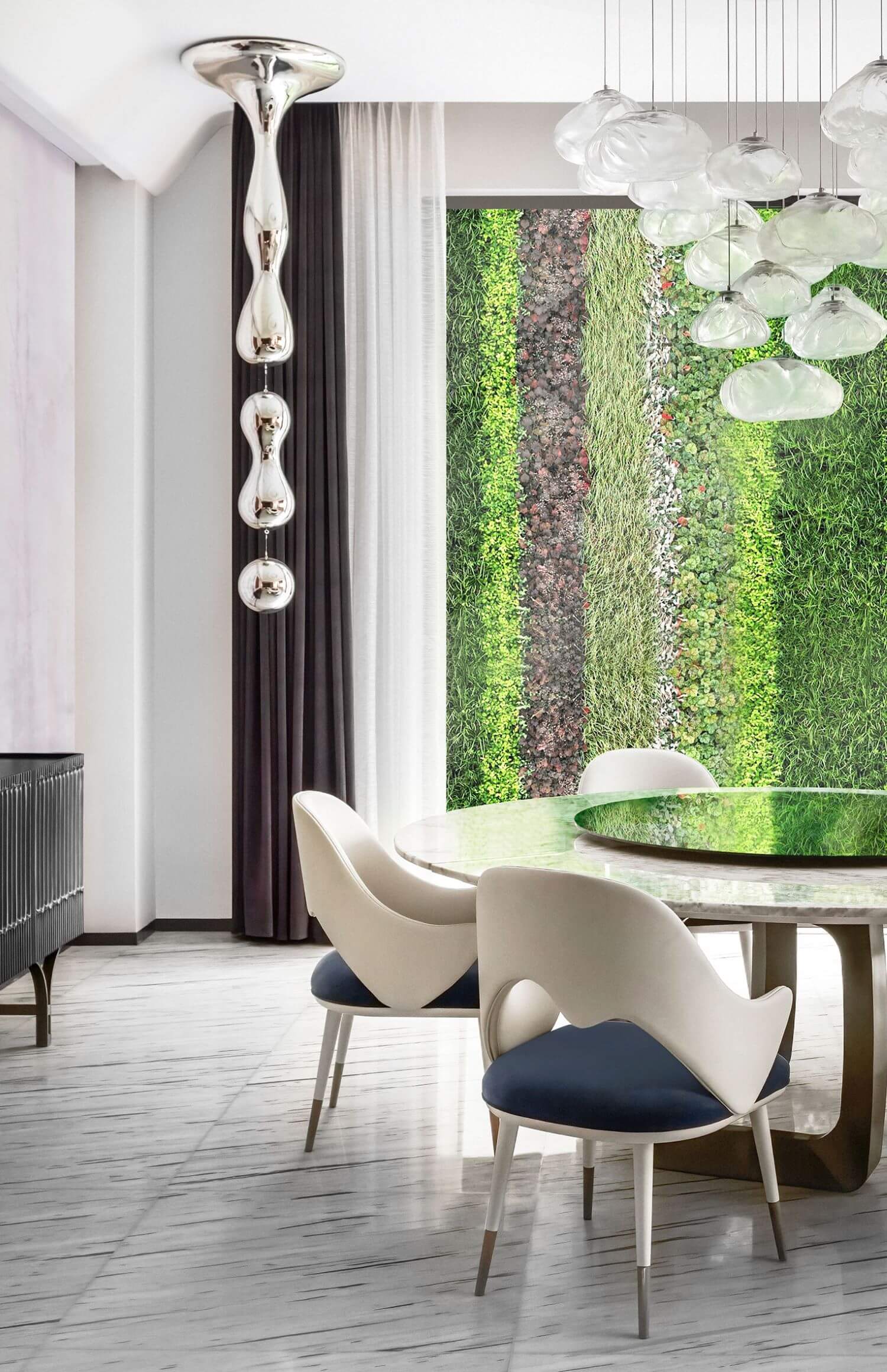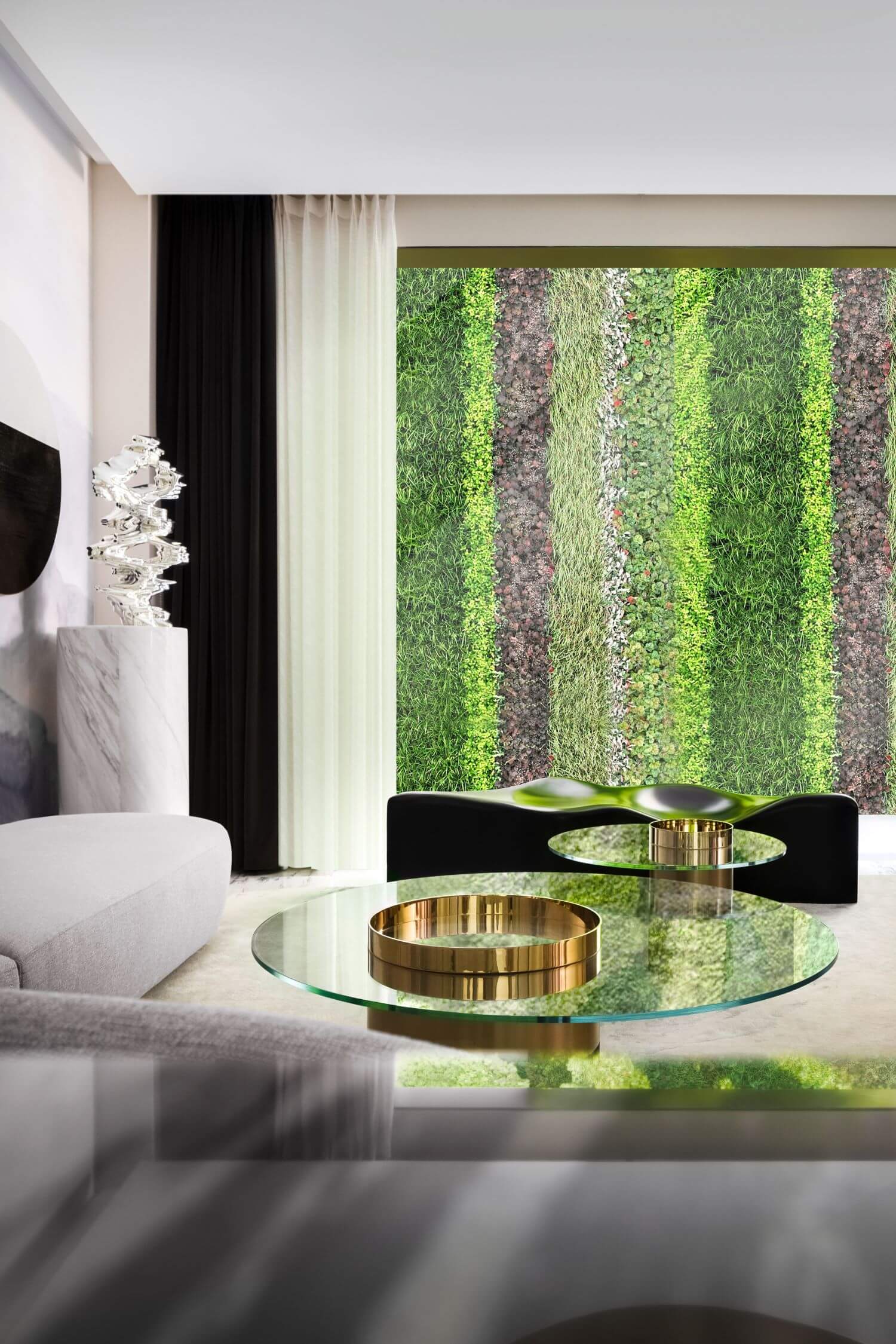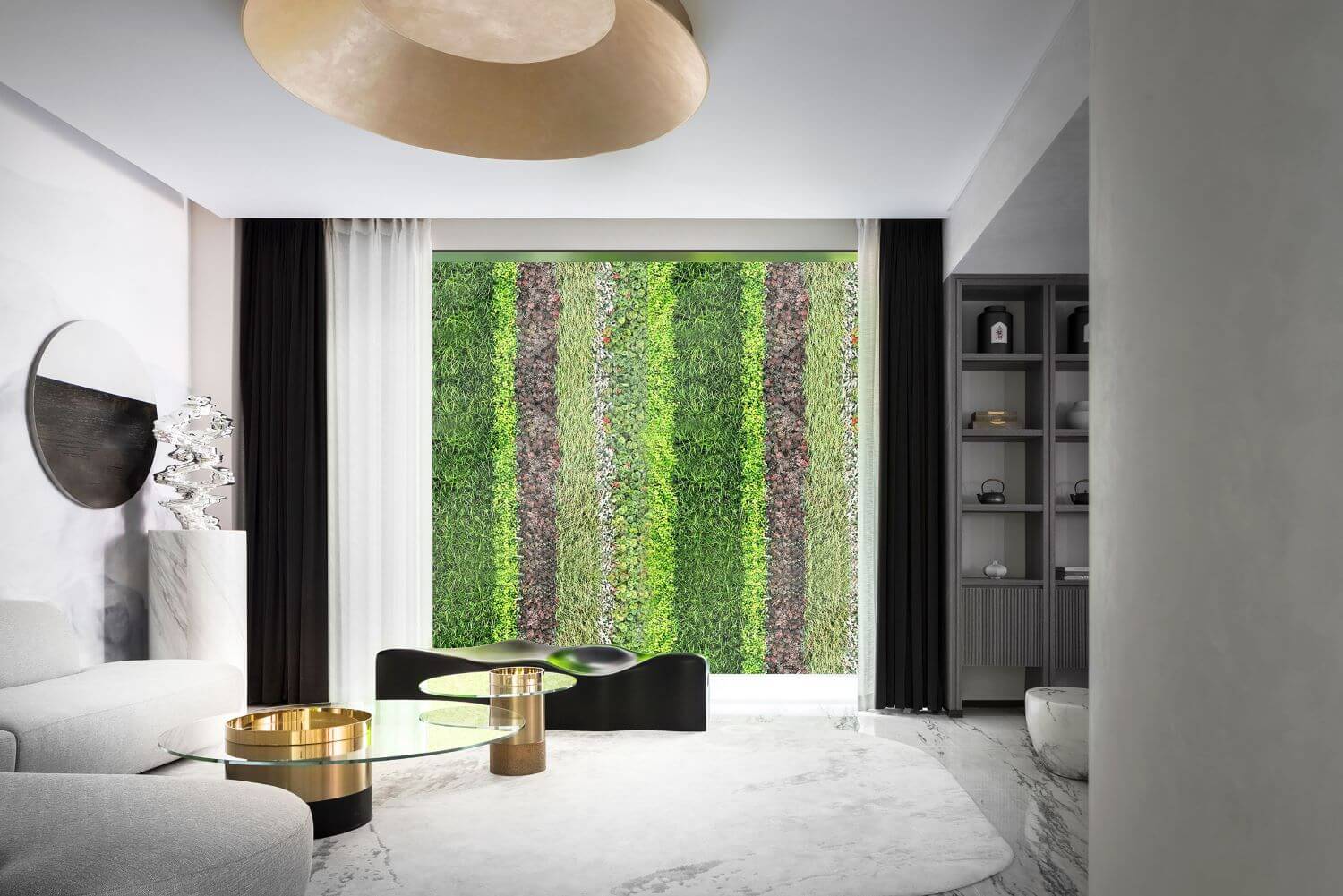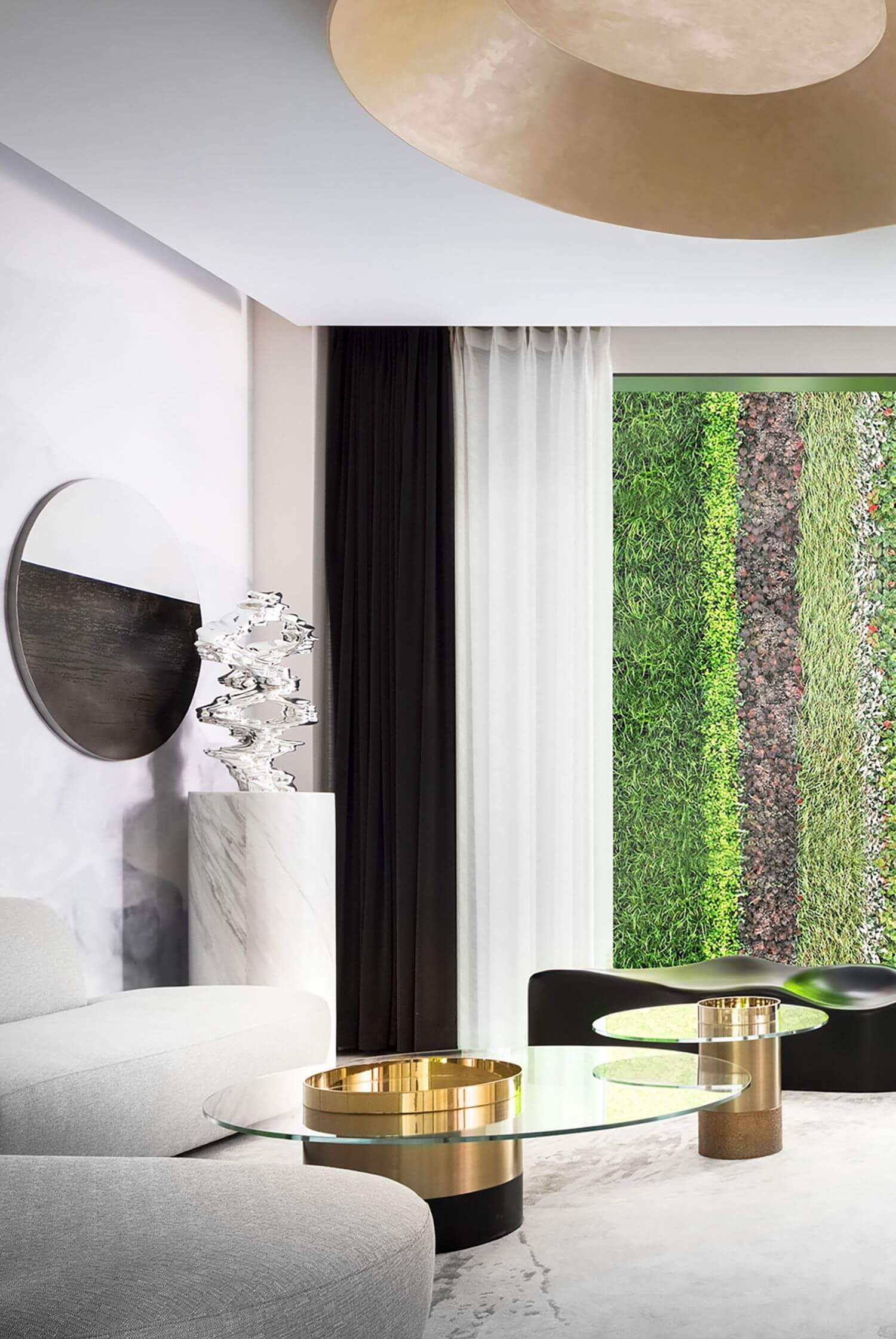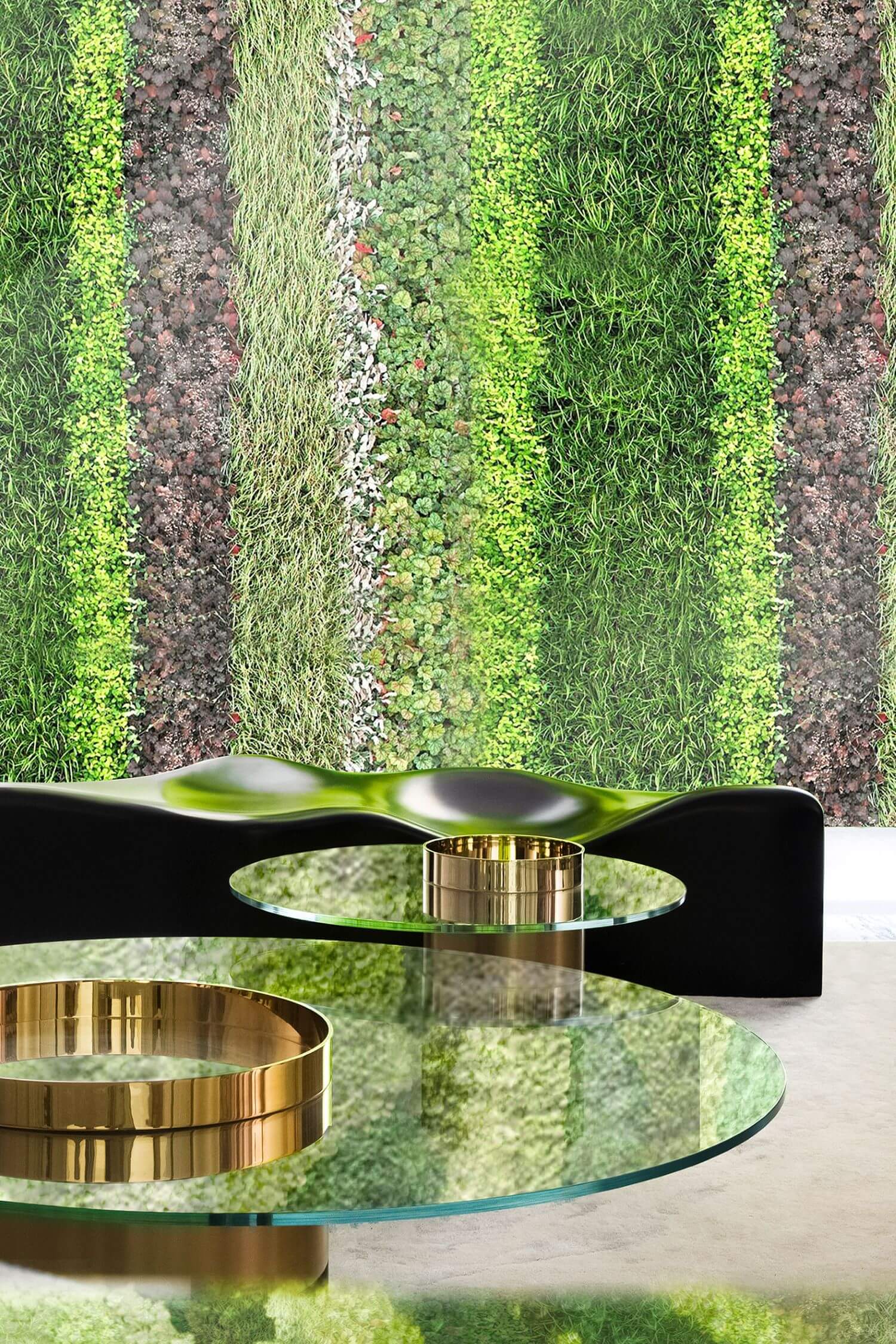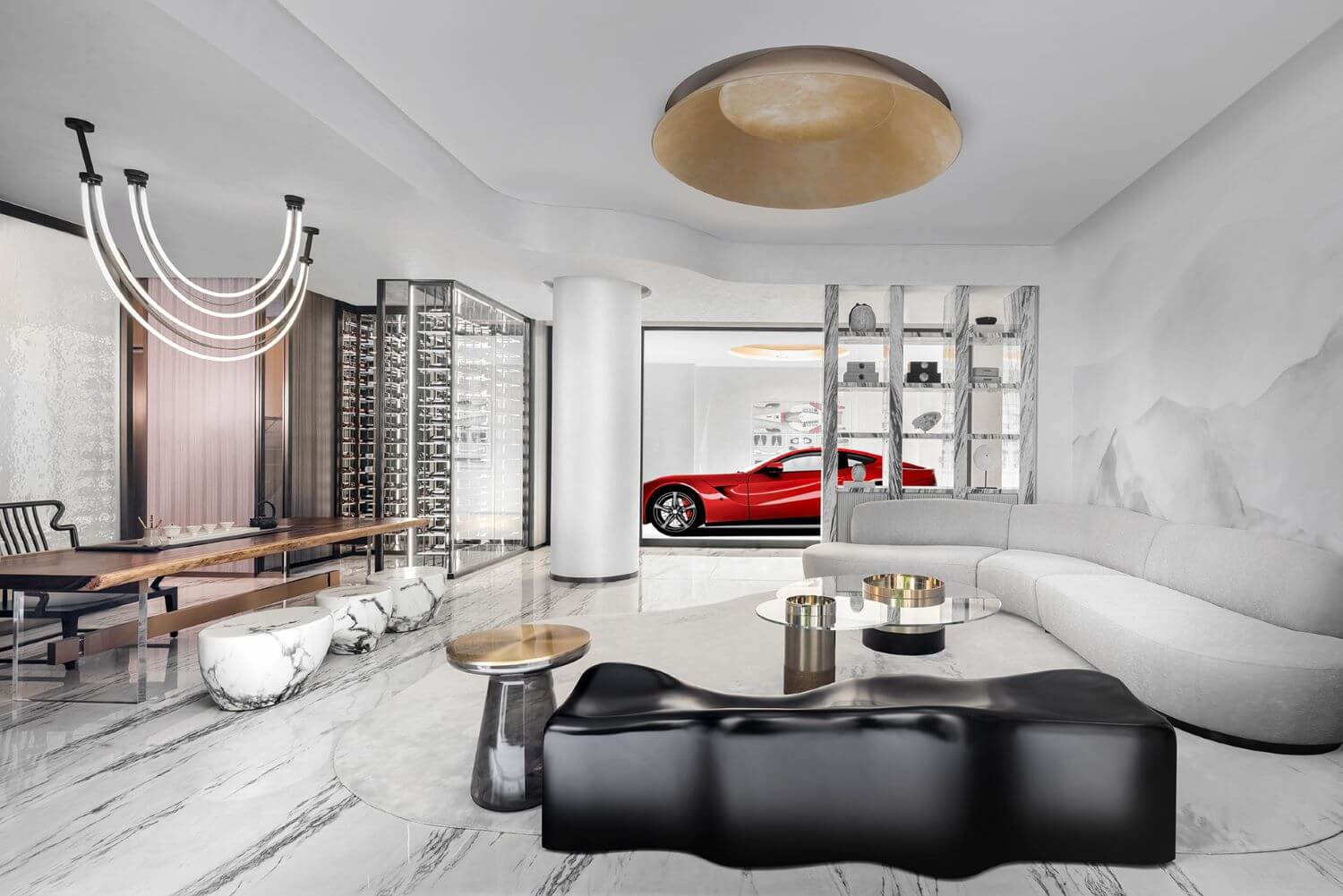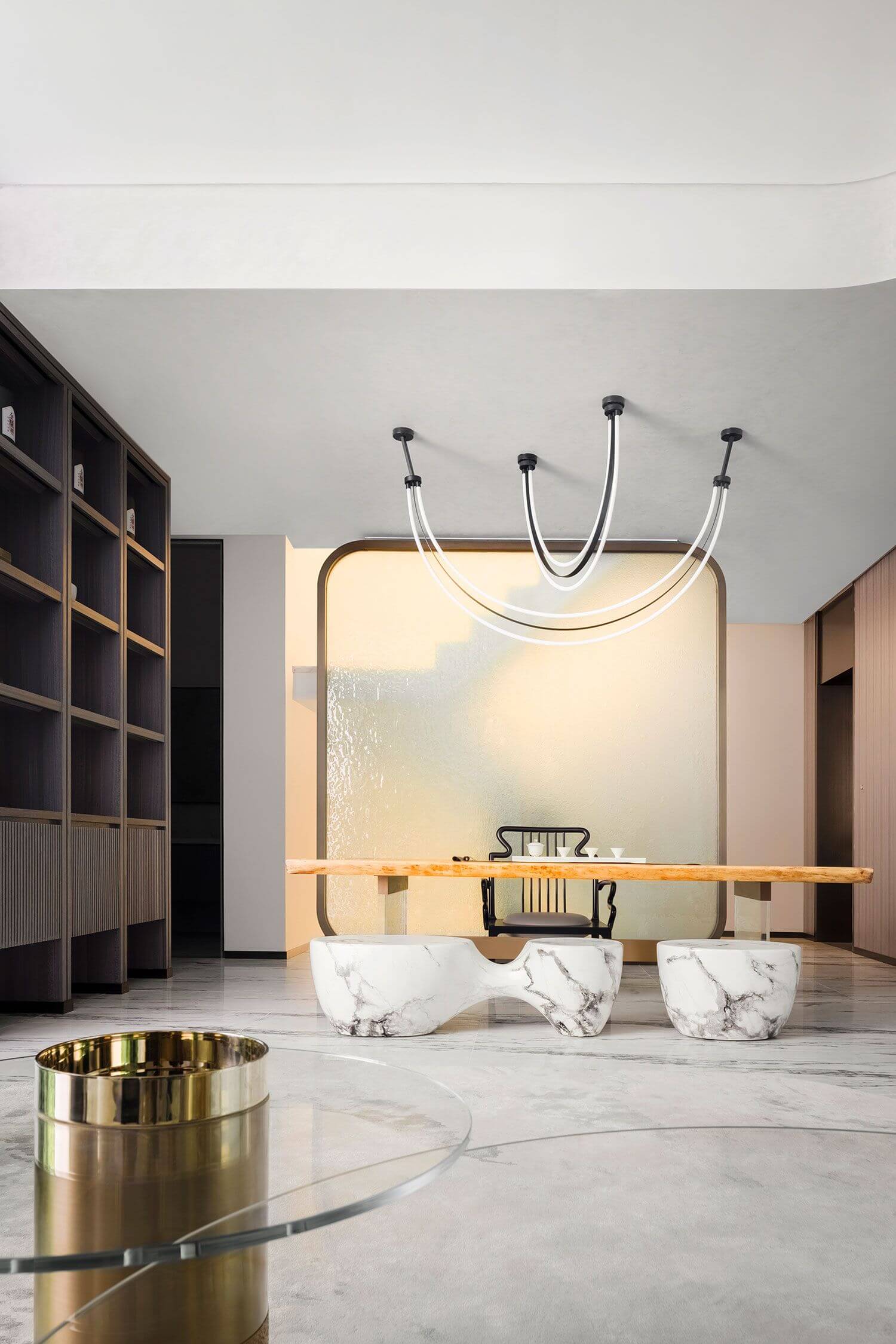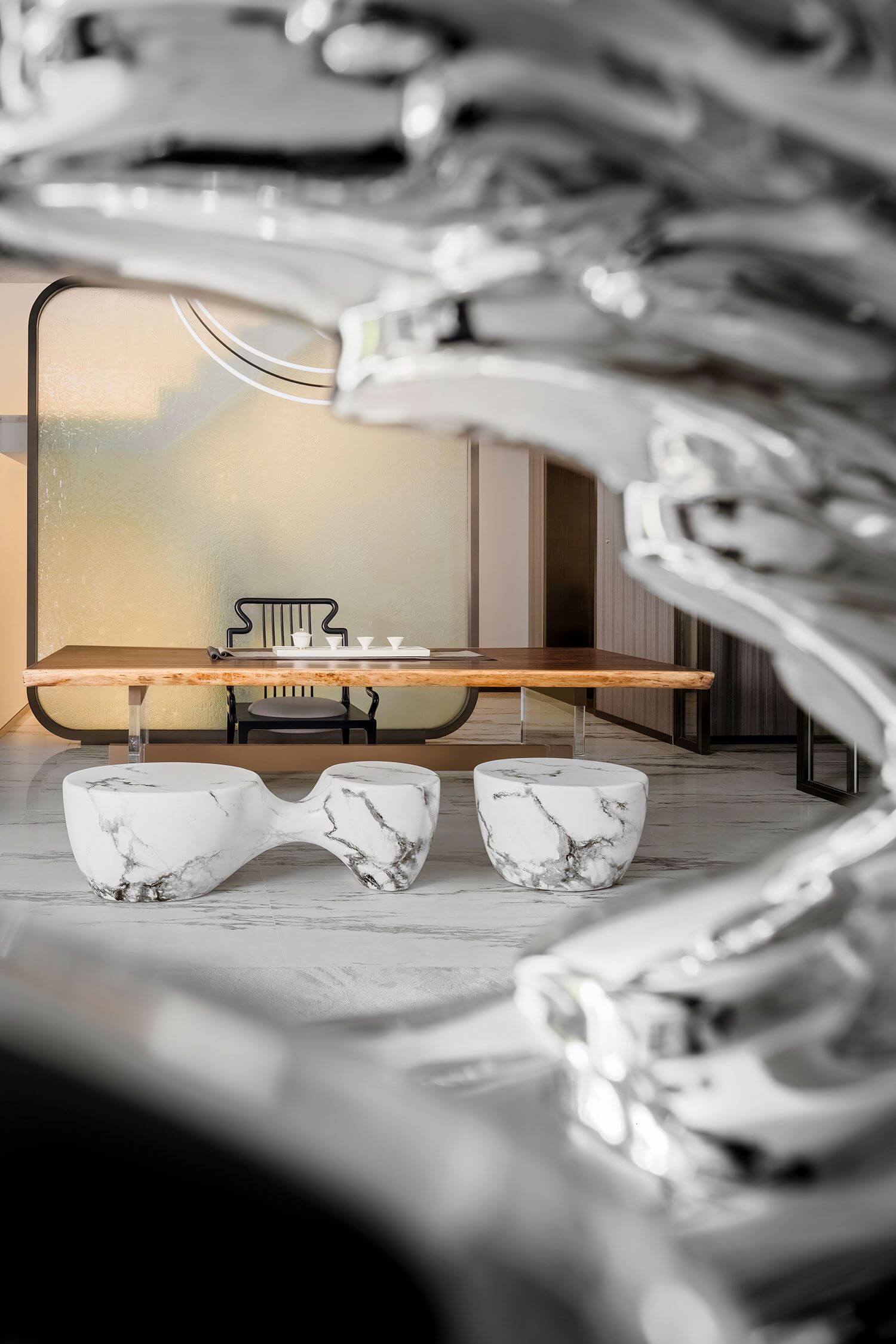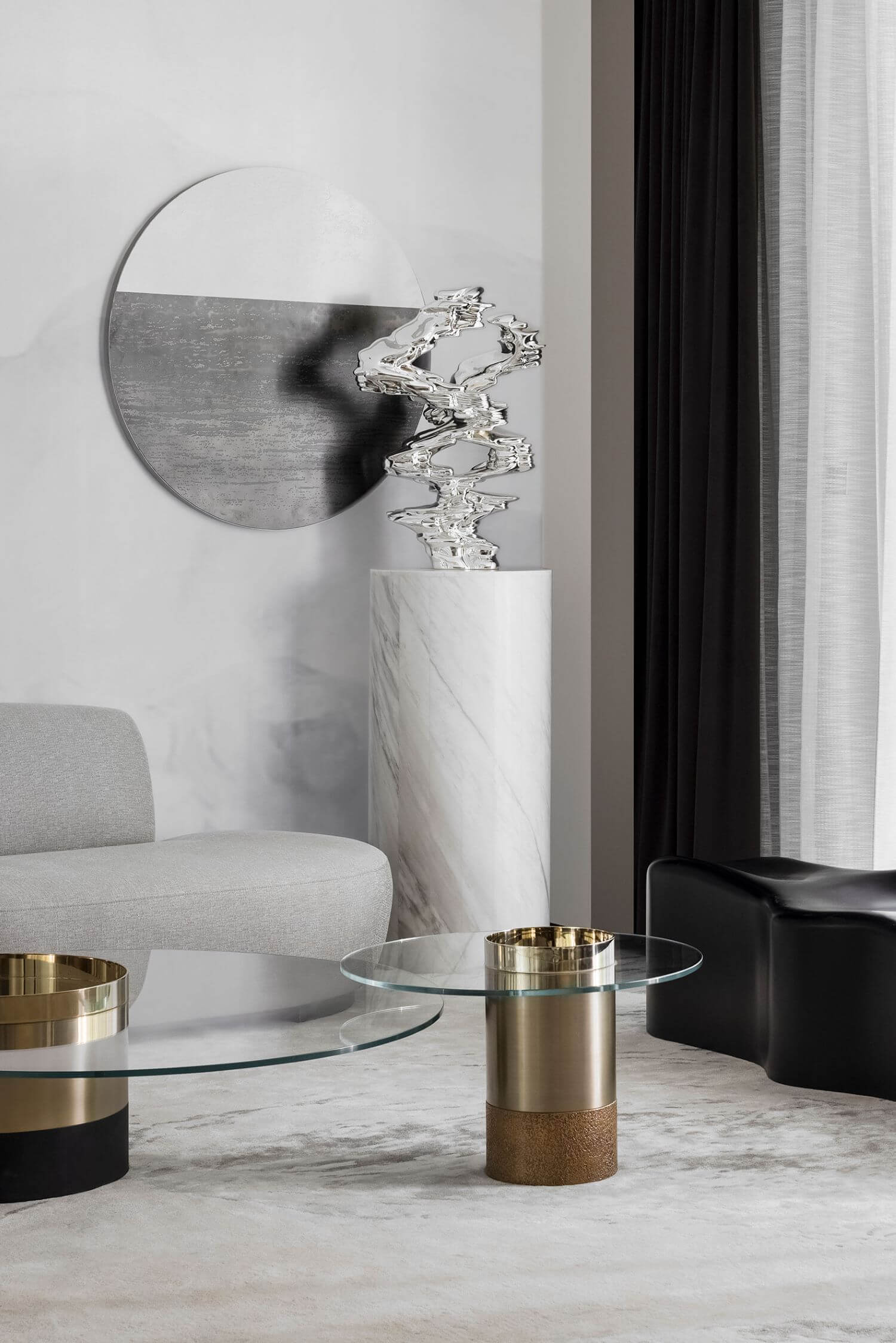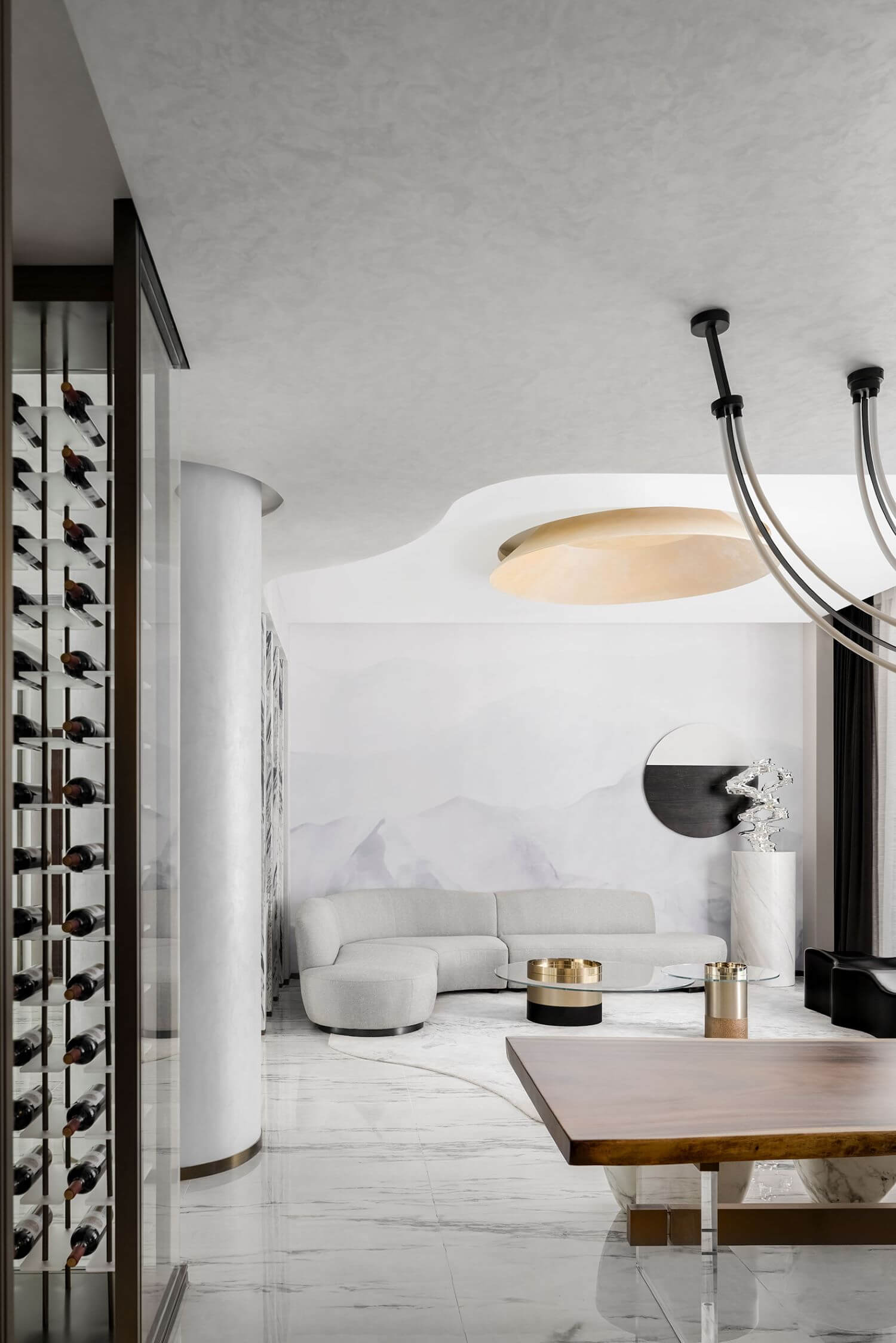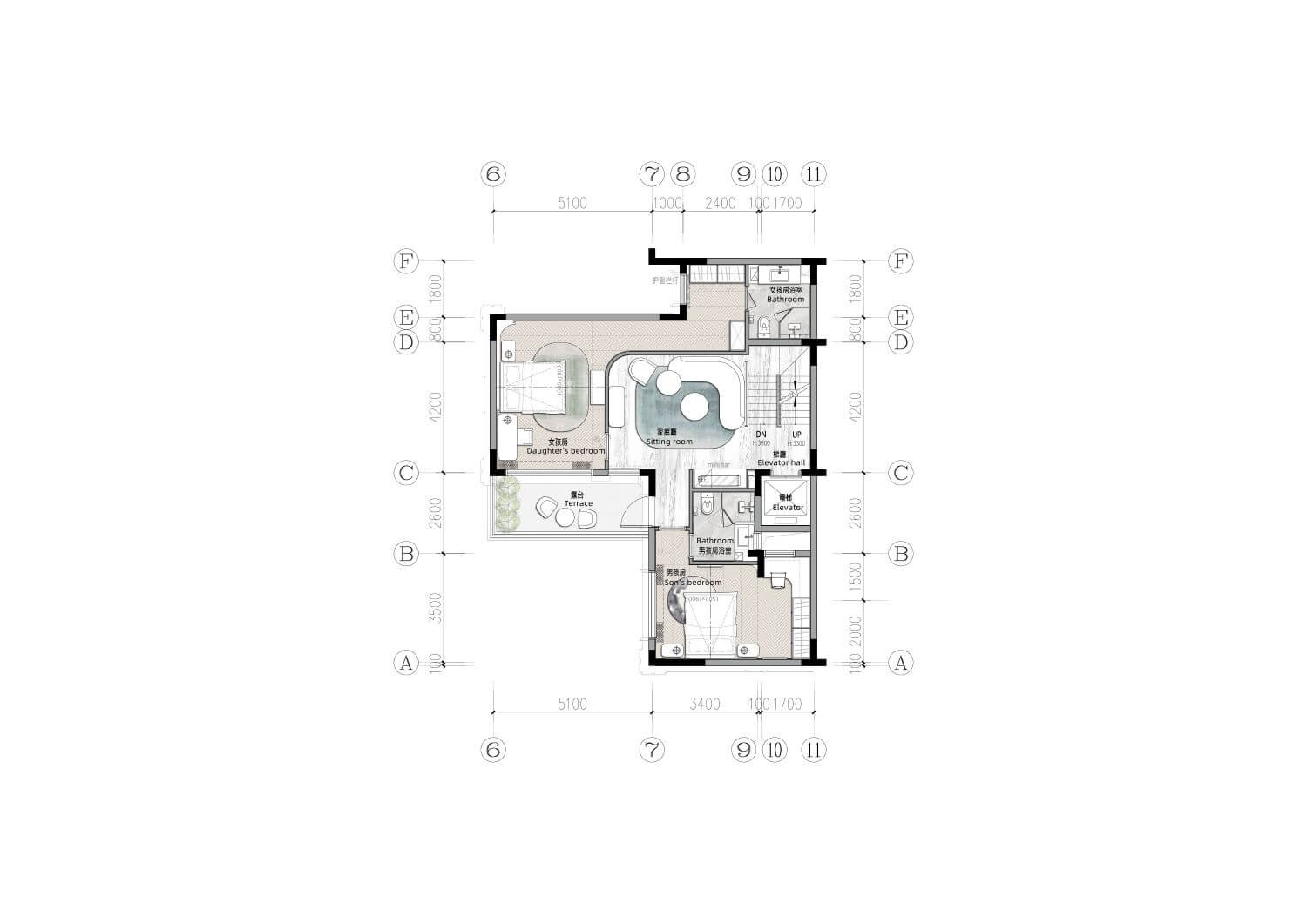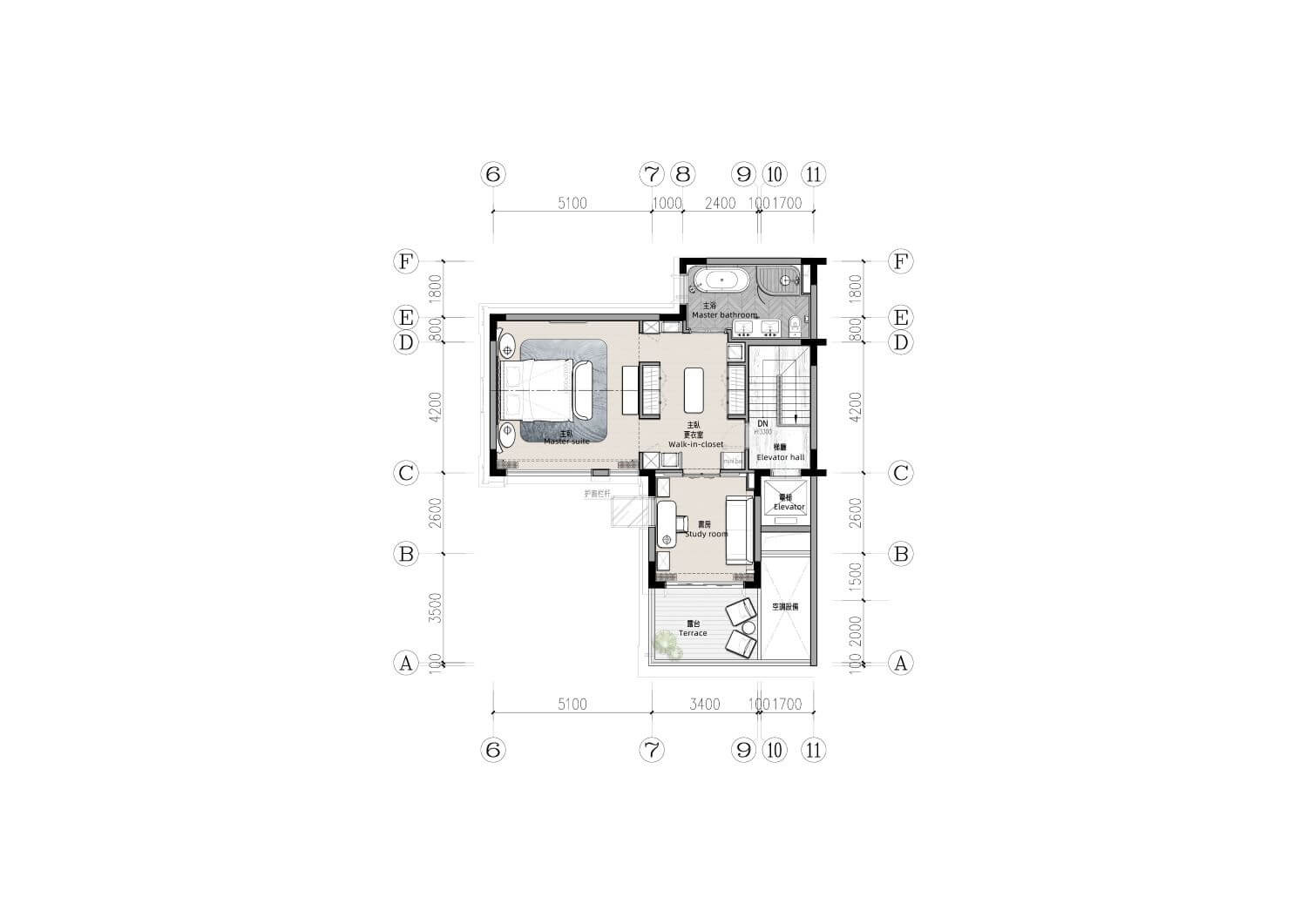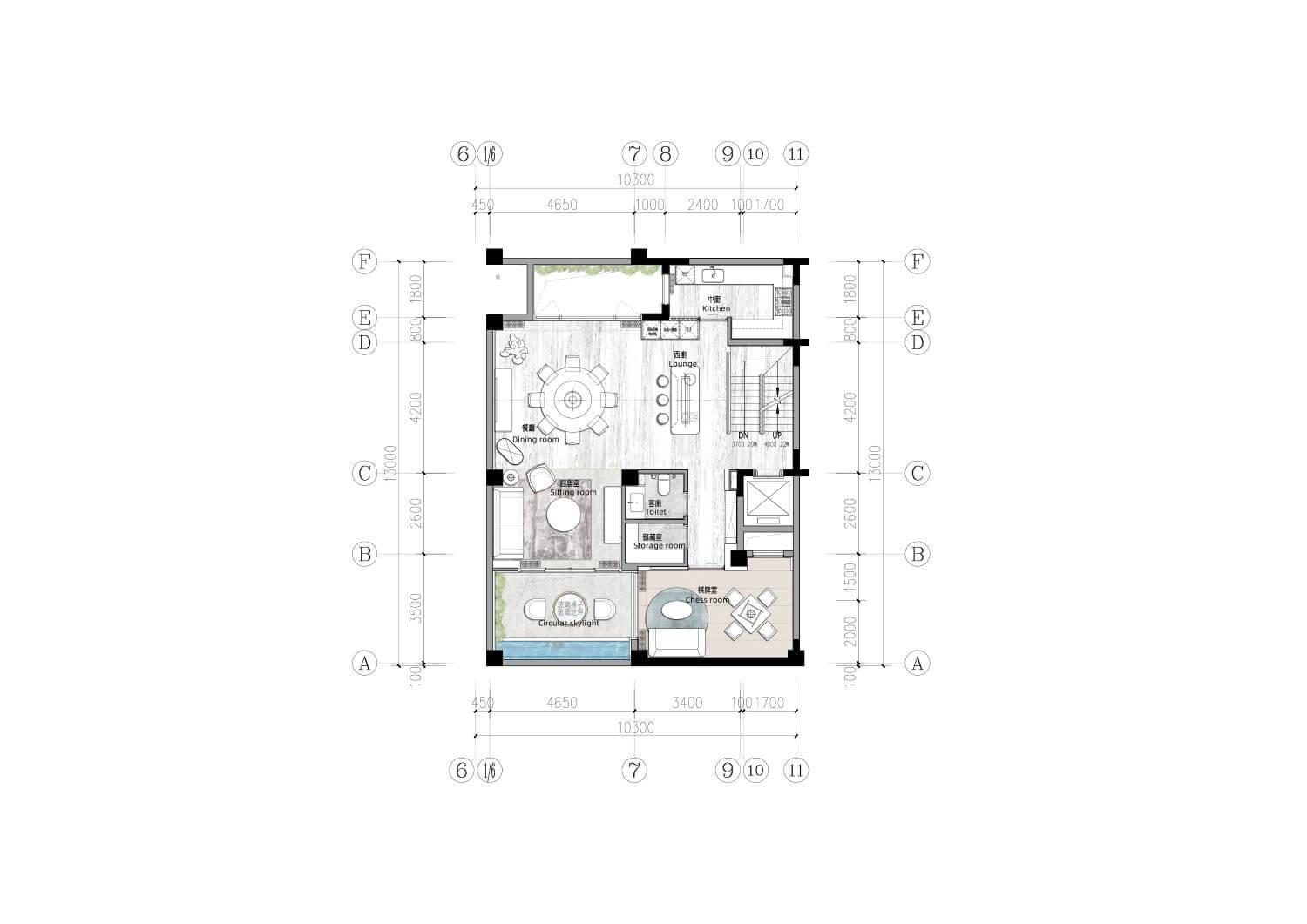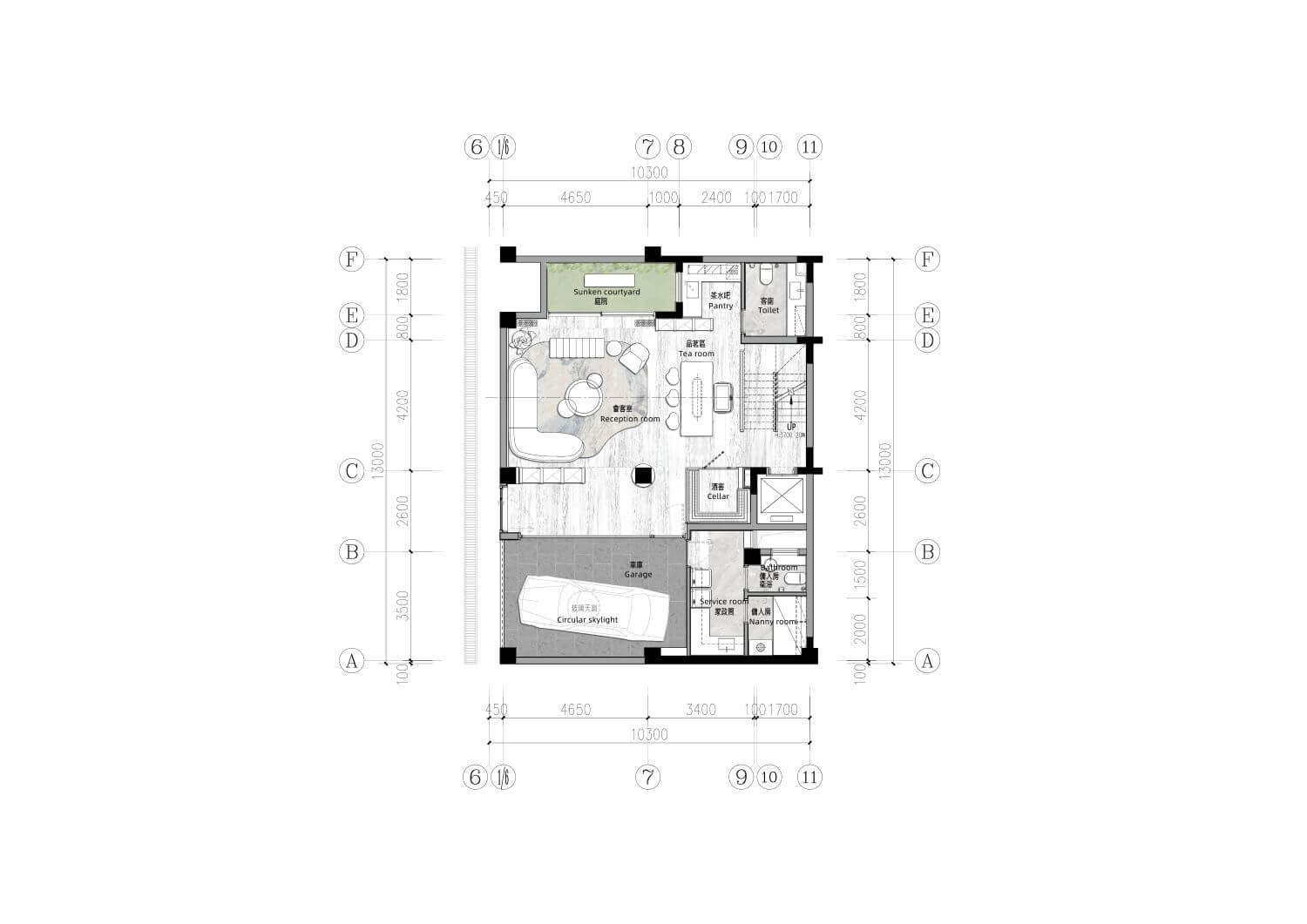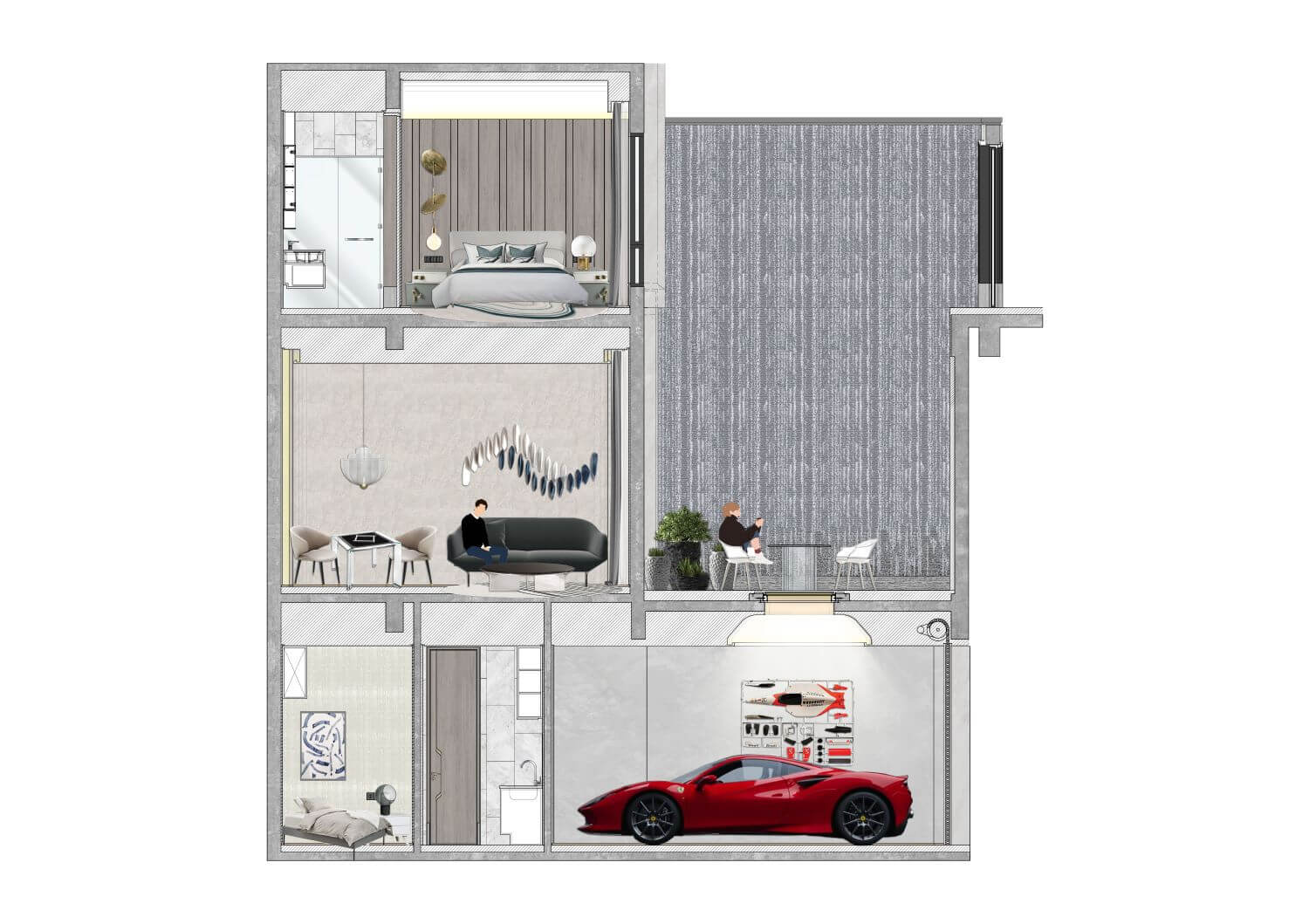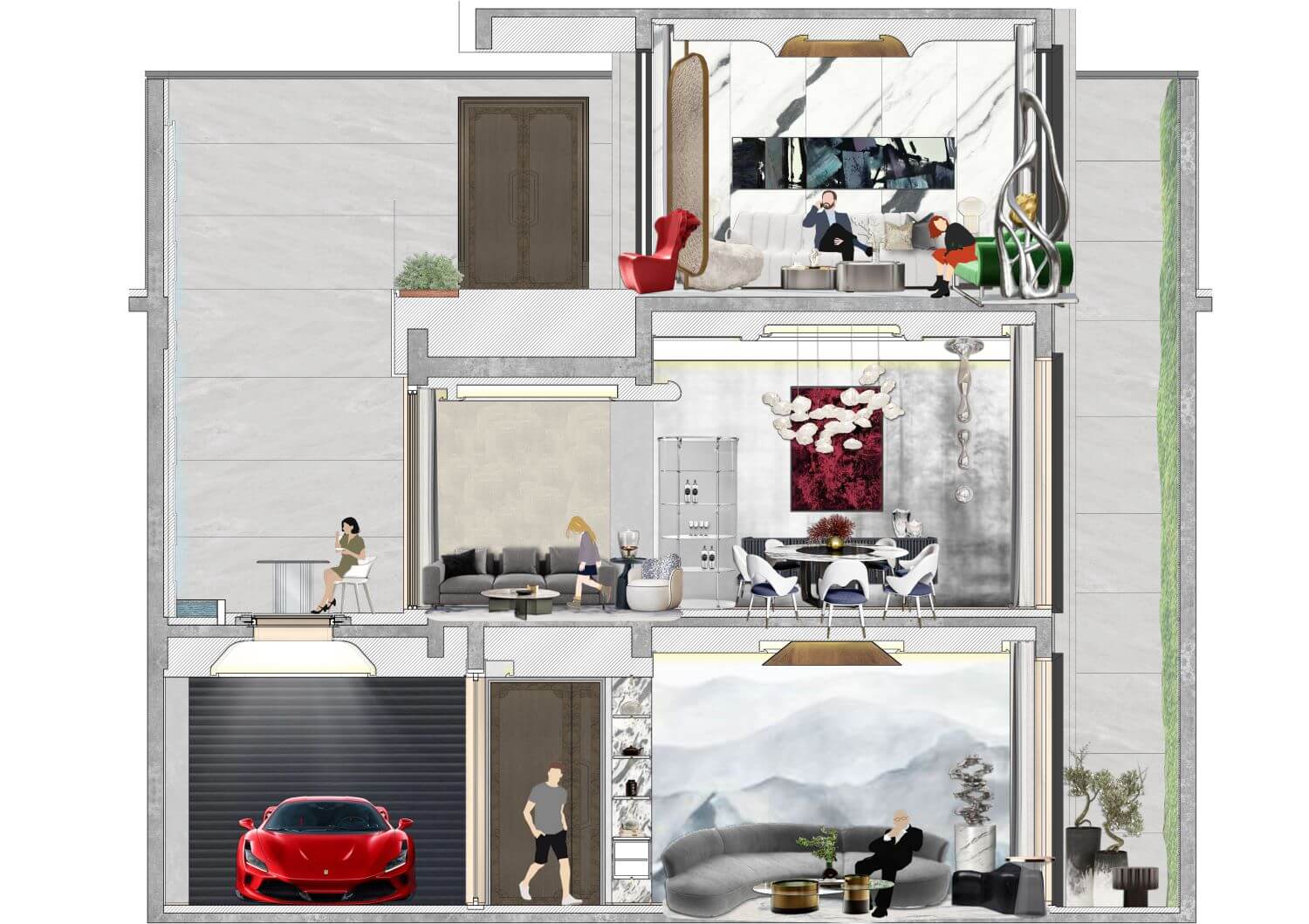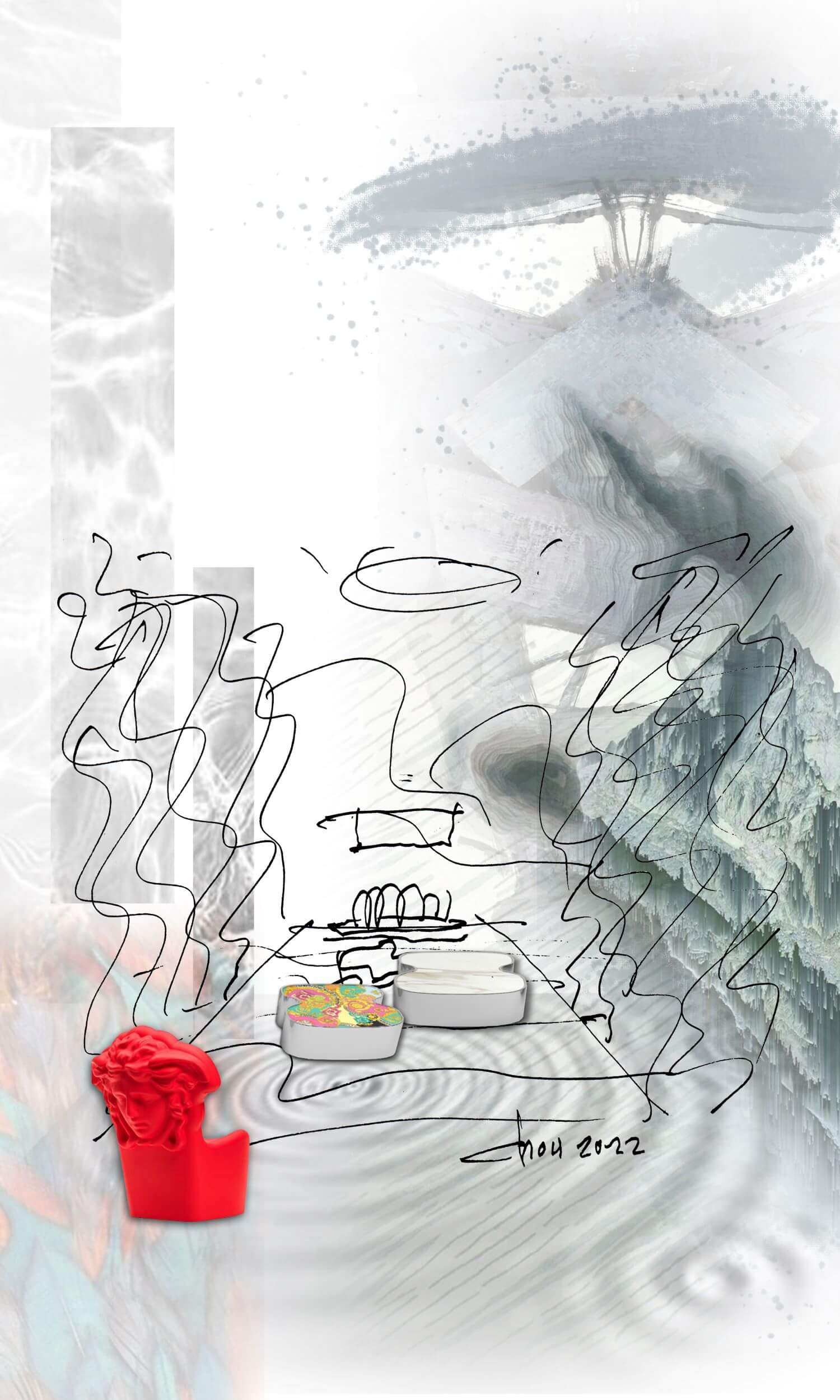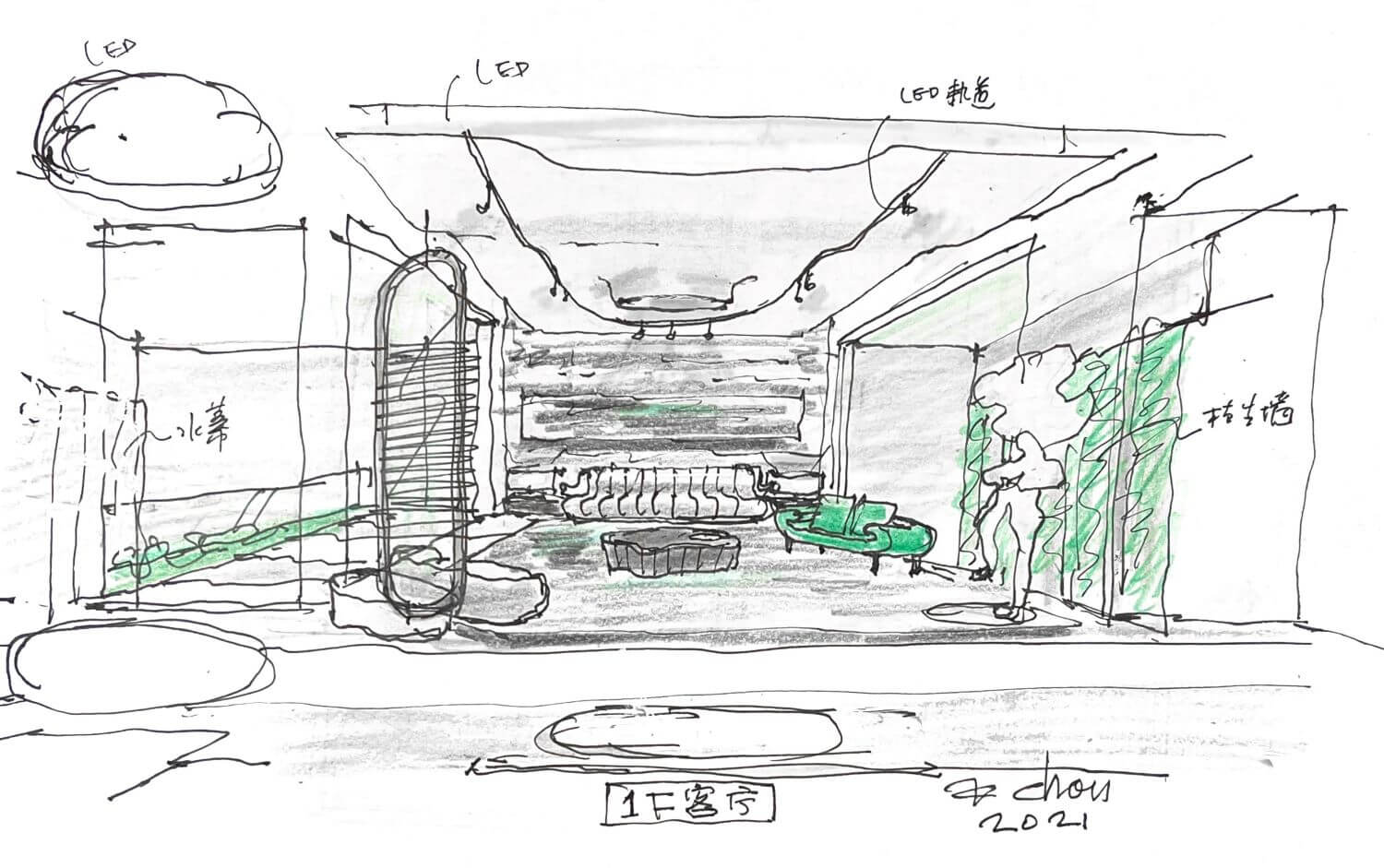 T.K Chu | A biography
The Founder and Principle Designer of T.K. CHU DESIGN GROUP and T.K HOME; The Master of Neo Art Deco; A leading figure in the field of design industry in Asia
T.K. Chu is an architect, interior designer and product designer, who graduated from the Department of Architecture in Tamkang University in Taiwan (China).
Prior to the founding of T.K. Chu Design, he worked for Ms. Xiu Ze-Lan as an architect, during which he was involved in the design of Yangmingshan's Chung-Shan Building project and many other famous architectural projects. In 1985, he established T.K. Chu Design and shifted from architecture to interior design.
As the founder of T.K. Chu Design and T.K HOME, an original furniture brand, Mr. Chu has always stayed in the cutting edge of new design ideas and created many well-known projects, which have influenced generations of designers and gained extensive attention from the international media. That includes Forbes France, Domus China, Bloomberg Asia, Design Anthology, Taiwan Architecture, Interni China, etc.
Besides, He has served as a lecturer in Art Furnishings and Art Engineering Management at the Academy of Arts & Design, Tsinghua University, Beijing and a lecturer in Interior Design at Chinese Cultural University, Taiwan as well. Mr. Chu is also a man of public spirit who works for C foundation, a charitable foundation in the field of design, as a permanent director and chairman of the board for 2020.
---