Nex- Architecture has collaborated with Xylotek advanced timber structure specialists to create a sequence of inventive laminated oak pavilions newly enhancing the public spaces of London's Regent's Place. Lying east of Regent's Park and west of Euston station, Regent's Place is a mixed-use commercial and residential campus developed by British Land from the mid-1990s.
Using natural materials, timber furniture and extensive planting, the pavilions have been designed in response to British Land's vision for revitalising public spaces and pedestrian routes in, through and out of Regent's Place. The three new pavilions are semi-sheltered spaces designed for friends and colleagues to sit and relax between meetings or after-work hours, for outdoor theatre and music performances and for those walking through Regent's Place from the fast-paced Euston Road.
Recently, the Regent's Place "campus" has seen a change in tenants from corporate blue-chips to media, technology and life science companies. This shift has prompted the refurbishment of the office buildings transforming their environmental performance while offering refreshed workspaces better suited to contemporary needs.
In turn, new tenancies have brought a younger population to the campus and an aspiration to create a livelier and more welcoming public space. The experience of the Covid pandemic further accelerated British Land's ambition to augment a greater sense of natural wellbeing throughout Regent's Place. The challenge for the architects set out in an invited competition brief was to create a more inviting place for tenants while enlivening connections between Regent's Place and surrounding streets.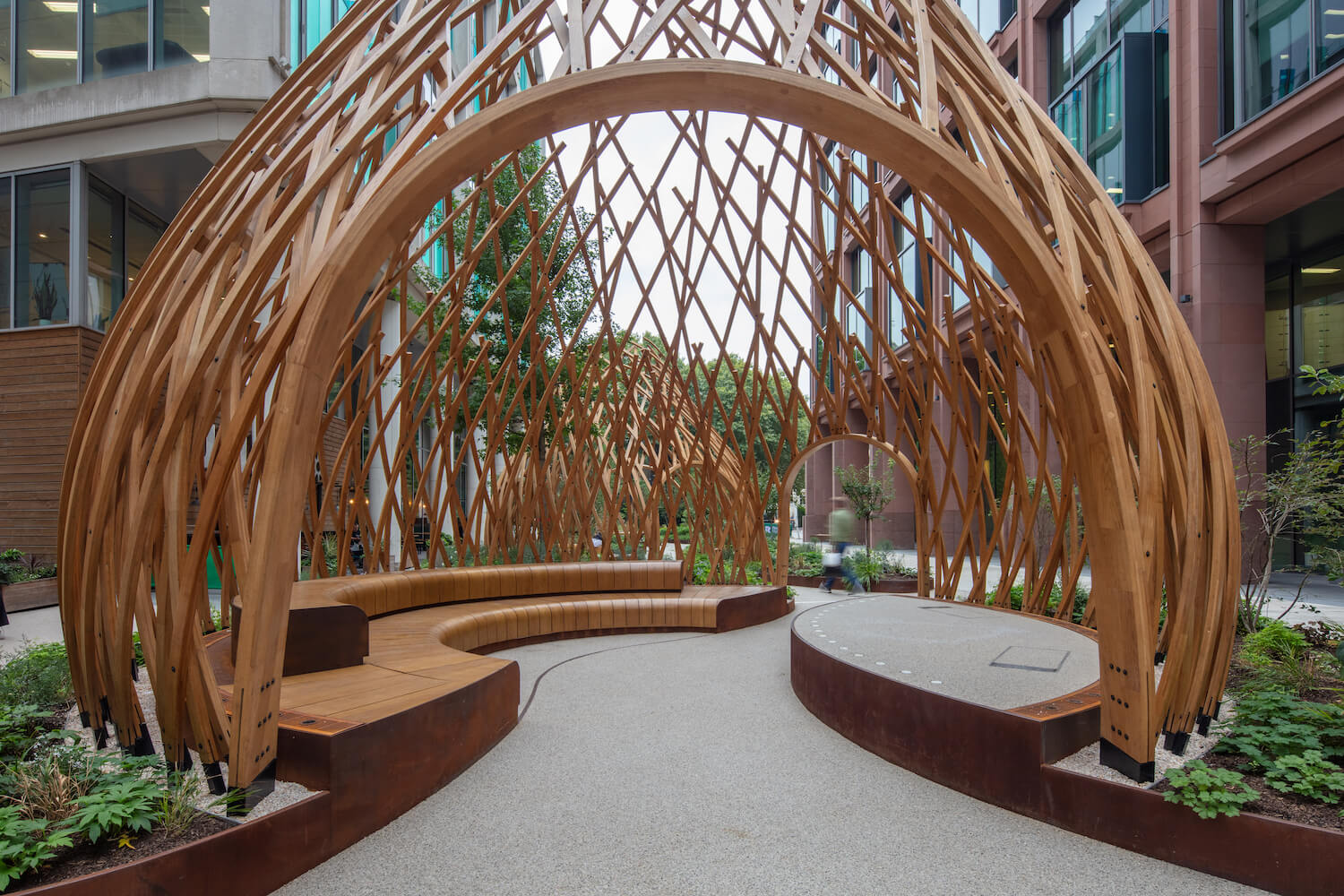 Design Approach
Inspired by nature and particularly by the bundles of fine wood kindling encountered in woodlands, the design of the three Regent's Place pavilions gathers thin strips of oak in delicate lattices to enclose visitors while also revealing lush planting around them. Rounded in form, the two larger pavilions have a central oculus that draws people's attention from ground level planting to the sky.
Moving from west to east, the pavilions increase in size. The first welcomes people to gather and sit in conversation. The second encourages children and adults alike to play with a large circular spinning seat positioned in the centre of the path. The final pavilion creates a new tiered performance space for the local theatre group, and a venue for evening and weekend music.
The finished pavilions extend the transformation of the public realm at Regent's Place. Those working, living and passing through the campus have adopted a variety of new places to gather in settings that bring nature imaginatively into the heart of the development encouraging biodiversity with its landscaping by Townsends.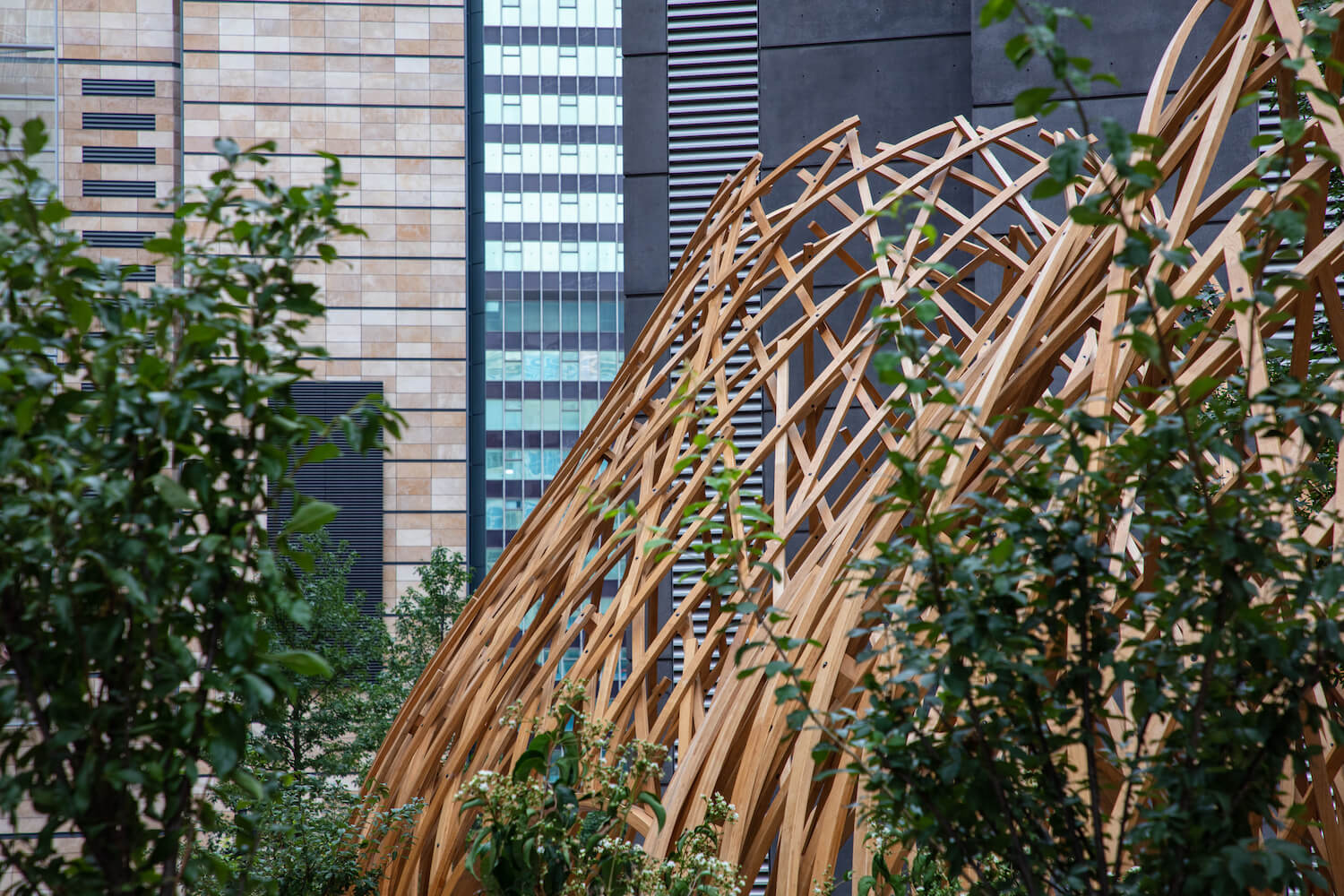 Design Development
Nex- developed early designs through sketches, study models, and VR simulation to determine the form, size and location of the three pavilions. With these decisions made, Nex- collaborated with design-to-manufacture partners Xylotek to complete computational studies that developed the irregular lattice structures into geometrically rigorous but non-uniform patterns of thin oak laths.
A key challenge for Xylotek has been to complete the design of the structures so that the laths remain slender while being sufficiently stiff to create self-supporting lattices. The final design took advantage of off-site manufacturing to improve the quality of craftsmanship, to cut waste and reduce on-site assembly time. Using sustainably sourced oak, thin strips were bent and laminated into their final curved shapes on room-sized jigs. Laminated strips were then layered together to make lattices, before being transported to site for final assembly with further layers of loose laths.
What appear to be imaginative, yet effortless and natural, plays of forms demanded structural and constructional ingenuity and forensic attention to detail. The laths forming each pavilion are arranged in four layers, with alternate layers spiralling in opposite directions. Within each layer the laths share similar geodesic curved shapes, meaning that they could be formed from initially straight oak ribbons. This meant that all the laths in one layer could be formed on a single bending jig, whilst visual dissimilarity was created by varying the laths lengths in a repeating pattern overlaid with a degree of randomness. This process created a visual play between a regular underlying pattern and a sense of natural variation.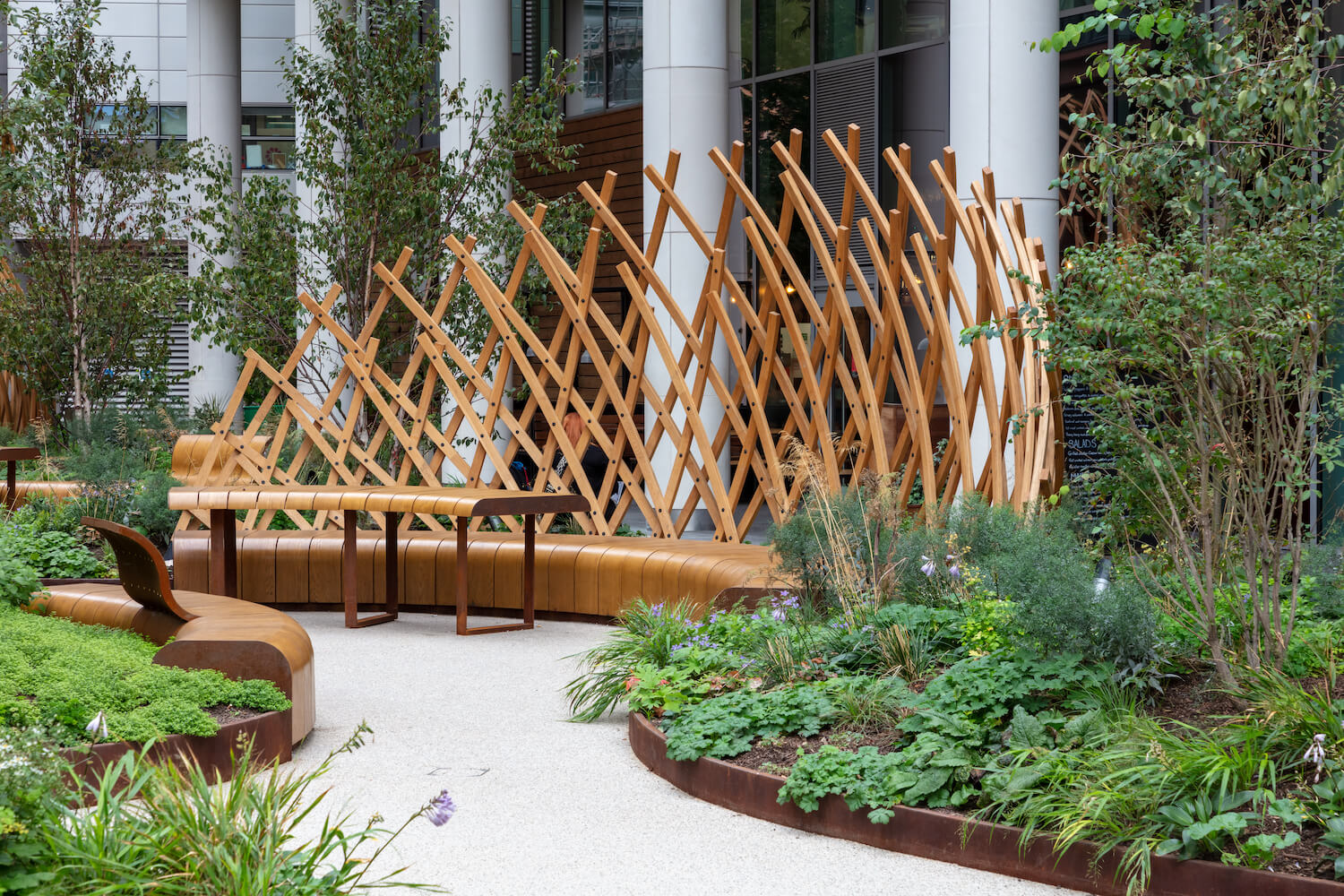 There are a total of over 400 laths, made of over 10km of oak lamella strips. Each oak lath has a cross section of 65x40mm and is made of five layers of 8mm oak lamellas. By finger-jointing short lengths of oak end-to-end, lamellas of up to 9.5m length were created. The glue-lamination was carried out in Xylotek's Bristol workshop on a set of bespoke profiling jigs, and segments each pavilion were preassembled in the workshop, positioned on site, and then overlaid with further laths to create the full 3D lattice of curved oak.
The doorway arches are also formed of glue-laminated oak and are formed in a way that best matches the pavilions' complex curvature with single-direction curved elements. Surface treatments were applied to the laths in the workshop, to provide both fire protection and add to the durability of the timber.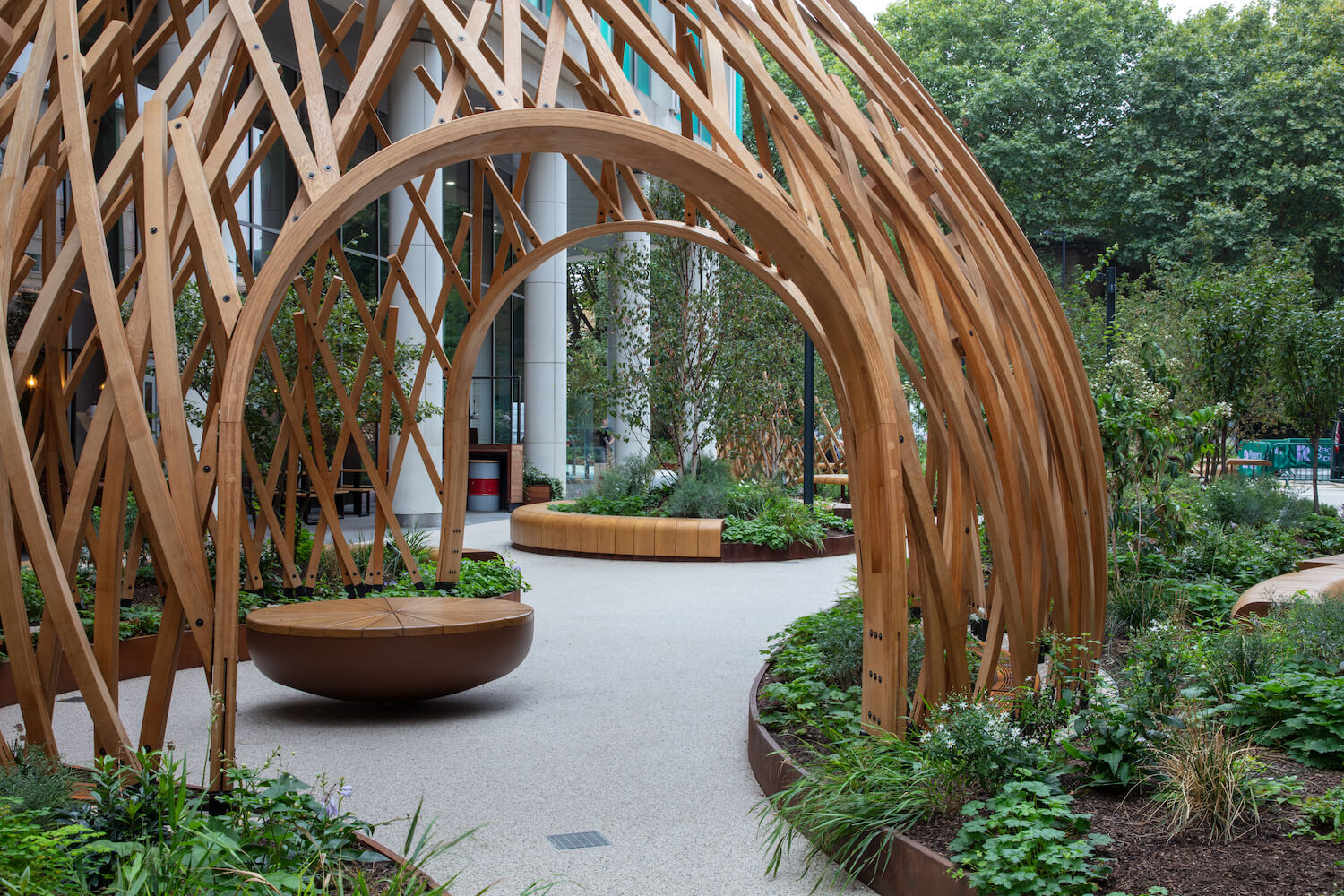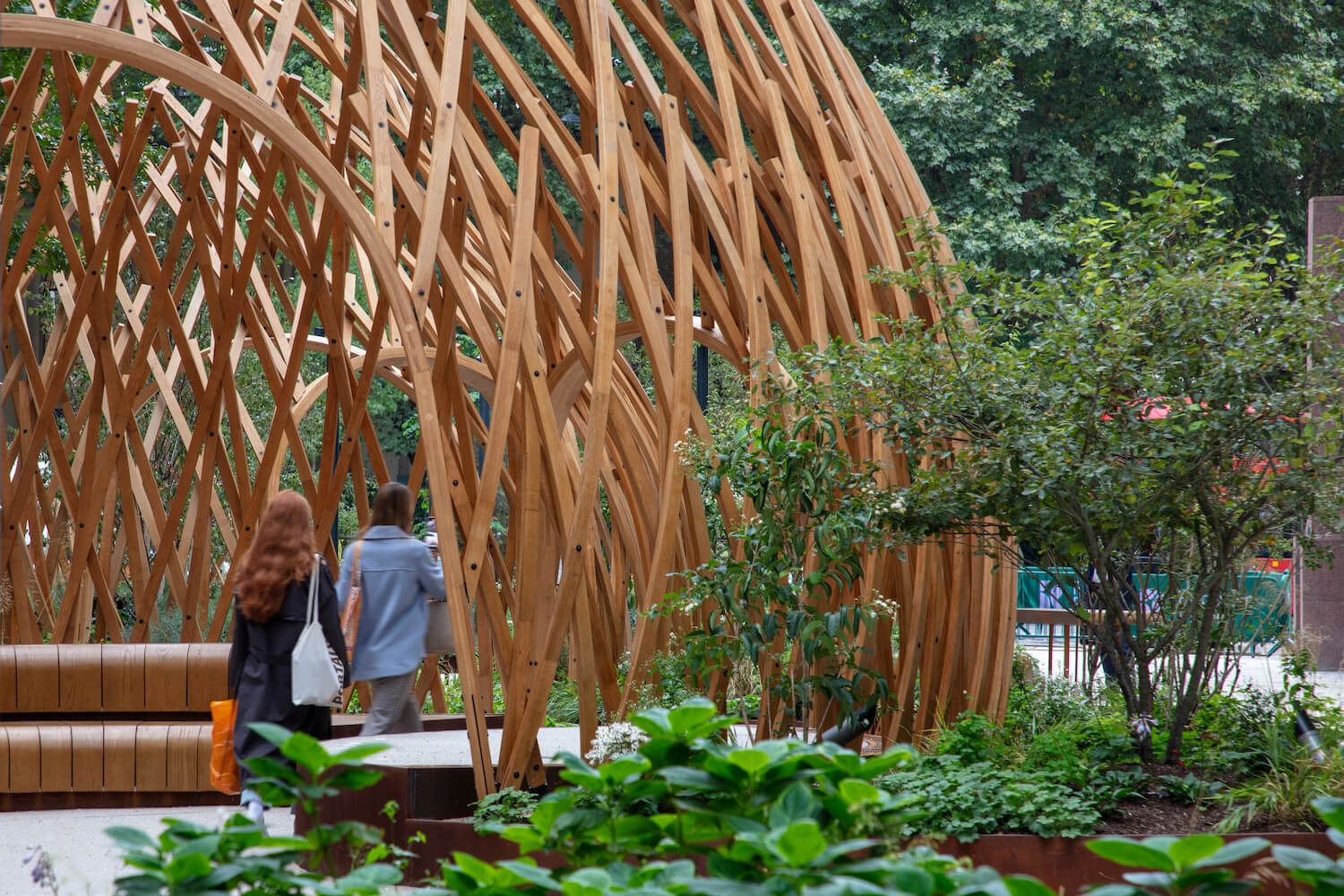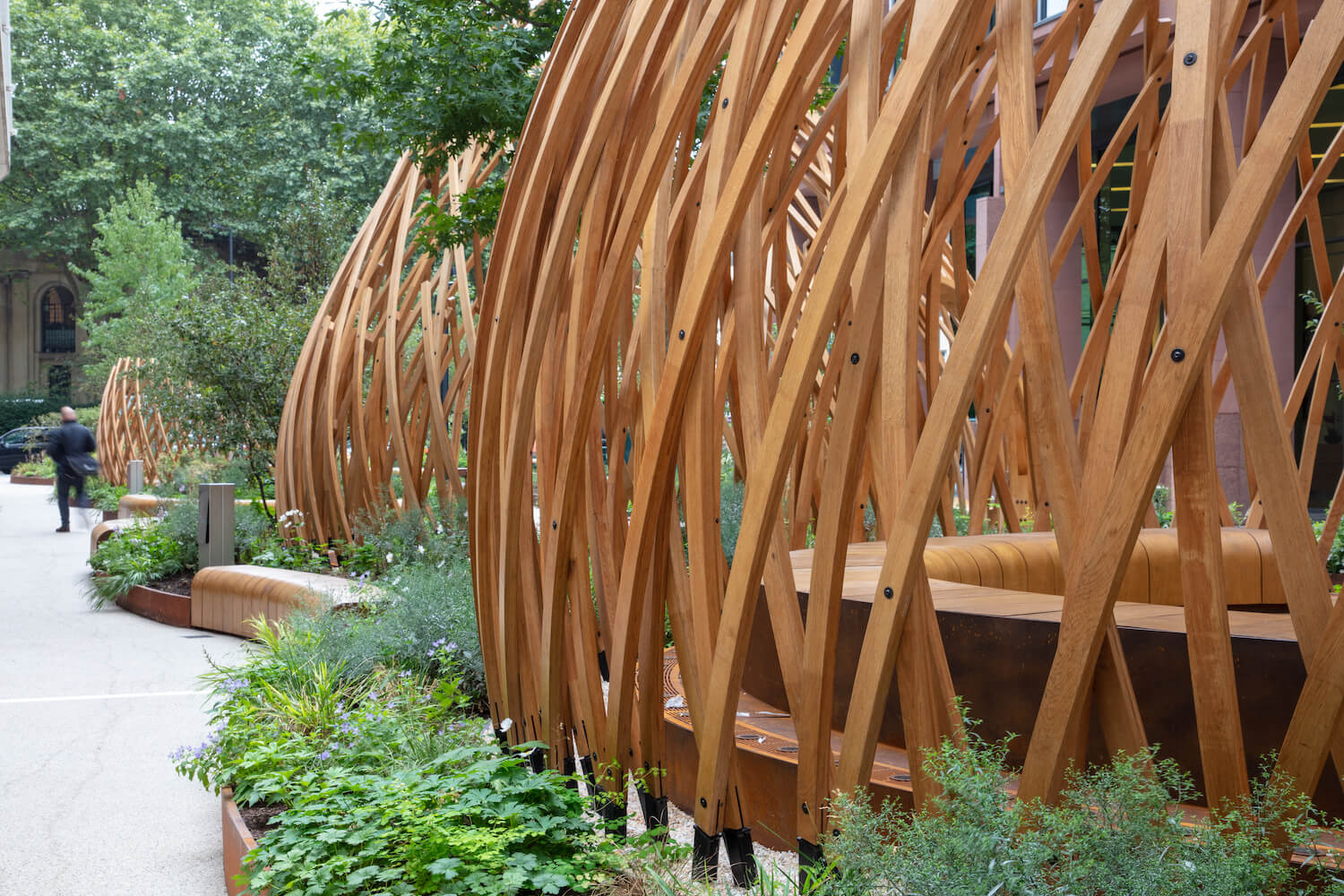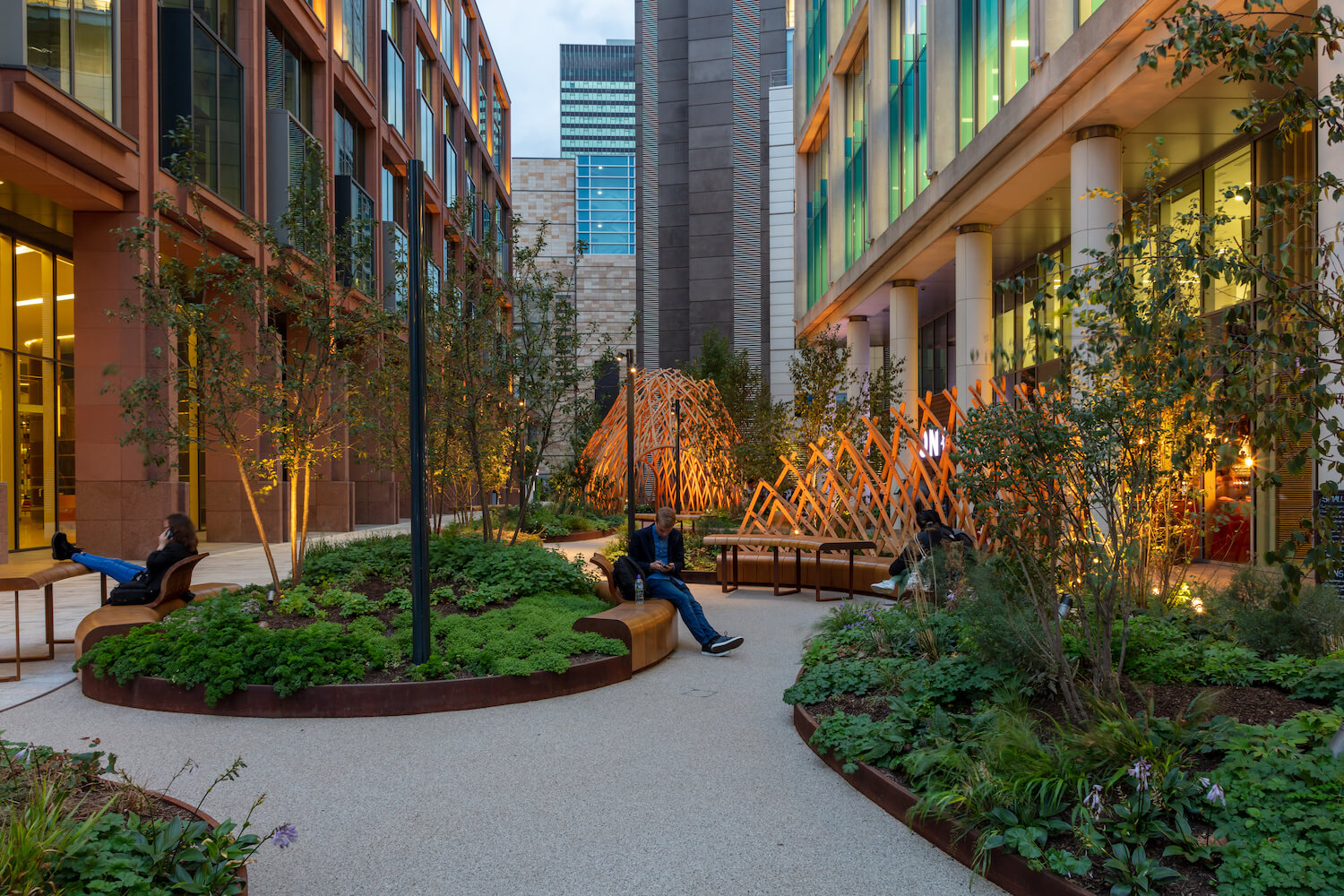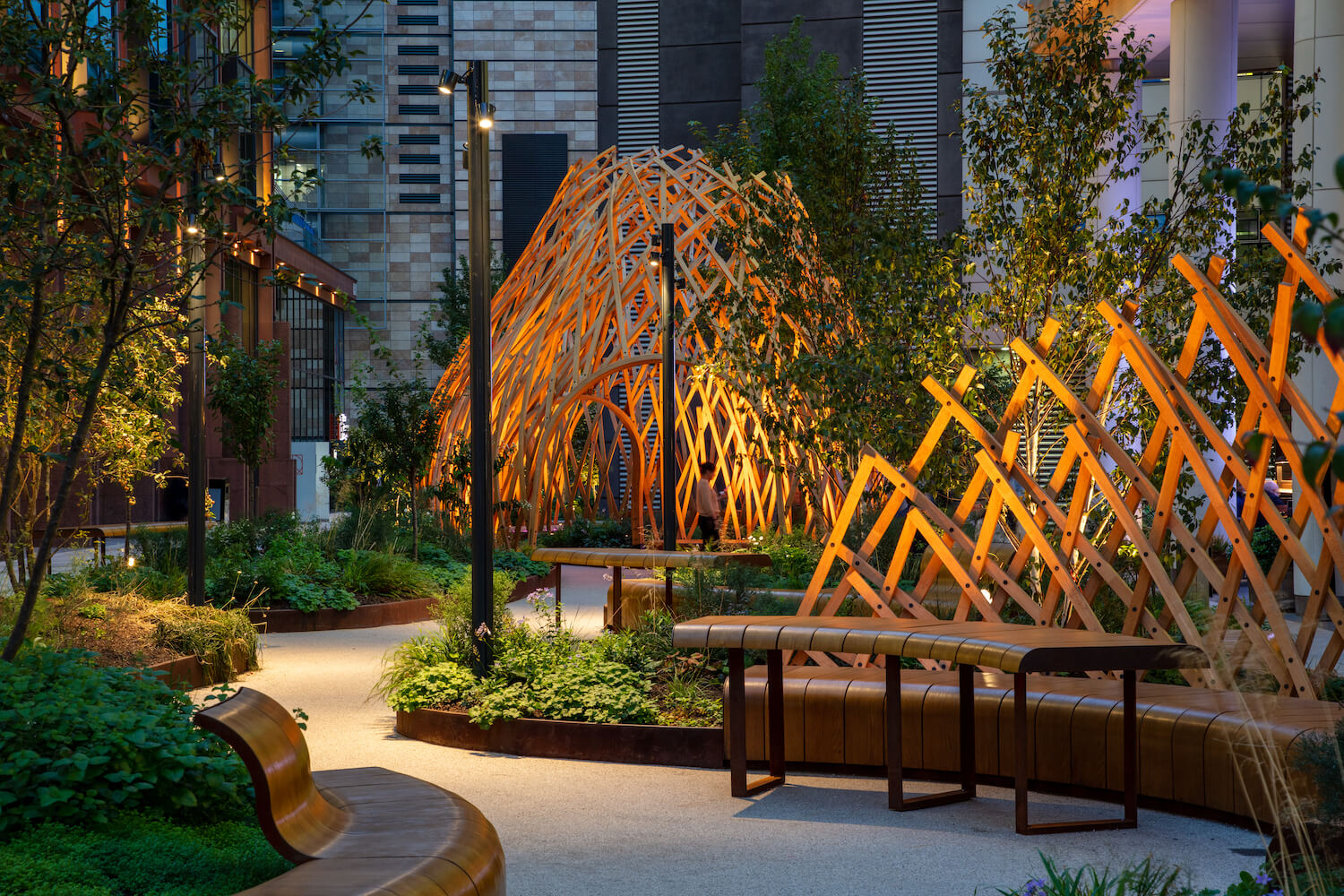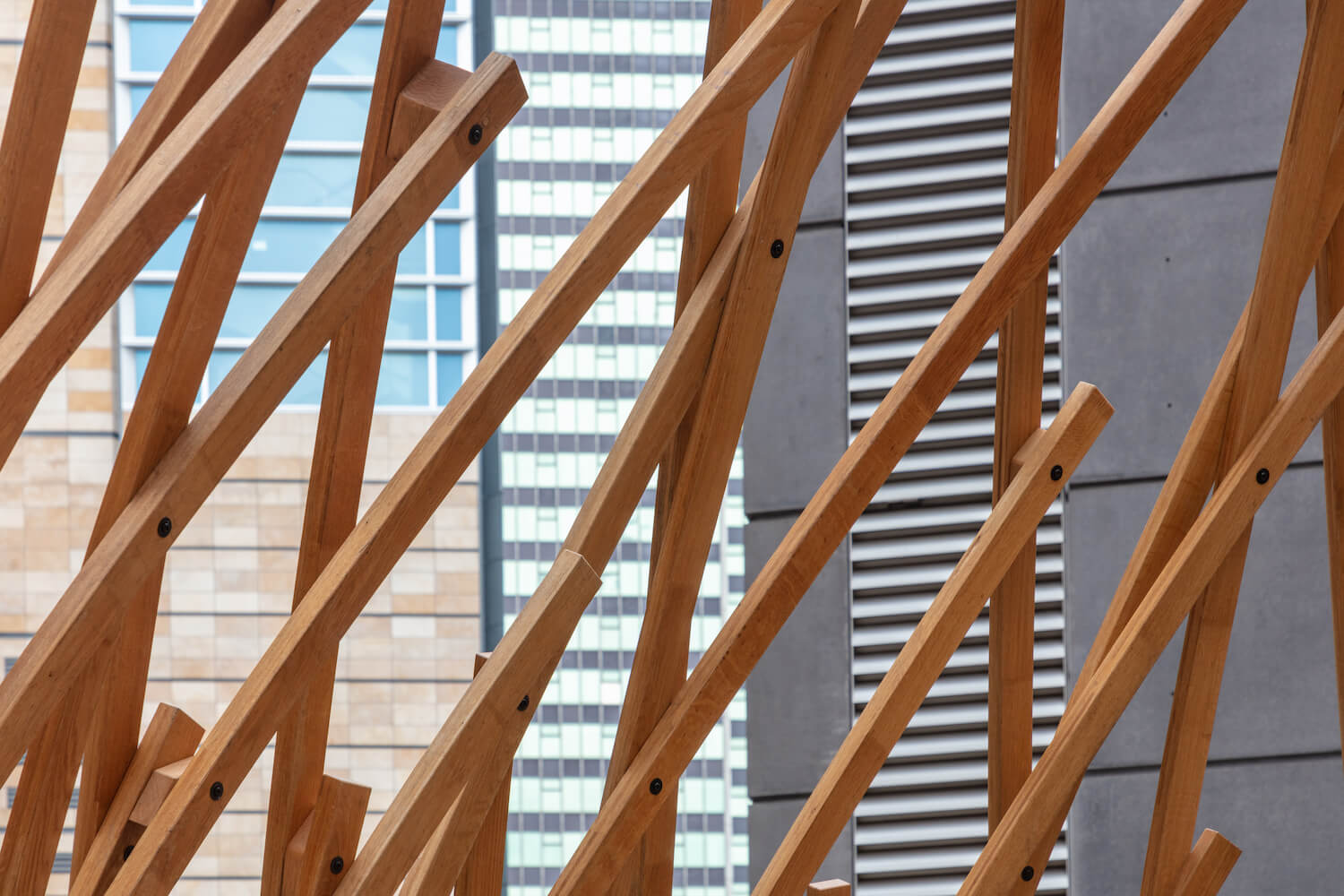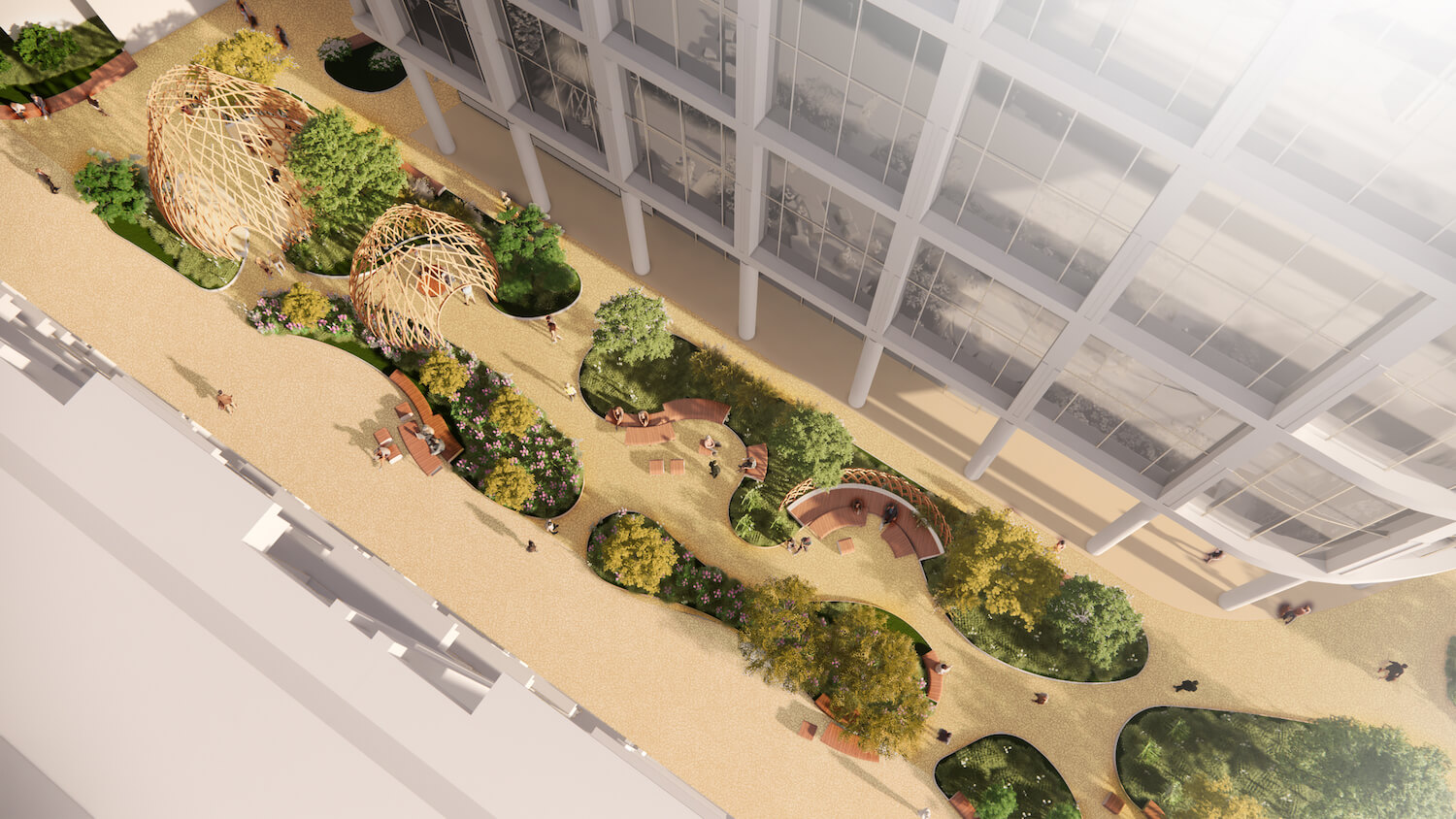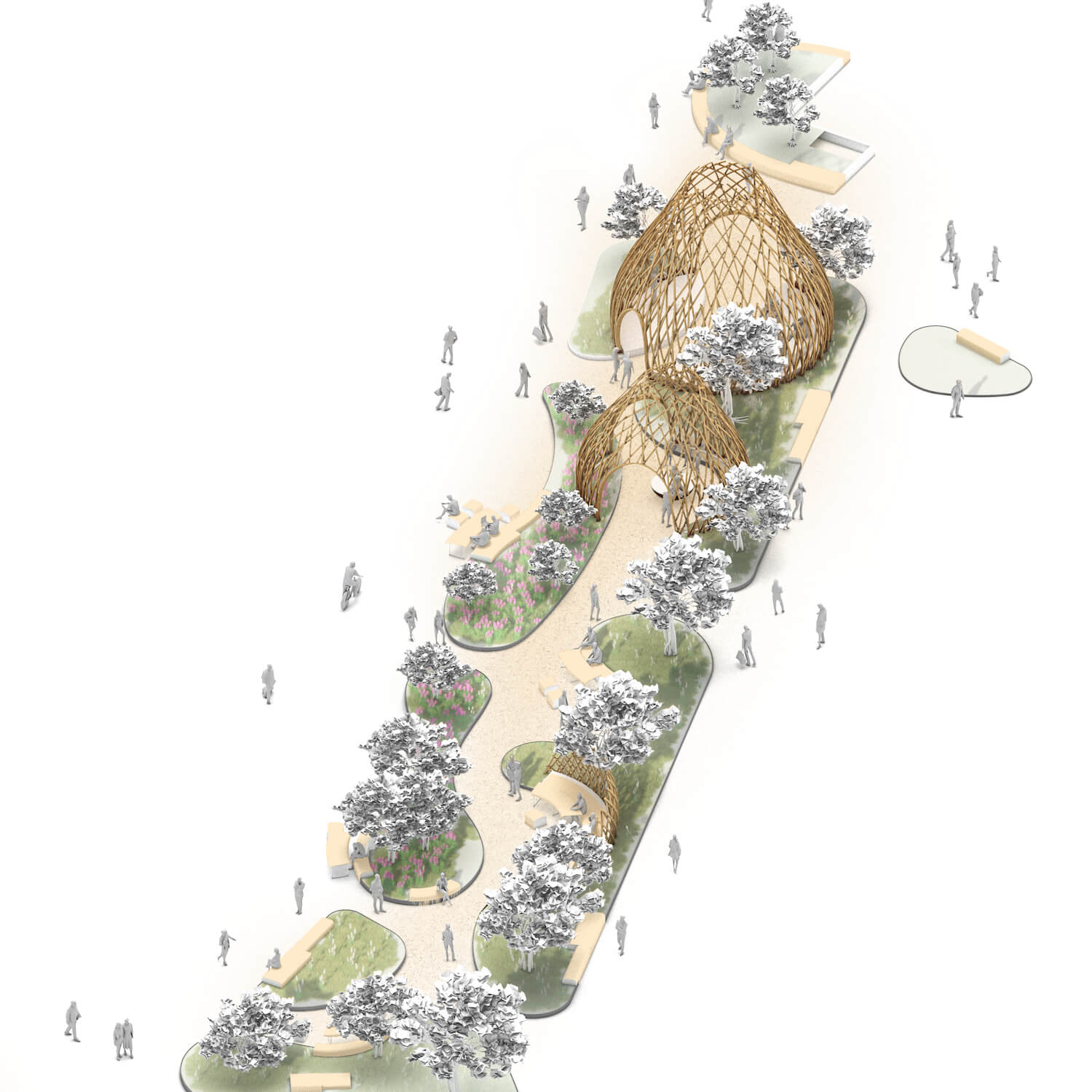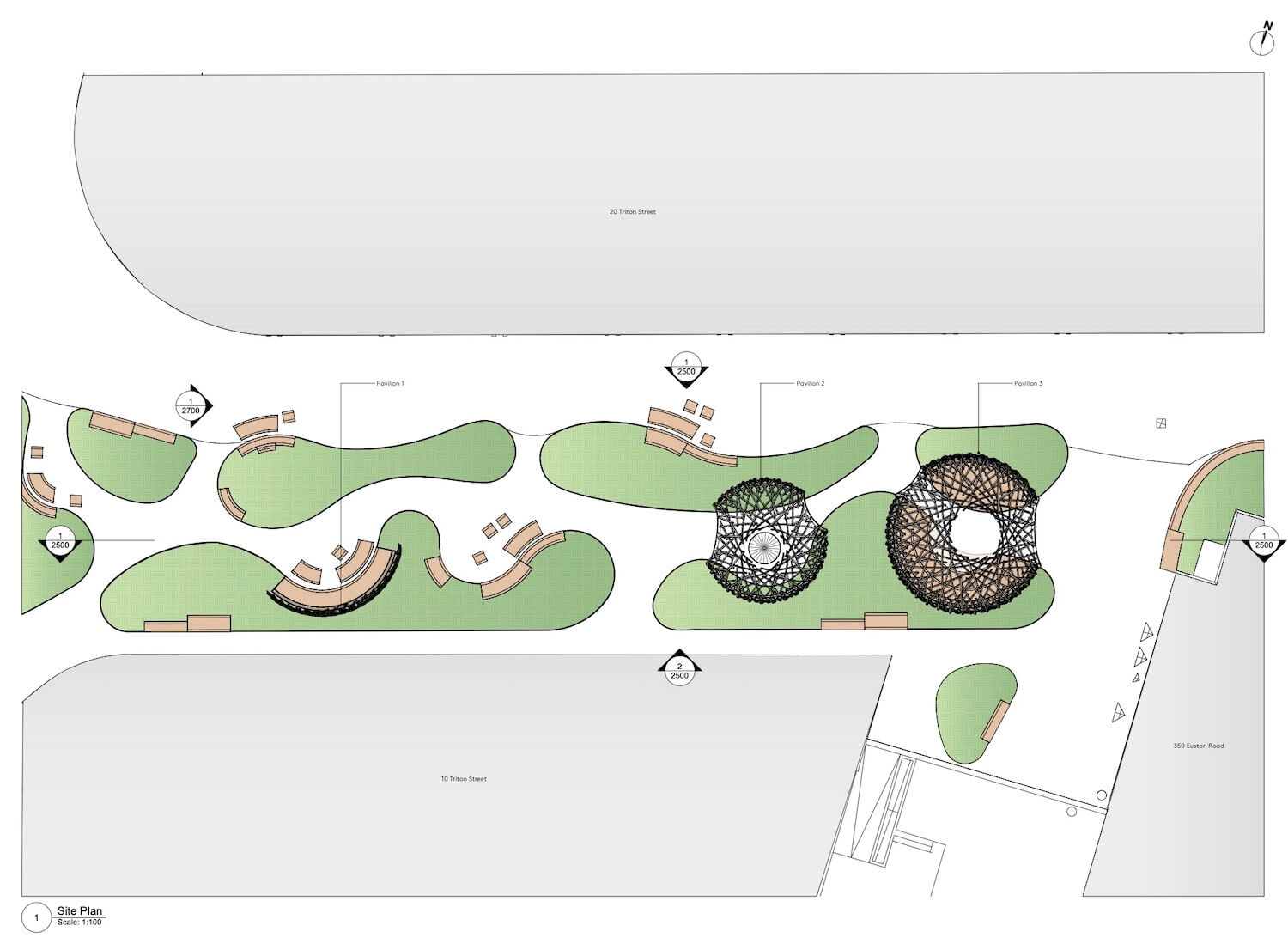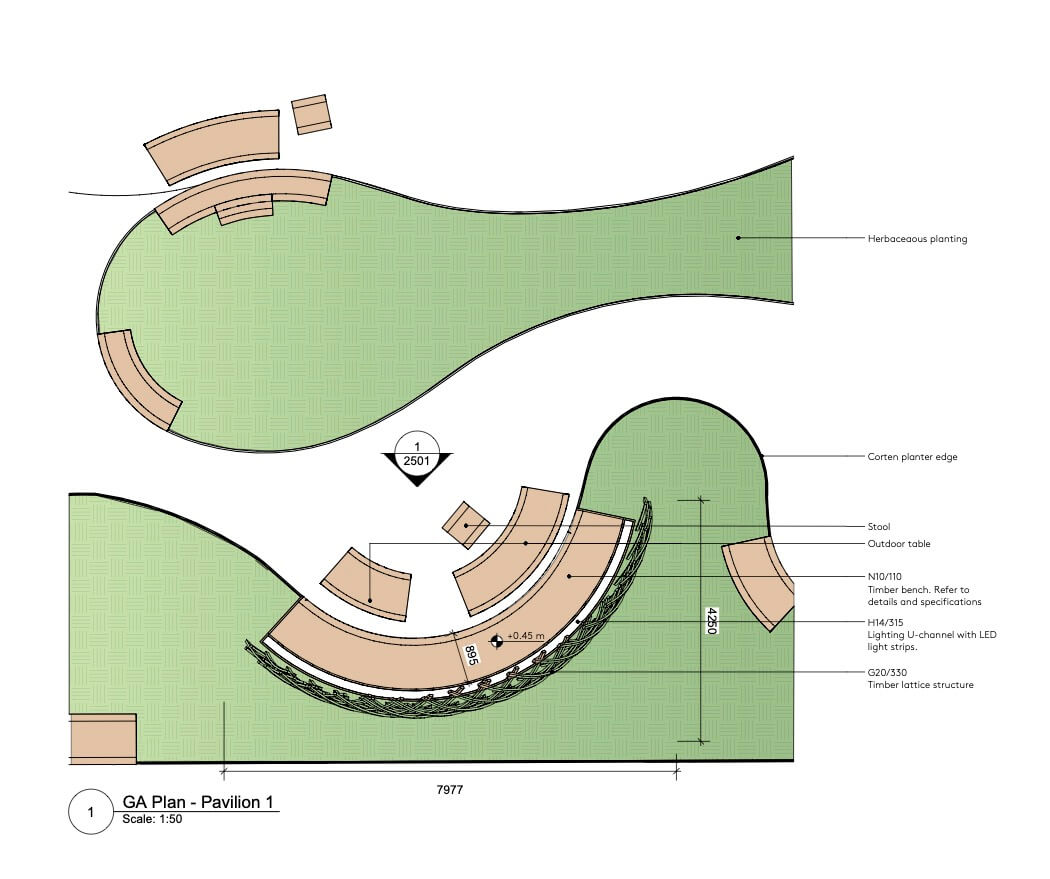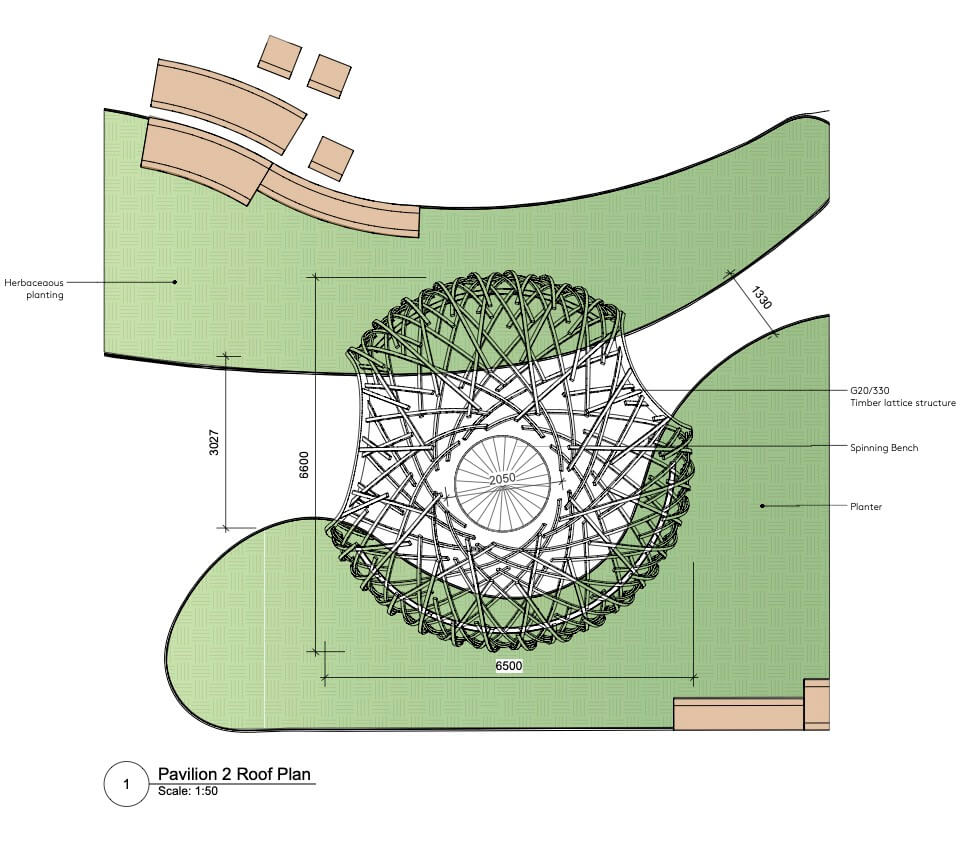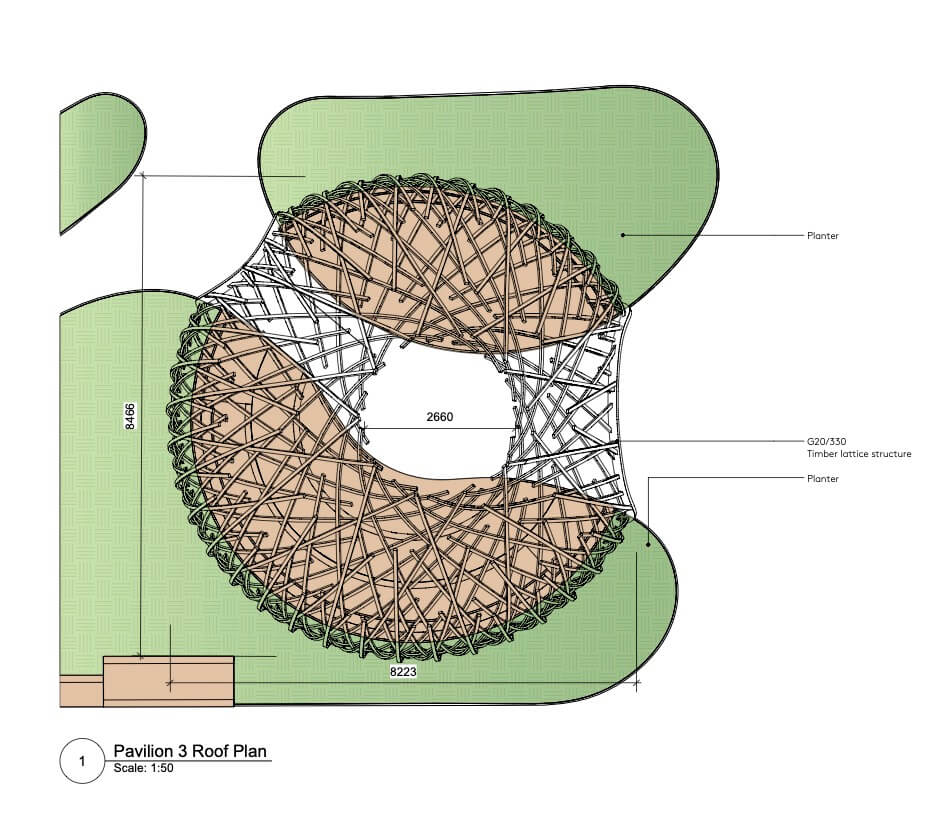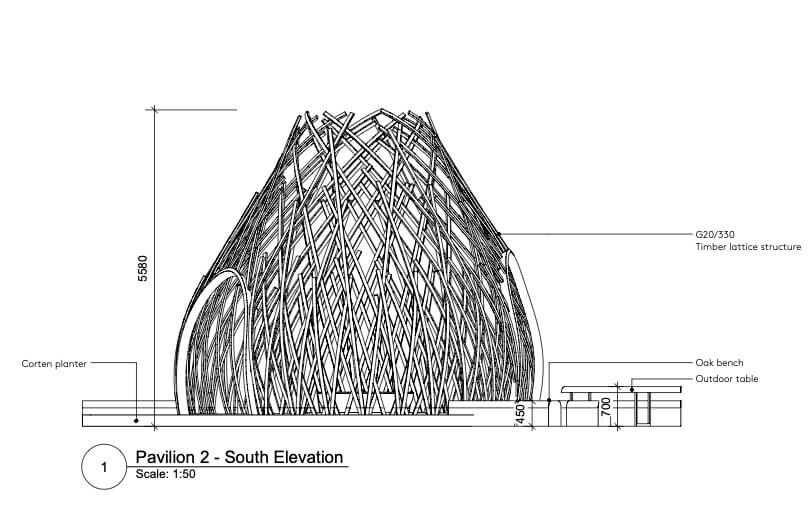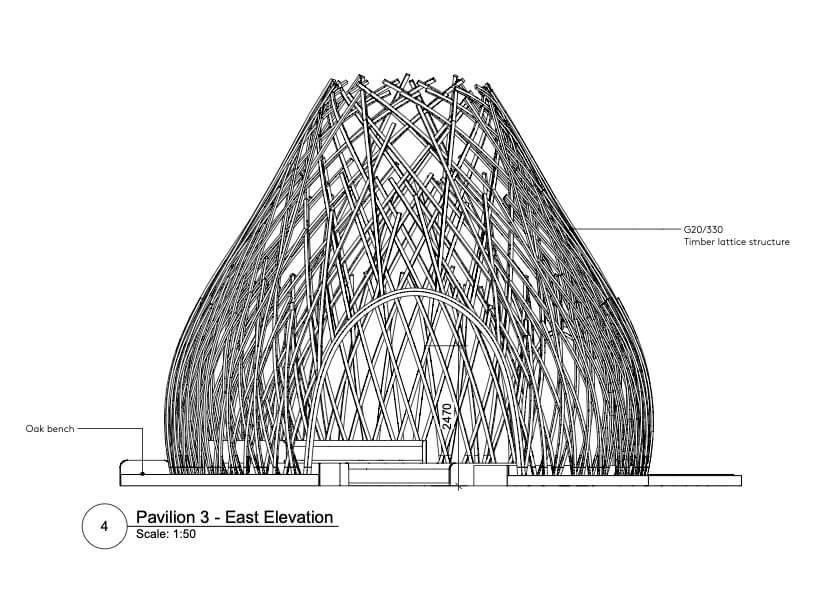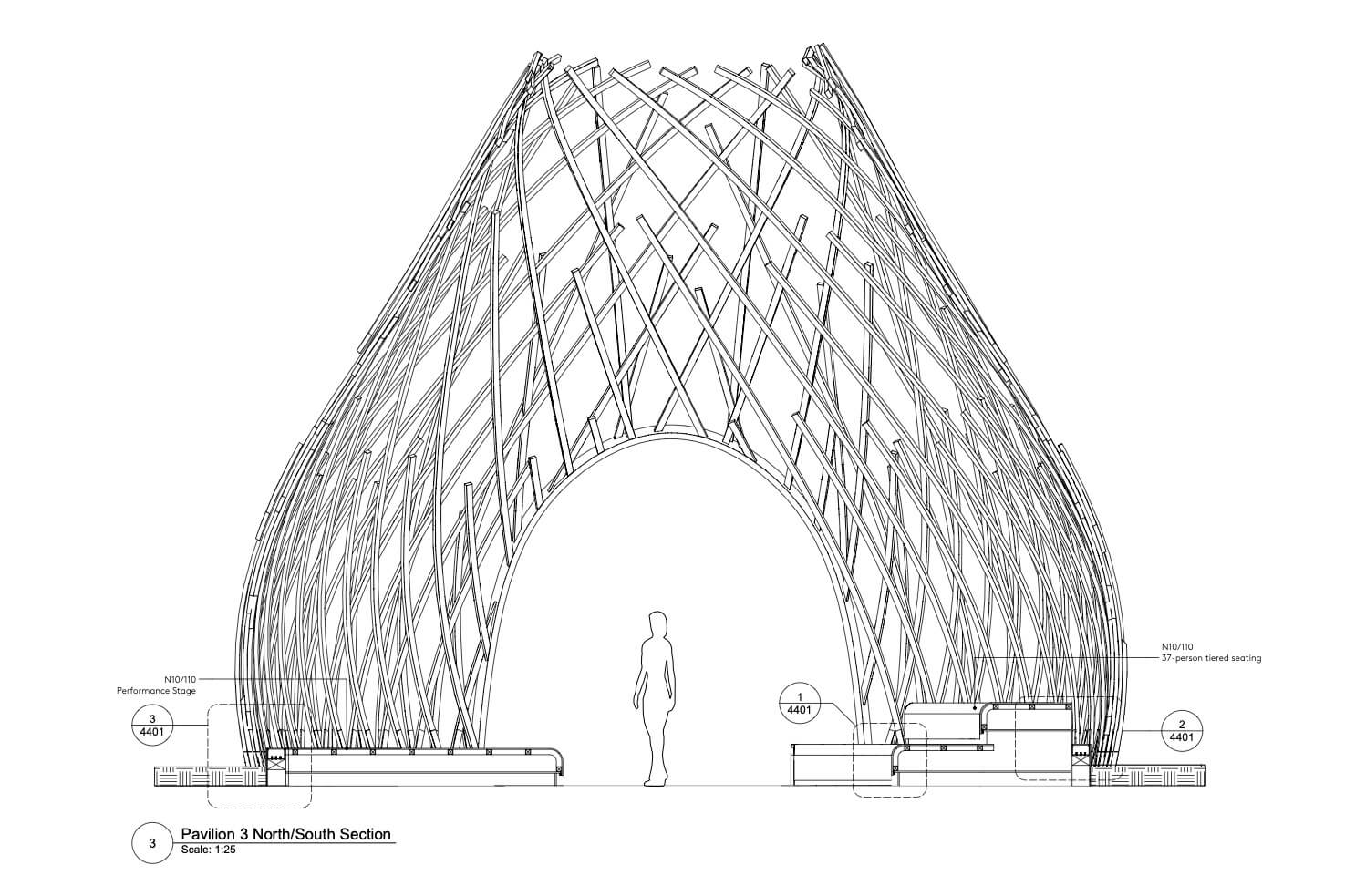 About
Nex- was established in 2008 with the win of two very different competitions: a public pavilion and a pedestrian bridge. In the years since, we have continued to work at diverse scales, and honed our practice's research-led approach to design intelligent solutions to spatial problems, attuned to people's needs.
We believe architecture is fundamental to our relationship with the world, and that it has the potential to instigate change for individuals and communities. With a focus on collaboration, technology and sustainability, we always design with a long-term vision of adaptability and lasting contribution.
Our active engagement with location, brief and complex user needs, as well as broad experience in many sectors, has resulted in projects that push the boundaries of what can be achieved, with real-world impact.
Our RIBA & RIAI chartered practice has long-standing connections to academia, which continually inform our approach and ideas. Practice director, Alan Dempsey has led design and research programmes at the Architectural Association and has been an invited critic and lecturer at universities and institutions worldwide.
Xylotek was founded in 2018 by directors Charley Brentnall, Oscar Emanuel and Martin Self with the aim of bringing together our diverse experience and shared passion for wood, to serve projects seeking high ambition for the application of timber in architecture. We operate internationally with a remote design and management team, and a design and workshop hub in Bristol UK.
Our clients include cultural and academic institutions, commercial developers and private individuals. We are typically appointed as specialist consultants within design teams; as subcontractors to main contractors on large projects; or as design-build contractors in our own right. We are able to design, fabricate, assemble and install – in both conventional and unusual contexts.
Our specialism is in the delivery of non-standard timber structures that need innovative solutions. For every project we formulate the correct technologies, processes and supply chain for that job – working with industry partners to ensure the best offering of value and expertise in the market. Some projects are prototyped or fabricated in our workshops; others – often at a larger scale – are procured through our fabricator partners. In all cases, we seek to bring overall control to delivery through our expertise. In seeking a well-designed low-carbon future, our driving motive is to change the world with wood.
---