The winning schematic design for a community library by Shanghai-based y.ad studio has completed construction. The library is in building 12 of the rental housing complex on the west side of the collective land of Baigezhuang Village, Daxingzhuang Town, Pinggu District, Beijing. By defeating five well-known Chinese design firms, y.ad studio won the competition and worked on the project design.
Positioned in the southeast corner of the community, the library is conveniently located near the entrance of the community life service center, with a spacious 50m wide landscape green space to its south. Given its remote location in the suburban outskirts of Beijing, the area primarily serves residential purposes, resulting in limited and basic amenities. Therefore, the project was intended to create internal commercial and public spaces that cater to the community, providing essential life services and convenience. The library will become a crucial supporting facility for the rental housing project on the collectively-owned land.
1. Shall we still need a "library"?
In today's digital era, electronic reading offers numerous advantages compared to traditional library reading. It is cost-effective, allows for quick dissemination of information, facilitates easy collection and purchase of books, offers multiple functionalities, and provides a convenient and user-friendly reading environment. Users have the flexibility to adjust font size, format, and other settings according to their preferences. Given these advantages, the design team posed a question: shall we still need a traditional library space specialized in reading in this modern age?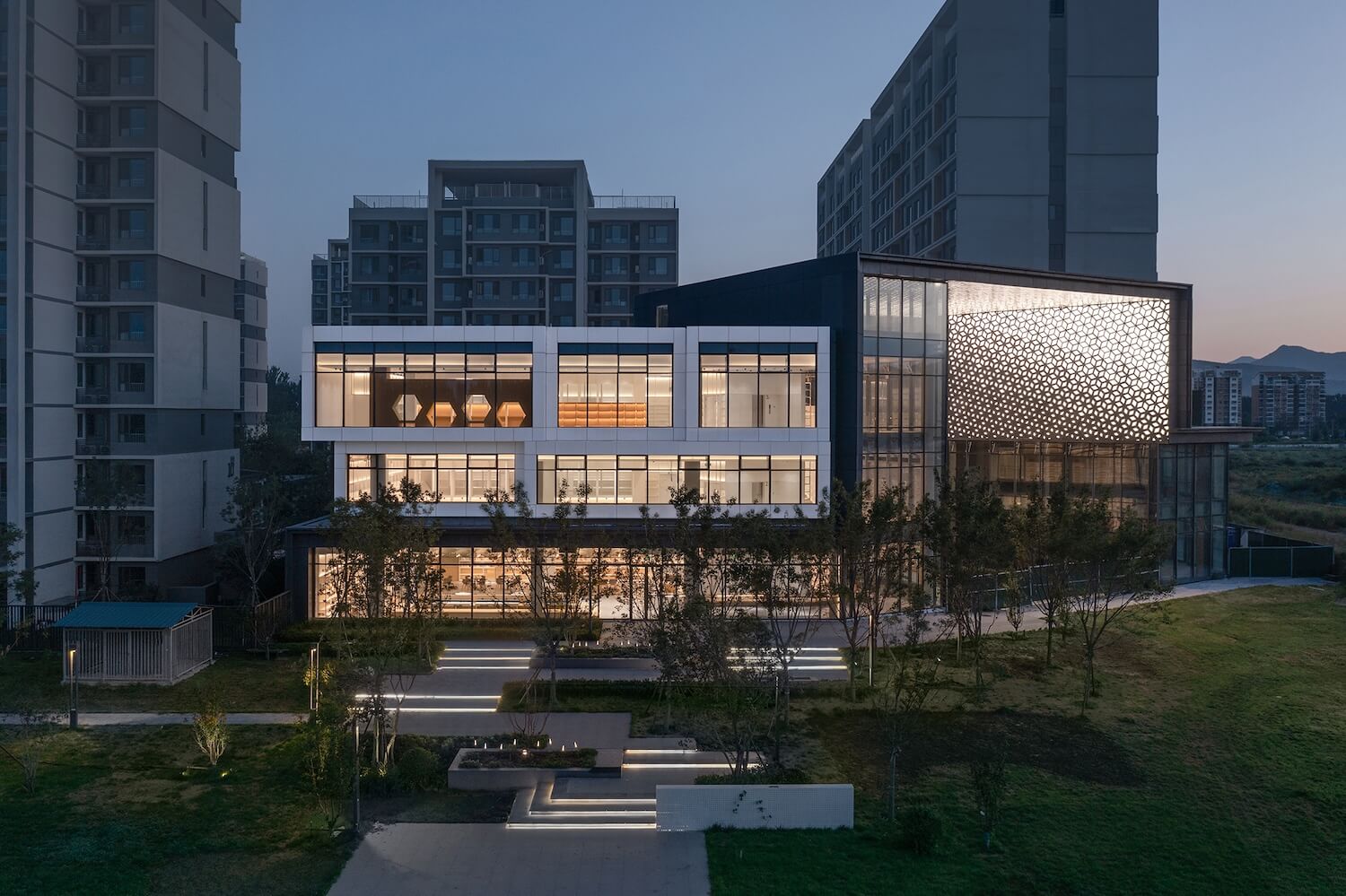 2. What kind of library does our community need?
After conducting a thorough investigation and analysis, the design team identified some insights about the project. The team analyzed the regional property structure and population, discovering that the surrounding residential areas mainly consist of branded real estate communities and rural self-owned real estate communities. The target audience for the project are young people, aged 25-35, who are the mainstream group in the community. They are typically couples or families with children, with a certain level of educational background and consumption ability. Most of them are engaged in mid-to-high-end service industries and have a pursuit of quality of life.
After conducting thorough research and analysis on numerous community and urban libraries both locally and internationally, the design team discovered that modern libraries are no longer limited to traditional reading functions. Instead, they serve a more diverse range of purposes and hold greater social significance. For instance, community libraries can create a cultural and educational atmosphere, attract external consumers, and provide community services…
Unlike staring at a cold electronic screen, libraries allow for spiritual satisfaction through reading and offer a multi-functional complex space that provides people with ample opportunities for social interaction, activities, leisure, and relaxation. It is a place where friends, family, and colleagues can meet and communicate, a brand-new social energy field. Additionally, libraries offer an atmosphere of quiet contemplation and solitude.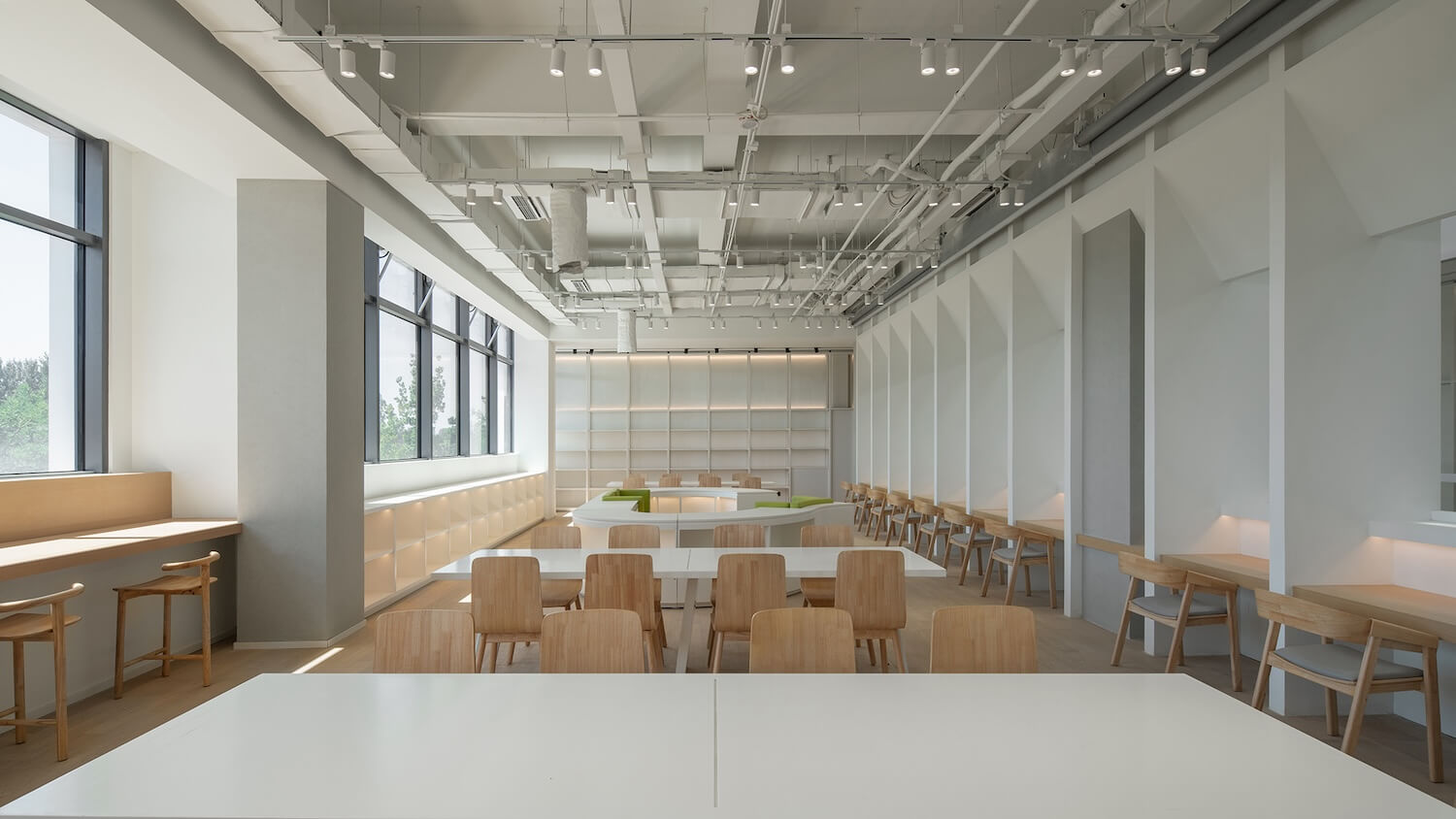 3. Community-oriented
The design team has envisioned three key goals for the library upon its completion. Firstly, it aims to provide the residents with enhanced life services, fostering their engagement in the construction process and transforming the library into a cultural symbol of the community. Secondly, it seeks to attract and engage people from the surrounding areas, becoming a desirable gathering place and potentially influencing their cultural knowledge and literacy.
Lastly, based on the project location in the city, the library strives to become a destination of interest for both local residents and visitors to Pinggu District, encouraging individuals who share similar values to come together and reshape their social interactions and lifestyles. The library strives to be an inviting space that focuses on the community and stays true to its original purpose.
4. Functional reorganization
The library is a three-story building with a gross floor area of 1,286.25㎡, in which the first floor occupies 524.01㎡, the second floor occupies 400.85㎡, and the third floor occupies 361.39㎡. The spatial functions are carefully planned and designed to cater to functional and sentimental needs. It accommodates a public leisure zone including a community living room, light meal and coffee, temporary exhibitions, and a screening room, and offers a reading zone including self-study room, creator discussion area, public reading area, and e-reading area. Additionally, the library has a designated children's education zone that includes children's reading, family library, and children's screening room.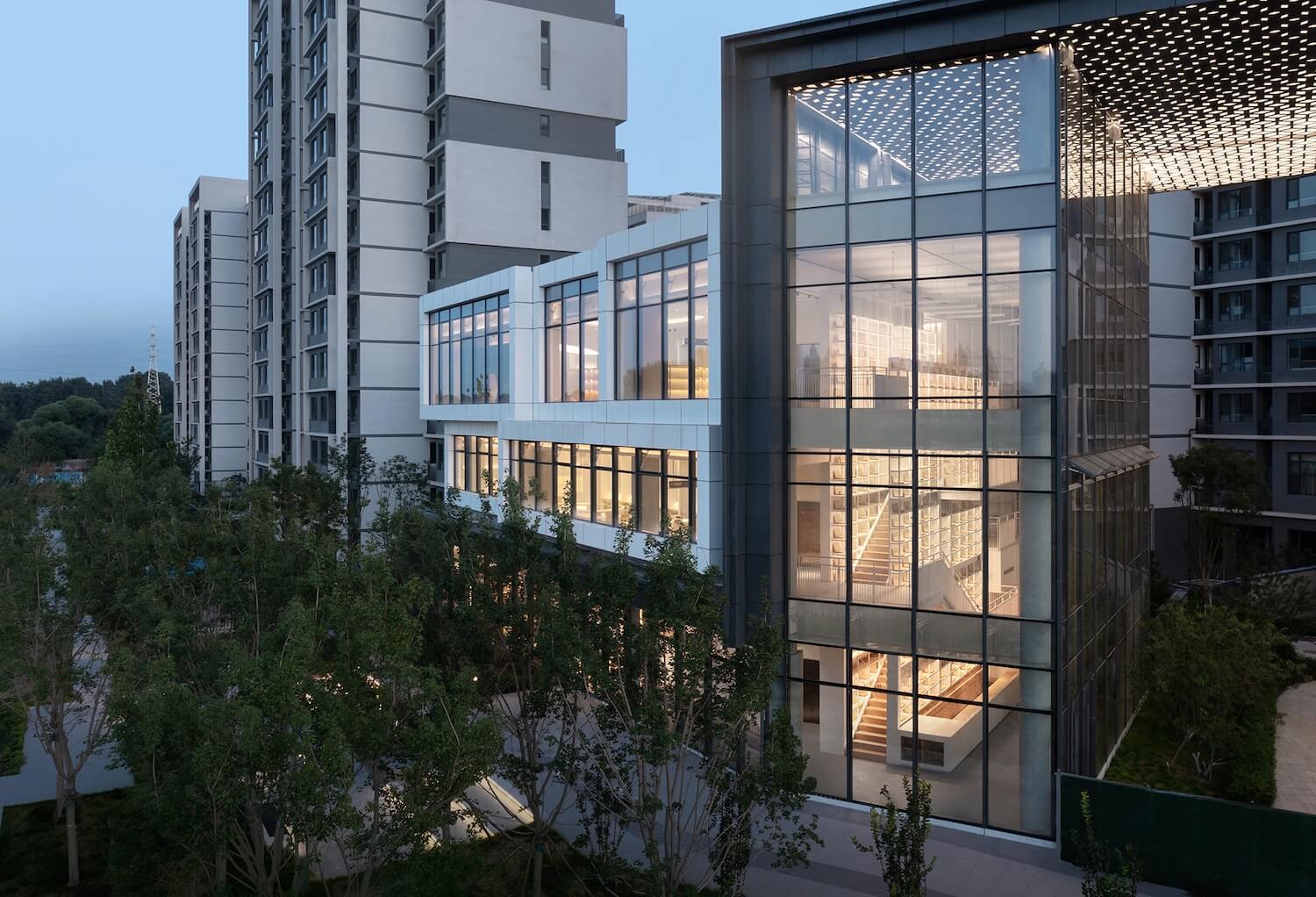 Some spaces have been set aside for potential sentimental design, fostering a sense of community, and providing opportunities for residents to participate in cultural displays, activities, and interactions. The concept behind the first floor was to create a "community living room" that serves as a hub for community socializing. It goes beyond just being a reading room and encompasses a variety of activities such as exhibitions, coffee-sipping, and events that encourage communication and interaction among people. The second floor has more space for reading, self-study, and work, aiming to provide a space that encourages young people to read, pursue self-study, communicate, and engage in meaningful conversations. The third floor offers a wide range of activities for families and parent-child bonding, allowing children to read and play with their parents.
5. Spatial theme
A building that incorporates the play of light and shadow can evoke a sense of soulfulness. For those returning home late at night, the presence of light can offer a nourishing experience for the soul. After analysis of the architectural space, the design team utilized the 14.9-meter-high vertical glass curtain wall that is transparent over through the three floors in the lobby facing the square entrance to create a visual point of interest, drawing the attention of passersby.Additionally, the south-facing glass curtain wall, overlooking the 50-meter landscape belt and square, blurs the boundaries between indoor and outdoor spaces and introduces the outdoor landscape into the interior.
Outdoor seating areas were designed to provide a space for leisure and communication. Besides, the long skylight brings daylight spanning three stories high and illuminates the atrium with a bright and transparent glow. This design approach successfully guided light and shadow into the interior, creating a unique spatial atmosphere. Two spatial themes, namely "Container of Light" and "Lit Wall & Book Stairs" were incorporated based on the space features.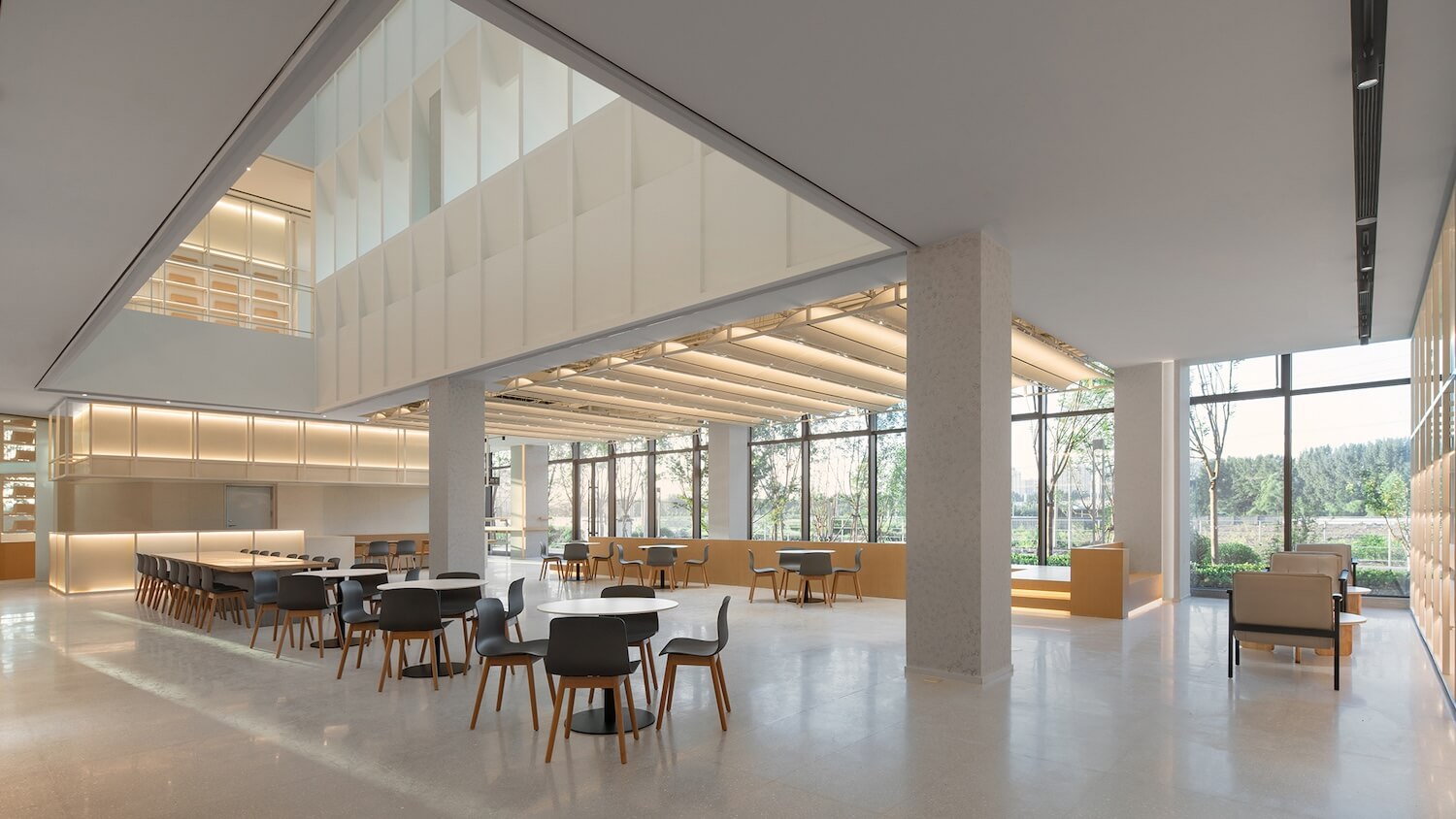 Lit Wall & Book Stairs
By utilizing the front lobby and the transparent glass curtain wall, the design team created layers of book walls to guide the visual focus, which resemble a lighthouse and serve as a spiritual fortress for the community. The warm tone of the space creates a feeling of comfort and positivity, while the cascading and turning stairs add an element of playfulness and uniqueness to the overall atmosphere.
Container of Light
The high-ceiling atrium was utilized to harness natural daylight in a strategic manner, which created a shift of different moods and elicited emotional responses. The aim is to cultivate a sense of ritual and create an atmosphere where individuals can find solace and engage in contemplation. The intention is to make the space not only visually captivating but also emotionally stimulating and intellectually intriguing. Additionally, it is hoped that people can perceive the passage of time and experience the dimensionality of space through the interplay of light and shadow.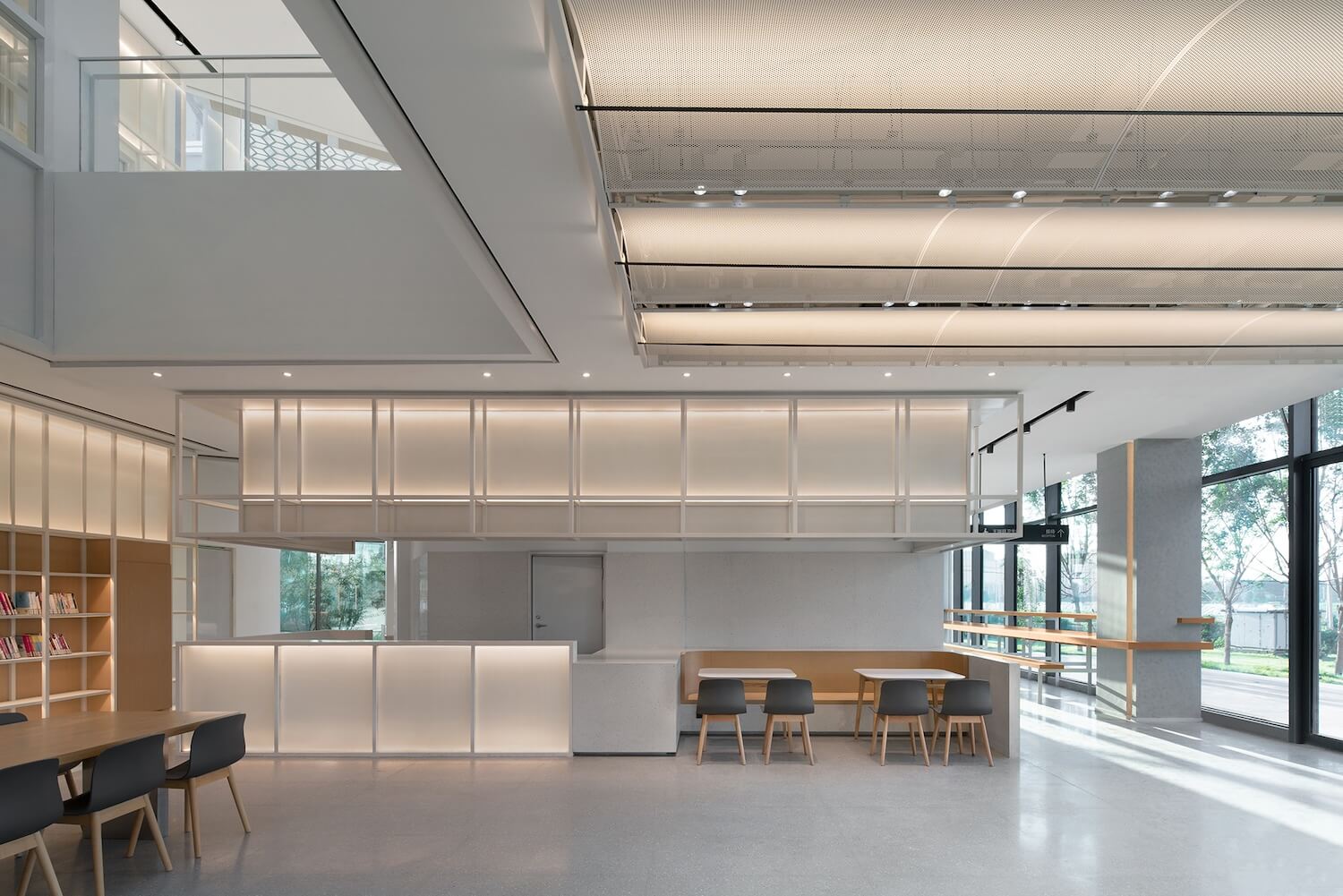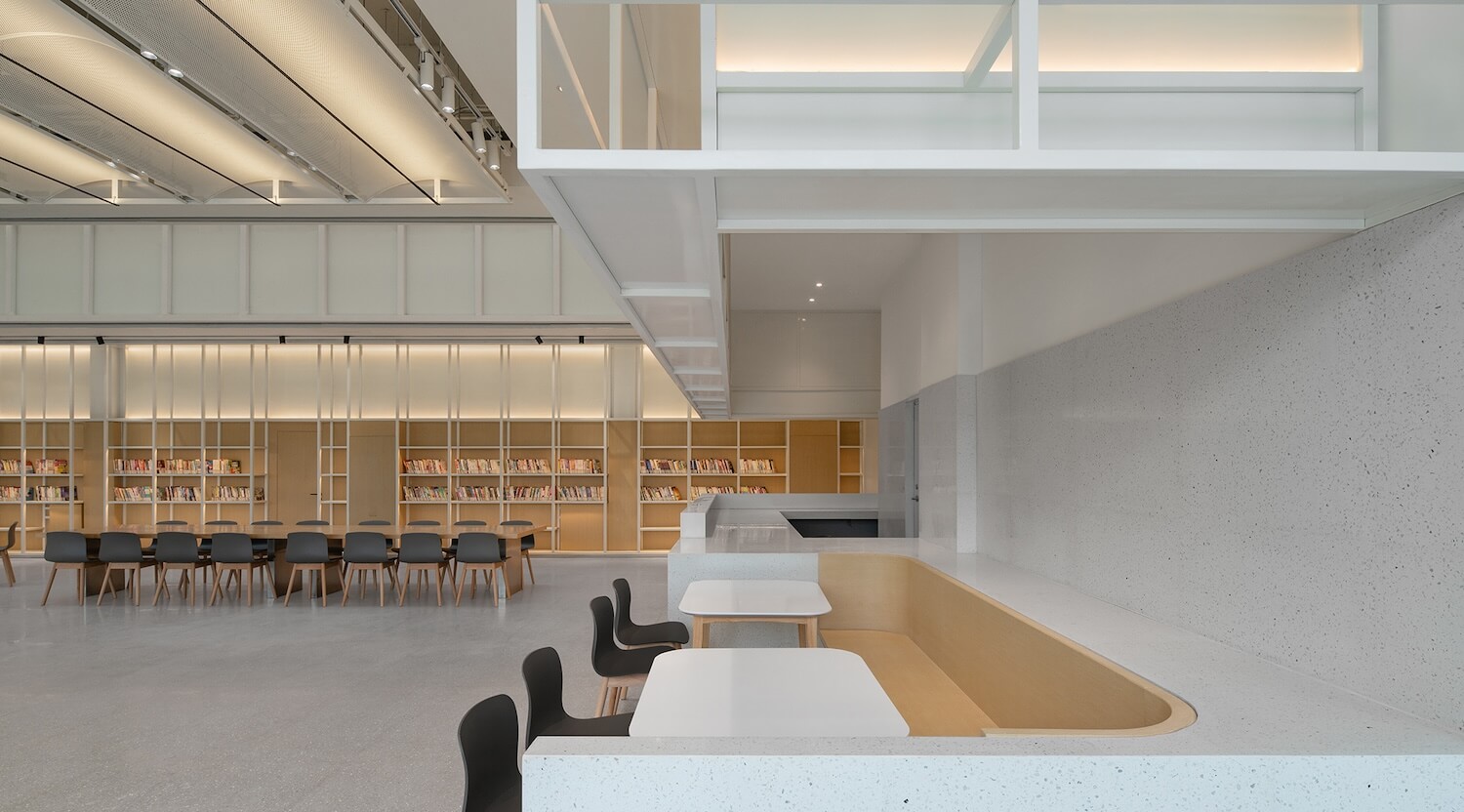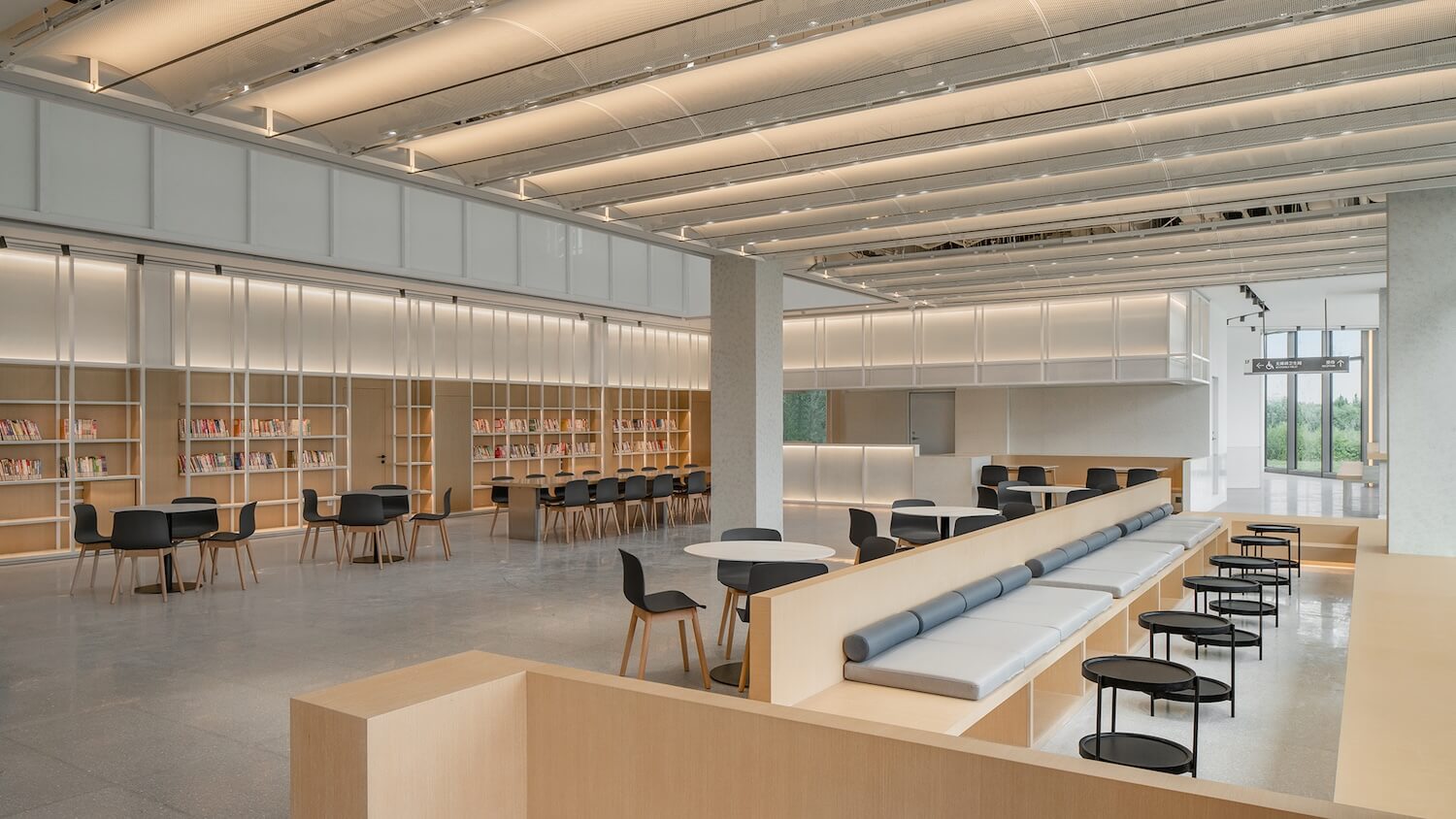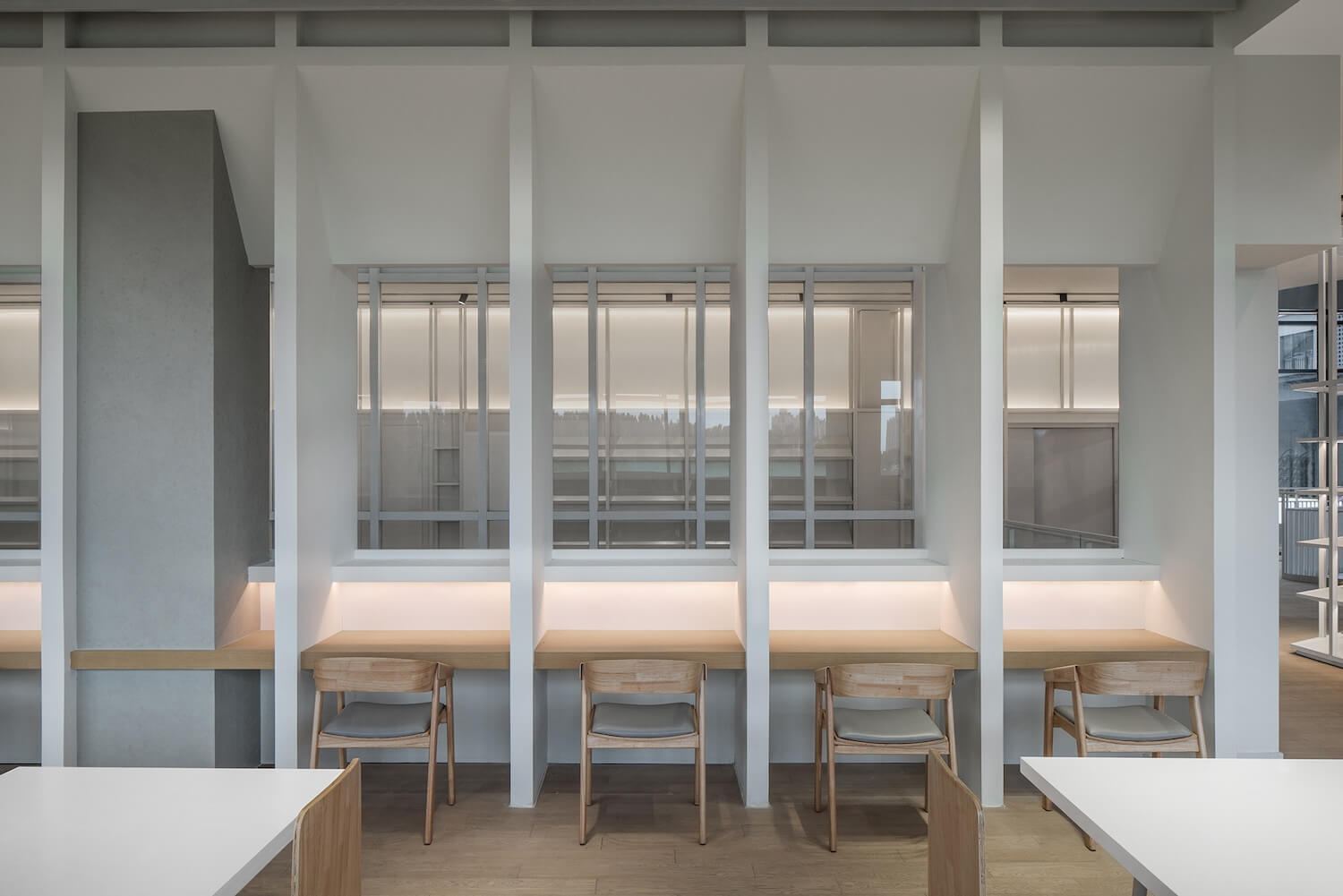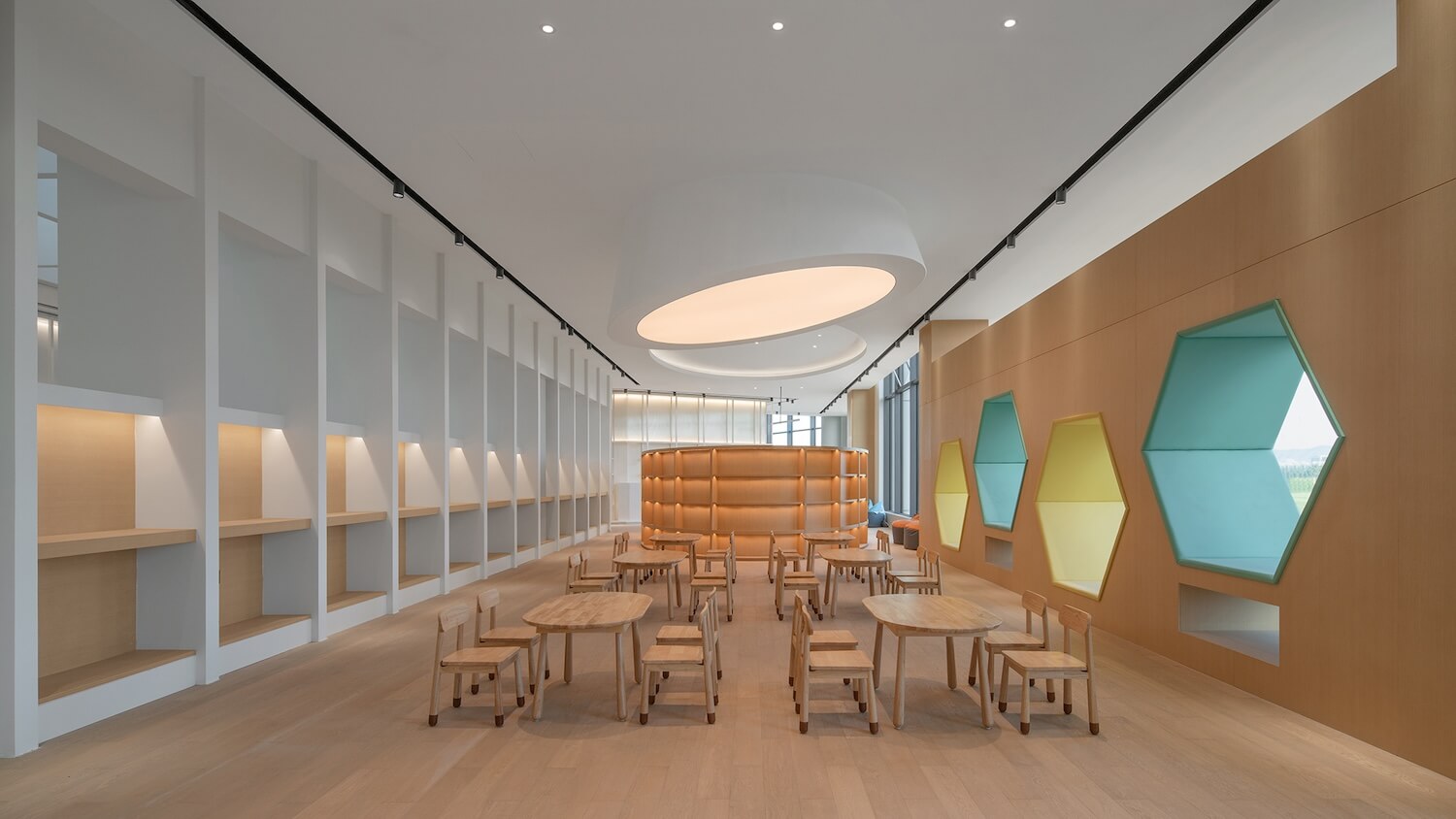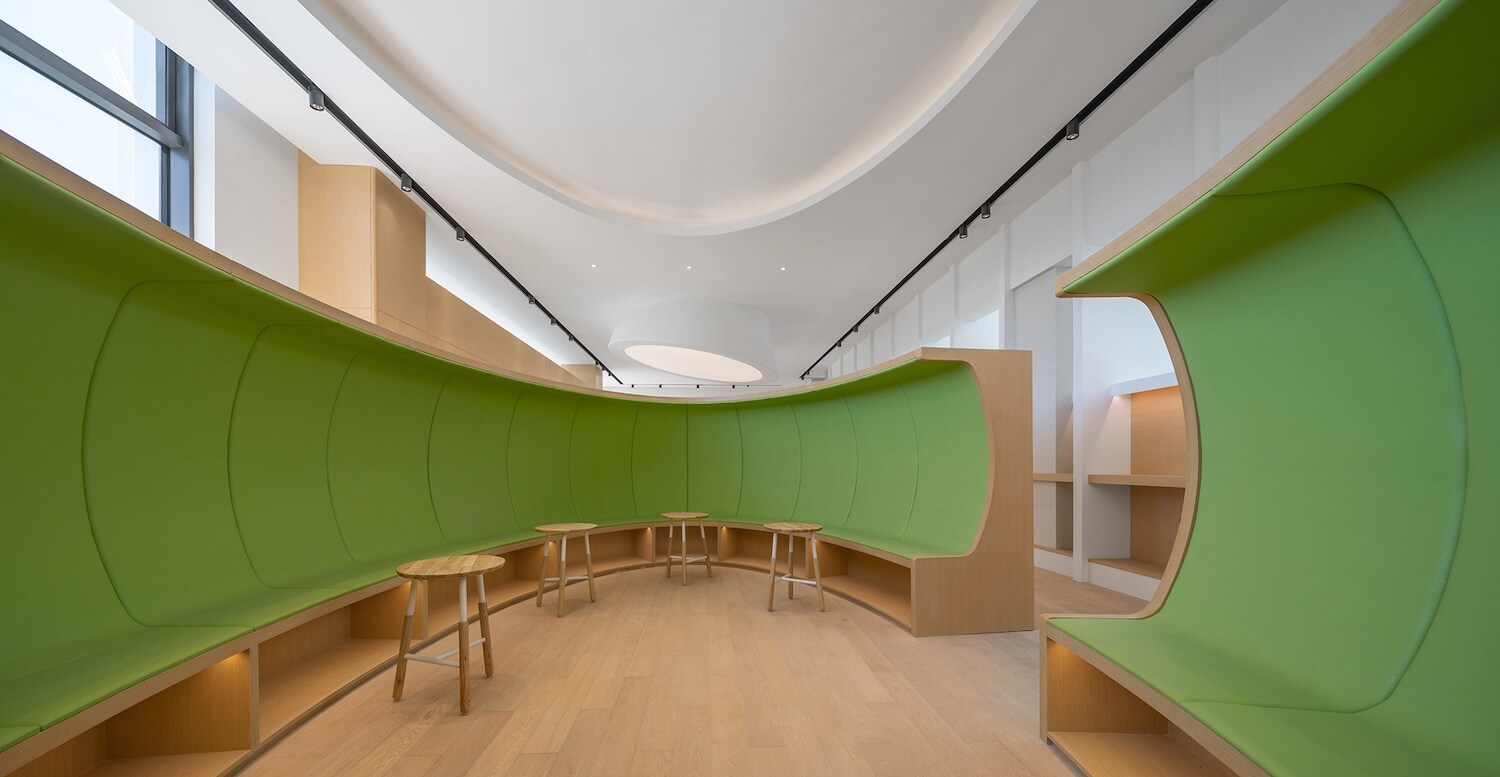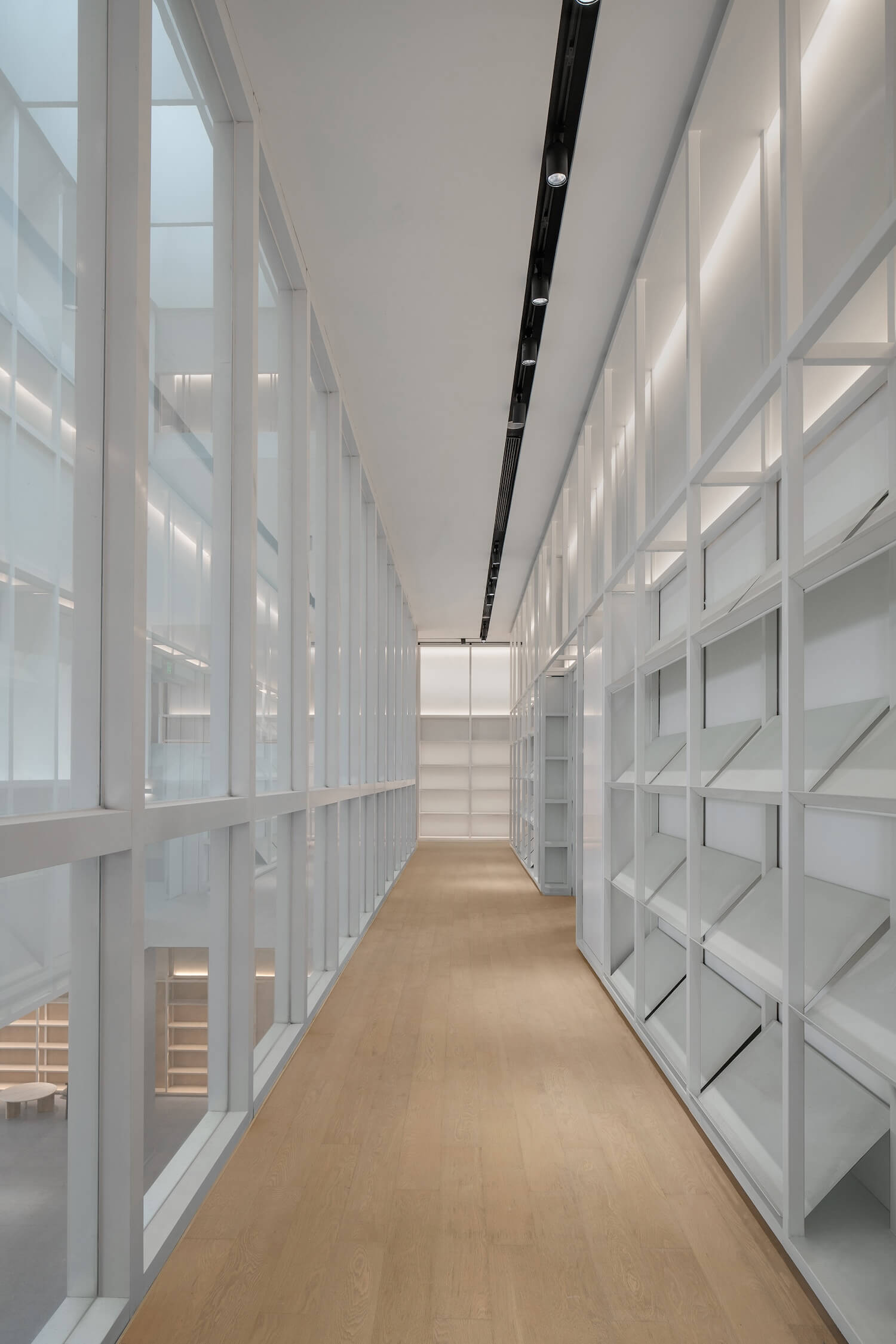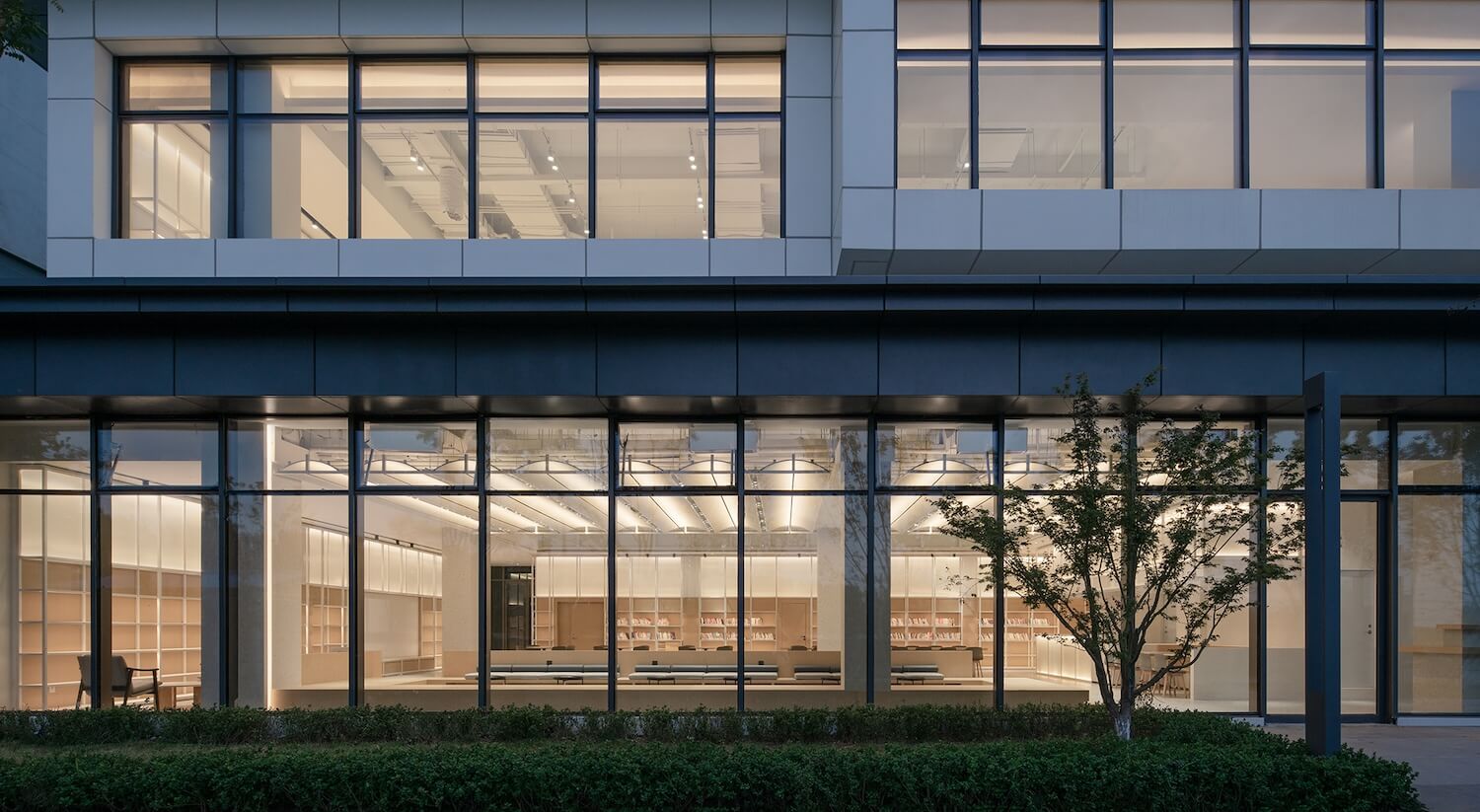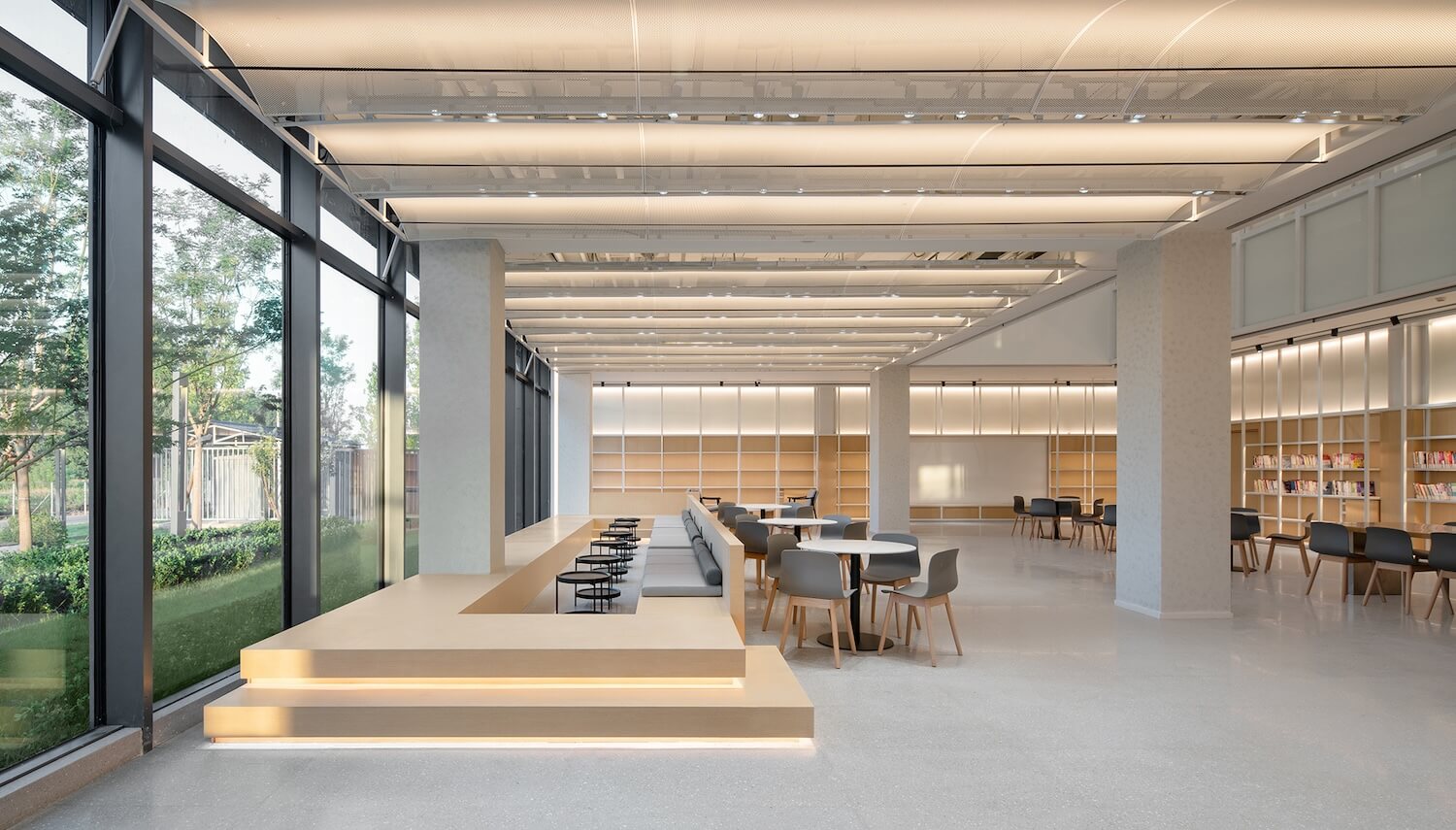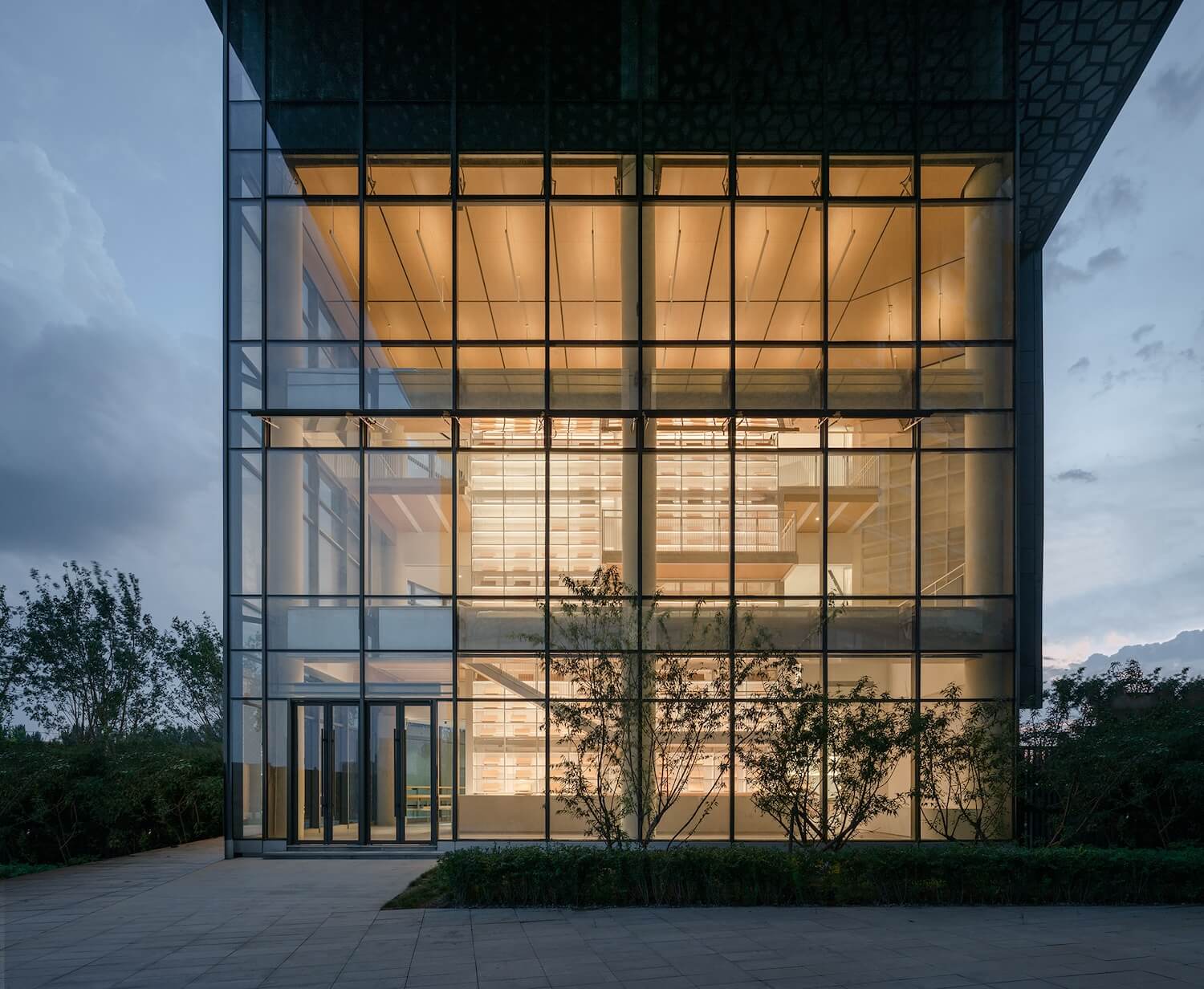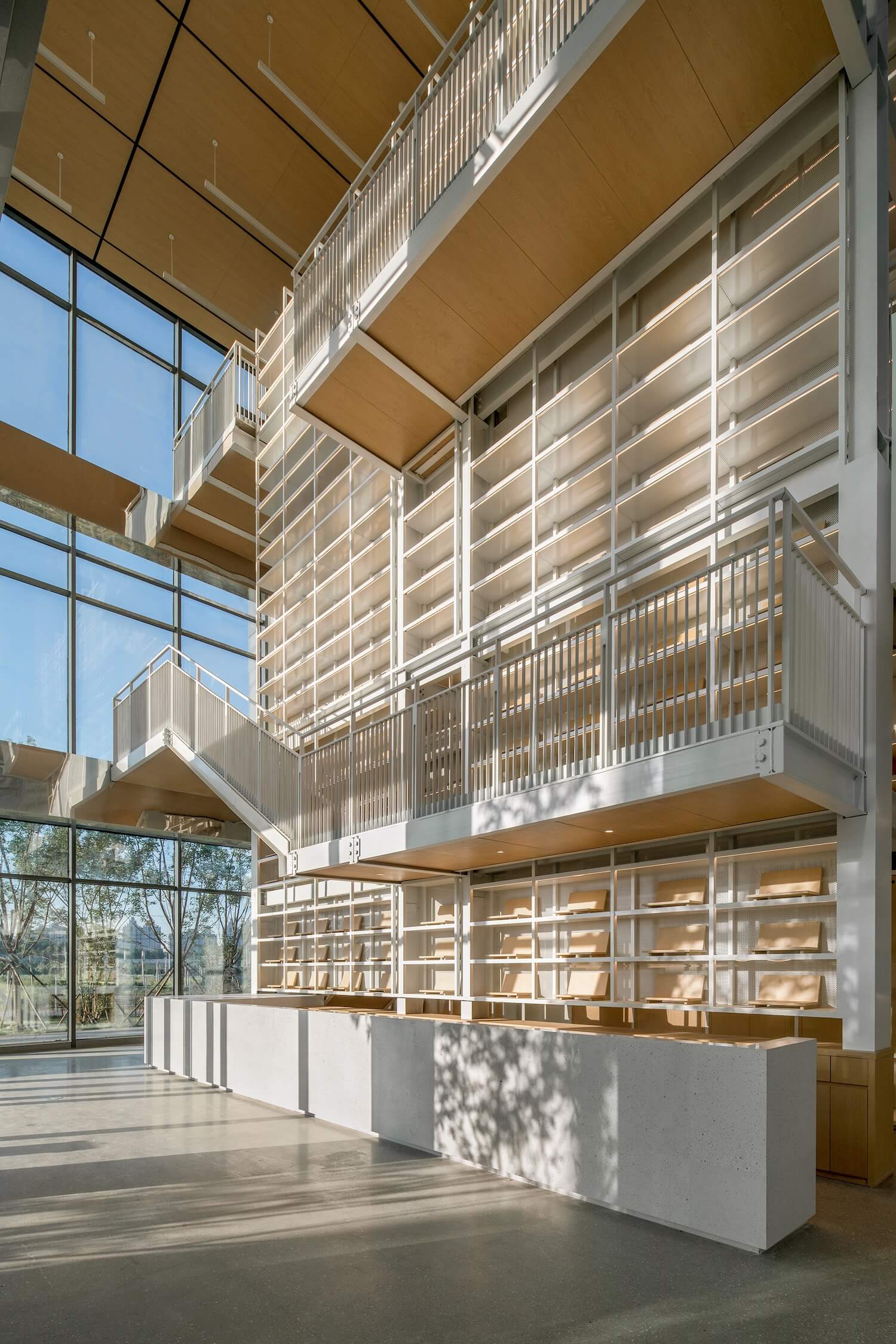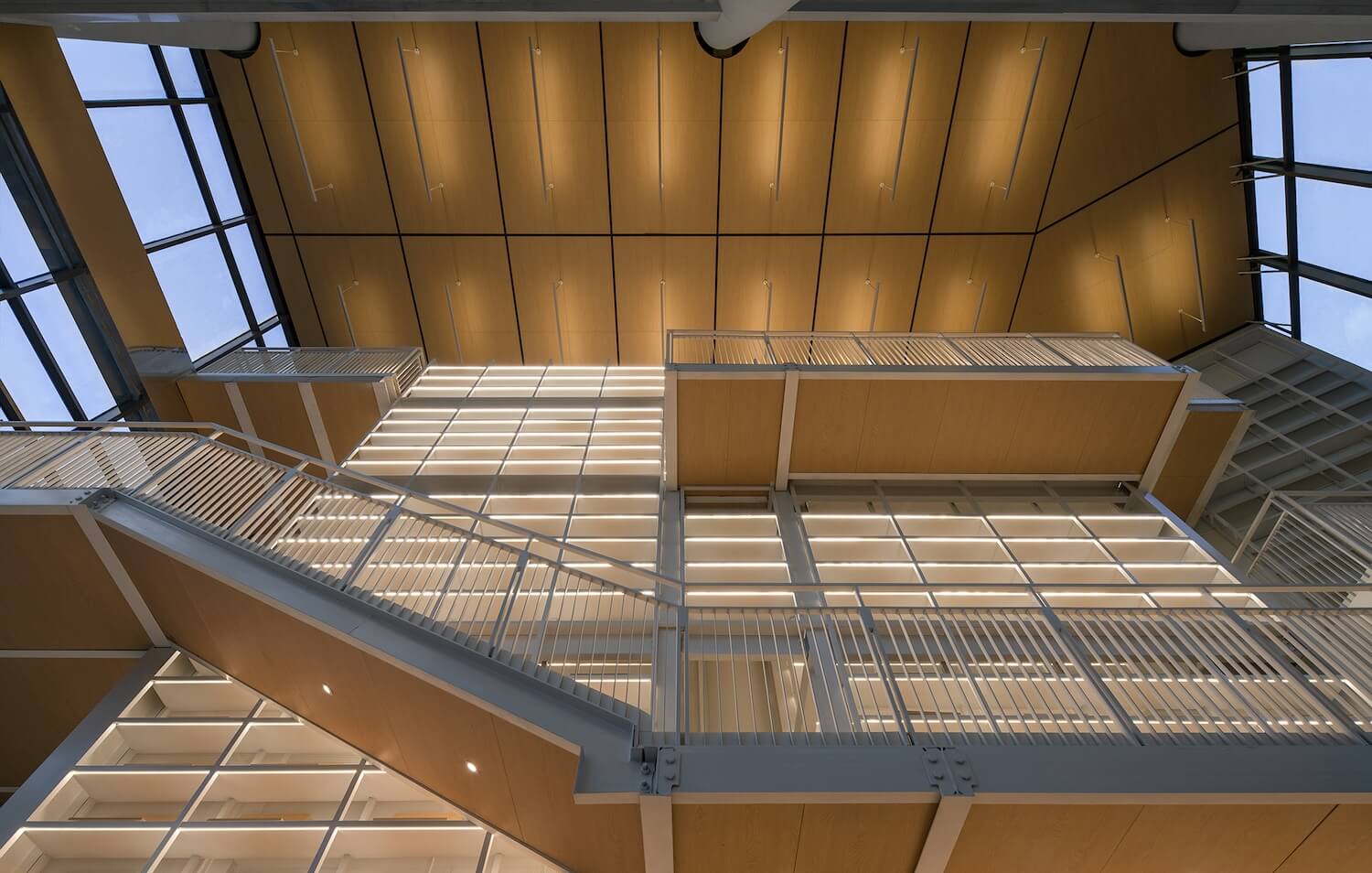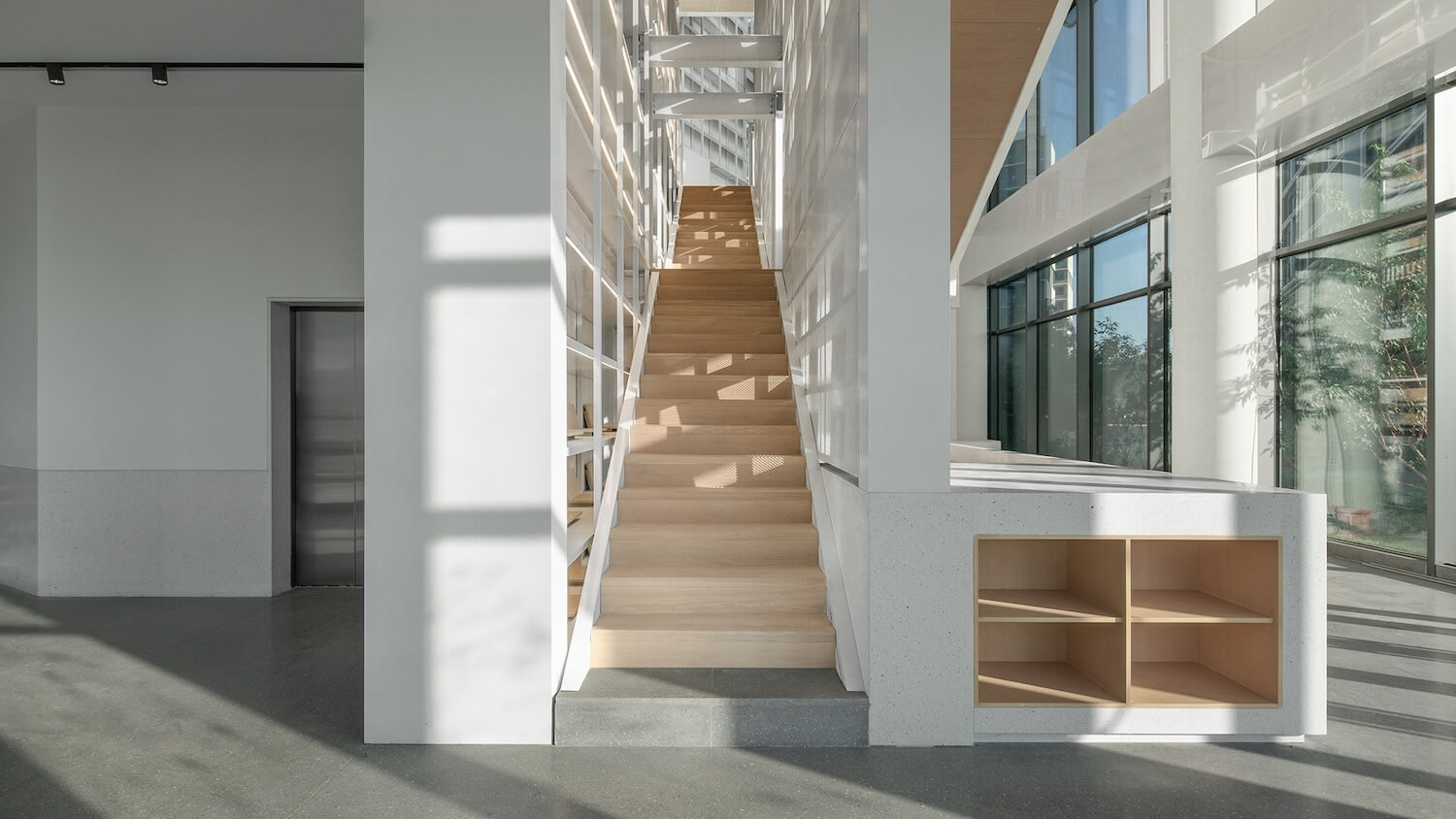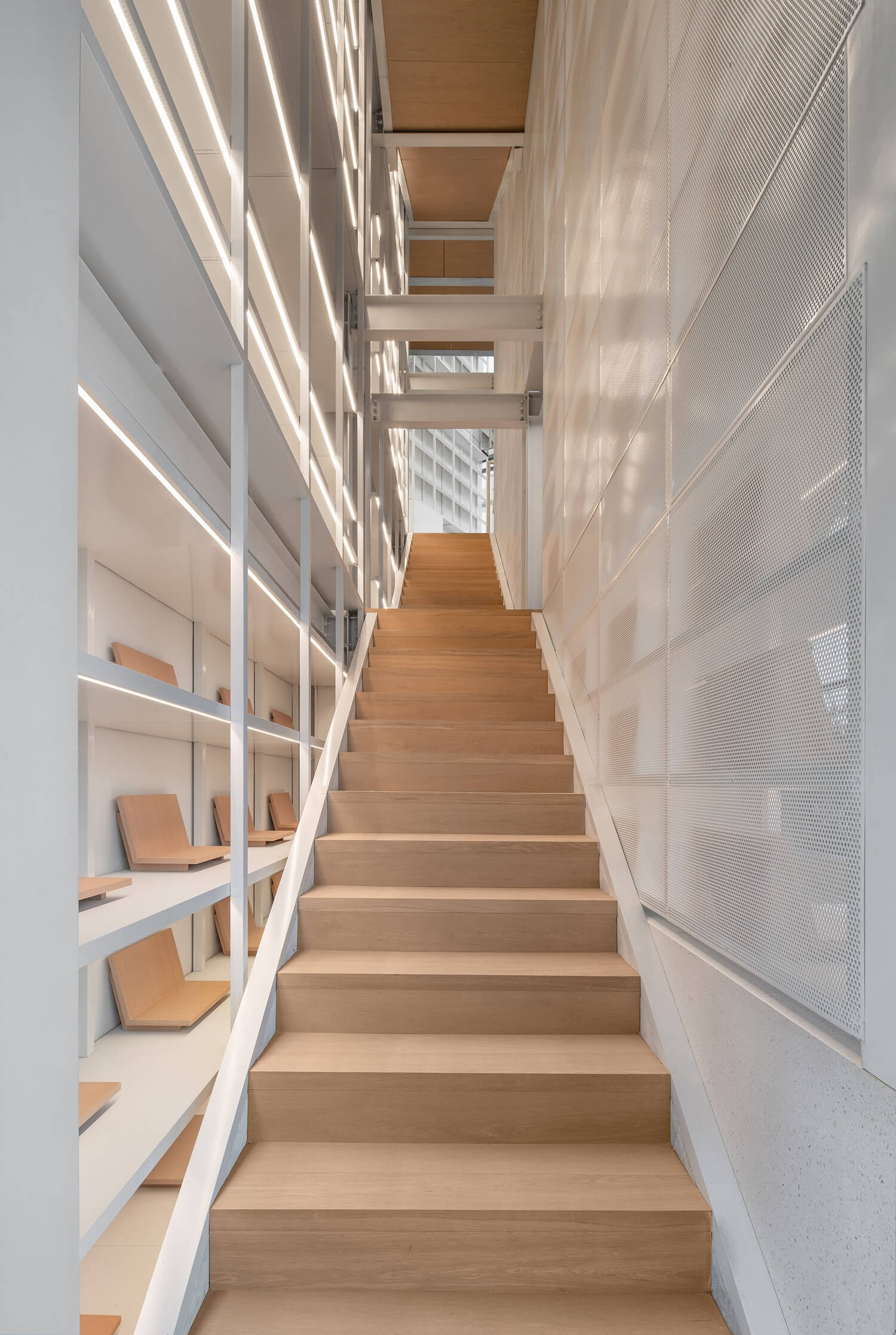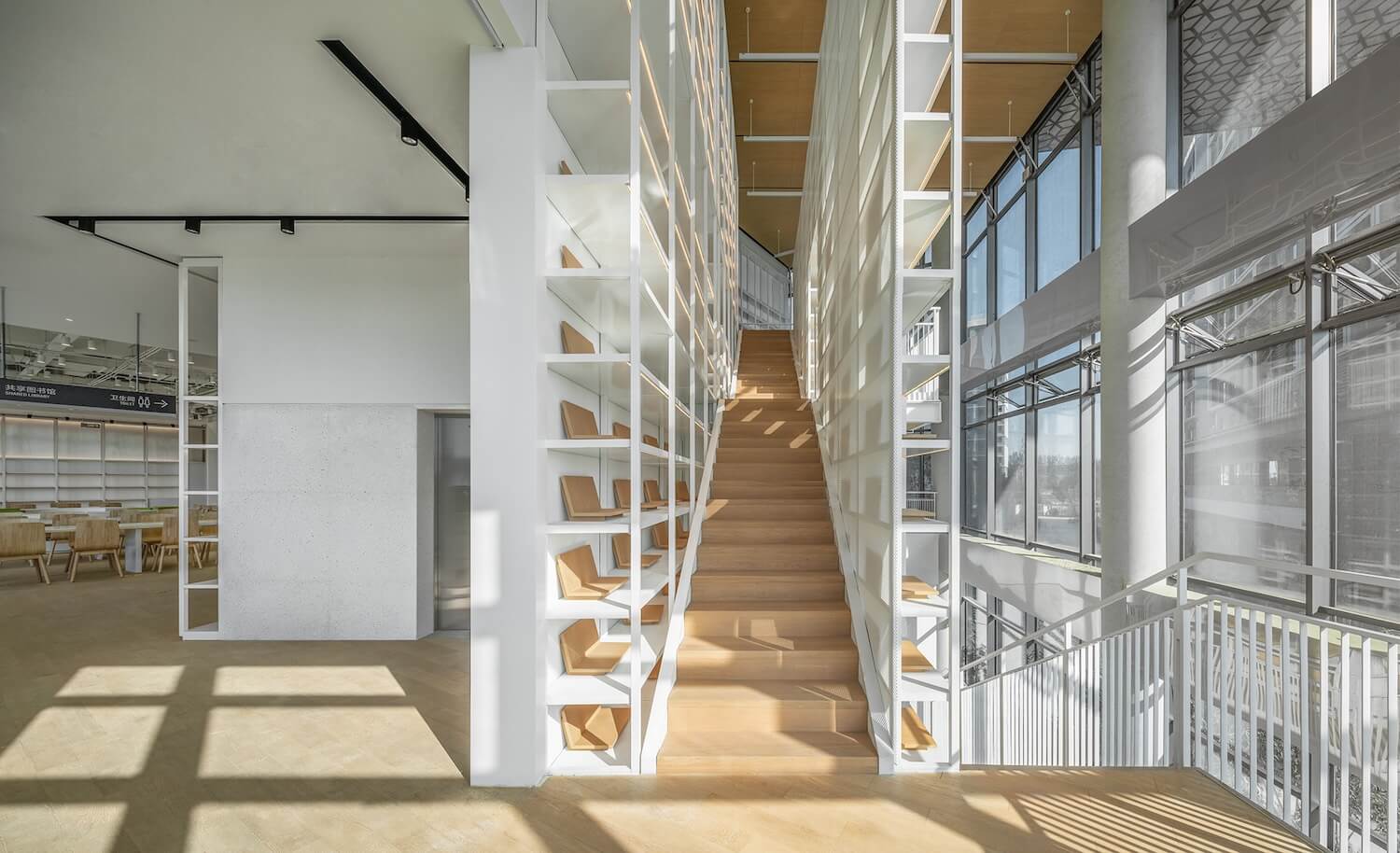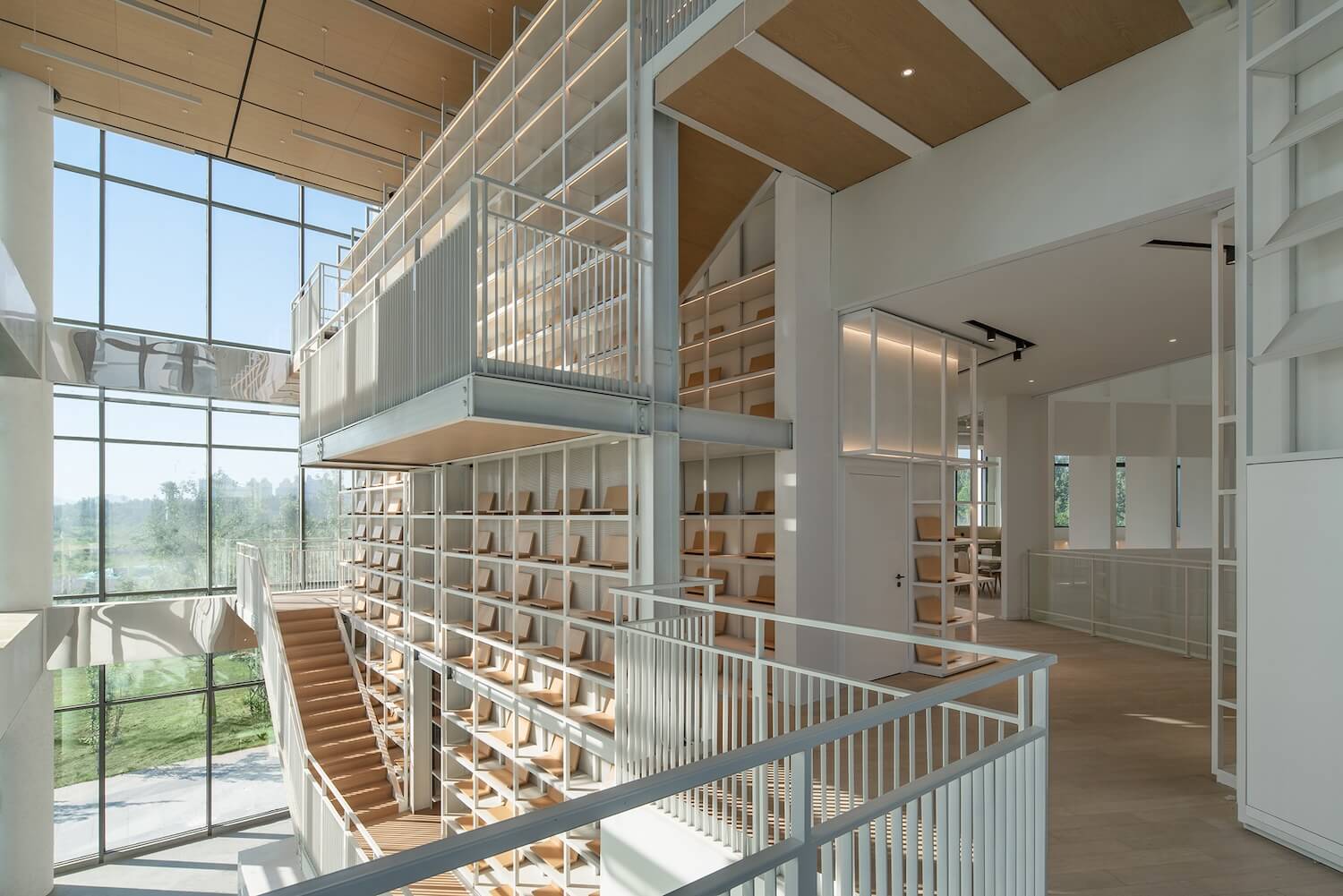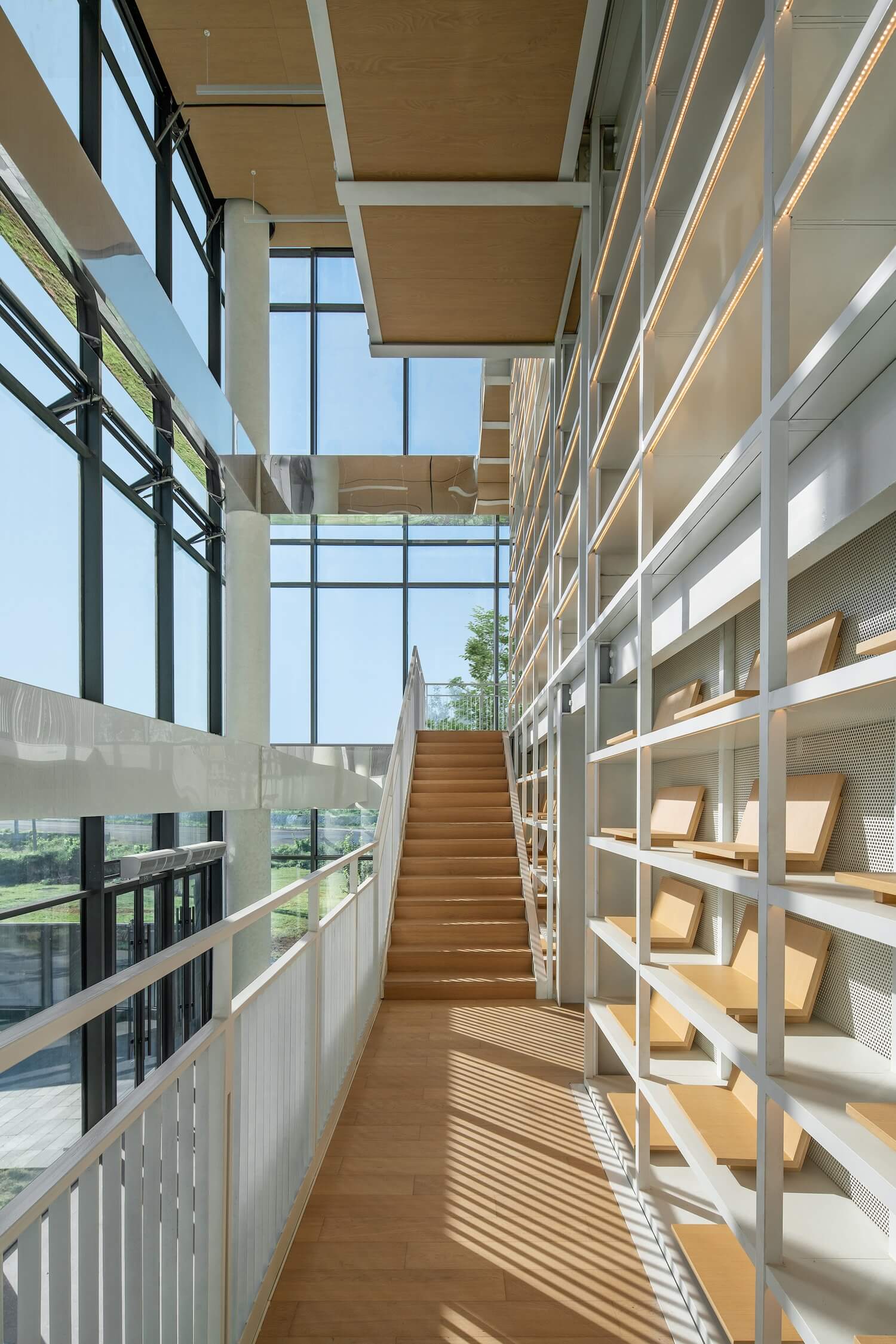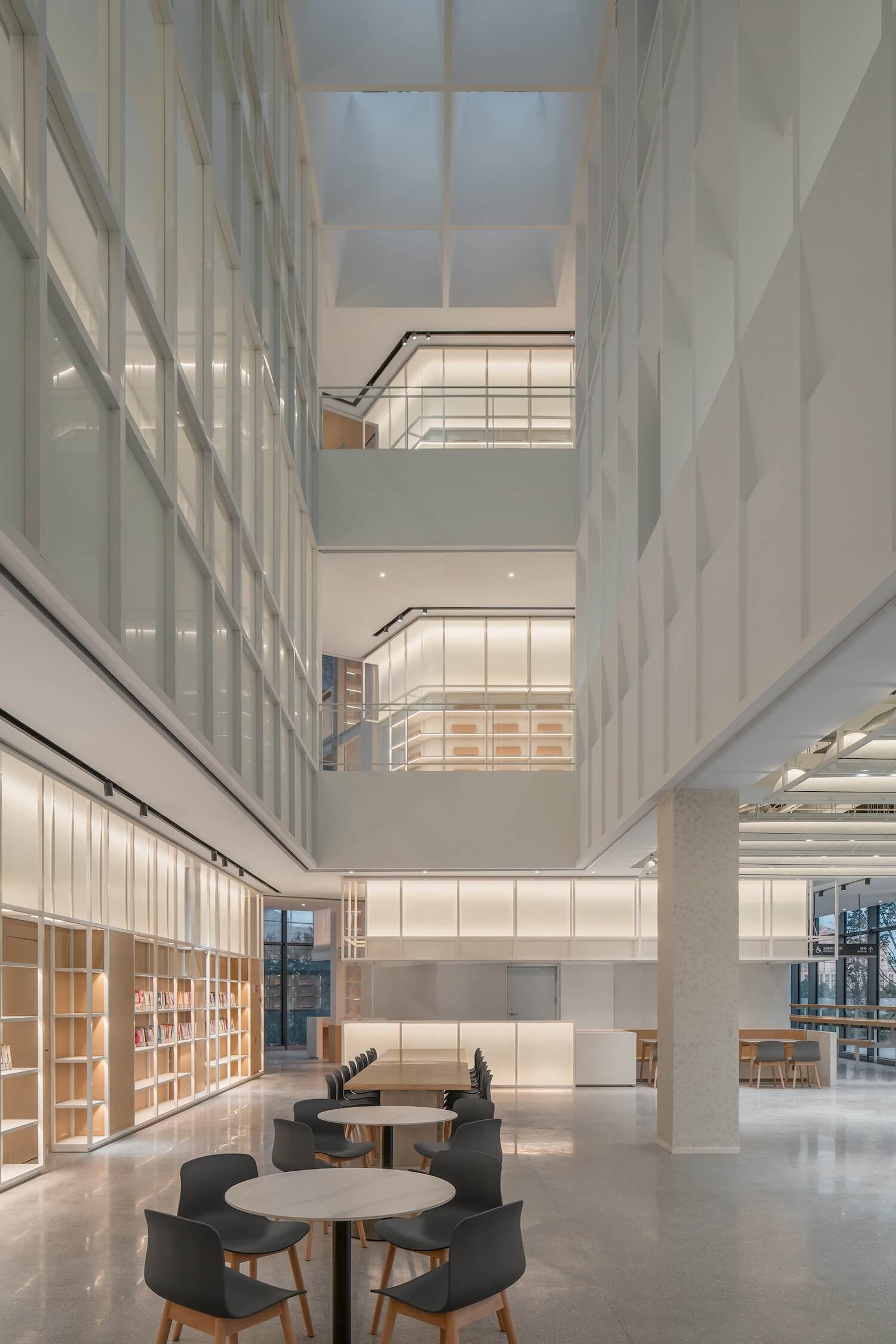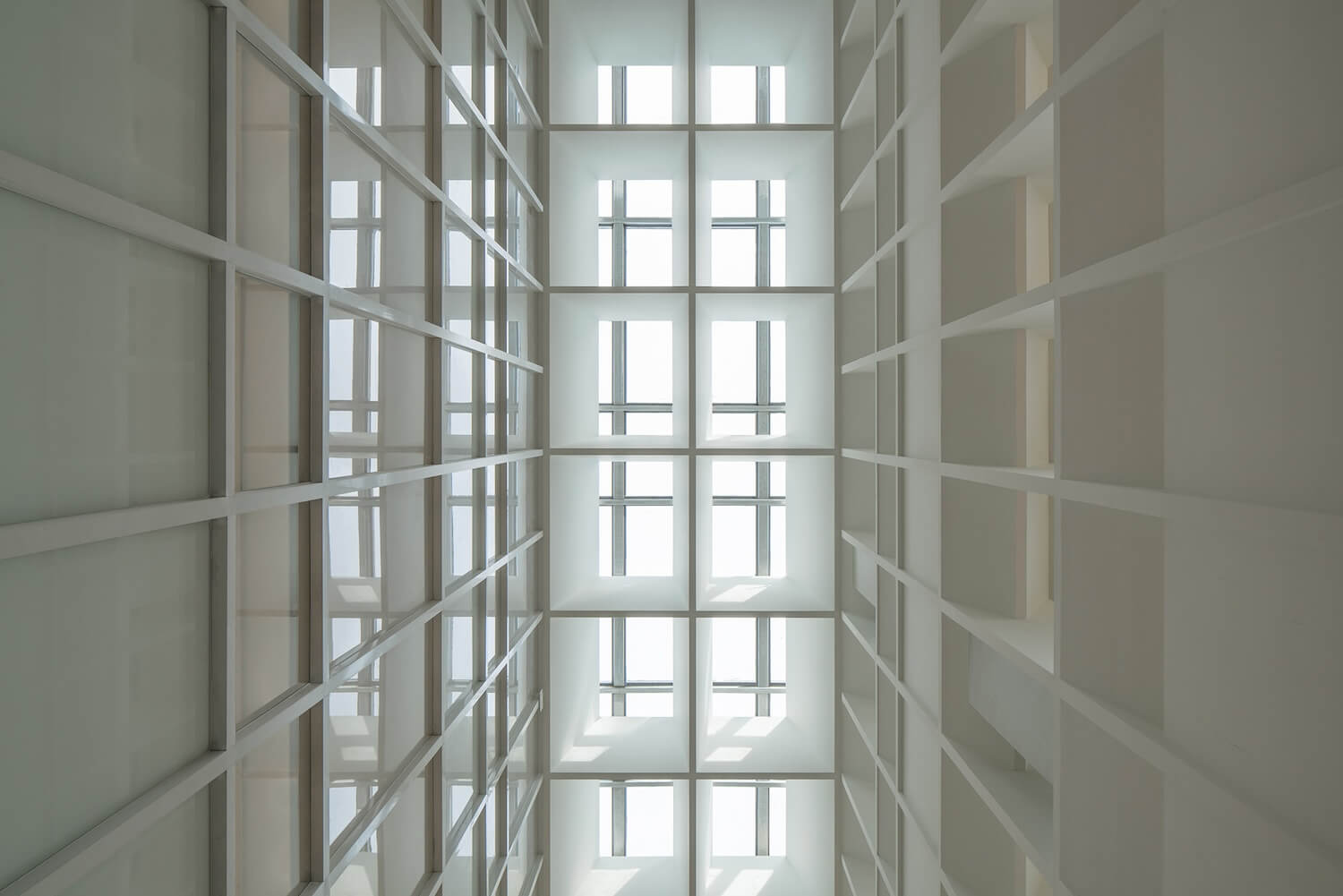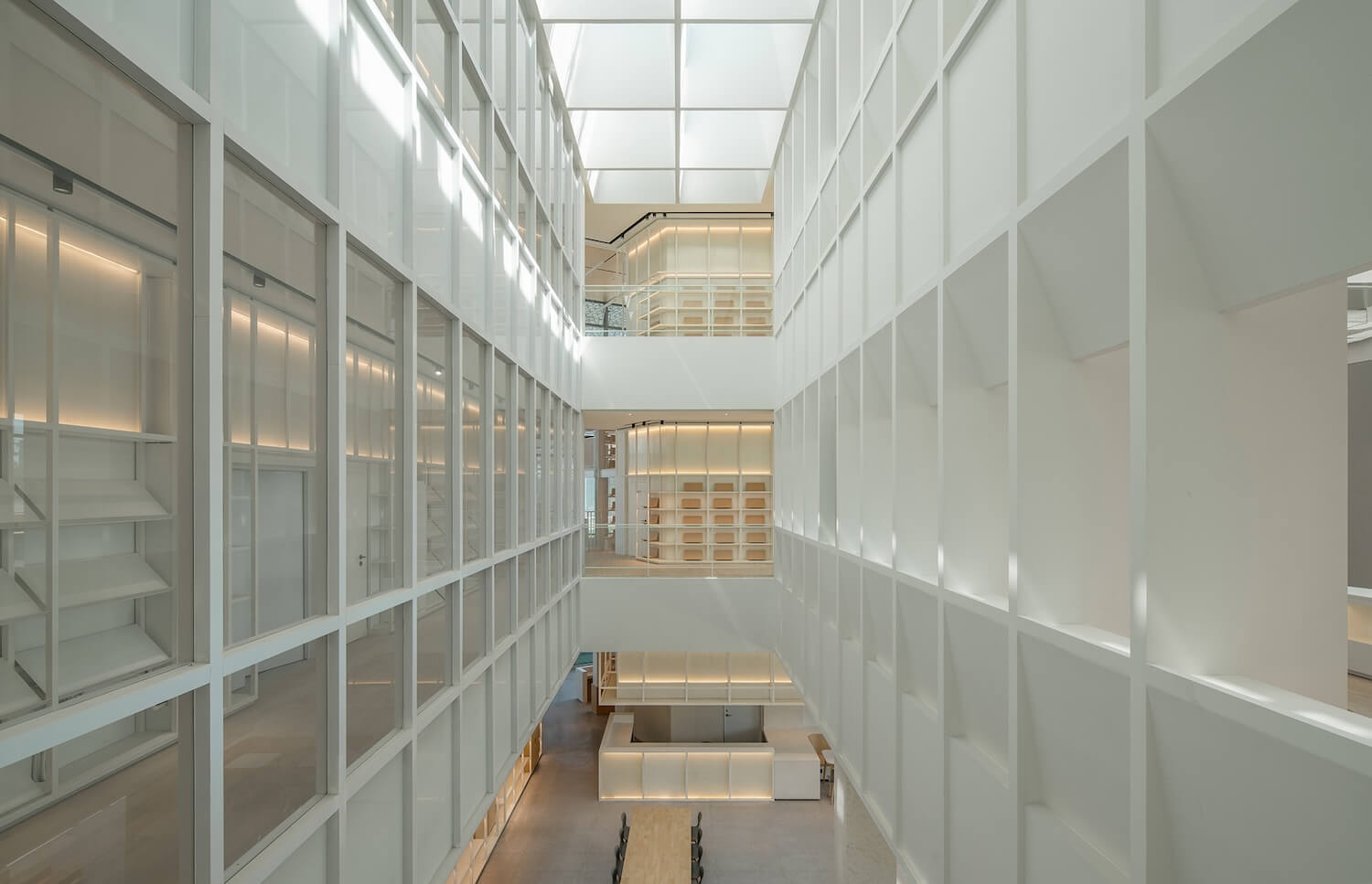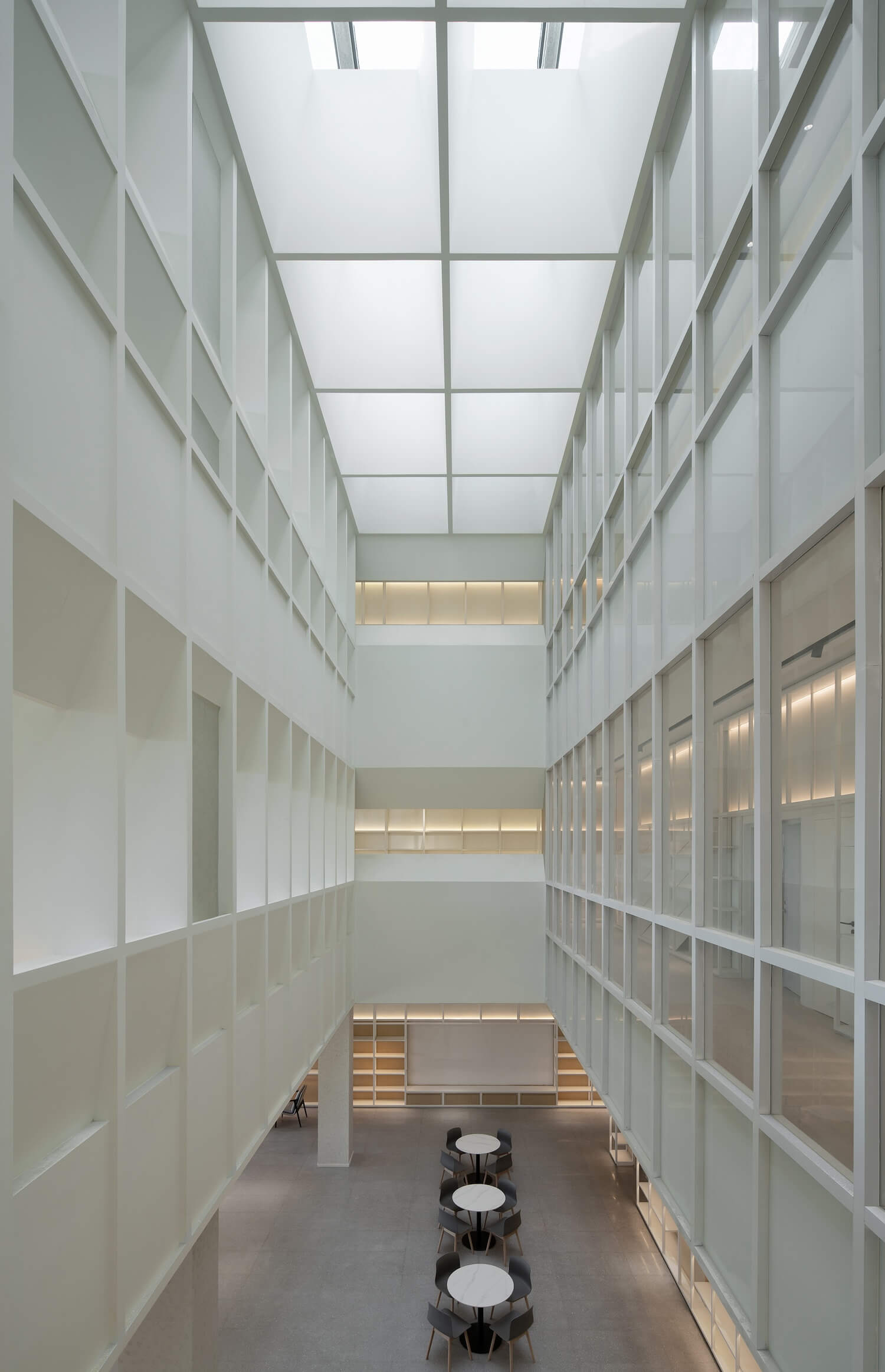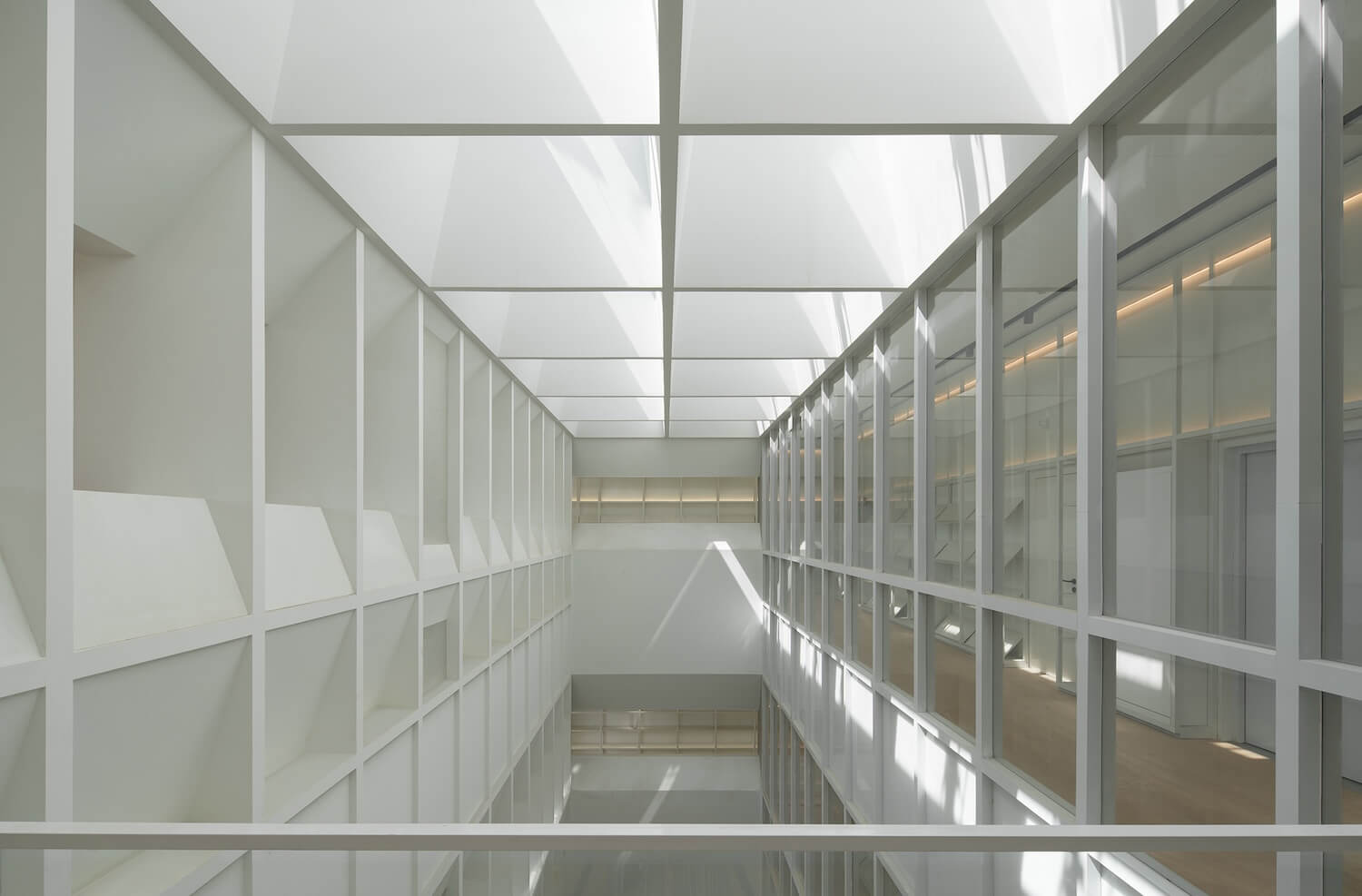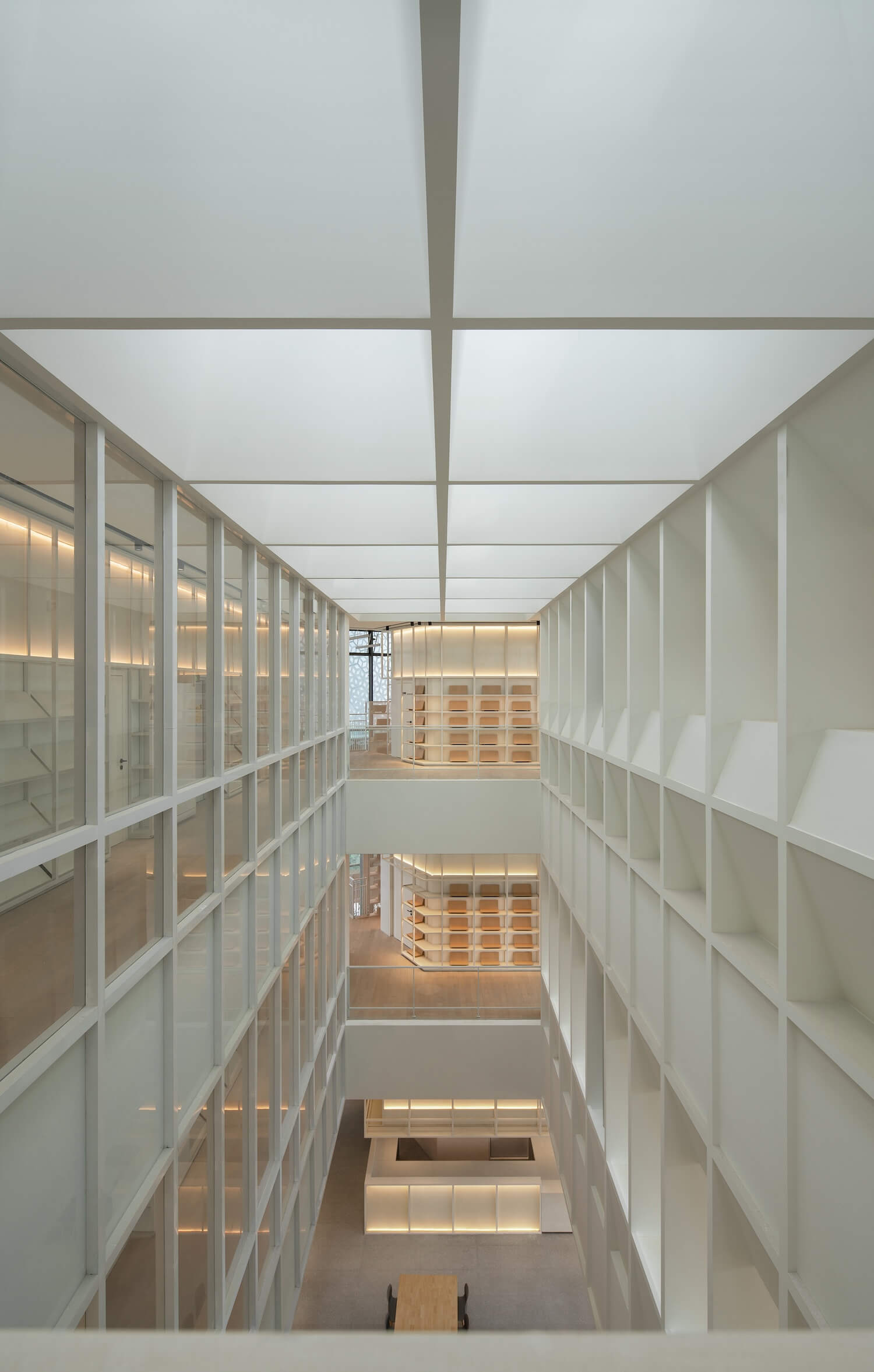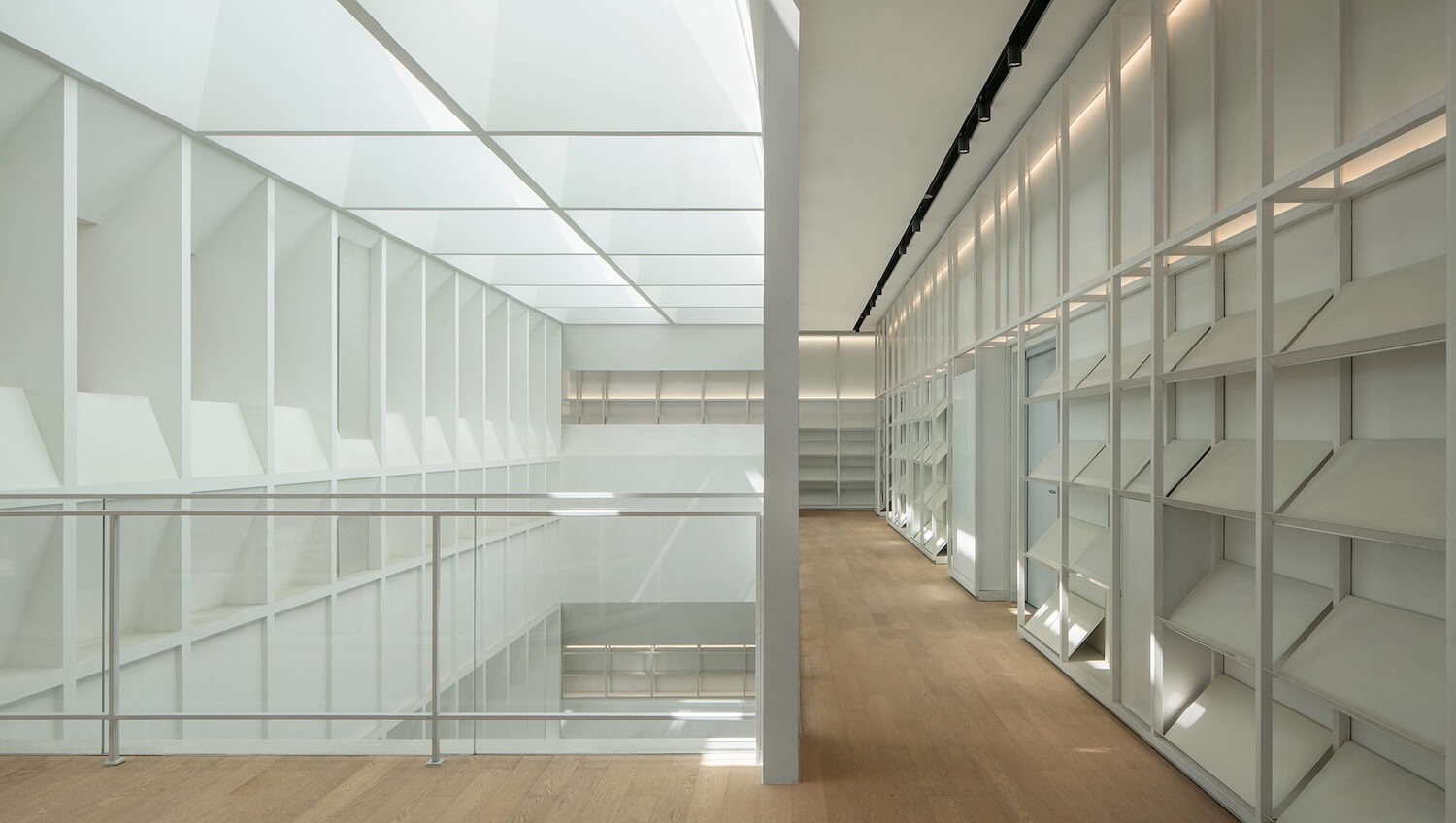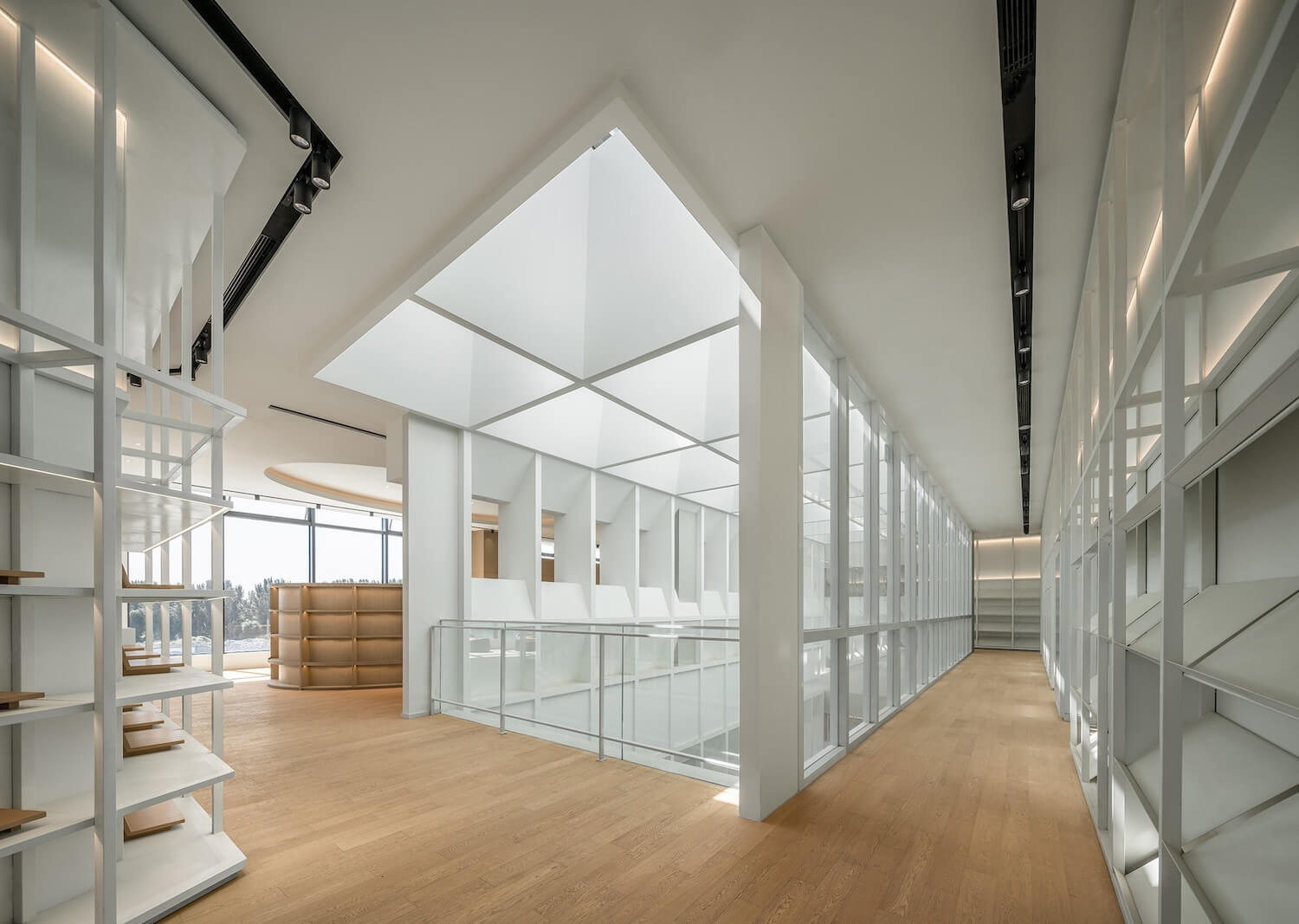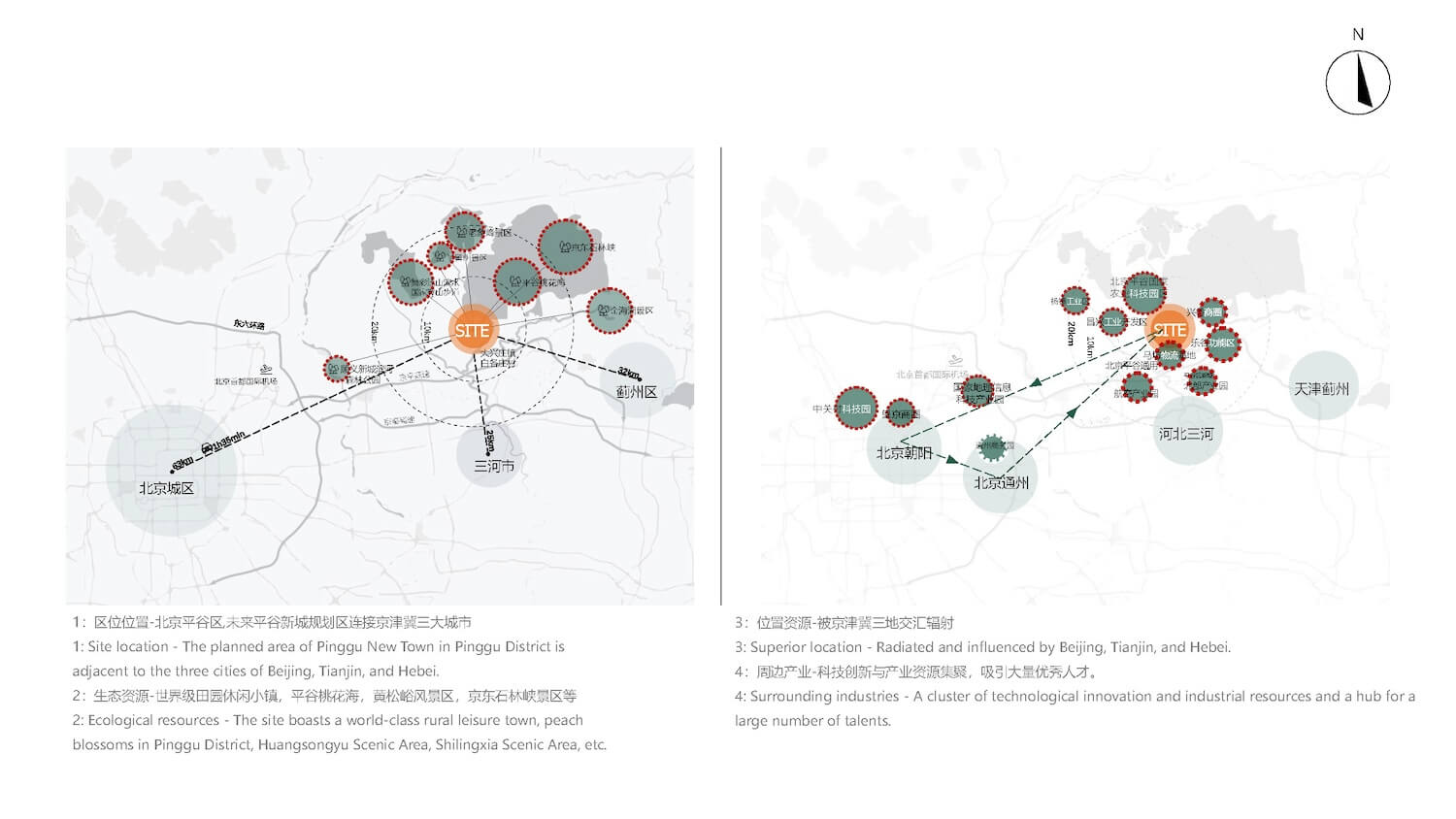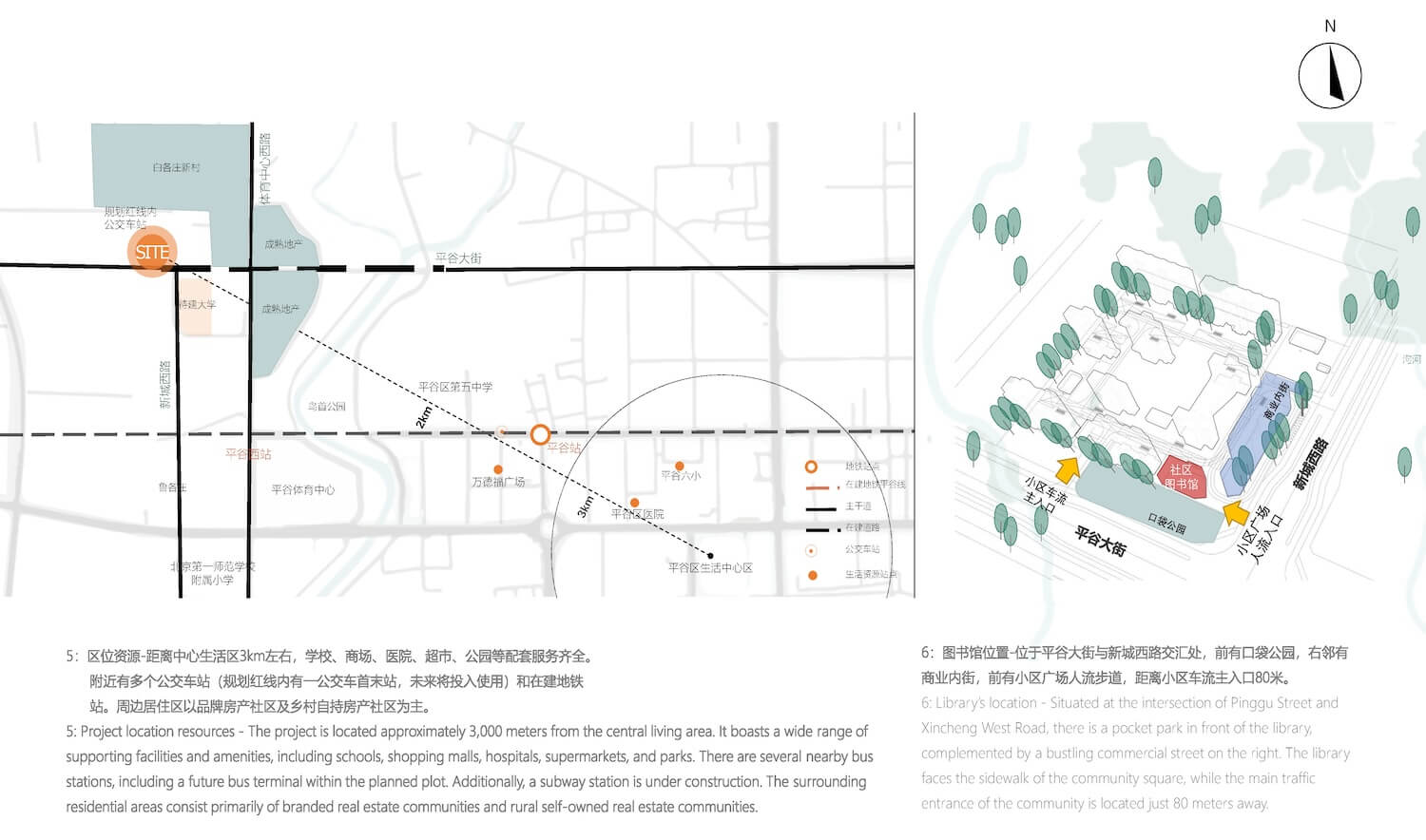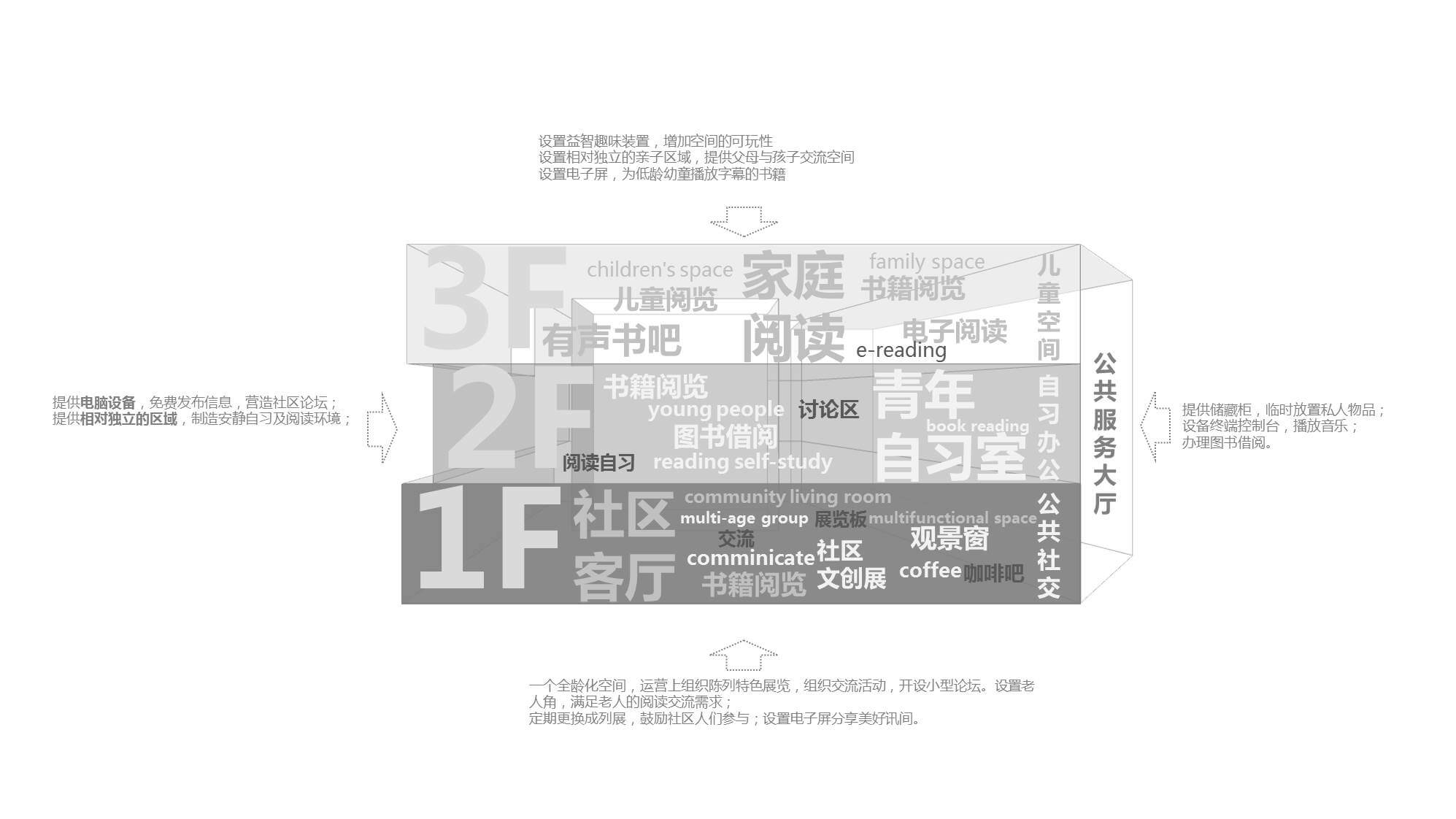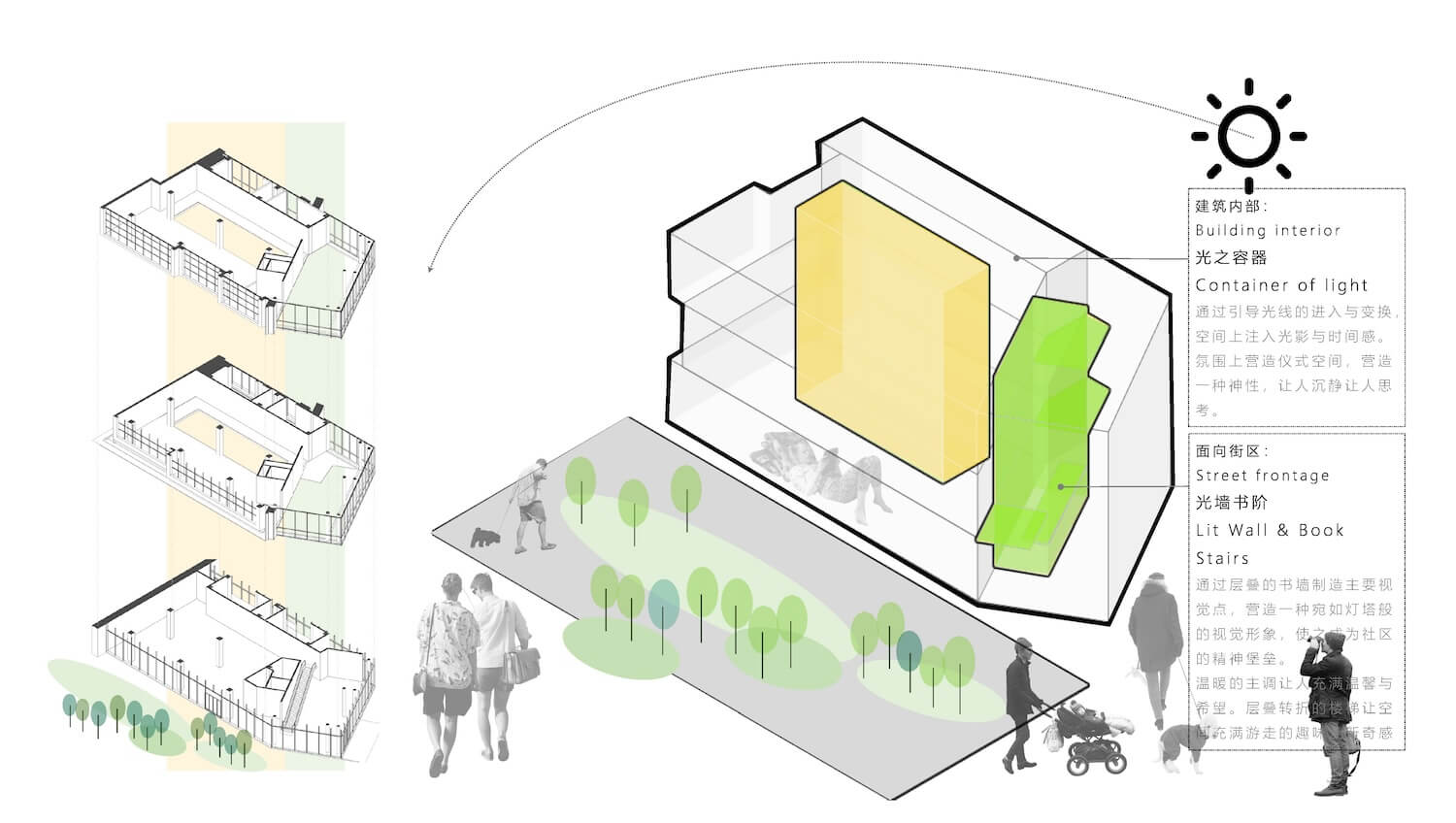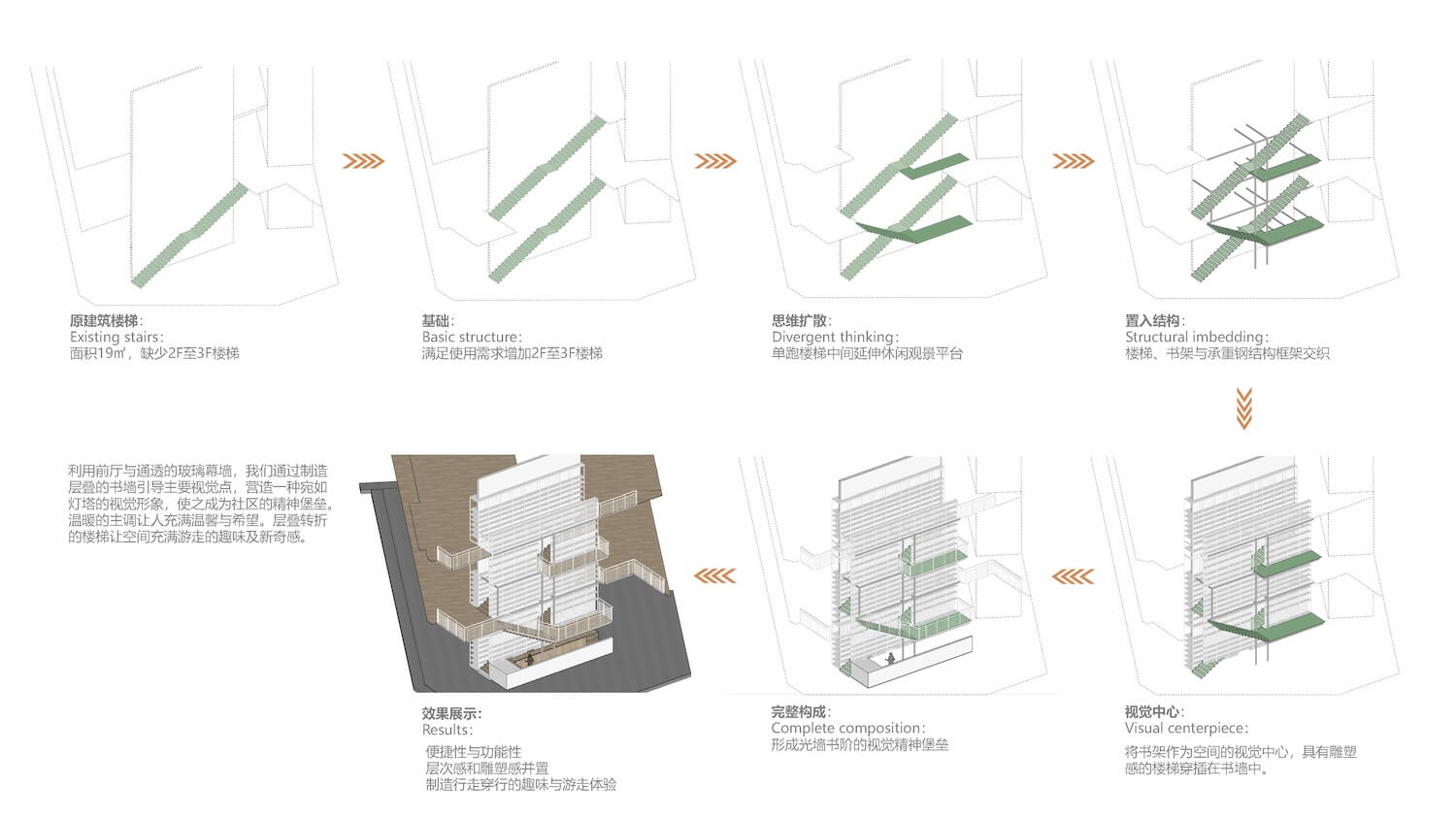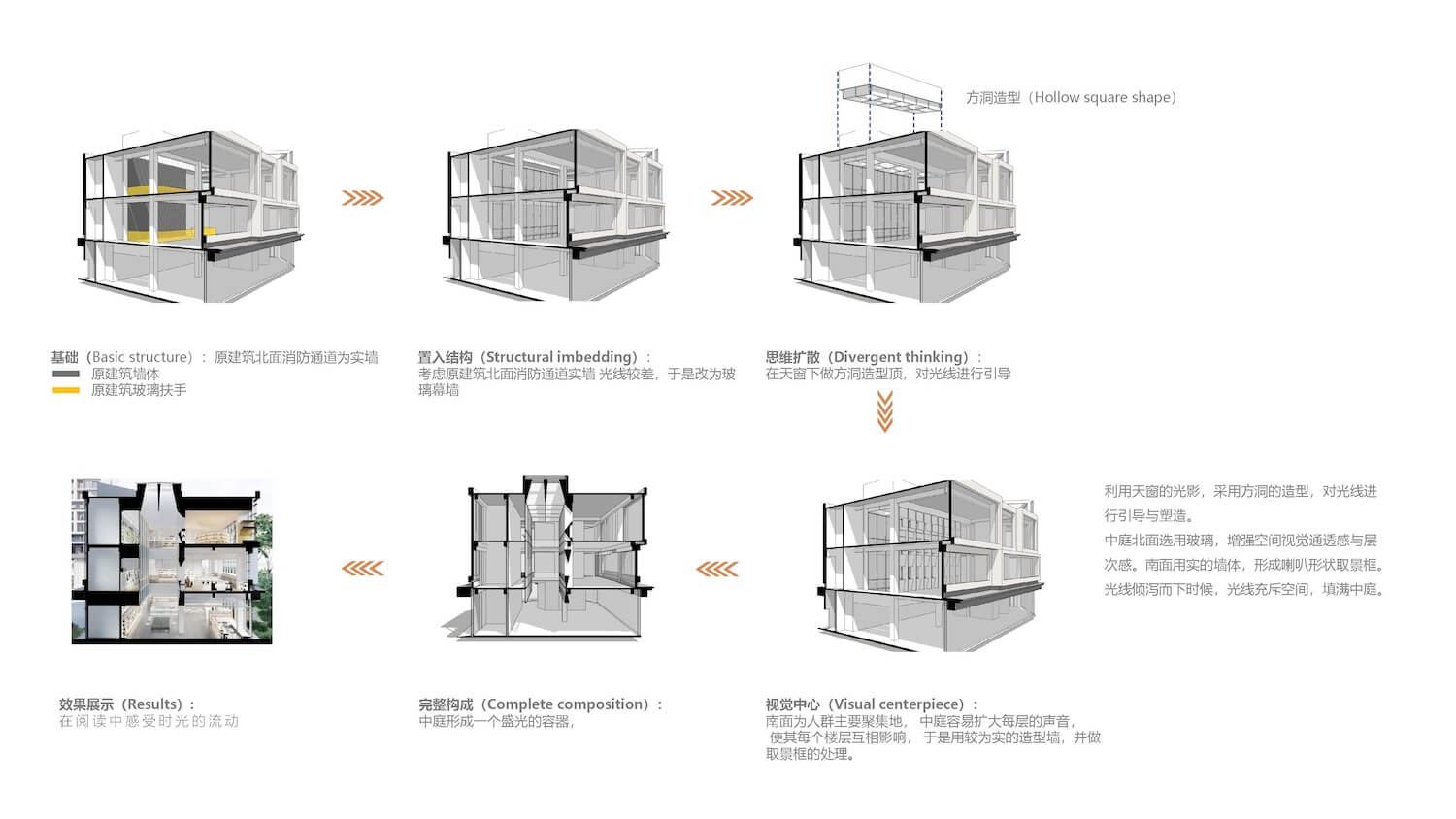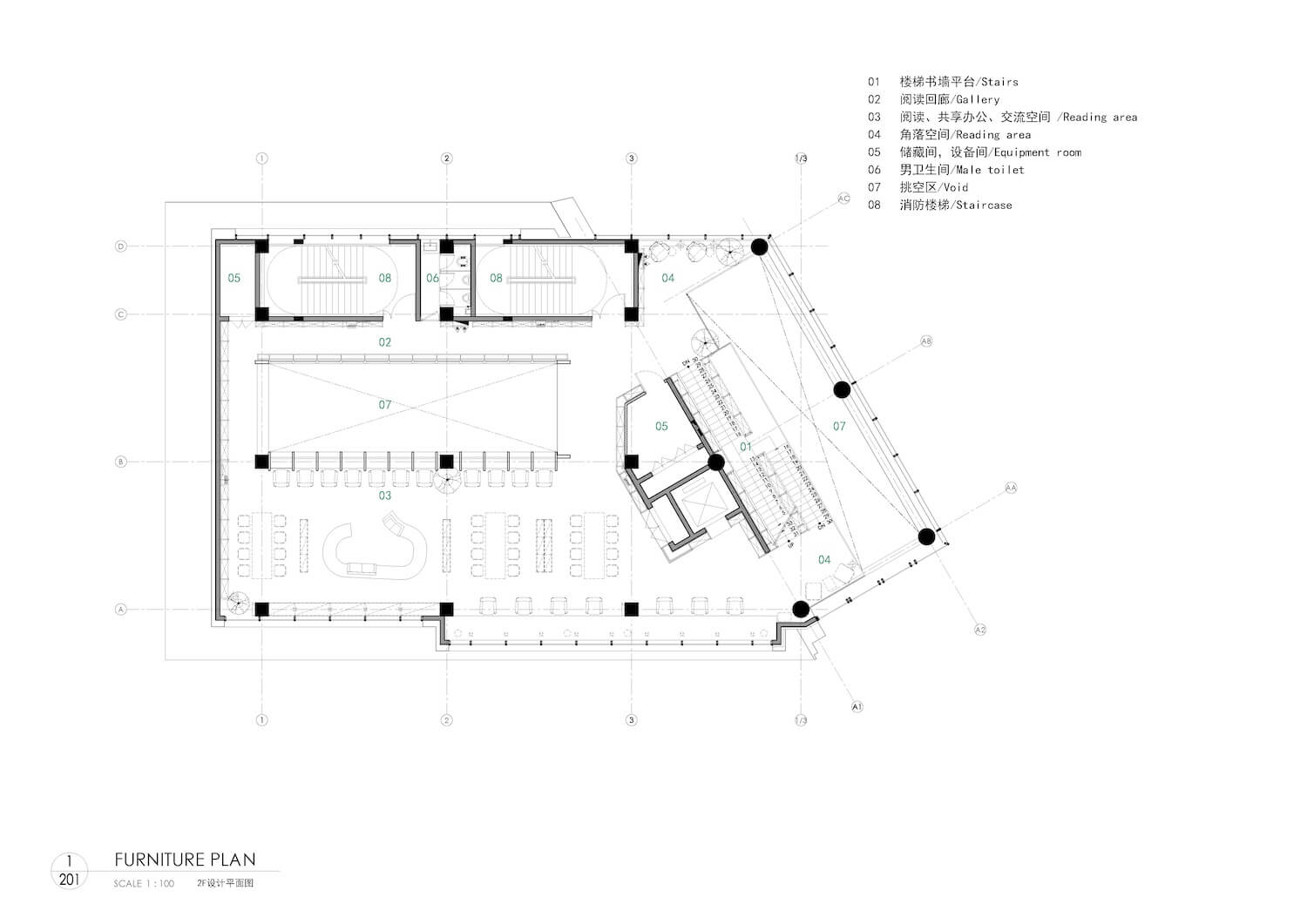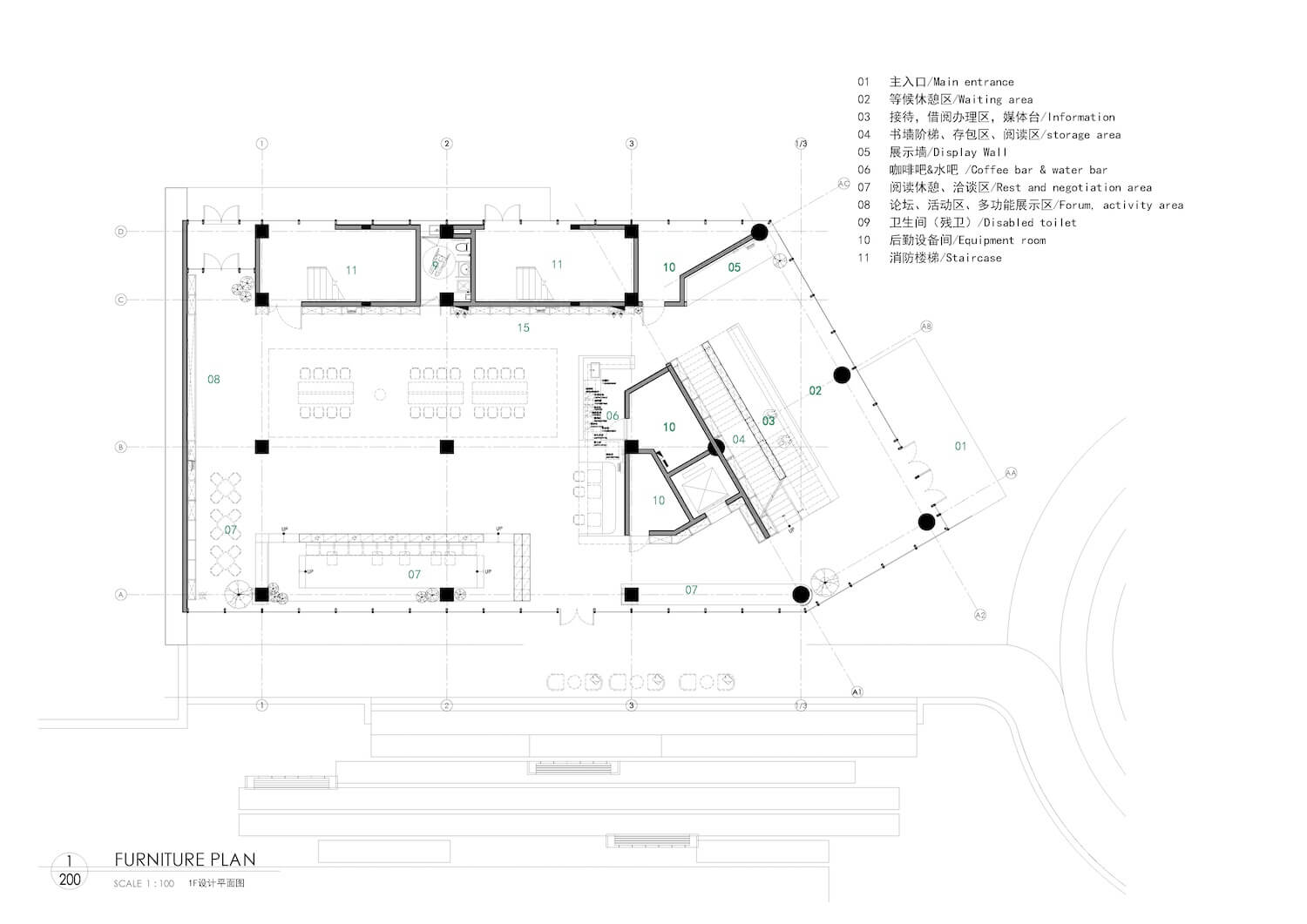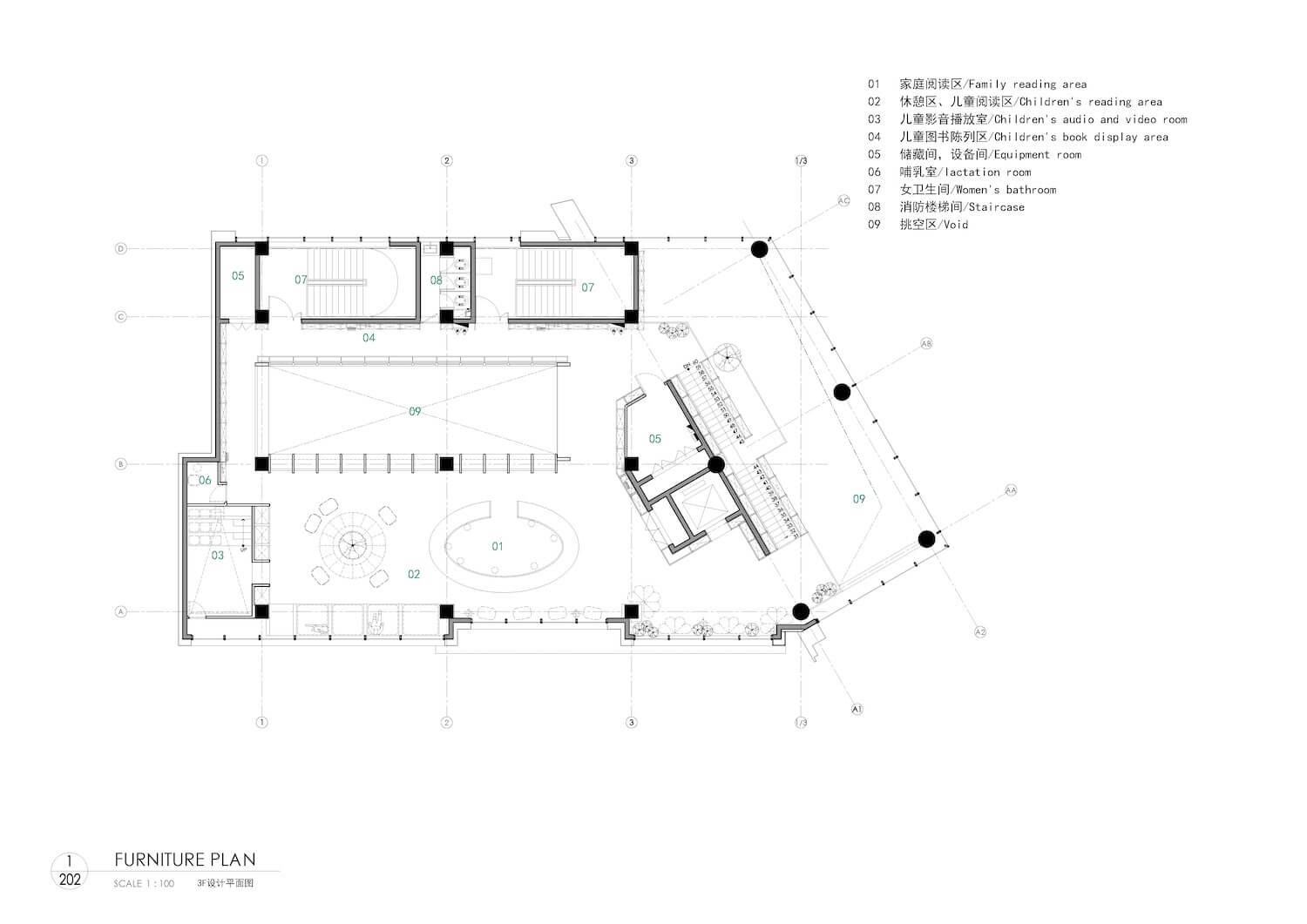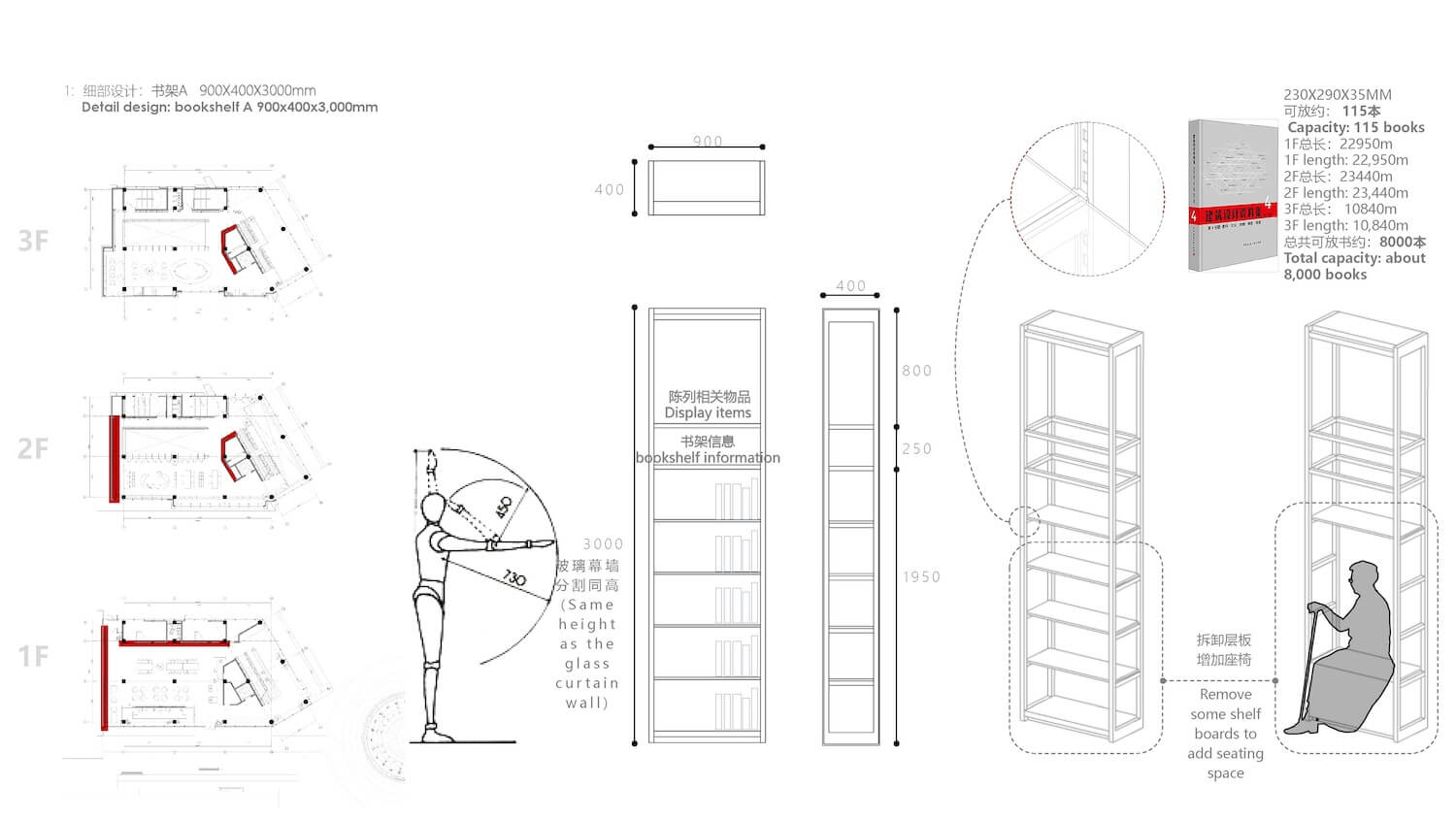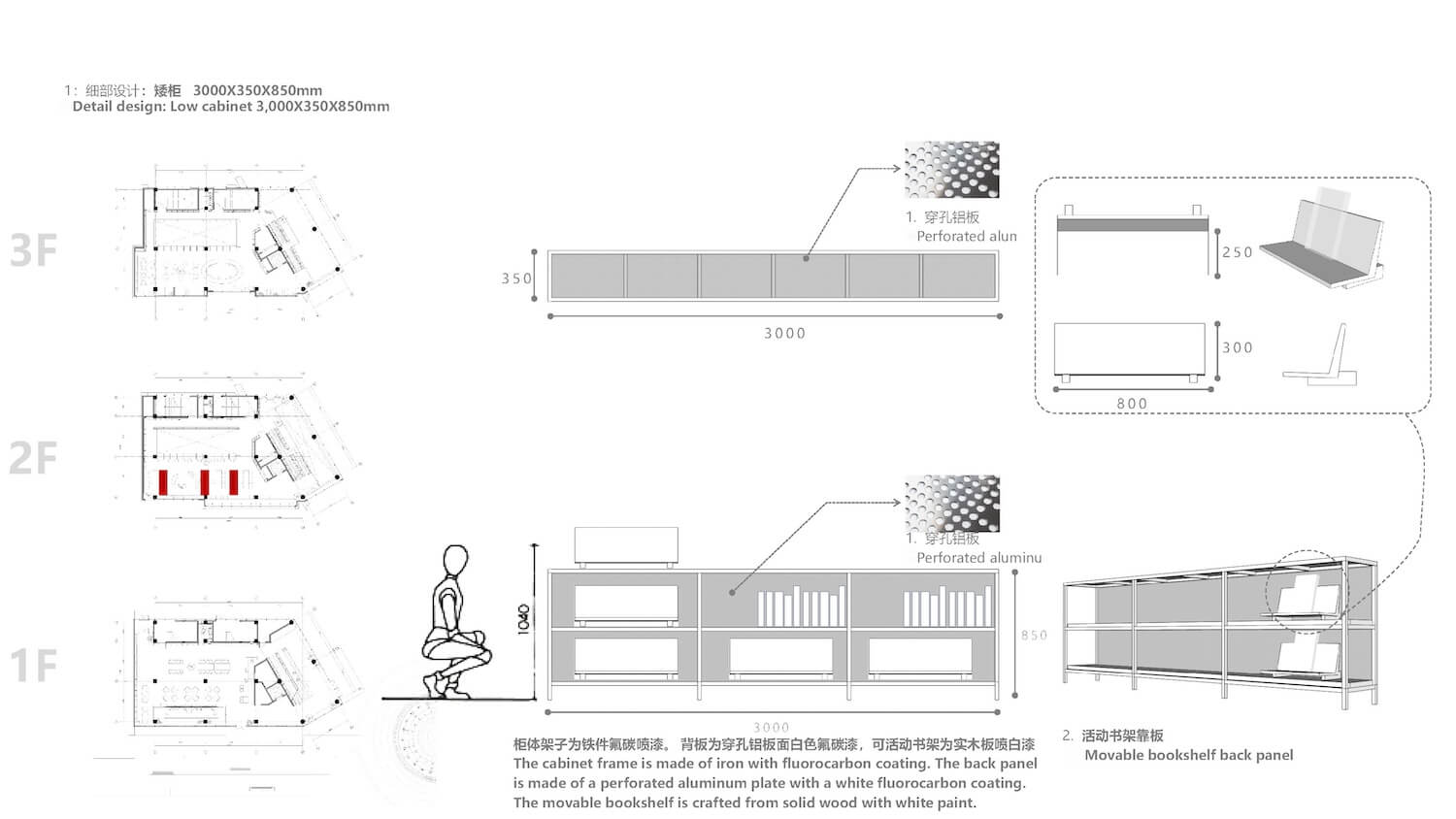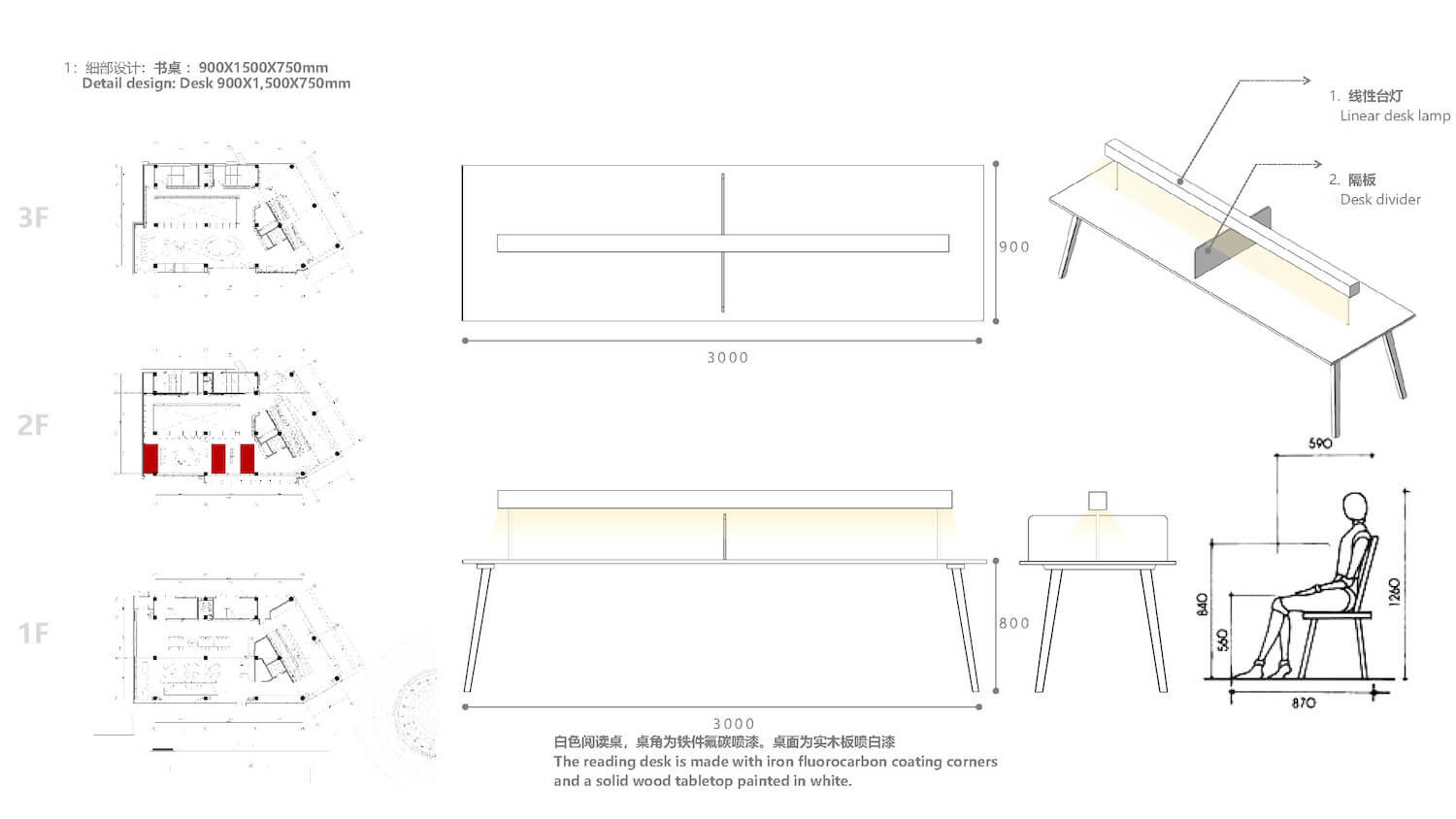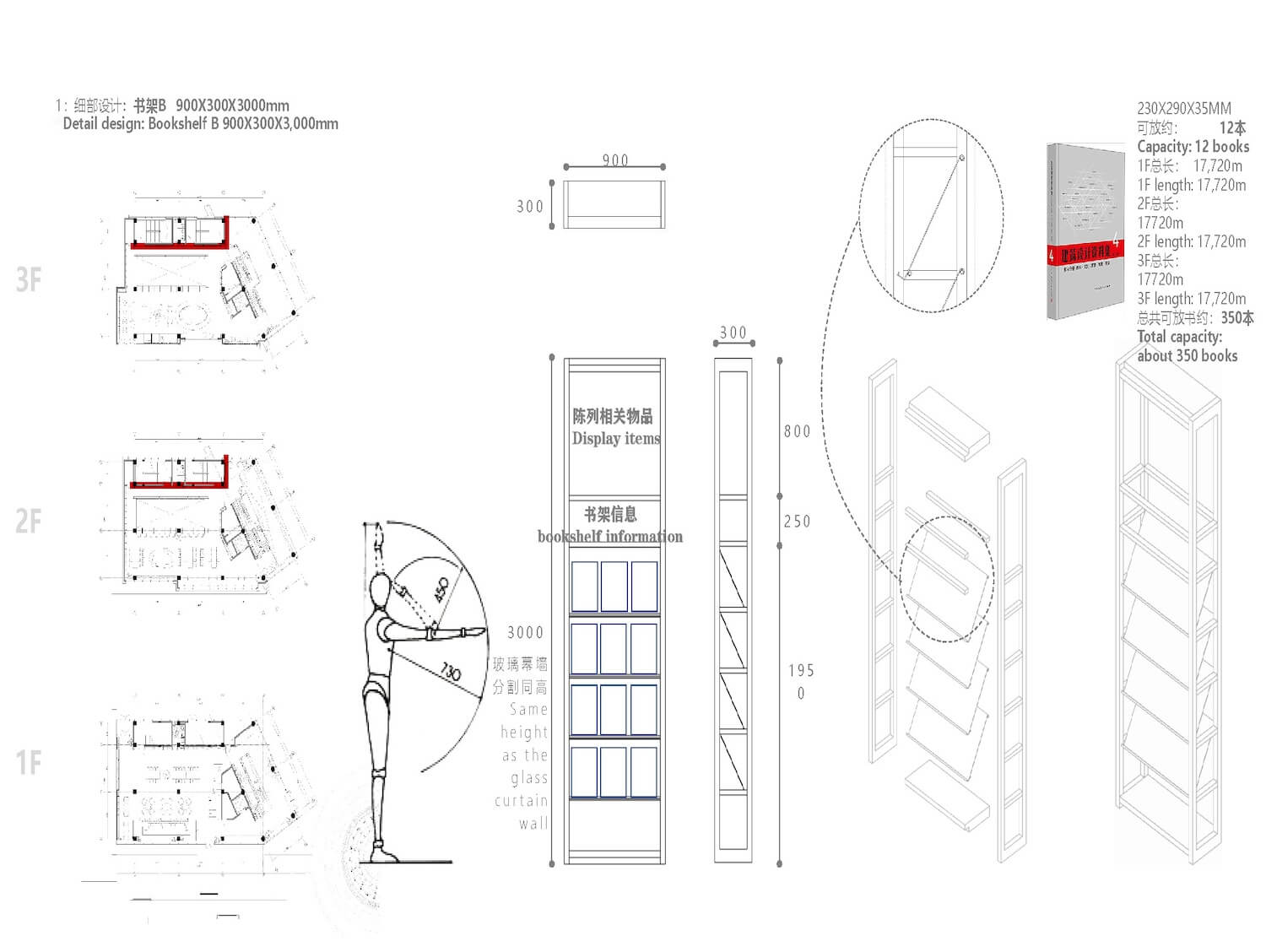 ---