"The house that was designed with the soul of those who live there."
Casa de Lavra is the reflection of the relation that architecture can create between the space and the client. No house is the same and, in this one in particular, the architect Ricardo Azevedo realised that he drew the project "enthusiastically at the site". The sooner the architect knew the reality and the people, the quicker the lines slid from the sketch to the execution, without intermediate stages. This approach was possible due to the inner relation between the architect and the cliente - "we spoke the same language, without knowing how" - for this reason there was total freedom within the project. The architect adds "the best results happen when someone trusts in us. It's hard because designing is predicting the future. Here we had total freedom, only the time frame and the fact that we were building simultaneously could restrain us". For all of this to be possible "somewhere in the process, there is always someone, who helps my risky and tangled aspirations , with whom the total sum has to be harmonious. From the sketch to the execution. From Ricardo Azevedo to Paulo Oliveira."
The evolution of the project has its baseline on the resolution of problems who were identified in an analysis of the pre-existence. A house from the 80s, with a traditional line, archways, a plinth where the house landed and a garden around it. Usually, when we think about architectural rehabilitation there is a thought about history, however, there are a lot of constructions without architectural value, which was the case. The relation between inside/outside was none existent. "There was a feeling of distance between the realities". There was a need to connect these two environments, in order to emerge and become one. The inside becomes the outside and the opposite as well, within the relations of the program.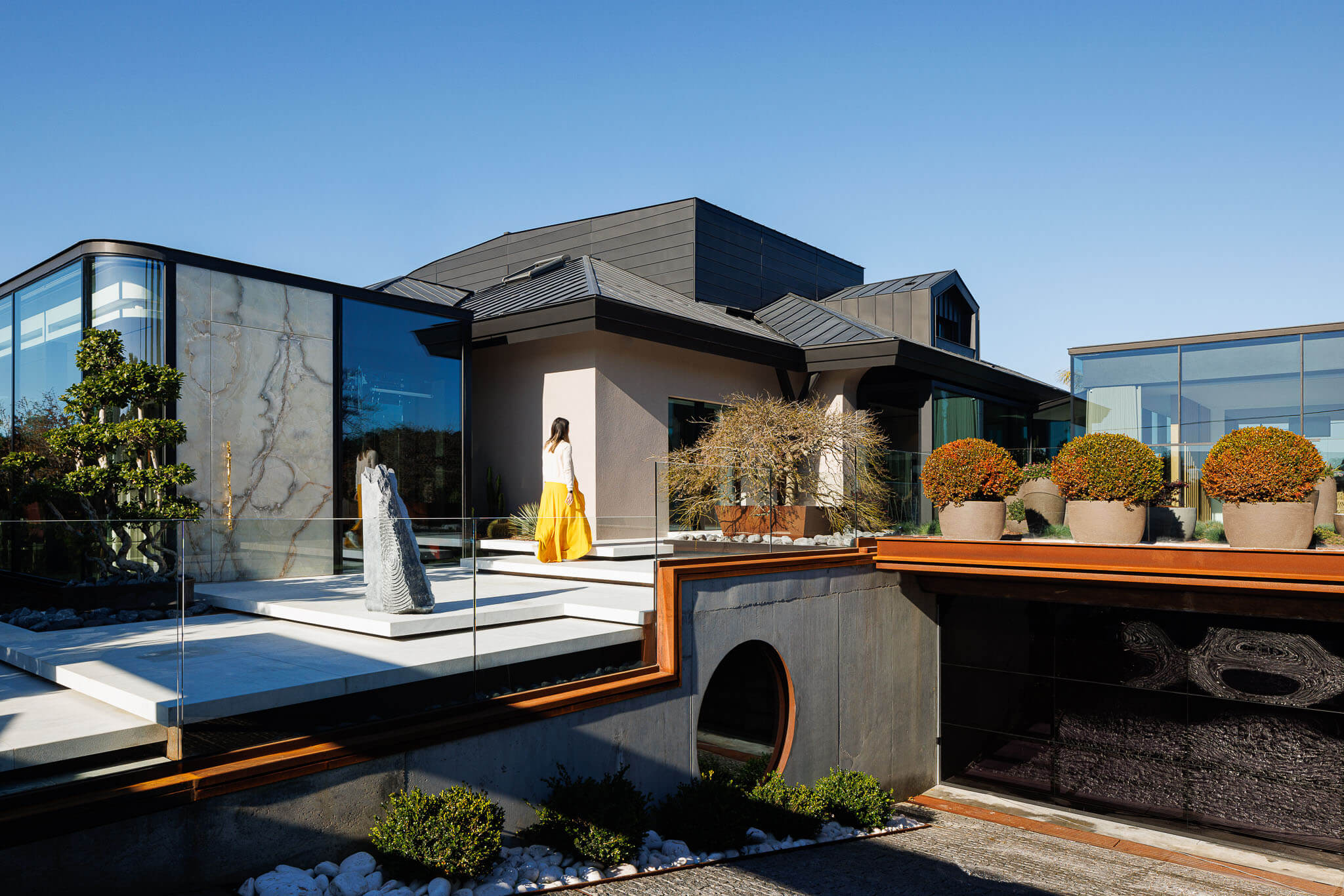 Therefore, the concept of the project sits on the will of being simultaneously inside and outside without identifying its limits. The lobby, the expansion of the living area and a new social volume define the three clear volumes that are elevated from the base, without breaking the relation with the predicted nature. This expansion of the program is a reinforcement of the intention of linking the inside and the outside.
Thinking about the involving nature, bring us to a sensory game within the different spaces. Which one of them belongs to a specific environment, seen by the chosen species and its character. For instance we can see the social aspect surrounded by the tropical greenery and the grained marble, which gives the inside of the house a distinct atmosphere.
"It is the house of a gardener. A man who belongs to the trees, to the cedar, to the maples, to the air breeze. The house can't contain him. These spaces convert themselves into a house without walls. The garden was a blank space that the client shaped as a sculptor craves a rough stone into a diamond."
When it comes to the house distribution the strategy was to unify and gather all the program sections by order, the suites are given the sense of quiet and privacy needed, while the living rooms connect in harmony with the charming pool area, which unfolds in different levels, with exquisite materials and a wall which converts into a waterfall, providing a relaxing water sound.
The exception to the rule is in the living room, which transforms itself into a porch. A sculpture by Paulo Neves when opened, gives us a wine tasting experience, a carved door, an organic feeling, which pro- vides an amazing experience within the outside garden. Even though the house was near the sea, until now there was no sight of it. Recalling the dichotomy of "separation of realities ". To solve this constraint, a suite was built with a balcony, a second floor overlays, giving a closeness to the horizon. By the words of the architect Ricardo: "From now on, the house glimpses the sea. The sea was close by, but couldn't be seen. Now the boats who wait at the Porto de Leixões are the background of a glass wall who opens up into the horizon."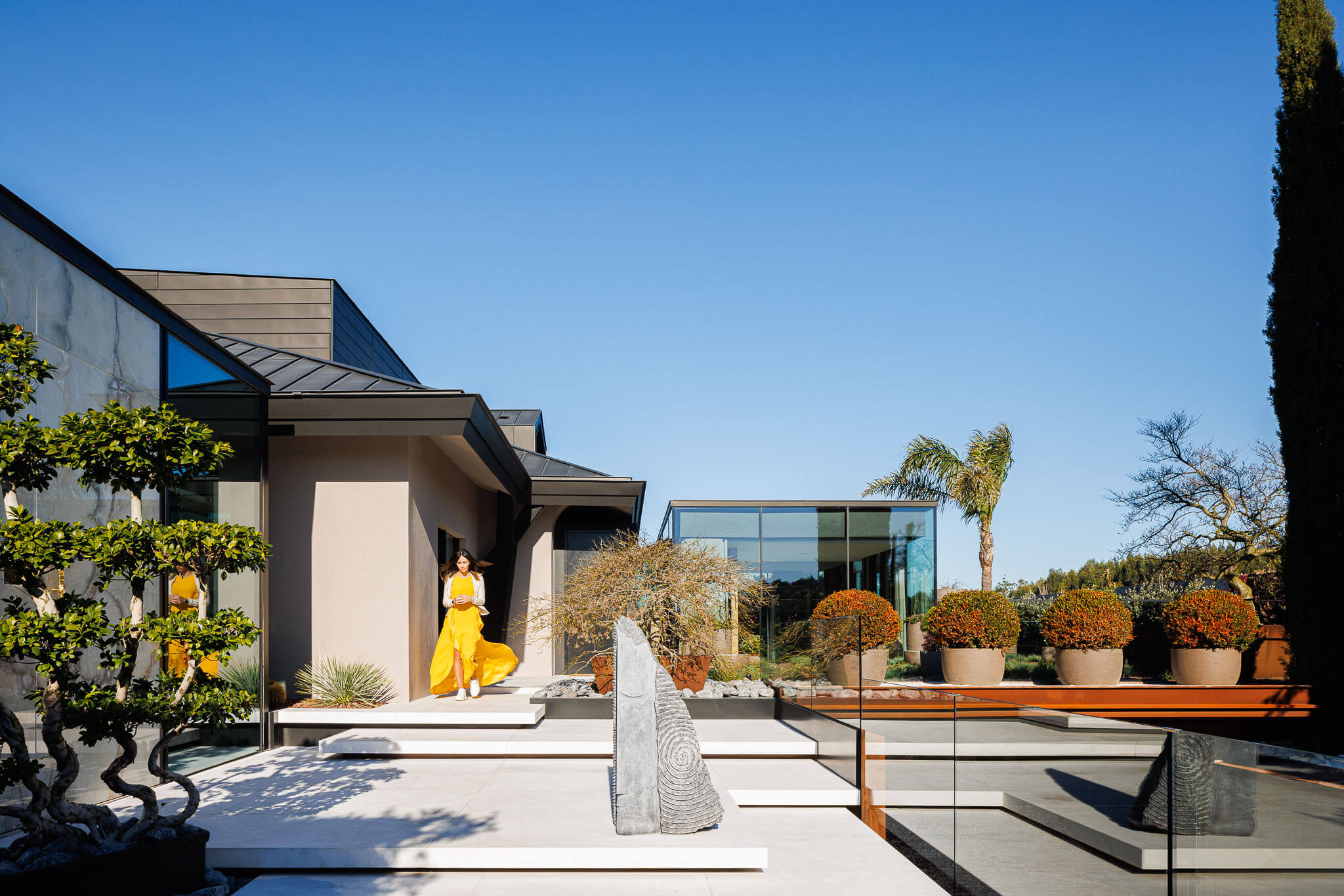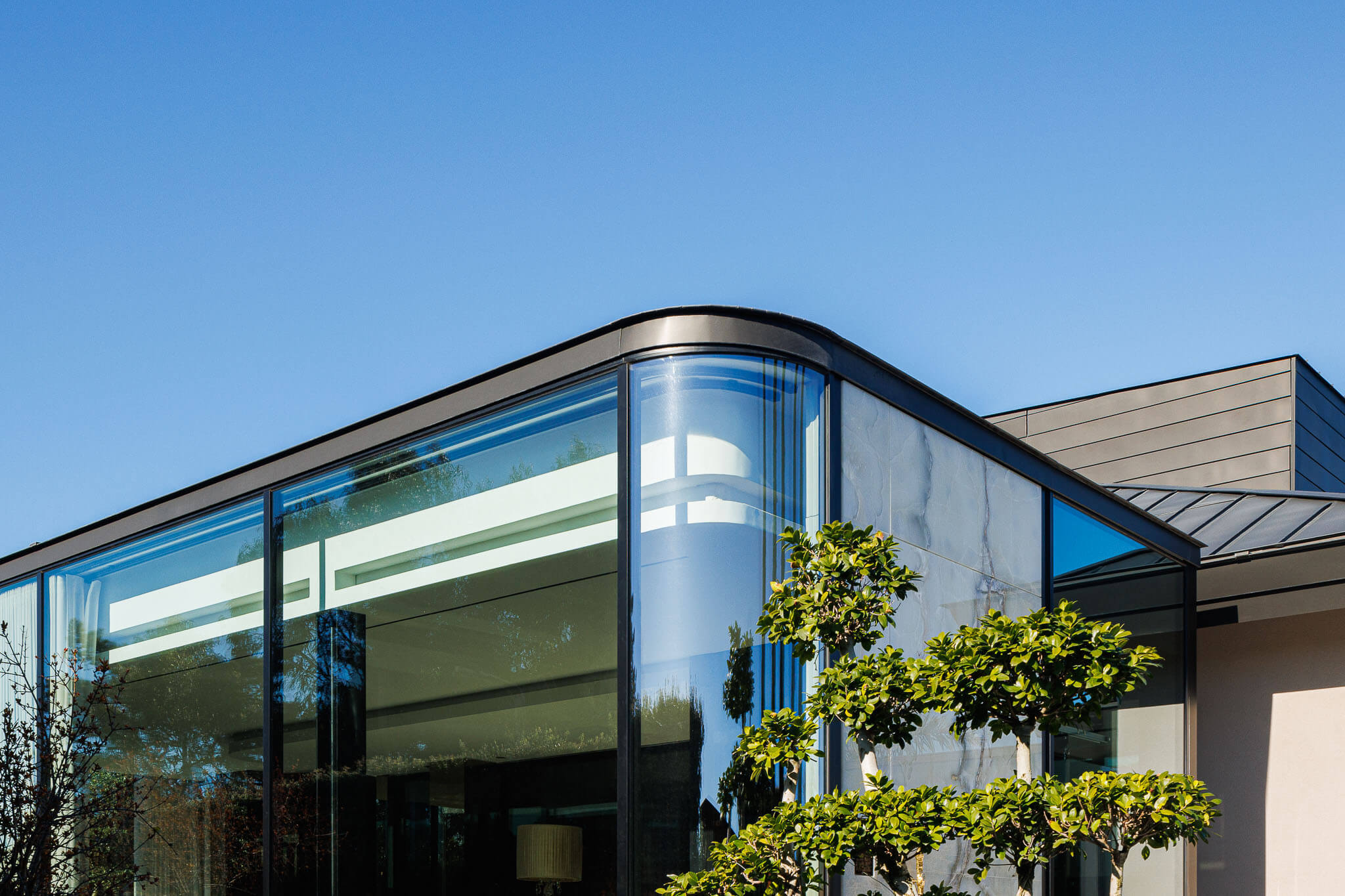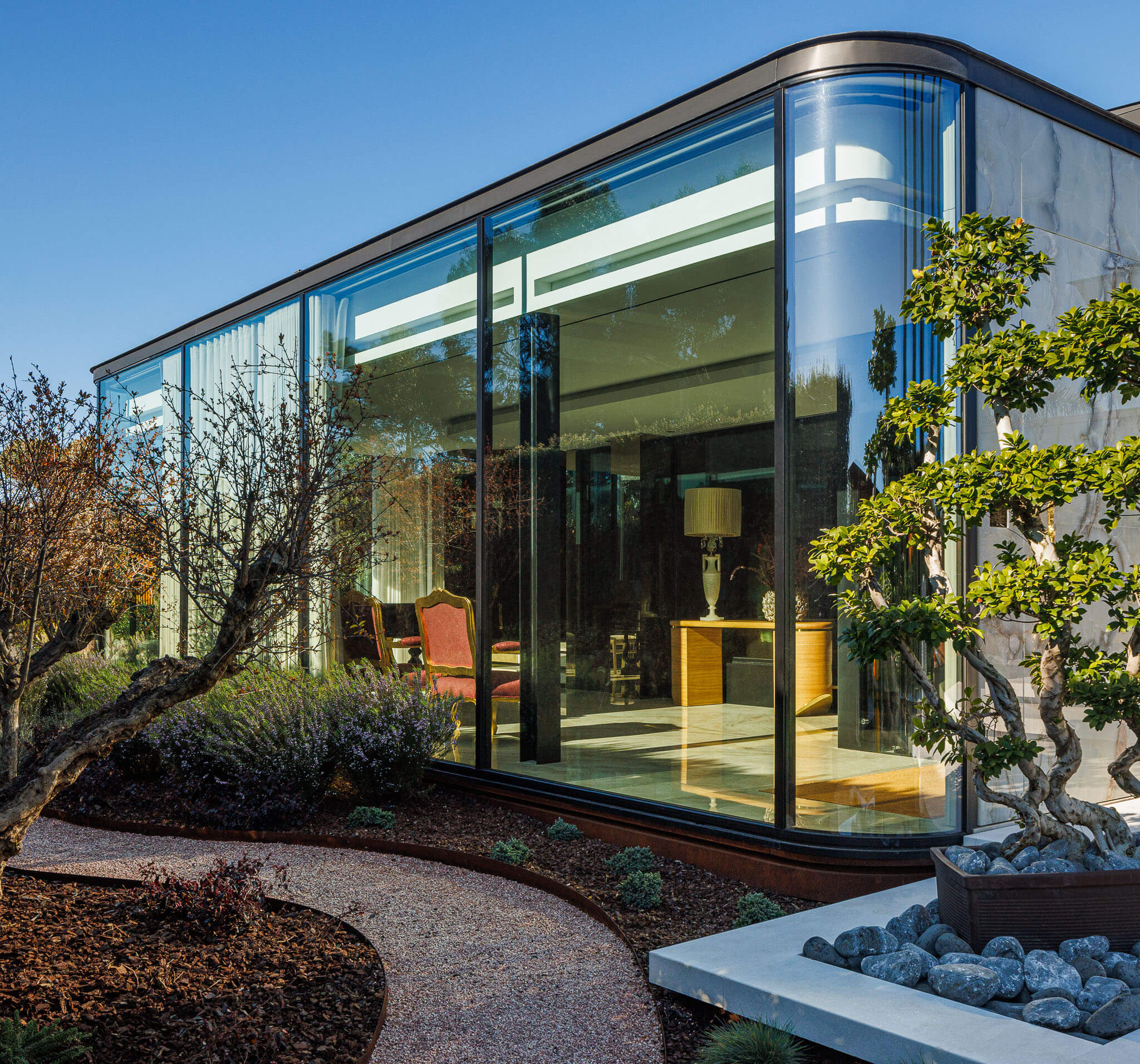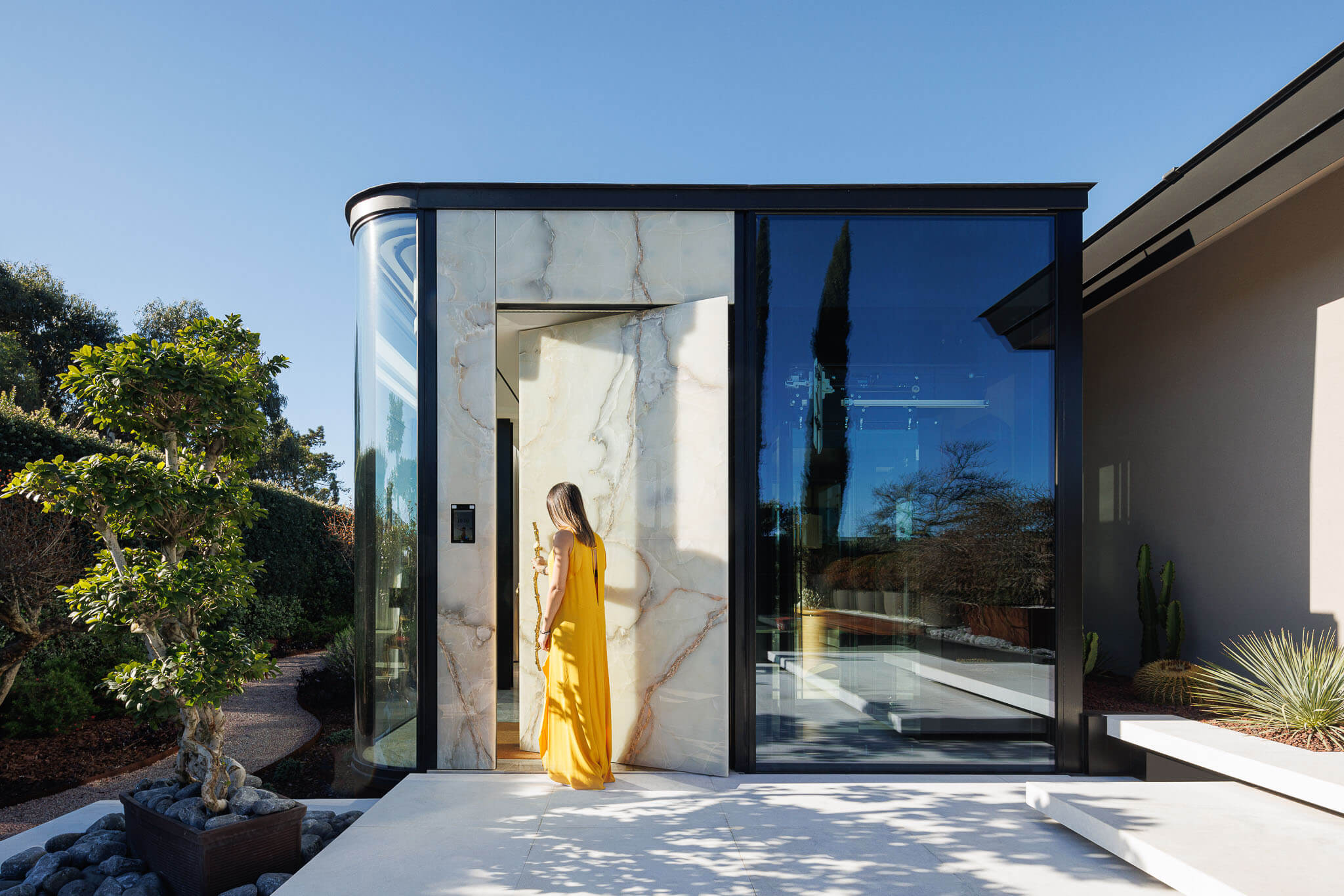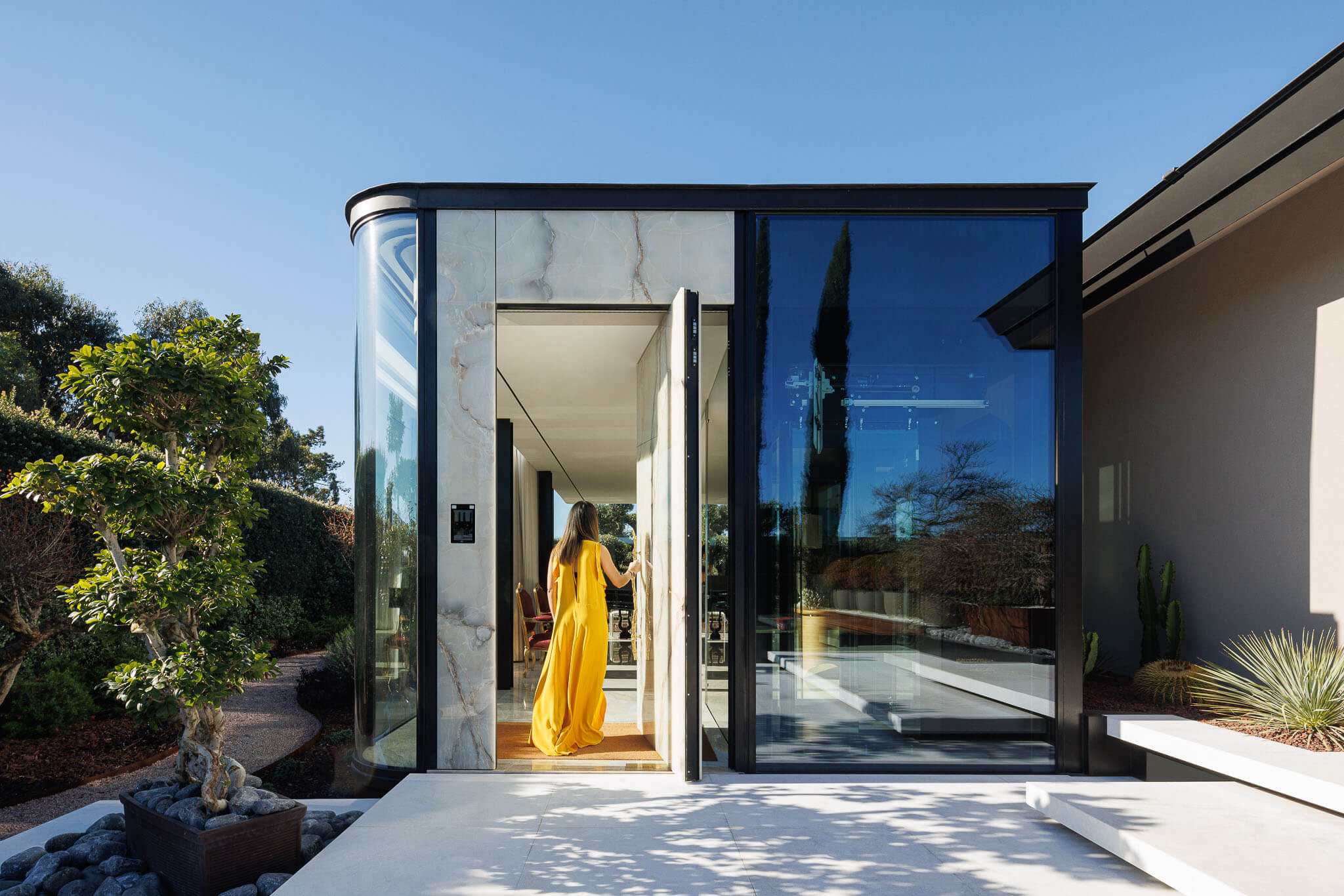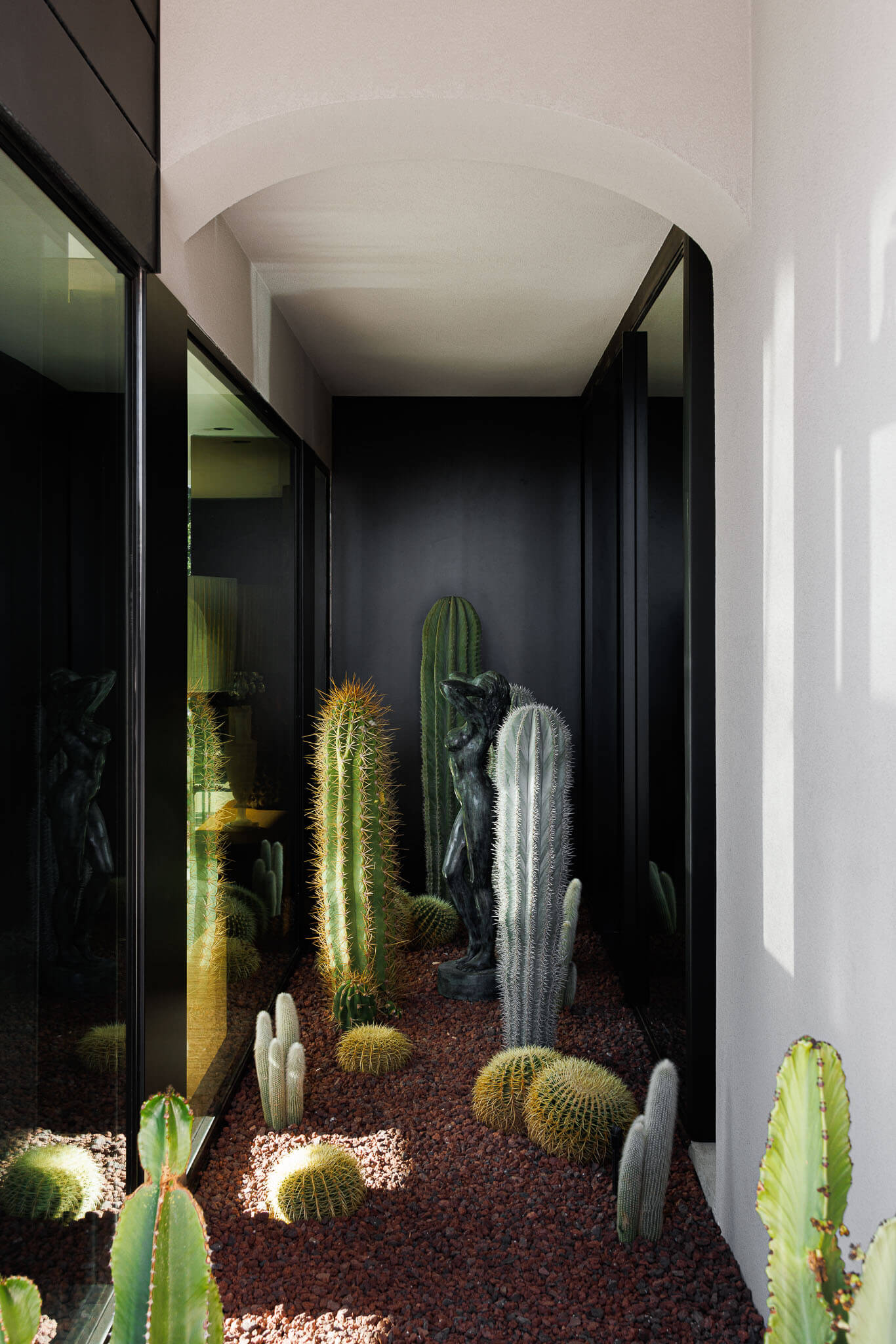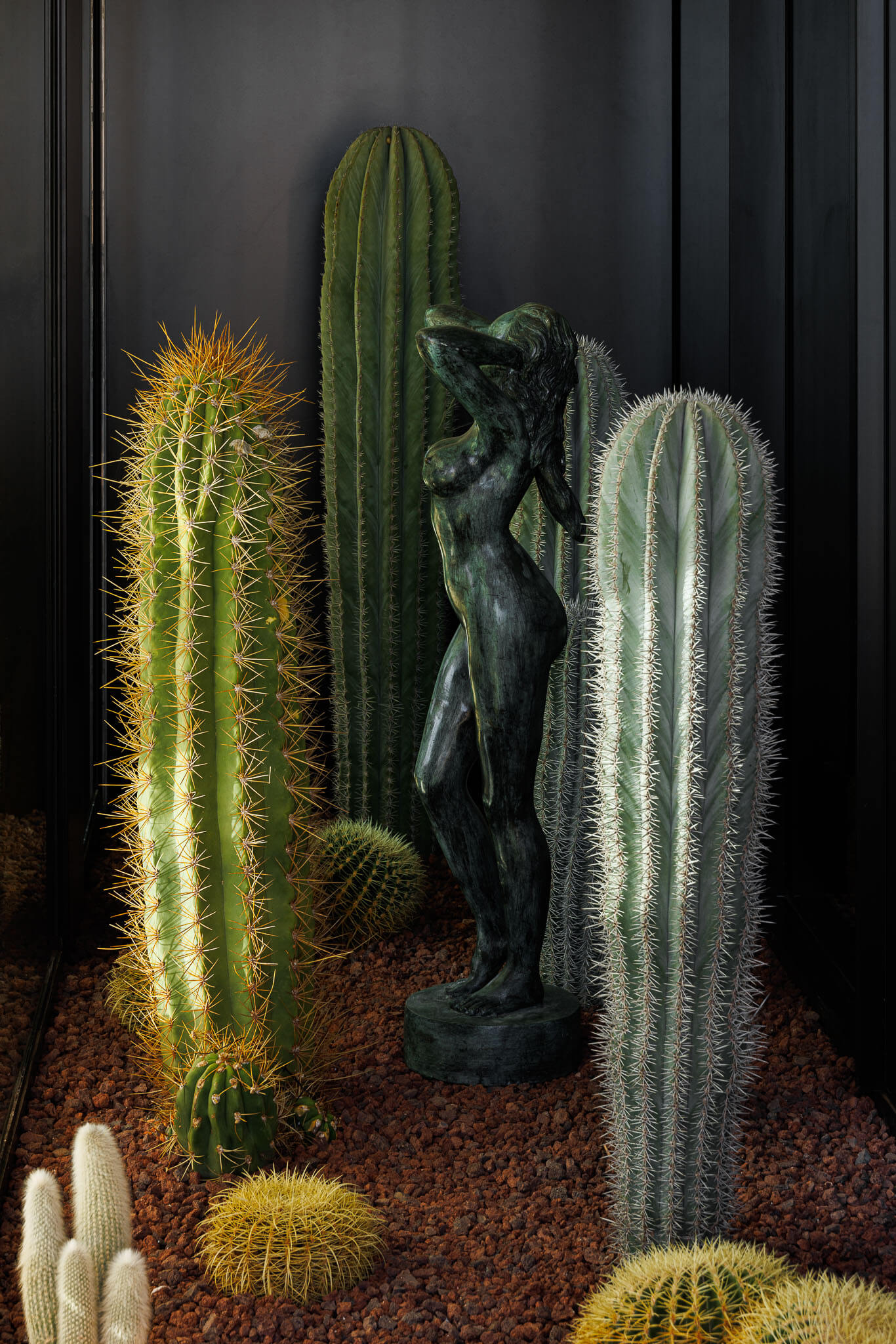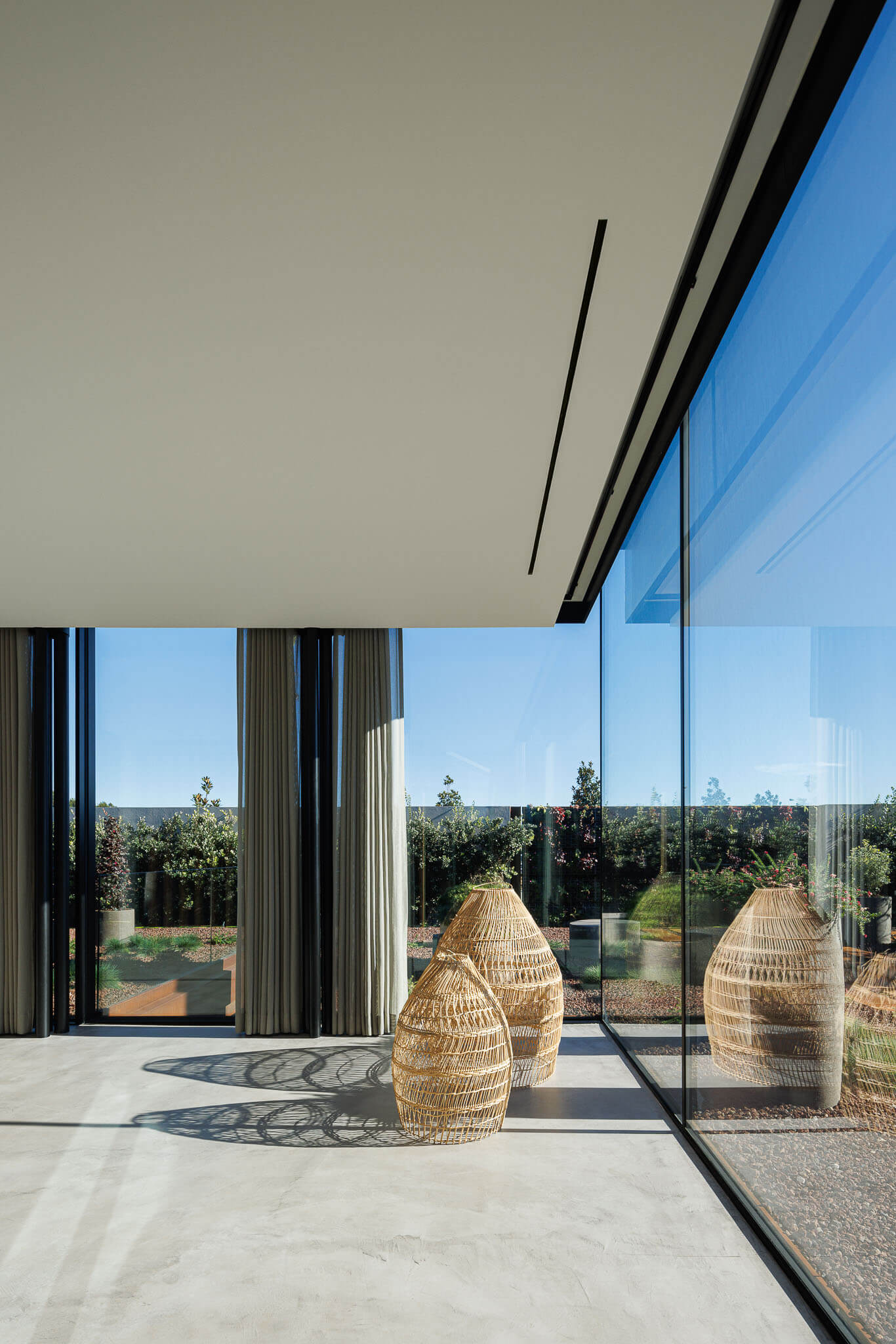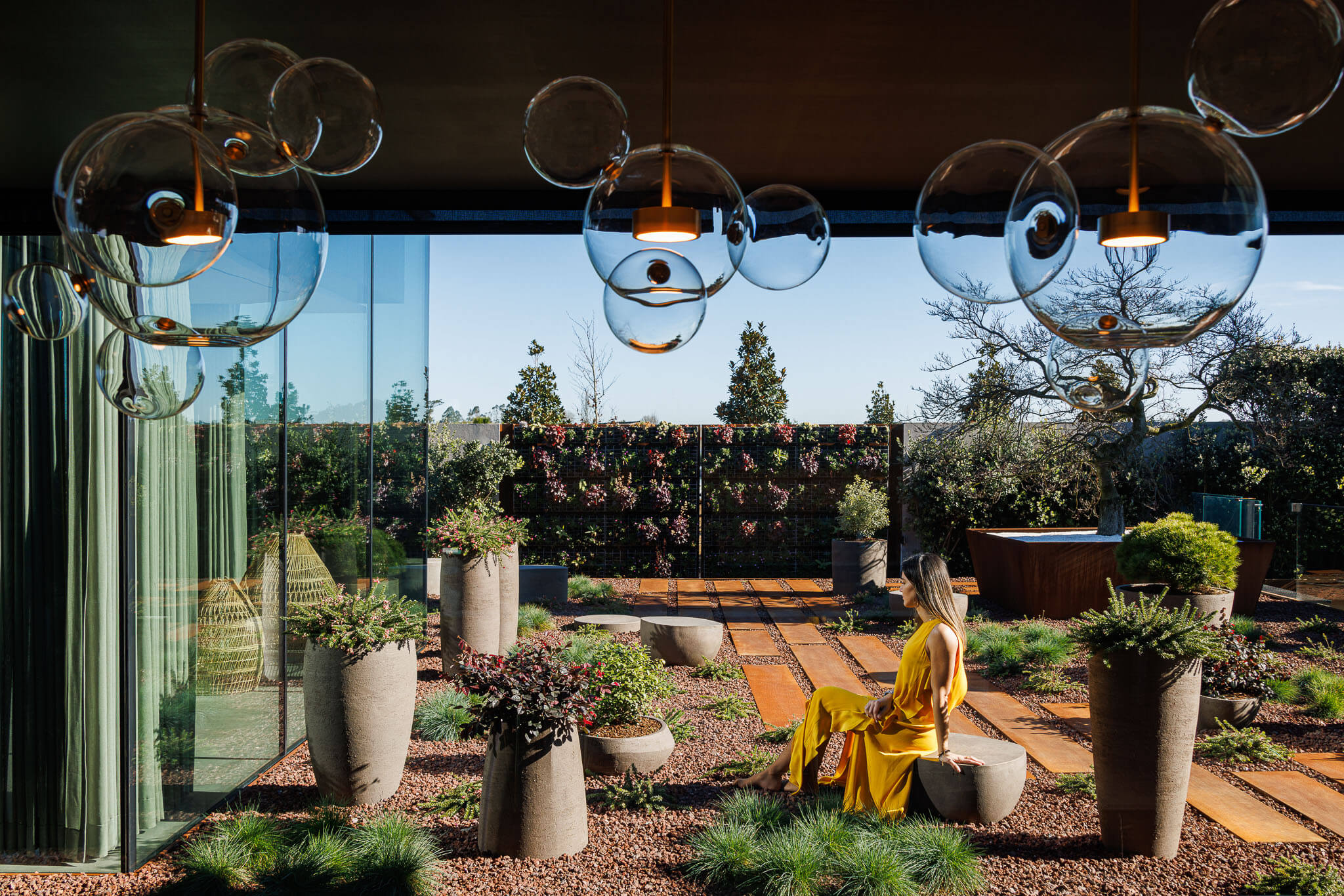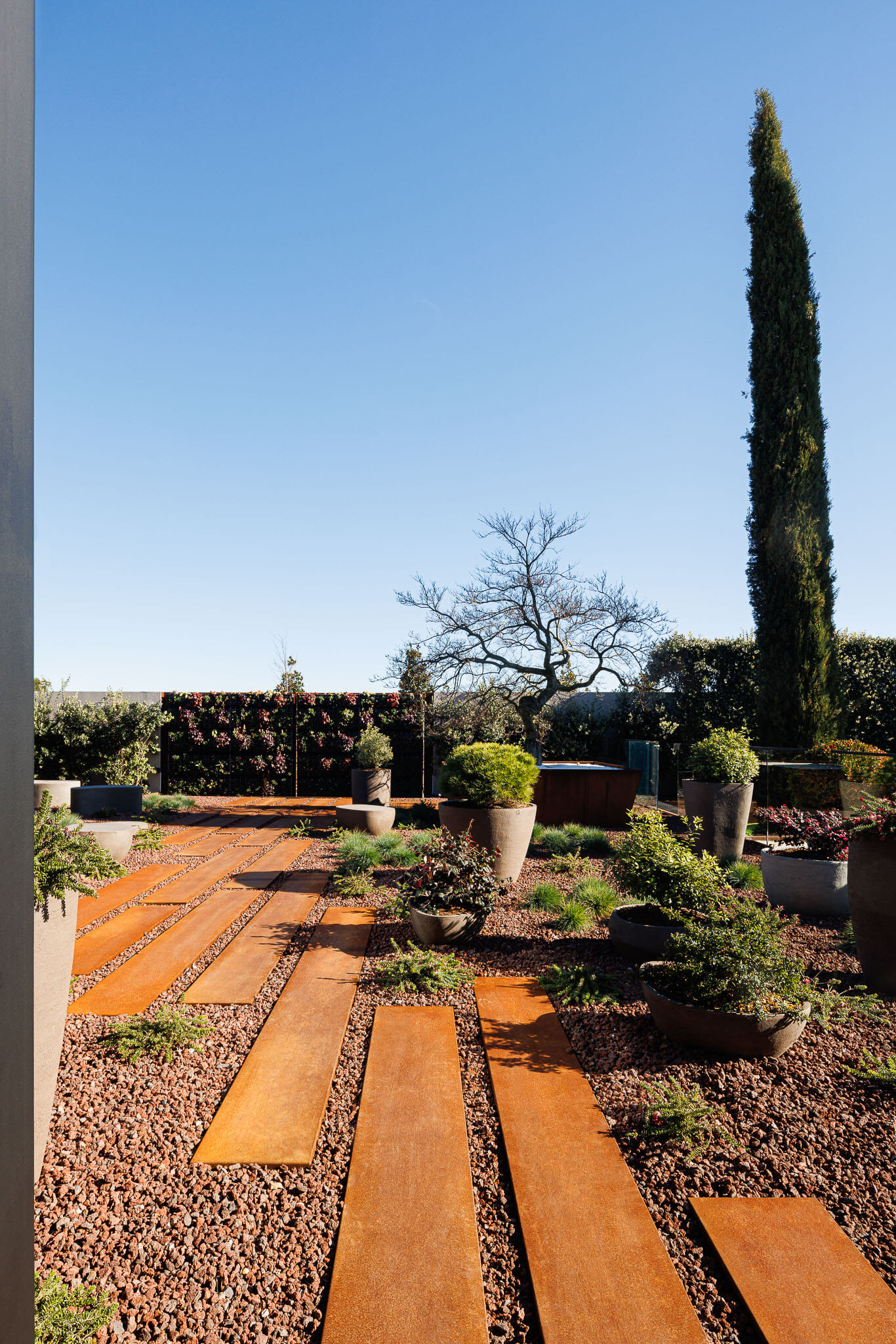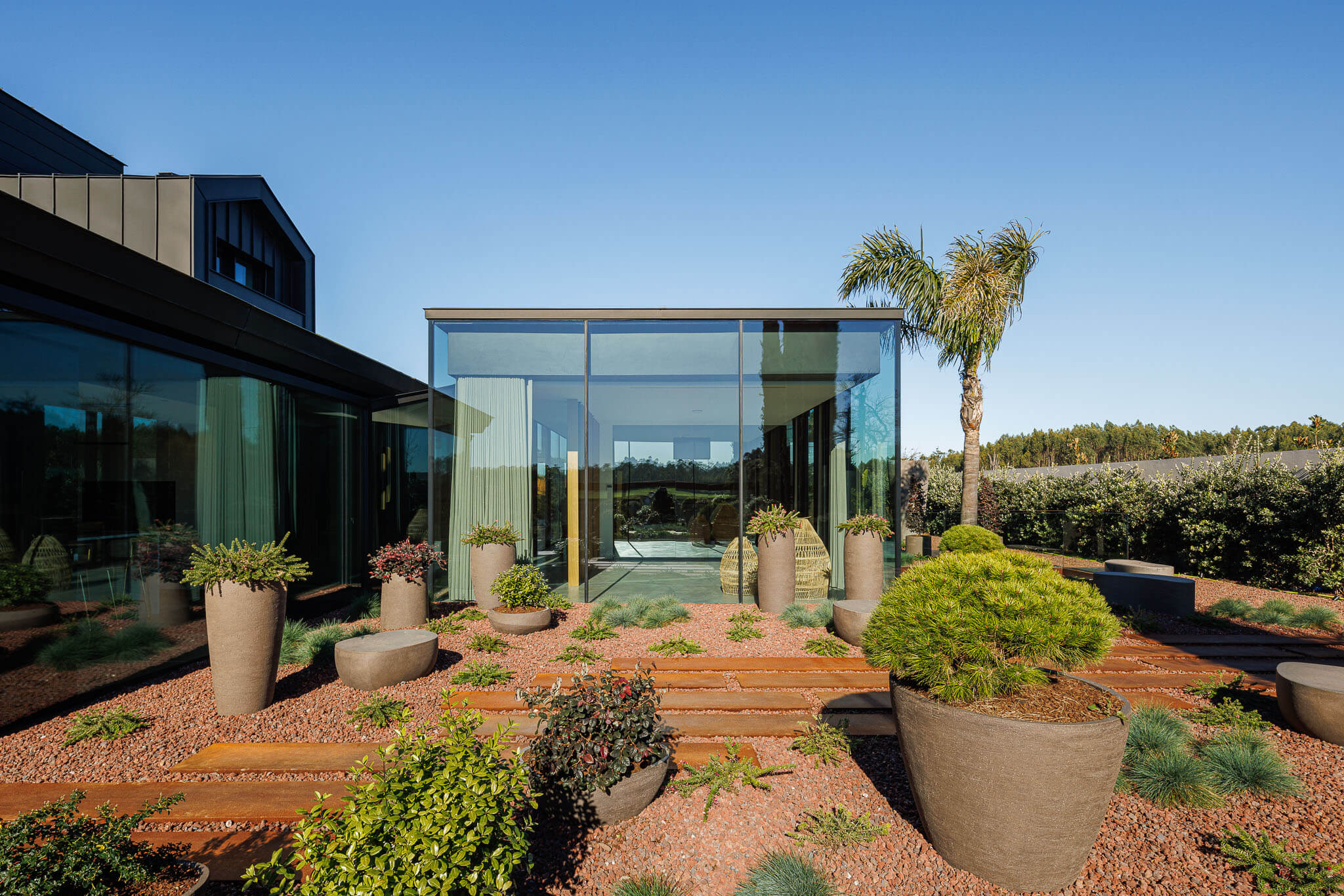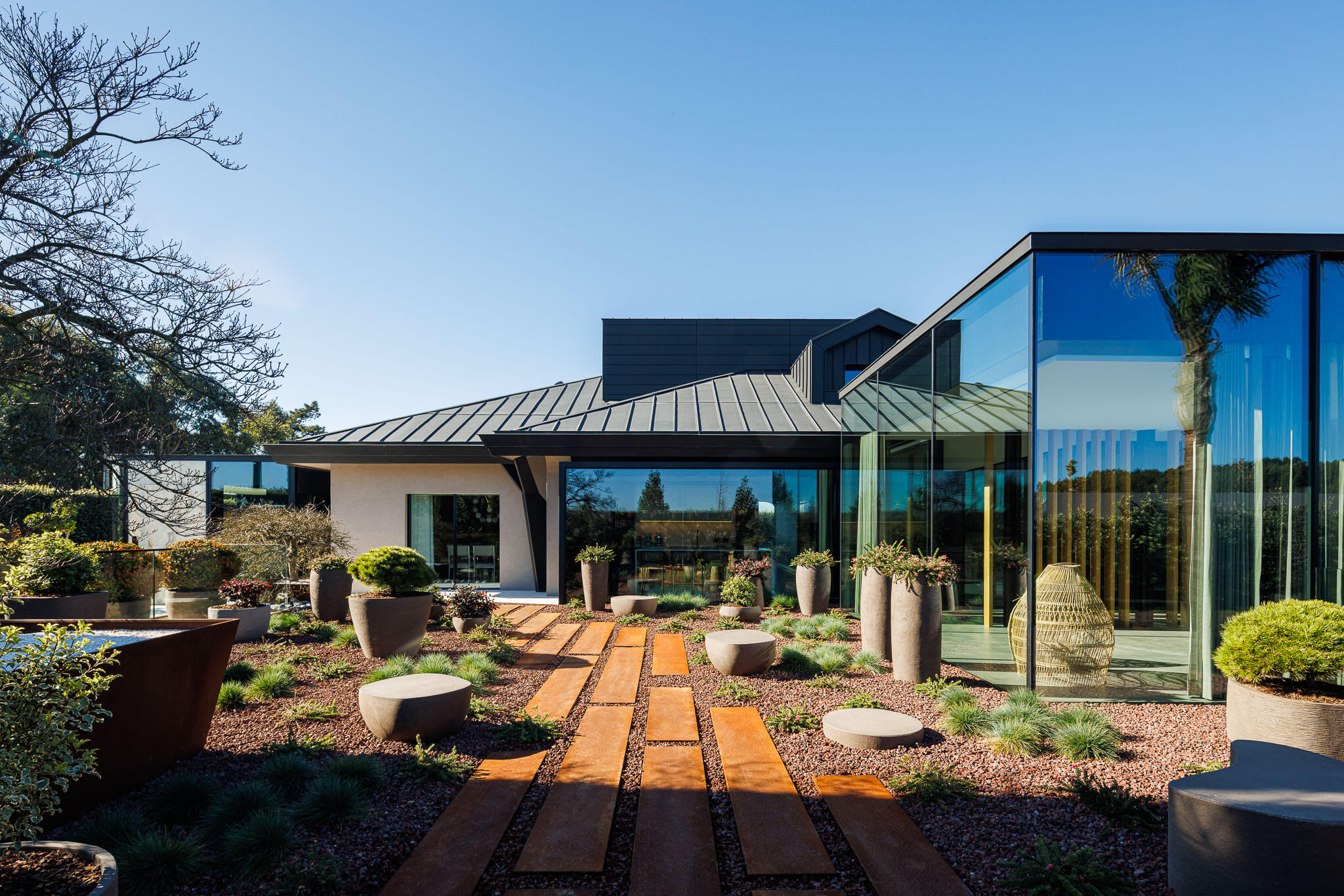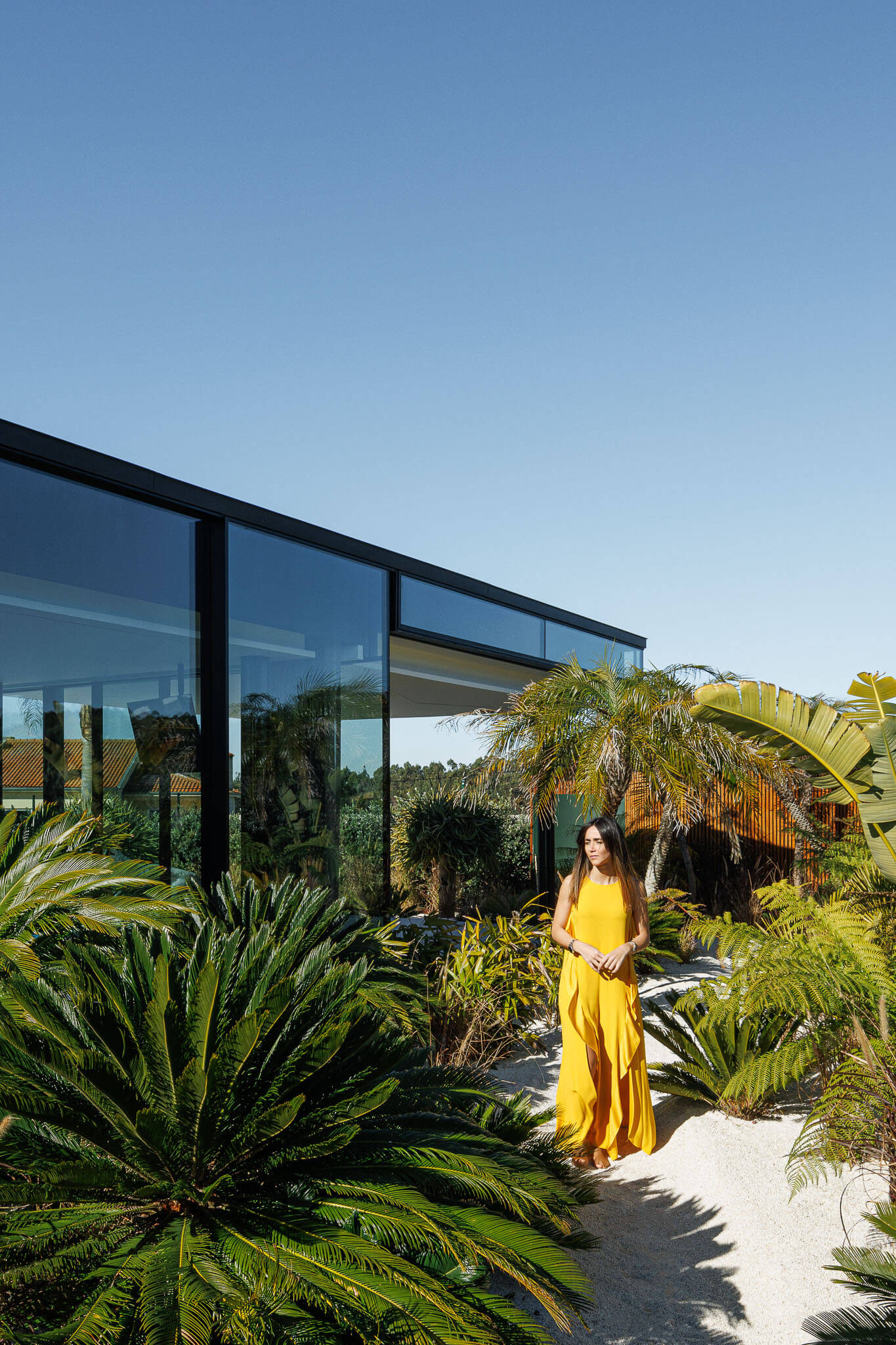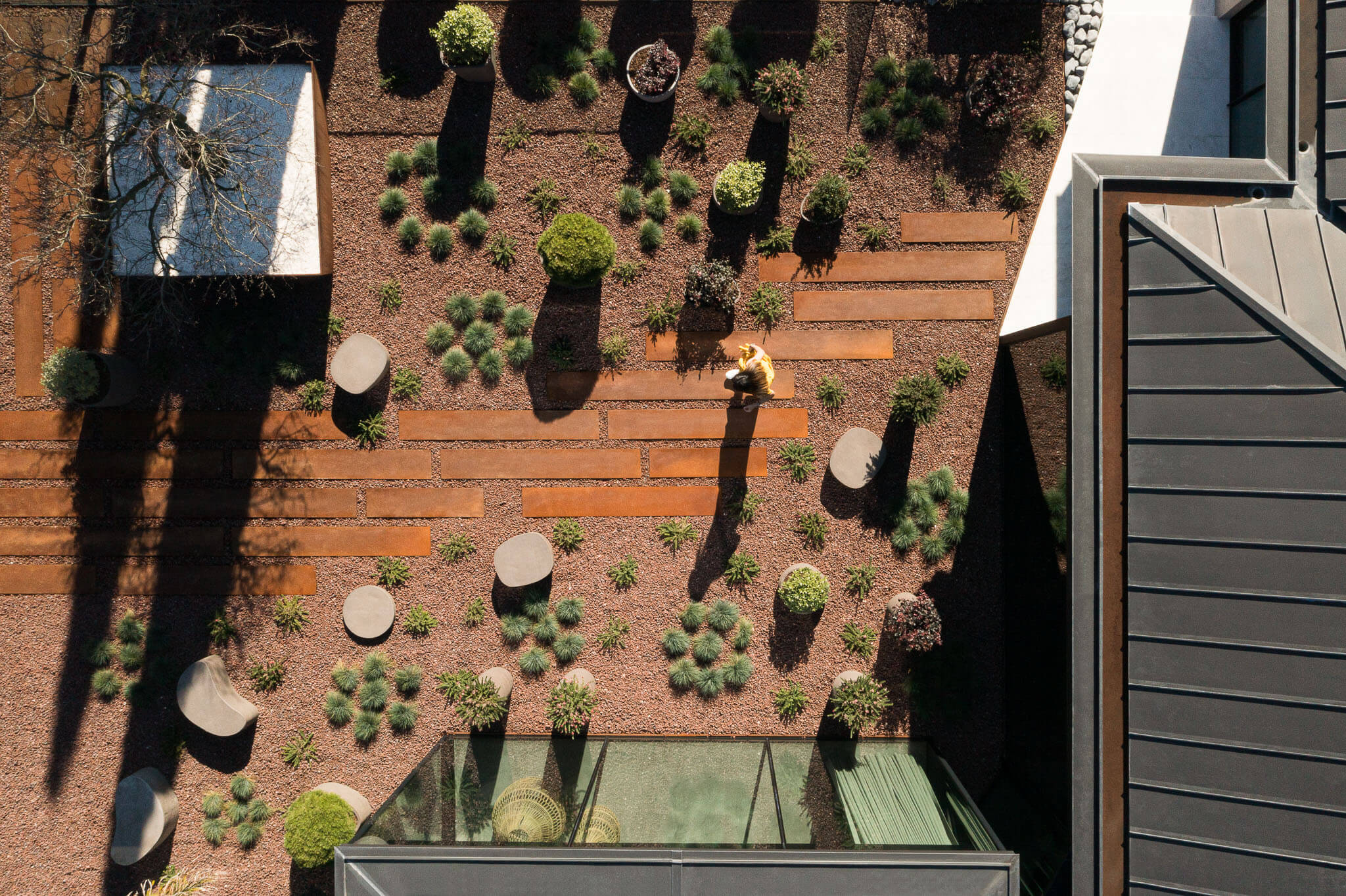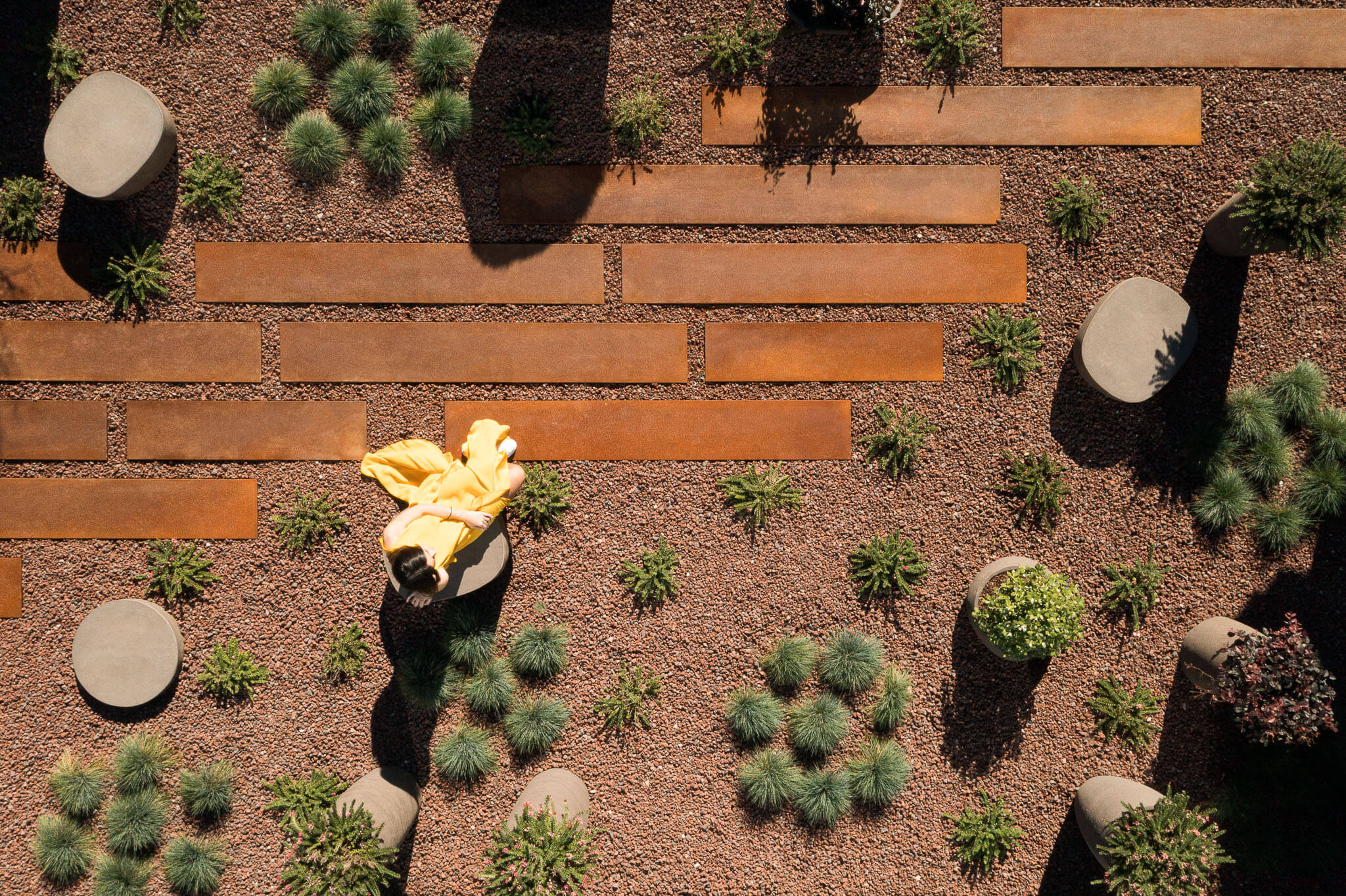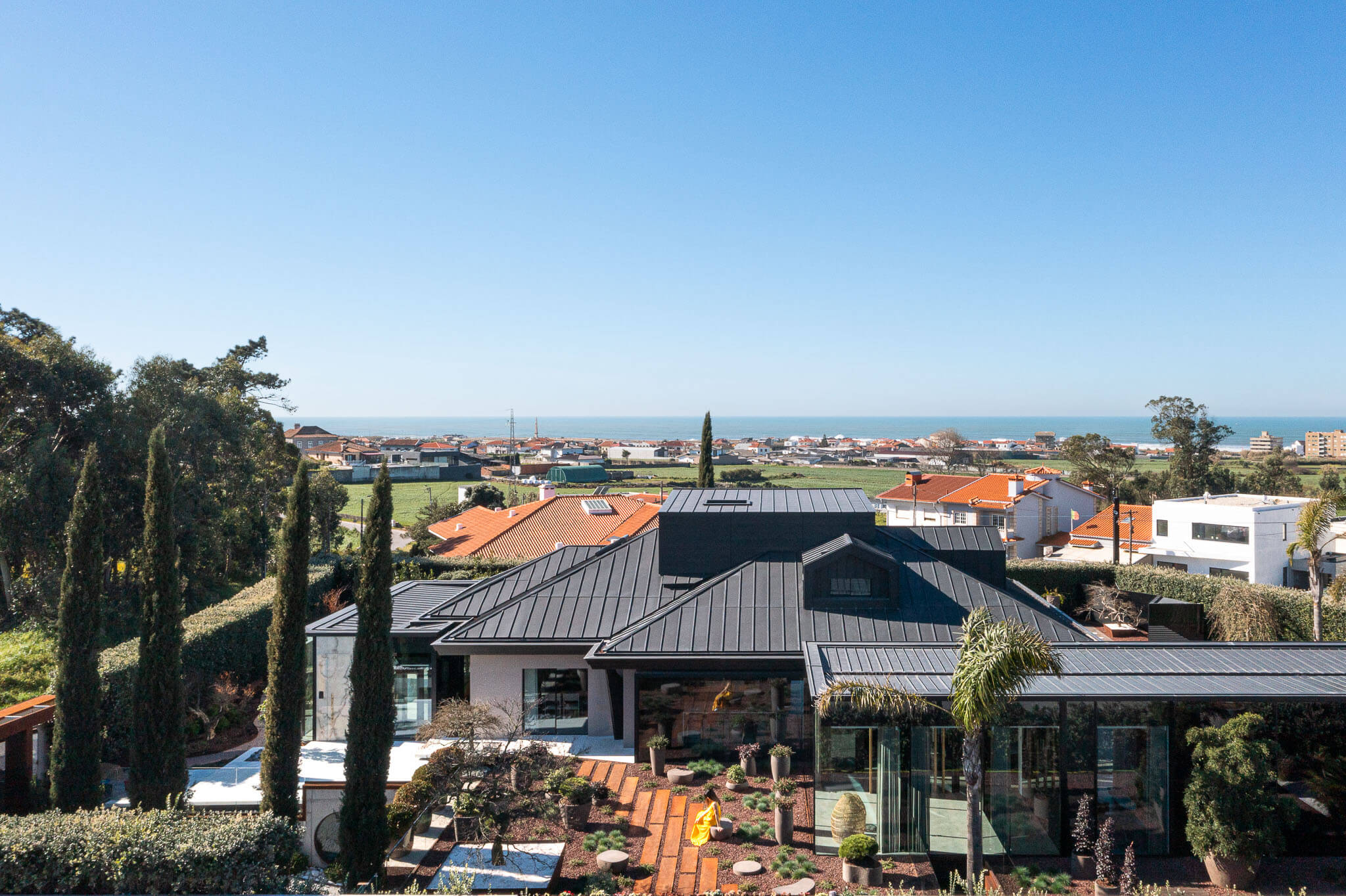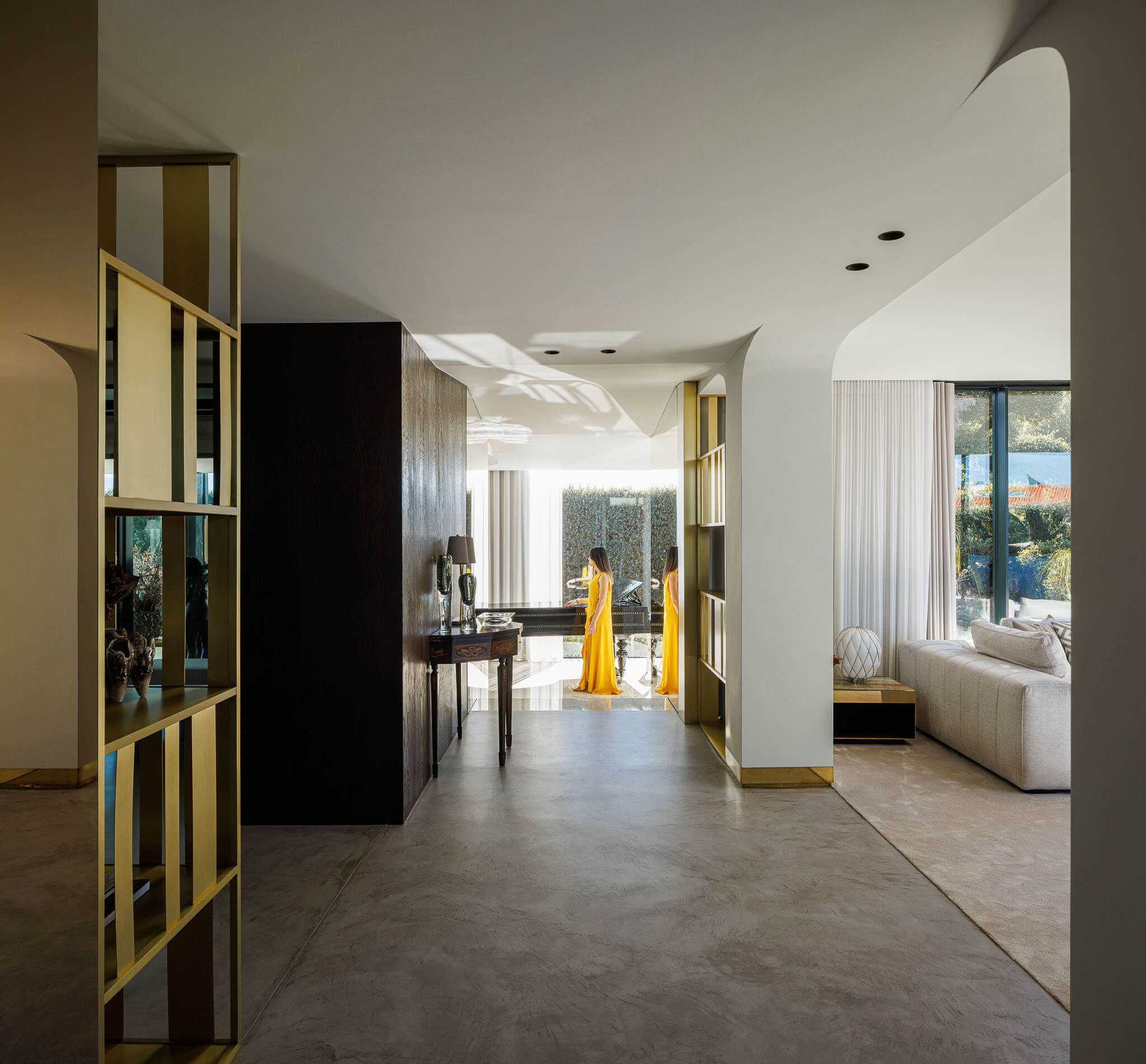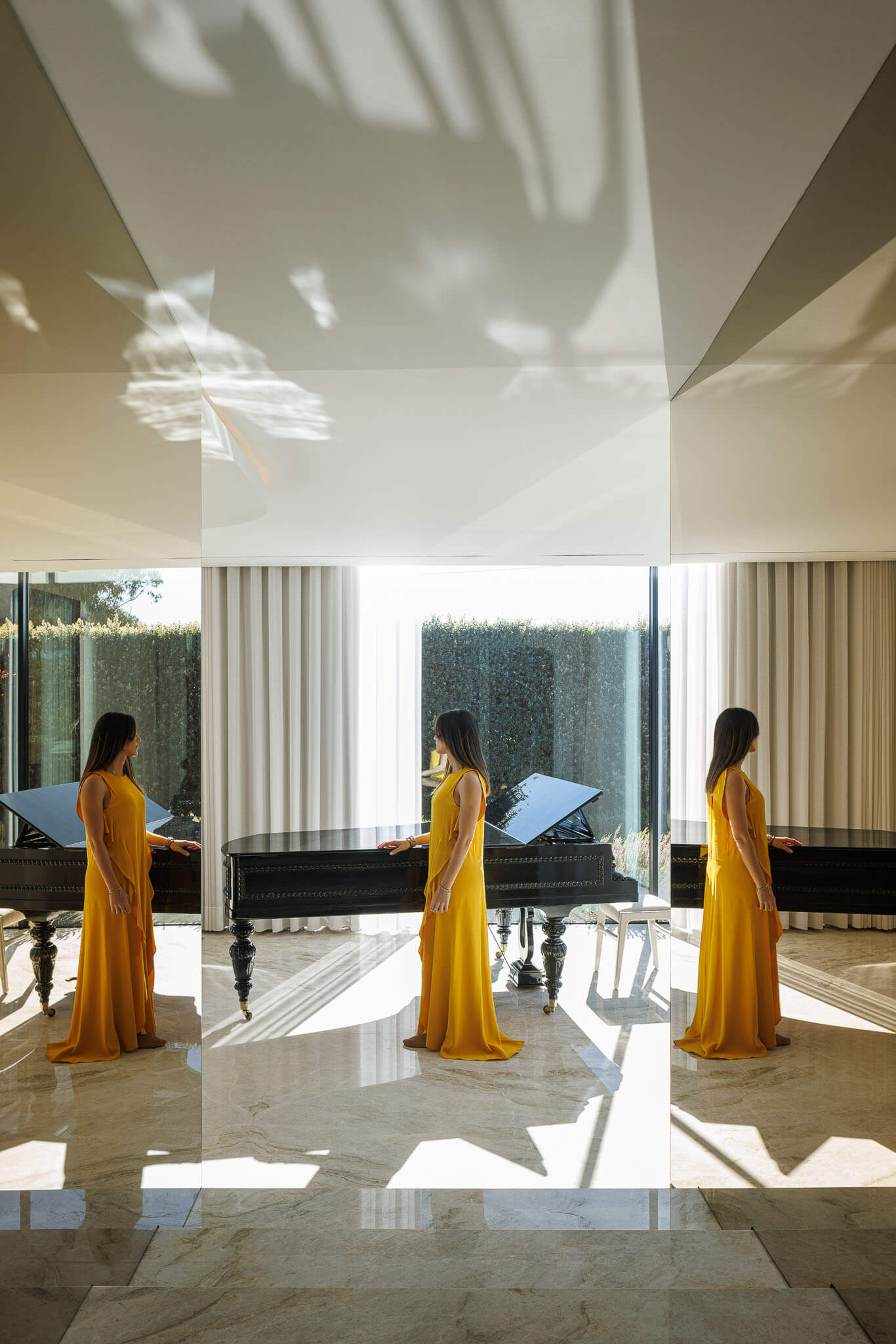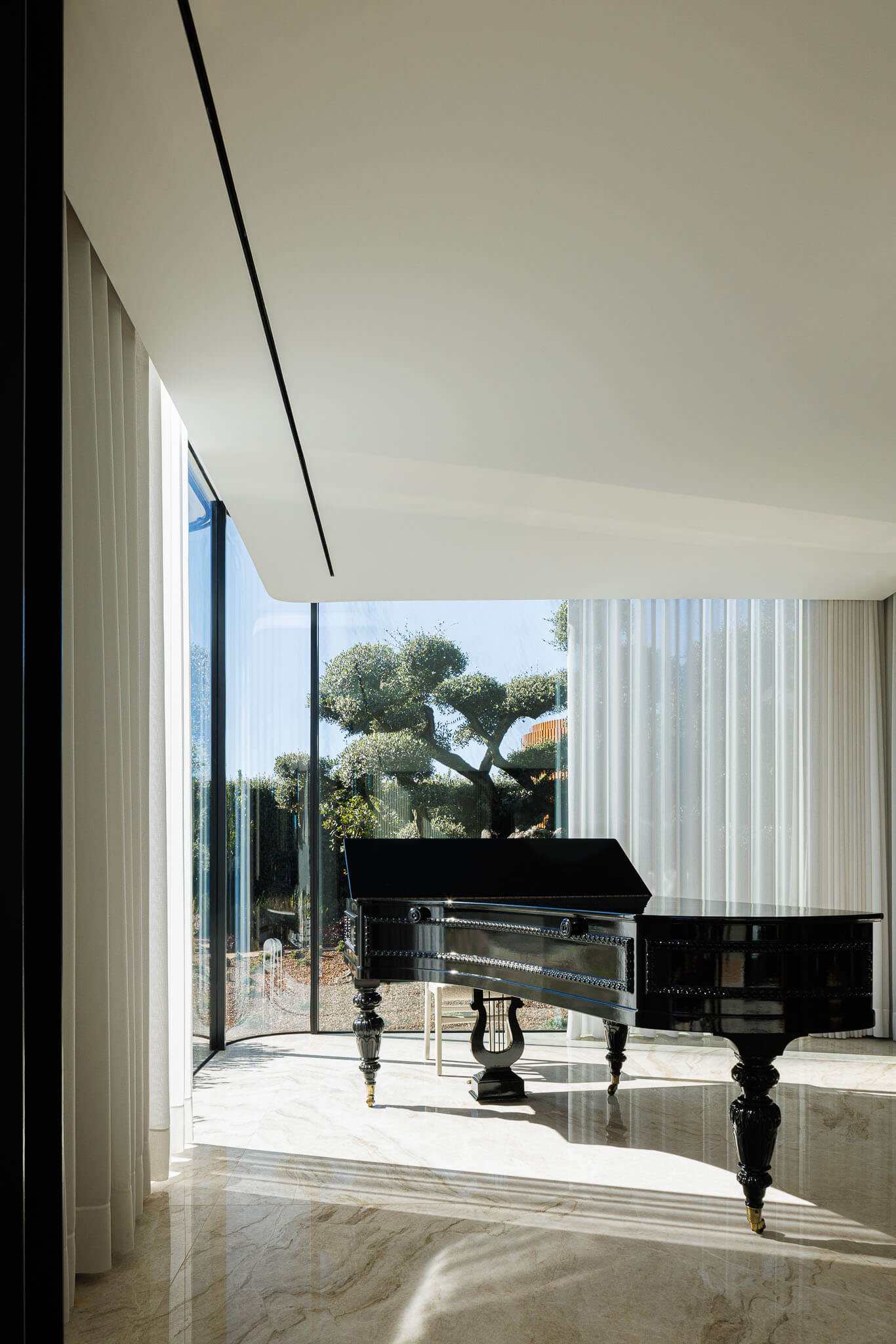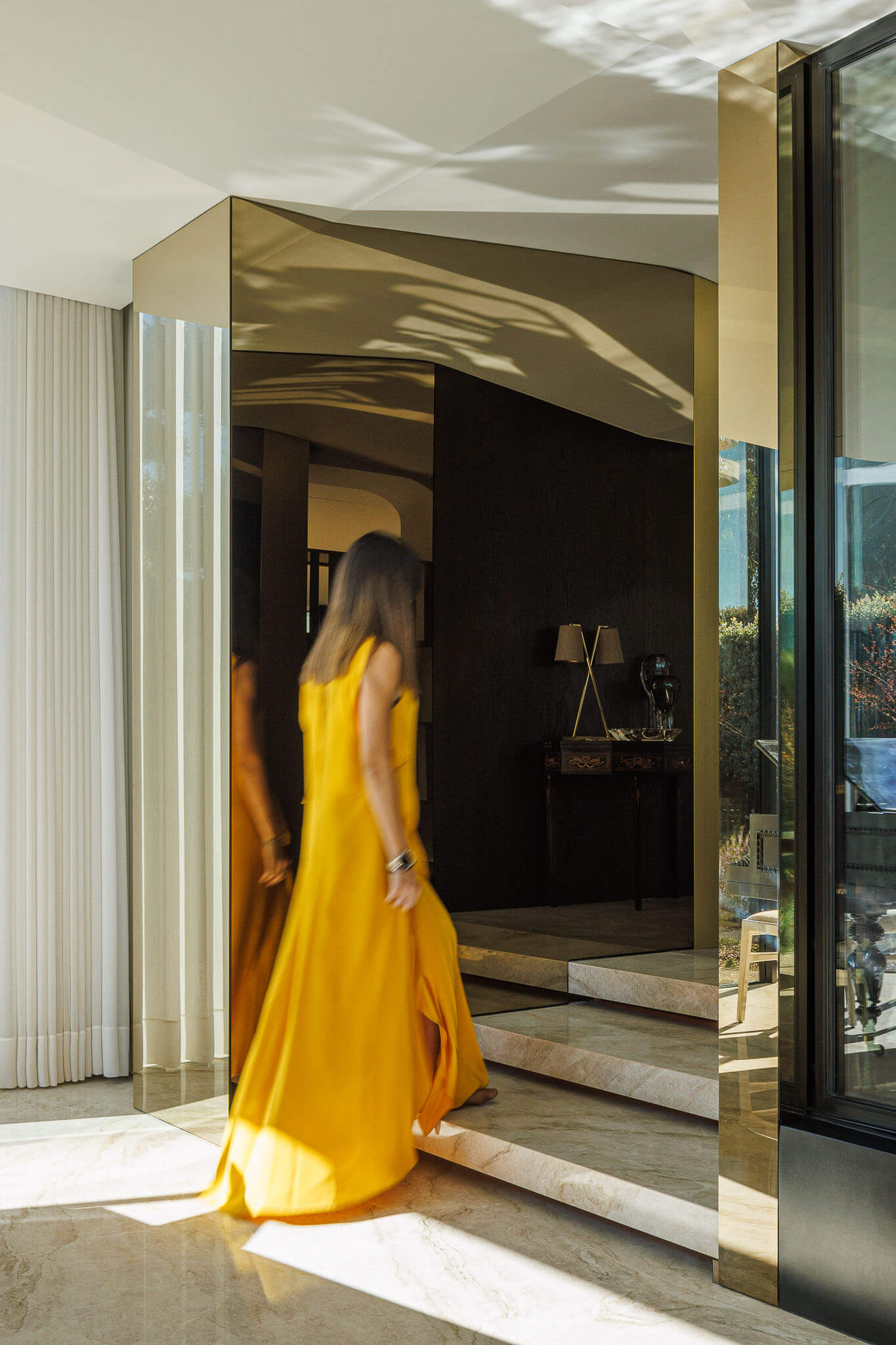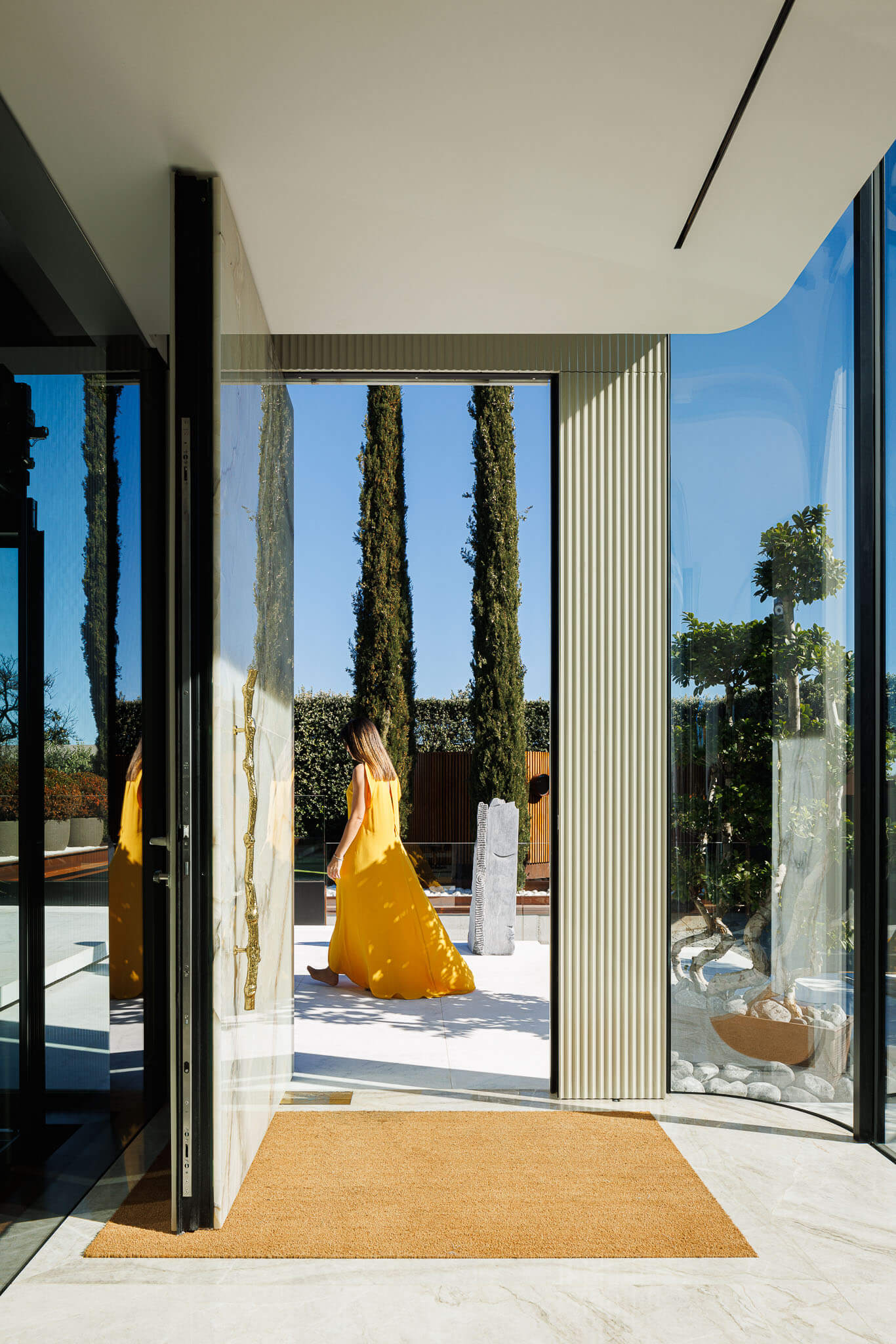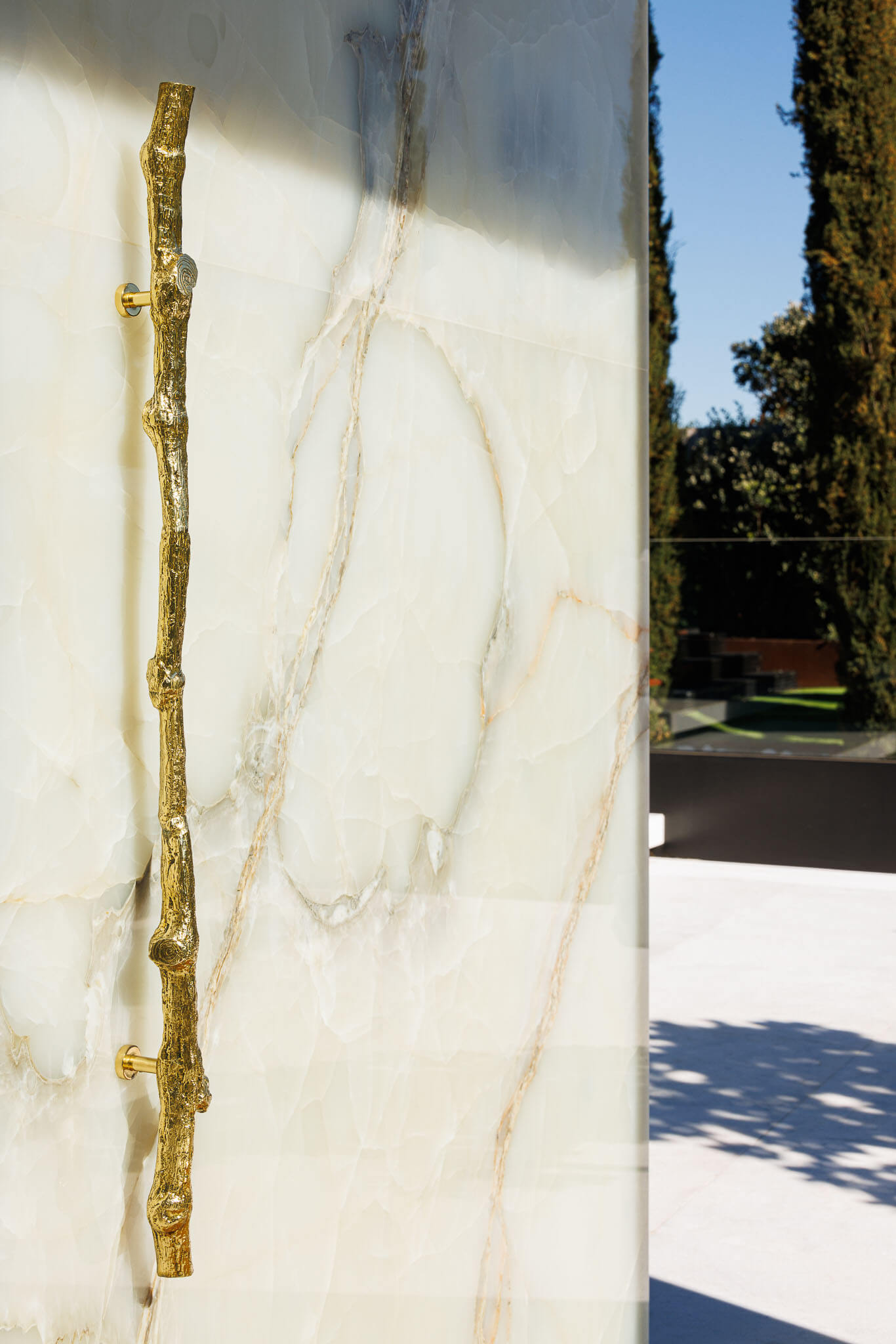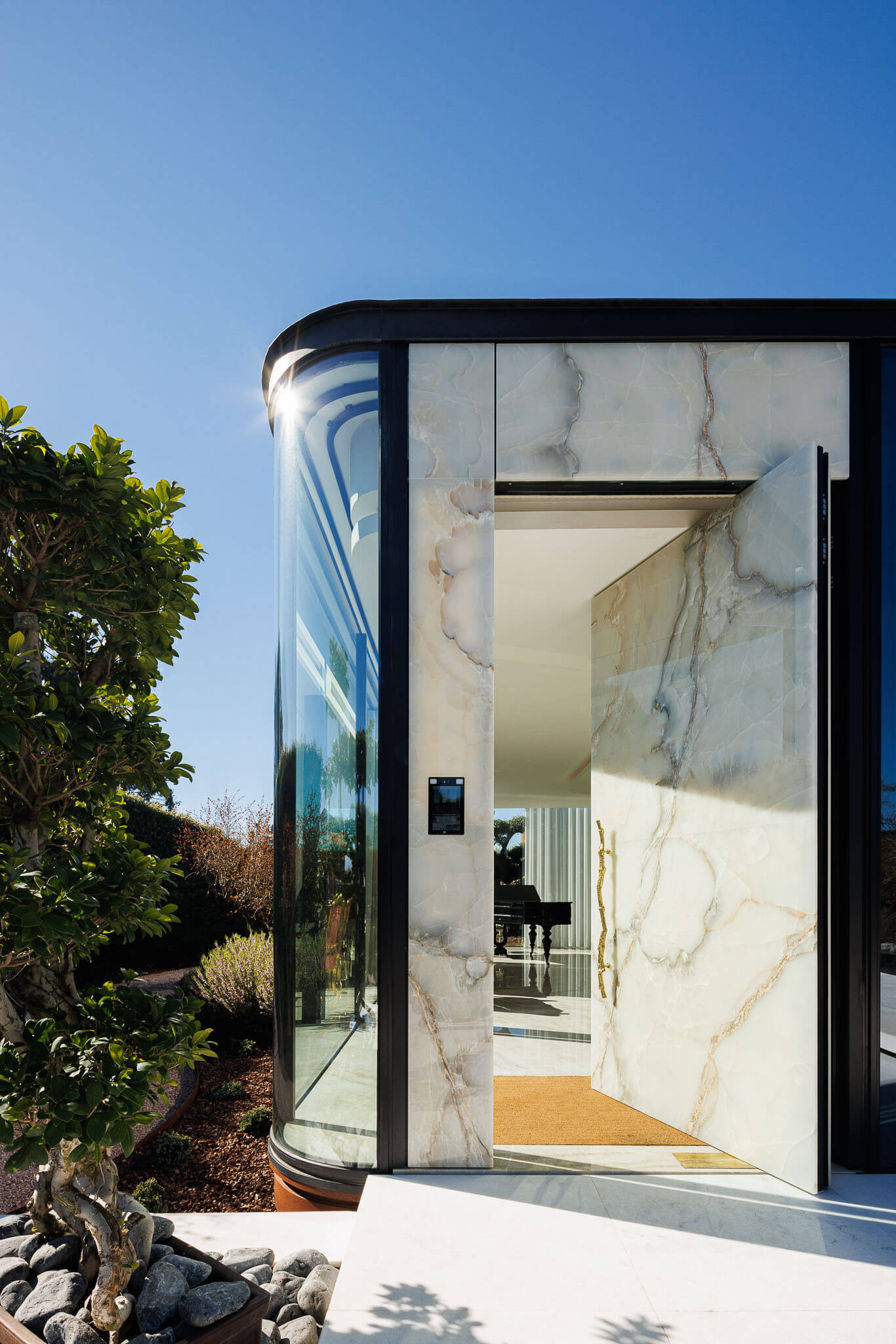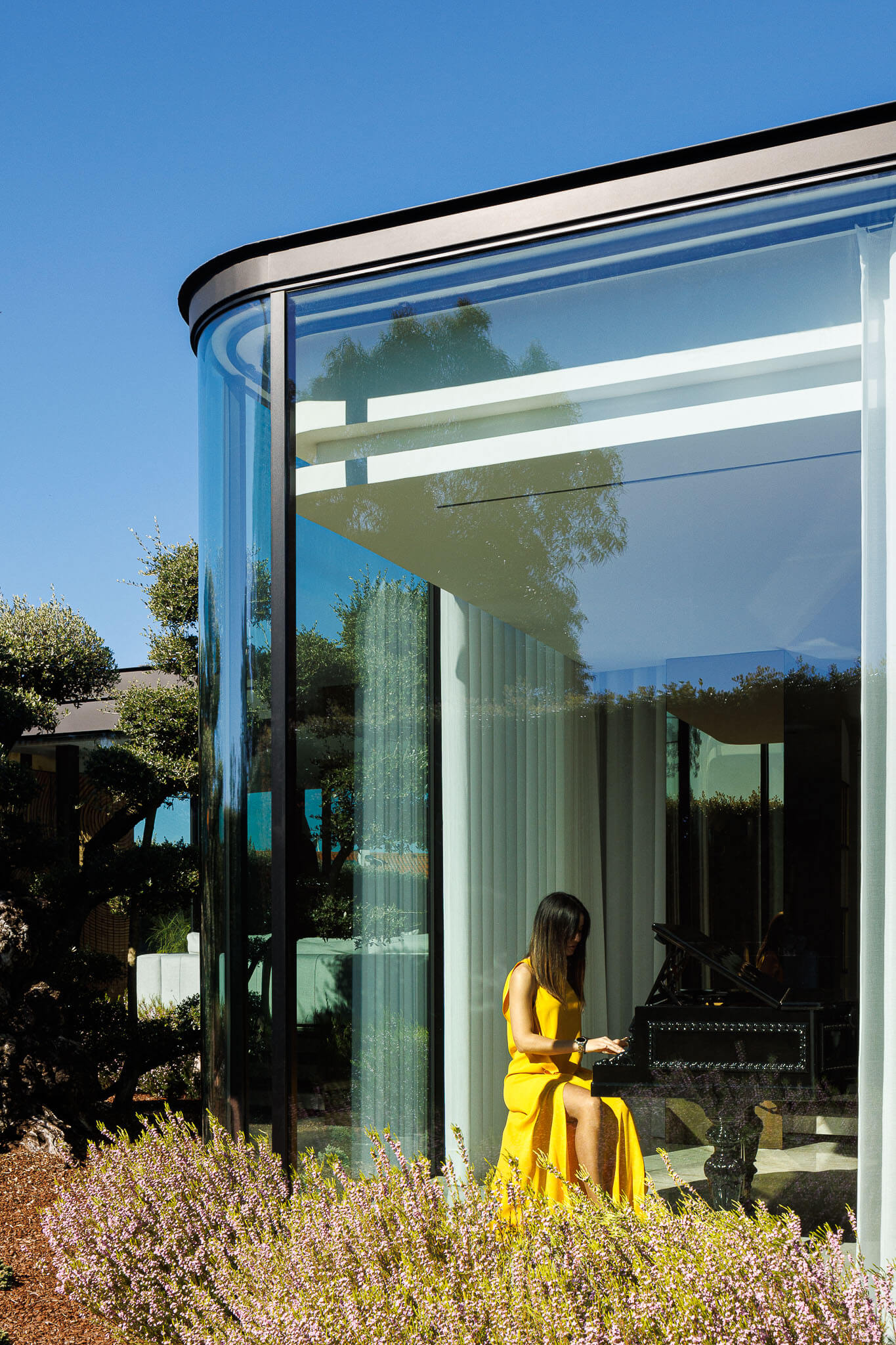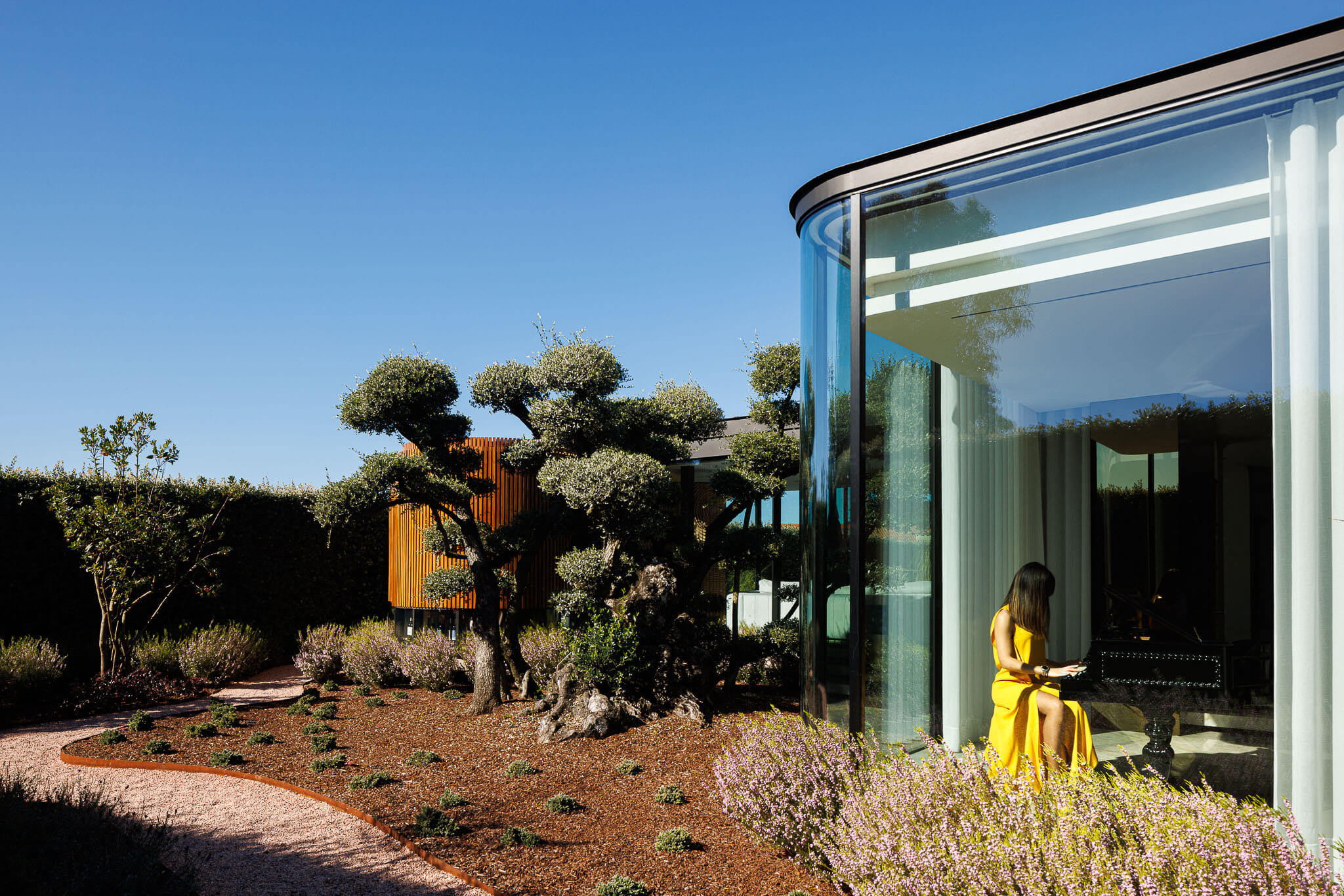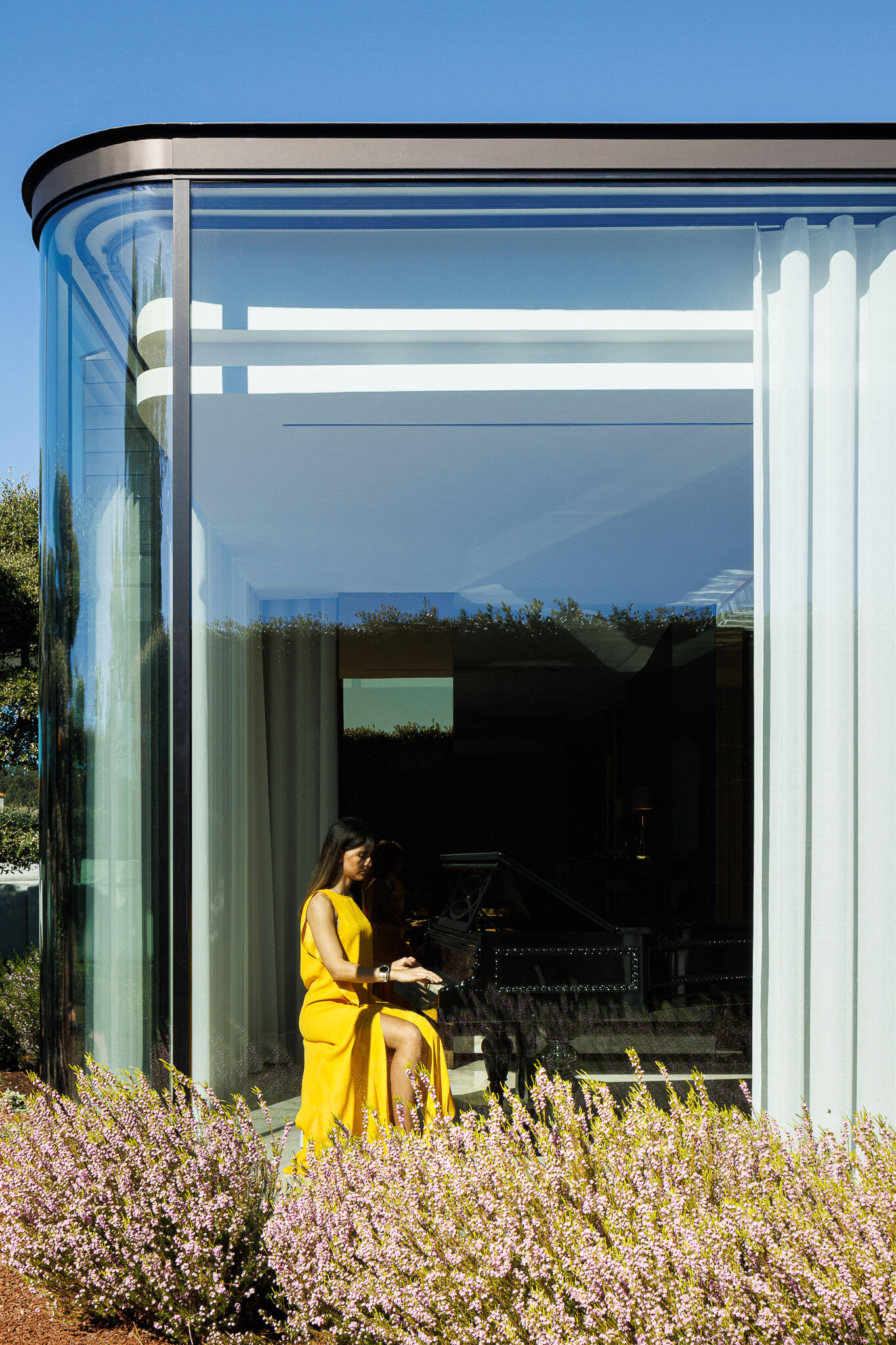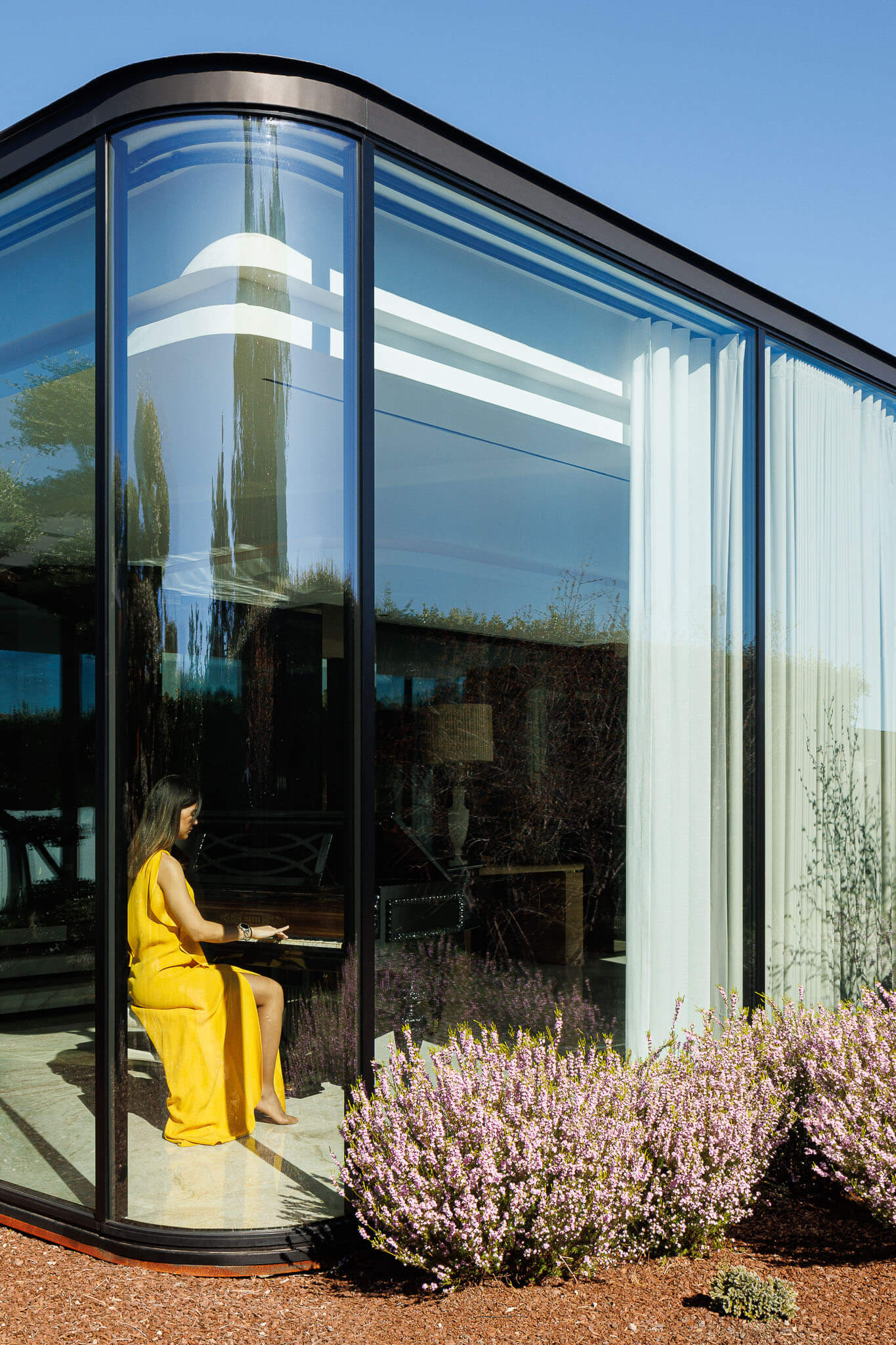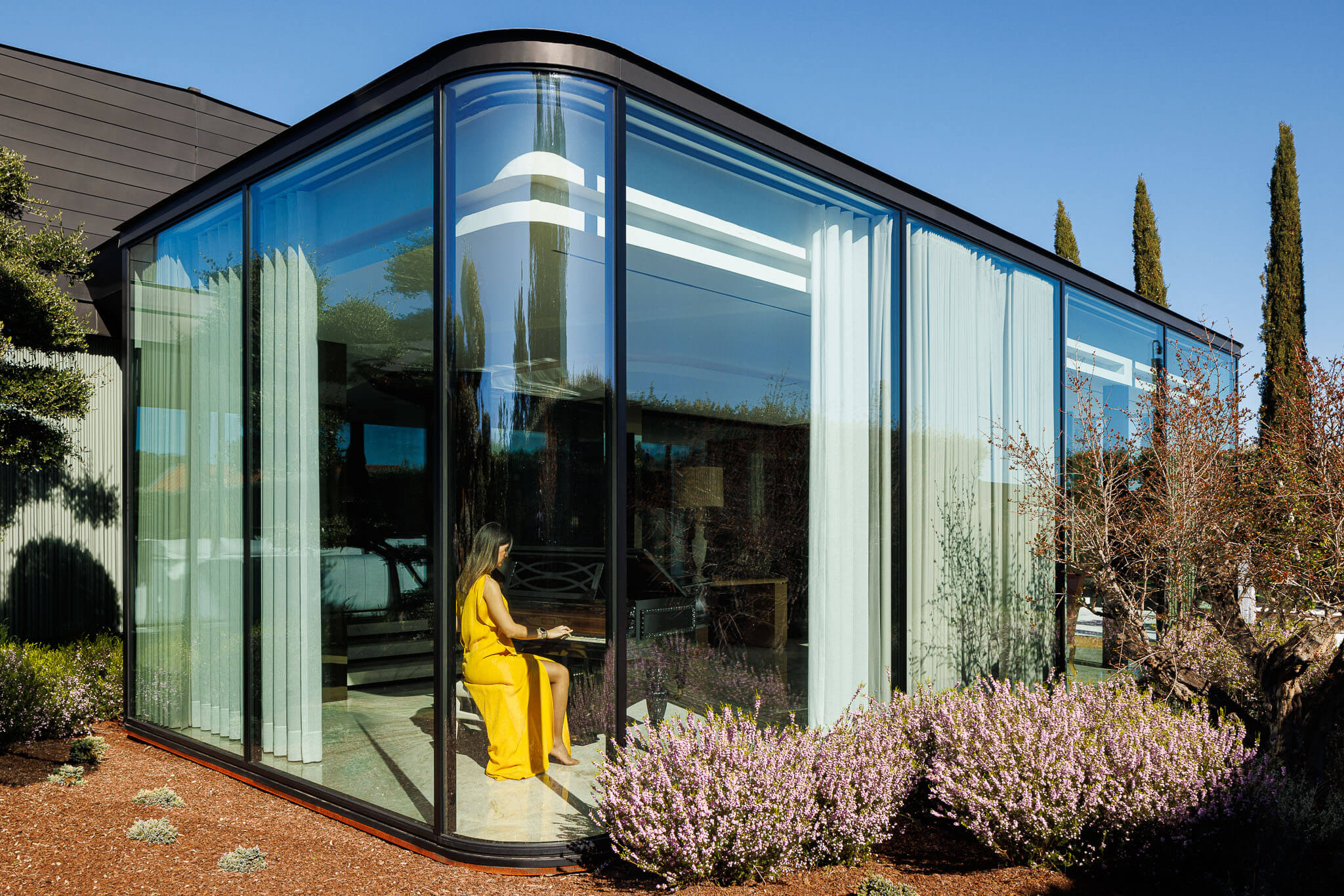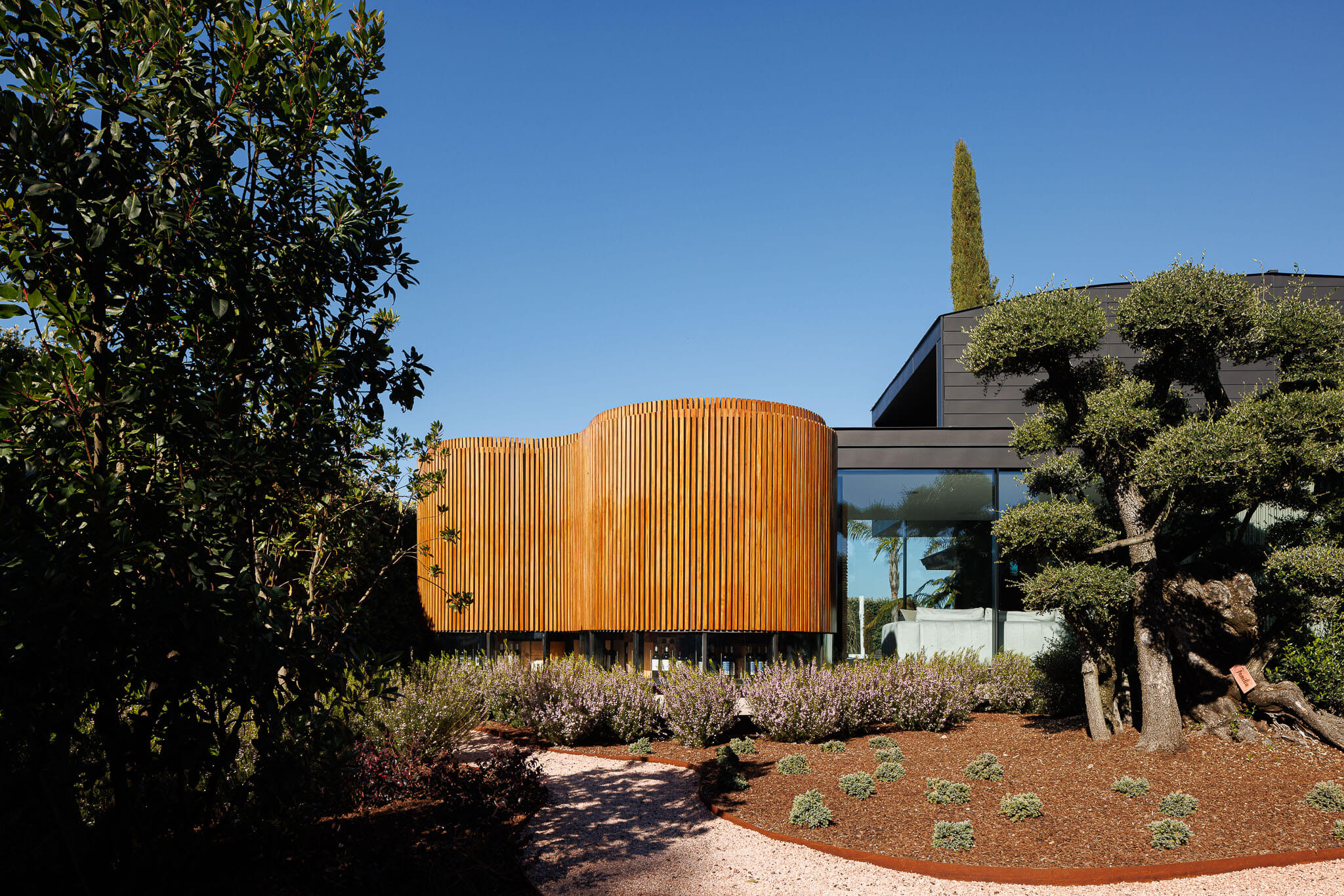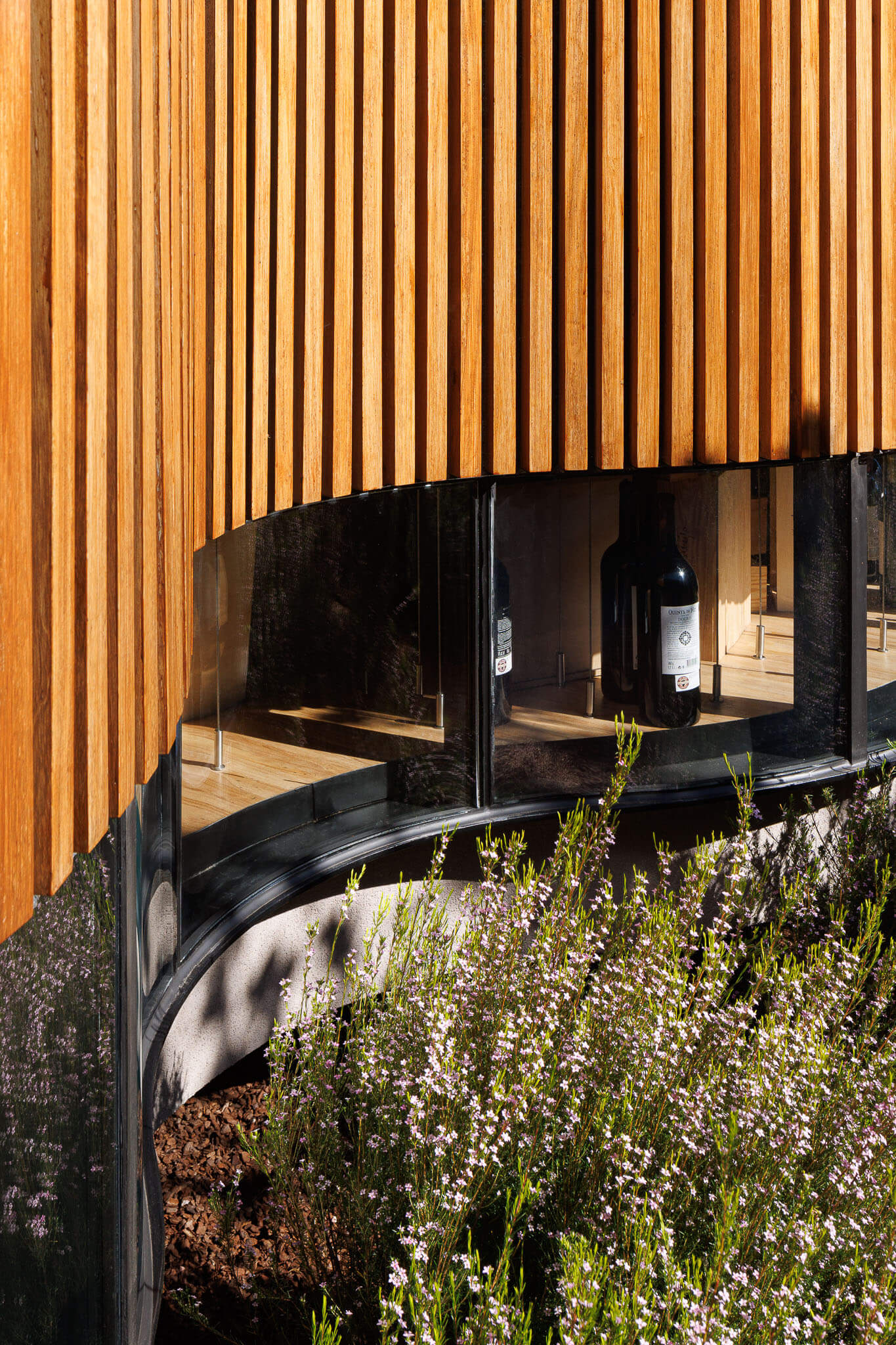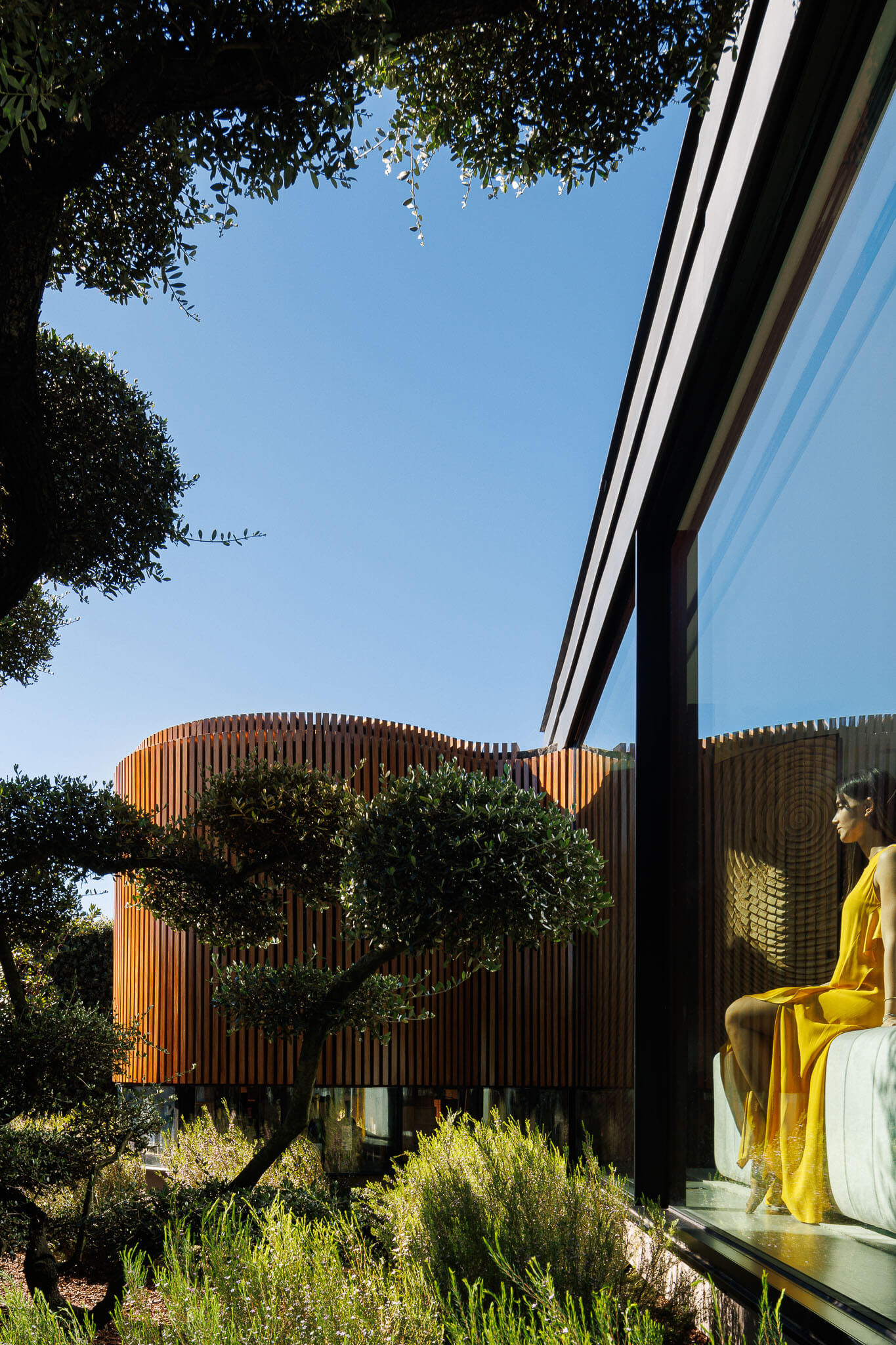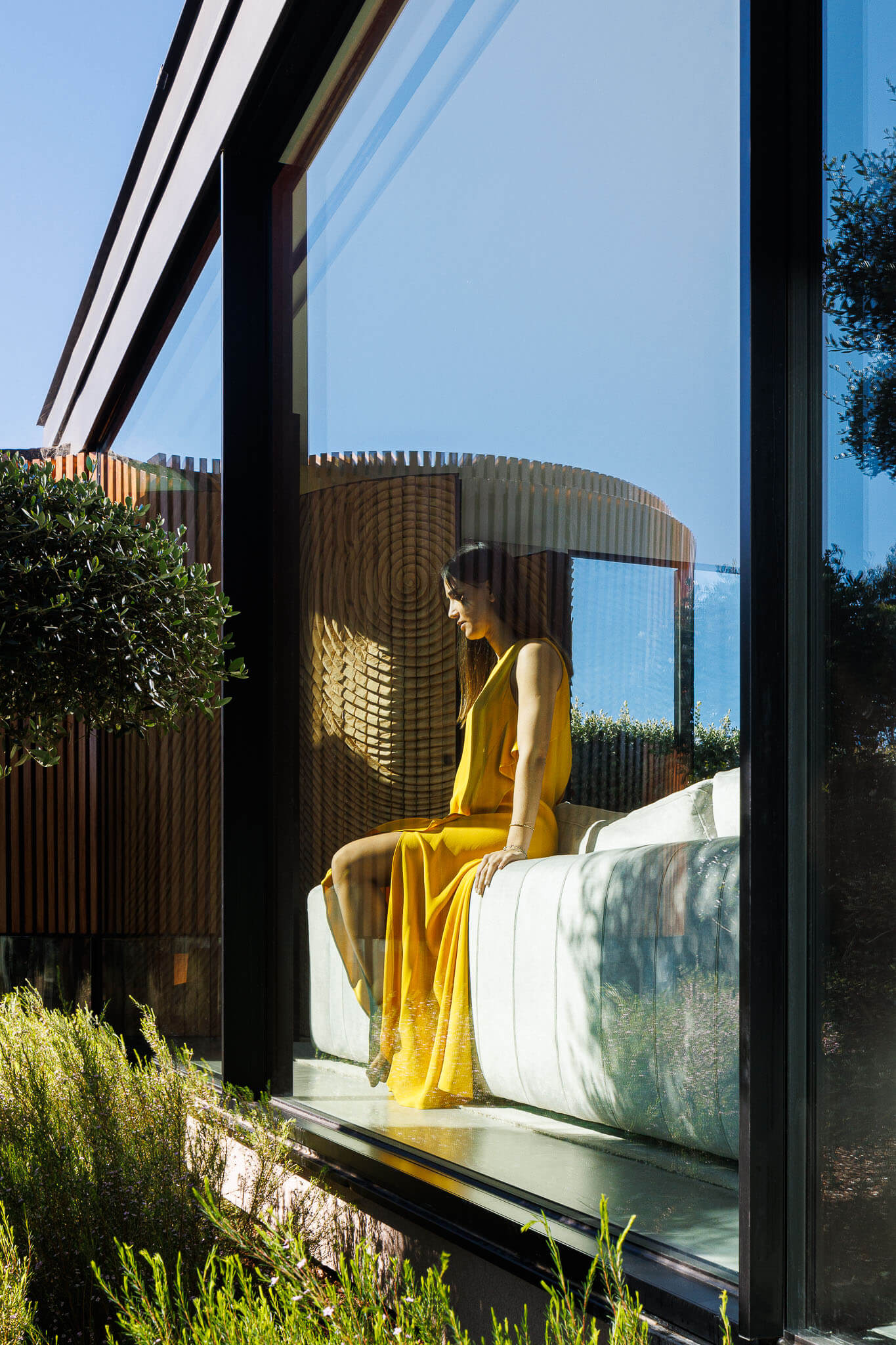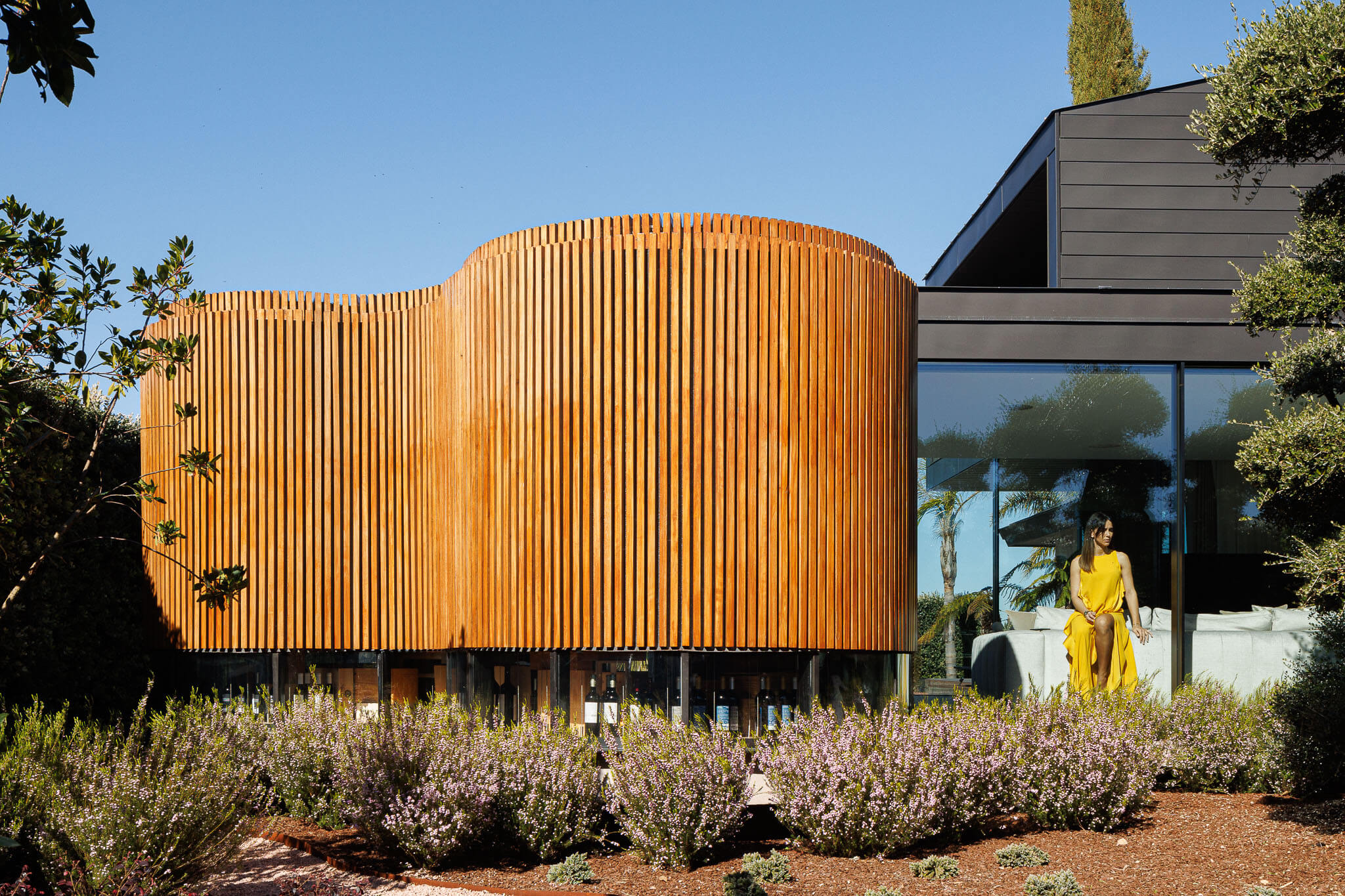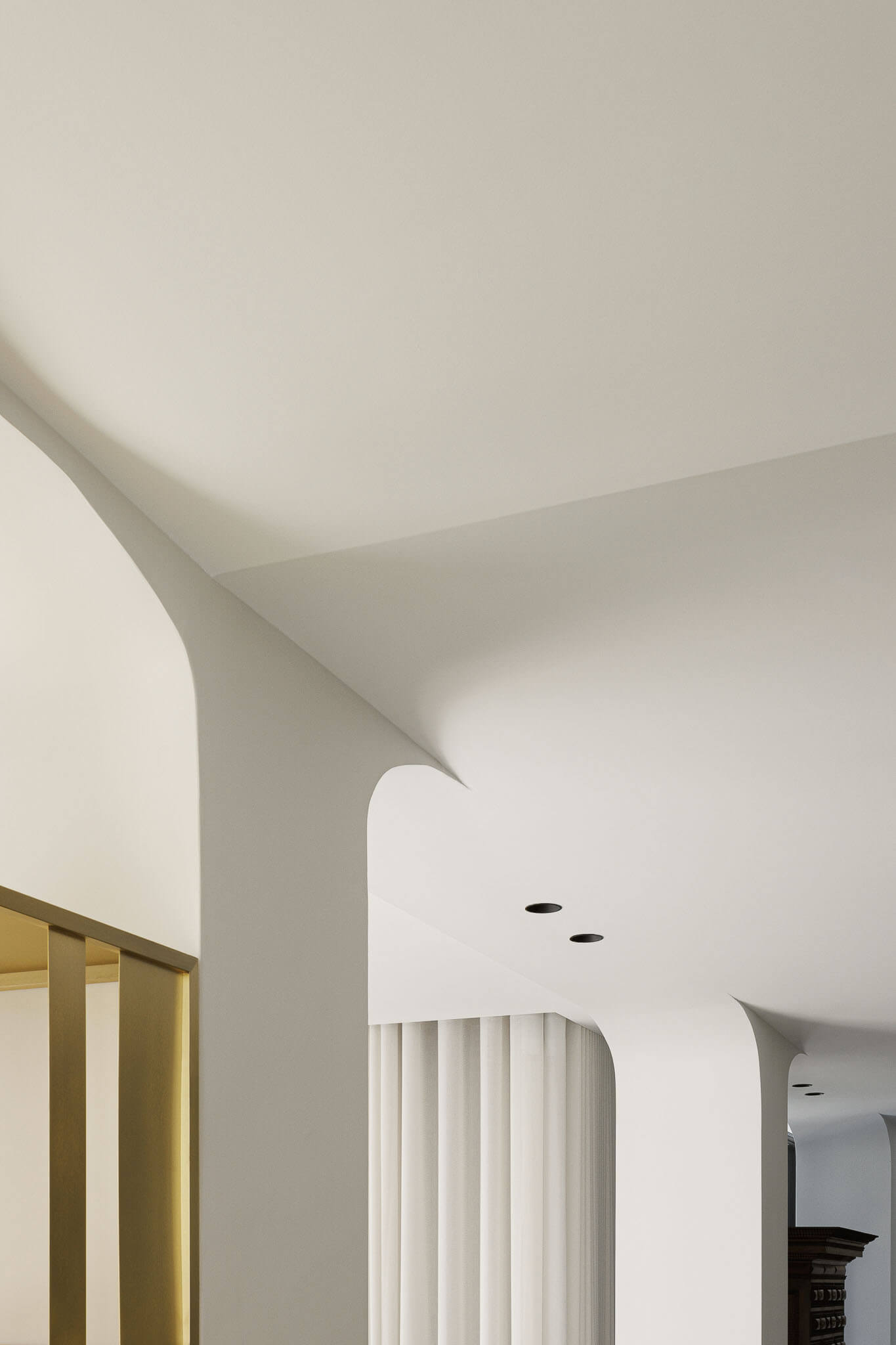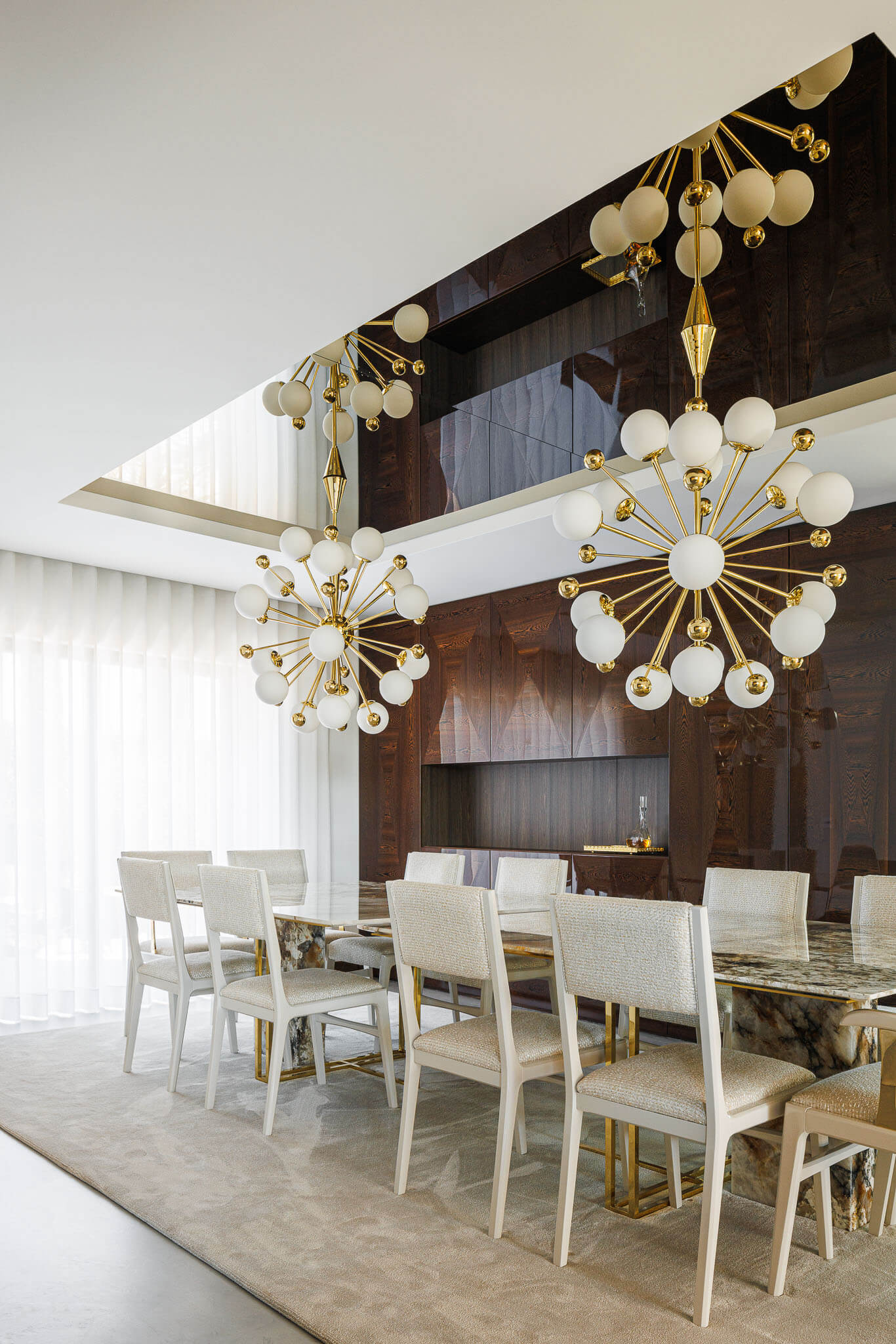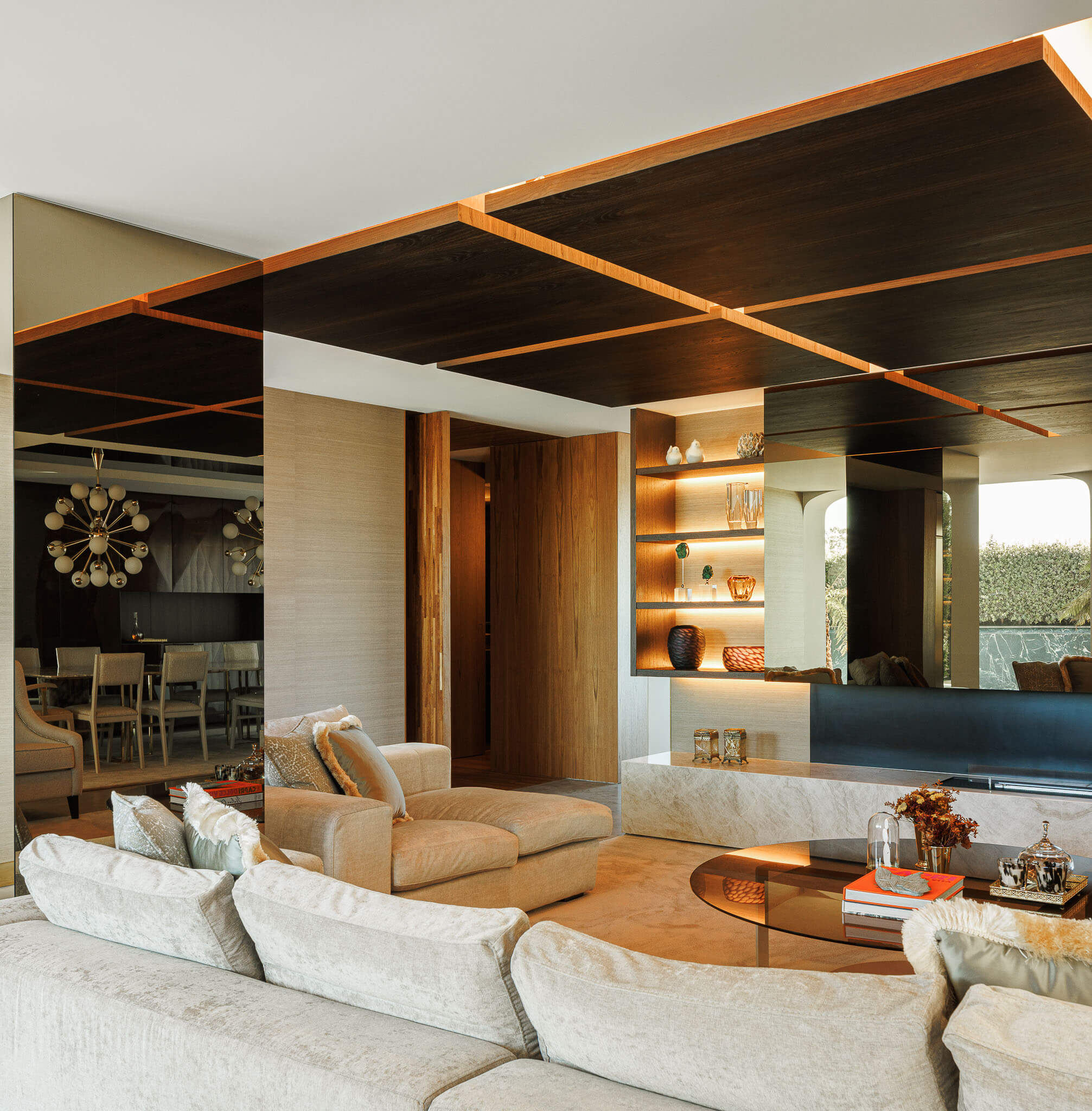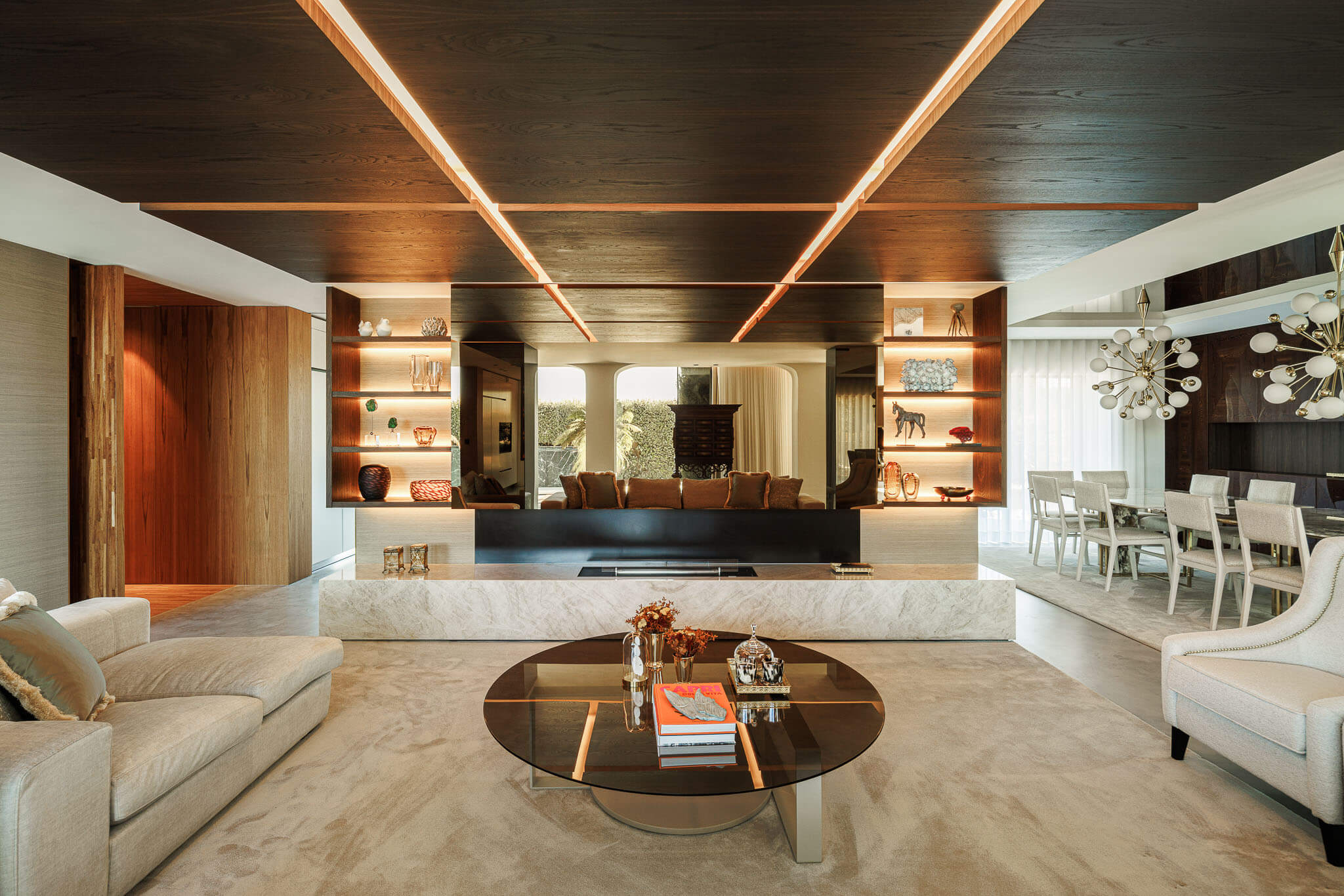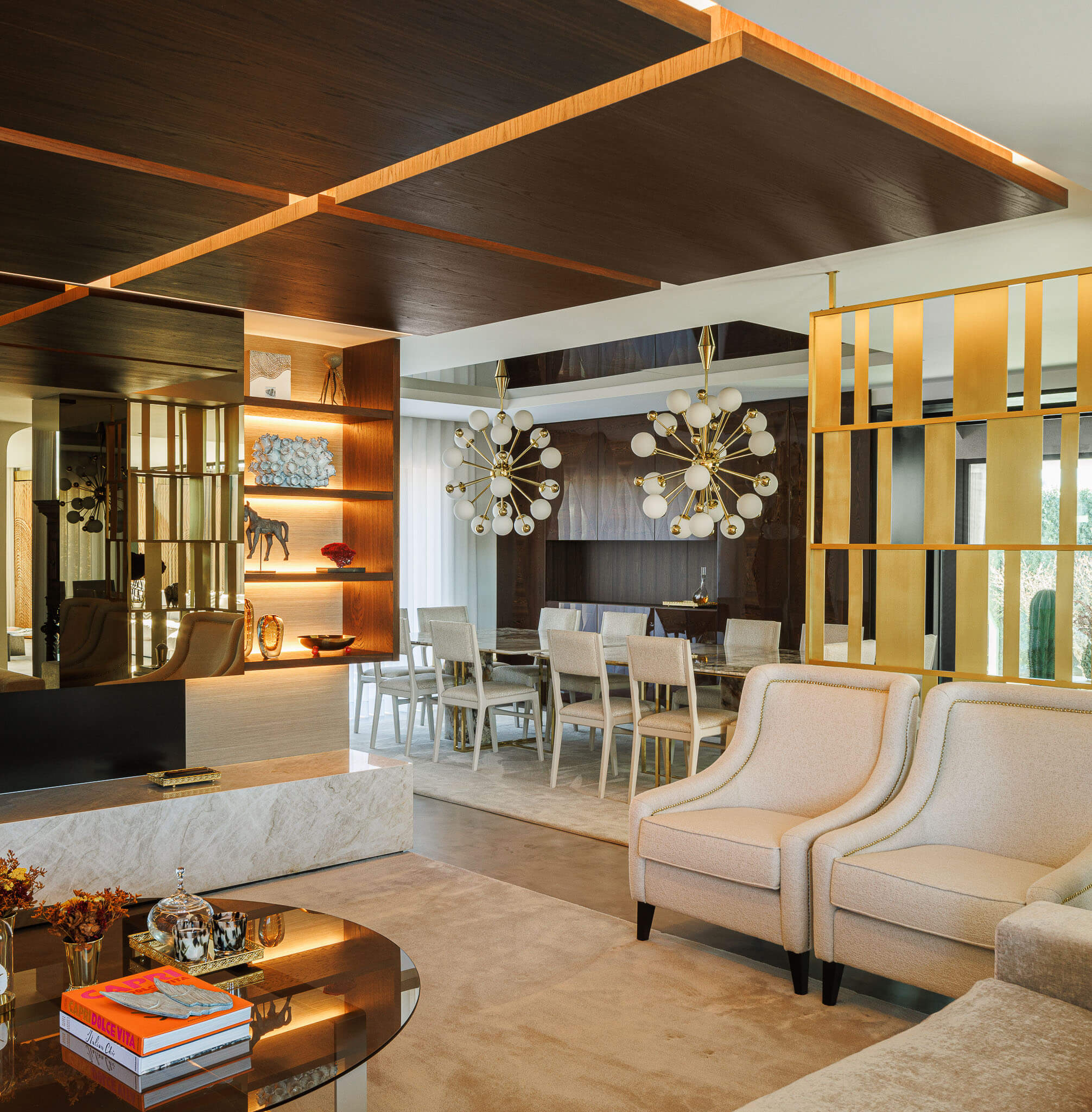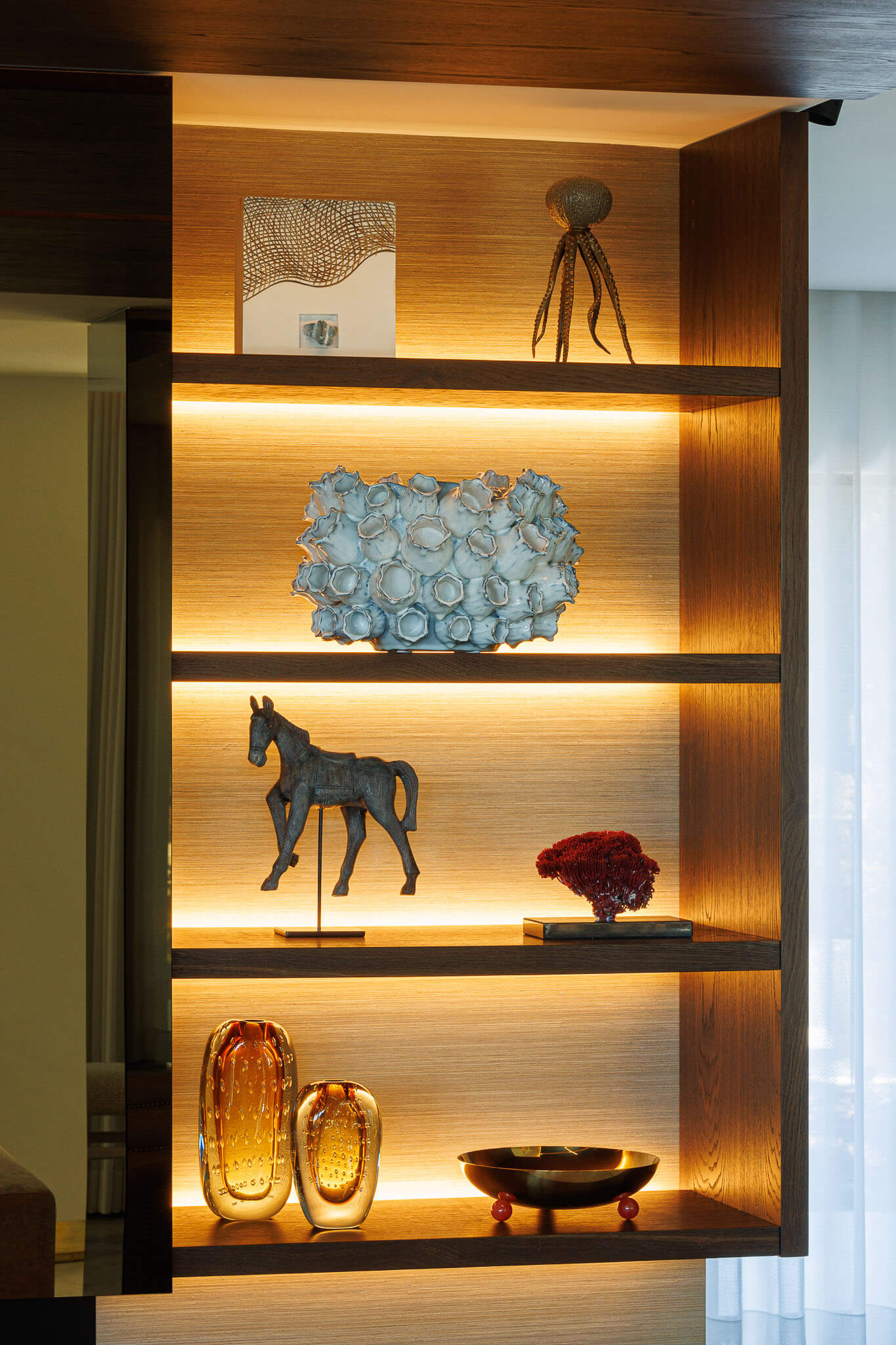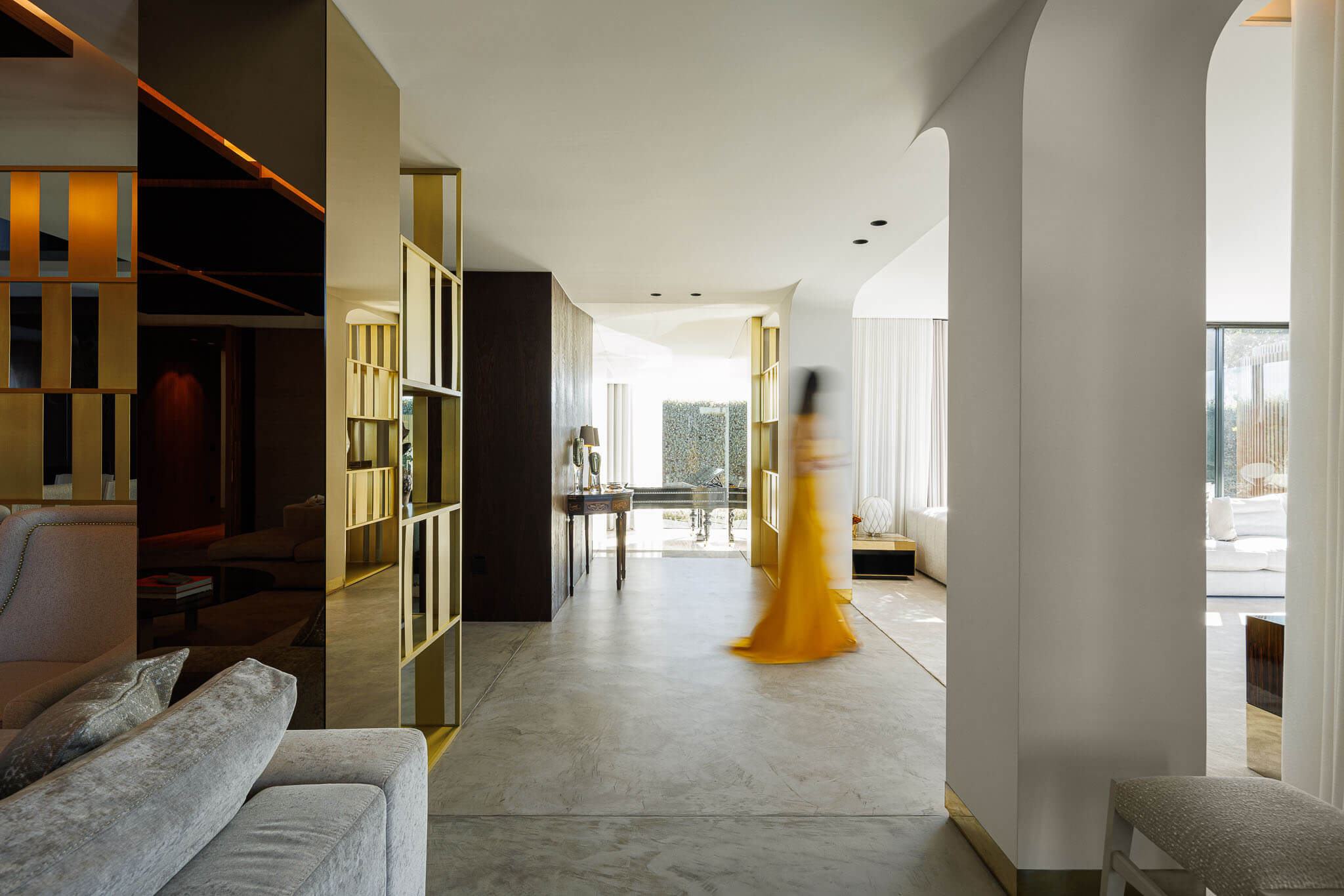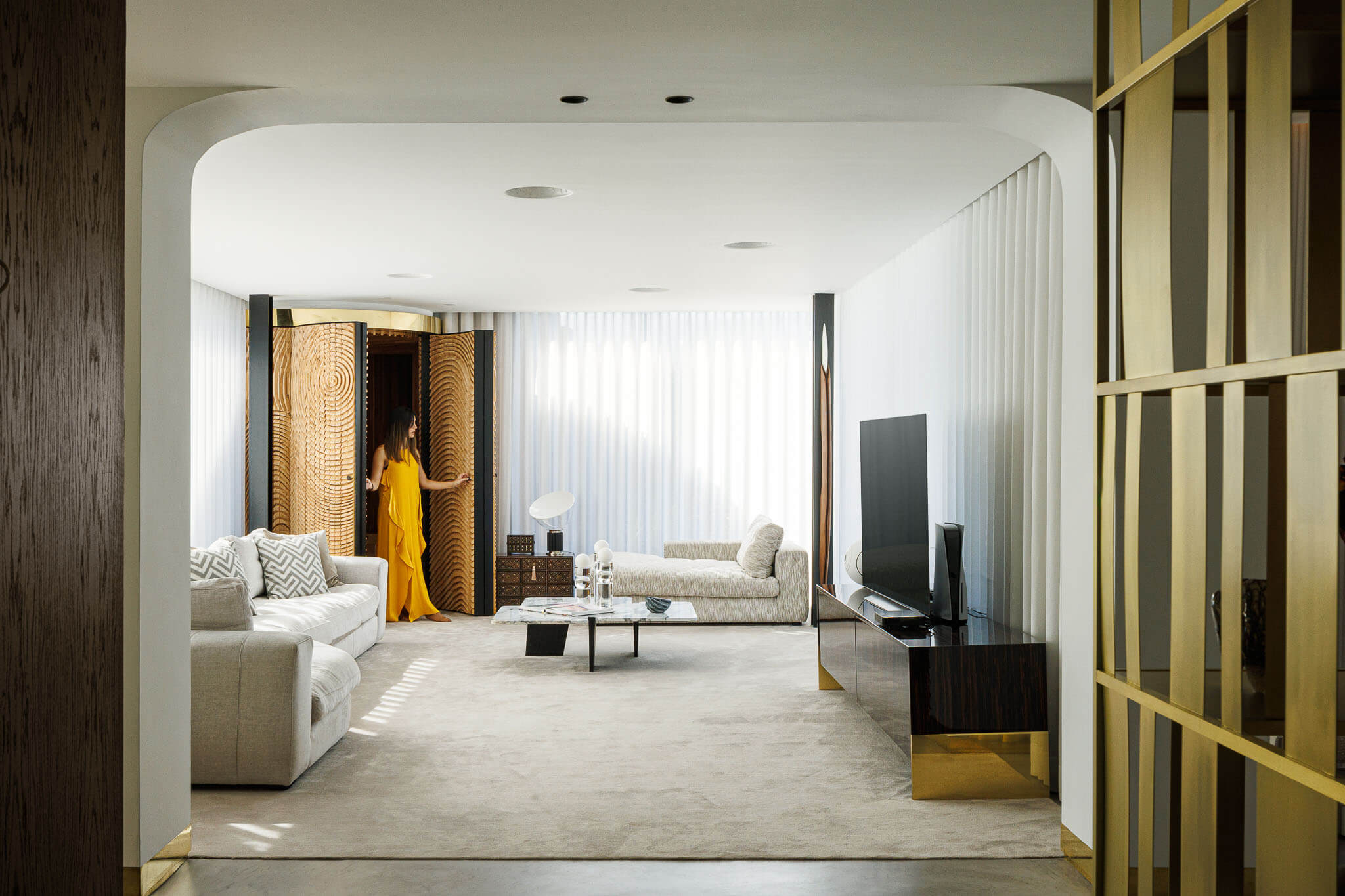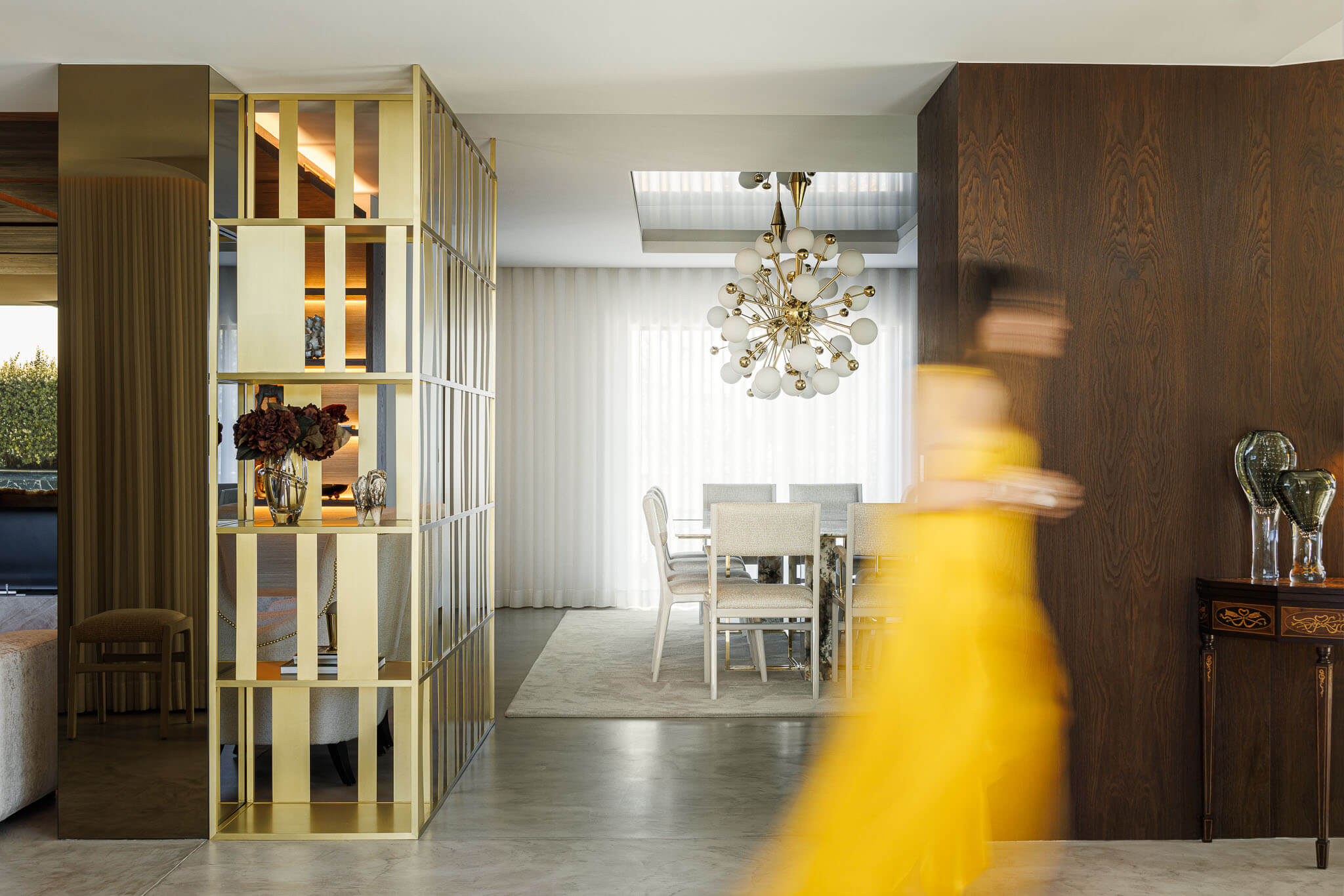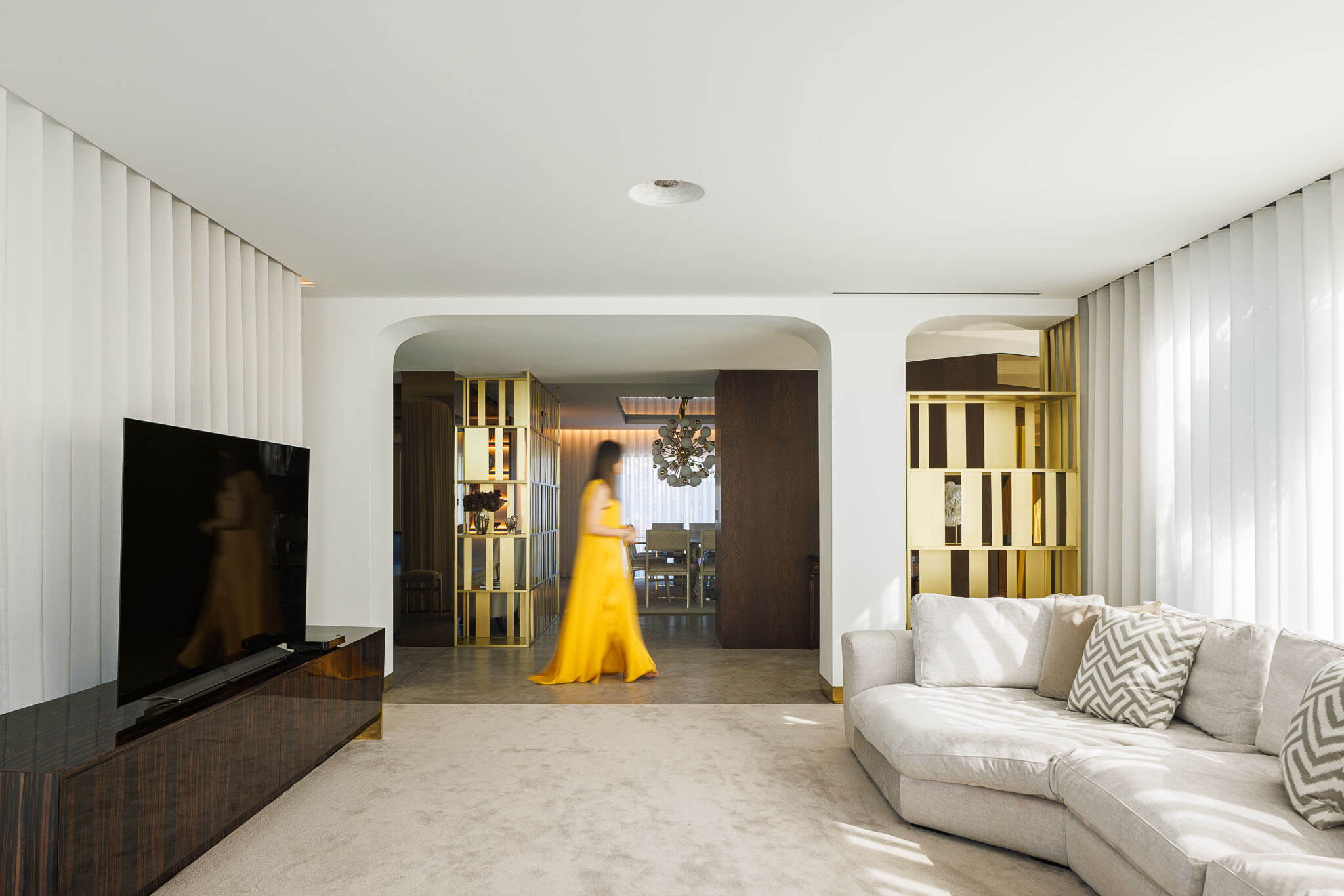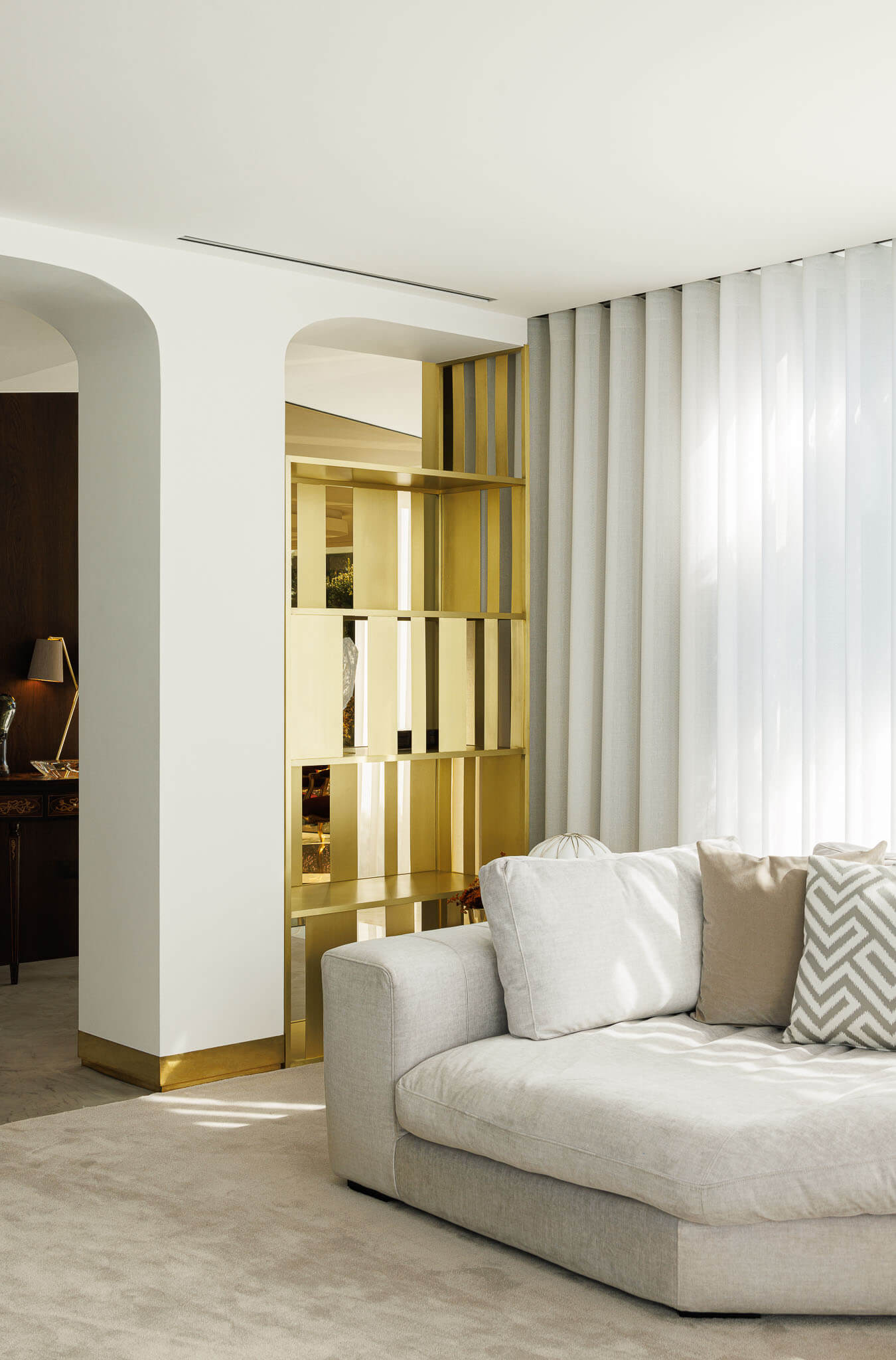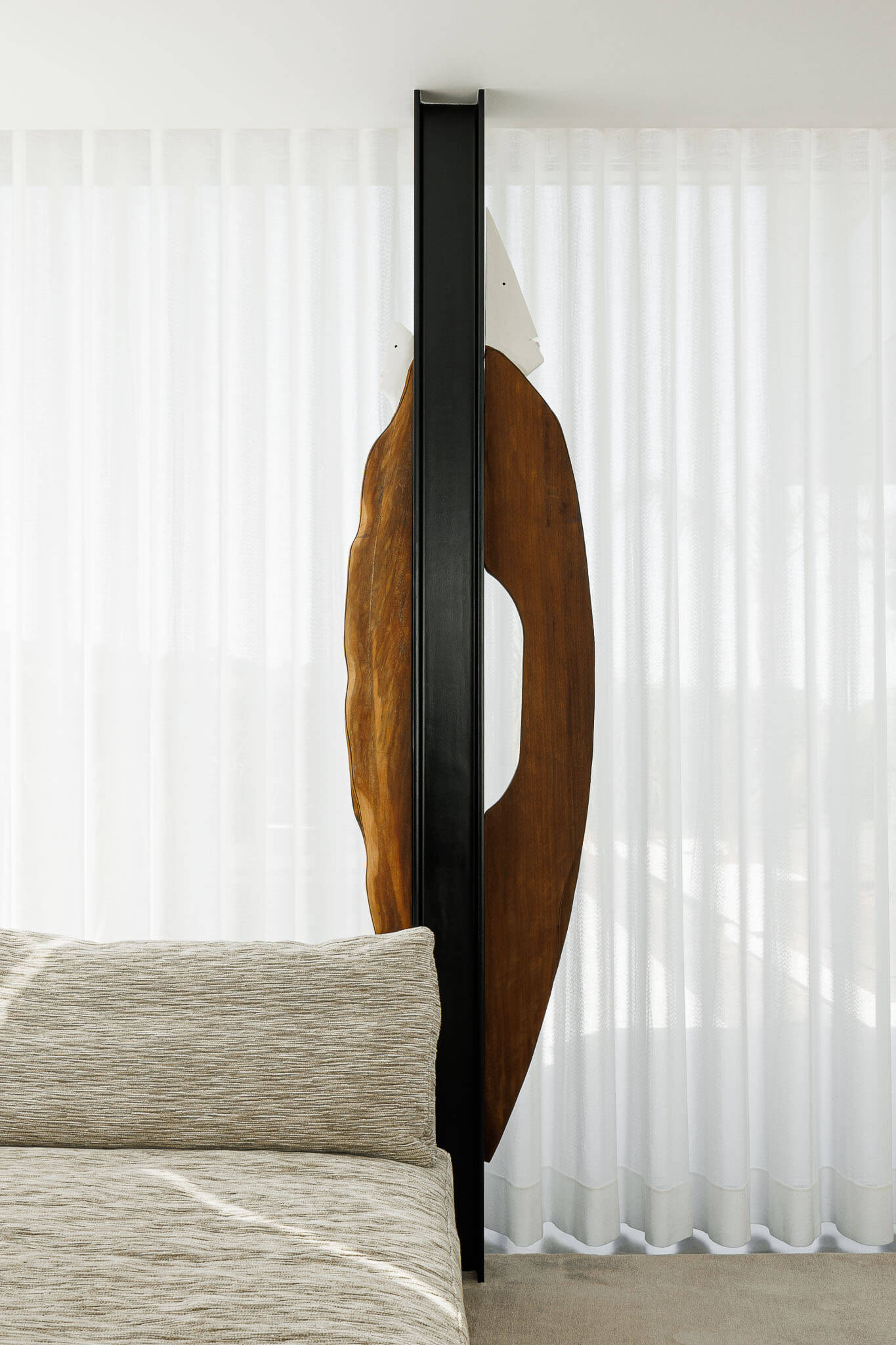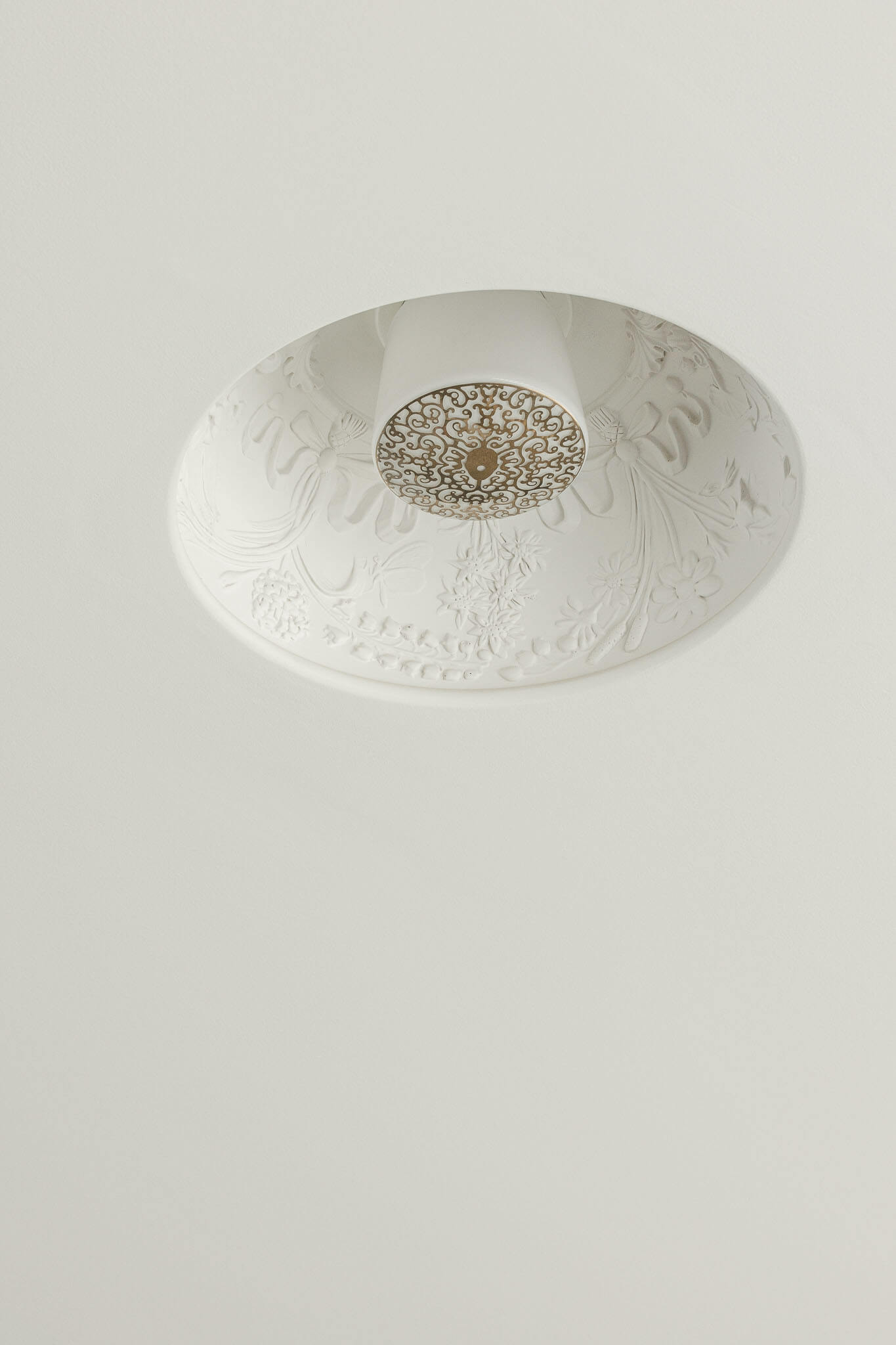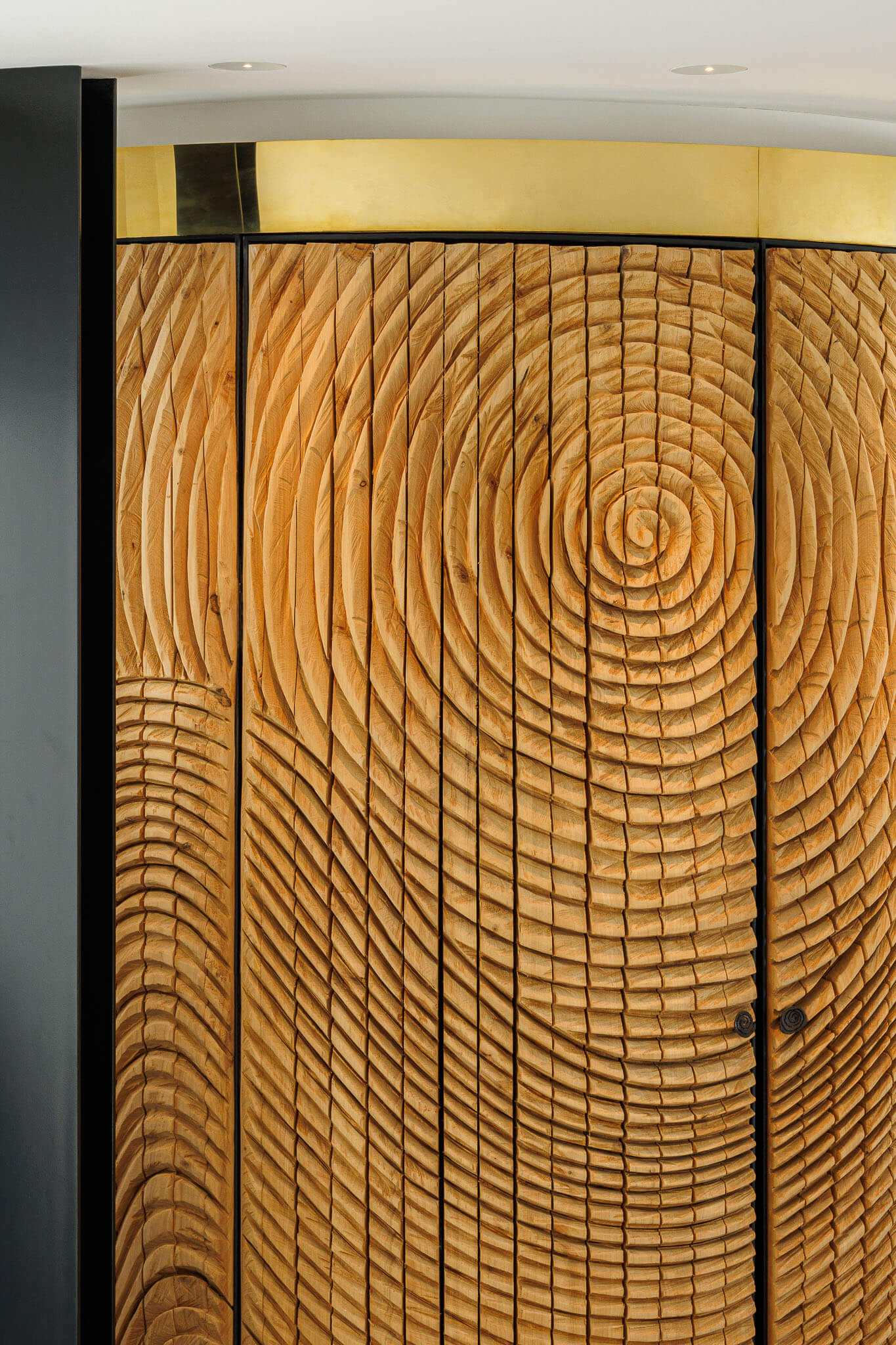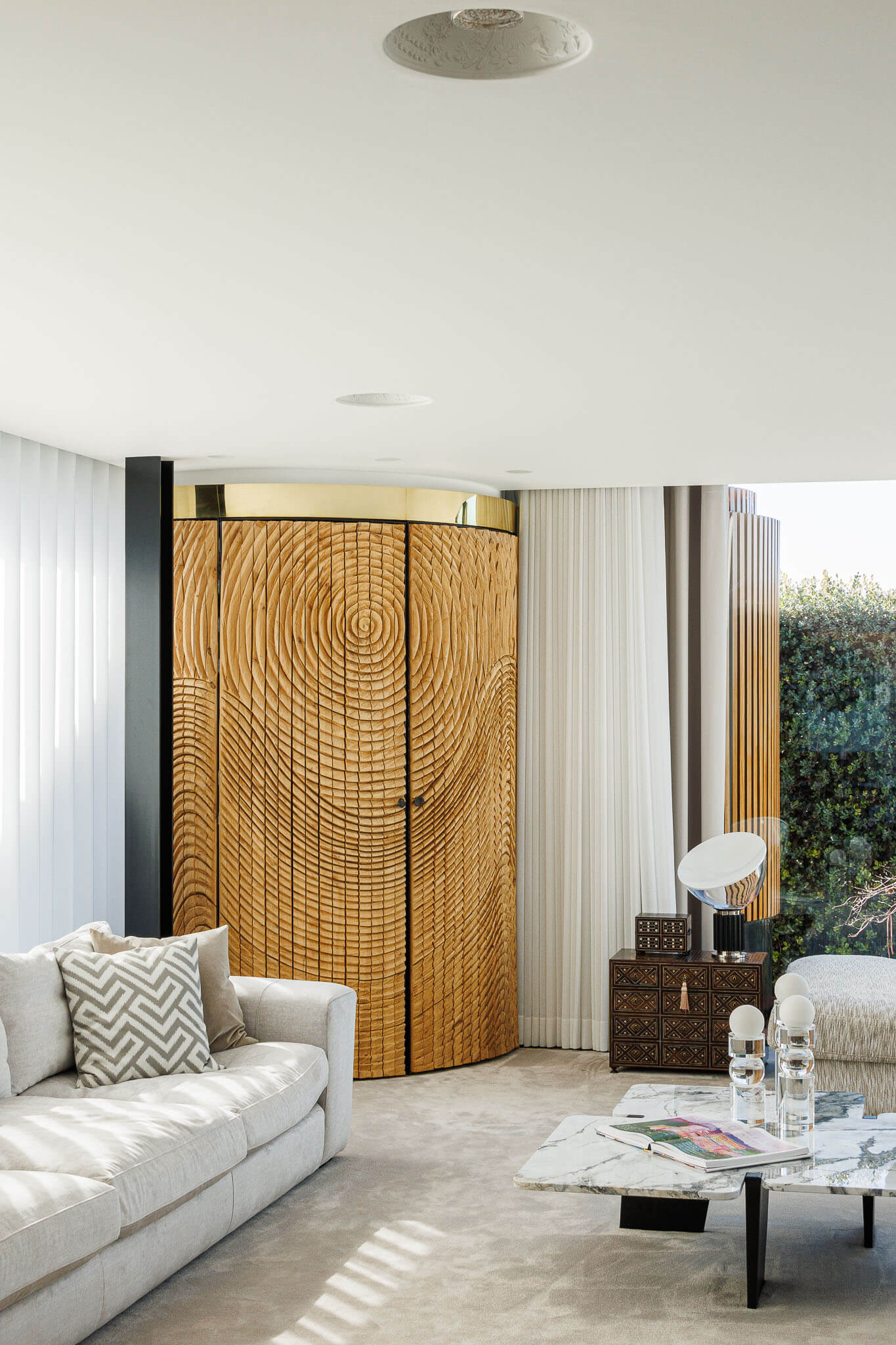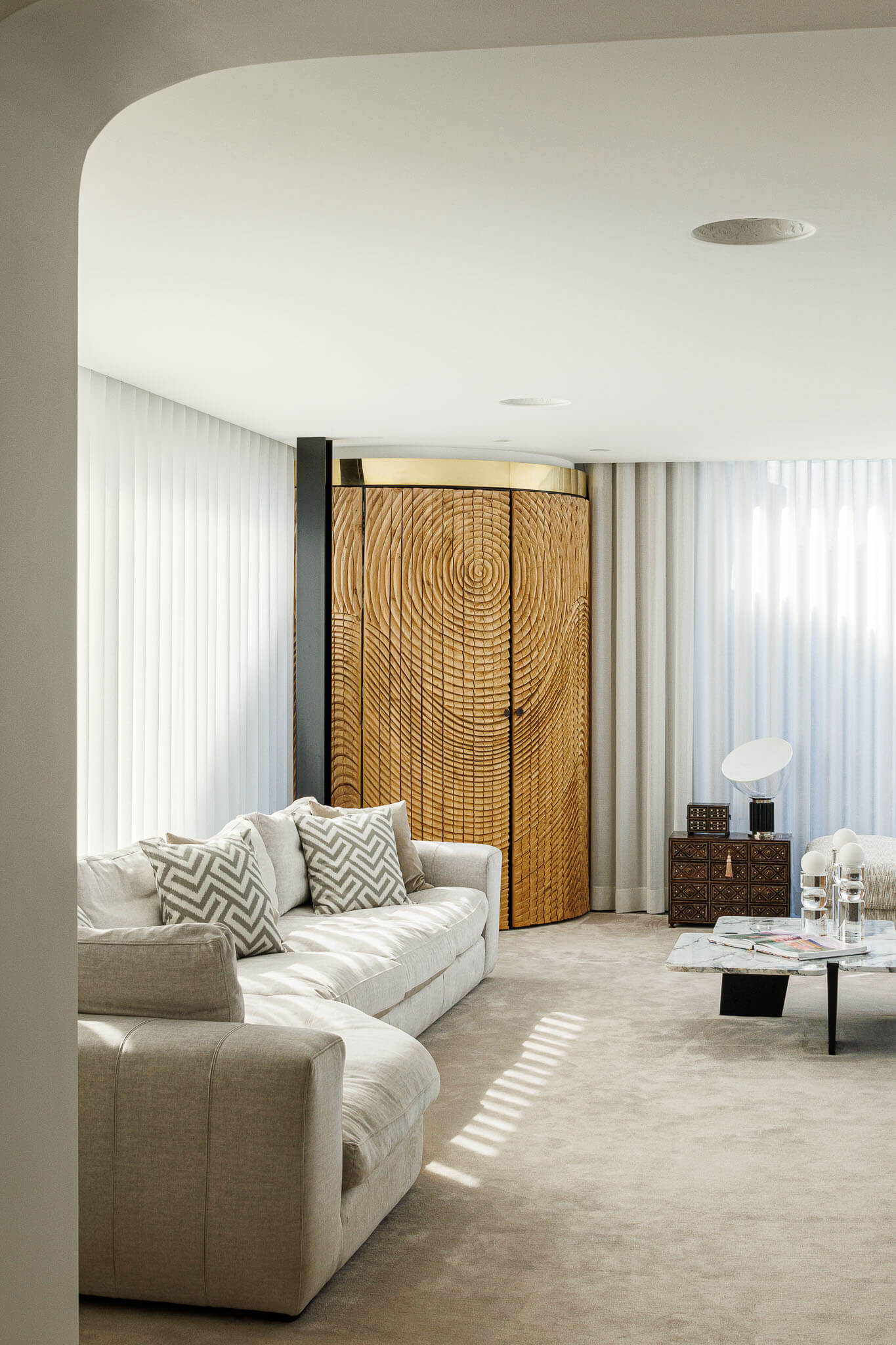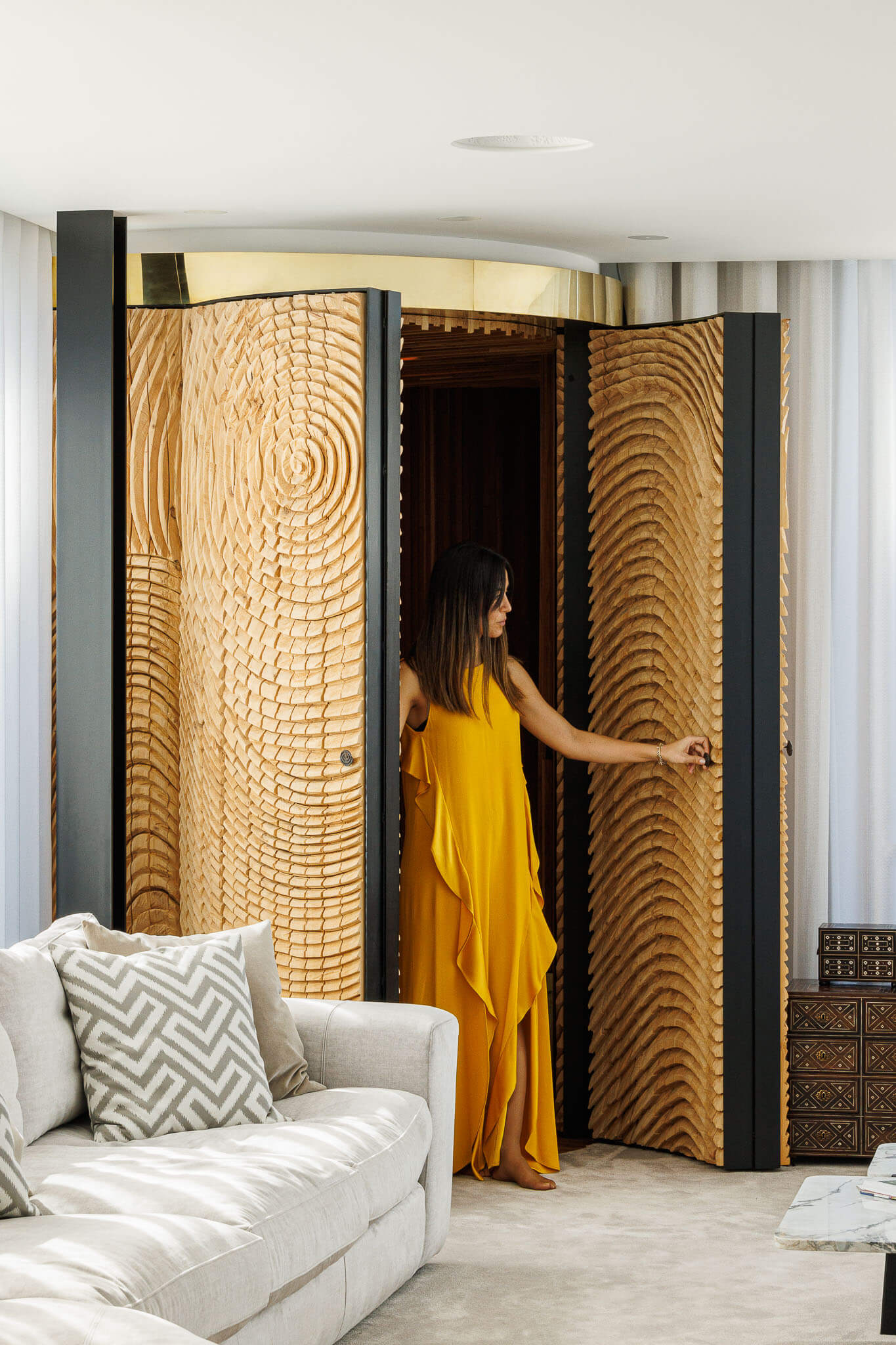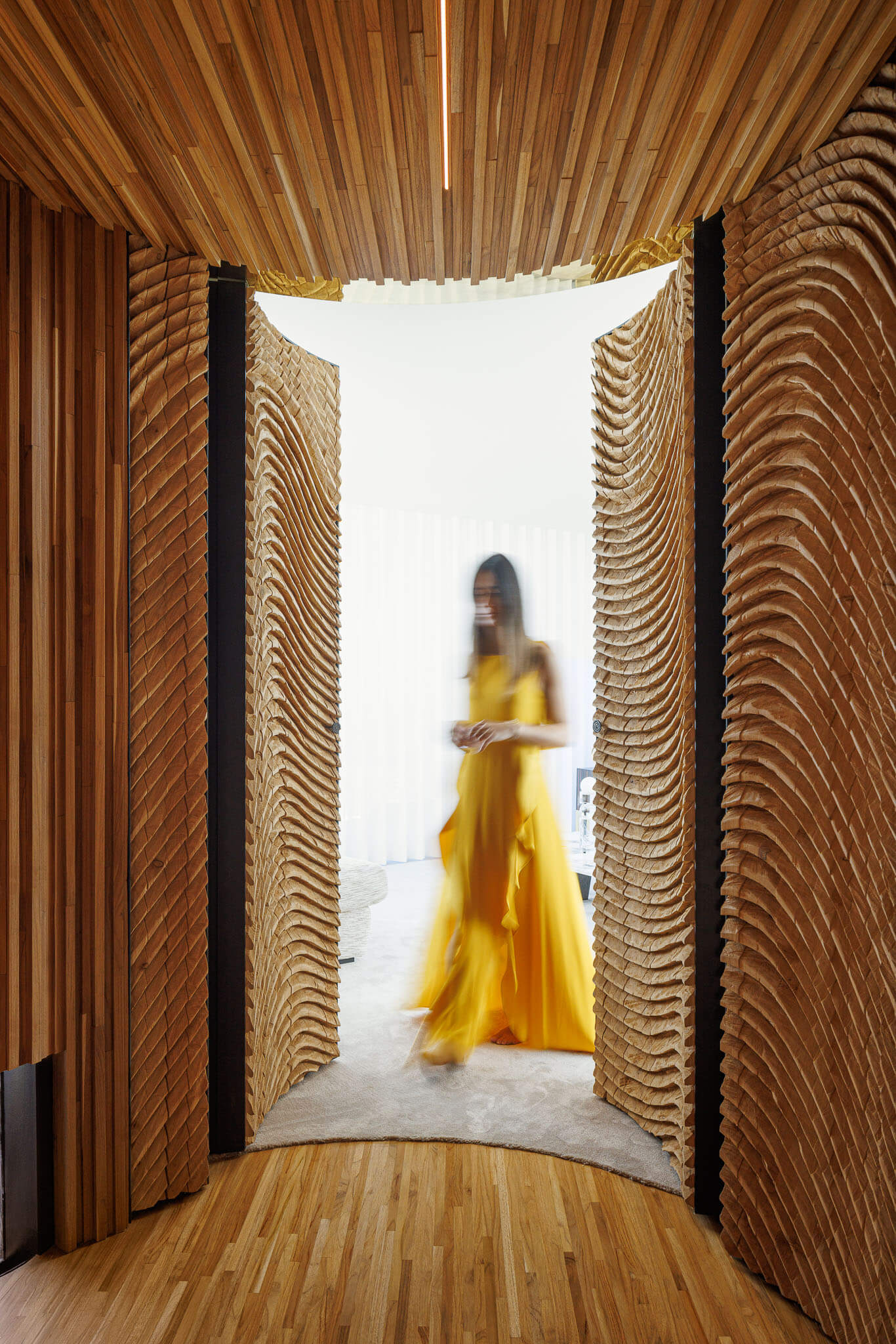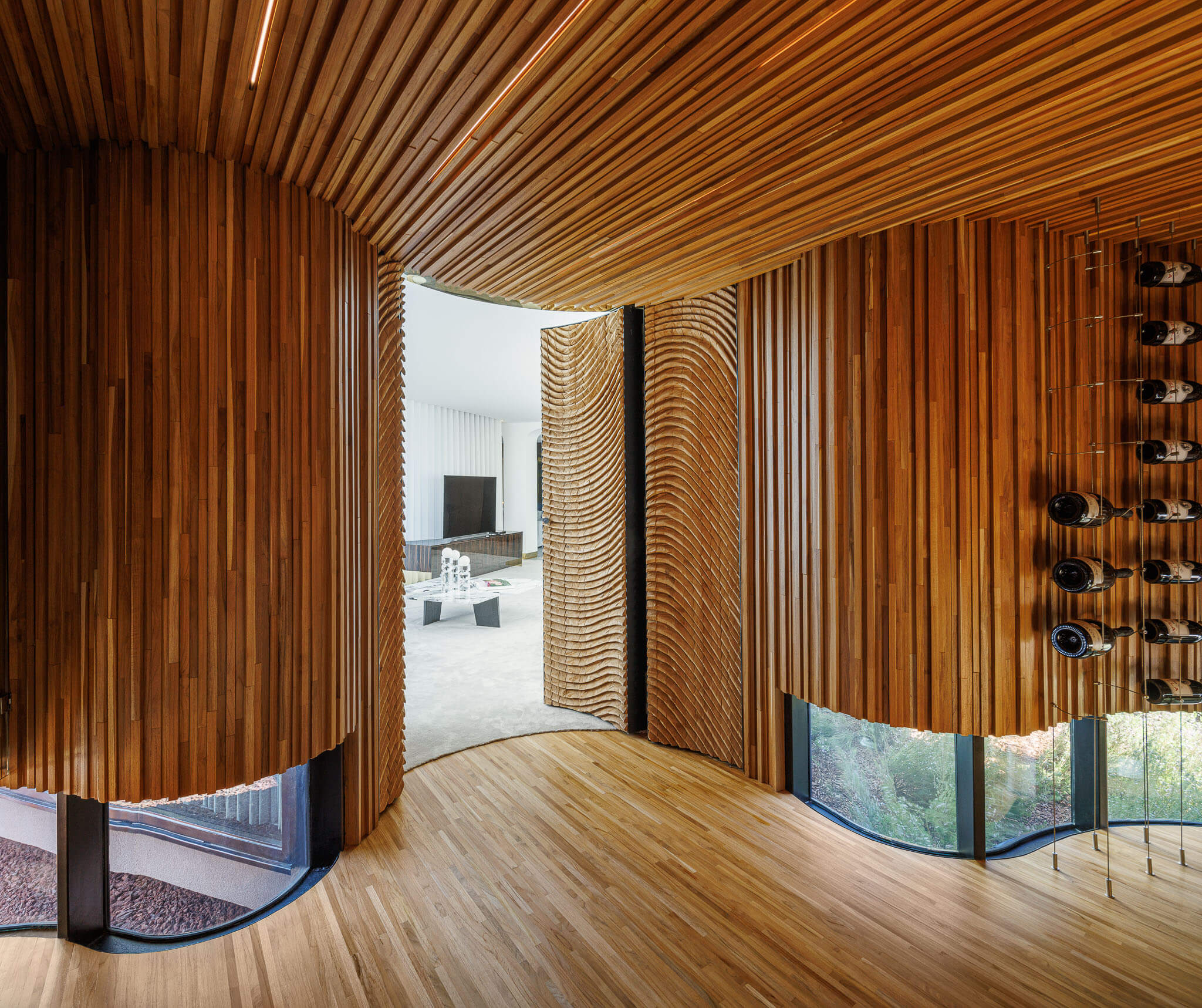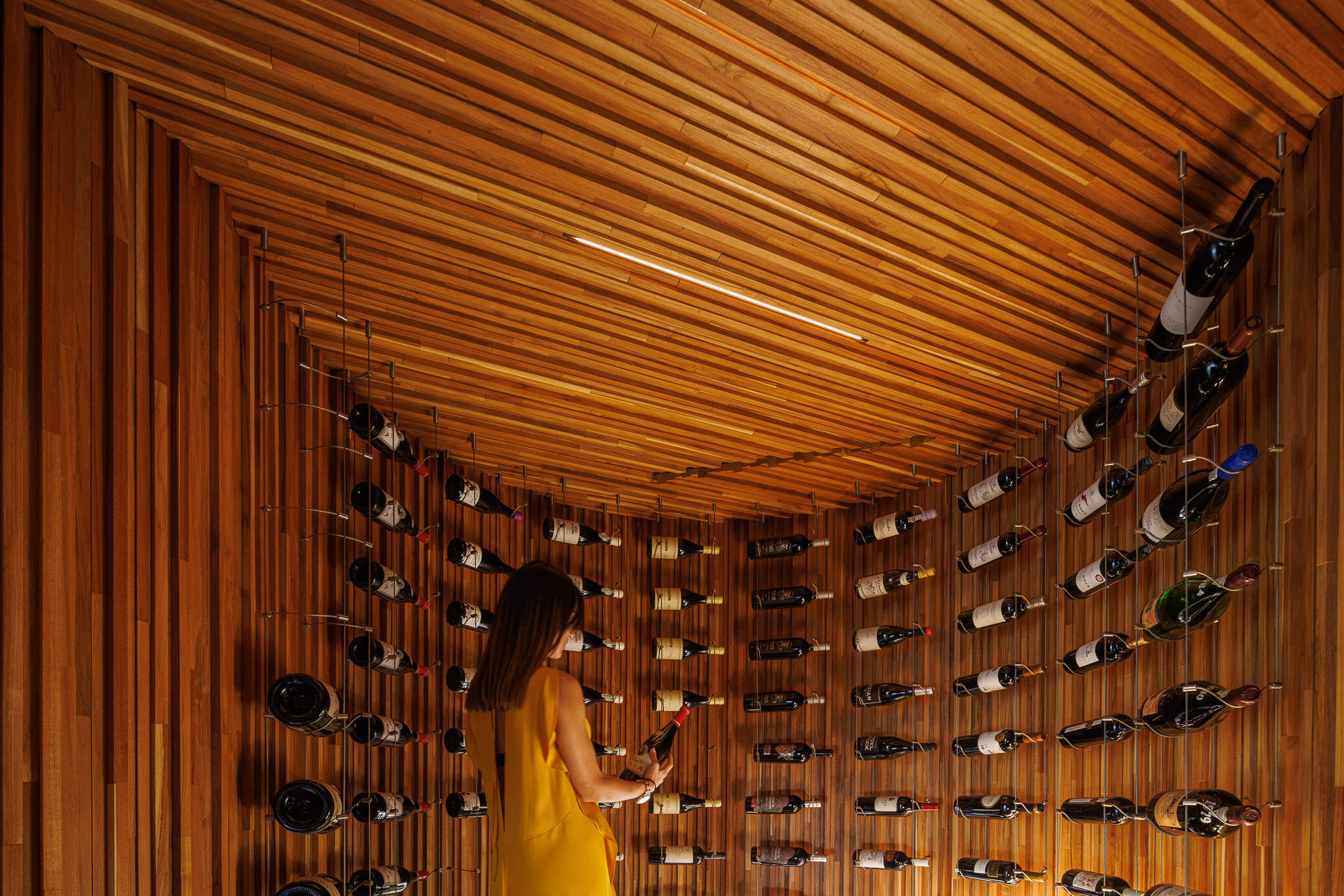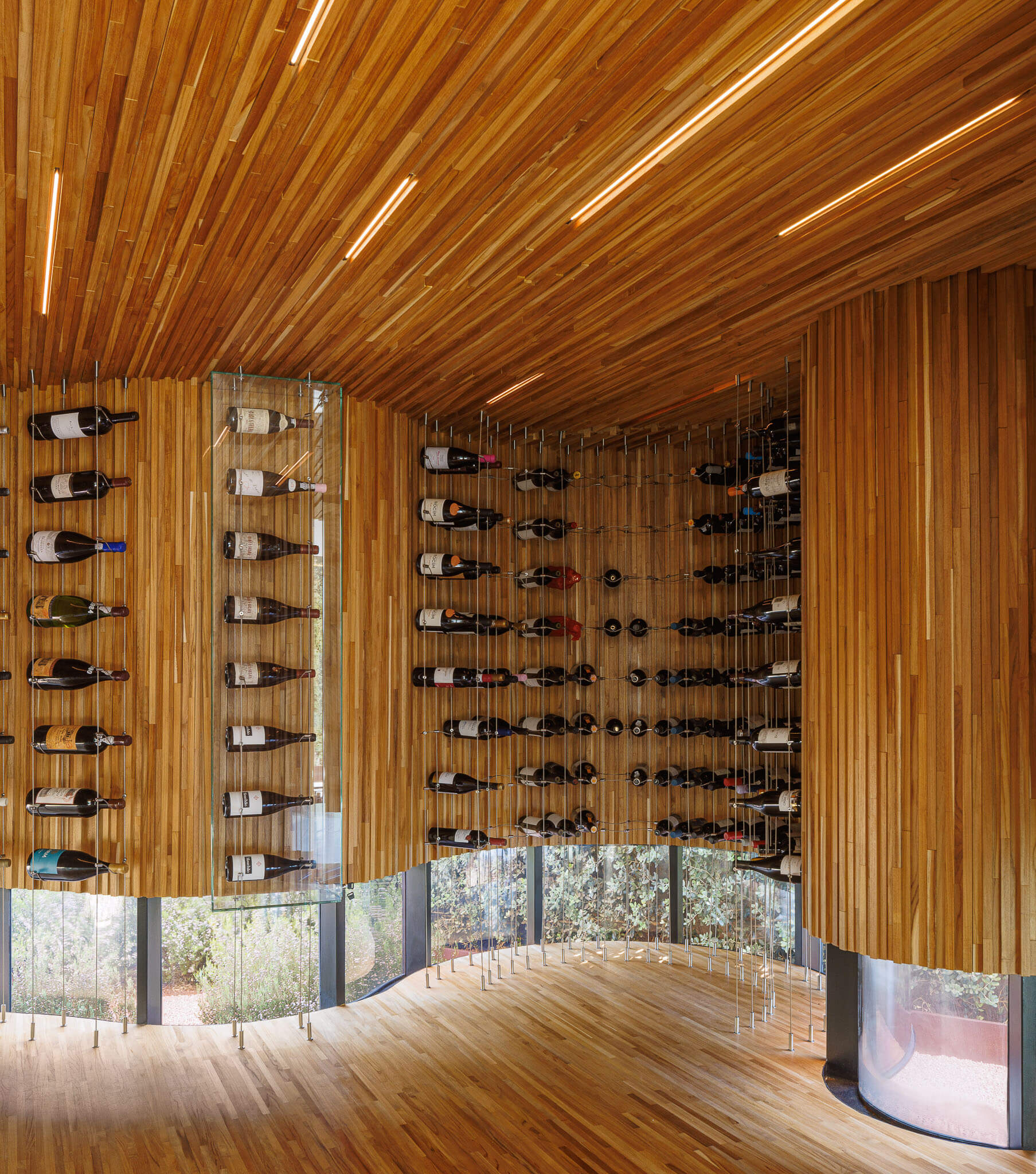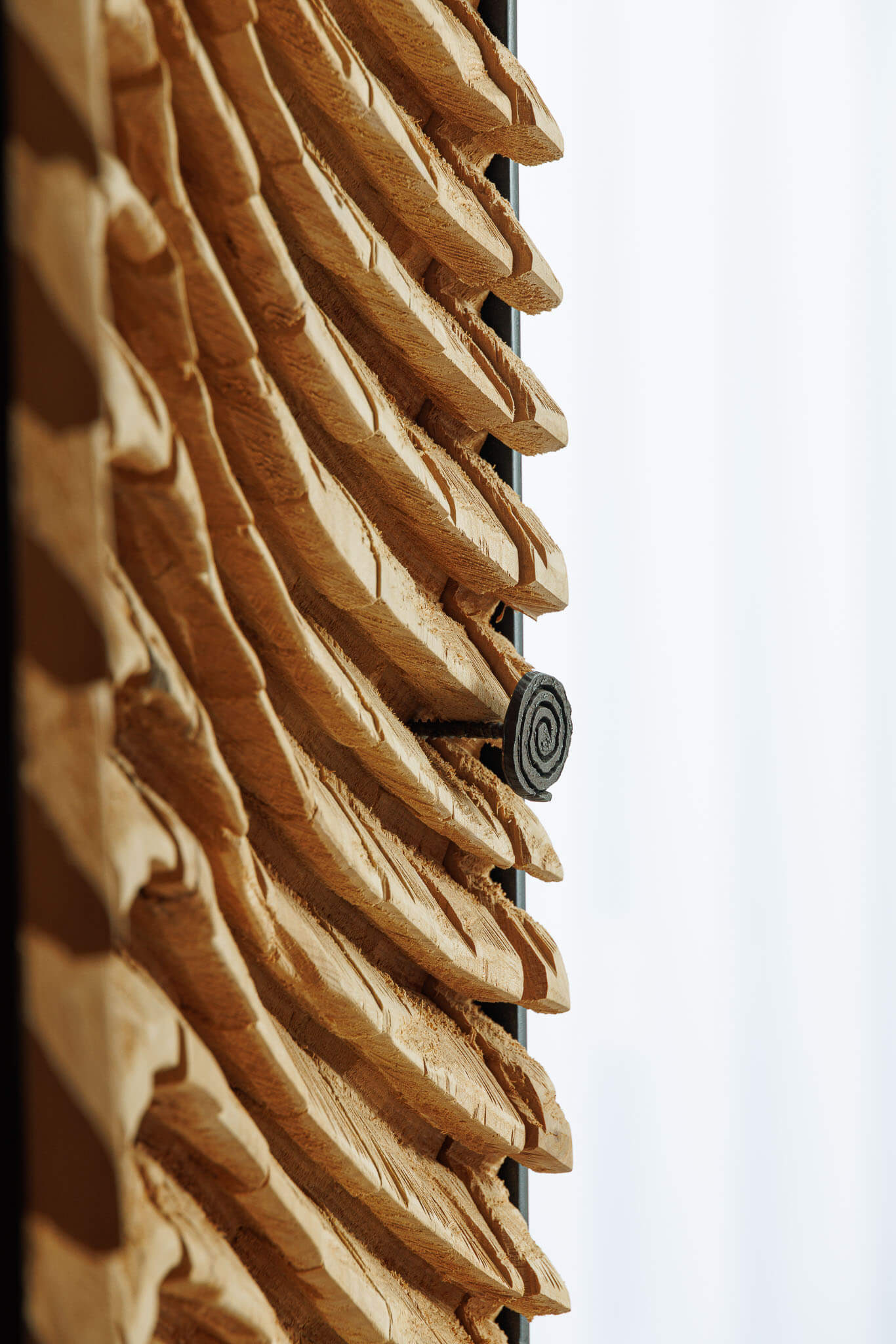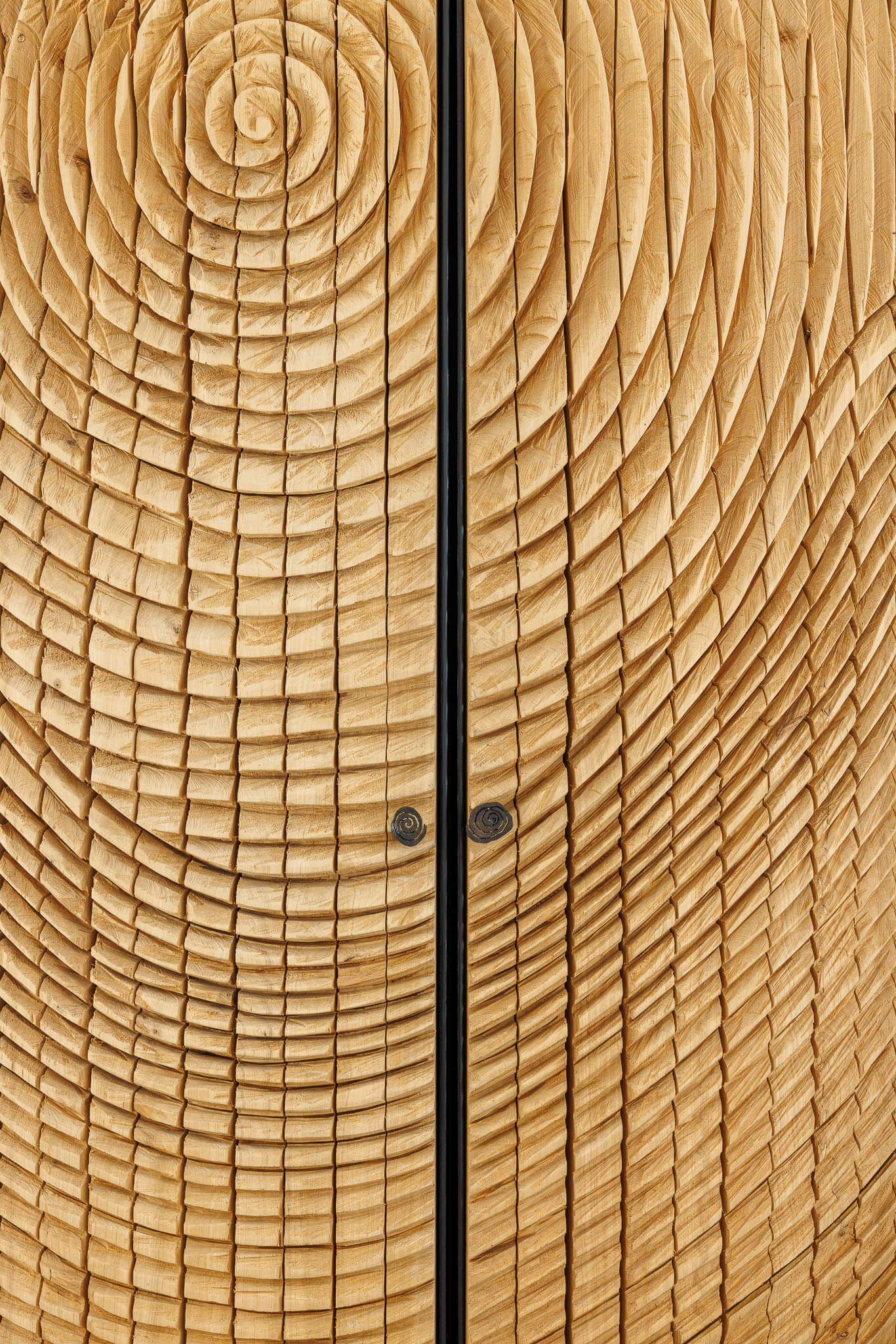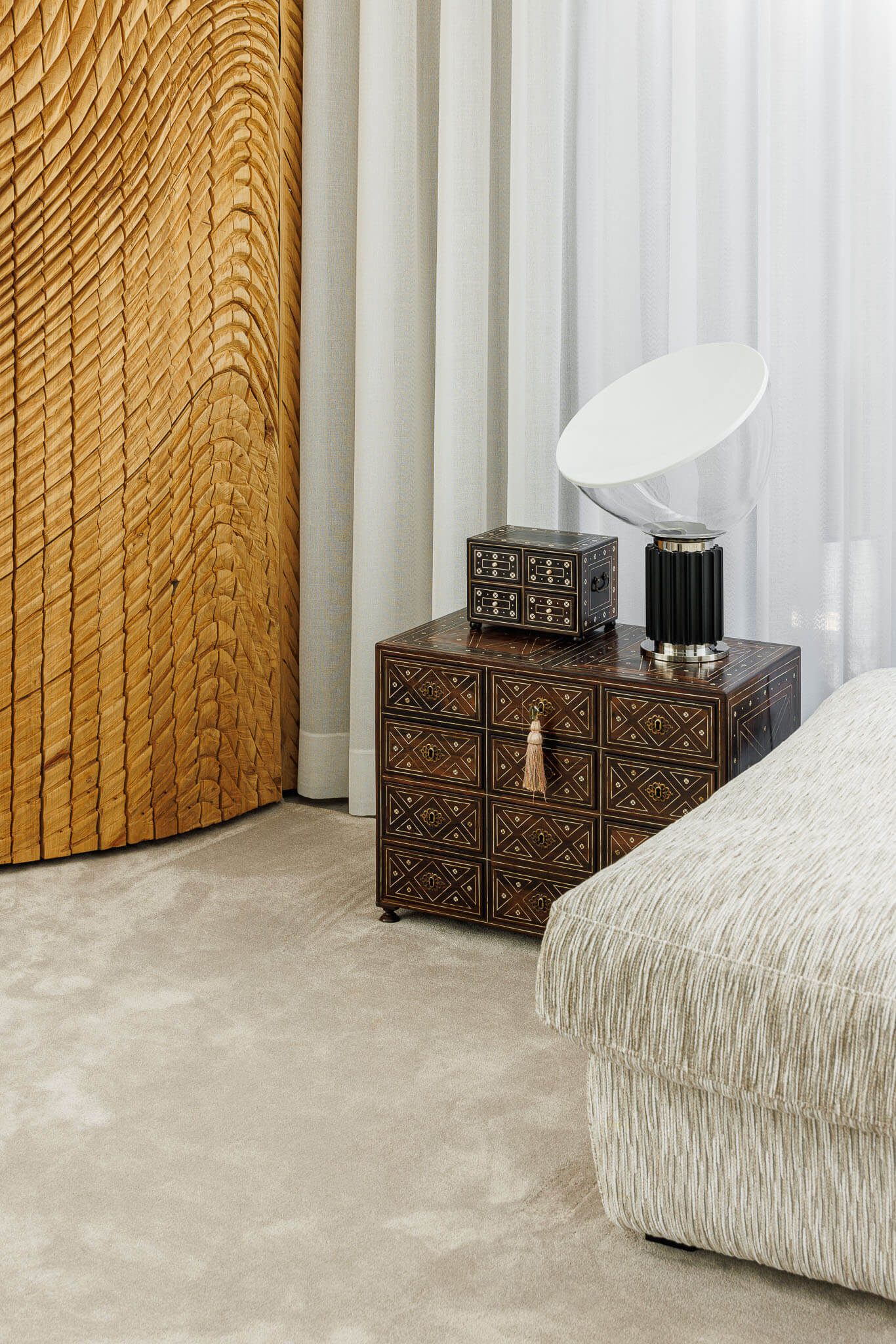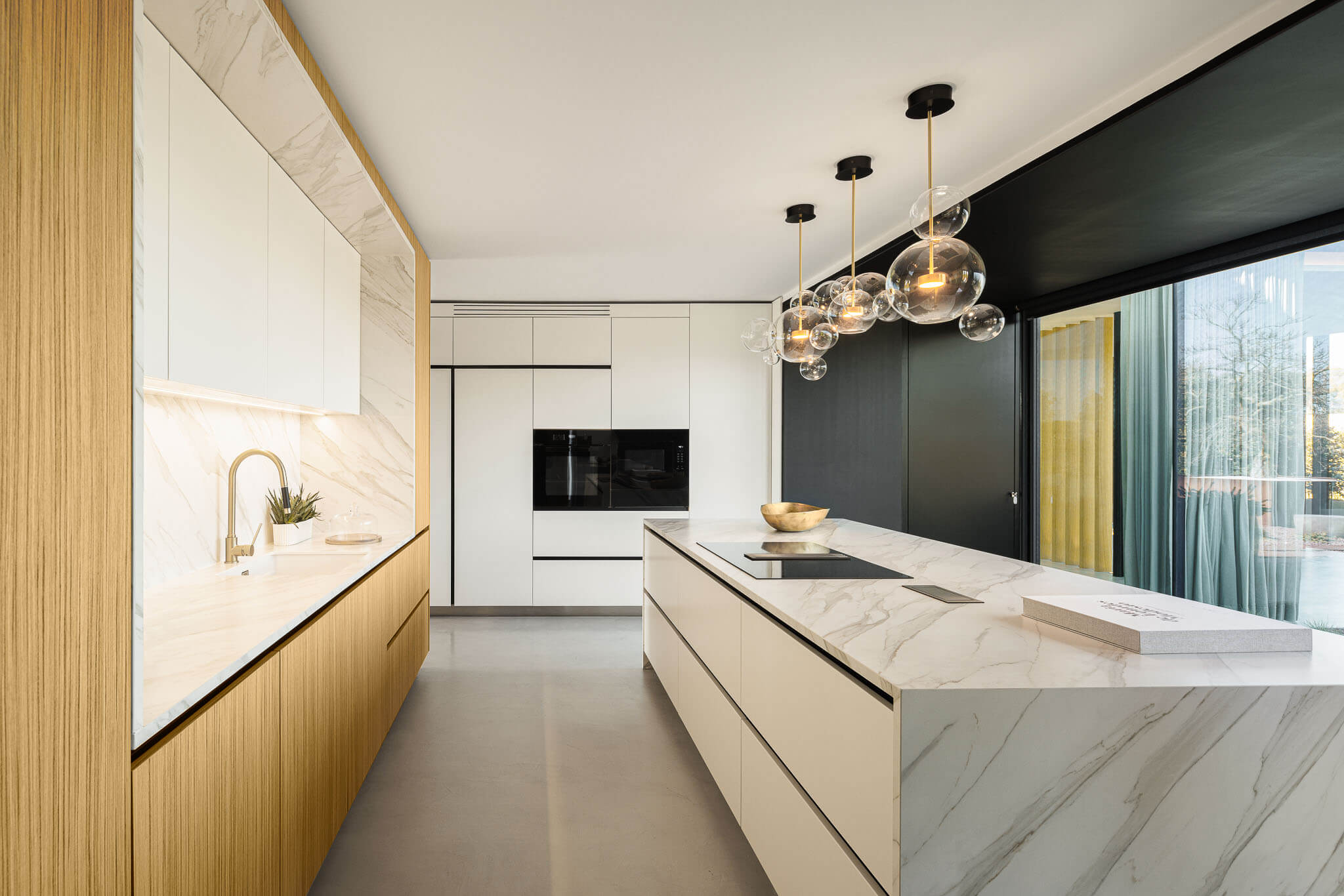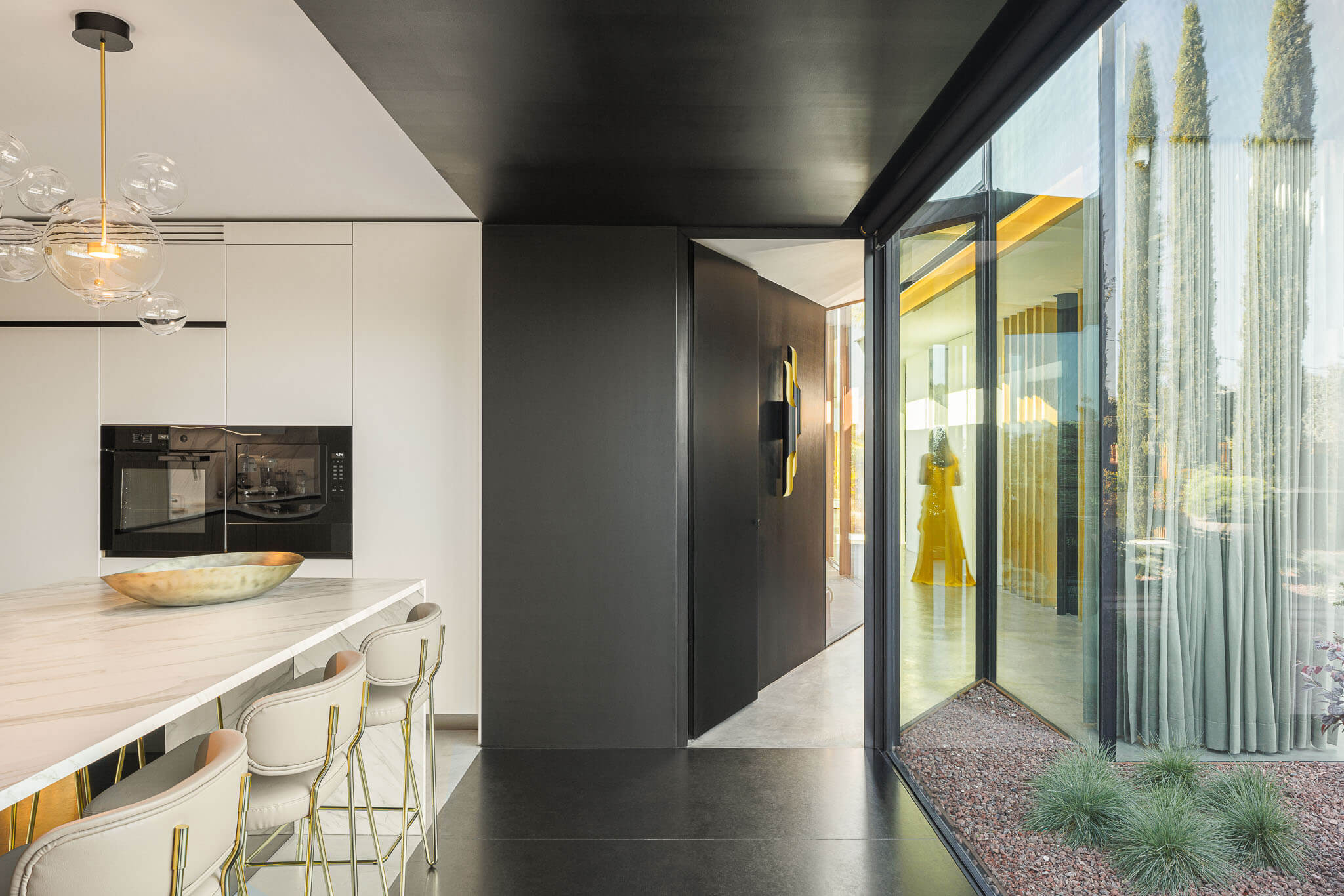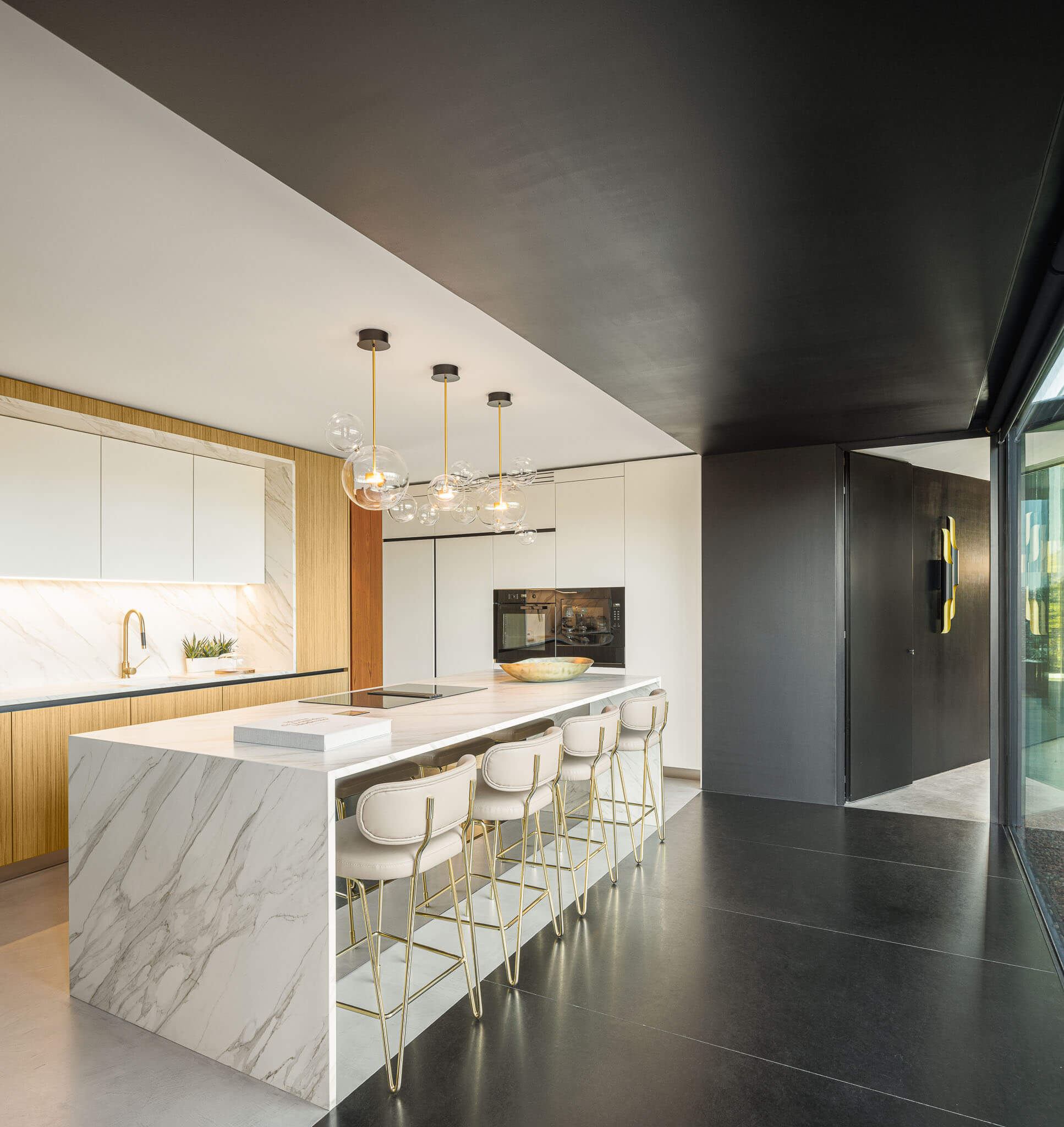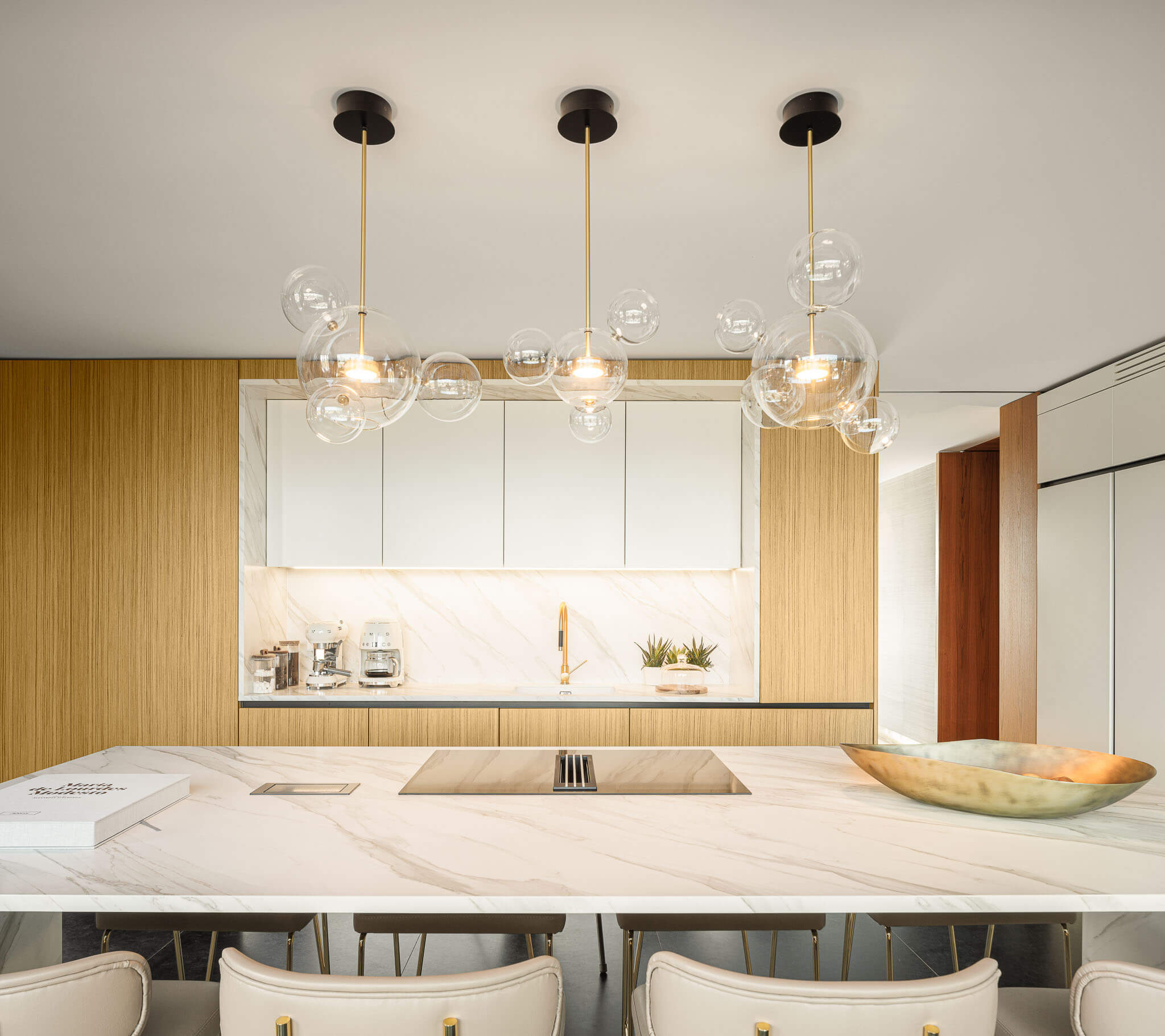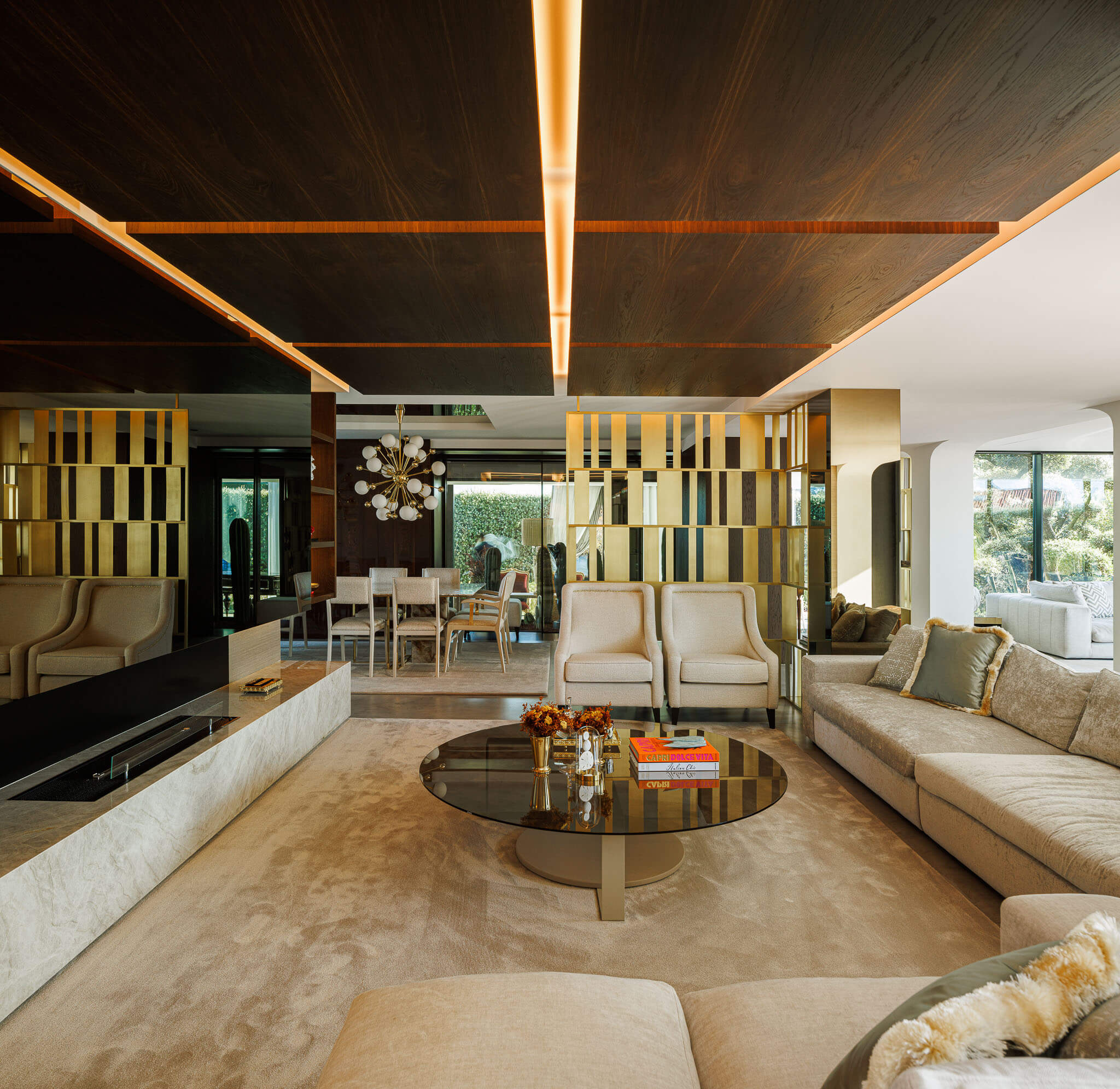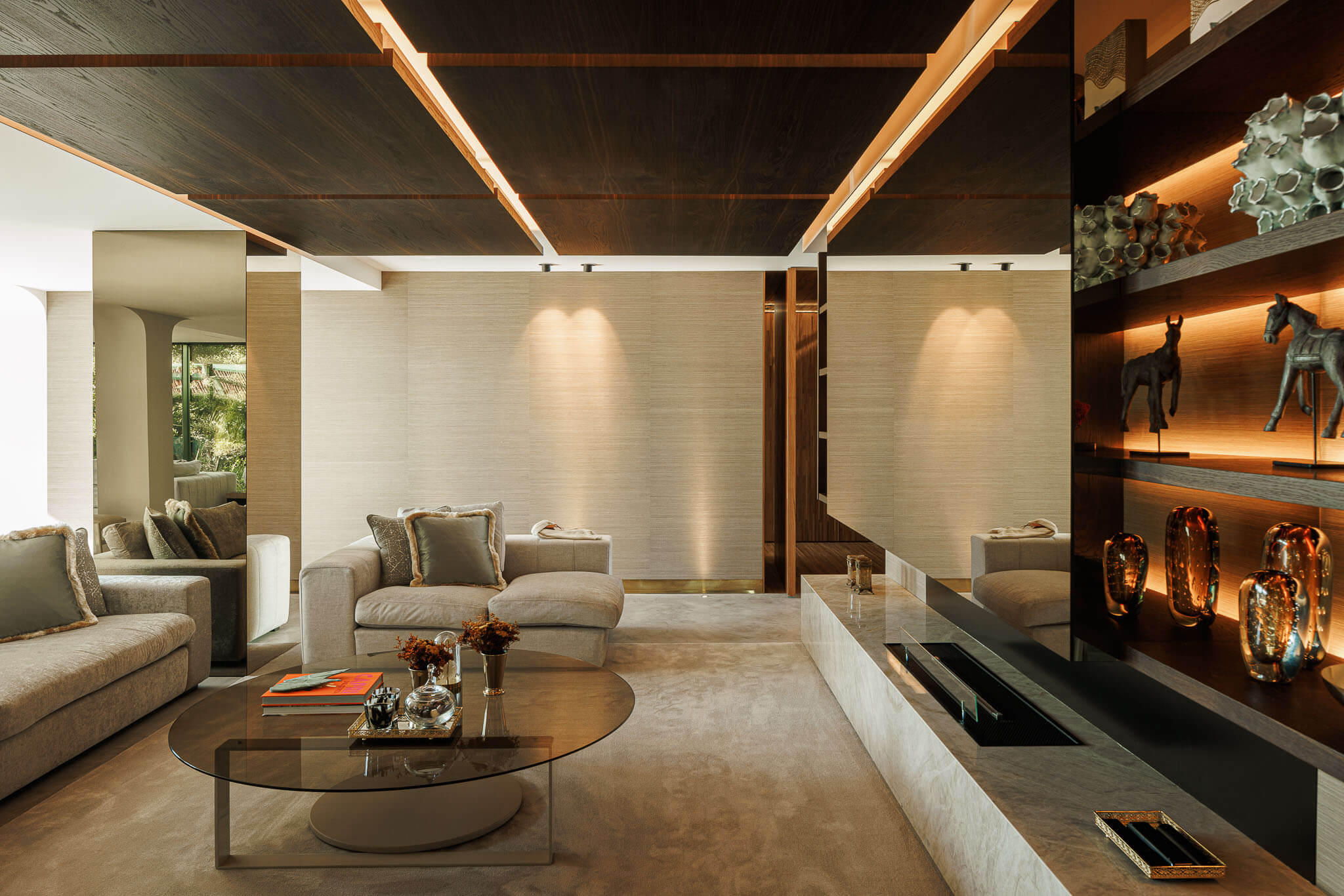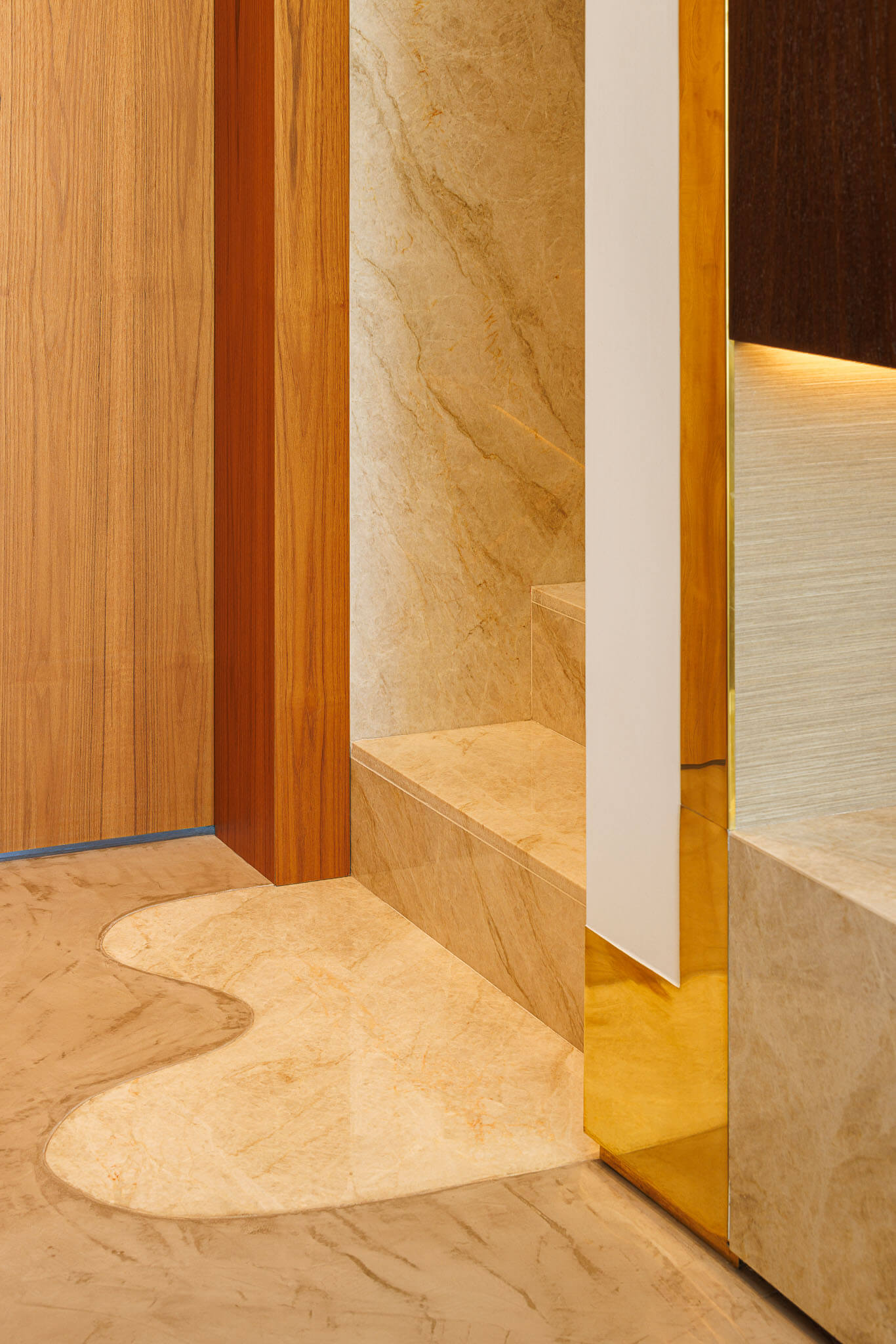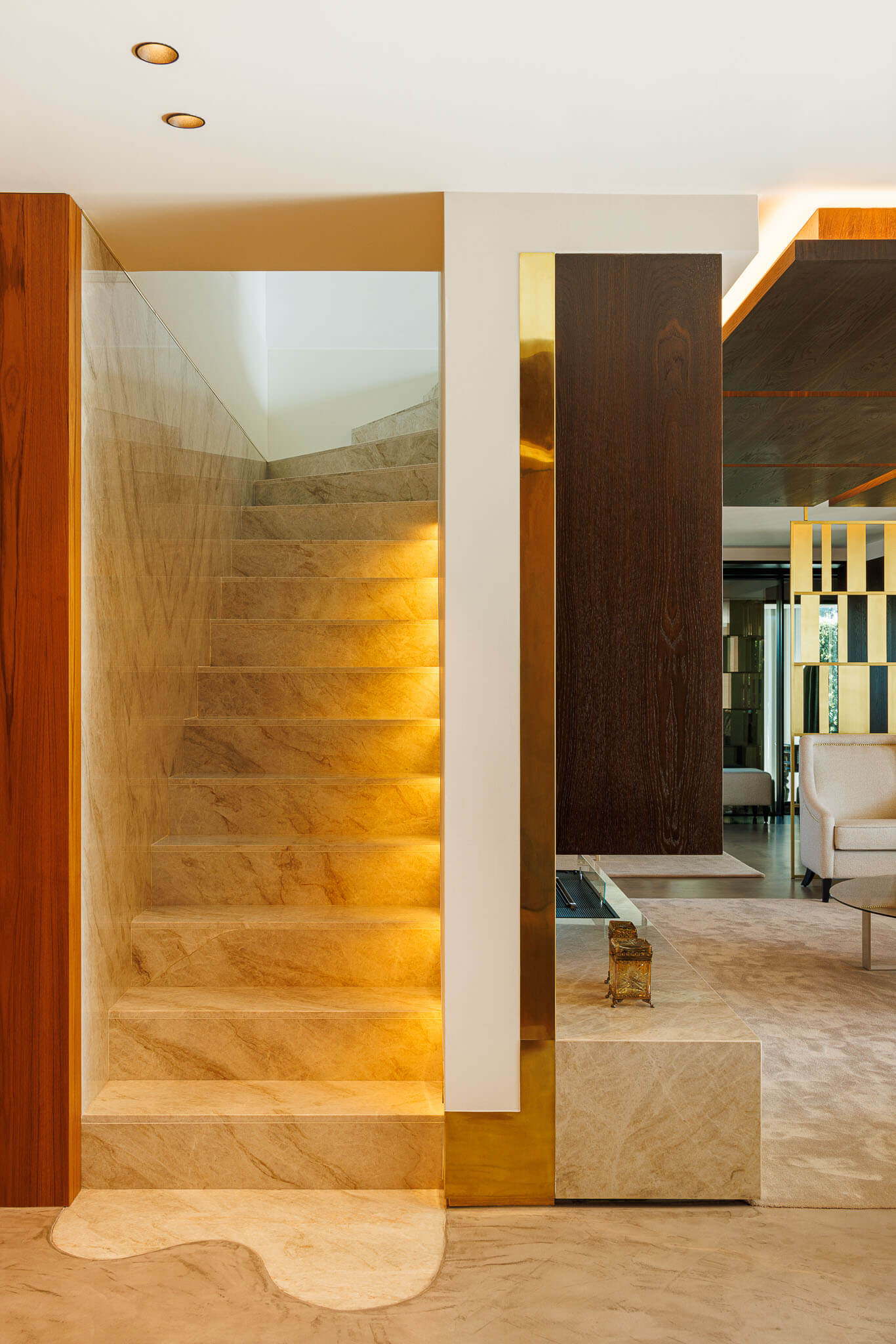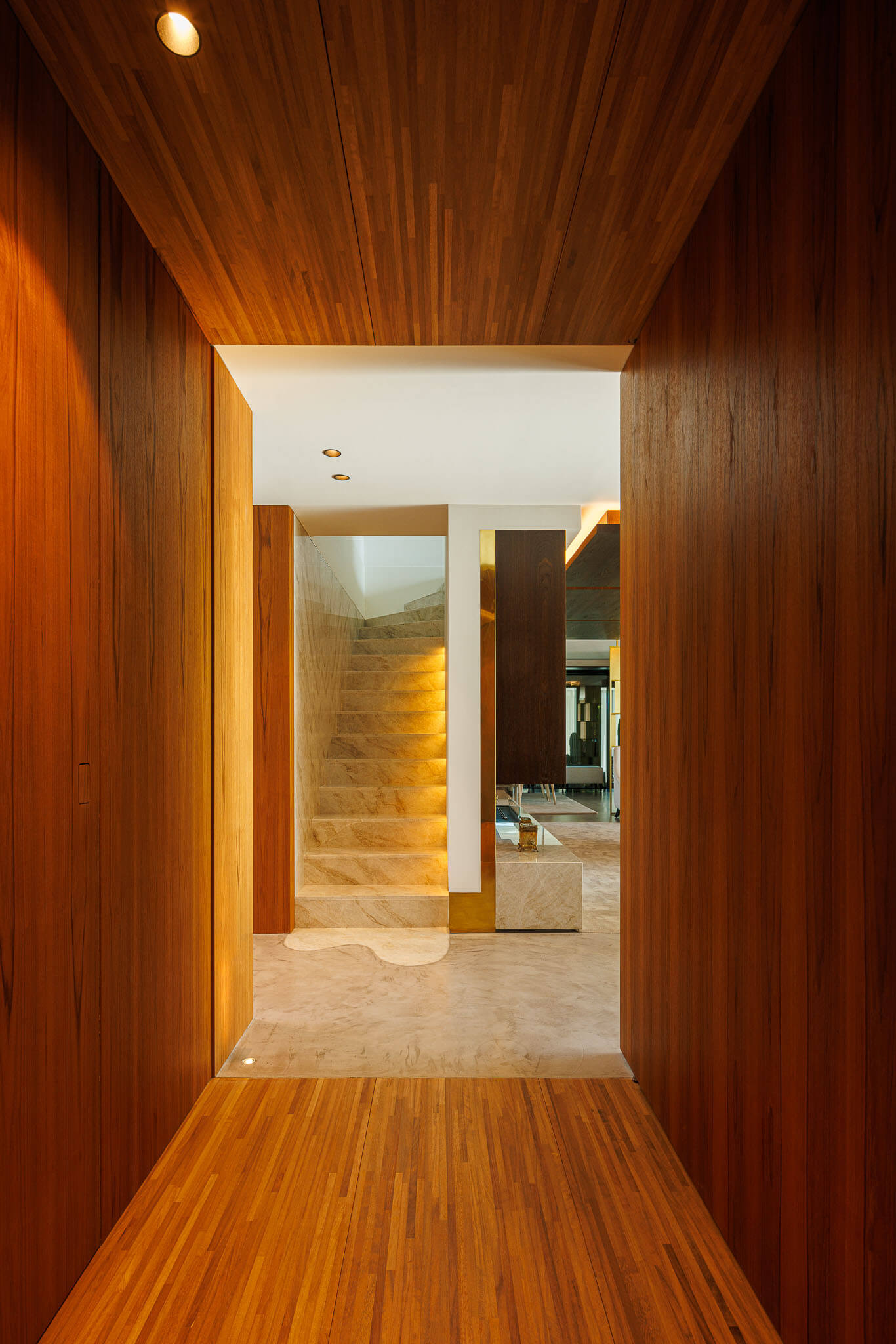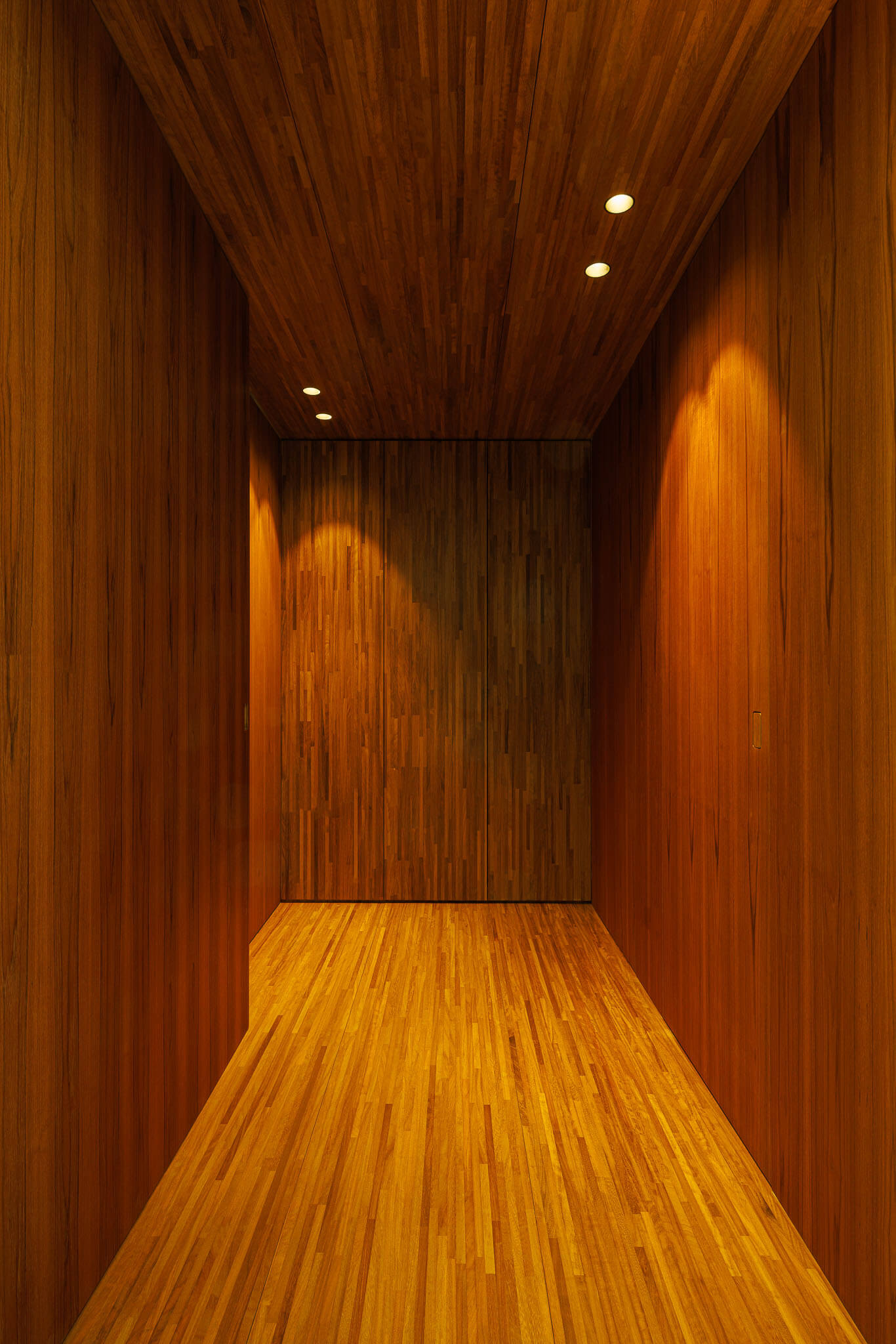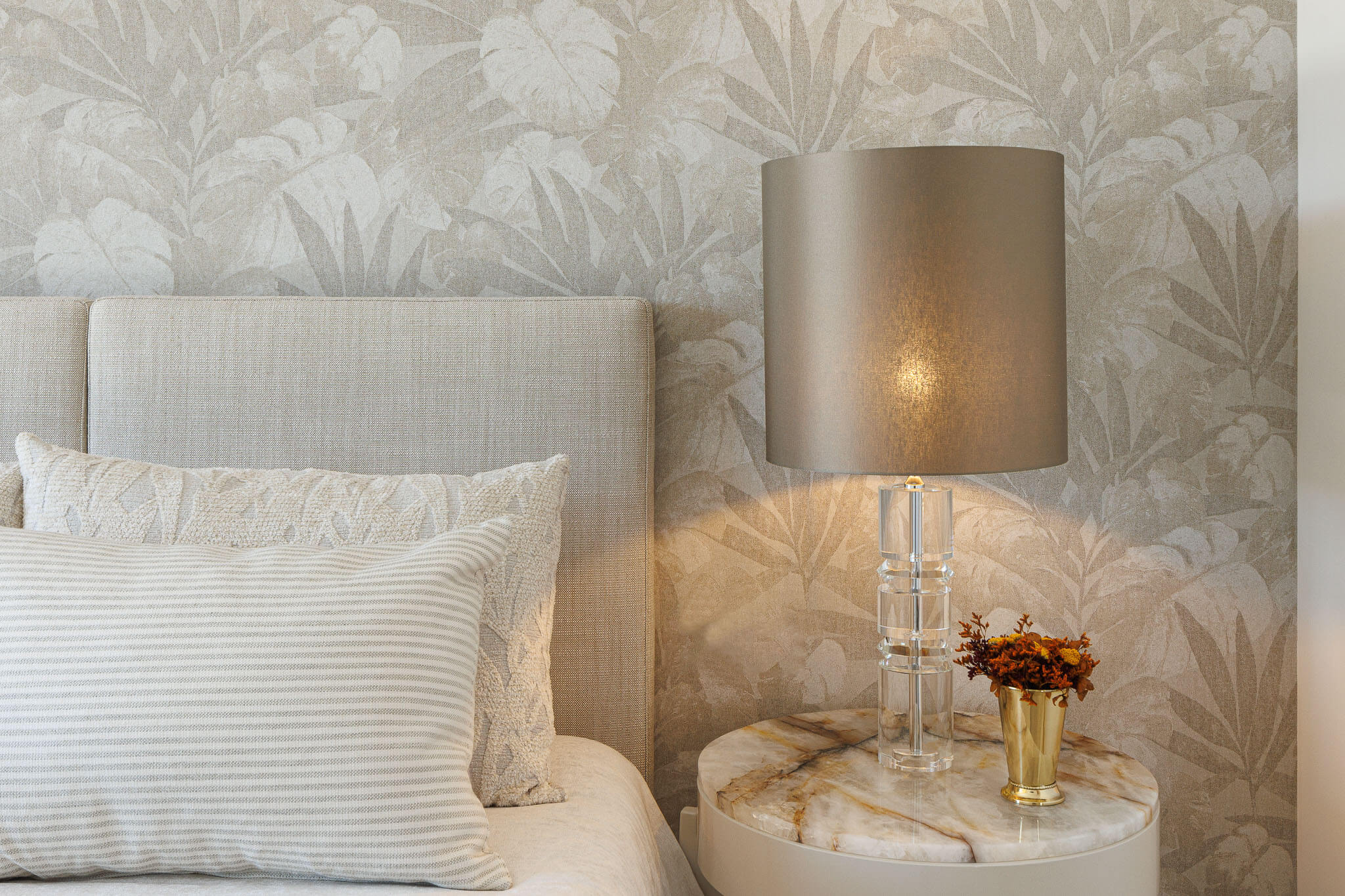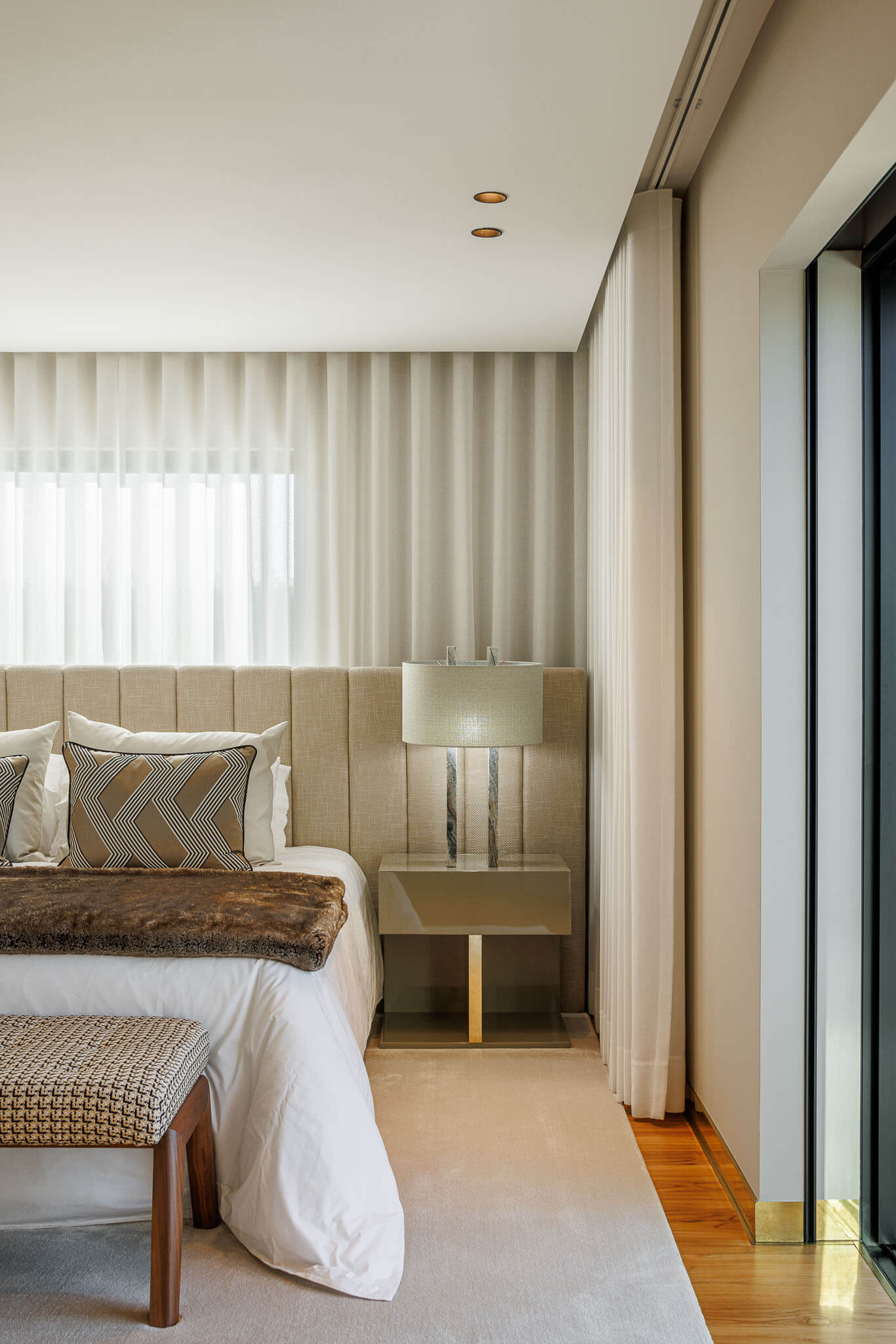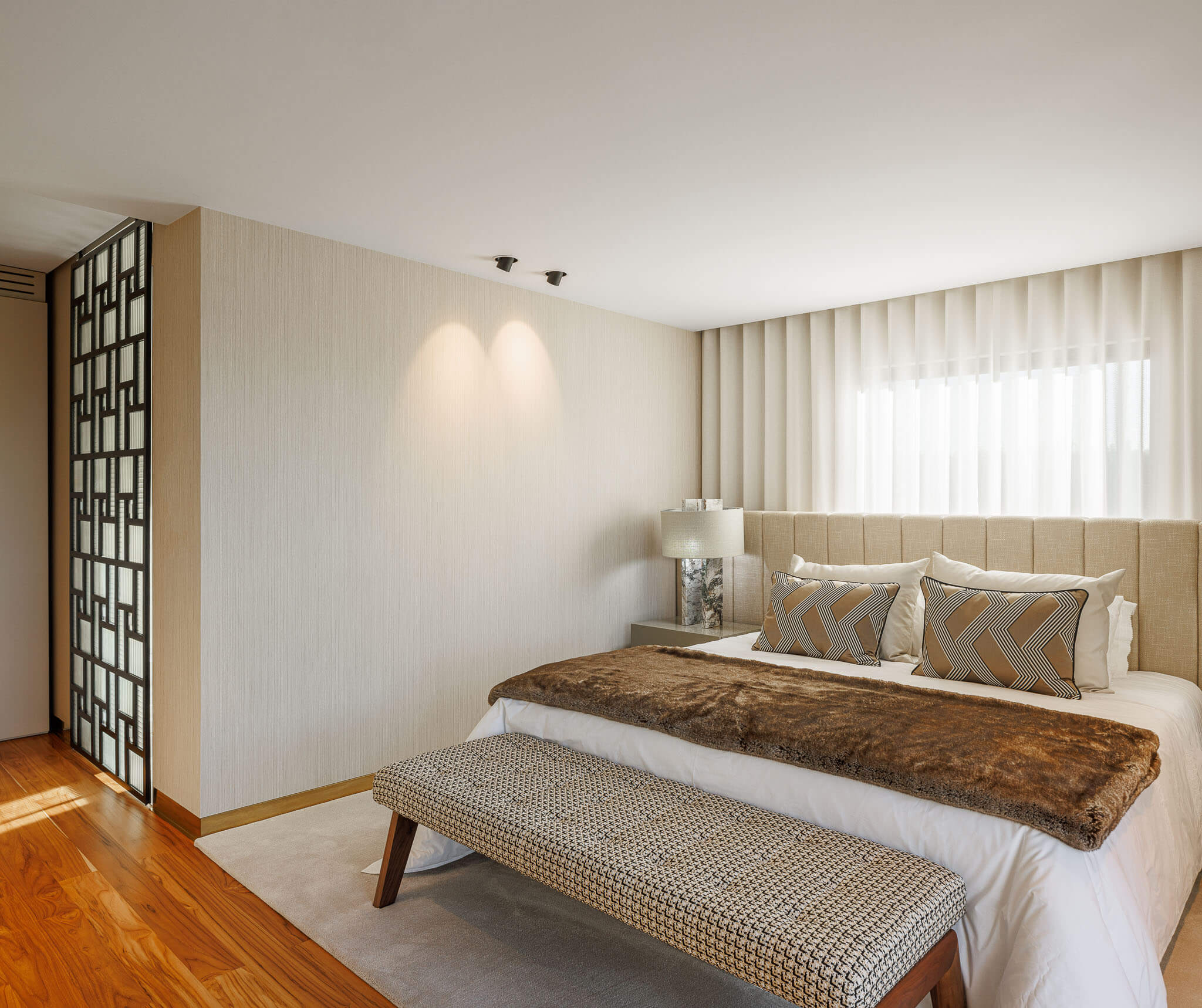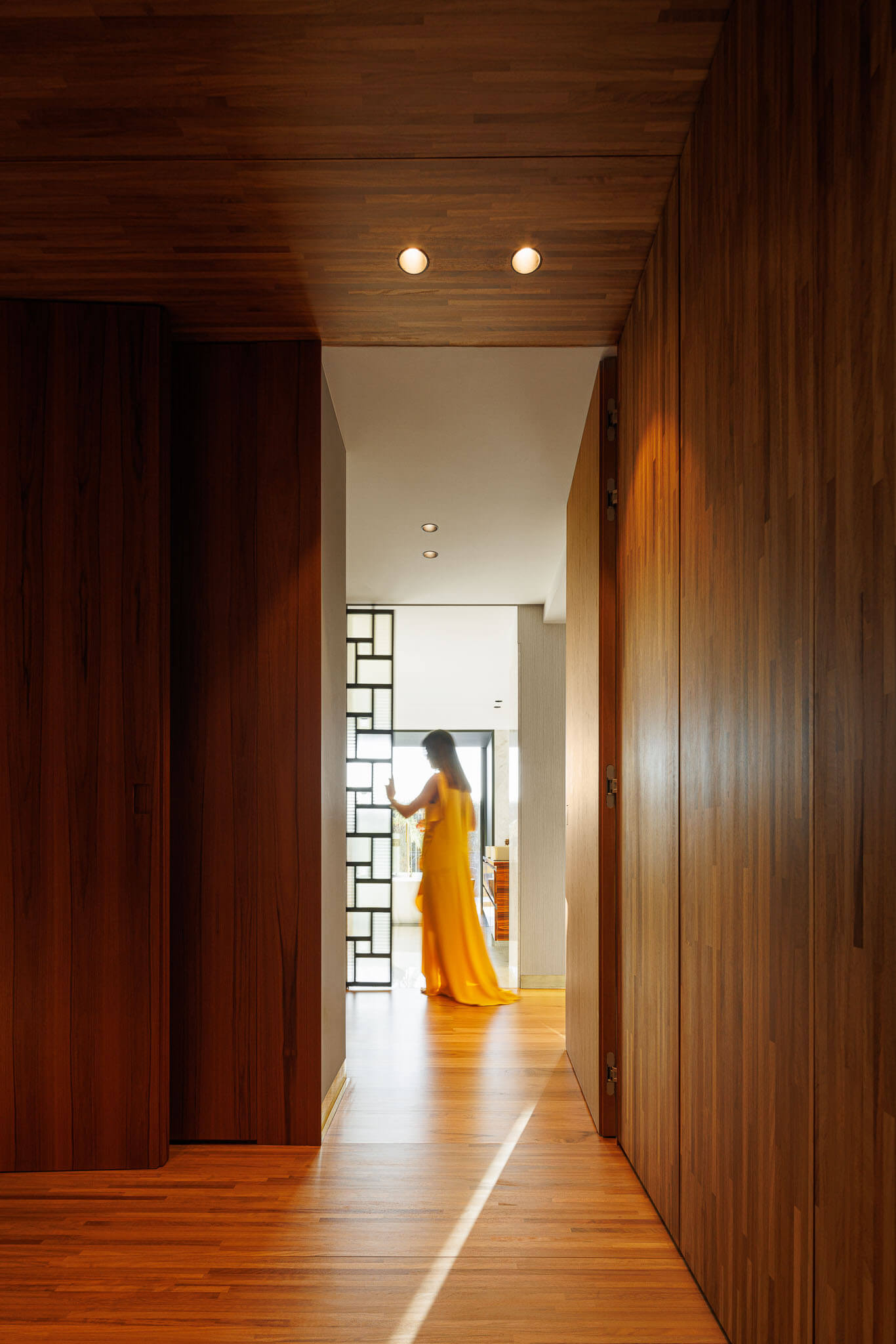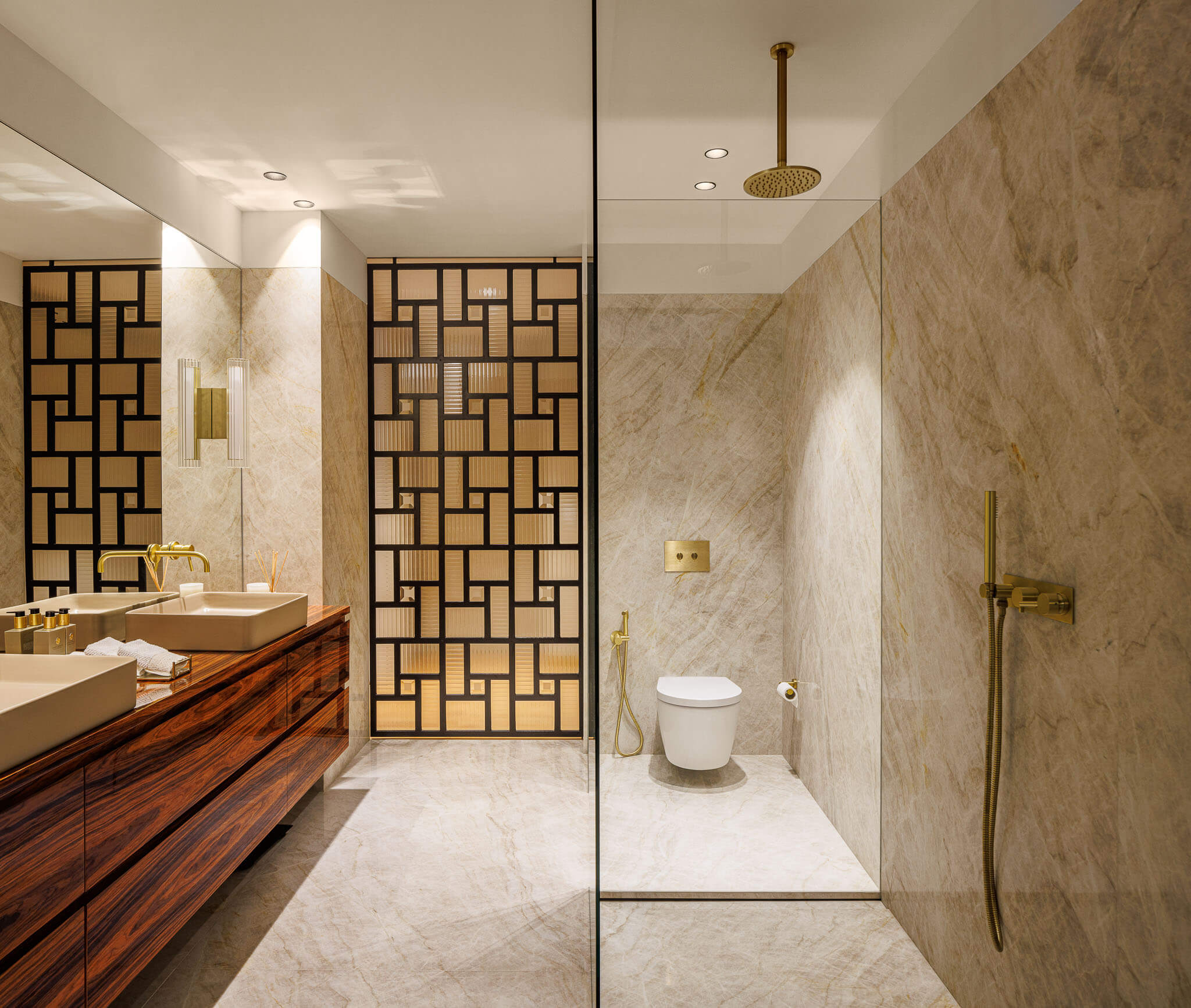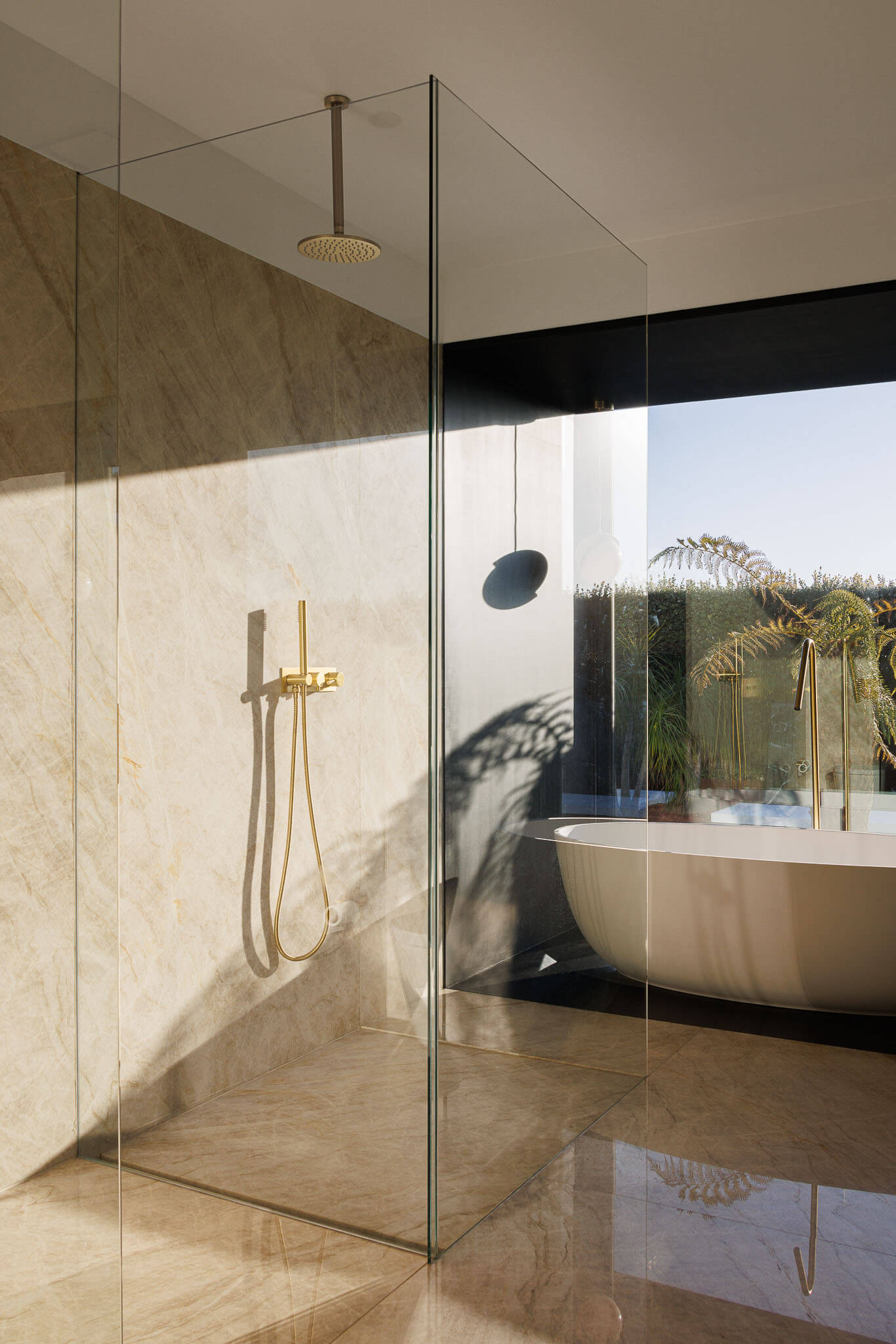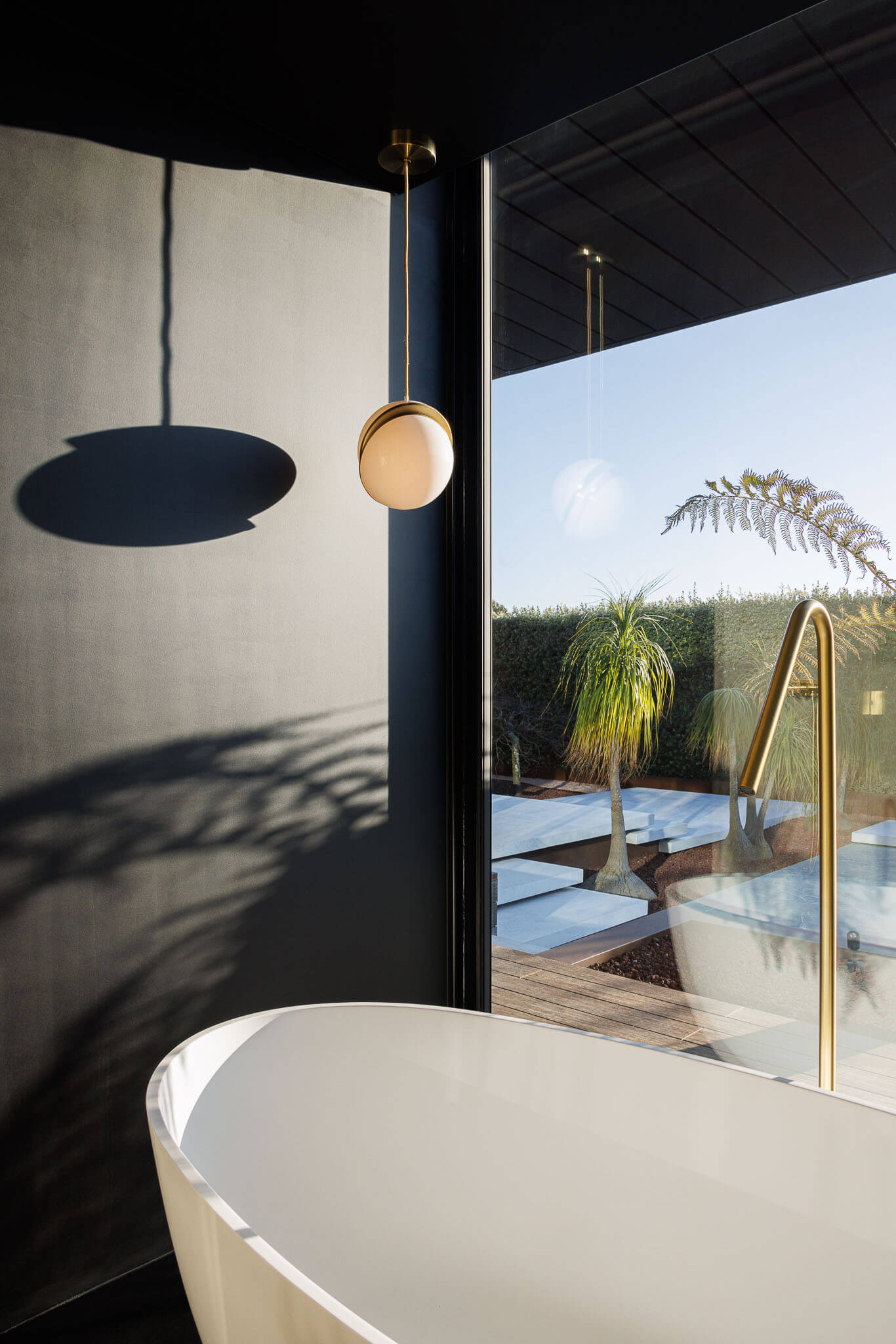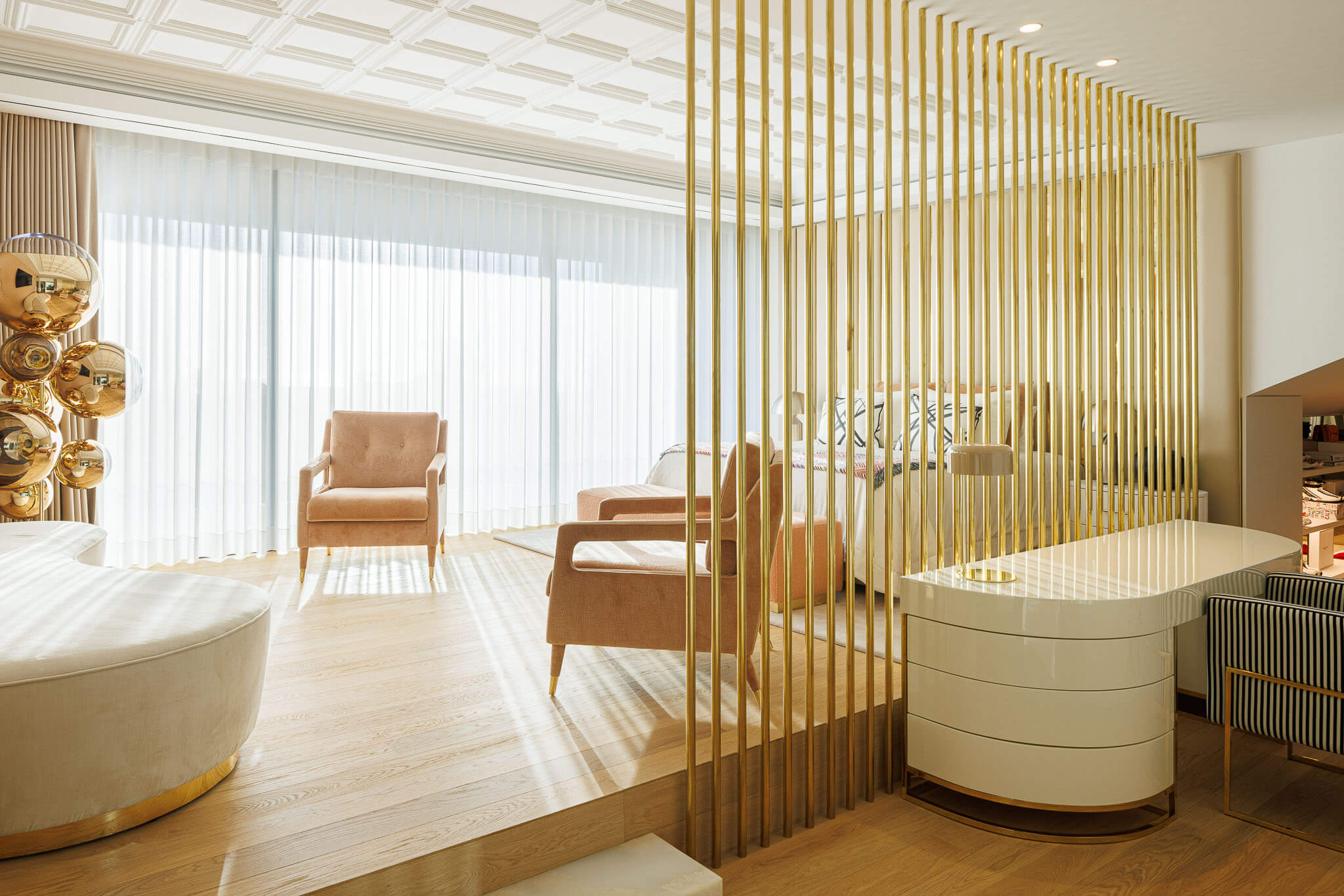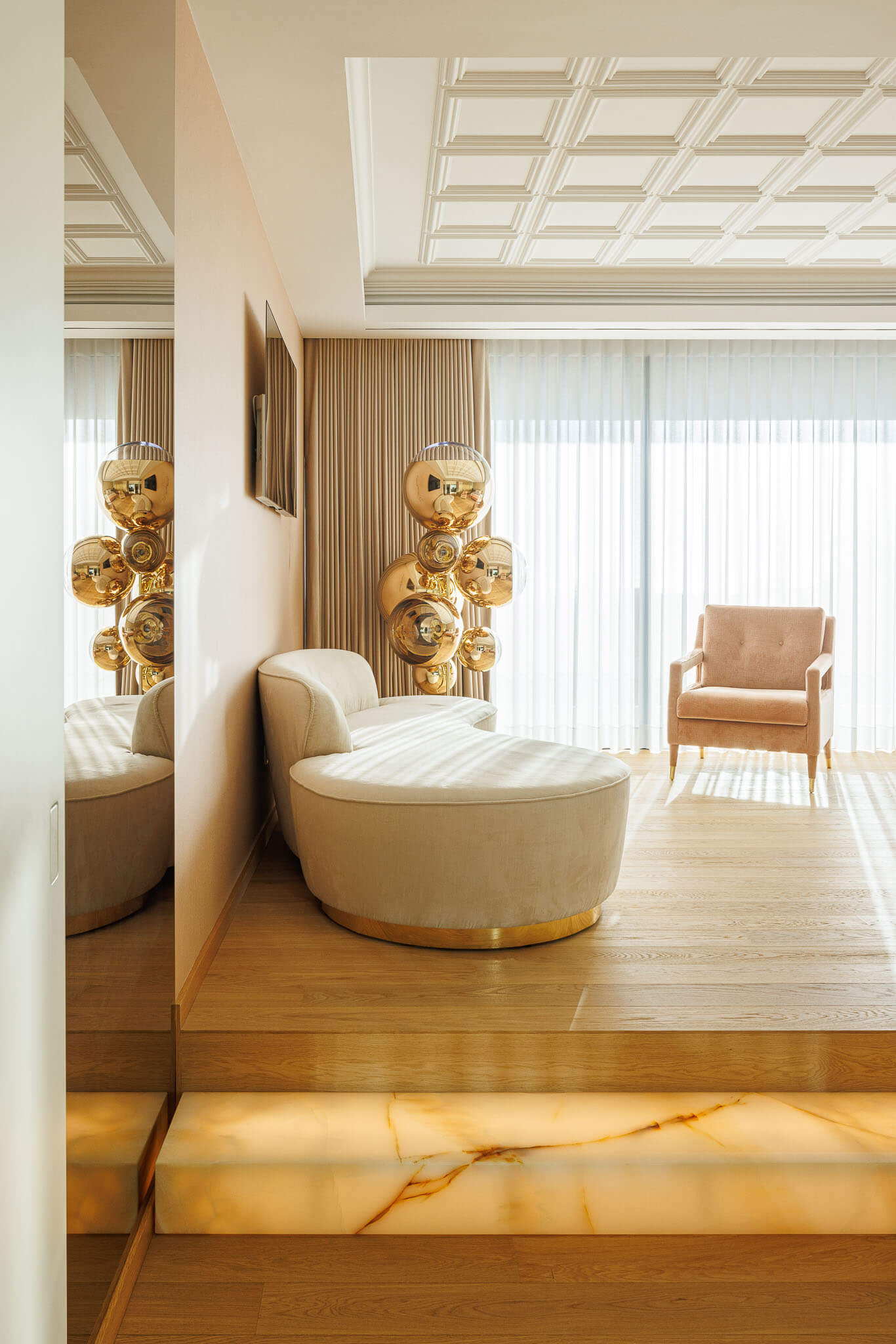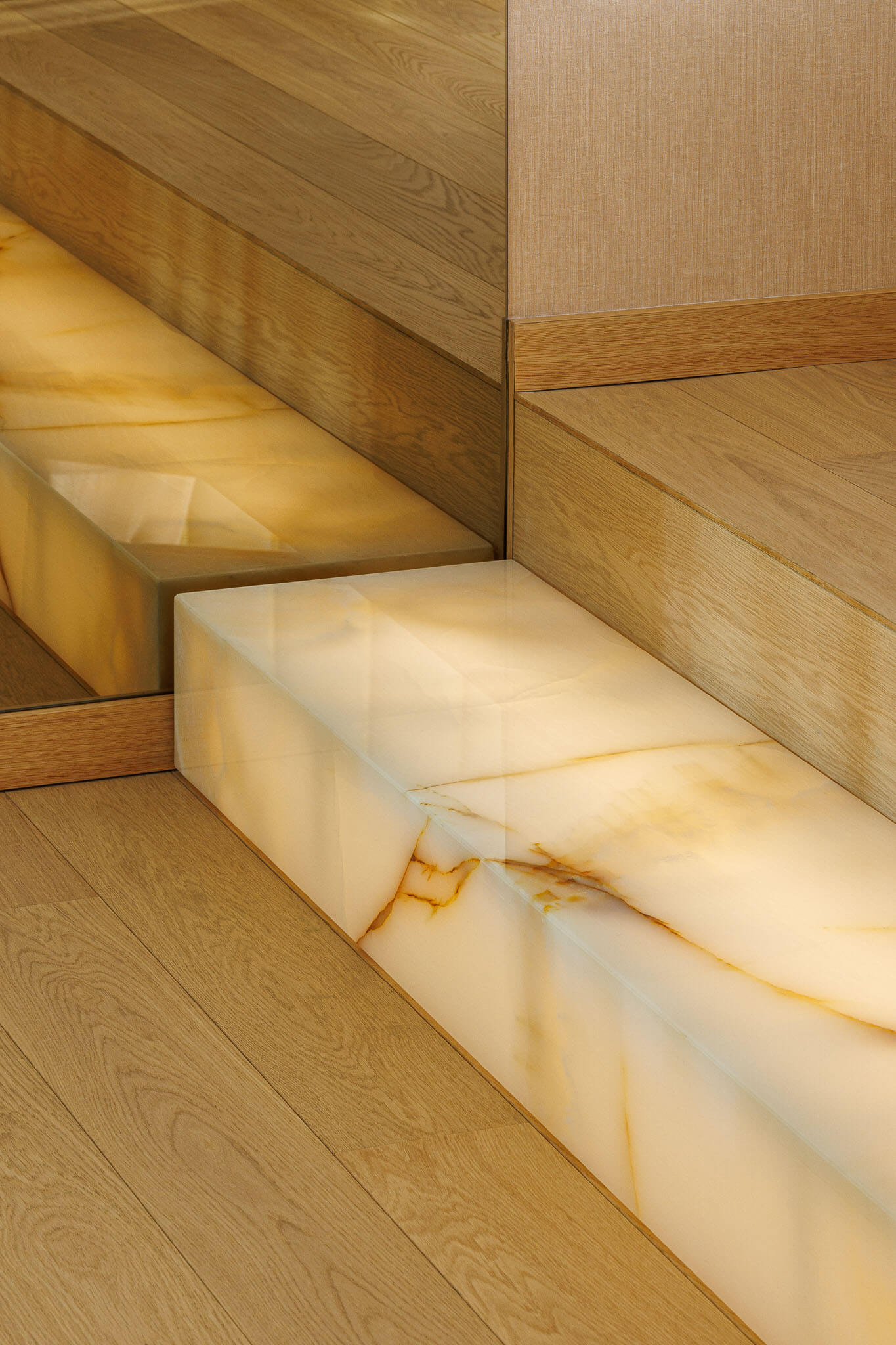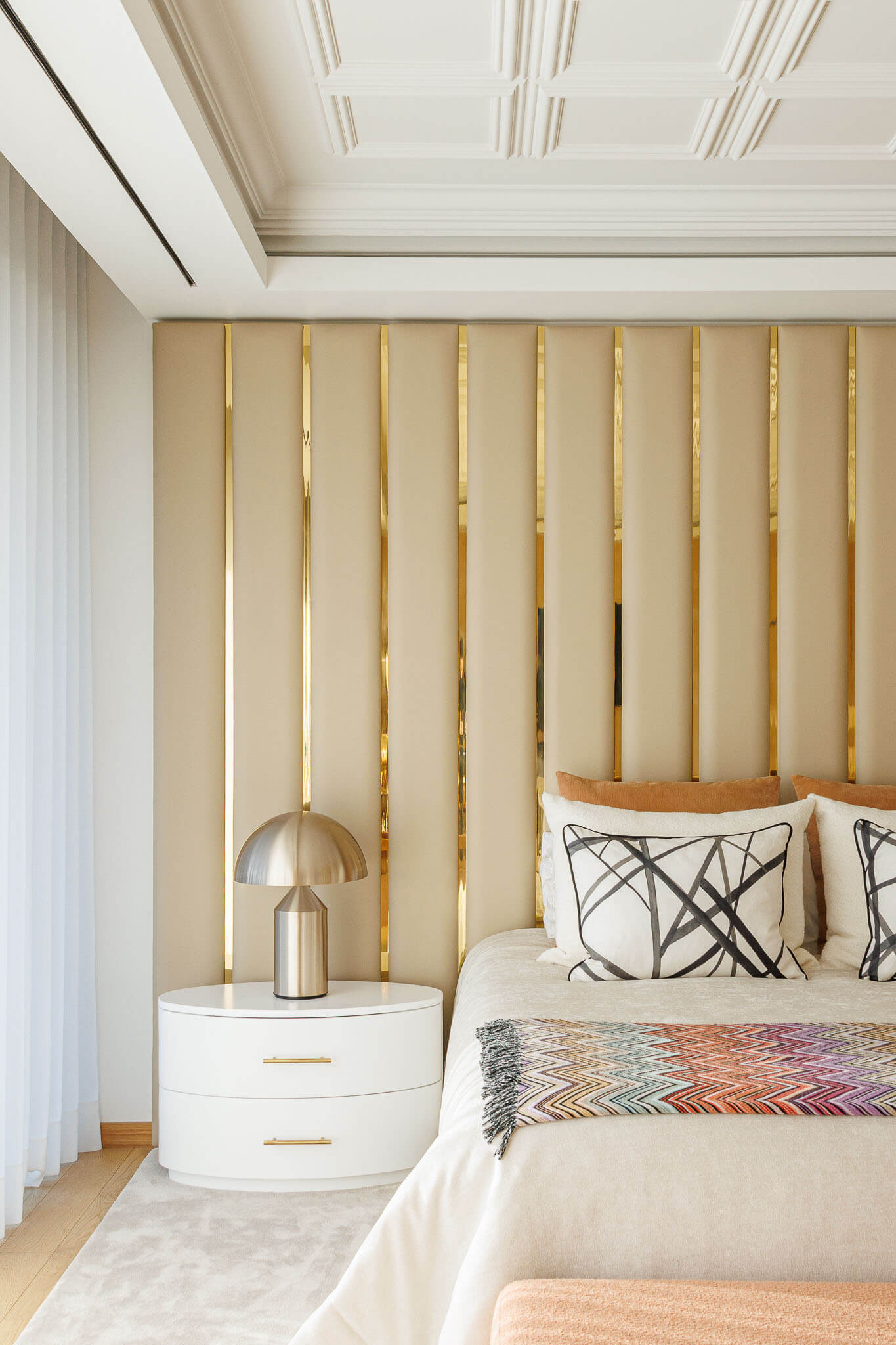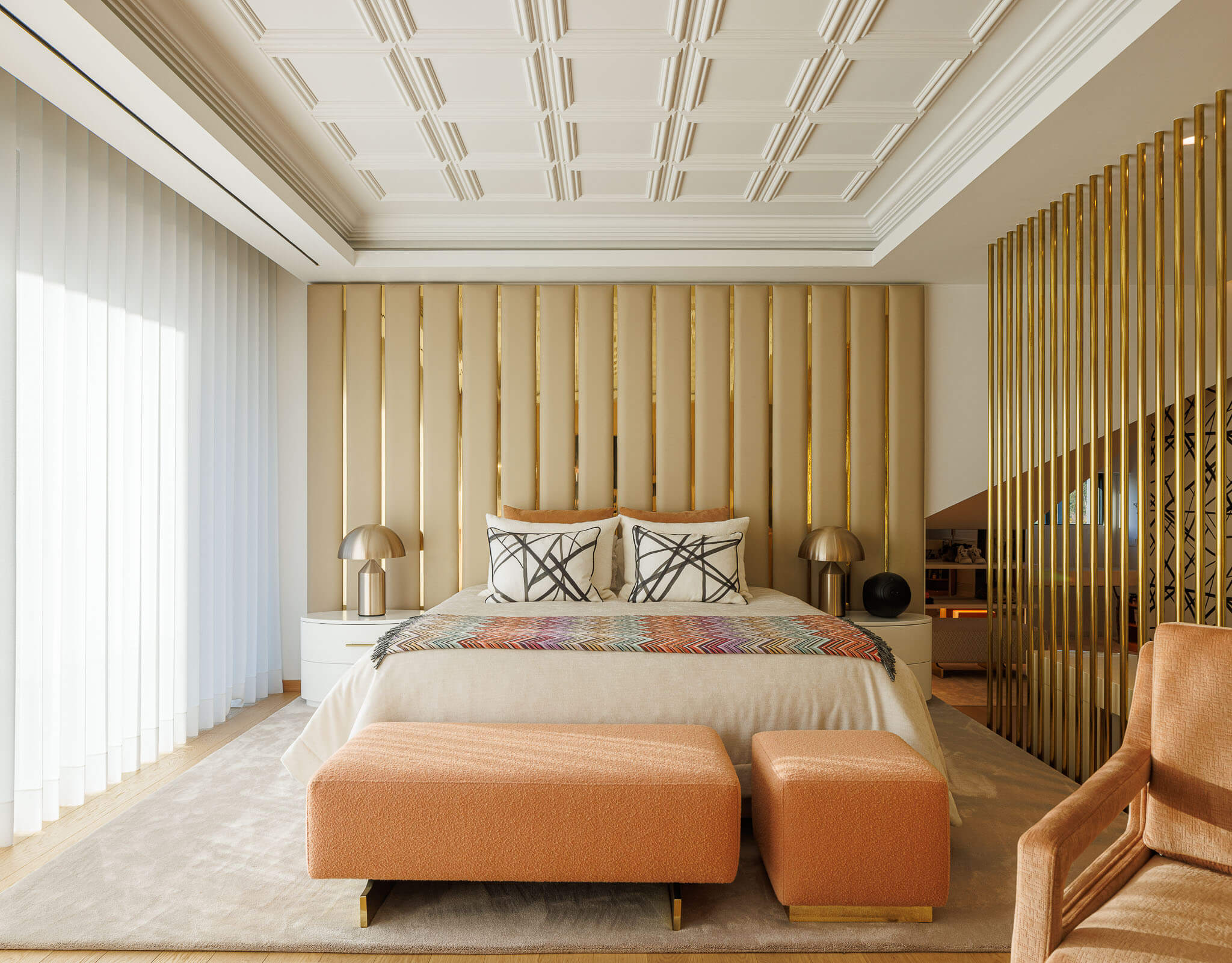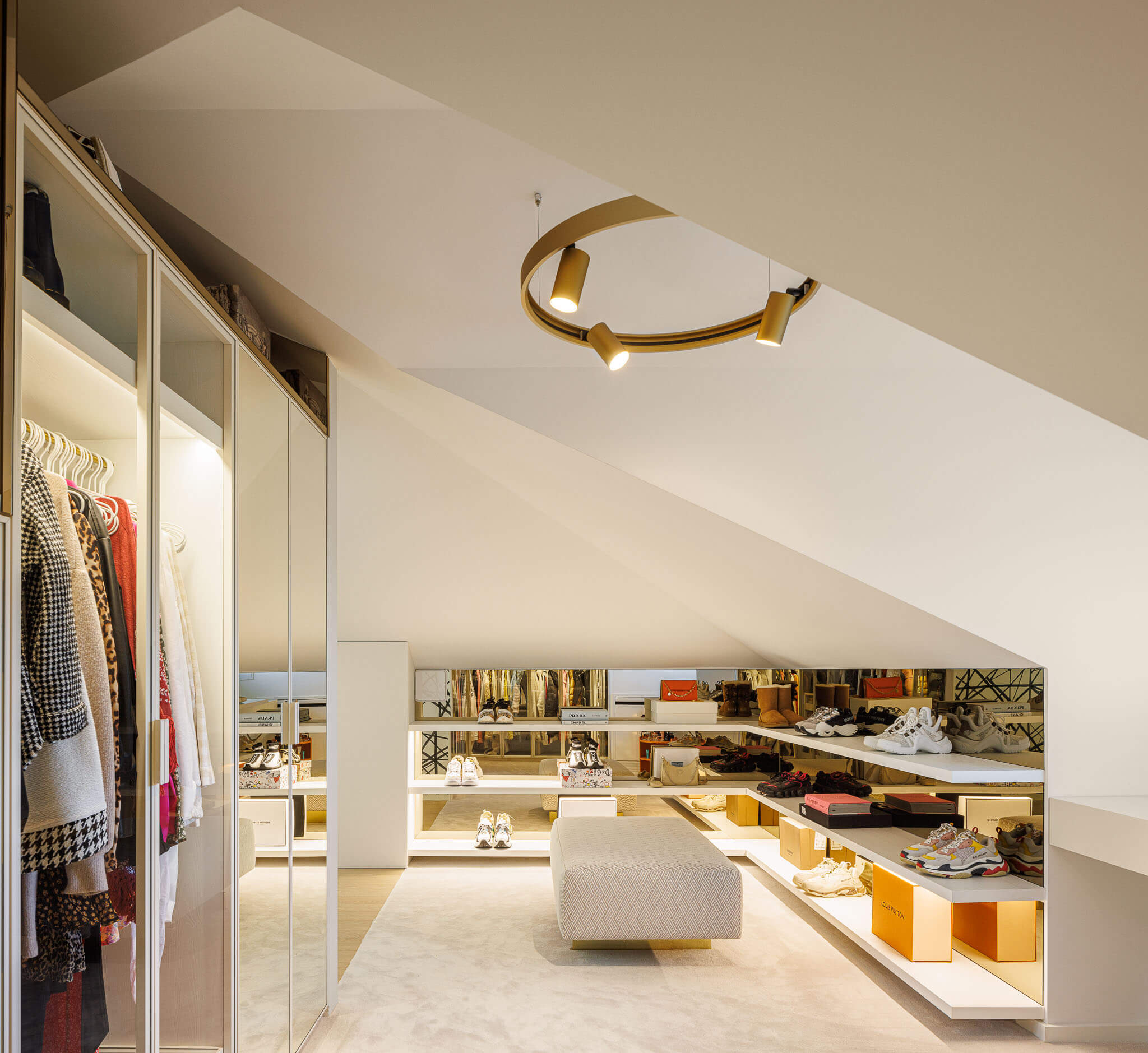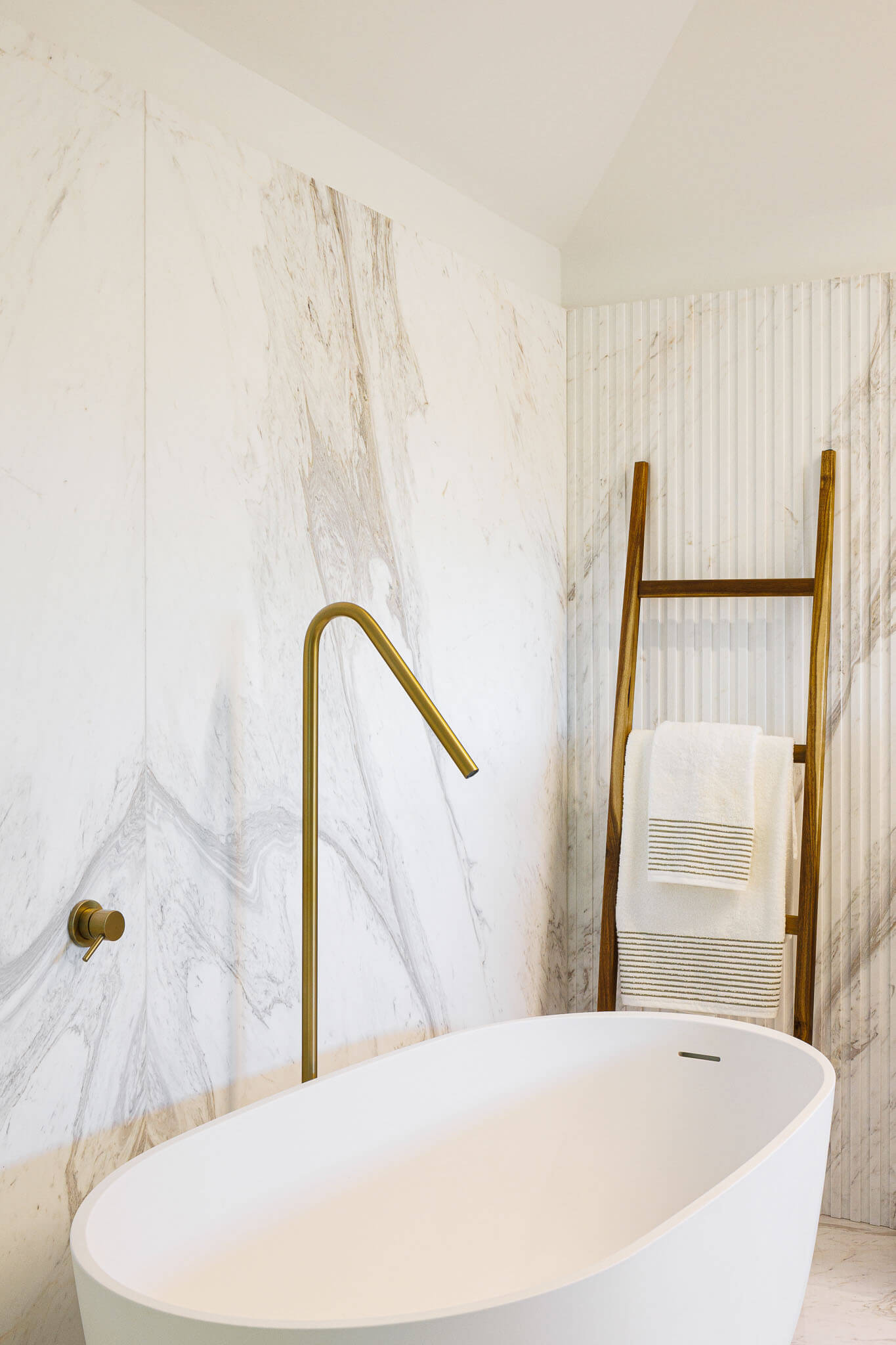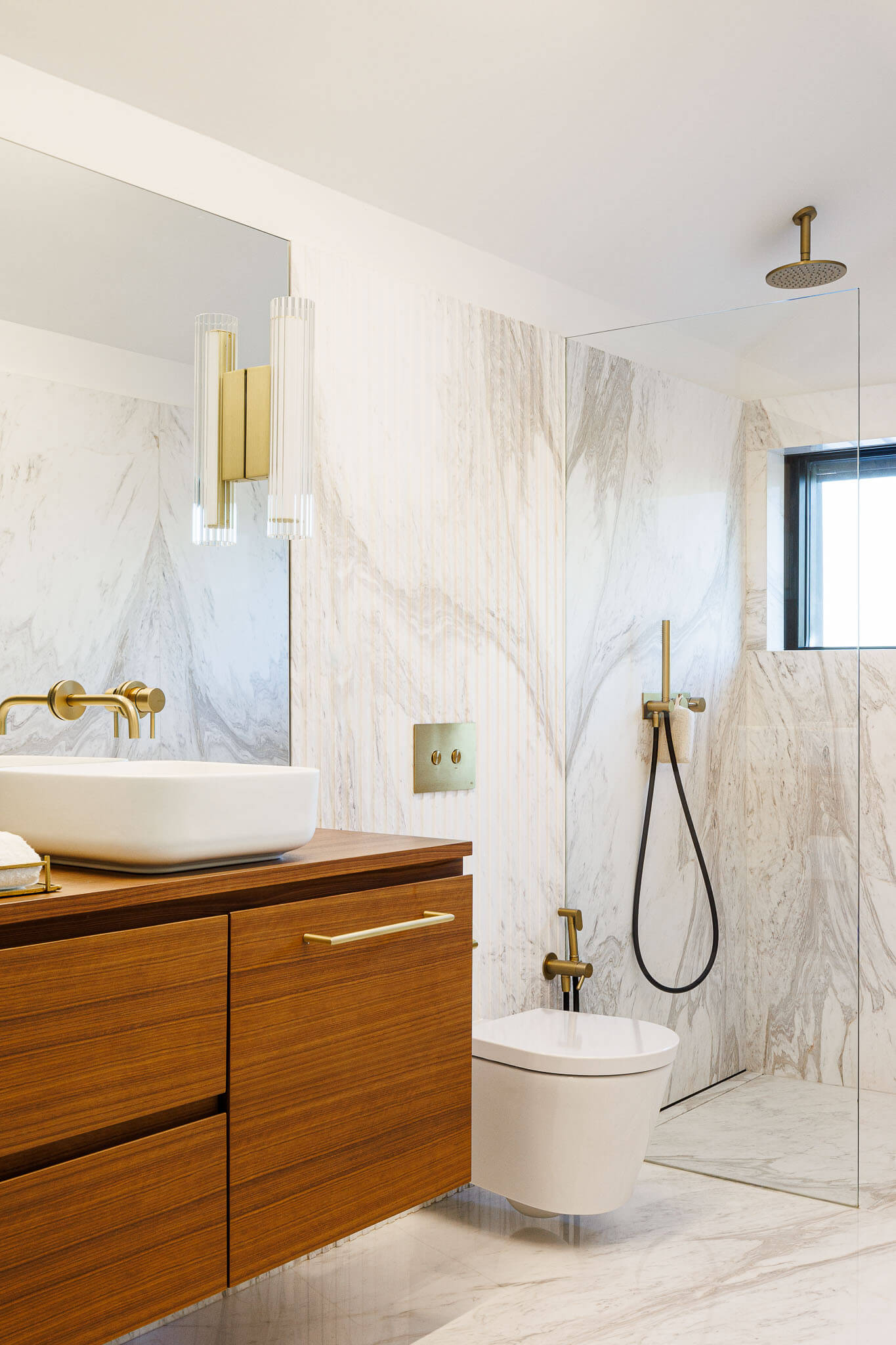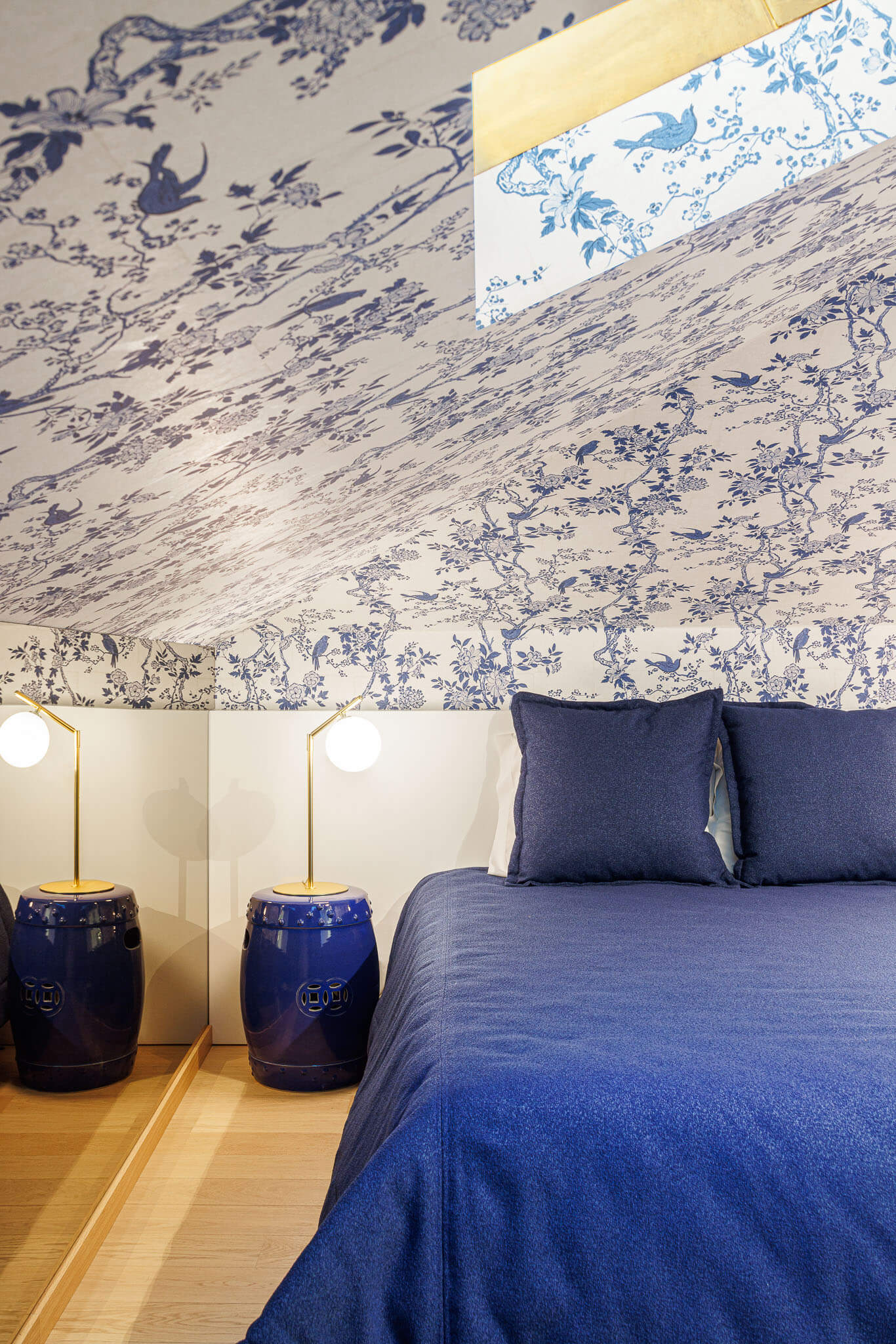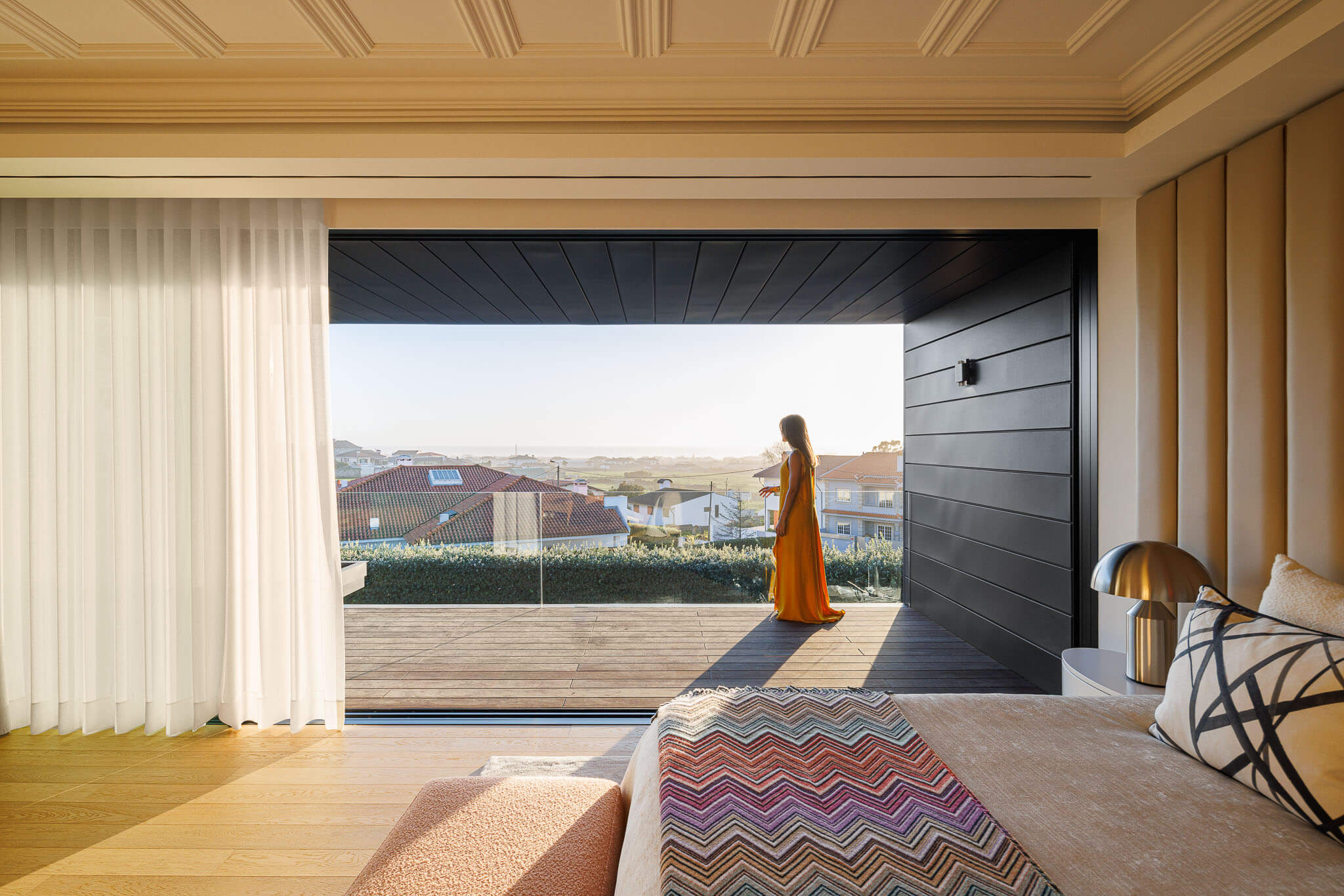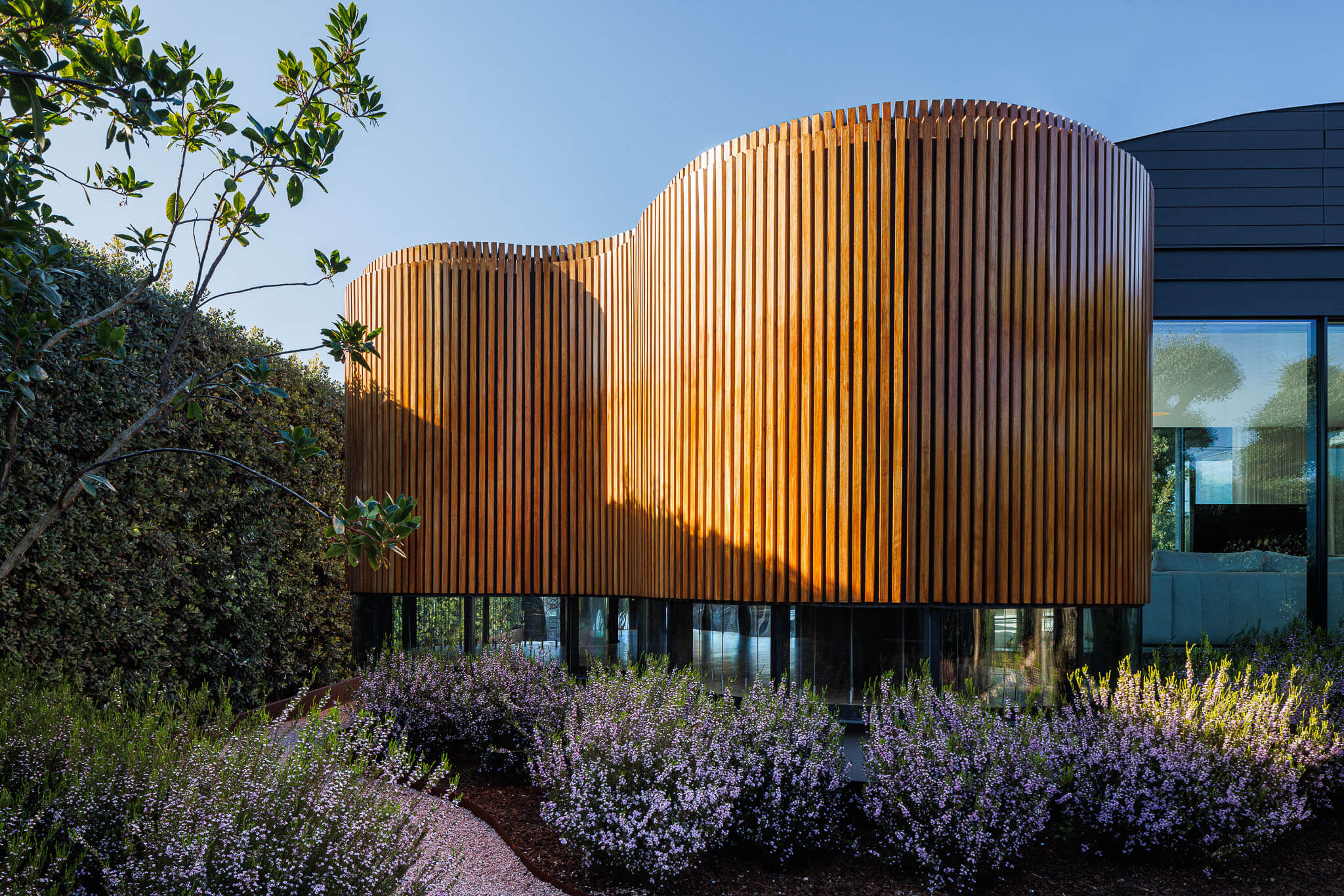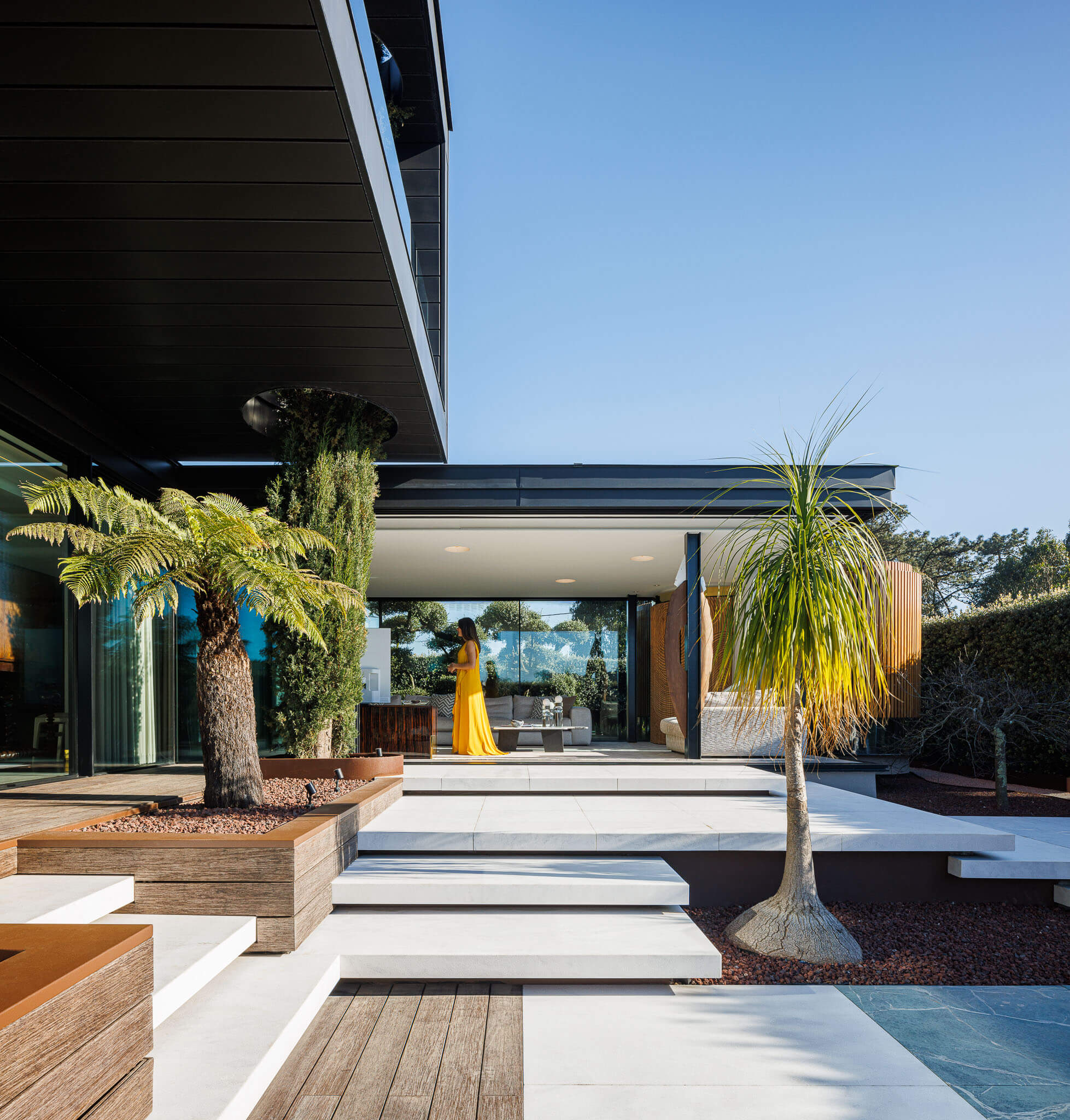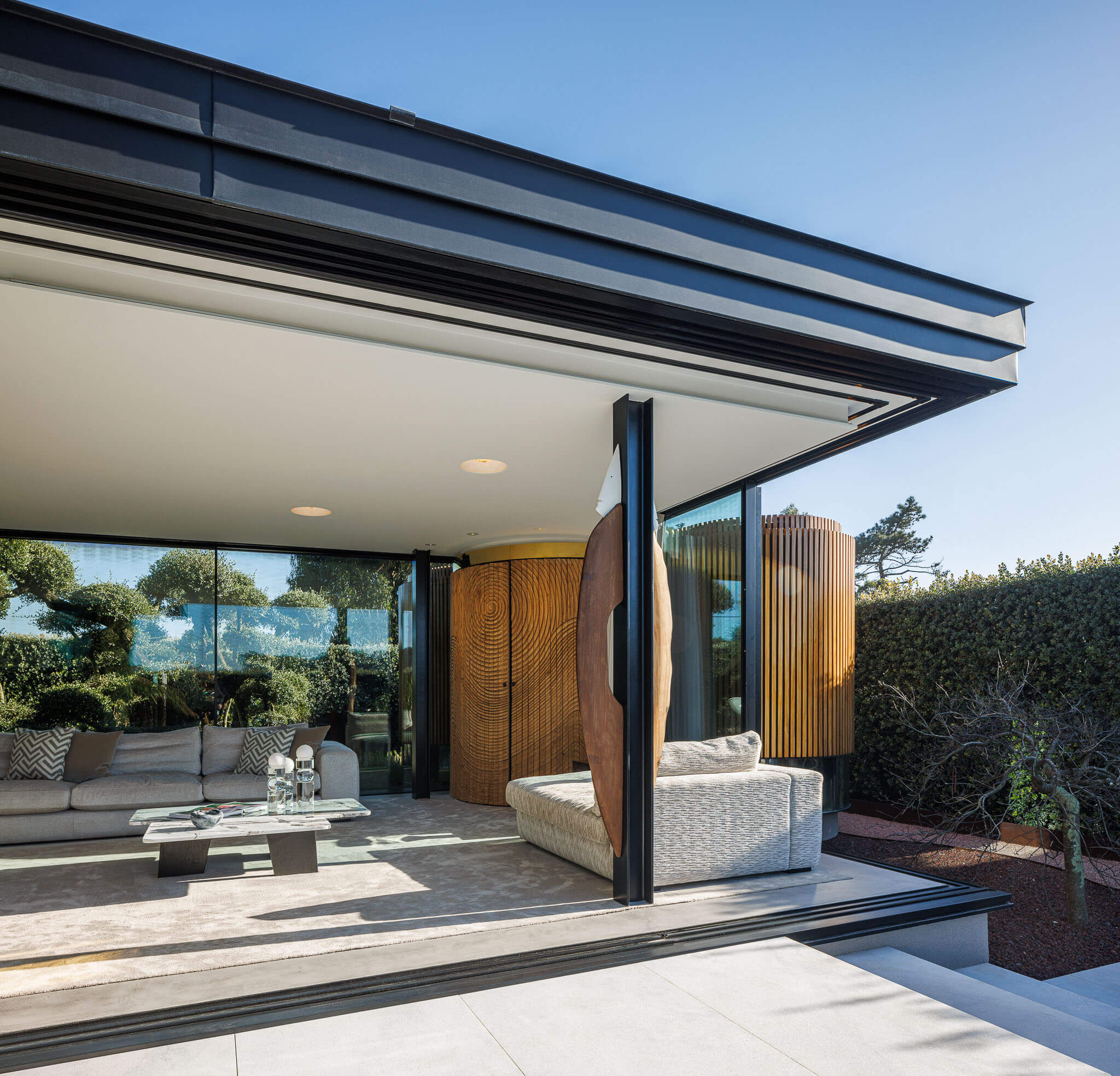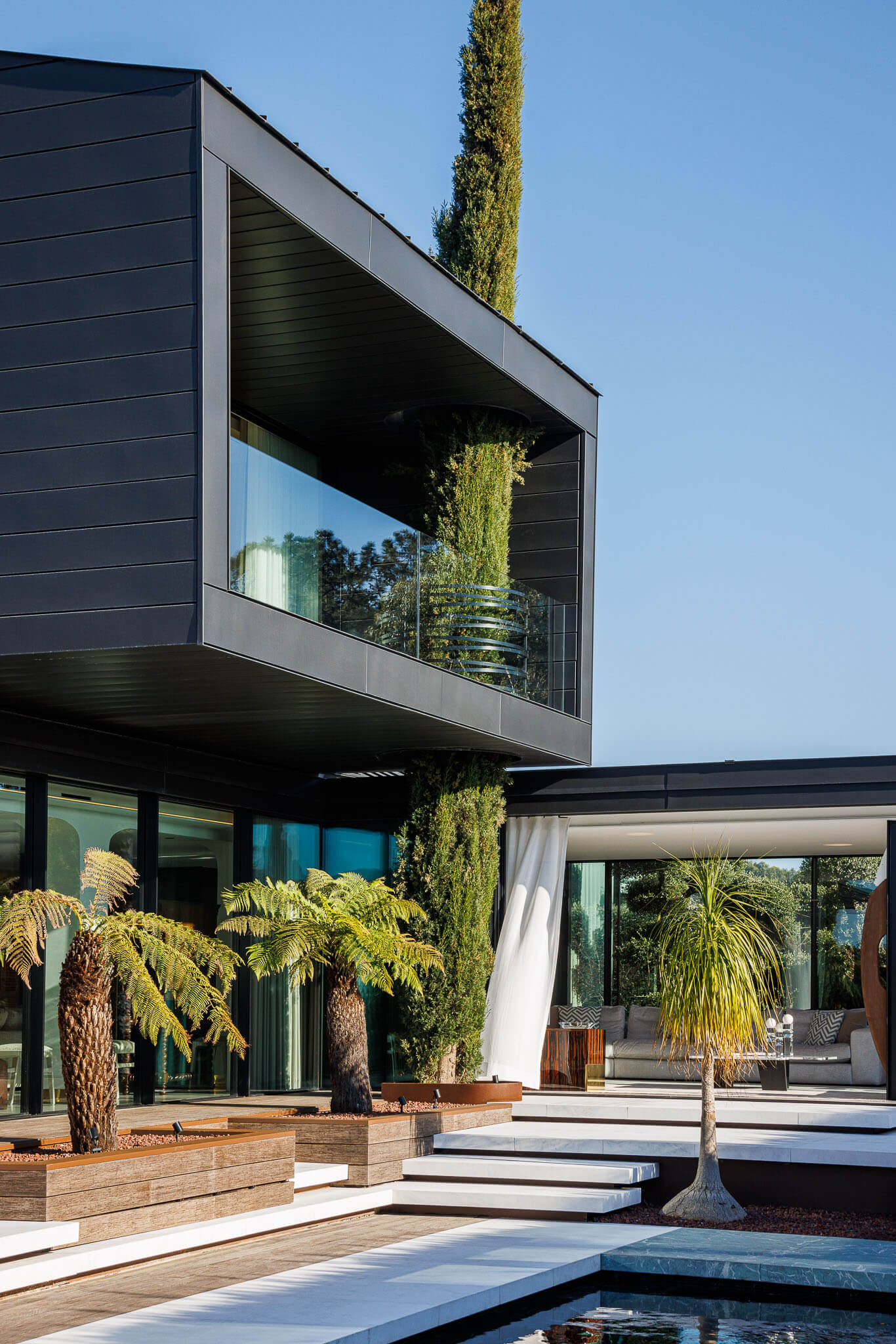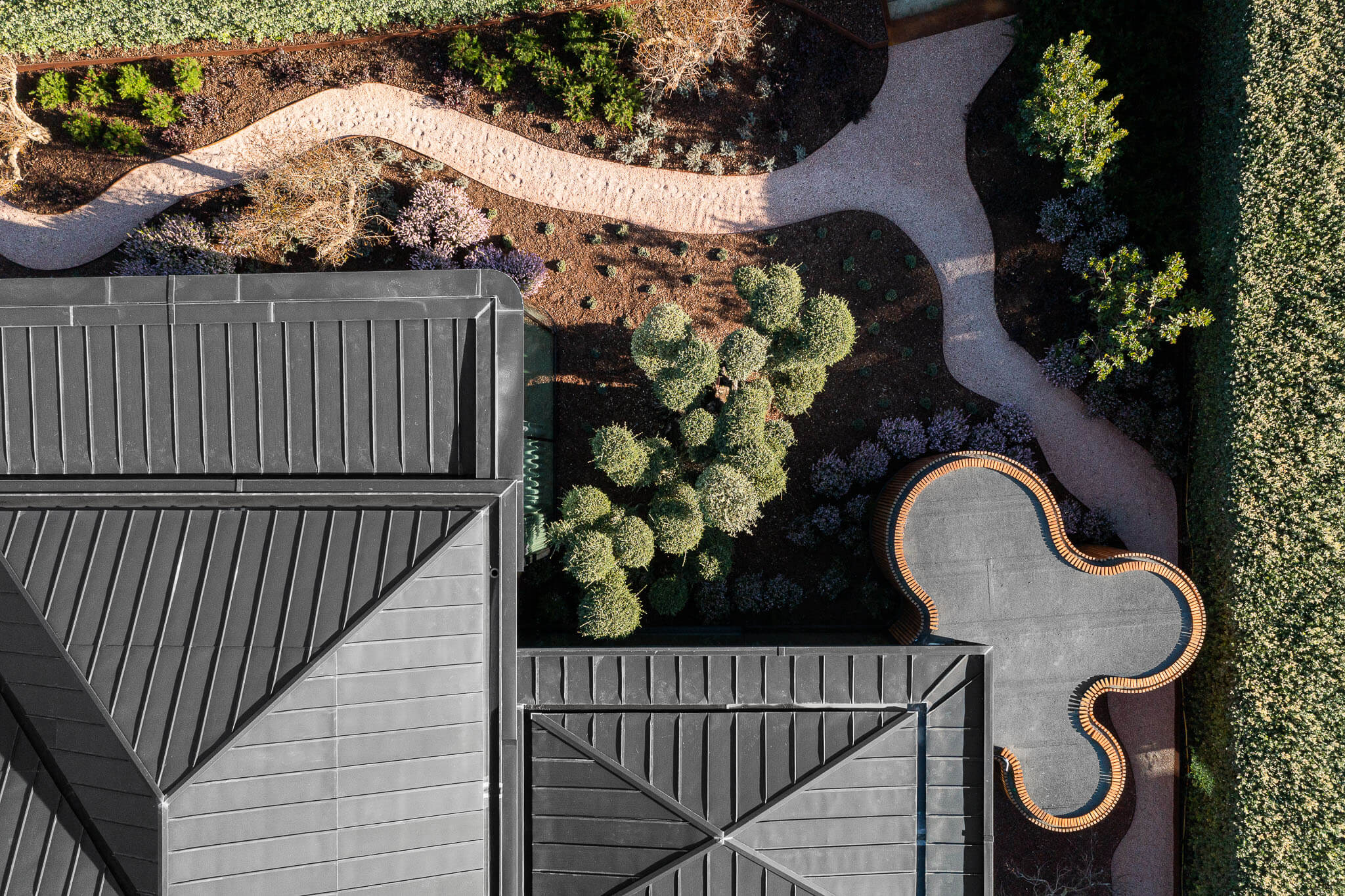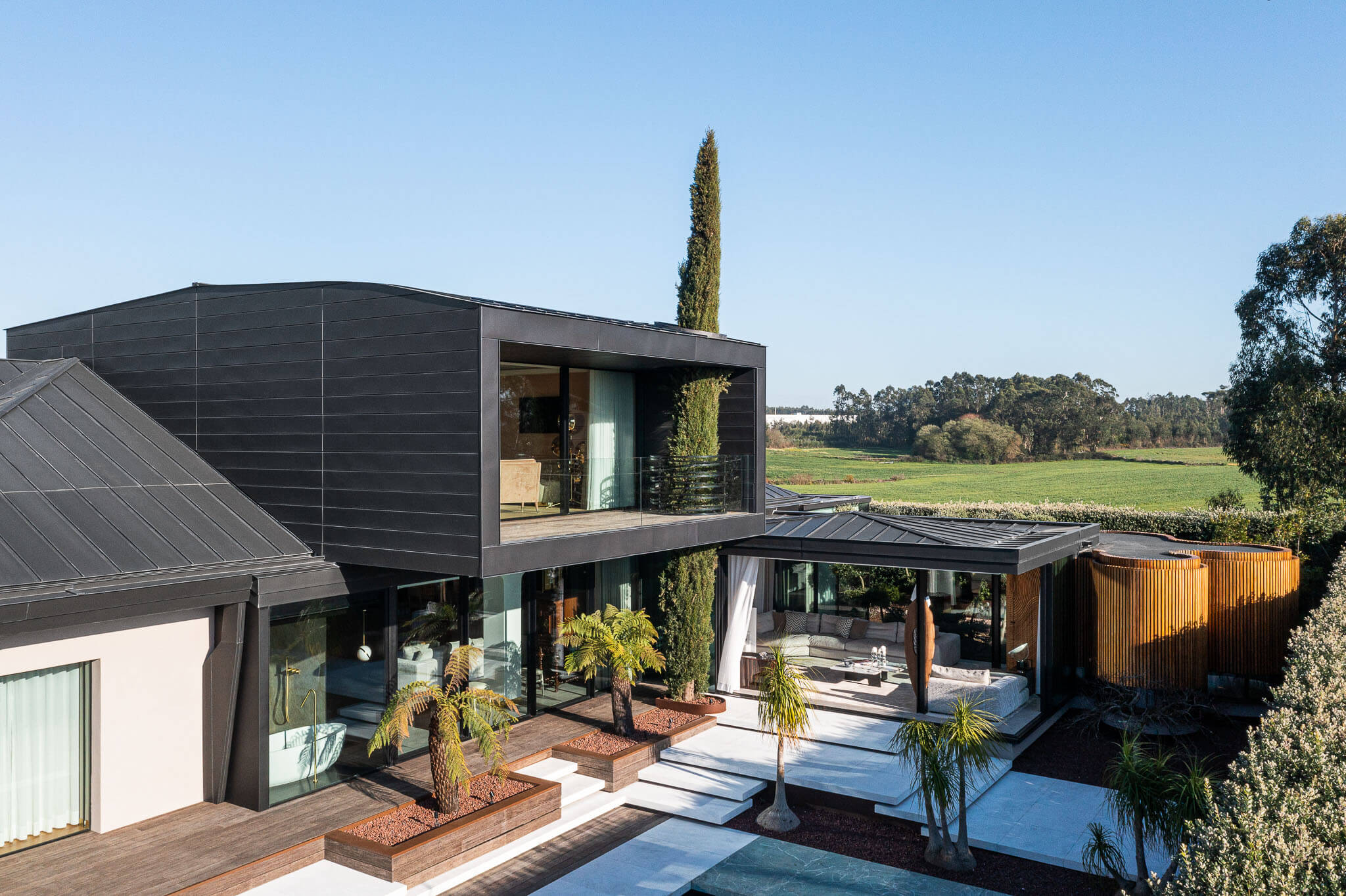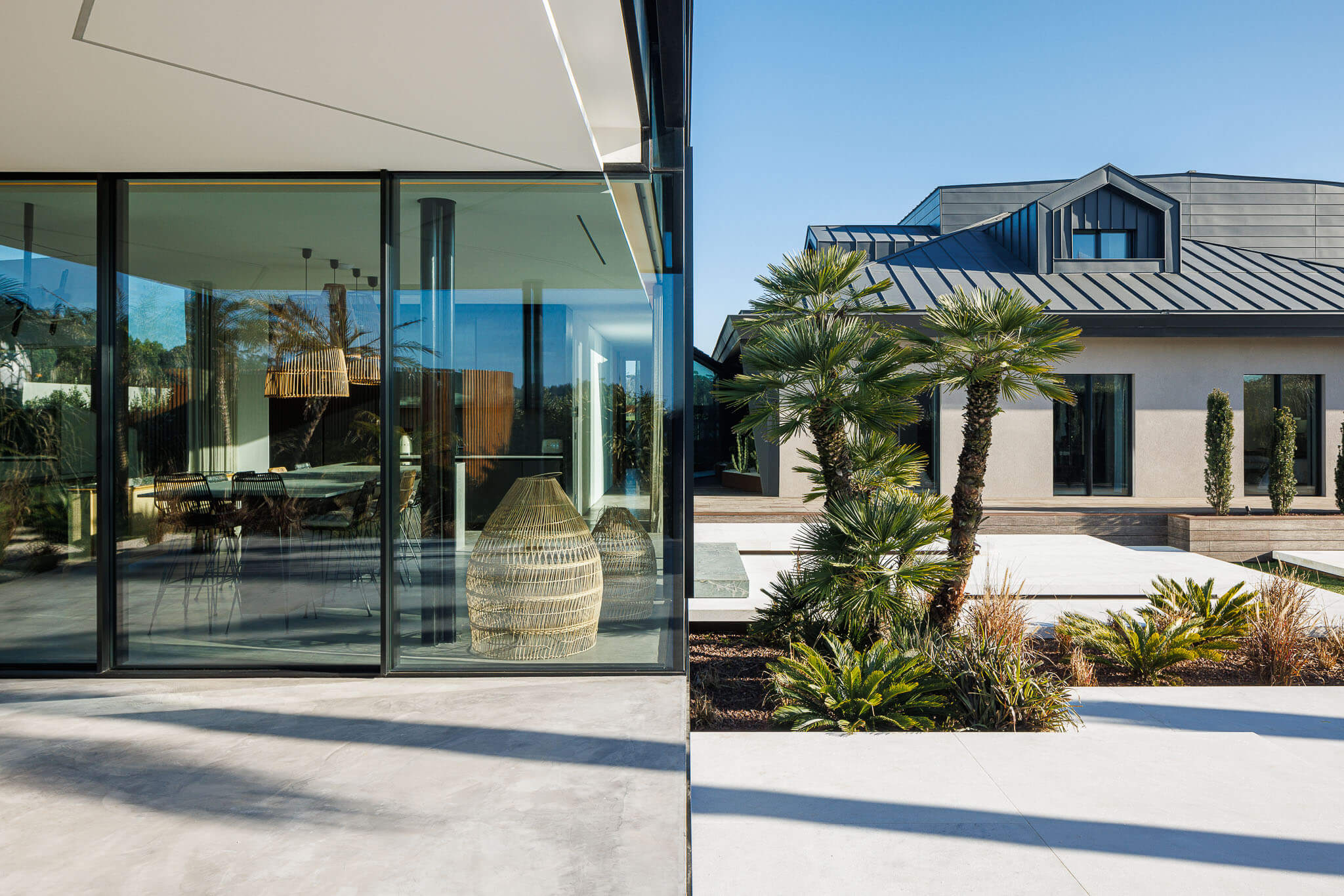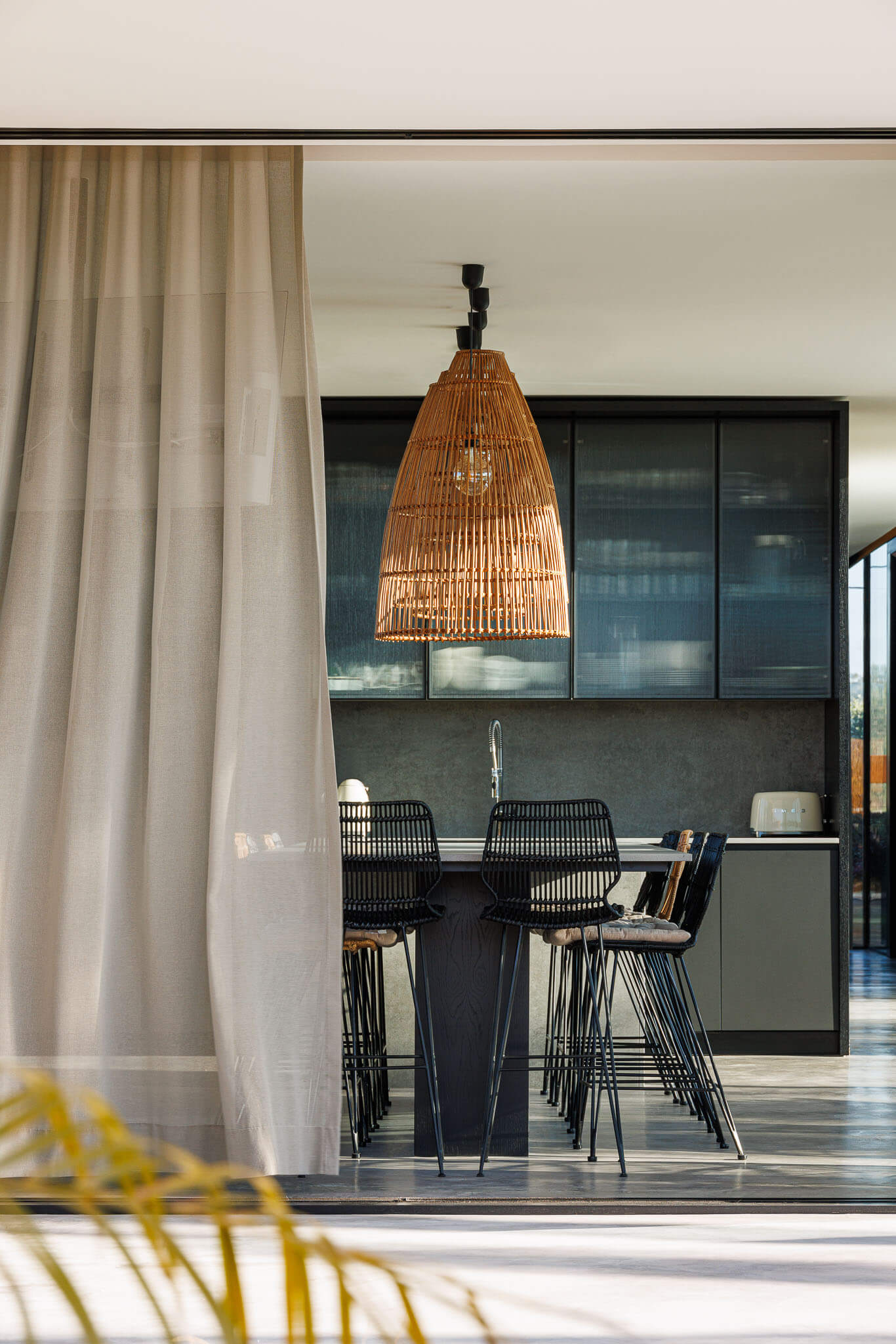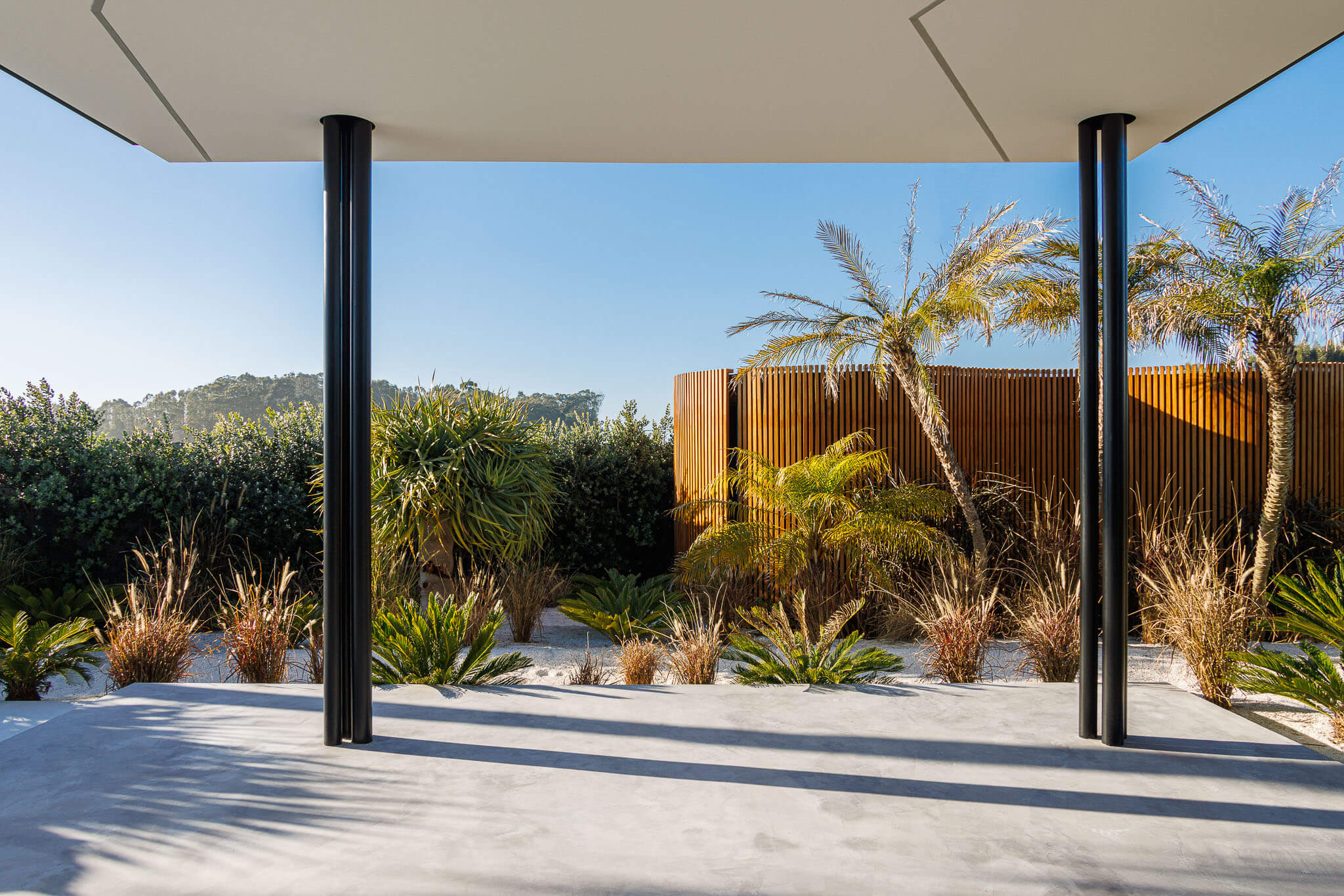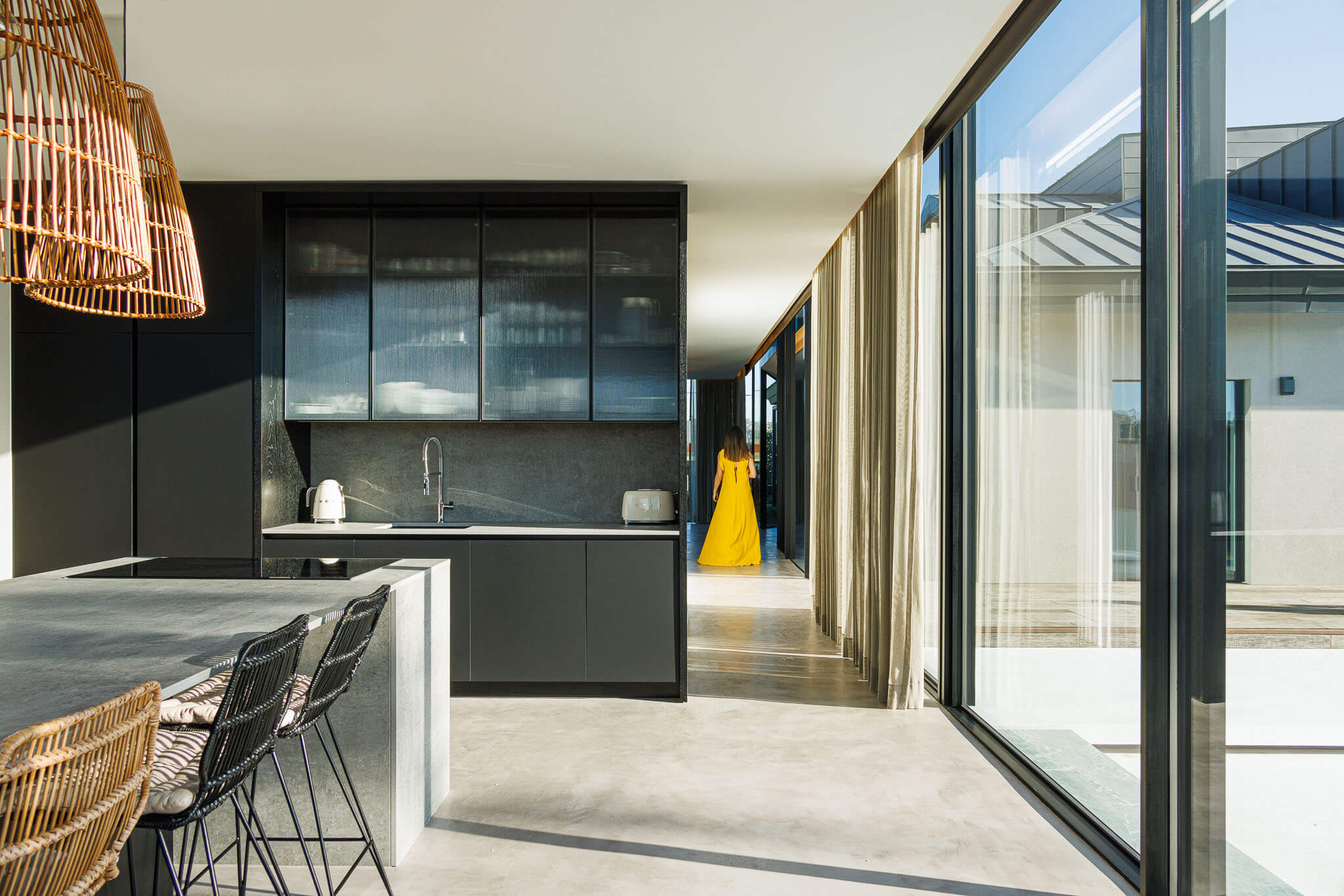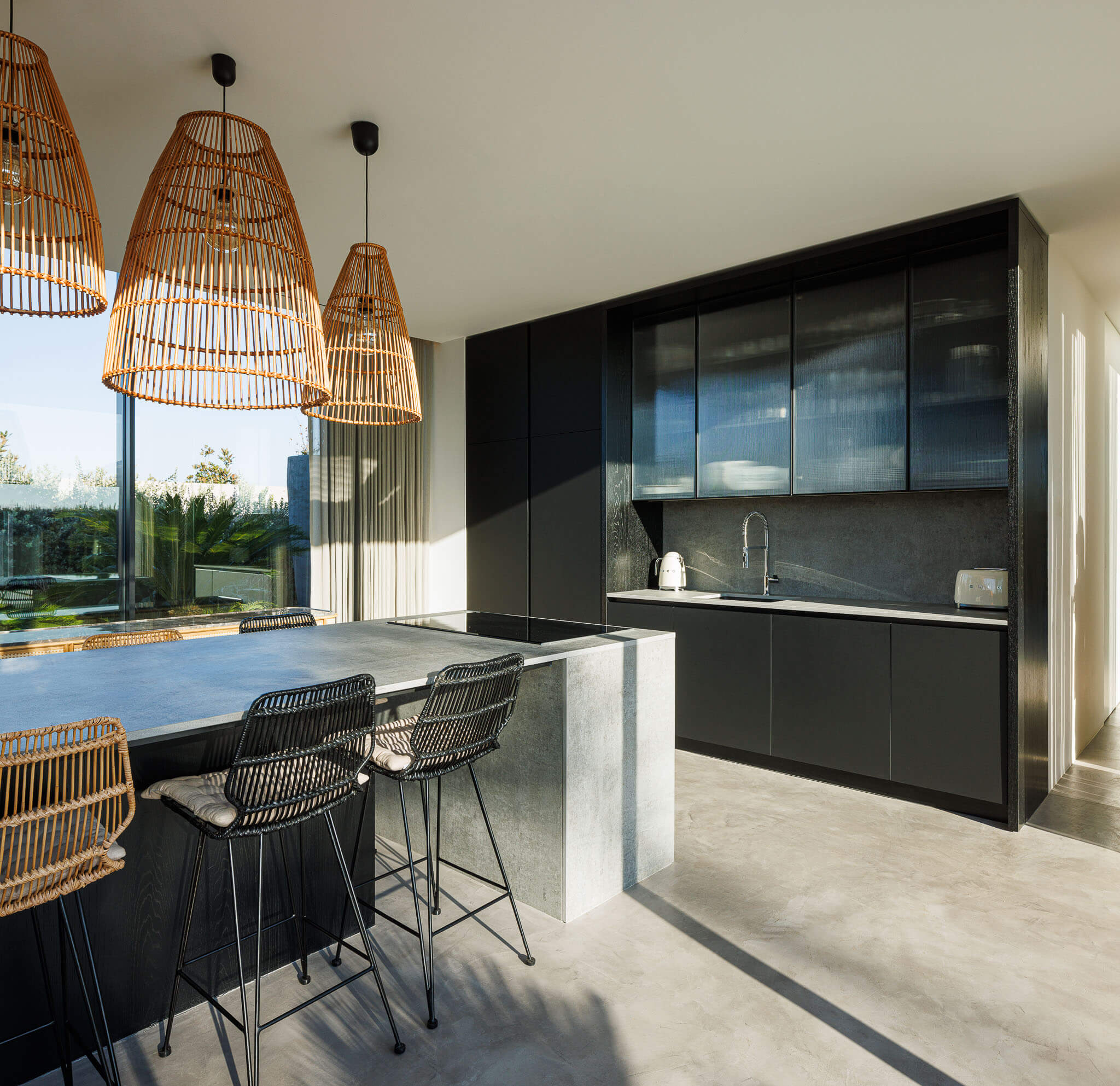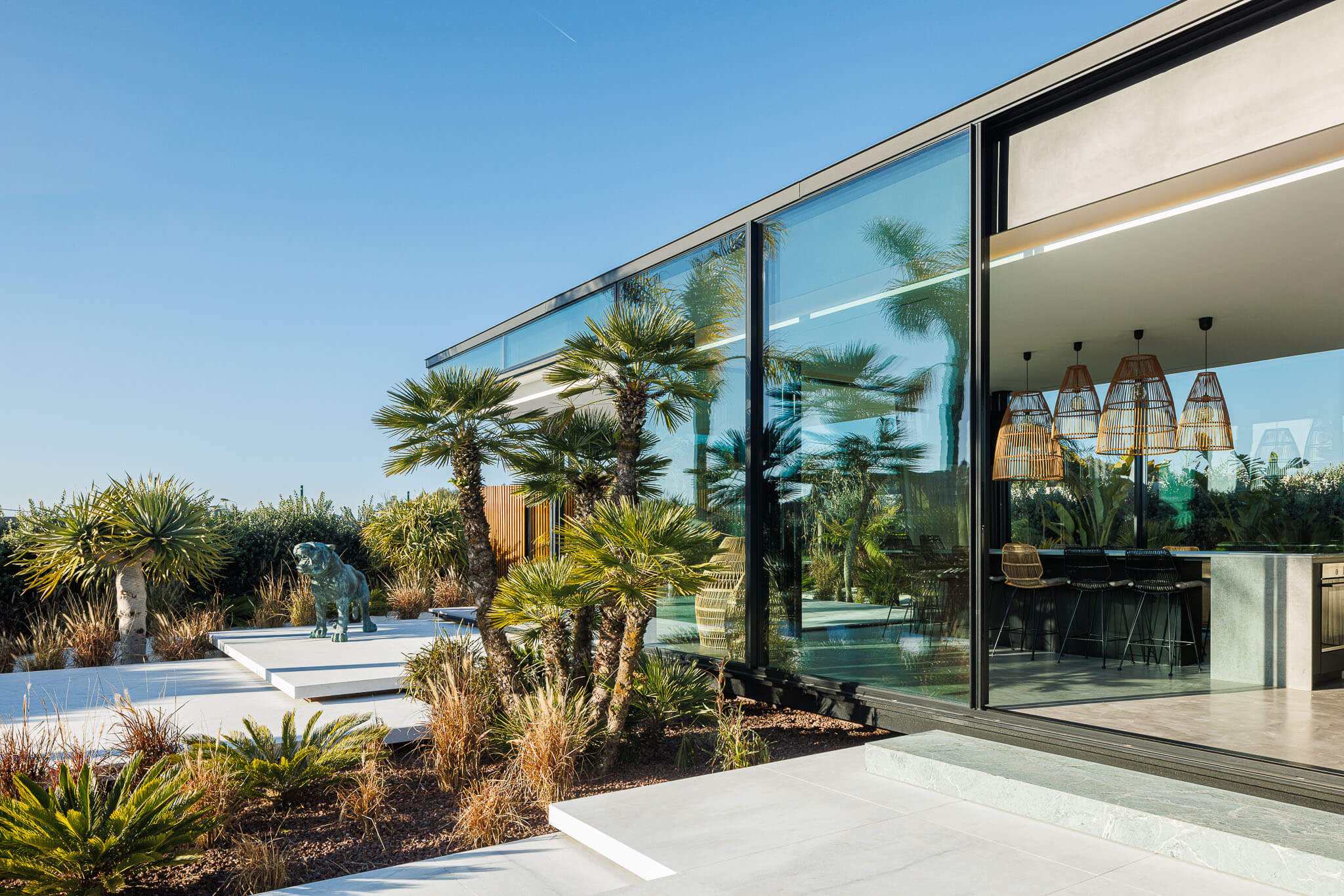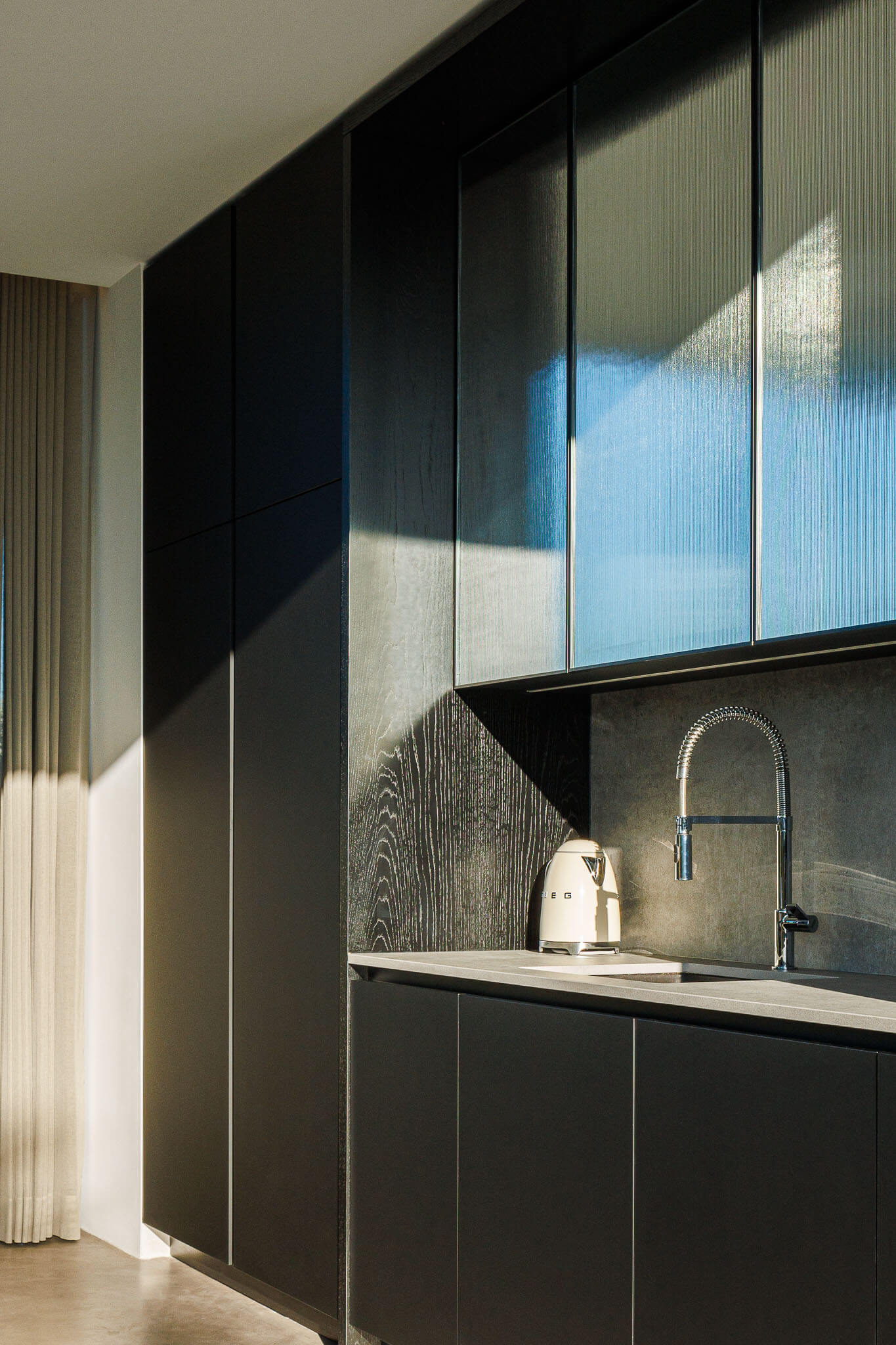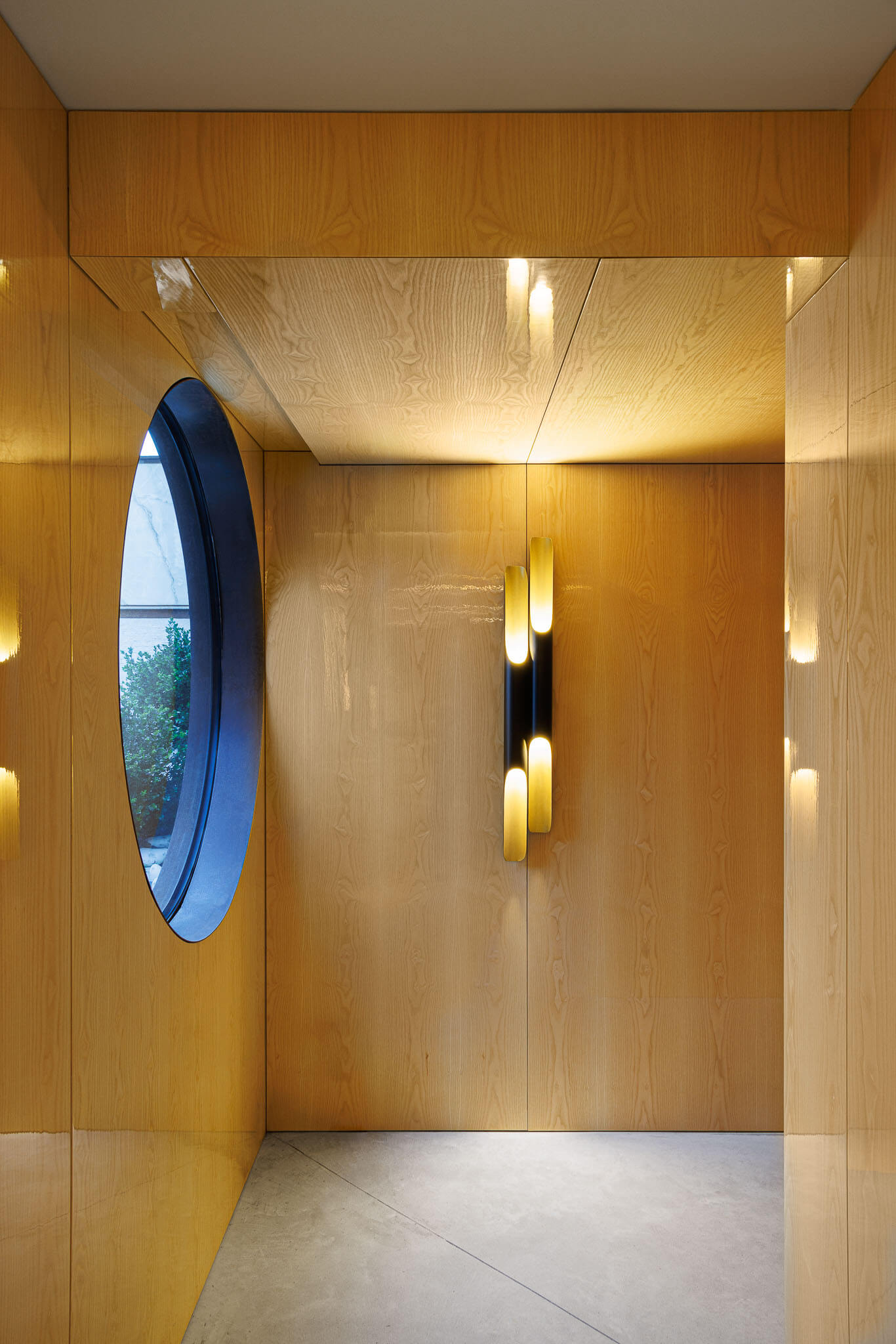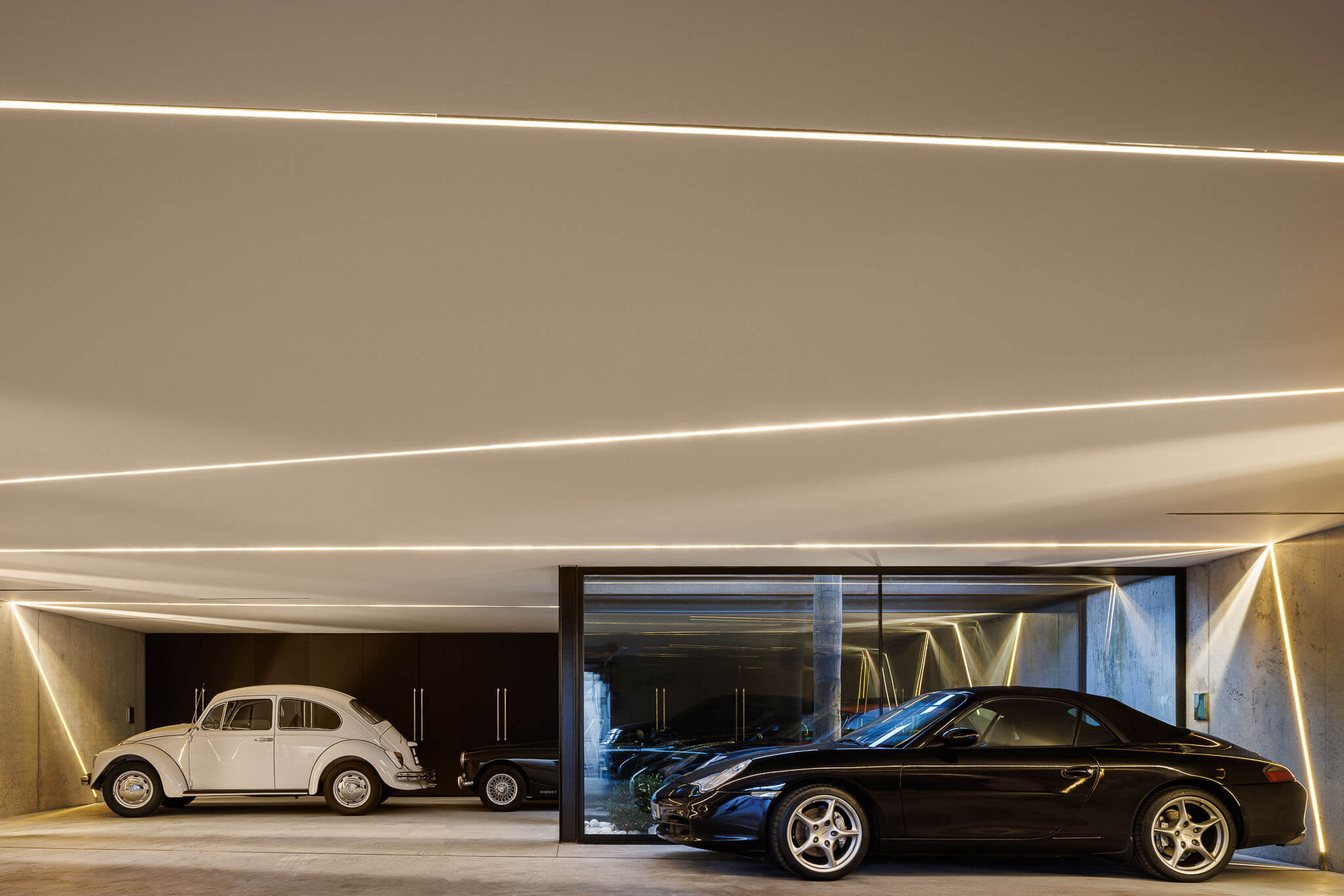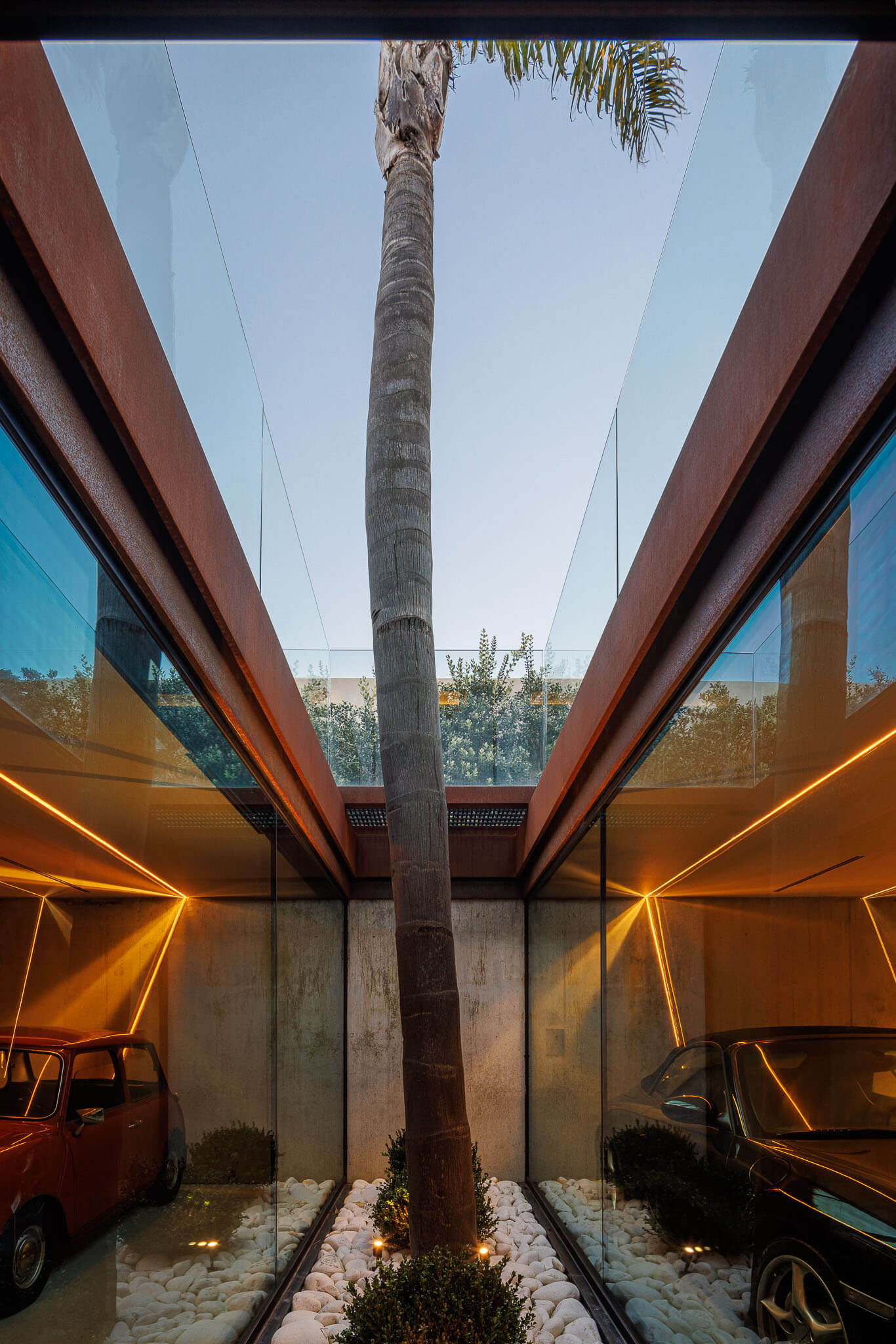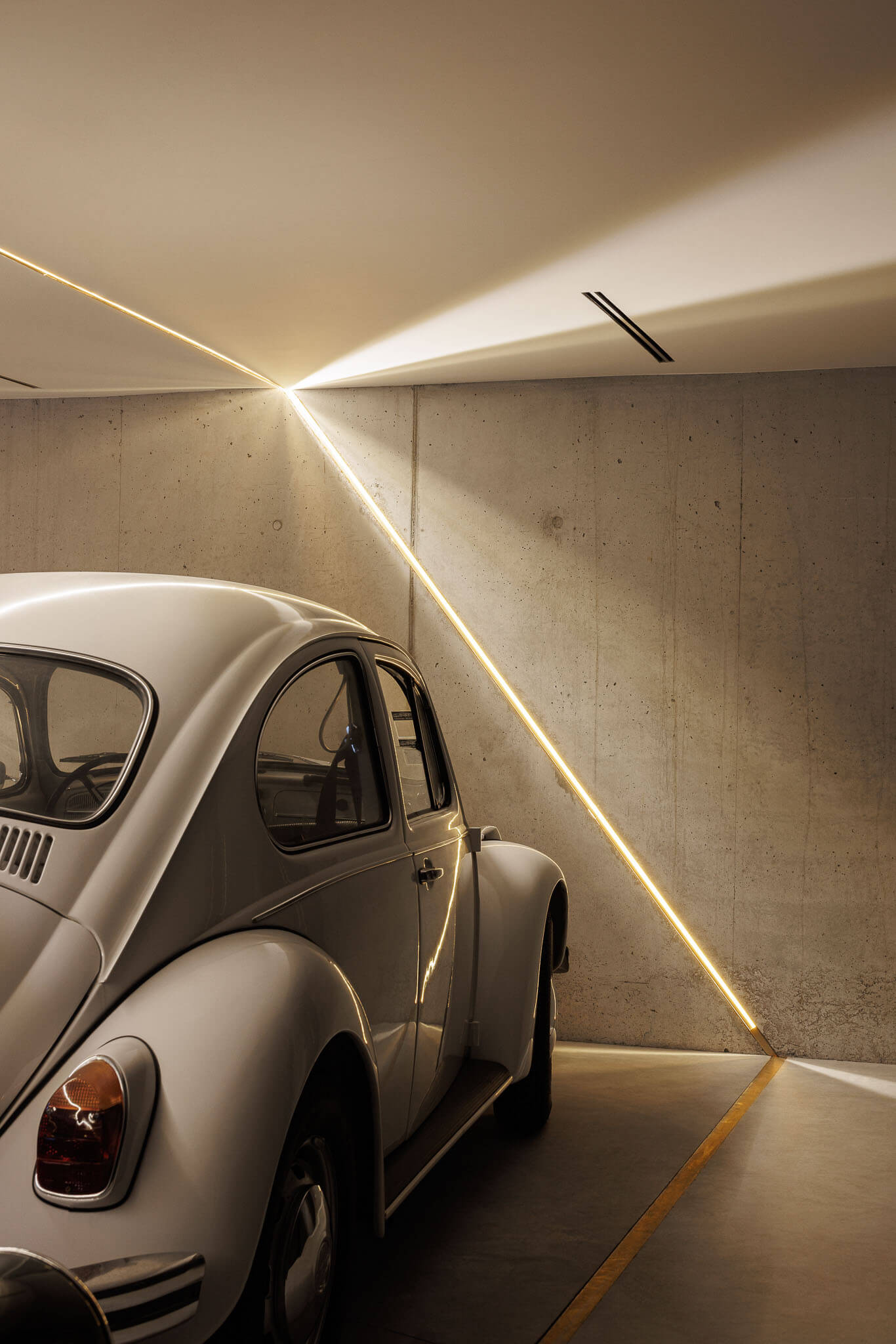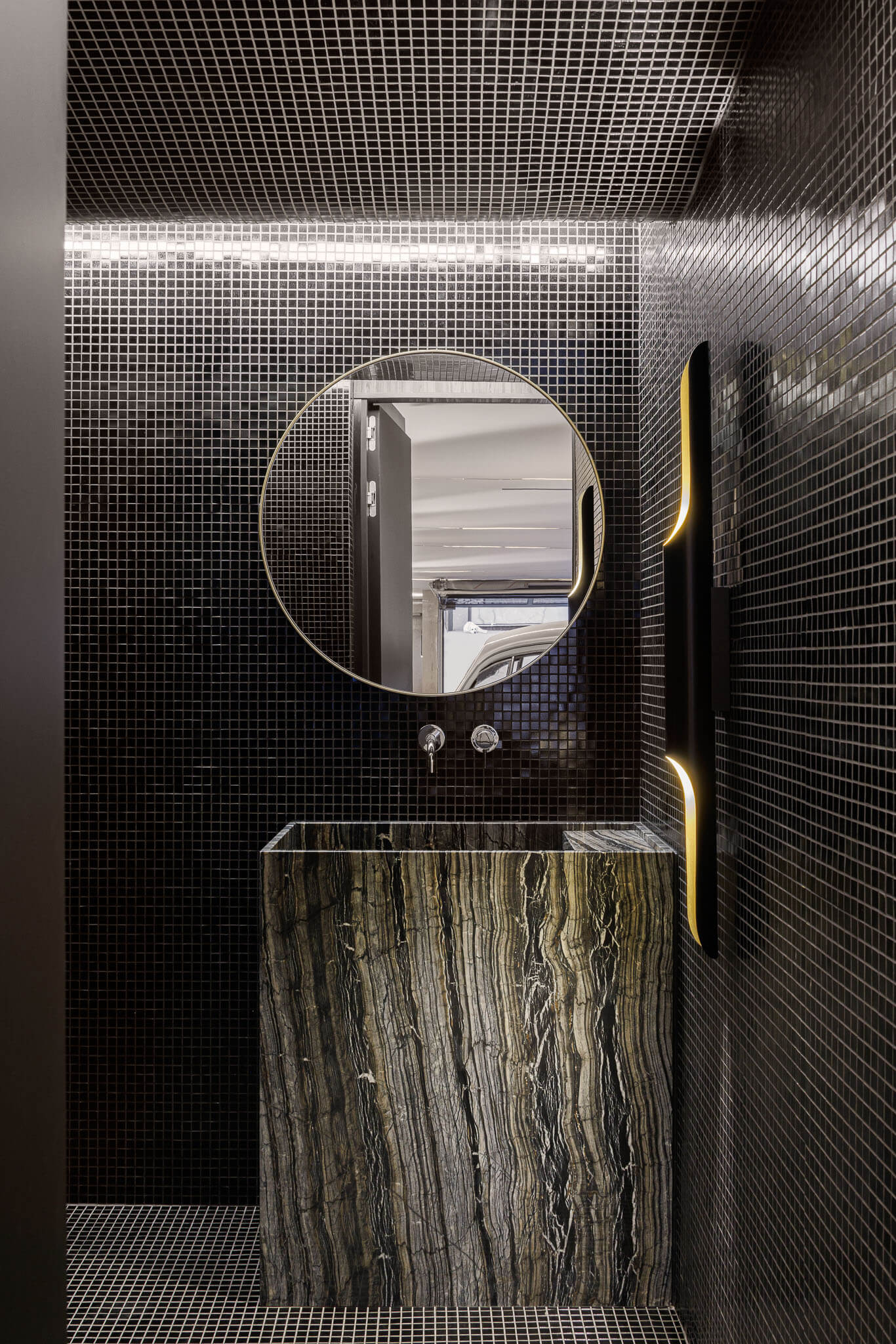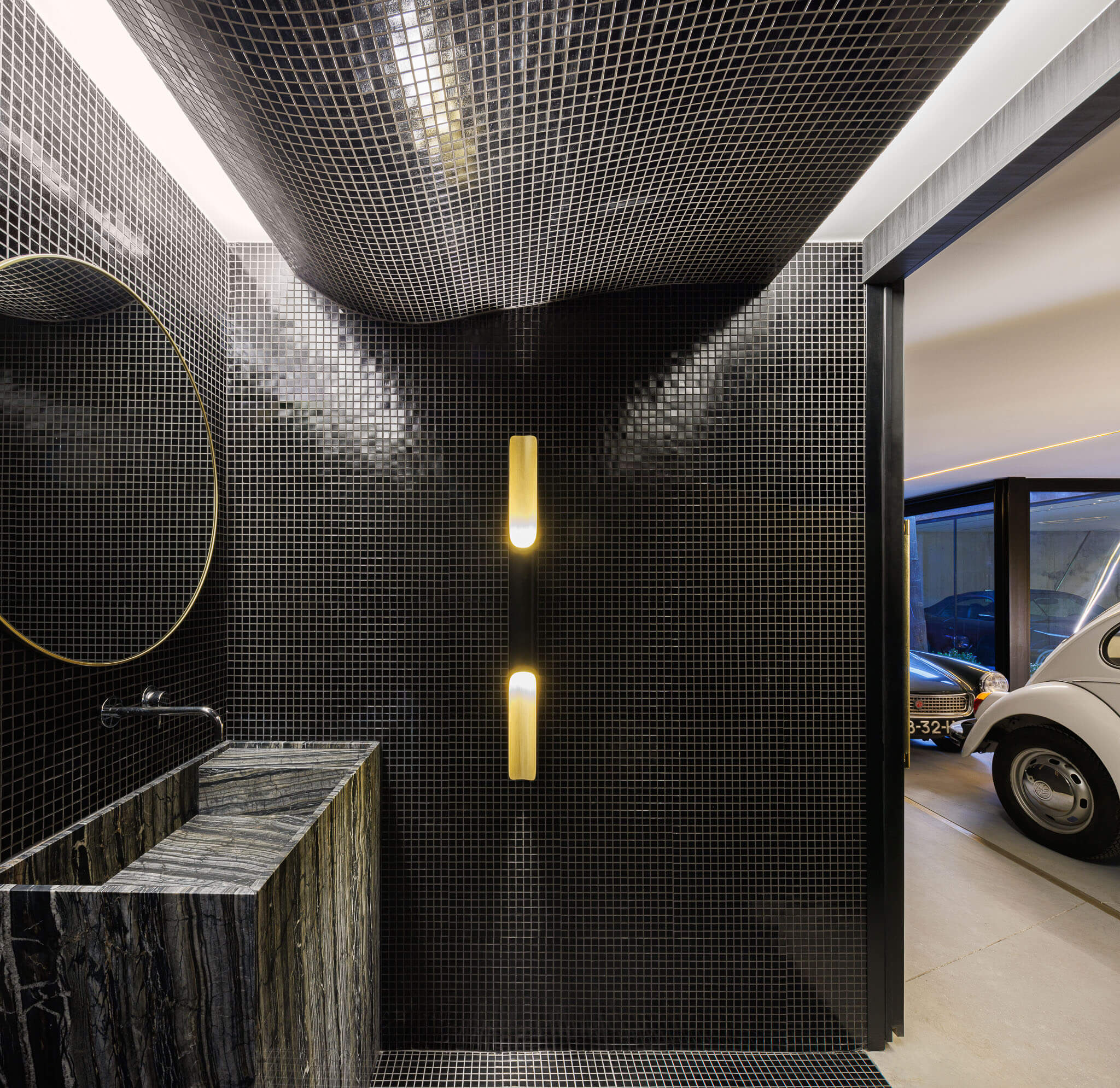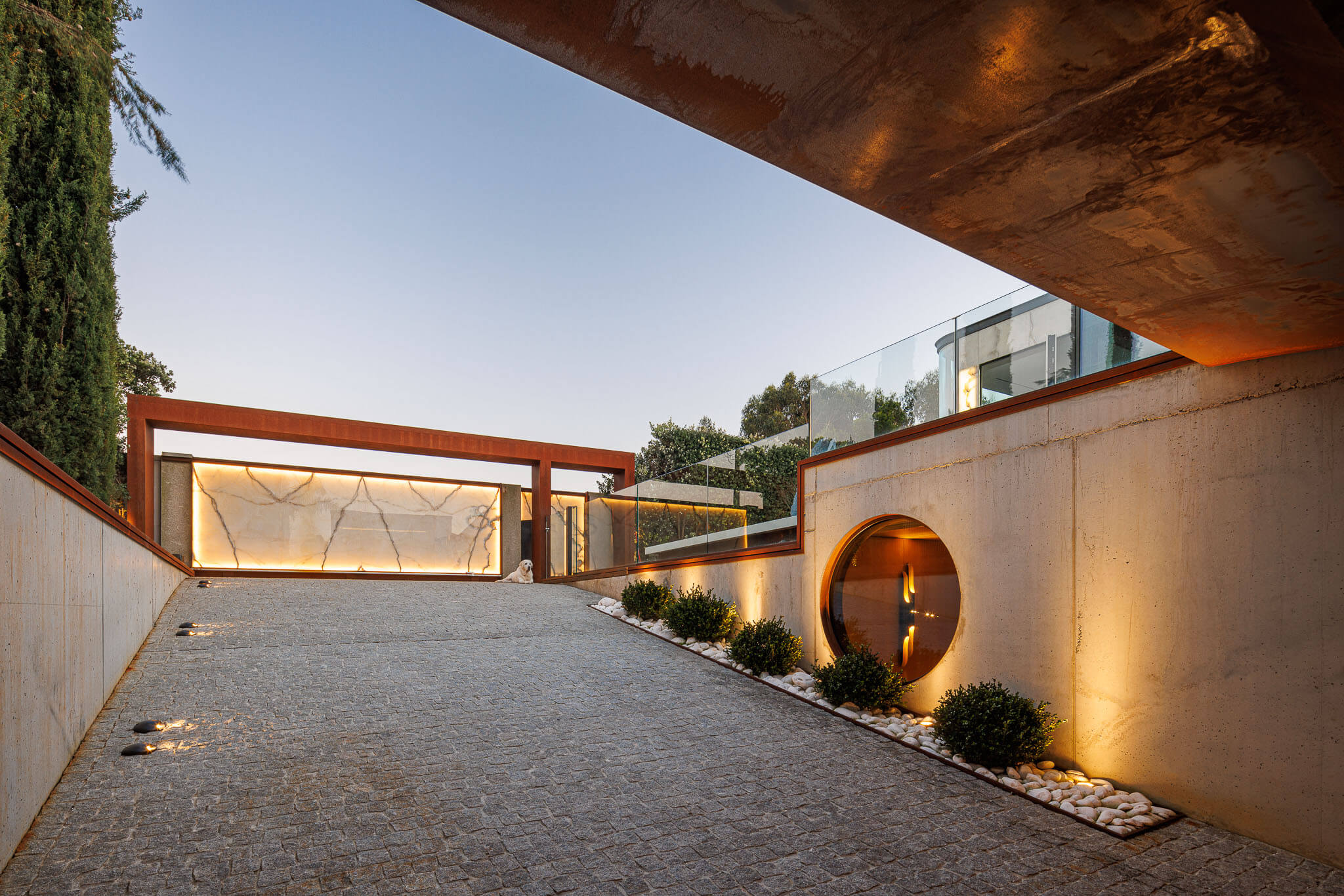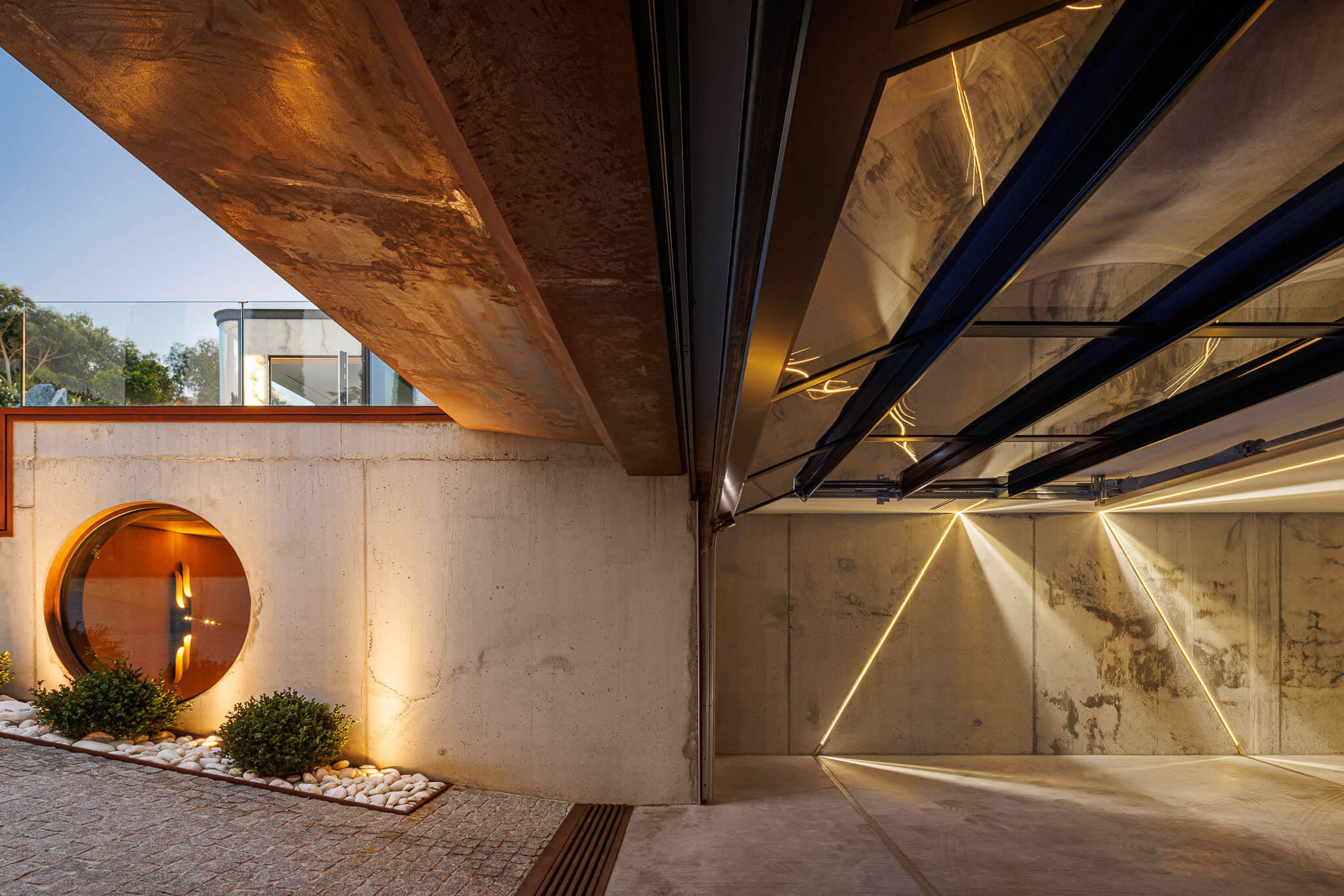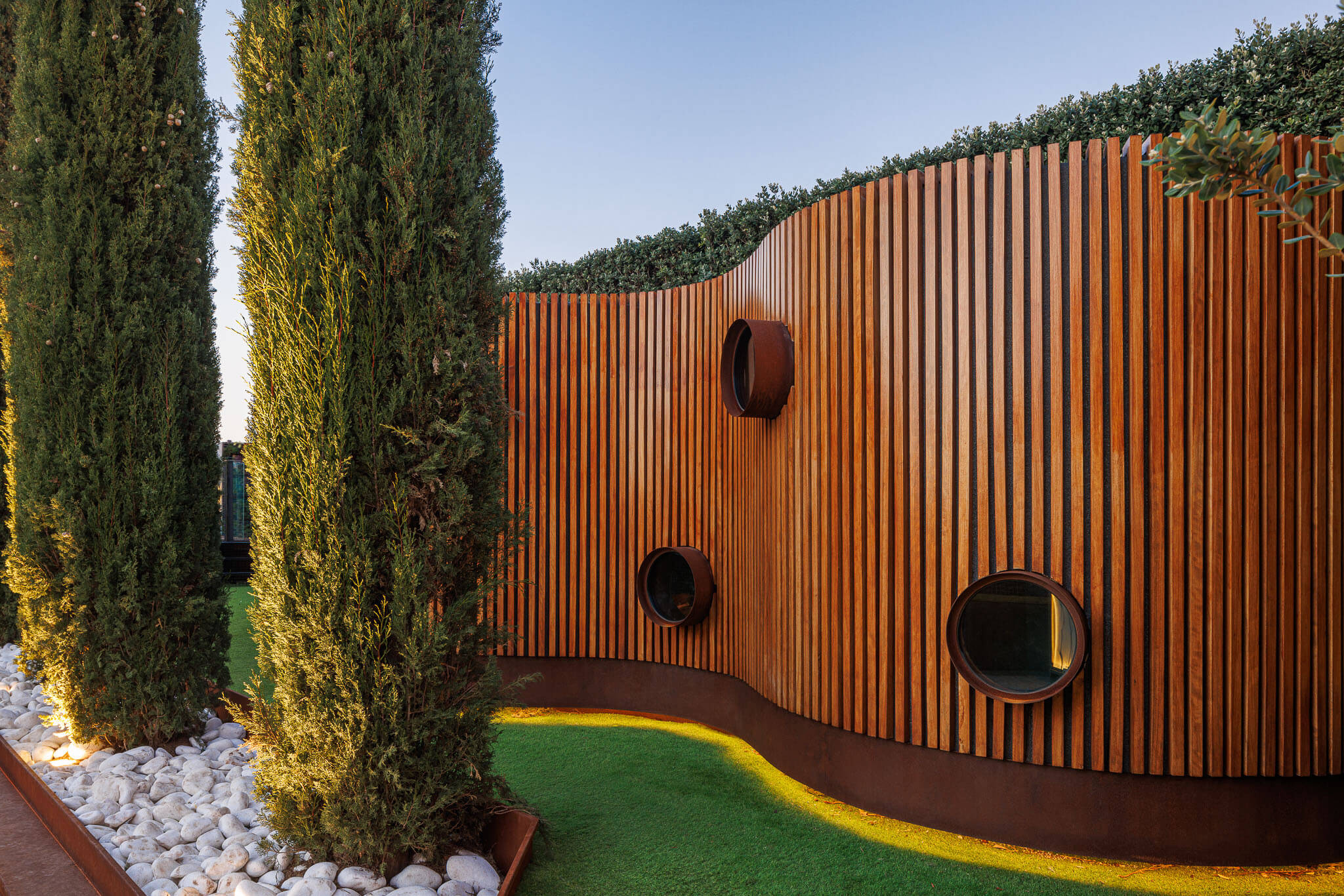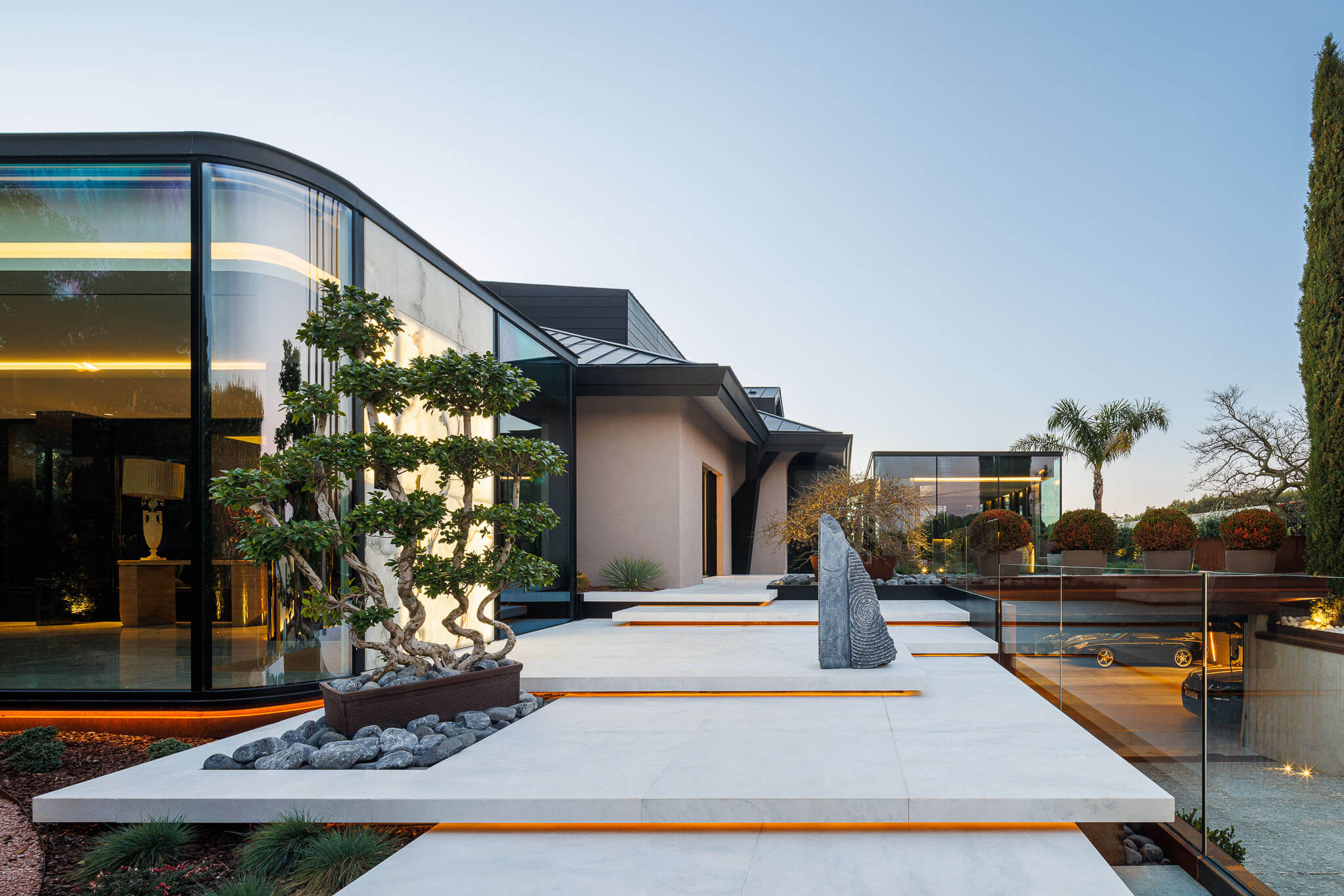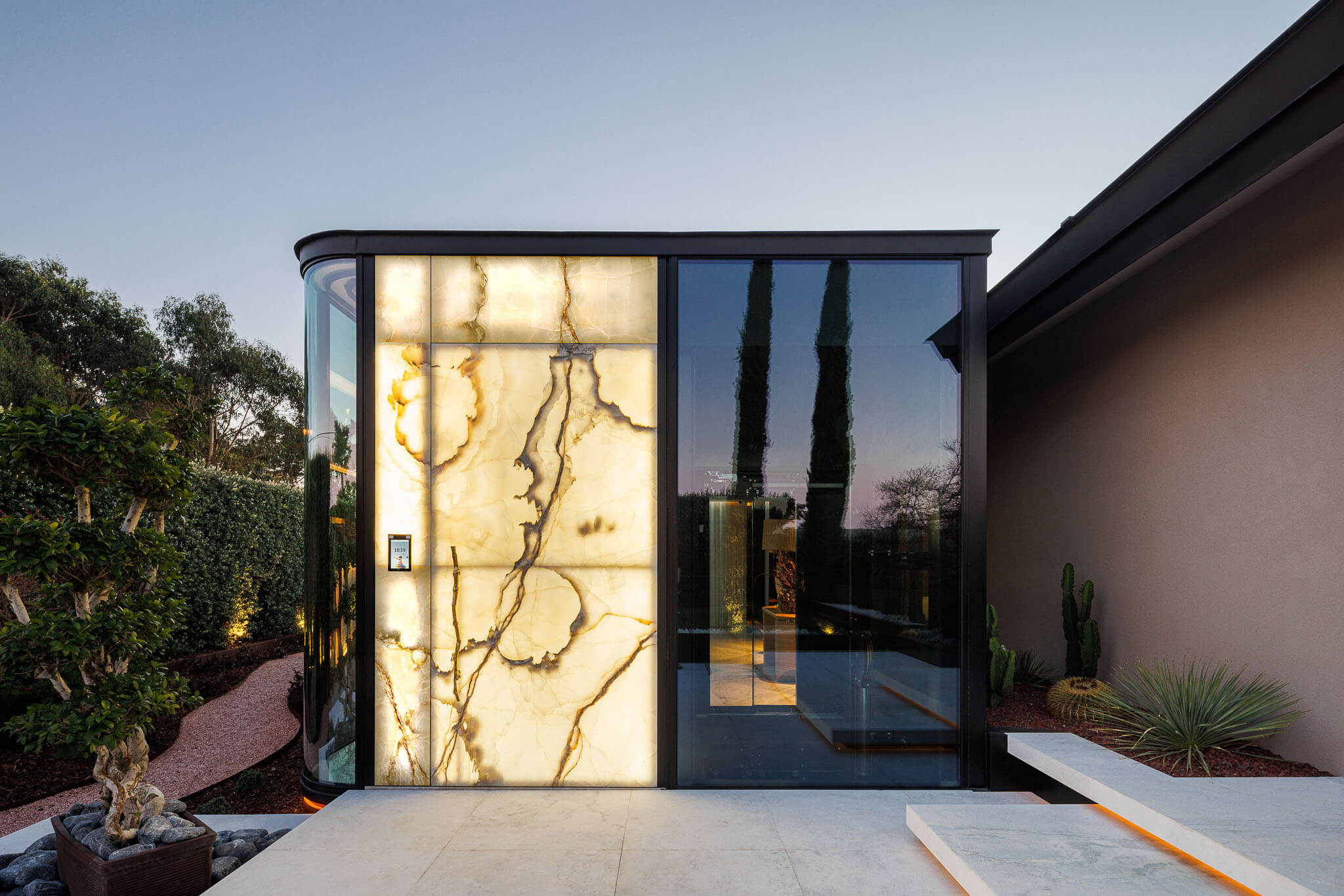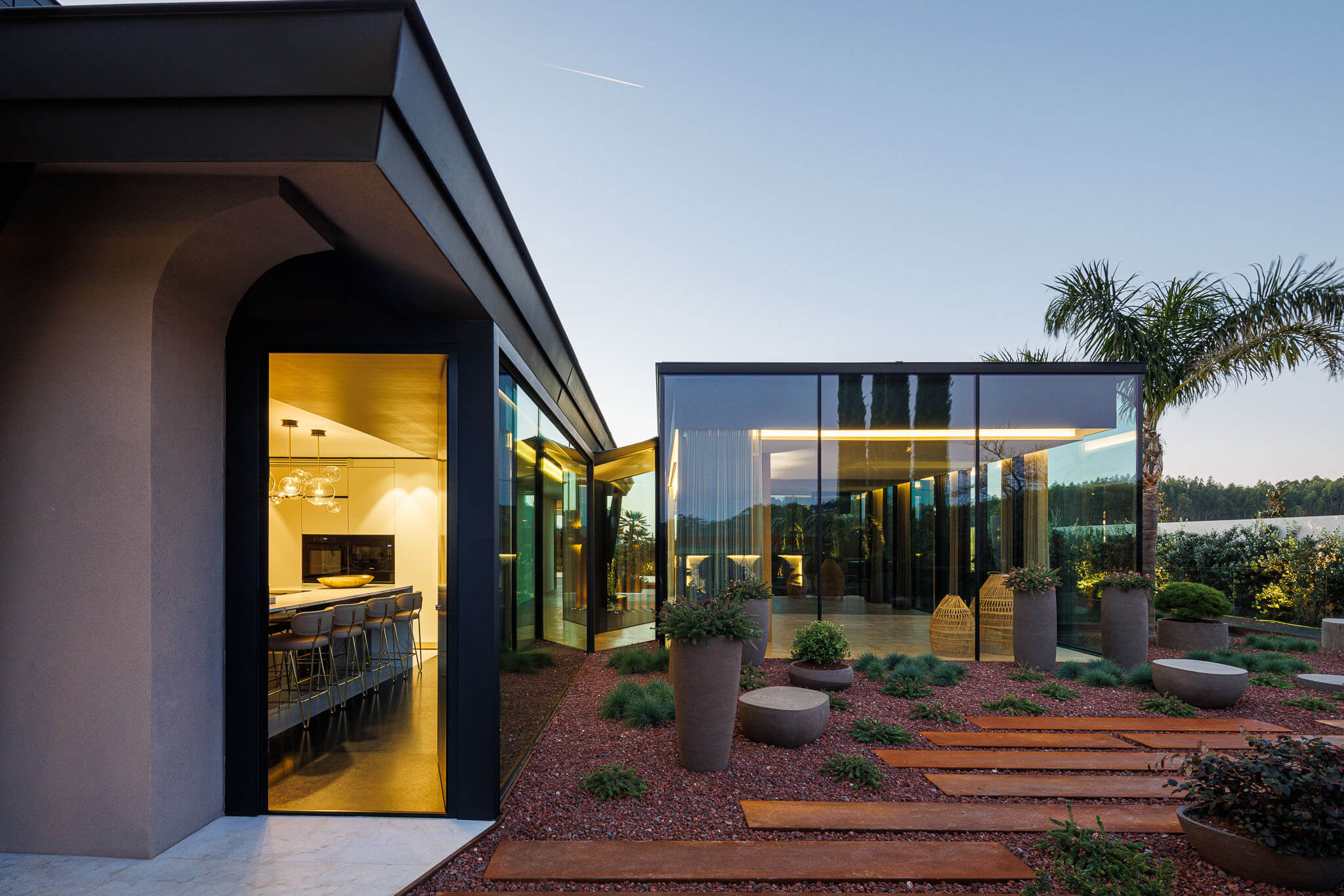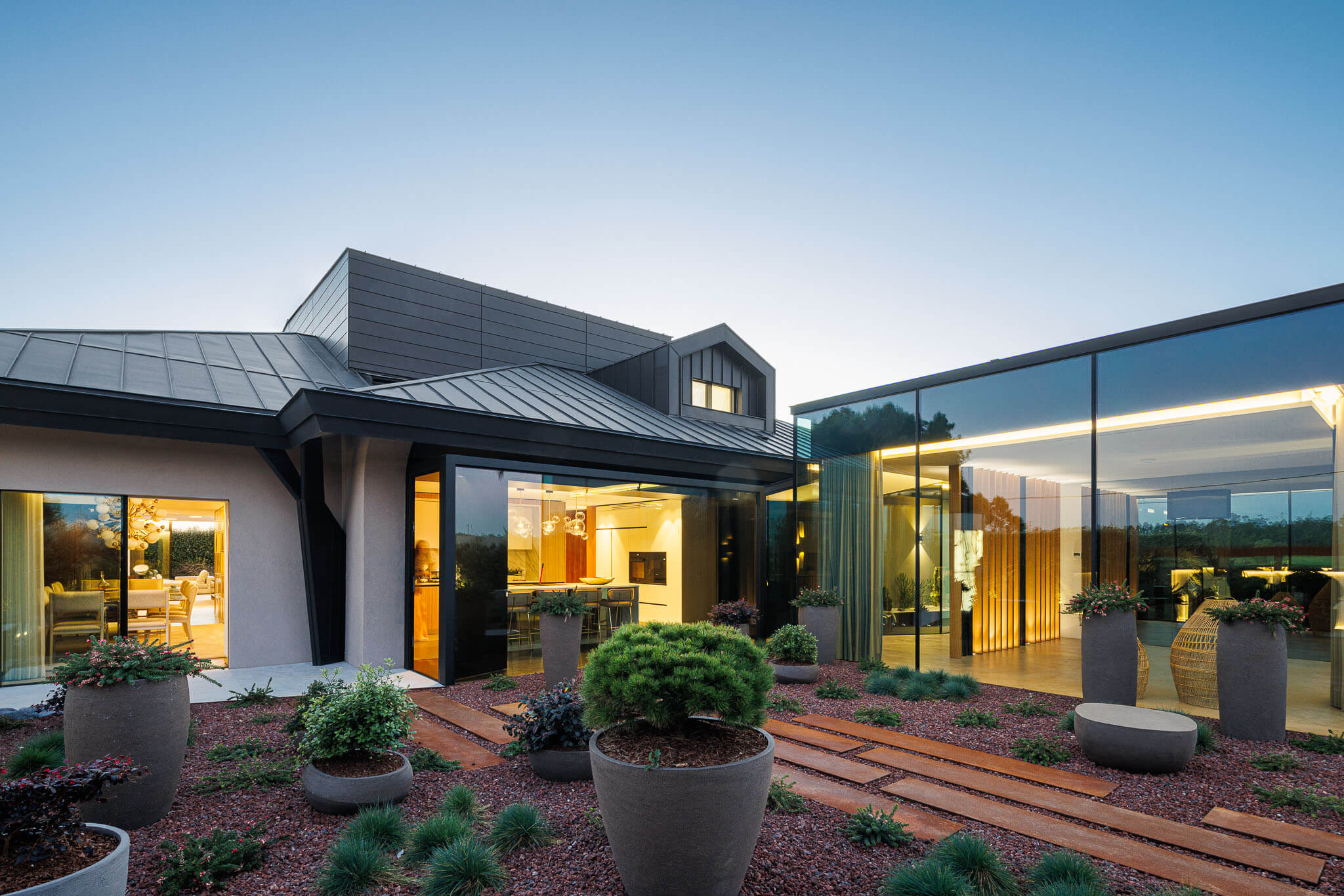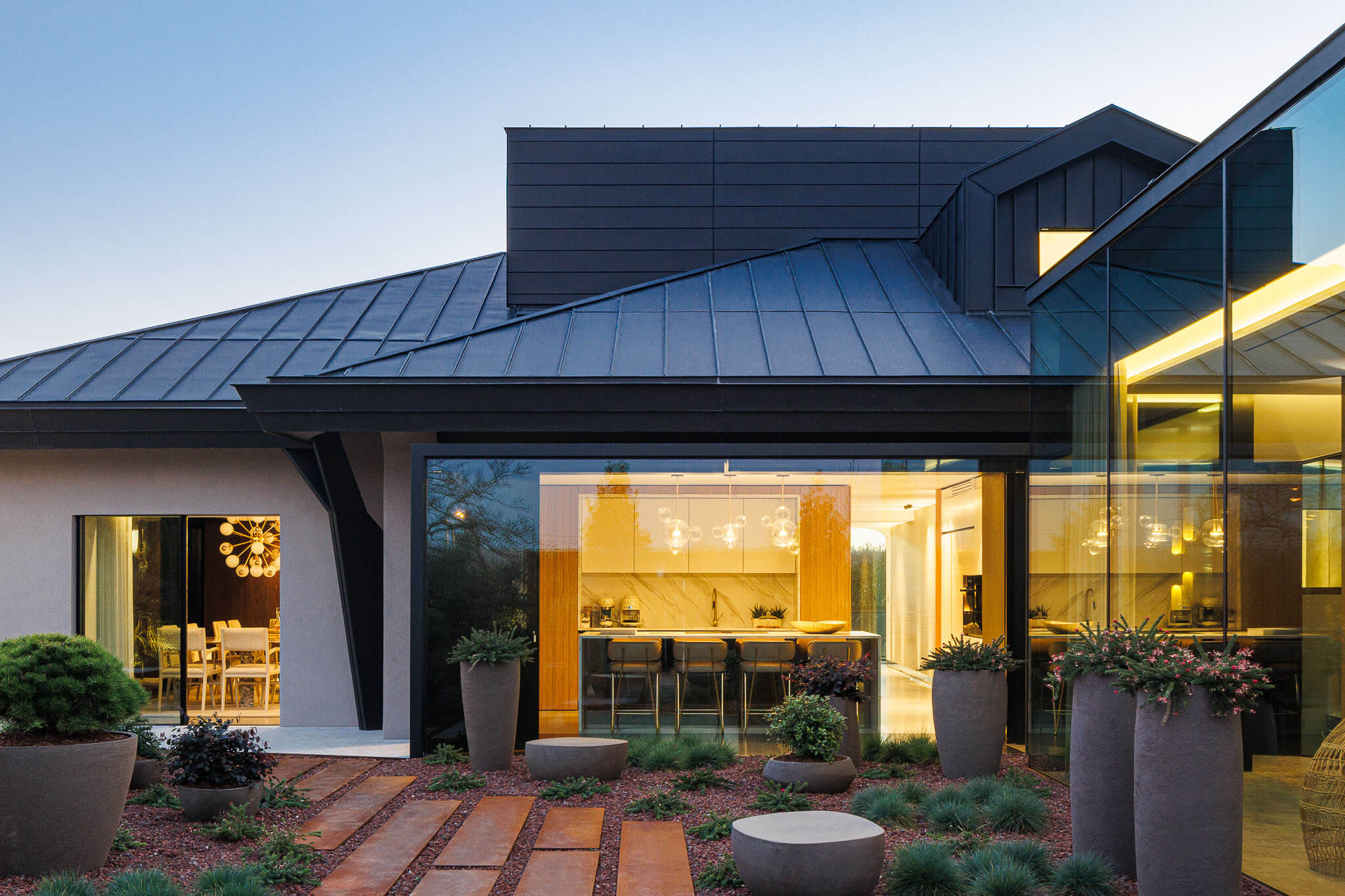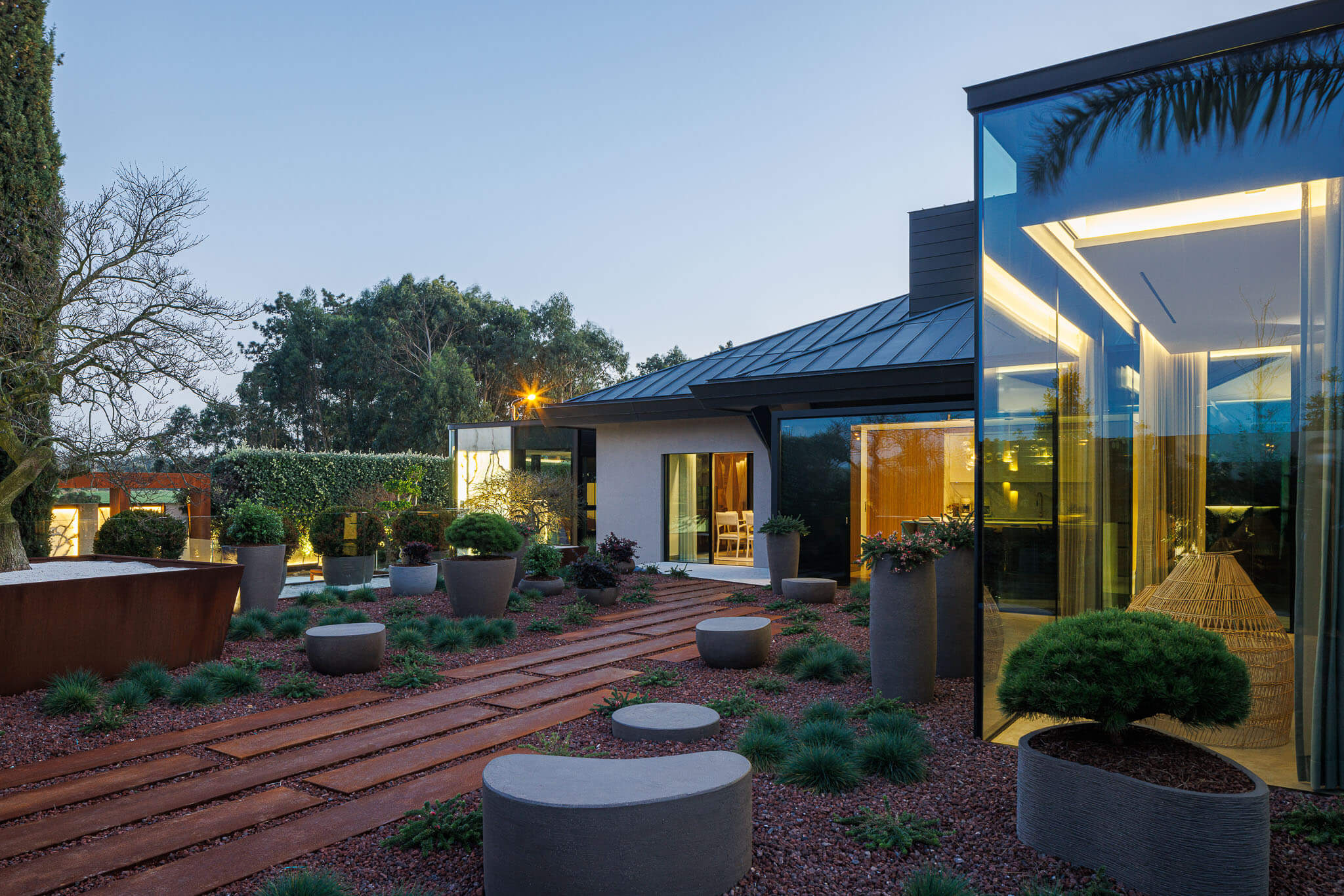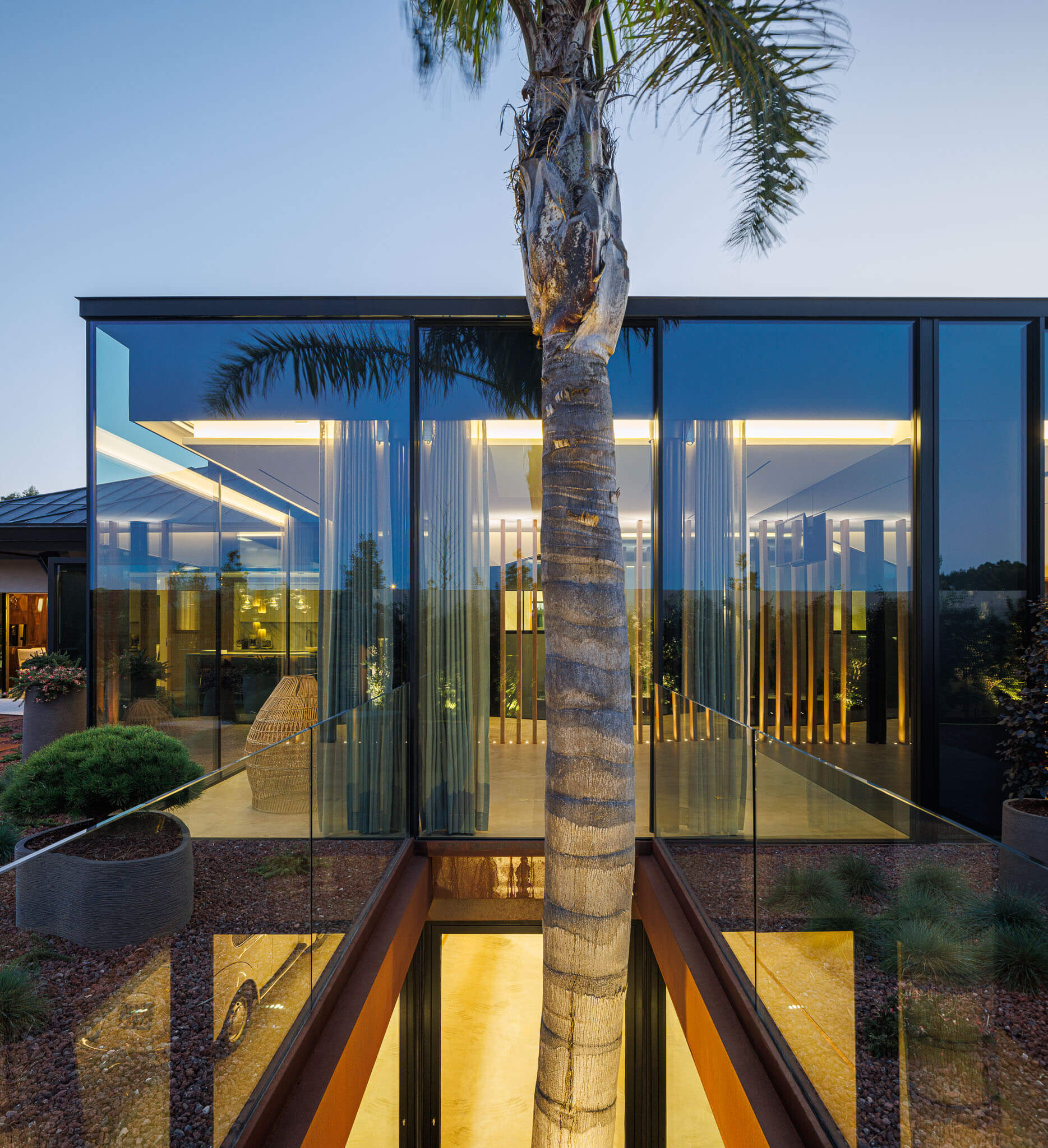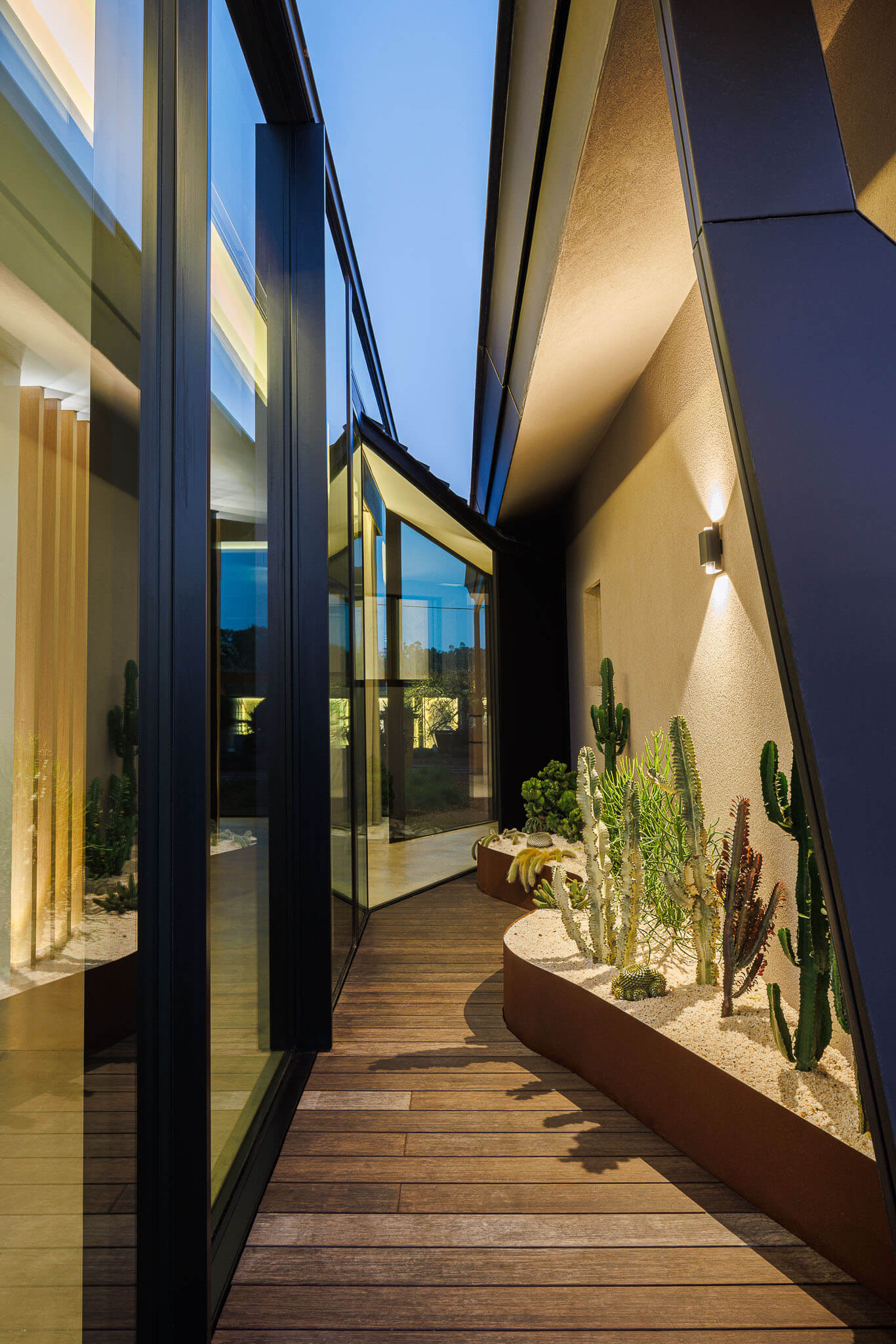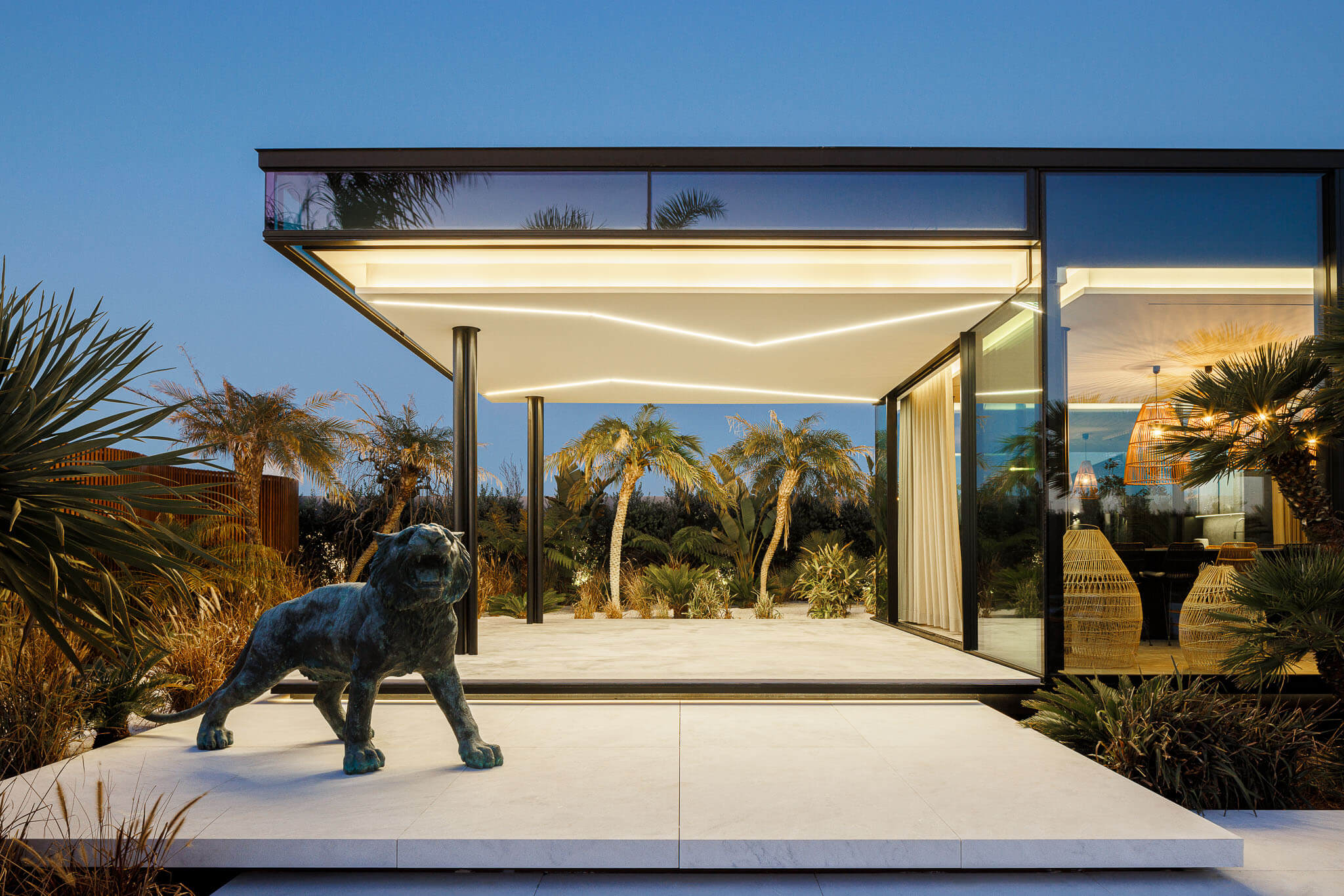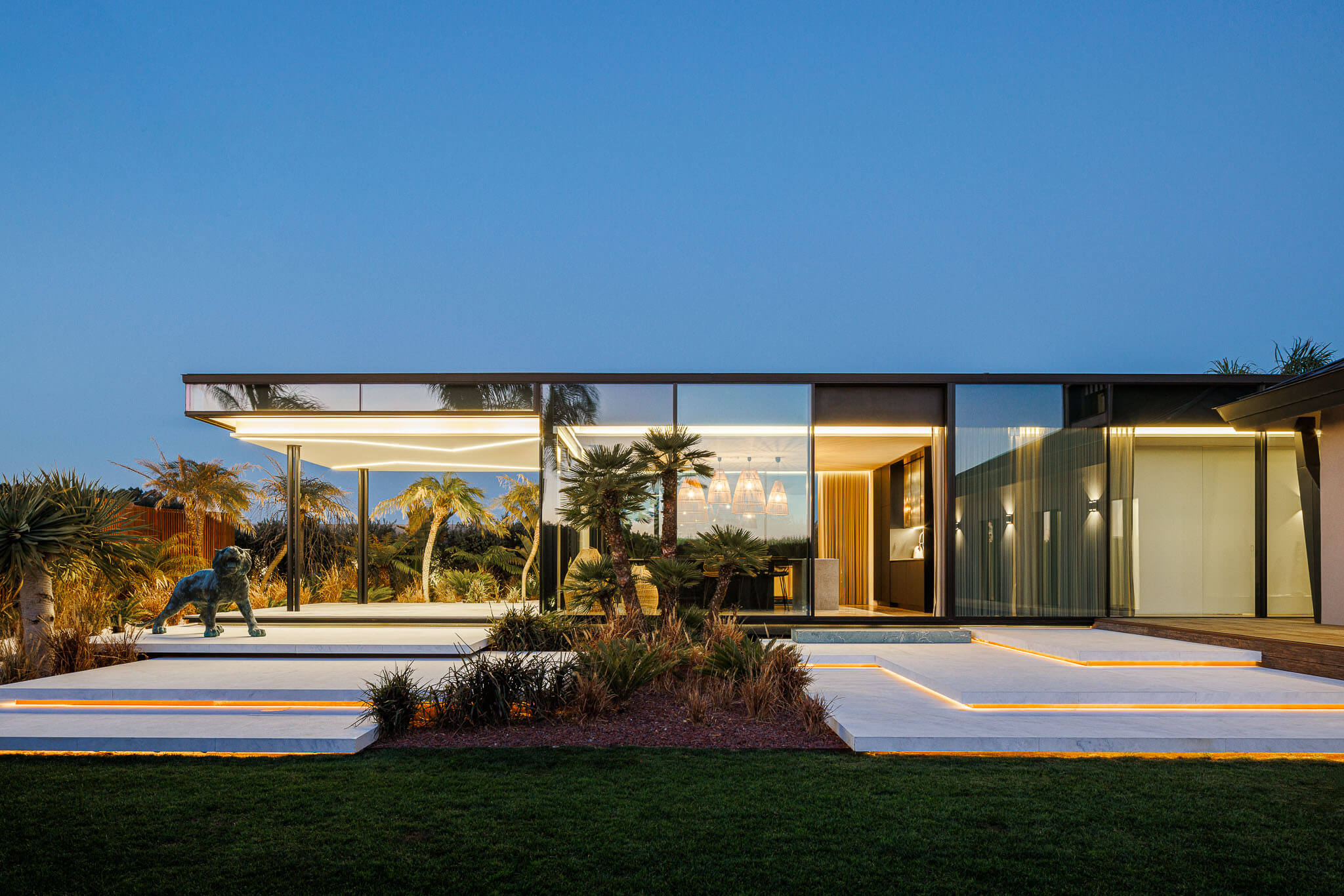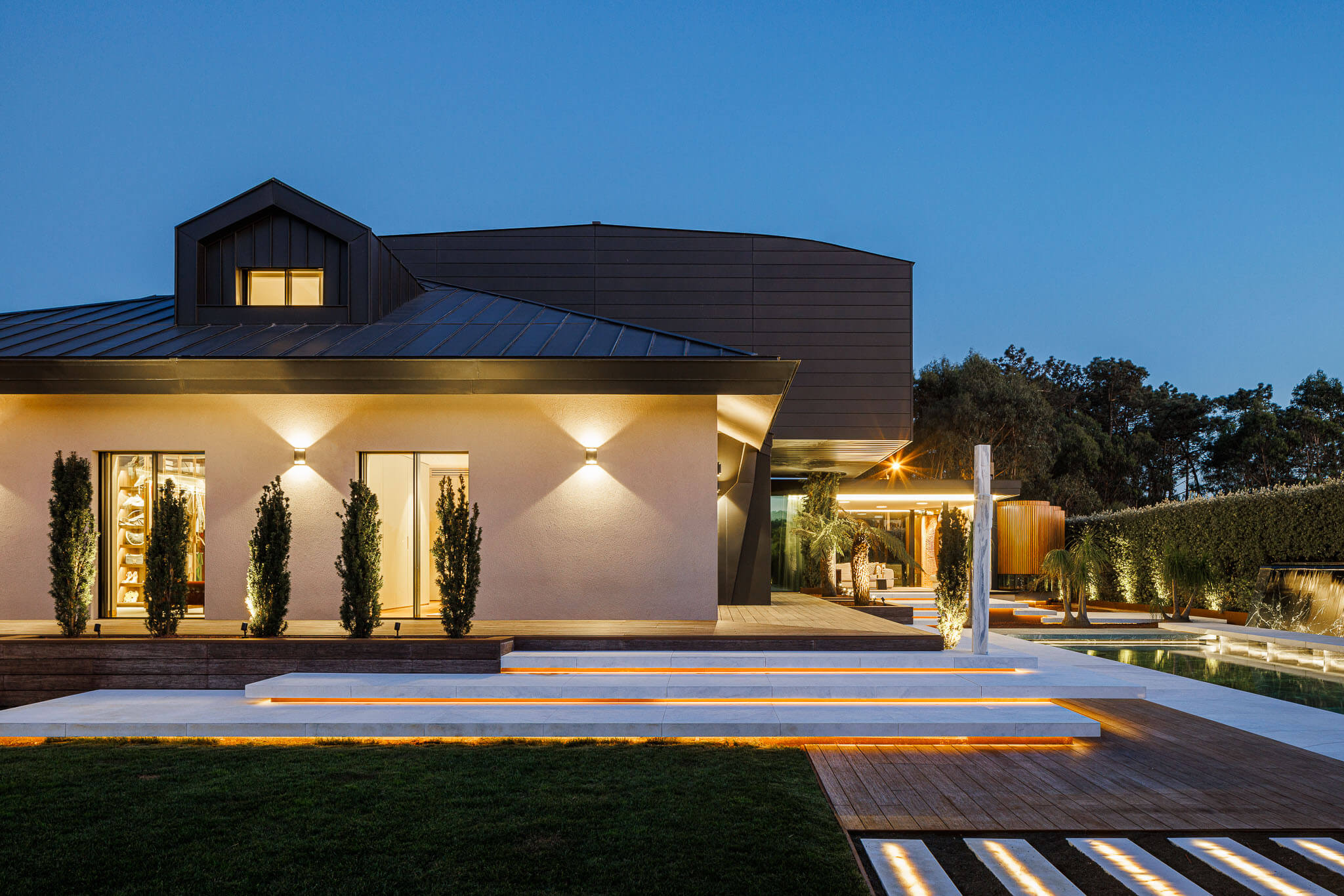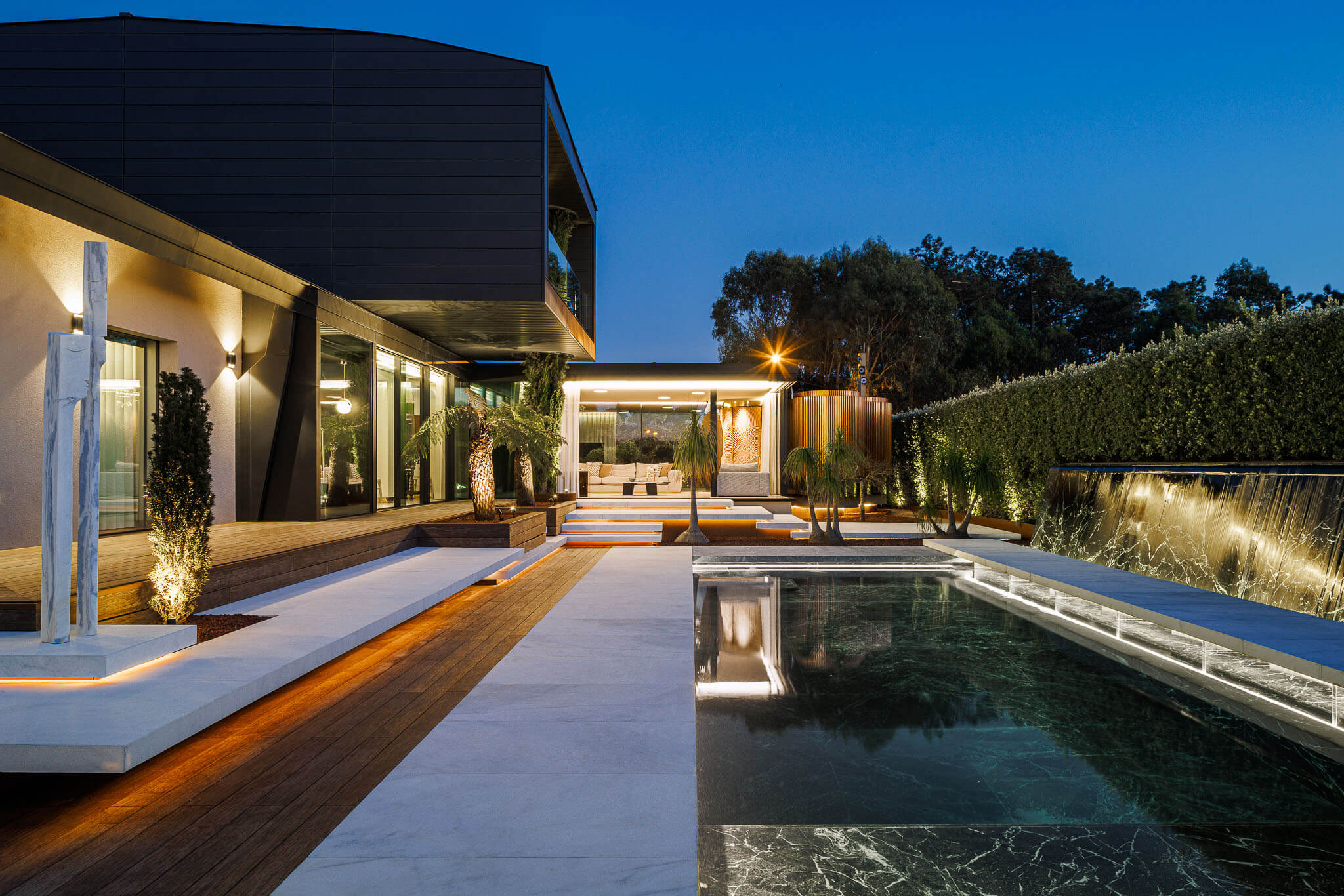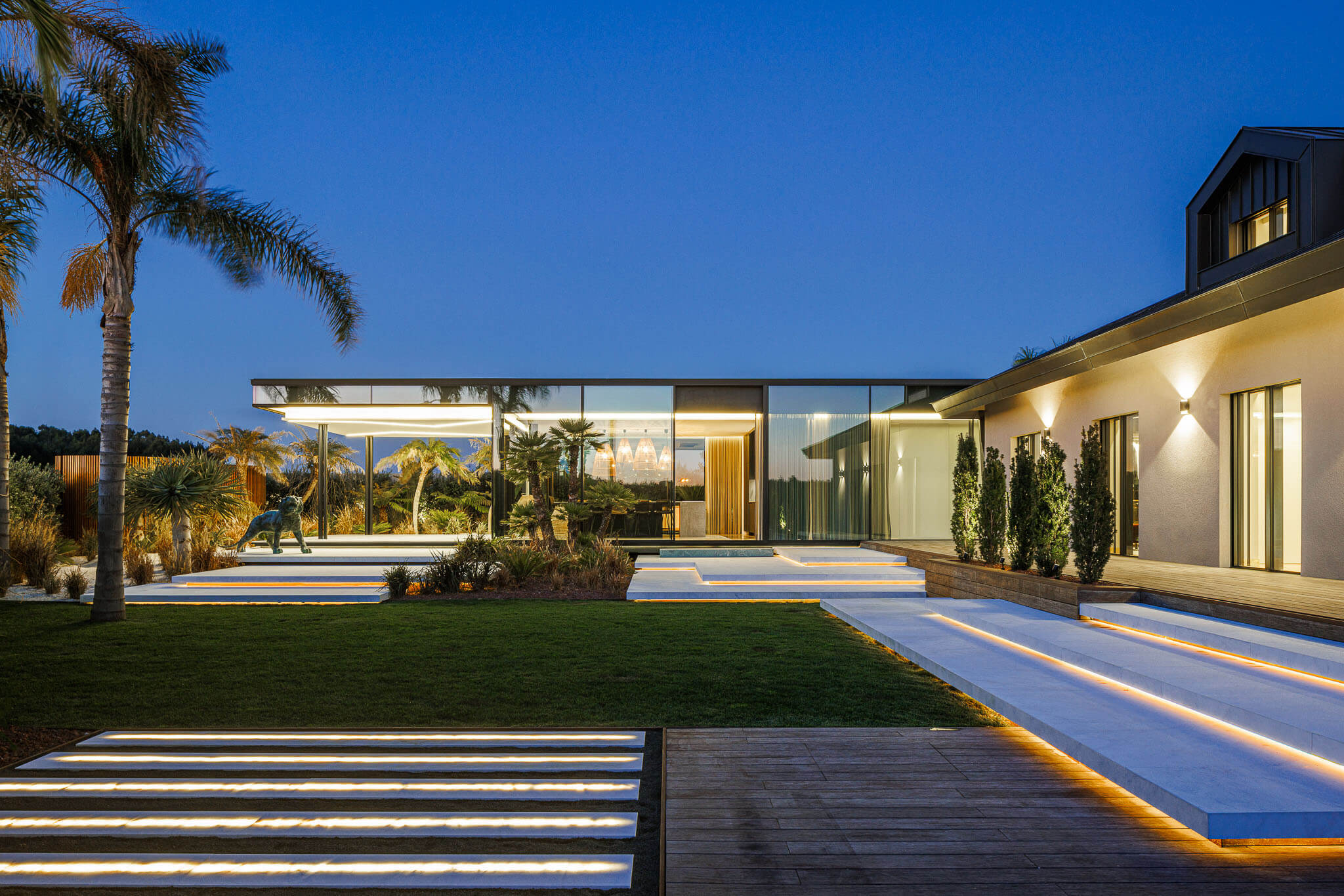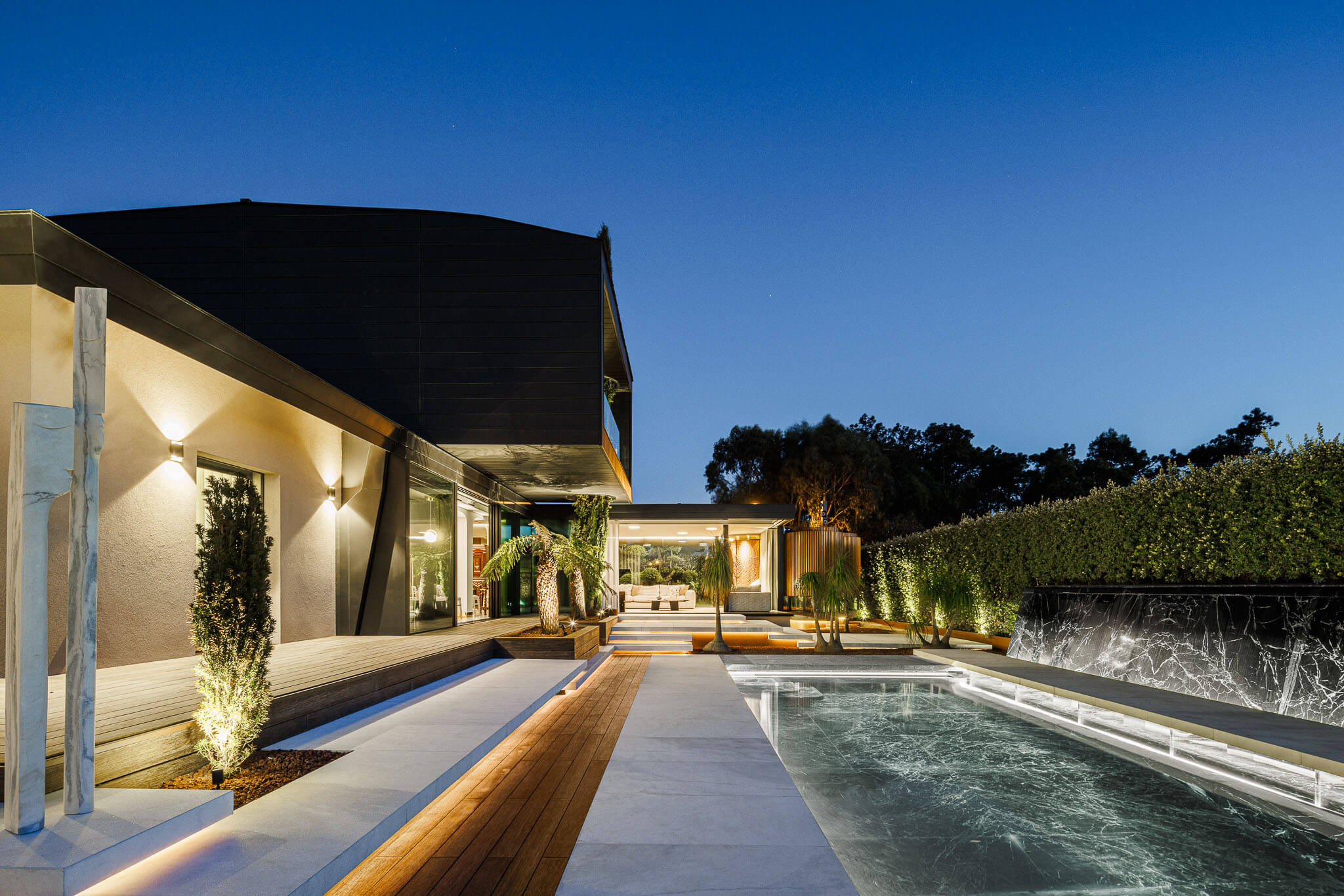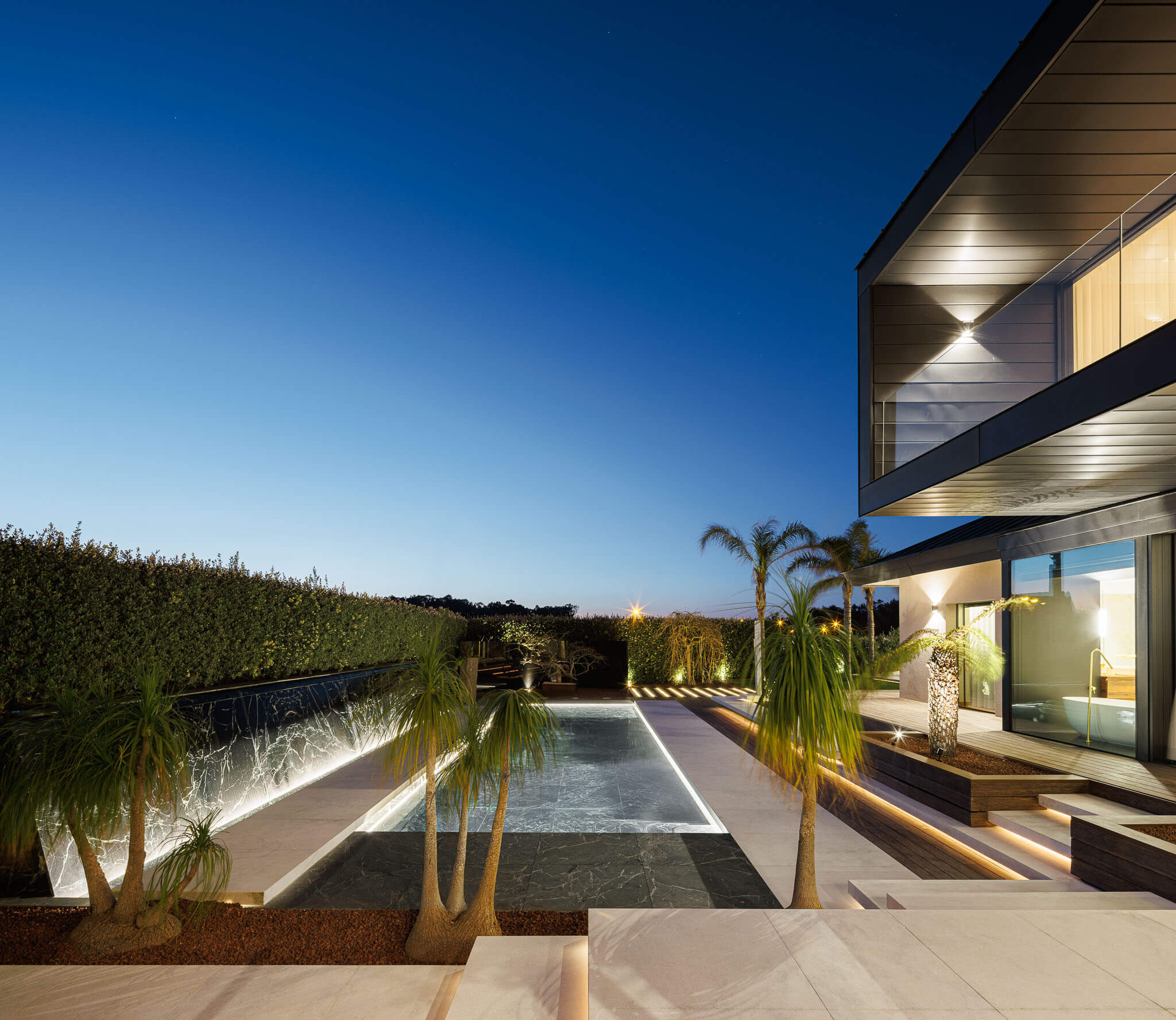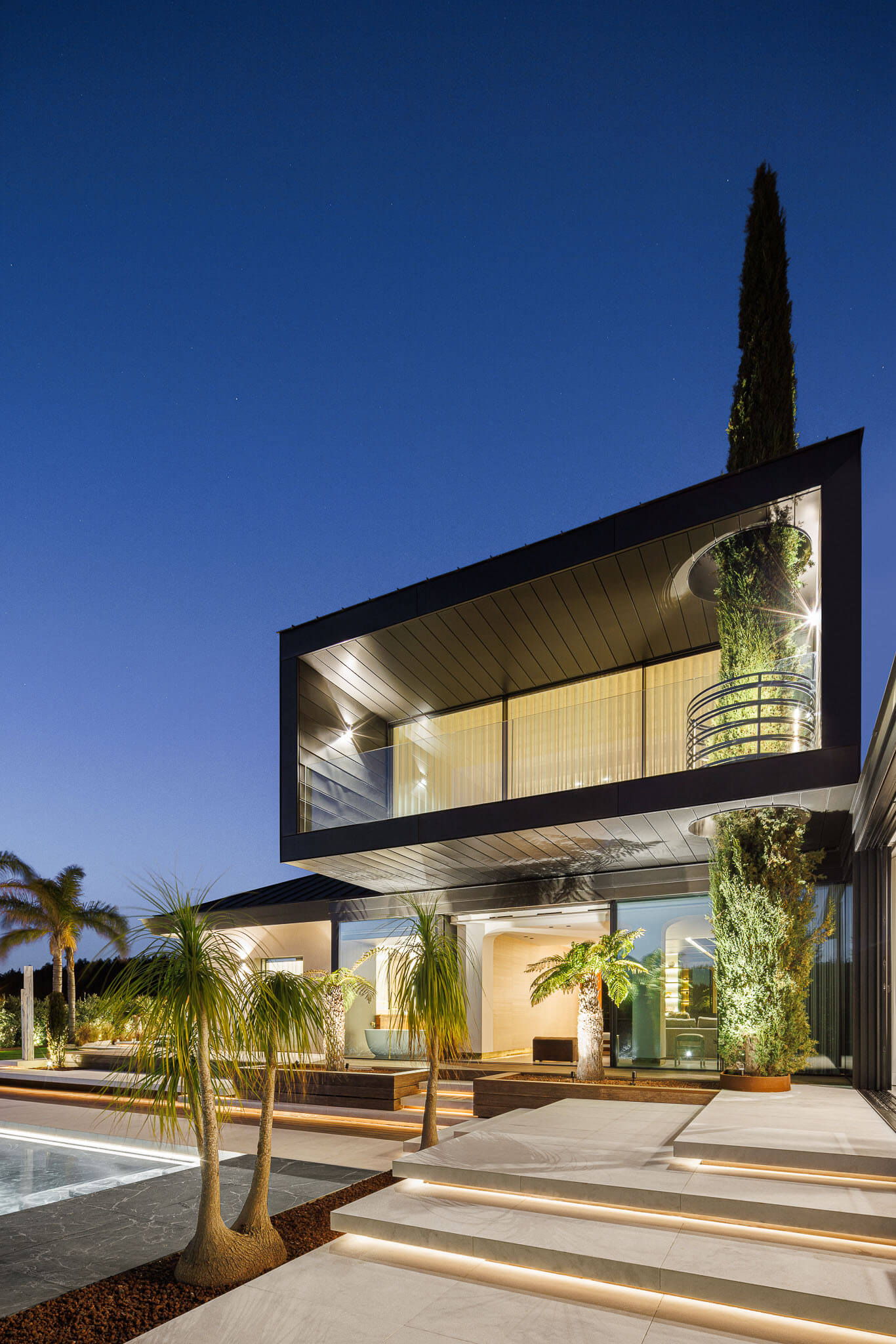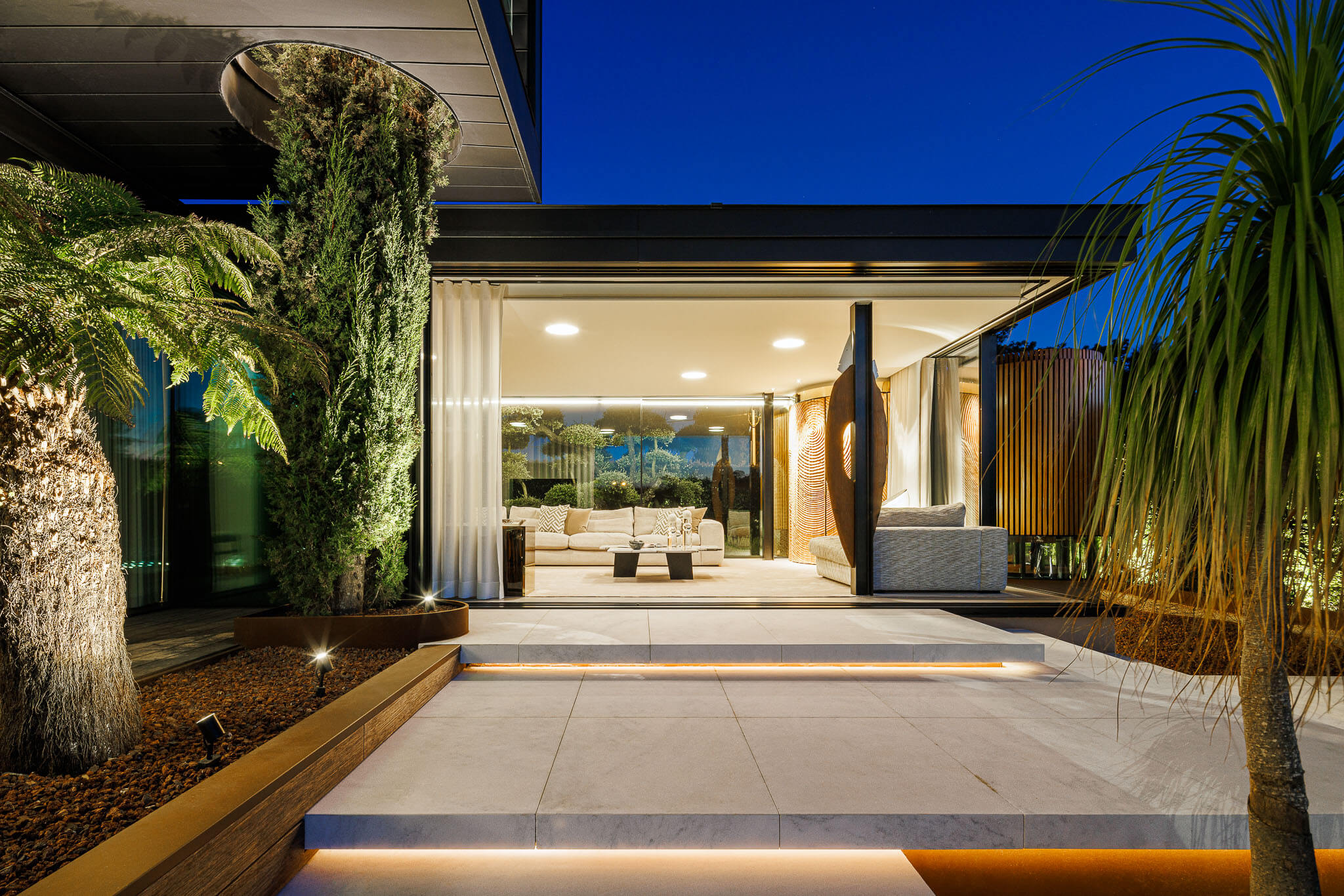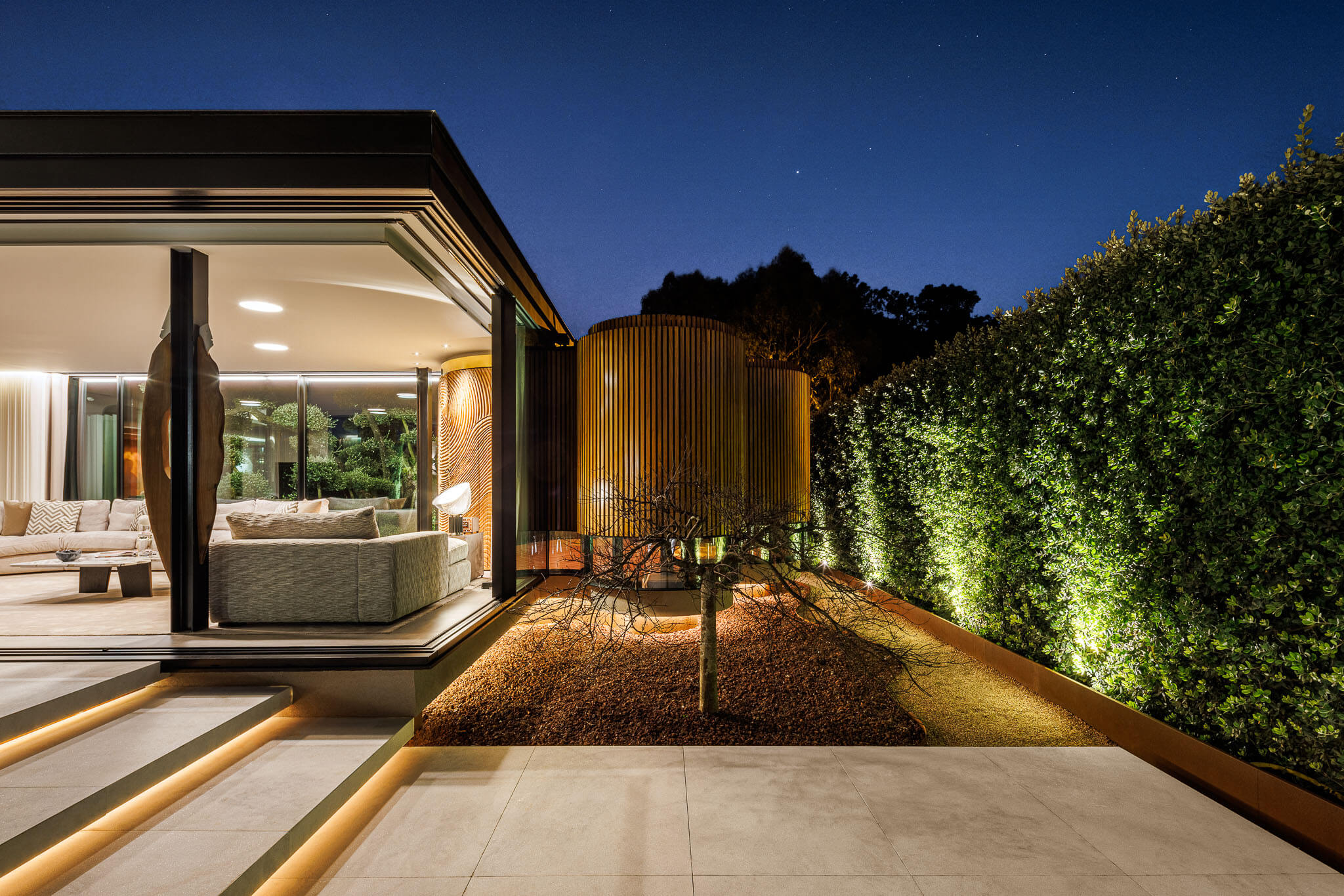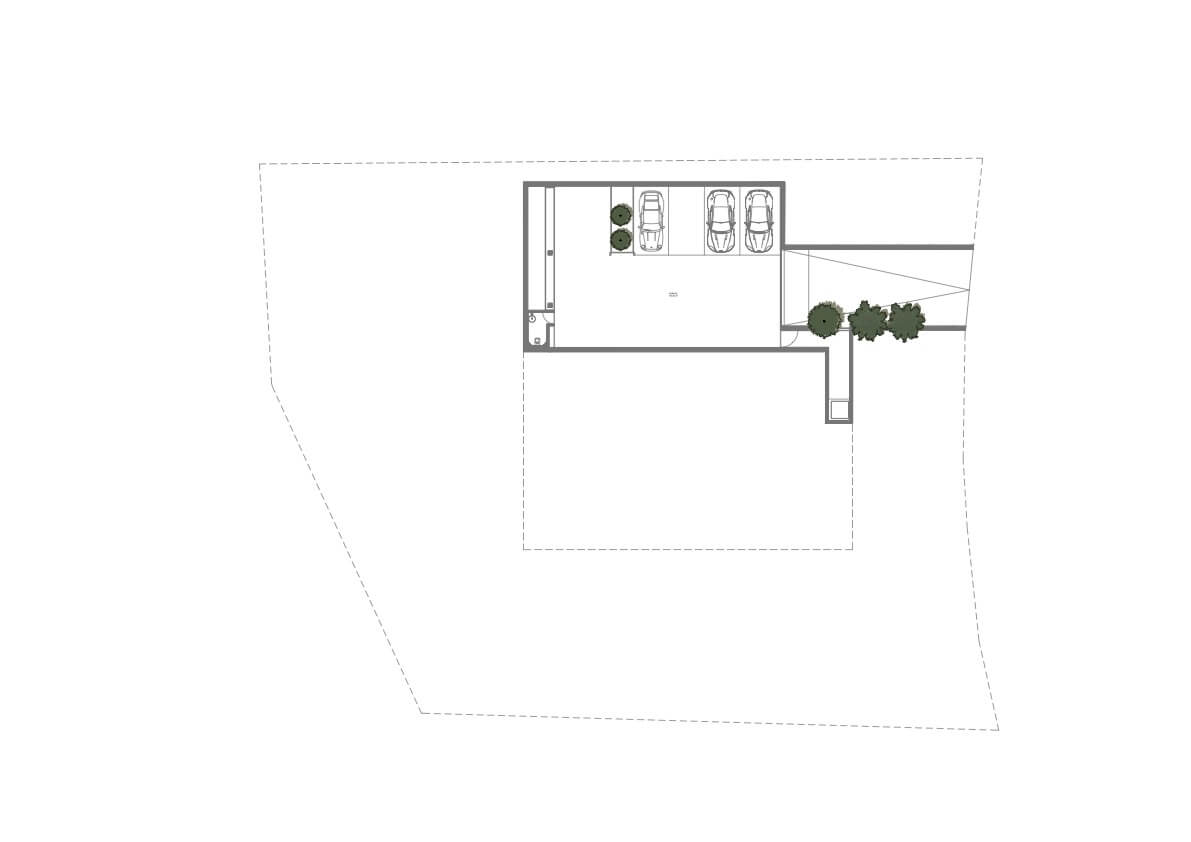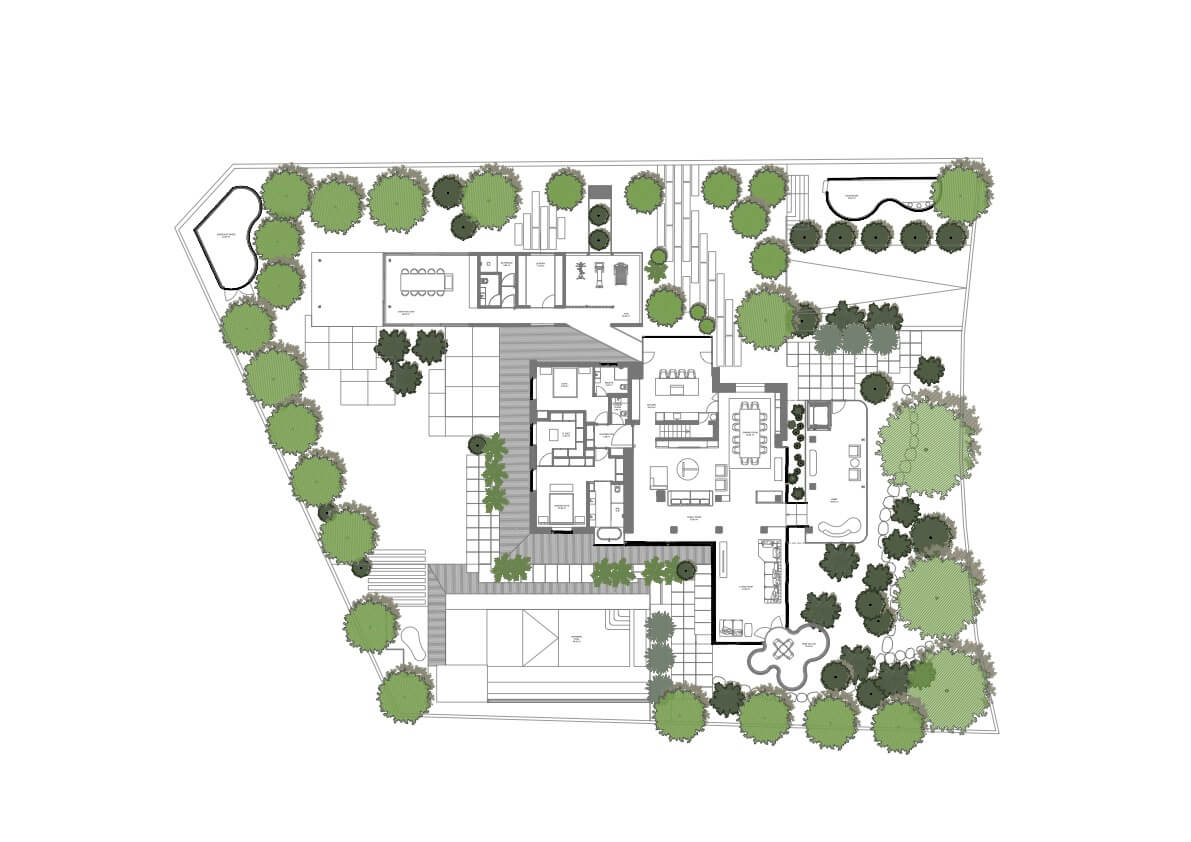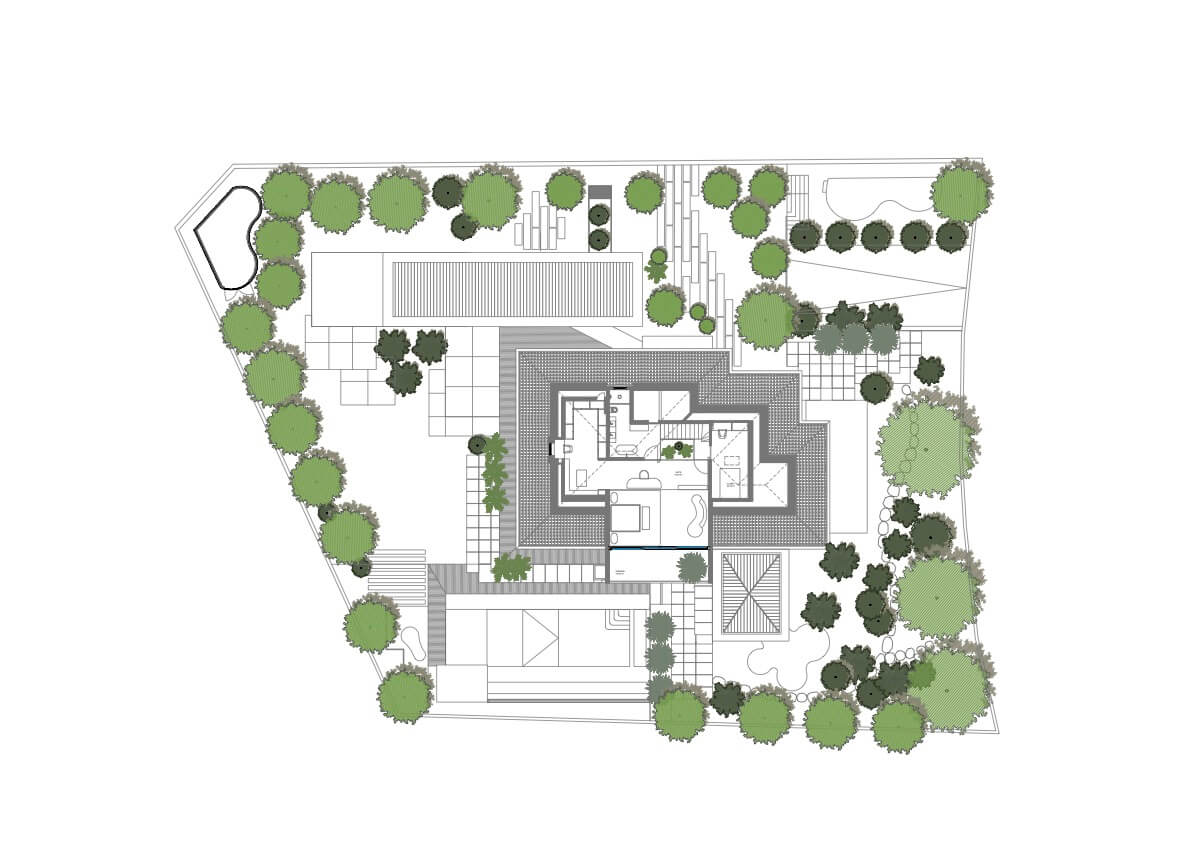 ---