Nestled in the heart of Dinner Plain, Australia's most distinctive alpine village, Britt White Studio has given new life to an original chalet - creating a haven for a family of snow lovers whilst paying homage to a Peter McIntyre original.
Architect Peter McIntyre, a true pioneer of Australian alpine architecture, was the driving force behind the Dinner Plain Alpine Village, developing the masterplan and vernacular of the town. Inspired by the characteristics of the old cattlemen's huts as his vision for the community, Peter and the team at McIntyre Partnership were also the architects of the original buildings of the alpine community, including Blairs. Constructed in the early 1980s, this modest building features loft-style bedrooms, a bathroom and an open-plan living zone including kitchen and dining. Drawing upon his concern for "emotional functionalism," and the impact of the built environment on its occupants, Blairs is built of stone, timber, corrugated iron and boasts a magnificent original stone fireplace with a raked Douglas Fir ceiling throughout.
40 years on, Britt White Studio was commissioned to redefine the interior of this second home for a family of skiers, delivering a design that honours the original architecture infused with a sense of colour and playfulness. After over 20 years of ownership, and a family now grown up, Britt was challenged to breathe new life into a residence which had become tired with time, to provide additional storage solutions and deliver modern living spaces for entertaining. Initial inspiration for this renovation was the bark of the surrounding snow gums, viewable from the living spaces of Blairs. The client's love for colour and the shades of pink, purple, reds, grey and greens so prominent in the snow gums, informed the material selections for the house. ⁠Keeping existing timber and stone features as the exoskeleton, the new elements deliver a fresh sense of texture, warmth and energy. The result is a highly expressive yet balanced interior that is at once both contemporary and reflective.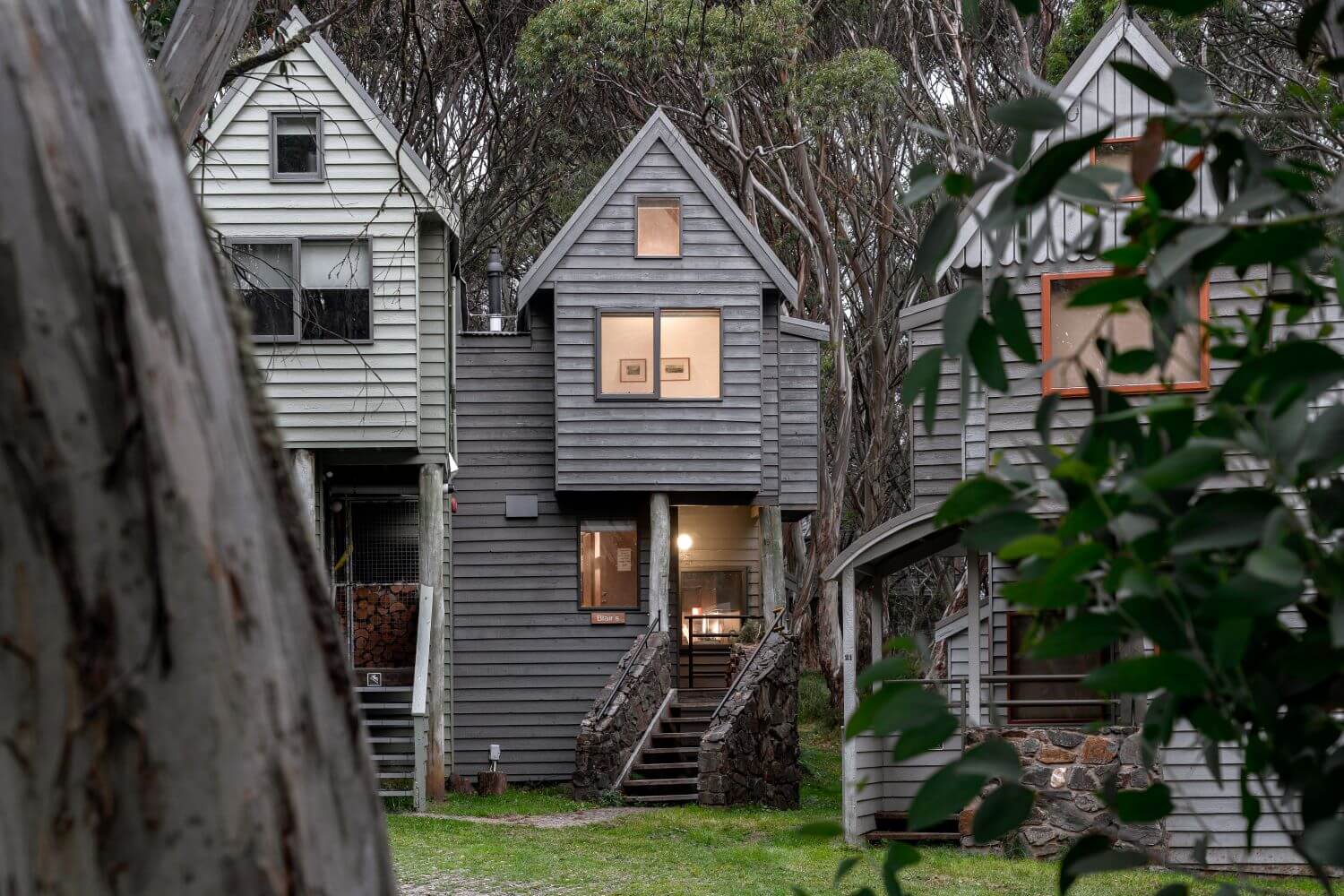 Britt White Studio worked with local artisans, craftspeople and trades to reimagine the kitchen and bathroom, replace flooring and upholstery, curate vintage furniture and objects, alongside contemporary Australian furniture brands to imbue a sense of fun, full of texture and colour. The new kitchen, with its bold pink hues and brass details, acts as the centrepiece of the chalet's living space, and Britt's overall design ethos.
"Situated in one of my favourite towns in the region, Dinner Plain, this project created a unique opportunity for my team. Just up the road from our studio in the Victorian High Country, we drew inspiration from McIntyre Partnership's original designs and our personal experiences in the Victorian Alps – not to mention the clients' love of nature – to create a beautiful and functional space in which the best of alpine design, nature and colour come to life," says Britt. "We're incredibly proud of the outcome of the Blairs project, an interior filled with texture and colour, encapsulated by a rugged exterior that will keep the elements out and the warmth inside, no matter the season."
The clients were thrilled with the outcome of the renovation. "Britt has reimagined Blairs, in a way that truly does honour the heritage of the building and village. It is sympathetic to the original building design, delivering convenience, enhanced storage and functional living spaces for our modern family. We're truly delighted with what Britt has delivered - a complete interior design project that will act as a beacon of unique and modern Australian alpine design for years to come."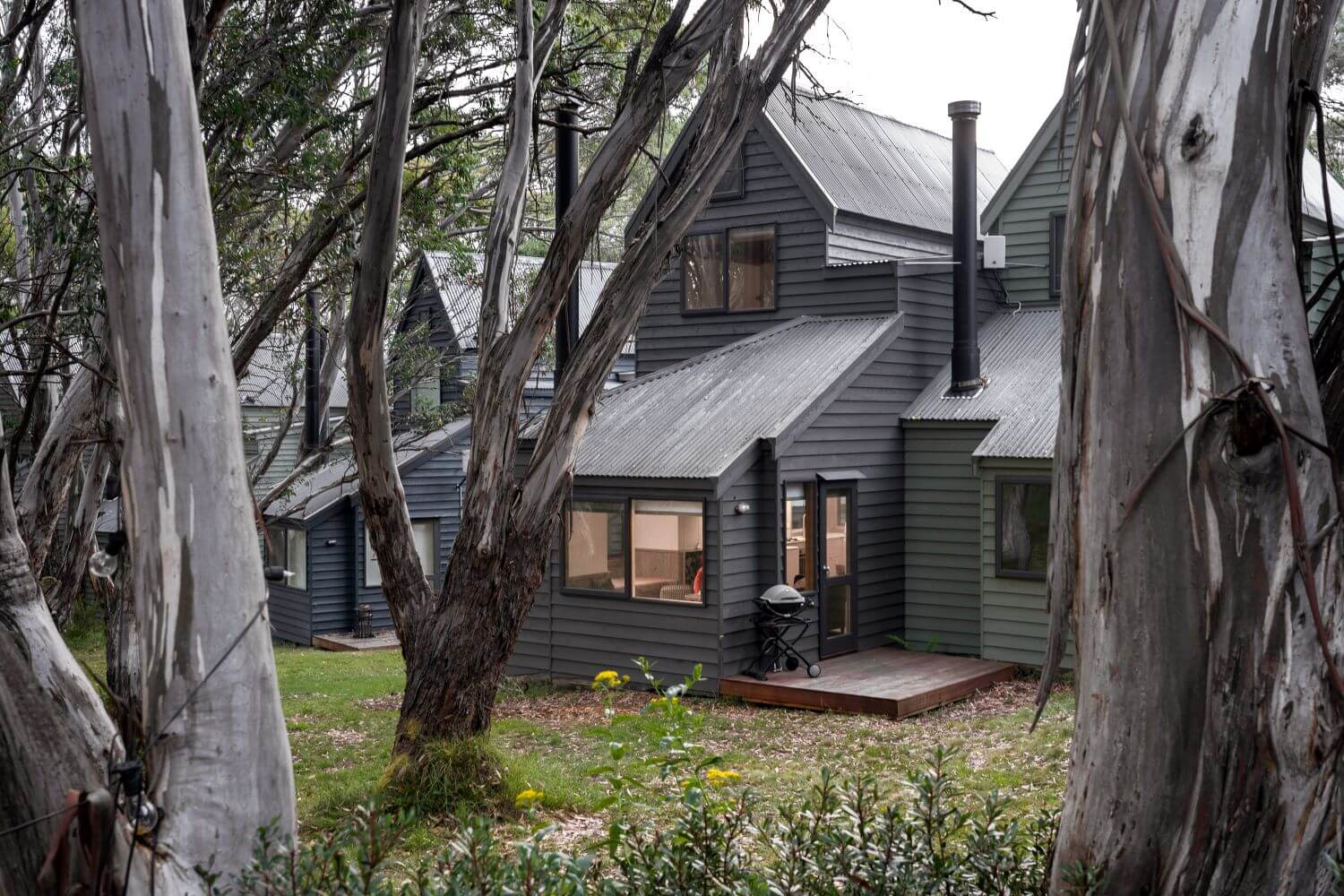 What was the brief?
Constructed in the early 1980s, Blairs is a modest alpine chalet designed by McIntyre Partnership as one of the first dwellings of the original masterplan for Dinner Plain Alpine Village, nestled in the extreme climate of the Victorian High Country.
DESIGN BRIEF
1. Honour the heritage of the building: Work with the original features, such as Oregon raked timber ceilings, wall sconces and stone fireplace, to hero the original architect and design.
2. Colour: Take inspiration from surrounding nature, particularly Eucalyptus stellulata (Black Sallee) which the chalet is encircled by. Focus on warm hues.
3. Contemporary and functional: The chalet is small, so function for purpose and practicality is of utmost importance. Complete renovations of kitchen and bathroom are to be optimized for flow and storage, incorporate contemporary fixtures and fittings, and durable to last another 35 years of holiday makers. Plus styling throughout.
Key products used:
SELECTION OF TRADES AND SUPPLIERS
Trades: Beatson Builders - Construction; Ovens Valley Cabinets - Custom cabinetry.
Suppliers: Bremworth - Carpets; Forbo Flooring - Kitchen and entrance floor marmoleum; ABI Interiors - Kitchen and bathroom fittings; The Gezellig Room - Roman blinds and wardrobe curtain; Bubuland - Customised occasional chair; Steel Road - Coffee table; Designer Rugs - Custom coloured rug; Zepel and Warwick Fabrics - Upholstery; Curated Spaces - Vintage sofa; Dowel Jones - Pendant light; Parker Furniture - Dining Table; Loop Home - Towels; Lucy Jane Ceramics - Handmade ceramics.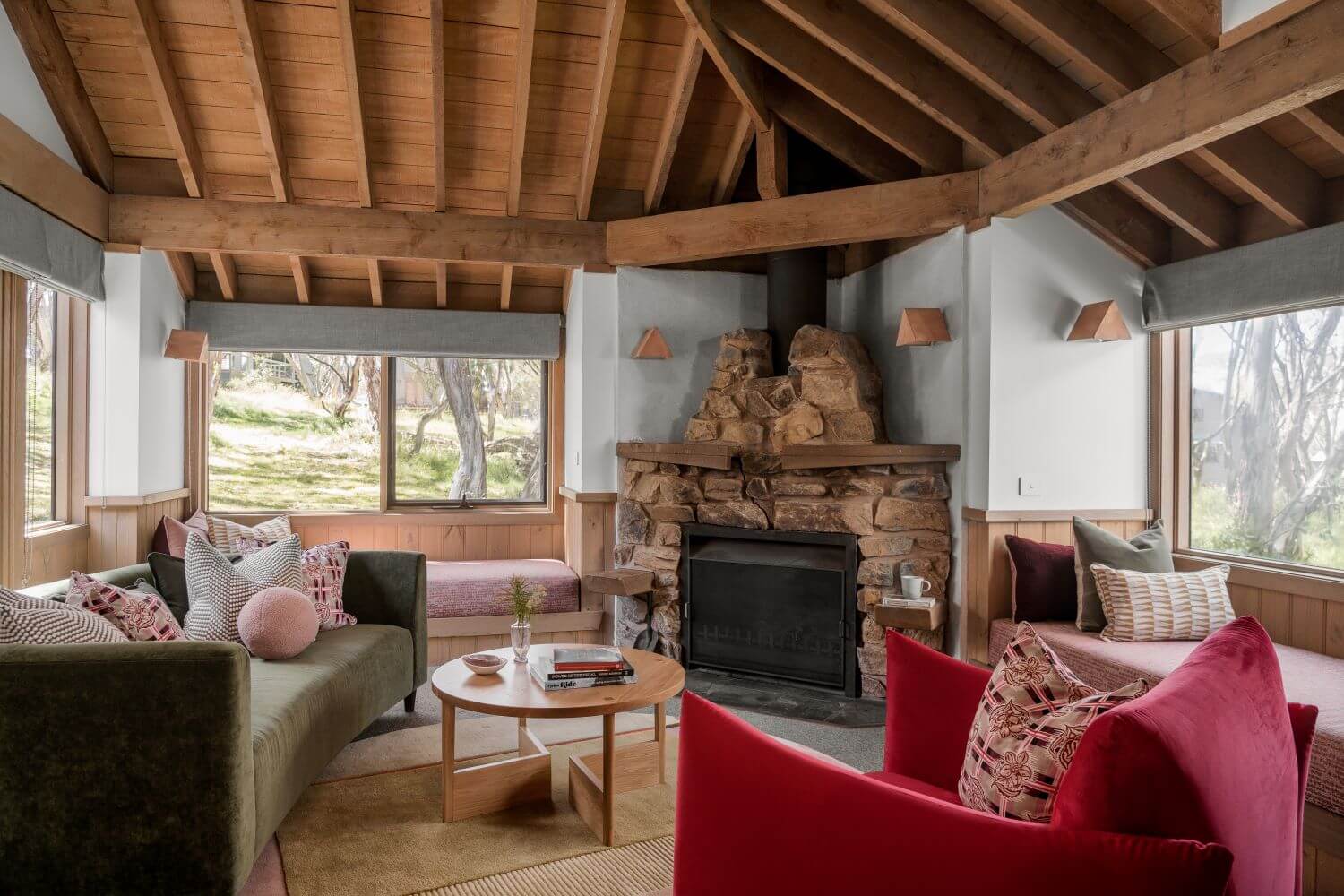 What was the Design Statement and how did the design concept address anychallenges?
Blairs has been reimagined as a haven from the elements and place of inspiring reflection...
Reflection of the natural surroundings; the history, landscape and location of Australia's highest community; of the chalet's iconic architect; and of the owners' love of art, colour and literature.With durable finishes and materials sourced from ethically sustainable suppliers and makers, this home envelops a sense of nostalgia whilst providing both engagement to, and protection from, the outside elements. Using natural wood tones, brushed brass, with lighter coloured and reflective surfaces, more light will be brought into the home. At its heart, colours have been carefully selected to bring the outdoors in, with warm, organically layered textures and patterns bringing a sense of joy and playfulness.
Taking a 'leaf' out of the surrounding alpine environment, the colour palette features pinks and greens. Dusty rose pink, soft grey, warm woods and brushed brass are infused across cabinetry, splash back, paneling and fixtures. Accommodating a tight budget, the floor plan of the chalet remains intact with a significant renovation in the kitchen including floor replacement. The kitchen is optimised for additional workspace and flow, plus the crafting of supplementary storage and appliances (including new pantry, dish draw and larger fridge) - delivering a modern space for cooking and entertaining. In the bathroom, the existing layout (which included laundry facilities) has been reimagined and optimized for a more luxurious and functional outcome for the owners and guests alike.
A larger shower and more storage have been added with a new laundry combo appliance integrated seamlessly into the design. Britt worked with local artisans, craftspeople and trades to reimagine the kitchen and bathroom, replace flooring and upholstery, curate vintage furniture and objects, alongside contemporary Australian furniture brands to imbue a sense of fun, full of texture and colour.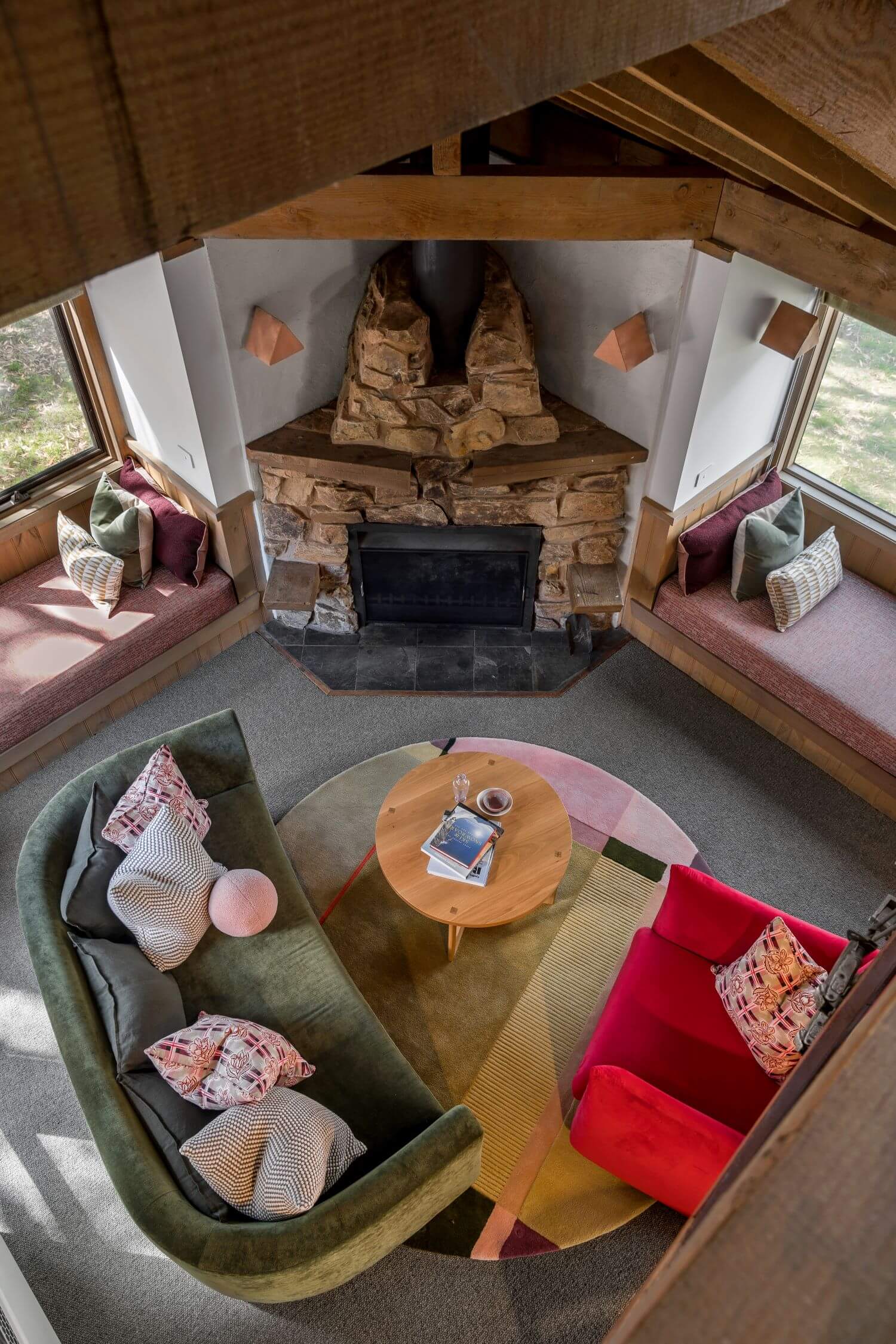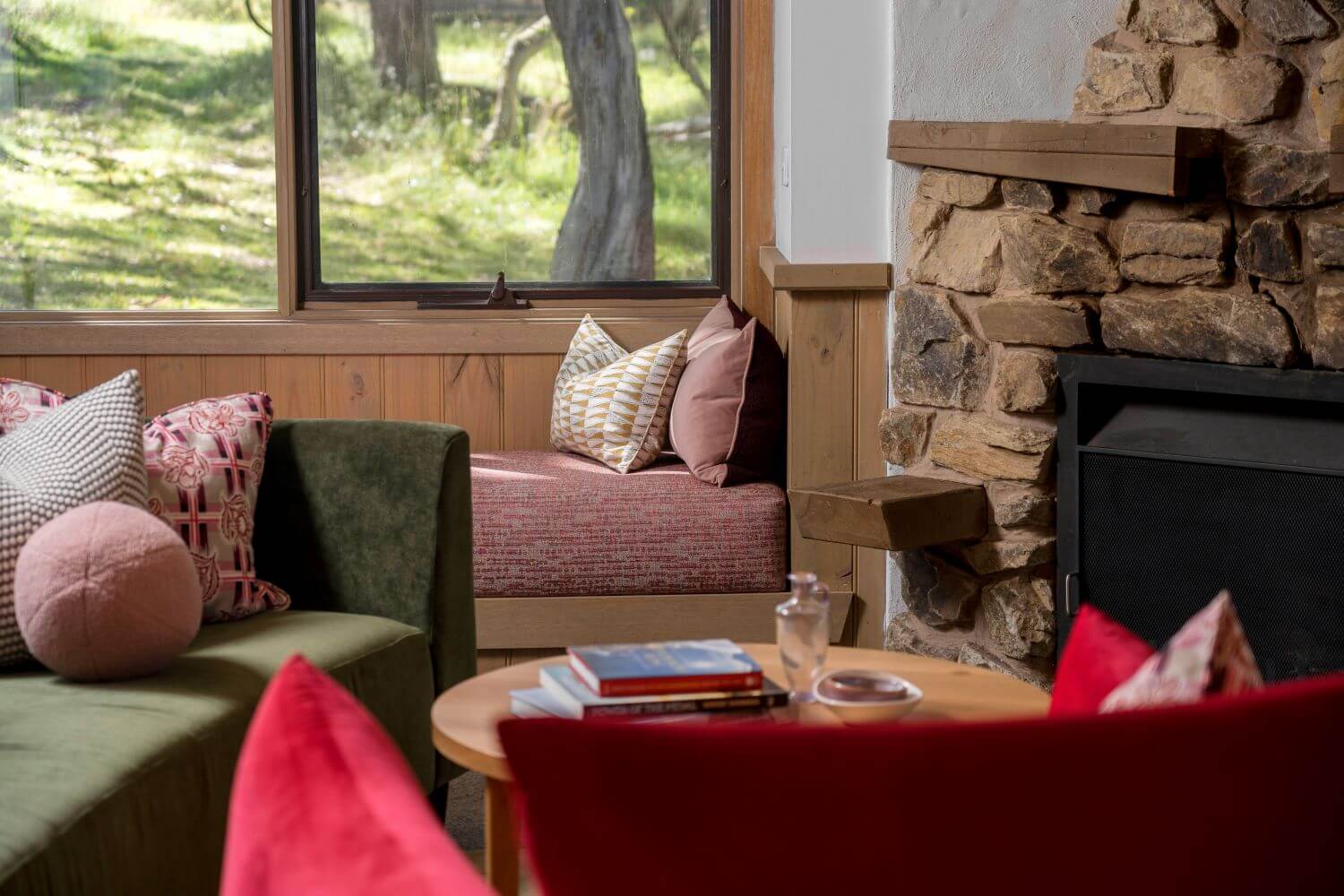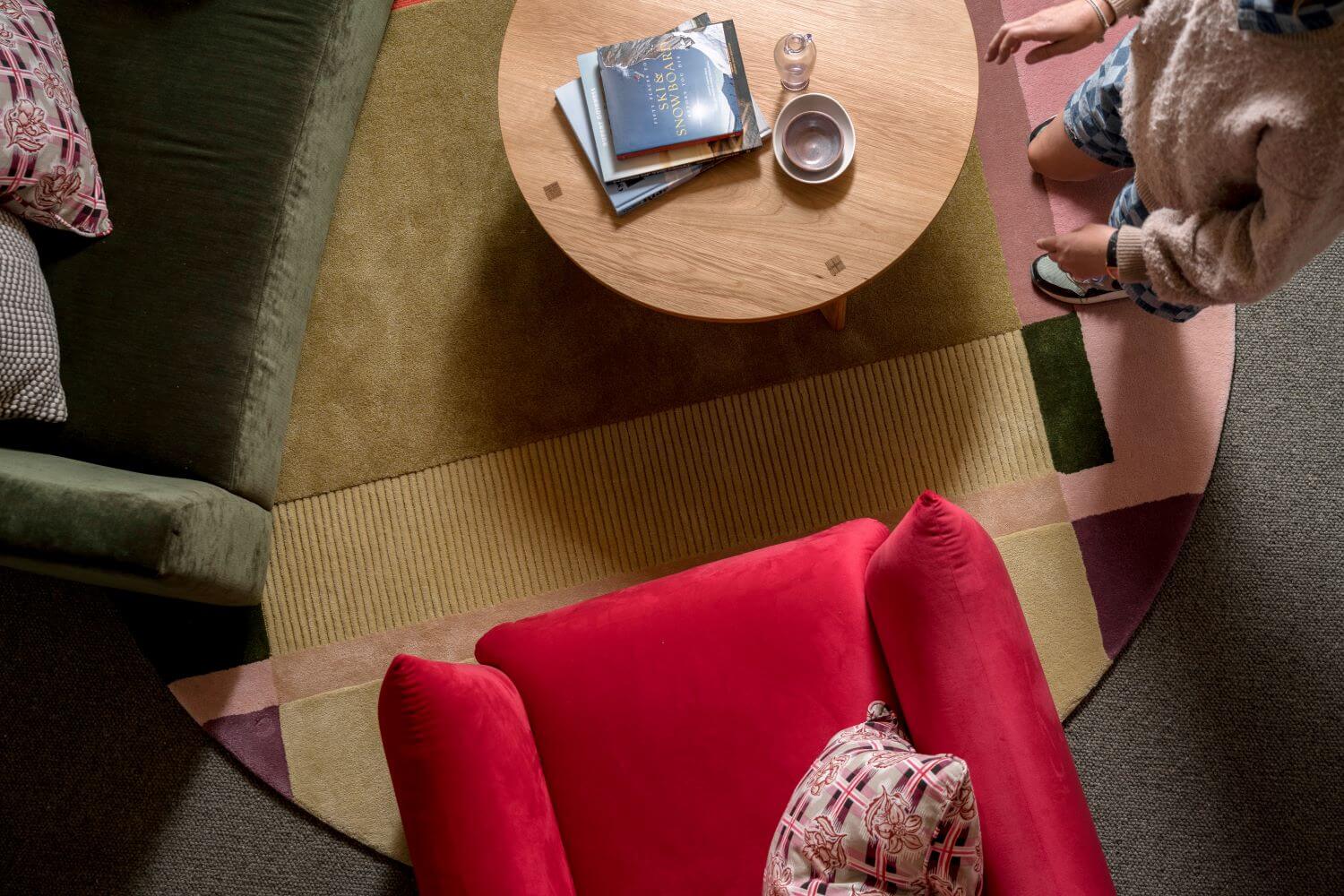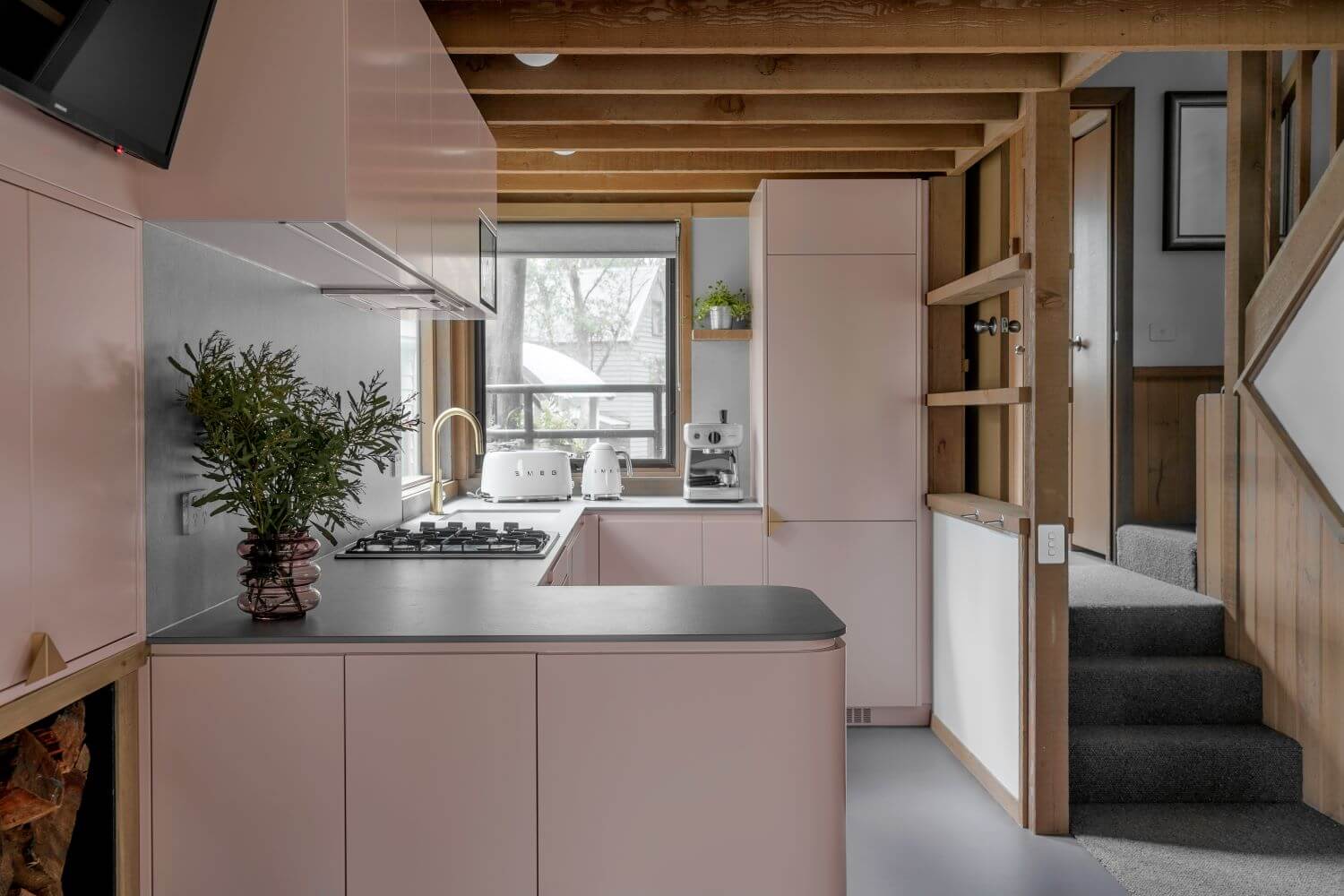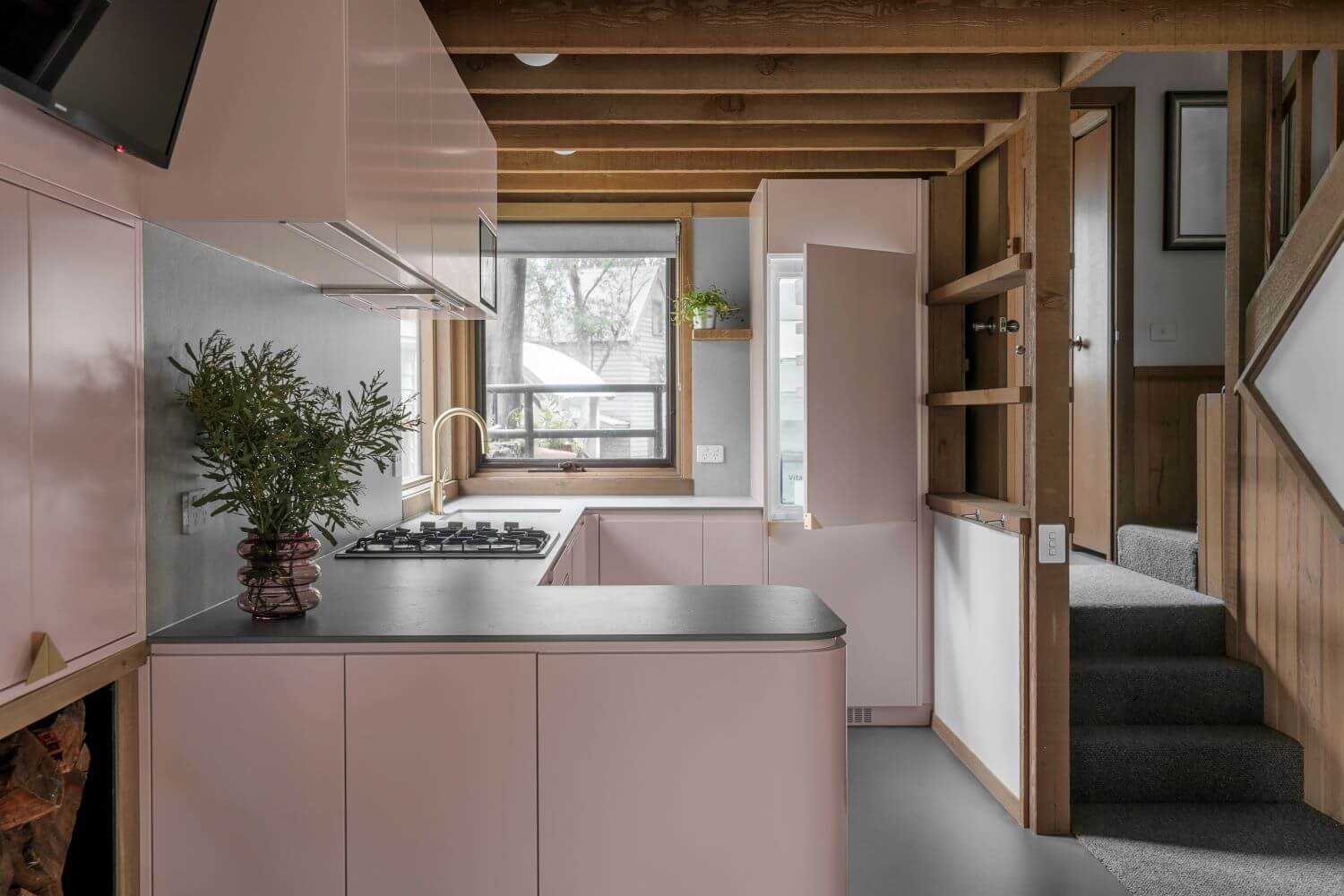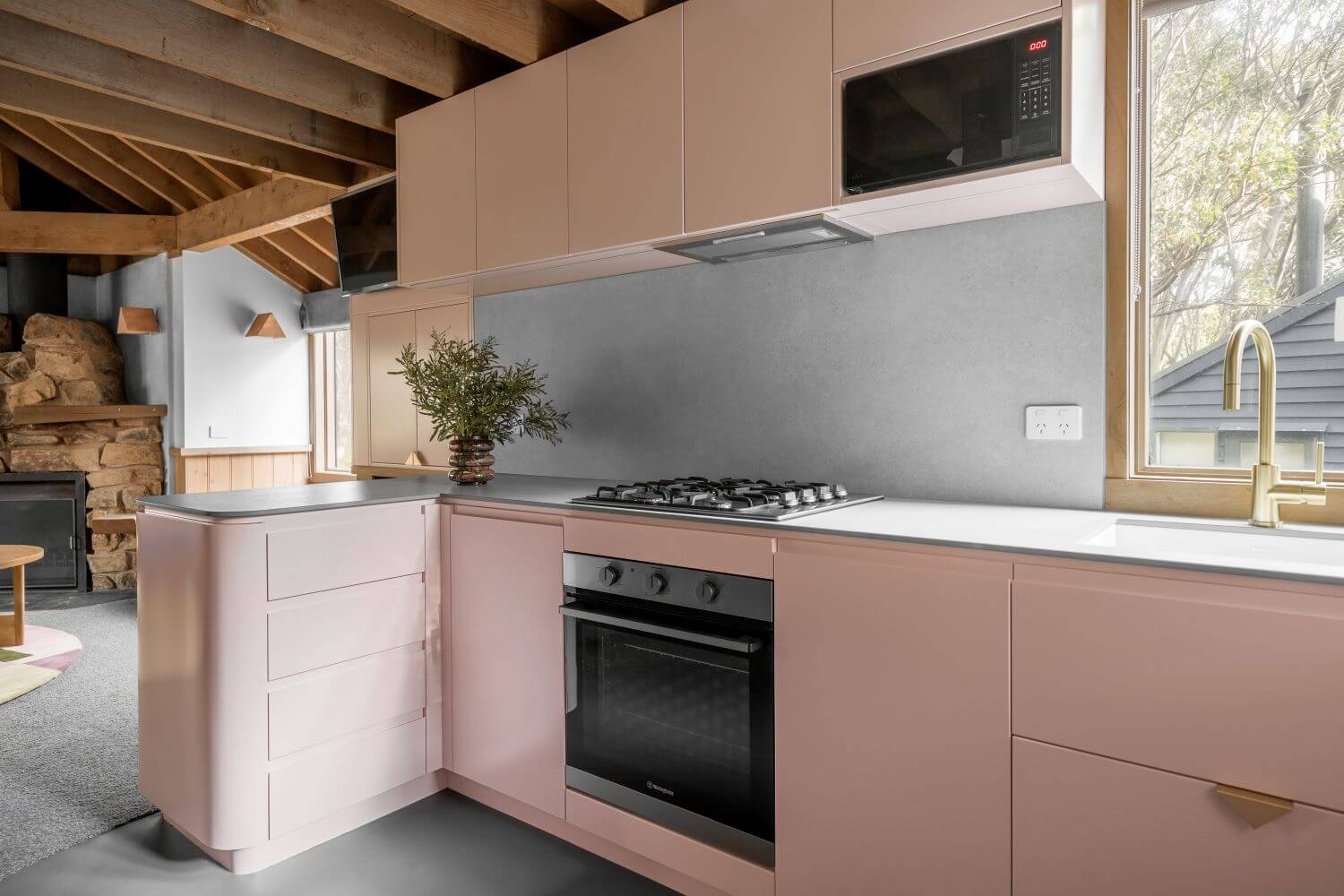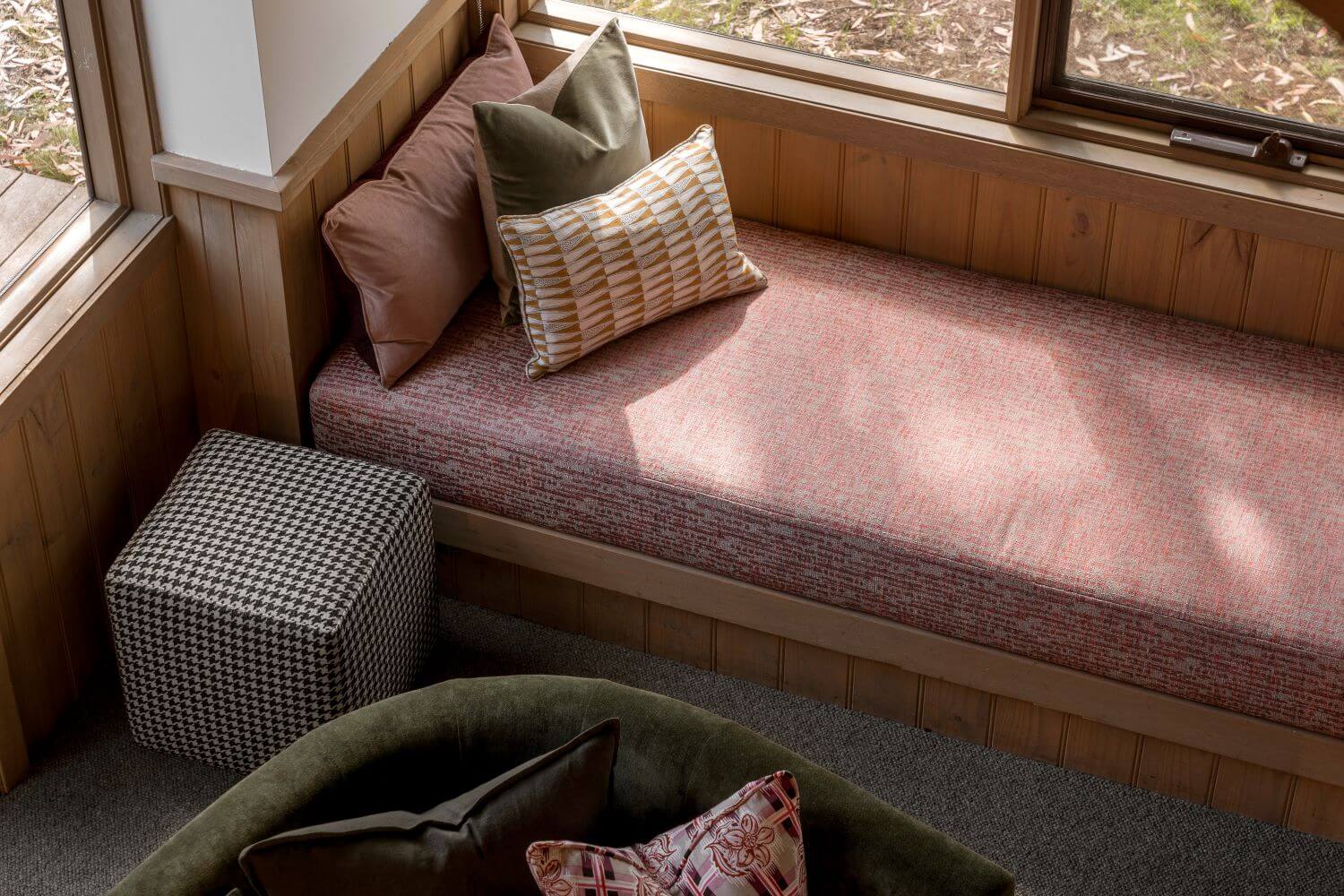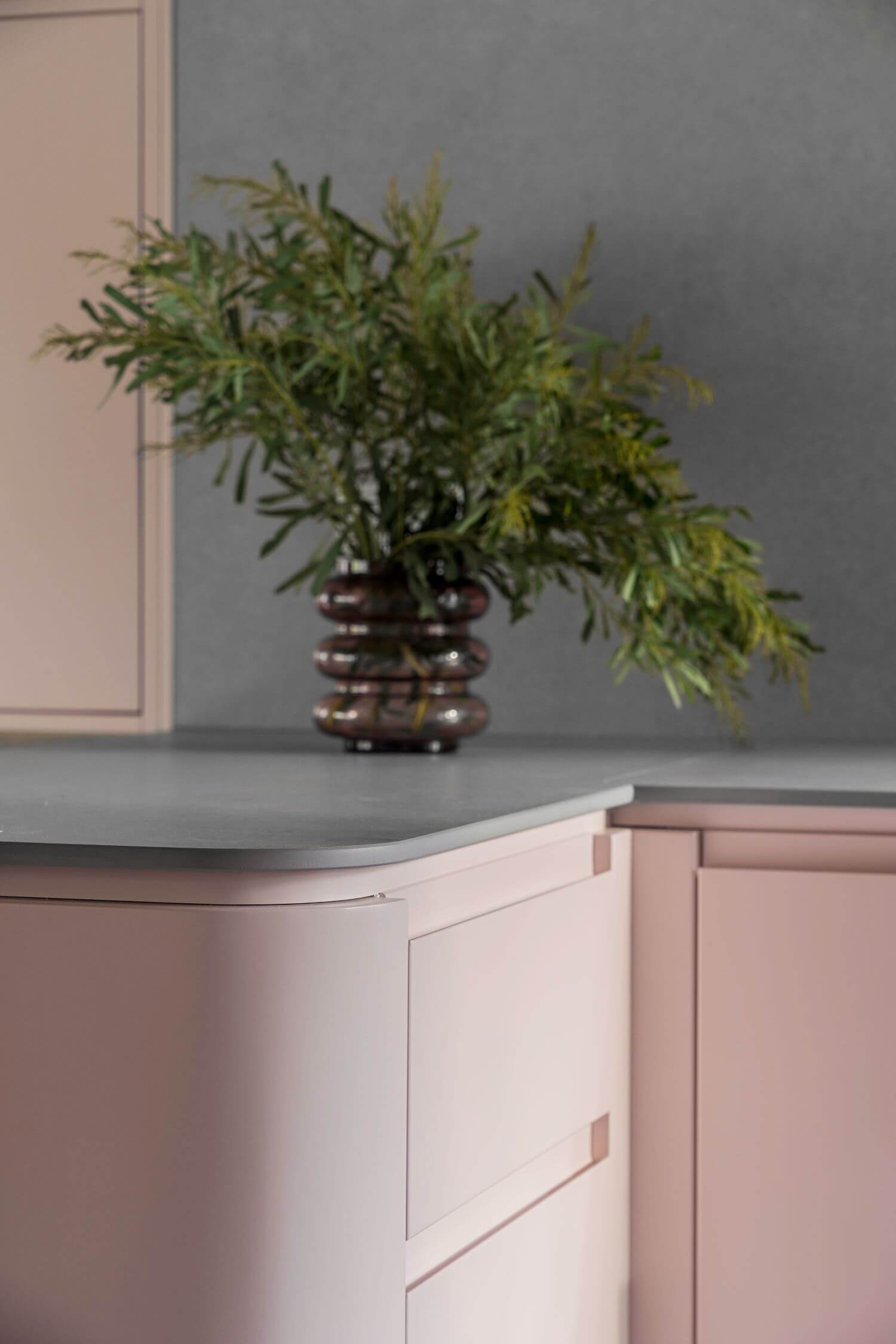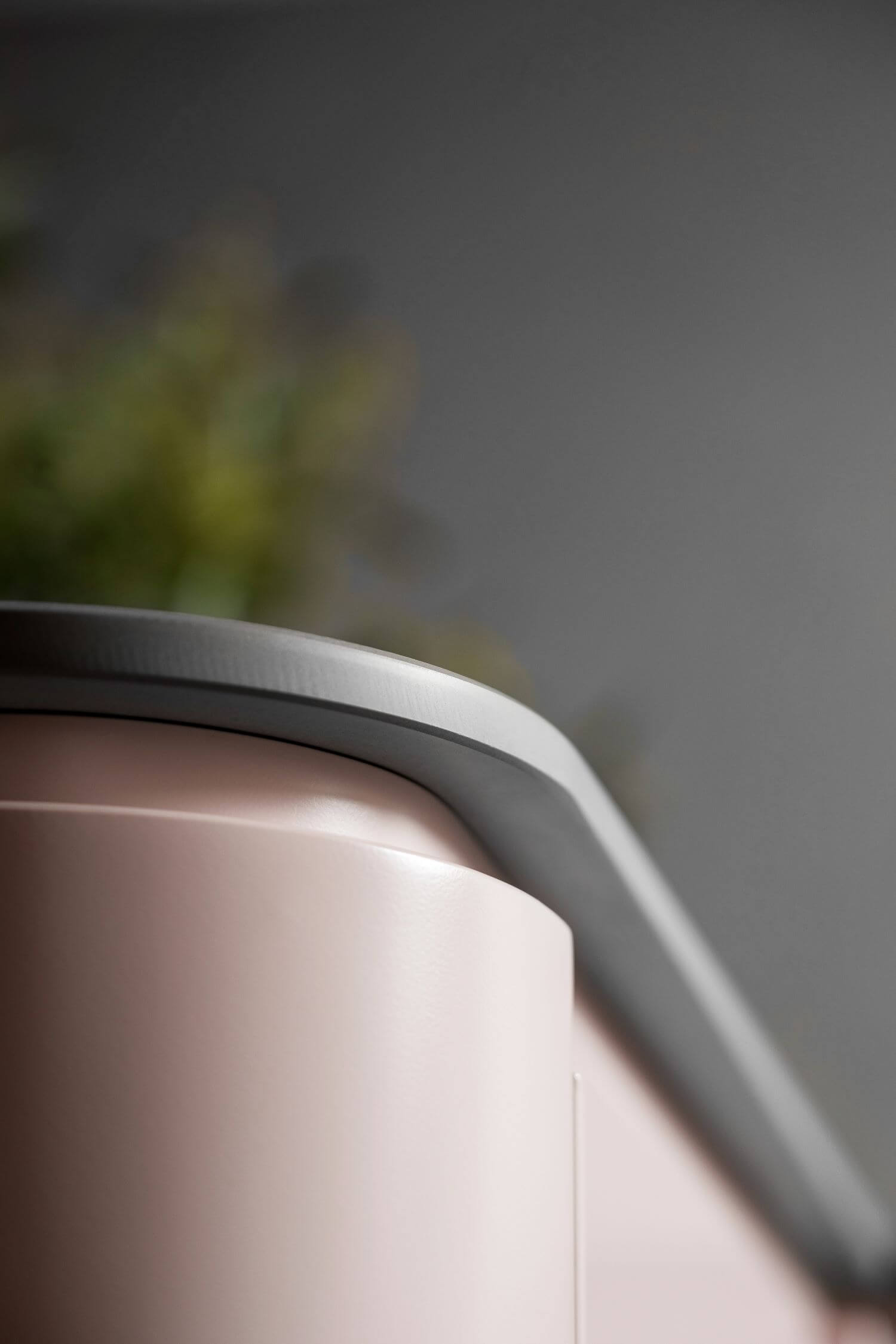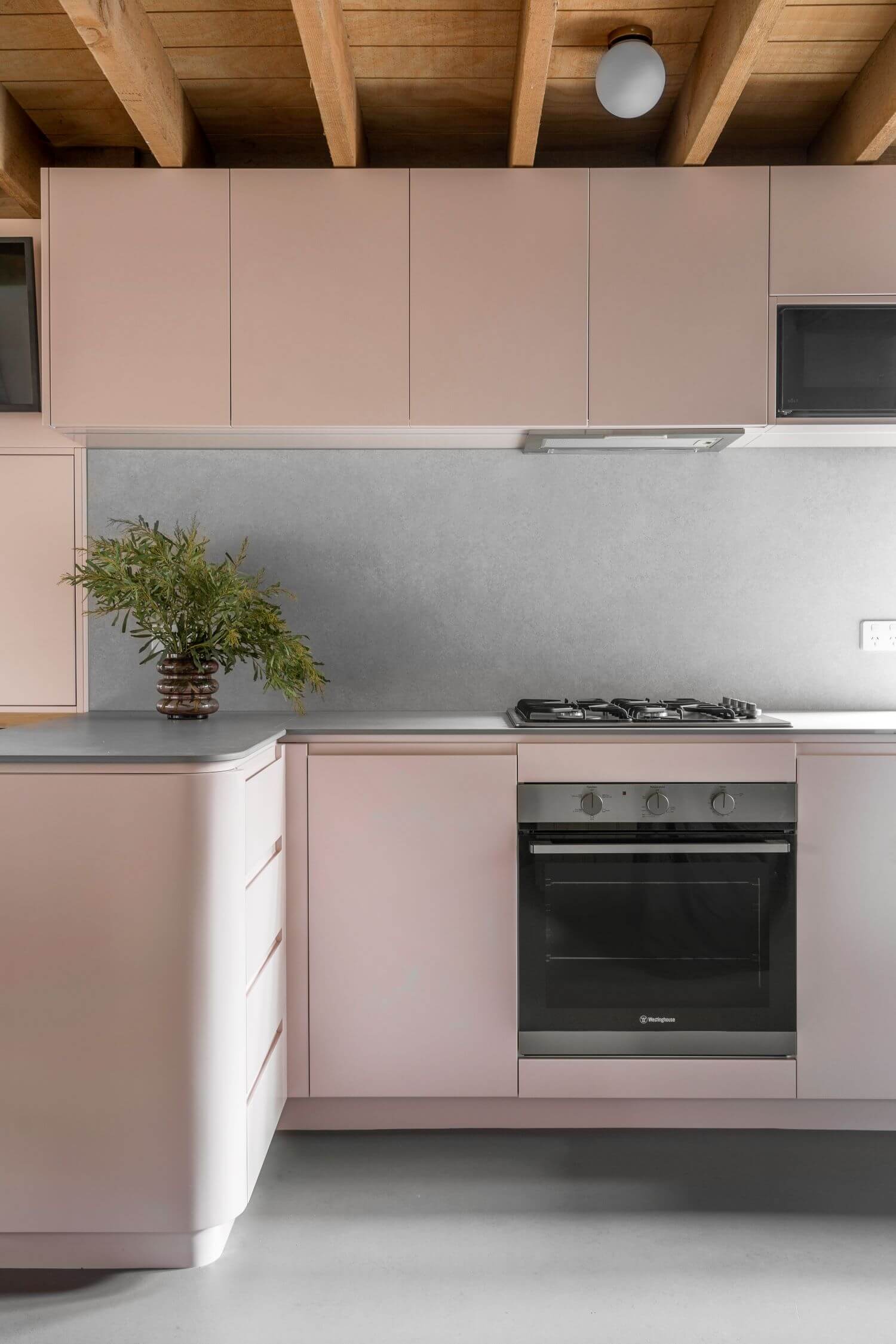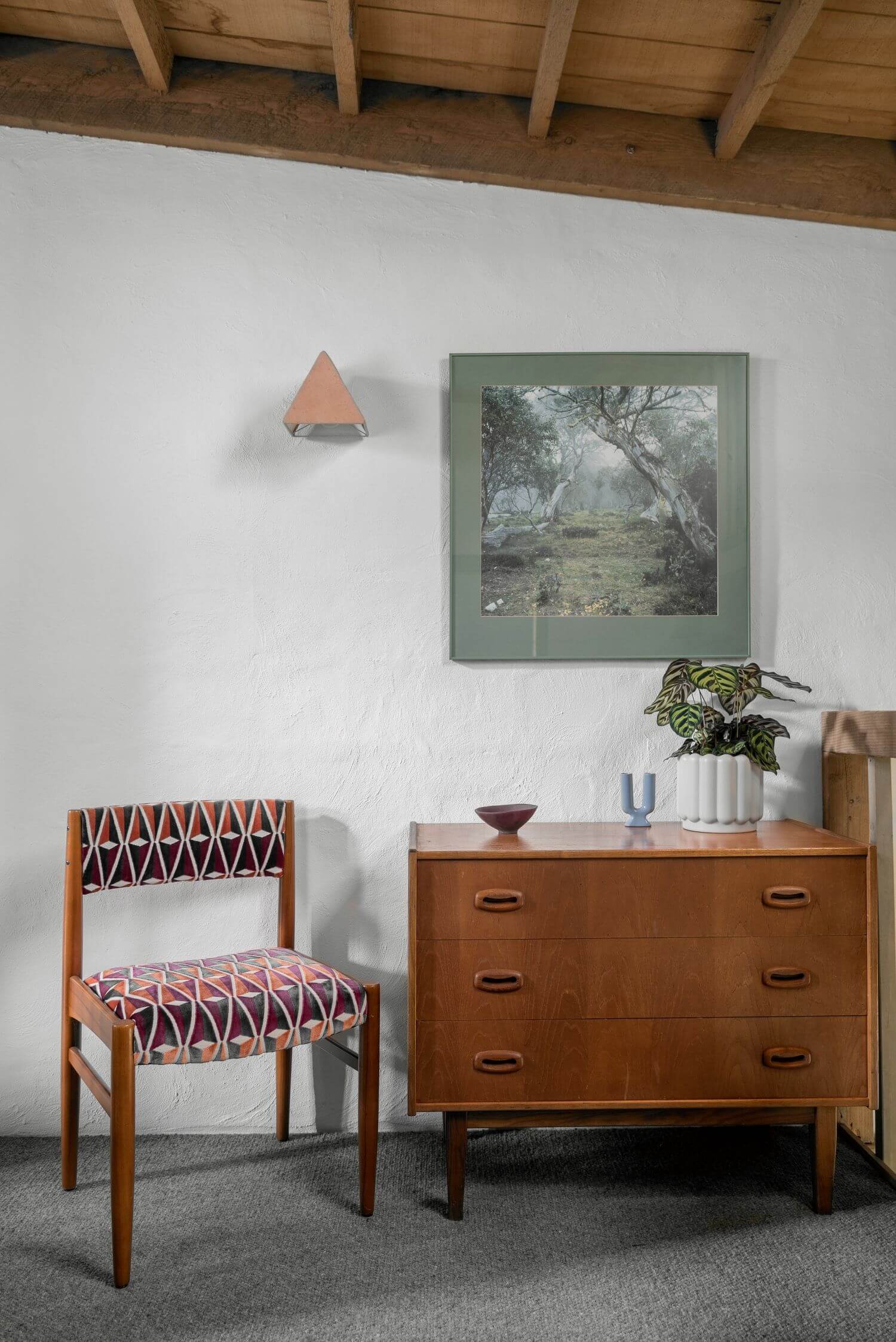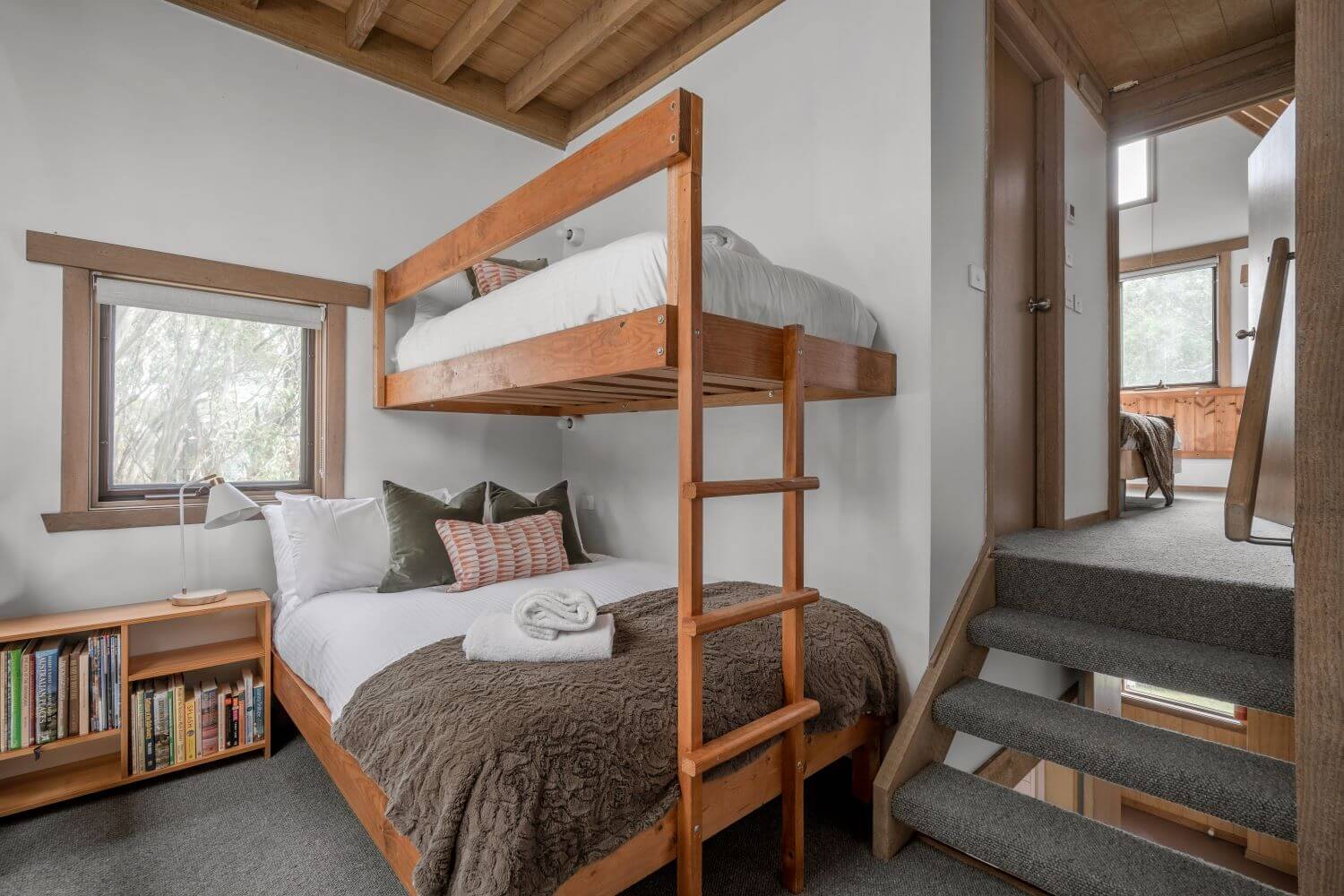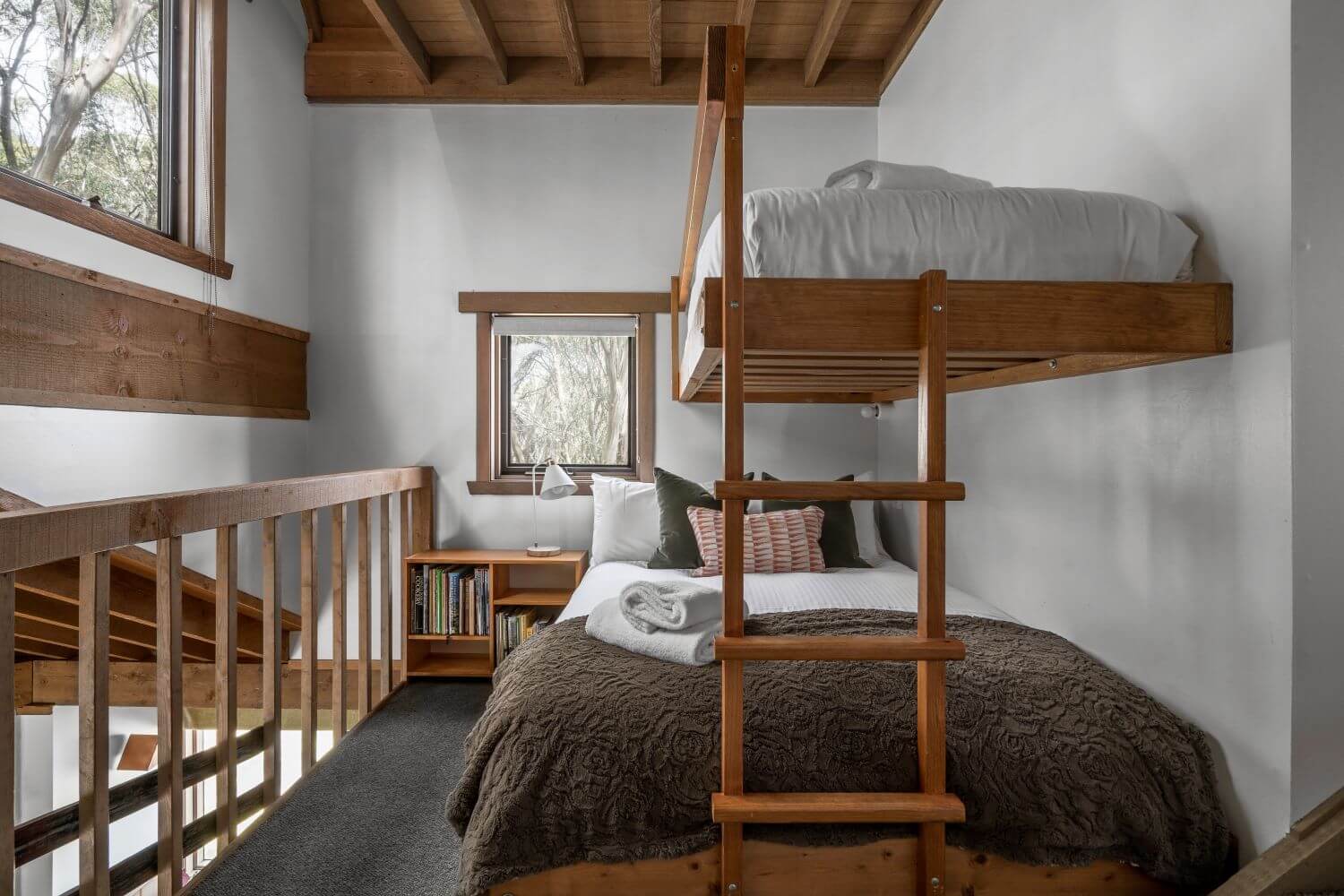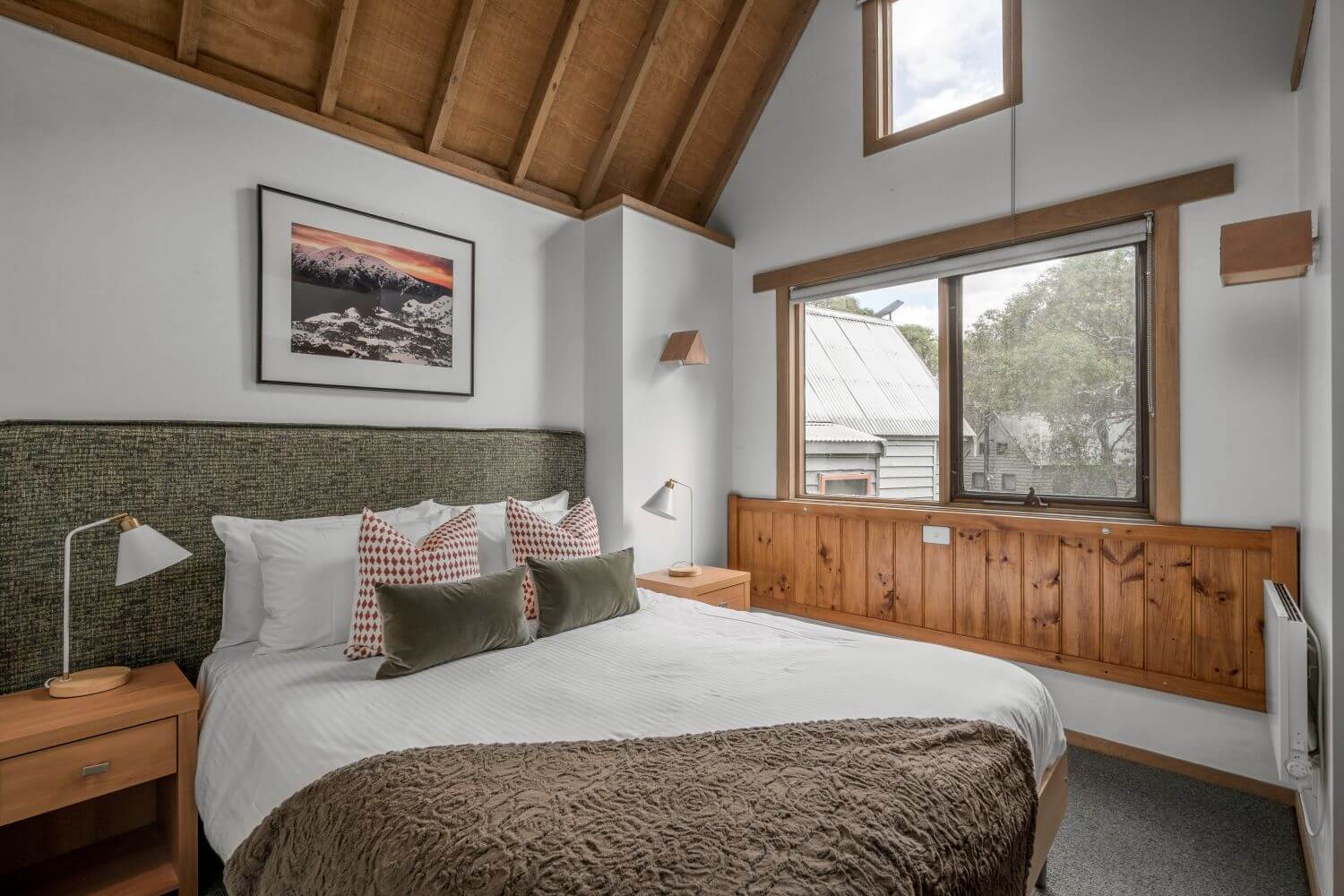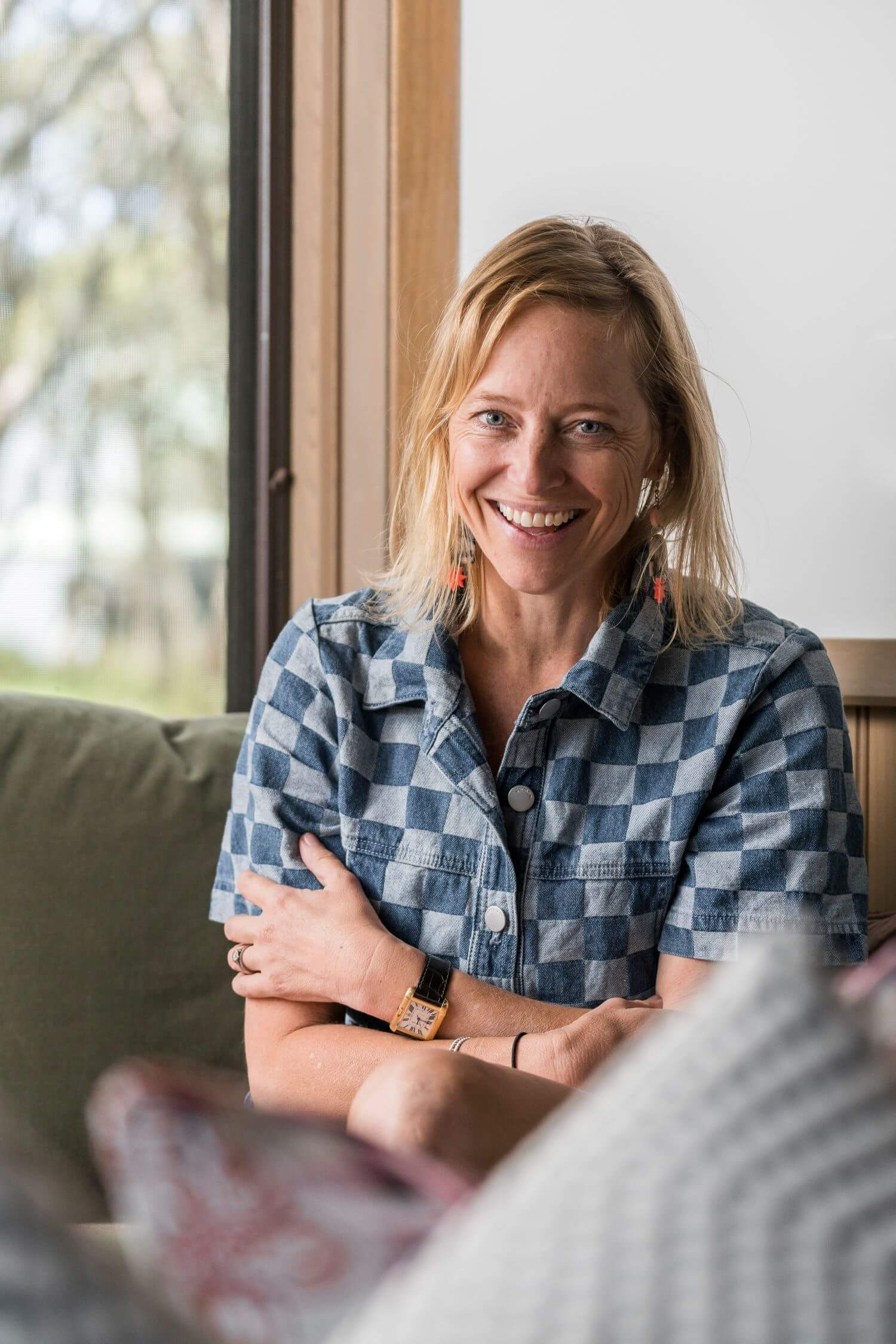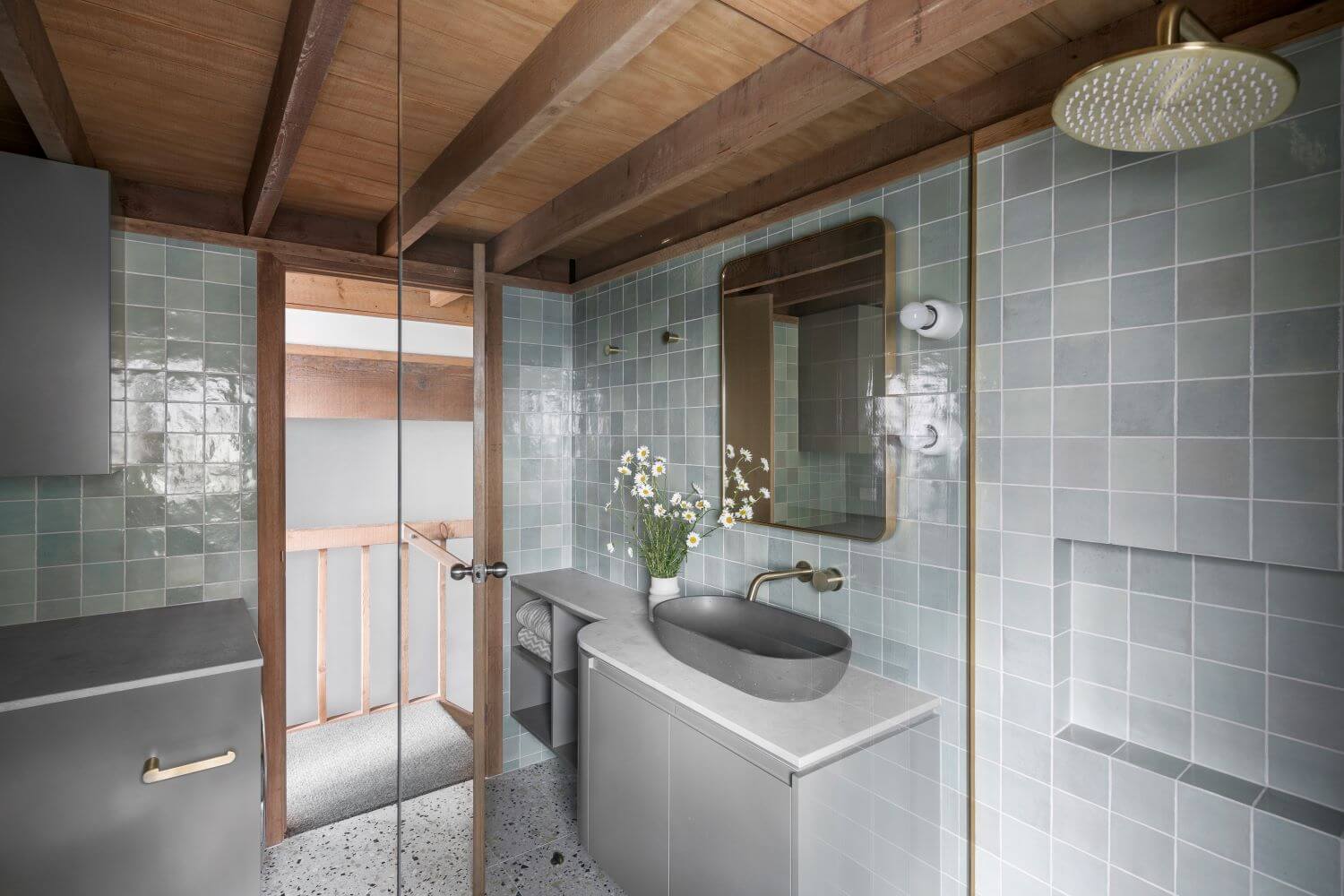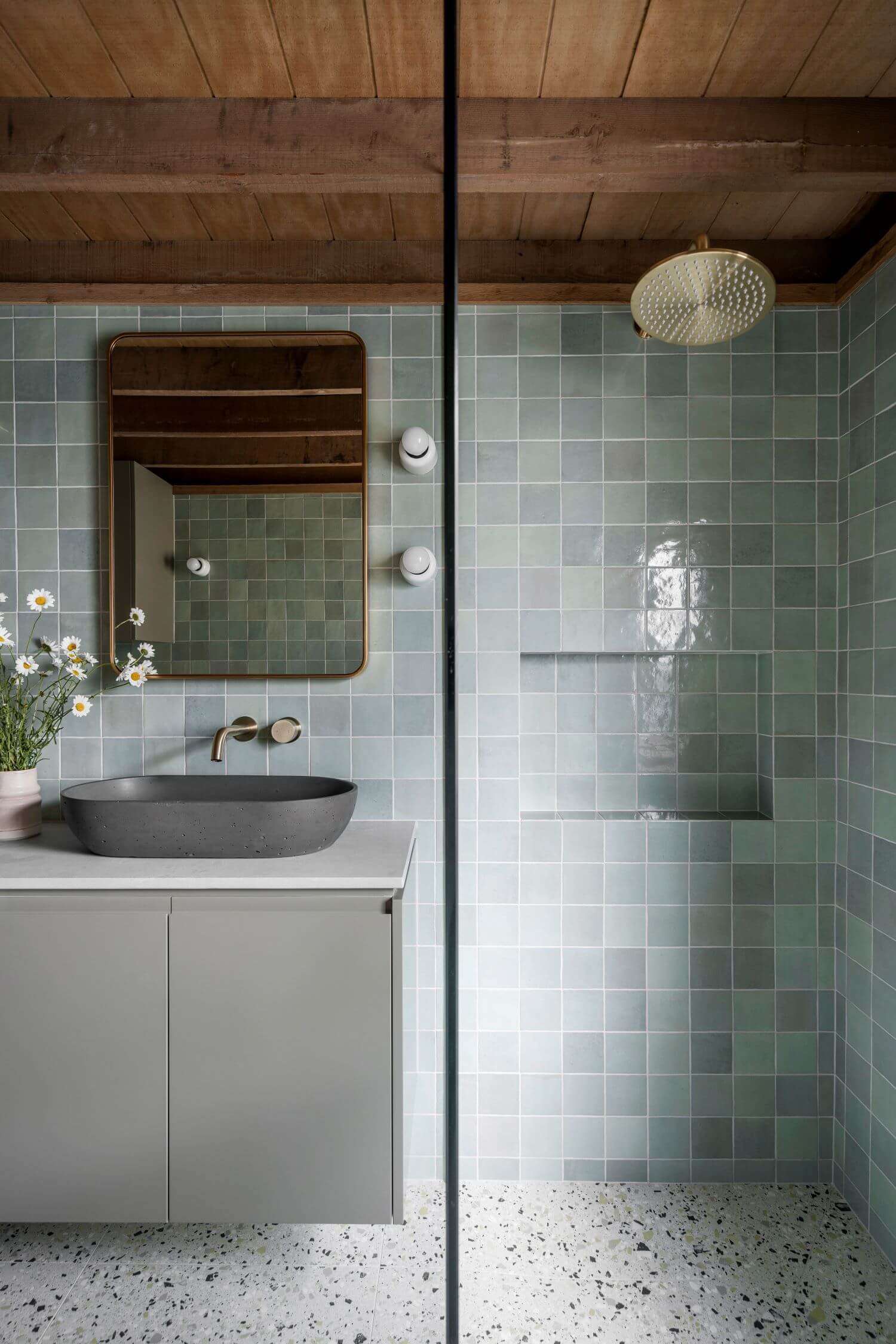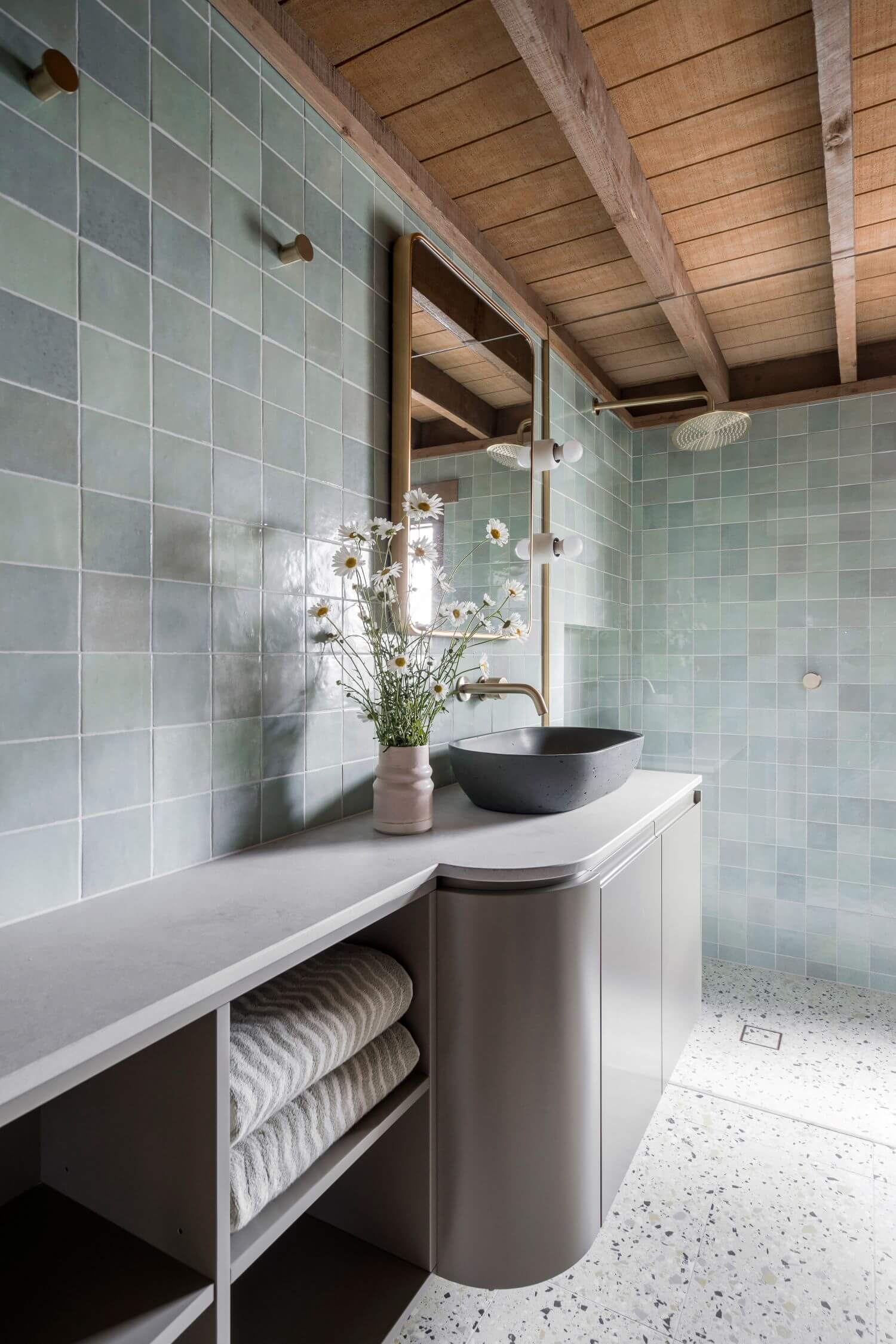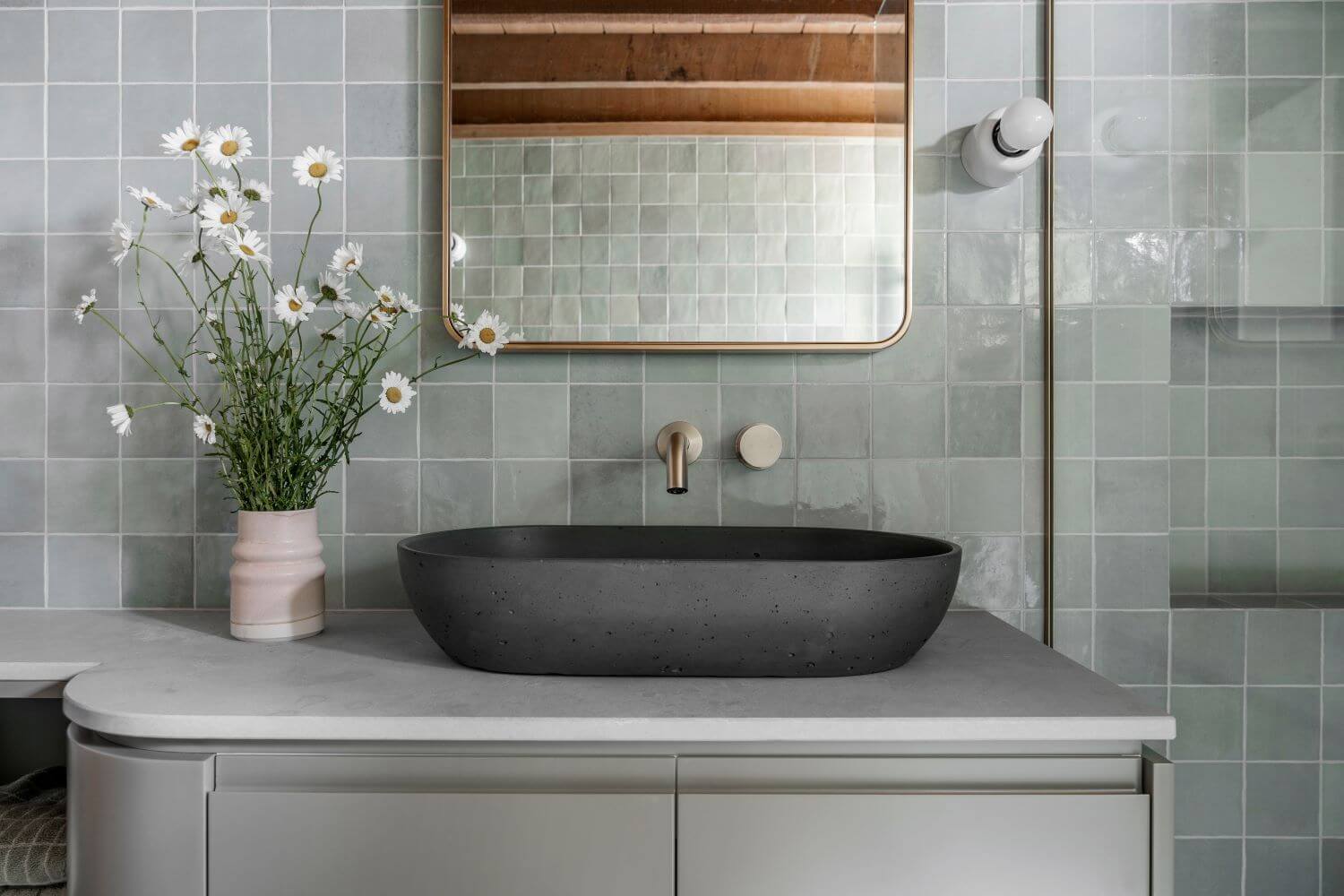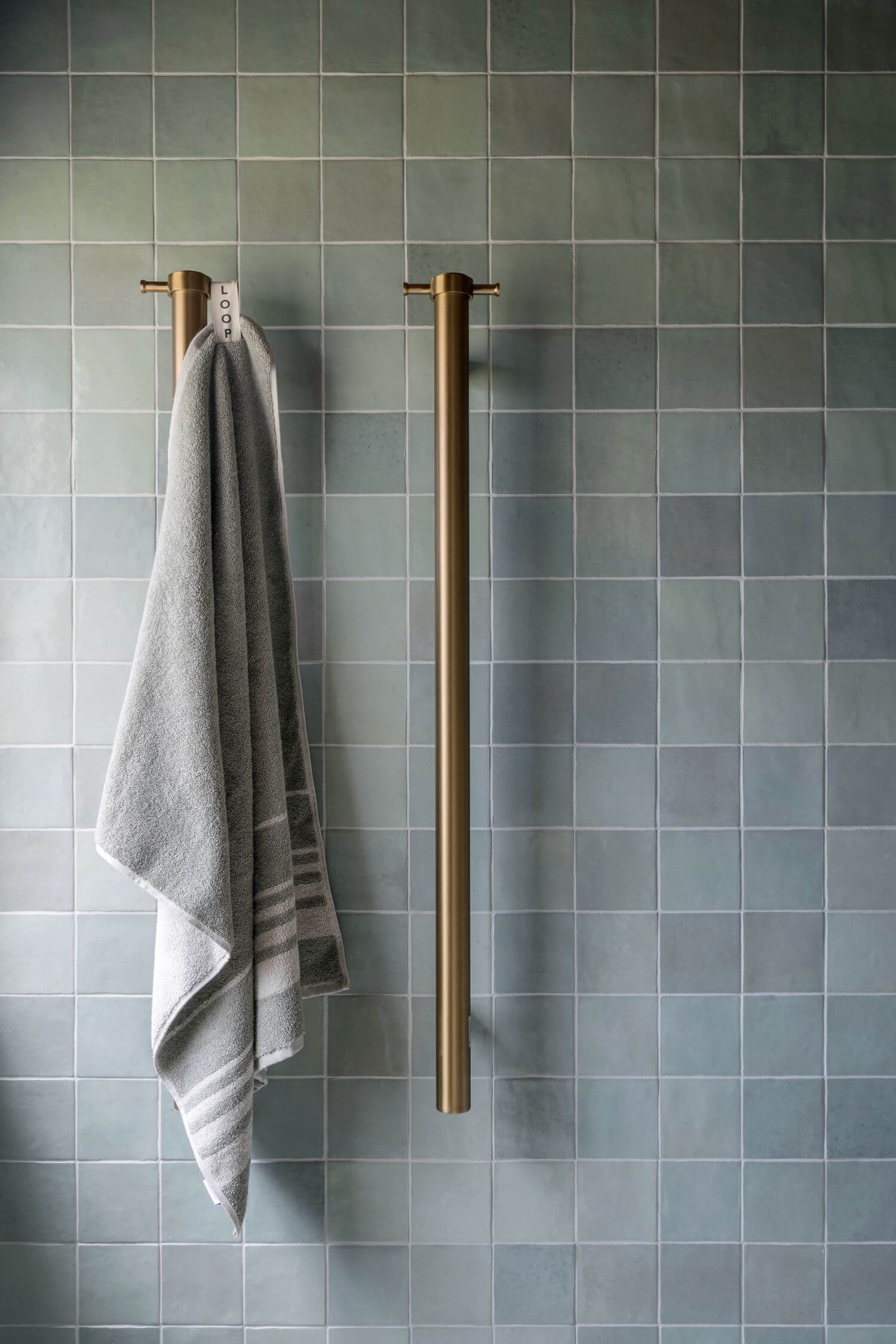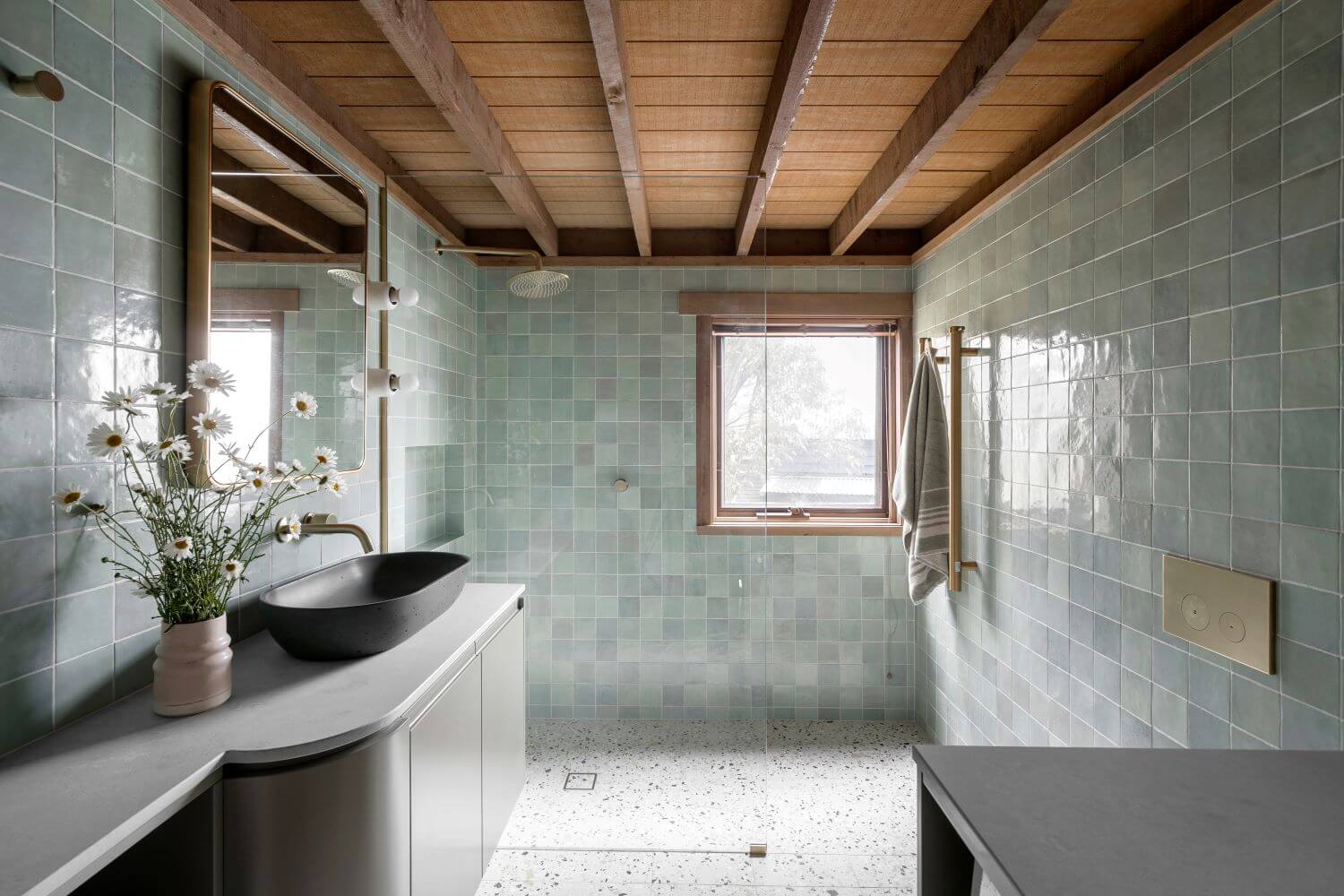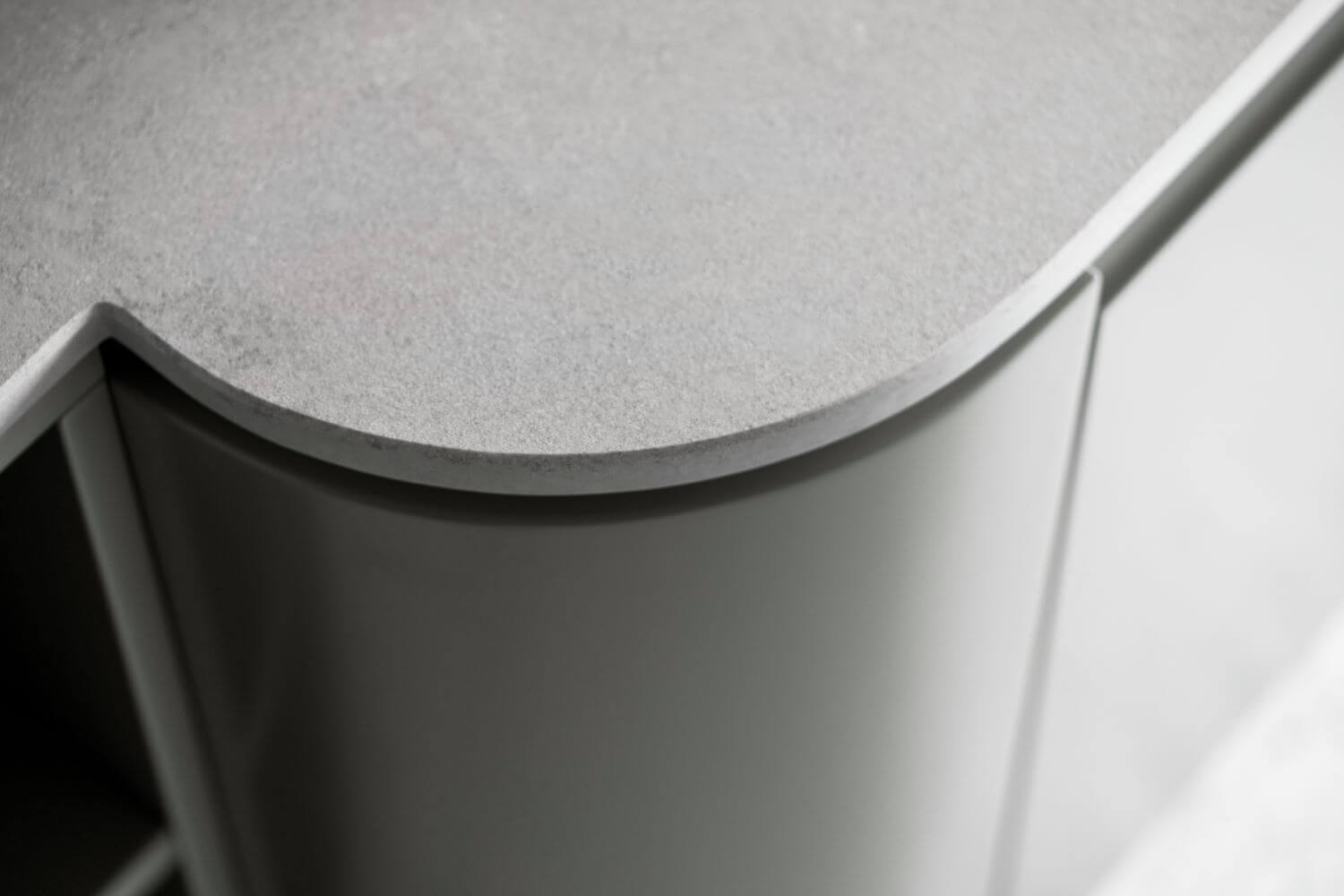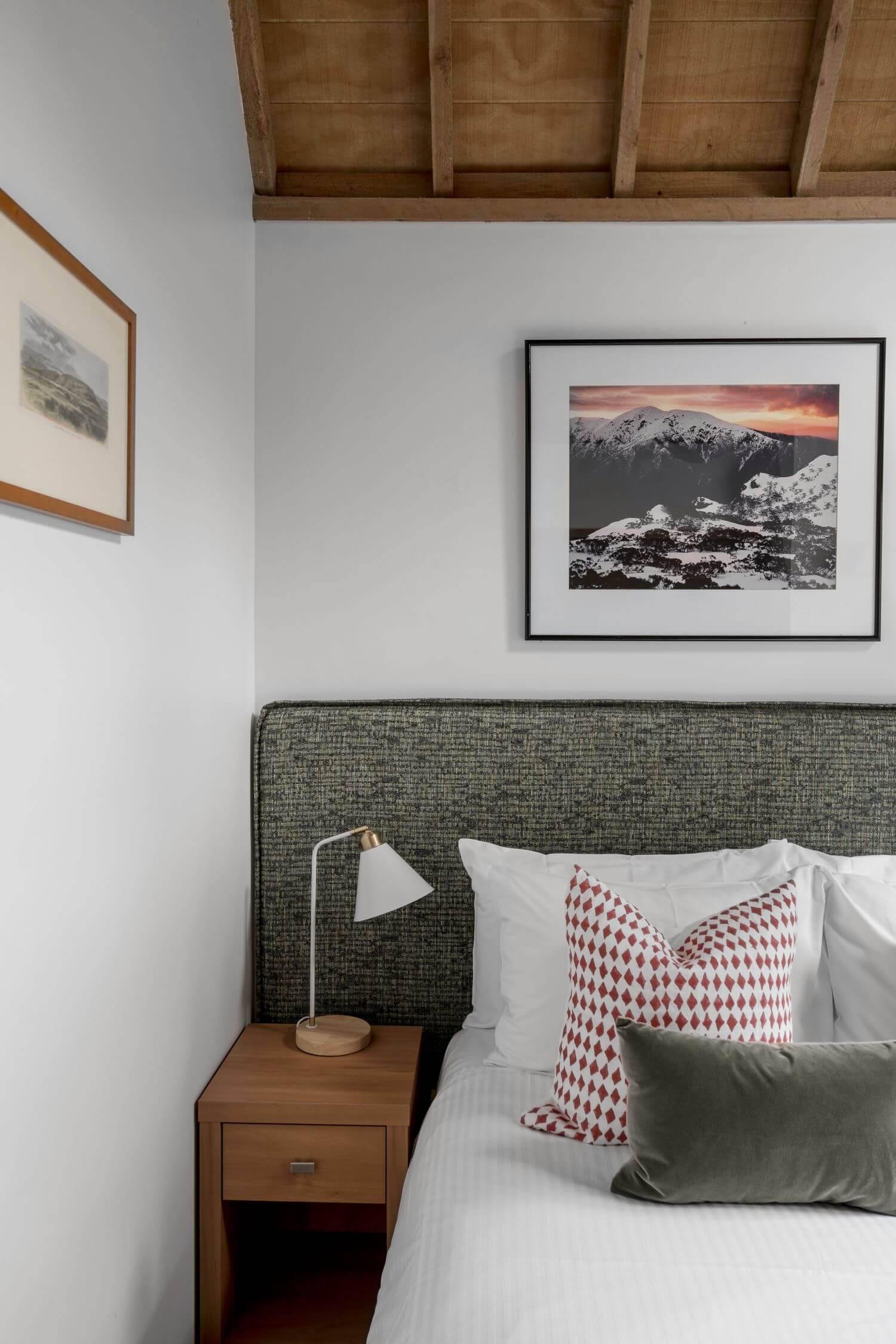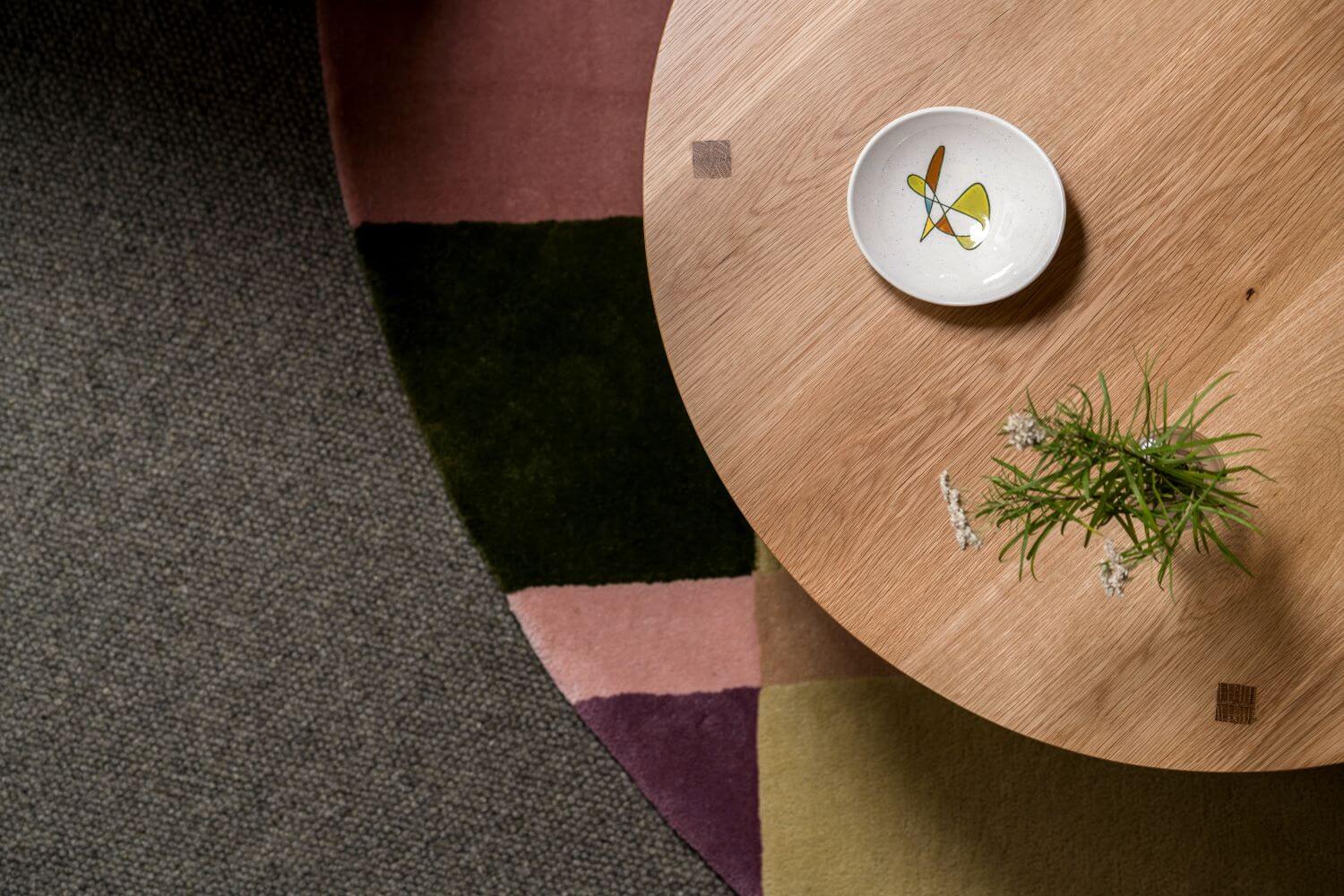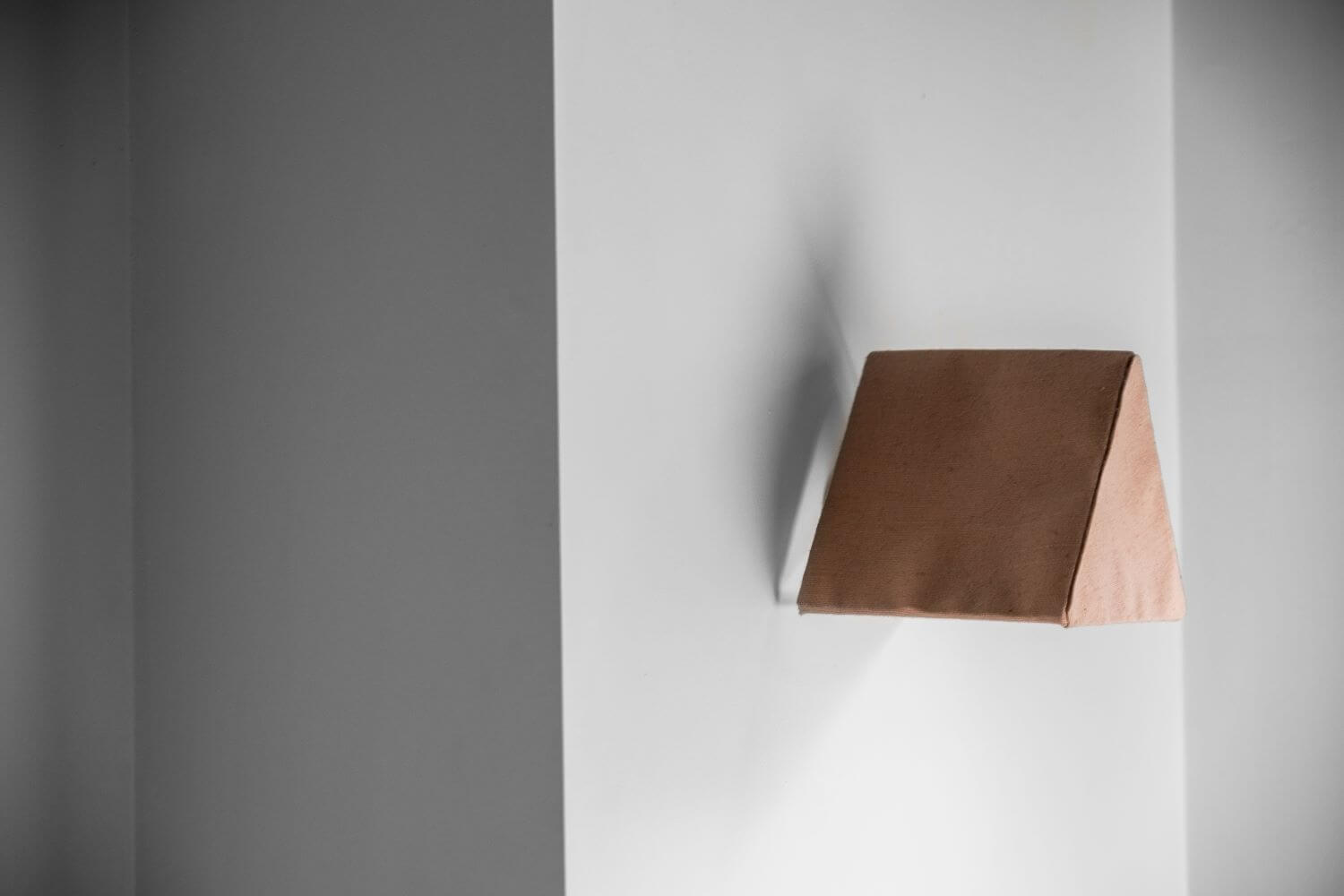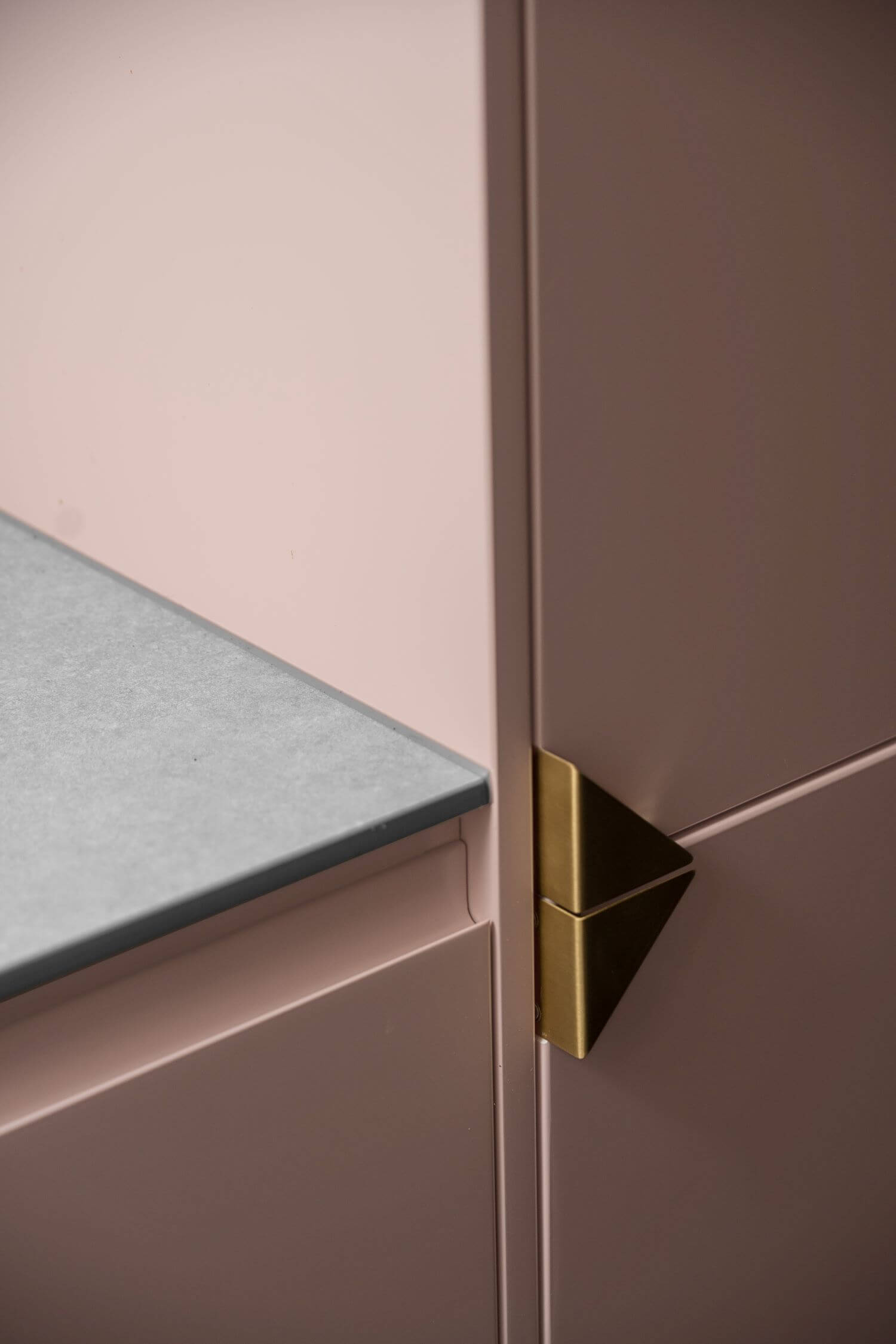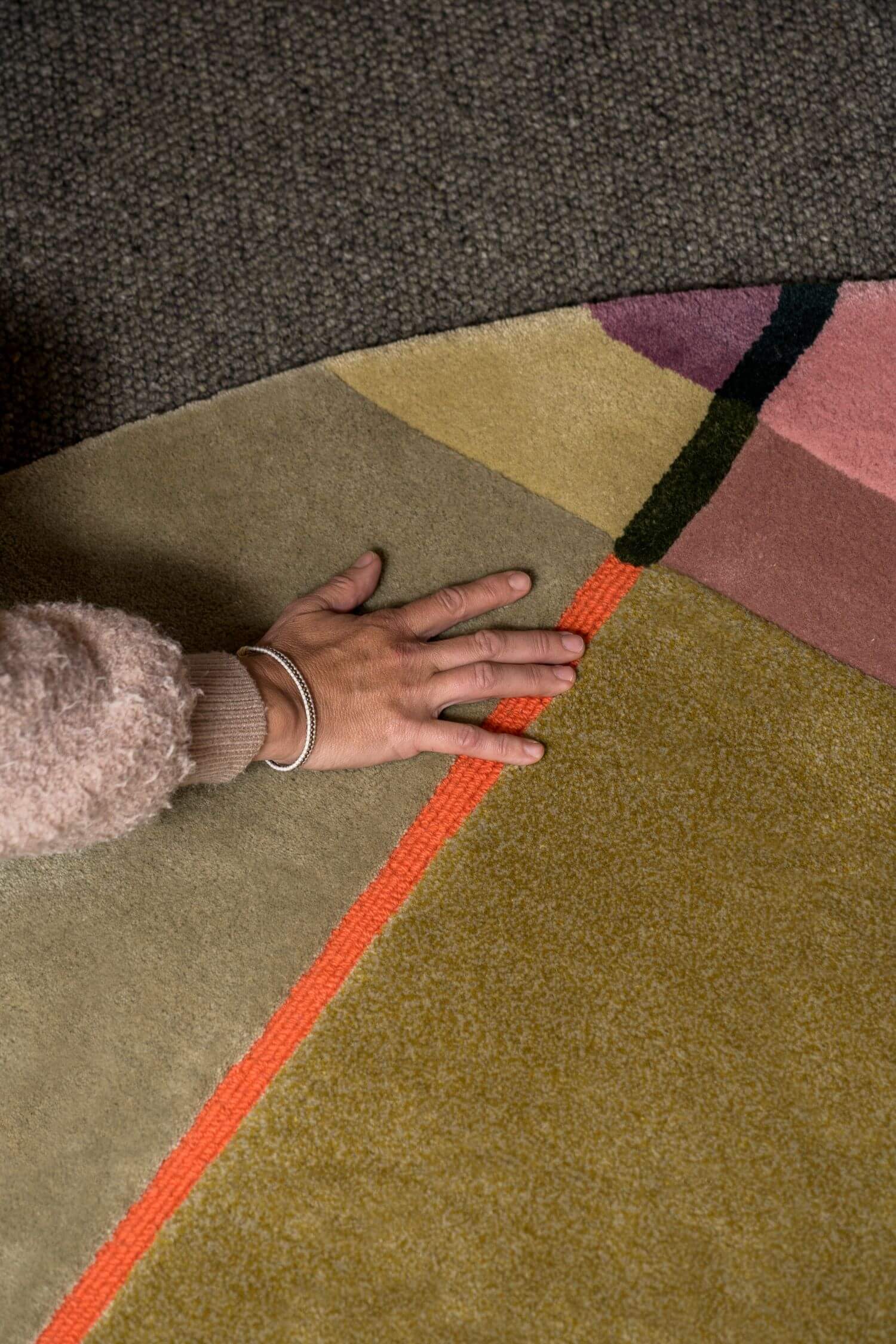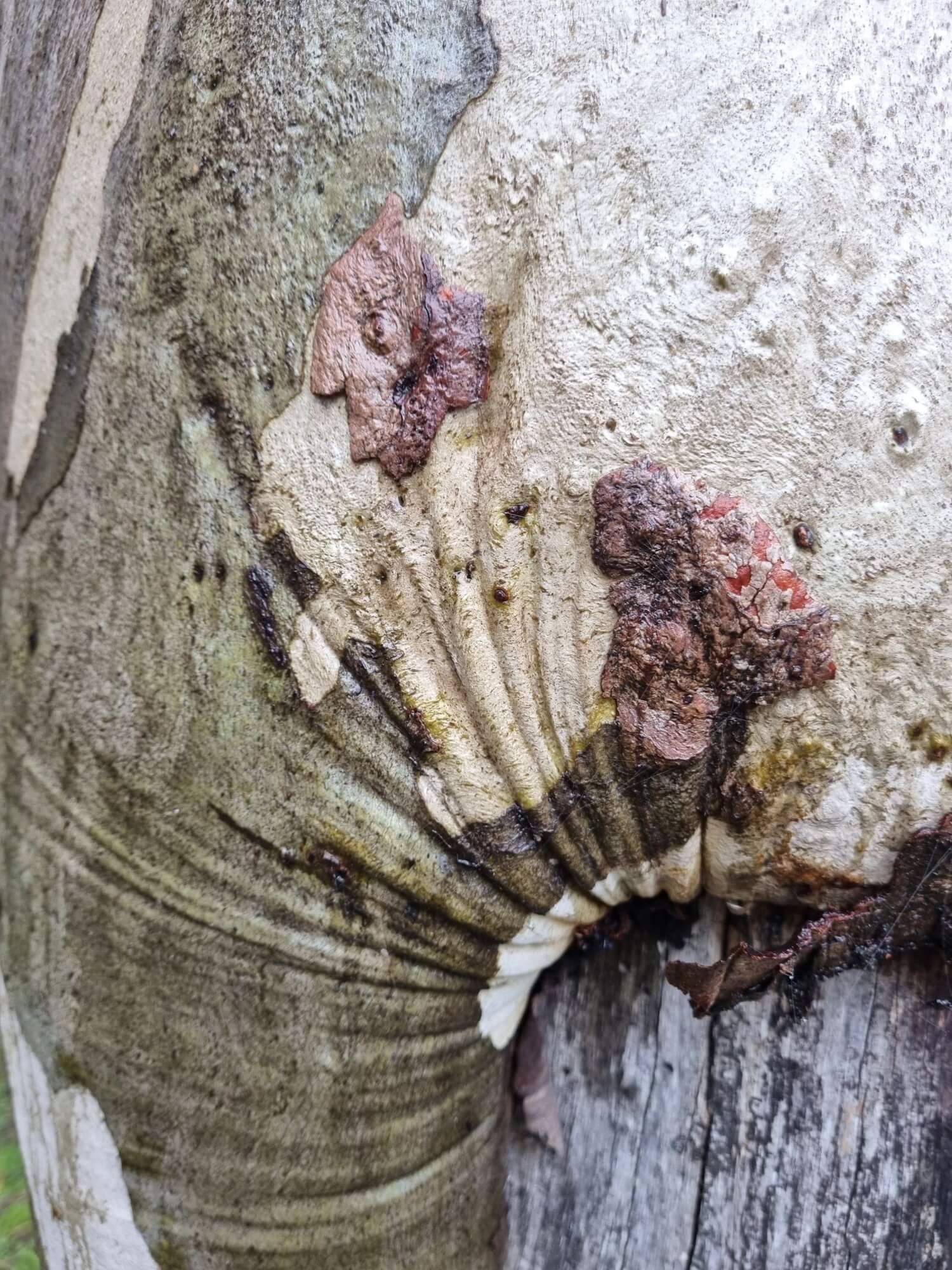 ---