FR-EE / Fernando Romero Enterprise is pleased to announce the most recently project: The Bitcoin City Of Salvador. Presented by President Bukele of El Salvador, designed by Architect Fernando Romero.
Bitcoin city will be developed in the East of the country. Together with a new airport and a sea port, it will become the most ambitious regional development undertaken by El Salvador. This new city will mark the new moment of our civilisation. It will be a new urban planning with an environmental conscience due to Bitcoin City generating its' own energy from the volcano located at the perimeter. This will show a new humanitarian city plan.
The city will become a catalyst for investment by local and foreign businesses, who will become principal players in this new cycle of contemporary living.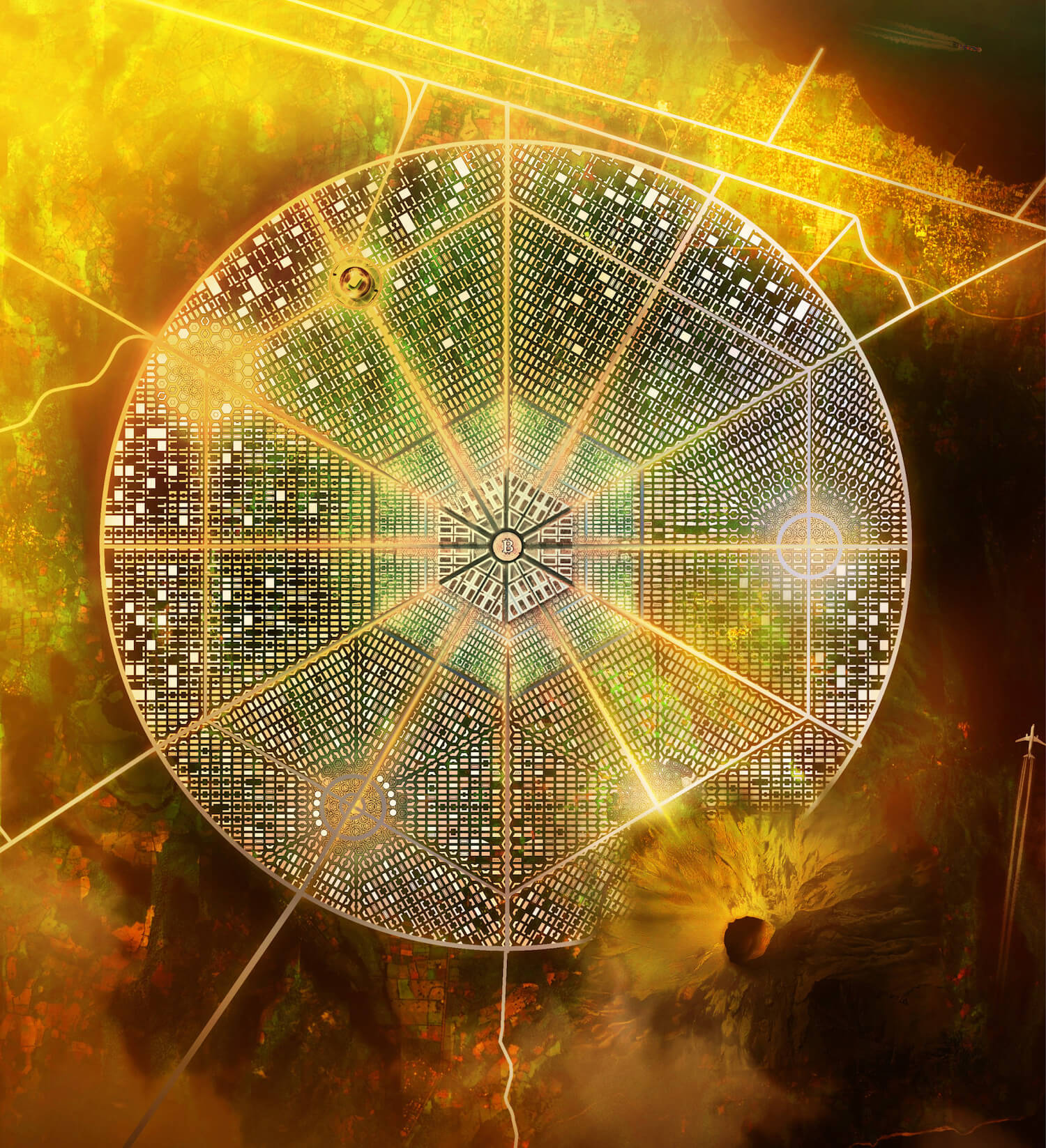 In Bitcoin City, companies linked to the mining of cryptocurrency will be welcomed, as well as technology companies that will come to invest due to their interest in becoming part of this innovative, smart-city model. A number of incentives for investors will make this city a reference on how to make a city both efficient and sustainable at the same time.
The citizen is the central focus in the design of Bitcoin City. Their mobility will be clean and their way of working comfortable. The new public space will be the culmination of decades of research on what humans need to live well in an anti-inflationary economy.
The city has been designed to be built in stages. As a decentralized system, investment can be regulated according to growth needs. The city will have a large central plaza with a museum that will become a world attraction, showing exhibitions about the history of money. There will also be intelligent buildings with the latest technologies, as well as a large, multipurpose arena that will show events of all kinds, and become the epicenter for concerts in the region.
Bitcoin City is a city that will define the future of a country, representing the leadership of El Salvador in terms of urban planning with a future focused on the future generations.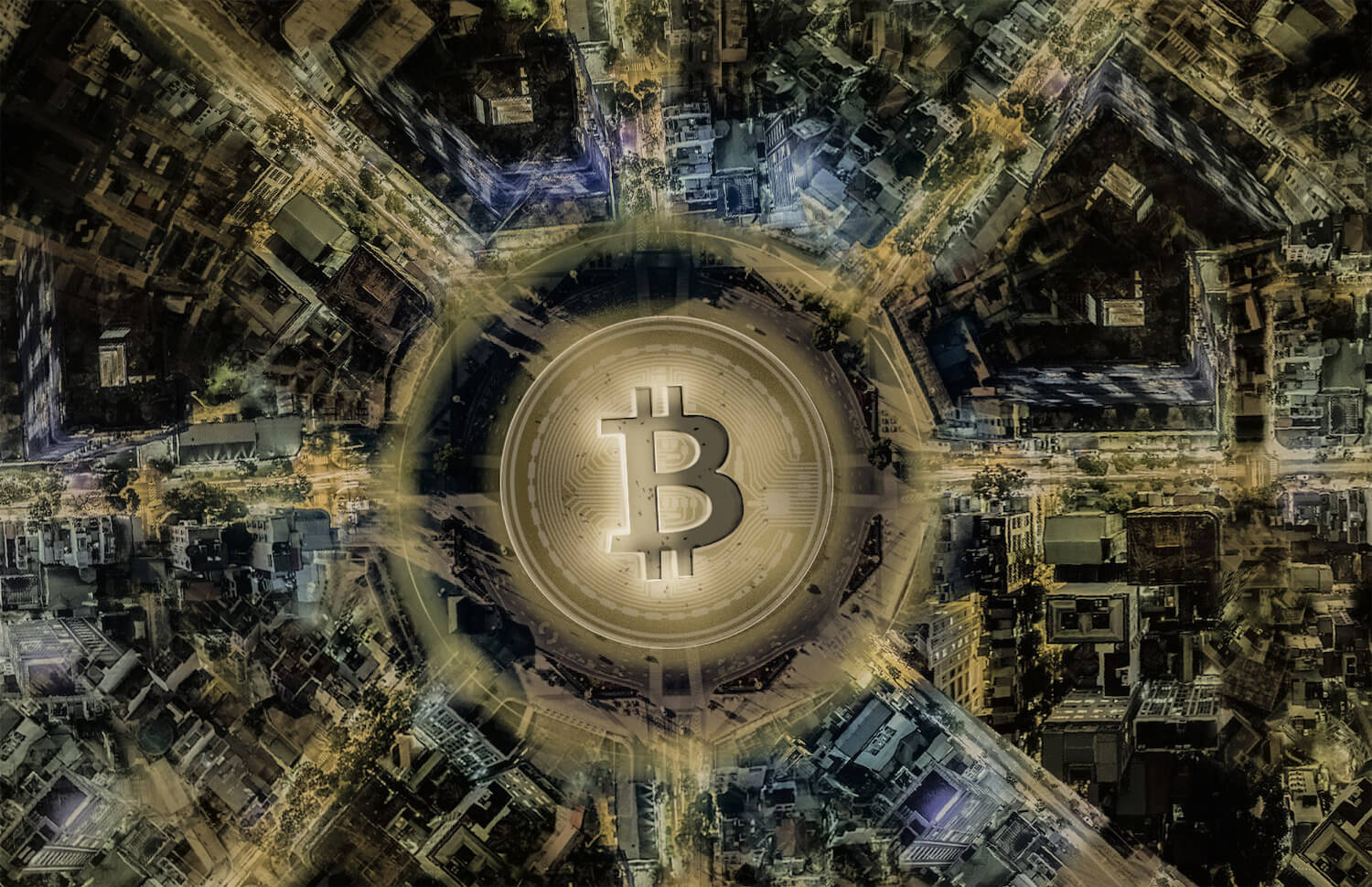 The Walkable City
The city will be designed with large landscaped avenues, implemented trams and restaurants alongside activate the urban and pedestrian life, bicycles, expressways are uniformly distributed on each alternate street to allow faster and direct journeys for its users to their destinations.
A reliable light-rail network makes Bitcoin City to be partially free of vehicles. The light- rail system is built superficially to reduce construction costs, even though the trams pass underground in the center of the city. Also there is an express train line that connects with the airport, the port and other neighboring cities.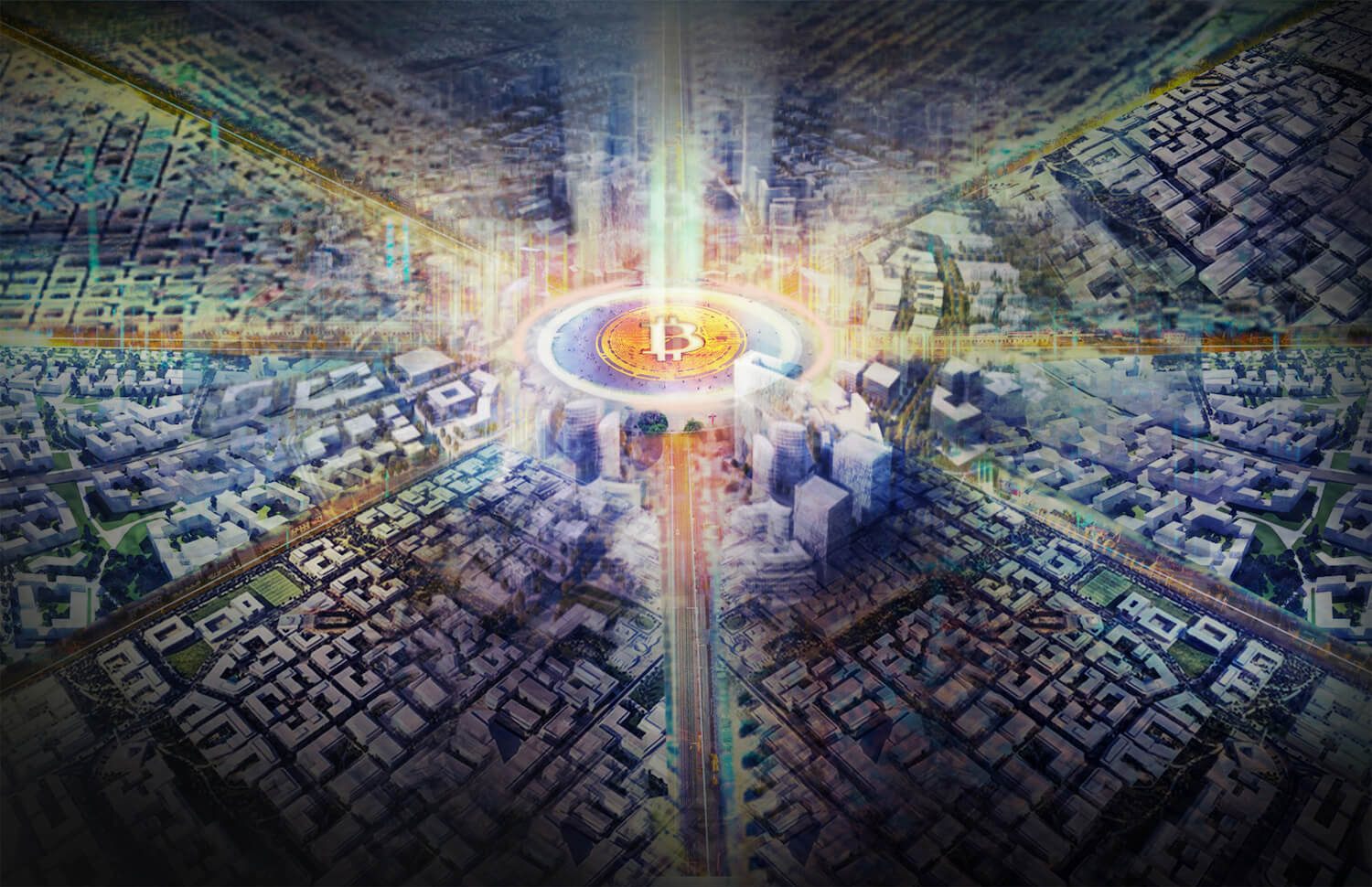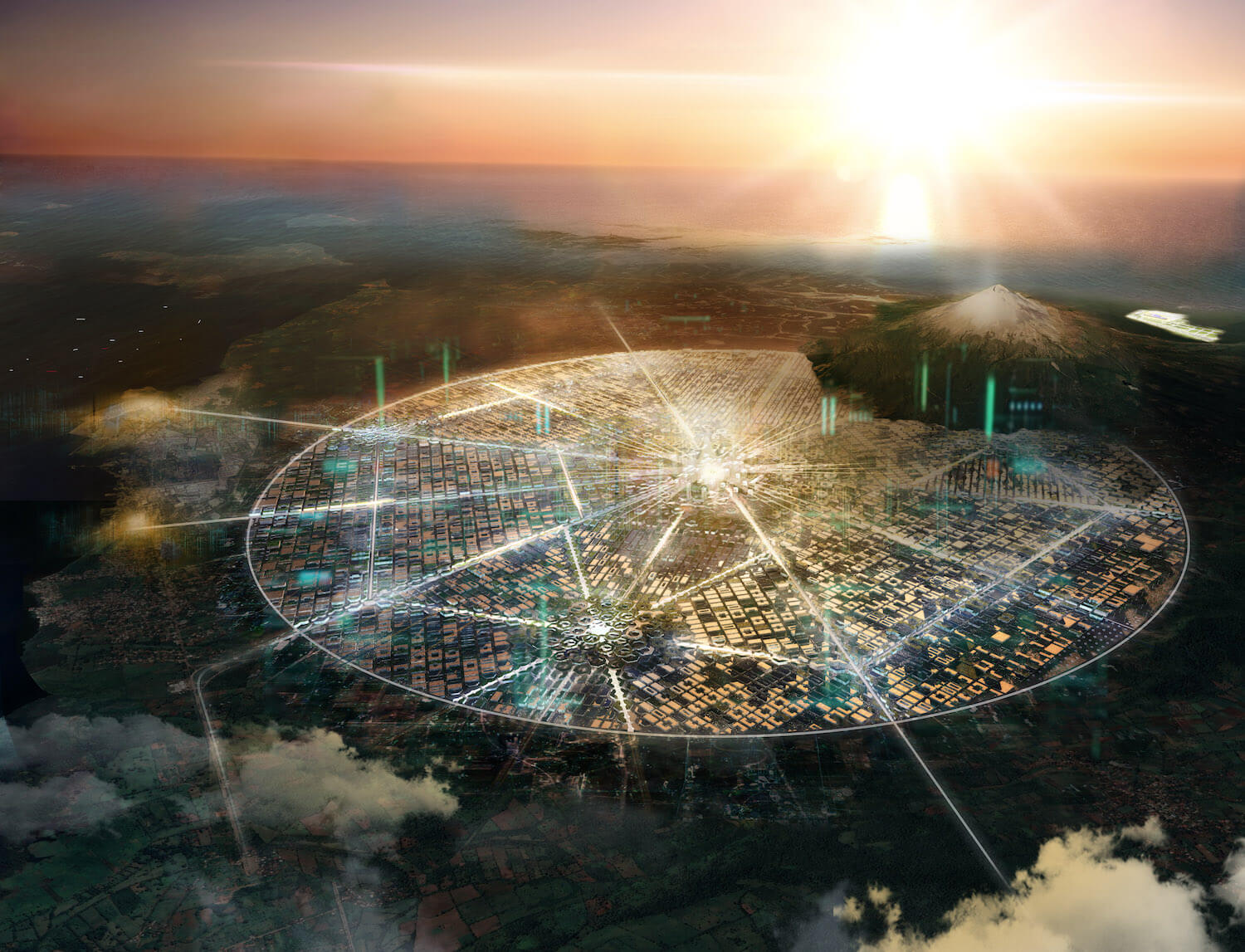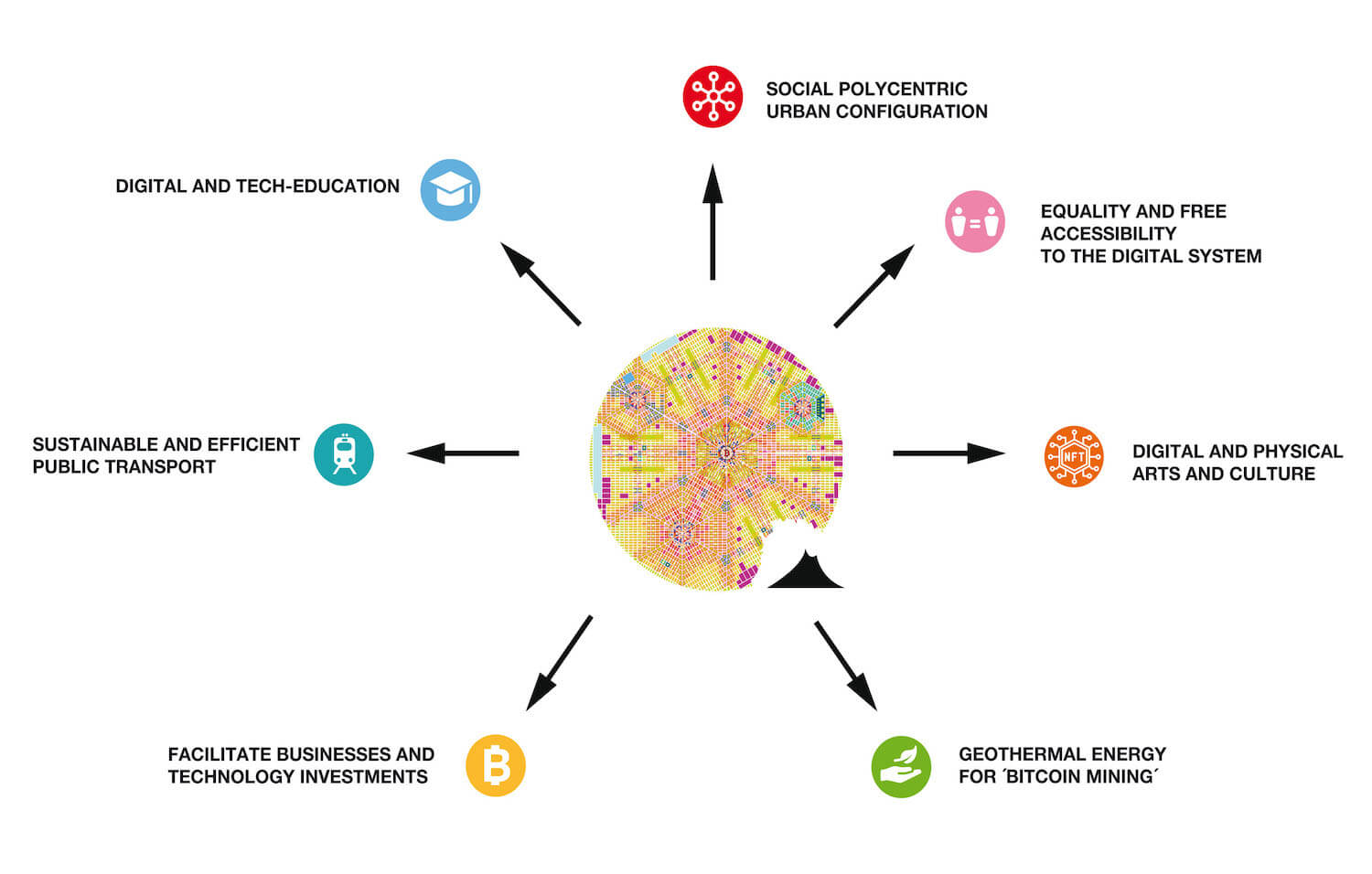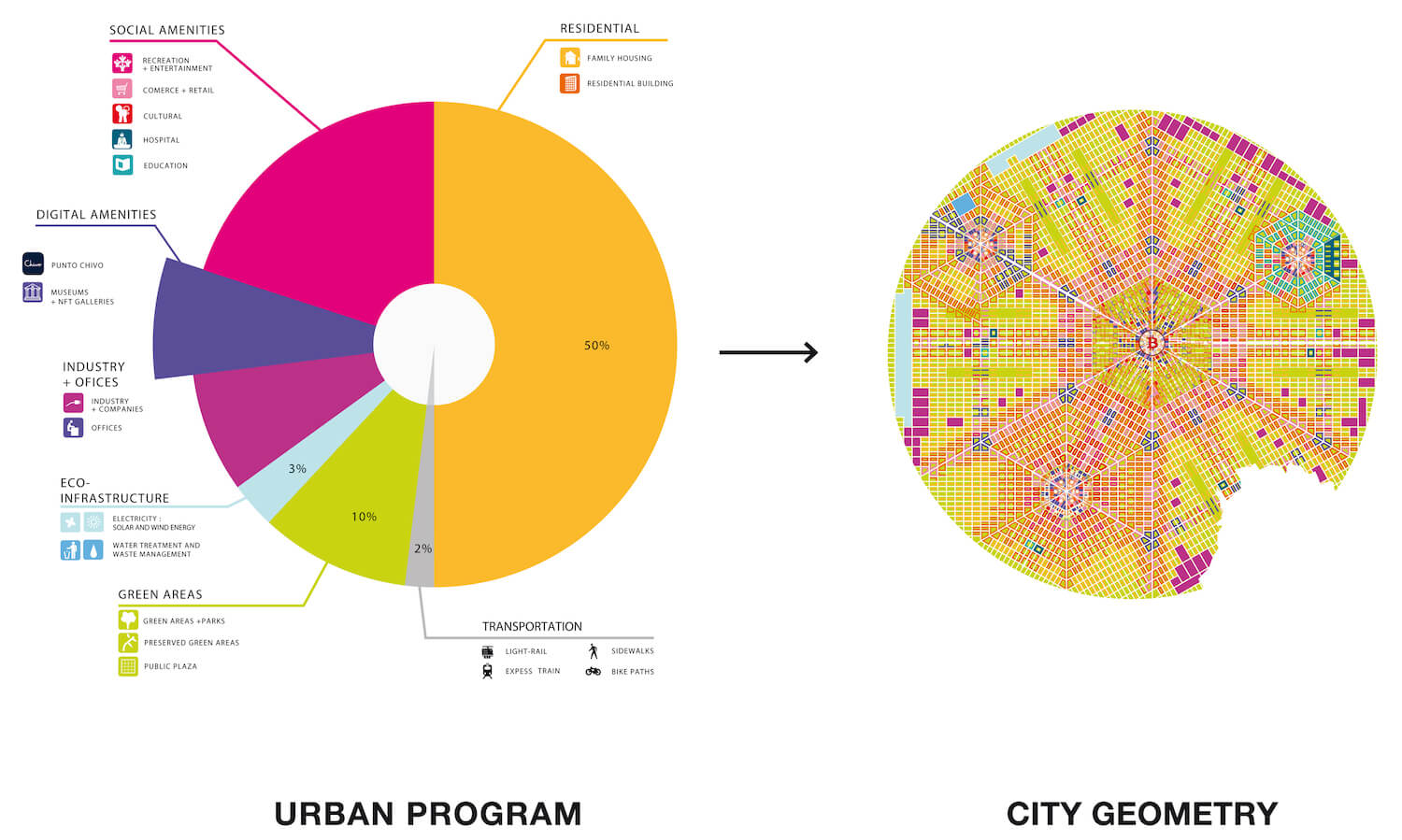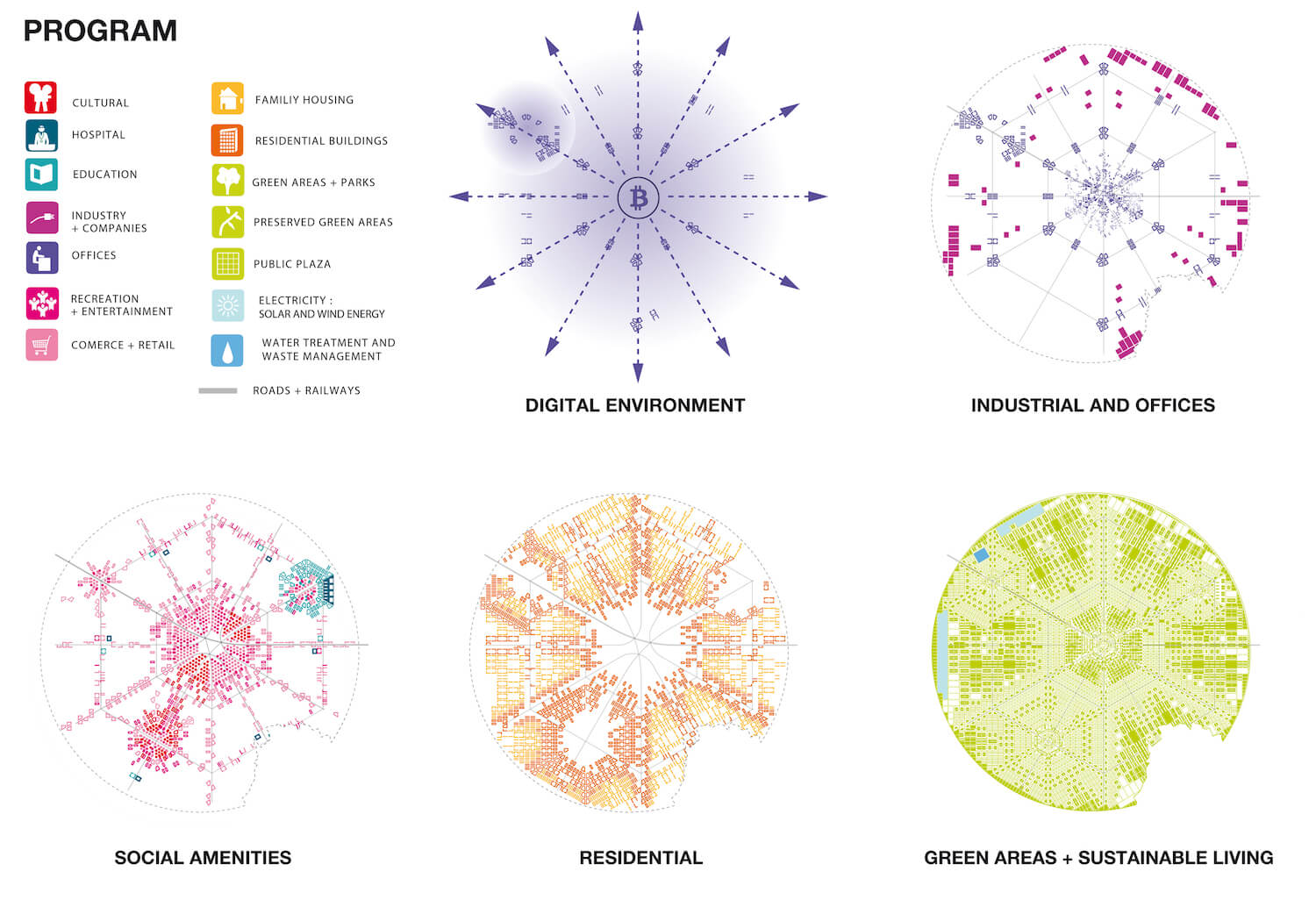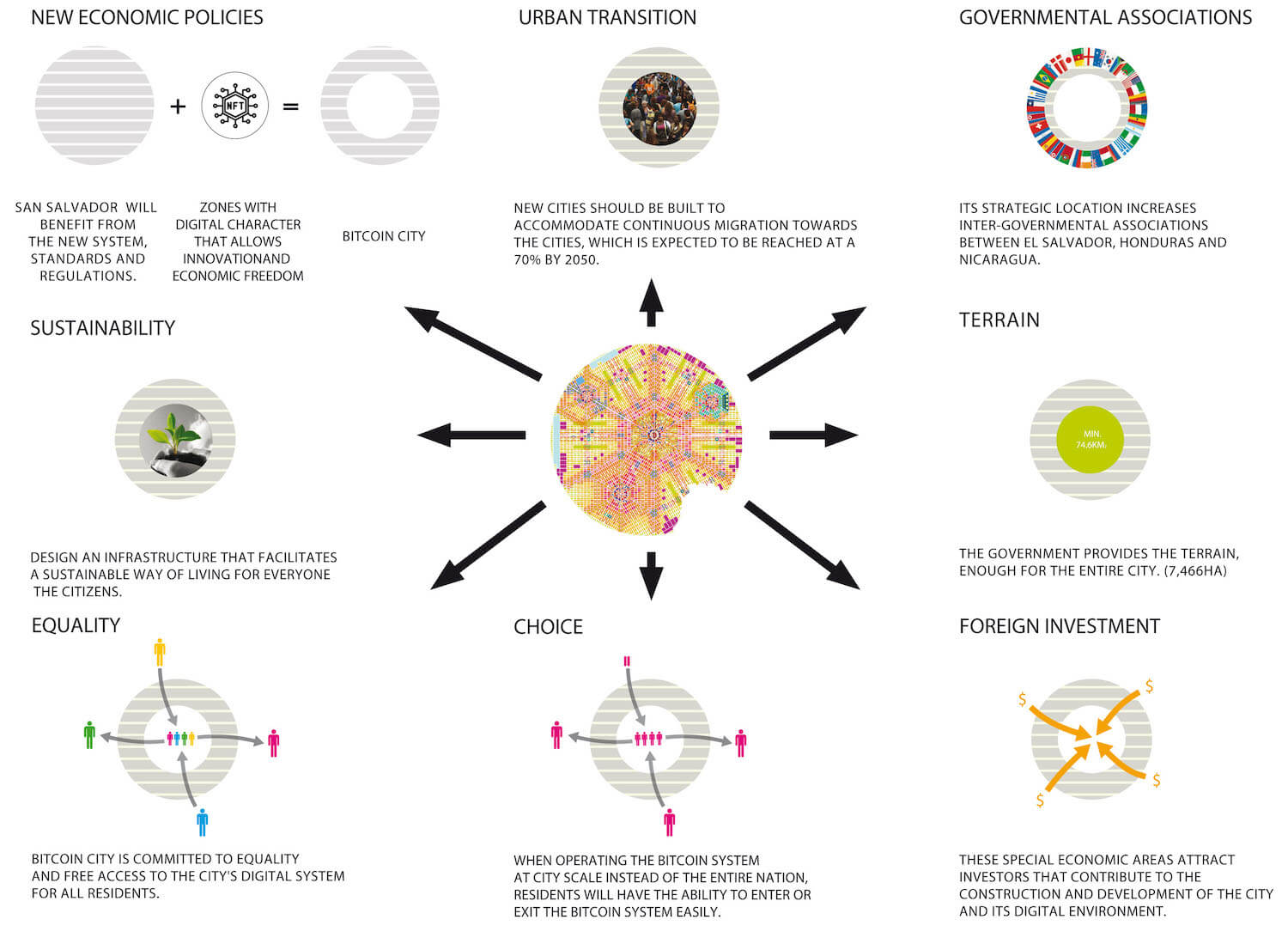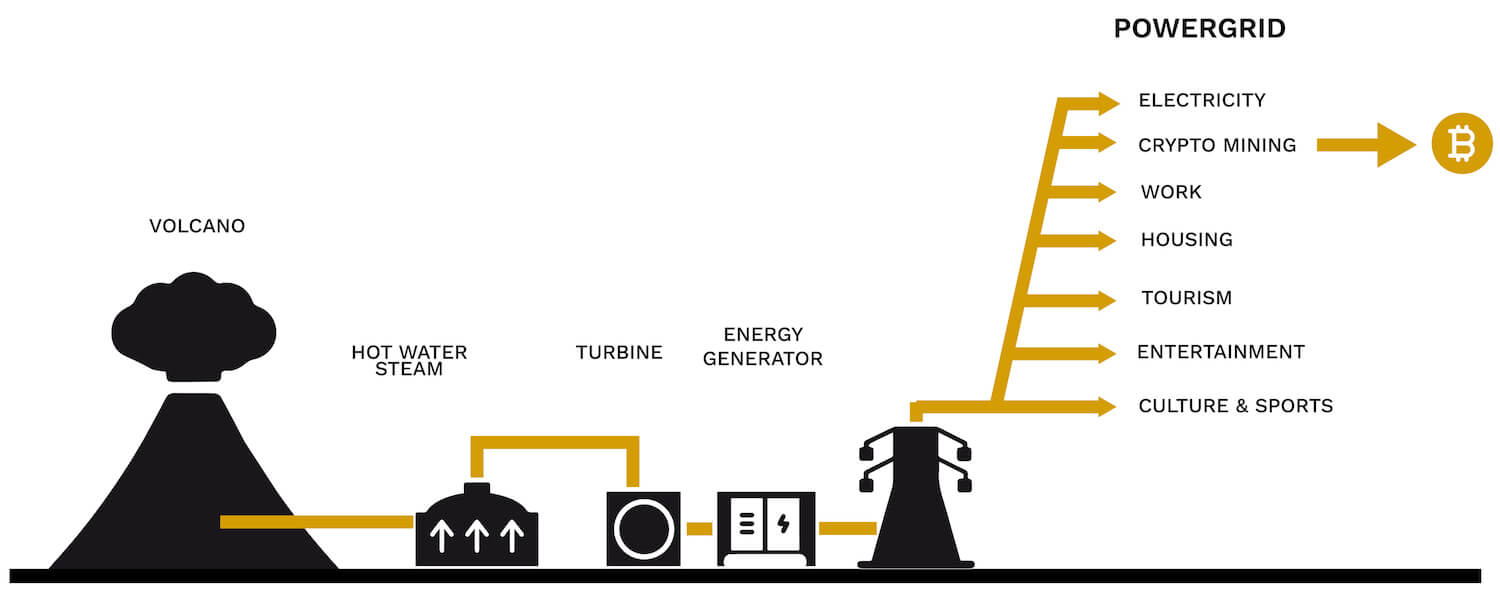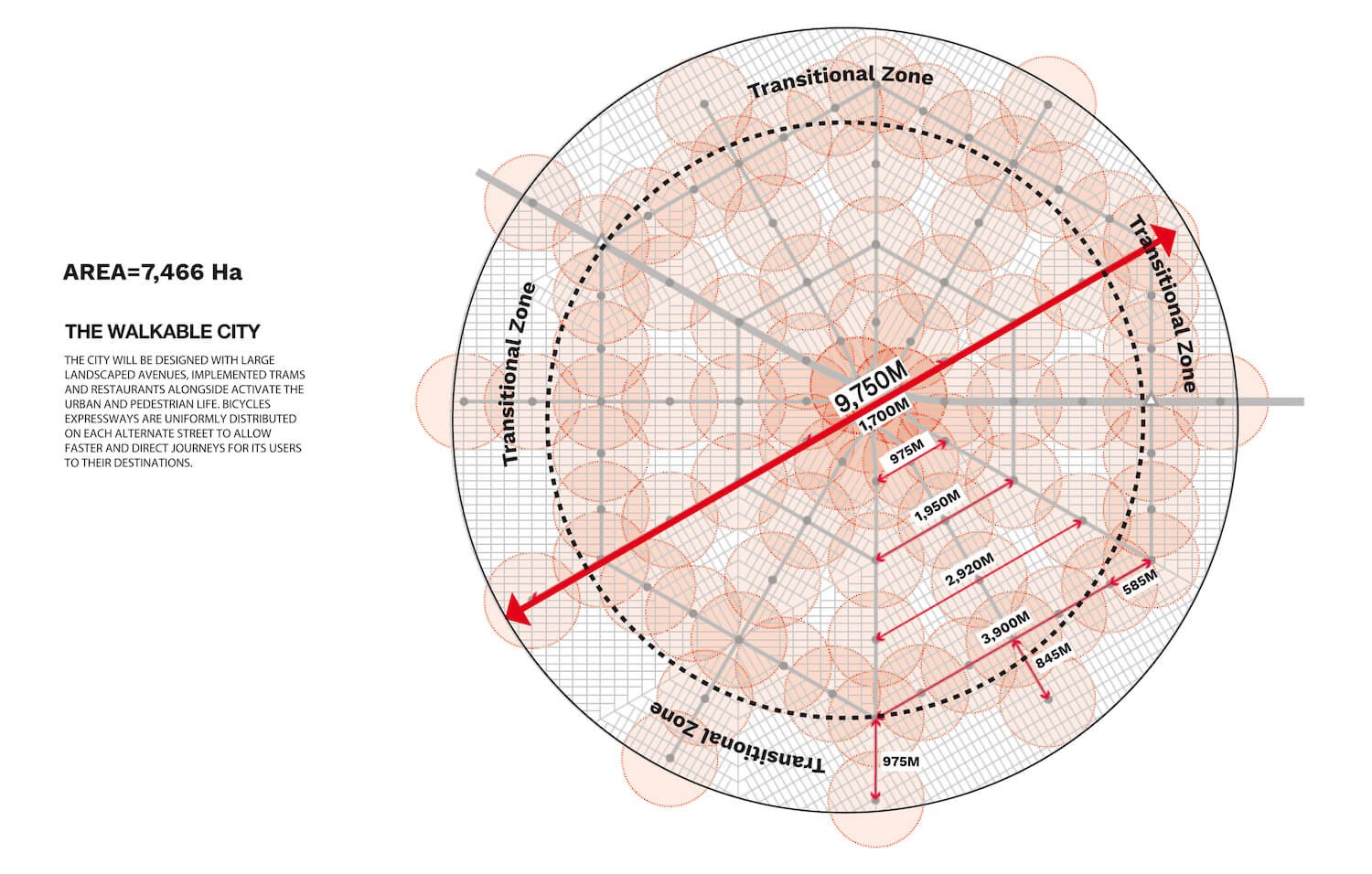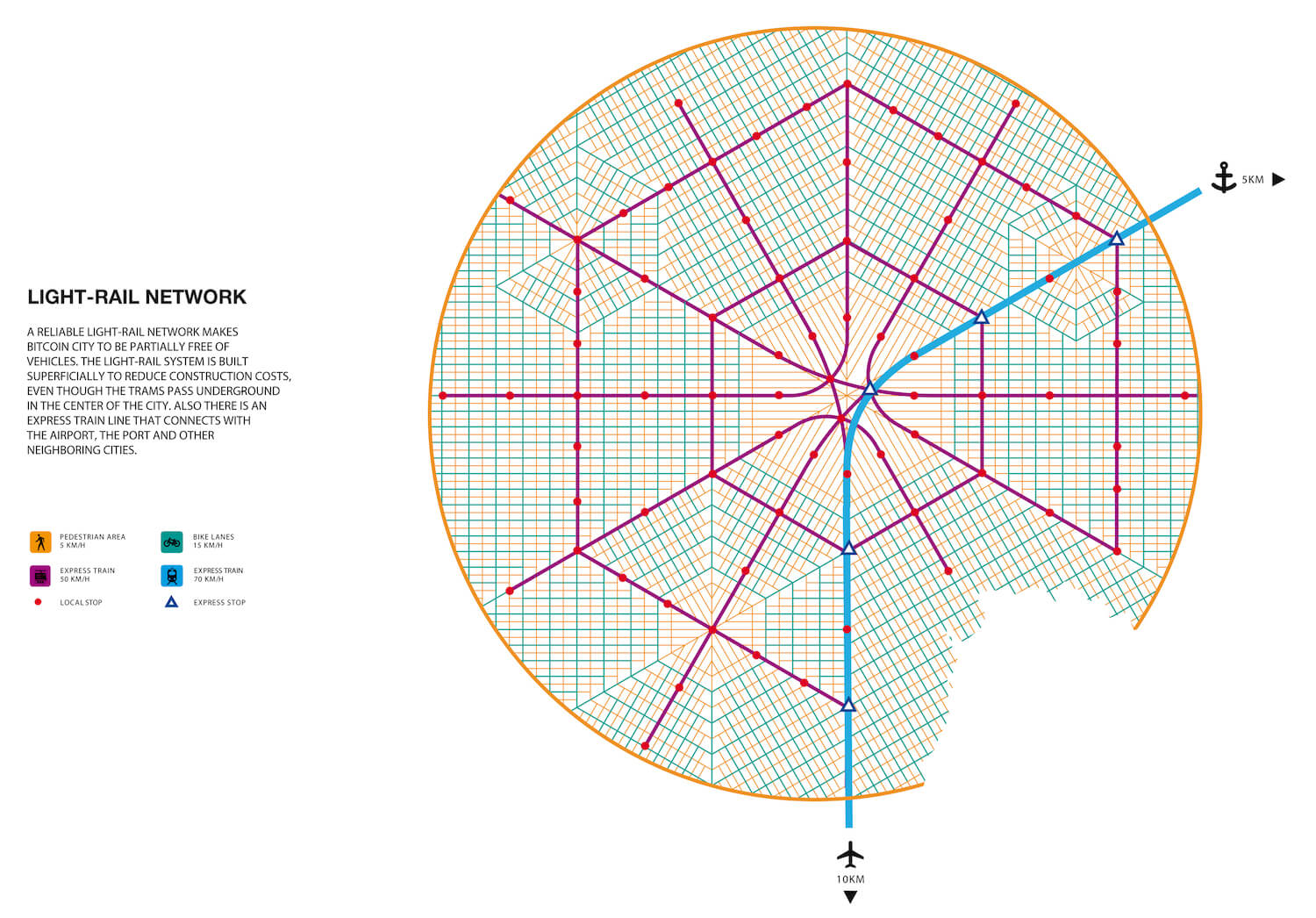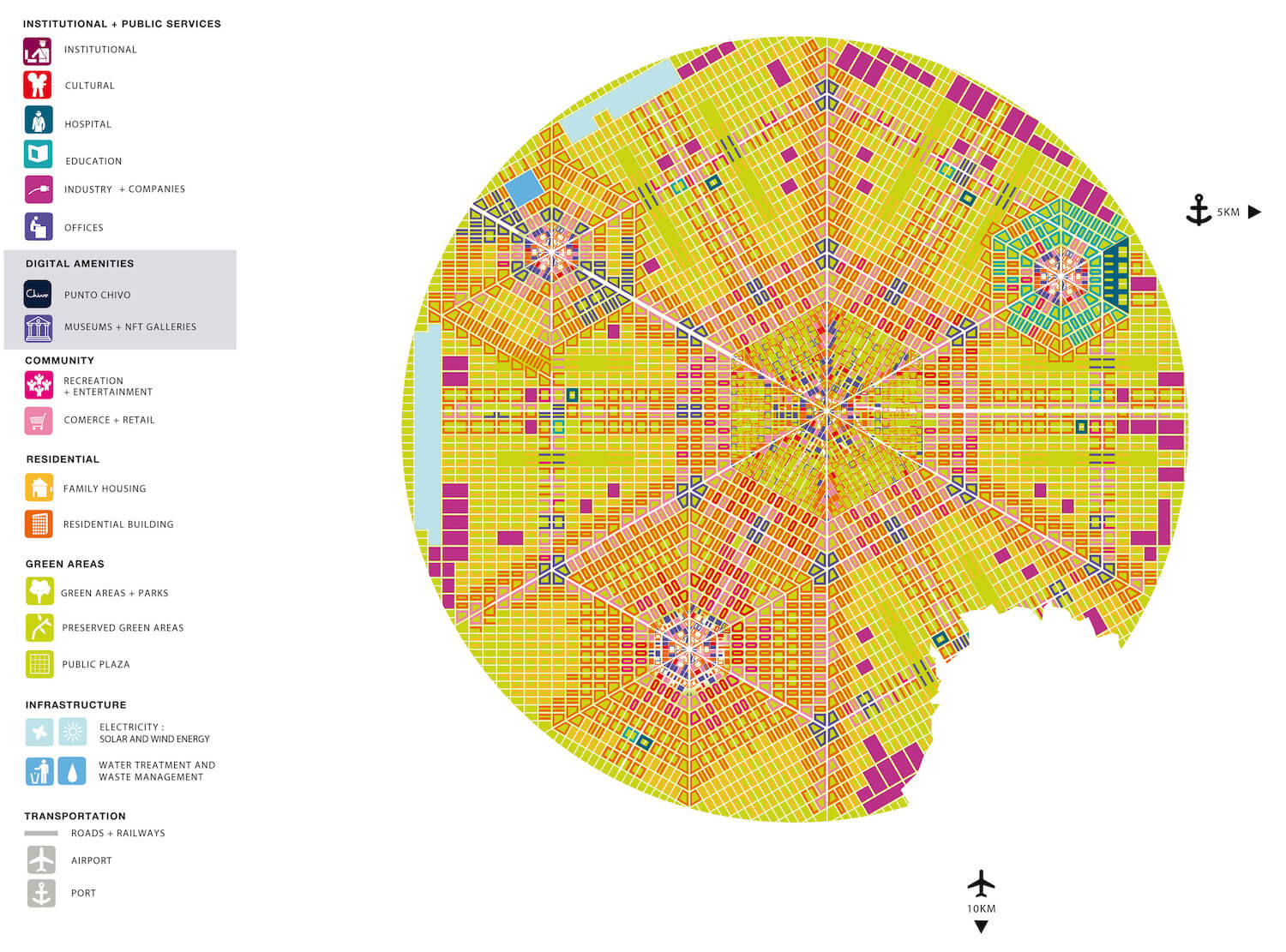 FR -EE / Fernando Romero Enterprise
FR-EE is a global architecture and design firm with offices in New York and Mexico City. An active agent in the reconfiguration of sites and public space, FR-EE's commitment to translating historic, social, economic, and environmental contexts into contemporary urban destinations that generate positive impact in cities and communities and helps drive. Over the past 18 years, FR-EE has realized projects worldwide that encompass different programs and contexts – from museums and office buildings to dense urban centers and the desert. Ultimately, the goal of each of the practice's projects is to provide a framework for social, political, and economic transformation in three-dimensional form.
Converging organic and systematic design approaches, FR-EE's projects address a wide range of public and private initiatives from community education to urban development. FR-EE's projects translate contemporary moments of society and culture into built form by using new material advancements, thorough research, and the implementation of green infrastructures.
Beyond practicing design, FR-EE also orchestrates initiatives aimed at elevating standards of living and education, particularly in Latin America, through research, sports, and curation. FE-EE's approach reflects the expanding role of architects and architecture in contemporary society as leaders and producers of work, which aims to create instead of imitating.
Collaboration is central to FR-EE's inquiry into the possibilities of design, working closely with clients, policy makers, curators, educators, non-profit entities, developers, engineers, contractors, artists, and anthropologists, as well as thought and business leaders. This lets FR-EE reach innovative solutions for that reflect a thorough analysis of a project's context and conditions. FR-EE's approach reflects the expanding role of architects, urban designers and industrial designers in contemporary society as leaders and producers, individually and collectively aiming to create rather than imitate.
---