The interior design of office spaces has changed a lot in recent years. Numerous trends of the past are now taken for granted and need to be overhauled. The office architecture & design of the future is shaping the offices of tomorrow, focusing on current trends.
If you work as a professional in the field of office architecture & design, these trends are particularly interesting for you. By implementing these developments in your work, you stay on the cutting edge of the times and create offices that meet the demands of a modern workplace. In this article, we will introduce you to what these trends are and how they are best implemented.
These stylistic elements are shaping the modern office
Modern office space is characterised by various stylistic elements that have recently come into use. The aim of these stylistic elements is to create a more attractive workplace where employees can focus and exchange ideas. In the future, workplaces will increasingly become a place to get to know the company culture, to maintain co-worker contacts and to take part in creative meetings. Since nowadays most of the work can be done from home, the actual work on the stationary computer is no longer in the foreground, but rather a single part of various activities that will be carried out in the office of the future. A modern and contemporary interior design helps employees to carry out these activities as productively as possible.
In the following, we will introduce you to the style elements involved.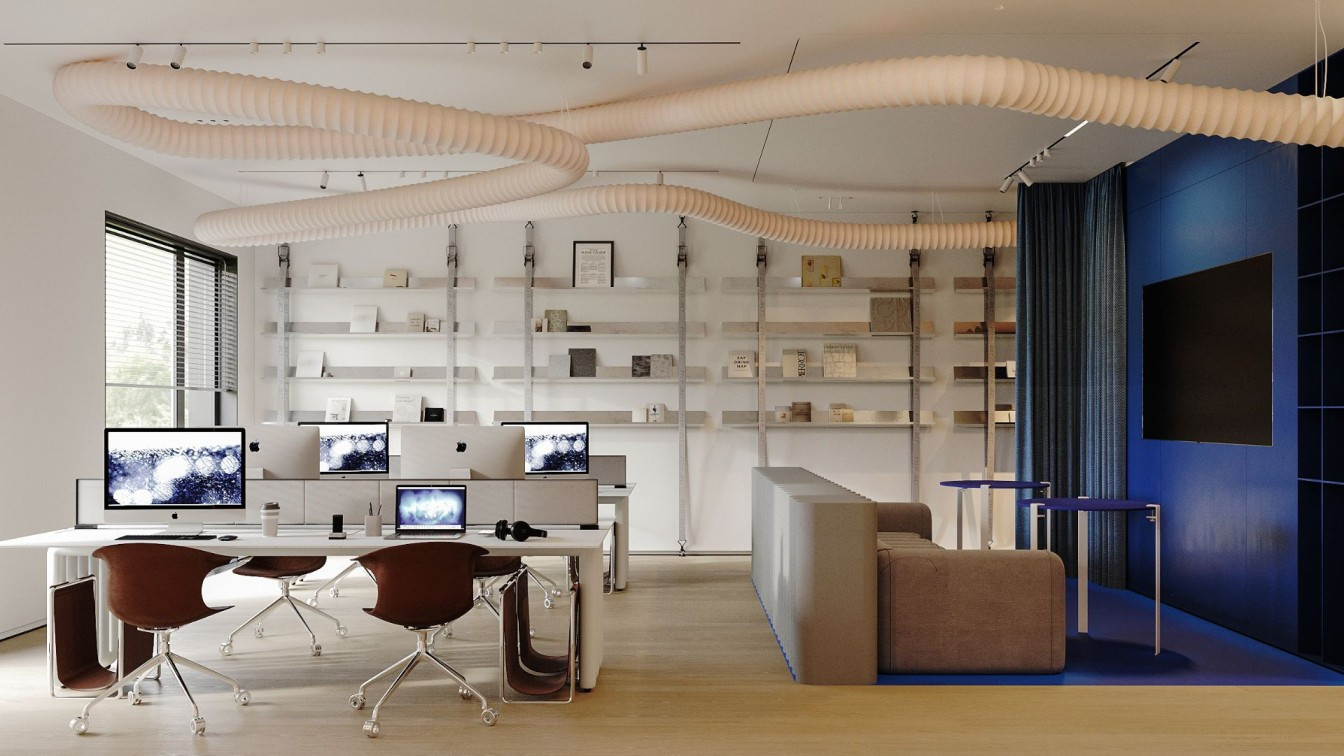 ZIKZAK Architects designs Creative Levelstudio Space, office project for an architectural & design studio in Almaty, Kazakhstan
Light colours
Light colours are not a style element that has only been around since yesterday. However, the use of light colours in office design has increased greatly and since this year has become a real trend. The use of light colours together with various shades of grey and light wood is particularly popular. This trend can be complemented with plantings such as moss, flowers or ferns. Light colours help workers reduce stress, build a positive mood and concentrate better. In addition, bright colours serve to underline the employer's brand, promote innovation and give energy. It is therefore not surprising that bright colours enjoy great popularity among employees. This trend really took off in 2022 and is unlikely to leave us anytime soon in the future.
Natural light
The concept of implementing a maximum of natural light sources follows a similar direction as the use of bright colours. Natural light provides energy, innovation and makes spaces feel larger. Ways to implement natural light in office design include the use of diffused light, daylight lamps and planting, which help to prevent excessive glare.
As offices increasingly become places for creative work and getting to know the company culture, natural light is more important than in times when offices were mainly used for data entry. By implementing natural light sources, architects and office designers can significantly improve the work of tomorrow.
Nature and sustainability
We see a distinct trend in office architecture & design towards more closeness to nature and sustainability. This trend manifests itself in various ways. Sustainability itself is becoming more important. For example, offices are being built in a more sustainable and energy-saving way. In addition, the offices of the future enable sustainable use and are part of a sustainable lifestyle for employees. Car parking spaces make way for bicycle parking spaces, a connection to the public transport network becomes more important and recycling is emphasised.
However, nature is not only protected with increased environmental awareness, but also by using it directly in office architecture & design. For example, we are talking about sustainably sourced and natural materials in interior design, extensive planting or Moss Art.
Wallcoverings
Wallcoverings in office spaces are becoming increasingly popular. These can be wallcoverings of all kinds. Especially popular are wallcoverings that show the history and culture of the company, wallcoverings with bright and dynamic patterns or wallcoverings with a wooden design. The advantage of wallcoverings lies in the fact that they are inexpensive, easy to apply, easy to clean and easy to remove. Wallcoverings are capable of injecting new life into office spaces, helping to relieve boredom and encourage creativity. They add personality to the office and encourage employees to get to know and identify with their employer.
The use of wallcoverings has been around for a while. However, it has only become really popular in office design in the past year.
Residential touch
Since the global pandemic, many office employees have been working from home. This has led to a change in workplace requirements. Employees working on-site at the head office nowadays want to feel relaxed and focused as if they were at home. To promote such a homely feeling, modern office design uses residential elements such as sofas, comfortable chairs, carpets or warm lighting.
This is intended to help employees feel at home and to work in a concentrated manner or to come up with creative ideas in a social setting. As the home office will remain popular in the future, this type of office design will increase in importance as well. The boundaries between office and home are blurring, which is facilitated by this style technique, among others.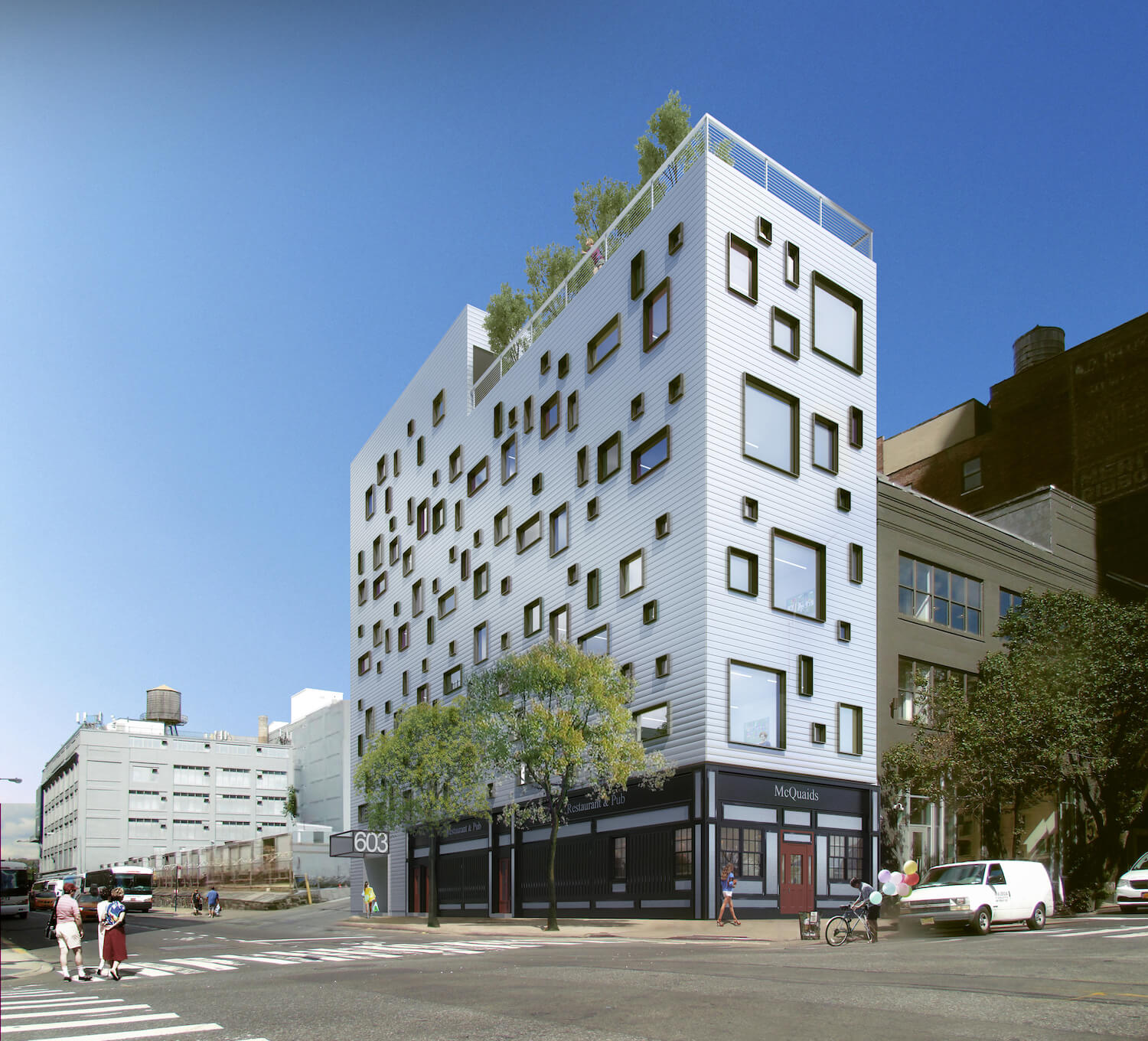 603 West 44th Street Office Building, New York, USA by Sydness Architects
What will the office of the future look like: Conclusion
A modern office relies on current trends and developments. These serve a variety of different purposes. For example, to enable employees to concentrate better, to exchange creative ideas and to identify with the corporate culture. The trends that are used for this purpose include, for example, the use of bright colours, natural light sources, more nature and sustainability, wallcoverings or a residential touch.
These trends define the office of tomorrow and ensure that our everyday working life evolves.
---