Our homes are our safe havens, and our lives have become very busy, as our responsibilities increase with all the changes that are happening in the world around us. Therefore, after a long, hectic, and exhausting day, all you need is to come home and shake off all the stress and relax to be able to face whatever life throws your way. Moreover, the design of your home and its colors can say a lot about you and about your interests in life, and that is why when planning to renovate your home or design a new one, you need to choose a design that matches your personality and makes you feel more at home. Read on to learn about new and creative ways of designing your home.
Incorporate Your Hobbies
We all are into something, whether it is a passion, a hobby, or just something that has always been interesting and appealing to us. To make your home stand out and add a personal touch to its design, hand items that are related to your hobbies or interests in life on the wall. If you like fishing, for example, you can hang your fishing rods on the walls in an artistic way along with a frame containing the different hooks that you use. Other good examples are surfing boards and musical instruments, as they would look super cool on the wall of your living room.
Add Paintings and Wall Art
Other than incorporating your hobbies into the design of your home, hanging paintings and posters in different rooms around the house would make your house speak out your taste and style. There are several types of wall art that can be hung on your walls, although the most important is that you choose the ones that represent you. You will see how a devout Christian from Christianwalls.com would want to decorate their walls to make them feel more at home. Moreover, you can have your favorite quotes framed and hang them in a visible place so everyone can see mostly them and know a little bit more about you.
Paint the Doors
Many houses these days paint their front door a striking color, which makes it stand out in their neighborhood. So if you want to take creativity to a whole new level and you are totally up to it, you can paint the door of each room in your house a different color! The idea might seem weird but the end result is nothing less than incredible. You don't have to use bold colors though as you can tone the colors down to match those on your walls and even the furniture style.
Minimalism
Decluttering is key to reducing stress and anxiety. Moreover, using fewer furniture pieces and accessories around the house won't just make you feel better but will also save you a lot of money and help people in need as you can donate the extra items you are not going to put in your house anymore. This way, your home will look more spacious.
Hang a Mirror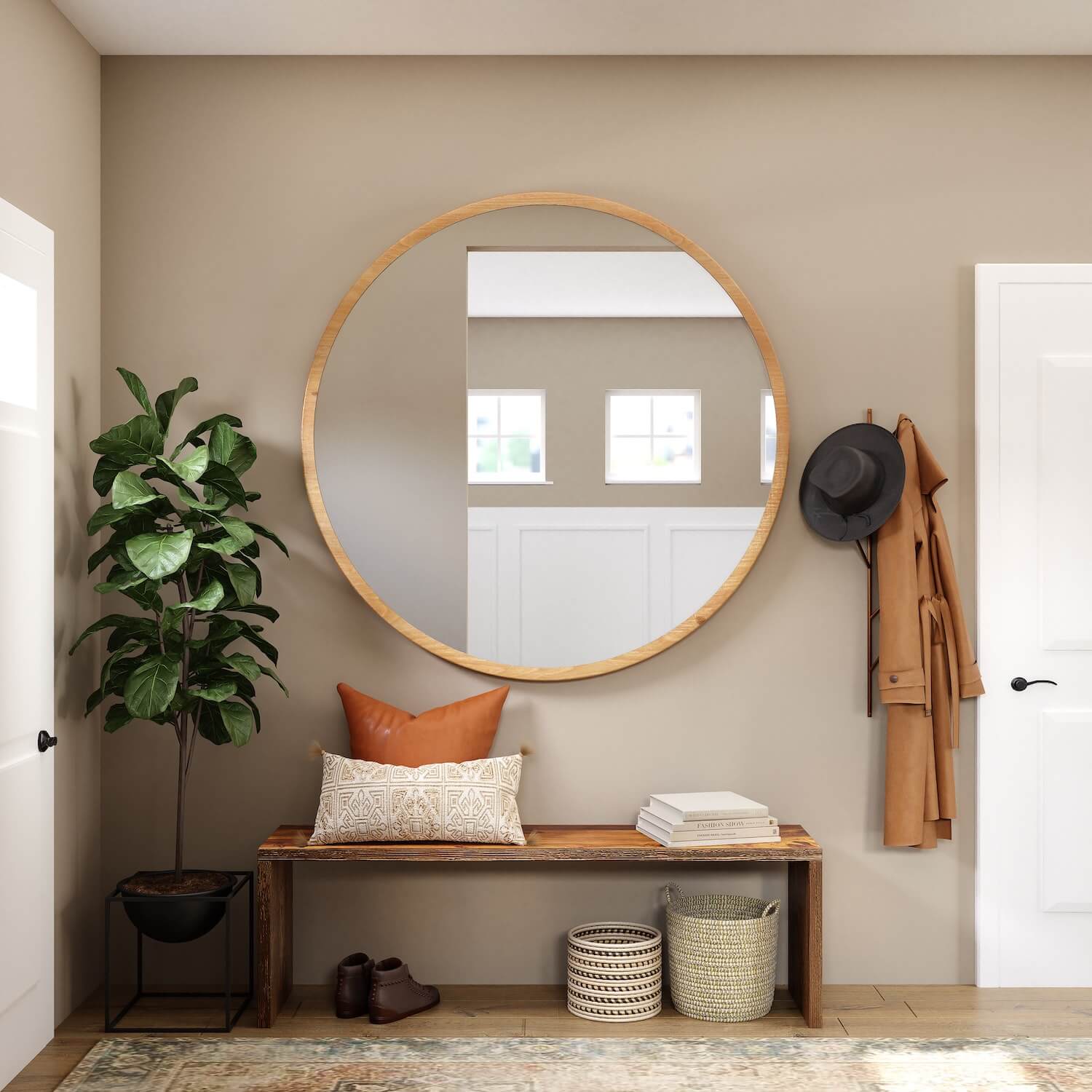 image © Spacejoy
Mirrors have always been used to add style to houses. However, mirrors don't just add style and beauty to the room in your house, they can make your home look bigger as well. Mirrors perform some sort of an optical illusion if hung on the wall in a certain way that makes a room look a bit larger than it actually is. The mirror size and style should match the furnishings in the room. To get more creative, you can hang mirrors of different sizes on one wall of the living room. Installing mirror panels on one side of the walls would also look great and surely add more space to the room.
Set a Theme
Set a theme for your house, or even better, set a theme for every room in the house. You can design your house in an African style for example, and choose colors that represent Africa and heighten the theme by adding animal statues. The theme doesn't have to be related to a country as it can be related to your hobbies like fishing, gardening, and sports. If you are into fishing, choose blue shades to paint your walls with and buy custom-made curtains that look like nets. You can add matching rugs and, of course, other home accessories related to the theme.
All of these creative ideas won't cost you a fortune to apply to your house unless you want to go grand and buy expensive stuff. You don't get to design your house a lot, so make sure to make it count by making your home a representation of you and your lifestyle. Moreover, being creative with the colors and home accessories doesn't mean that you have to choose bold colors and trendy accessories. Choose whatever colors or items that make you feel comfortable and add warmth to your home.
---