A pool is a great investment since it helps create fond memories and improve the appearance of your home. It also increases the resale value of your home. To achieve this, you need to choose the best design that complements the style of your home. Check out these amazing pool designs to elevate the value of your property.
Build Your Pool Near a Home Bar
Build your swimming pool near an indoor or outdoor bar. A Baja shelf around your pool not only improves its appearance but provides a perfect place to unwind. You can also use the swimming pool area for entertainment purposes. After cooling yourself in water, you can relax around your pool engaging in other activities like grilling meat.
Select Perfect Tiles
You must have fun with the tile you choose for your swimming pool. Different types of tiles are specifically designed for keeping your pool crystal clear all the time. Items like debris, skim leaves, algae, and dirt can affect the appearance of your pool. To maintain your pool in good condition, it is vital to enlist the services of a professional company. Dealing with cleaning companies gives you peace of mind since they provide personalized services to meet your budget and needs.
Choose Appropriate Shape
If you intend to use your pool for exercise, you can consider a rectangular shape. Long and linear shapes are ideal for your backyard. Other sophisticated designs can complement the style of your home. If you have limited space around your place, you can choose an appropriate pool design. For instance, a circular pool creates a perfect appearance that you do not get from rectangular swimming pools.
Know the Restrictions
When you design your swimming pool, you should know the restrictions in your area. Follow the local government code to come up with the best shape for your pool. Planting trees to tighten the greenery can also improve the appearance of your backyard. Creating an eye-catching pathway that attracts people to the pool is another effective way to improve the overall appearance.
Choose Decking Wisely
When you choose the decking materials for your pool home, make sure they provide distinct functional purposes. The concrete flooring must be durable for easier maintenance, a lawn can also improve the appearance of your pool. Wood decking can significantly make the process of maintaining your pool easier. However, this option can be pricier, so you must choose wisely.
Fence the Pool
Choose appropriate fencing for your pool area to enhance privacy and security. A fence helps keep kids at bay when there is no one around. The type of fencing you choose should match the design of your home to make the environment appealing. Whether you want to build a new swimming pool or renovate your existing one, make sure it matches the style of your home. Your home's architecture should determine the design of your pool.
Enhance the Surroundings
Your pool should easily blend with the surrounding environment for a perfect finish. You can add some greenery around the pool to enhance the surroundings further. If you want your pool to be impressive, you don't need to include a lot of landscaping. Italian cypresses or paving can improve your pool.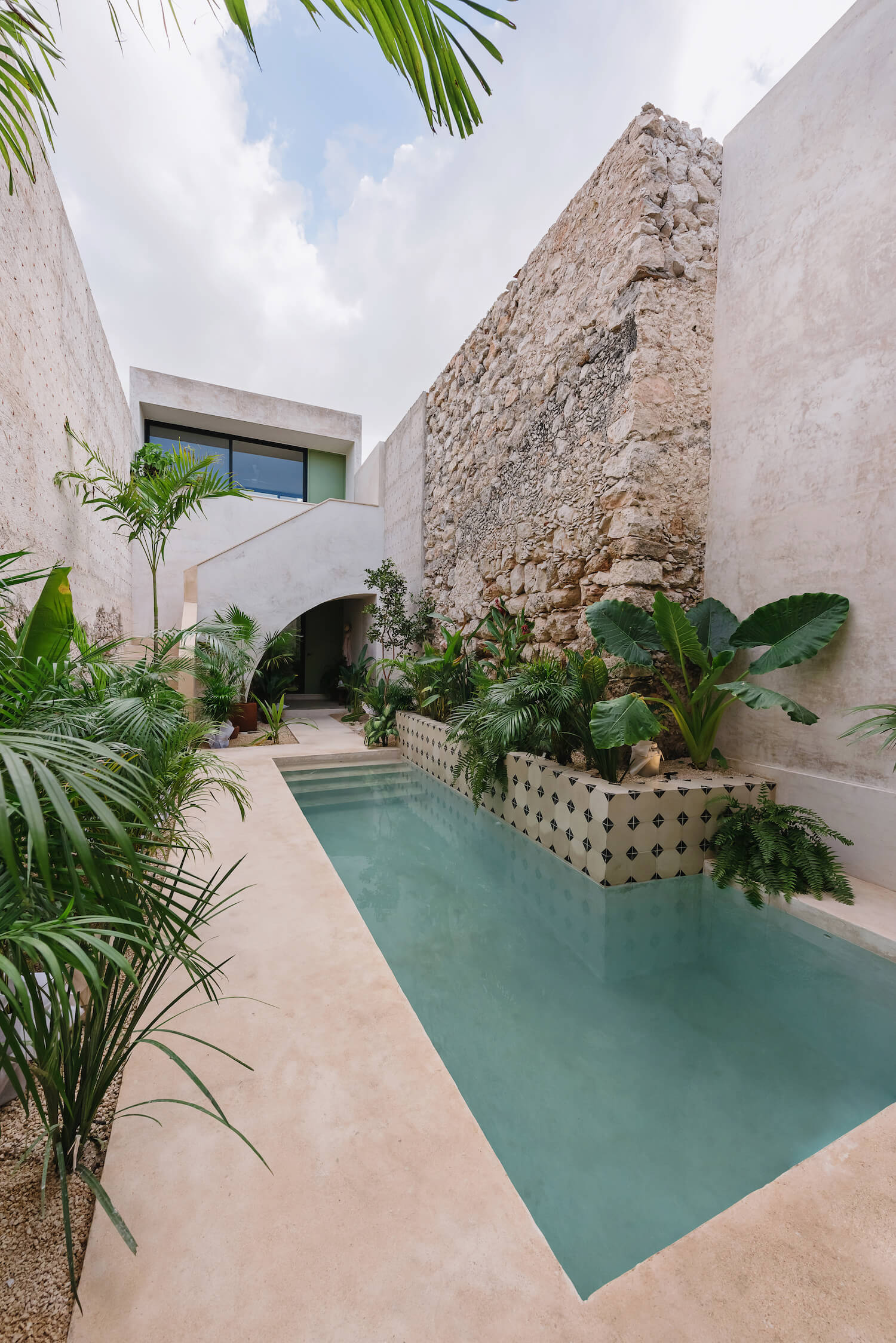 Canela House in Mérida, Mexico by Workshop Diseño y Construcción
Prioritize Décor
If you want to build an indoor pool, ensure that your interior décor matches the design of your home. For example, you can add stone accents, wood paneling on the walls, artwork, and lantern installations as lighting. The shape of your indoor pool can go a long way in enhancing the place. Additionally, you also need to choose the appropriate color for the pool tiles and other features surrounding the area. You can try softer colors that match the pool area.
Find Natural Shade
If there is tree cover in the backyard, build your pool in this area. Foliage provides natural shade, and it appears enchanting. Other forms of greenery like flowers can also do the trick. A gazebo is another perfect addition you can consider for your backyard; you should build it in a strategic position. Upholstery can make your pool feel good for the summertime. Choose darker colors for other seasons like fall or winter.
A swimming pool is a great investment for your home since it improves its appearance as well as increases the resale value of the property. The size of the space around your home should determine the type of pool you can construct. Additionally, you also need to ensure that the style of your home complements your preferred pool type.

---