Studio UNLTD designed The Marine Room lounge inside the La Jolla Beach & Tennis Club by expanding the bar experience to include a new lounge area. The goal was to create an intimate space to enjoy the iconic sunset views over the Pacific Ocean and the crashing waves against the restaurant's panoramic windows. Studio UNLTD was challenged to make the biggest impact and elevate the space within a two-week closure of this popular destination restaurant that has been part of the community for 80 years.
Taking inspiration from the seaside location, the palette cheers with ceilings painted bright white, blonde wood flooring, and shades of blue ranging from pale seafoam to deep turquoise that are at play throughout. To accentuate the unique wave-like bar shape, a white oak cladding in a ribbed pattern was installed on the soffit above the bar. Swiveling bar stools in velvety pewter-colored upholstery allow bar guests to pivot and join in the collective experience of the dramatic oceanfront location. Studio UNLTD worked alongside Ornella Pisano of ercole Home to create the custom cocktail tables. The Rizzo Table captures the shimmer and luxury of the iconic seaside location. Golden-hued glass in a mosaic pattern showcases Ornella Pisano's signature verre églomisé technique, while evoking the organic movement and iridescence of the ocean.
Underfoot a bold carpet with colors and shapes inspired by turbulent waters serves as the backdrop for meandering seating that includes a custom curvilinear sofa in luxuriant bone- colored chenille with flecks of gold. The space is finished with a lushness of plant life at the entry and stand-alone planters.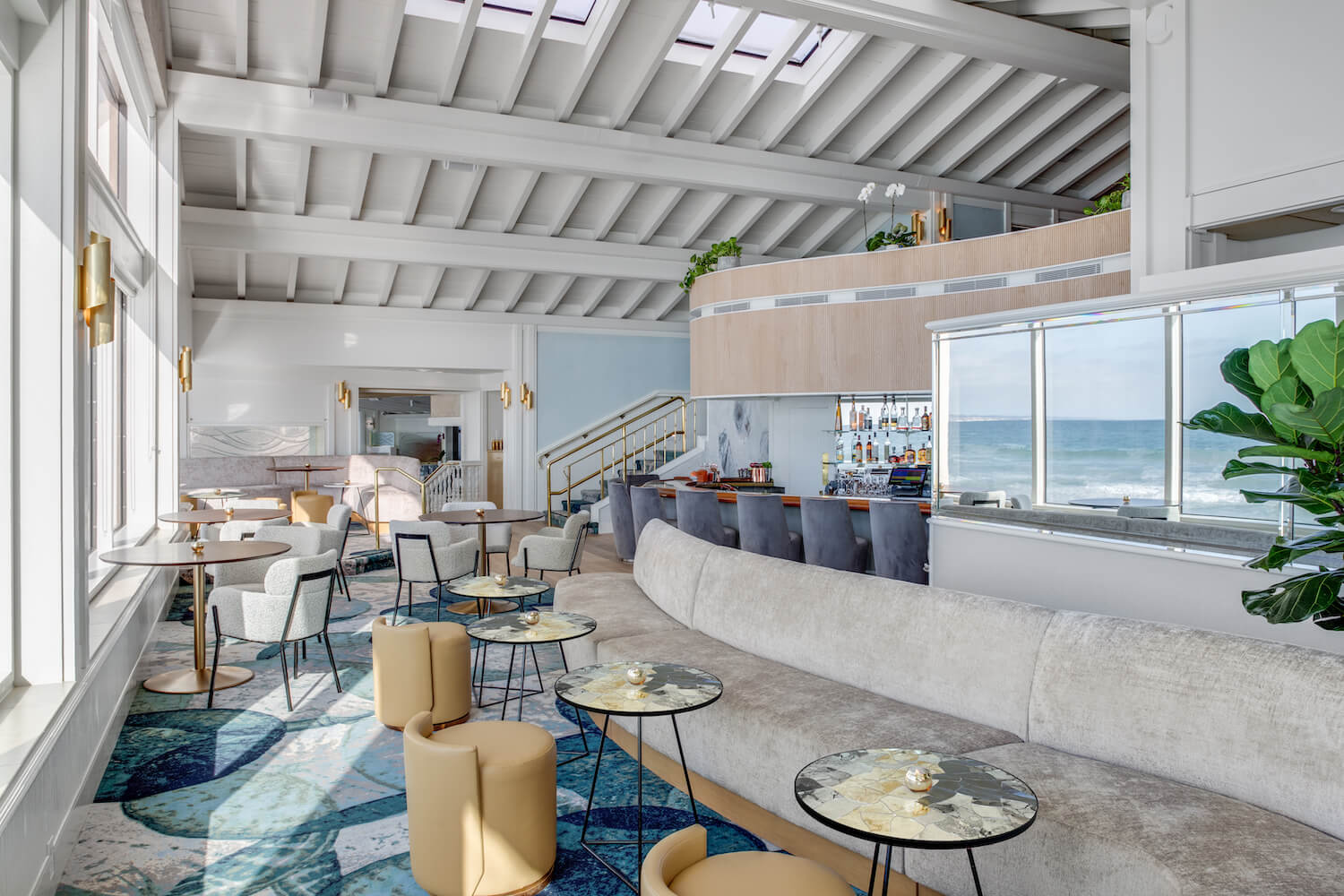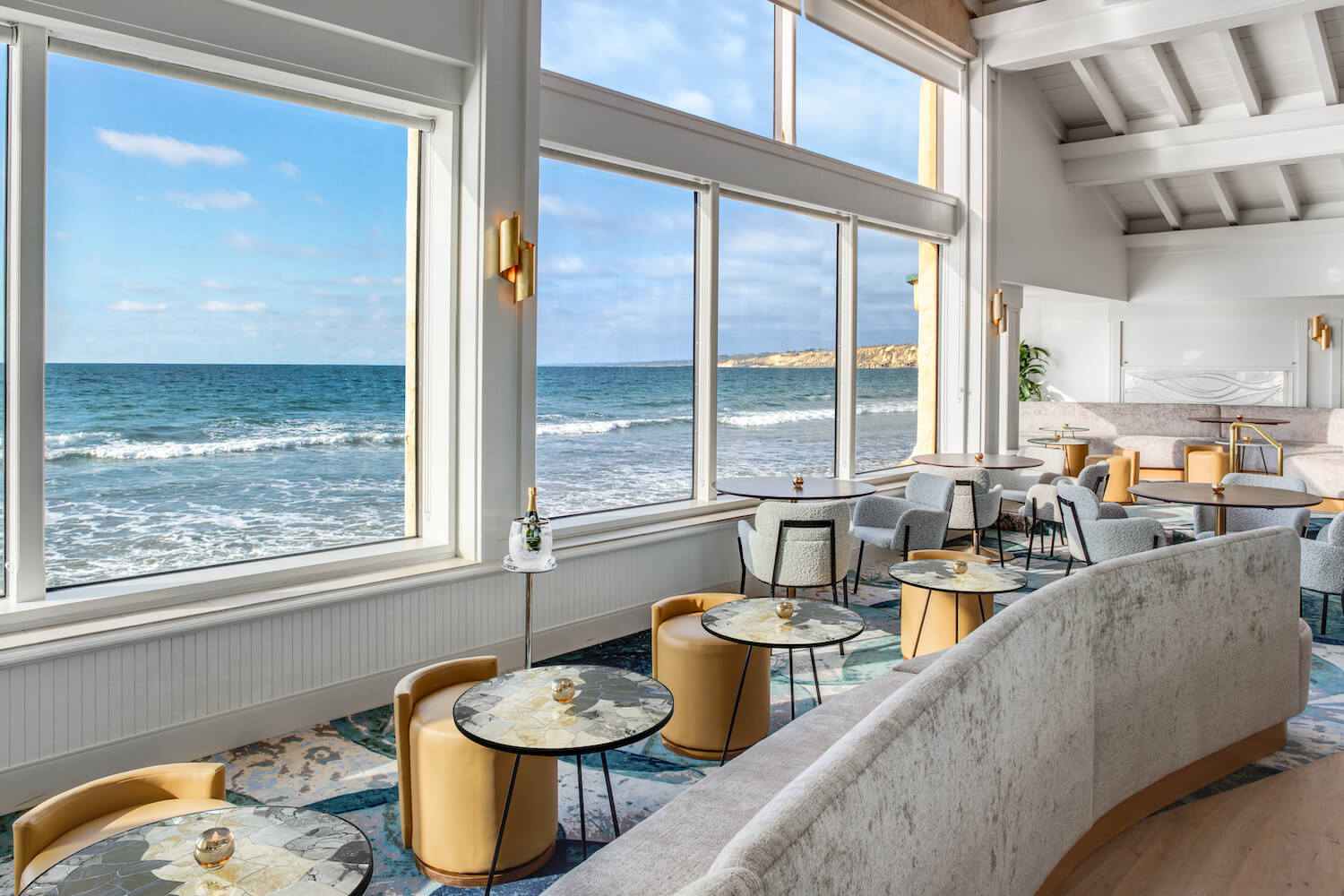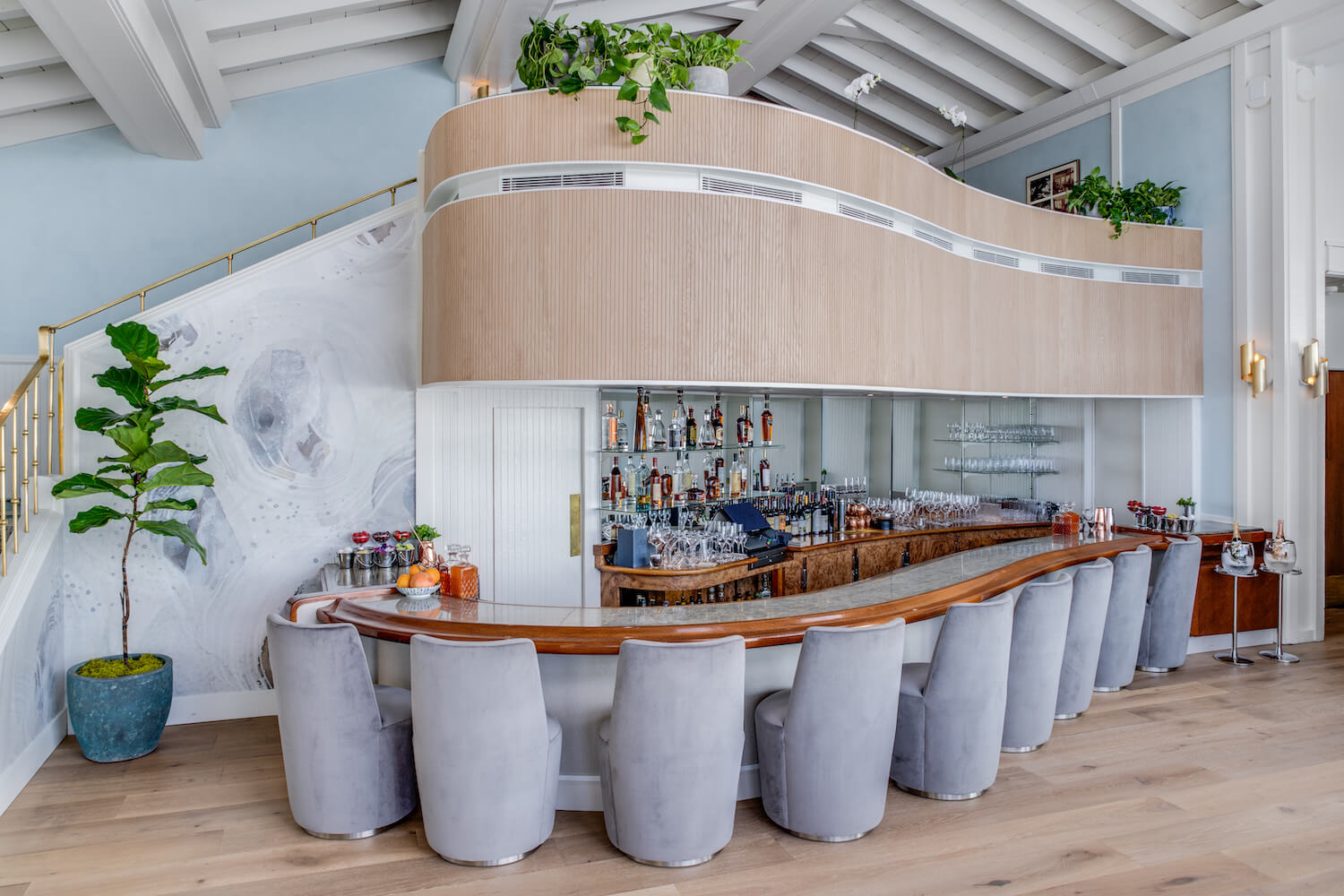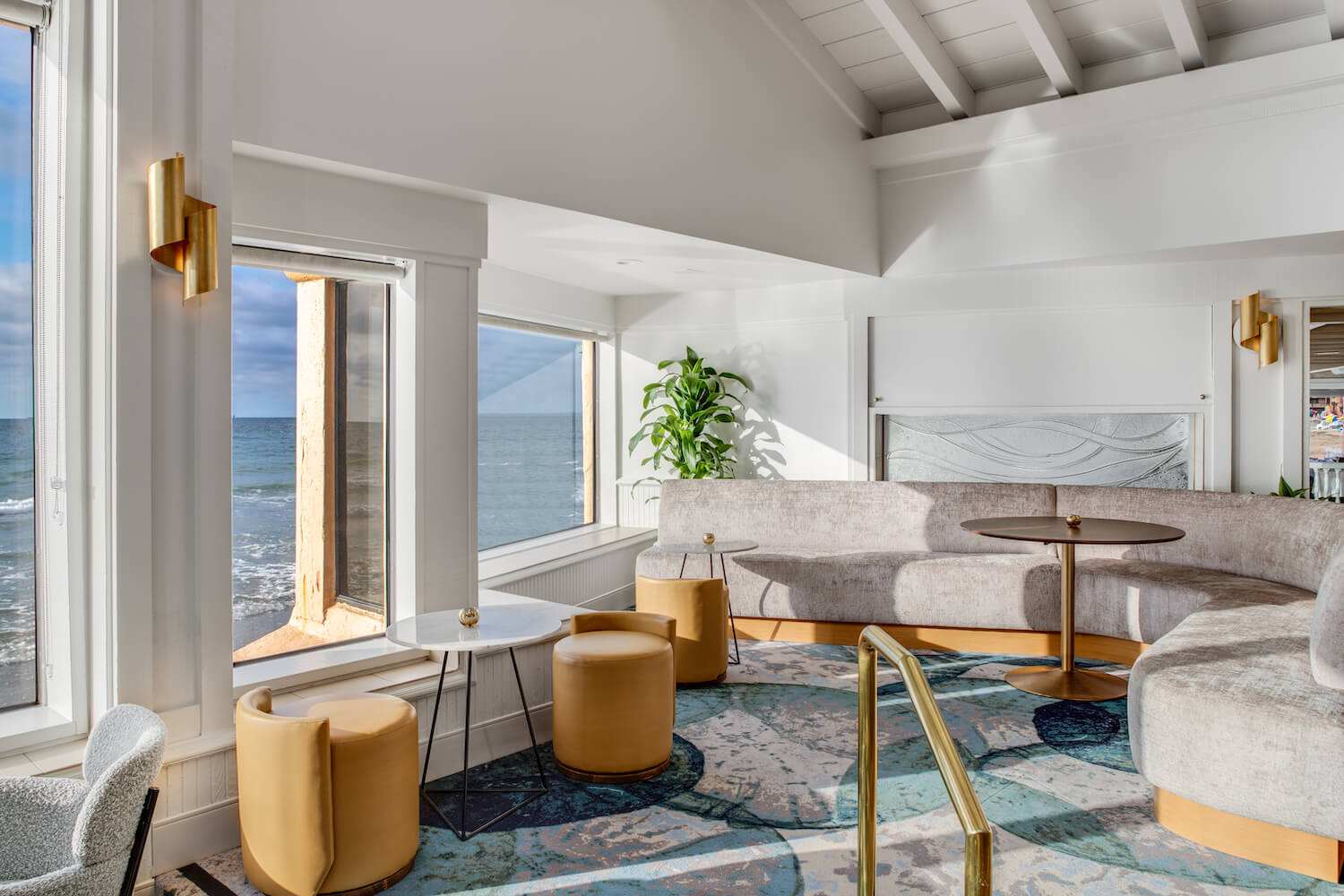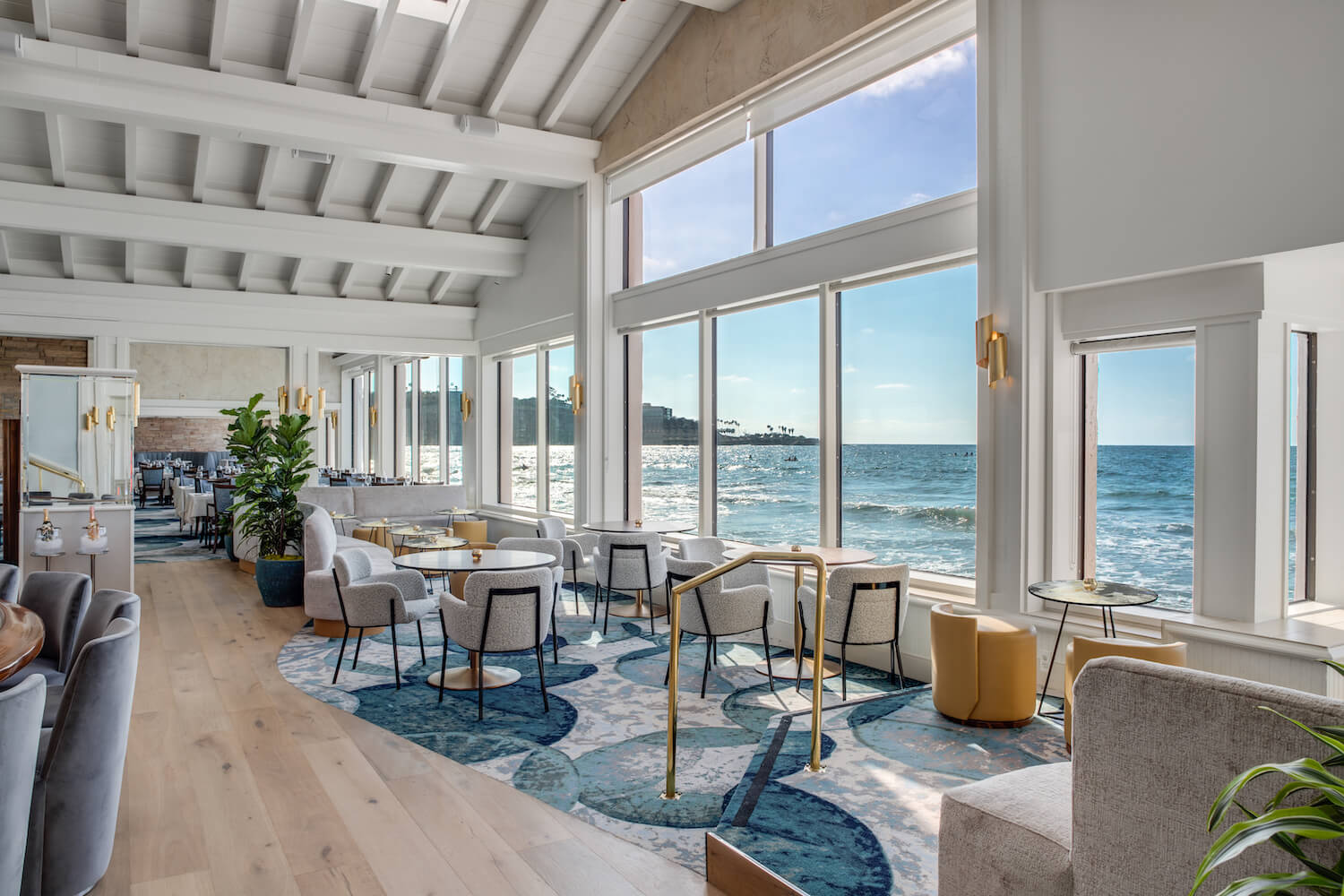 About Studio UNLTD
Established in 2009, Los Angeles-based Studio UNLTD is an award-winning design firm adept at the varied disciplines of interior architecture, furniture design, and lighting. Studio UNLTD works and listens carefully to their client's needs to create spaces that work for them – functional, comfortable and beautiful. Understanding that the heart of a project is generated from the client, they seek to transform those ideas into a successful and tangible manifestation of a concept. Studio UNLTD enjoys working with passionate people, whether it be clients, trade consultants, artisans, world-class chefs, barmen, or tastemakers. Their unique collaborative approach encourages an effective cross-pollination of ideas, and their strong relationships with trade professionals enable them to bring a broad range of resources to their work, from the earliest stages of ideation through to construction. Studio UNLTD is dedicated to generating creative solutions that move projects forward.
---