Renowned for designing incredible works of art, this is just another example of how iMaker is changing the game when it comes to bespoke architecture, interior design, and landscaping.
This most recent project, located in the affluent neighbourhood of Hittin in Riyadh, Saudi Arabia, showcases the company's innate ability to create properties that are truly breathtaking.
iMaker Group, a distinguished architecture, interior design, and landscaping firm renowned for its emphasis on luxury lifestyle and bespoke design, proudly announces the upcoming completion of its latest triumph, an opulent palace for a VIP client located in the prestigious Hittin neighbourhood of Riadh, Saudi Arabia. This visionary project represents iMaker's commitment to creating sumptuous spaces that seamlessly merge indoor and outdoor environments, elevating the concept of luxury living to unprecedented heights.
With an unrivalled reputation for delivering exclusive design solutions throughout the GCC region, iMaker's latest creation is poised to become another work of art in their already impressive portfolio. This architectural marvel spans across four levels, comprising a basement, ground floor, first floor, and second floor, and includes 9 bedrooms with 7 walk-in closets, 9 living areas, 6 dining areas, 6 kitchens, 9 washrooms, a cinema room, fitness gym, beauty salon, spa area, a large indoor swimming pool, 8 car basement parking. Boasting only the highest quality amenities in each room, this is the epitome of high class living.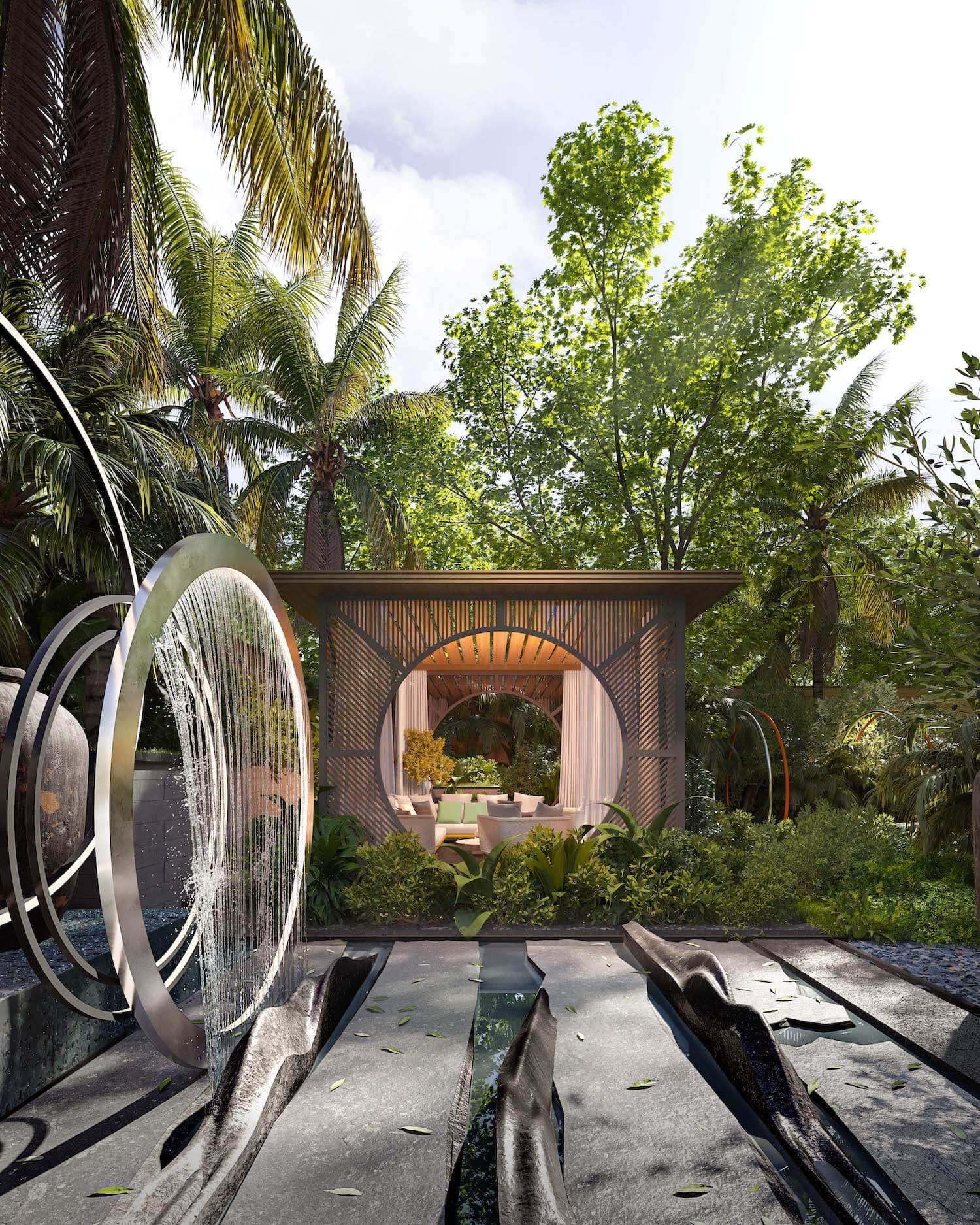 The palace, a testament to iMaker's dedication to sophistication and innovation, showcases an exquisite Asian contemporary style for its facade, exuding elegance and timeless charm. The captivating Asian and zen gardens, in vogue with modern trends, have been meticulously integrated into the landscape, accentuated by awe-inspiring sculptures and Asian-style frames, invoking a serene ambience throughout the property.
At the heart of the estate lies an Asian-style gazebo, resplendent with luxurious seating arrangements, offering an idyllic retreat for moments of tranquillity and contemplation. iMaker's ingenious design has overcome the challenge of creating a harmonious indoor-outdoor flow, smoothly blending the boundaries between the two realms. A captivating buffer zone, cooled by an outdoor AC system, greets visitors as they step outside with a stunning dining area, sitting area, and a large flat-screen TV, ensuring a smooth transition from the refreshing indoor space to the allure of the outdoors.
Throughout the entirety of the palace, iMaker has masterfully merged the realms of architecture and nature. The meticulously landscaped gardens envelop the property, with trees and shrubs adorning walls and fences, enabling a picturesque view from within. One cannot help but feel transported to a serene forest, as the refined elegance of broken slabs and stones gracefully leads visitors along a pathway that seamlessly integrates with the surrounding landscape. The strategic arrangement of a diverse array of plants further accentuates the natural ambience, evoking a profound sense of harmony within the estate.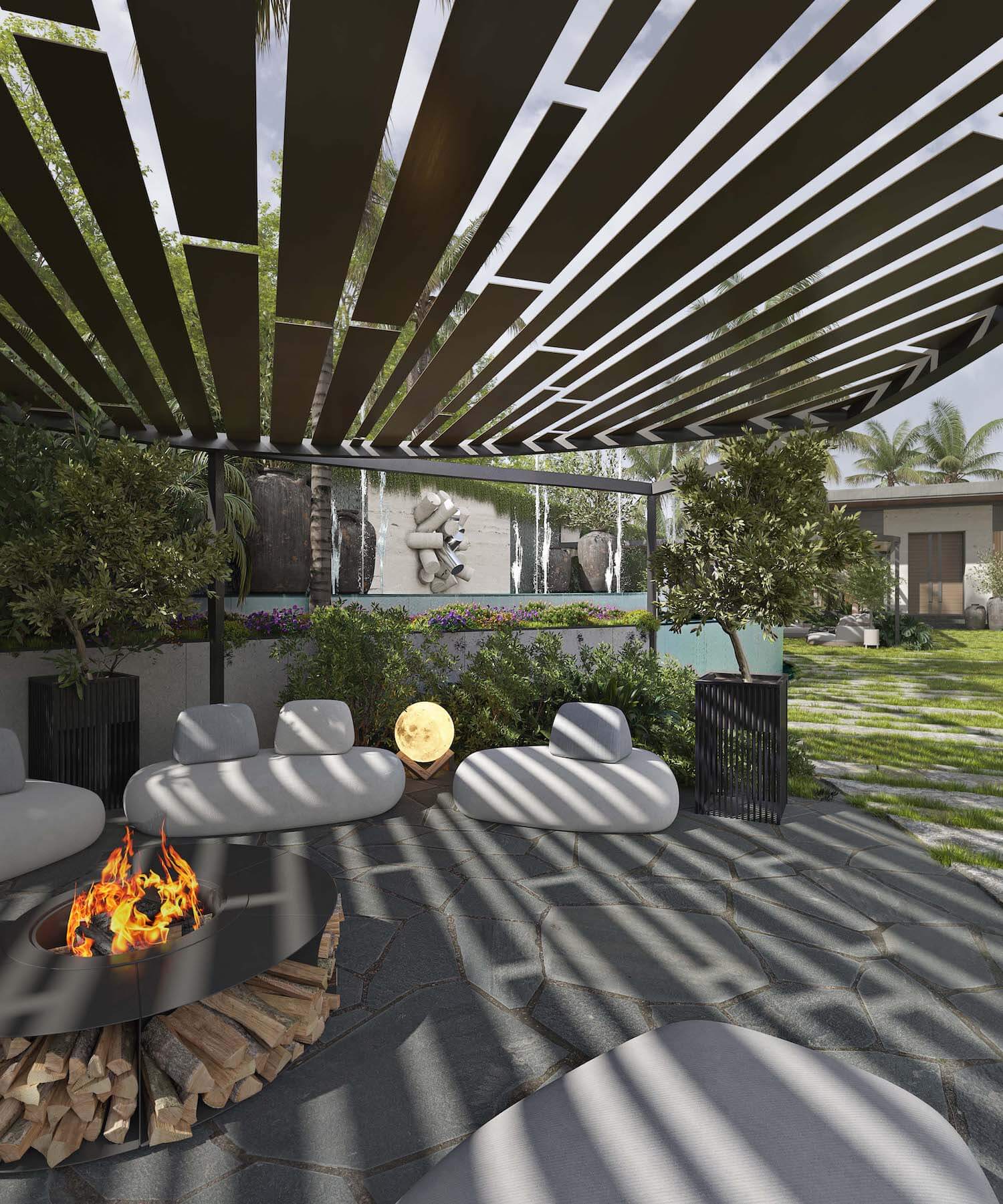 Notably, the palace features an abundance of majestic palm trees, towering to create a tropical atmosphere while providing ample shade and maintaining a refreshingly cool environment. Every aspect of the landscape design serves to underscore the notion of a living building, where the interplay between architecture and nature is both captivating and organic. iMaker's expert team has meticulously crafted an enchanting outdoor environment, meticulously curated to enhance the architectural grandeur of the palace, ensuring a mesmerising experience for the esteemed occupants and their guests.
As iMaker nears the completion of this architectural masterpiece, anticipation and excitement build, offering a glimpse into the unparalleled luxury that awaits within the walls of this incredible palace. The harmonious blend of Asian contemporary design, captivating gardens, and the seamless integration of indoor and outdoor spaces demonstrates iMaker's unwavering commitment to creating extraordinary spaces that transcend the conventional.
---