It's summertime, which means festivals, picnics, and outdoor Activities! If you have a yard as most people do, it might be in need of some TLC. Here are easy ways to decorate your yard without any serious effort. Keep in mind that if you want to make a more professional-looking yard, you will need to invest in some supplies.
Decorate Your Yard with Flowers
Looking to spruce up your yard this summer? There are plenty of easy ways to do so, and some that you can do even when the weather isn't quite cooperating. Start with the basics. Flowers are a great way to add color and life to any space, and they're especially beautiful in simple arrangements. Head to your local garden center or grocery store and pick up a few bunches of fresh flowers- including daisies, sunflowers, roses, and lilies- to get started.
Whether it's a planter on the front porch or a pot tucked away in the corner of the yard, using containers to fill with flowers is a great way to give your landscape a little extra personality. You can find all sorts of colorful pots and planters at garden centers and home improvement stores, so there's sure to be one that will perfectly complement your design aesthetic. Plus, according to these Decor Home Ideas's simple landscaping ideas, you can use pebbles, river rocks, and stones, to create a lot of easy landscaping ideas just by laying them around or creating a beautiful pattern.
Not only are flowering plants beautiful additions to any garden, but they also come in different colors and varieties that will change as the seasons change. For example, hydrangeas blossom in the wintertime while pansies take center stage during springtime. So if you want something that'll look good throughout the year, go for a flowering plant!
Decorate Your Yard with Plants
There are so many ways to decorate your yard with plants that it can be hard to decide where to start. Whether you want to add a splash of color or create a more natural look, there's a plant for you. Here are five easy ways to decorate your yard with plants:
1. Look for brightly colored flowers in the garden center.
2. Choose plants that will thrive in diverse climates, like succulents or cacti.
3. Find low-maintenance plants that will keep your yard looking great year-round, like ivy or hostas.
4. Plant trees and shrubs that will give your yard an appearance of depth and texture.
5. Use flowering vines to create a lush curtain over a fence or gate
Keep in mind that the type of plant you choose will also affect how you care for it. For example, succulents need little care other than occasional watering, while flowering vines require frequent pruning. Additionally, different plants will require different amounts of sunlight, so be sure to check the plant's tag before you purchase it. Remember, plants are a great way to add personality and color to your yard, so have fun choosing one that suits your style!
Decorate Your Yard with Outdoor Furniture
1. Choose neutral colors for your furniture and groundcover, and pair them with pops of color in accessories or flowers.
2. Hang lanterns or string lights from trees or other tall structures for an added touch of romance.
3. Use umbrellas as tables or chairs, and drape fabric over the handles to create a cozy seating area.
4. Add plant stands or planters with fresh blooms to add interest and color.
5. Create simple spatial effects by grouping items together on larger chunks of ground cover or in corners, rather than trying to cover everything in one go.
6. Use contrasting textures and materials to create a visually interesting focal point.
7. Use outdoor furniture as an opportunity to experiment with new design ideas – think about incorporating asymmetrical shapes, unconventional materials, or patterns.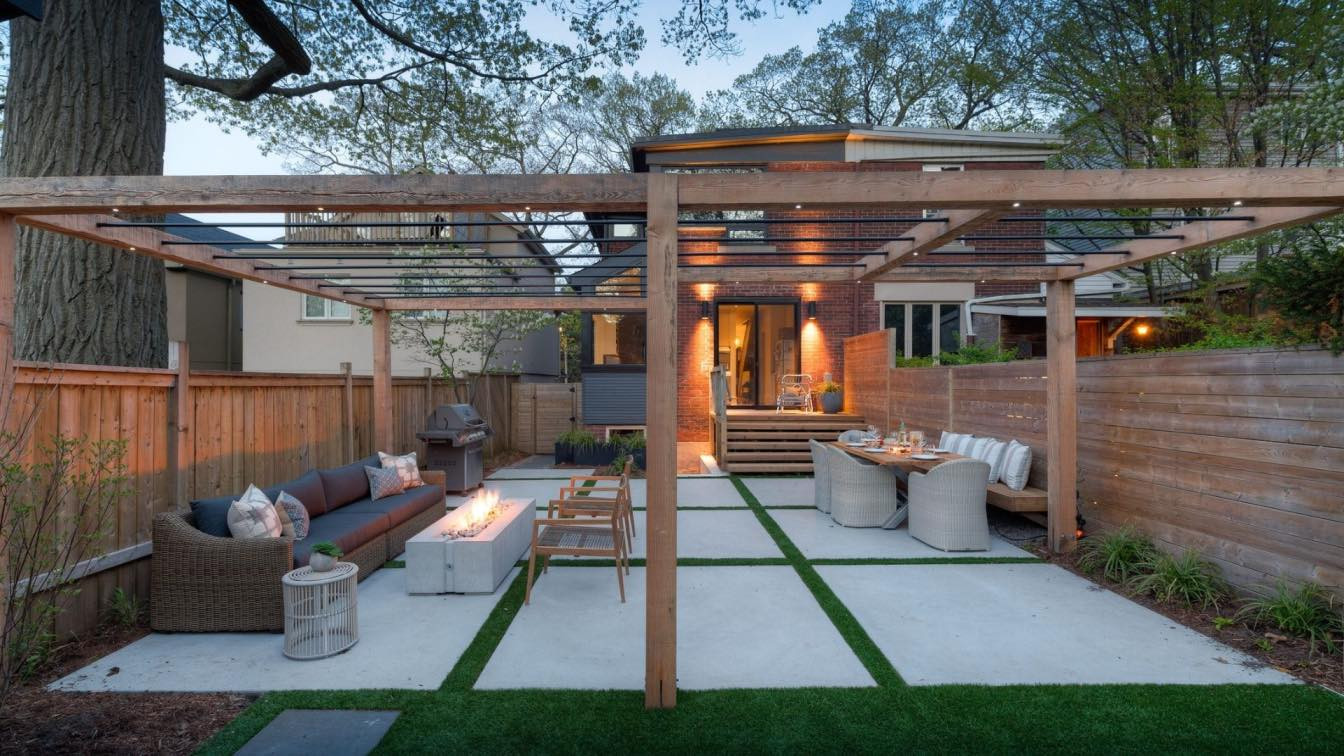 image © McNeill Photography
Decorate Your Yard with Cement Walkways and Fountains
If you're looking for a quick and easy way to spruce up your yard, cement walkways and fountains are a great option. Cement walkways are simple to build and can be customized to fit your specific needs. You can add natural elements like plants and trees, or create a more industrial look with metal panels. Fountains can be added to beautify any area of your yard, whether it's the front porch or the backyard patio. With just a little bit of creativity, you can create a beautiful landscape that will make your home stand out from the rest.
In addition to cement walkways and fountains, you can also add a variety of other landscaping options to your yard. This includes plants, trees, flowers, and more. Whether you're looking for a simple addition or something more complex, there's likely something out there that will fit your needs. So take a look at your yard and see what you can add to make it look its best. Keep in mind that a well-planned landscape can not only make your home look great, but also add years of enjoyment to your life.
Not to mention, a well-landscaped yard is also a great way to keep your home cooler in the summer and warmer in the winter. Landscaping can also help to reduce humidity levels, making your home more comfortable. So if you're thinking of adding landscaping to your home, be sure to consider cement walkways and fountains as one of your best options.
Whether you're looking to spruce up your yard for the summertime or just want to get started on some projects, these easy ways to decorate your yard will help make the process a breeze. From flower pots and planters to brightly colored umbrellas and hammocks, there are plenty of fun ideas here that will make your yard look great no matter what time of year it is! Keep in mind that some of these ideas, like using plants or flowers, will require some care and attention over the long term. But with a little bit of effort, you can have a yard that looks great year-round!
---