The Mary Axe Skyscraper in London is a 40-storey building located in the capital of Great Britain, the structure of which is made in the form of a mesh shell with a central support base. The top floors of the skyscraper offer a beautiful panoramic view of the central part of London.

The Mary Axe is the first skyscraper in the world to claim the title of an ecological skyscraper. The lower floors of the high-rise building are open to all visitors, while the upper floors are home to numerous restaurants.

The total cost of construction works was approximately USD 400 million. Foster used natural ventilation and sunlight in his project.

The 180-meter-high skyscraper turned out to be very economical with the total power consumption half as much as in other similar buildings.

In 2003, the project was awarded the annual Emporis Skyscraper Award for the world's best skyscraper, and in 2004 the project was awarded the prestigious James Stirling Award (from the Royal Institute of British Architects).

General information
* Building type: Office premises
* Location: 30 St. Mary Axe, EC3
* Start of construction: 2001
* Completion of construction: 2003
* Commissioning: 2004
* Building height: 180 meters (591 feet)
* Number of floors: 40
* Total area: 47,950 square meters (516,100 sq.m)
* Total cost: $ 400 million
* Chief Architect: Norman Foster
* Main Contractor: Skanska Company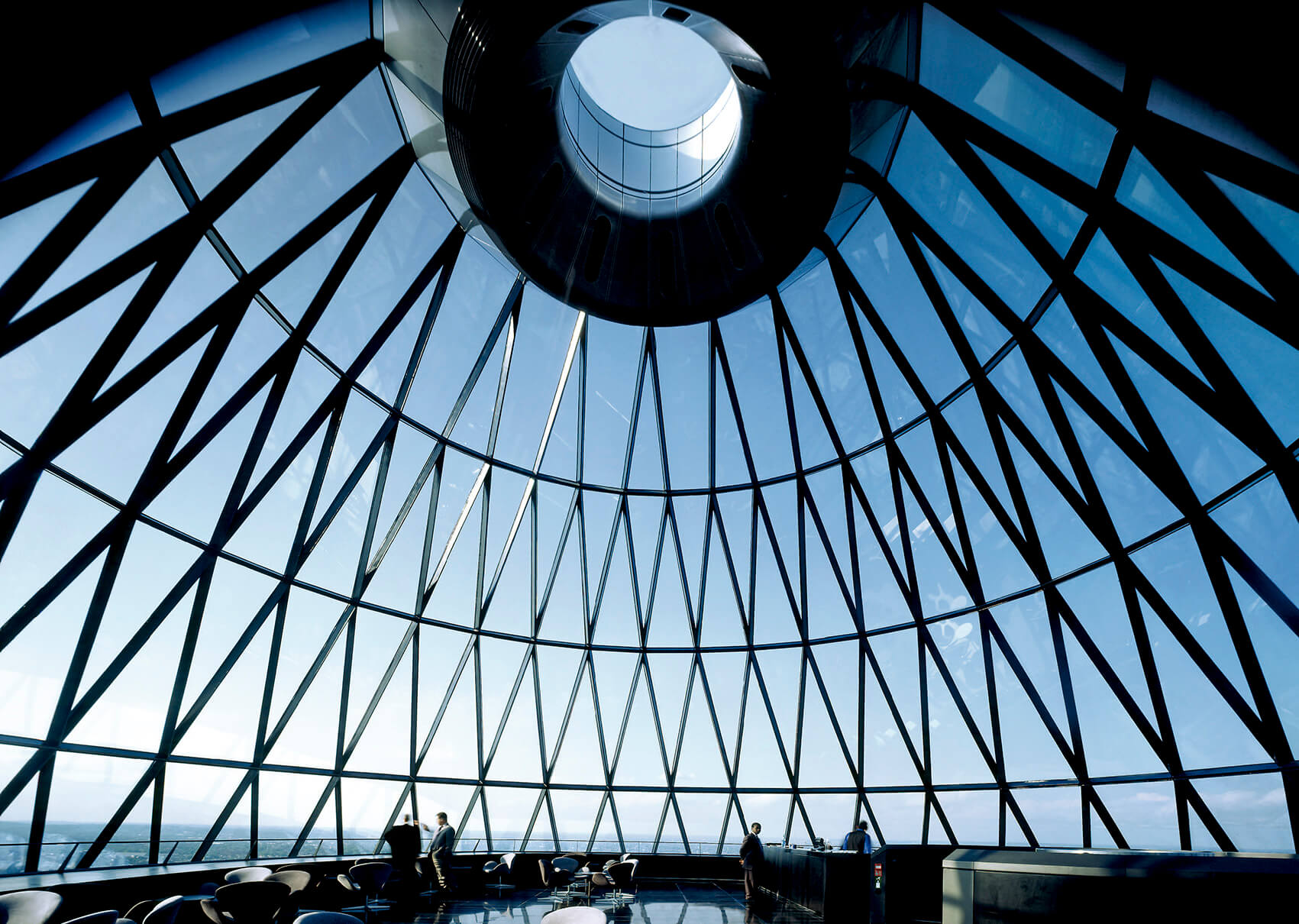 The interior decoration of the building is also distinguished by a variety of glass elements, there are glass staircases and various partitions. The first floors of the skyscraper are available for free visits, so you can admire its surroundings completely freely. Mary Axe claims to be the first ecological skyscraper in the world, it got its name in honor of St. Mary Axe street, on which it is located. In addition to the glass facade, the skyscraper has another interesting feature, its outer part has absolutely no corners. This makes the high-rise building resistant to wind gusts.
For finishing the facade of the skyscraper, which is 180 meters high, 5.5 thousand diamond-shaped double-glazed windows were required. They provide the building with maximum noise insulation, as well as contribute to energy conservation. The façade has been equipped with special light shafts that facilitate natural ventilation. The double-glazed windows used for finishing the facade are tinted, which contributes to an increase in the level of thermal insulation. For these and other environmental features, the building was awarded the Stirling Prize
The building is circular on the outside and has the shape of six petals, on which office premises, conference rooms and study rooms are located. Between these "petals" six sectors are formed, in which the atriums are arranged. Atriums are spaces with a height of two to six floors, which move several degrees on each floor. Windows open in these atriums so that office workers can take a break from work and breathe fresh air. This is possible due to the fact that all load-bearing structures of the building are placed on the facade, and the elevator shafts are located in the center. Heating costs for the 41-storey building are minimal. It consumes half as much electricity as other similar buildings. The aerodynamic shape of the skyscraper leads to the fact that the wind does not collide with it, but only bends around it, which does not create eddies and the formation of clouds. And the most amazing thing is that the 40-story office casts less shadow than a regular rectangular skyscraper.

Tourists are most attracted by the upper floors, where the bars and restaurants are located, from where a magnificent view of majestic London opens.
---