Ever since they gained worldwide fame back in the good old 1920s, RVs instantly became a popular "get out of jail free card" for all people who wanted to get off the grid and temporarily replace their urban lifestyles with something more adventurous and outgoing. As time went by and legislation caught up, campers even became permanent housing solutions for millions of Americans and people around the world.
These days, however, RV living is becoming increasingly popular with younger folk who are looking for new ways for frugal living and a nomadic lifestyle. Let's see what we can do to marry these exciting ideas with the modern understanding of leisure and amenities we got so used to in recent years.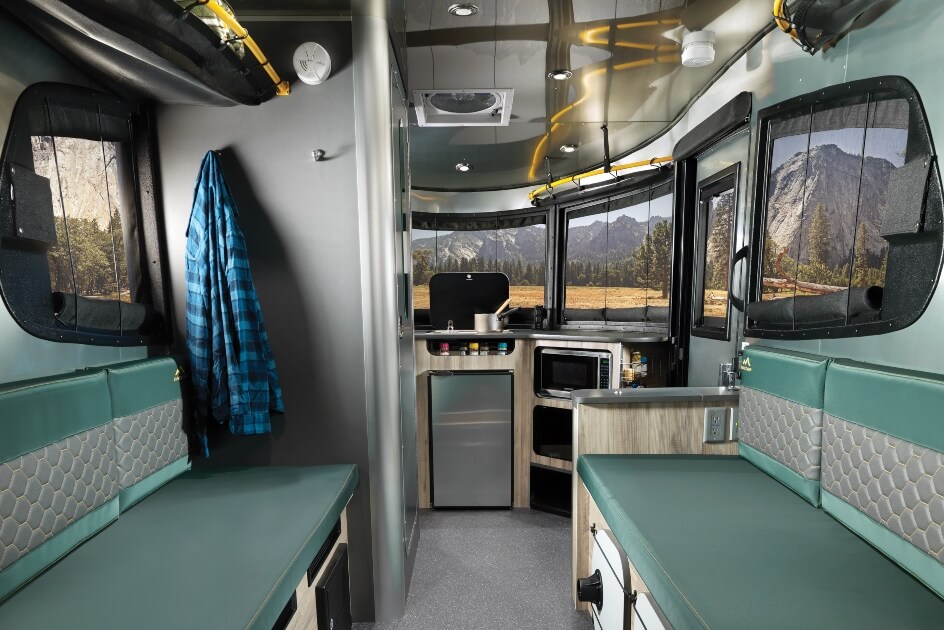 Inside the Airstream Basecamp: Forest Ridge. The ultimate adventure travel trailer with everything you need in a 16-foot space. Convertible sleeping areas, bathroom, kitchen, and tons of natural light. image © Airstream Inc.
Buy the vehicle suitable to your lifestyle
If you are still only exploring the idea of getting your tiny house on the wheels, you should be aware that RV (Recreational Vehicle) is a pretty broad term that covers all sorts of vehicles of different sizes, types, and purposes all of which have their distinct pros and cons. Be sure to check them and see which one of them suits your lifestyle the best. And once you have your RV, why not consider utilizing it as an Airbnb RV, providing a one-of-a-kind accommodation experience for travelers. On the other hand, if you simply want to get the optimal balance of space and convenience, type C should offer most amenities necessary for comfortable living.
Move in the appropriate furniture
In this regard, you should follow all the guidelines for buying furniture for tiny apartments – you need small pieces that can hopefully serve multiple purposes or be easily dismantled. For instance, your bed should pack an ample storage space underneath. The kitchen table should be a wall-hanging unit or easy to dismantle. Other good examples are the chairs and ottomans that can be fit in one another, Matryoshka-style, deep sinks with built-in cover and hanging shelves. You are working in a very limited square footage, and you want to squeeze every inch of it.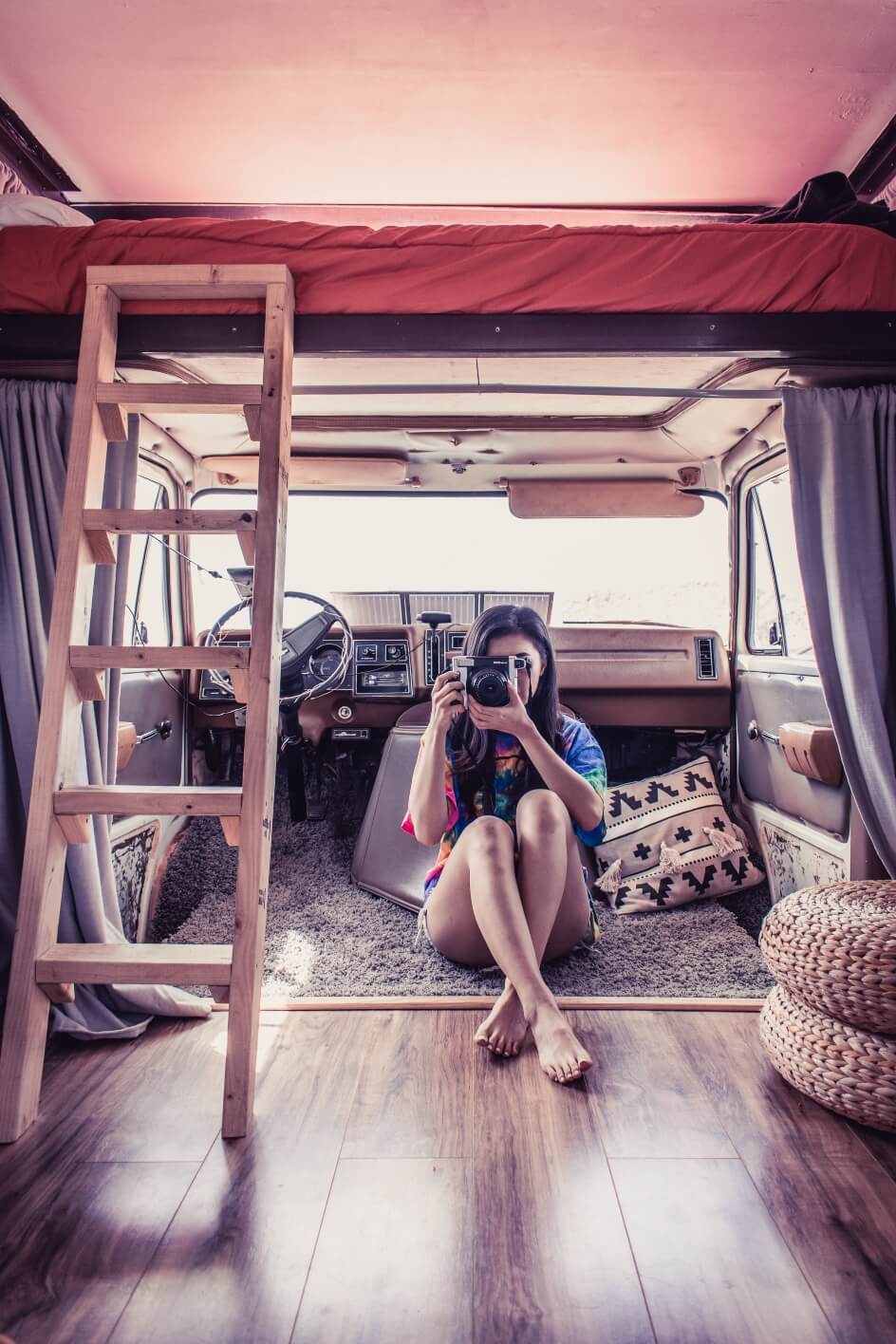 A vintage portrait under the desert sun with a view inside of the Gemini van (AirBnB rentable. image © Christian Mikhael
Take care of the heating and air-conditioning
Aside from the available space, heat management is probably one of the biggest advantages traditional homes have over their mobile cousins. Without strong walls and layers of insulation around you, winters can get really cold, and summers really, really hot. Fortunately, this problem can be solved with some of the modern, efficient RV air conditioners that do an excellent job at regulating the interior temperature. If you plan on staying in a colder area, you can always throw in a couple of ancillary heating units to make sure you feel warm during the winter.
Minimize before moving in
One of the biggest obstacles to living in a tiny house is the problem of fitting all of your stuff inside, right? Well, try making the list of the items lying around you haven't touched the last couple of years, and you will see this is actually not that big of a problem. As a matter of fact, the list of things we need for frugal living is awfully short – a couple of pieces of furniture, streamlined kitchenware and seasonal clothing, a few necessary gadgets, and that's pretty much it. Think of everything else as a commodity rather than a necessity.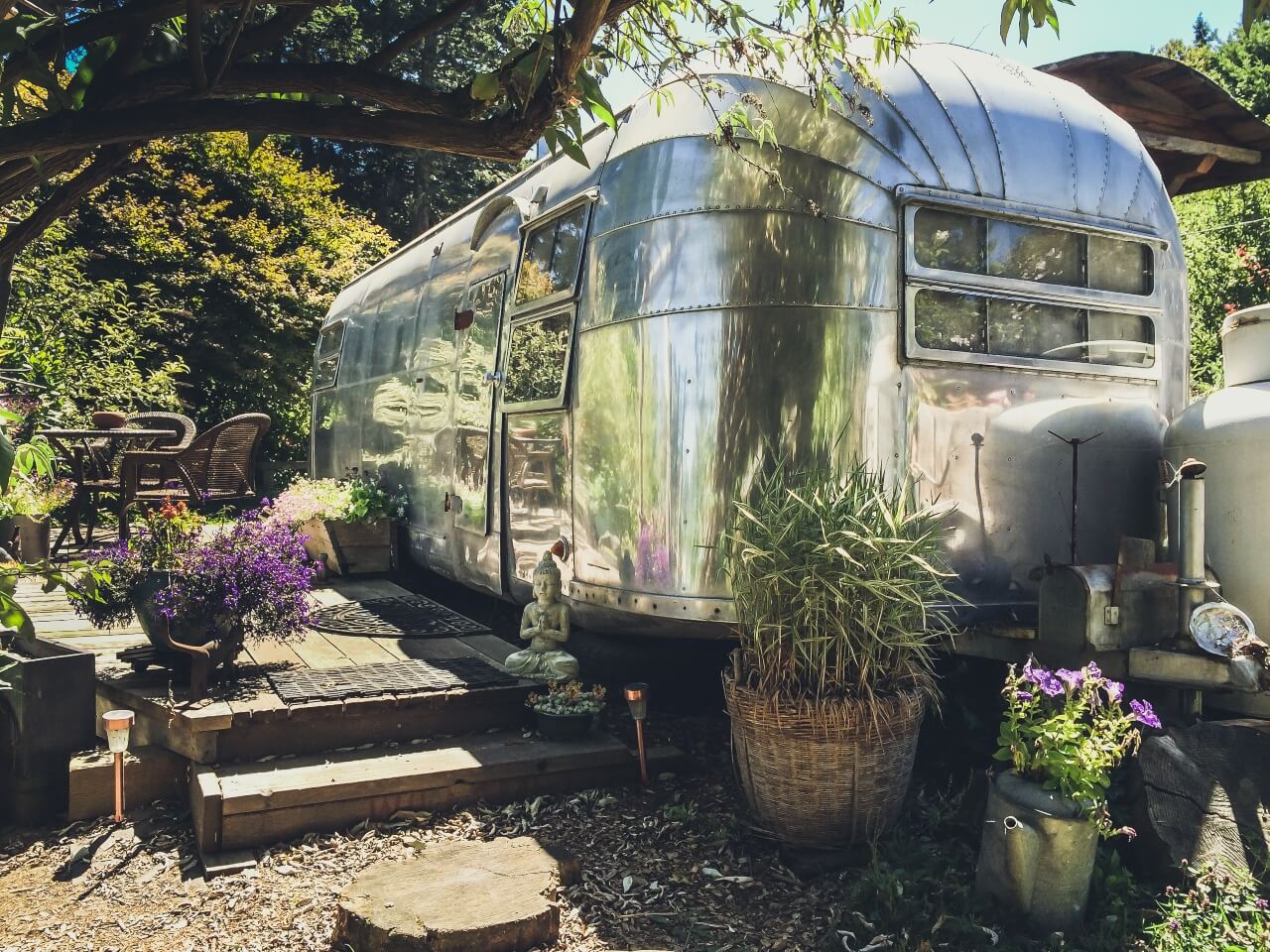 image © Free To Use Sounds
Alleviate the anxiety of small space
The rules of small space living psychology offer a couple of interesting advantages of living in such an environment - a greater sense of privacy and improvement of adaptive skills are only some of the mentions. However, small enclosed areas can cause stress and anxiety in the long run. That is why you should prioritize RVs with high ceilings and a lot of access to natural light (ceiling windows are a home run). If you get this done, light colors, a couple of carefully placed mirrors, raised furniture, and vivid plants should do a lot to lift the mood of the interior space.
Adapt your daily habits to living in the RV
Living in a limiting space doesn't have to be all that constraining if you only put enough time into working your daily habits around this limitation. For instance, if you are a fitness lover, expensive equipment can be easily replaced with nothing more than a couple of bars that will provide you with an incredibly challenging calisthenics workout. Fewer dishes and space around the kitchen are an excellent opportunity to ramp up your culinary skills and try out new, healthier diets. These small compromises will gradually grow into a habit, and you will lose absolutely nothing in the process.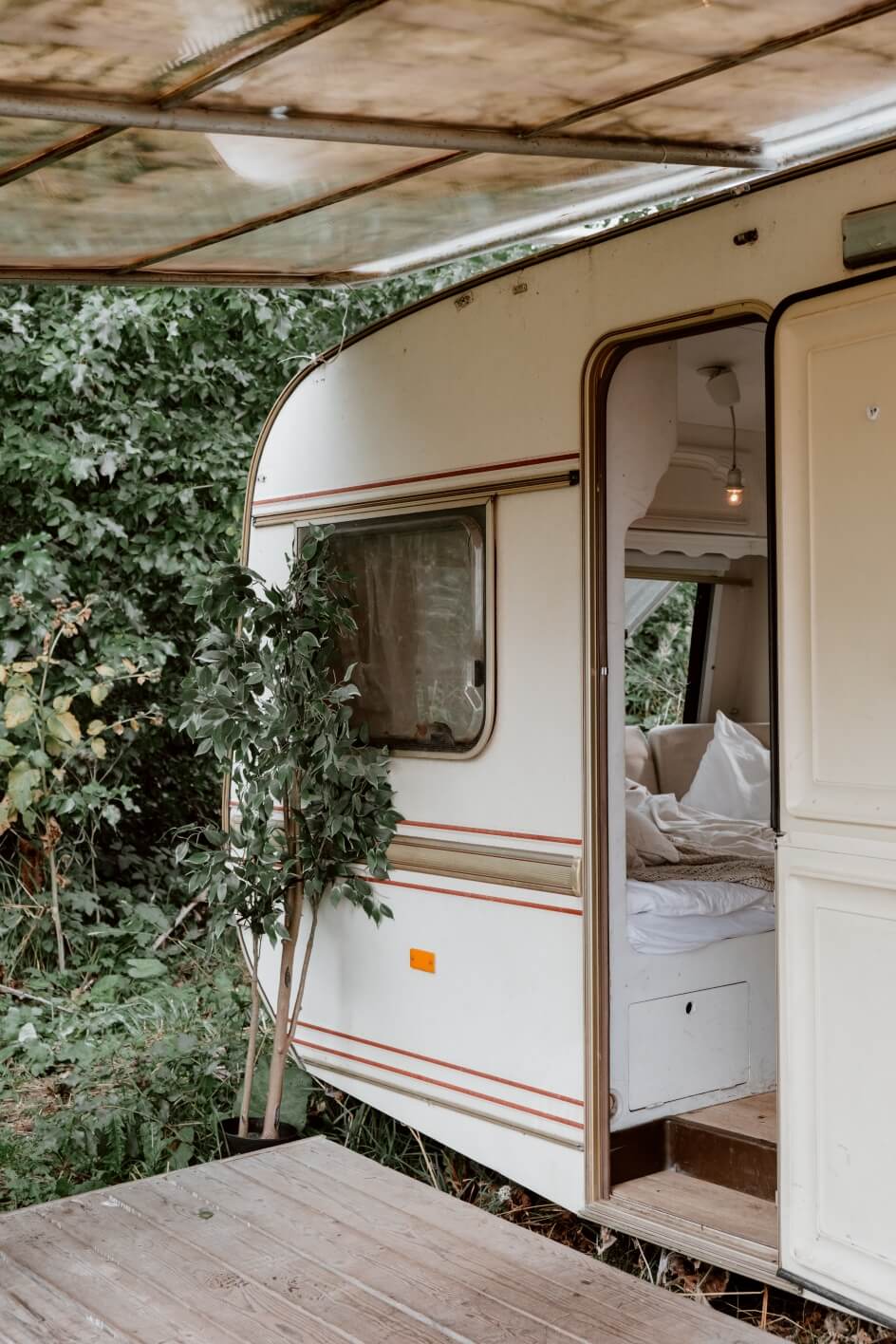 image © Cottonbro
We hope these few tips will help you finally fulfill the dreams and start your life as an RV nomad without sacrificing anything important in the process. Despite the various limitations and constraints, spending your life on the wheels can be immensely fulfilling and rewarding. You only need to use the advantages and mitigate the problems. Now, you have a great starting point.
---