If you are wondering what you can do to make your home look as good as it possibly can, we have got you covered. Whether you want to sell or simply live in the perfect home, there are ways to make your property look amazing. We will talk about the windows, roof and curb appeal of your home. Moreover, we will address exterior and interior design, landscaping and finishing touches. So, follow these top tips and you will be on your way to an amazing-looking home in no time.
1. Be Aware of Curb Appeal
First impressions matter, especially when it comes to real estate. Whether you are trying to sell your home or simply want to make it look more appealing, curb appeal is key. This is the appeal your home has to someone standing on the curb, taking it in for the first time.
A few pieces of stylish outdoor furniture can liven up a space and make it more inviting. Moreover, lights are always welcoming, whether they are string lights around the porch or solar lights lining the walkway.
2. The Roof
A big factor that will determine the curb appeal and the value of your home is the state of the roof. You should replace any damaged or missing shingles on the roof, and have an expert look for signs of aging or damage. Online information from what Matador Exteriors claim indicates that signs of age include numerous cracked or damaged shingles, patchy or exposed underlayment and dampness and mold growth in the attic. Seek expert help to repair and replace your roof if you think it is time.
3. Windows and Doors
The front door is the first thing guests see when they arrive, so make sure it is in good condition and well-lit. Add some potted plants or flowers to really make it pop. Moreover, check that all windows and doors are properly sealed and caulked. Not only will this add value to your home, it will also make it more comfortable to live in.
4. Exterior Design
The exterior of your home is the first thing that potential buyers will see and is the essence of curb appeal. So, you should repair any damage to the exterior of your home. This includes cracks in the foundation, peeling paint, and chipped siding. A bold new lick of paint will also improve the exterior design of your home.
Moreover, if you have a deck or patio, make sure it is clean and free of debris. Pressure washing can help with this as well. Finally, trim trees and bushes around your home so they are neatly manicured.
5. Interior Decorating
A fresh coat of paint can also significantly improve the interior of your home. This will immediately brighten up any room and make it feel more welcoming. Be sure to choose a color scheme that you love and that compliments the rest of your décor.
Next, focus on your floors. If you have carpet, be sure to have it professionally cleaned or replaced if necessary. If you have hardwood floors, give them a good polish so they shine.
You can also take care of any small details that may be bothering you. This could include anything from hanging new curtains to replacing old light fixtures. This will make a big impact on the overall look and feel of your home.
6. Landscaping
If you have a lawn, you should spruce up the landscaping so that your garden is as neat and tidy as your newly decorated home. A neatly trimmed lawn with some colorful flowers and plants and well-maintained walkways can make all the difference to the curb appeal and value of your home.
Moreover, they make the lawn much more usable and pleasing to spend time in for you and your family and visitors. Entertaining guests is much more fun with a well-landscaped lawn.
7. Finishing Touches
Now it is time to pull all of the changes you have made together to complete the look. Anything you have overlooked or that stands out as incomplete, take care of it at this stage.
Make sure all trim is painted and in good condition. This includes baseboards, door and window frames, eaves and gutters. Inspect all gutters and downspouts to ensure they are clean and free of debris.
Ensure that all outdoor lighting fixtures are in good working order and pressure wash driveways, walkways, decks, and patios so your lawn matches the cleanliness of the home.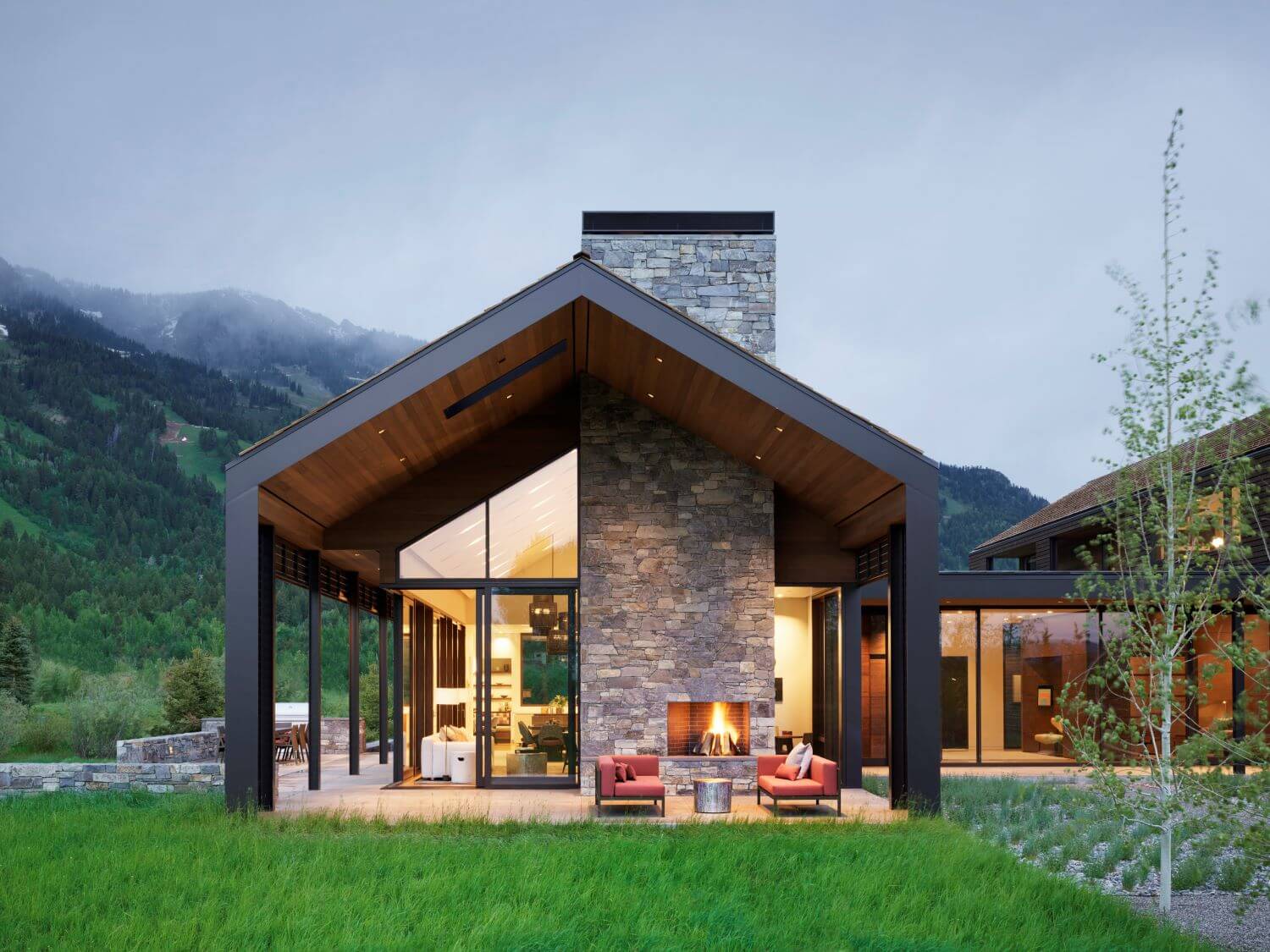 CLB Architects designs Lone Pine, Teton Village, Wyoming - a house conceived as an abstraction of vernacular ranch structures. Image © Matthew Millman
If you are thinking about making some construction changes to your home, then be sure to keep these seven tips in mind. Start with the windows, roof and exterior design. This will all help with the curb appeal of your home. Then look at the interior. Moreover, you can landscape if you have a lawn and take care of all the last little touches to complete the look. By following these simple guidelines, you can ensure that your property looks amazing and is built to last.
---