Framed by an intimate setting, micro-weddings are the ideal option to celebrate your special day in the company of those closest to you. This is a trend that takes on even greater relevance in these times of the "new normal".
This format for weddings and other celebrations turns to the idea of the 'select group' to create a made-to-measure experience for up to 30 people, personalizing every last detail.
In the atmospheric vernacular architecture of the colonial mansion that houses Casa Hoyos, combining all the heritage of San Miguel de Allende with a chic and eclectic character, saying 'Yes, I do' becomes an even more memorable moment.The hotel honors the significance of the marriage vows with an original concept that extols love and joy.

At Casa Hoyos you can exclusively reserve all 16 rooms and communal spaces for the happy couple and their guests,offering a refuge of contemporary design and Mexican art where time can be enjoyed together without hitches or constraints. Special spaces include the open central courtyard encircled by Andalusian-style balconies, the first floor withthe mural of the Virgin of Loreto crowning a unique altar, and the BEKEB terrace offering a unique panoramic view of the city, taking in the Cathedral of San Miguel Arcángel and the Church of San Francisco.
For the wedding feast or welcome cocktail, BEKEB proposes a cutting-edge menu that offers the simplicity of everydaytapas and snack delicacies such as the cheese wrapped in hoja santa, the spicy cauliflower, the shrimp popcorn or thecochinita sliders, choices matched with the mixology of Fabiola Padilla, renowned for his collaborations with Manhattan hotspots like Cosme restaurant and the Diego bar at PUBLIC Hotel.
Casa Hoyos offers the opportunity to celebrate a commitment to love in a colorful and unique space with a personal touch.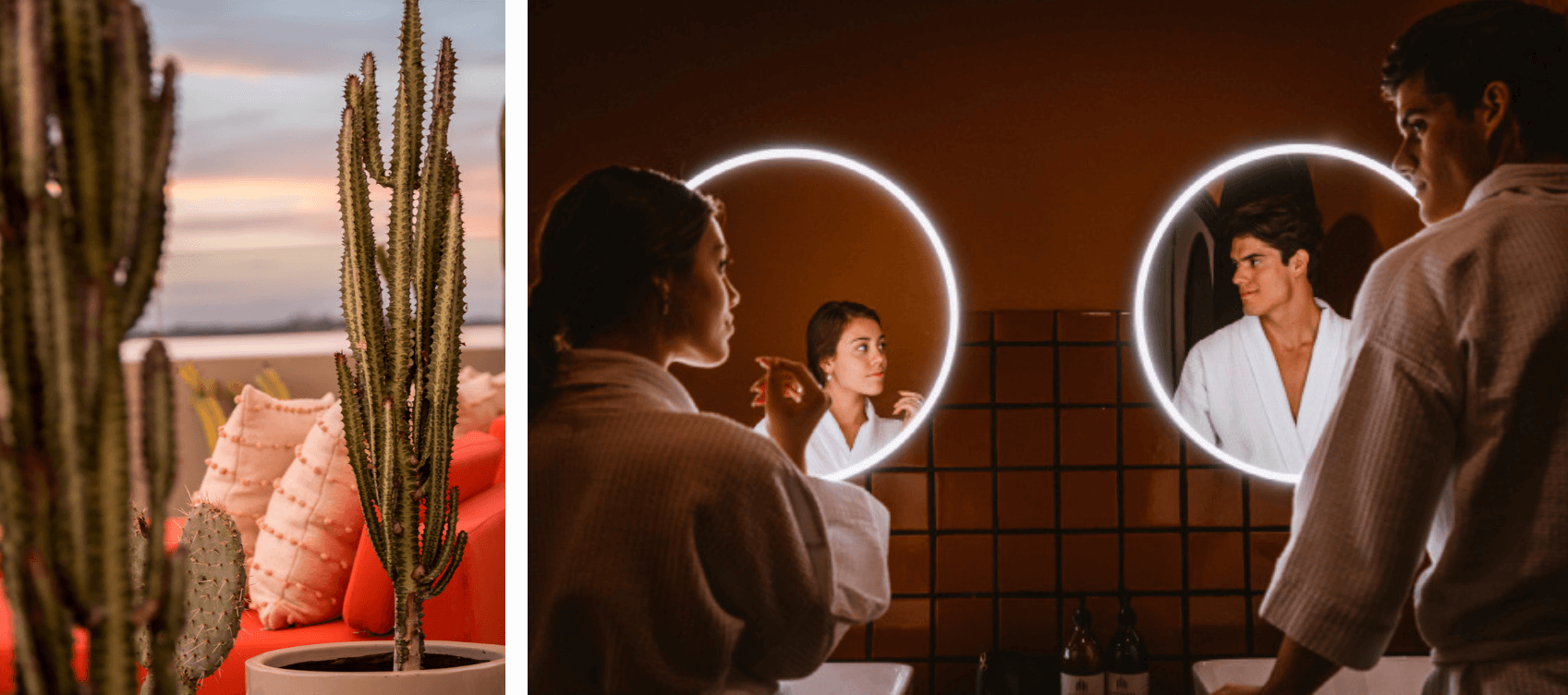 ABOUT CASA HOYOS
As homage to its family legacy, Casa Hoyos Boutique Hotel stands at a historical estate in the heart of San Miguel de Allende, proclaimed as a UNESCO World Heritage Site. Within its carefully maintained common areas and each of its 16 rooms, a dialogue takes place between colonial architecture and the vibrant contemporary dynamism of Mexican design.
BEKEB, its terrace bar, is a delight for the most demanding palates, offering a creative signature artisanal mixology.
---