Today, people are working from home and staying most of the time indoors. This reality has encouraged many homeowners to revamp their space to boost comfort and create an inviting environment. With so much time in people's hands, the TV room may be one of the places you'd think about redesigning.
Why Have A Separate TV Room?
Not all homes have a dedicated TV entertainment room. Some families choose to welcome and socialize with guests in the living room or kitchen. This option can seem practical, especially for families living in predesigned homes and small apartments.
However, regardless of the actual size of your home, having a separate TV room is a smart way to create and define boundaries. Allowing your TV to sit in the bedroom might not be a good idea, especially if you tend to binge-watch. Rooms should supposedly serve a purpose to boost productivity. In this case, the TV room is where to bond, flop down, and entertain guests.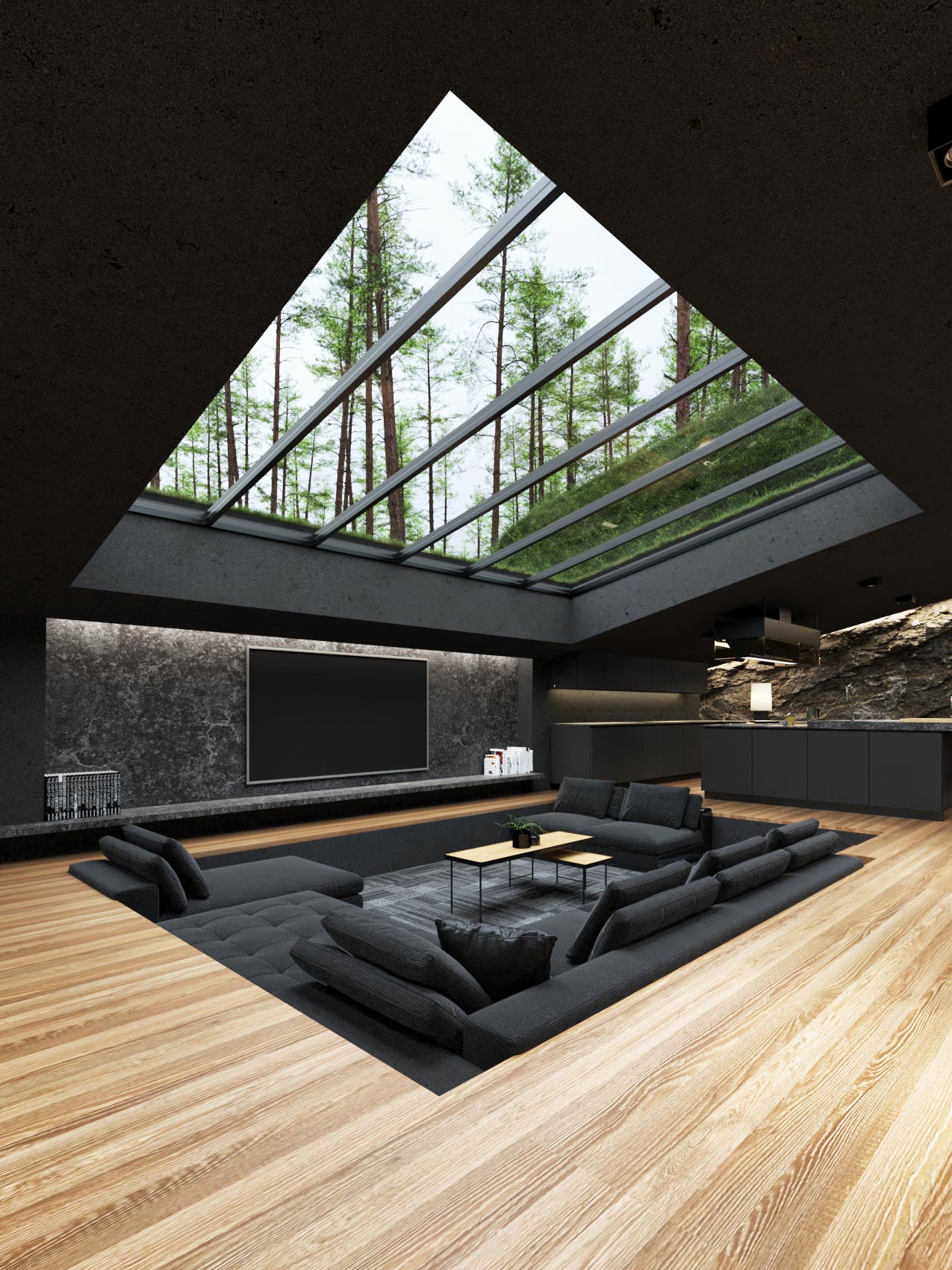 Black villa in Harriman State Park, New York designed by Reza Mohtashami
Ideas For A Stylish TV Room
If you spend most of your time binge-watching shows, you need more than a fast Internet connection or multiple streaming choices. You also need to have a great and cozy TV room to lounge and enjoy your time.
Take inspiration from the list below for decorating a stylish TV room.
1. Keep It Minimal
Suppose you're decorating with TV entertainment units. Make sure to keep the side simple and clutter-free. You wouldn't want to create visual chaos near your flat screen.
While this decorating tip might be more applicable to minimalist TV rooms, factoring this in can also help you stay on top of the mess. Likewise, keeping everything well-ordered or simply assigning a home for every décor and home accessory allows you to relax and focus on the series you're watching.
2. Install Lighting Fixtures
Lighting is an important component of any TV room. The right fixtures can introduce a cozy and inviting ambiance to destress and watch movies. This design strategy can also improve the mood of your guests and loved ones.
Suppose your TV space is painted in a dark color scheme; installing warm lights offers the impression of a luxurious and modern home. Conversely, if your TV room is covered in a neutral palette, a few artificial ceiling lights may help invigorate the room.
While it can be easy to install a mix of various lights, it's also savvy to choose your fixtures strategically. For instance, if you have floating shelves in your TV room, you can opt to install only spotlighting below it. In this way, you can highlight your home pieces and memorabilia.
Moreover, opting for a bold and big chandelier is a smart move. This beautiful addition allows you to save floor space while illuminating the corners of your TV area.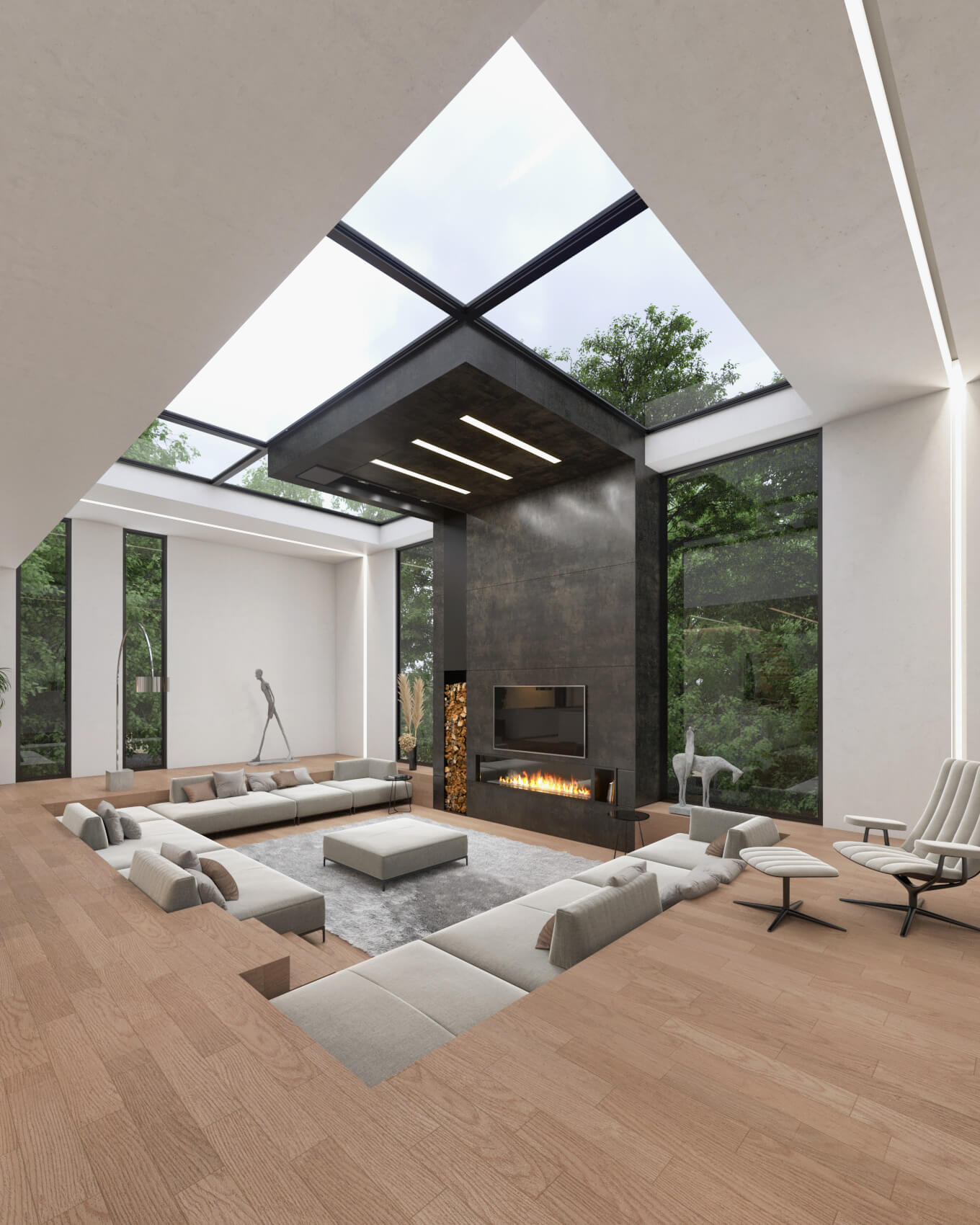 Black Brick Vila in Damavand, Iran by Reza Mohtashami
3. Create A Focal Point
Most people might think that their flat screen is already the center of their TV room. They'd arrange their furnishings and accents around it. However, you can certainly play around with your interior concept and designate a different centerpiece.
For instance, you can mount your big walled art, display your statement furniture, or relocate your bold-colored sofa—whatever tickles your fancy. You could even find the perfect entertainment center and make that the focal point of the room. . If this area leans more to the neutral palette, the playful tones of these pieces help balance the features of your big grays and white concretes. This is also a clever way to add visual appeal to your TV room, especially when your device isn't on.
You can also assign an accent wall in your monochromatic TV room if you feel quite adventurous. Whether you prefer intricate wallpaper or a bright splash of yellow, this part can add warmth and character to your sleek and well-furnished room. All these can give your TV room a bold impression by putting another focal point instead of the usual television.
4. Stick To One Style
When it comes to creating a stylish room, it's important to think about the design materials present in the rest of your home. In this way, you can keep every room well-planned and curate a home that speaks to your preferences.
Display an object or material that resonates with the style of the rest of the house. For instance, if you have wood furnishings around the home, make sure to have one in your TV room.
The same goes if you own a few potted plants in your living space. As simple as displaying your indoor plants can help pull the elements in your home together, allowing you to achieve design flow and cohesiveness.
Final Thoughts
Decorating your TV room can take a lot of planning and careful consideration. However, all your efforts will be worth it once you translate your vision into reality. Follow the suggested tips and ideas above for a stylish TV space you wouldn't want to leave.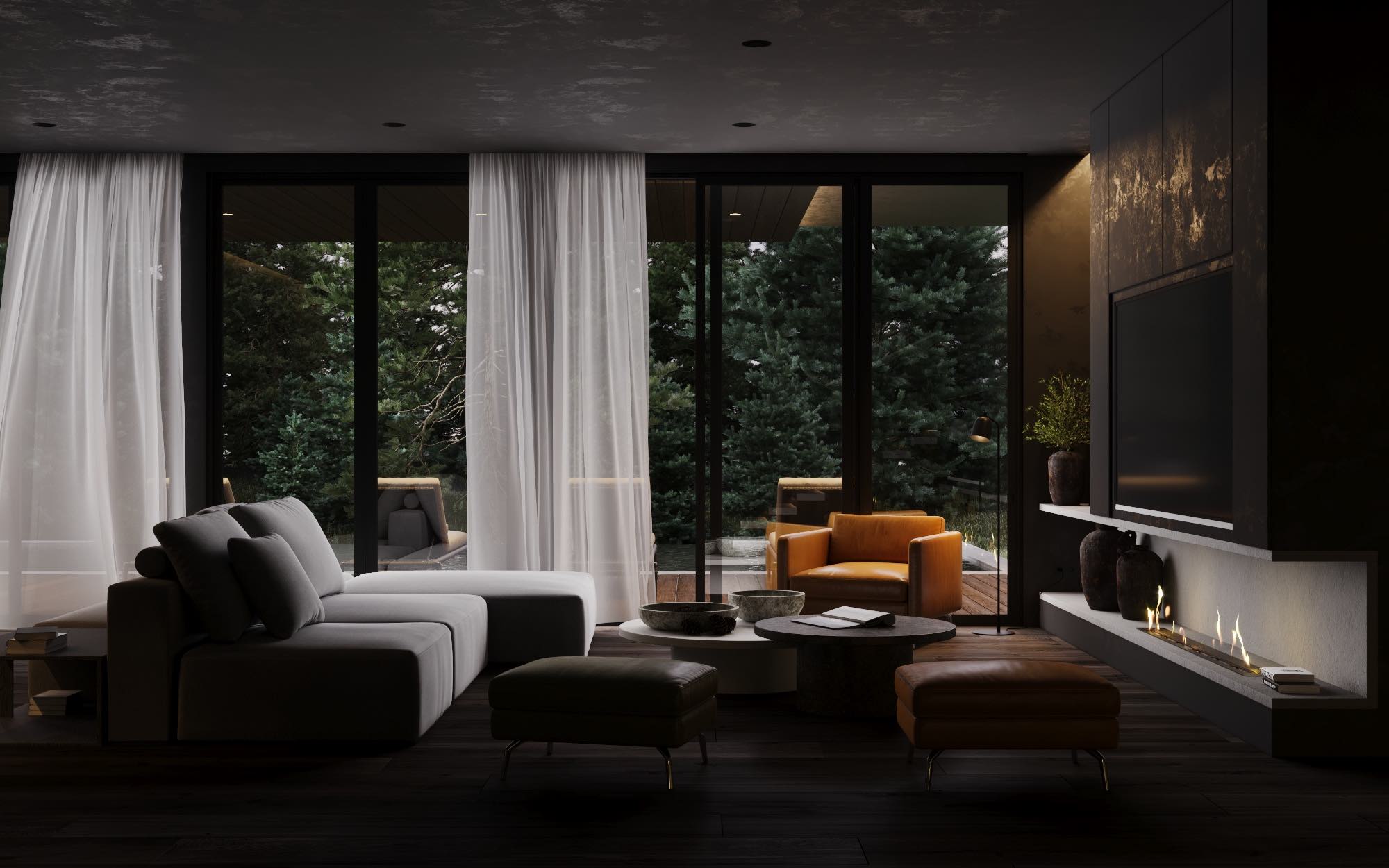 Black house in the woods, United States by Kireeva Anna
About The Author
Selena Jimenez is an interior design enthusiast. She has been in the blogging industry for a decade now. She shares her expertise by writing guest blogs online. During her spare time, she goes to the beach and take snaps of the sunset.
---