The Amsterdam based architectural office NL Architects has designed "Clelia Tower Limassol" a proposal for a hyper luxurious residential tower in Limassol, Agios Tychonas, Cyprus commissioned by Clelia Haji-loannou.
Architect's statement: The word UNIQUE is one of the more frequently used terms in real estate. You could say that the word has lost some of its meaning. The Clelia Tower project however has the potential to recalibrate this expression: this endeavor will become truly illustrious. What's in a name… Superlatives will be taken to a whole new level.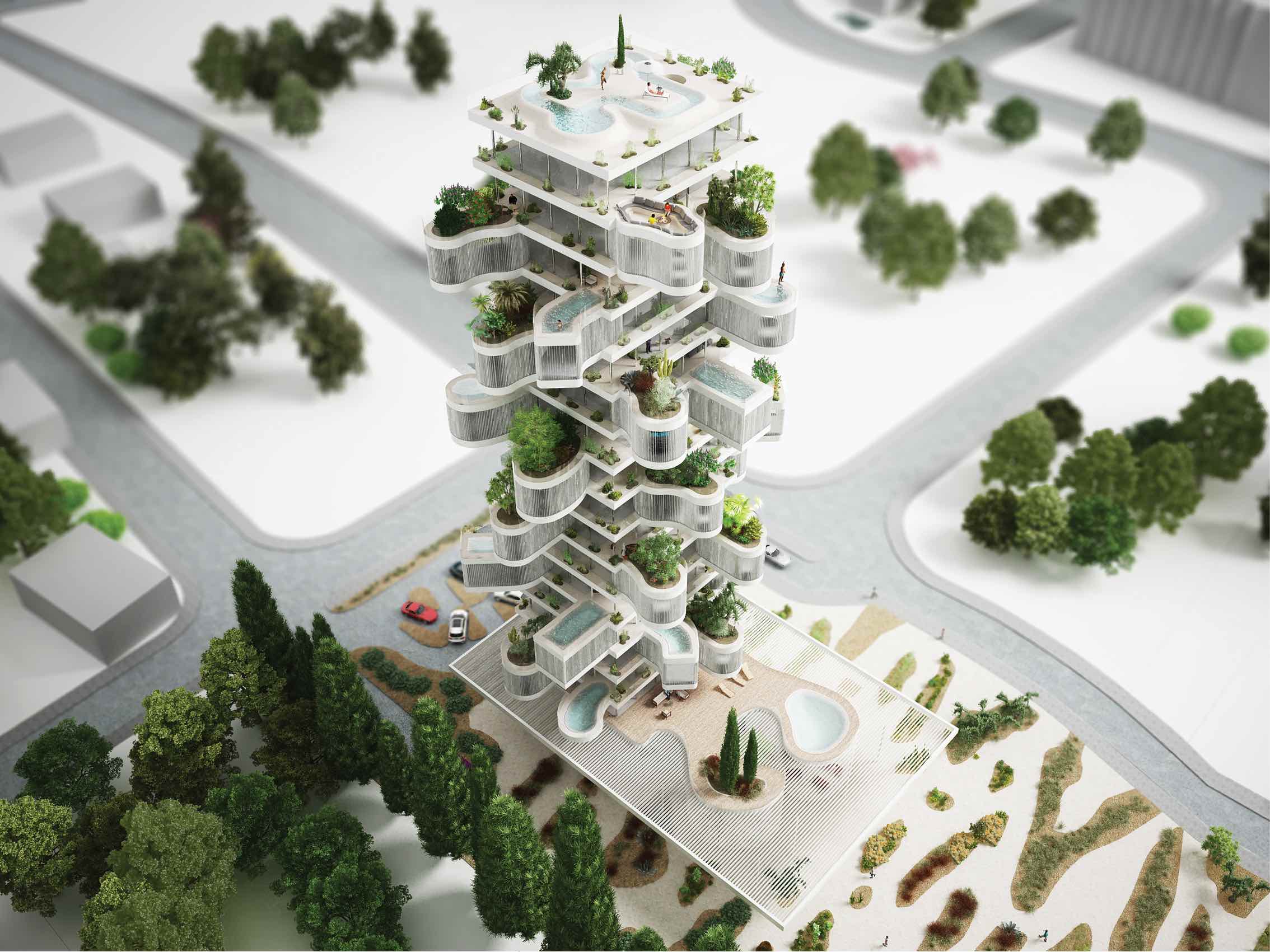 Inspired by the astounding neighbor that will soon break ground the Clelia Tower seeks to offer new forms of inhabiting the sky, exploring vertical multiplication of ground-oriented living. The Clelia Tower aspires to combine the qualities of a Villa with the blessings of a Tower: it presents lush elevated gardens featuring grand views. This novel, intensified suburbia sets out to contribute to a bustling seaside neighborhood by means of a magnificent stacked landscape.
The tower itself has a rectangular base shape; an plot of 17,5 x 14,5m is multiplied 16 times. The floor slab in principle accommodates one single villa but can be divided in two small units at will. In addition also maisonette style homes can be easily compiled if desired. A two story penthouse with extensive outdoor spaces and a unique rooftop pool will top the tower.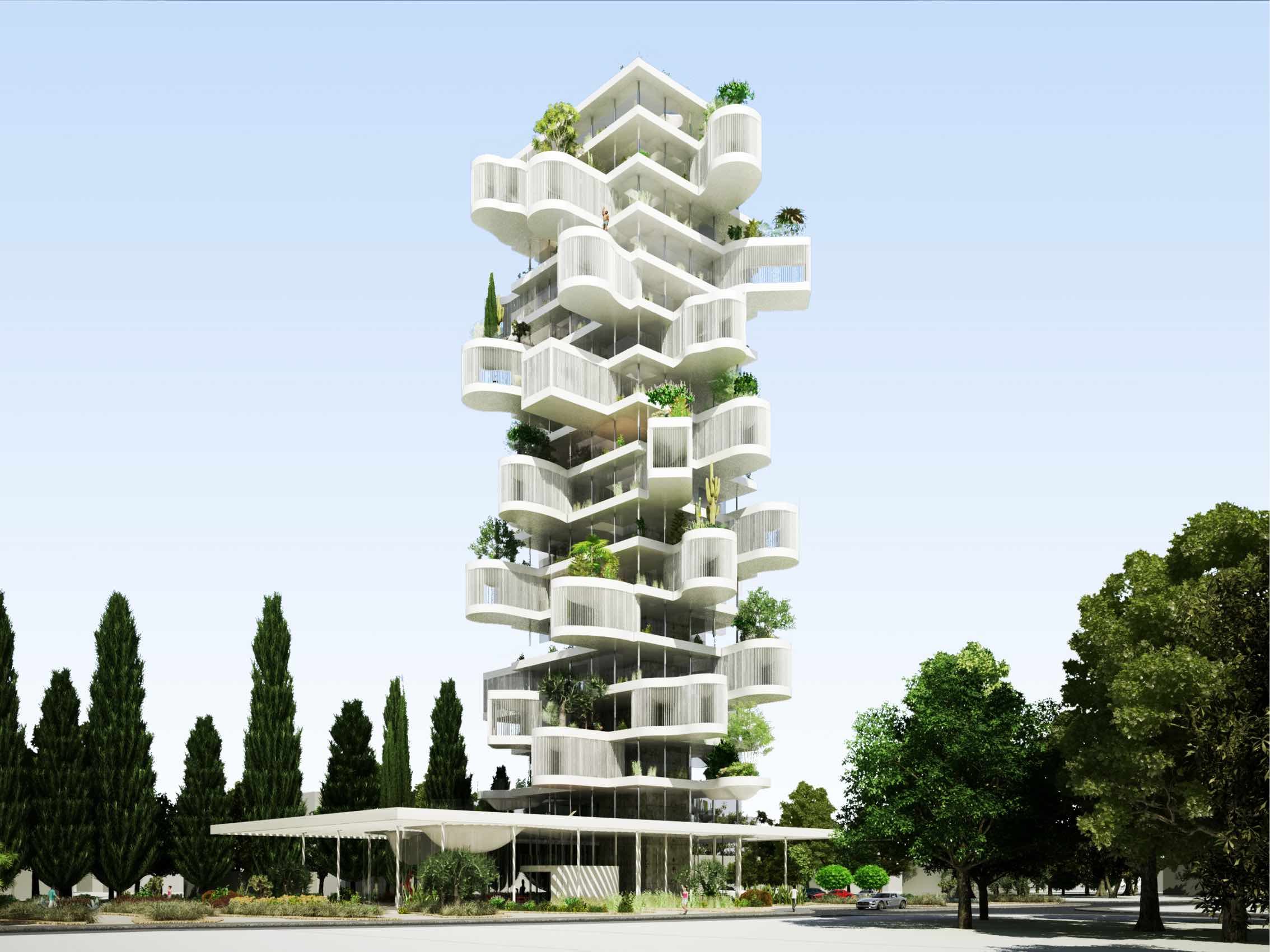 From these platforms-in-the-skies characteristic 'plug-ins' are suspended. Together they create a mesmerizing sculptural silhouette, that lovingly embraces the seascape from sunrise to sunset. The plug-ins are inhabitable bubbles of about 50 m²; a new type of 'bay windows' that can be used in various ways. An ideal setting for a blissful master bedroom including wellness facilities, a cute work place, or an intimate dinning room.
The plug-ins, or Pods, derive their distinct shapes from kidney shaped pools, golf courses and putting greens. This pleasant 'body language' of luxury leisure is projected into a whole new constellation to create an idiom that is familiar yet outlandish; a surreal 3D arcadia comes into being. Dali meets Corbu (after all).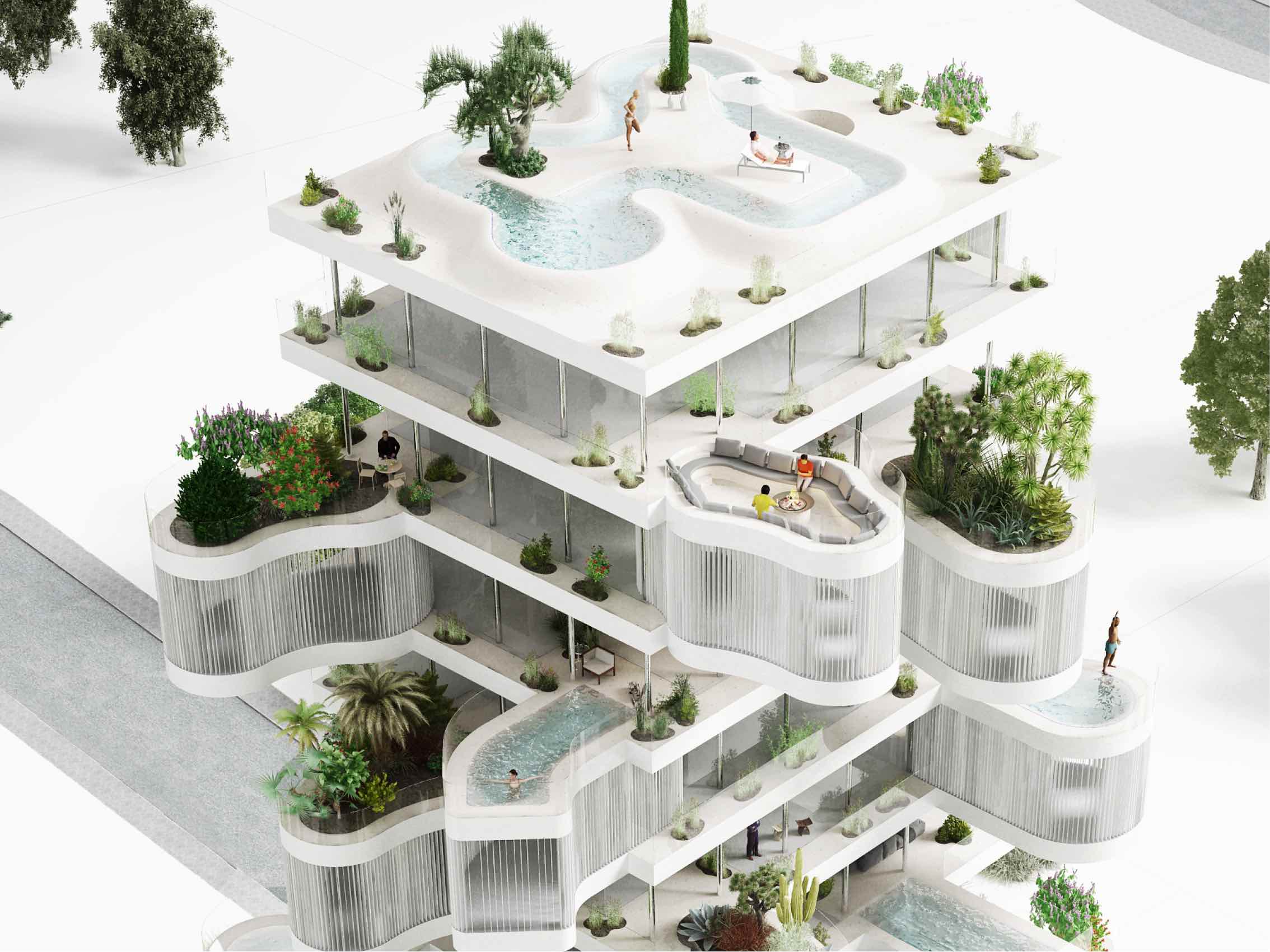 In the Cypriot building regulations, balconies with over 6m of free space above them are not considered part of the Built Up Area (BUA = sum of the built surface). In order to provide maximum sellable space without exceeding the maximum surface allowed the number of balconies is optimized. Besides providing wonderful inside spaces, the carefully positioned plug-ins support this surplus of exterior surface. Both the outdoor experience and the value of the project are maximized by introducing 'flying gardens" that include pools, jacuzzis, lounge pits or ponds.
The generous floor height of almost 4 meters permits local deformations of the floors. Substantial dips are possible while still offering enough space under them. A kind of 'bellies' emerge; intriguing derivatives of the 'world' above that create three-dimensional, graceful ceilings. Planters and Pools become an integrated and integral ingredient of the architecture.
The facades are setback to create a continuous outdoor space of at least 1,5 meter that creates a vibrating, airy silhouette The 'endless veranda' allows for the occasional stroll around the house –one of the main attractions of the freestanding villa.
The 'perimeter garden' in combination with the protruding Pods provides shade in a natural way to the apartments below. A filigree layer of planting additionally decreases the temperature levels inside the apartment. Together with the potential of cross ventilation this dramatically lowers need of air conditioning.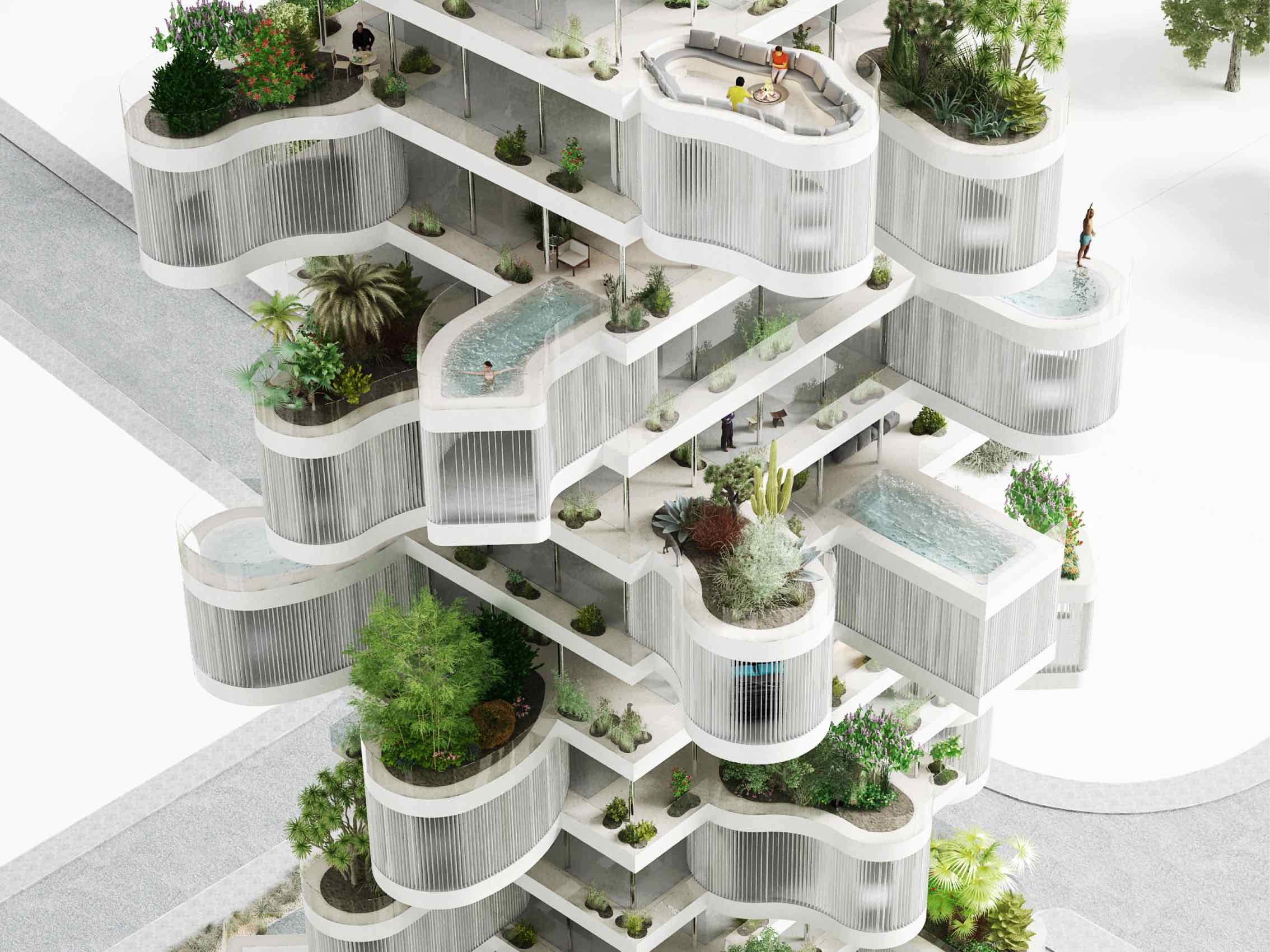 On each floor two Plug-ins will be offered. As such effectively providing two additional interior spaces and two outdoor plateaus.At least one Pod supports a garden that also serves as rainwater catcher. This collector will be quite effective since it is exposed to the skies.
Additional planting fixtures are embedded in the floor both inside and outside conceptually dissolving the boundary between interior and exterior. The so-called Polderdak-system as developed by De Dakdokters (Roof Doctors) will help to both store the water and serve as a source of life for the greenery above. Rainwater will be stored in hidden containers that are connected with all flowerpots on that floor allowing the water to be spread according to the needs of the planting. This smart form of irrigation-from-below minimizes evaporation.
It is attractive to deploy local plant species to create gardens naturally adapted to the specific environment of Cyprus but thanks to the Polderdak system also luxuriant greenery can be planted.
The slender tower is placed on a large plot of land that creates a generous natural setting; thanks to the modest foot print the landscape gets center stage. The ground floor features a spacious lobby including a gallery / showroom and bar / restaurant that interact with the surrounding scenery. A pleasant biotope for mixing and mingling.
This 'civic foyer' is topped by an airy canopy, a wrap-around pergola, This minimalist xl-awning can be considered a feature of the landscape design and does not exceed the allowable footprint while providing valuable shade even beyond the perimeter of the building.
A wellness domain is located on the first floor including medical, fitness and meditation spaces combining rooms for active physical training and relaxing as such enabling a healthy lifestyle. Facades can be fully opened to sustain an outdoor experience even in the interior.
Architecture seldom has the opportunity to become art. But the preconditions and ambitions surrounding this project converge to such a degree that magic can actually happen: a one-of-a-kind masterpiece can come into being.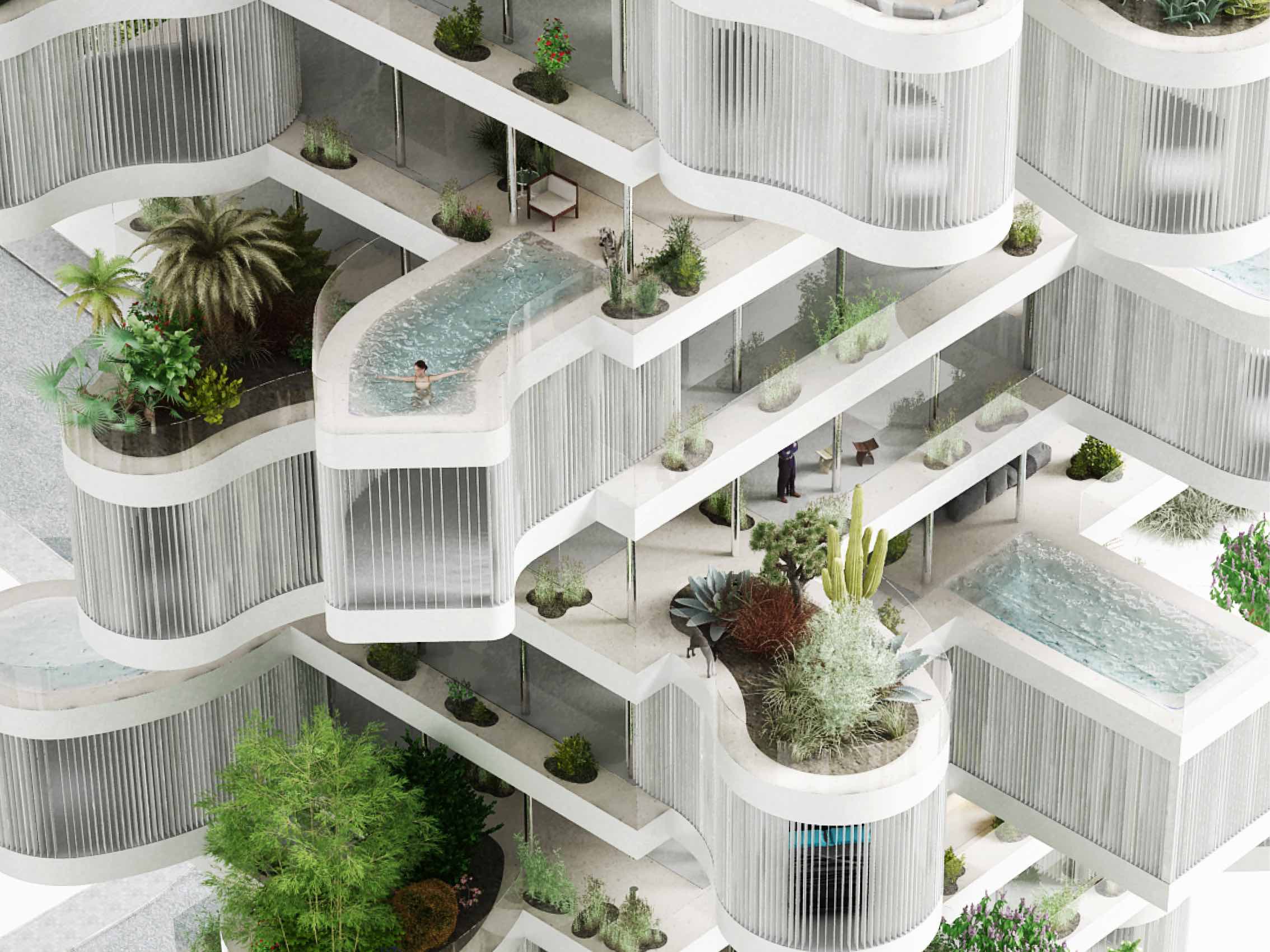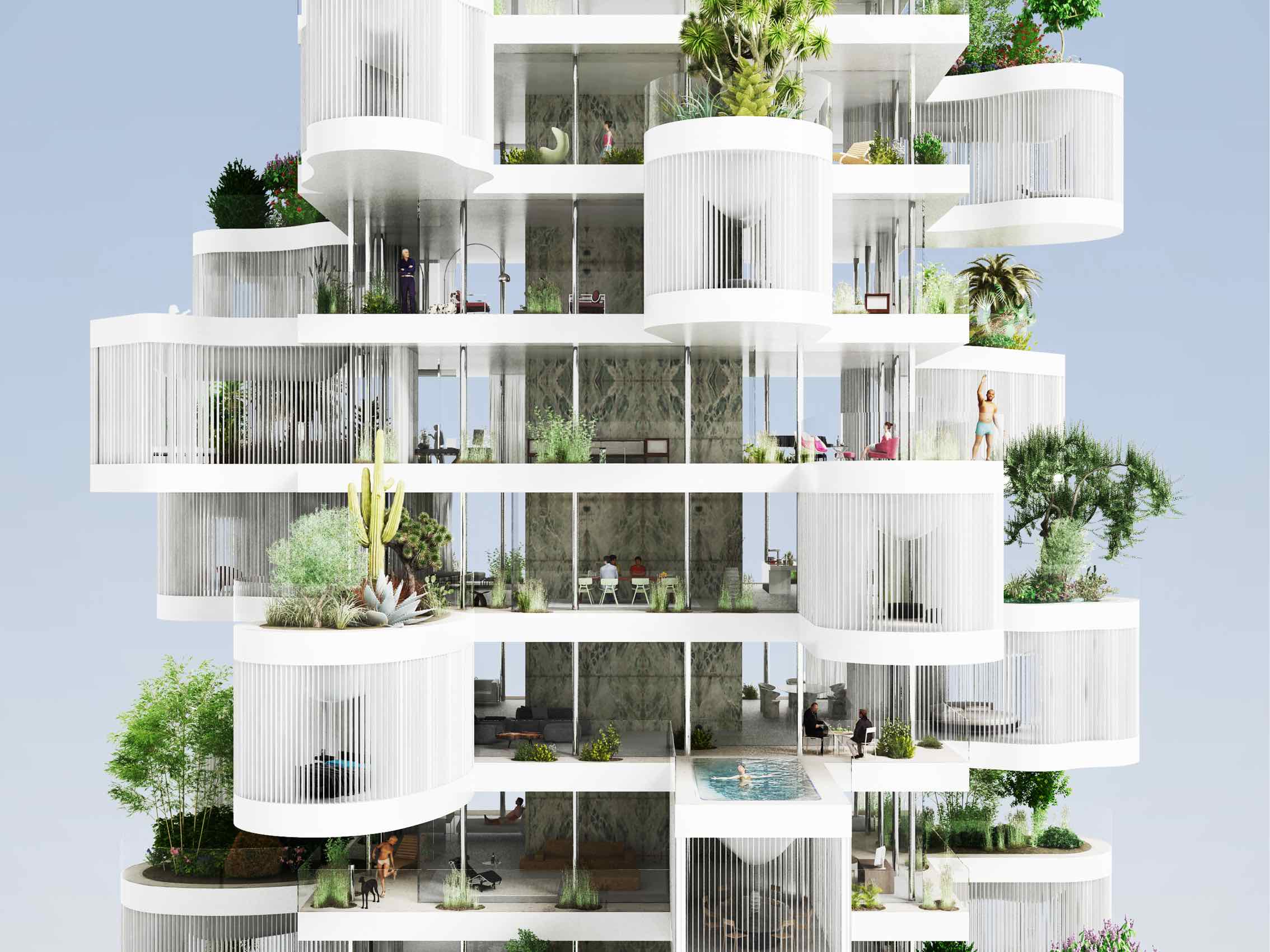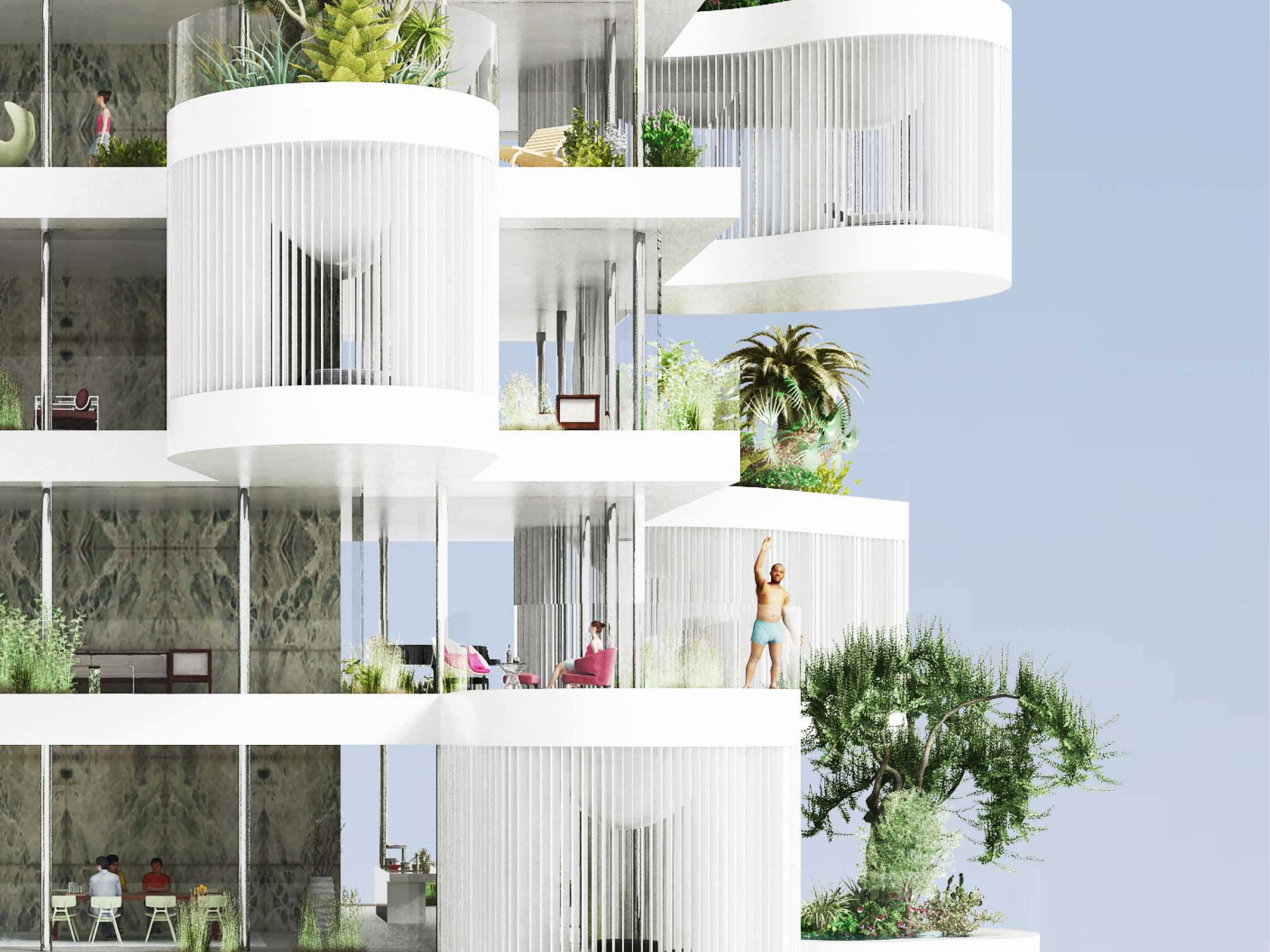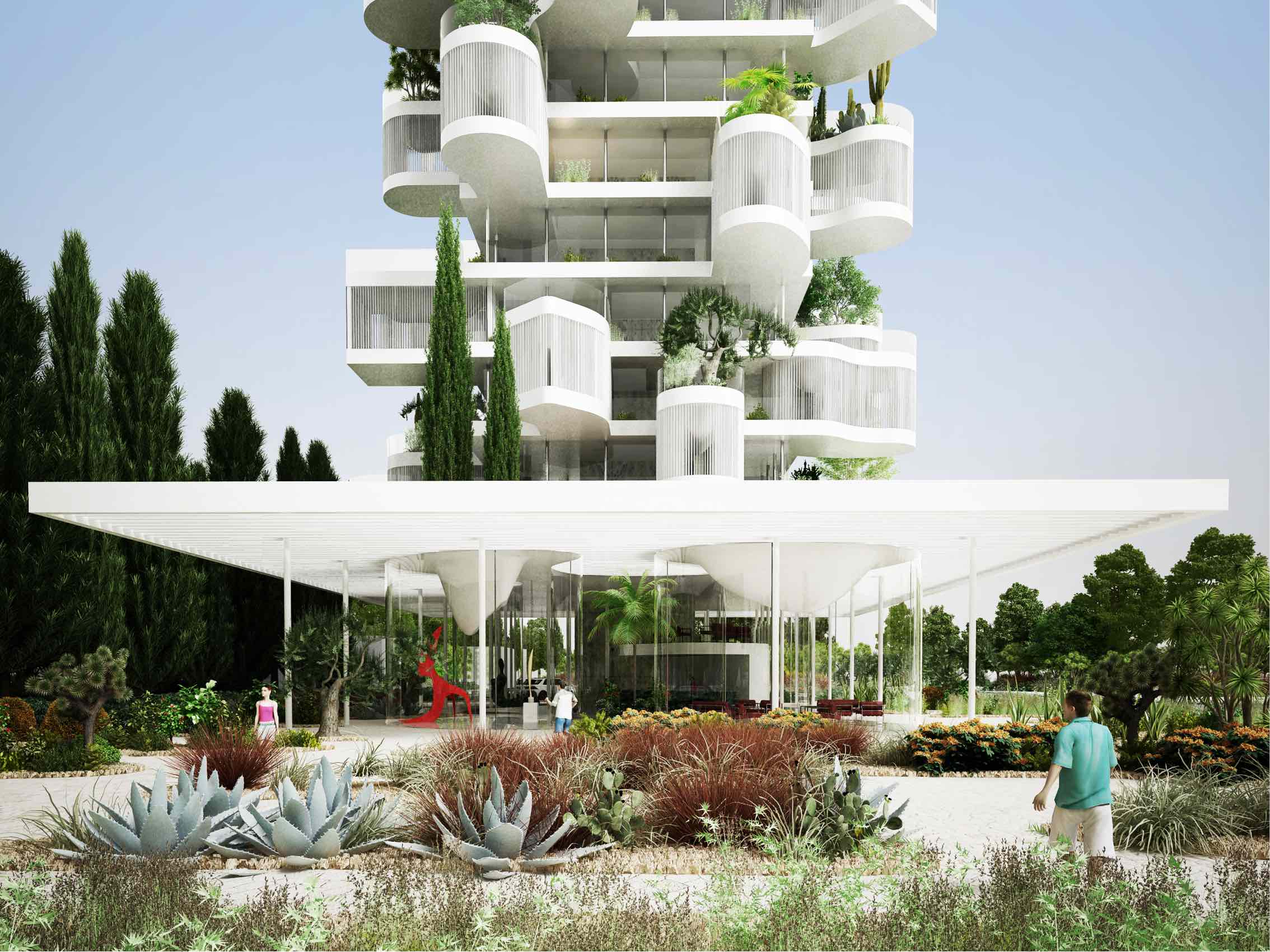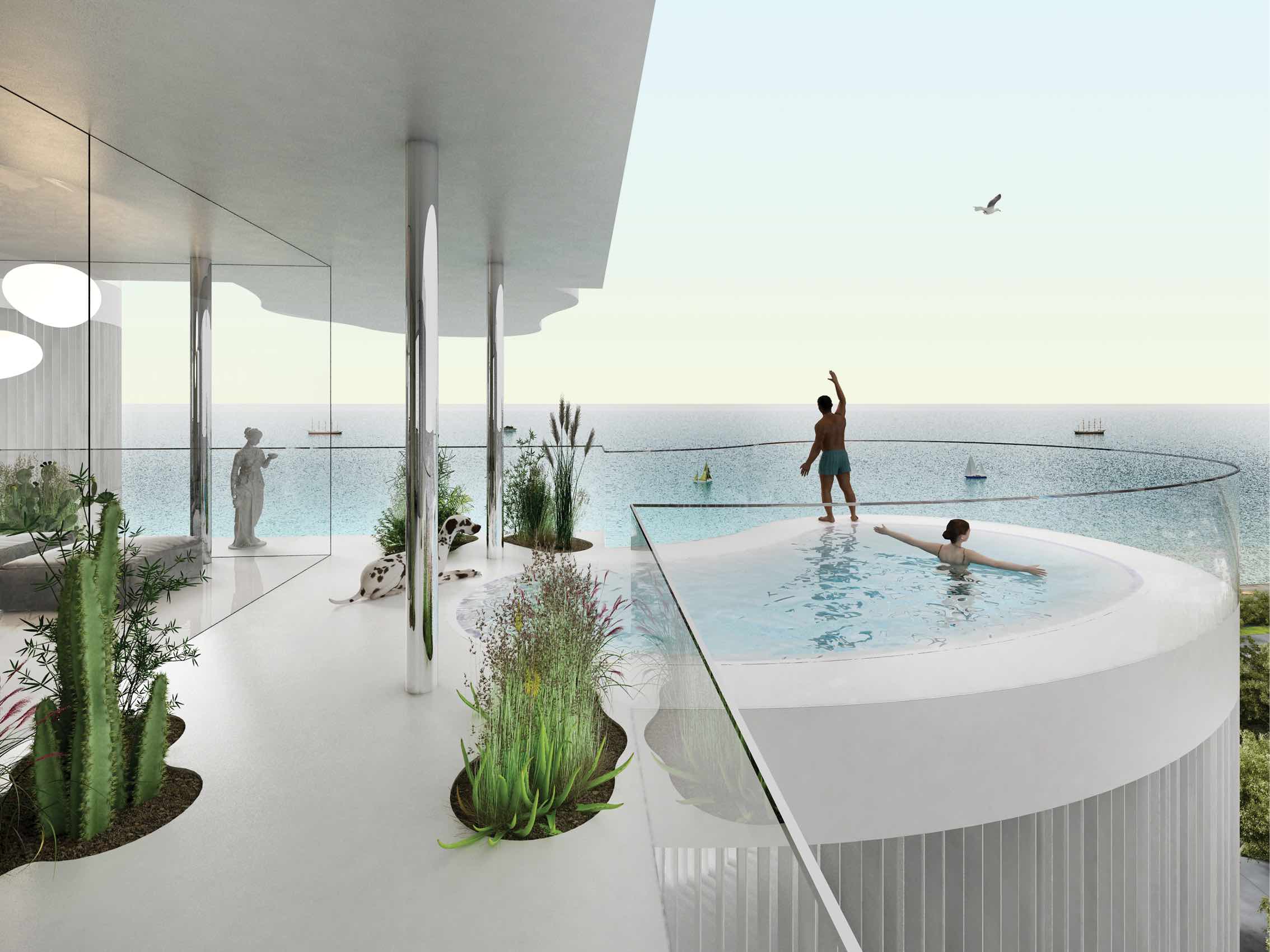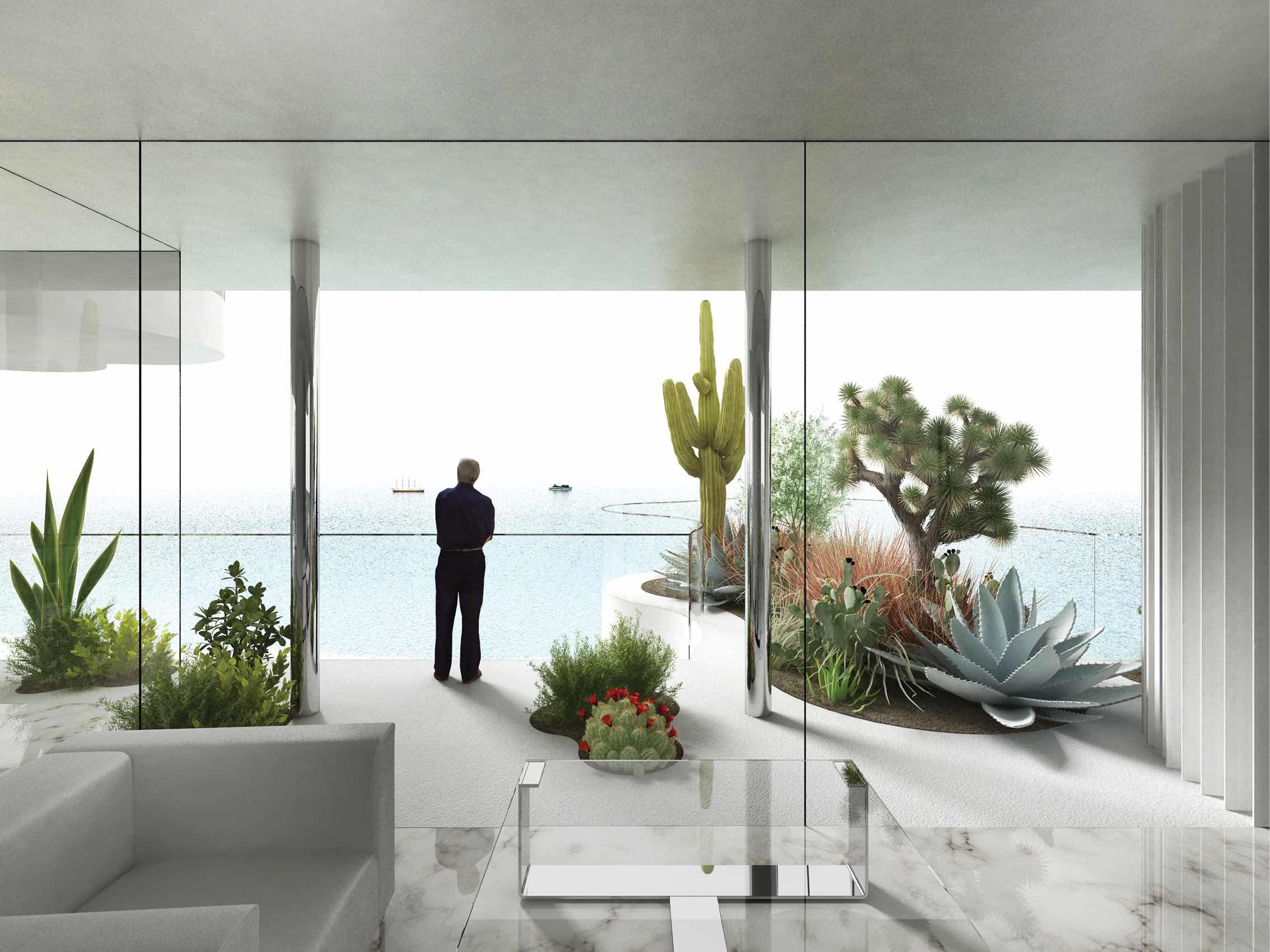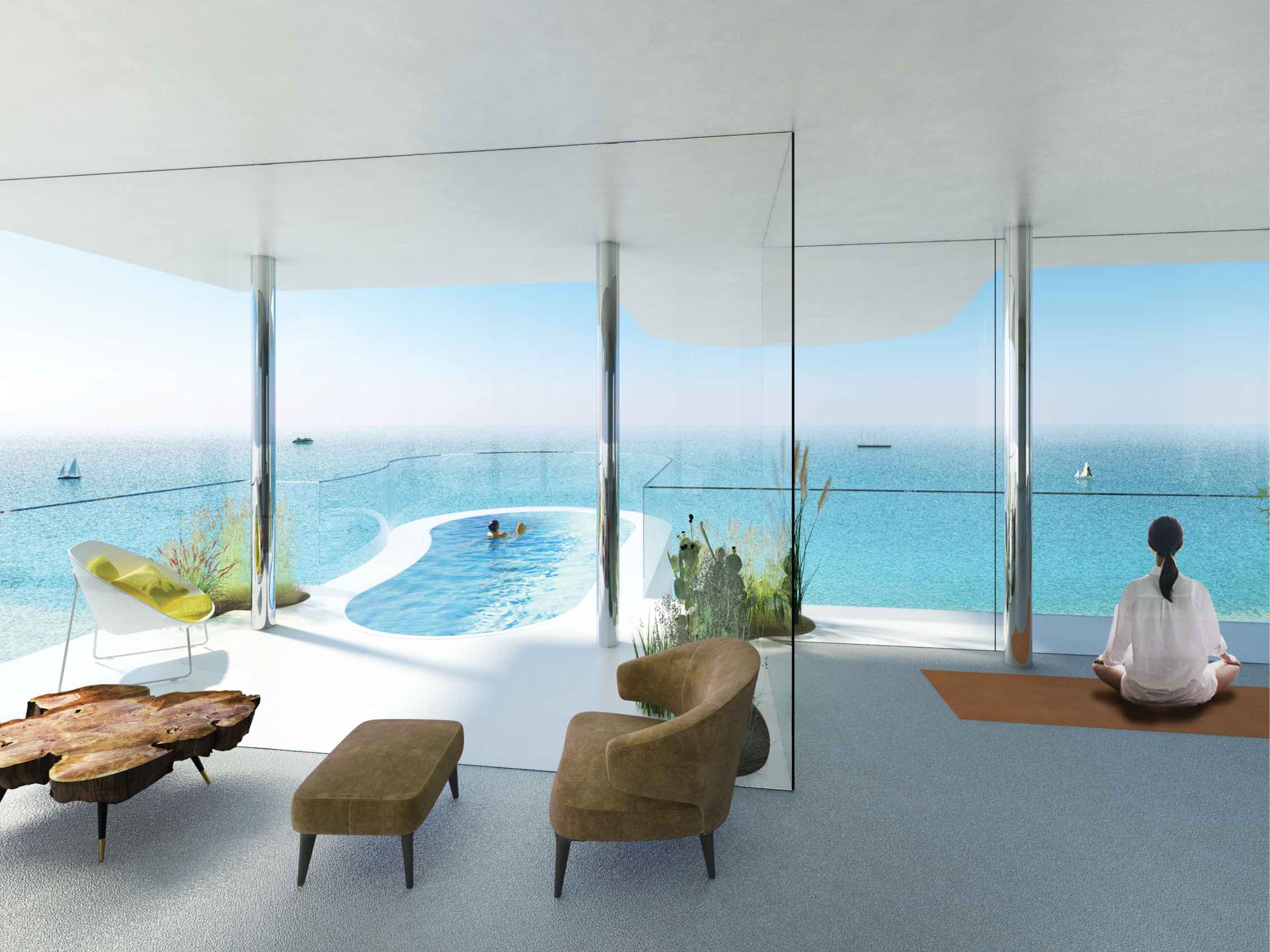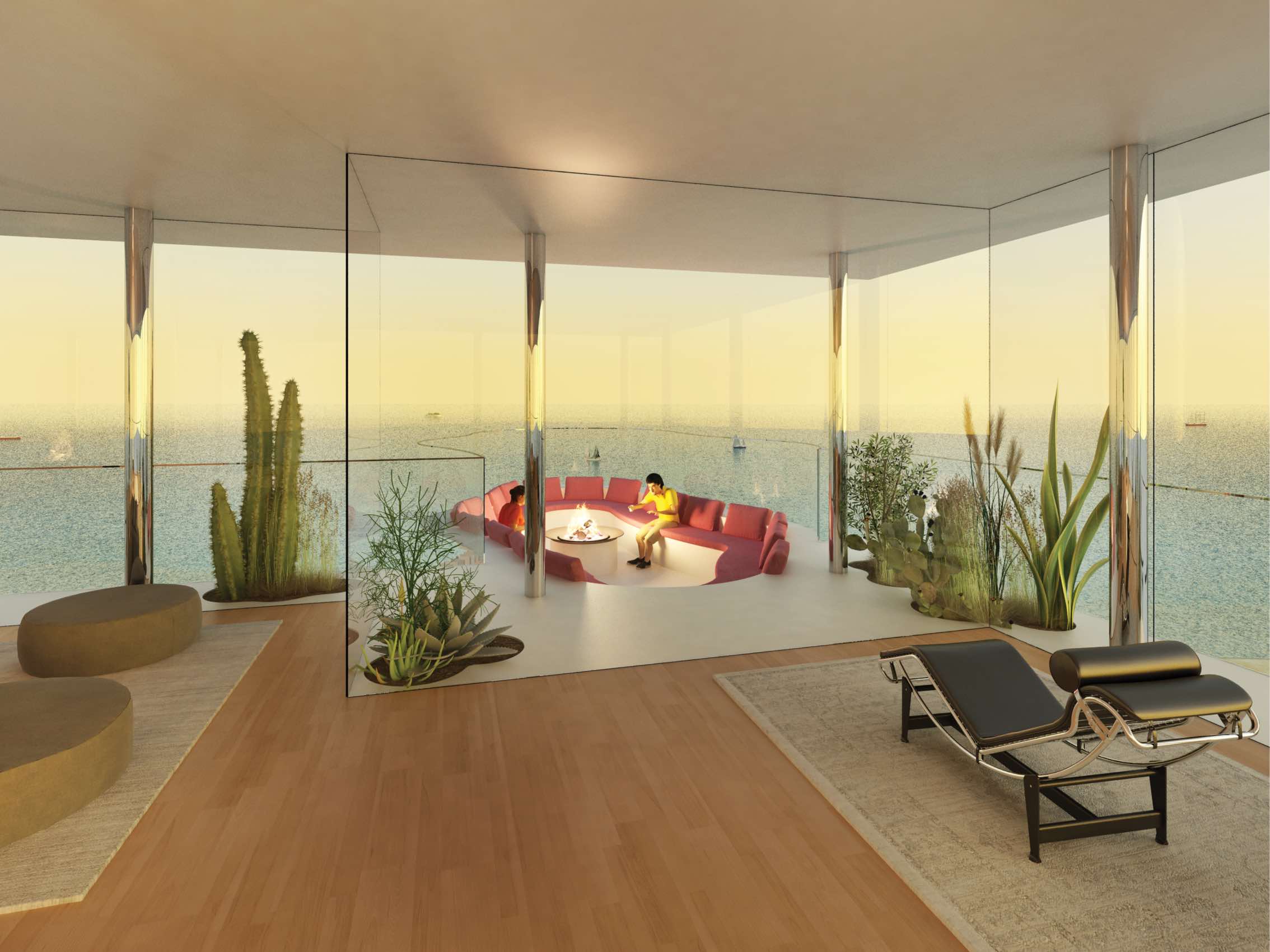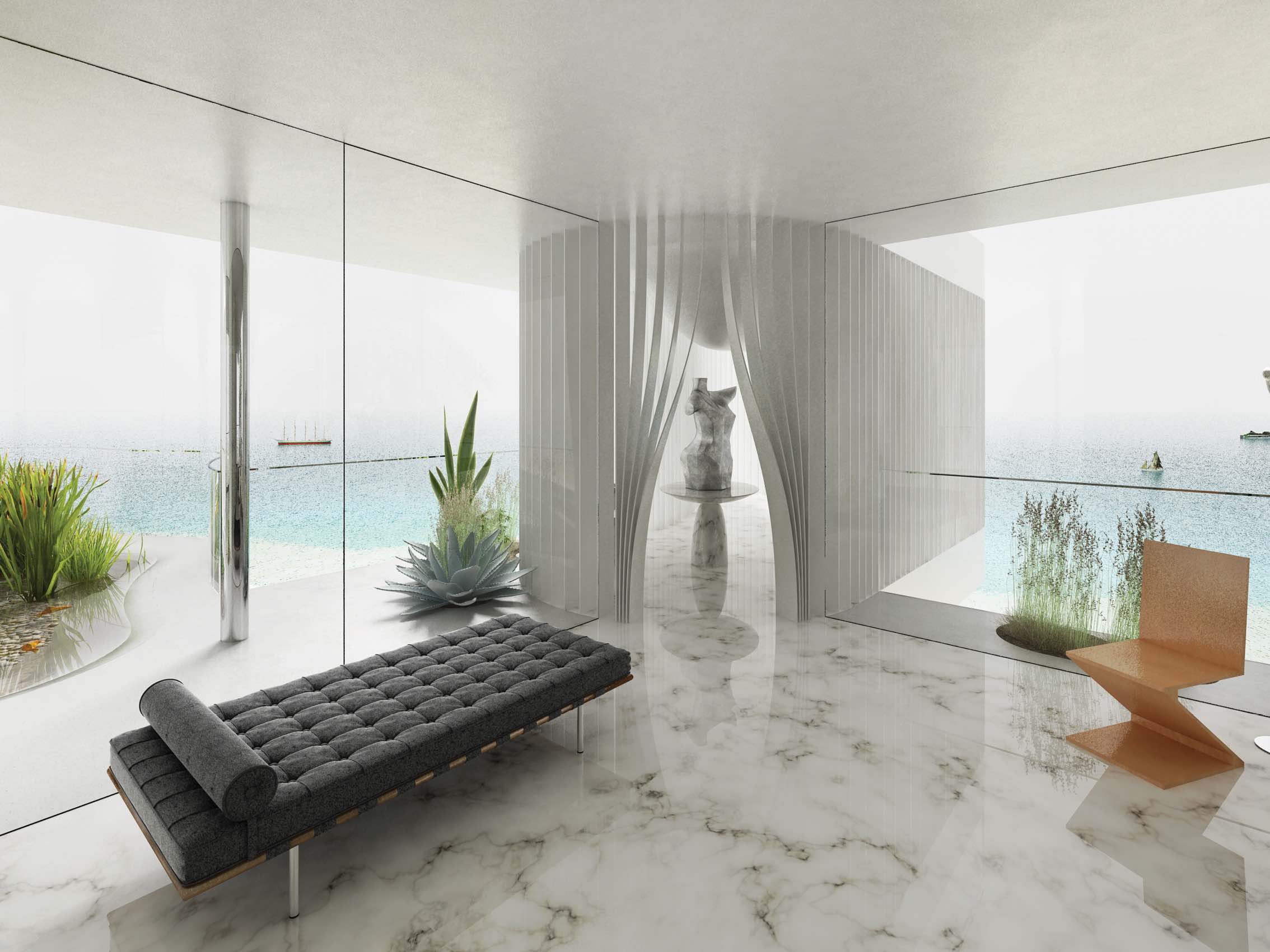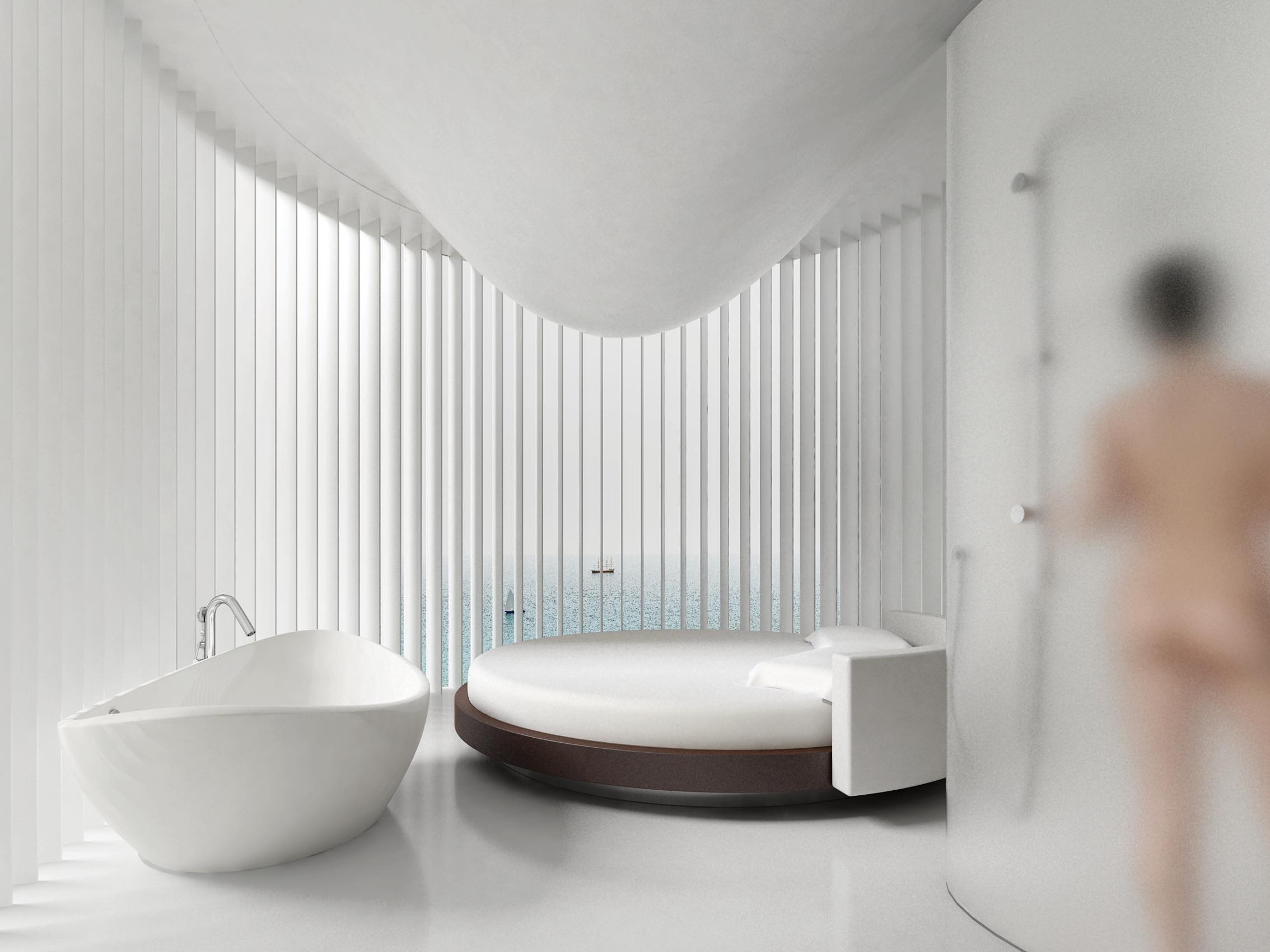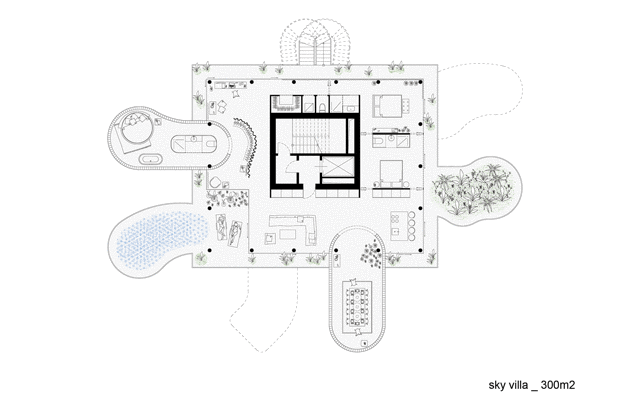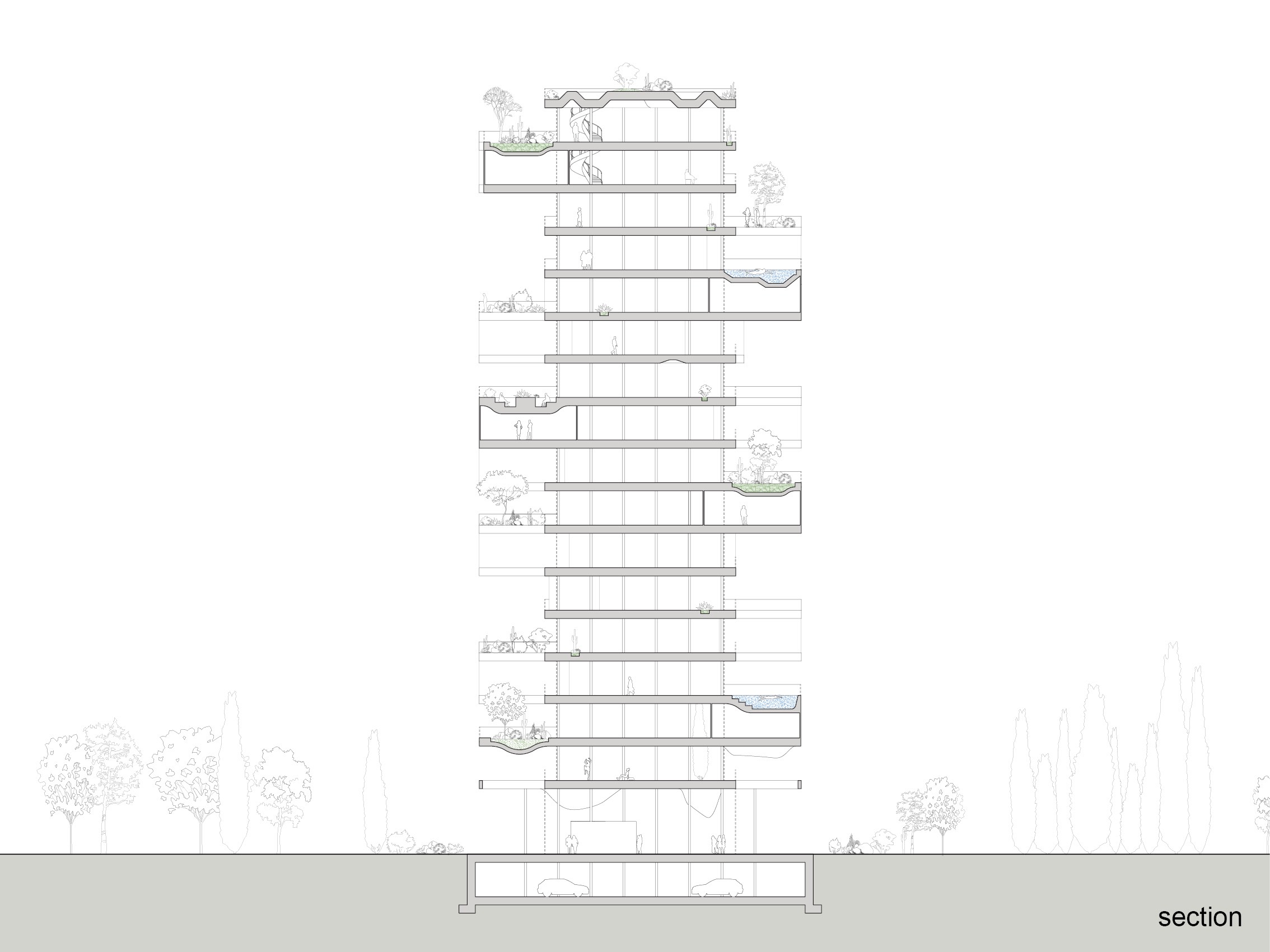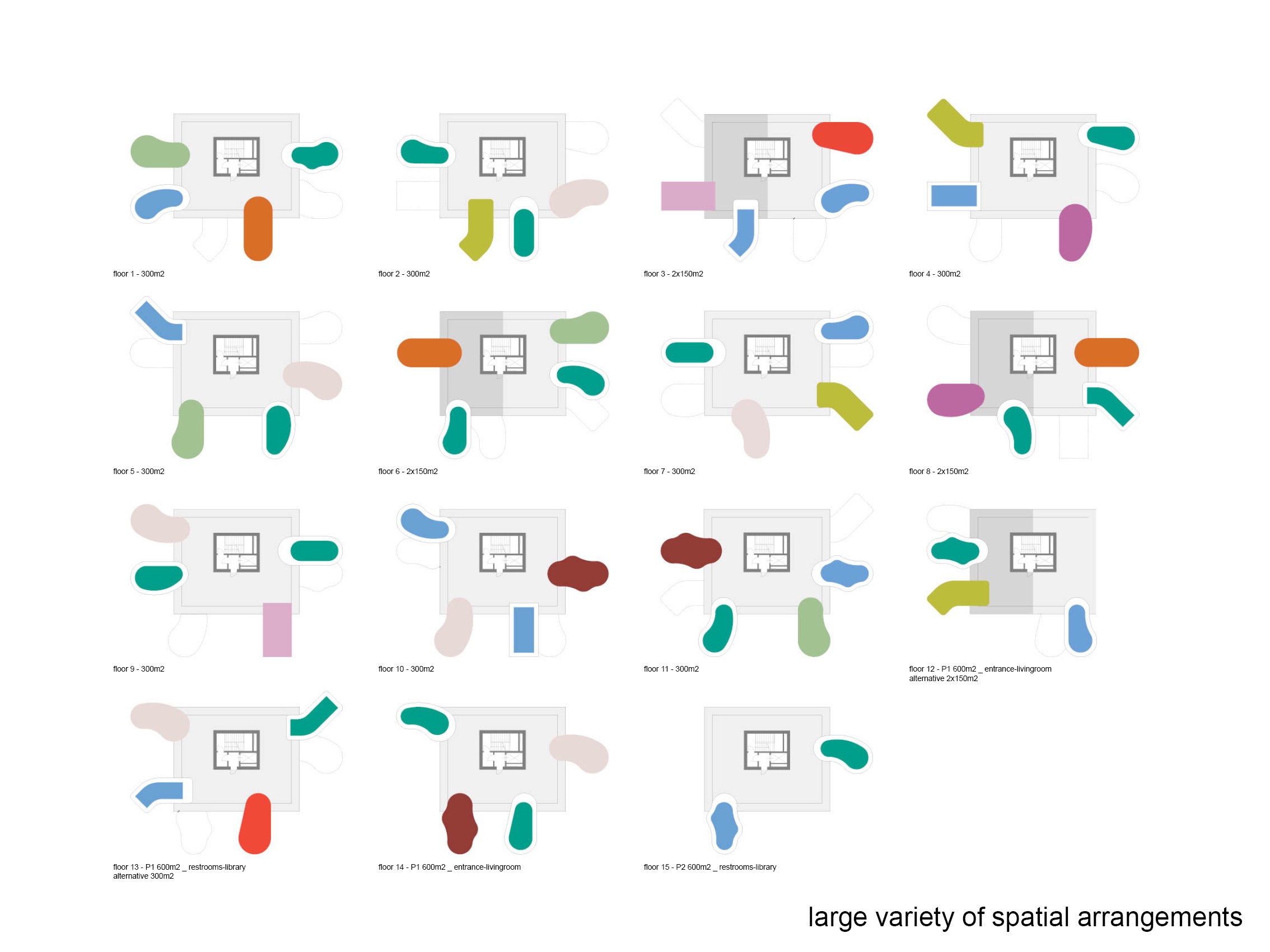 ---