New Development Inspired by Needs of Low-Income Youth.
Riverside, CA: Affordable housing developer Innovative Housing Opportunities (IHO) is pleased to announce the groundbreaking for The Aspire this April. This new community is approximately a mile from Riverside City College, which has been actively engaged in its planning. The Aspire was conceived in response to the growing need for stable housing for transition-aged youth (young adults aging out of the foster care system) and unhoused young people in Riverside community colleges.
The Aspire is situated at the corner of 3rd Street and Fairmount Boulevard in a residential community within walking distance to the burgeoning downtown Riverside scene, including access to a weekly farmers market, cultural landmarks, and plentiful job opportunities. The $25-million development will offer 33 furnished, one-bedroom units, each approximately 450 square feet, with a patio/deck. "These apartments will provide the ability to live independently, with dignity and safety," says Rochelle Mills, President and CEO of IHO, which is the owner, developer, and managing general partner of The Aspire.
Funding sources include HOME and Housing Authority funds from the City of Riverside, Project Based Housing Choice vouchers from the County of Riverside, California Tax Credit Allocation Committee (CTCAC), California Debt Limit Allocation Committee (CDLAC), and California Housing and Community Development (HCD)/Multifamily Housing Program. In addition, the Riverside Community College District will provide no-cost academic support for RCC students living at The Aspire.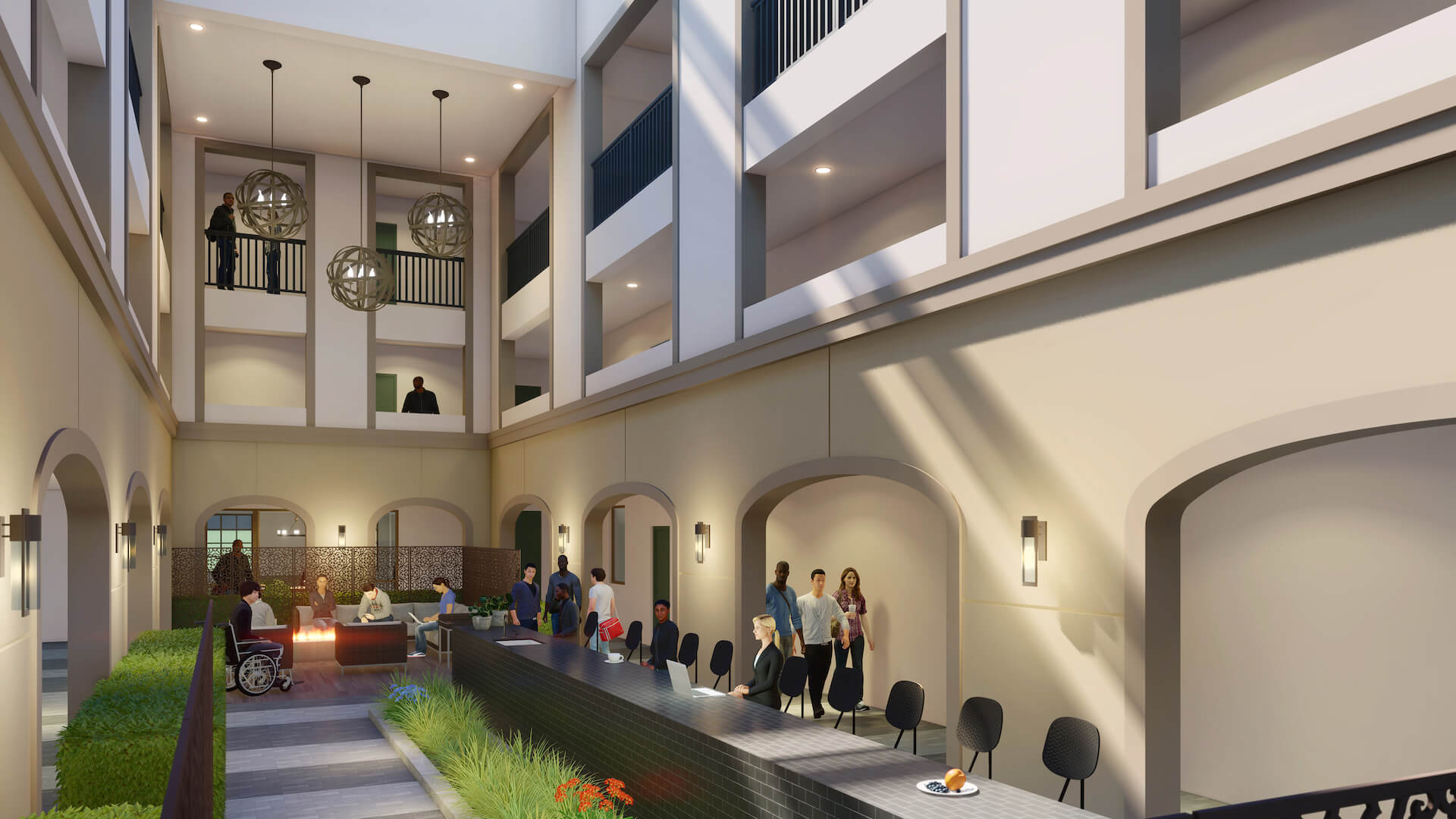 The Aspire Courtyard, Riverside, CA, developed by Innovative Housing Opportunities. Rendering courtesy of Bassenian Lagoni Architects
Community-Focused Design & Social Services
Taking design cues from Riverside's rich historical Spanish Colonial Revival palette, the three-story structure includes elements reminiscent of the nearby legendary Mission Inn and Fox Theater. Deeply recessed arched openings along the main façade ground and unify the structure. Outdoor social spaces are activated via a central courtyard and an extensive rooftop terrace. The design features delicate corbels, precast embellishments, and built-up eaves that were prominent during the 1920s. These details mitigate the mass and scale of the structure while adding charm and helping it to blend into the fabric of the community.
The corner of the site is punctuated by a three-story tower framed by community spaces and social services offices along the lower level. At The Aspire, onsite services provided at no cost to residents will include an array of social and supportive programs that ensure the well-being and future success of the residents. "IHO will work with the County of Riverside University Health System – Behavioral Health and a cadre of additional partners to offer residents an array of programming that includes robust educational support in life skills, goal planning, and financial resiliency to equip them to thrive long after their time with us," says Emilie Dang, IHO's Community Impact and Programs Director.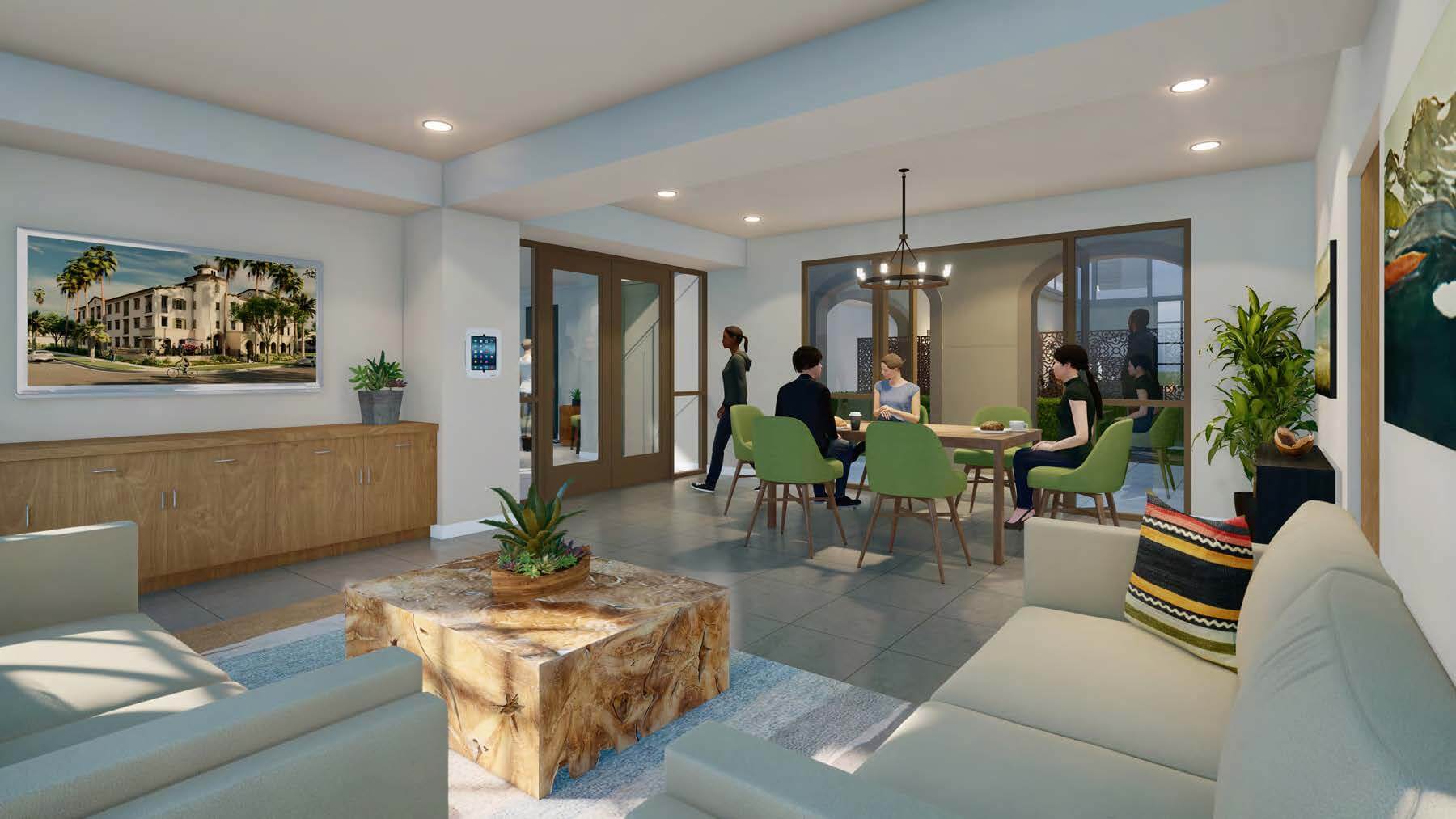 The Aspire Living Room and Community Room, Riverside, CA, developed by Innovative Housing Opportunities. Rendering courtesy of Bassenian Lagoni Architects
Incorporating community art
IHO selected the Collective Mosaic Artists Design Team—a local collaborative group of artists and art educators—to create site-specific artwork that expresses the community's vision and celebrates the City of Riverside's identity and rich heritage. The mosaic, made from a variety of colored ceramic tiles, Italian handmade smalti tiles, glass, and found objects, will feature a magnolia tree that has taken deep root and provides protection. "This is a metaphor for community stake in our youth as they transition to higher education," notes the Collective. Figures sitting under the tree show their love of reading and learning, and are surrounded by butterflies signifying change, growth, and achievement. The artwork will inspire the residents as well as add positive aesthetics to the surrounding residential community.
"With an anticipated completion date of fall 2024, The Aspire's combination of thoughtful design, community programs, and access to local amenities will position future residents to rise to their full potential and ultimately give back to their community," says Mills.
In addition to Innovative Housing Opportunities and development partner Kingdom Development, the development team includes Bassenian Lagoni Architects, JAG Interiors, and Trillium Property Management. Financing is provided by Banner Bank and Red Stone Equity Partners.
"The Aspire reflects our primary mission to increase the amount of affordable housing available for disadvantaged youth and families," says William Leach, President of Kingdom Development, a Riverside-based nonprofit. "We are thrilled to have the opportunity to further our mission right here in our backyard."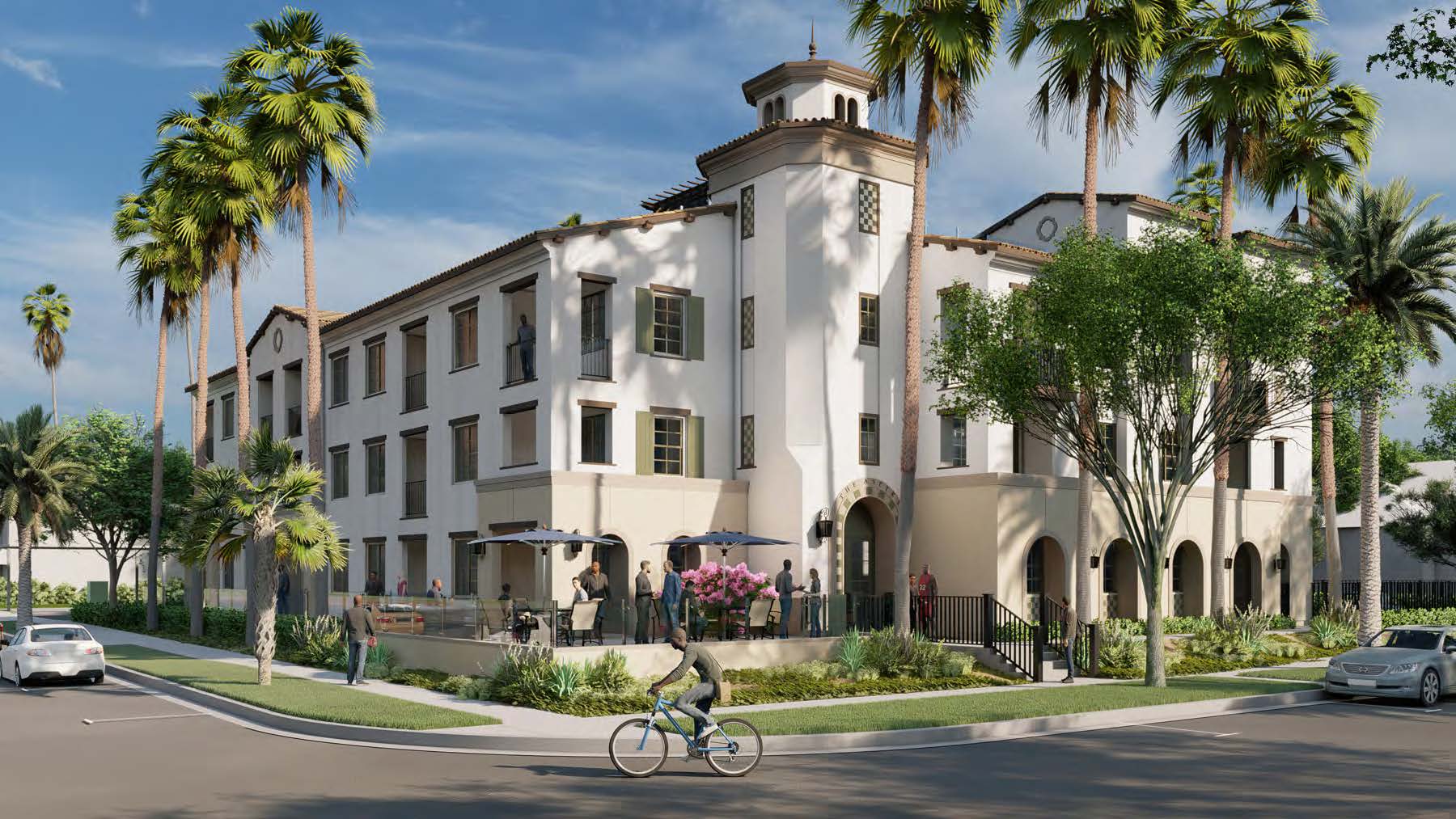 The Aspire, Riverside, CA, developed by Innovative Housing Opportunities. Rendering courtesy of Bassenian Lagoni Architects
ABOUT INNOVATIVE HOUSING OPPORTUNITIES
The mission of Innovative Housing Opportunities (IHO) is to enrich communities by providing high-quality affordable housing, where residents can thrive, develop healthy habits, and achieve success and stability. IHO's California development portfolio provides housing to a wide variety of residents, including seniors, families, foster youth, veterans, those living with mental illness, formerly homeless, developmentally disabled, and other special needs and mixed populations. Formed in 1976 to help business and government address the lack of low- to moderate-income housing in the City of Irvine, IHO is now working throughout California in strategic partnerships that creatively and effectively maximize efficiencies while achieving the most attractive and well-managed environments for residents and for the surrounding communities.
ABOUT KINGDOM DEVELOPMENT
Kingdom Development was founded in 2015 to enrich the lives of disadvantaged youth through the strengthening of families and the development of housing. Kingdom carries out its purpose in three capacities: developing affordable housing for all populations in partnership with for-profit and nonprofit developers; consulting with for-profit and nonprofit developers as financial advisor, construction manager, and application consultant; and enhancing the industry's ability to develop affordable housing by providing policy makers and industry practitioners insightful analysis.
---