Italy and Switzerland, September 2022.
Nomad Studio, an internationally awarded creative workshop devoted to innovative site- specific projects, explores in its works the interaction between art and landscape and its influence on society and the environment. In particular, their ephemeral installations are materializations of their reflections about how humans relate with nature, always aiming to uncover an opportunity to cultivate change and to increase the collective understanding of our role and responsibility within the natural systems.
Nomad ́s work is committed to bring to the surface conversations through beauty and immerse people into memorable experiences, to foster an emotional connection that inspires action. Their more iconic work, Green Varnish at the Contemporary Art Museum in Saint Louis, and their most recent installation, Kokedama Forest at the Philadelphia Flower Show 2021, are both visually impactful projects that successfully delivered a transformative and meaningful experience.
Its current work on exhibition, Exculpatio, is the materialization of a long conversation exploring the speech surrounding sustainability and the roots behind the lack of substantial action against climate change. A sculptural space and a silent demonstration simultaneously hosted at Global R&D Cemex Headquarters in Biel-Bienne, Switzerland, and Giardini della Marinaressa in Venice, Italy as part of the Exhibition "PERSONAL STRUCTURES" curated by the European Cultural Centre during the Venice Biennale 2022.
Reflective design
What happens after nature's resilience is no longer able to bring Earth back into a haven for life once again? 

An Earth absent of life is a suffocating idea, the absolute void.
Exculpatio has been morphing for three years reflecting upon the unsustainability of sustainability culminating its journey with a crowdsourced transportation performance in Italy, that symbolically assembled piece by piece two rectangular monoliths in Switzerland. The ritualistic construction enabled the deliberate materialization of the empty space between the walls to gradually arise until the void emerged as a pulsating uncomfortable dimension.
Exculpatio stands in Switzerland as two intimately opposed monumental concrete blocks fractured into eighty pixels. The crevice between these three meters high totems poses an urgency to enter a burned transcendent landscape, a fossil of life.
In Italy, Exculpatio presents its ultra-light concrete pixels in an ever-changing impromptu arrangement metaphorically opening the conversation and inviting individuals to take action.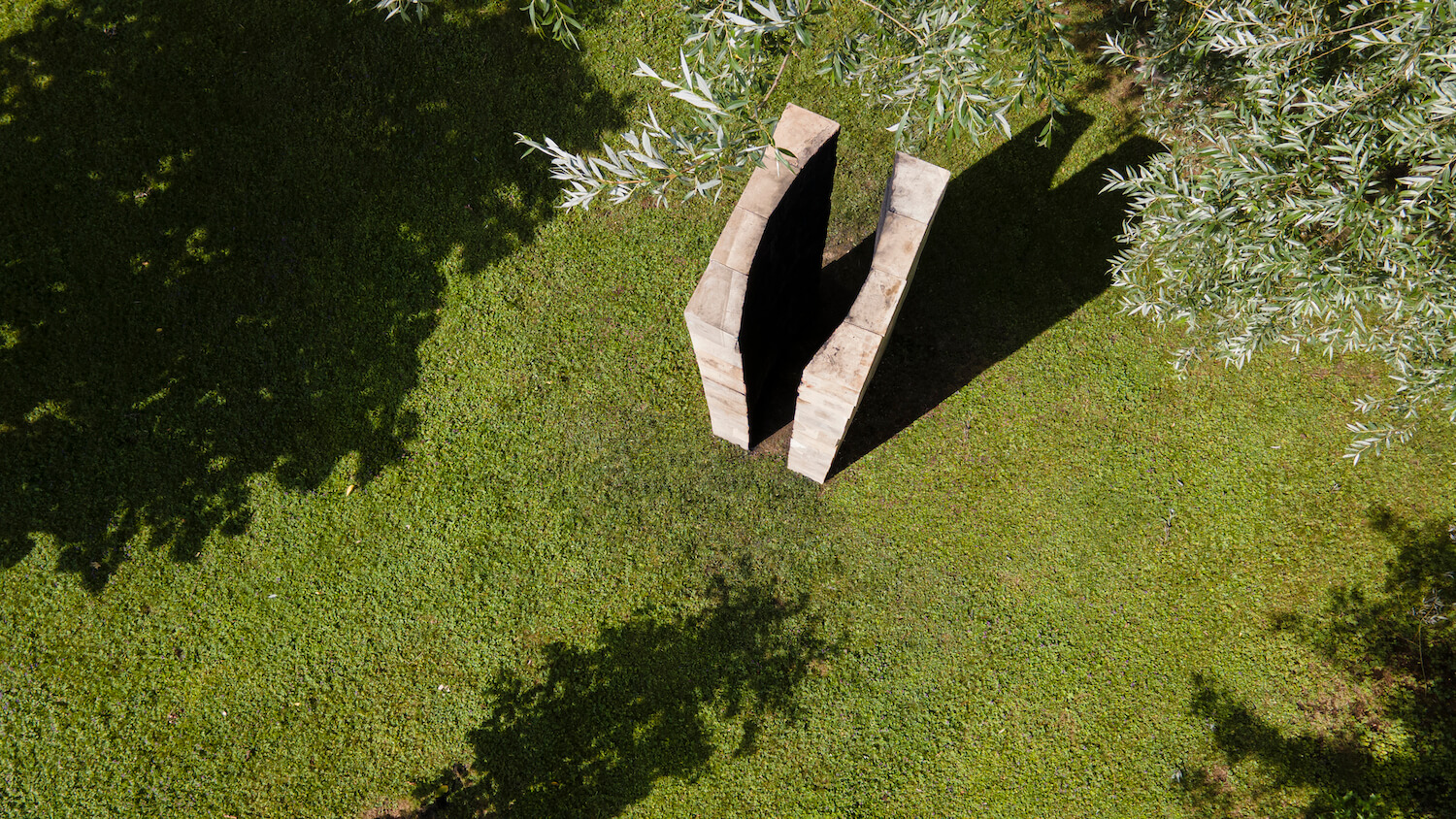 Ultralight concrete by GLOBAL R&D CEMEX
Demonizing parts of the whole is a distraction from the big picture. Are the materials the problem, or the lifestyle that demands them?
Global R&D Cemex has crafted an ultralight concrete pixel series that highlights the individual personality of each block, its uniqueness, fragility, and impermanence.
Exculpatio's pixels enclose a call of attention to our preconceived concepts by exposing the emotional aspect of concrete to confront their collectively assumed personality as a durable, immutable, rigid, solid, bulky, and extensively mass produce soulless material. More than ever, it is time to question everything.
Humanity is choosing extinction
Nature is the operating system of the planet
purred by the reality of climate collapse, Nomad belongs to the generation that has adopted Environmental Art as a vehicle for ecological activism, as a device to voice nature in the realm of art, in this case, its complete absence, to create awareness of the damage that our lifestyle causes to the planet, and a call for action.
Nomad aims to disrupt the idea of nature as a space, as it is a misconception with very negative consequences. Nature is the operating system of the planet, you cannot be in, nor out: no-nature is the ultimate nothingness.
Current human systems are too rigid and simple to be imposed on the adaptable and ever- changing complex natural systems. Humanity is choosing extinction.
It is time to take action.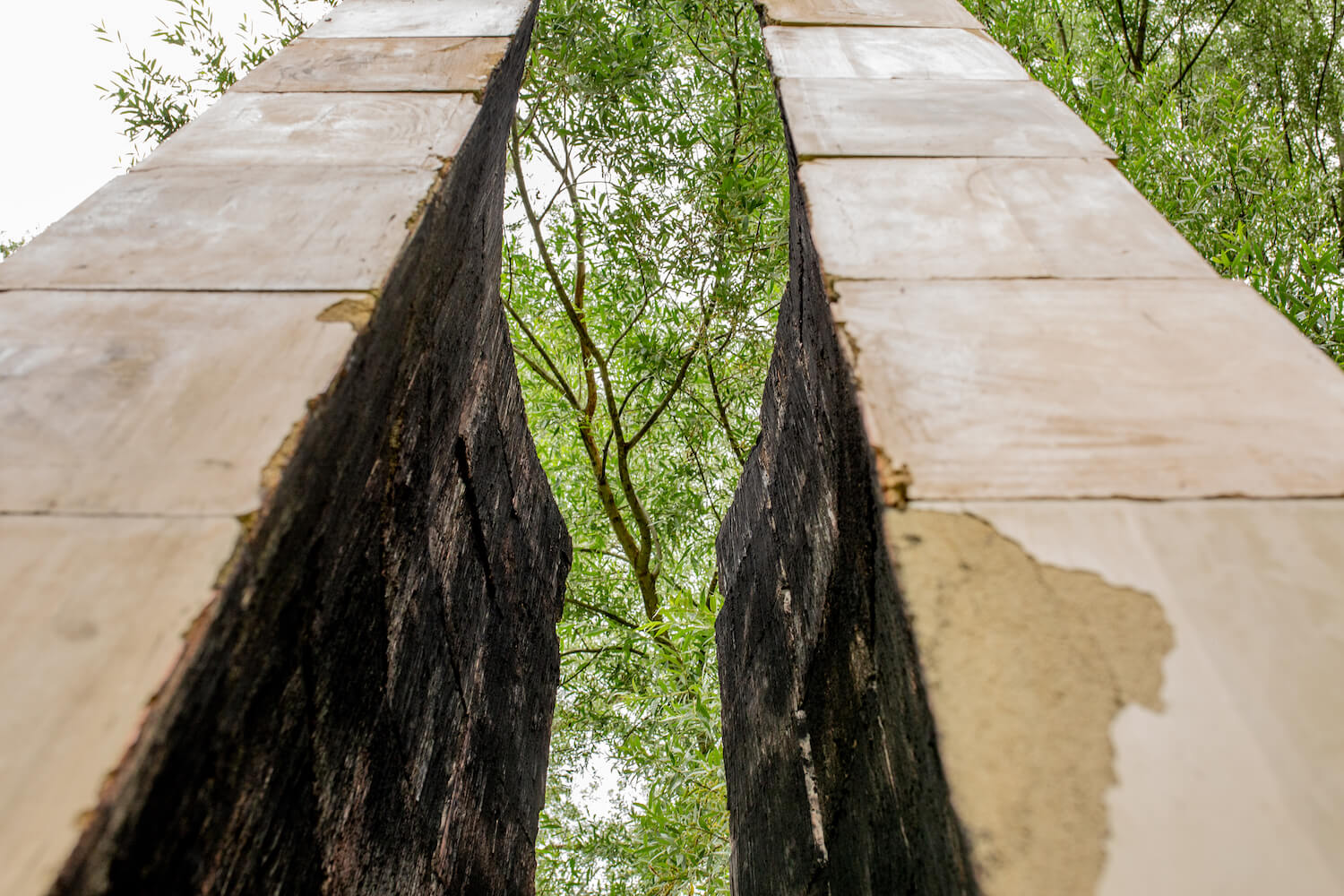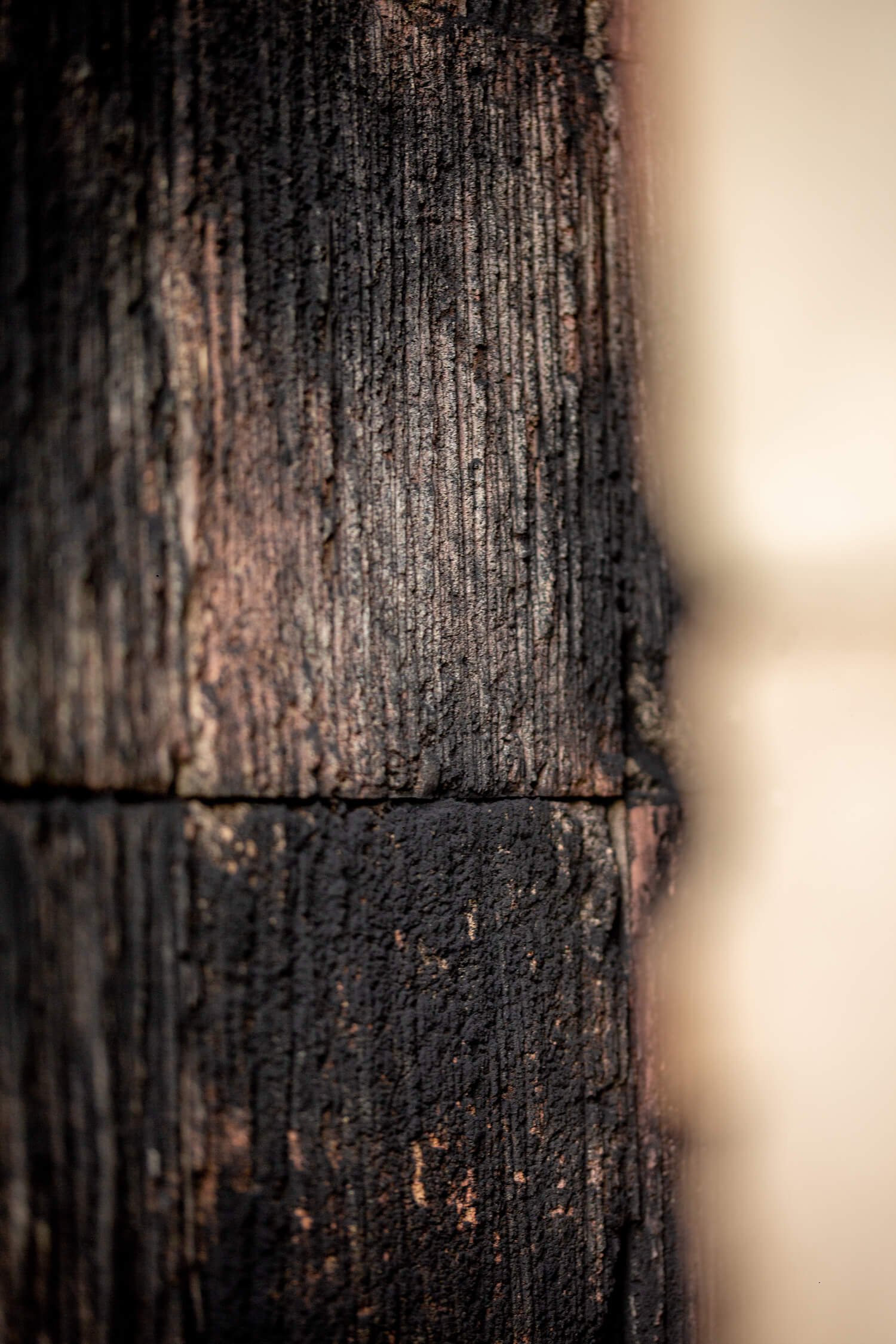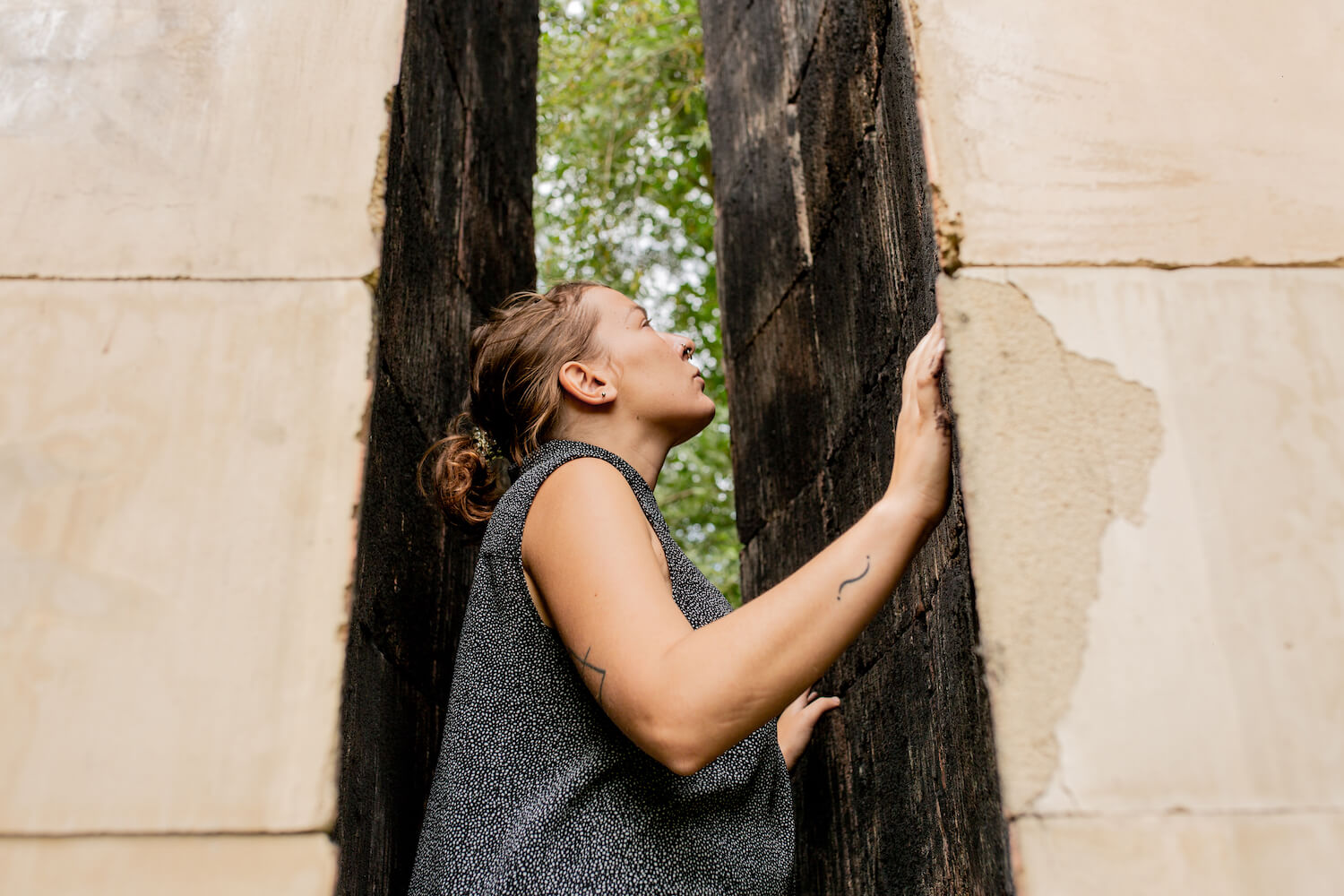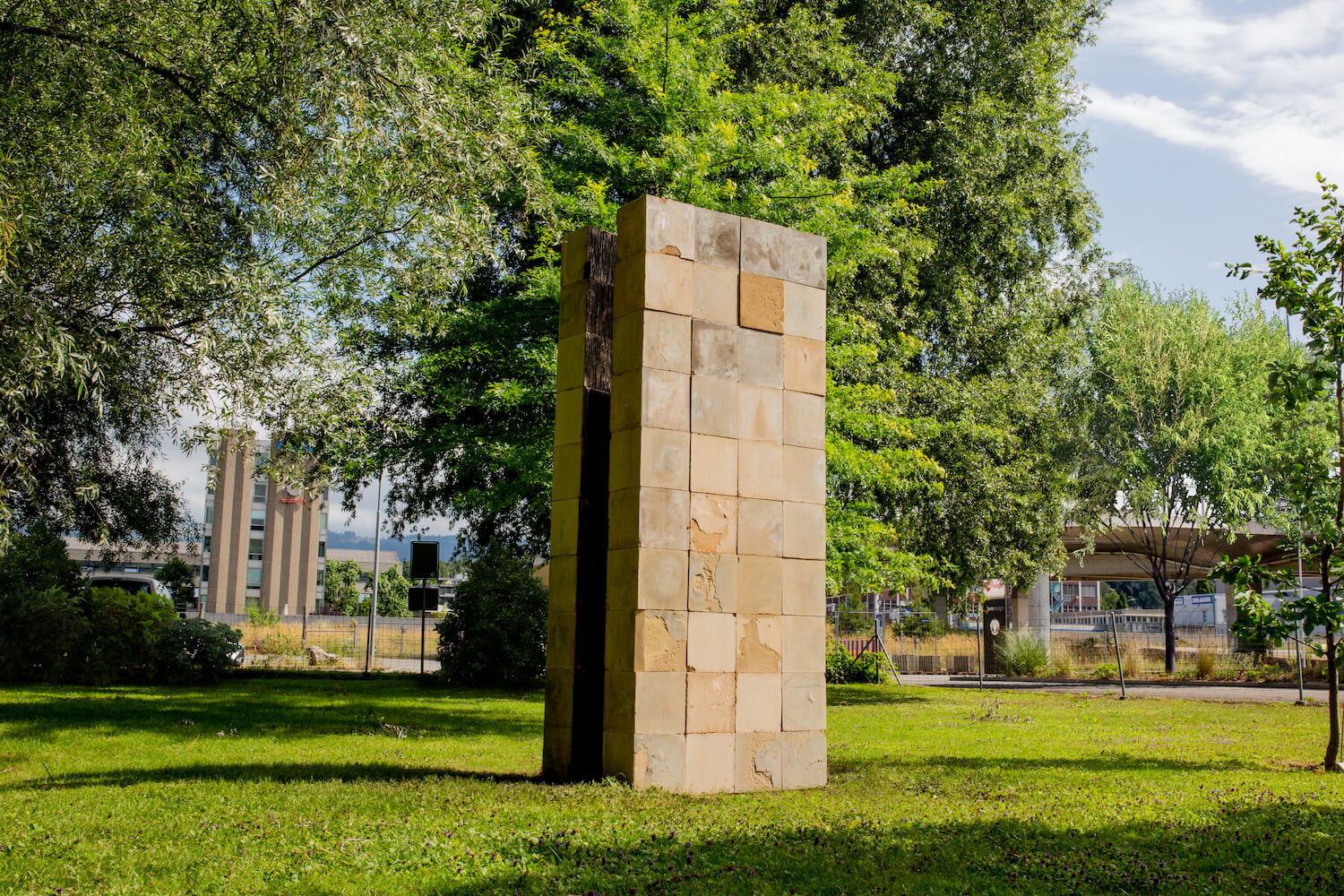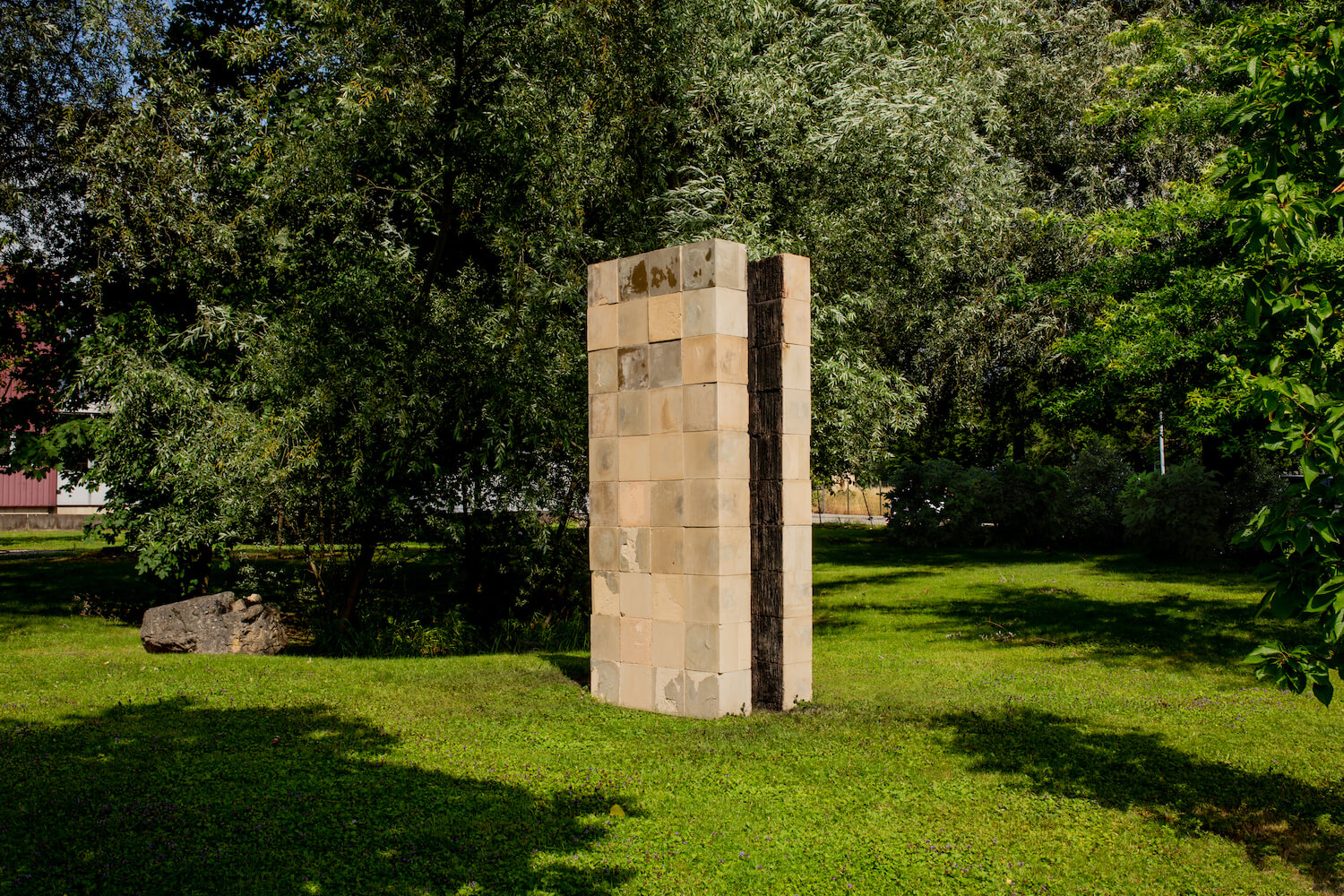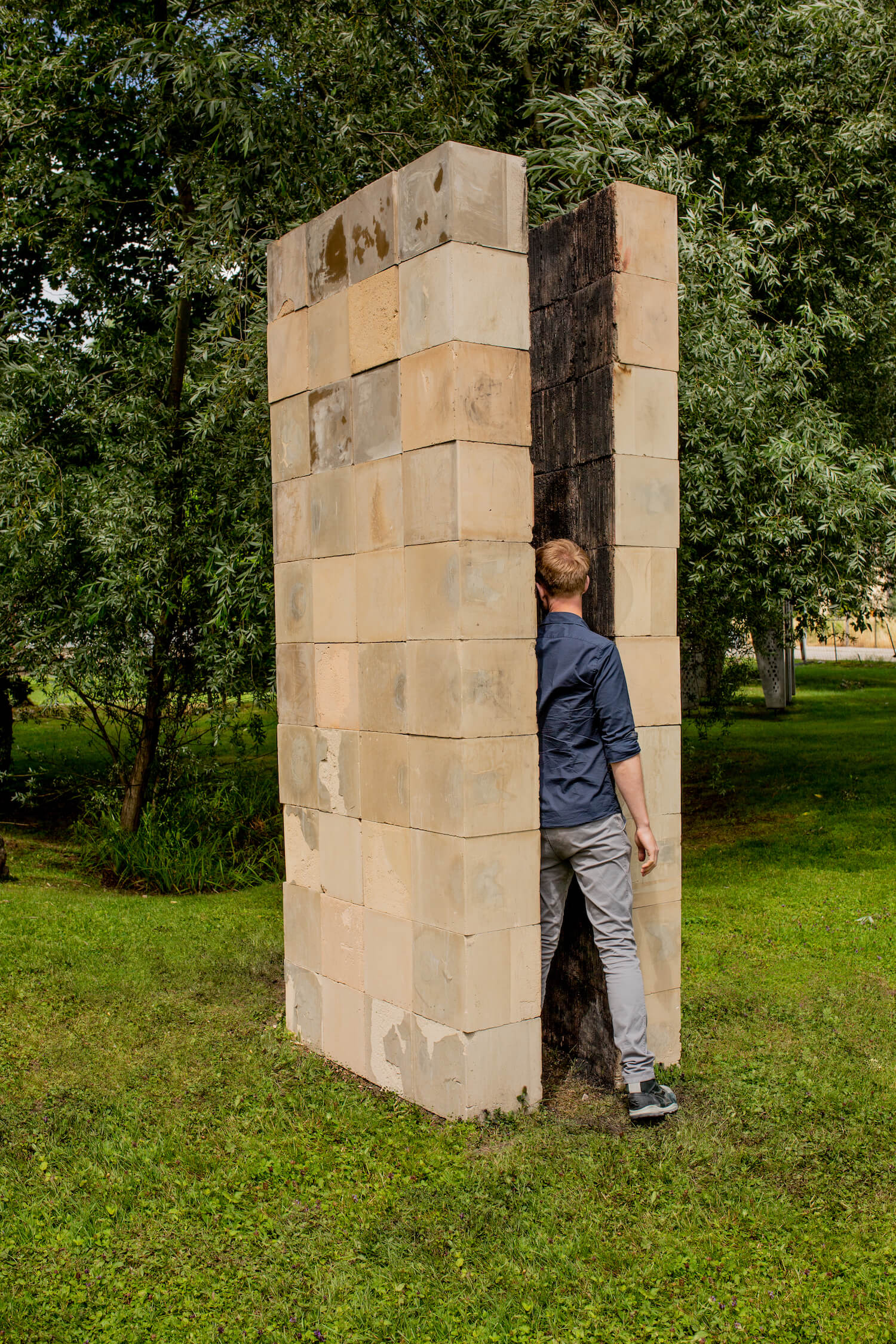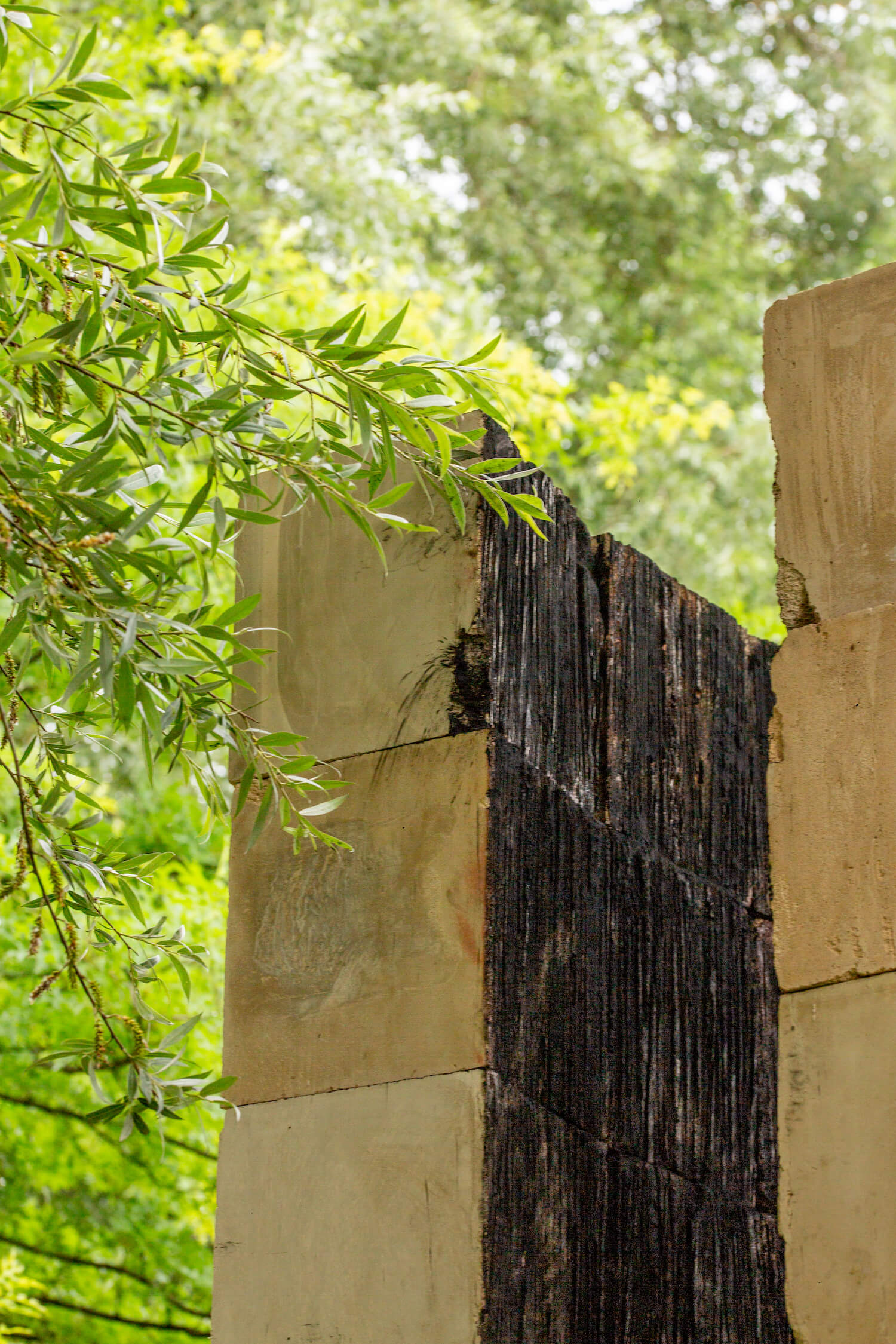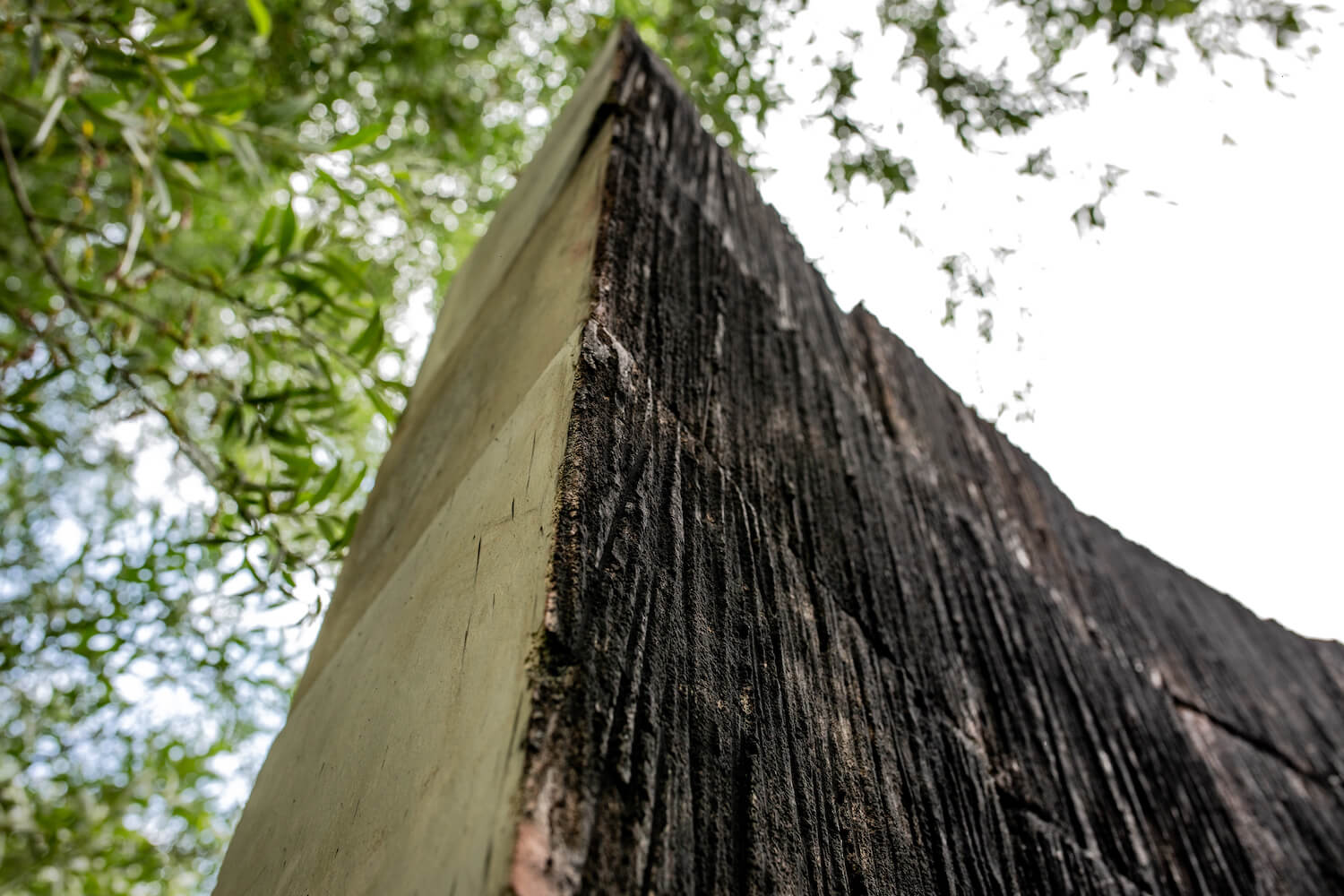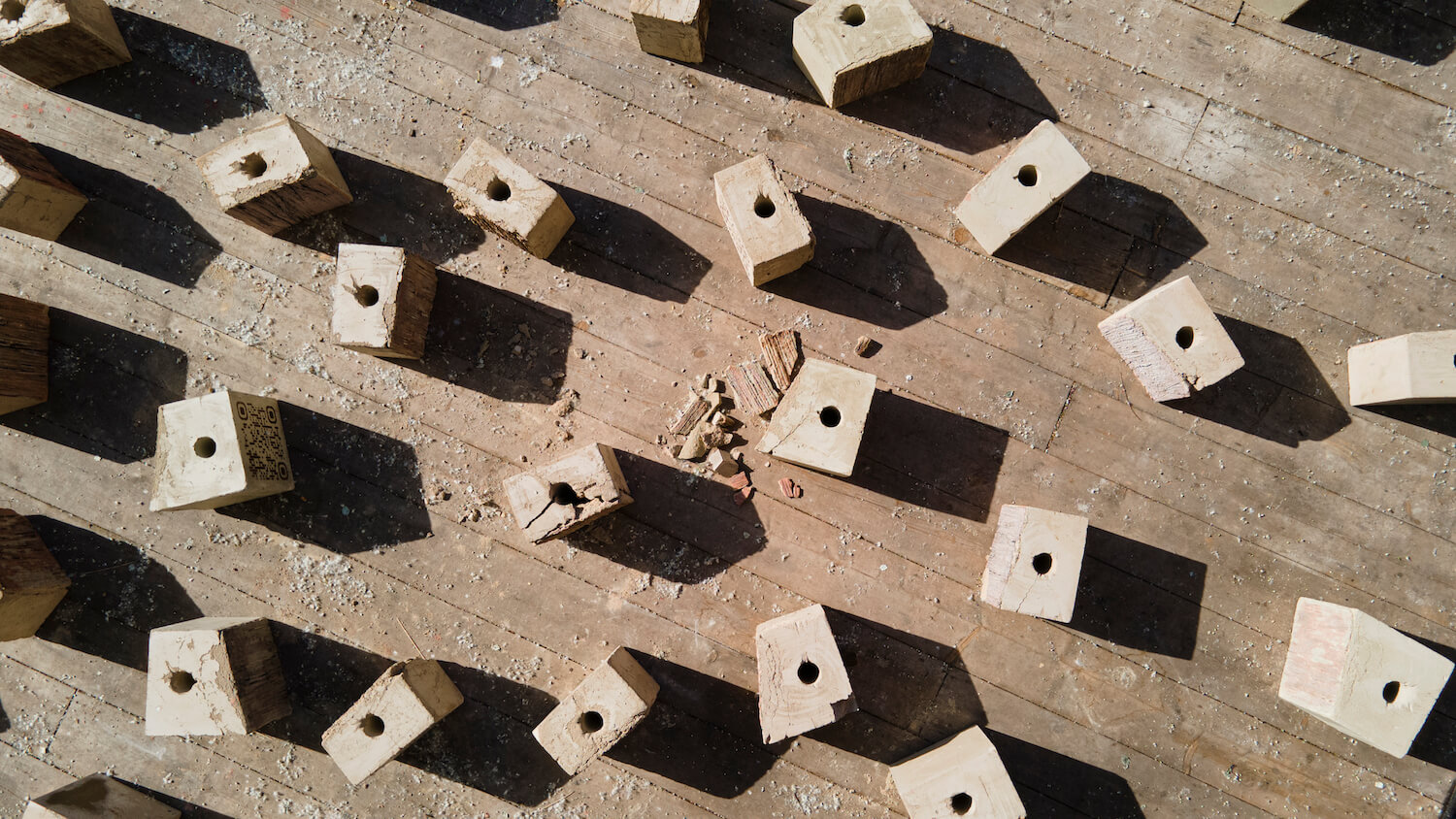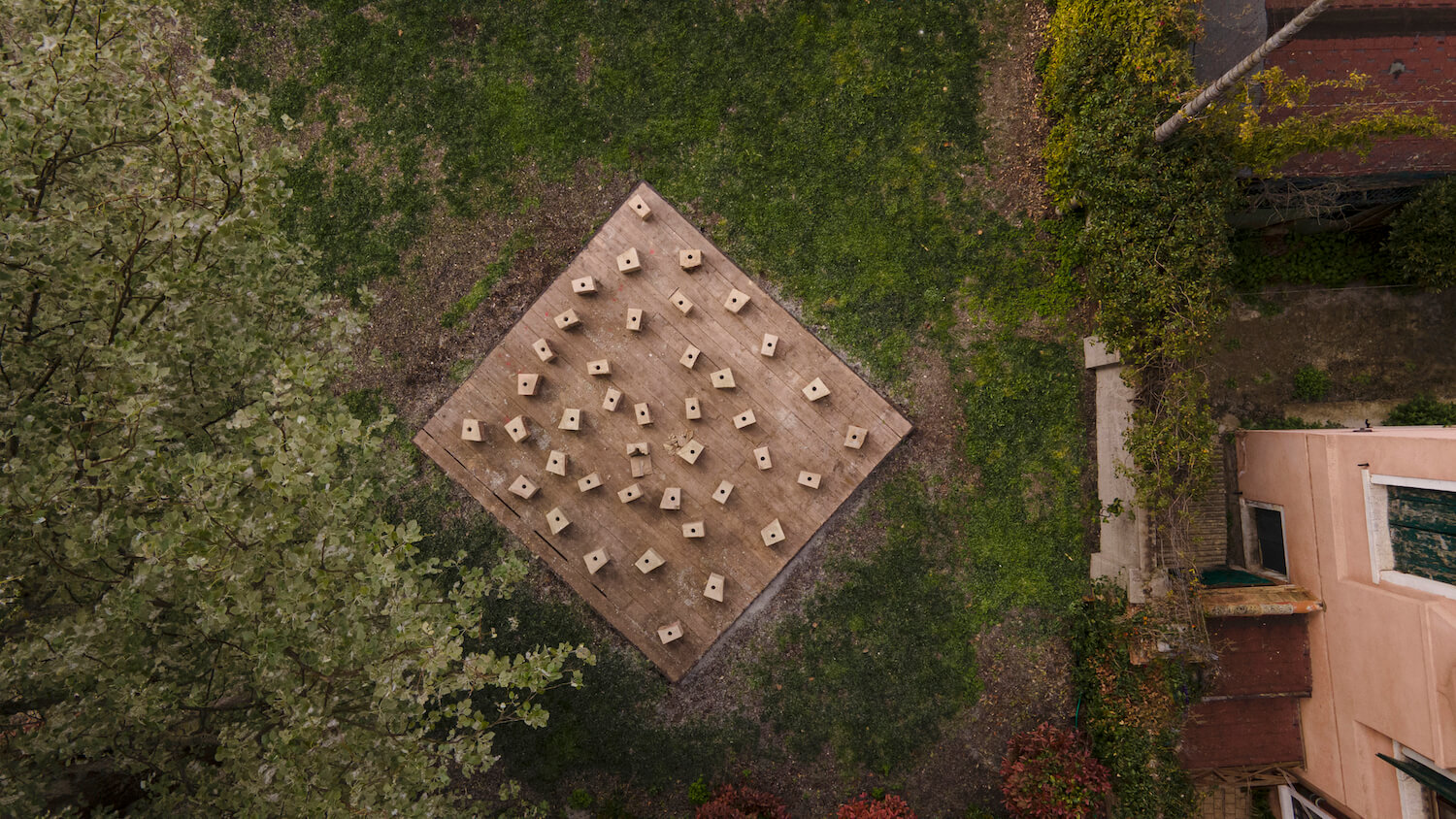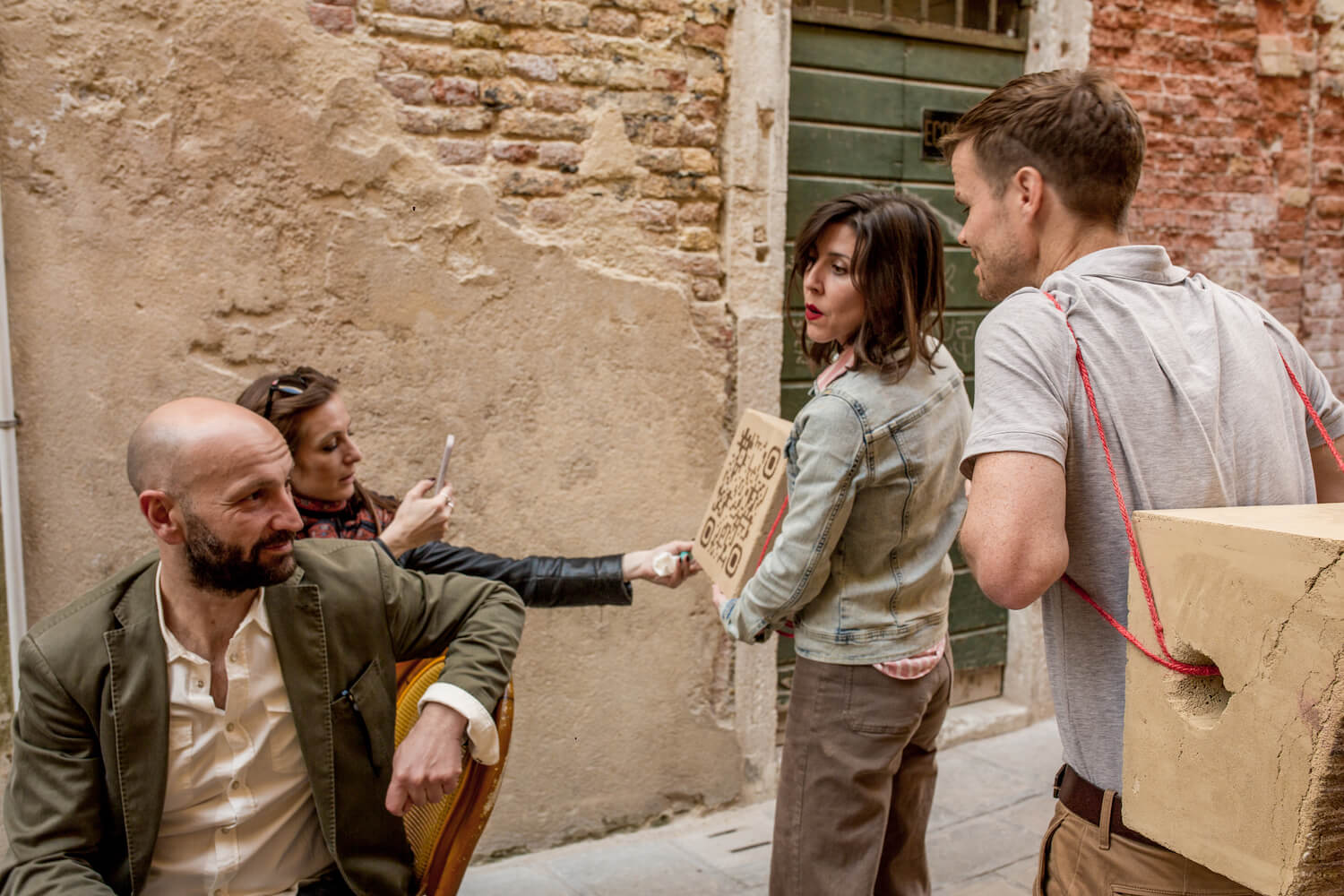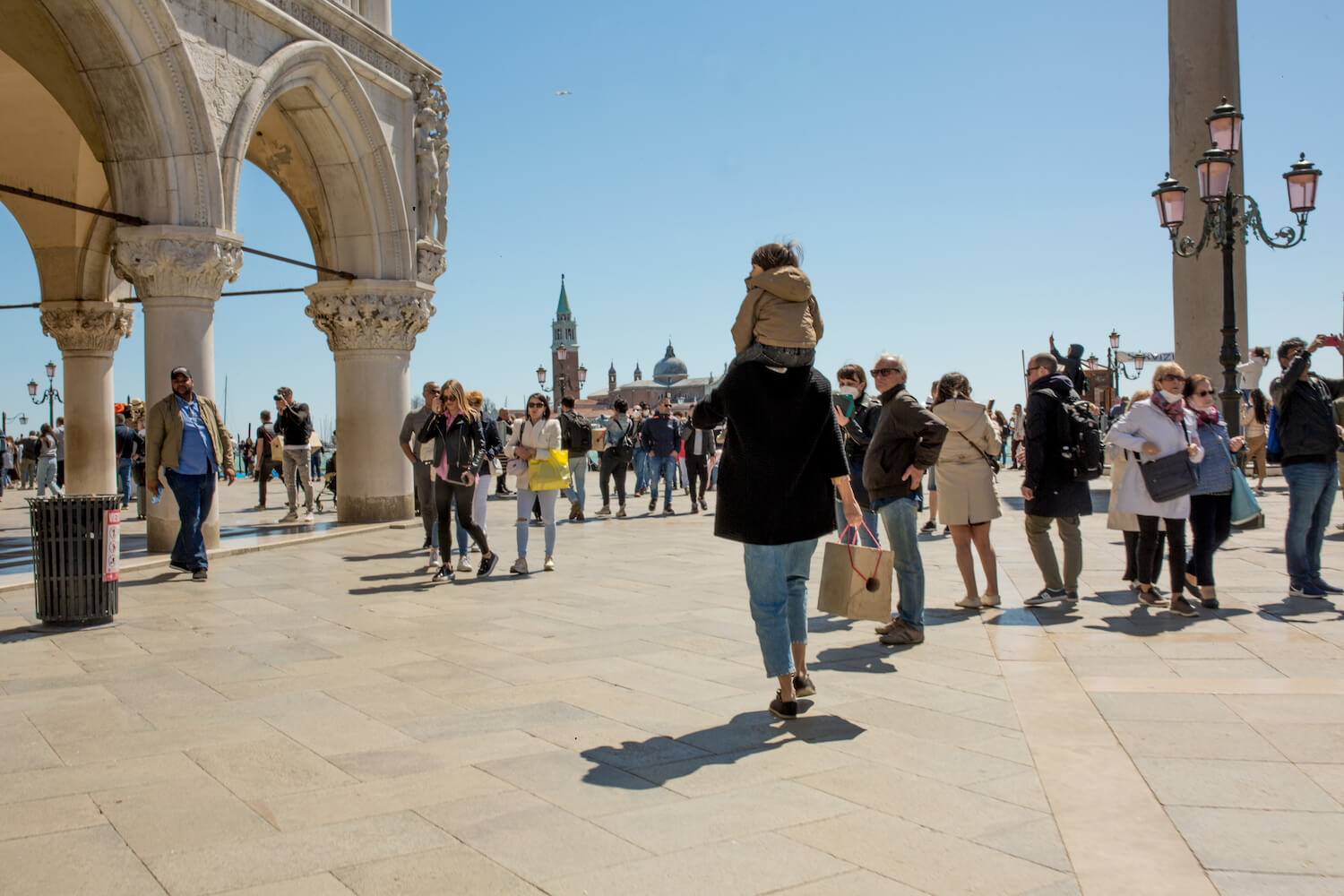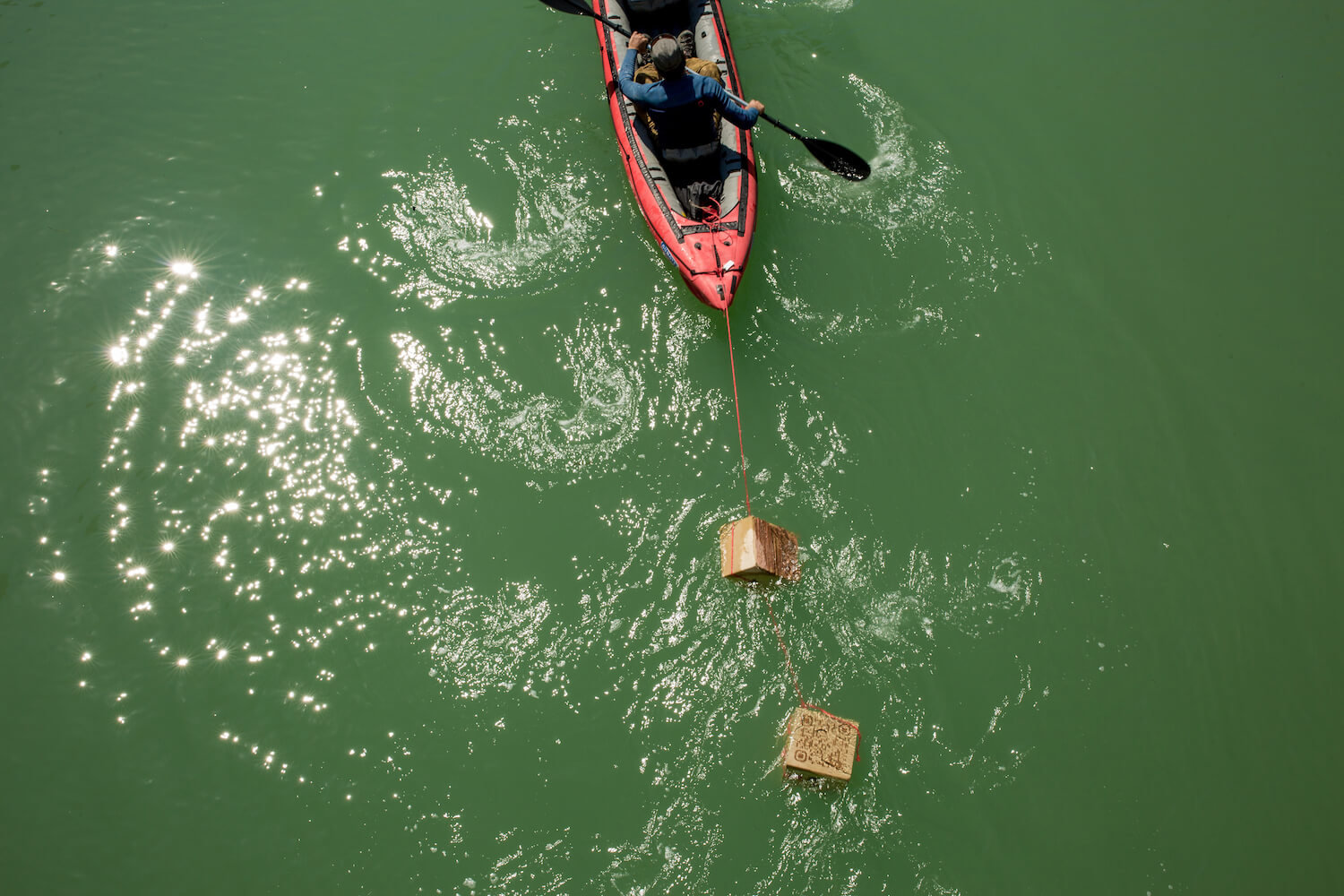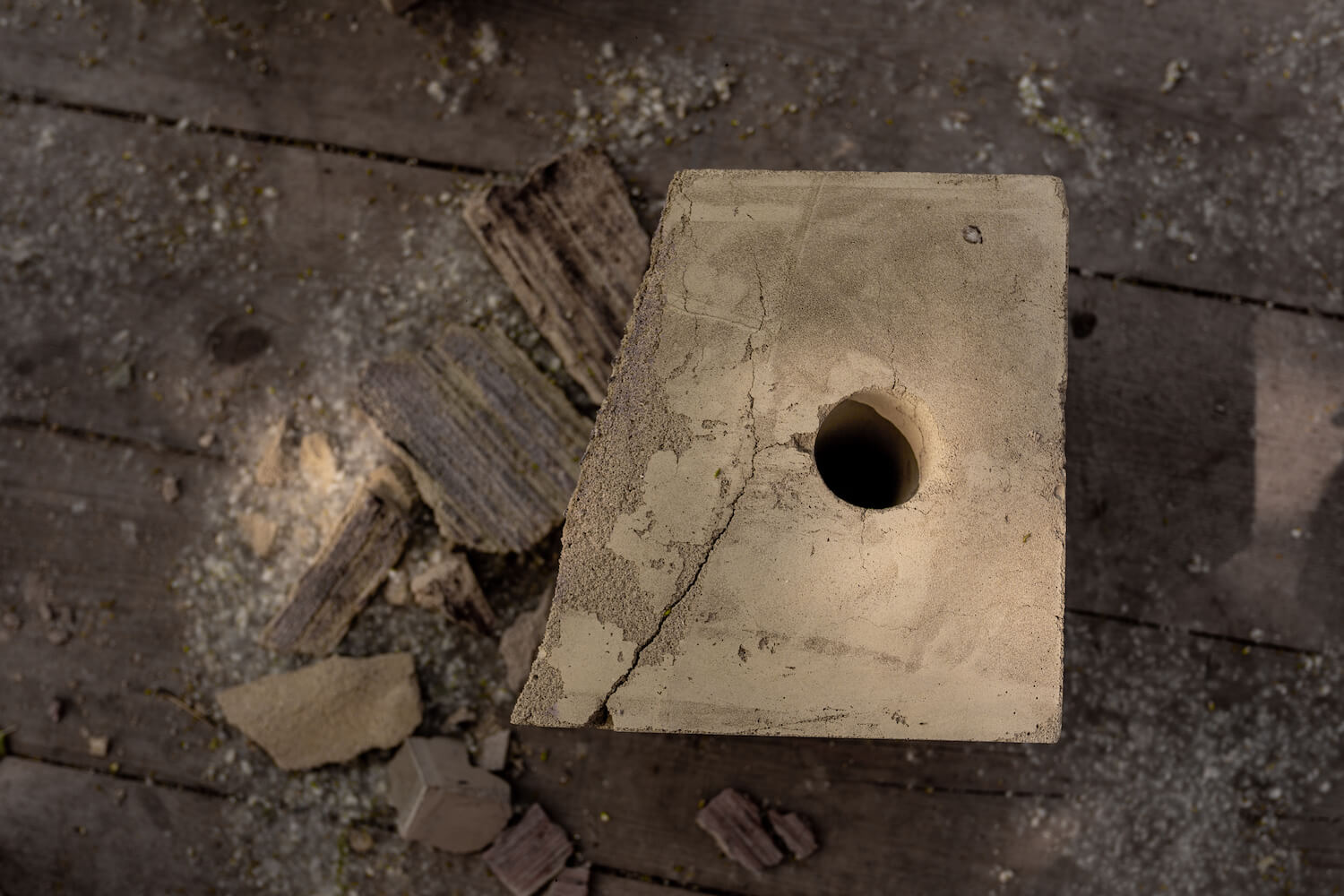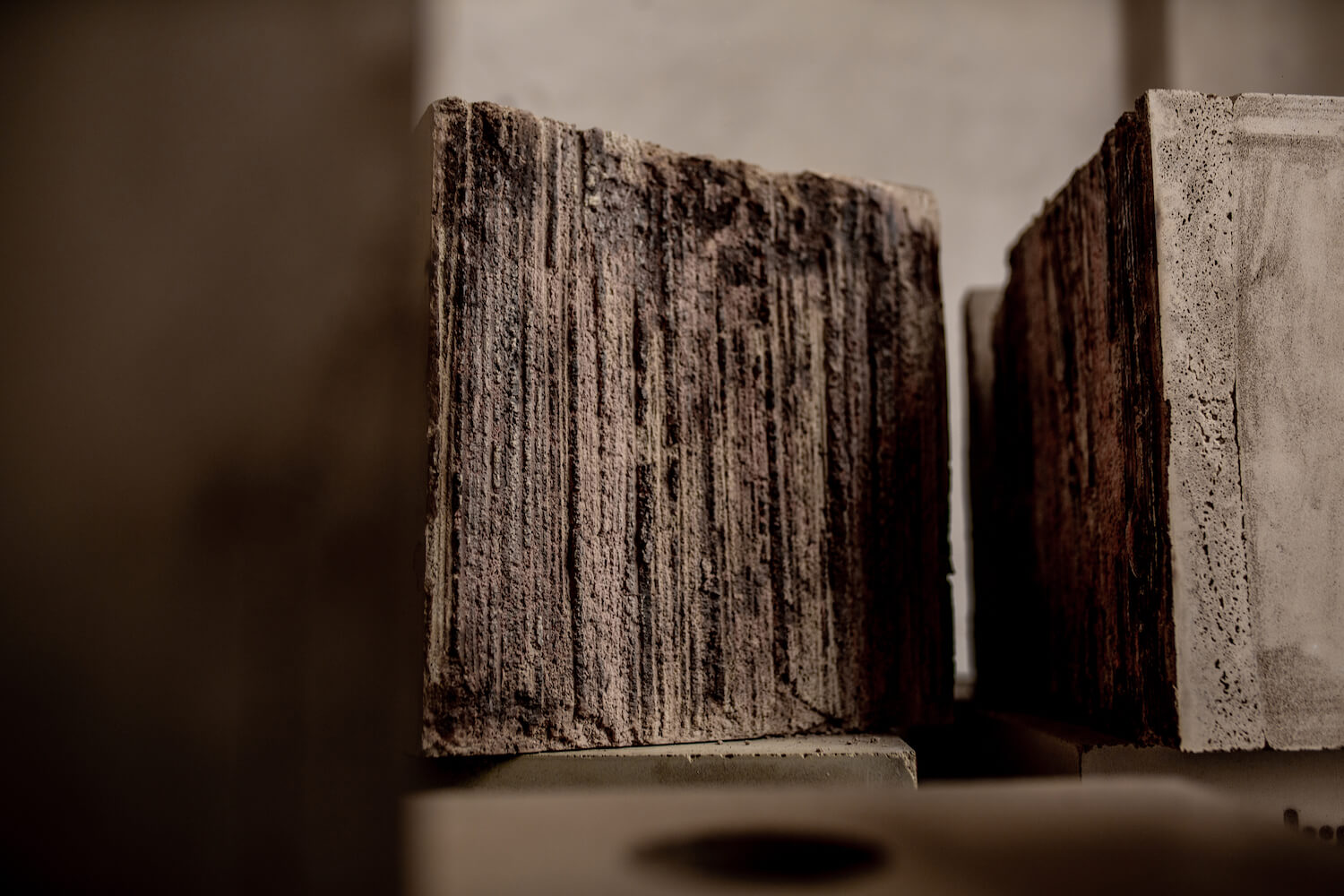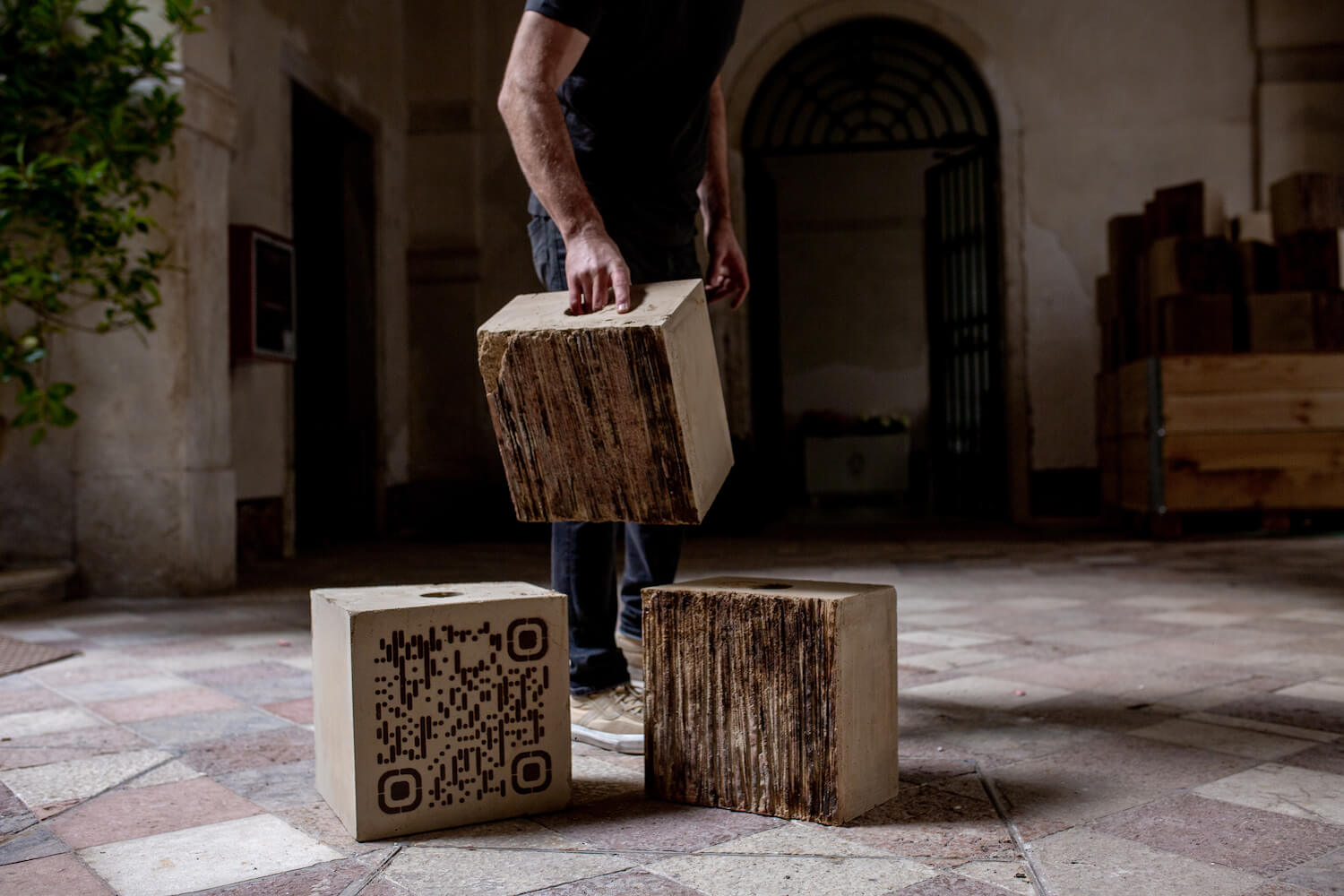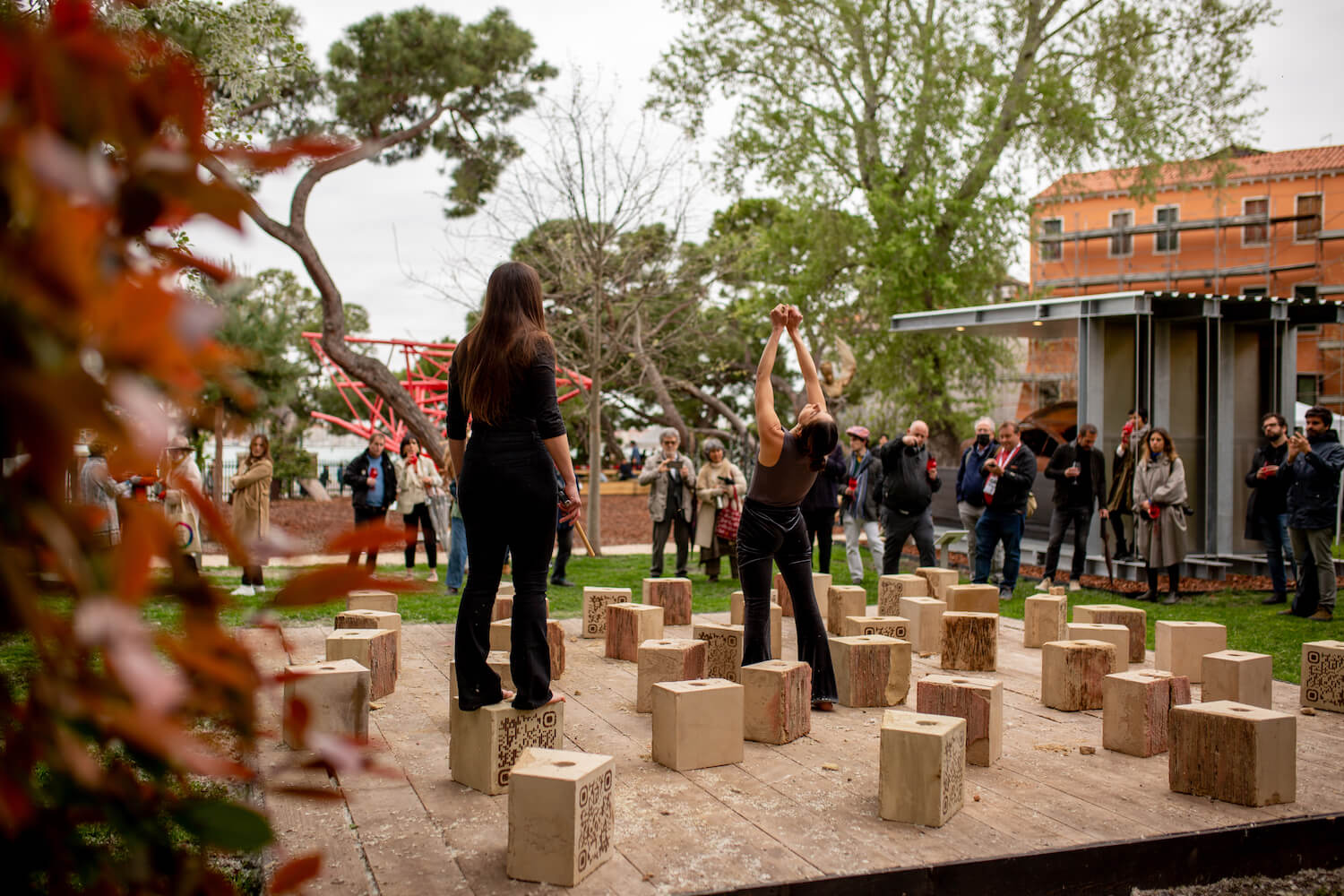 Exculpatio. Data sheet
Event. European Cultural Centre Exhibition "PERSONAL STRUCTURES." Biennale Arte 2022 in Venice, Italy. 

Exhibition's Curator. European Cultural Centre (ECC). Palazzo Rossini. S. Marco, 4013, 30122 Venezia, Italy.

Dates. April 23rd to November 27th.

Location. Giardini della Marinaressa in Venice, Italy and Global R&D Cemex Headquarters in Biel-Bienne, Switzerland.

Author: Nomad Studio + Global R&D CEMEX.

Dimensions: 3 x 1.2 x 0.3 m.

Materials: Ultralight Concrete by Global R&D CEMEX.

Performance: 80Pixels, crowdsource transportation-performance.

Construction & Installation: Nomad Studio + Global R&D CEMEX + 40 pixels volunteers
 Maintenance: ECC

Sponsor: Global R&D CEMEX + Nomad Studio

About nomad.studio
Nomad Studio is an internationally awarded creative workshop devoted to innovative site- specific projects. Its work explores the interaction between art and landscape and its influence on society and environment. Nomad's practice is driven by their understanding of landscape, the coalescence of culture and environment, which is the source of their diverse portfolio. Nomad is committed to create memorable experiences that foster an emotional connection with the landscape that acts as a catalyst for change.
The studio was founded circa 2010 in New Orleans, LA by Landscape Architects William Roberts (United States) and Laura Santín (Spain), whom offer 35+ years of professional experience. In 2012 the office was moved to New York, NY and remained permanently in the city until 2020. Since 2021 the practice has adopted a nomadic culture.
www.thenomadstudio.net
About Global R&D CEMEX
"We are a company focused on creating sustainable value by providing industry-leading products and solutions to satisfy the construction needs of our customers around the world. We strive to make the future better for our customers, our shareholders, and our communities by becoming the world's most efficient and innovative building materials company.
CEMEX Innovation Holding AG, Brügg branch (CIH AG) launched its activities in 2001 to take a leadership role in developing and managing CEMEX's Research & Development (R&D) initiatives, and to own and deploy the resulting Intellectual Property (IP) portfolio across its business units and functions worldwide. It is strategically located in Switzerland, one of the world's most innovative countries."
www.cemex.com/locations/switzerland
Collaborators
Almudena Cadalso, Visual Artist. Lanzarote, Spain.
Dani Burés, Graphic Artist. Madrid, Spain.
Carlos Comendador, Architect. Madrid, Spain.

Trey Killeen, Pixels-NFT Coordinator. San Diego, United States.
 Katie Sciortino Peak, Writer-Artist, US-Spain.
Ritual
Tatiana Barrero, Performance Artist. Bogotá, Colombia. Marie-Anne Favreau, Performance Artist. Paris, France.
 William Kingswood, Composer. London, UK.
"PERSONAL STRUCTURES" - Curators
About European Cultural Centre and Exhibition "PERSONAL STRUCTURES"
The European Cultural Centre is a Dutch controlled Non-Profit Foundation based in Amsterdam, The Netherlands, with an office in Venice, Italy. The European Cultural Centre in Venice is the curator of the Exhibition "PERSONAL STRUCTURES" that will be hosted at Palazzo Bembo, Palazzo Mora and Giardini della Marinaressa in Venice, coincident with Biennale Arte 2022. 



www.ecc-italy.eu
---