Martin Duplantier Architectes: The landscape is baroque. Unique. Breathtaking. It is world heritage site. The mountains rise like nimble fingers towards the sky. The vegetation, against all odds, has managed to grow on this invincible rock. Faced with this topographical spectacle, all are left astounded.
The competition involved a new route on the western part of Zhiangjiajie, including bridges and pavilions.
The concept developed is that of illusionist development. Stealthy. Geometric. Contrasting with a complex landscape, the footbridges are of pure geometric shapes, which seem to have been placed delicately on the carved relief of the site.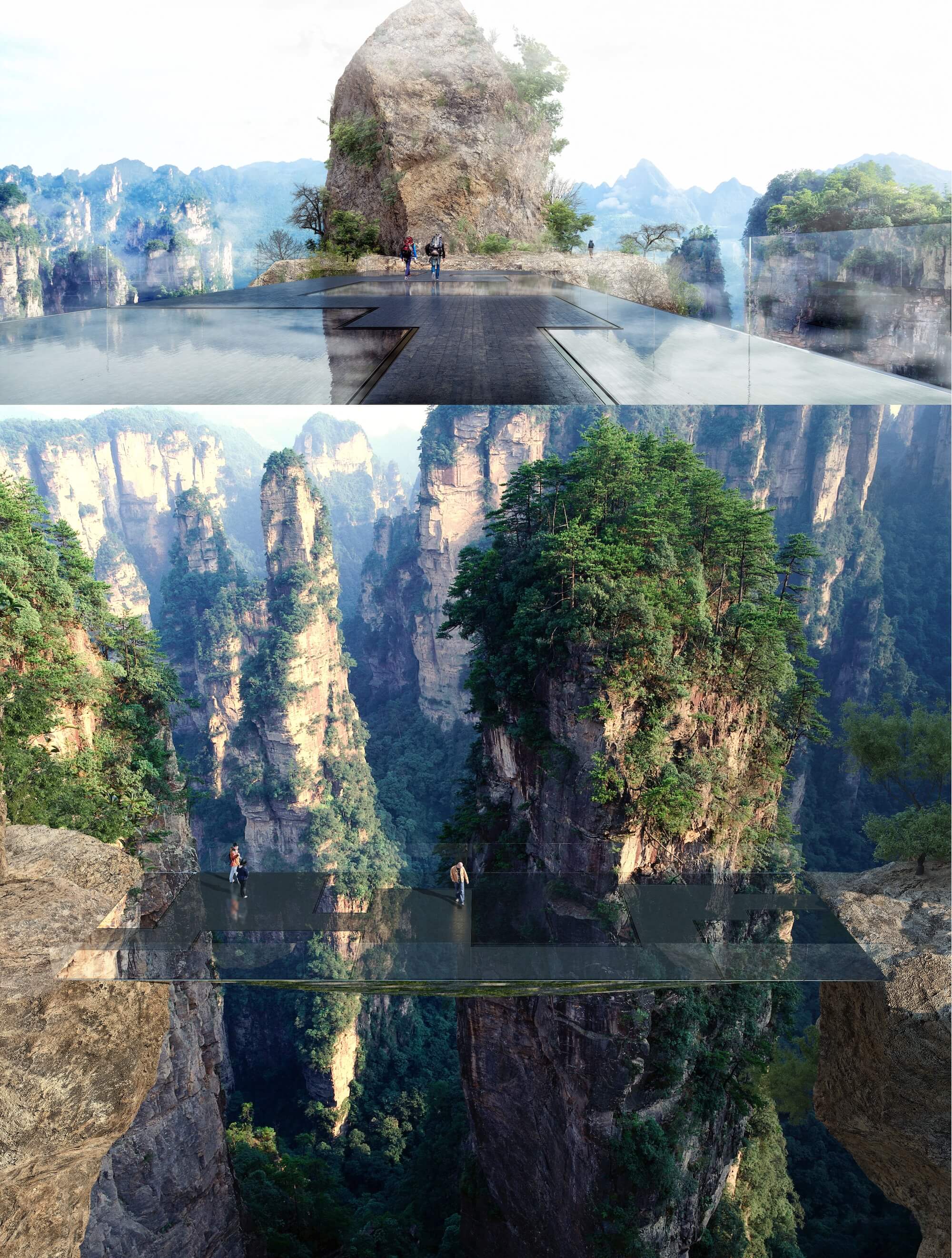 image © Martin Duplantier Architectes
They are the opportunity, each in its own respect, to create a physical relationship with this rock face. The illusion of a mirror for the one, the fear of the void for the next, and lastly the setting in abyss for the final. The common material is reflective stainless steel for structure and black stone for flooring. The latter reflects the landscape when covered with water.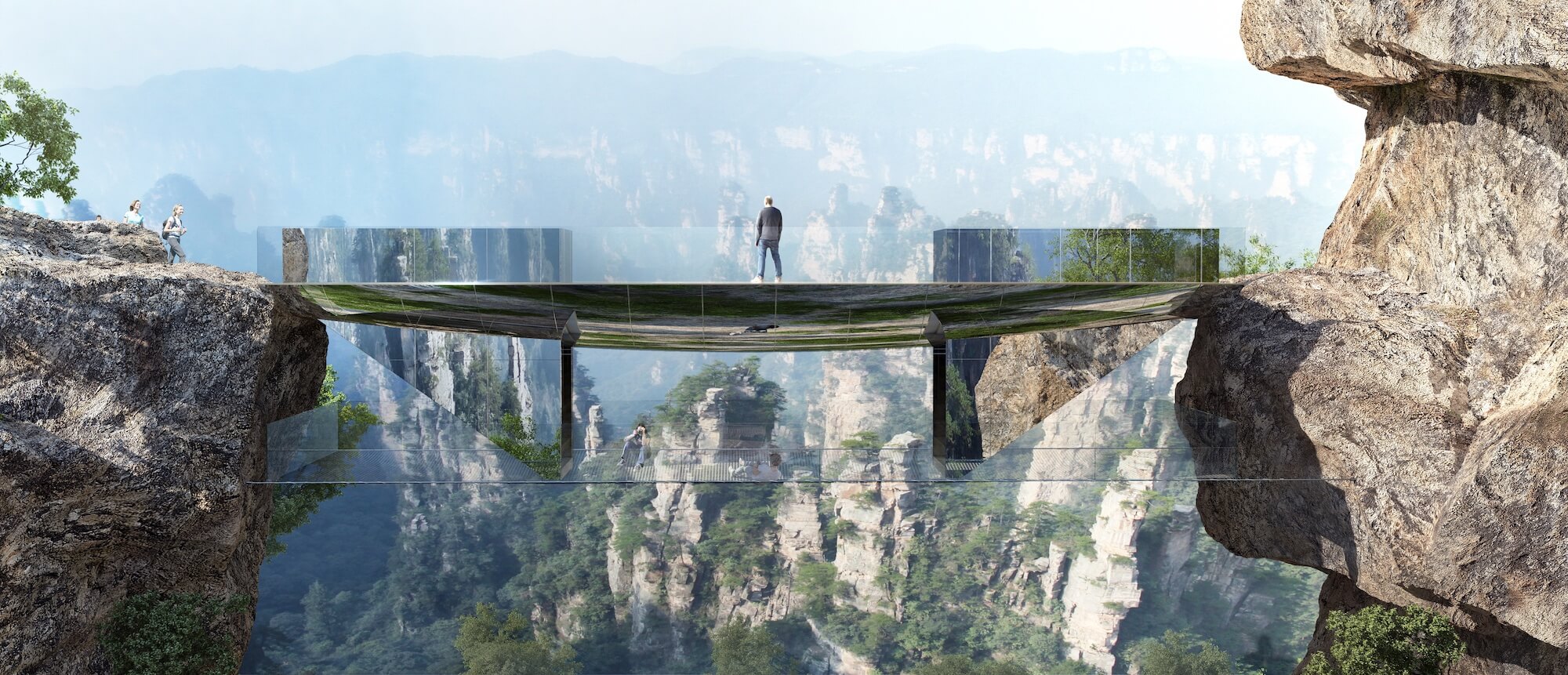 image © Martin Duplantier Architectes
Consisting of the same materials, the pavilions develop on three separate levels. Upstairs, a terrace-panorama directly accessible from the path. Underneath, a café and its dedicated spaces. And further below, a royal guesthouse to offer a unique space of contemplation in the heart of the national park. The crowds of the day having disappeared, the lucky tenants will be able to enjoy the spectacle in perfect solitude.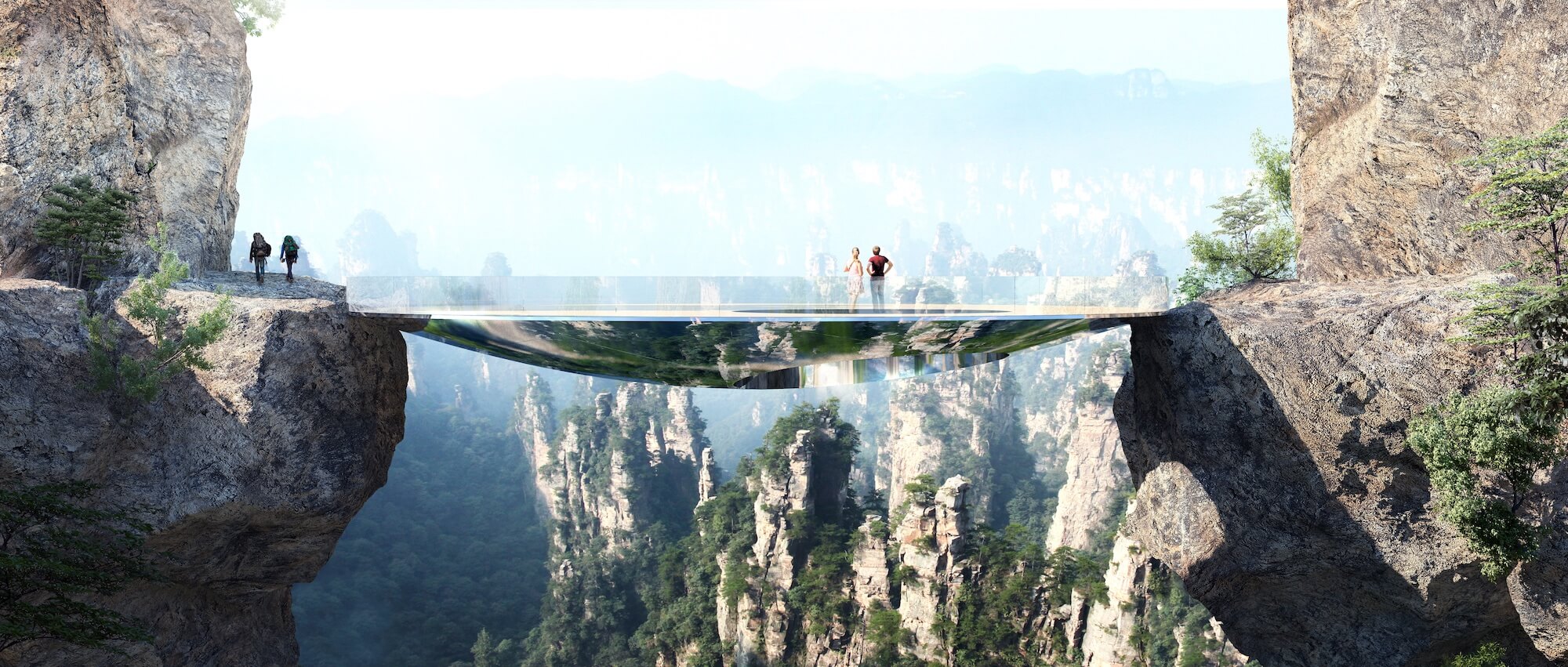 image © Martin Duplantier Architectes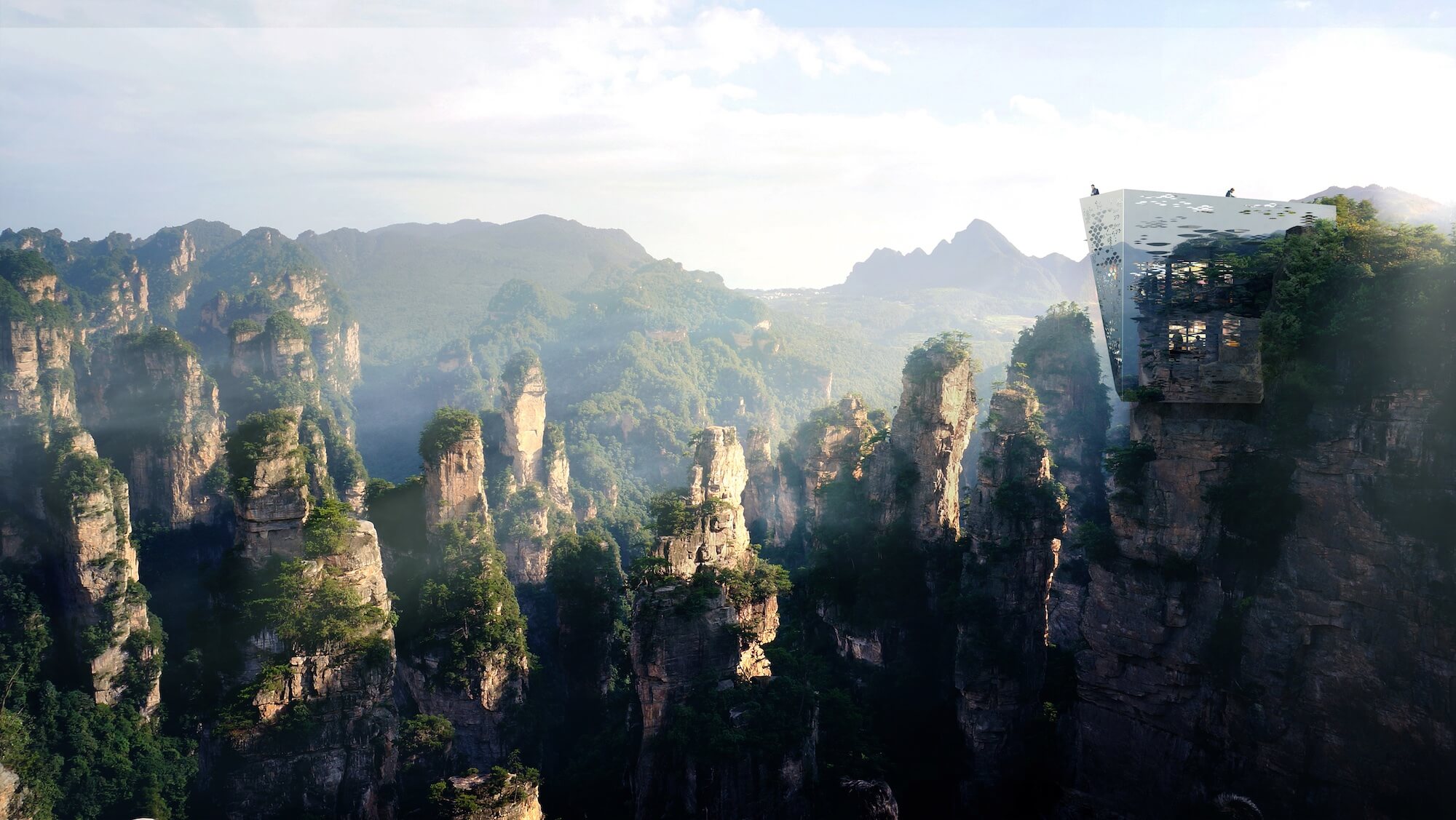 image © Martin Duplantier Architectes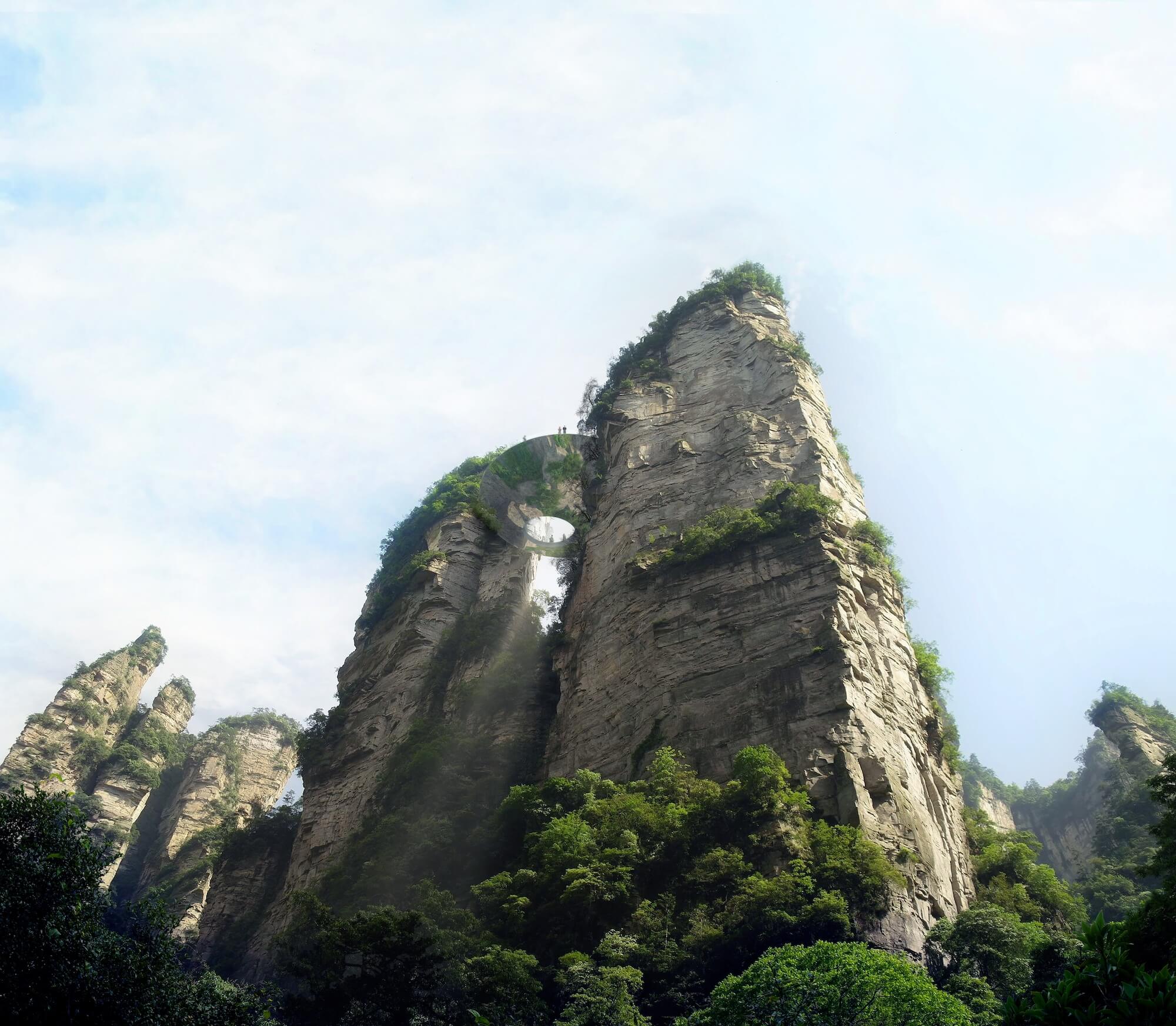 image © Martin Duplantier Architectes
About Martin Duplantier Architectes
Born in 1979 in Bayonne, of Franco-Belgian roots, Martin Duplantier grew up between Bordeaux and the United States. He earned his four-year degree from the HEC in 2003 and his Masters from the Ecole Nationale Supérieure d'Architecture de Paris – Malaquais in 2007.
Engaged in a global vision of architecture and sustainability, he draws from his experiences in China, Mexico, and Niger, where he developed, alongside the Akaras Association, a method of earthen construction that uses no wood. He began his career in world-renowned architecture firms, namely with an internship at Gerkan, Marg und Partners Architekten in Berlin. He was then an employee at David Chipperfield Architects in London, where he was part of the Concept Team in charge of international competitions.
His international collaboration, his dual specialization, and the multipolar foundation of his office (between Paris and Bordeaux) form a singular approach to a project in which production and creation, issues of urbanity and the challenges that society faces are put into dialogue with one another, while forming a calling at a larger scale.
His practice devotes its efforts largely to research and experimentation that are framed by a desire to find feasible responses to architectural problems.
---