As the world battles to meet Paris 15 goals, 'green' has become the buzzword in the world of commercial design and architecture. Biophilic design has been dominating interiors over the past decade and it will continue to do so, as scientific studies point to the healing effect of nature. Sustainability is just one result of the seismic shift that was the year 2020. Human beings are not only seeking a closer connection with nature, but they are also seeking to de-stress, feel more at home in commercial settings, and make meaningful connections with co-workers and clients. These changing values and lifestyles mean that the following trends are now holding sway.
Textural Variations
One fundamental tenet of nature-inspired design is richness and variety of texture. Today's commercial exteriors are seamlessly blending materials like brick, stone, and concrete, while interiors are being graced with fabric-effect wallpaper, chevron and herringbone-patterned floors, natural stone fixtures, cooper detailing, and iridescent features on walls. These are just a few ways that richness and warmth are being added to commercial interiors through texture.
Greener Roofing
Global roofing sales are predicted to hit $191.0 billion by 2027. Extreme weather events such as the heat wave experienced by much of the US this summer, have led building managers to find new ways to reduce energy costs via roofing. They are asking their roofer to utilize green roofs, recycled rubber, colored corrugated roofing, white membranes, and other cost-effective materials that can help reduce HVAC costs as well. Green roofs complement interior biophilic elements to perfection, providing homes with natural beauty while moderating the effect of heat and purifying the air. They also reduce the amount of rainwater runoff.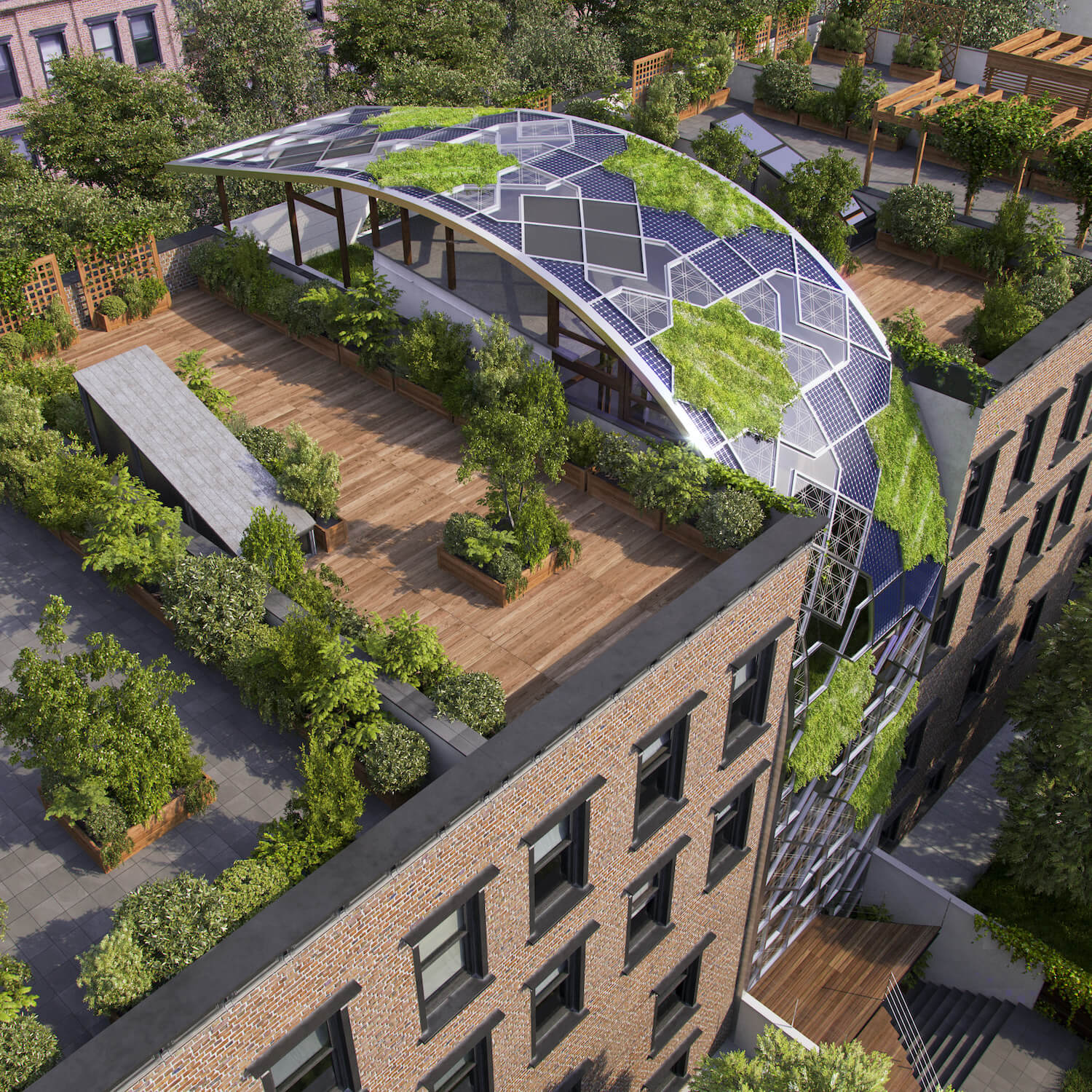 Green Castle Eco-House in Harlem, New York City by Luis De Garrido
Multipurpose Interior Layouts
The events of the past two years have shown that businesses need to be flexible in accordance with client and employee needs. Modern commercial spaces now have multi-functional spaces with modular partitions that can be arranged to accommodate small client meetings or whole-company events. Furniture is also multi-functional, with design-loving businesses opting for features like dual-purpose tables (which also act like chairs or benches), wall-mounted desks that can be folded back against the wall, and hut-shaped structures that serve as individual nooks where employees can work or de-stress.
Boosting Health
The sedentary lifestyle is associated with obesity, Type 2 diabetes, and heart disease. Designers are revamping offices to motivate staff to get active. Strategies include creating attractive, artistic, colorful staircases; outdoor, nature-filled chill-out spaces for staff to relax and connect; ergonomically adjustable standing desks, and active chairs (which promote maintained movement while staff members are seated). Larger offices are installing gyms and spaces for yoga and meditation.
Sustainability, health, and comfort are dominating the commercial design and architecture scenes. Textural variations and biophilic elements are blurring the line between indoor and outdoor living. Multifunctional spaces and healthful spaces, meanwhile, are transforming offices into places where staff can connect as well as achieve their professional goals.
---