Fabric adds interest and mood to a room. Layering fabric textures is a basic decorating technique that should be used in all rooms. You can create plain, relaxed, and very welcoming spaces by mixing your fabrics and adding some sheer fabric, a little faux fur fabric, or a piece of quilted fabric.
How Can You Use Fabric To Decorate Your Home?
Even when using commercially available fabrics, the creative bug will bite and make you want to decorate even more. Depending on the impact you want to achieve, the techniques available are nearly endless. Some embellishments, such as painting or collecting, are permanent, while others, such as needlework and applique, can be removed and replaced for a fresh look.
- Choose The Right Material
When selecting a material, factors such as washing, maintenance, and durability must be considered. You should choose a durable, washable material if it is used frequently. You can use more delicate fabrics in places where you won't be in direct contact with the fabric. Textured fabrics often add depth to space.
If you have a family member who suffers from asthma or allergies, you should choose natural fabrics such as cotton. Cotton does not retain as much dust like other materials.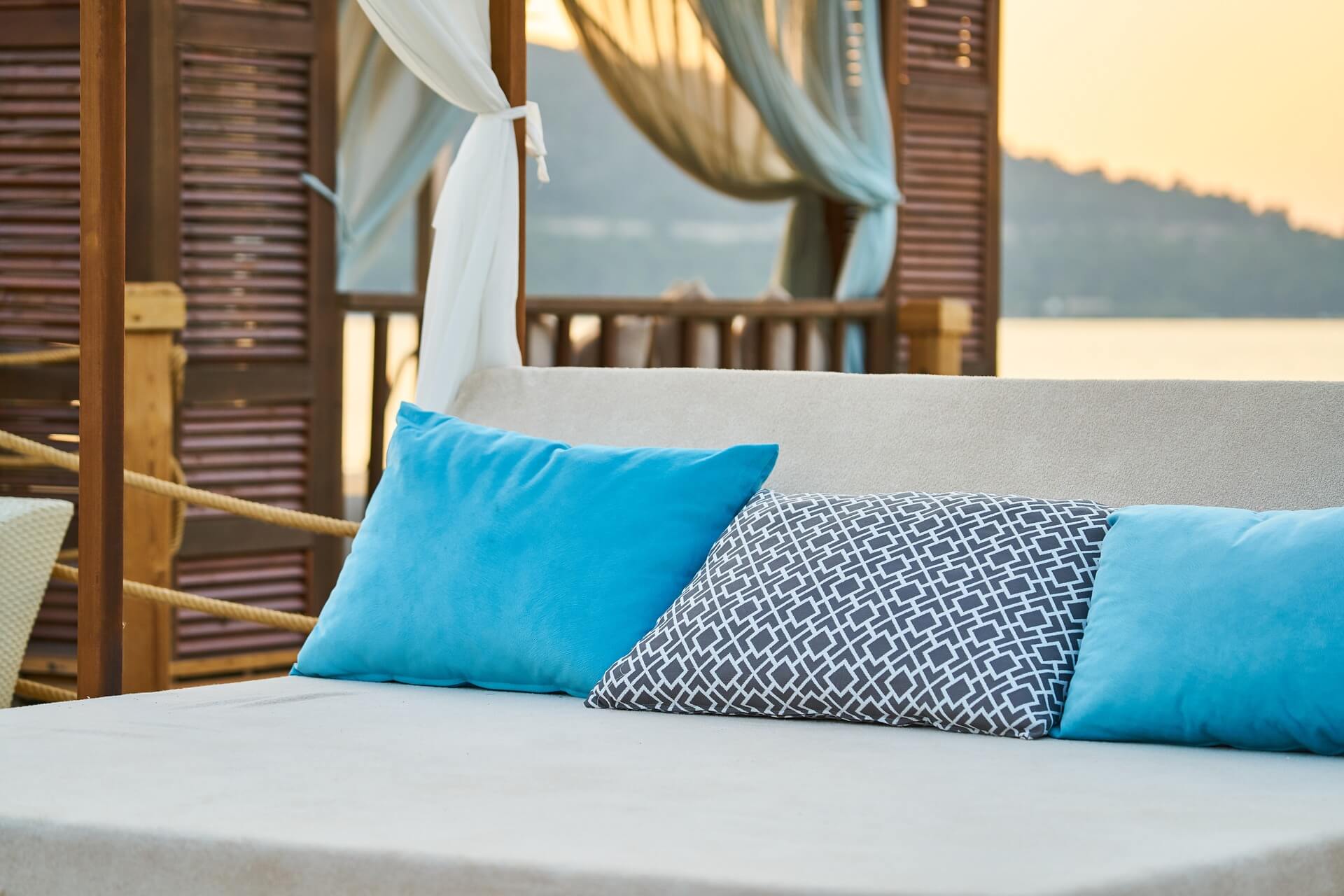 image © Engin Akyurt
- Good Color Combination
Here's a no-fail guide to using fabrics to add patterns to your home. Use a small-medium scale pattern with solids, stripes, and a small-medium scale pattern. Allow at least one color to be shared between the three fabrics. Finally, use the 60/30/10 rule to scatter the pattern throughout the room. That is, you can use your main fabric in 60% of the room, your second fabric in 30%, and your third fabric in 10% of the room.
- Fashion a Contemporary Canopy
In a soft and relaxing bedroom, transport yourself to another world. The addition of a custom-made canopy to a tremendous four-post bed completes the look. The custom fabric designs should be perfectly fit for the bed, with the scalloped edge mimicking the upholstered headboard curve—dark linens and a timber bed frame contrast with a tan canopy.
You can always try to make your little outdoor cover and canopy with extra fabric bits. For more whimsical and worldly dreams, this is a fantastic idea. It's intimate and inviting, ideal for those in need of a reading nook or a place to eat lunch in the afternoon.
- Wrap The Furniture
Use grasscloth or linen-wrapped furniture to dress up your home. This adds texture to space and elevates a design by blending other materials like wood, lacquer, and stone. Most wrapped items have a stain-prevention treatment on them. You can also opt for a piece with a lacquer top, which means you won't have to worry about spills. Grasscloth isn't restricted to a single style or area.
- Cover Every Inch Of The Wall
When all you see is a blank wall, decorating your house wall with fabric can be difficult. Choose your favorite fabric color to create an adorable ruffled wall decoration for the wall above your bed or any other wall in your house. Decorating the wall is a sweet and easy way to bring some style to your home.
Begin by pre-cutting all of the panels and working from one side of the wall to the other—pleat and staple cloth along the wall, starting at the upper left edge. Repeat the process along the bottom edge once the top edge is completed. Repeat until the whole wall is covered with cotton.
- Add a Pop of Color To The Windows
A curtain should be placed in front of every window in your house. Curtains provide insulation and privacy. They can be a simple but effective way to define a space. Depending on the type and how they're hung, they can make a room appear more extensive and diffuse natural light.
Check the dimensions and overall placement of windows when deciding between your favorite living room curtain concepts. The primary color in the scheme should be reflected in the curtains. This makes the room seem more significant and more relaxed. Your curtains' cut and style have a significant influence, and you can use pleating, collecting, or folding to emphasize the fabric's design and the tone of your home even more.
Home decor is significant because it has an impact on everything from self-esteem to trust and productivity. Furthermore, adding color, pattern, and charm to your home with fabric is a cost-effective way to do so. You're not only treating yourself, but you're also making an environment in which you can be your best self.


---