If you want to update your interior decor and are looking for something trendy and on-point, we have the right interior design ideas for you! Retro sixties and seventies-inspired decor is making big waves in the interior design world. The best part is that you don't need to remodel the room to pull off this style.
Sprinkling a few colors, vintage pieces, or materials will give you the perfect match. Take a pinch of inspiration from way back times and add colors that are transcending or neutral in their look. And combining vintage retro rugs with bold and bright colors will give a fresh change to a more quiet interior.
Vintage-inspired home decor will give you cravings for implementing it again in your house. Whether it is home design, adding vintage cane furniture, or just using bold wallpaper, all trends tend to repeat themselves as time goes by.
Here are some of the retro home decor trends that are returning and featuring their "boom" in today's society.
Use of Bold Colors
Retro paint colors are slowly coming back and taking the neutral colors away. Although easy pastel shades have been the dominant part of the interior design world in the last couple of years, don't be afraid to go bold.
The colorful elements inspired by the burnt orange and avocado green colors are part of the contemporary decor nowadays. If your current decor is cottage style, the warm tones from the '70s and rich greens will naturally go well with wood and stone. To bring vintage elements into the room, you'll need to add earthy colors and create a relaxing vibe.
Since wallpapers have a significant impact, it's time to add luscious and bold elements to the home decor. You can add jungle themes, bold florals, or botanicals as the focal point. With the big advancements in manufacturing and technology, the vintage elements range has increased in size and quantity.
Repurposed Furniture
You can find another purpose for your old and outdated furniture with a bit of polishing and reframing. Breathe life into the vintage furniture by adding a historic charm to a dresser or a credenza. With a bit of adjustment, you can give a custom look and feel to the entire room. Place and rearrange the couch or sofa, indulge a rug in the retro style, and add bold wallpapers.
Vintage trends are making a huge comeback, but not in the same way as a few decades ago. Today's styles add an entirely different look with soft fabrics and edges featured. The key to keeping the vintage style in a contemporary way is to mix the new with the old. Avoid too many retro elements in one room and a lot of modern ones in another room.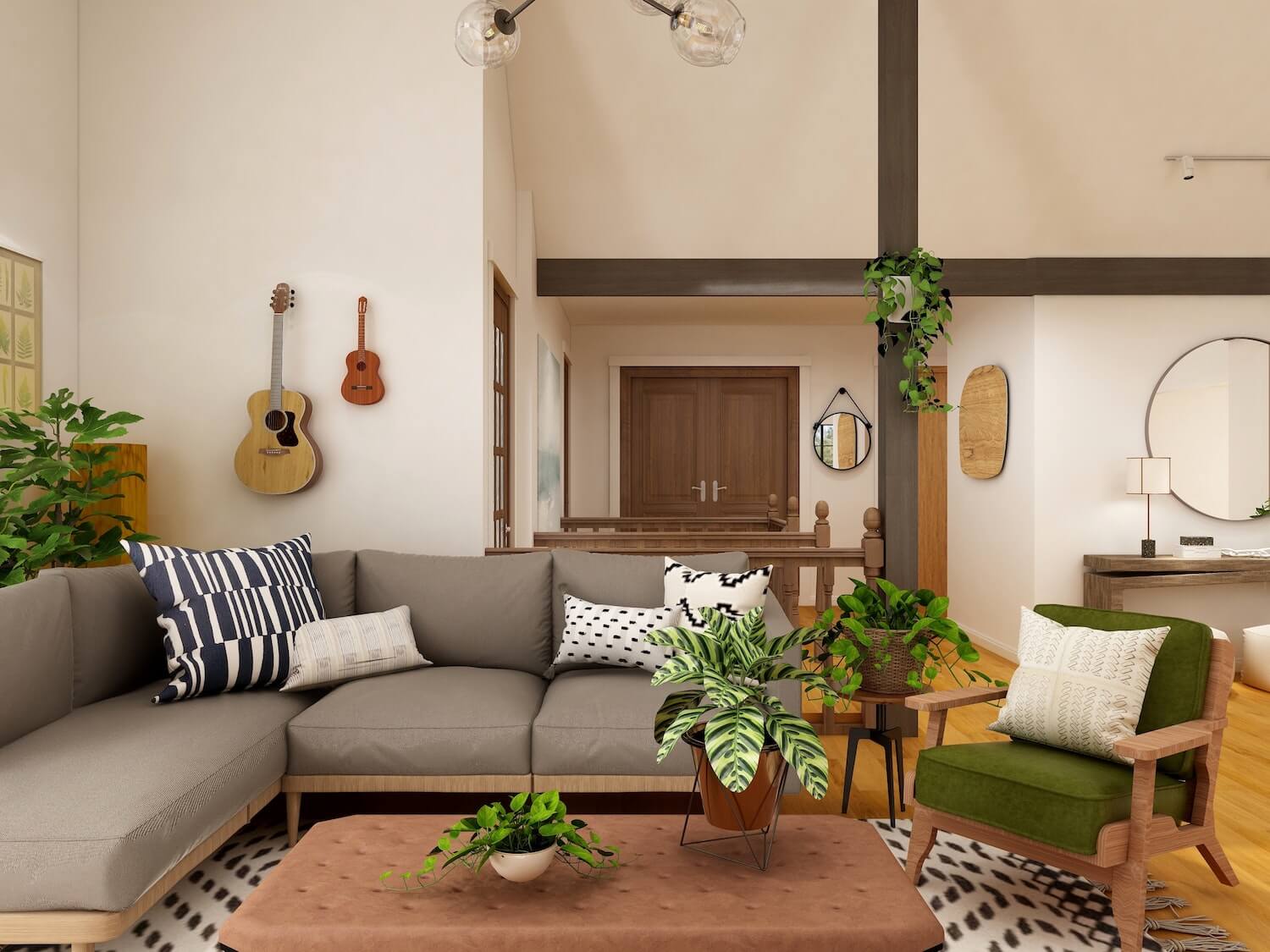 image © Collov Home Design
Implementation of Curvy Shapes
Clean and sharp edges are fading out of style from the modern interior design. Adding curvy furniture shapes takes the look back. The '60s and '70s furniture has more relaxed feels and features like soft edges, and this is one of the main reasons it's coming back.
Rounded furniture complements the angle pieces, and pairing it with a retro lamp, or a geometric rug will complete the entire look. Chairs, couches, and ottomans fall into the curvy shapes department.
Cane Details
Natural materials like fiber and jute came into fashion. Cane details are the next step in implementing your retro style. Artful and refined style comes with a lot of settings like cabinet doors and chairs. You can find a lot of vintage items to include. And many home stores carry canned furniture to bring back the disco-glam styles.
Velvet Furniture
Velvet furniture brings back a different era. It's seen popping up everywhere in its glamorous and contemporary style. Some of the trendy color shades include lighter green and purple. It's the perfect idea to blend in with the decor and is one of the most versatile textures to choose from.
The velvet is durable, comfortable, and soft so that you can add an accent with lampshades, velvet pillows, or stools. Or keep it simple by just incorporating throw blankets on chairs.
Lavender and Sage Retro Decor
Two retro colors are stepping back into the spotlight. The lavender elements fit their way into today's decor and add a feel of versatility and diversity. The color is known for inducing a relaxing and calm feeling while replacing the neutral and gray tones. If it's not incorporated into the textiles or decor, it's an excellent substitute for the ceilings or the color on the walls.
Like lavender, sage green is making its boom into decor styles. It gives a strong presence in a room, and hues of mint, celadon, and olive are having their retro-moment. These tones have a calming effect, so you can throw pillows, blankets, or refurbished antique desks with such colors. It's a bold move!
Create a Retro-Inspired Space
Now you have the best insight into the retro home design trends, the most challenging part will be deciding which room in your home to start with!

For more helpful interior design, home, and living blogs, check out the rest of the content on our site.


---