From time to time, various components of your house could fall apart. Some of these may include essential parts like plumbing, electronics, heating systems, furniture, and the like. Well, the basic assumption, if you're reading this, is that you are not a professional remodeler or repairman. This means that minor repairs in the house could feel overwhelming, if not impossible, however badly you want to fix things.
Unbeknownst to many, however, you may not need to take a course to address minor house fixes. With the right information, tools, and creativity, that leaking faucet or faded wall paint will hardly give you sleepless nights anymore. On this note, here are some tips you could use to fix things around the house on your own.
1. Have a Point of Reference
There are certain repairs that you can figure out without much help. However, there are many instances where you will encounter a problem that you are completely clueless on how to fix. Thankfully, most such issues will have one or two, If not numerous, tutorials online. More often than not, it's not rocket science. You simply have to determine what is broken, research how to repair it, and do the job. With practice, you'll see a pattern, and after a few more attempts, you could become a pro.
2. Determine the Costs
All the same, it pays to use a credible resource that outlines the costs of such repairs in your area. As explained at Cost Shed UK, different home improvement fixes will have different costs depending on whether you hire a professional or do it yourself. If you choose to go the professional way, the overall costs will also vary. So, make sure you pick a reputed expert in the problem at hand. It pays to know what you can do and leave what you cannot to the skilled professionals (discussed lat er).
3. Get the Right Tools
It can be really satisfying to successfully fix some of the problems in your house without having to seek help. However, every handyman, especially specialists, will tell you that getting the correct equipment for the job is the greatest place to start when heading down that path. This may seem self-evident, yet the most significant impediment to fixing things revolves around not having the appropriate handy tools in your possession. If you want to learn how to be handy and fix a few things around the house, you need to invest in the necessary tools. Fortunately, simple house repairs do not necessitate the use of complicated instruments. Visit your local hardware store, explain your situation, and you will be given the appropriate tools.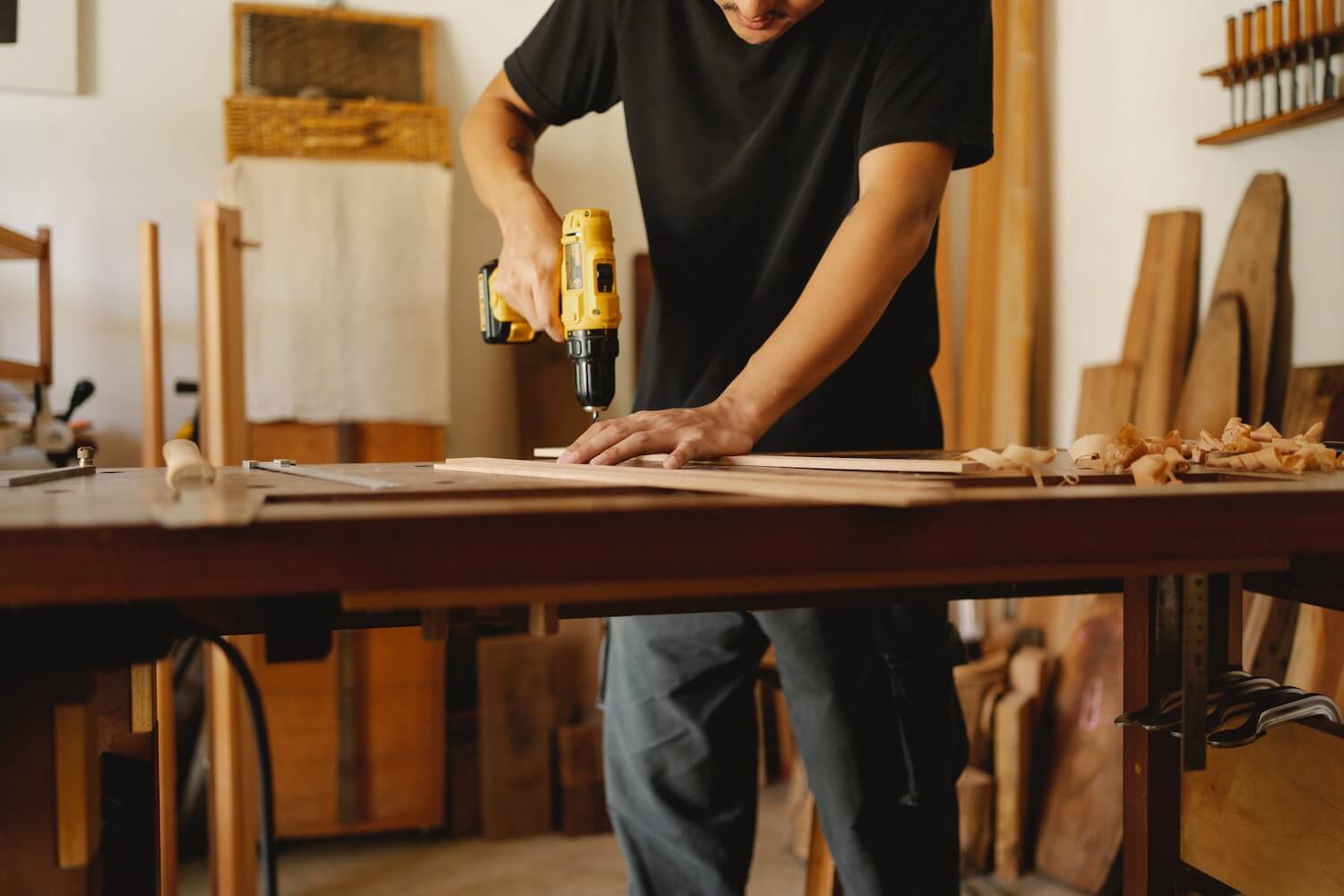 image © Ono Kosuki
4. Start Small
You shouldn't hurry while taking the first steps toward becoming able to mend things around your property. Begin with the simplest and most basic repairs that you are confident in your ability to undertake and perform. Start by tightening loose screws, leaking valves, or any other simple activities that come to mind. Do not attempt to repair electronics or other complex utilities in your home until you have earned the right expertise to do so. It is a good idea to start small and work your way up.
5. Take a Class or Attend Workshops
If you really want to be handy, you can enroll in a class or attend workshops. At hardware stores, you can get free in-person instructions. Some even hold workshops to teach their clients how to use the products they provide. You can learn how to lay tile, patch and paint plaster, and handle other home repairs by taking such classes or workshops. You might even learn how to come up with your own projects that don't involve repairing things. Make the most of your leisure time by attending these classes, and you will be surprised at how useful you become in no time.
6. Know When to Call in the Professionals
You must know where your boundaries are when it comes to repairs, just as you must know where your boundaries are in many other aspects of life. As previously stated, there are several house repairs that you can handle without much assistance. However, some argue that if you're unsure about your ability, it's advisable to hire a professional. It will not be that difficult to do some minor repairs, such as plumbing or painting. Electrical work, on the other hand, should be left to the professionals. The same is true for any additional fixes that you believe are beyond your capabilities.3
DIY repairs and fixes are among the best ways to save money as a homeowner. With the appropriate knowledge, tools, and resources, you can save money from house repairs and have fun while at them. Hopefully, you will find the above few tips inspirational as far as fixing things DIY is concerned.
---