So...you have been living in your humble abode for quite some time now and feel you have got the interior, let's just say, "done to perfection!" However, due to all your focus being aimed indoors, the outdoors, in all honesty, has been totally neglected and in truth, your garden resembles a long-forgotten jungle that has evaded mankind's attention and is simply crying out for a little TLC! If your outdoor space could utter two words, it would scream out "save me!"
Yes, your outdoor space has become a total hindrance and you feel now is the time to transform into one of those garden design experts and turn your outdoor area into something that boasts the wow factor. You have made it your new mission in life to adopt the most innovative design ideas and transform your outdoor space into paradise and showcase to the world your very own perception of "The Garden of Eden." Sounds like Heaven!
Time to Put Your Plan into Action But Where to Begin?
You are now ready to put your outdoor conquest into action and astound the world! There is just one minor issue! You do not have any idea where to start and need some serious help on how to turn that boring old garden into your very own sanctuary. Well…do not fear as the garden guru and founder of Obsessed lawn can give you some useful tips on how to get your lawn back into serious shape and to get the cogs of your mind well and truly turning. Here are some of the best innovative ideas to consider when enhancing your outdoor space!
Create An Ambient Atmosphere By Adding Outdoor Lighting!
A great way to enhance your outdoor space and create an ambient and relaxing atmosphere is by choosing to add a little outdoor lighting. Adding electric bulbs or lanterns will not only give your area a tasteful and inviting vibe but will also provide that extra layer of safety lighting up your space to avoid any accidents from occurring when entertaining guests or hosting a family get-together in the evening. Having good lighting situated within your garden truly will provide your space with that wow factor, making it appear far more welcoming and in all honesty, more attractive!
Bring Your Outdoor Space to Life by Adding a Water Feature!
Adding a water feature to your outdoor space is a sure way to transform that lifeless outdoor space of yours into the sanctuary you desire. The options surrounding water features truly are endless and all are well-known to promote a feeling of calmness, peace, and utter tranquility! The water feature known as the koi pond that is homed to beautiful and vibrant carp is becoming more popular each and every year, as they really do have the power to transform any outdoor space into a more exotic area that boasts paradise!
Add That Touch Of Warmth and Invest in a Fire Pit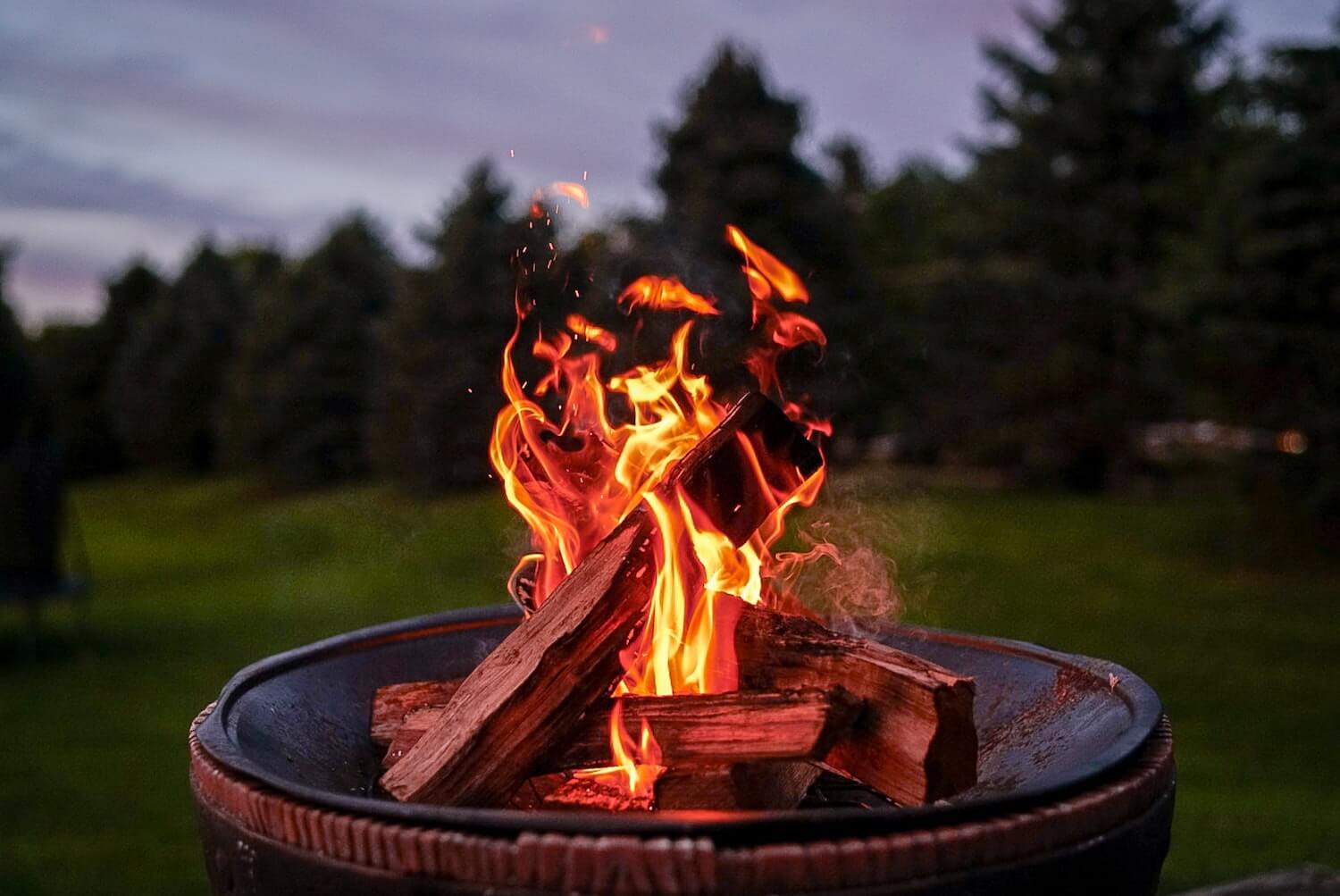 image © R.D. Smith
In recent years fire pits have become extremely popular and it really is no wonder why! Placing a fire pit in your outdoor area truly is one effective way you can transform your boring space into a warmer, far more inviting area. The best thing is, fire pits really are the garden accessory that can be put to good use all year round as you can use it in the summer season when entertaining guests, whilst toasting a few marshmallows. You can also have it accompany you through the winter months to keep you nice and toasty warm whilst sipping a nice cup of cocoa. Be sure to look up any rules and regulations regarding fire pits in your local area first before buying!
Create the Perfect Area to Socialize by Opting For a Built-In Seating Area
Now, I'm guessing one of the major reasons you wish to upgrade your garden area is so you can enjoy socializing outdoors with family and friends! So what better way is there to enhance your outdoor space than applying a built-in seating area where you can all sit comfortably and enjoy a drink or two. Not only will this give you the perfect place to entertain guests but it will also give your garden a tasteful, modern look. So pack those deckchairs away and gift your garden with something far smarter and more contemporary!
Add a Splash Of Color to Make Your Outdoor Space More Vibrant!
A splash of color goes a long way when it comes to creating a garden that stands out and bursts with vibrancy. A great way to add a little color to your outdoor area is by investing in a few bright and bold accessories. Items such as bright colored plant pots, bold cushions, beautiful flowers, and pieces that can make a statement like patterned hammocks really can bring your space to life and give you the show-stopping result you desire.
So, folks, it's simple! To enhance your outdoor space simply add a few outdoor lights for a relaxing effect, invest in a fire pit for that extra warmth, opt for a water feature to promote that tranquil feeling, create that perfect social area with built-in seating and be sure to throw a few colors into the mix to bring it all to life. By doing so you will soon be on your way to creating the garden you have been longing for that will soon result in you owning your own little plot of paradise!
---