When you live in urban areas, gardens are few and far between, which means you need to get a little creative. If your home has the structural capability and you have the correct permissions, you can transform your rooftop or terrace into a peaceful retreat. However, before you dive in and start buying furniture, you need to assess the situation - continue reading to find out more.
Know the Rules
Depending on the area you live in, you will need to explore the local ordinance rules, which will outline the parameters your garden must meet. As well as this, you should assess your homeowner association or landlord's stance on rooftop gardens. Before you get too excited, you may be forbidden to install a rooftop garden or certain jobs will need carrying out first.
Involve Professionals
Once you've figured out whether you're allowed to build your rooftop or terrace garden, you need to check whether your property can have a rooftop garden installed. By this, we mean that your property may not cope with stresses bought on by the garden including extra weight. Therefore, you will need to hire a structural engineer to assess the property. Once you've got the all-clear, it's time to start designing your rooftop garden - the following sections will help with this.
Consider Weight
Even though you've been given the green light for your garden project, you still need to factor in the weight of your design. Therefore, instead of using heavy materials like metal, choose lightweight alternatives like fibreglass and PVC. When it comes to potting plants, use lightweight soil instead of traditional garden soil. Further, when installing outdoor seating, you will need to place them correctly and ensure they're lightweight.
Factor in the Wind
Your garden is going to be much higher up than usual, and things are going to get windy. Therefore, you will need to install a windbreak - we suggest using a trellis for this job. When designing a rooftop or terrace garden, the idea is to disperse the wind rather than stop it completely. Depending on the type of plant you're growing, the wind is beneficial because it promotes healthy CO2 absorption and encourages roots to grow strong.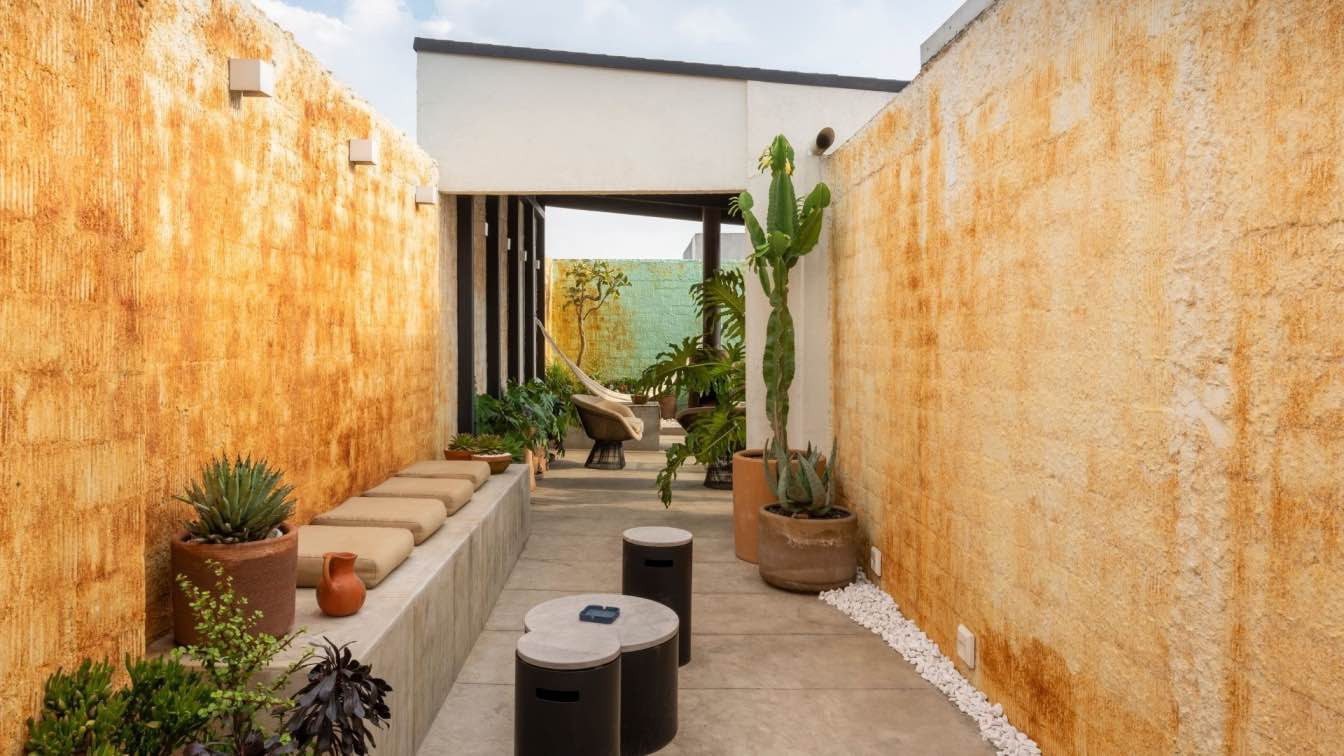 Roma Rooftop, Mexico City by Marc Pascal ODA
Rooftop Watering
Unless you've got a convenient water hose point right next to the garden door, you're going to need to consider water storage options - we're assuming you won't fancy lugging gallons of water up the stairs in buckets. There are a couple of options to choose from including catching rainwater in a butt or installing an automatic watering system. However, if you decide on collecting rainwater, you will need to consider the weight of water when placing the butt.
The Sun's Direction
If you're looking to drop plants on your rooftop terrace, you will need to factor in the sun's location when designing your garden. Plants need the sun for photosynthesis, which converts light into a source of nutrition. When plants are deprived of sunlight, they begin to look tired and will likely die. Therefore, if your rooftop or terrace is in constant shade, you should consider these plants that don't need sunlight.
Install Storage Facilities
You will likely need to carry out continuous work on your rooftop garden, which means you'll need storage close by. Therefore, you should figure out a way of putting up lightweight storage. Consider using a wooden pallet flipped on its side and affixed to the wall. To make the pallet look nicer, you can sand it down and treat the wood, which makes it less of an eye sore.
Throw In Some Ambiance
Unless you've already got lights on your roof, it's going to get dark quickly. Therefore, you should consider creating a calming ambience by bringing in a series of fairy lights. We suggest using solar-powered lights because then you won't need to worry about having them plugged in. If you'd rather DIY lights, string up large LED bulbs from a cable and integrate them with paper lanterns.
The Colour Scheme
There's nothing more relaxing than walking out onto a rooftop garden with a flowing colour scheme. If you've got a small garden, you should use bright colours to make it appear larger. Alternatively, if you've got too much space, dark colours will bring in the borders and make it feel more manageable. If you can lay down some grass on your rooftop garden, this will have an instant calming effect and will make for a great backdrop, which you can contrast with blue, red, and yellow.
Creating a rooftop or terrace garden is a great way to enjoy an outdoor area in the city. Before you begin buying furniture and growing plants, you need to have the correct permissions and the all-clear from a structural engineer - you don't want to be falling through your ceiling.
---