Are you at a crossroads on how to design your living area? While interior design trends come and go, some aesthetics will never go out of style. The laid-back luxury style of design is one of them, with its eminently stylish, cosy, and sophisticated appearance.
Undoubtedly, our interests and preferences differ from one another. While some people like a home where the flash and glamour are on full display, some people prefer a more relaxed appearance without sacrificing luxury. If you fall into the latter category, you're certainly well aware of the design challenges involved in creating an interior space that appears elegant and fashionable without coming across as overly formal. Be it by incorporating different types of hardwood into your living space or by adorning your interior surfaces with sculptural elements and artworks to add colour and grandeur, here are things you can do to create a luxurious yet laid-back interior.
1. Begin With A Basic Foundation
While you may be eager to decorate your interior with art pieces you have collected over the years, an overabundance of these objects in your living space could disrupt the laid-back, luxurious aesthetic you aim to achieve. However, laying the foundation of your interior style with a lovely, uncomplicated backdrop, which would connect with the spectrum of natural materials and colours you'd want to include later, will prevent the area from seeming cluttered and tacky.
2. Select High-Quality Materials
Although luxury is popularly associated with high prices, it is also synonymous with high quality. Using high-end, timeless materials like marble worktops or hardwood flooring can successfully portray casual luxury. Choosing sturdy, high-quality materials doesn't have to be expensive. When selecting staple pieces, we recommend paying close attention to the small details to make sure they'll last. For example, consider the material of your couch: is it velvet or chenille? You can easily get the luxurious effect for less money by using a more fine-looking texture.
3. Opt For Neutral And Muted Tones
Your chosen colour scheme is crucial in creating a relaxed, luxurious look. Interior designers frequently choose classic neutral colours and add a few elements of colour and texture to give the room a little energy. Pick earthy hues such as mocha brown, yellow ochre, and moss green to subtly ground your room.
4. Consider Colour-Drenching Your Living Space
Be daring with your paintbrush and paint your living room a lush, deep shade. A straightforward yet chic finishing touch for the living room is to paint the baseboards and window frames to echo the colour of the walls. This not only creates a sophisticated, monochrome style, but it is also a simple technique to give the illusion of larger walls, making the area as a whole seem roomier.
5. Illuminate The Room
We frequently undervalue the significance of lighting when it comes to creating a space that radiates a relaxed luxury vibe. It's crucial to select the ideal combination of mirrors, light fixtures, and natural light because lighting can make or break a room's overall atmosphere. You can also invest in an eye-catching light chandelier. The subtle illumination that the beautiful centrepiece emits will help to define the living room and distinguish each part of the house, resulting in a pleasant living environment.
6. Layer Organic Materials
Layering natural fabrics, carpets, and furnishings may give a space a comfortable yet classy feel by adding dimension, depth, and visual appeal. Combine stunning natural woods with rough-hewn baskets, supple leather, and plush throws to create an ambience of casual luxury. Add unconventional textile accents like suede, faux fur, and cashmere wool. Include interesting wood species and metals in the mix. Strong, linear parts should be in harmony with curved, nonlinear pieces.
7. Integrate Traditional And Modern Aesthetics
Spaces with a laid-back luxury vibe frequently incorporate some modern elements with a traditional aesthetic. Traditional craftsmanship will always be in style. However, don't be afraid to contrast it with contemporary furniture that has clean lines to give the space a special mix of old and new. Also, consider adding elegant pieces of classical furniture. These recognizable forms have a timeless warmth about them that instantly makes a space feel cosy.
8. Indulge In A Chaise Lounge
The chaise lounge, which seamlessly combines a chair with a footstool, was first developed to allow French nobility to relax without going to their bedrooms. A chaise lounge, an enduring icon of luxury, provides a new degree of elegance to a room while also serving as the ideal place to recline because of its generous sofa depth. Although it may be an antique design, this sofa style is equally popular in contemporary homes.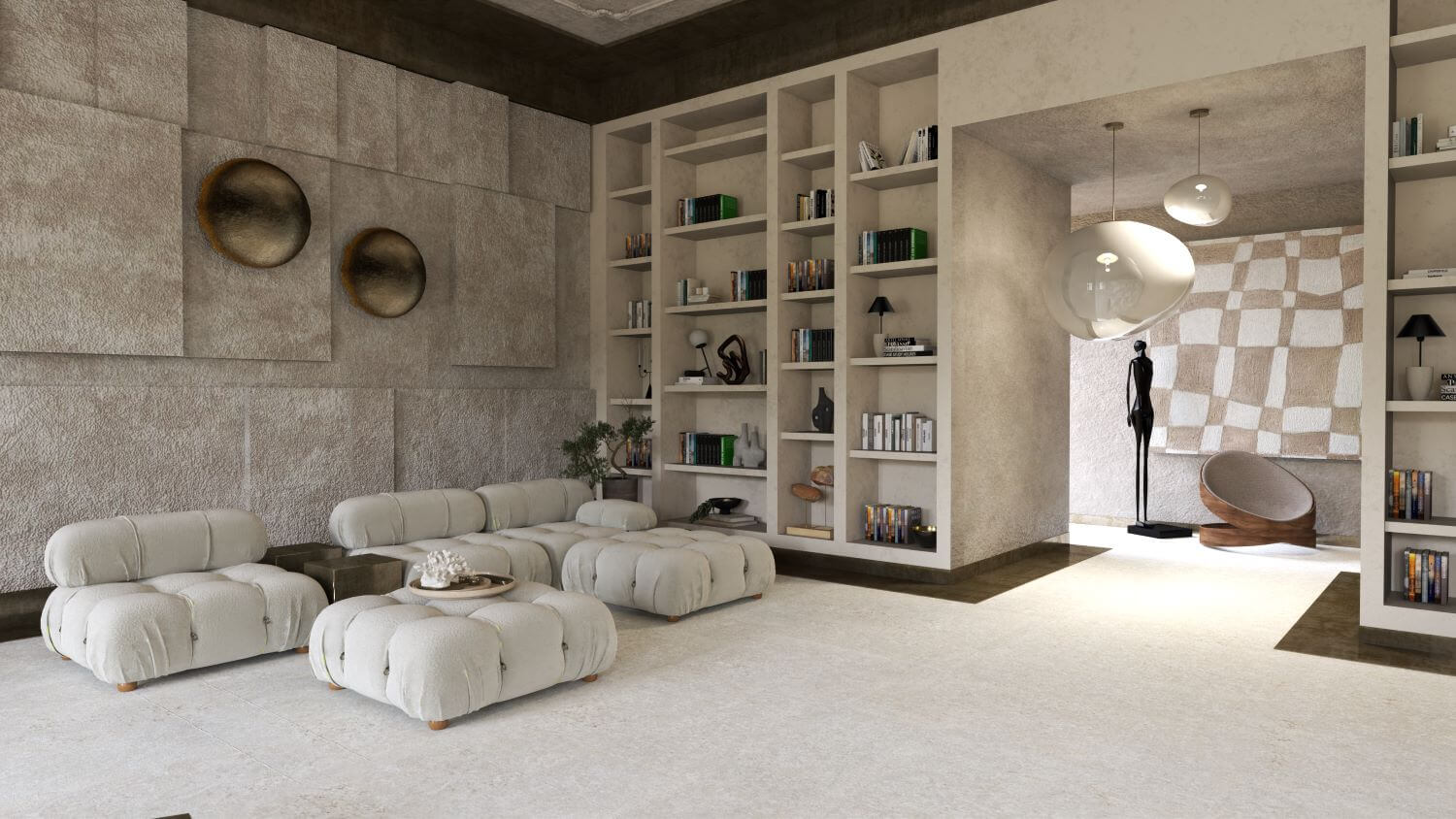 Maison Voltaire, Paris, France by Therapinterior Architecture & Interior Design
Conclusion
Several easy modifications can be made to make a place feel more luxurious, and by implementing the tips given in this article, the luxurious yet laid-back interior you desire can be achieved. However, keep in mind that a luxurious interior is a place that improves your mood every time you enter. So feel free to reflect facets of your personality in your living space.
---