One of the smartest ways an entrepreneur starting an architectural firm can display their unique creativity and communicate their expertise to clients is to choose a unique and exciting brand name.
It doesn't matter if your business offers architectural rendering and VR services like Enscape or a design studio like Skylab Architecture; getting a name that embraces your business's personality and architectural style would easily make your brand memorable and create a compelling first impression on clients.
And today, we'll show you how to get a business name that embodies your unique style and brand identity.
Here is How to Design an Elegant Name That Communicates Your Architectural Style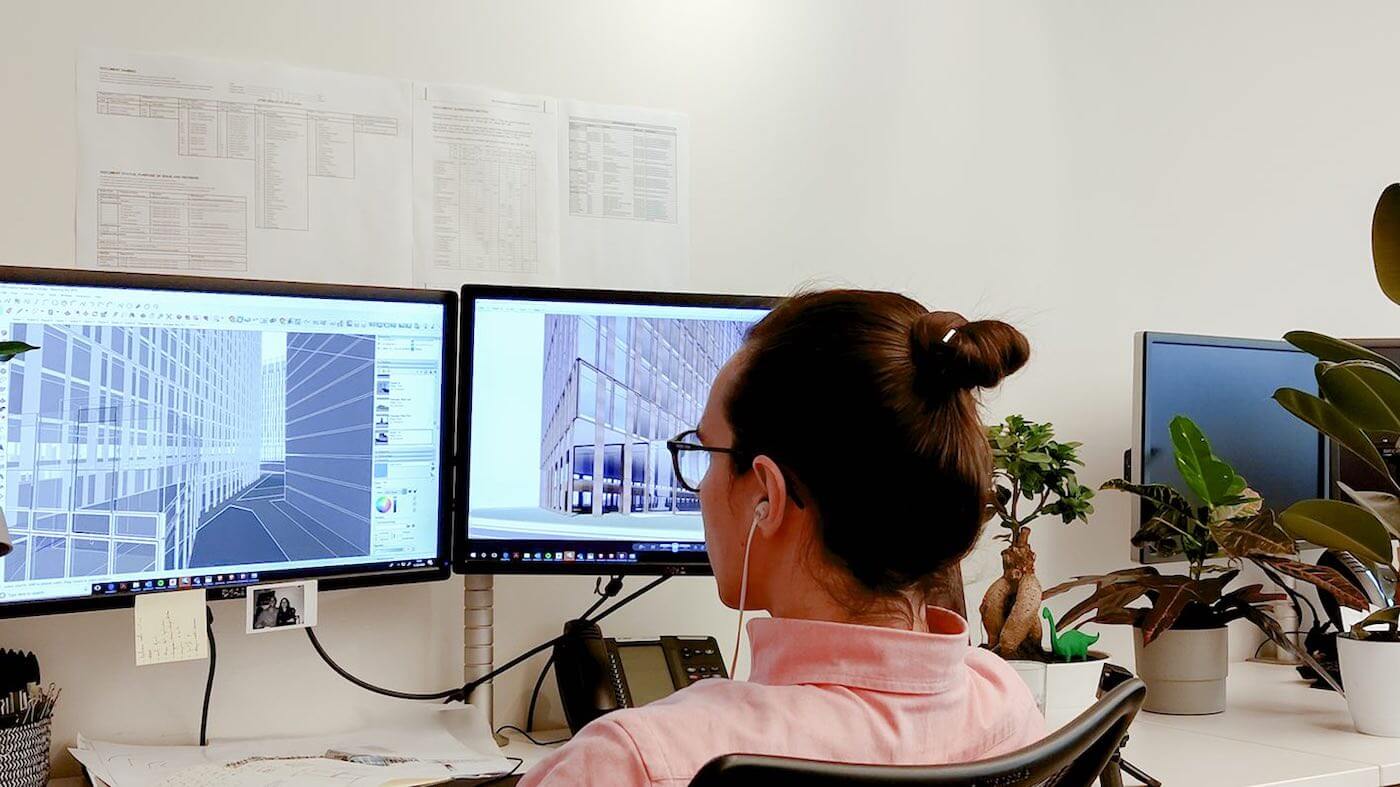 10 days as a young architect at a top UK design firm - Lucas Arellano at Sheppard Robson
1. Put Your Architectural Brand Front and Center
Your name is a key aspect of your brand, and therefore, ensure it's properly researched and developed before starting the naming process because crafting a brand name without understanding your brand identity is a guaranteed path to acquiring a weak name that cannot embody every facet of your brand's identity.
Knowing your brand will help you step beyond your business's products and services and make it easier to influence how you want your firm to be perceived by your target clients. Clients are more likely to contact an architectural company named Ferrovial and Indigo architects than Morphosis or aard architecture.
Although it's not an architectural firm, let's take a quick look at Accenture. If you are already familiar with the company, the picture that immediately comes to mind when you hear its name is its brand, but for those who've never interacted with the brand, the name Accenture easily communicates the brand's modern, luxurious, professional, and superior identity.
Similarly, while compiling information about your architectural business, concentrate on understanding and finetuning what makes your products unique and superior, learning about your customers' preferences and budgets, your competitors' unique offerings, and designing your website and physical location to match your company's ideals and personality.
Doing this will make it easier to know if your brand needs a traditional tone like Perkins Will or a modern and vibrant one like The Purple Ink Studio. And once you know what type of brand you want to establish for your architectural firm, finding the appropriate name will be simple.
2. Begin Brainstorming for Modern or Traditional Brand Names
You've finished the base step, and things are about to become interesting. Prepare a list of criteria for your perfect name. Once your naming criteria are in place, gather a team of friends to brainstorm.
Explain your architectural brand to them, and show them your naming criteria so they can help you brainstorm words that clearly communicate your unique style.
Remember, you don't need to evaluate the ideas you generate as you brainstorm because hasty evaluations can potentially interrupt your team's ability to generate ideas. So, find a pen and paper and start creating unique words or writing down common words that spring to mind.
As you brainstorm, don't narrow your search to only excellent words; instead, write down words that you believe are acceptable as well as those you think aren't. Your focus right now should be quantity over quality.
That said, here are some great tools that can assist you in coming up with exciting business name ideas:
- Dictionary and thesaurus
- Business name generators
- Rhyming words
- Architectural slang
- Visual words, something relating to color.
Don't forget to keep your clients in mind when crafting your brand's name by looking out for names that are short, easy to say, spell, and understand.
At the end of your thinking stage, you should have around 200 potential business names on paper. This provides you with a fair variety of options from which to pick.
Once you're done, you can start examining whether these names you've created match your tone and value proposition, and if they reflect the personality of your architectural brand. Also, be sure to assess how they sound and look in other mediums, such as social media and print. Select, at most, ten names that reflect everything you're looking for in your brand's name.
3. Validate Your Ideal Names
We're confident that among your top ten final options lies the finest name for the company that you have been looking for. But before we can be positive and declare any name the winning name, all ten ideal words must pass a few critical tests.
This is the finishing check to ensure that your most excellent name option is the best. And you can achieve this by:
- Getting Your Client's Feedback: Your name must be acceptable to your target audience, so passing it by them is critical. Simply explain what you're trying to do to a small sample of your friends, family, and target audience, and ask them to pick a name that resonates with them.
- Verifying its Domain Availability: Your domain name is your firm's online real estate, so you must ensure that the '.com' address for your desired name is available.
- Trademark: Finally, you must confirm that you are not choosing a currently trademarked name. Trademarking can stretch anywhere from six to eighteen months, so go ahead and contact a legal professional to guide you through the trademarking process.
Conclusion
Brand names are well known for their ability to impact any company's financial status and increase overall performance. Getting an exciting brand name can affect your architecture firm's success rate. And that's why you must pick a great name that reflects your firm's tone and personality while also appealing to your target demographic.
Grant Polachek is the head of branding for Squadhelp.com, 3X Inc 5000 startup and disruptive naming agency. Squadhelp has reviewed more than 1 million names and curated a collection of the best available names on the web today. We are also the world's leading crowdsource naming platform, supporting clients from early-stage startups to Fortune 500 companies.
---