Many people have a hard time changing the design or theme of their home because either they do not have the time to redecorate, or they just do not know how to decorate. Flooring is one of the most important aspects of an interior design because it is what really brings out the theme and mood of a room. This article discusses different options and important things to know when selecting flooring for home decorating.
Using a Plan or Theme to Decorate Your Home
Having a plan or theme is very important when selecting a floor for home decorating. Since your floors are one of the biggest parts of interior design, having an idea of what you want before starting will help with your decision-making process. Many people choose things without thinking about how they will look when put together. Without a plan, your home may end up looking cluttered with different colors and patterns competing for attention in one room.
Some people have problems coming up with ideas of what to do with their floors. It is important to focus on the furniture you already have or are planning to buy before selecting flooring for home decorating. Make sure your flooring will match the furniture you already have and select colors that blend well together.
There are several different types of floorings to choose from. When coming up with ideas for what kind of floors to decorate with, picture yourself walking into your home or into that room in particular then ask yourself some questions about the people who live there. Is someone in the household handicapped? If so, consider safety when picking out new flooring.
Do the people who live there like to host large family dinners or parties? Or perhaps you plan on having a lot of children running around your home; make sure that the flooring is easy to clean and will stand up to wear and tear.
If you are planning on selling your home in the near future, it is recommended that you do not choose to floor for home decorating that does not allow buyers to envision themselves living in the house. It may be a good idea to hire an interior decorator or designer who can help you come up with ideas and pick out the flooring that will help you sell your house.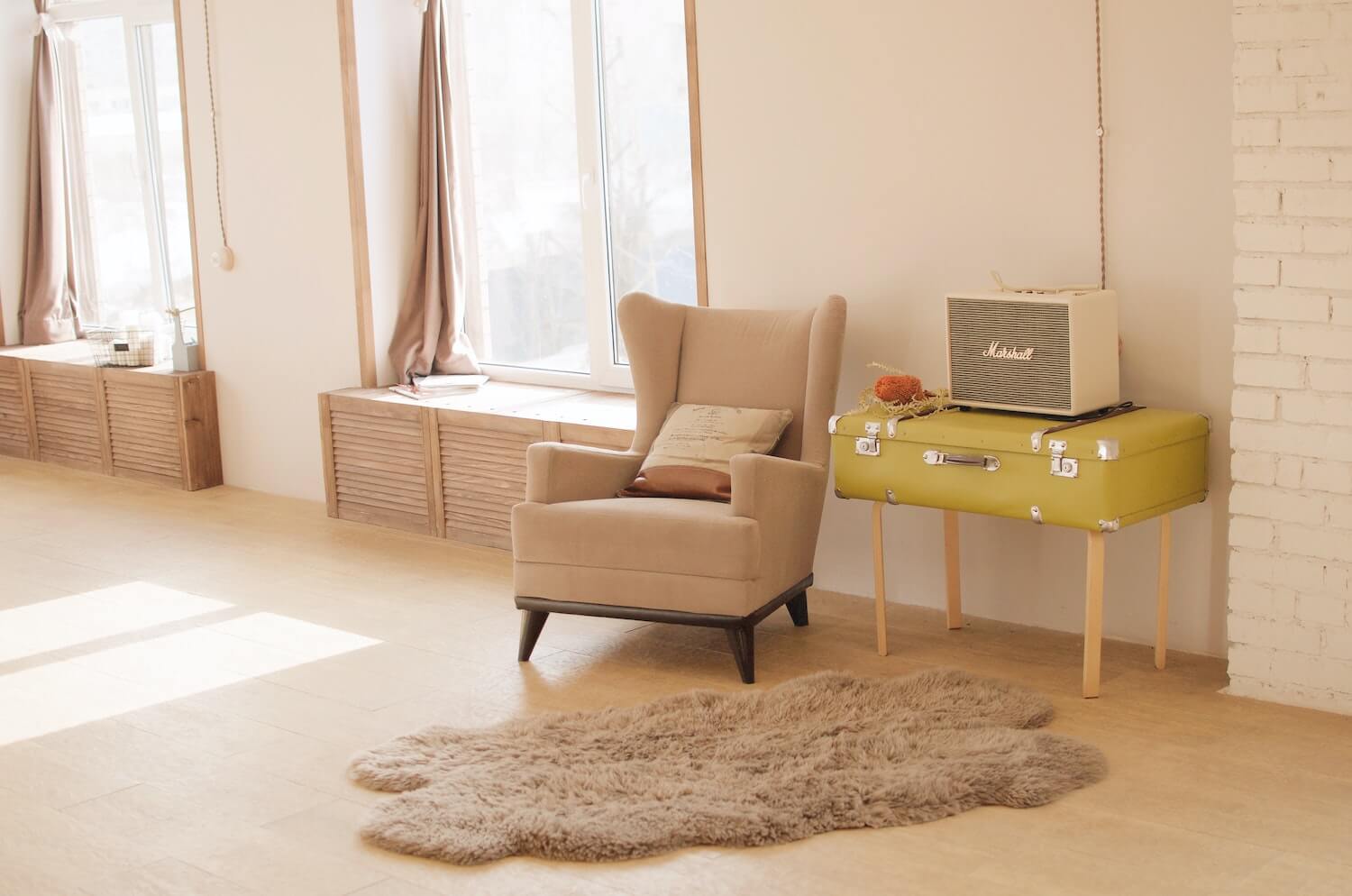 image © Daniil Silantev
Paint Your Floor
Floors can be changed easily and quickly without having to buy new furniture or accessories. You can use paint to give an old floor a new look, and depending on what style of flooring you already have, can change your floors to match your current decor. Floor Regal paint is a great material to use as it can be changed whenever you want without having to rely on someone else to do it for you. You can paint the floor yourself with Floor Regal paint and keep your floors clean easily.
For example, if you currently have wood flooring in your home, but would like to change it to give the room a modern look, paint your wooden floors by adding some contrasting colors to create stripes. Using bright green and yellow for instance will bring out the warm tones of the wood while adding an element of interest. Even if two different colors are used in the same room, the colors will never "clash" and cause an uncomfortable feeling to your guests.
If you already have tiles in your home, painting them is also a good way to create a new look. You can add other materials such as wood or marble chips to make the flooring match the design of any furniture you have in the room.
VINYL TILE
Nowadays, it's very common to see craftsmen place vinyl flooring on the ground of their houses. It is a quick and practical option that does not usually entail special skills or equipment. No matter what kind of design you choose, be careful to proceed with the installation correctly so as not to lose its durability.
There are two types of vinyl tile flooring. The first is the single-layered version, which is more resistant to heavy loads and has a long lifespan. It will not crack or break under pressure, but it may warp over time if exposed to heat. The second option is double-layered, which can bear higher weight loads, but it is more susceptible to warping and breakage. Vinyl tiles can be installed in a variety of ways, from an adhesive base that directly sticks onto the ground to a system that suspends them from one or two bars with screws at mastic or mortar joints.
Using Schemes To Decorate Your Home
Schemes are definitely something you should consider when planning to change the flooring of your home. The color scheme you choose for your room will influence your mood, so it is important to choose wisely. It is recommended that the color schemes found within each room should complement each other and not contrast too much. For example, if you have dark floors, keep the walls light and vice versa.
When choosing new flooring for home decorating, some people choose to use their current furniture as a guide for picking out color schemes. You can also look at paint chips or go online to see what types of colors are trending in your area.
Remember, the first step to a new home is a new floor. If you have a plan of what you want to do with your floors before starting on any other aspects of interior design, it can really help speed up the process and keep your home looking beautiful.
---