One of the exciting aspects of owning a new home is furnishing it to match your style and personality. But, when you're making furniture decisions, it's easy to get overwhelmed with the countless patterns, colors, and materials they come in. To make your search easier, this article has some important pointers to help you choose the best options for your needs and budget. Whether you're looking for durability or simply want a themed look, these helpful tips will ensure you're thrilled with the final aesthetic you create.
Quality Matters the Most
It goes without saying that quality furniture lasts the longest, which is why the quality of materials is so important. Many homeowners looking for a new couch or bedroom set want solid wood construction and not cheap veneer or particle board construction.
Even then, when purchasing wood furnishings, it's important to understand these can still be mass-produced and may need to be of better quality grain. Understanding the difference between the different materials that make up household furniture can help you better determine your budget, the overall look you're trying to achieve, and the prioritization of which to buy first.
Also, only settle for less than what you want. You might be surprised how affordable it is to have a specially-made headboard crafted for you by a skilled carpenter. To get an idea of your options, check out custom Amish furniture in Lake Charles, LA, or handmade cabinets by a dealer locally. They can better educate you on the durability of different wood types and the types of construction features to look for when making your final decisions.
Another tip when choosing quality furniture is to choose smaller-scale statement pieces instead of putting your entire budget into a wildly-patterned sofa set. If your color preferences change down the road, it will be harder to work larger furnishings into the theme.
Decide on a Theme
Weddings and birthday parties aren't the only instances where having a theme picked out ahead of time helps in the planning! Home decor usually goes one of two ways: hodge-podge and themed. If you want something other than a home that looks like an eclectic collection of interests, take time to decide what styles you favor and look for furniture pieces that resemble it. For example, if you like contemporary themes with a hint of a metallic accent, you'll want to look for a couch or table set that is no fuss and plays on straight edges and angles.
Household Needs
Another factor you should define is what each household space needs and how your family will use the furnishings. For example, do you want to spend money on a dining room table if you'll only use it for special occasions and holiday dinners? Investing in a lift-top living room table is a better choice if you mostly eat in your living room while watching television. You will probably prefer comfortable seating with built-in conveniences, like cup holders in your sofa arms.
Take this analytical approach to each room in your new home to help you decide what furniture is necessary to make those spaces comfortable and pleasing.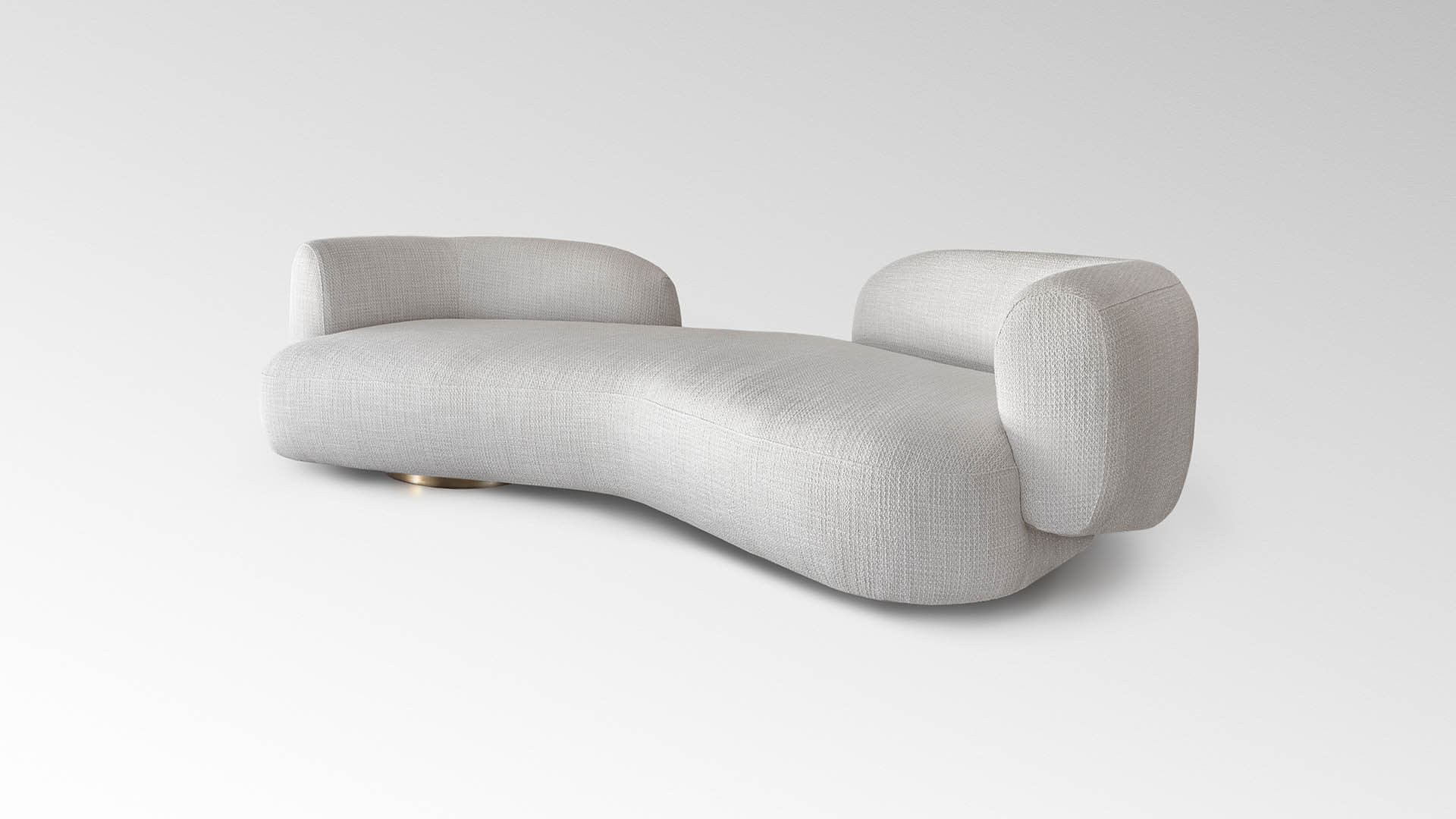 OKHA's latest design, the REVERB Sofa
Textures and Colors
The shape and purpose of your new furniture will carry a lot of weight in your decision-making. First, however, remember the look and feel of your new pieces. Are you going for a cozy look? Consider heavier cotton or wool upholstery options. Want durability? Check out the many options available in a heavy canvas or leather.
The colors and patterns available are equally limitless, so consider long-term relevance. Avoid schemes that become dated easily, like the old watermills velvet printed couches of the late 70s. On the other hand, timeless textures like rough cotton and tweed are equally tough and elegant, making them a popular choice.
Room Layout
Choosing the right furniture for your home can also experience limits, thanks to the individual layout of each room. It's essential to think about how much space you're working with (and how much you'll lose once furnished) when determining what pieces you need. For example, you don't want a king-size bed in a room that has less than 60 square feet of space. There will be no room to walk around, let alone have a dresser or nightstand.
Take time to map out each room and note its measurements, including the doorway, so you don't risk blocking elements like vents, door movement, access to appliances, etc. Generally, interior designers recommend leaving at least 18 inches on each side of a couch to the wall or bedside. This will ensure you have easy access to move around the room as well as keep dirt and dust from collecting in unreachable spots.
The Bottom Line
New furniture is indeed an investment requiring homeowners to research before making any purchases. Spontaneous buying of household furnishings can lead to regret and financial loss. However, by planning ahead what look you're going for, quality expectations, and room layout, your furniture-hunting experience can be enjoyable and produce a style you'll cherish for years to come.
---