More and more people are choosing to build their homes out of shipping containers. While this may seem like a daunting task, with the right tips and advice from experts, it can be a breeze.
Here are some of the tips for designing a shipping container home that will be both stylish and functional.
Finding the right container
There are a few things to consider when doing this, such as the size of the container and the condition. You will also want to make sure that the container is structurally sound before you begin any work on it. When you decide to buy shipping containers, you will have to find a reliable seller who can provide you with high-quality containers. These are usually available in 20-foot and 40-foot sizes, and for most people, a 20-foot container is enough. However, it's also worth mentioning that a 10ft mini storage container is also available in the market.
However, if you're worried about feeling too cramped in a shipping container home, you can always use multiple containers to create a more open floor plan. You can even connect them with breezeways or outdoor patios.
Designing the floor plan
The next step is to start designing the floor plan for your shipping container home. This is where you'll get to be creative and make the most of the limited space. You can use software programs like SketchUp or AutoCAD to help you with the design process. If you're not familiar with these programs, there are plenty of tutorials available online.
When designing the floor plan, it's important to think about how you will use the space. For example, if you plan on entertaining guests often, you may want to include a living room and dining area. If you work from home, you'll need to create a space that can be used as an office. And of course, you'll need to include a bedroom and bathroom.
One of the great things about shipping container homes is that they can be designed to fit any lifestyle. So, if your needs change in the future, it will be easy to make alterations to the floor plan.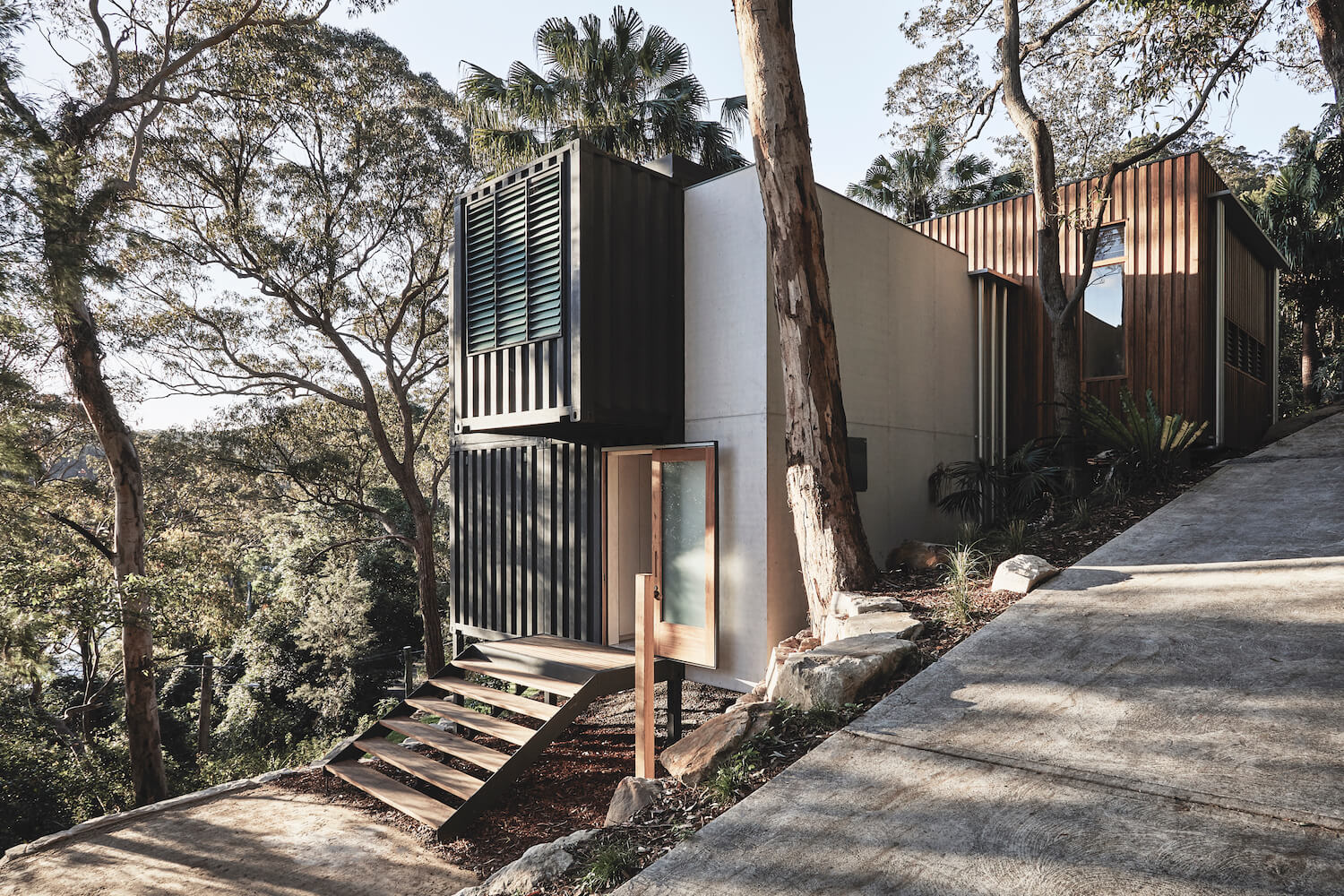 Rama Architects designs Container House in Church Point, Sydney, Australia
Adding windows and doors
The next step is to add windows and doors to your shipping container home. This will allow you to let in natural light and fresh air. It's important to place the windows strategically so that they don't interfere with the structural integrity of the container. And, if you live in an area with a lot of wind, you'll want to make sure the doors are designed to resist high winds.
On the other hand, if you live in a hot climate, you may want to consider adding more windows to help keep your home cool. You can also install awnings or shade screens over the windows to reduce the amount of direct sunlight that enters the home.
Insulating the container
Shipping containers are made of steel, which is a great conductor of heat. Again, if you live in a hot climate, you'll need to take measures to keep your home cool. The same is true for cold climates. You'll need to insulate the container to keep the heat from escaping.
There are a variety of ways to do this, such as spray foam insulation or traditional fiberglass batts. Several different insulation materials can be used, so you'll need to decide which one is right for your home. For instance, if you're concerned about the environment, you may want to use recycled denim insulation.
Adding walls and ceilings
Once the container is insulated, you can start adding walls and ceilings. For the walls, you can use either drywall or paneling. And for the ceilings, you can use either drop ceilings or acoustic tiles. The difference is a matter of personal preference. However, if you live in an area with high humidity, you may want to avoid using wood because it can warp over time.
The final step is to finish the interior of your shipping container home. This includes adding flooring, cabinets, countertops, and fixtures. You can use either hardwood or laminate flooring. And for the cabinets, you can choose from a variety of materials, such as plywood, MDF, or particle board.
When it comes to fixtures, you'll need to decide what kind of look you're going for. For example, if you want a modern look, you may want to use stainless steel fixtures. Or, if you prefer a more rustic look, you could use copper or bronze fixtures.
Finally, don't forget to add some personal touches to your home. Hang some art on the walls or display family photos. Add some throw pillows and blankets to make the space feel cozy. And, if you have a green thumb, you can even add some plants to help purify the air.
Building a shipping container home can be a fun and rewarding experience. With a little bit of planning and some help from experts, you can create a stylish and functional home that will serve you well for years to come.


---