When your bedroom does not provide the same level of comfort and coziness as it used to, it might be the right time to remodel it. However, you may lack the funds to revamp your current bedroom design and create something entirely new. In that case, opting for minor, cost-effective changes is the way to go.
For example, a fresh coat of paint can make your bedroom feel brighter and cleaner. At the same time, adding a plant or two and updating your drapes can go a long way in making the room look more inviting and open. Upcycling your furniture is also an attractive option, provided you have some DIY experience.
Here is a list of effective bedroom remodel ideas that will not cost you a fortune but make your sleeping chamber more stunning than ever:
Update Your Bedding
When it comes to creating a cozy, inviting bedroom, most people overlook the importance of bedding. But if you have been using the same sheets and comforters for years, replacing them with new ones might be a good idea.
Although a set of new bedsheets, a pillow, or a duvet cover can cost you hundreds of dollars if you value quality, it is still one of the most affordable and efficient ways of refreshing your bedroom. It allows you to quickly change the color scheme of your room, which will instantly make it feel more comfortable and inviting.
Not only that, but a new set of sheets can significantly impact your sleep quality. For example, many people find that cotton sheets are much more comfortable than synthetic materials. The same goes for pillows. After several months or even years, they become flat and do not support your head as well as they used to.
While buying new bedding can be expensive, you can always find good deals online or at your local home goods store. If you are unsure what bedding size will fit your current bed, type in your questions like "whats the size of a queen bed" online or ask a seller for help; there aren't many mistakes worse than buying bedding of the wrong size.
Add a Pop of Paint
Are you tired of looking at the same old walls every day? If your answer is yes, then painting them is one of the most cost-effective ways to change the look and feel of your bedroom. You can either opt for a new color or go for a bold statement wall. The latter option is ideal if you want to create a focal point in your room without making any permanent changes.
If you want to make it seem more spacious, opt for light colors such as white or beige. On the other hand, if you would like to add a touch of coziness, go for warmer shades like light brown or cream.
It is always best to hire a painting company when painting a bedroom. While this may seem like an unnecessary expense, there are actually many benefits to doing so.
First, painting companies have the necessary equipment to do the job quickly and efficiently. They also have the experience and expertise to identify potential problems during the painting process.
Furthermore, painting companies typically offer a warranty on their work, so if there are any issues with the paint job, you can simply contact the company, and they will come out to fix the problem. Overall, hiring a painting company is the best way to ensure that your bedroom painting project is completed flawlessly.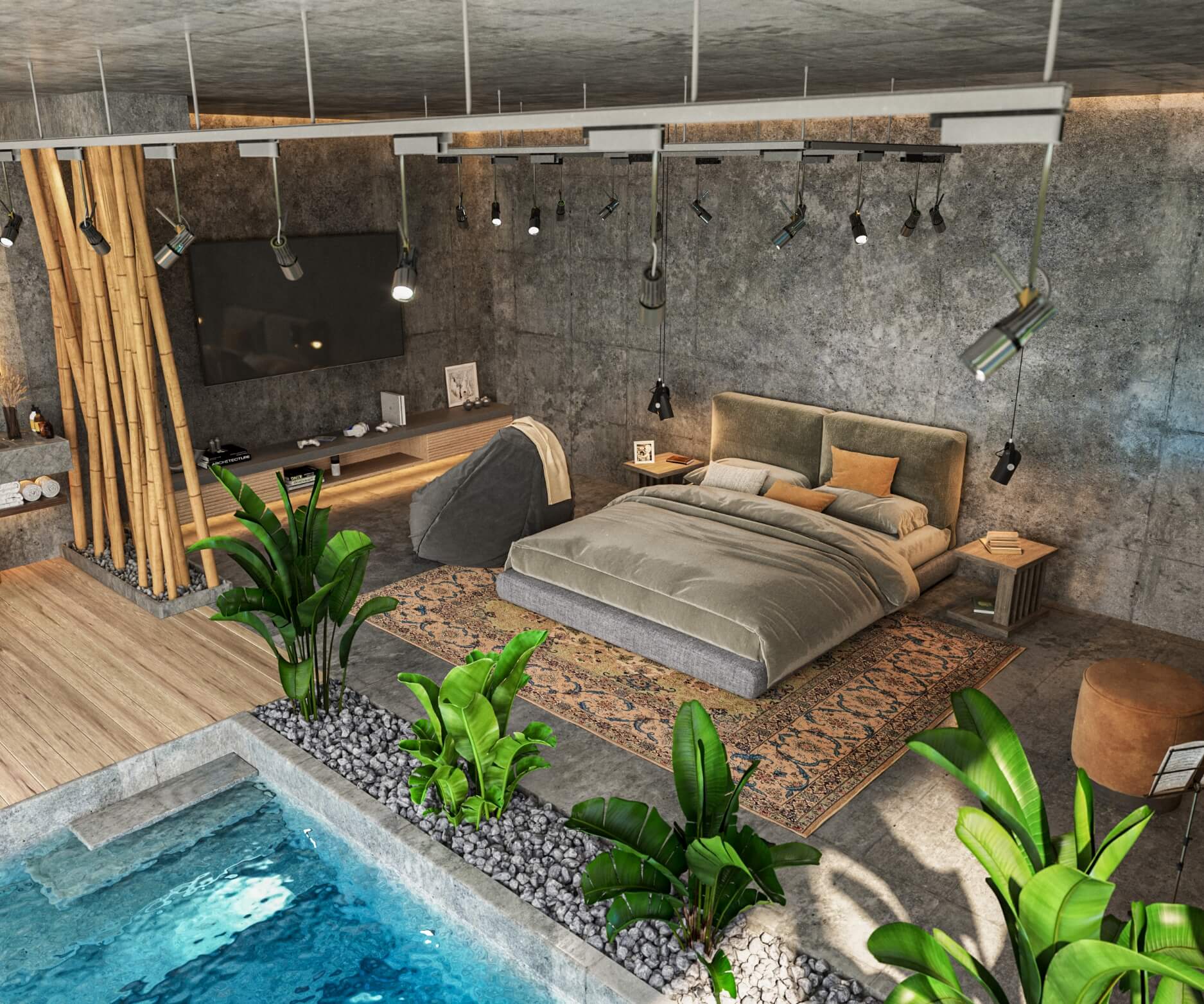 Modern bedroom design for a musician by Omid Merkan
Bring in Some Plants
Plants can brighten up any room, and your bedroom is no exception. Not only do they look great, but they also purify the air, making your room more comfortable to sleep in.
Opt for low-maintenance plants like succulents or cacti if you do not have a green thumb. Keeping them alive should pose no problems, and they will look beautiful and add more character to your bedroom.
Update Your Drapes
Curtains are one of the first things people notice when they enter a room. If yours are outdated or do not match the rest of your decor, replacing them is a great way to give your bedroom a makeover. You can either buy new curtains or make your own if you feel crafty.
Opt for light-colored drapes made from sheer fabric if you want to make the room appear more spacious and open. Conversely, if you want to add coziness, go for heavier drapes in darker colors.
Upcycle Your Furniture and Buy Second Hand
If you have a lot of furniture in your room, but you do not like how any of them looks, consider upcycling them. It is also a fantastic option to save money if you are on a budget.
For instance, your bed frame might be too old-fashioned for you. If that is the case, consider getting it professionally painted and swapping it for something more modern. You will not just be saving money on this investment but also giving your bedroom a more modern touch.
On the other hand, if you have a nightstand too big for your bedroom, consider shortening its legs or replacing it entirely with a smaller version. The same goes for your dresser: if it is too big for your current needs, transform it into something else you can use, such as a small shoe rack.
Add Some Wall Decor
Another great way to change the look of your bedroom without spending a lot of money is to add some wall decor. You can opt for posters, paintings, or even photos that reflect your personal style. If you are unsure where to start, consider using wall decals or wall stickers.
Wall decals are a great way to add color and pattern to your walls without making any permanent changes. They are also straightforward to apply and remove, so you can change them whenever you want. You can find wall decals online or at your local home goods store.
Accessorize Your Room
One of the most accessible and affordable ways to transform the look of your bedroom is by adding some accessories. It might sound like a cliché, but it is a tried-and-tested approach.
For example, displaying family photos, souvenirs, or artworks that you love can make a significant difference in the overall look of your room. In addition, investing in decorative items, such as vases, table lamps, clocks, and so on, can give your bedroom an entirely different vibe.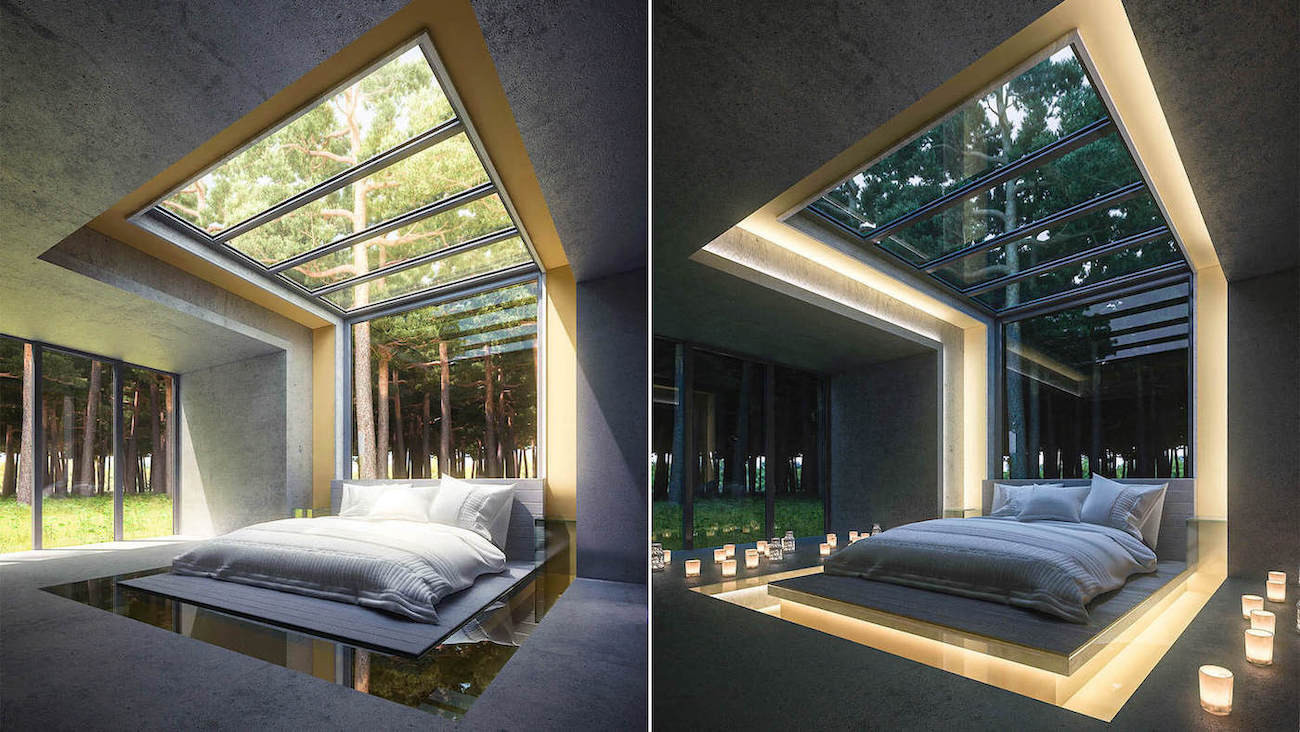 Bedroom skylight idea: Room full of stars by Amin Moazzen
Update Your Lighting
Lighting plays a significant role in setting the mood of a room. This is why you should consider changing your current lighting fixtures. The better the lighting, the better your bedroom will look.
Sometimes, a new lamp can make all the difference. If you want to create a more intimate and inviting space, invest in some lovely lamps with attractive shades. Alternatively, if you want to create a warm, romantic vibe, consider adding an antique lamp or a decorative candle holder.
However, beware of making your lights too disturbing. For example, bright lights can be harsh on the eyes and not be very relaxing. In contrast, dimmer lights can create an intimate atmosphere. Remember about proper task lighting if you like reading in bed, tho. You don't want to strain your eyes.
Conclusion
The bedroom may be the room in your home where you spend the most time; you certainly try to relax there the most. Given that, it is essential to make it a comfortable and inviting place. If you do not have the necessary funds for a complete remodeling project, don't worry. There are plenty of small and cost-effective changes you can make to your sleeping chamber to turn it into the ideal place for you.
In the end, it comes down to what you really want in a bedroom: an oasis of peace that would help you relax after a long day at work or a dynamic space. If you are looking for some inspiration, use the ideas above to create the perfect sleeping place.
---