For most of us, if not all of us, the bedroom is the most important room in the house. After a long busy day, we deserve a cozy bedroom that helps us get a good night's sleep so we can wake up refreshed and ready to face a new day. Whether you are moving to a new house or renovating your home, you spend a lot of time trying to decide the right colors and design for your bedroom to make the most out of the space you have. However, there are many beautiful designs and ideas that you might get lost in. In this article, we will provide you with a few ideas that will help you design a cozy bedroom that matches your style and personality.
1. Choose the Right Colors
The right colors can fully transform your bedroom from a dull, boring space to a cool, stylish one. Moreover, some colors can make your room appear more spacious. There are many ways to color your bedroom; for example, you can paint only one of the walls, the four walls, or the ceiling. Painting all of the walls in your bedroom, including the ceiling, with a warm shade of grey or any shade of dark colors would give your room a refined, chic look. On the other hand, light colors will make the bedroom appear larger and more spacious. Whether you are planning to paint one wall only or all the walls of your bedroom, you better choose colors that have a calming and relaxing effect on the nerves to promote a good night's sleep. Keep in mind that bright colors like red and orange might make you alert. In color psychology, green and blue induce a calming and relaxing sensation and are easy on the eyes. If you would like to learn what every color induces, Channelreply.com have an extensive post on all colors. Therefore, these two colors are strongly recommended for your bedroom walls. A painting professional would help you choose the colors considering all these factors.
2. Choose the Right Furniture
The colors you choose for your bedroom should go hand in hand with the furniture. If you choose bright and trendy colors for your walls, vintage furniture will not match these colors. If you want to go for a classic look, French furniture at Homesdirect 365, would help you see for yourself that vintage and classic furniture is usually placed in rooms with dark shades to complement their chic designs. However, if you prefer modern furniture, bright and light colors would match their trendy designs.
3. Wall Decor
Adding pictures, posters, paintings, or mirrors to the walls of your bedroom will reflect your style and personality. Moreover, mirrors can make your bedroom look larger than it actually is. You can hang mirrors or lean a big one against the wall, either way, it would make for a great addition to your bedroom. Another great way to decorate the walls of your bedroom to complement your personality is by hanging items related to your hobbies and interests in life, like your surfing board, fishing rods, or musical instruments.
4. Accessories
Bright-colored bedroom accessories make white rooms look bigger and more trendy. Another great idea to make your bedroom look stylish is to match the colors or print of the pillows and bedding with the rug. Adding plants and flowers don't only give your room a calm and fresh look; plants purify the air too! If you are going to place lamps on the bedside tables, make sure that the lampshades match the color of the pillow covers or the rug.
5. Bedroom Lighting
Bedroom lighting should be of warm tones to promote relaxation. However, you need extra lights for dressing and putting on makeup. Therefore, avoid LEDs and use warm tones for the general lighting of the bedroom, and add sconces and lamps for extra lighting. Moreover, thanks to technology you can use dimmers to dial the lighting tone up or down depending on your need.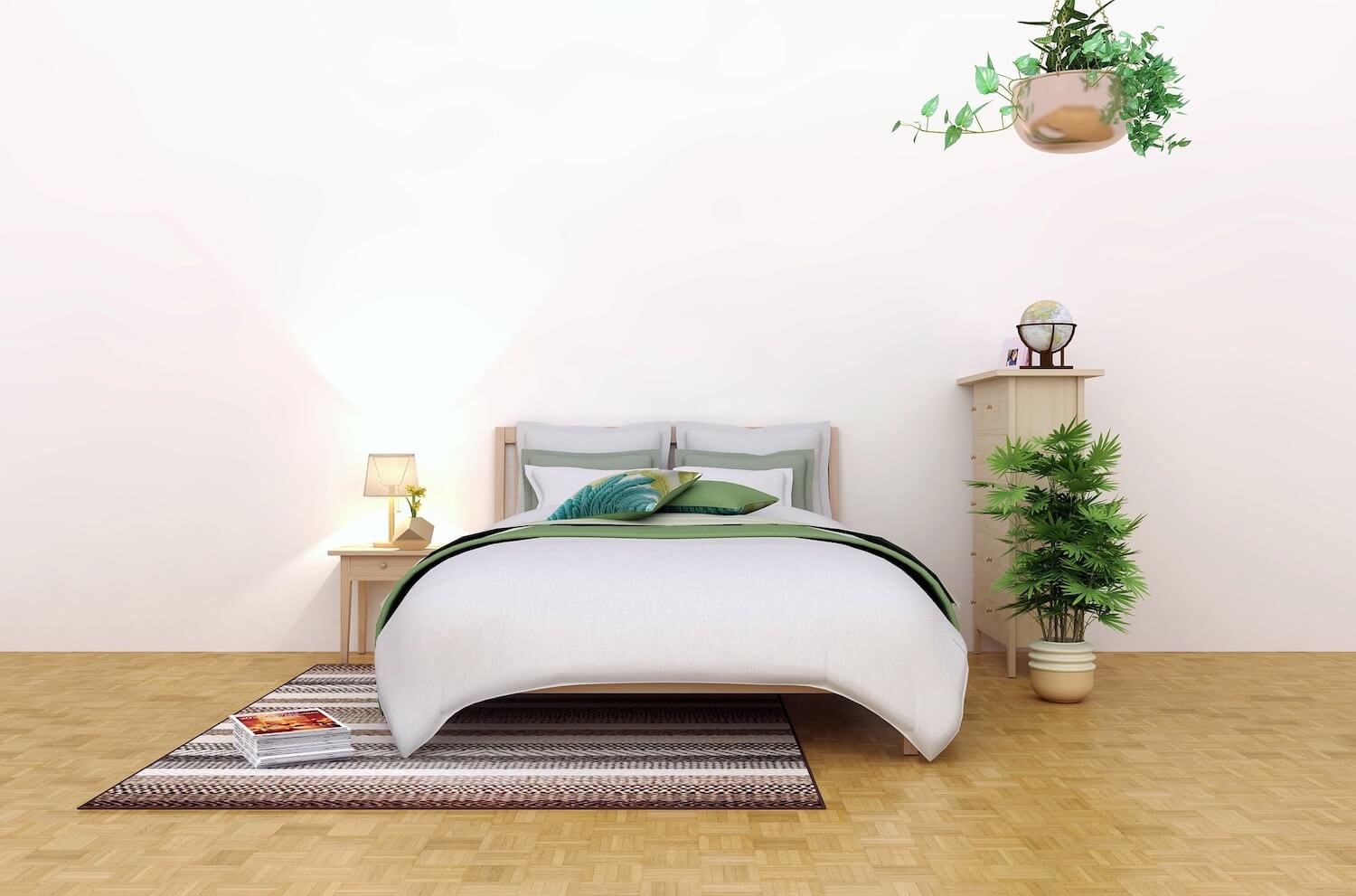 image © BUMIPUTRA
6. Place the Furniture in the Right Positions
To make the most of the space you have, you need to place the bedroom furniture in the right positions to make the room look bigger and more spacious. To avoid narrowness and cluttering, place furniture against the walls to make more room for walking and to fully use the bedroom space. Moreover, get rid of any unnecessary items in the room to avoid cluttering.

Choosing the right wall colors that match the furniture in your bedroom and adding the right accessories to complement the design of the bedroom would make it look cozy and cool. Thus, promoting a good night's sleep and providing the relaxing ambiance you need after a long day. Adding your personal touch to the room by adding items that reflect your personality would make your room look even better! It doesn't matter if the budget you set for your bedroom design is high or low, you will find the right items and designs that would fulfill your needs.

---