Depending on who you speak to, woodworking means different things to different people. Some people do it as their hobby, while others do it as their profession. Whether you're a craftsperson or an amateur, there are certain tools you need for woodworking.
Many beginners feel overwhelmed with the huge amount of tools on the market. It's easy, and often very tempting, to rack up a bill of thousands of dollars worth of expensive woodworking tools. Beginner woodworkers don't have to have elaborate, costly tools. You should start with the basics.
There are five main categories of basic woodworking tools. These categories are tools to cut, finish, assemble, measure, and hold wooden parts in place while buying with a project. These groups cover everything a beginner woodworker needs for the building. Here's a guide to everything you need for woodworking.
A Saw
Almost every woodworking project starts with you having to cut your materials. Some of the best pieces start with rough wood. Whether it's hardwood or softwood, wood needs to be cut in multiple ways before it can start to take shape. Saws are a huge help, but because they come in all sorts of different shapes and sizes they can get confusing.
- Circular Saw
Circular saws are electric and come in various power ratings. Most of them have a cord, but not all. Circular saws allow you to cut straight, clean lines.
- Chainsaw
This is the number one too for the classic outdoor woodworking DIY – the tree stump chair. If you like to cut your own raw timber for that raw edge effect a chainsaw is a great idea. Some of the top battery powered chainsaws have excellent battery life, durability and are quite lightweight. If you wanted to try your hand at carving this is also an excellent option, but that requires a little more skill.
Orbital Sander
This is the best thing you can use to finish your projects. These machines remove the strain caused by hand sanding and do the job a lot quicker. An orbital sander is different from a belt sander. They use sandpaper pads that revolve in a circular motion.
They might remove material fast, but they leave swirl marks that take a little bit longer to remove. To alleviate this issue you should invest in a random orbital sander, as they don't swirl in a uniform way, making the finished product much smoother.
Hammer
There are lots of different types of hammers on the market. Woodworking hammers are normally required to do two tasks - these are to pound and to pry.
They vary in purpose as well as composition and as a beginner, you have a bunch of choices but need to identify what you'll use your hammers for. Your best bet is a finishing hammer as they are all-purpose.
Power Drill
A drill can be a beginner's best friend. Electric-powered drills are used so often in the workshop, but not just to make holes. Today there are all sorts of attachments available for you to turn your drill into a bunch of other tools.
If you're buying your first power drill you need to know that a corded drill is stronger than a cordless one, even though it looks sleeker.
A Tape Measure
For woodworking, it comes in handy to have a tape measure clipped to you. There are a few different types of tape measures out there, so here are a few for you to consider.
- Retractable Tape: This is the most common measuring tape and will be the one you are the most familiar with. They come in a bunch of different lengths, suited to your needs.
- Flexible Reel Tapes: If you are looking for something a little bigger, one of these can get you lengths of over 100 feet and come in fabric or steel options.
- Yardsticks and Straight Edges: These are in the ruler family, but are less easy to get around. They are best for laying straight lines.
Workbench
The best thing to do is get a good quality workbench. You could make your own, but it wouldn't be as beneficial to you as a professional-grade, quality workbench. You'll use it for everything forever. A few good qualities you should look for are:
- That it's made of solid, hardwood
- Has an adjustable base for accurate leveling
- Large working surface with built-in stops
- Lower drawers for storing tools
- Free-standing with 360-degree access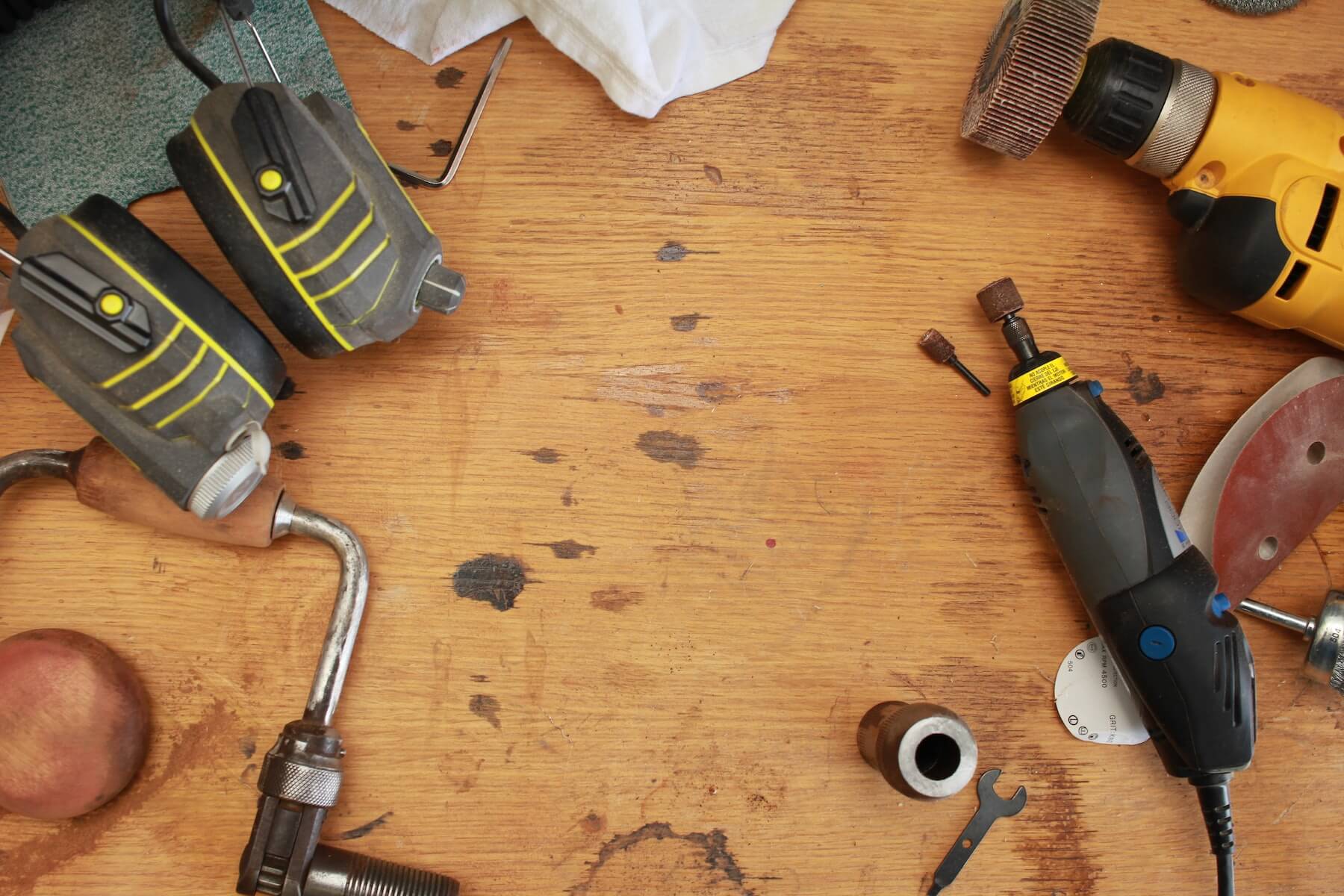 image © HalGatewood.com
Now that you have an idea of some of the important tools you need for your first build, go out there and build something. Let your inner creativity make something amazing. Whether it's something simple, or something complex, you are in charge.
---