The Indonesian designer Faldo Andreo has designed ''Avisa'' a luxury Spa Retreat that is located at Bali Island, Indonesia.
It is designed as a new worldwide tourism icon to be proud by locals. Designer took the concept of Laurel Wreath, a triumph symbol on high status as its market and implemented on both 2D layout and 3D signifier. By an open architecture that built on top of Terasering, Indonesian word of Terrace Topography, the design expects to present an idea which could blends easily with nature. A zen resort that surrounds with water and sky as the limit.
Project description by designer:
Avisa Bali is a Spa Retreat that targets high social status with limited room availability. One of the most luxury Spa that doubles as a resort with longer treatment duration of minimum two days. The concept is to be an escape from the tension of the day, thus, It is created as a mountain emperor palace by the sea at a remote area. Rooms availability is limited at 8 couple rooms and 6 single rooms. All rooms are equipped with private spa treatment area. Other facilities like Infinity Pool with Glass Bottom on top of Koi Pond, Hot Water, Camp Fire, Sightseeing Deck, Concierge, Lobby Lounge, Reflexology Area, Fitness Center, Healthy Bar and Restaurants are provided for the convenience of long stay guest.
Inspiration:
Upon creating a luxurious Spa Retreat at the Paradise Island of Bali, Indonesia, Designer blends the concept of Laurel Wreath with Local Architectural elements to present a new tourism icon to be proud of by locals. Laurel Wreath is presented in the design as a victorious symbol of social status and succeed target market. Followed by natural elements, color, orange ventilation bricks that could be found nearly everywhere in Bali. Avisa brand itself is a Sanskrit Name of Ocean, Sky and Pure Water. Therefore, designer matches those with design concept to create an Escape Resort surrounds by water, seas and sky as the limit.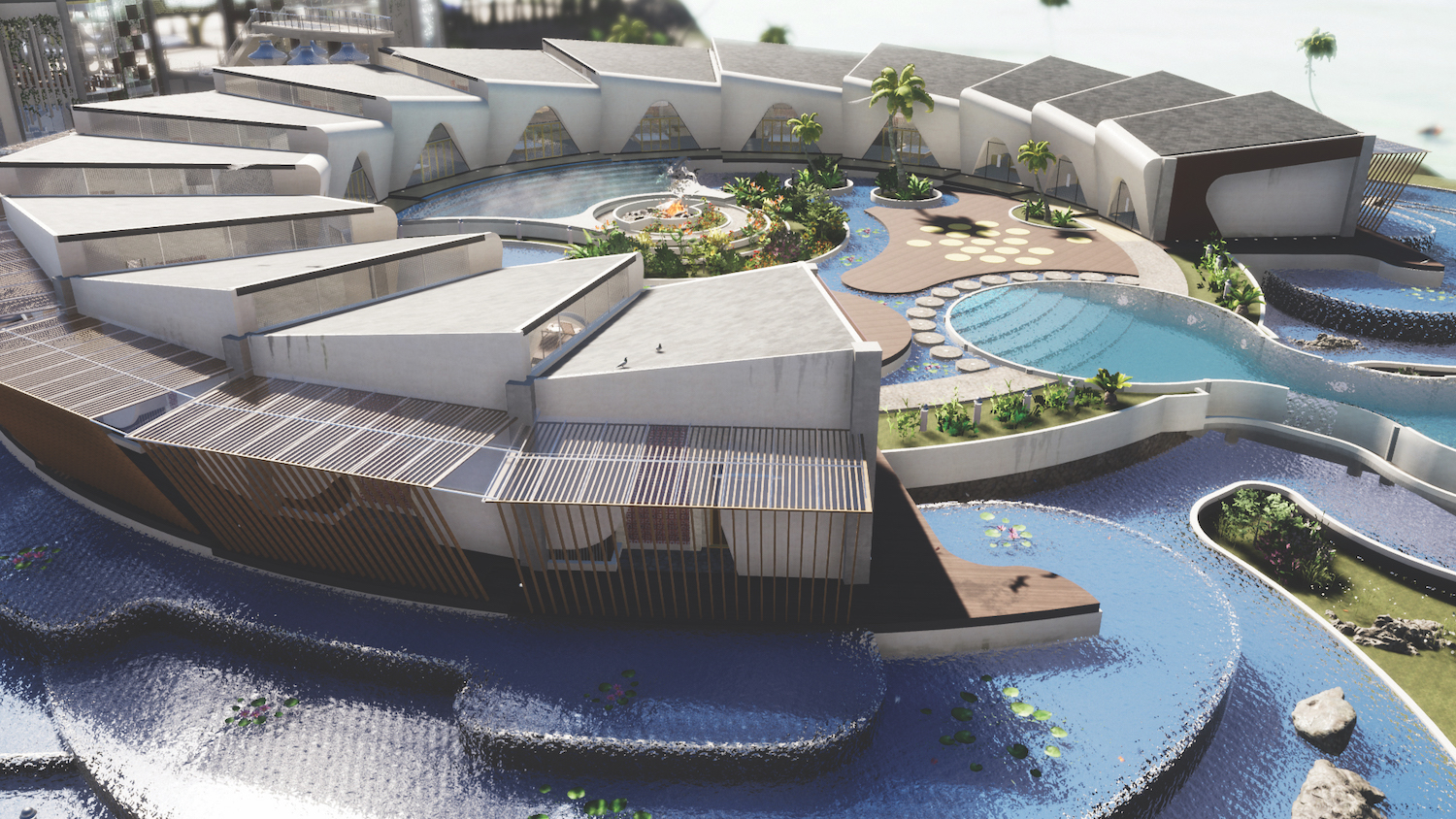 Operation/ Flow/ Interaction:
The Architecture itself has an unrivaled unique form that adopts from Laurel Wreath shape in both 2D Floor Plan and in 3D signifier. It is built on top of Terasering, an Indonesian word for Terrace Agriculture Topography, of green fields and pond as one of Bali's famous land contour. On top of that, guests are welcomed by an open architecture that embrace seas and sky. Zen architecture is also implemented in the layout to support the ambience of Spa Retreat with combination of natural materials and a blending form with nature. Hence, the building seems to be in one unity with its surroundings. Though nature is a strong point of the architecture, it left no discomfort of modern living and luxury life style that presented in almost everywhere in small details.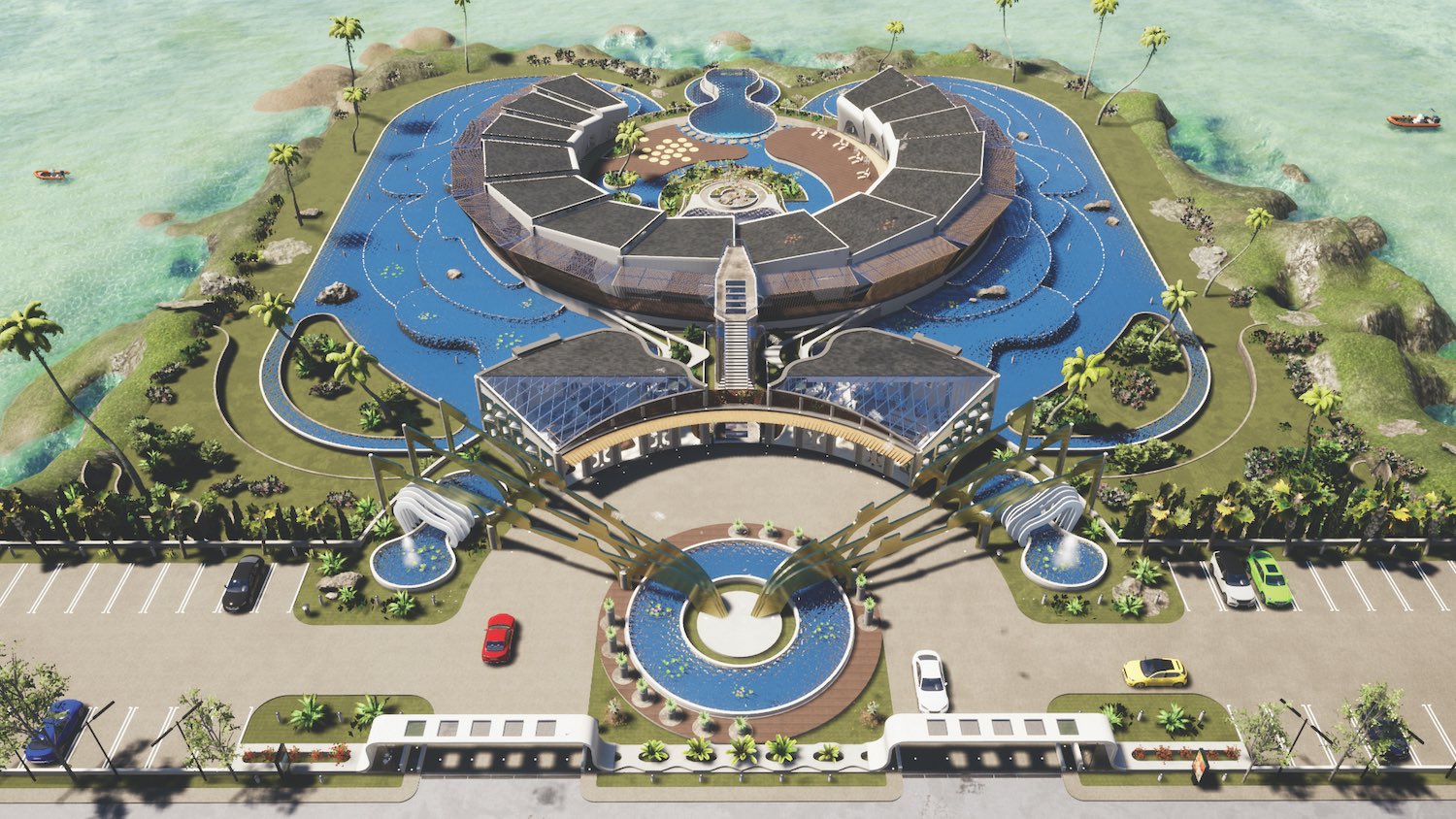 Project Duration and Location:
This project starts at the beginning of 2019 for concepts with AVISA Spa Management and started in design process on July 2019. It takes about 3 months for the design duration. It is scheduled to start the construction in 2020, land clearance at Q1 and takes a year for construction process. Due to global health concern, as major businesses and builders are suggested to stay home, the construction process has been postponed temporarily. The project is located at the ocean side of Bali Island, Nusa Tenggara Barat, Indonesia.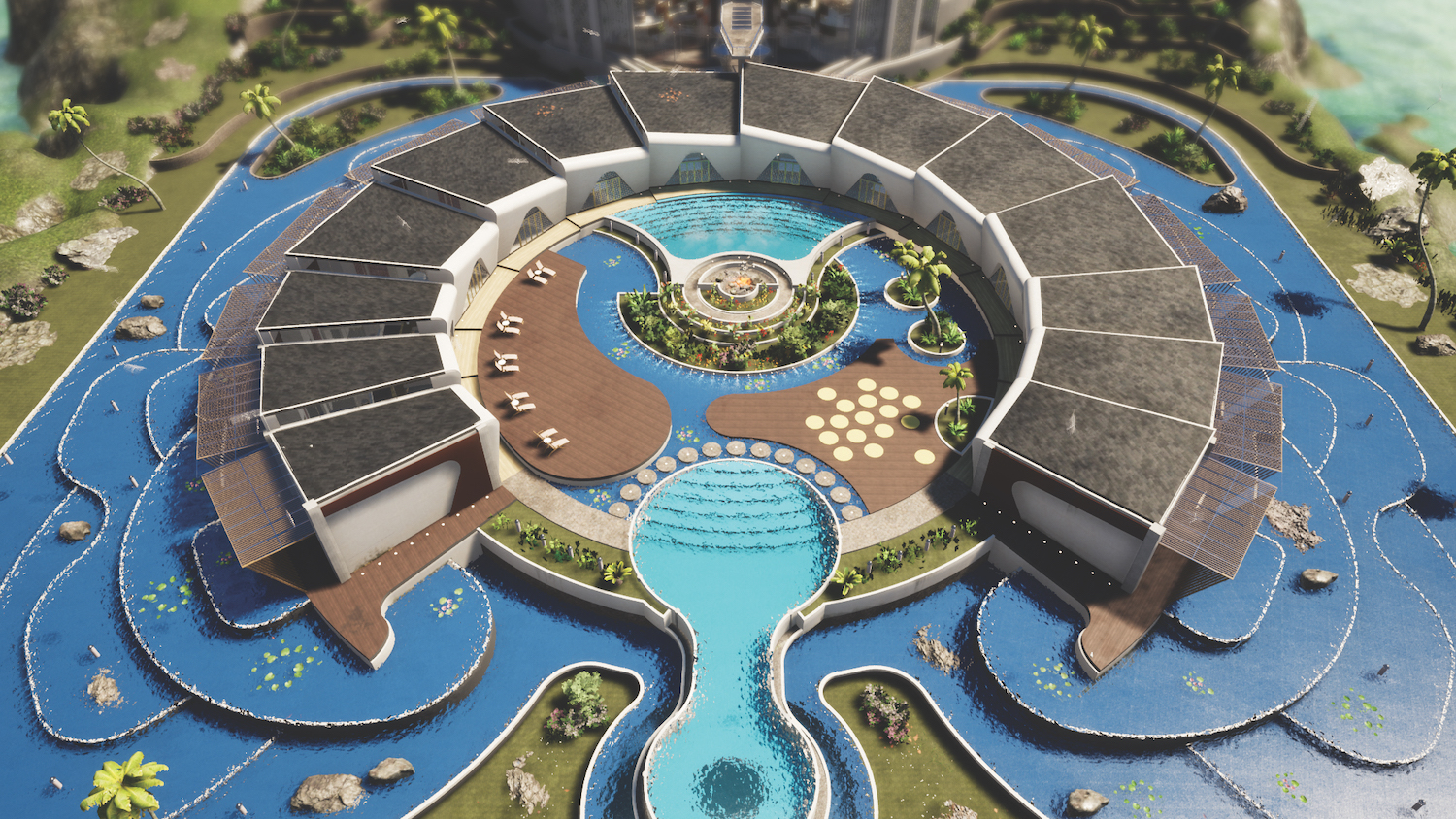 Product Realization:
Various latest software are being use to create the most accurate calculation and working plan on it unusual form of architecture. In addition to get to best possible photo realistic renders, it needs accurate information of light, solar tracing and material data in B.I.M. system while designing. On actual realization, lots of cut and fill are taken into priority to recreate the same topography as designed. While structure is mostly concrete, it does not took any difficulty for a one-level main building. Sandwiched wall with drain gap along the wall border with the higher land will be implemented to avoid excess moisture on the wall surface. Major finishing materials will be from local source to support local economic and to create a unique identity of the architecture.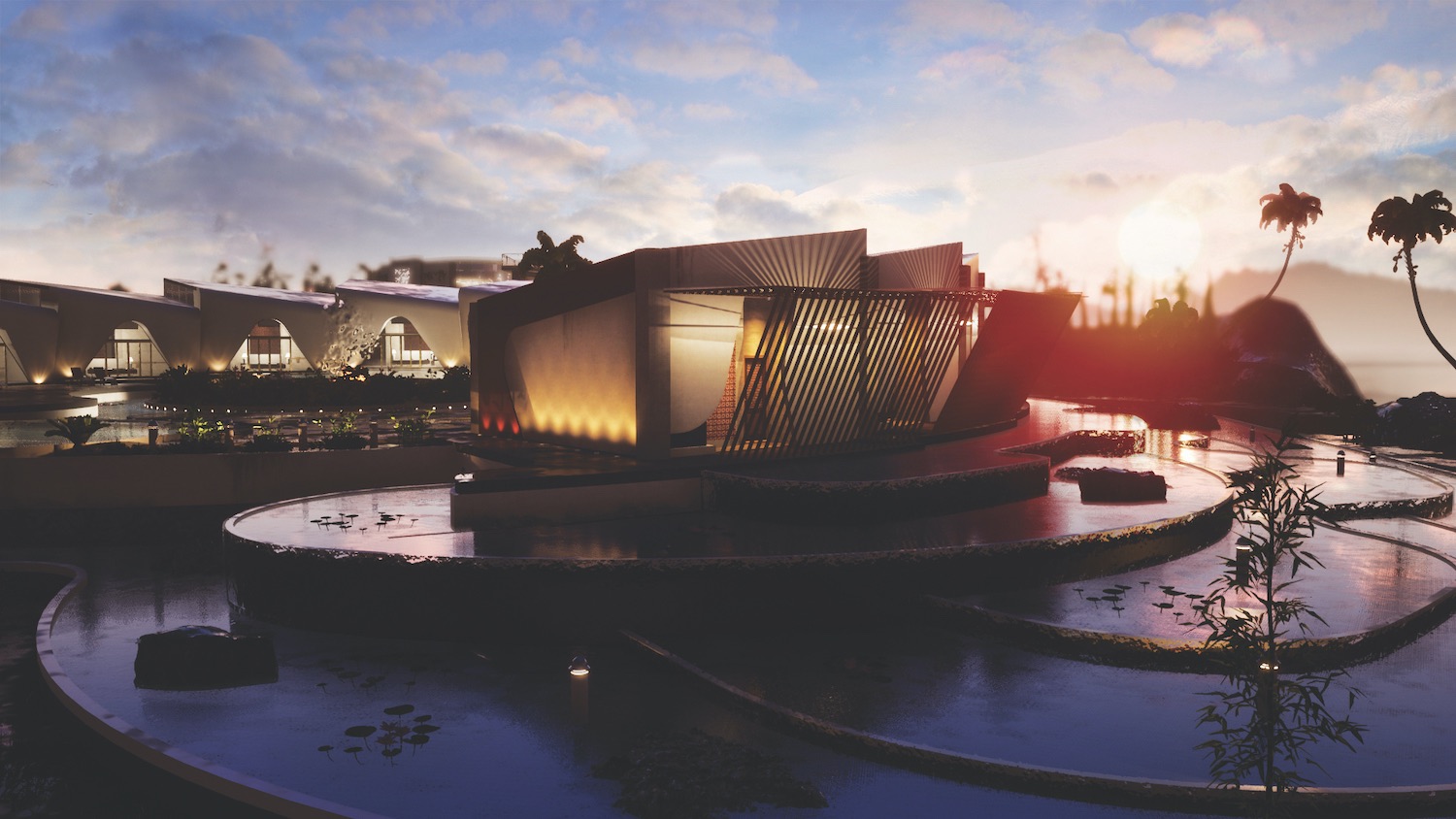 Specification/ Technical Process:
Land Area 14,560m2, Building Area 1,894m2, Number of Building Level 2 Storey and 1 Storey, Driveway and Car Park 1,683m2, Outdoor Area and Hallway: 847m2, Terrace Agriculture Pond 2,570m2, Infinity Pool 160m2, Hot Water Pool: 133m2, Camp Fire Area: 22m2. Guest Rooms total 8 Couple Rooms, Occupancy for 2 People and 6 Single Rooms ,Occupancy for 1 Person. Room Area
114.5m2 for Couple Room and 77m2 for Single Room. Room Facility; Guest room, Standard Hotel Equipment, Massage Room, Jacuzzi Tub, Dressing Room, Individual Toilet, Shower Area, Make up
Desk for Couple Room and Working Desk. Other Facilities; Concierge, Lobby Lounge, Reception Area, Spa Product Store, Car Park, Photo Spots, Sightseeing Deck, Restaurant, Healthy Bar, Reflexology Area, Service Area, Office, Business Center, Fitness Center, Locker Rooms, Pool Lounge, Yoga Area, Infinity Pool with Glass Bottom on top of Koi Pond, Hot Pool, Camp Fire, Large Terrace Garden with two artificial waterfall, Terrace Pond.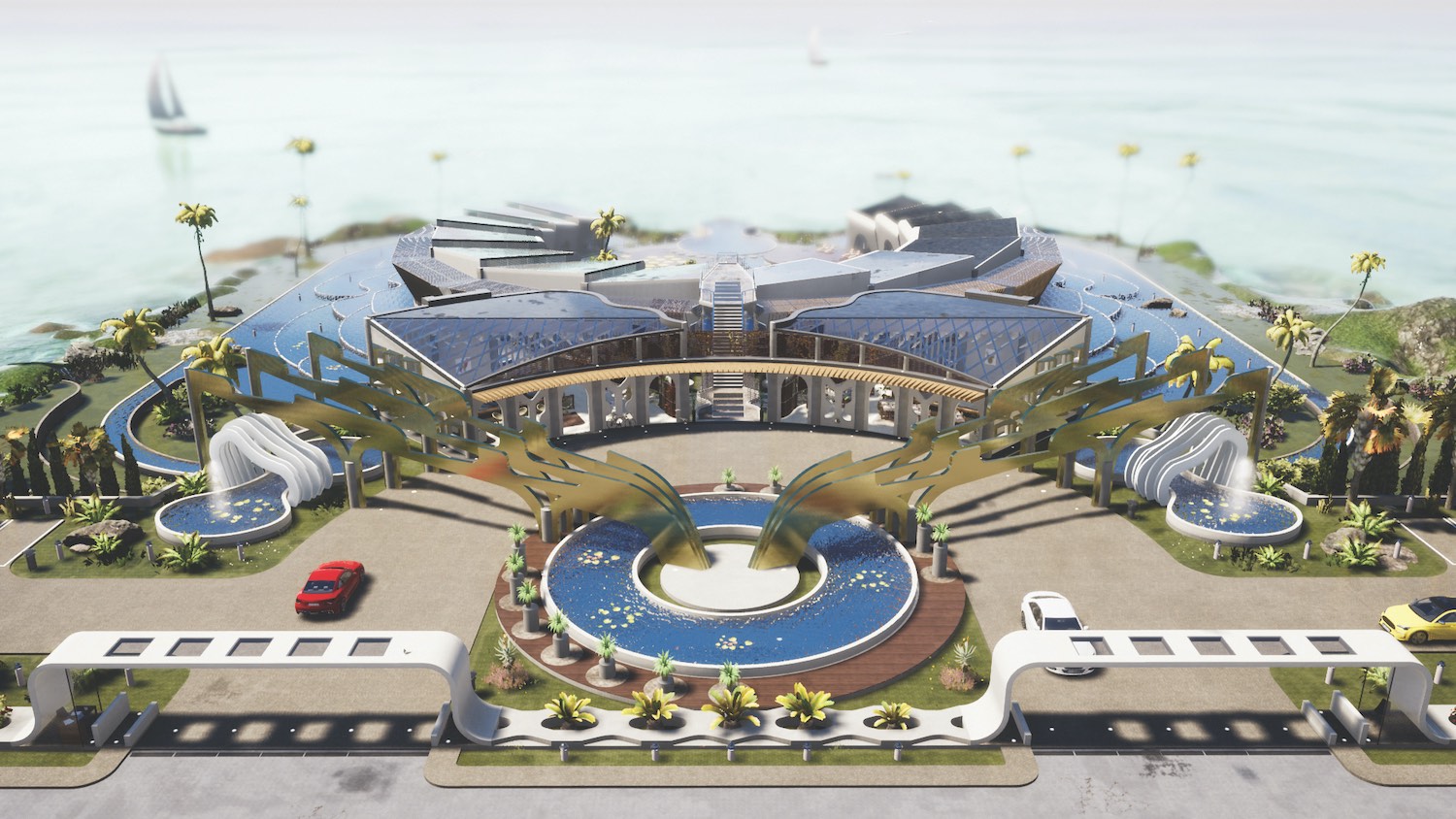 Research Abstract:
While spa services are everywhere and took at every place from down the street to classy resorts in Bali, the concept of a Spa Retreat is considerably new to Asian market. Therefore, it need to conduct multiple meetings between designer and the client to be able in offering a service that suitable with current market. In order to to that, the designer change some initial concept in term of architecture to adapt well with both local and international guest. Privacy, Facilities, Material selections and the design itself are adjusted with luxury resort lifestyle without compromising on its core services. At the result, it forms new and authentic architecture that belong specifically to tropical island spa retreat. Rather than focusing on clinical treatment, this spa retreat is hold more on relaxing treatment and nature escape as the vision of Avisa.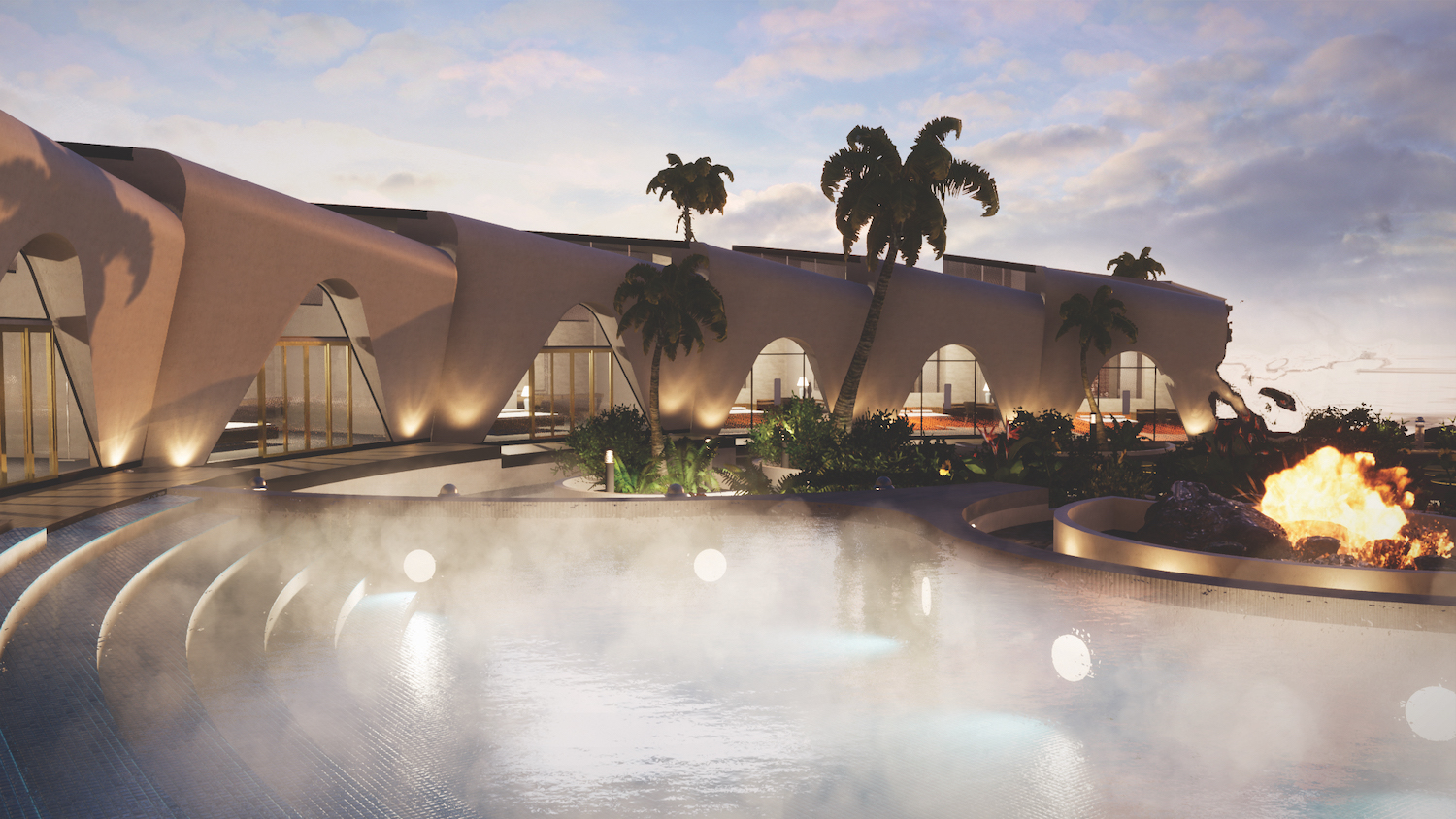 Challenge:
As it will be built by the ocean, designer took a consideration in construction process and material selections. Though finishes are mostly sourced from nearby locals, the location itself is quite a remote place, therefore some materials need to be imported from nearby island which is East Java and other city at the same island for main building materials. By doing so, logistic volume limitation and project duration will be affected on the process of construction. Secondly, materials that made from metals need to be covered by clear finishes and custom paint material to prevent rust by the salt water. On other side, columns and building foundation is another challenge which most part of the land are dense rocks. Lastly, Some glass parts that use for glass flooring at the bridge, round pool bottom and infinity pool will need to be custom made from the factory.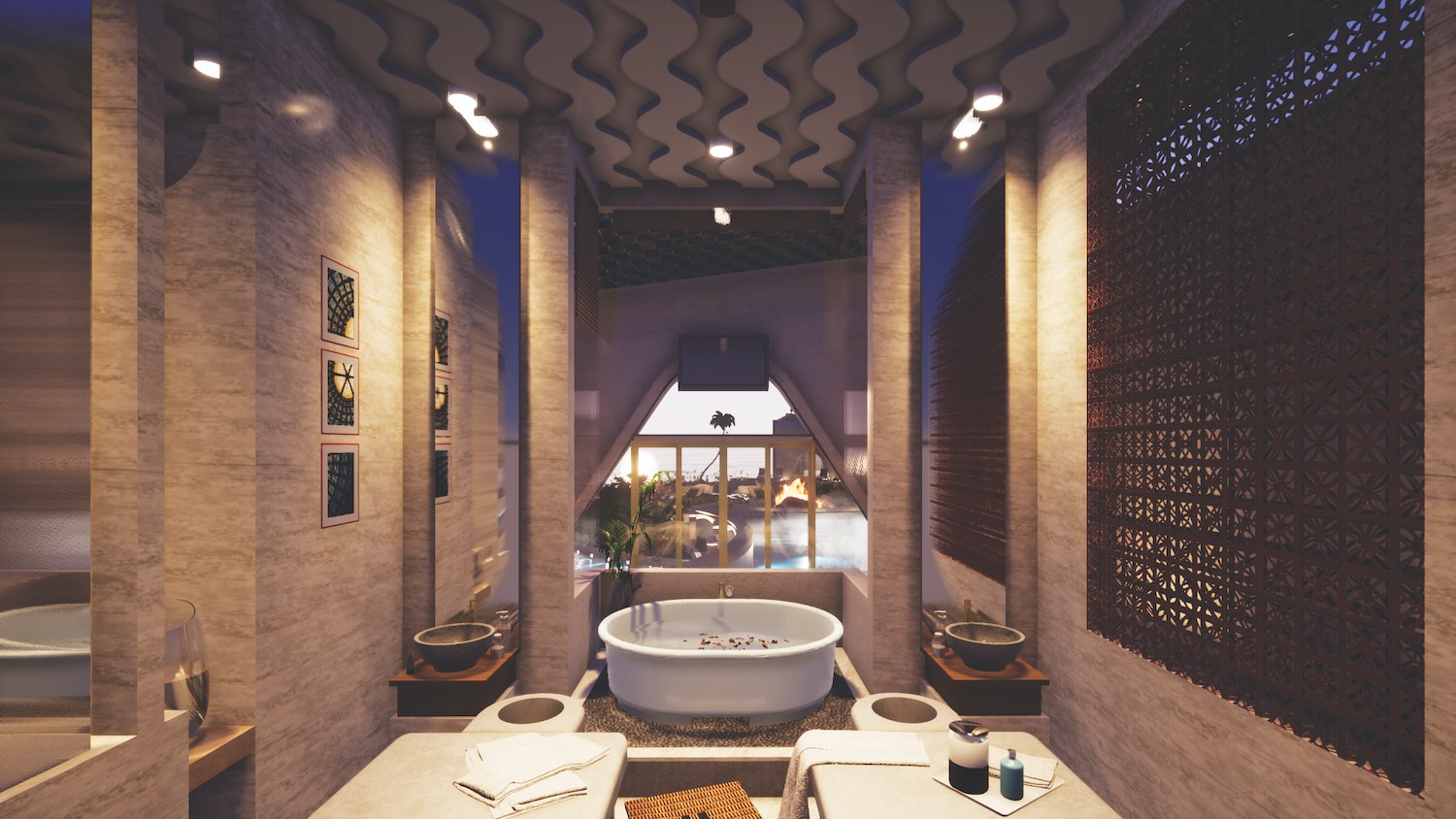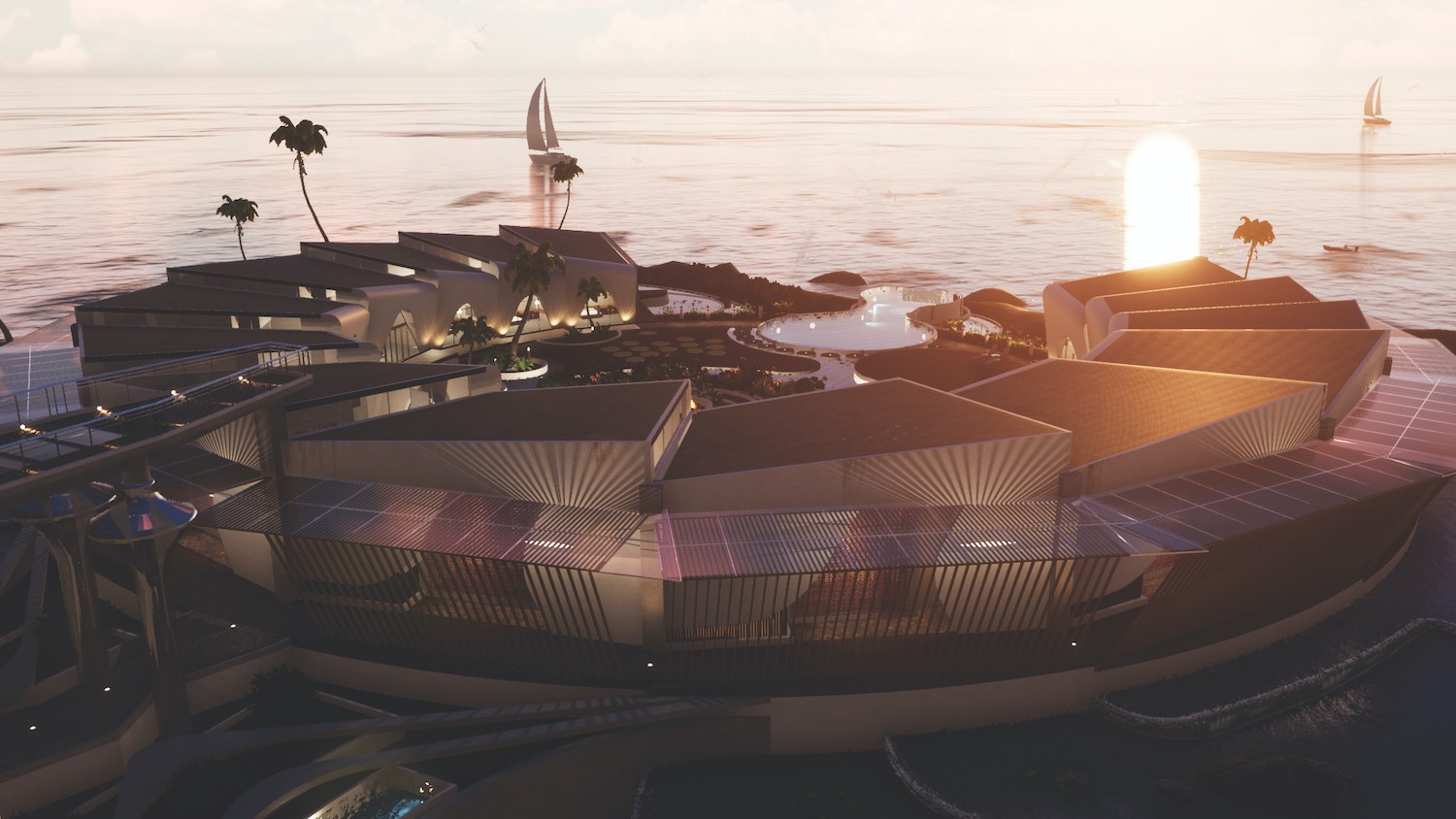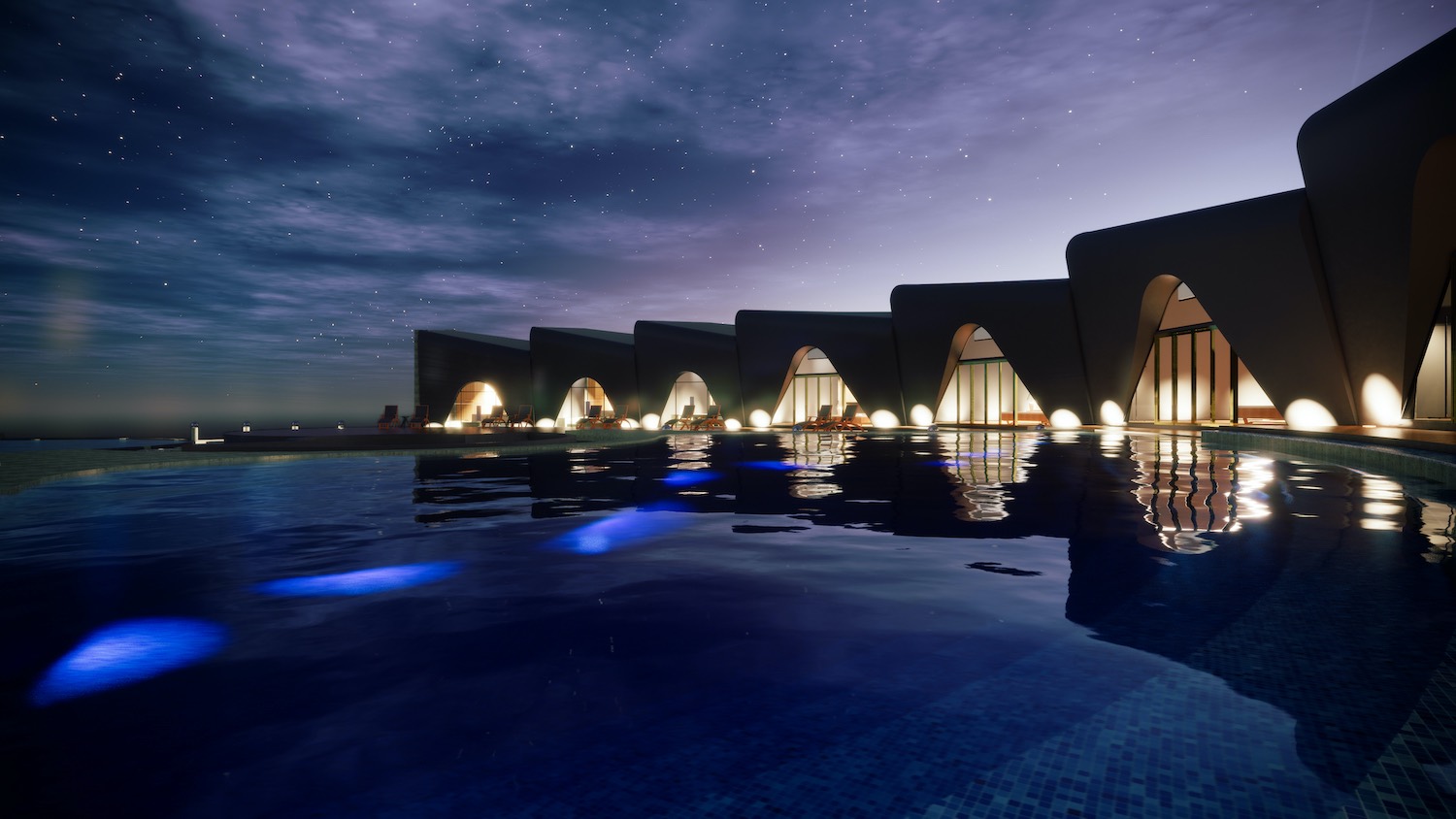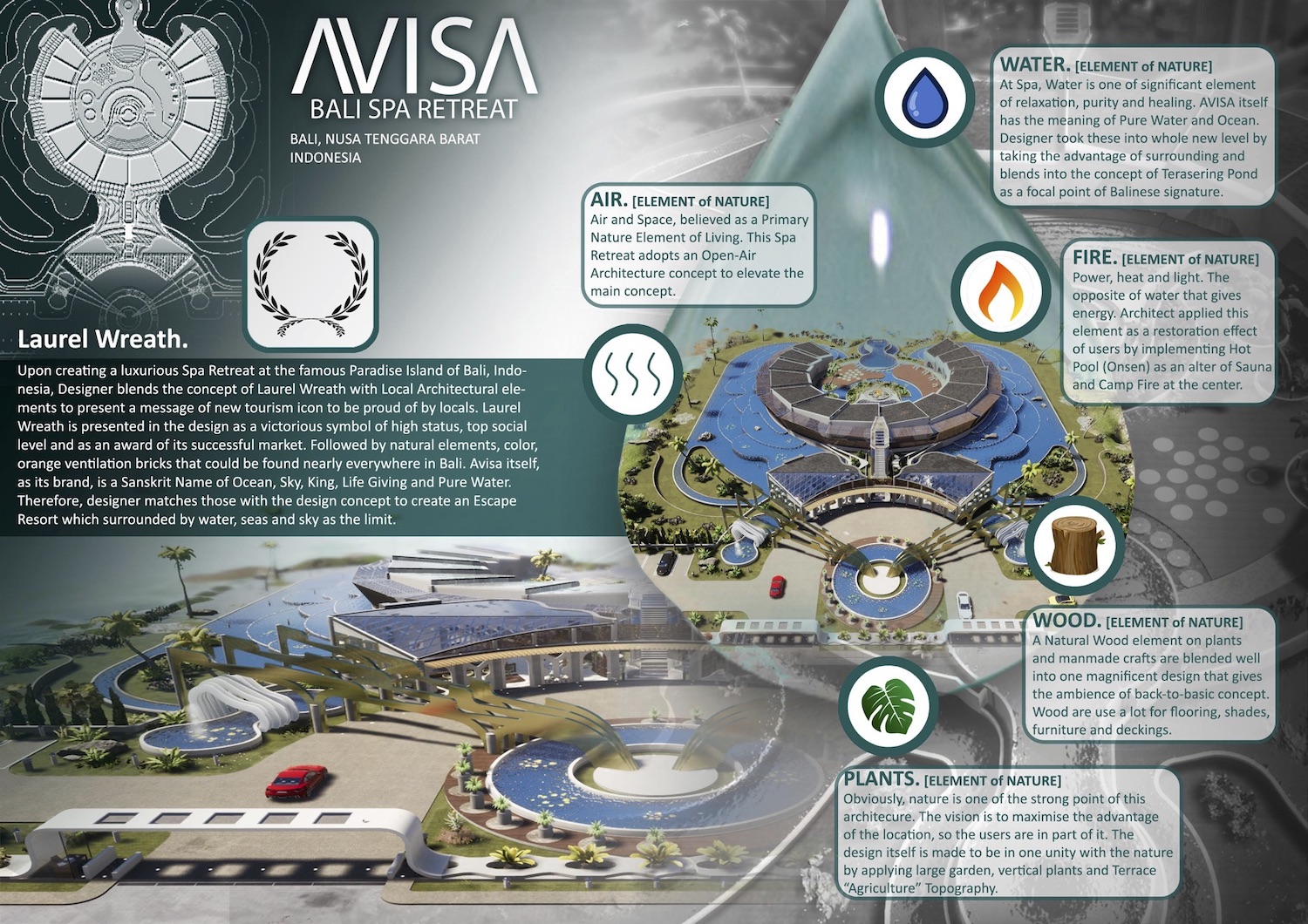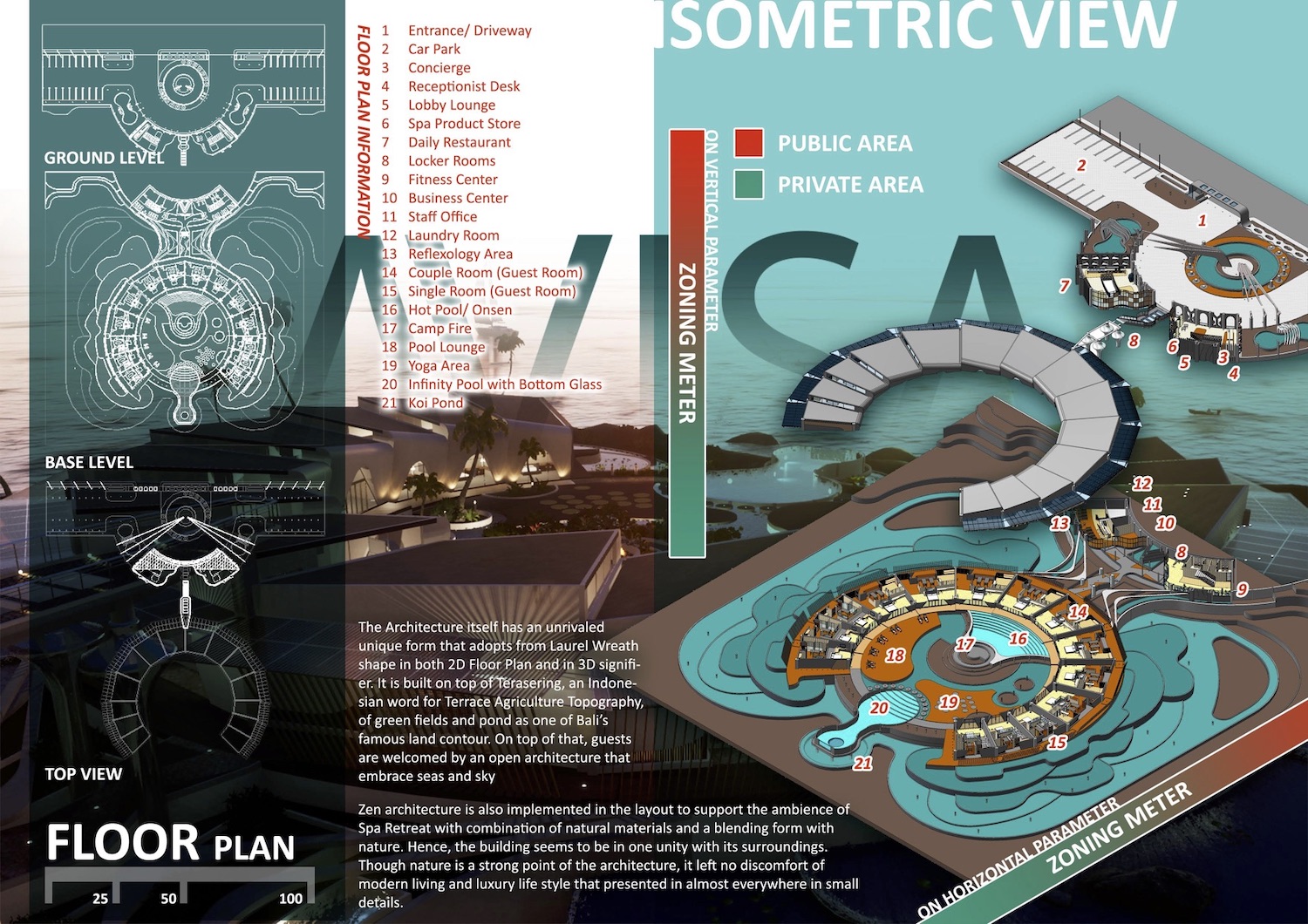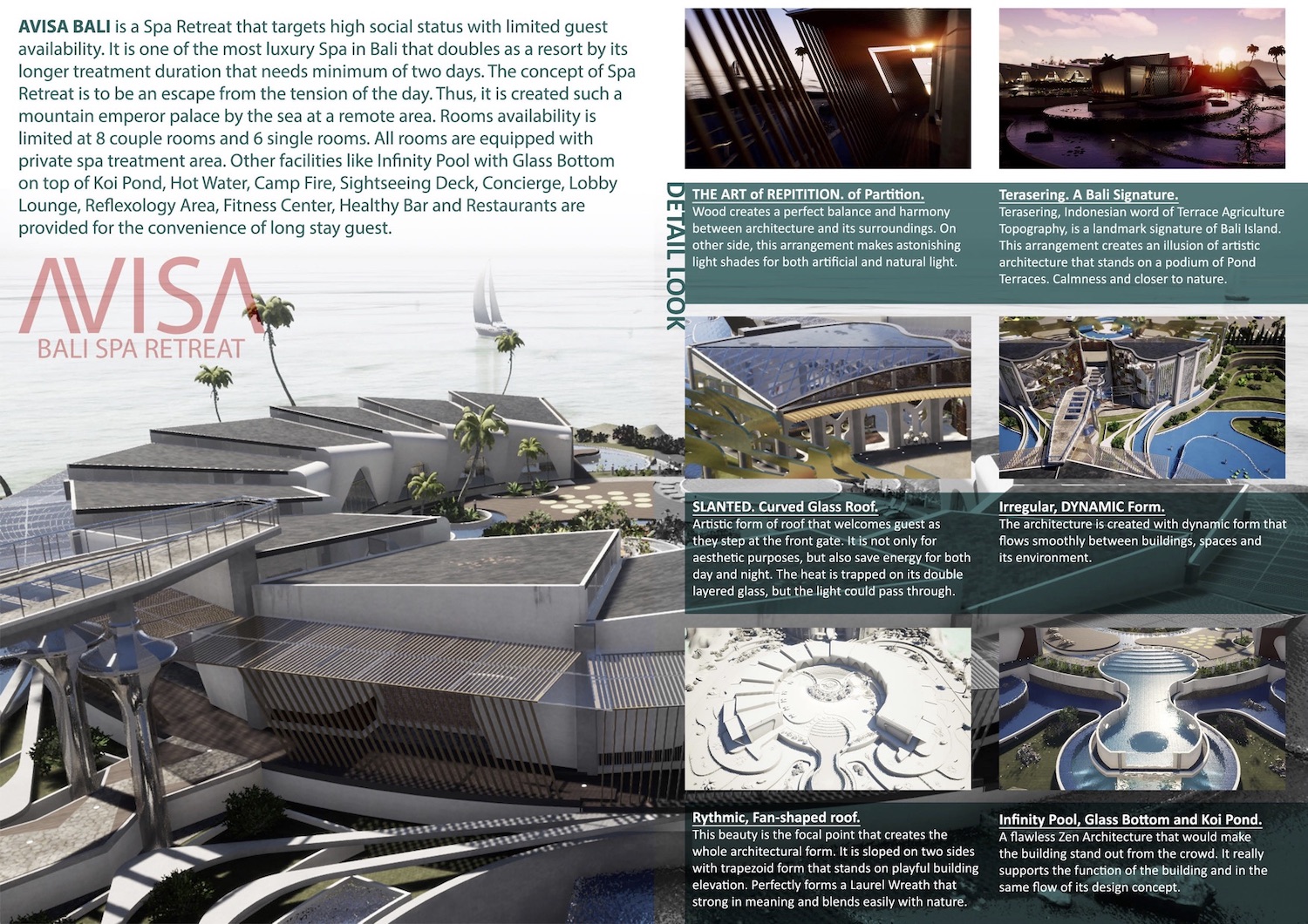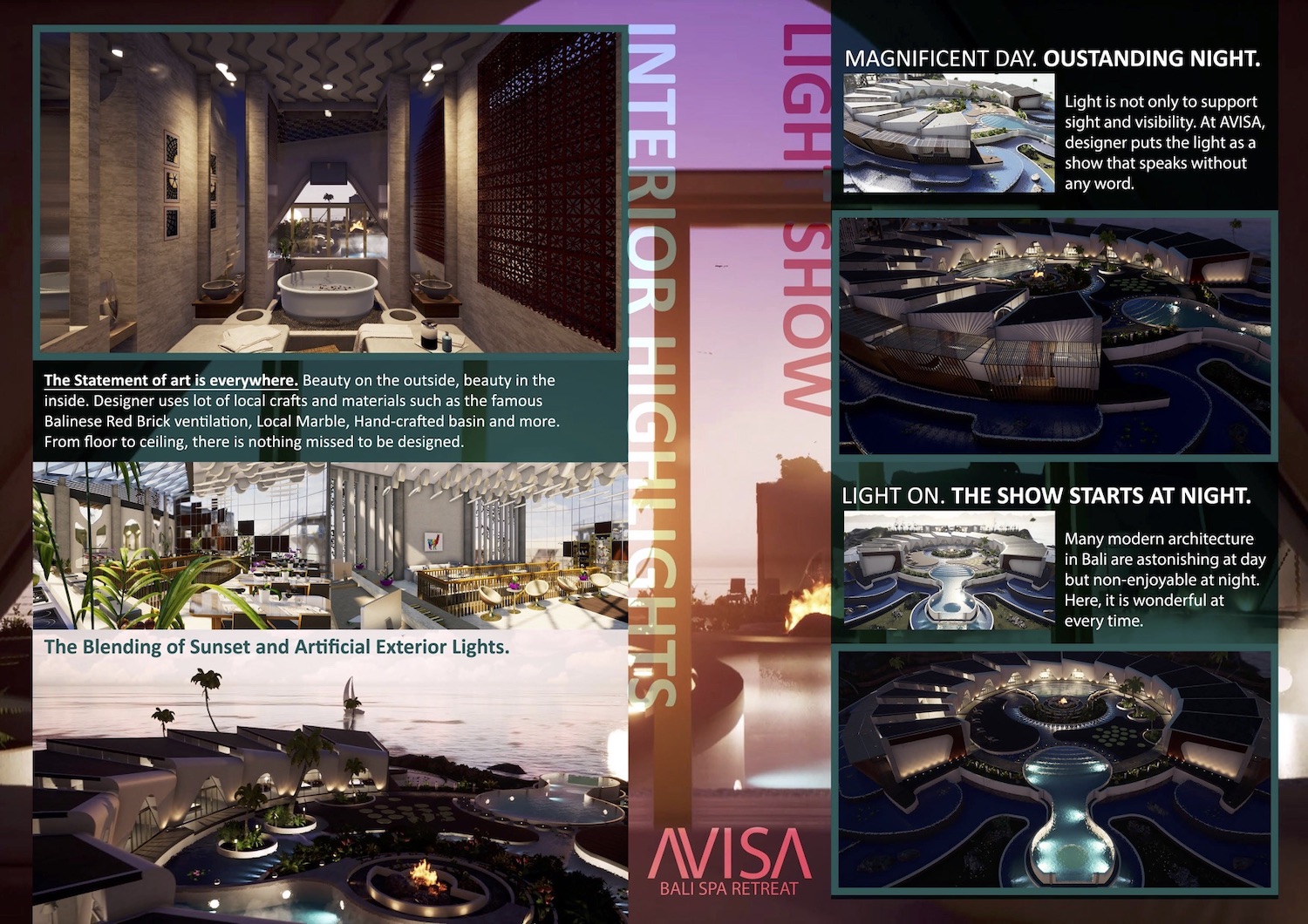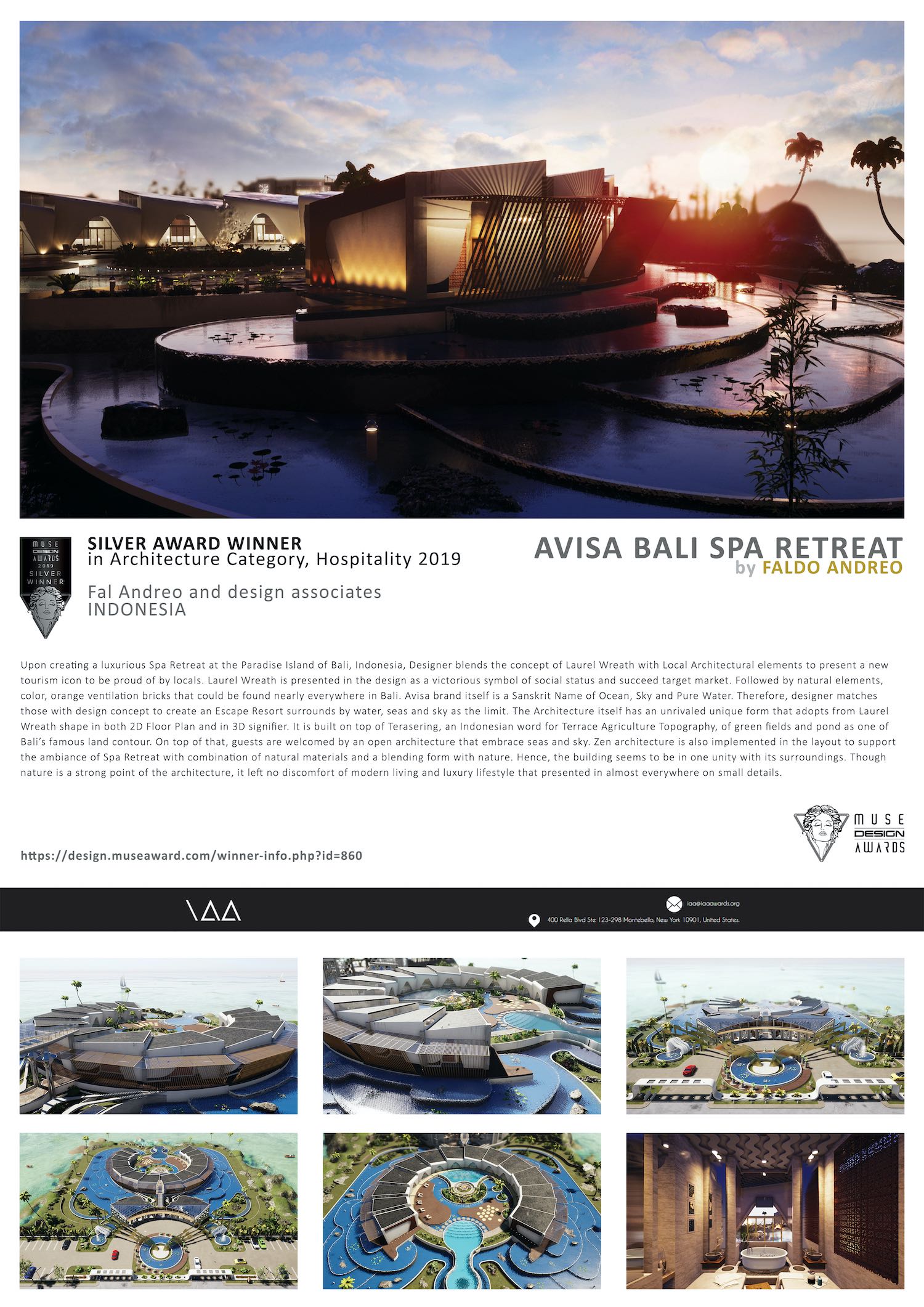 Project name: AVISA BALI Spa Retreat
Architecture firm: Faldo Andreo and design associates
Design team: Faldo Andreo Honggowidjojo
Location: Bali Island, Indonesia
Design year: 2019
Land Area: 14,560 m²
Building Area: 1,894 m²
Client: AVISA BALI Spa Retreat by AVISA Management Indonesia
Client Profile: Avisa Management Indonesia, formerly Avisa Spa Management. Avisa Bali Spa Retreat is a brand of Luxury Spa that targets high social class with complete full day treatment and five stars resort facilities. Founded by a Spa Expert that initially in Spa Business and Management since 2003 with dozens of local and international certifications. In 2020, the business starts expanding it services by opening destination chapels in Bali which receives global attention for high end market (including the Platinum Award Winner AVISA Bali Chapel).
Images: Faldo Andreo Honggowidjojo
---