While a nice hot shower is relaxing, nothing beats the feeling of a long warm soak. A large tub, where you can sit for hours in chin-deep warm water, may be something you're looking forward to. A long soak in a large tub such as a free standing tub can help ease aches and pains, relieve stress, and soothe tired muscles and joints.
But size is not the only factor when looking for the best tub. The tub's shape, style, and material also matter. These factors help homeowners and contractors find the right tub for soaking, relaxing, and bathing.
Let's find out the latest bathtub trends to match your needs and tubs to enhance your bathroom design. This article can help you when you are planning house maintenance or remodeling.
Freestanding Bathtubs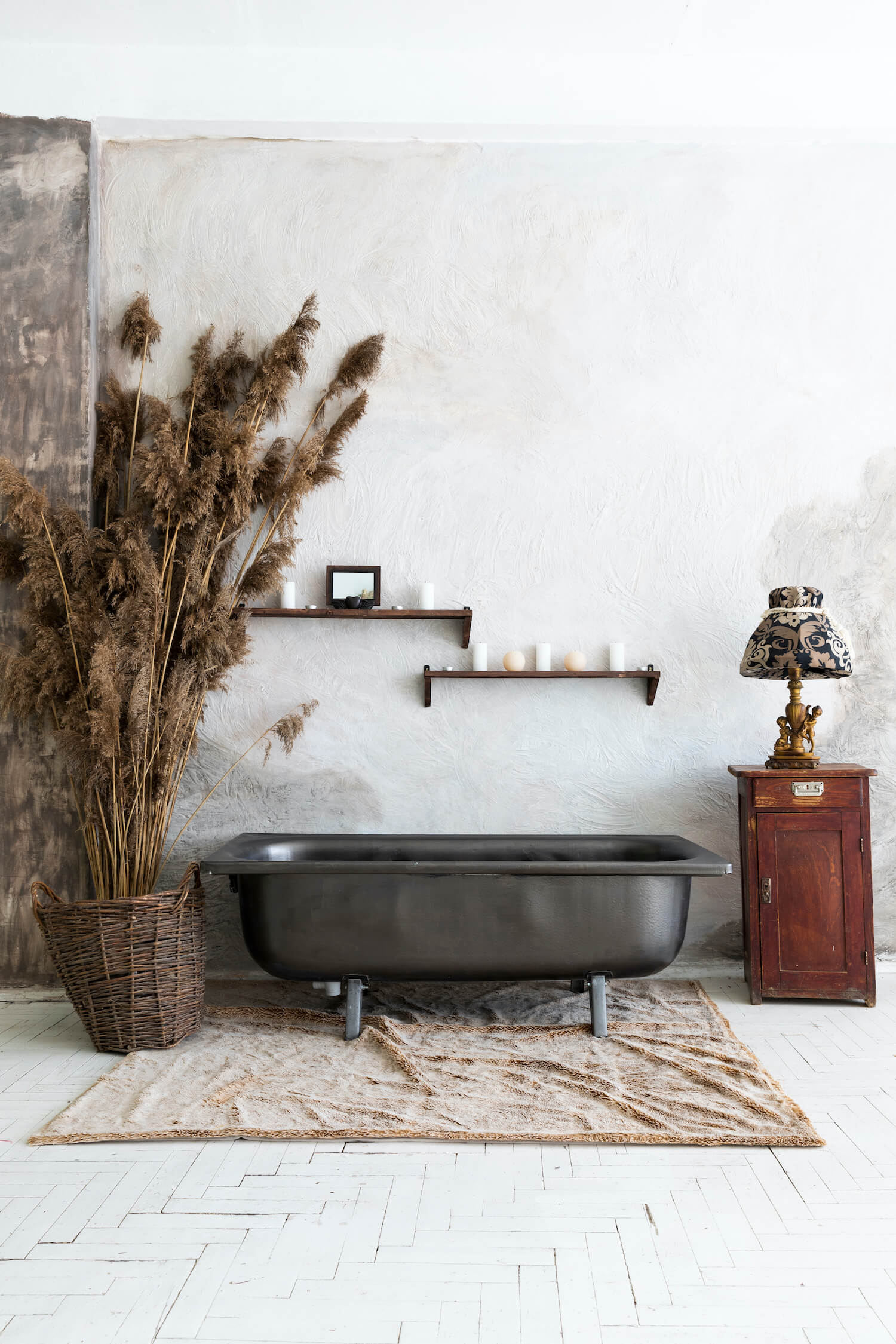 image © freepik
Nothing beats the appeal of free standing tubs. Free standing bathtubs are tubs with all sides exposed compared to an alcove tub with only 1 to 3 sides exposed. Another term for a freestanding tub is a stand alone tub. This may come with a shower, a free standing tub faucet, and other freestanding tub accessories.
A claw-foot tub is a classic-style free standing tub. The term claw-foot pertains to the bathtub feet' style that looks like the claw of a bird. A rectangular tub is a modern-style free-standing tub as well. It has a rectangular shape that's visible on all sides. You'll also find different modern freestanding tub designs with modern fixtures.
Most modern homes with small to medium-sized bathrooms come with a stand alone tub and shower. These are often located in the primary bathroom or master's bedroom bath. Meanwhile, large classic-style homes come with a master's bathroom with a freestanding tub. These tubs are huge, built for soaking and relaxing.
Home builder supplies carry different free standing bathtub models and designs. You can find modern free standing tub designers and makers online. Ordering your tub from these manufacturers will help you create the bathroom style that will match your home design.
Drop-in Tubs
image © Jean van der Meulen
A drop-in tub drops into a frame or a structure called a "surround." Usually, drop-in tubs come with a rim or a wide edge so they can fit on the top of the tub frame. The frame is wood or cement and finished with tiles. The surround covers the sides of the tub.
These tubs are enormous and may even accommodate two people at the same time. Drop-ins may be in the middle of the bathroom as the focal point of the design. This kind of tub may also be near a large window, which is highly recommended when there's a stunning view.
Like a free standing bathtub, drop-in tubs may also come with a shower or Jacuzzi-style attachments. These are perfect for bathing as well as relaxing.
Alcove Bathtub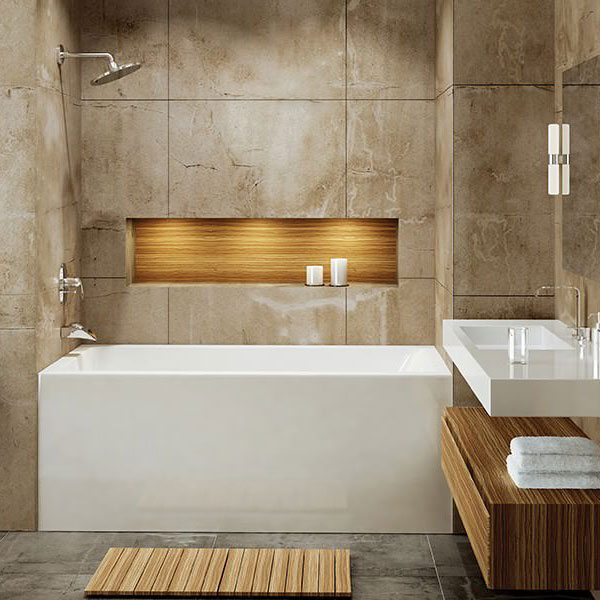 image © Adora - Preston Bath + Kithen DESIGN CENTRE
An alcove tub is a top choice when there's limited space. But an alcove tub doesn't have to be ugly and dull. New trendy designs include alcoves with updated tiles, frosted decorated glass enclosures, and tubs near a huge window.
To save more space, homeowners may add shower attachments with an alcove tub. If you have this kind of alcove tub design, you can update using matching classic or modern bathroom fixtures and accessories. Get rid of ugly, moldy shower curtains and replace these with flowing, waterproof fabric curtains instead.
Corner Tub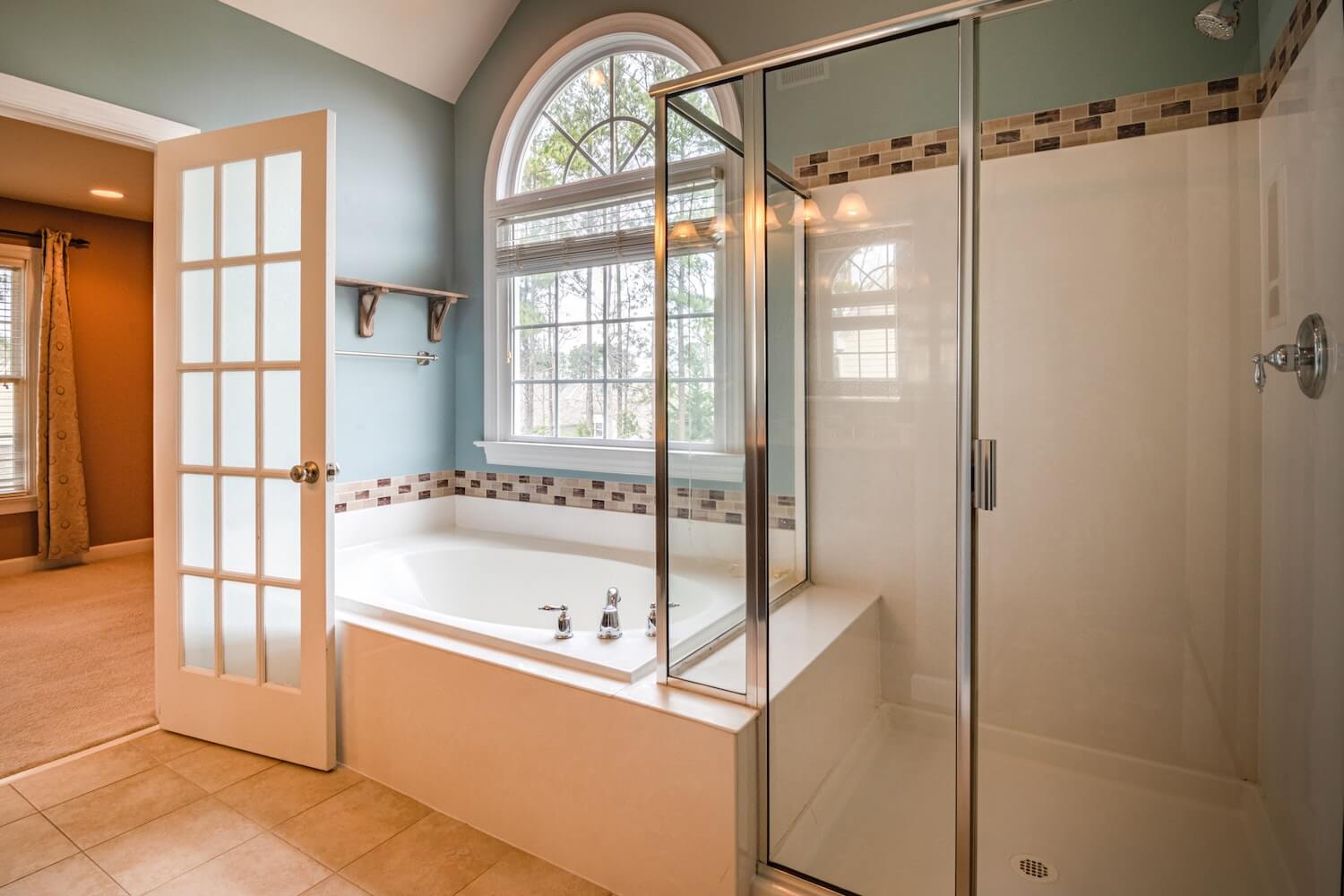 image © Curtis Adams
The corner tub is another space saver and remains one of the trendiest bathtub designs. Corner tubs are available in alcove style, drop-in tubs, and Jacuzzi-style tubs. You can find corner tubs in many sizes to fit one, two, three, or more people. You can select different shapes, styles, and colors, from classic to modern, small, or large bathrooms.
The latest corner tub designs come with jets so you can get a soothing massage while you bathe. There is no need to go to the spa; you can sit back and relax in your spacious corner tub.
Undermount Tubs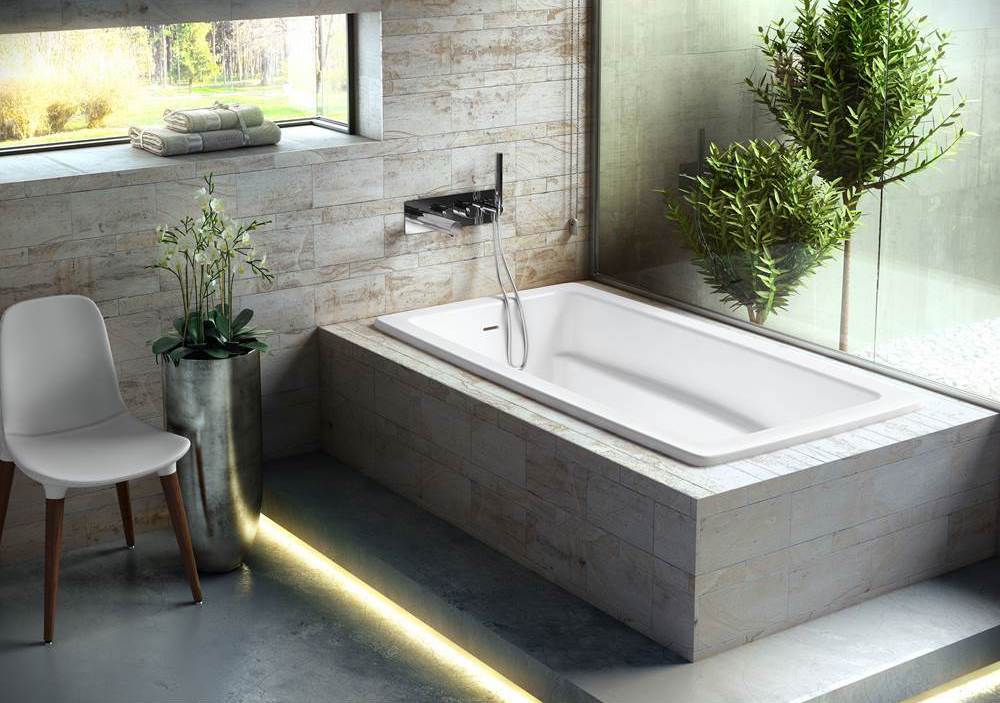 image © General Plumbing Supply
Compared to a drop-in tub, an under-mount tub is a type of bathtub installed under a rim. The floor supports the tub, and a surround covers the sides of the tub. This type of tub looks very classy, perfect near windows with a gorgeous view.
Large homes with expansive bathrooms have stunning under-mount tubs. The area surrounding the tub holds bathroom accents and various accessories.
Japanese-Style Bathtubs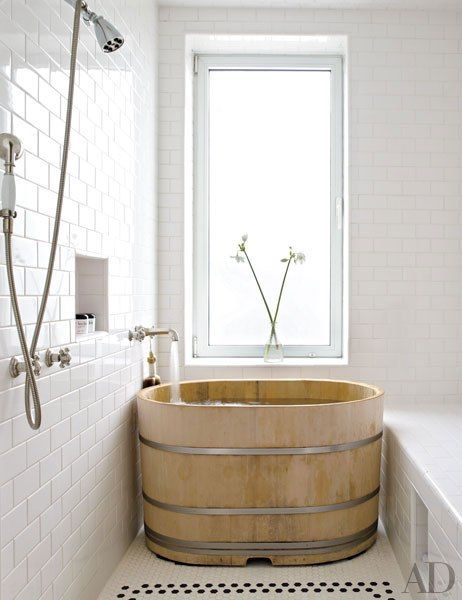 image © AD
Another type of bathtub that continues to inspire homeowners is the Japanese-style bathtub. This traditional bathtub is small but deep, perfect for soaking. Homeowners who prefer a conventional design have tubs made from Hinoki wood. Some modern tub makers use cedar, such as Alaskan Yellow Cedar or Western Red Cedarwood.
Most Japanese soaking tubs come with seats so users can submerge up to their shoulders with no need to lie flat or sit with knees to their chests.
Walk-In Tubs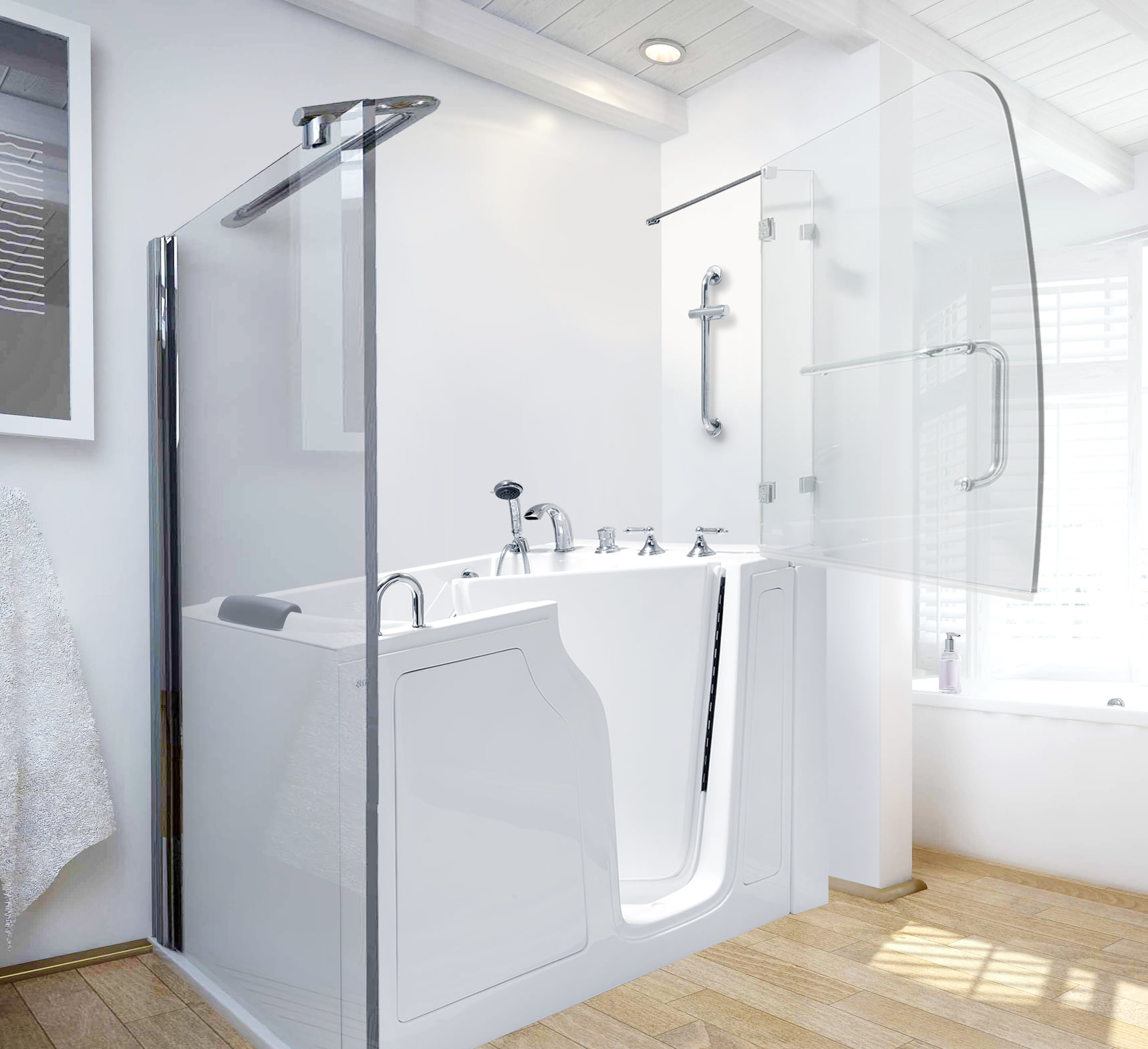 image © EZ Bath
People with disabilities may find it hard to climb into a regular tub. Luckily, there's a fantastic kind of tub called a walk-in tub especially made for bathers with mobility issues. This kind of tub has one side that opens and closes like a door.
The bather climbs up, sits, and locks the door so that water won't come out. There are handles to support the bather, while controls are easy to reach. A similar tub from Home Depot comes with jet streams at the back of the seat, at the bottom, sides, and front. These make it easier to bathe while the streams of water can be very relaxing as well.
Conclusion
No matter what style you prefer, a bathtub transforms any regular bathroom into an enjoyable and relaxing space. Take time to consider the correct type of tub according to your bathroom style, design, size, as well as your personal needs. It's always best to plan and check out different tub styles and trendy designs beforehand. With careful planning and selection, your new bathroom will become the envy of all.
---