Mid-century home designs gained popularity in the United States after World War II. In the modern era, many homeowners still use this style to decorate their living spaces. Learn more about the main characteristics of a mid-century home design so that you can build and create a clean and fresh interior for your house.
Neutral Hues With Bold Pops of Color
One staple to a mid-century home design is the use of neutral hues with bold pops of color. Typically, your primary color palette consists of neutrals like black, white, and beige, with bold pops of color on top of this. For example, your living room might have beige walls and a tan rug, but your furniture could have a brighter color, such as burgundy or tangerine.
More Purpose, More Function
Generally, any décor items or furniture pieces serve a greater purpose and are highly functional. When you walk into a mid-century home, no item inside will go without a purpose. Everything might look and feel simple and minimalistic, but the space is functional in all aspects.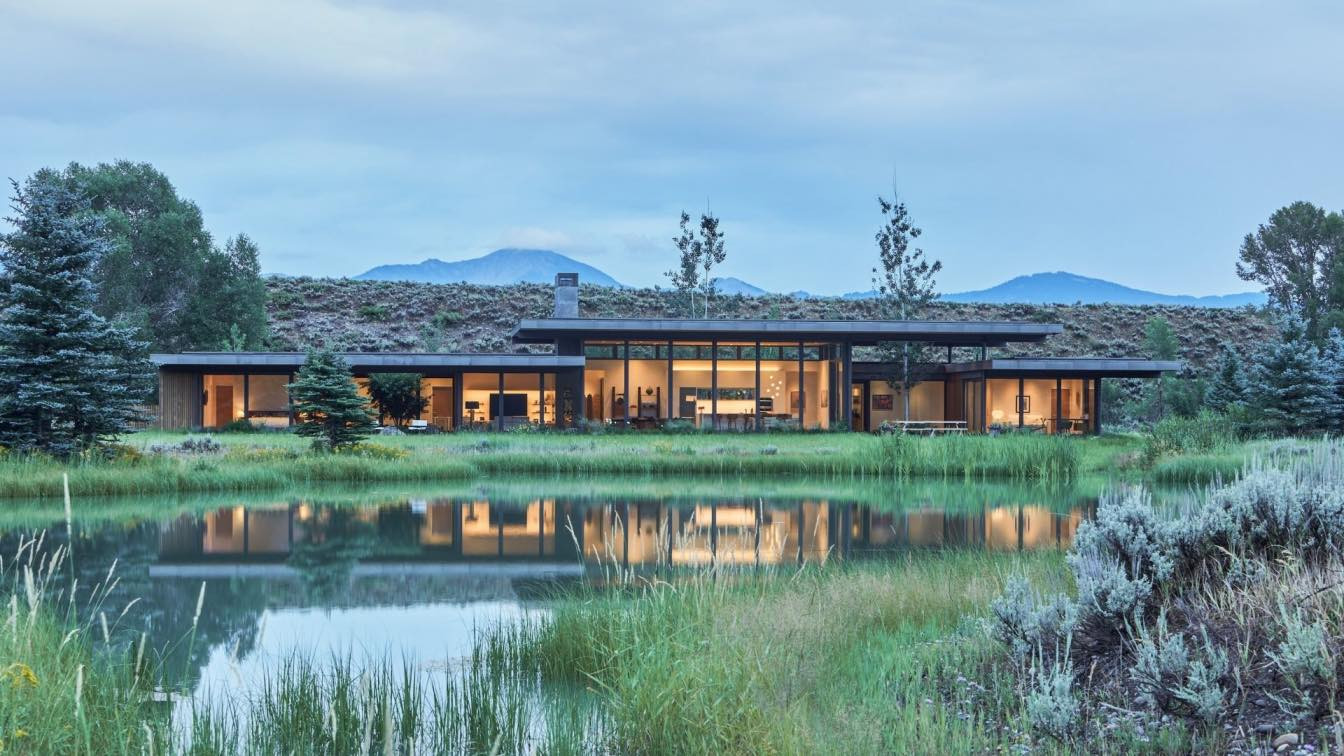 CLB Architects designs the Tengoku Residence in Jackson Hole, Wyoming, a Japanese-inspired garden style home with a dose of mid-century California modernism in the Rocky Mountain West
Incorporating Nature
A major characteristic of a mid-century home design is the incorporation of nature indoors. Mixing outdoor elements inside the house can help build continuity and emphasize natural and organic décor. Place plants throughout the home to liven up the space for a timeless appeal.
Mixed Shapes, Textures, and Materials
When you walk into a mid-century home, you may find the shapes and patterns to be more organic, with a few geometric shapes thrown in. The style is very clean, yet you shouldn't be afraid to mix and match textures and materials as well. For a modern twist to this interior design, include wood and natural materials, but also add synthetic décor like acrylic pieces.
Minimized Clutter
One thing you won't find in a mid-century home is clutter. When it comes to décor pieces and art, a homeowner with this interior design will choose larger art pieces rather than smaller, random ones. Again, if the space is to be functional, there's no need for clutter and trinkets with no purpose.
There are many reasons why you'll appreciate a mid-century design. Everything is spotless, precise, and simple, yet it makes a lasting impression on guests. How will you design the inside of homes to be more mid-century modern?
---