An architect who has defied gravity with stunning neo-Futurist buildings and bridges. This is how one will describe Santiago Calatrava if one is an aspiring architect with dreams of soaring buildings. Calatrava is an iconic figure in postmodern architecture. Meanwhile, his oeuvre is a true inspiration to younger architects with bold career plans.
If you haven't heard of Calatrava and his breathtaking engineering solutions, check the article below. Learn about the master and why his heritage received international recognition.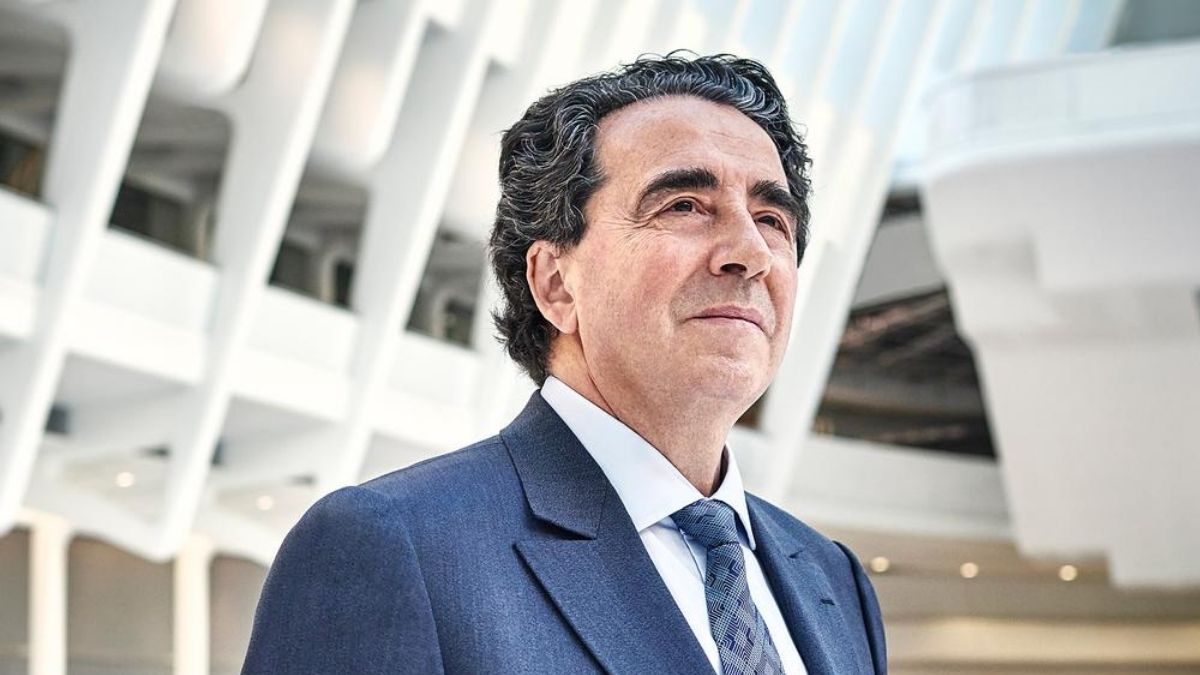 The Valencian architect Santiago Calatrava. Santiago Calatrava Study / EP
Who is Santiago Calatrava?
The recipient of various awards and a subject of numerous publications, Santiago Calatrava Valls was born in 1951. He later left his native town of Benimamet, Spain, and moved to Valencia to study architecture. He probably didn't wonder 'who's gonna write my paper for me?' in the 1970s and completed all college projects by himself. A graduate of the Polytechnic University of Valencia, Calatrava continued studying technical science.
After receiving a Ph.D. in 1979, he started his own firm specializing in engineering and architecture. Later, his architectural empire expanded, and new offices opened in France and the US.
Apart from architecture and engineering, Calatrava's interests include sculpture and art. The architect had a few public exhibitions in New York, Vatican, and Russia.
Check Calatrava's buildings below to grasp the idea of gravity-defying architecture.
Project #1: Alamillo Bridge
Bridges make up a big chunk of Calatrava's projects. This is why mentioning the Alamillo Bridge is crucial in understanding the architect. The masterpiece connects Seville with La Cartuja peninsula.
It is known that the architect has based the bridge's design on his small-scale sculpture. Called 'Running Torso,' the series of sculptures includes marble cubes and wires in tension. Alamillo Bridge is an amazing example of a cantilevering cable-stayed construction. Though it required more materials than other cable-stayed bridges, the soaring design makes up for all losses.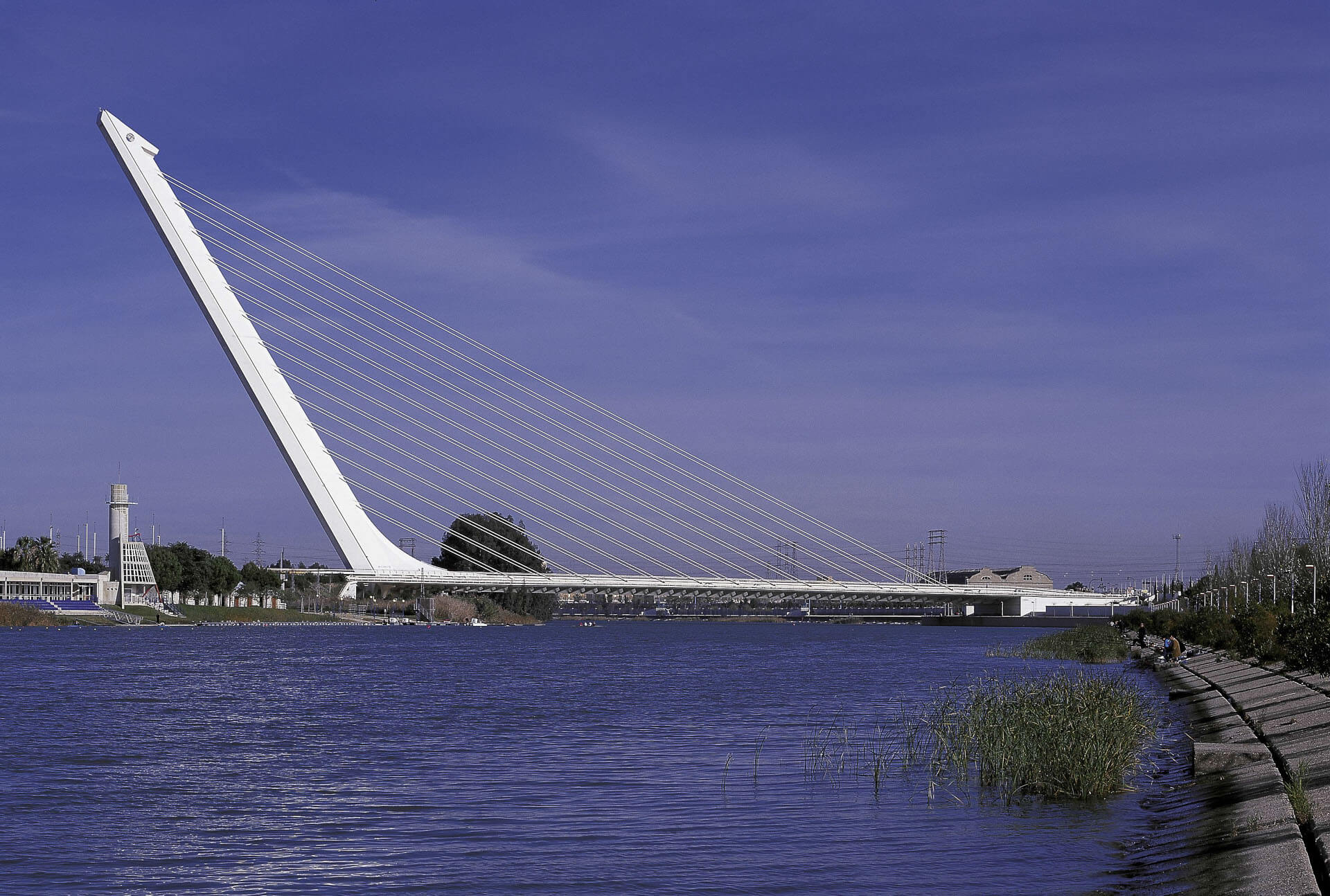 image © calatrava.com
Project #2: S 242 A
Calatrava is known for his small-scale sculptures too. There are rare exhibitions of Calatrava's round sculptures. Once you visit art museums, you'll find how much the architect's sculptures inspire his engineering solutions. Or vice versa: it's never clear which part of the oeuvre inspired another and in which consequence.
The statue is a semi-spiral bronze construction placed on a rectangular oak form. The bronze part clearly reminds the viewer of the curving lines present in Calatrava's buildings. So think of the architect's statues as a form of reflection on the project before the actual drafting happens.
Project #3: Milwaukee Art Museum
The most iconic masterpiece ever created by Calatrava after his Alamillo Bridge.
Here, the master of soaring buildings created the Quadracci Pavilion. The whole design reminds the viewer of a big bird ready to spread its wings. Or a starship from 'Star Wars' due to its streamlined form. The wings of the building can be folded in case of dangerous weather. During times of peace, they serve to keep the visitors and museum workers in the shade.
Why visit the Quadracci Pavilion?
- Obviously, it's one of Calatrava's notorious works;
- You can check exhibitions in the pavilion and other museum buildings;
- You can exercise your imagination on what the future will look like;
- You'll learn more about neo-futurist architecture.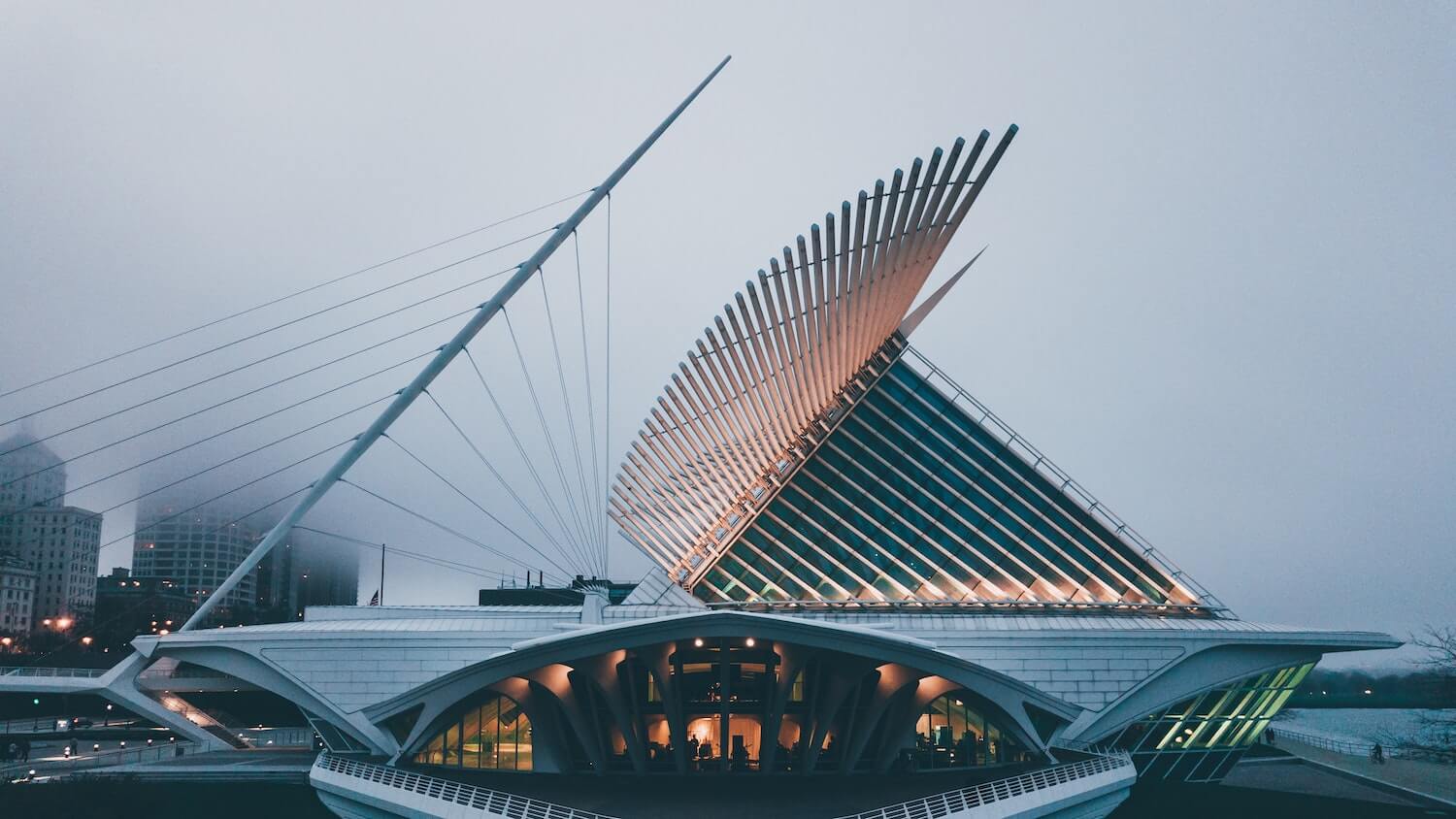 image © Kayle Kaupanger
Project #4: Athens Olympic Park
Calatrava was the architect who redesigned one of the iconic Athens spots 17 years ago. The restored park opened right before the 2004 Olympic Games. The curves remind the viewer of whale bones and prove Calatrava's signature style.
Calatrava successfully completed the project by uniting separate buildings. From now on, Athens Park looks like a modern holistic complex recognized globally.
Why visit the Athens Olympic Park:
- Once you're on a trip in Greece, add this place to your must-see list;
- It's an astonishing structure of neo-futurist architecture. If Olympian gods were to play games, they would have chosen this place;
- The canopies are mesmerizing and make you think of technological revolution wonders.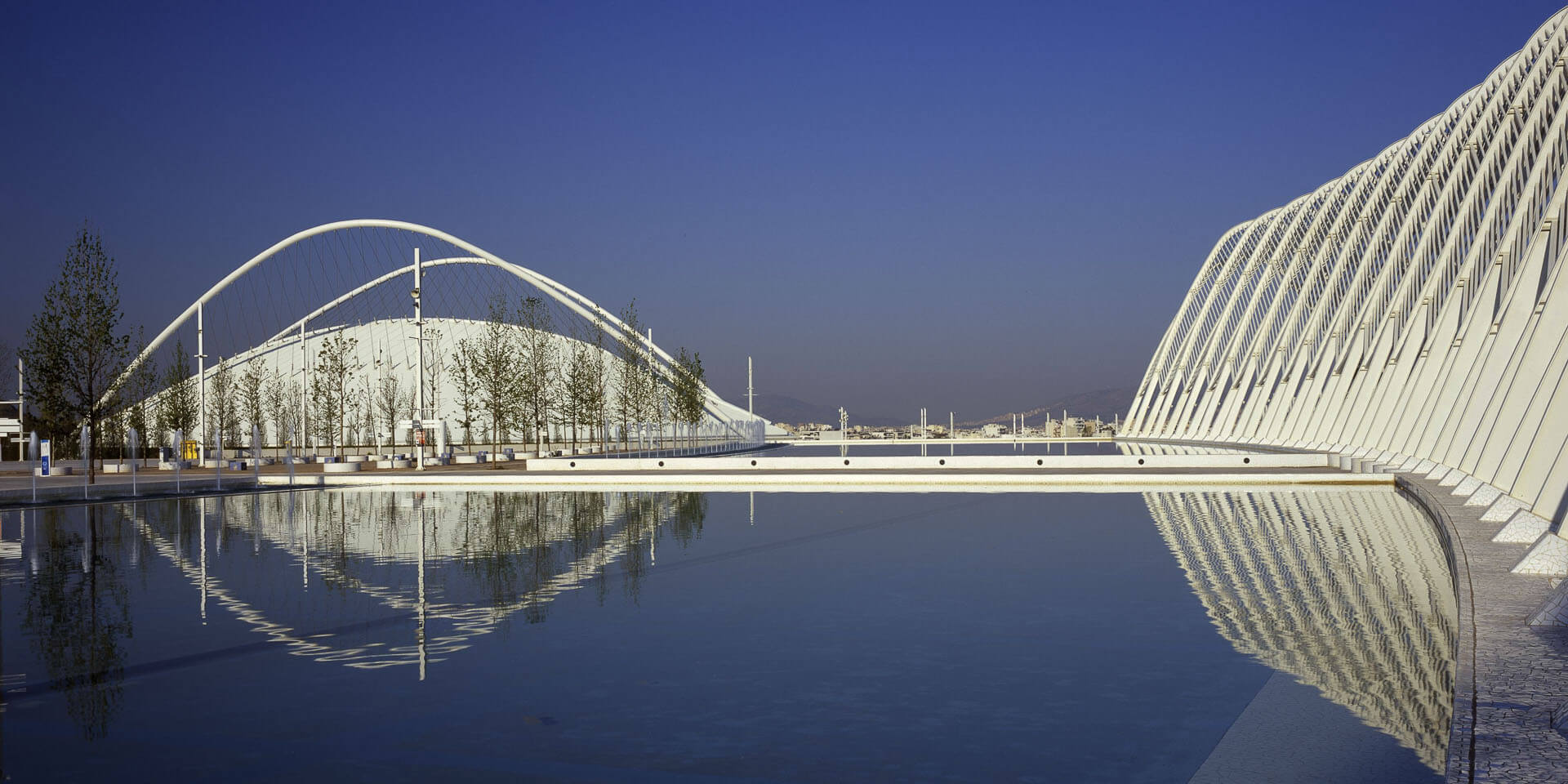 image © calatrava.com
Project #5: 'Turning Torso'
Yes, this is exactly how the building in Malmo, Sweden, is called. As you've probably guessed, it's inspired by another of Calatrava's sculptures of the same name. However, this time, designing a building according to the sculpture was not Calatrava's idea. Johnny Orback, the managing director of HSB Malmo, suggested Calatrava create a spiral building after Orback saw the architect's statues.
'Turning Torso' is a residential building nowadays. It imitates a human twisting their body and includes five floors with apartments to be leased. For visitors only, the building has an observation deck. Check it the next time you're in Sweden.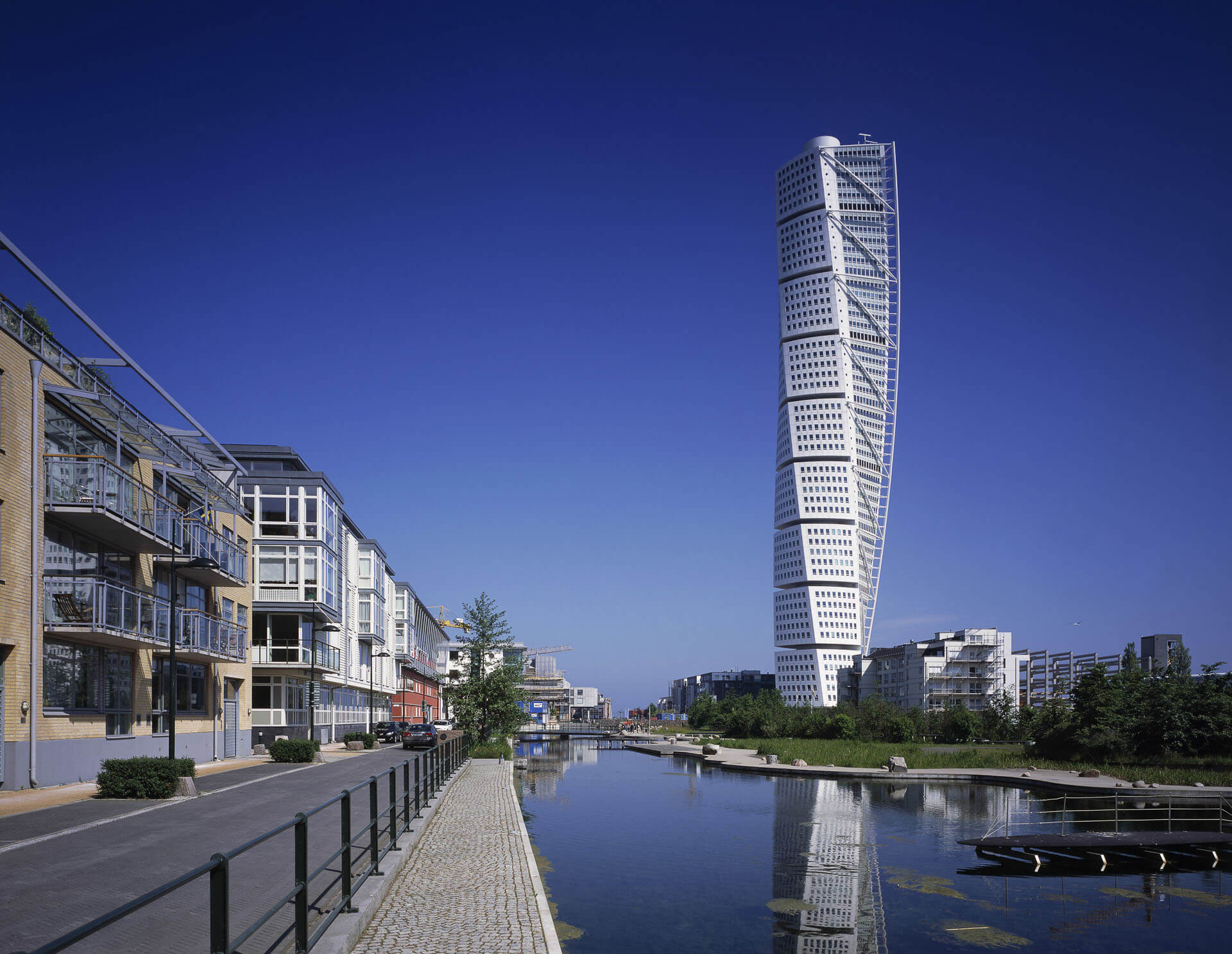 image © calatrava.com
Project #6: Florida Polytechnic Science, Innovation, and Technology Campus
Now, this is a dream of every student regardless of their faculty. Reminding the viewer of a round fountain with two-level waves, the project is a masterpiece.
One of the signature-style characteristics is the sunshade elements of the roof. Due to the smart design, they move with the sun, providing a 24-hour shade.
The building is home to thousands of students who come to labs, offices, and lecture halls. Meanwhile, the 'Commons' is a central hall which anyone can enjoy as a student or a tourist.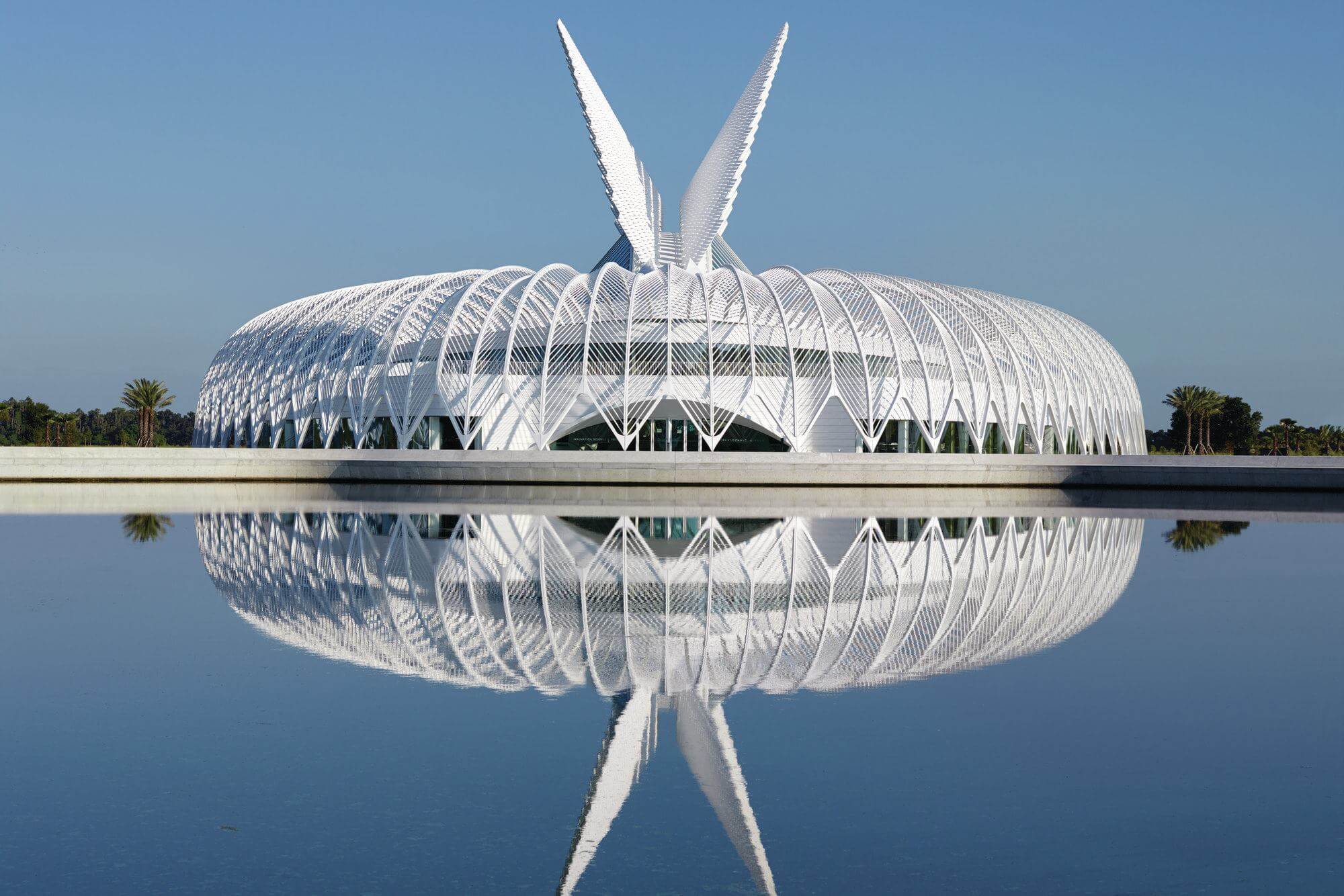 image © Alan Karchmer
Project #7: NYC World Trade Center Transportation Hub
Called 'the Oculus,' the whole building imitates a bird ready to soar into the sky. The central architectural topic is movement. Yet no wonder that the whole building gives one a feeling of constant action. The interior follows the conical shape of two side planes meeting at the highest point. Though critics mention that the roof leaks, it is not a problem for visitors hypnotized with the beauty.
The interior is simplistic, with no details on the walls or the floor. Some may consider it a problem, while true neo-futurists will consider it an advantage.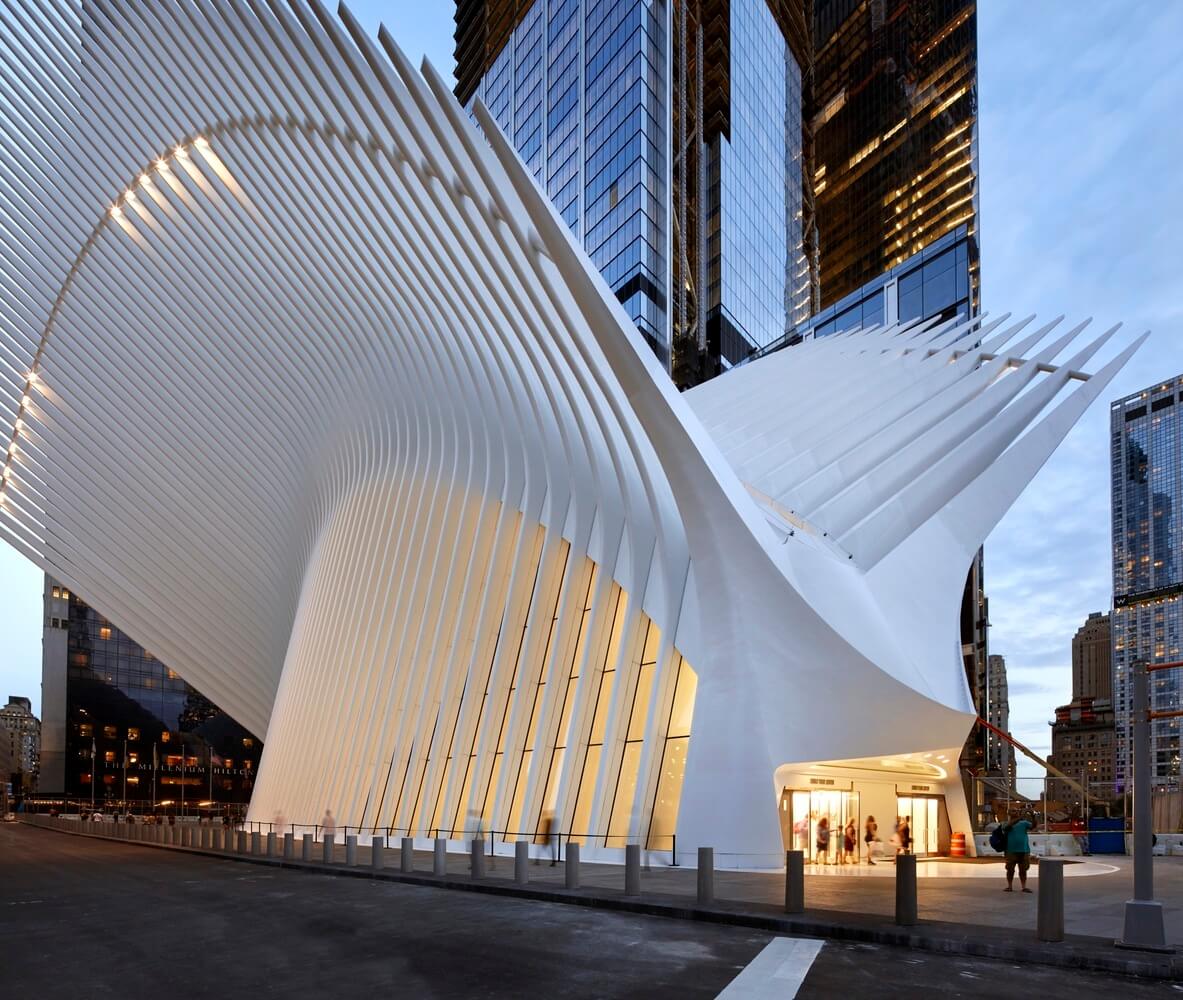 image © Hufton+Crow
Final Thoughts
Santiago Calatrava is a genius of neo-Futurism. His gravity-defying buildings are proof of architecture and masterful engineering solutions. Whether you like Calatrava's works or highly criticize them, the architect is authentic and innovative.
We hope the article was helpful to you. Good luck!
---