We all spend a lot of time in our bedrooms, so they should be places where we can be perfectly peaceful and tranquil. Whether you are relaxing with your favorite book or kicking back with your friends on the weekend, your bedroom needs to be somewhere you feel totally yourself and at ease. Designing your bedroom can actually be easier than other rooms in your home because you only need to think about what you want, not what other members of your family or guests in your home want.
To help everyone design the perfect bedroom to relax and be yourself, here are some amazing ideas to make your room unique and splendid.
1. Decorate Your Bedroom Using All Your Favorite Colors
Using all your favorite colors to decorate your bedroom is the perfect way to make it unique and personal to you. In other rooms in the home, you may need to consider other people's tastes, but in your own bedroom, you are free to run wild with your creativity. Whatever your favorite colors are, incorporate them into your paint scheme, your furnishing and upholstery, and all the other little features of your room like your lampshades, throws, and floor rugs.
2. Decorate Your Walls
As well as painting your favorite colors on your bedroom walls they are also the perfect space for personalizing your bedroom. You can put up beautifully framed photos of all your loved ones and special memories so that your room is always a welcome place to retreat to after a difficult day. You can also add your favorite paintings and other artwork to the walls and also try out some special wall stickers to give the whole room a lift. Stickers are fantastic because they come in various designs and they are super easy to put up and take down when you fancy a change. There are simple designs like flowers and spots and even customizable stickers with your name.
3. Create a Personalized Bed
Speaking of a customized bedroom, why not add some customized bedsheets? You can have photos of your loved ones printed onto duvets, pillowcases, and cushion covers so that you always feel safe and snug whenever you curl up for the night. If that's not really your thing, you can have your favorite book quotes or movie character printed onto your sheets so that your bed is totally personalized and unique.
4. Make Your Room Smell Nice
As well as the visual aesthetics of your room, you always want to create the right environment. Bedrooms can get a little stuffy and smelly because we spend most of our time sleeping in them. Adding an essential oil diffuser will help to freshen the room up and create a nice fragrance all day long. By mixing different oils, you can come up with your own unique fragrance which will also have certain benefits like helping you to relax and relieving stress and anxiety.
5. Create Relaxed Lighting
Lighting is also very important for creating the right environment and for ensuring that your bedroom is a pleasant place to relax. In the kitchen and other functional rooms in your home, you may want to use white light bulbs but these are no good for the bedroom. Avoid one big light fixture and instead set up small lamps, fairy lights, and other individual lighting sources. Fit these with yellow light bulbs as these are kinder on the eyes and brain and will help you to feel cozy and comfortable when you are chilling out in your room or getting ready to go to sleep.
6. Use Plants to Freshen the Mood
The final thing to produce a pleasant environment is to add houseplants to your bedroom. They will make the air more breathable and fresh and are also calming to look at. If you are not able to incorporate enough color into the design of the room, plants can also be an easy way to inject a splash of brightness. If your room doesn't get much natural sunlight, look out for plants that do well in darker environments.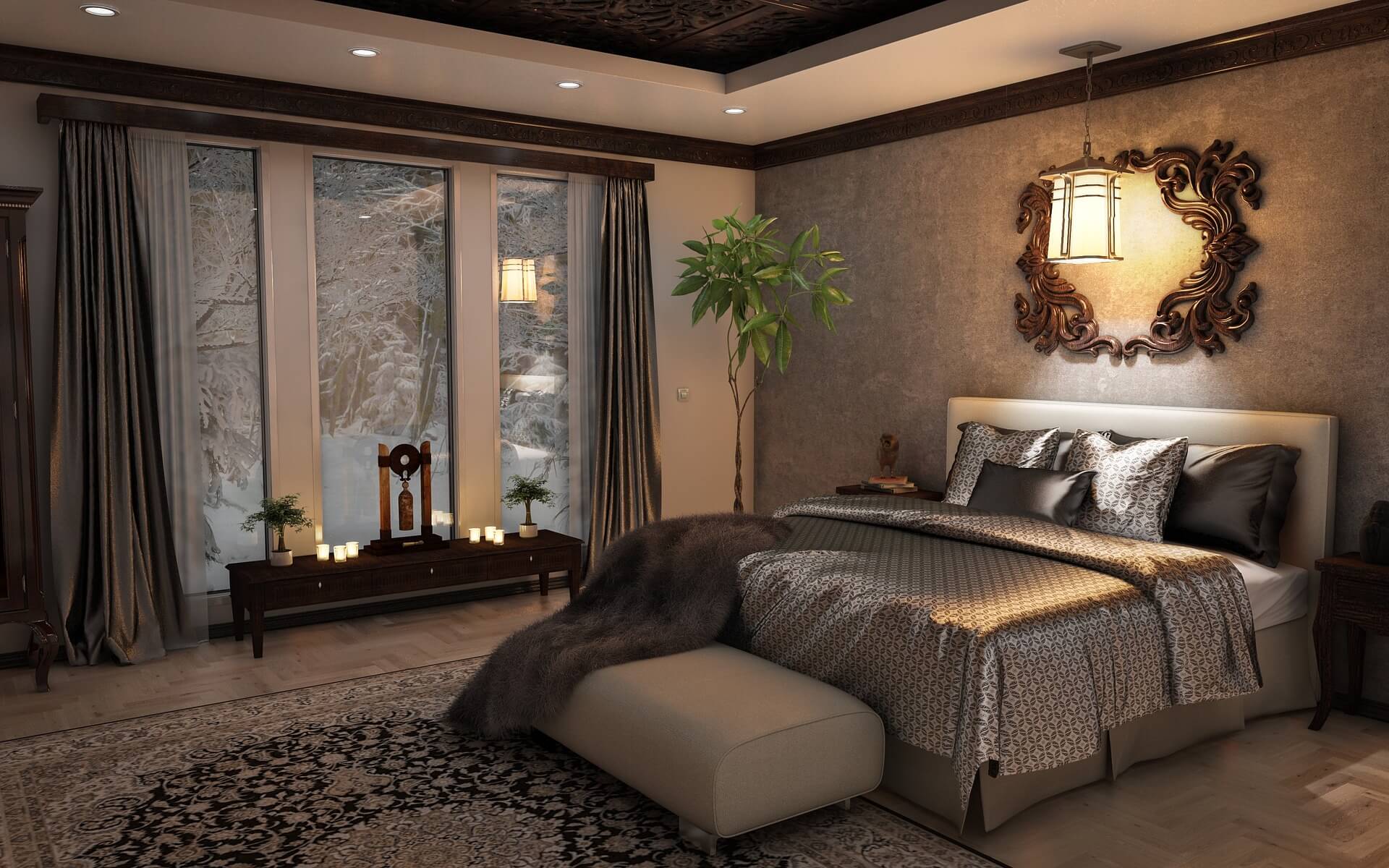 image © Arek Socha
With just a little design inspiration, it is super easy to create a bedroom that is unique and splendid. The great thing about bedrooms is that you don't need to spend a lot of money to make them comfortable and to inject your personality. Follow these six amazing ideas and you will have the perfect space to unwind and relax. Make sure that your bedroom is the one place in your home that is truly yours and reflects everything you love and enjoy.
---