Vincent Callebaut Architectures: Parametric Lampchairs, Agro-Waste Urban Furniture Shaped With Minimal Surfaces, Venice Architecture Biennale 2023.
The "Parametric Lampchairs" implement the concept of "Agro-Waste Design" or "Design with Agro-Waste" and the use of these biomaterials in furniture design and architecture.
It is about rethinking the current linear economic model - where production is directly linked to the extraction of natural resources and their disposal at the end of their useful life - to rethink a more sustainable future.
According to the principles of upcycling and the circular economy, organic waste from cities and countryside can be diverted from landfills or incineration to become the raw material for the creation of products before being reinjected into the biological cycle at the end of their useful life.
The "Parametric Lampchairs" urban furniture collection aims to prevent the transformation of agricultural waste into recycled materials - such as wood, grass, straw, and algae - can create aesthetically interesting and above all efficient designs, completely biodegradable and having minimal impact on the environment.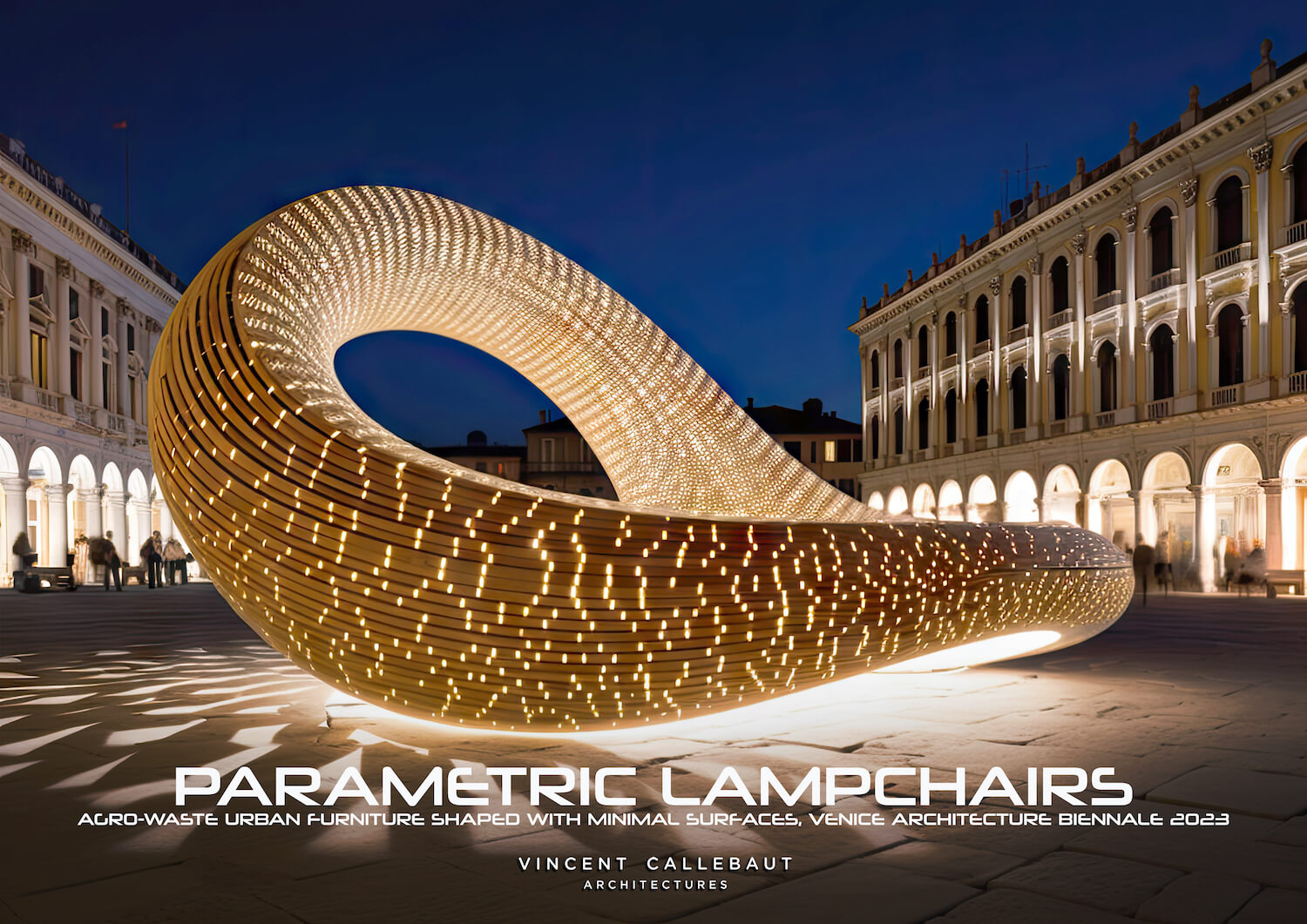 This includes the reuse of cut wood in orchards, corn cobs in fields, sugarcane fibers, rice straw, wheat and soybeans, peanut shells, bananas, sunflower, cellulose, and many others, depending on the context, climate, and culture of the context.
In addition, these natural fibers can be combined with biopolymers derived exclusively from plants - such as agar-agar, sodium alginate, and starch - to obtain more rigid end products that can be used for exterior applications. In addition, some natural fibers are characterized by good water-repellent performance, such as potato skins and cork.
This bio-based creation process has the potential not only to fill gaps in the product life cycle, but also to stimulate forms of generative citizenship through upcycling, where each citizen decides what they do with their own waste to reduce, recycle and reuse it.
Numerous scientific studies show that the reuse of agricultural waste not only helps to tackle the problem of pollution caused by the exploitation of conventional construction materials, such as cement, steel and plastic, but also to environmental concern for waste disposal in landfills. These biomaterials now have real commercial viability and technical characteristics that allow them to be compared to any other traditional product.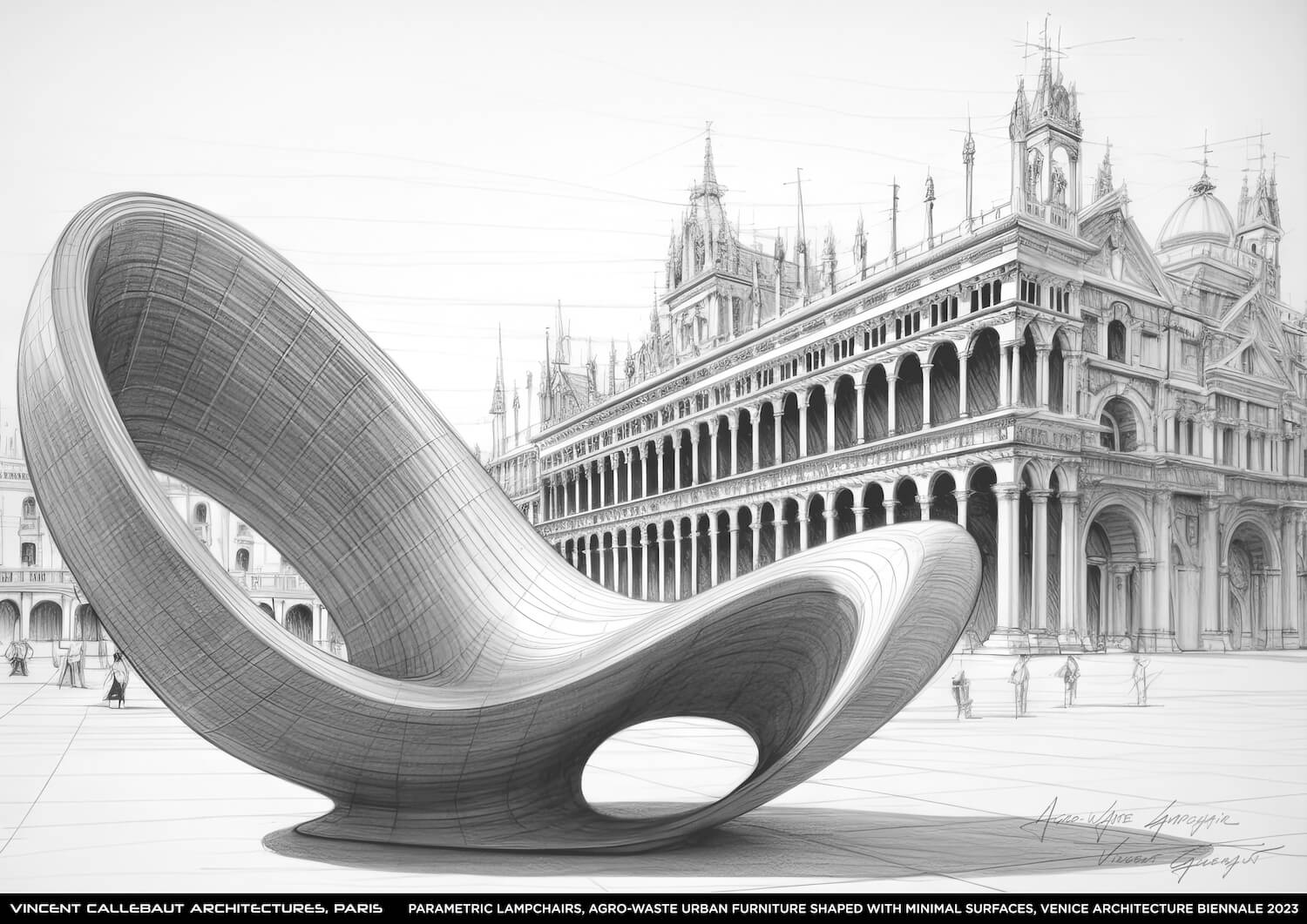 MATHEMATICS AT THE SERVICE OF ERGONOMIC URBAN FURNITURE
Mathematics are present everywhere in nature, many examples lead to scientific transcriptions: the spirals of sunflowers, the golden section of the nautilus, the fractal shapes of Romanesco cabbage, the structure of frost crystals, the Dragon Tree of Socotra, the natural structures of foliage and branches...
The most telling example in terms of geometric intelligence is the "soap bubble" obtained by dipping a metal wire in soapy water, because the soap film always tends to minimize its energy, while by optimizing its surface.
Catenoid, gyroid, helicoid, but also surfaces of Costa, Enneper, Scherk, or Schwarz, these are so-called minimal surfaces because they minimize their area while respecting certain physical conditions which constrain their edges.
At the heart of our strategy to reduce the environmental impact, these minimal surfaces have inspired us with the "Parametric Lampchairs" made with natural fibers emitted by the agricultural industry. These urban pieces of furniture are here molded, braided, pleated, or printed in 3D to generate ergonomic geometries that appear complex but parametrized from minimal mathematical surfaces with fluid lines, intrinsically reducing the amount of energy and materials for their manufacture.
The "Parametric Lampchairs" project supports research on the circular economy and the reuse of agricultural waste in the resource-hungry design and architecture industry. Biomimicry applied to design is a sure way to achieve global sustainability goals and seek a more environmentally friendly future inspired by mathematics that optimizes all living things found in nature.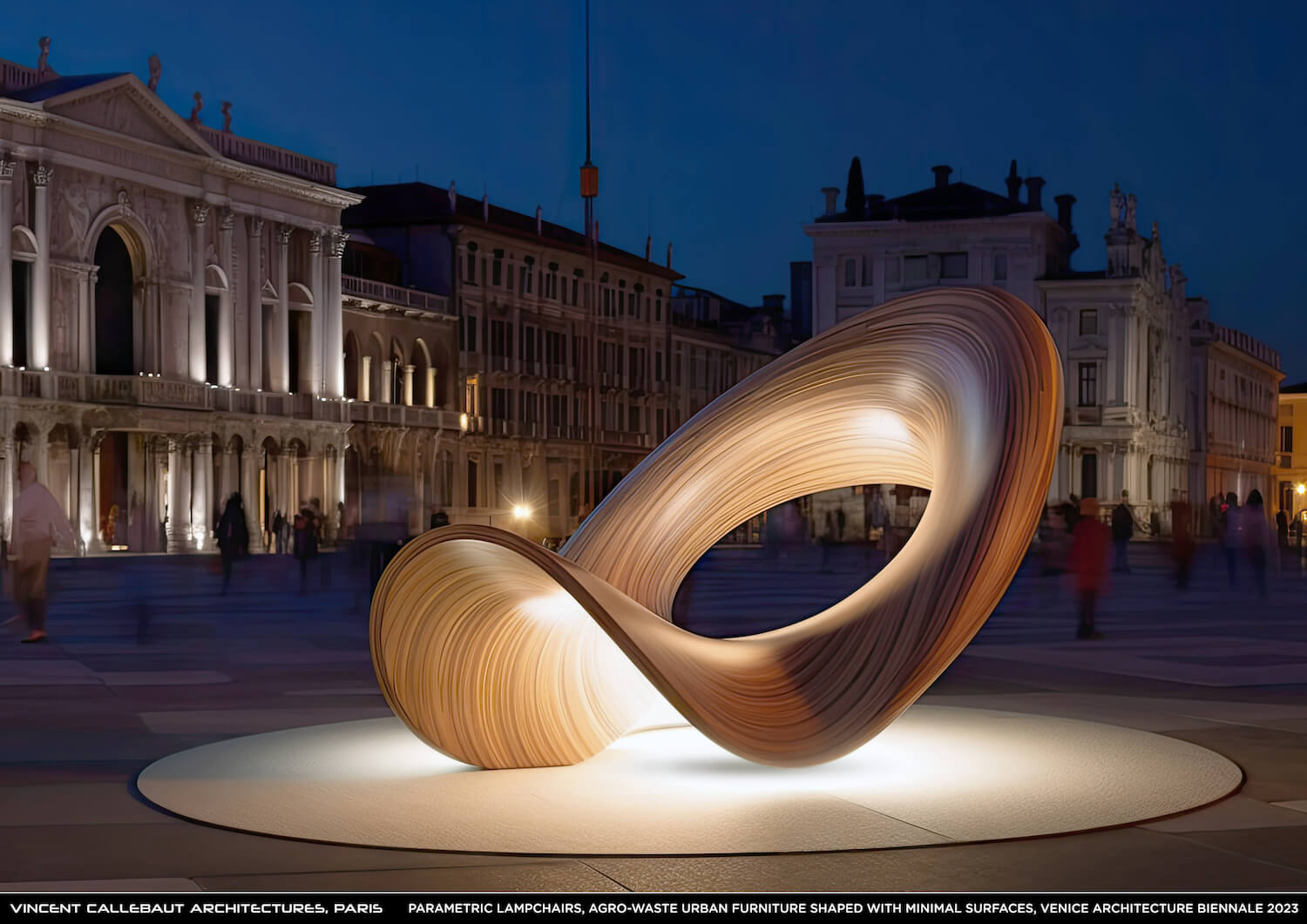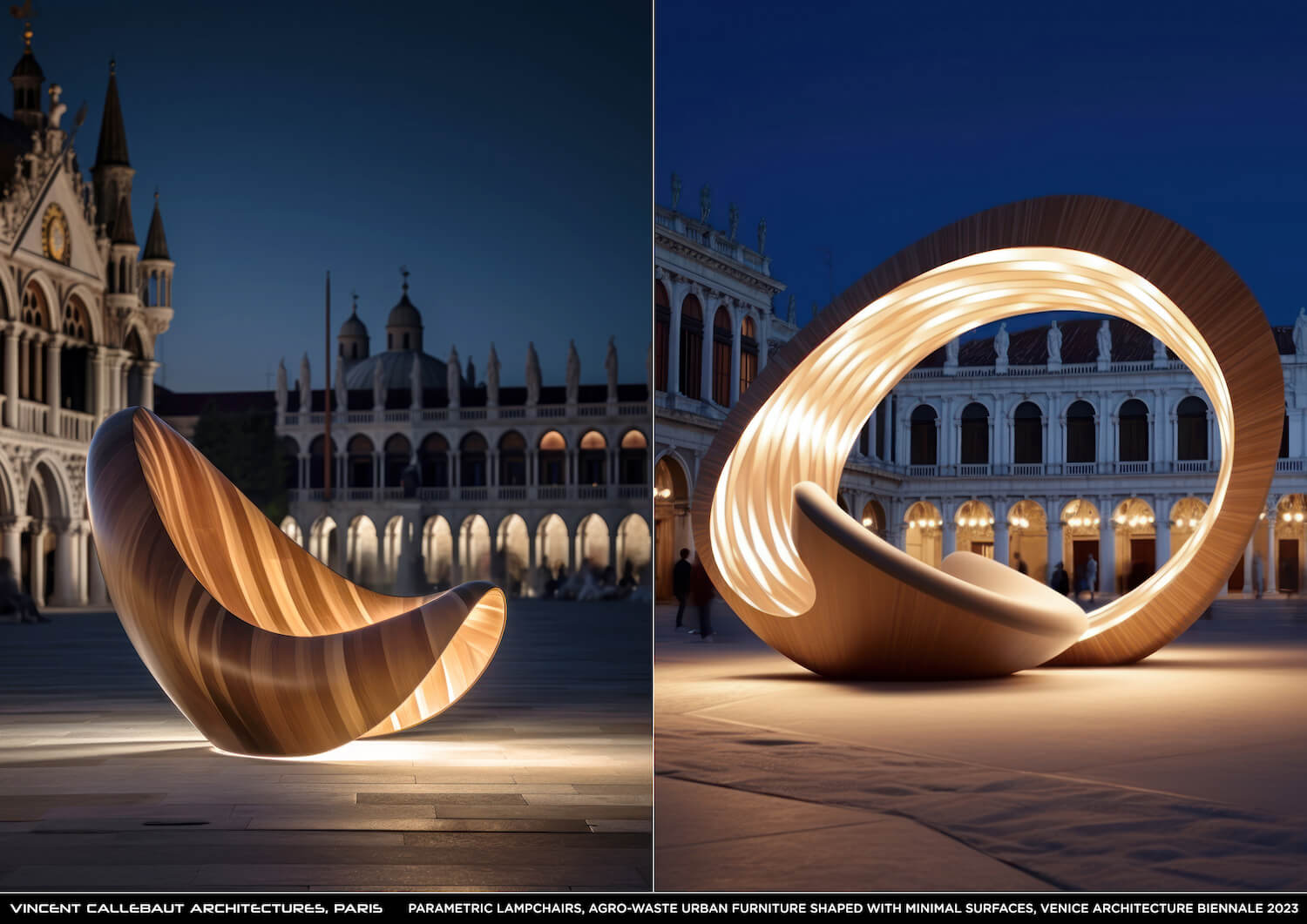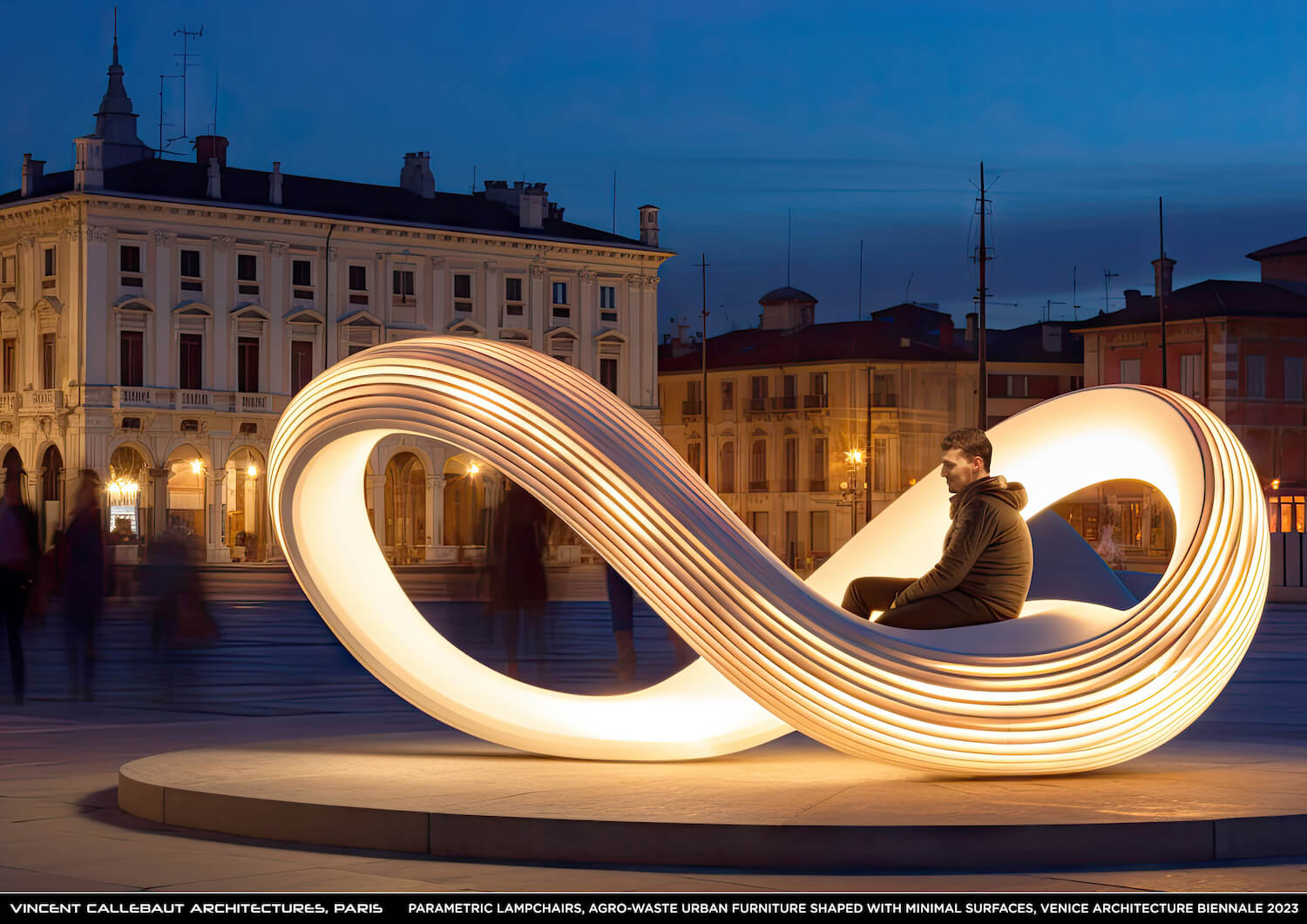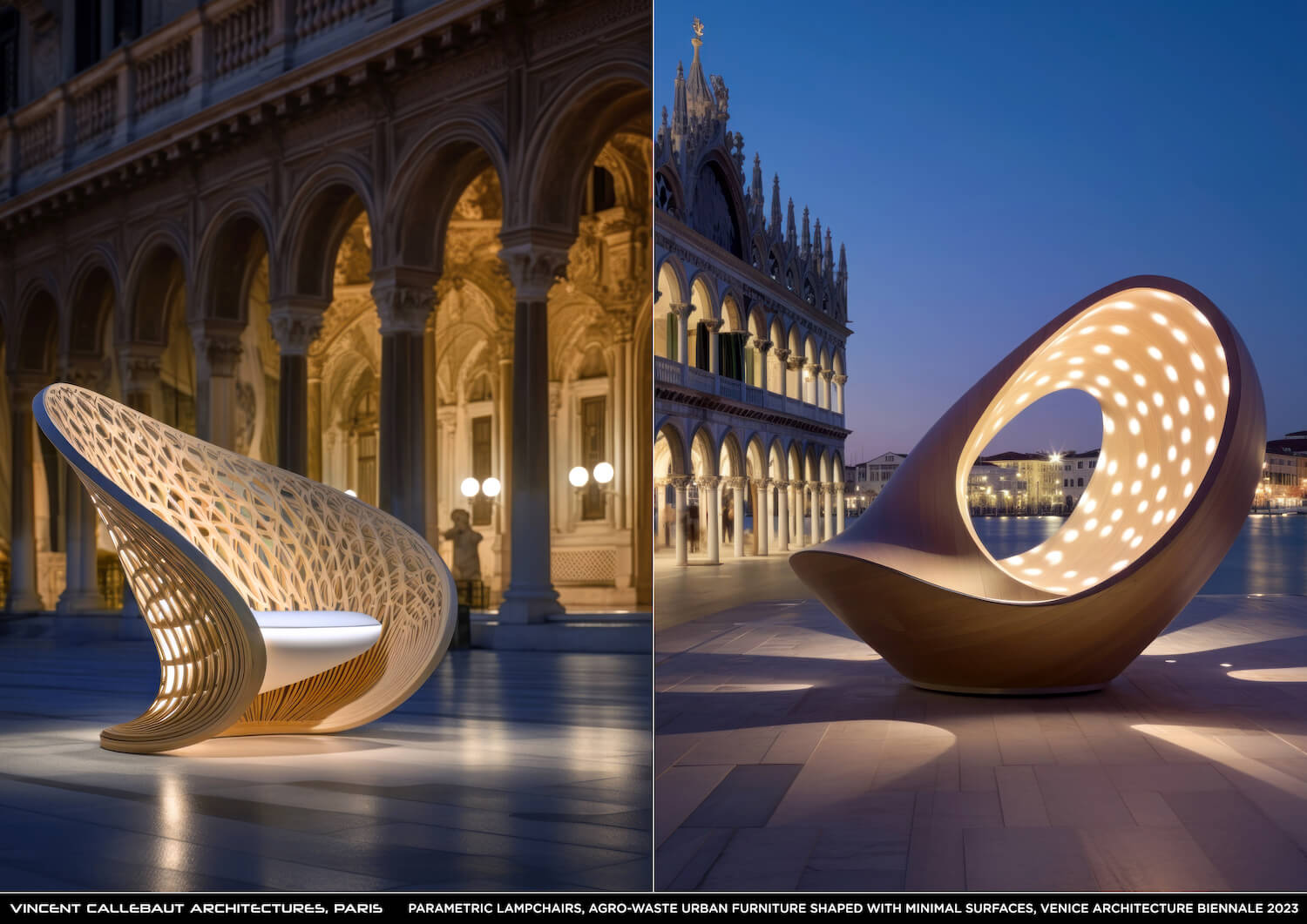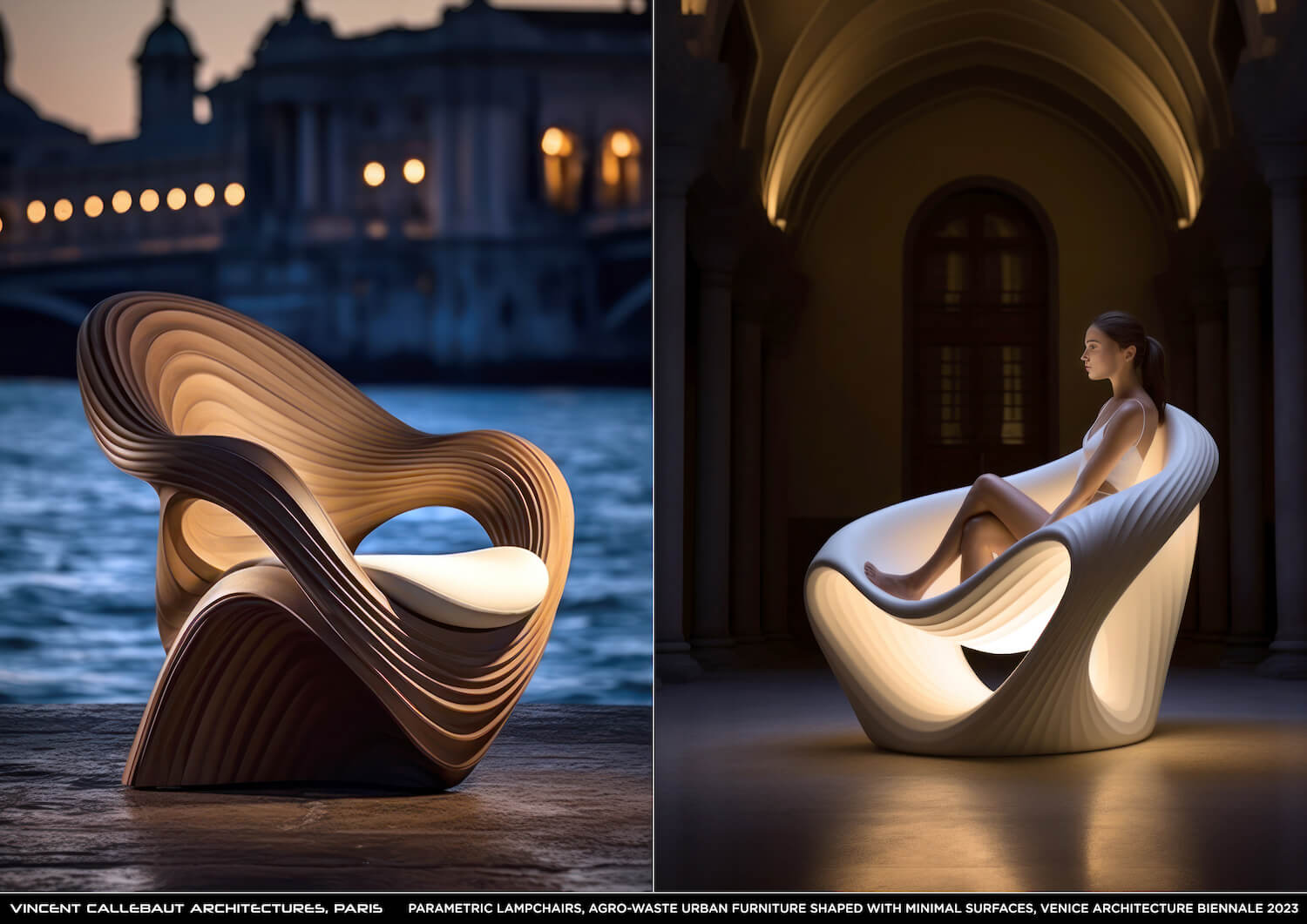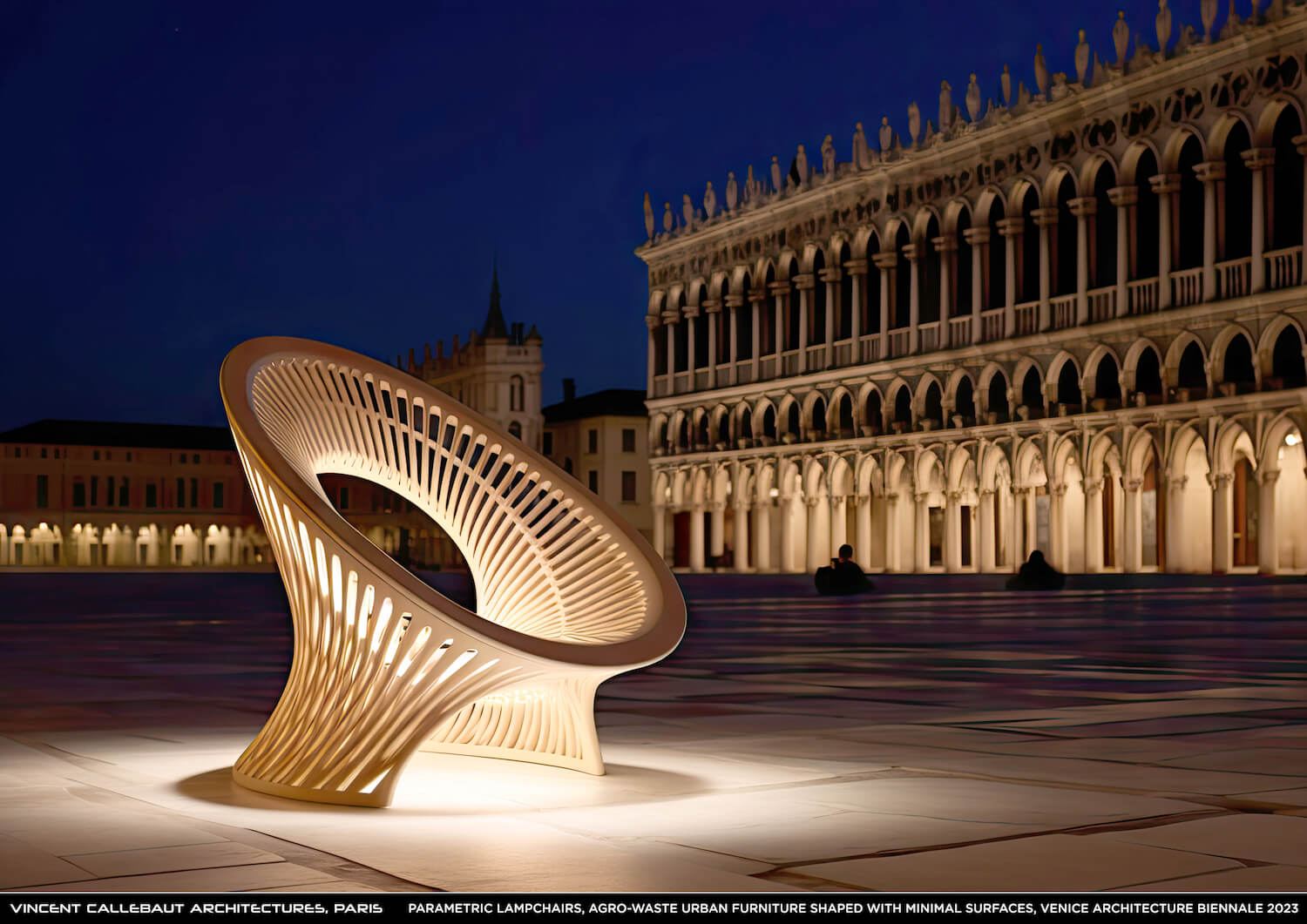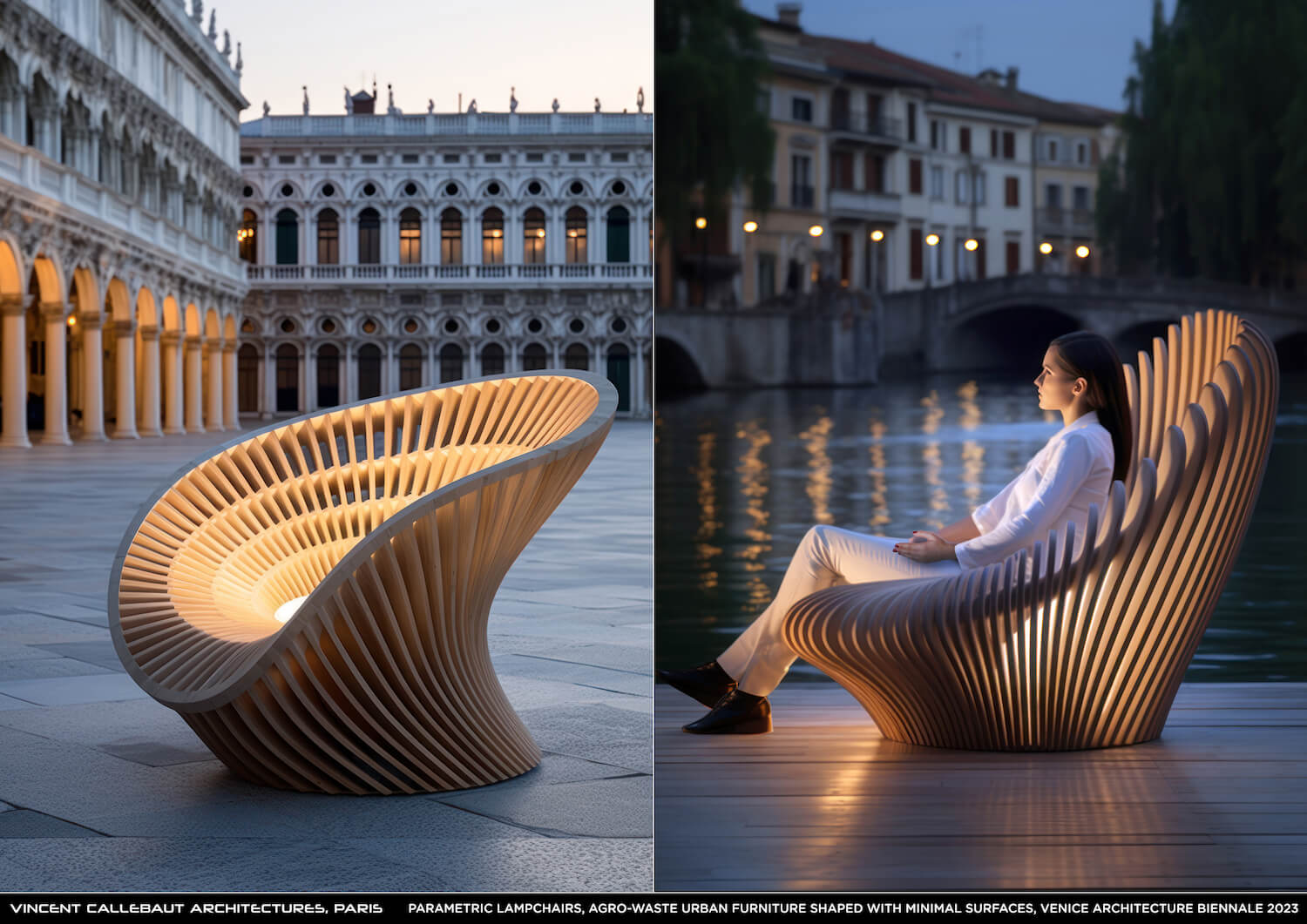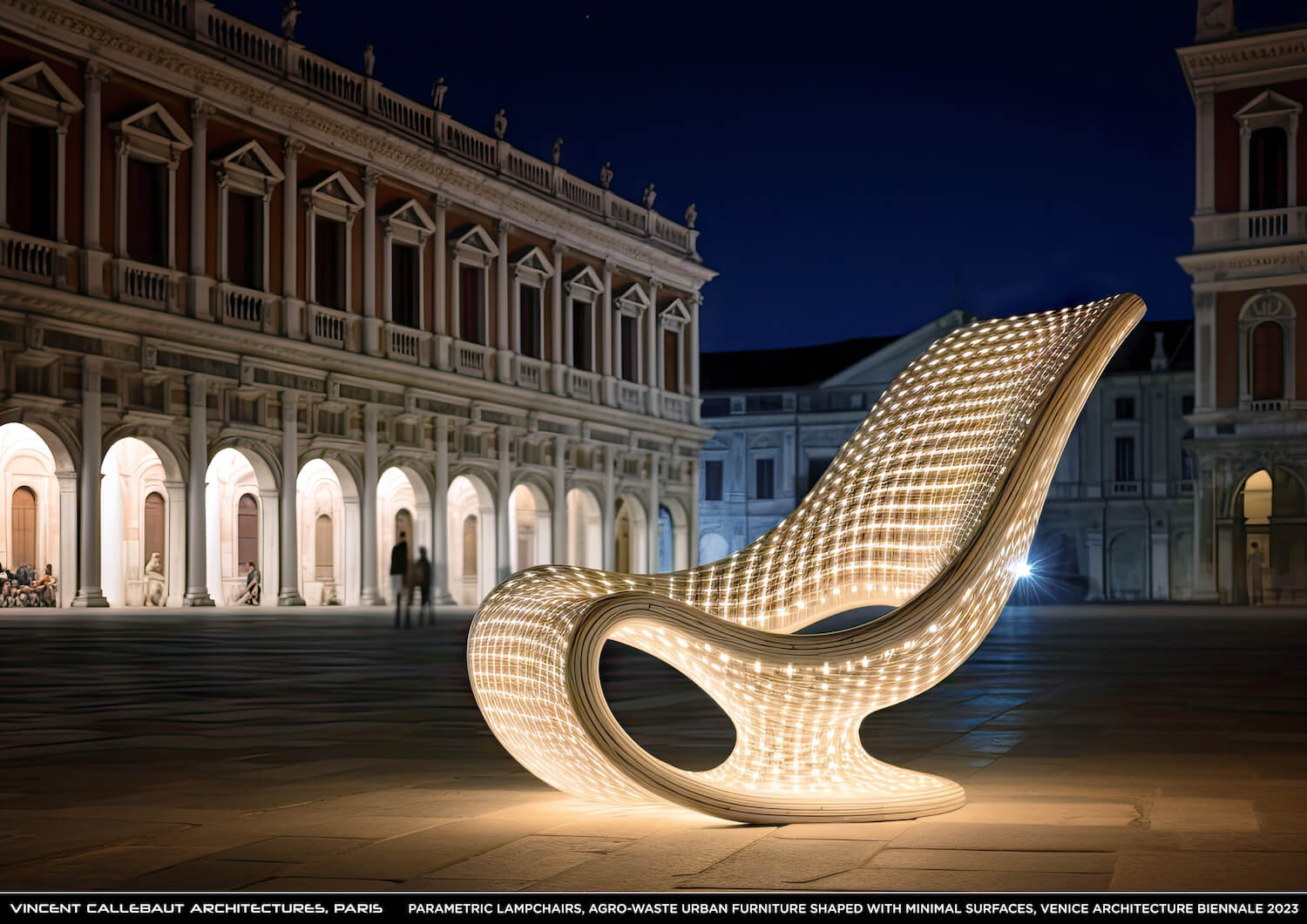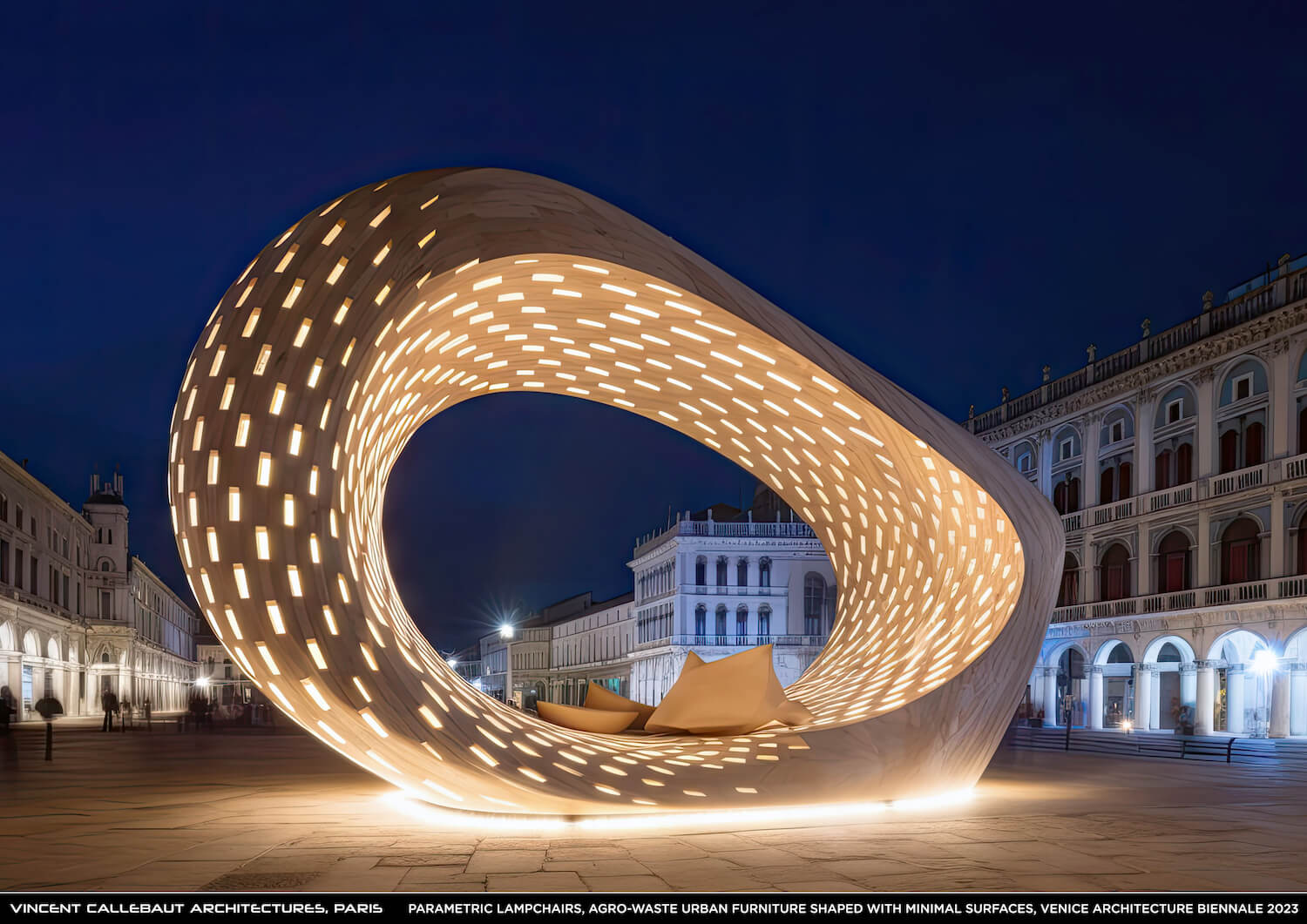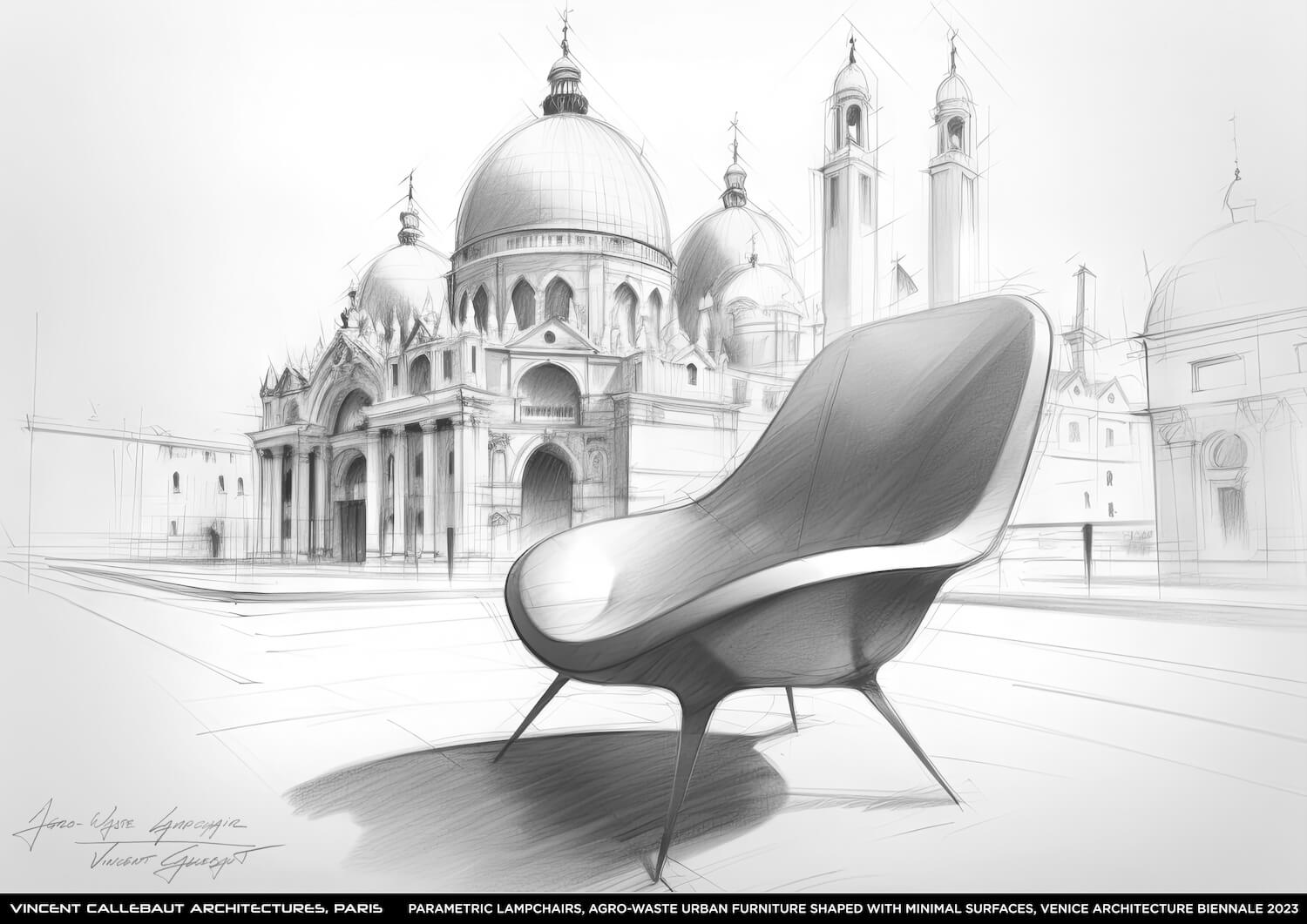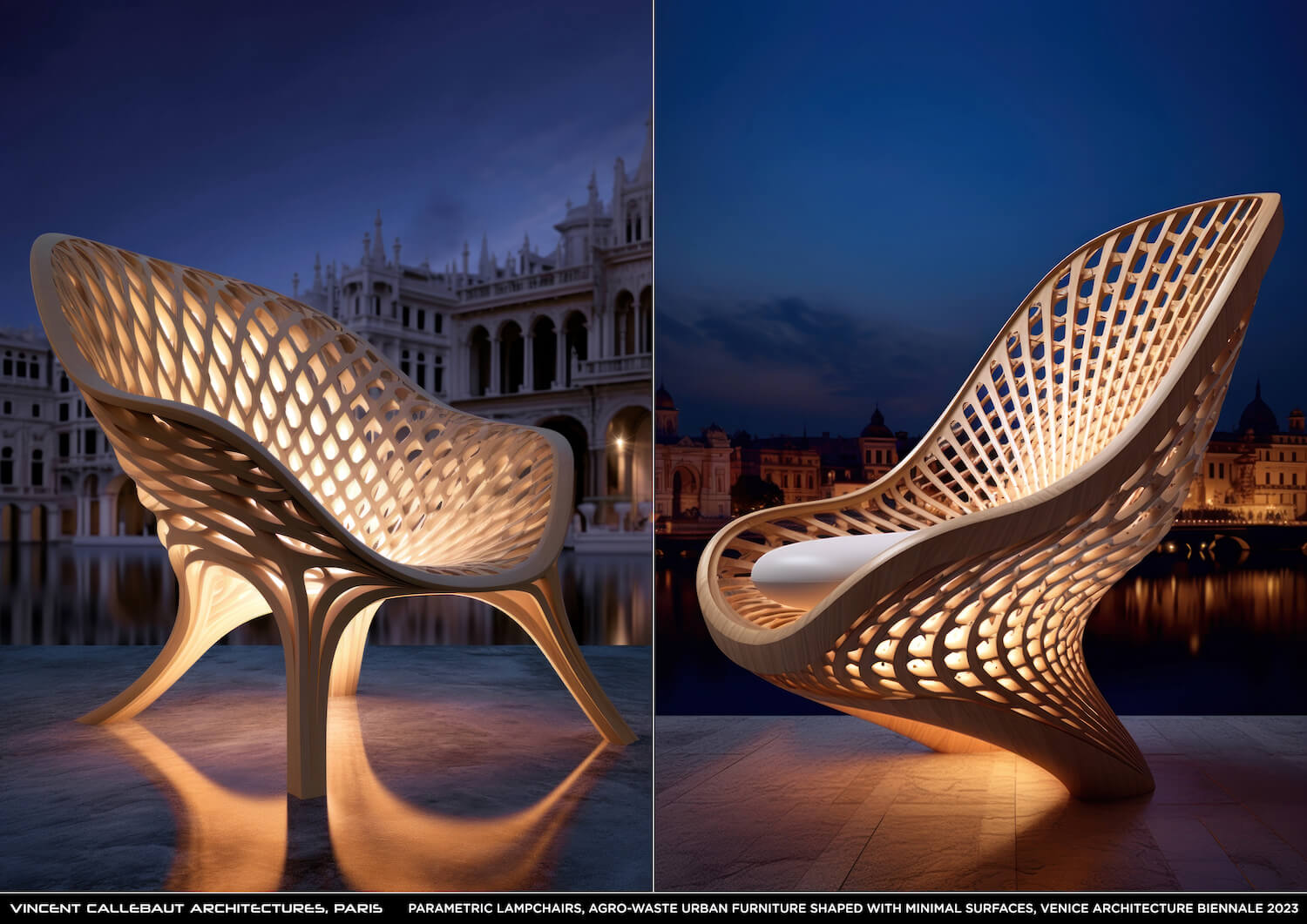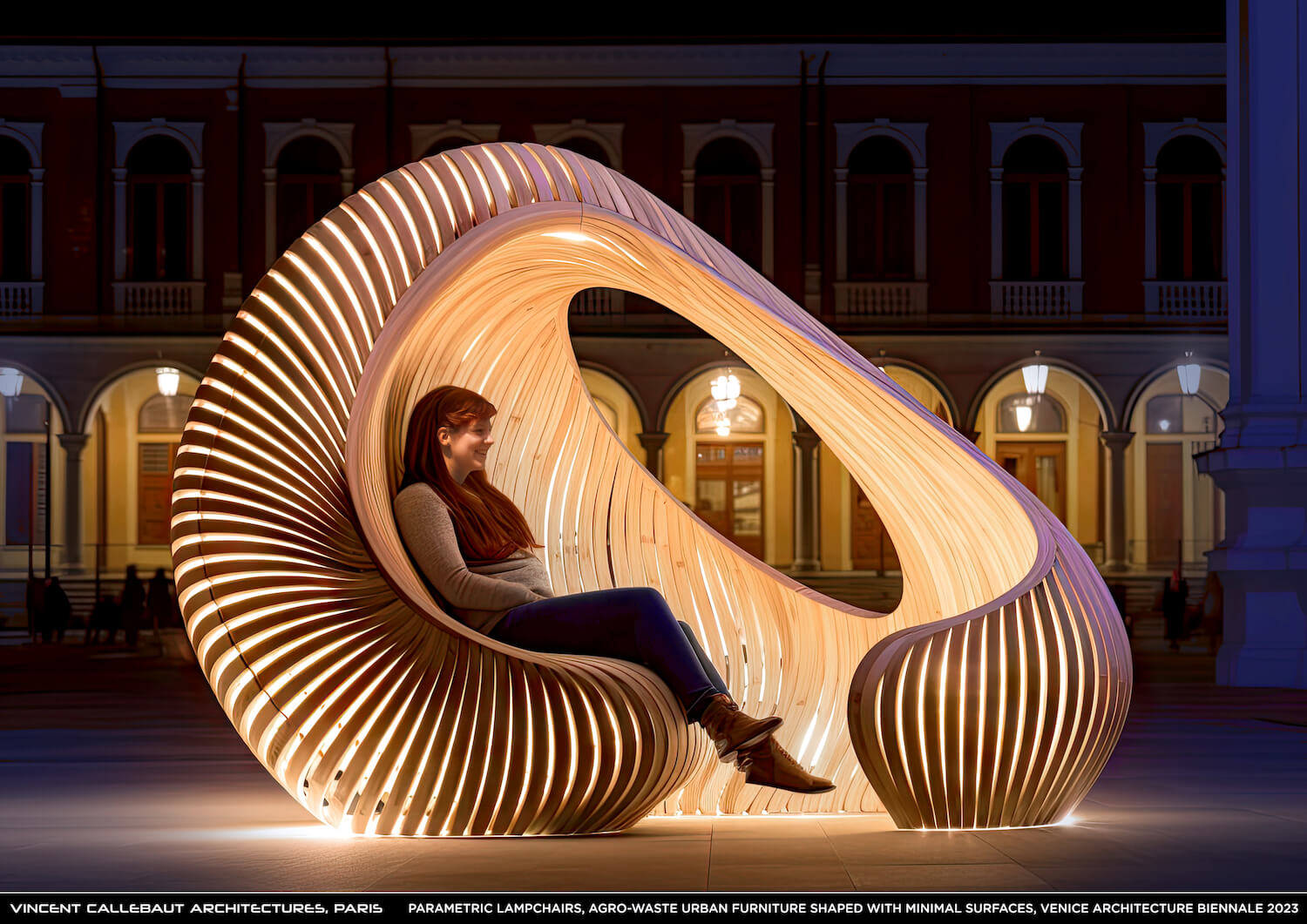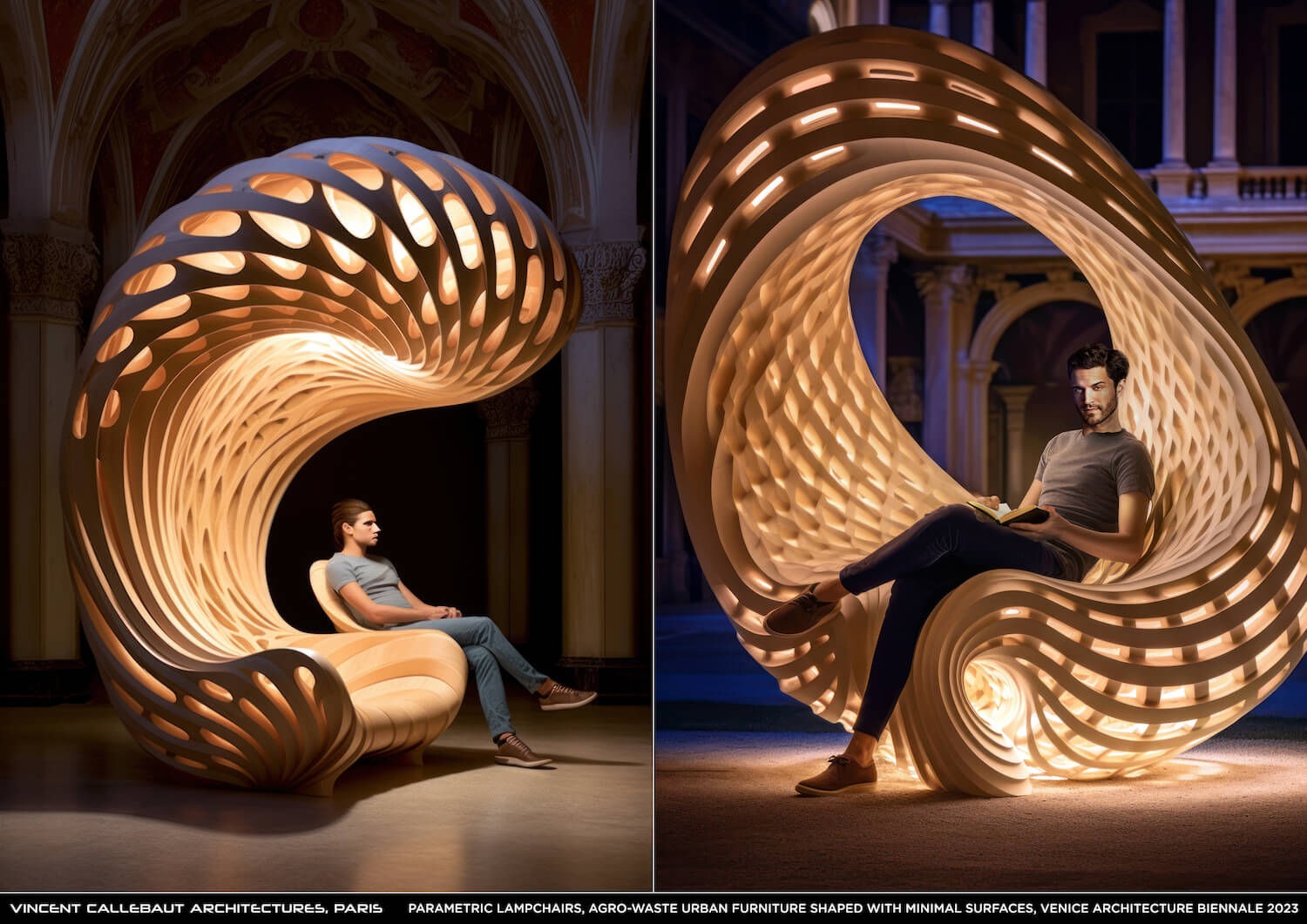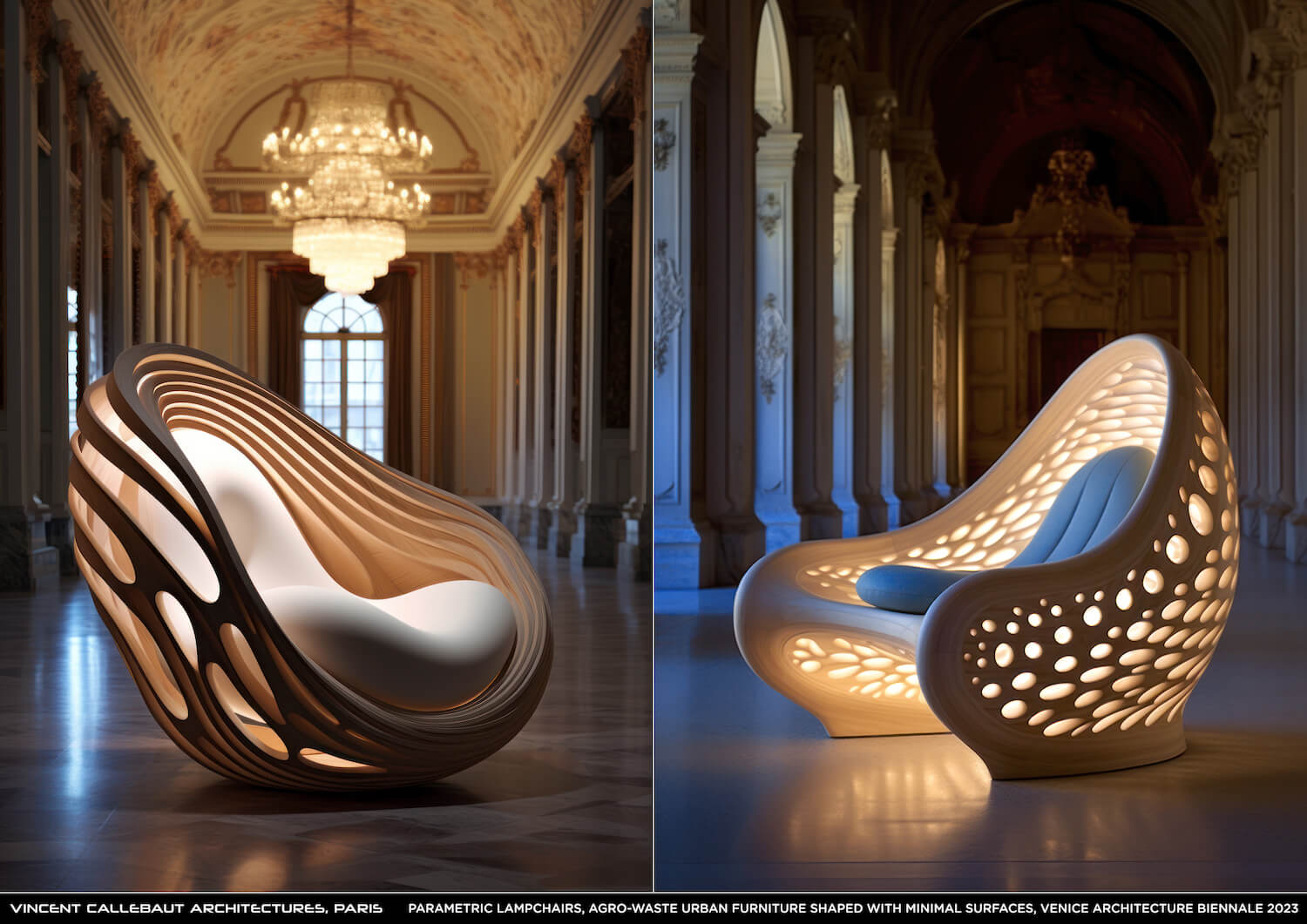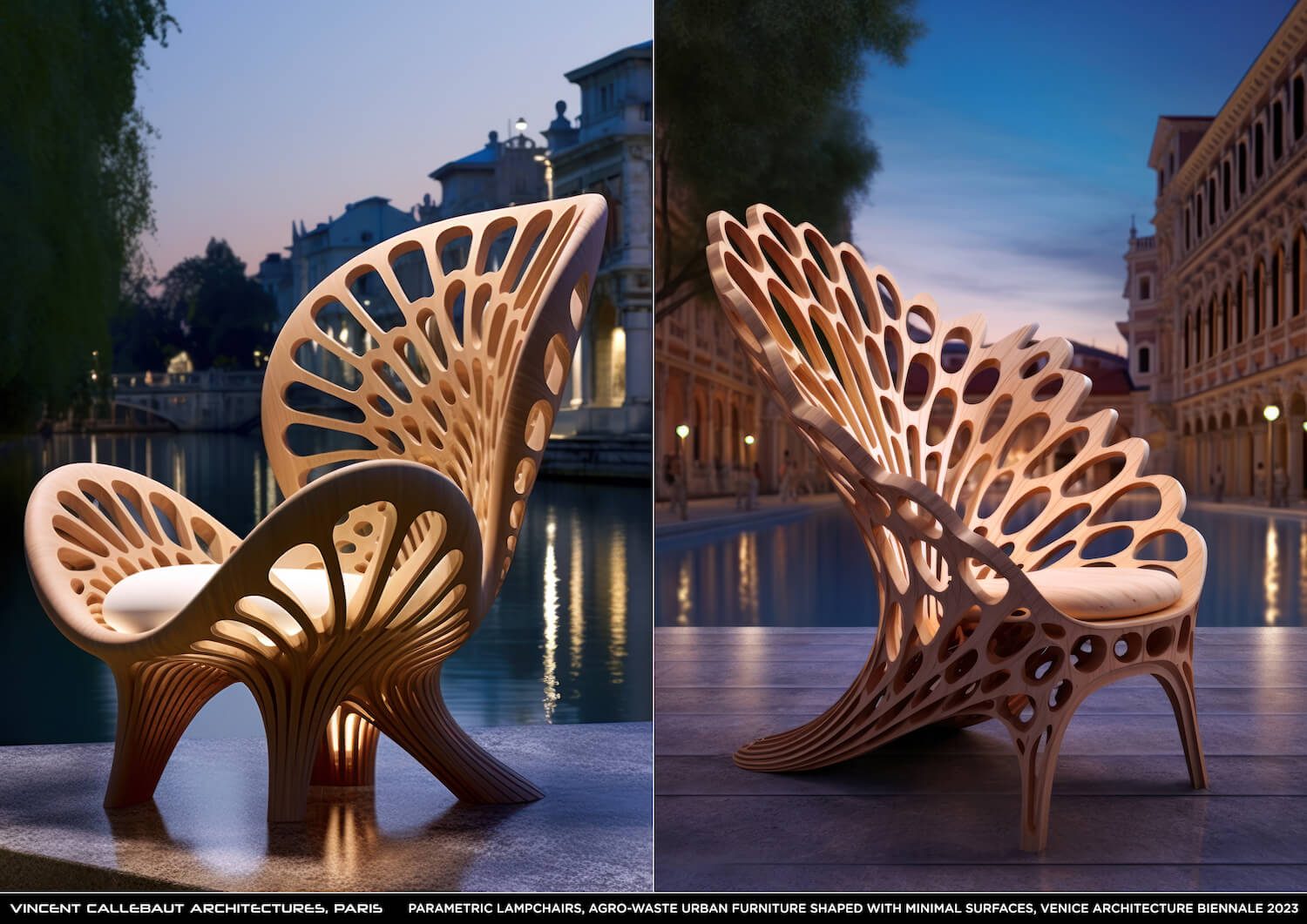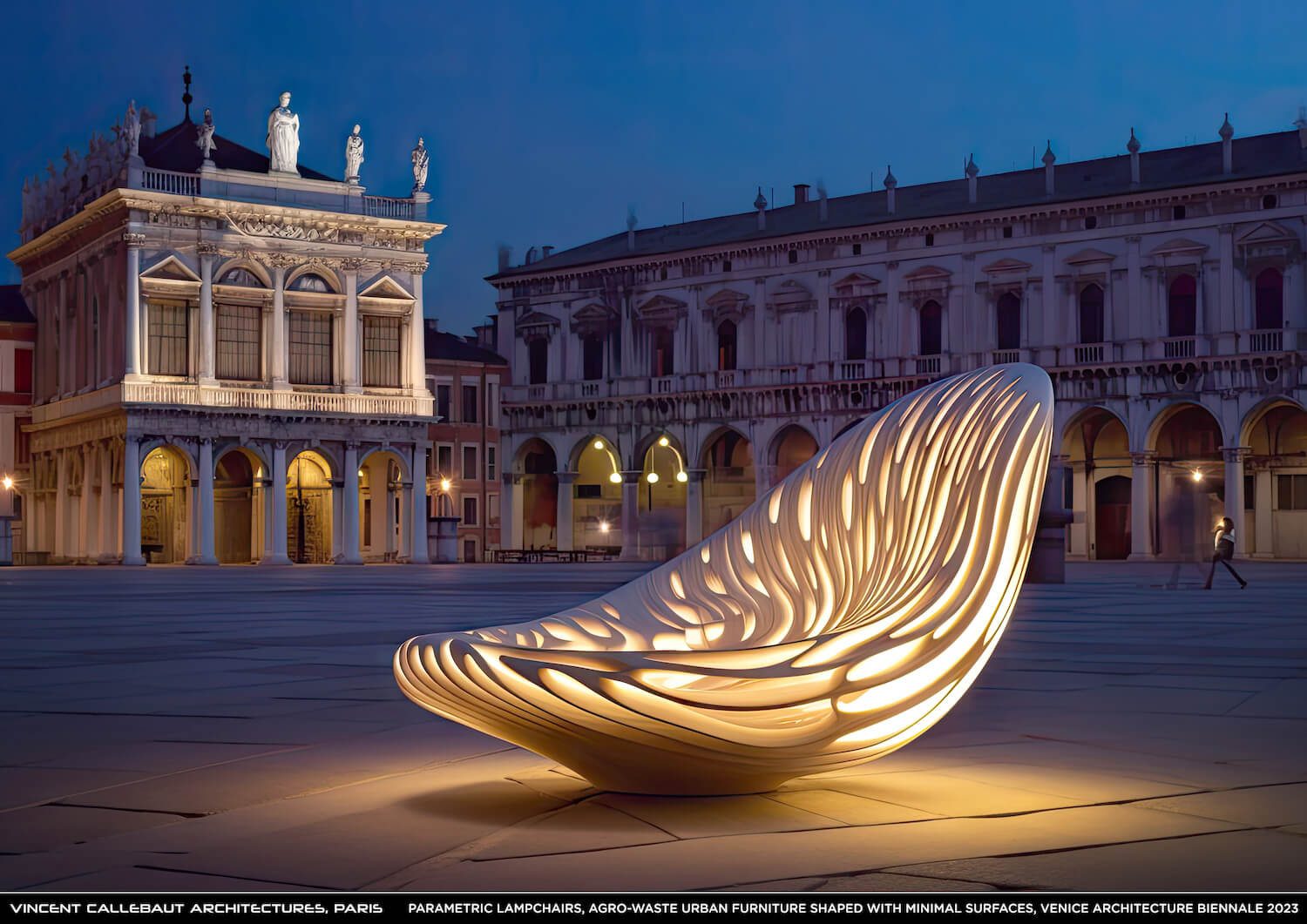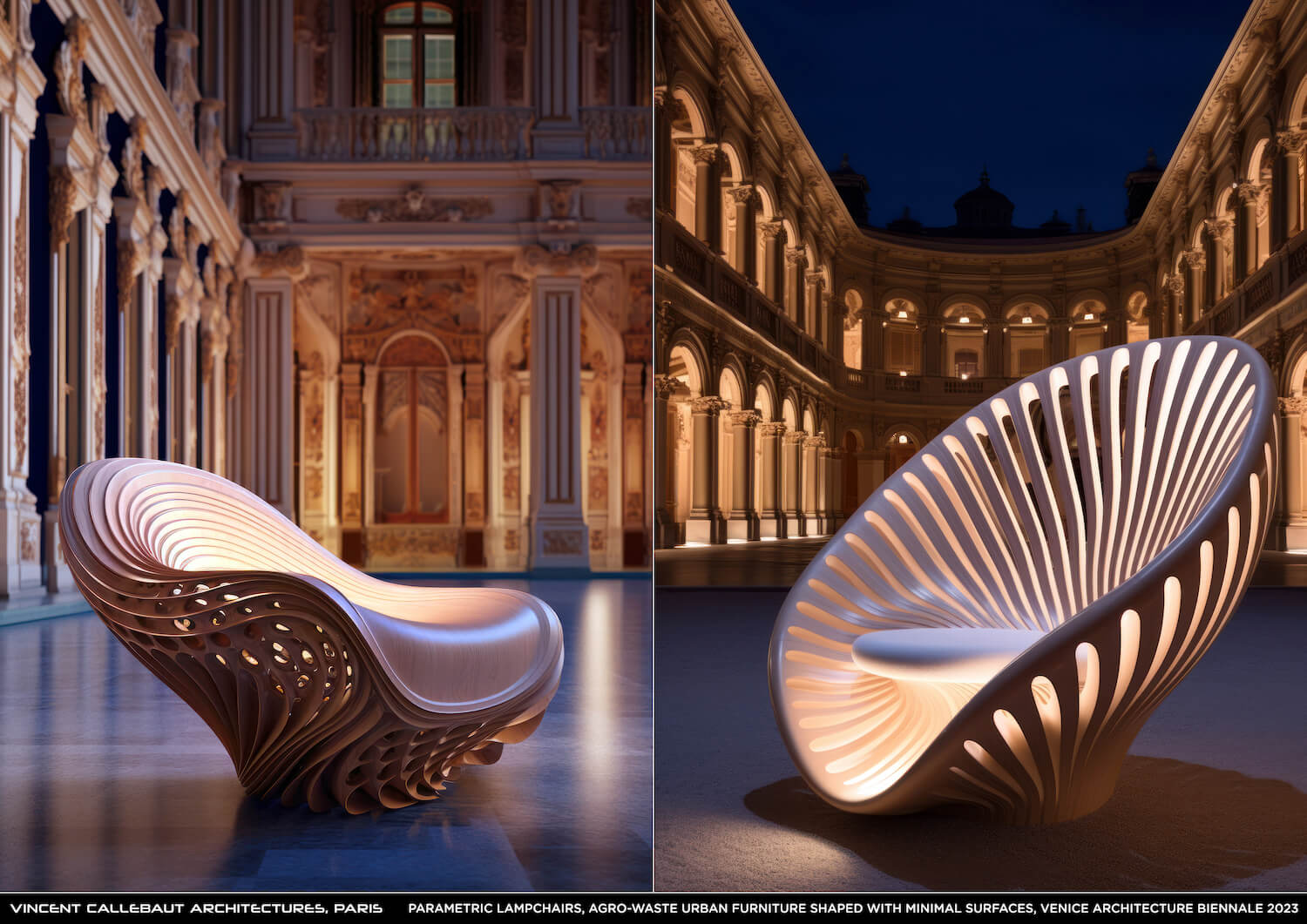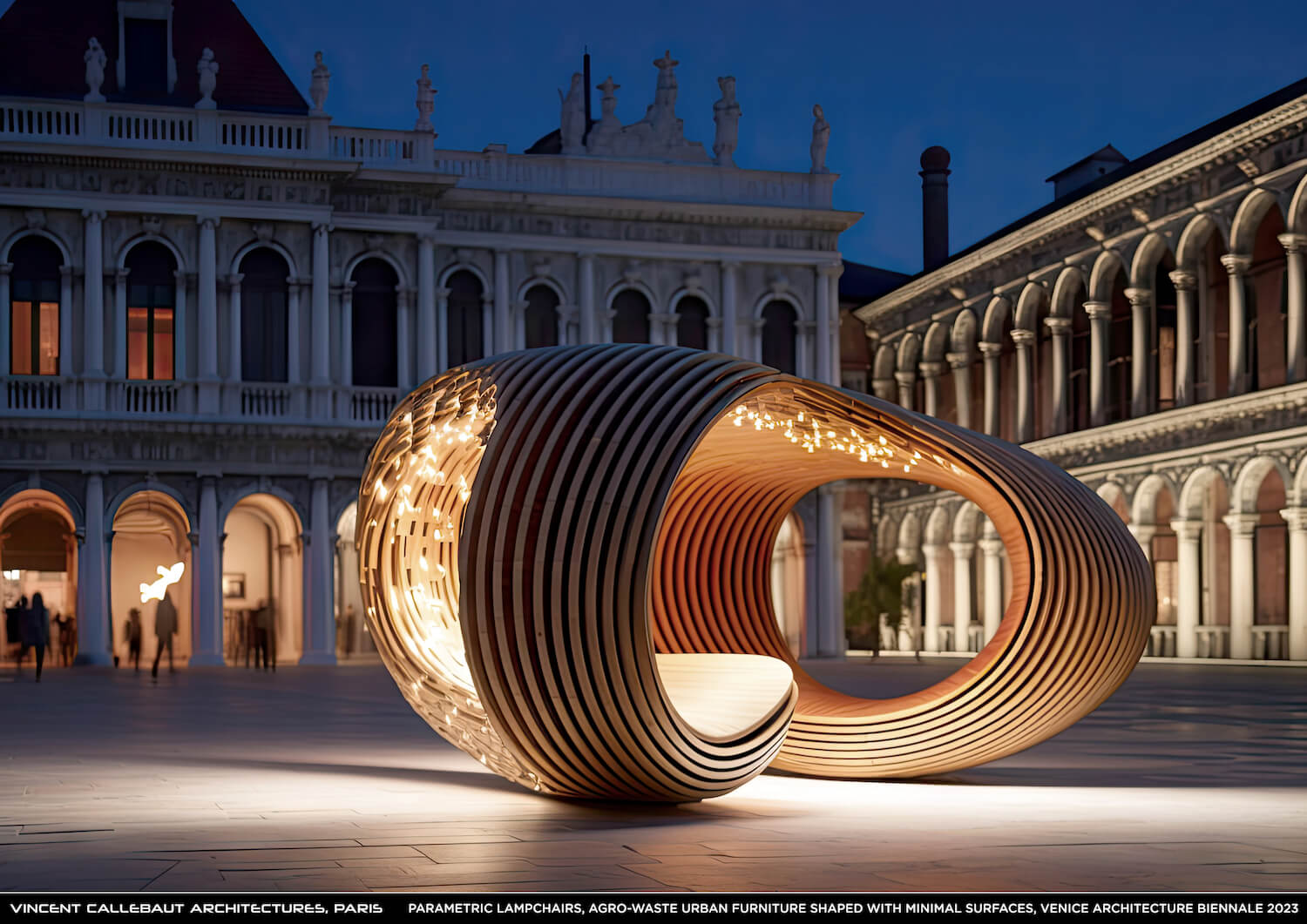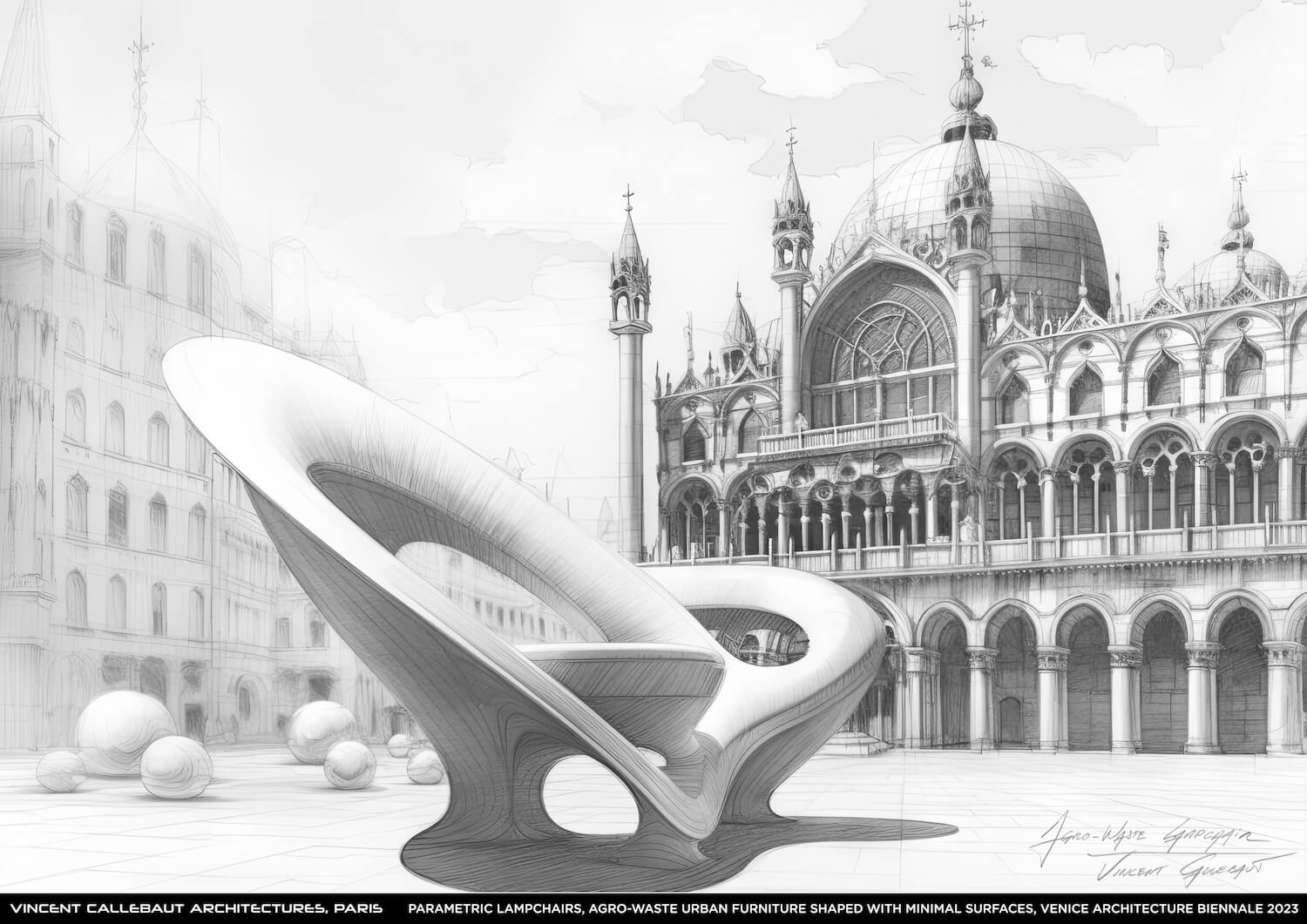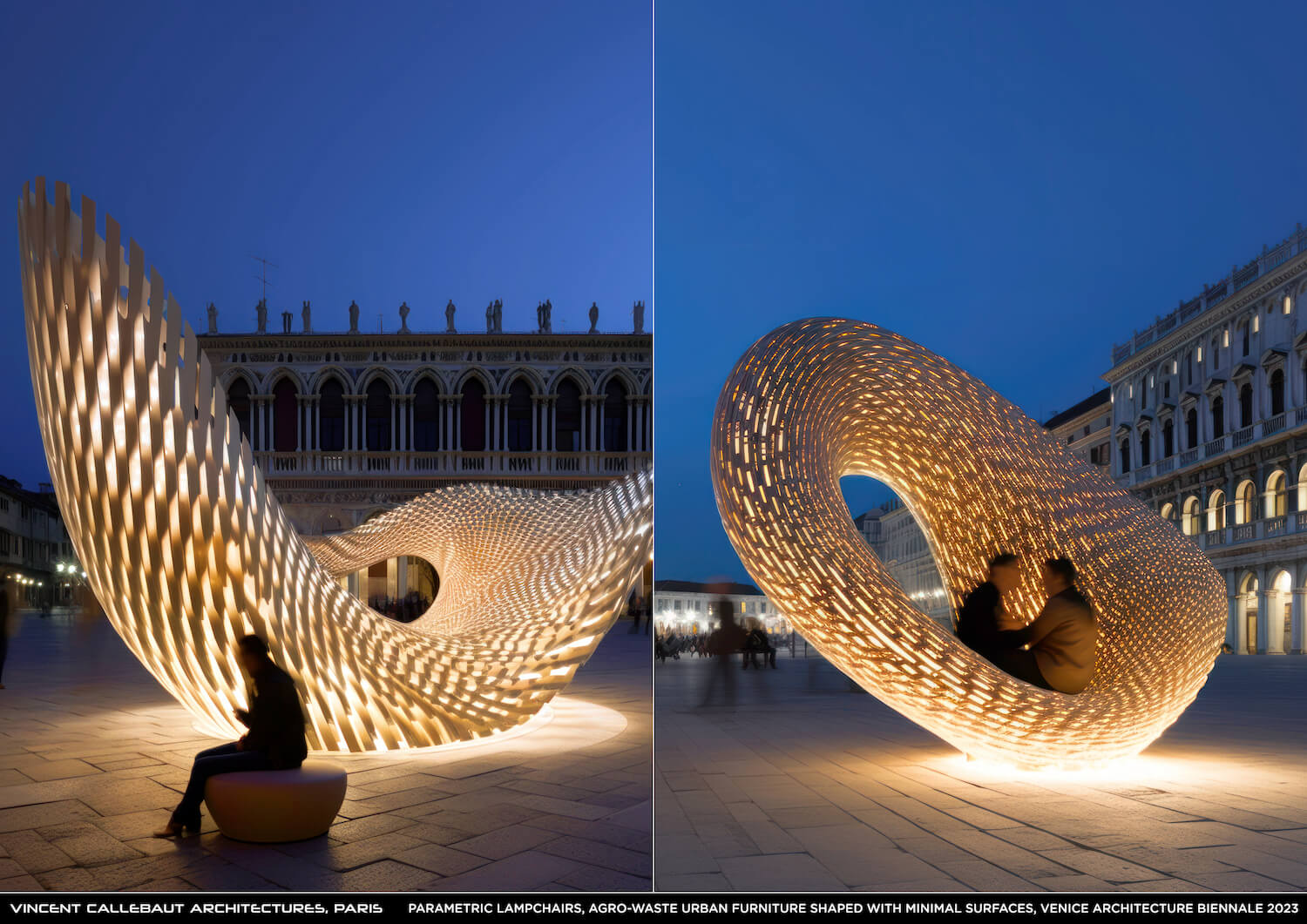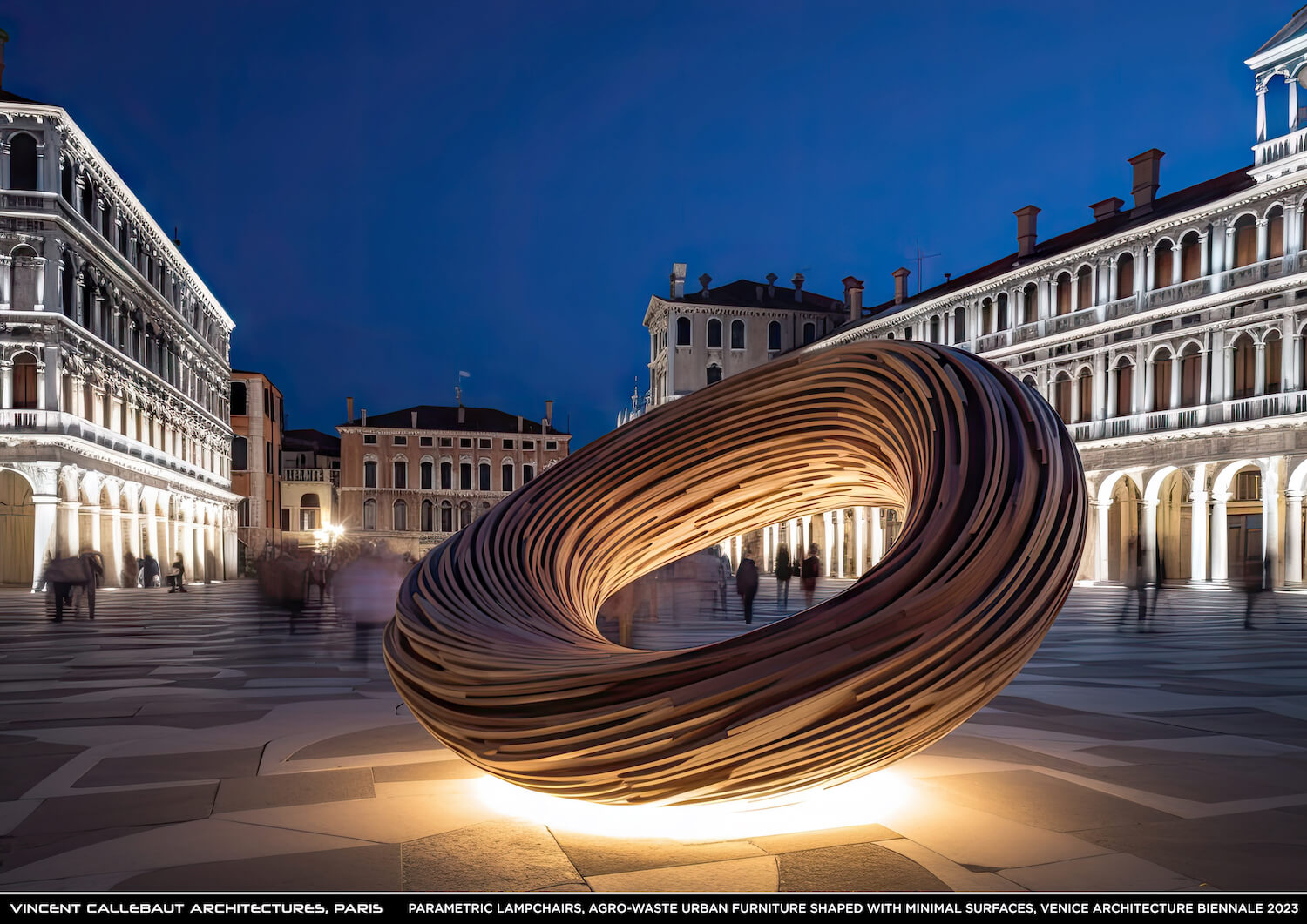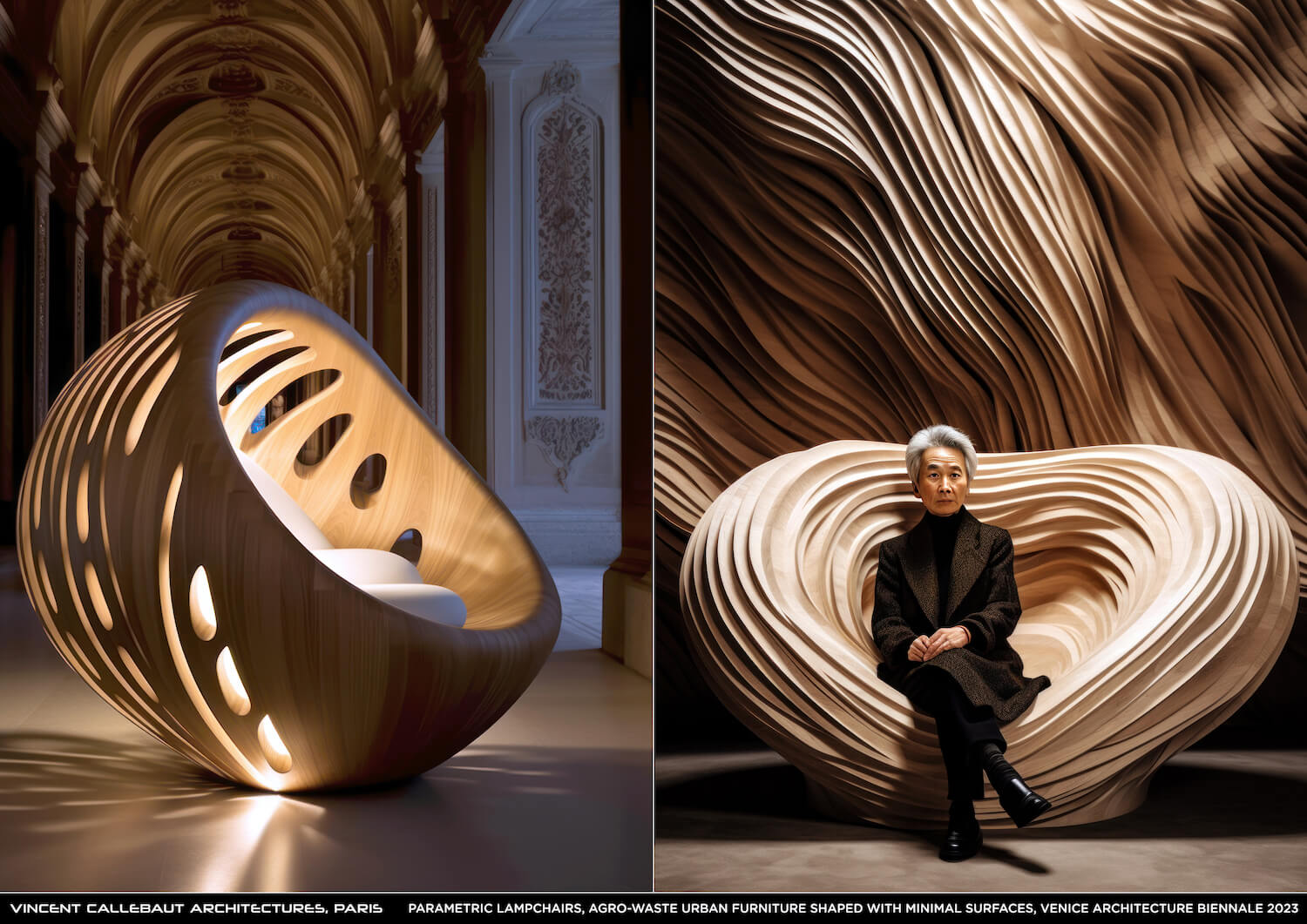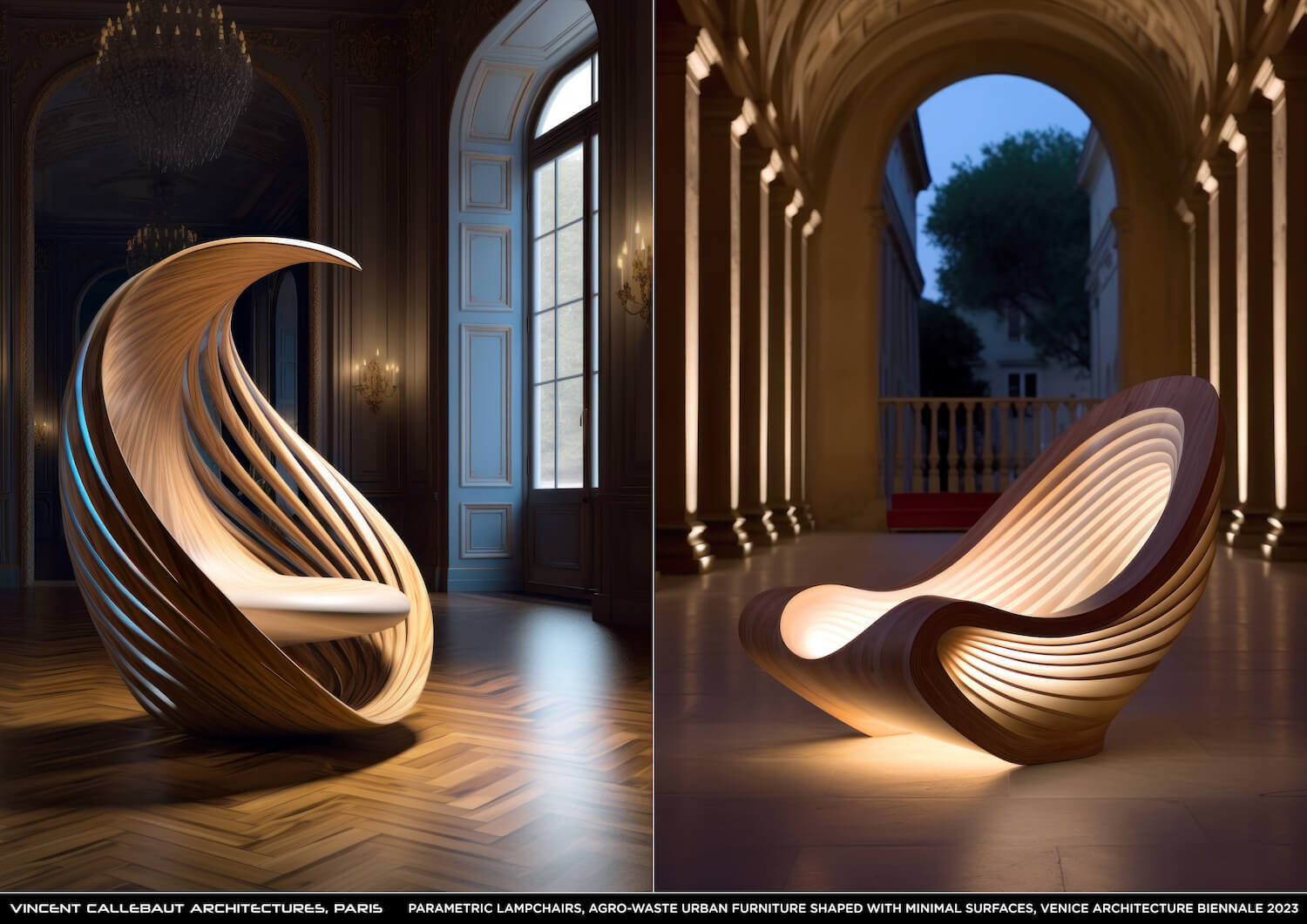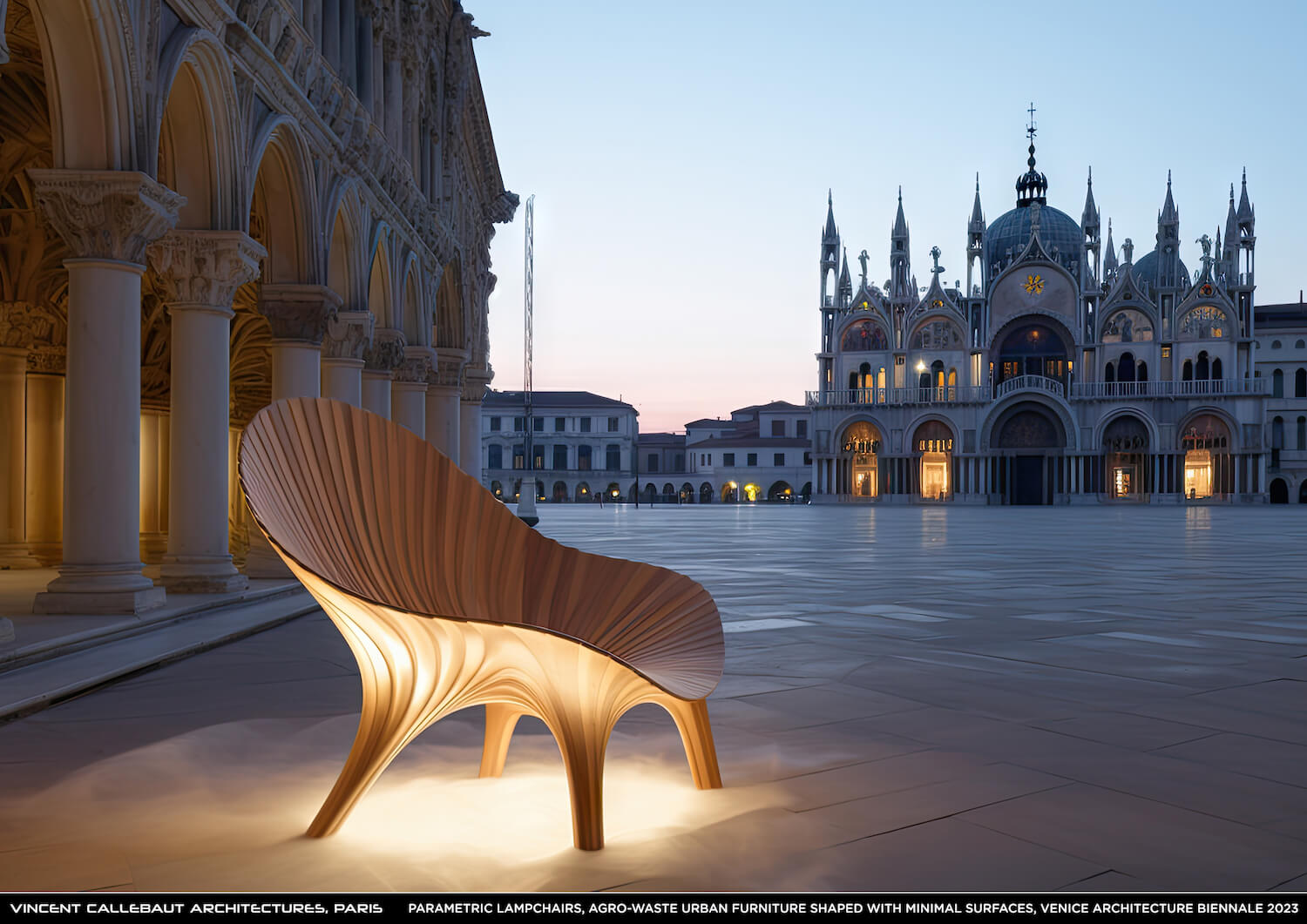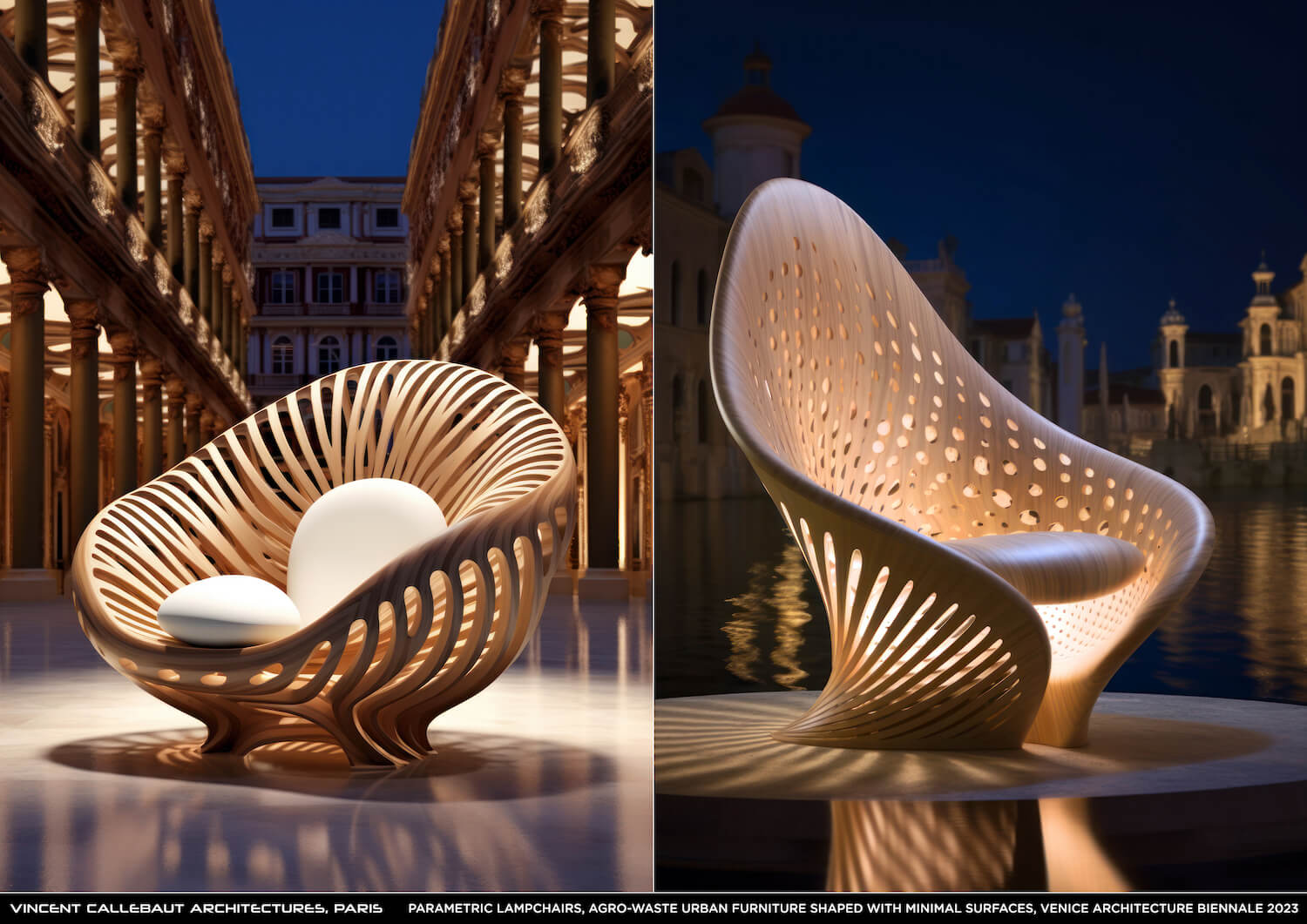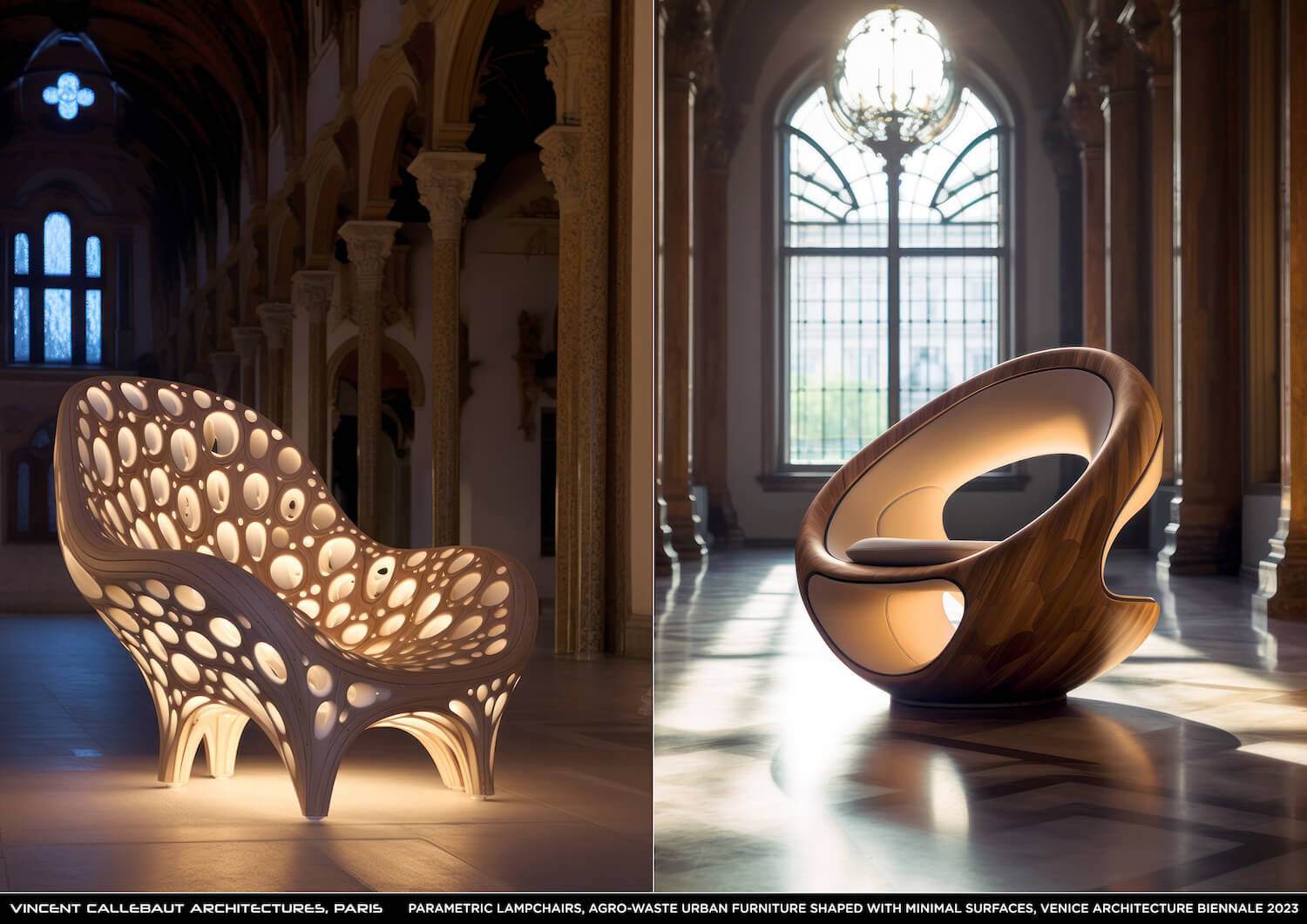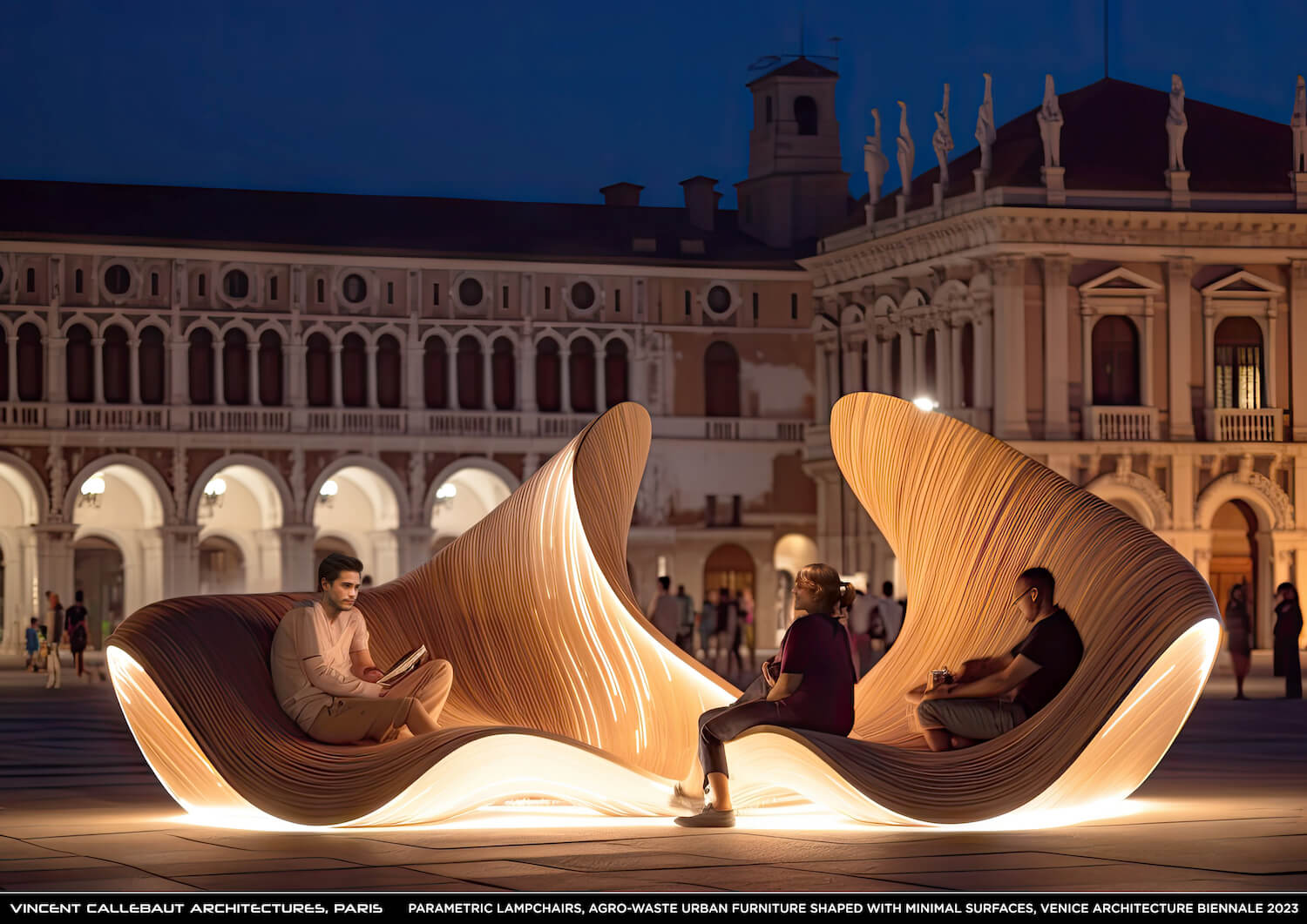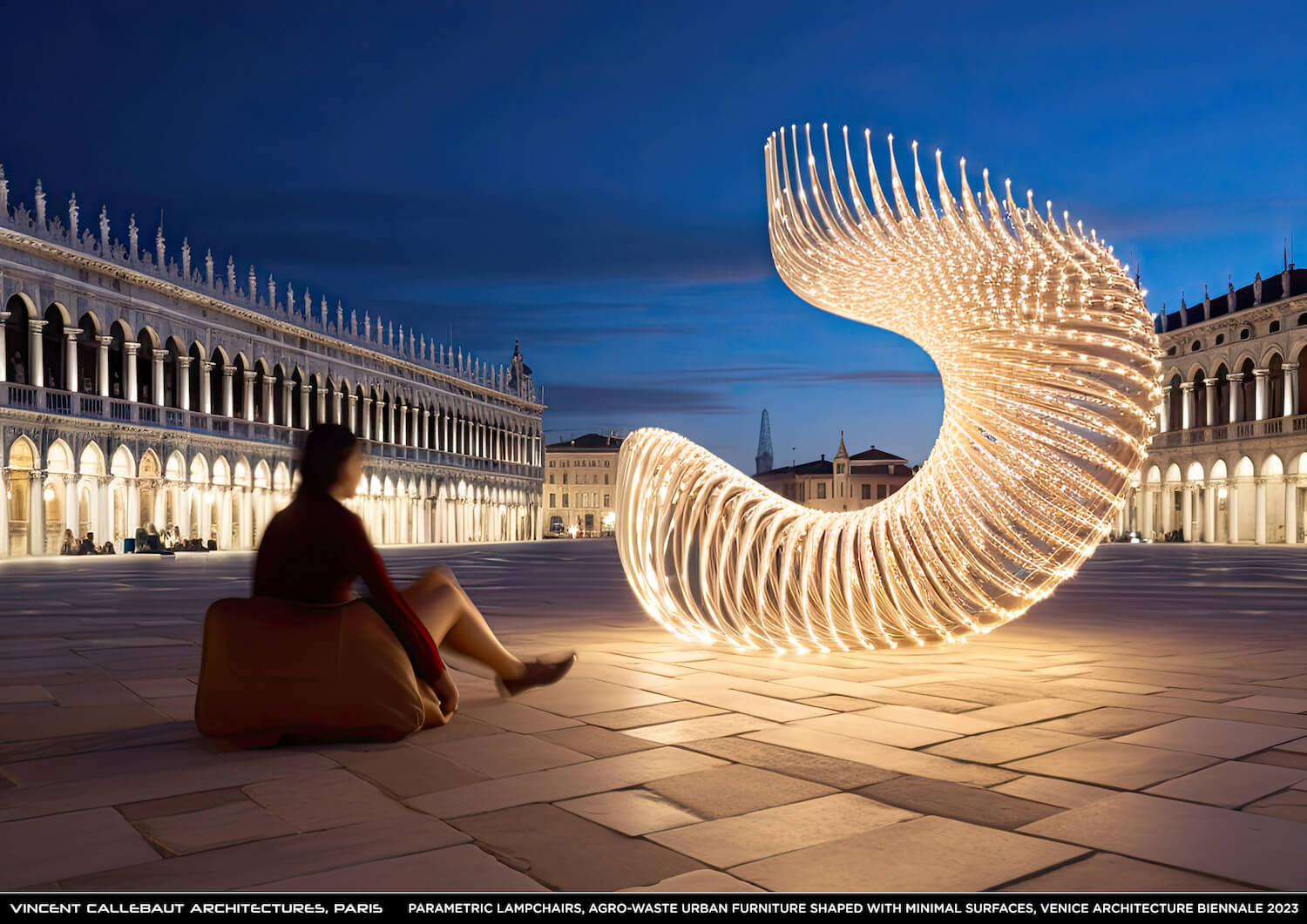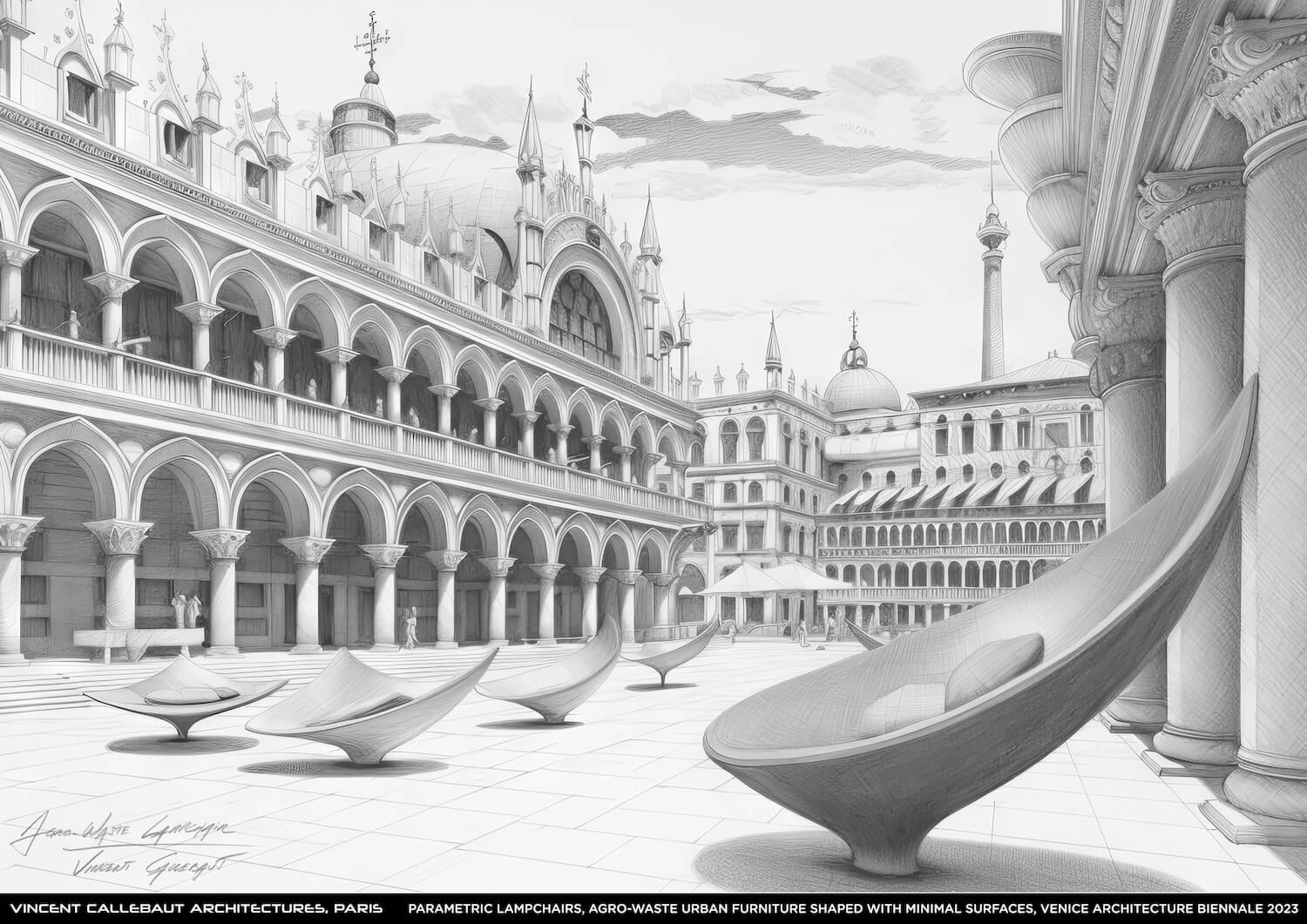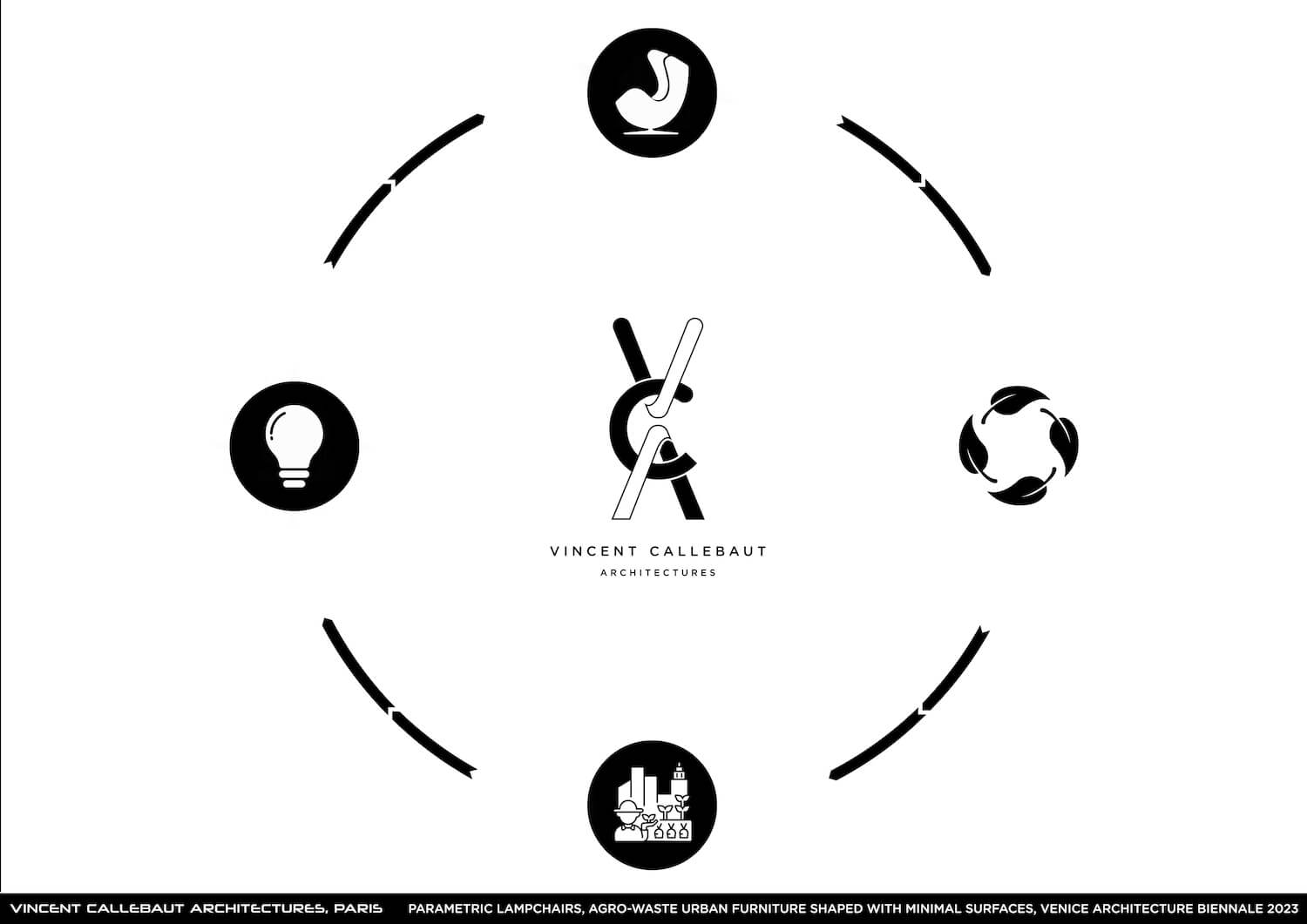 ---