With the past year mostly spent cooped inside our homes because of the pandemic, many people now realize the importance of making their home a space they can enjoy and be comfortable in. At the same time, most people are also tired of all the same renovation ideas that are overdone and are looking for something unique. Whatever area you're looking to renovate, before going for the standard choice, look for more unusual ones. Here are some innovative home renovation ideas that are brand new this year to blow your mind.
1. Snazz up the Front Door
When people think of home renovation, most don't really put much thought into their front door. However, remodeling can go a long way in setting the tone for the rest of your house since it's the main point of the house. You don't have to go over the top, start with replacing the door if needed and if not, just add a fresh coat of paint. Make sure it complements the inside of your home and don't forget to also paint the trim and areas surrounding the door. Add things like your house number, a porch light fixture, or flowers on the sides.
2. Bathroom Upgrades
Although it may be expensive, upgrading your bathroom is one of the best investments you can do in your home renovation. There are many innovative ways you can transform your bathroom into a luxurious space. If you have a small bathroom, use large mirrors to create the illusion of depth along with lighting. There has also been an increasing interest in bidets recently and they make a bathroom more spa-like along with adding a new compact toilet. If you don't want to go big, simply adding a fresh coat of paint and changing the shower curtain and towels will make all the difference.
If you don't want to go big, simply adding a fresh coat of paint and changing the shower curtain and towels will make all the difference. Giant Construction bathroom remodeling contractors in Los Angeles provide custom-tailored solutions to make your space a work of art that you'll fall in love with. Discover inspiration to makeover your space with ideas for mirrors, lighting, vanities, showers and tubs.
3. Playing with Colors and Materials
One of the most innovative things you can do in your home renovation is not to choose one or two colors for the whole house. Check some examples of the color schemes you can incorporate in each space to get inspired. Whether it's for paint, tiles, kitchen cabinets, window treatments, or the furniture itself, try to add pops of color that will add life to the area. One of the color trends this year is bright metallic colors, especially for kitchens. It's not just the colors, you can actually mix between materials in a room like combining brass and steel with marble and dark timbers.
4. Transform the Basement
It's time to get rid of all the junk piled up in your basement that is taking up perfectly available space. Many interior designers recommend taking any chance to build an extra room and your basement is the perfect place to do it. People are getting more innovative with the way they transform their basements with some turning them into in-home theaters, indoor golf simulators, or full home bars. It's a great chance to build anything from a home office to an indoor gym or entertainment area depending on your lifestyle needs.
5. Build an Outdoor Room
Another creative idea for a home renovation is to blur the line between indoors and outdoors by creating an outer area. If you have a front or back yard space that is just begging to be used, start making plans for it. Start by adding large sliding or folding glass doors to have a natural flow between the inside and outside. You can then build an outdoor deck or patio, paired with a gazebo and if you have the budget, add a swimming pool or hot tub. There's also the idea of simply adding a fireplace surrounded by comfortable outdoor furniture.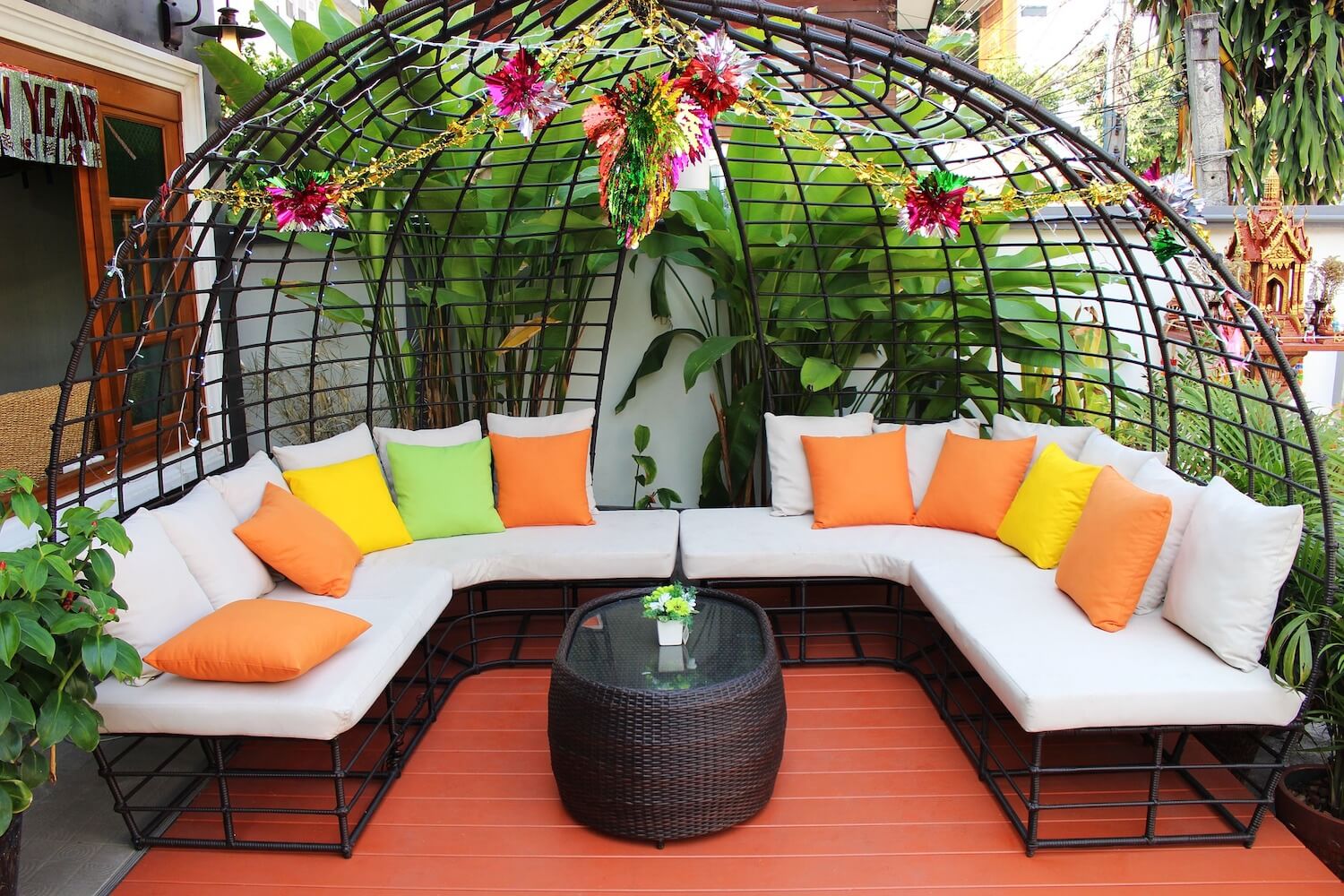 image © Dean Moriarty
6. Add a Large Pantry
Kitchens are the heart and soul of almost every house, and pantry cupboards have always been there storing all that might be needed. However, there has been recently the innovative idea to make one large separate pantry that has everything instead of having it scattered around in many wall cupboards. Not only is it practical to get more storage space, but it also means freeing up the kitchen to be exclusively for cooking, eating, and family time.
These are only some of the innovative home renovation ideas that you can start doing at your own home now. As you're going through the process of innovation, try not to get caught up with being innovative that you forget that to make your house reflect your own preferences and taste. After all, you still want it to be comfortable enough and express who you are. That's why you should balance innovation with individuality.
---