Your home should be your place of relaxation. However, not everyone enjoys the comforts of indoors as they'd like to indulge themselves with what nature has to offer. If you have an outdoor space on your property, you might want to take it to your advantage by turning it into your relaxation haven. This way, you don't have to travel too far to rejuvenate, wherein you're just a few steps away from total peace.
To help you out, below are some ways you can transform your outdoor space into a relaxing haven:
Add A Hot Tub
Of course, one of the best ways to create a calming outdoor space is by letting yourself take a dip in a hot tub. This way, you can have various options for relaxation as you no longer have to just sit on your couch but rather allow your body to fully submerge into the water and let the comfortable temperature calm your body. You can look at Stoked hot tubs or other similar brands, and you should be able to find one that best fits yours outdoors. While they might be a costly addition, they'll surely help to make your backyard look amazing and relaxing.
Include A Comfortable Seating Area
A relaxation haven wouldn't be complete without any comfortable seating area. It'll be where you can sit, read a good book, drink your favorite drink, or enjoy the beautiful view. Ideally, you should choose comfortable seating furniture that provides plenty of cushioning. You should also choose designs that help further emphasize nature's beauty, such as using wooden elements. It'll also be helpful if you could use relaxing colors, such as white, beige, green, aqua, and wood. However, since you're adding cushions, you need to provide extra care as they're heavily exposed to outdoor weather conditions.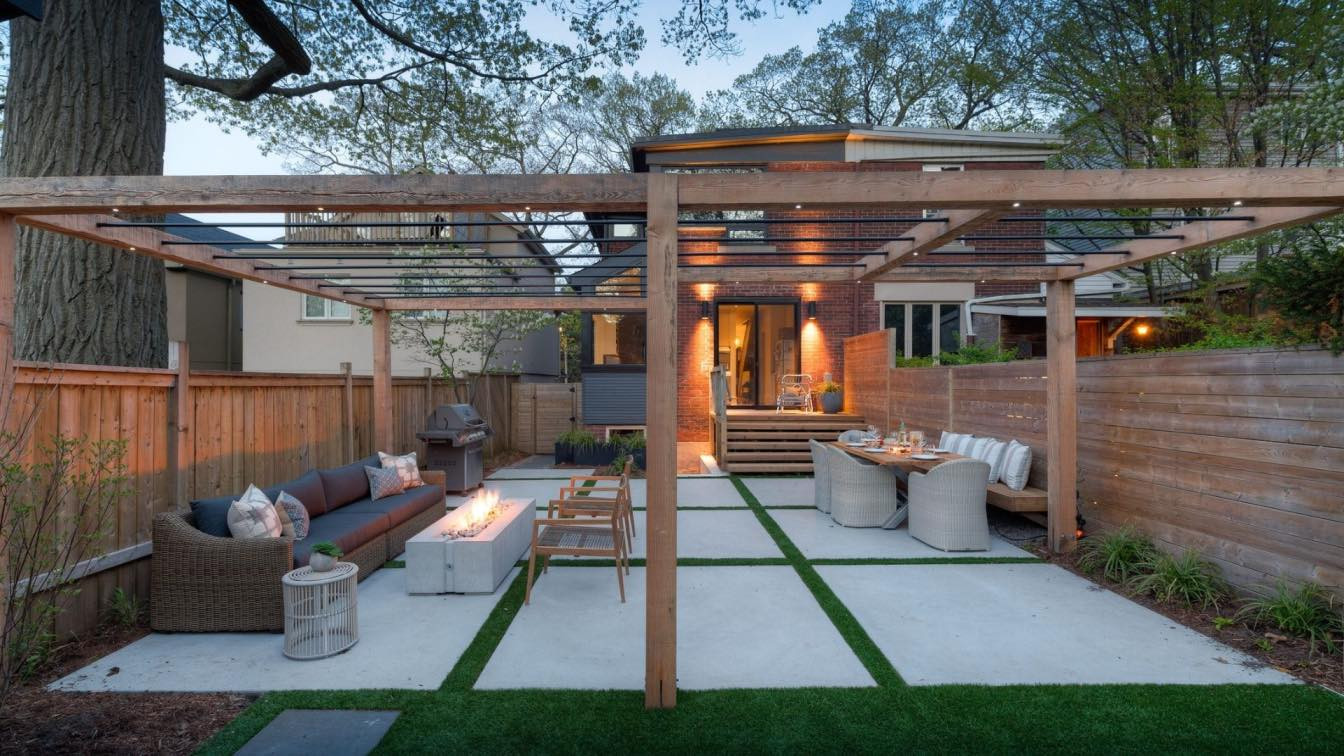 image © McNeill Photography
Landscape Your Yard
A beautiful landscape will surely help spruce up your yard in the best way. Moreover, adding the right combination of plants and flowers would surely help to make any space look calming and relaxing for everyone. You can try landscaping by adding soft and wide plants or hire a professional landscape artist to do all the work for you. You can landscape your yard to create a beautiful view or use it as a decoration to create a beautiful path to your outdoor amenities. It could lead to your pond, herb garden, greenhouse, or hidden oasis.
Add A Water Feature
Apart from what you can see, improving what you can hear can help to make your outdoor space feel more relaxing. One way you can make it happen is by adding a water feature to your outdoor space. It could be a pond, waterfall, fountain, or artificial river with a wooden bridge. This way, you can allow their relaxing sound to soothe you as you listen to it on a quiet afternoon. You can even add them to your pool or allow it to be as it is and add some outdoor fish to go with them. Not only that it'll help to create a relaxing tune, but it can also help to improve your property's appearance.
Create Some Shade
As you try to relax outdoors, it'll be nice if you could enjoy some shade so you don't blind yourself to the sun while also keeping yourself dry in case it drizzles. When adding shade, it'd be nice if you could use a pergola as they help to provide the most relaxing ambiance for your home. You can even add some sheer curtains to decorate it with. Alternatively, you can include some hanging plants to hug your outdoor space with nature further.
As you add your shade, you should put your comfortable seating to go with it. It'll help to create a relaxing ambiance and allow your outdoor space to be a relaxation haven.
Consider A Firepit
Apart from adding a water feature to your property, it'd be nice if you could add a firepit as well. This way, you don't have to listen to the sound of water but also the rustling sound of fire. You can even go out at night to light up the firepit to keep you warm while enjoying the beauty of your outdoors. Moreover, having a permanent firepit by your yard can instantly help to boost your curb appeal. You can even add comfortable seating to surround your firepit with.
Use The Right Lighting
While it often goes unnoticed, outdoor lighting greatly contributes to how your outdoor space looks like. To create a relaxing space, it'll be great if you could play with various fixtures for your outdoors. You can add some beautiful wall lights, string lights, or even some lanterns as decorations, yet a relaxing piece. For your landscape, you can add some spotlights to help further emphasize their beauty. Moreover, it'll be helpful if you could use warm colors to highlight further the calming ambiance you're trying to achieve.
Takeaway
Transforming your space into a relaxation haven would surely improve your curb appeal while also giving you a space you can relax. With the right combination of furniture and features, you should be able to create a calming space that'll help you unwind at any time of the day.

AUTHOR BIO:
Joseph Hall is an interior decorator and design consultant for a home improvement blog. He is also an author and contributor to magazines in the home and design field. When he's not busy searching the latest trends, you can see him working on another DIY project for his family.
---